Travellers love Byron Bay. I've been around, I've collected the data, and I've come to a solid conclusion: travellers love bloody Byron Bay.
I grew up in Byron and that's a solid trump card with any traveller. It's a great conversation starter, at the very least.
There was a charming Spanish woman I met in a hostel in Myanmar; she'd been backpacking in Byron Bay. She'd slept in her van by the beach two streets away from my childhood home. She loved Byron.
I remember once, I was walking through the streets of late-night Queenstown when an Irish man with a devilish grin emerged from the shadows. He placed a joint in my hand.
"No way, brother! I used to work security at Cheeky Monkeys in Byron."
Travellers love bloody Byron Bay.
Backpacking Byron Bay is an east coast of Australia rite-of-passage. It's something all of us broke backpackers (including the ex-locals) need to do if we want our hippy-surfie town stripes.
The weed is dank, the music is jamming, the people are weird and the beaches of Byron Bay will make you forget everything you left behind. The tricky part is doing Byron Bay on a budget. It comes with all the caveats of travel in Australia combined with all the caveats of travel in a tourist hotspot.
Luckily for you, you've got yourself a Backpacking Byron Bay Travel Guide written by an ex-local slash broke backpacker: you're gonna be just fine.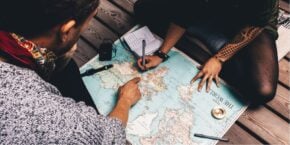 Heading Off-Grid? • Download This Guide as a PDF!
Sign up to The Broke Backpacker's EXCLUSIVE VIP AREA below and download our top backpacking guides as PDFs – go offline with peace of mind!
A Note Before We Start: The Truth of Backpacking in Byron Bay
Right, so I was there for a long time. Seventeen years in fact. I've got a secret for you; the big secret that Byron doesn't want you to know: it's a tourist town.
I'm not saying it's not beautiful because it is: it's downright fucking gorgeous. What I am saying is that the 'chill hippy-surfie town' image is only 10% of what Byron Bay actually is. And, I'm also saying that Byron Bay is only 10% of the Byron Shire.
Going to the Northern Rivers only to visit Byron Bay is the equivalent of going to Goa and never leaving Arambol. It's a poor representation of everything that's to be found there.
The magic feeling of Byron is as much found in the surrounding areas of the Byron Bay hinterland as it is in the township itself. Most of my friends that have lived nomadically in the area always seem to gravitate to these outside areas and it's where most of the world-famous Byron Bay hippies have drifted to, with good reason.
Byron Bay is where you go to backpack. You go surfing in Byron Bay, enjoy the sunshine, and take your beer and joint and your fish and chips up amongst the rocks to chill. Once 1 A.M. rolls around, you find another backpacker to have sex with on Main Beach (another east coast of Australia rite-of-passage).
Outside Byron is where you go to travel. There you can take your time and meet all the beautiful people that call the area home. It's where you'll find the alternative living the area is famous for. It's where time slows down.
So what I am saying is you should go to Byron with the mindset of someone backpacking through Byron Bay. That way, you'll see why travellers love Byron. But if there is a distinct feeling in your gut that something is missing while you are there, I genuinely believe you will find that 'something' in the surrounding areas of Byron.
How Much Does Backpacking Byron Bay Cost?
Well, it ain't cheap: I can tell you that much! But Byron Bay is a hub for intrepid gypsies; living out of a van, car, or a tent is a time-honoured tradition.
The good thing about Byron is that you don't need to spend lots of money to experience it. If you're someone who's content with the bare necessities accounted for then you can spend your days soaking up the sunshine, plucking your guitar, and people watching. Experiencing Byron Bay cheaply is still a rewarding trip; it's how many travellers see it.
You'll be able to cover your daily food and accommodation in Byron Bay for $50; that'll keep you alive while you're watching the waves. The extras on top – booze, bud and the various activities in Byron Bay – that'll push your budget up to $80-$100.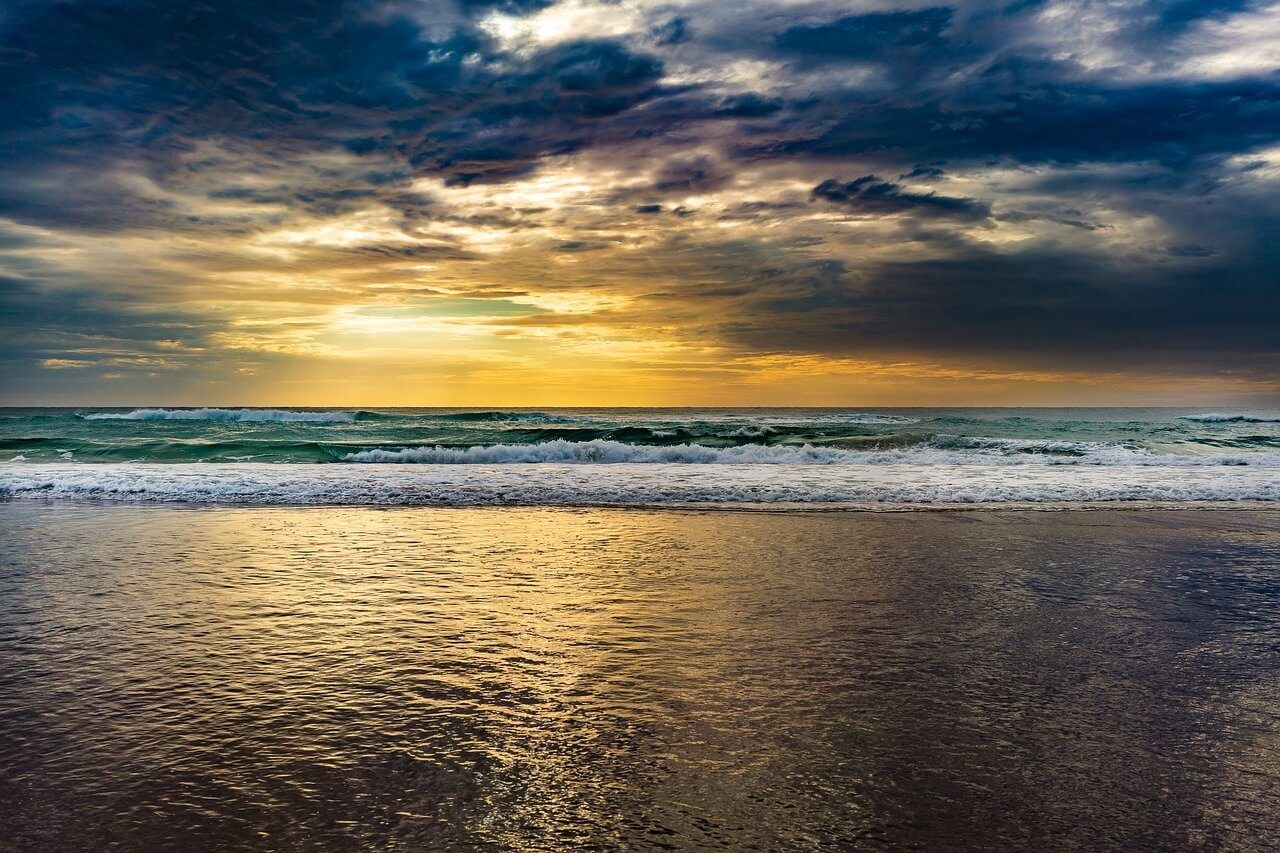 The chunk of your budget is going to something to eat and somewhere to sleep:
You're not running short on accommodation options. Byron Bay hostels, campsites, and caravan parks have a long-standing tradition of serving the yearly flow of tourists… but you are paying a premium for the location.
Food is standard Australia prices… i.e. it's expensive. Woolworths, Subway, and kebabs all cost the same as they would anywhere else but if you're eating at the swanky cafes and restaurants in Byron Bay, it's gonna get steep.
Ooh, ahh, ouch! Is that your inner monologue right now? Don't worry, that was mine after doing all the calculations too.
Luckily, you're not just any backpacker… you're a broke backpacker! Pinching pennies is your secret superpower! Have a look below for some guesstimates on your expected living costs and then below that you'll tips from a local on backpacking Byron Bay on a budget.
Backpacking Byron Bay Budget Breakdown
Hostel dormitory: $25-$35
Basic room for two: $80-$100
Airbnb/temp apartment: $70+
Ballina Airport to Byron Bay Shuttle: $14
Eating out: $9-$18
Beer at the bar: $6-$9
Cup of coffee: $3.50
Bottle-o booze (6-pack/cask): $10-$15
Backpacking Byron Bay Budget Tips
So, if you're doing this uncreatively then your travel to Byron Bay is going to hurt your savings. But, as much as Byron has changed over the years, it has always been a home to people on the fringes.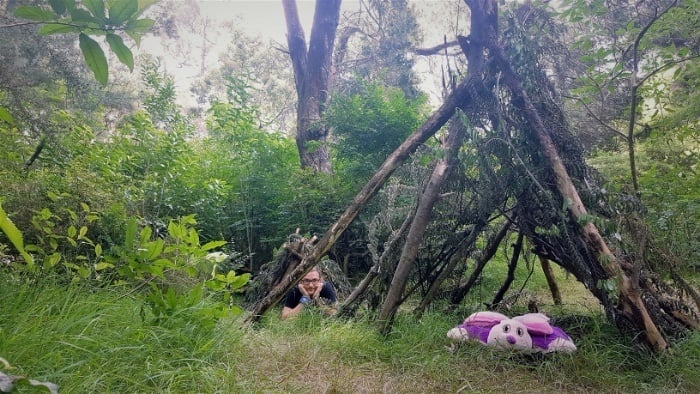 With some easy fringe-living you'll be able to bring the costs down while you're backpacking around the Byron Bay area:
Camping in Byron Bay – There are plenty of campsites in Byron Bay and no shortage of sneaky spots you can utilise too. The absolute best way to bring down your cost of living is camping. Check out the Camping in Byron Bay section; I'll go more in depth there.
Free food – There are a few places (see the section below) you can grab a free feed in Byron – intended for those in need – and if you're going to capitalise on it it's always worth considering lending a hand to give back.
Cook your own food – Pretty much a necessity when backpacking in Australia. Porridge is cheap; pasta is cheap… you'll figure out your staple backpacker diet pretty quick. If you're camping though, you'll need to be a little bit more prepared.
Byron Bay Farmers' Market – Local fruits and veggies at a cheaper price than the grocery store! From 8-11 A.M. every Thursday, at the same spot as the regular markets.
Check the trash – It's a tourist town which means you'll find some goodies but you'll also be competing with others. Byron has gotten used to dumpster divers over the years so you can expect locked fences and bins.
Busking – There's an initial fee for the permit but if you got the goods you'll earn it back quick; Byron is a classic busking town. You'll also make lots of friends in the process and networking means cheaper living.
Use a travel water bottle – Don't be like all the touros I used to serve buying cases of plastic water bottles, please. Get a travel water bottle and stop using plastic, ya fool!
Why You Should Travel to Byron Bay with a Water Bottle
Plastic washes up on even the most pristine beaches… so do your part and keep the Big Blue beautiful
You aren't going to save the world overnight, but you might as well be part of the solution and not the problem. When you travel to some of the world's most remote places, you come to realise the full extent of the plastic problem. And I hope you become more inspired to continue being a responsible traveller.
Plus, now you won't be buying overpriced bottles of water from the supermarkets either! Travel with a filtered water bottle instead and never waste a cent nor a turtle's life again.
Save $$$ • Save the Planet • Save Your Stomach!
Drink water from ANYWHERE. The Grayl Geopress is the worlds leading filtered water bottle protecting you from all manner of waterborne nasties.
Single-use plastic bottles are a MASSIVE threat to marine life. Be a part of the solution and travel with a filter water bottle. Save money and the environment!
We've tested the Geopress rigorously from the icy heights of Pakistan to the tropical jungles of Bali, and can confirm: it's the best water bottle you'll ever buy!
View on REI
Read the Review
Byron Bay Free Feeds
| | Who? | When? | Where? |
| --- | --- | --- | --- |
| Monday | Liberation Larder | 7 A.M. – 2 P.M. | Byron Community Centre – Fletcher Street Room |
| Tuesdays | | 12.30 P.M. | Railway Park |
| Wednesday | Homeless Breakfast | 7.30 A.M. – 9 A.M | Byron Community Centre – Fletcher Street Room |
| Thursday | Liberation Larder | 7 A.M. – 2 P.M. | Byron Community Centre – Fletcher Street Room |
| Friday | | 4 P.M. | Railway Park |
I've been informed by one of our fine readers that Liberation L. does not take "strangers" as volunteers nor does it serve people without proof of currently receiving the dole (Australian unemployment payment). I received the information from a wonderful doofrat mate of mine who spent some time dole-bludging in the bush in Byron.
Classic fucking Byron Bay.
You're always going to easily find accommodation in Byron Bay; it's a backpacker town. The real question is going to be what kind of accommodation you go for. That, of course, also hinges on your budget.
The cheapest accommodation in Byron Bay is to just camp. There are a number of campsites around and there are heaps of hidden places in the bush you can (illegally) pitch for free. Of course, this route means you'll need to invest in a solid tent and a backpacker stove too or you'll still be spending a lot of money on food.
After that is one of the many many hostels in Byron Bay; there are lots of these for such a small town. Byron Bay's backpackers are the go-to place for meeting other travellers and most of them are maximum 10 minutes walk from the beach.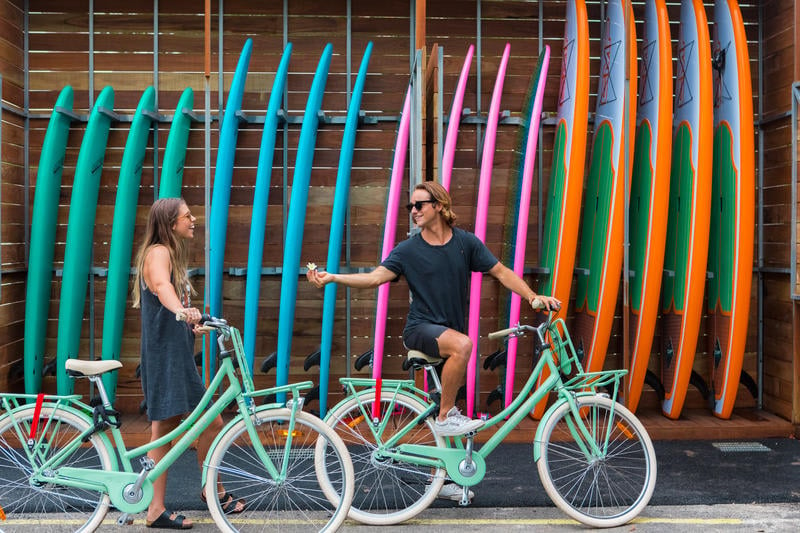 But, if you're after something more private and peaceful for your dreamy Byron experience, Airbnbs are the way to go. Byron Bay's Airbnb accommodations are pricey but man oh man you get what you pay for! You can find yourself that little home by the beach in the Australian seaside-town; the one you're picturing in your head right now. You'll also find some more eco-friendly accommodation options on the upper end of the price scale.
But if you're going the hostel route then I've picked out some choices below. And, if it's the best hostel in Byron Bay you're after, then you should take a look because there's one that deserves special mention.
Best Overall Hostel in Byron Bay – The Arts Factory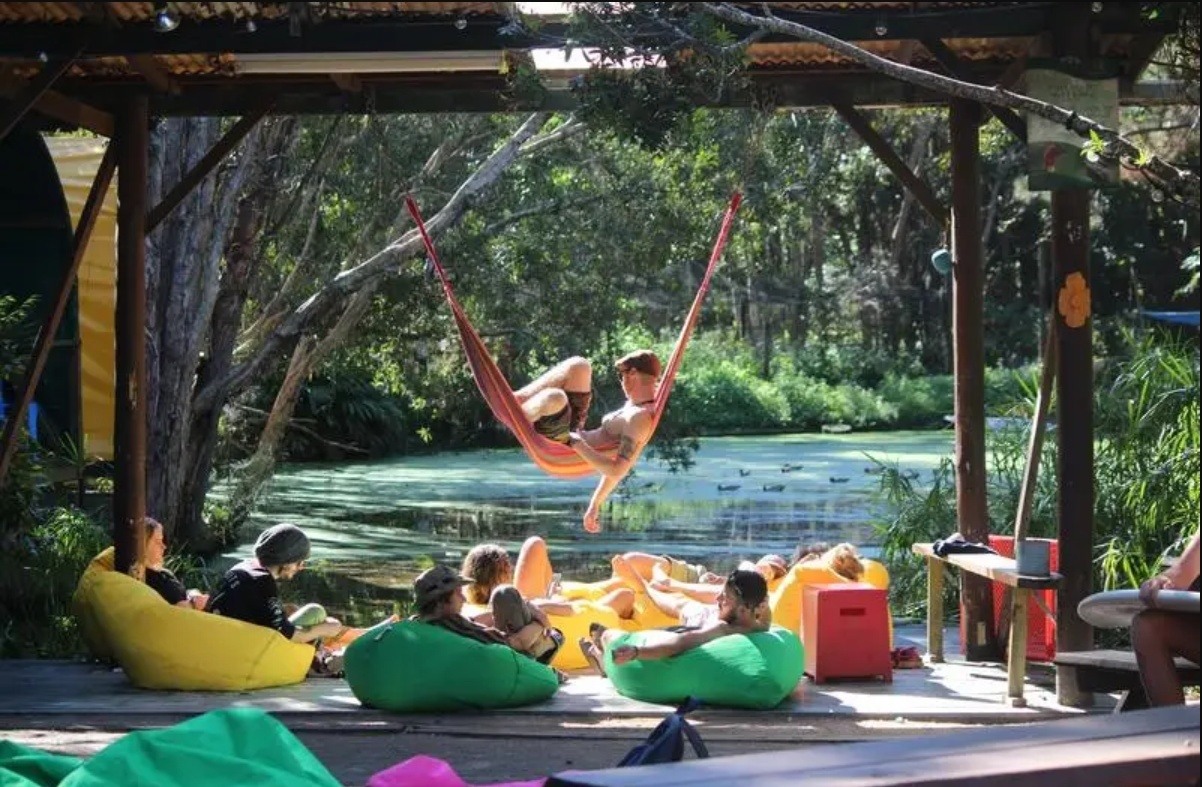 This is it; even the name is awesome! Seriously though, this is the OG backpackers in Byron Bay… I honestly struggle to recommend anywhere else over here: it's the quintessential backpacking Byron Bay experience. I'd say 90% of the travellers I meet that have been to Byron stayed here – I even met the ex-resident-drug-dealer in Nepal!
It isn't the cleanest or most modern and that's what makes it so special. The Arts Factory has been in Byron Bay forever, nestled amongst the subtropical rainforest, and has heaps of accommodation options including camping and van parking! The vibe feels more like a village of travellers on the outskirts of Byron than a straight-up backpackers.
Best Cheap Hostel in Byron Bay – Byron Bay YHA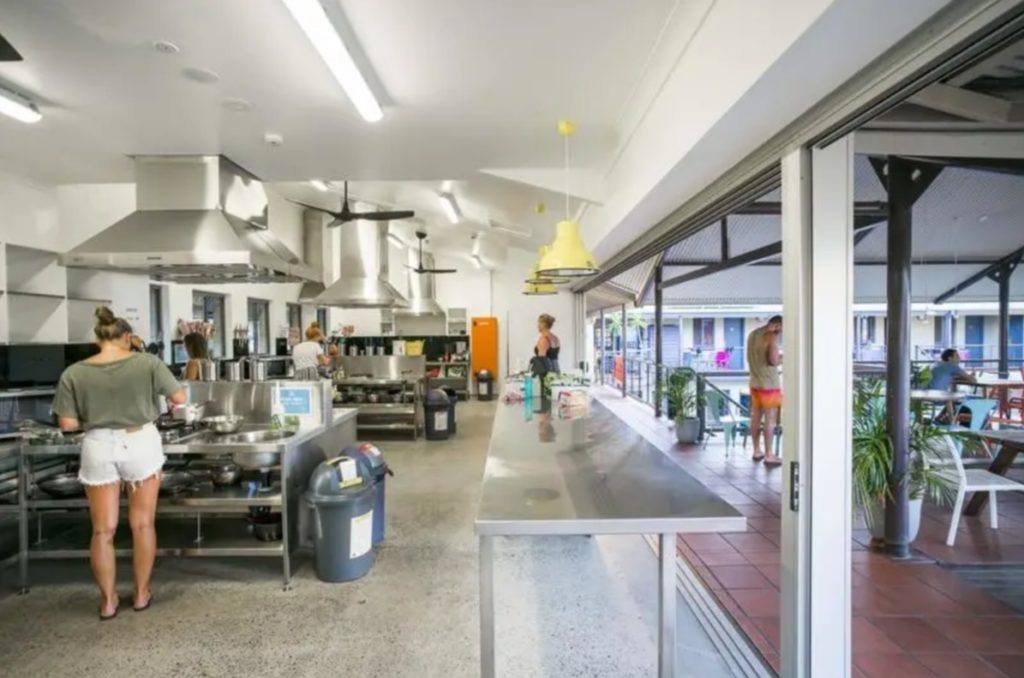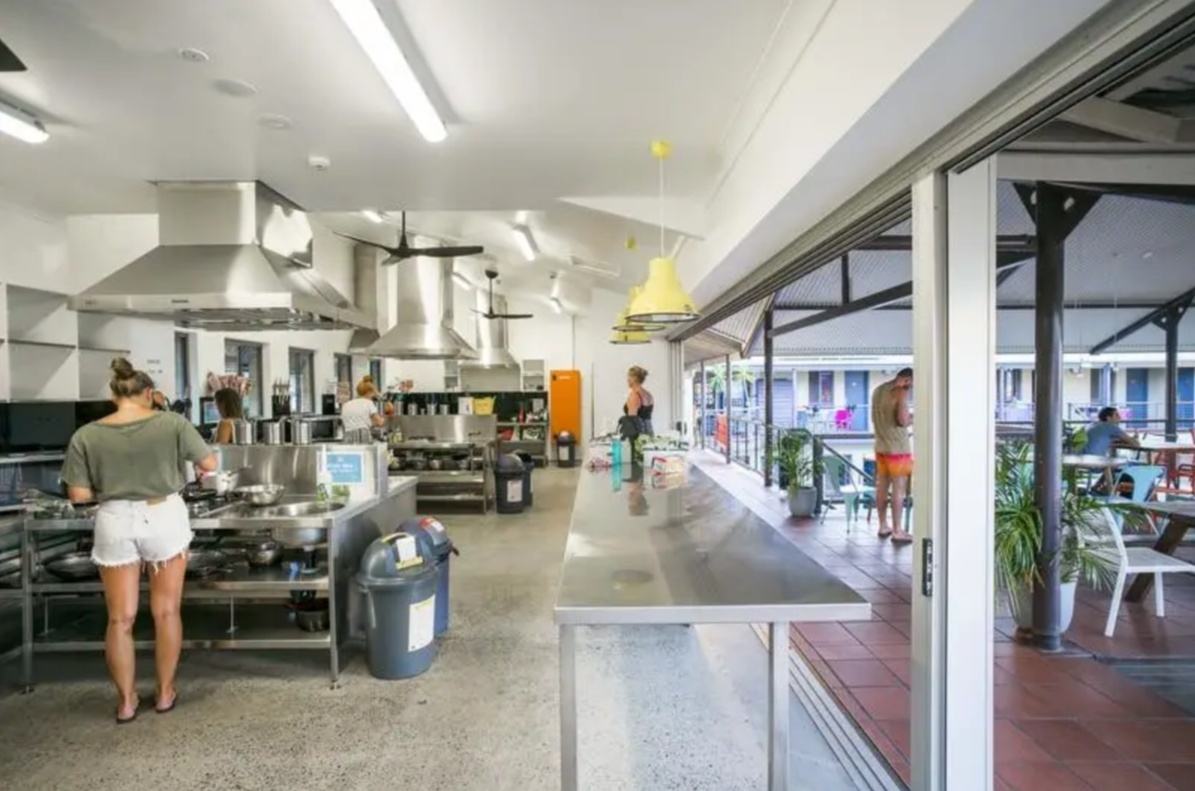 If we're strictly talking the cheapest hostel in Byron Bay then that title goes to Backpackers Inn On The Beach which is, as you might have guessed, right on the beach (and also worth scoping out). But the difference with the Byron Bay YHA is that it has a kitchen… and we all know how important that is for budget control.
It's also the newest hostel in Byron so it's squeaky clean and modern with all the facilities running super tight. The excellent security and fast WiFi also make it a solid choice for the digital nomads.
Best Hostel in Byron Bay for Solo Travellers – Wake Up! Byron Bay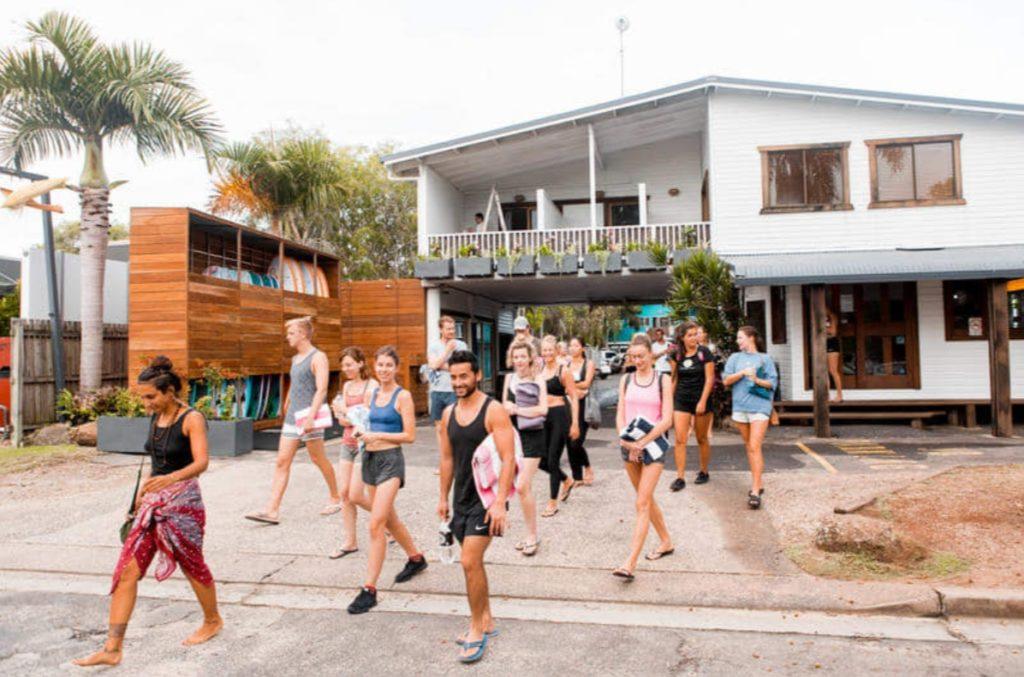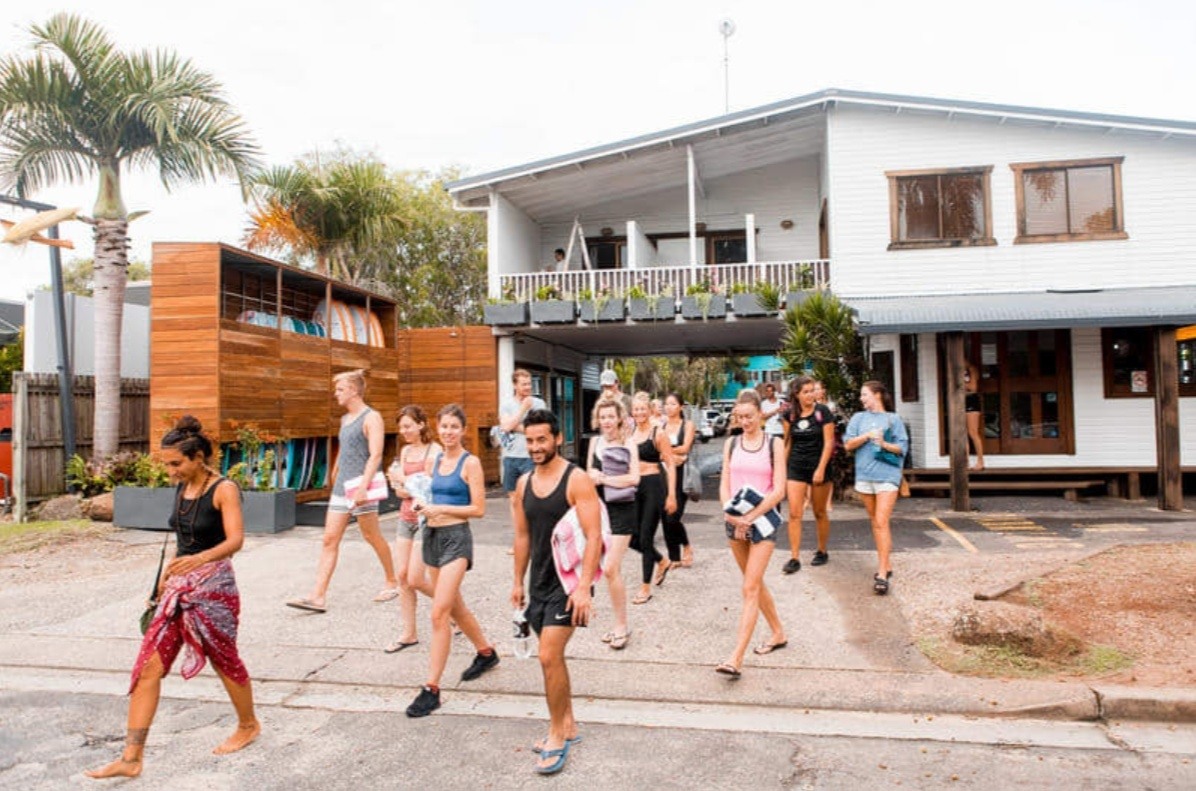 Out of all the backpackers in Byron Bay, it's the furthest out of town but that's also not a bad thing because Byron can get pretty hectic. It's also right on the beach; are you noticing a recurring theme?
These guys do a lot of free activities: yoga, personal training sessions, and sunrise lighthouse tours. They've also got free bikes, paddleboards, and surfboards to use. With that much going on you'll be backpacking around Byron Bay with a crew in no time.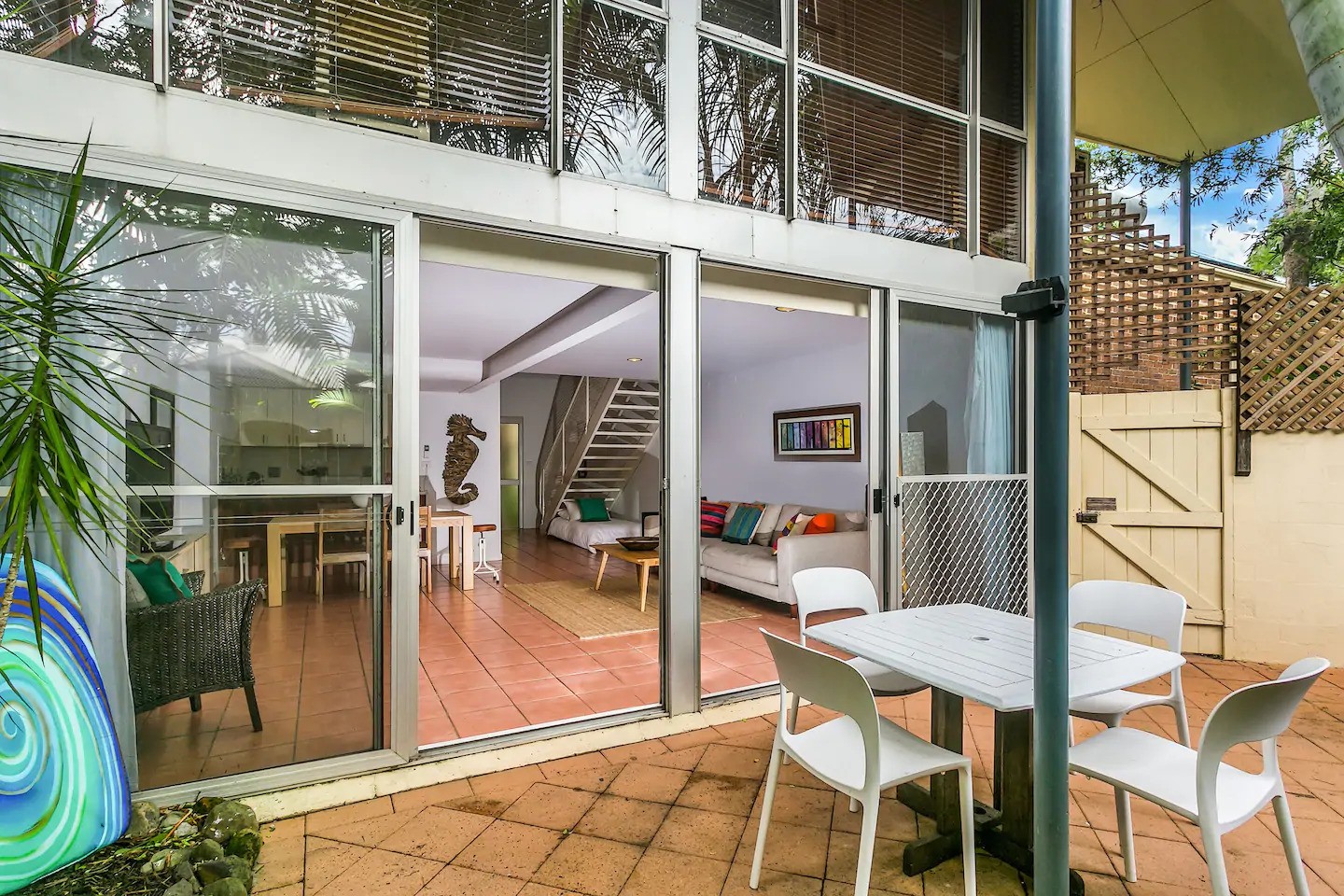 This apartment can't give you a better location. You've got the beach around one corner, nightlife options around the other and all of the best hot spots right around you. The home is so big that you can easily bring some friends along. This Airbnb is a great sport to start exploring the lively city.
Camping in Byron Bay
The deal with camping in Byron Bay is that outside of the designated holiday parks, you can't do it: no free camping anywhere. If you're bad at it, there's a high chance you'll be caught by a ranger and you'll be heavily fined; the Byron Shire Council loves revenue-raising.
That's not to say you can't do it because you most definitely can. I've known my fair share of grungy dudes and dudettes who have lived quite happily out of a tent for months at a time in Byron. I'm not going to specifically say where: screwing over bushrats' homes is not really my style and these spots are quite subject to change.
Just be creative! There are trees, bush, and beaches everywhere in Byron Bay; take a stroll along the abandoned train line and you'll find a spot easily. The further out of town you are, the easier it gets.
Standard rules apply for sneaky camping: don't stick around too long and leave no trace. Always leave no trace, friends… please.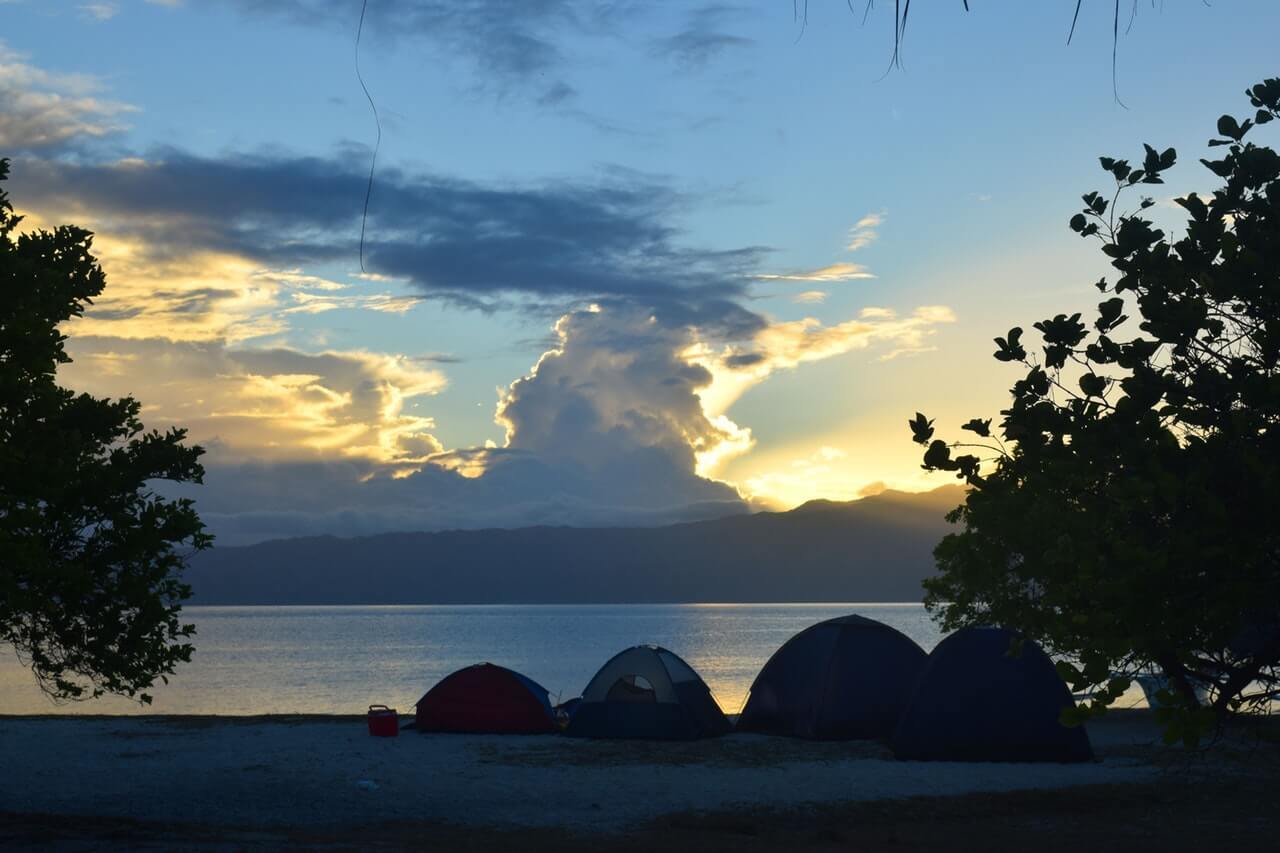 That's the easiest way to save cash while backpacking through Byron Bay. If you're not comfortable breaking the rules though, then there are still plenty of campsites in Byron Bay. They'll run you around $20 AUD a night but that's still saving money over Byron Bay's hostels.
If you're paying, the top spot is still The Arts Factory. A lot of the other holiday parks are more geared to tourist-tourists travelling in packs: you'll meet more of your own kind at The Arts Factory.
Right, so now that you know where to stay in Byron Bay we gotta talk about what you can do! I mean, sure, you can definitely spend your days getting stoned at the beach and you'll have an awesome time doing that but that doesn't mean you should skip out on all the activities Byron Bay has going on.
1. Soar like a seagull: Hang gliding in Byron Bay
Fun fact: this was actually my mum's 40th birthday present. Well… that and a butterfly tramp stamp tattoo… yay for Byron! Hit up one of the hang gliding schools and go tandem gliding over the Byron Bay headland. Alternatively, fashion yourself some Icarus wings and just see what happens… (please don't).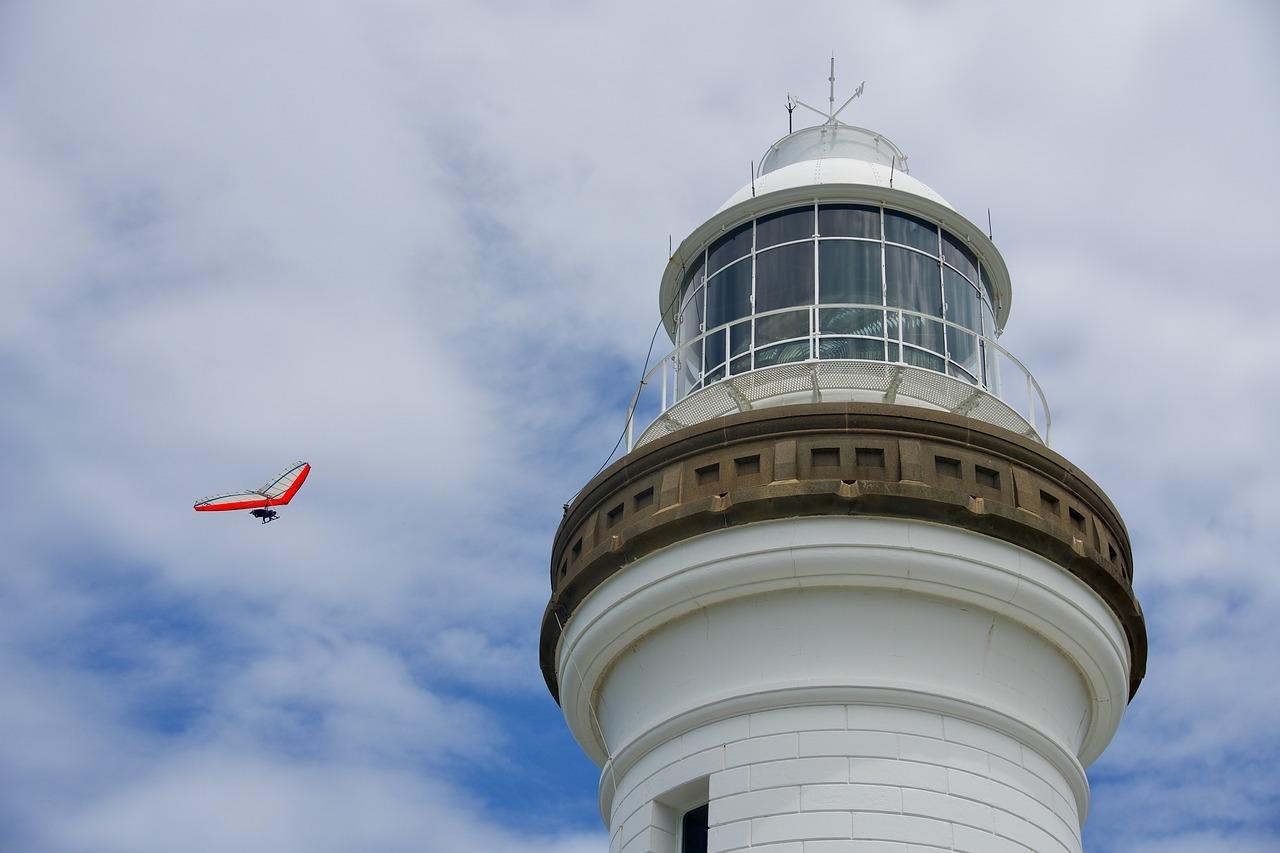 2. See the sunrise from the Cape Byron Lighthouse
Did you know that Cape Byron is the most easterly point of Australia? Did you also know that the sun rises in the east? Make your way up to the Cape Byron Lighthouse before dawn breaks and prepare yourself for a good sky.
3. Experience an underwater world snorkelling in Byron Bay
Julian Rocks off the coast of Byron is a legendary snorkelling spot around Australia. It's a marine reserve has sea turtles, fish, rays, and even a species of shark that won't try to eat your face! Hit up one of the snorkelling tour groups and go see what's swimming on the underside of the bay.
4. Go kayaking with the dolphins in Byron Bay
They're super friendly too! I learnt that when I mistook one for a shark at Wreck Beach; I nearly pissed myself. Do an awesome kayak tour that will take you out into the bay where you can kayak with dolphins Byron Bay style… plus sea turtles… maybe even a whale, if you're lucky.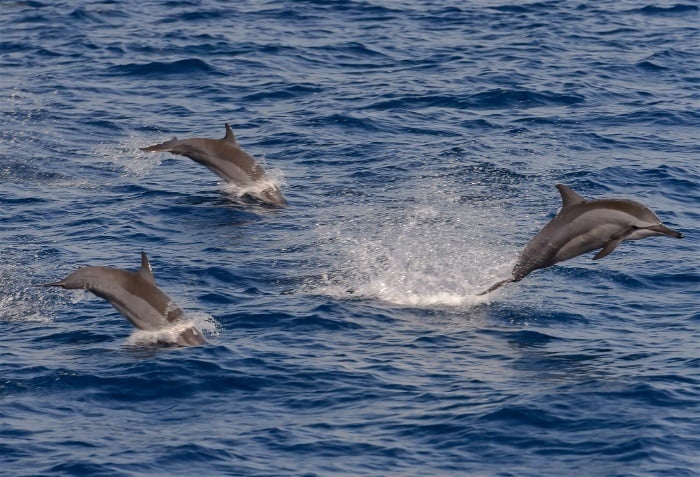 5. Magic and sparkles at The Crystal Castle
The Crystal Castle, Byron Bay's offering for all the rockheads. Even if you're not mad on the healing energies of the crystal powers that be, the place is still mega pretty. It's outside Byron in the hinterland surrounded by rainforest and scattered with some impressive crystal structures; The Crystal Castle is an easy place to just wander aimlessly and is a pretty chill Byron Bay day trip.
6. The other local castle: The Macadamia Castle
They sell macadamias, in case you hadn't guessed. But, they also sell a bunch of other local products too. BUT they also have a bunch of cute animals and mini-golf. Sure, The Macadamia Castle may be more aimed at kids but if you don't think smoking a J, patting a koala, and then playing mini-golf isn't a day well spent then I don't think we can be friends.
7. Flippers and flukes: Byron Bay whale watching
If you're sticking out the cold then this is a thing to do in Byron Bay in winter. The whales only come seasonally – June to October – and you can see them from pretty much anywhere on the headland but the Cape Byron Lighthouse is one of the best spots. Better off, take a tour out on a boat to see the Byron Bay whales up close!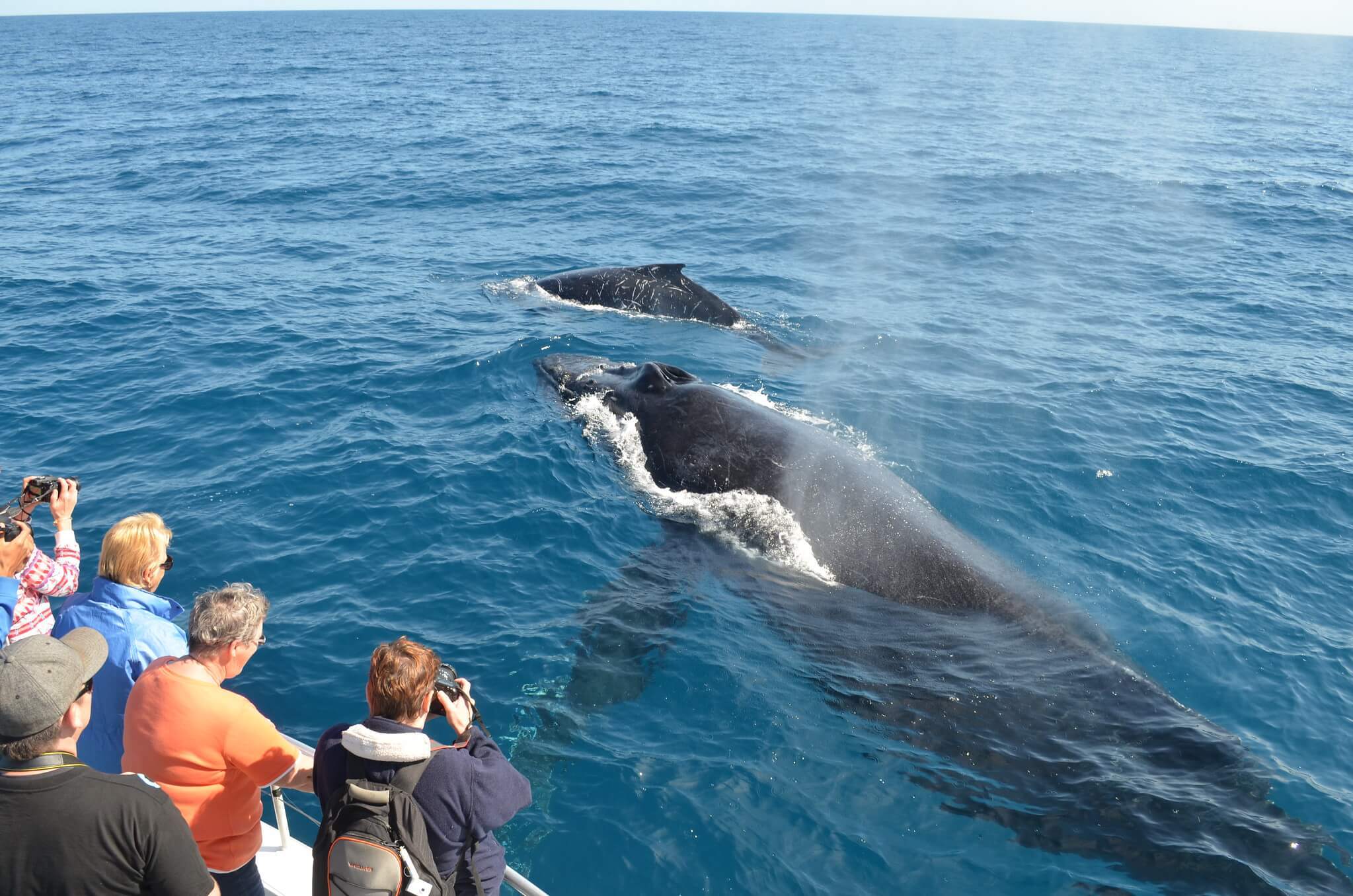 8. Detox your body and mind with a Byron Bay yoga retreat
Yoga, meditation, and health retreats are pretty popular in Byron; a peep's gotta have that yogic wisdom. There are plenty of choices for yoga retreats in Byron Bay ranging from chill to life-altering-ly intense and from pricey to extremely pricey.
If you're after the full kit and kaboodle – a full spiritual journey to the centre of your emotional and physical self AND a certification in yoga teaching to boot – then check out the Santosha Yoga Institute. With a certificate, you can travel the world teaching yoga! Or at the very least, you'll come away with a few new moves in the bedroom. 😉
9. Dude, there are so many markets
So the Byron Bay Markets are so so good, legit. But they're hardly the only markets; there are so many more around the hinterland worth scoping out. Check The Byron Bay Markets Plus section for more info.
10. Take a day trip from Byron… pretty please
I'll say this and I stand by it: when you're in Byron, remember to get the hell out of Byron. Byron sucks people in and that's not necessarily a bad thing. But if you don't take the time to explore the Byron Bay hinterland you have missed out more than you can understand. Stick with me cause I'll outline some of the other special areas to visit further down.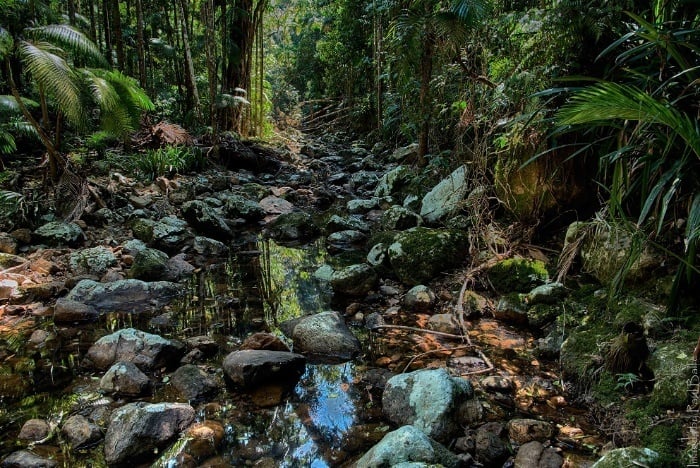 Is This the Best Daypack EVER???
Things to Do in Byron Bay for Free
If you're trying to do Byron Bay cheap then you'll most likely be avoiding the yoga retreats and various tours. But that's no problem because there is plenty of things to do around Byron Bay for free. It's a tourist trap sure, but that doesn't mean you have to live like a tourist.
The beautiful beaches of Byron Bay – I mean it's so obvious I almost feel stupid for pointing it out but go to the bloody beach; it's Byron Bay! Build a sandcastle, play soccer, bury your mate in the sand and then sit on him: it's a beach, go have fun. Check out the Top 5 Byron Bay Beaches section where I give my faves.
Surfing in Byron Bay – Not necessarily free if you don't have a board but if you can borrow one from your hostel then surfing is free and pretty damn awesome. Byron has some of the best surfing beaches in Australia and you're in good hands; just remember to stay safe. And be respectful of the local surfers; they tend to get the shits when tourists start dropping in and stealing "their waves". If you've never surfed you'd be better off copping the cost and booking a lesson first.
Chill in Top Park – That's what the locals call Main Beach Park… which is actually called Dening Park. Don't call it that: I spent the better part of my formative years drinking goon in Dening Park and I didn't even know it was called that. It's a sweet place to chill: it's 60 seconds walk from the ocean, lots of people congregate there, and you'll often find cool shit going on like drumming circles.
WWOOF in Byron Bay – Volunteering, Workaway… whatever you like to call it, it's better than free… you're getting a room and food! There is heaps of permaculture and organic farming so this is a brilliant way to save some dough especially if you're backpacking around Byron Bay for a while. It's such a wholesome trade: work for food and a bed. If you're someone who prefers going through a middleman organisation, we here at The Broke Backpacker strongly recommend Worldpackers only because they're so gosh darn awesome.
Go walking – Between the beaches, the rainforests, and the reserves there's plenty of walking around even just locally. My favourite is starting from Top Park walk along Main Beach until you reach The Pass. From The Pass's carpark take the Cape Byron Walking Track which takes you to first to Wategos beach and then on to the most easterly point of Australia (boom).
My Top 5 Byron Bay Beaches
There are heaps more beaches around but I culled it down to a shortlist for you. If you're only going to be backpacking in Byron Bay for a short time then these are my recommendations. Just don't go to Main Beach; it's busy and meh.
Beach
Notes
Why it's Great
The Pass
-Famous surf break
-Sweet lookout
-Lots of rocks
One of the best surf spots in Australia and Byron Bay. I have a lot of fond memories of this beach. The rocks are fun to play around on and the carpark is surrounded by rainforest with BBQ picnic areas.
The Wreck
-Has a shipwreck
-Close to town
-Fewer people
Literally just on the other side of the carpark from Main Beach is The Wreck. Technically it's a part of Belongil Beach but I'm specifically talking about the section right past the carpark which has the underwater shipwreck. For some reason, people tend to overlook this beach so grab a snorkel and go check out the ship!
Little Wategos Beach
-Nicely tucked away
-Little and cute
-Quiet
It's only accessible from a sidetrack on the lighthouse walking track. That means that it's a lot quieter than a lot of the other beaches in Byron Bay. It's a good spot for rock fishing and also the most easterly beach in Australia!
Tallows Beach
-Really long
-More local
-Great for jogging
Tallows Beach is on the south side of the cape and stretches a long-ass way south away from town to Broken Head. It's not as picturesque as many of the other beaches but I like it because it's quieter and mostly frequented by locals. It's known for strong rips and currents though, so be careful.
Beyond Backpacking Byron Bay
So, I keep going on and on about getting out of town on some Byron Bay day trips. That's because the surrounding areas of Byron Bay are stunning: lush rainforests, waterfalls, rolling hills, and quaint village towns – it's really worth seeing some of the Northern NSW attractions often forgotten for Byron.
Some places have easy public transport to use, others do not. Getting around the area can be challenging if you don't have transport but hitchhiking is pretty commonplace in the area; where do you think I got my hitcher stripes?
Nimbin – The town that was
The big name drop; this little Northern Rivers village often receives whispers of reverence amongst travellers. Sometimes called 'the drug capital of Australia', Nimbin started as a haven for counter-culture ideals – cannabis, sustainable-living, permaculture, and generally being a freak. If you've ever heard of the Nimbin Mardigrass Festival, you'll know what I'm talking about.
That was a long time ago and sadly that's no longer purely Nimbin. The passage of time, tourism, politics, and crystal meth have altered the feeling of the escapist-town: the vibe is weird and not in a good way. Antagonistic cops have descended on the village like vultures and the communes dedicated to alternative living have become imitations of the culture they served to counter.
Nimbin is still Nimbin – it's weird, wacky, and feels like stepping inside a bubble. The Nimbin Valley is environmentally divine; swathes of mist stretched over a rainforested valley with rocky structures scattered throughout. And there are still traces everywhere of the lifestyles Nimbin has always been a home to… it's just a bit different.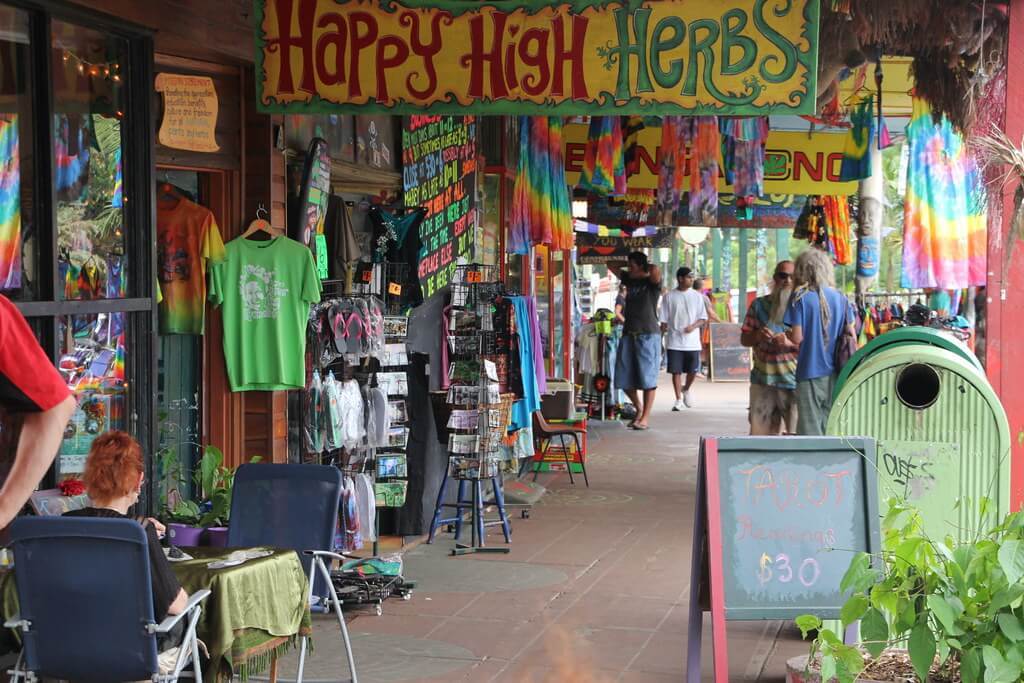 Go to Nimbin; it's an awesome day trip from Byron Bay. You'll still find a colourful village, tasty ganja, and funny folk; it really is such a beautiful spot. I just wanted to remind you that when we visit a place for a day, we don't always get to peek under the mask.
There are a number of shuttle buses that run from Byron Bay to Nimbin usually costing roughly $40 AUD for a return trip. There are also services running Nimbin tours that will explore the area a bit more. If you are shuttling in and out of Nimbin watch yourself: the cops do pull people over to see what's going in or out of the town.
Mullumbimby – Byron 2.0
Do you remember how I said that a lot of the Byron Bay hippies had drifted elsewhere? Yeah, that's to Mullum.
Another town in the Byron Shire but still with a vibe of its own, Mullumbimby has much of what you'll find in Byron (except the beaches) but without the touristy intensity. It has its own markets, festivals, and alternate-living shops. It's picked up the slack in the face of a changing Byron Bay.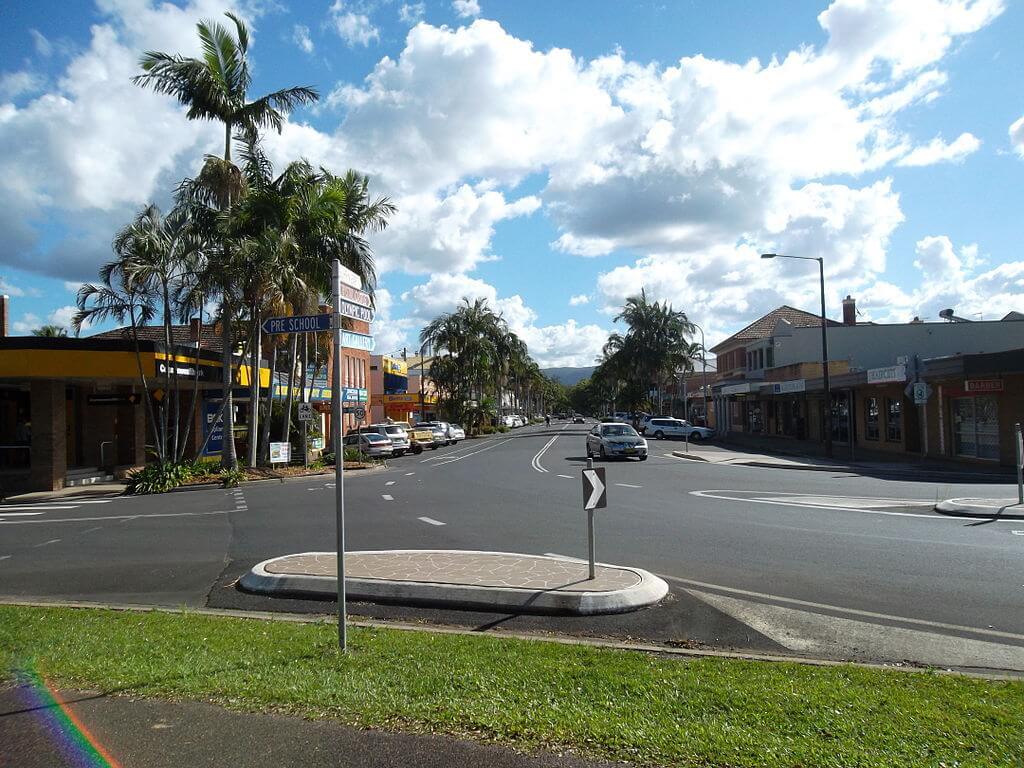 If you're thinking of backpacking around Byron Bay for a while then I would recommend Mullumbimby as a place to spend some time and meet the community. If you're keen on a visit, there is a public bus service that runs to Mullumbimby – $5 AUD one way.
The Byron Bay Markets Plus
So the Byron Bay Markets are super sope; they've been operating since long before I was born and they'll probably still be going strong long after I'm dead.
Every normie, weirdo, local, and tourist shows up at the markets (1st Sunday of the month – always) and you'll find everything even remotely Byron-esque – music, crystals, clothes, buskers, instruments, sculptures – available for your viewing and purchasing pleasure. If the spring roll/tempura place is still there, eat some for me, please; oh… and the sugar cane juice… also the frozen fruit ice-cream… and the crepe guy!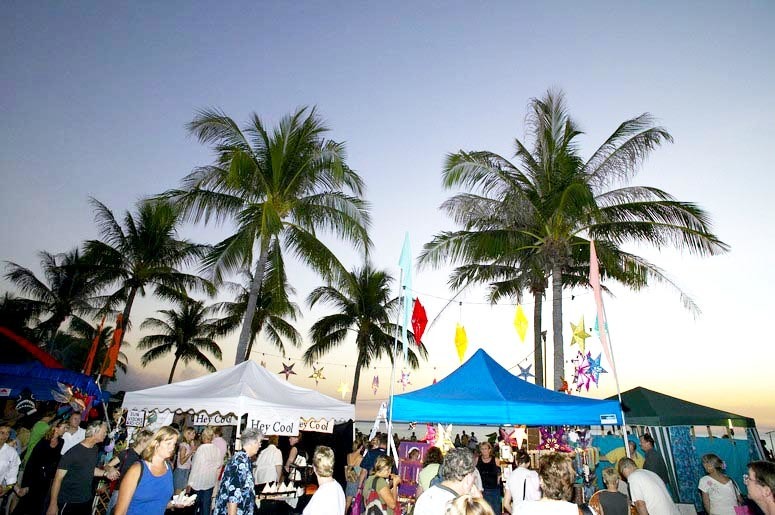 If you're strapped for cash, the markets are still a cool thing to do in Byron Bay for free. There's always live music, drumming circles, and lots of cool people to meet… you just got to have a will of iron to not spend your money!
There are also heaps of other markets happening around the entire Byron Bay hinterland and they're all well worth checking out. This is just some of them:
| Weekend | Markets | Day |
| --- | --- | --- |
| First week of the month: | Byron Bay Markets | Sunday |
| Second week of the month: | Byron Flea Markets | Saturday |
| | The Channon Markets | Sunday |
| Third week of the month: | Mullumbimby | Saturday |
| | Byron Bay Markets | Sunday (Dec & Jan only) |
| Fourth week of the month: | Nimbin Markets | Sunday |
| | Bangalow | Sunday |
| Between October and March: | Byron Artisan Market | Every Saturday |
Minyon Falls – It's super pretty
When people talk about the Byron Bay waterfalls this is usually the one that comes to mind; I've been more times than I could count. It's an absolutely dazzling waterfall in the Nightcap National Park (which is an awesome name). There's a lookout that views the falls and, on a clear day, the coastline; there are also picnic areas with barbeques to cook on.
If you're keen on a hike you can walk to the bottom of the falls too. It's a semi-steep walk, 13Km return, and at the bottom you can take a plunge in the pristine water of the falls.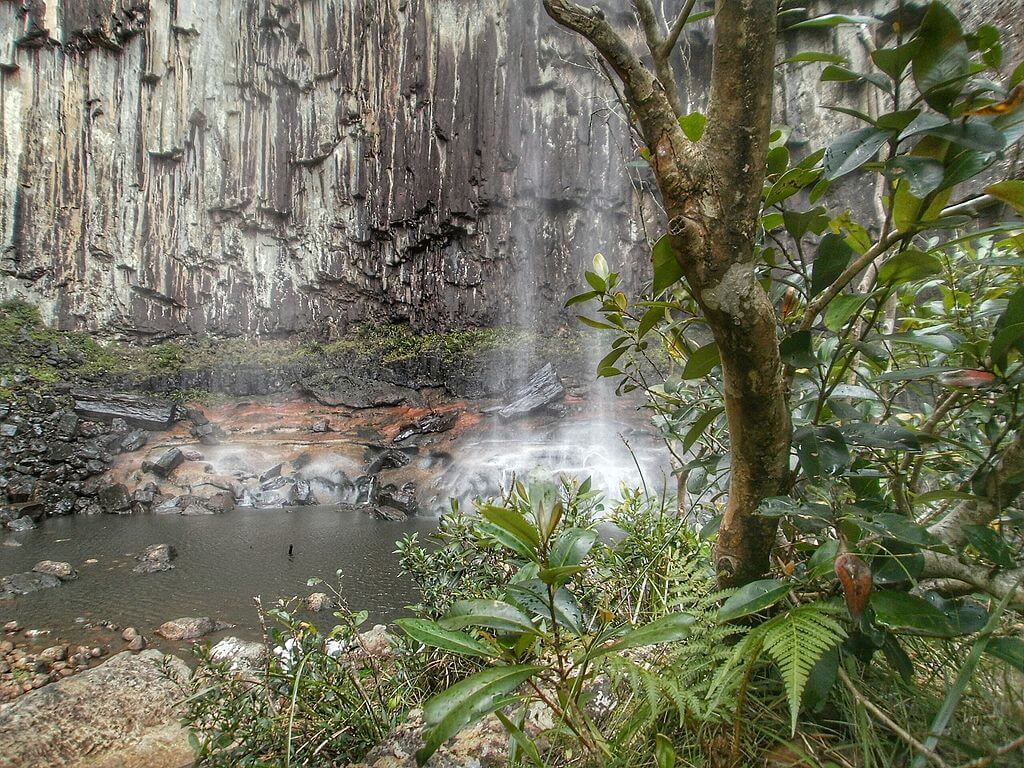 Wollumbin National Park and Border Ranges National – It's so goddamn pretty!
Two separate national parks fairly near to each other; they're also world-heritage listed sites. The Border Ranges National Park (named so because it's situated on the border to Queensland) is full of awesome walks, picnic spots, and a couple of campgrounds for anyone wanting to stay overnight. The Pinnacle walk and lookout is easily the highlight but note that there's an $8 AUD fee per vehicle for entry to the park.
Wollumbin National Park is equally gorgeous and deserves special mention for the mountain that pierces its skyline: Mount Warning. BUT (and this is a big but) there's one caveat.
Mount Warning is so so beautiful; no matter where I was in the hinterland my childhood memories always have the image of that peak watching over me. Even now, after seeing so many mountains, it still stands out to me. It used to be that you could freely climb it – and it's a damn good climb – but it isn't as straightforward now.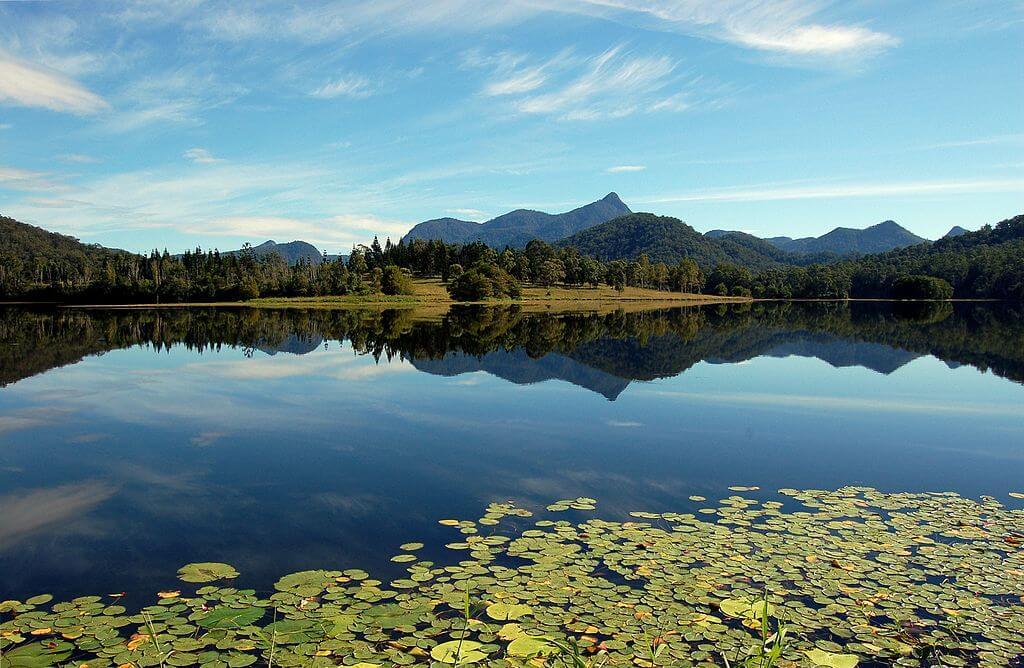 In 2015, Mount Warning was declared Aboriginal land. The local Aboriginal elders request that people refrain from climbing the peak and I'm going to do the same. The Aboriginals have been historically shit on by the Australian government and people and respecting their wishes, even if on some level it's a shame, is really important to me.
If you choose to climb it, that's your choice and I'm not judging you. But if you don't: thank you. Either way, the Wollumbin National Park is still equally beautiful and well worth the day trip from Byron Bay.
Alright! It's time for the part where I give you a nice concise Byron Bay itinerary. It is a town more suited to floating around seeing what happens but if you'd like a bit more structure on what to do in Byron Bay then this is for you.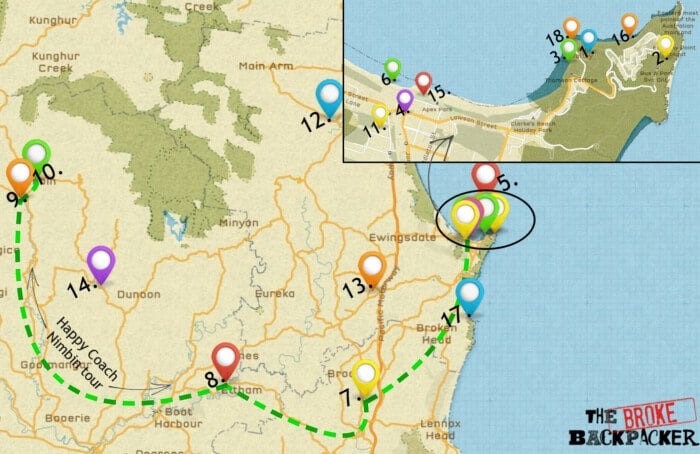 Day 1 – Explore the bay
The beautiful Byron Bay… how do you feel about waking up before dawn? Oh, you love it? Perfect!
The first thing you're going to do today is to catch the sunrise from the most easterly point of Australia; what better way to start your time in the bay?
You'll need to be up at the Cape Byron Lighthouse before the sunrise. Some hostels do sunrise tours otherwise you'll be walking or borrowing a bicycle (it's a hard bloody ride but so much fun coming back down).
After the sunrise, you're going to either be super pumped on life or hating it and wishing you'd slept in. Either way, the appropriate response is a swim. On the return from the lighthouse, stop in at The Pass beach for a dip and a nap on the shore if you need it.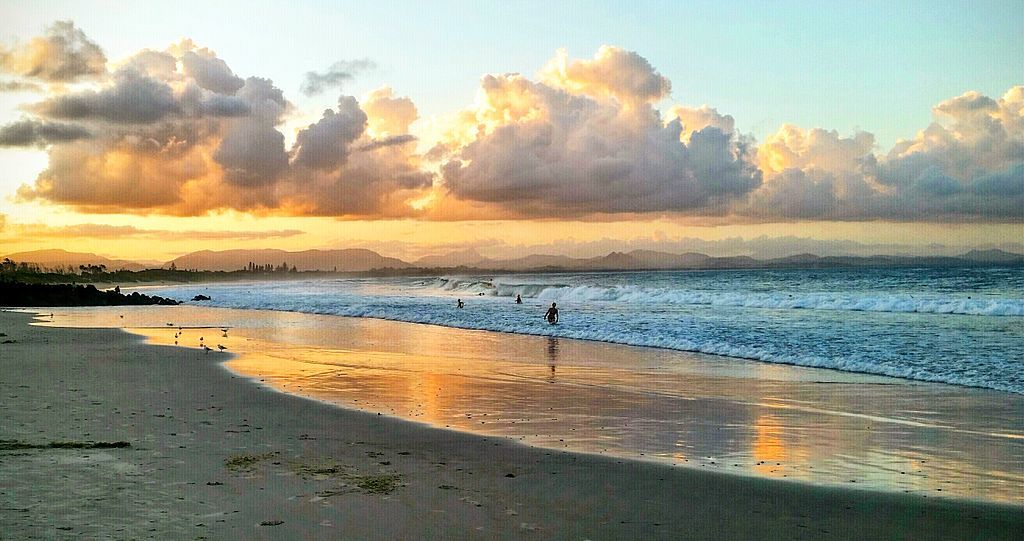 Once you're back in town it's time to explore. Wander the town, if you've got the cash do some shopping in Byron Bay, and grab yourself a feed too (not the kebab shop though – save that for when you're shitfaced).
While the sun is still high it's time for an adventure; I'm thinking one of the many Byron Bay tours. You'll need to book in advance in the busy season but you've got some good options: kayaking and hang gliding is fun but I'm suggesting joining in on a Byron Bay snorkelling group. There's a whole other world to explore under the sea.
Once nighttime rolls around, take a long stroll down Belongil Beach. The stars are really beautiful in Byron at night.
Day 2 – Explore the hinterland
So, I debated with myself over where to send you and I settled on Nimbin. Yeah I know I just whinged about Nimbin but it still is a really unique village in a gorgeous location. And if you're working on a short Byron Bay itinerary, then a Nimbin tour makes perfect sense.
I really do recommend The Happy Coach (I mean with a name like that…). Doing a tour through these guys is a bit more expensive than just hopping on a shuttle but it's worth it: they take you around the hinterland, to Killen Falls (another of Byron Bay's waterfalls), and lunch is included in the price!
Once you're up in Nimbin, you'll find your way around pretty easily – it ain't big. It's definitely worth checking out… that goes double if you can score yourself some bud or mushies to bring back! Just watch yourself carrying.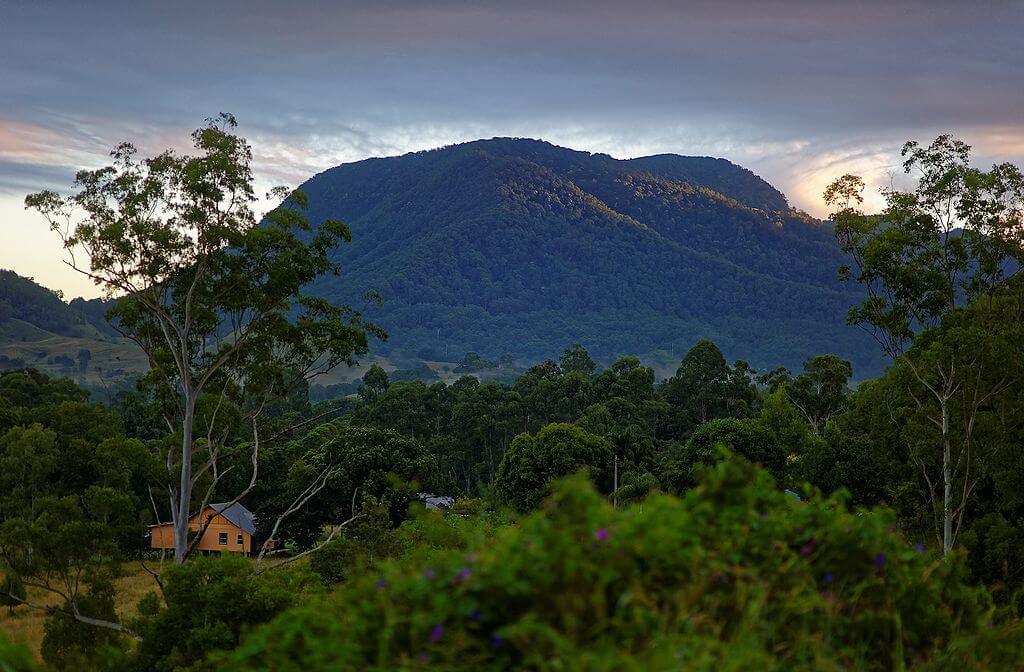 When you're back in town, tonight is the night to check out the nightlife in Byron Bay. Are you a club person or a pub person? Either way, Byron will sort you.
If at some point during the night's menaces you get hungry… now's the time to get a kebab. A pie is also good. Shitfaced pies and kebabs are Byron Bay culture.
Day 3 – Chill day
Today you can take a load off – no big adventures! Today is going to be chill.
Start your day off with the markets. The location varies depending on the date but there are markets everywhere. Awesome food, shops, and music are a guarantee from any markets around the Byron Shire.
When you're done, you're going to do a BBQ by the beach – another classic Byron move. Go to Woolworths, get yourself some food to cook on a BBQ, and then head to Top Park. You've got barbie and the beach… what better way to spend a lazy day!
That's hardly the only beach with BBQs to use though. The Pass, Wategoes Beach, and Broken Head Beach are all awesome with picnic areas.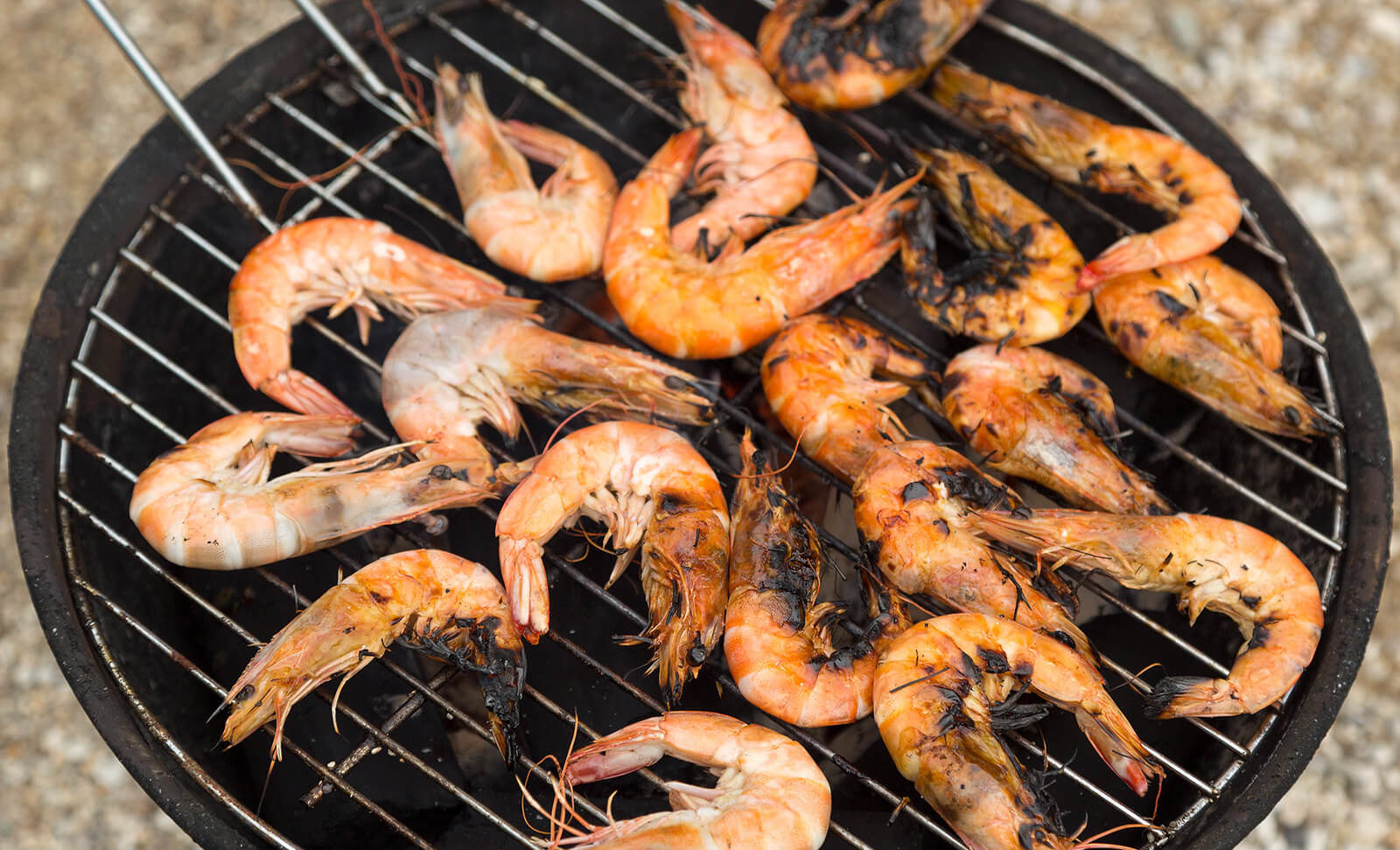 How to finish your day in Byron Bay? With a sunset, I feel.
Take the stroll up Main Beach to The Pass and make the climb up Fisherman's Lookout (not really a climb, just a set of stairs). From here you can watch the sunset and, if you're lucky, you may catch a glimpse of dolphins or some of Byron Bay's seasonal whales.
Take a twilight stroll back to town. Pick up a pebble from the shore and slip it into your pocket. That's your memento of the most easterly town in Australia.
You're going backpacking in Byron Bay which means you're going to want the low-down on how to get down. That goes doubly if you're doing Byron Bay on a budget; knowledge is power.
Best Time of Year to Visit Byron Bay
The best time to visit Byron is Spring: September to November. The weather is dry and warm and the beaches are less crowded.
Late November to early December is schoolies and I strongly advise not being in Byron during schoolies; it's gross and packed with freshie, aggro 18-year-olds. After that come Christmas and New Years and that is equally packed along with insane prices: avoid at all costs.
Summers are hot, humid, and rainy with the temperature peaking in February. That said, the Far North Coast summertime thunderstorms are eerily beautiful… if you're not cowering in a tent.
March through to May (i.e. Autumn) is back to clear skies… usually; Easter can still get pretty wet. It starts cooling down but is still more than warm enough to enjoy many of Byron Bay's activities.
Getting In and Out of Byron Bay
I'd say there's a 98% chance you're either coming to Byron from Ballina Airport or Gold Coast Airport if only because navigating Australia by any other method than plane is a nightmare. There are shuttle buses that run from the airports to Byron; Ballina Airport To Byron Bay runs you $20 AUD whereas a shuttle from Gold Coast Airport costs $30-$35. If you're flying into these airports it's also a good idea to pre-book the shuttle.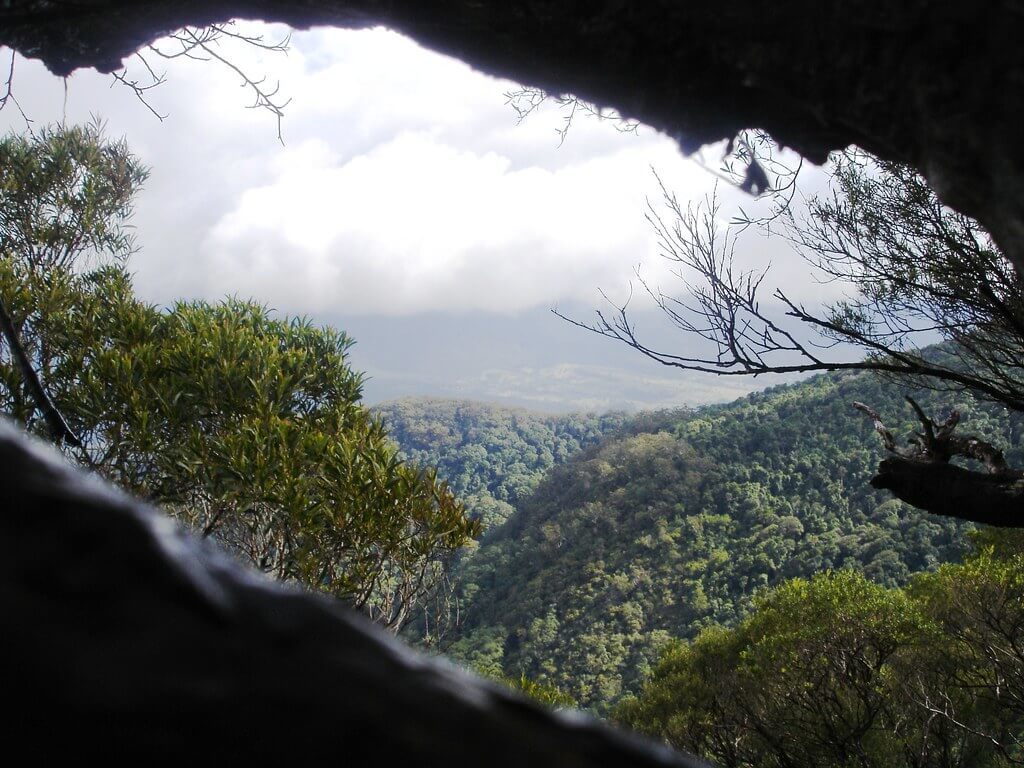 Also, if you're making your way from Ballina Airport to Byron Bay there's the local 640 bus service which departs from the airport and costs less than $10.
The only other way into Byron long-distance is by a coach service. Honestly, the coach services in Australia cost pretty much the same as a plane ticket and really just aren't worth it: stick to the plane.
When you're ready to travel to Byron Bay, forgo buying tickets at the station and book them online instead! You can now book transport in advance for most of Australia using 12Go and doing so can really save you some stress (and maybe money, too).
Visiting Byron Bay? Don't risk having to sit on the floor or change your itinerary because you missed the last ticket at the station! Find the best transport, best time and the best fare with 12Go. And why not use what you've saved to treat yourself to something nice upon arrival?
It only takes 2 minutes! Book your transport on 12Go now and guarantee your seat easily.
How to Get Around Byron Bay
Byron is just a town and not a very big one at that; you can walk from one end to the other in 10 minutes (15 max). But, if you're trying to get around to the other towns of the Byron Shire and elsewhere you'll be relying on the local bus service: Blanch's Bus Service. These guys run the services between Byron Bay and surrounding towns like Mullumbimby and Bangalow.
For anything outside of the bus lines, you'll need to find yourself a ride. Luckily Byron Bay is a traveller hub so finding a van-hippy wanting to go on an adventure into the hinterland will be breezy. Otherwise, there's always hitchhiking, which is a classic Byron move; no worries there!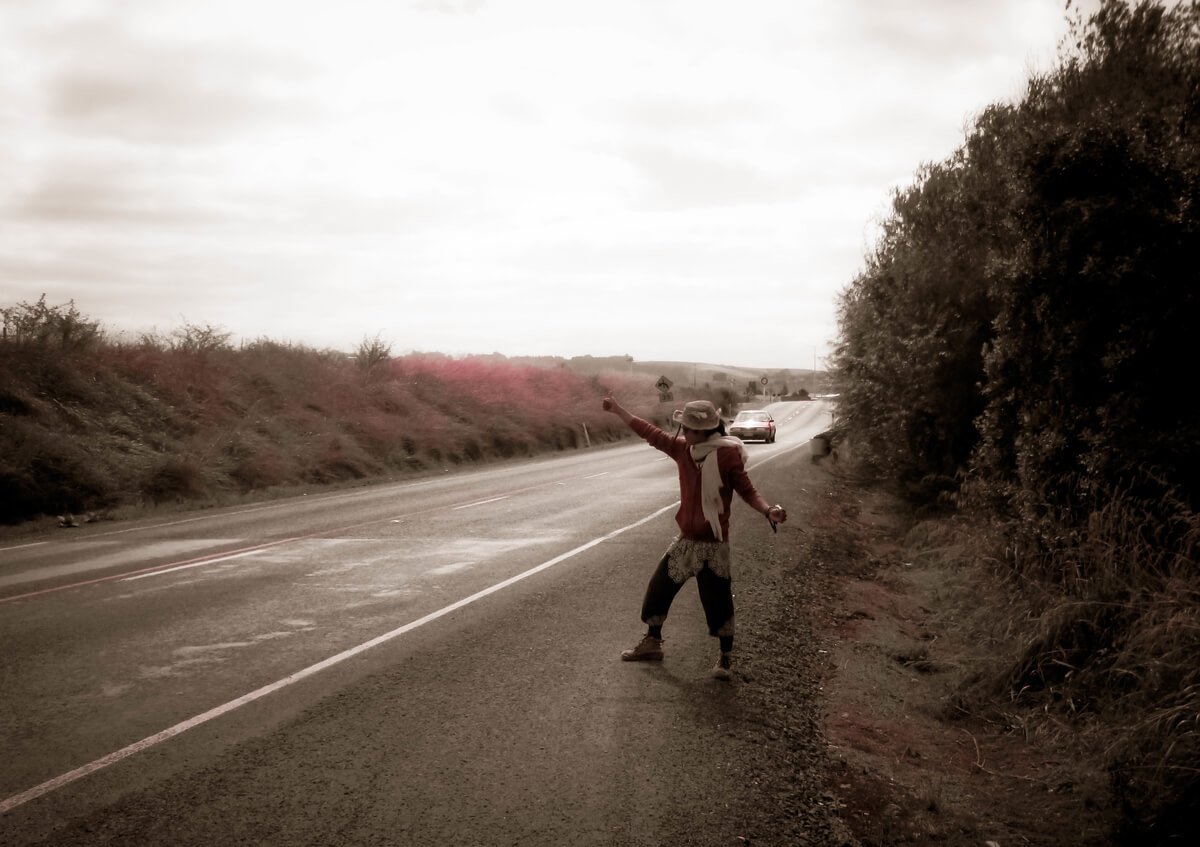 If you're staying at any of Byron Bay's hostels it's worth checking to see if they have a courtesy bus; many of them do. And, if worse comes to worst, you can always get a taxi… but that shit's expensive, man!
Have you sorted your accommodation yet?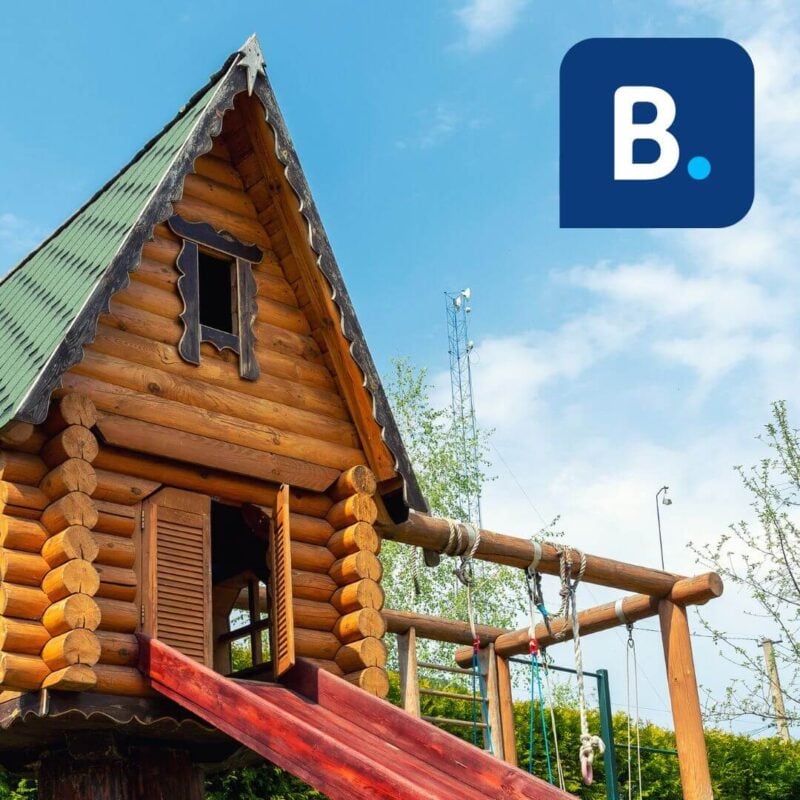 Get 15% OFF when you book through our link — and support the site you love so dearly 😉
Booking.com is quickly becoming our go-to for accommodation. From cheap hostels to stylish homestays and nice hotels, they've got it all!
View on Booking.com
Safety in Byron Bay
Byron is deceptive. Although it's a chill coastal town, it's also a pretty major party hub – like a secondary Gold Coast. It pays to keep your wits sharp.
Firstly, the cops: the Far North Coast police are not your friends; they have a pretty notorious reputation in Australia for being corrupt, heavy-handed, and revenue-pushing. Unless you're in a dire emergency, it's generally better to avoid them. They do often take drug dogs into venues as well and have been known to search people so know you're rights!
The nightlife in Byron Bay is also a pretty major epicentre of action. I'd like to say the town brings out the best in people but in my experience, it's usually the opposite. People get the worst type of messy in Byron Bay: loud, aggressive, and ego-driven.
Fights do occur, especially around schoolies time when all the school finishers flow into town: even my dad got sucker-punched once… actually more than once. Bike thefts are also pretty damn common (that's some sad childhood memories) and so is petty theft. Be smart and protect your shit: a money belt is an awesome way to keep your cash safe.
Given the party scene, it also helps to be careful with what you ingest. Byron Bay originally earned a reputation as a counter-culture hippy haven but times have changed so don't expect every substance you ingest to be of high purity and only cut with unicorn sparkles.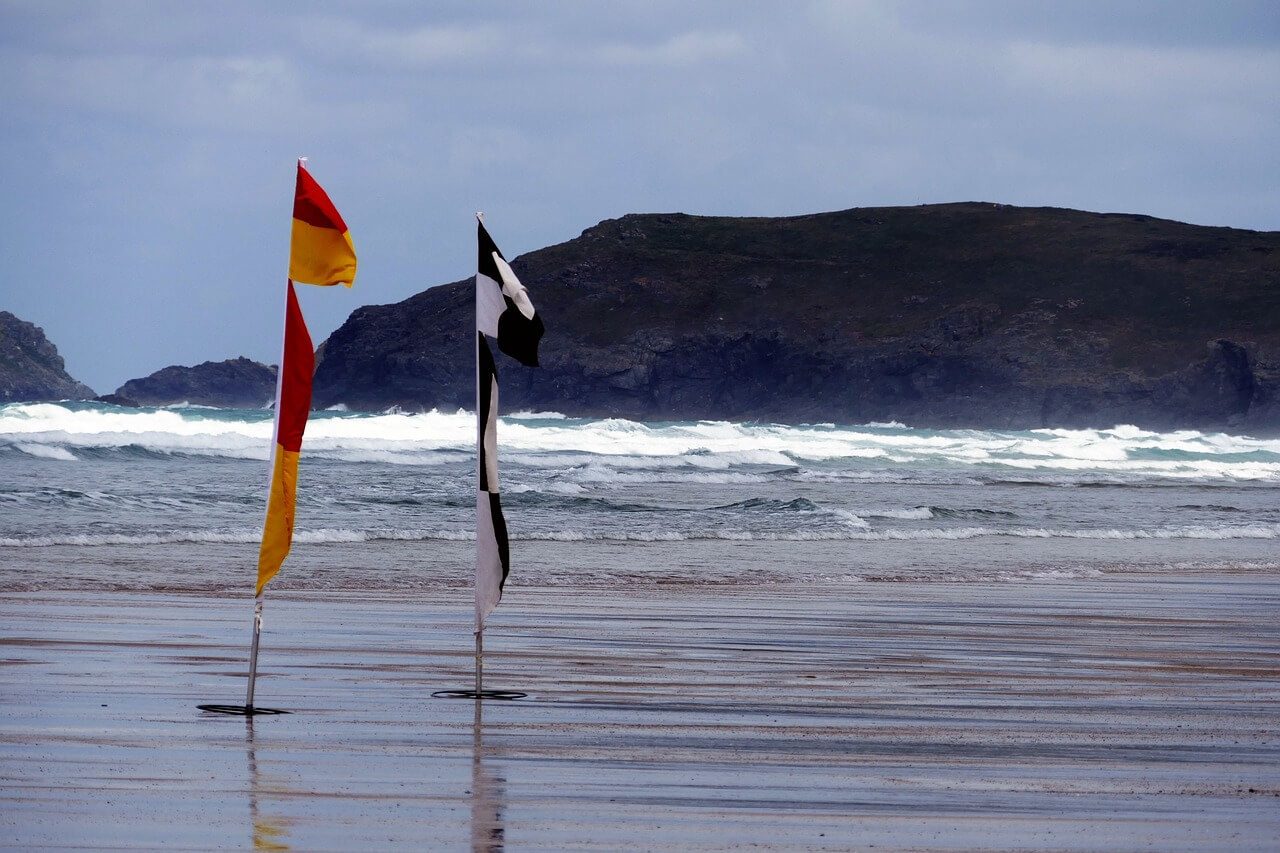 The last thing, and probably most important, is beach safety. People have drowned and many have almost drowned in Byron over the years. If you're not a strong swimmer then DO NOT DO ANYTHING STUPID!
Australia's beaches are not without their risks. If you're swimming on a beach with lifeguards, stay in-between the red and yellow flags and definitely between the designated swimming area flags; getting clobbered in the head by a stray surfboard can be as lethal drowning.
If you're surfing, stay the absolute hell away from people.
Get Insured before Backpacking Byron Bay
Schoolies, sharks, and vicious pigs of the 'wearing blue with a near-sociopathic superiority complex'… Byron Bay is safe, but also, things happen – I can tell you that from first-hand experience.
Always consider insurance before you travel.
Members of The Broke Backpacker team have been using World Nomads for some time now and made a few claims over the years. They're an easy to use and professional provider that the team swears by.
ALWAYS sort out your backpacker insurance before your trip. There's plenty to choose from in that department, but a good place to start is Safety Wing.
They offer month-to-month payments, no lock-in contracts, and require absolutely no itineraries: that's the exact kind of insurance long-term travellers and digital nomads need.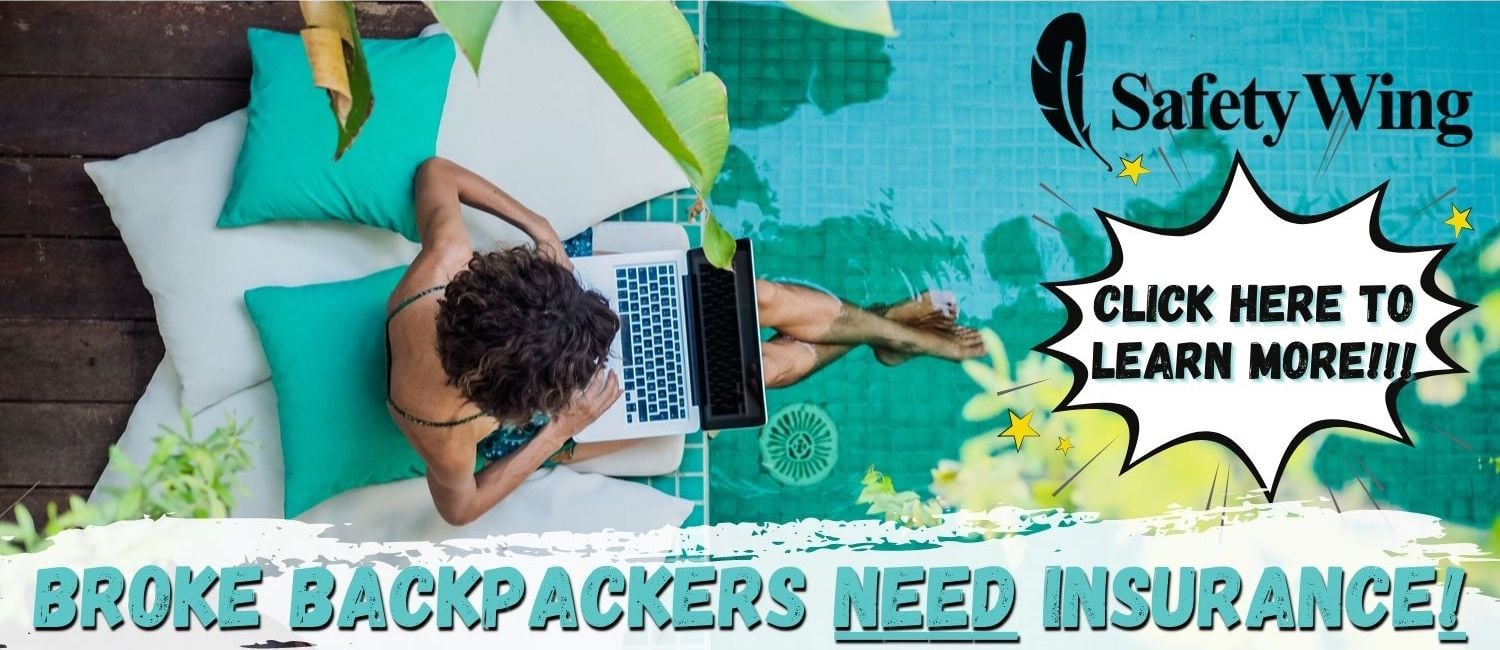 SafetyWing is cheap, easy, and admin-free: just sign up lickety-split so you can get back to it!
Click the button below to learn more about SafetyWing's setup or read our insider review for the full tasty scoop.
Byron Bay Accommodation Travel Hacks
Sure, you could be paying 30-40 bucks a night for a bed but if you weren't… think of all the extra joints you could be rolling! What's even better than the cheap accommodation in Byron Bay is the free accommodation in Byron Bay! If you're trying to bring your expenses down then try out some of these accommodation hacks:
Couchsurf! – Couchsurfing is a great way to save on cash on accommodation in Byron Bay and chances are you'll meet an awesome local human too.
The problem with Couchsurfing is that there are heaps of surfers and not many hosts (especially in Byron). Treat it like a job interview: show your best side and plan your Byron Bay travel in advance. Check out our guide on Couchsurfing for tips on how to get around.
Tap into your backpacker network – If you've travelled in Australia at all (or anywhere else for that matter) then you more than likely have someone in your six-degrees that can put you up while you're in Byron… or at the very least a lend you a yard to pitch a tent in!
Reach out to friends and friends-of-friends and see if anyone in your network is happy to offer a couch in exchange for washing their car or demolishing their DIY sweat lodge (or something… I dunno, I've done some weird shit for a bed). Us travellers tend to take care of each other so never be afraid to just ask for help.
Camping – Find yourself a peaceful site on the outskirts of town or a secret spot in town. If you're prepared, you can sleep anywhere!
Places to Eat in Byron Bay
This is the fun part! I get to tell you where to eat and it'll be none of that fancy Byron Bay restaurant crap! Just the local joints I grew up with.
Bay Kebabs – I still think this might be the best kebab shop in Australia. I once hitchhiked from a nearby doof to Byron just to get a kebab from these guys before finding a ride back to Sydney.
Fishmongers – You've also got Fishheads up by the water but these guys are better; they're hand-cut chips are da bomb!
Byron Bay Hotbread Kitchen – They used to just be called 23-hour Bakery (yes, 23) but times are changing and now they have a real name. Either way, their pies are banging, they have decent vego options, and they're open 24 hours (oh, everything changes) so you can go get yourself a hot pie at the end of a long night.
Legend Pizza/Earth and Sea Pizza – I couldn't decide between the two; they're both awesome and they've both been there as long as I can remember. More expensive than Domino's but it's worth it.
Byron Corner Store – Not quite the traditional Aussie corner shop I remember from my youth but still pretty close. Not too pricey with good food and damn good milkshakes.
Beloporto Burger Bar – Bloody damn good burgers. That's all I can say.
The Railway Friendly Bar – If you're after a pub lunch, then this is as close to a locals' pub as you'll get. The Northern is good too; just stay away from The Beach Hotel… it sucks.
In The Pink – Another local classic; delicious ice-cream that tastes like my childhood.
Nightlife in Byron Bay
There is most definitely a party scene in Byron Bay – oh boy it goes off. You've got the live music at the three pubs in town – The Northern, The Byron Bay Beach Hotel (The Beachie or Top Pub), and The Railway Friendly Bar (just The Rails) – or the Byron Bay Brewery right next to the Arts Factory. Of the four, my preference is with The Rails; it feels grungier and more local-local.
Then you have the clubs. Cheeky Monkeys is the classic; it's been there a long long time. The others tend to open and close depending on their success – that's Byron – but there is always a minimum of three nightclubs in Byron at any given time. Expect DJs and copious amounts of drinking and 'wooing'.
Drinks are expensive and pre-loading on a goon sack is about as classic Byron as you can get. Drugs are available but be smart in Byron; don't buy from anyone too sketchy and sometimes it's smarter to keep it between the travellers.
Bud is easily obtainable; just ask around with fellow backpackers especially down at the Arts Factory. They'll help you get on.
Books to Read While Backpacking Byron Bay
If you're expecting chill days on the beach and in Top Park then you may as well have a book to read. Expand your mind while backpacking in Byron Bay.
Make Money Online while Backpacking Byron Bay
Backpacking in Byron Bay long-term? Keen to make some cash when you are not exploring the city?
Teaching English online is a great way to earn a consistent income—from anywhere in the world with a good internet connection. Depending on your qualifications (or your motivation to obtain qualifications like a TEFL certificate) you can teach English remotely from your laptop, save some cash for your next adventure, and make a positive impact on the world by improving another person's language skills! It's a win-win! Check out this detailed article for everything you need to know to start teaching English online.
In addition to giving you the qualifications to teach English online, TEFL courses open up a huge range of opportunities and you can find teaching work all over the world. To find out more about TEFL courses and how you can teach English around the world, read my in-depth report on teaching English abroad.
Broke Backpacker readers get a 35% discount on TEFL courses with MyTEFL (simply enter the code BACKPKR), to find out more, please read my in-depth report on teaching English abroad.
Whether you are keen to teach English online or looking to take your teaching game a step further by finding a job teaching English in a foreign country, getting your TEFL certificate is absolutely a step in the right direction.
Being Responsible while Backpacking Byron Bay
Reduce your plastic footprint: Perhaps the best thing you can do for our planet is to make sure you do NOT add to the plastic problem all over the world. Don't buy one-use water bottles, the plastic ends up in landfill or in the ocean. Instead, pack a tough travel water bottle.
Go and watch A Plastic Ocean on Netflix – it'll change how you view the plastic problem in the world; you need to understand what we are up against. If you think it doesn't matter, get off my fucking site.
Don't pick up single-use plastic bags, you're a backpacker – take your daypack if you need to go to the shop or run errands.
Bear in mind, that many animal products in countries you travel through will not be ethically farmed and won't be of the highest quality. I'm a carnivore but when I'm on the road, I only eat chicken. Mass-farming of cows etc leads to the rainforest being cut down – which is obviously a huge problem.
Need more guidance? – Check out our post on how to be a responsible backpacker.
Backpacking around Byron Bay will bring you ample opportunities to participate in debauchery, and it is very important to have fun, let loose, and get a bit wild at times. Most trips I have been on across the world have included at least a few mornings where I wake up knowing I went too far.
But there are some things that will put you in the category of a straight up jackass if you do them. Being super loud and obnoxious in a tiny hostel at 3 A.M. is a classic rookie mistake.
Everyone in the hostel will hate you when you wake them up. Show your fellow travellers respect whilst backpacking in Byron Bay and anywhere else for that matter!
Final Thoughts on Backpacking Byron Bay
People either love Byron or think it's bloody overrated. I've never met someone who'd been to Byon and just said: "Oh yeah, it was ok."
Some people don't feel the vibe and that's totally cool. It's important to remember that Byron has changed over the years. Its roots as a counter-culture escapist haven have now given way to its identity as a tourist town.
But that's time and that's change and the feelings that gave Byron its claim to fame still very much exist. It's a paradoxical town; with two feet in two different worlds. It'd be fair to say that it's a weird town.
But that's why we like Byron. Because it's weird. The people are weird, the vibe is weird, and the glassy-eyed stare the seagulls give you while you eat your chips is weird.
And, the data is there. I've talked to people from all over the world in all kinds of places and the truth is undeniable: travellers love goddamn bloody Byron Bay.
Go to Byron and have a damn good time! The kebab shop alone is a good enough reason to visit Byron Bay.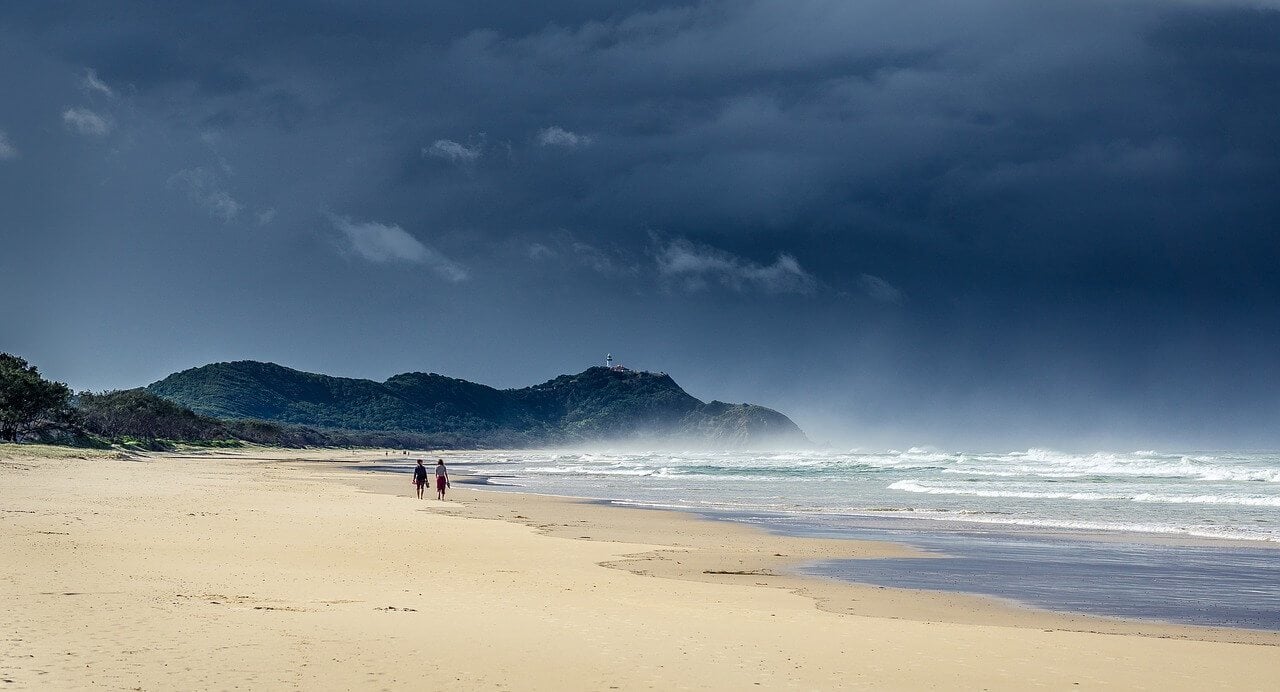 ---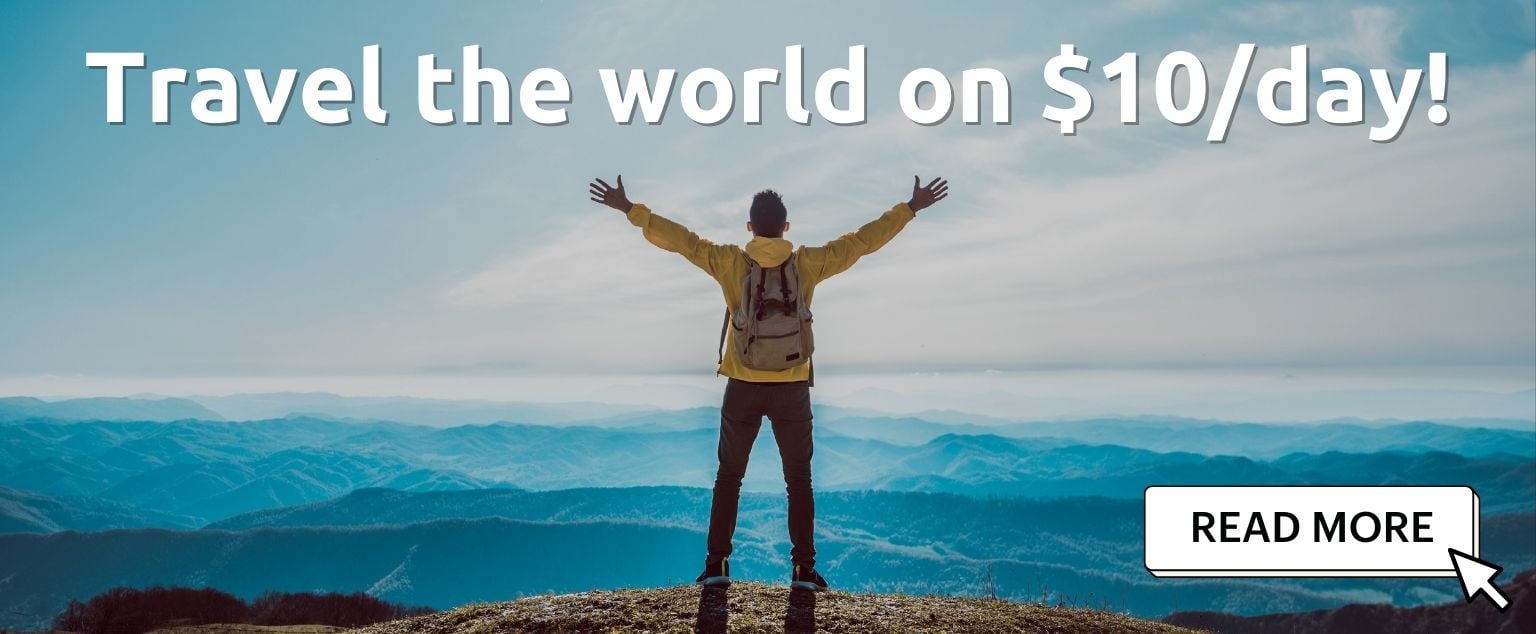 And for transparency's sake, please know that some of the links in our content are affiliate links. That means that if you book your accommodation, buy your gear, or sort your insurance through our link, we earn a small commission (at no extra cost to you). That said, we only link to the gear we trust and never recommend services we don't believe are up to scratch. Again, thank you!