Wow, where do I even start? Although most people think about kangaroos and the Great Barrier Reef when Australia is mentioned, the Land Down Under has so much more to offer. The country is incredibly diverse and enormous!
The country has six time zones and an eco-system as wide as it is varied. How many countries do you know that have vast, deserts, expansive everglades, and tropical islands dotting their shores? I can't think of many!
It will take you more than a lifetime to explore every single square mile of the country and it can take you equally as long to check all the accommodation options available, so I've decided to help you out a little. You're welcome!
When visiting Australia, there is no better way to experience the country than by staying in an Airbnb. Airbnbs in Australia provide some of the best locations, most unique properties, and all the comforts of home.
Sound great to you? Let's start exploring the best Australia Airbnbs then, shall we?
Quick Answer: These are the Top 5 Airbnbs in Australia
Overall Best Value Airbnb in Australia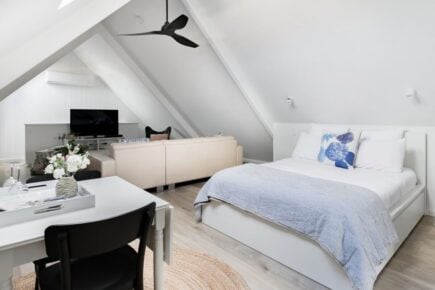 Overall Best Value Airbnb in Australia
Loft close to Adelaide's CBD and Adelaide airport
> $
> 2 Guests
> Shared pool
> Light continental breakfast
Best Budget Airbnb in Austrlaia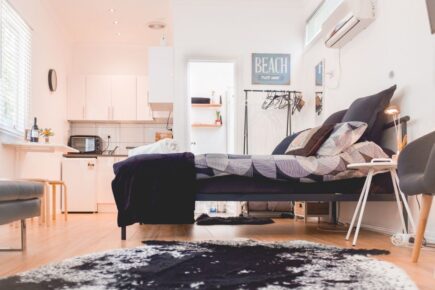 Best Budget Airbnb in Austrlaia
Studio in Baconsfield
> $
> 2 Guests
> Free breakfast
> Private hot tub
Best Airbnb for Couples in Australia
Best Airbnb for Couples in Australia
Rainforest retreat in Church Point
> $$$
> 2 Guests
> Balcony
> Private pool
Best Airbnb for Families in Australia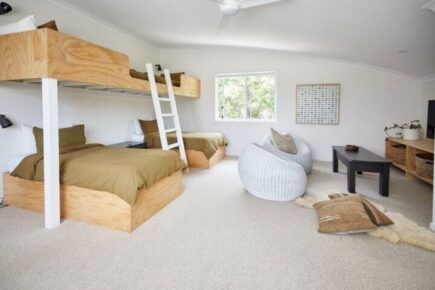 Best Airbnb for Families in Australia
Apartment in Angourie
> $$$
> 8 Guests
> Close to Spooky Beach
> Large deck with BBQ
Over-the-Top Luxury Airbnb in Australia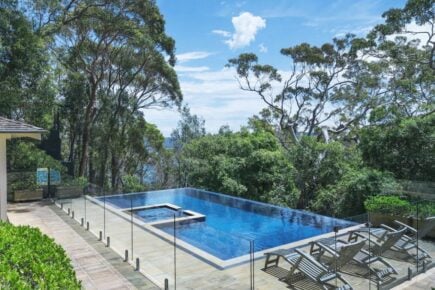 Over-the-Top Luxury Airbnb in Australia
1930s villa situated along the Pacific coast of North Sydney
> $$$$
> 8 Guests
> Period furniture
> Infinity pool with in-set spa

Unlock Our GREATEST Travel Secrets!
Sign up for our newsletter and get the best travel tips delivered right to your inbox.
What to Expect from Airbnbs in Australia
Ready to hit the waves or explore the vast Aussie wilderness? Exciting isn't it? But before you think of all the super fun things you can do in Australia, let's discuss all the properties available for travelers to call home while in the country temporarily.
When choosing a place to stay in Australia, you want to stay close to everything but still be able to enjoy some seclusion and serenity at the same time. The good news is there are plenty of Airbnbs located halfway between the center of town and the beach or jungle. What can be better than getting the best of both worlds?
Apartments
Mostly found in cities, apartments are convenient places to stay in because not only do you get the whole space to yourself, but most of them also come with extra amenities similar to hotels such as pools, gyms, and 24-hour security.
Apartments come in all shapes and sizes and can comfortably accommodate a single traveler to a family or a group of friends. If you are backpacking Australia on a budget, you might want to look for a private room in a shared apartment to save money.
Beach shacks or beach huts
Because Australia has the sixth longest coastline in the world, it is only proper that the country has hundreds of beach houses up for rent. If you're a beach bum and want to be in the water day in and day out, you should go for beach shacks.
You get unrivaled access to the sun, sand, and the water and they run the gamut from simple and small properties to stylish and luxurious. All you need to do is select one that fulfills all the needs on your checklist.
Villas
Large, equipped with different amenities, and most opulent, villas are the way to go if cost is not an issue for you. Just like apartments, villas come in different sizes too and with different levels of luxury. If you want to vacation without worries, you should get a villa that comes with additional services
The services of a driver, chef, nanny, and concierge will cost extra but you'll have peace of mind knowing that everything is taken care of.
Why Stay in an Airbnb in Australia
I can think of many reasons why you would opt for an Airbnb in Australia over a boring hotel room. Here are just a few…
Privacy: Use the filter to find private accommodations and choose to have as much or as little interaction with your hosts.
Unique Properties: Want to stay in one-of-a-kind properties? There's plenty on Airbnb.
Last-Minute Booking: You might arrive quite late at night at your destination but you'll be happy to know that you can find properties on Airbnb available for booking.
Airbnb Experiences: See and experience Australia through the eyes of a local with myriad activities waiting to be booked.
Amenities: Unlike hotels and hostels, you have way more amenities than in a hotel. I'm talking fully equipped kitchens, laundry services, comfortable living areas with books and games, and even free parking – perfect for those on an Australian road trip!
Local Experience: If you want to have an authentic experience, you can ask your host for their recommendations and they will be more than happy to help.
Top 15 Airbnbs in Australia
Ready to make your way to Australia? I'm just as stoked as you but let's check out the most wonderful Airbnbs in Australia where you can stay.
$
Light continental breakfast
Perfect for exploring Adelaide and its surroundings, you can easily walk to Norwood and Parade if this Scandi-style apartment becomes your temporary home.
Located in a quiet neighborhood in Adelaide, you'll be happy to know that the business district is just a few minutes' drive away and you can conveniently explore a plethora of cafes, wine bars, and restaurants, perfect for when you feel like having a night out.
You can take a dip in the shared pool if you would like to relax or spend a few minutes in the outdoor common area to catch some sun or perhaps read a book. You can request a portable hot plate if you plan on cooking light meals in the loft but a light continental breakfast is included in the daily rate.
This studio in Beaconsfield is proof that you can still sleep comfortably even if you're on a budget. Its private setting assures restful sleep plus where else can you get accommodation with a private hot tub for such a price? It's a steal and is one of the highlights of the loft!
Comfortable enough for two, from the loft you can easily get to the bus stop which is only about two minutes' walk away and takes you directly to the train station.
You'll love the free breakfast provided with tea and coffee which is additional savings for any savvy budget traveler. The private patio is a nice place to hang out and in case you're traveling by private car, free parking on the premises is provided.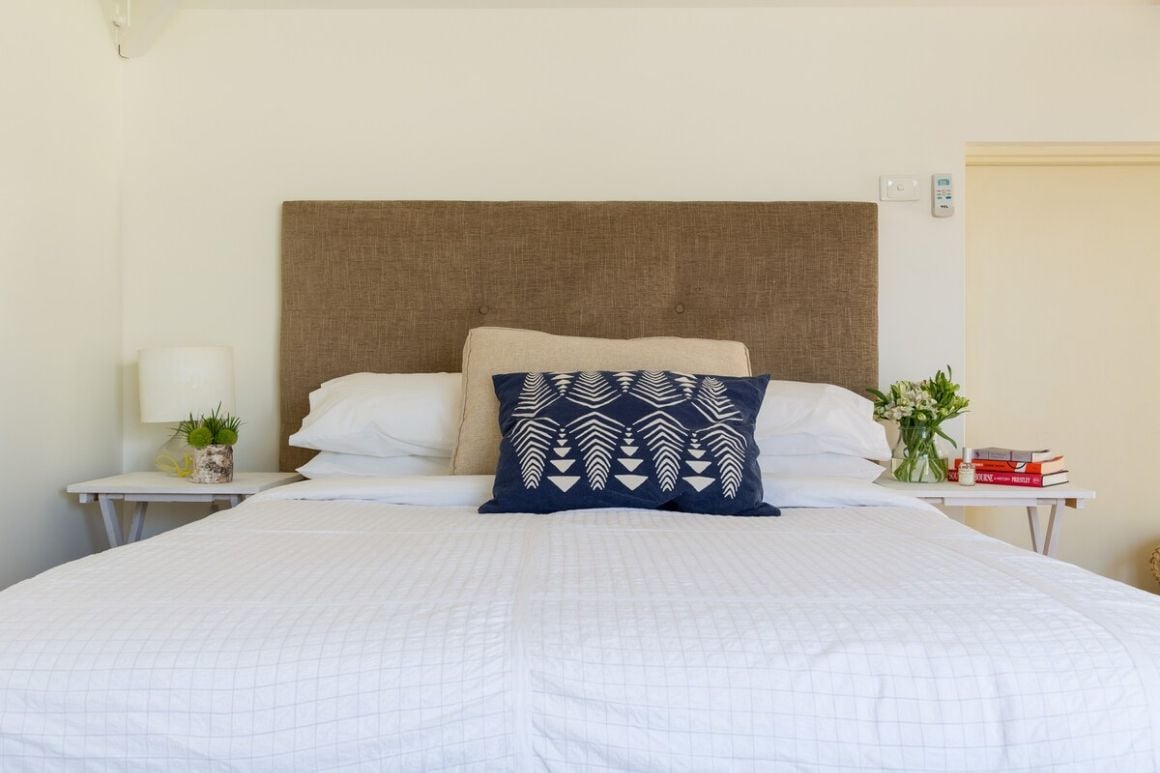 This stylish loft boasts one of the best locations in Melbourne. Perfect for a single traveler, it can accommodate two people at most and is only a stone's throw away from restaurants, pubs, and cafes.
Guests can go to the South Melbourne markets and beaches, as well as the city without any difficulty as public transport such as buses and trams are within easy reach too. The beach is only a comfortable walk away but if you can't wait to hit the waters, you can always take the tram to the beach. Bike hire stations are aplenty too.
Accessed via spiral stairs, you'll be greeted by a spacious, airy, gorgeous, and modern accommodation with a touch of class and elegance. What more could you wish for? You'll certainly love coming home to this loft after a day of exploring Melbourne.
Is This the Best Backpack EVER???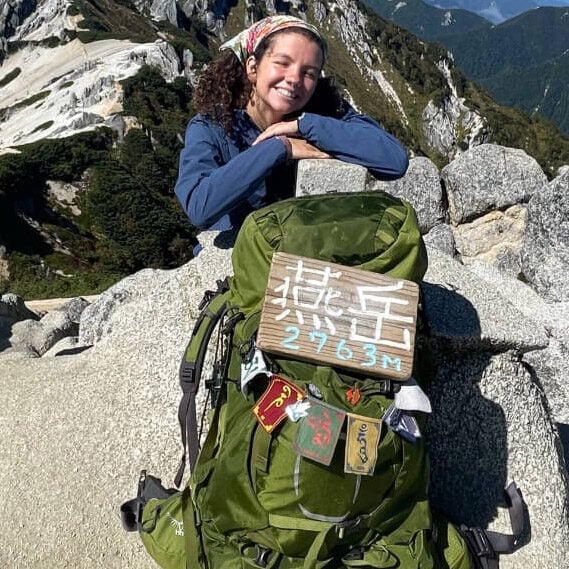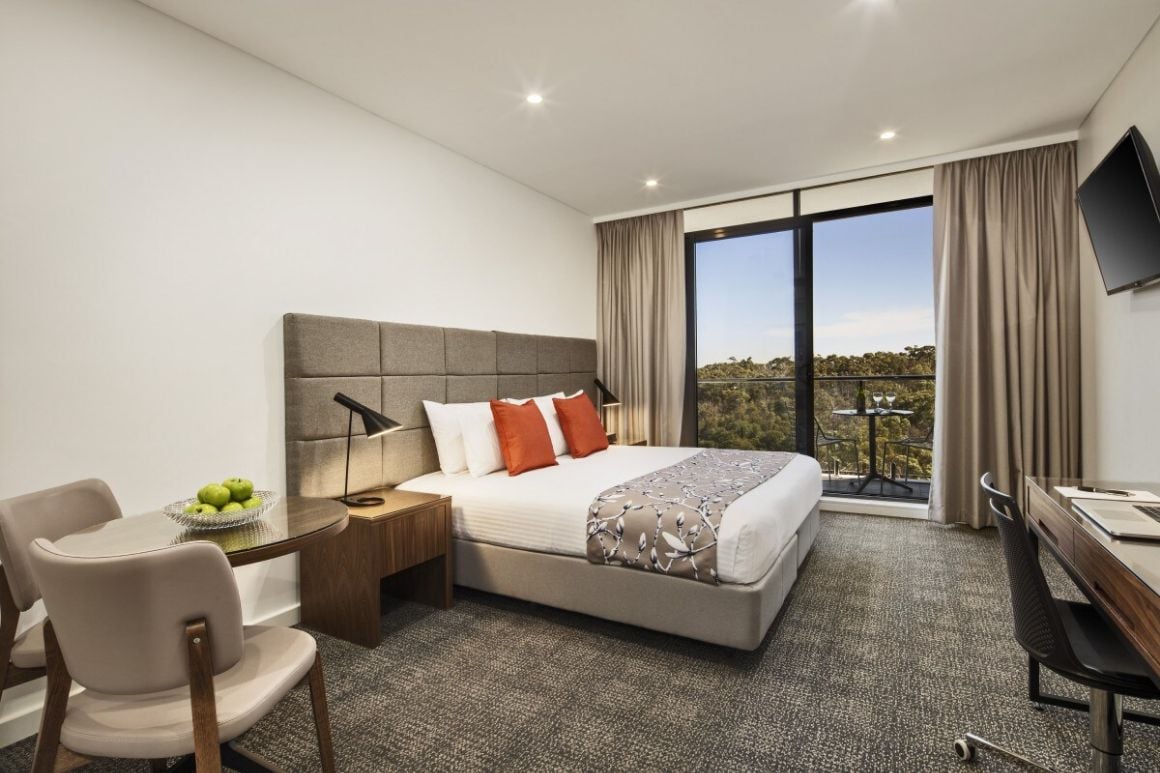 $
Wonderful views of Kings Park
2 Guests
Daily housekeeping
Travel and work comfortably in this studio equipped with all the things you need for a wonderful stay.
Modern, clean, comfortable, and located centrally, with this property in Perth you get a free and quick bus ride to town, perfect for exploring nearby areas after working on your laptop. You can take off your mind about cleaning too as daily housekeeping is included in the rate, excluding Sundays and holidays.
The balcony is one of the guests' favorite places in the home and they all agree that sitting there, having dinner, and watching the sunset is an experience worth having. Laundry facilities are available in the home and you can prepare light meals in the kitchenette.
2 Guests
Laundry facilities
Located in Sydney's King's Cross neighborhood, an area widely considered the place with the most happening nightlife, you can party till the sun comes up and have a safe and comfortable place to come to in the morning.
Aside from being in proximity of the hippest bars and restaurants, the apartment is within reach of fashionable Potts Point, often compared to The Big Apple's SoHo District.
You're essentially surrounded by galleries, boutiques, and bookshops. If you've had your fill of partying and late nights, you can easily walk to the CBD and explore a plethora of museums and galleries. The Opera House, Botanic Gardens, and the Sydney Harbour are waiting for your visit too.
$
Free continental breakfast
2 Guests
Excellent location
Considered one of the most wish-listed Airbnbs in the country because of its beauty and uniqueness, this glamping retreat has been featured in countless publications both online and off.
The straw bale yurt is nestled in more than ten acres of property with a sealed road in the Dandenongs, a place renowned for its scenery and beauty. There are myriad restaurants, cafes, bars, and supermarkets nearby, as well as a variety of shops where you will find everything you need.
The yurt is quiet and charming and offers isolation yet it's near enough to Melbourne's CBD so you're never too far away from civilization and all its comforts. A great place to explore is the Dandenong Ranges National Park which is only 15 minutes away by car from the property.
Stunning Airbnb for Honeymooners in Victoria | Romantic Luxury Villa
Spend your honeymoon in this romantic, loved-up villa in Victoria. No matter where you look, you are surrounded by stunning views and you might even spot a few wildlife when you venture out to the grounds, such as kangaroos, emus, and deer.
Present is also a wide variety of bird and duck species that call the nearby wetlands home sweet home. When you're tired from exploring the surrounding areas, you can just cuddle up with each other in front of the stone fireplace.
The huge spa is waiting for you to enjoy and with floor-to-ceiling windows, you'll have stunning views all day and any time of the day. You enjoy peace, seclusion, and romance but you're only within a few minutes' walking distance of the delightful cafes and restaurants of Halls Gap where you can enjoy a fine meal and a few drinks.
6 Guests
Access to the beach
Since the 1960s, this beach shack has been providing a cozy home for travelers. Nestled in a quiet location, it's peaceful and is perfect for relaxation yet also within walking distance to everything.
The spacious bedrooms are comfortable enough for six friends and the shack comes with a fully-equipped kitchen where you and your friends can prepare meals, as well as laundry facilities.
Large glass dining doors open onto a large deck with an outdoor entertainment area with BBQ facilities. Watch meat sizzle as you talk about all your beach adventures. The hammock is for you to lie on and is perfect for reading a book under the shade of trees.
The beach is only 25 minutes away from the shack so you can wake up in the morning and head down to the beach right away. If you're traveling by car, you'll be happy to know that there is parking space for two cars on the premises.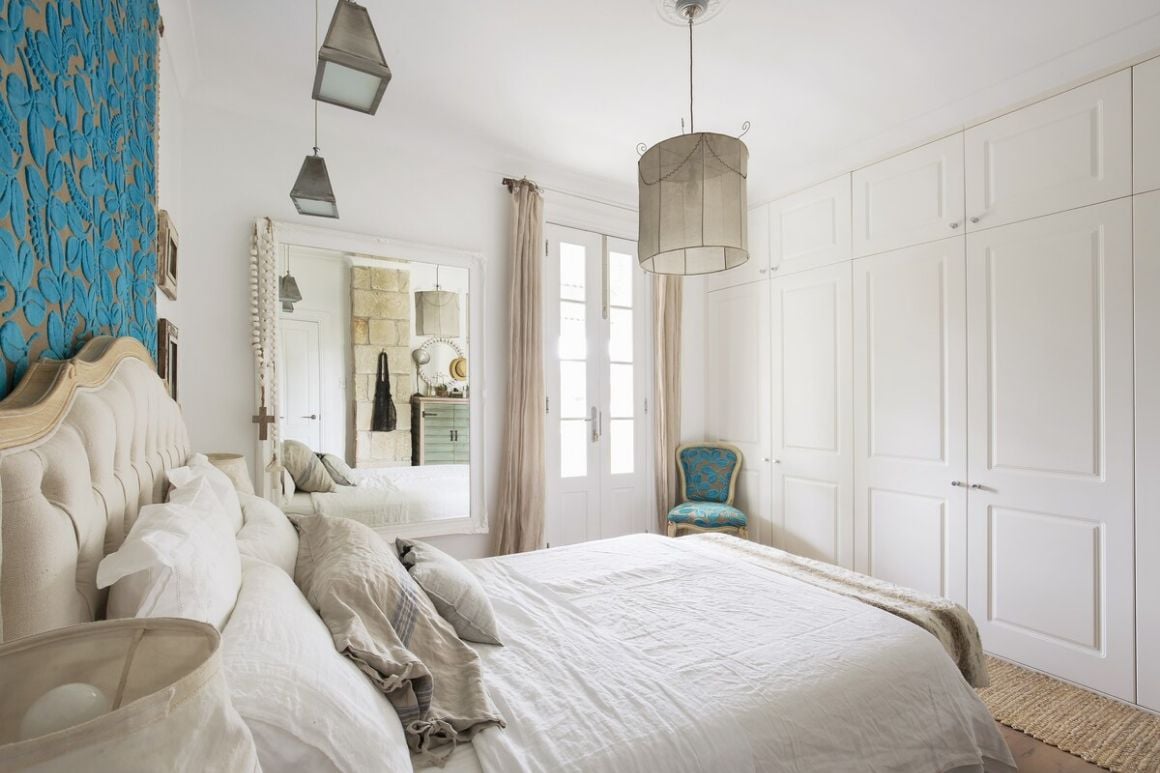 $$
About 30 mins from Sydney airport
4 Guests
Close to Manly Beach precinct
Bask in the beauty, style, and elegance of this renovated home from the 1860s where you will find every nook and cranny worthy of being featured on your Instagram profile. Enjoy the warmth of the fire in the living room or if the heat is taking a toll on you, you can always take a dip in the plunge pool to cool down.
The modern kitchen is outfitted with everything you will ever need to prepare a sumptuous meal and once all the cooking is done, you can enjoy the food in the rustic farmhouse dining room with vintage furniture.
The home is only about 10 to 20 minutes away from the Manly Beach precinct, an enclave full of trendy bars, hip restaurants, and ritzy boutiques. Plus, you get easy access to a variety of outdoor activities such as surfing and bushwalking, perfect for nature lovers and beach bums.
$$
Easy access to the town center
2 Guests
Public transport nearby
With paradise only a few minutes away, you'll never be left wanting if you stay in this lovely apartment. You'll always wake up on the right side of the bed when surrounded by panoramic views and a pool all to yourself.
Oh, the sauna is another highlight which previous guests can't help but rave about. When visiting in winter, make it a point to journey to Palm Beach Light House where you can spot whales.
Another nearby place worth checking out is Ku-ring-gai Chase National Park where you'll see a myriad of indigenous rock cravings and even spot a few wallabies.
With its easy access to the town center, you can quickly get everything you need for a comfortable stay. A restaurant, café, and mini-mart are just down the road too, and the bus stop is right in front of the apartment. What more could you wish for?
$$
Near cafes, restaurants, and wineries
4 Guests
A few minutes away from the beach
Hidden in a secluded location, this cabin can comfortably sleep four people and comes with a kitchenette, fire pit, and pizza oven, perfect for when you want to flex your culinary skills. Note that the outdoor kitchen and facilities are shared with other guests.
The cabin is near enough wineries, beaches, restaurants, and cafes for when you would rather relax and have someone else prepare dinner for you. breakfast hampers and grazing platforms can be ordered from the hosts too.
The outdoor bath is waiting for you to soak in and rinse off after a day spent happily at the beach after which you can stay on the verandah with beautiful views of the garden. The tennis court is available for guests to use but you can sprawl on the daybed listening to the sounds of the surrounding wildlife with a cold or hot drink in your hand.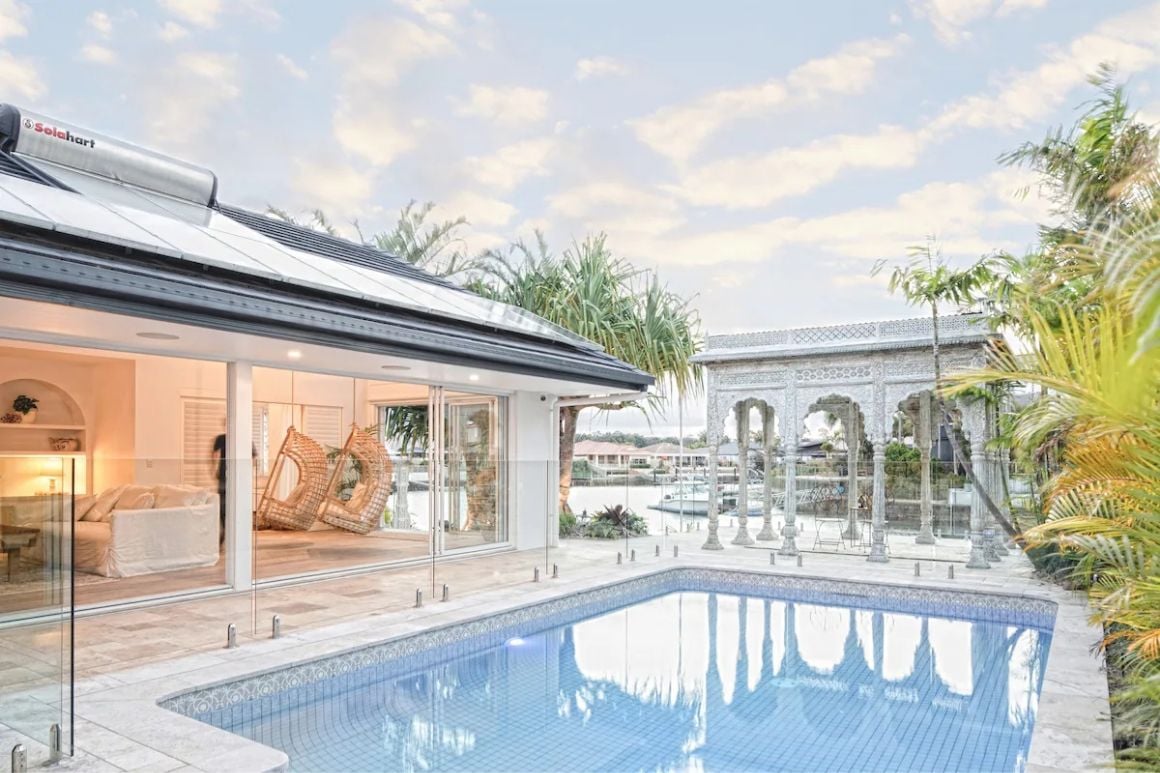 $$
3 mins away from the shopping center
You will feel as if you traveled to some luxurious, tropical destination out of the country when you stay in this waterfront property aptly called Nirvana. Located in a waterfront suburb, this beautiful retreat is stylish and tastefully decorated.
Sophistication and beauty start from the doors which have been imported from India. Guests can't help but feel calm when they see the whitewashed walls too and the fully-equipped kitchen is ready for you to flex your culinary skills.
Sit and unwind on the swinging chairs overlooking the canals or read your favorite book. Enjoy alfresco dining on the covered deck or go for some laps in your private saltwater pool. The Indian gazebo is another highlight where you can have your coffee in the morning or a glass of your favorite wine or champagne in the evening.
Over the Top Luxury Airbnb in New South Wales | 1930s Villa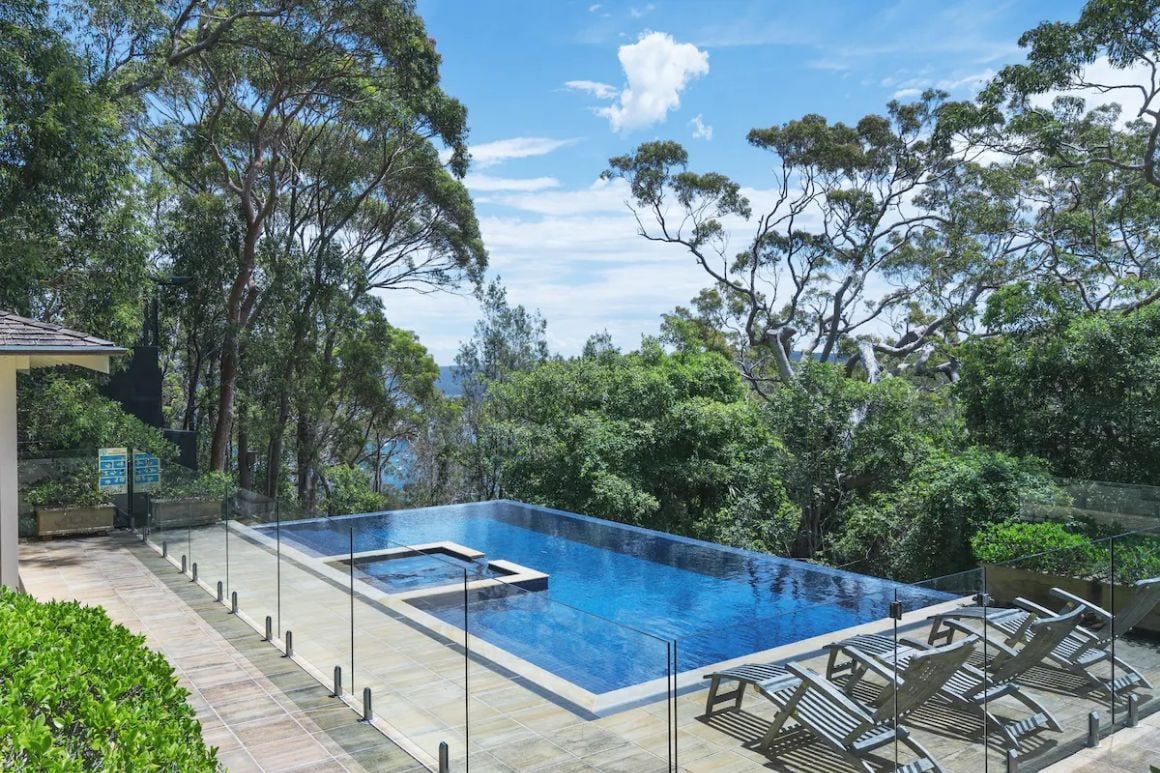 $$$$
Infinity pool with in-set spa
Live in the lap of luxury in this 1930s villa just north of Sydney. Staying true to the 1930s, it is decorated with hardwoods, exposed stone, and crown molding but it is equipped with modern amenities to make your stay as fabulous as can be.
Bringing the kids in tow? Don't worry as the lawn has ample space for them to run around in and there's a bonus private playground too.
The terrace boasts an infinity pool with an in-set spa so you can perfect your tan, swim a few laps, and pamper yourself whenever you want to. Included in the rate are the services of a concierge and the villa manager so like we said before, you don't have to worry about a thing. Just focus on relaxing yourself.
Surrounded by lush greenery, this rainforest retreat is about 45 minutes away from the CBD of Church Point and nothing short of breathtaking.
Built on the edge of Ku-ring-gai Chase National Park, this container house was designed with tranquility, seclusion, and sustainability in mind. You get magnificent floor-to-ceiling rainforest views wherever you are in the house, a treat for eyes tired which have had too much of the urban jungle.
The private pool is all for you to enjoy and the balcony has comfortable outdoor seating perfect for thinking, talking with friends, working, or just doing nothing. The master bedroom that faces a massive rainforest may just make you stay in bed all day and admire verdant greens. You might even get a glimpse of the local wildlife too.
Best Airbnb in New South Wales for Families | Apartment in Angourie
8 Guests
Close to Spooky Beach
Adults, as well as children, are going to have a grand time in this gorgeous two-story home close to Spooky Beach. The large deck comes with a built-in BBQ so you can put your grilling skills to good use while enjoying the spectacular ocean views.
The back of the house offers plenty of fun with the private pool and the outdoor hot and cold shower. Take some refuge from the heat of the sun in the shaded pergola or let your kids run around and shoot some hoops at the driveway.
The master suite has magnificent ocean views and the oversized bedroom is perfect for the kids where they can play with an assortment of toys and pick their favorite built-in bunk to sleep on. The large kitchen has everything you need to prepare meals for the whole family and the living room opens out to the front deck for the perfect blend of indoor and outdoor space.

Our GREATEST Travel Secrets…
Pop your email here & get the original Broke Backpacker Bible for FREE.
Top 5 Airbnb Experiences
With its vastness and diversity, it can be a challenge to narrow down the things you want to do in Australia. A good tip is to focus on a particular destination and consider the activities you have never done before if you're up for something new.
We have taken the liberty of selecting five activities that we think are interesting and are worth doing. From discovering secret bars to seeing glow worms in a cave, these are the things you should book on the Airbnb platform. They will make your vacation even more enjoyable.
If you love nature and would like to get a taste of Australia's outdoors, this is the best activity to take part in when in Tasmania.
Wear appropriate clothes and comfortable shoes for this adventure as it takes nine hours and will take you through Derwent Valley to Mt. Field National Park.
Undoubtedly, the star of the show of this adventure is Russell Falls where you'll find yourself strolling through fern forests and gigantic trees.
You'll pay a visit to the most popular animal carer on this side of the world who has dedicated his life to the care of Australian animals, such as the Tasmanian Devil.
The stops included are the beautiful town of Richmond, Hobart, and finally summit of Mt. Wellington for gorgeous photos and amazing views. All admission fees are included in the ticket price.
This foodie tour starts early in the morning and will take guests to four different places, each with six to seven tastings.
The experience is customizable and guests are given the option to pick out from at least 50 wineries, chocolate factories, as well as cheese factories, breweries, cider houses, and restaurants in the area.
Or you can also just let the host decide where to go. He will pick four one-of-a-kind wineries and will stop for 45 minutes in each one to take in the scenes and enjoy snacks that guests are encouraged to bring along.
Oh, you'll see kangaroos in a secret spot too. The price is inclusive of one complimentary wine, six to seven tastings at four different wineries/breweries, a cheese platter, and transportation.
This highly-rated and fun bar crawl starts on Stanley Street and takes guests to three or four small, secret, and hidden bars in the areas of Darlinghurst and Surry Hills.
This activity is suitable for solo travelers, couples, and even groups of friends who want to discover the fun Darlinghurst has to offer at night. As you explore the area and sip spirits, you will hear stories of crime gangs too.
The activity can be customized according to alcohol preference and a dinner reservation can be added too. Some food and the first drink are included in the price, anything other than those have to be paid out of pocket but you'll be happy to know that some bars give discounts to guests.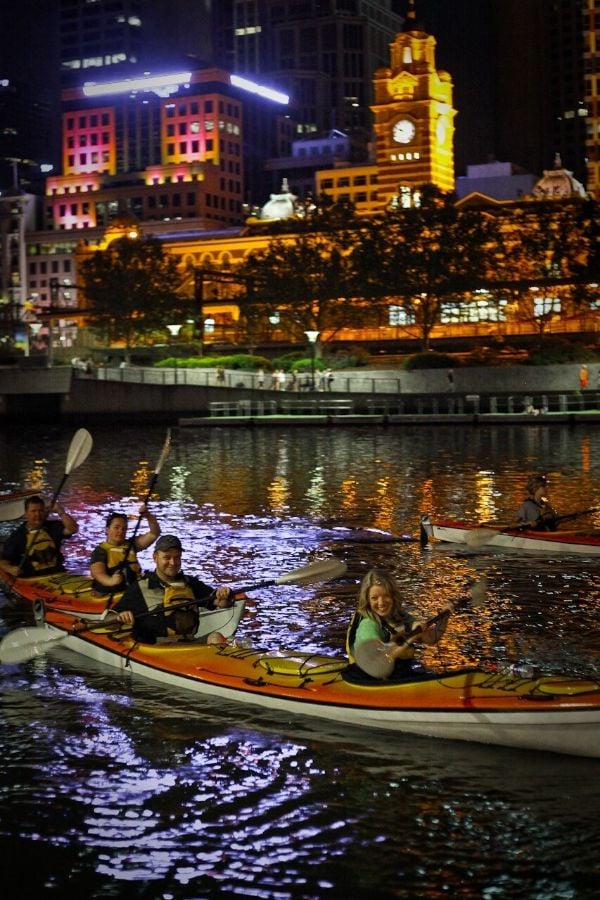 Experience Melbourne in a unique way with this sunset kayak tour. A favorite activity of people visiting the area, this experience begins just before sunset in Victoria Harbour where you will go through a short safety briefing, as well as get information on paddling techniques on land before setting off on your adventure.
Guests stay in the kayak while enjoying a meal of fish and chips after which the tour starts upstream and through downtown Melbourne.
Prepare your camera because you will be greeted with breathtaking views of the skyline, as well as the sunset. The tour ends right in the heart of Melbourne at the Rowing Sheds. Food, drinks, and equipment are included in the price.
Suitable for anyone aged seven and up, this popular activity is educational too and will take guests through a forest and rainforest that's included in the World Heritage List.
The activity begins at sunset when introductions and a safety briefing are made. As the stars begin showing themselves in the sky, the 20-minute walk starts with the aid of torches.
You will be walking through a waterfall, as well as an overhanging cave where you might see nocturnal animals such as possums, bats, and owls.
If you book this activity within the first three weeks of summer, you might even see fireflies too. You will learn about the larvae and the reasons why they light up. A medium fitness level is required for this activity as you will be climbing stairs and traversing sections that are heavily eroded.
Don't Forget Your Australia Travel Insurance
ALWAYS sort out your backpacker insurance before your trip. There's plenty to choose from in that department, but a good place to start is Safety Wing.
They offer month-to-month payments, no lock-in contracts, and require absolutely no itineraries: that's the exact kind of insurance long-term travellers and digital nomads need.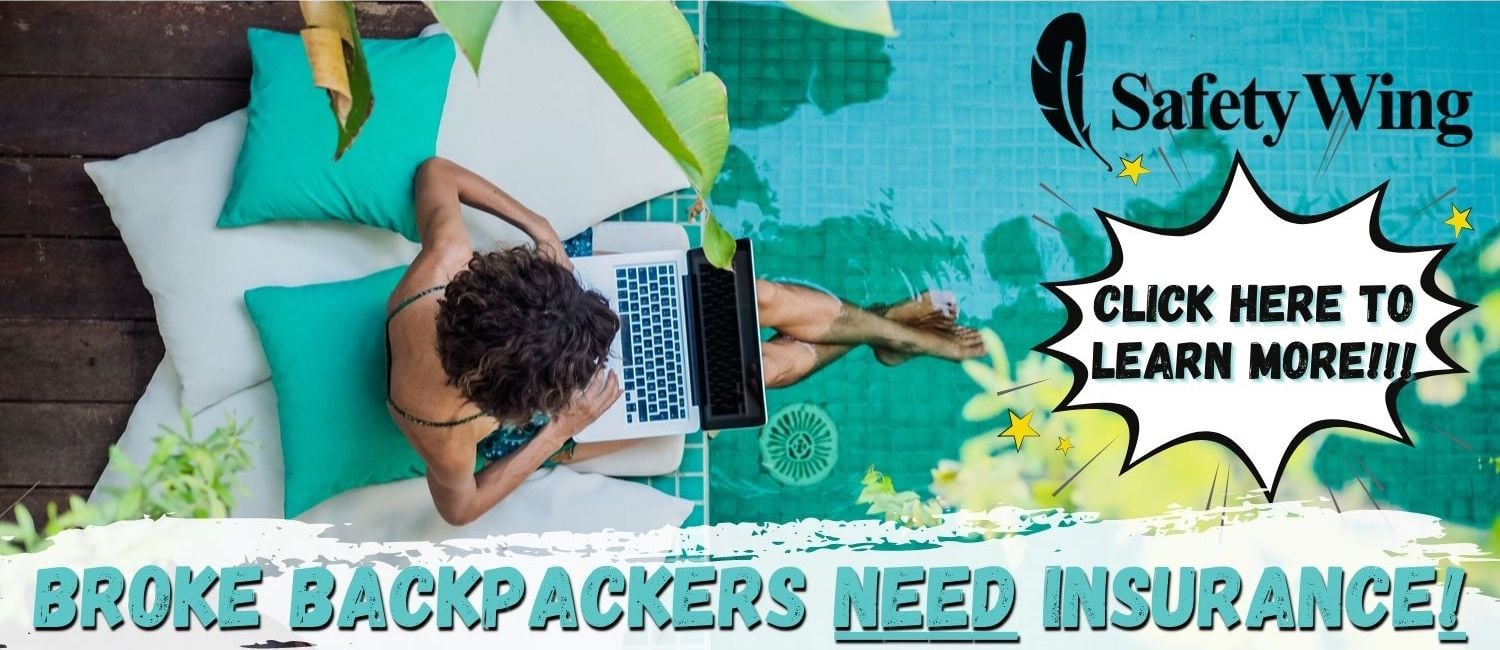 SafetyWing is cheap, easy, and admin-free: just sign up lickety-split so you can get back to it!
Click the button below to learn more about SafetyWing's setup or read our insider review for the full tasty scoop.
Final Thoughts on Australia Airbnbs
Australia is a vast country with tons of choices of accommodations, as well as activities. I know it can be mind-boggling deciding on where to stay, so I hope these Airbnbs in Australia give you some inspiration and guidance.
Your accommodation plays a huge part in your vacation, therefore you should make it a point to choose one that ticks all the boxes. Of course, you need to add in various activities that are uniquely Australian too.
Another thing which you should remember to do before you head off on your Australian adventure is to take out travel insurance. Enjoy your time in the country without any worries with the help of World Nomads.
---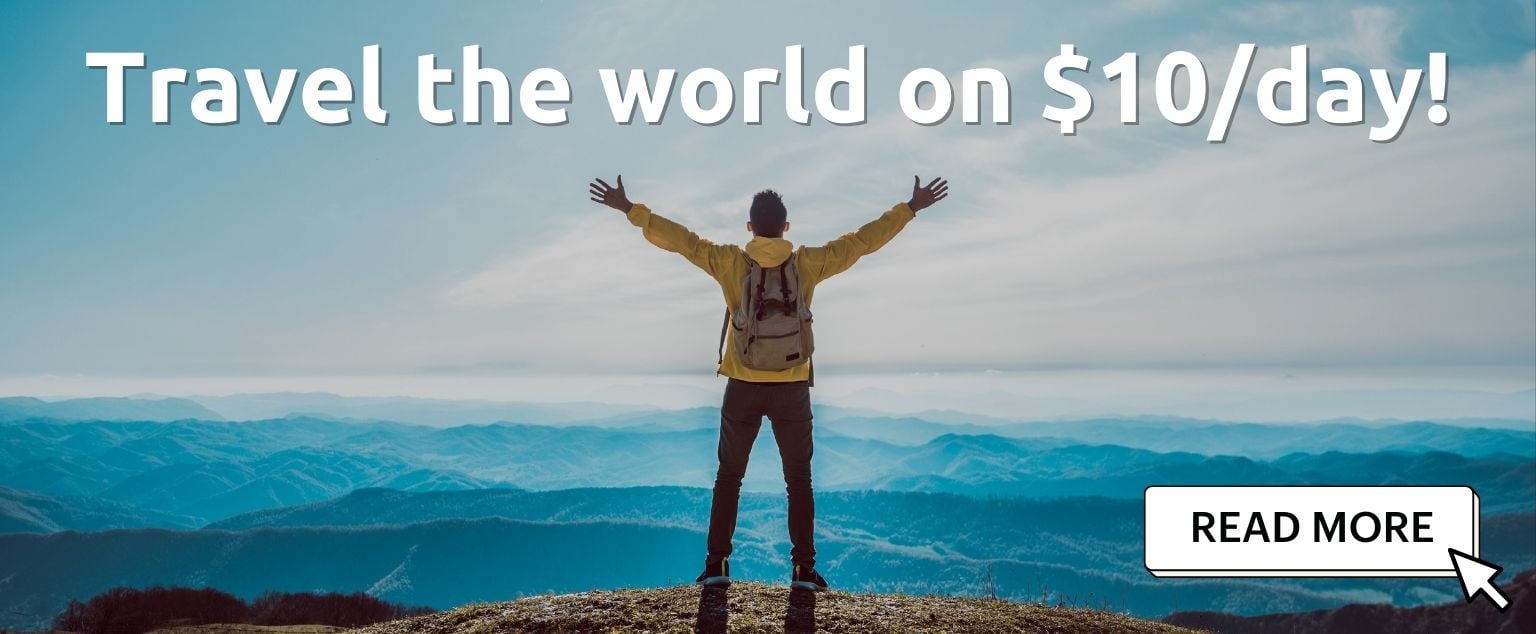 And for transparency's sake, please know that some of the links in our content are affiliate links. That means that if you book your accommodation, buy your gear, or sort your insurance through our link, we earn a small commission (at no extra cost to you). That said, we only link to the gear we trust and never recommend services we don't believe are up to scratch. Again, thank you!