Which country has the most national parks in the world? Australia!
And how many national parks are there in Australia? Way too bloody many, mate!
At least 500… more probably. Hell, if you're counting all government-protected land, you're looking at more than 800 parks in total!
From exploring the many wonders around the Great Barrier Reef to sailing your way around the scenic Whitsunday Islands, Australia certainly packs a punch when it comes to epic adventures!
Boasting delightful contrasts, Australia is the kind of country where lush-green forests merge seamlessly with sandy shorelines. Fringed by towering mountain peaks, the country is teeming with kangaroos and various other types of wildlife—some more fictitious than others! (Drop bears, anyone?)
From the deserts to the tropics… from red to green and every colour in between… Oz is a special, unique place. And if you've ever met a platypus (or an Australian), then you know it's a strange place!
This showcase of Australia's top national parks is a testament to just that.
National parks refer to any areas of water or land that are used for conservation purposes. These are often created or protected by national governments or private bodies. In most cases, national parks are developed, natural, or semi-natural areas. While they are commonly used for tourism and recreation, visitors should abide by some rules to avoid damaging the local flora and fauna.
Australia's diverse landscape means that you'll have more than your fair share of majestic sights to take in. Indeed, Australian parks are known for being nothing short of spectacular, with beaches full of kangaroos, crystalline waterholes, hidden waterfalls, gorges, and so much more.
From extreme weather conditions to gigantic spiders, it's no secret that Australia likes to play on the wild side. As such, there are a few precautions that you should take when visiting the parks. For instance, diving headfirst into any body of water is highly dangerous, and you must always remember to maintain a safe distance from any form of wildlife, including kangaroos and koalas. Be super careful when visiting sandstone cliffs, and avoid going too close to the edge—or the whole thing may just collapse.
Okay, enough with the heavy!
Here's the great news: regardless of whether you are planning a quick break or backpacking across Australia, there will always be a national park nearby! This list of national parks in Australia—broken down by state—has a flavour for everyone's palate and a cheese for everyone's cracker.
With just a thin layer of Vegemite.
Australia's most populous state by a clear majority, New South Wales (or NSW) is better than Queensland. Oops, did I say that? I mean it's magnificent.
Environmentally, NSW is a gorgeous area of Australia with a lot to offer. It's got mountains, bushland, expansive tablelands, rolling coastal highlands, sub-tropics, and of course those spectacular east coast beaches almost synonymous with Australia's tourism sector. And best of all, there are no Queenslanders!
Blue Mountains National Park
Highlights:
The classic Three Sisters from Echo Point Lookout, Katoomba.
Exploring the sprawl of Jenolan Caves.
Trudging through the Glow Worm Tunnel.
Australia doesn't have tall mountains—it has big mountains. Sprawling, expansive ranges that eat people. The Blue Mountains are just that.
I've spent a lot of time staying in the Blue Mountains, but even now, its scale just floors me. Viewpoints offer vistas of endless Australian bushland stooped through valleys of towering sandstone cliffs and plateaus. At just the right time, in the right places, the gum trees tinge the mist a pastel shade of blue.
The Blueies are a perfect escape from the density of Sydney—an hour to the west and you hit an Aussie adventure wonderland. Hiking and camping are a given, and there are heaps of world-class climbing routes, abseiling, and other activities too. And between it all is the timeless village life.
(And the best kebab shop in the Sydney area is in Springwood.)
Local Tip from a Sydney Sider
If you wanna get technical, the Greater Blue Mountains Area (a World Heritage Site) is absolutely gargantuan. Almost a third the size of Belgium (suck it, Europe), it includes the Blue Mountains National Park, six more national parks, and the world-renowned Jenolan Karst Conservation Reserve. The Blue Mountains are perfection and undoubtedly one of the most beautiful places to visit in Australia.
However, the Blueies are just my personal fave of the national parks in and around Sydney. Look at a map and you'll see that Sydney is actually encircled by various national parks (most of which constitute the Greater Blue Mountains Area).
Kosciuszko National Park
Highlights:
Summiting Mount Kosciuszko.
Skiing, snowboarding, and winter escapades.
Camping by the Snowy River (preferably while reciting 'The Man From Snowy River').
Okay, I lied, there are tall mountains in Australia… sort of. It's all relative. But Australia's highest mountain—Mount Kosciuszko (Ko-zee-os-koe)—sits at 2228 metres amongst the major alpine region known as the Snowy Mountains.
Yep, too right, the 'Snowy Mountains'. We got snow too, mate. It ain't all beaches and spiders!
Kosciuszko National Park is one of the most popular national parks in Australia for a ski holiday (specifically the Thredbo and Perisher Blue ski resorts). Another of Australia's devastatingly large mountains ranges, the Snowies are also cold! Anyone who tells you that backpacking in Australia doesn't get cold and wet is a dirty, filthy liar.
The activities you're seeking are going to affect when you visit the Snowy Mountains. However, it's worth noting that the summer months make for gorgeous hiking. You can still climb Mount Kosciuszko in the winter (provided you're equipped for a snowbound trail), but once the blanket of snow evaporates and the wildflowers start blooming, the alpine hiking trails in Kosciuszko really come alive.
Mungo National Park
Highlights:
Walk amongst the Walls of China (which are, unsurprisingly, neither of those two things).
Learn about the Aboriginal heritage of the area.
Picnic lunch at Red Top Lookout.
There are plenty of exquisite and untouched beaches amongst NSW's national parks (shoutout to the Jervis Bay area), but I don't give a shit! Welcome to the harsh and unforgiving reality of Australia's near-uninhabited inland.
As far as national parks in Australia are concerned, Mungo totally takes the cake when it comes to unique landscapes. It's home to lunette (crescent-shaped) dunes so huge that they've even been dubbed 'the Walls of China'.
Mungo National Park is an unreal desert landscape: a hauntingly breathtaking collection of ancient dry basins and eerie sand formations. It's hard to believe that this area was once inhabited by the Aboriginal people. The oldest human remains ever discovered in Australia—dating back to around 42,000 years ago—were discovered buried here on the shore of the eponymous Lake Mungo.
This is one of many desert national parks in Australia (of which I am certainly a fan) and not even the most famous. That said, it's a testament to just how varied even New South Wales alone is. Anyone who's a fan of desert planets in sci-fi movies (think Dune meets Tatooine with kangaroos instead of monstrous sandworms), will dig the Mungo Man's stomping ground.
If you're interested in the local history, I would recommend that you book an Aboriginal discovery tour alongside a ranger to learn more about the Dreamtime stories while exploring the more sensitive area found beyond the Walls of China.
Alriiight, Queensland ain't so bad! They are the state that reared Steve 'Crikey' Irwin after all—Australia's second-most treasured national hero after Phar Lap (who was a horse, and thus the bar is low).
It's never really cold in Queensland. Part of Australia's tropical belt, the primaeval rainforests are truly enchanting and their pristine white squeaky sands may just honestly edge out the best beaches in New South Wales. It's a very essential slice of the Australian east coast experience.
And given the presence of crocodile hunters, there are indeed crocs! Just stay outta the billabongs and you'll be alright. Besides, they're still not as ugly as the Queenslanders.
Great Barrier Reef Marine Park
Highlights:
Scuba diving (duh).
Scuba diving from a liveaboard.
Visiting Green Island.
One of the 'Seven Natural Wonders of the World', the Great Barrier Reef needs no introduction. It is the largest coral reef system in the world stretching more than 2300 kilometres. No words can do justice to the magnificence of this site's biodiversity and environmental significance.
Being underwater, you're not going to be able to explore the Great Barrier Reef in the traditional backpacker fashion (unless you're secretly a penguin). Your choices include:
Snorkelling
Scuba diving
A cruise
A helicopter tour
And truth be told, they're all fantastic options (just as long as you see it)!
If you're visiting Cairns or the Whitsundays (the Whitsunday Islands National Park are another firm honourable mention), then the Great Barrier Reef is another unmissable national park in Australia. It's also home to a number of great destinations, so you can stay near the Great Barrier Reef and make the most of your trip.
Great Sandy National Park AND Fraser Island
Highlights:
Hiking the Cooloola Great Walk (5-day trek).
A meander along Rainbow Beach.
Four-wheel driving (or 4WDing) around Fraser Island.
I went to Fraser Island as a kid. I don't remember a lot, but I do remember crystal-clear aquamarine waters and spotless white sand!
The Great Sandy National Park heavily encompasses most of what those who dream of the coastal Australian landscape long for. Pristine beaches of bleached and colourful sands framed by forest and near-perfect ocean waters.
While the coastal national park does already cover a lot, the addition of Fraser Island to the mix (it is genuinely so close to the coast you could almost swim) only sweetens the pot. The world's largest sand island, it's so damn pretty that it even blew the balls off a nerdy fat kid that just wanted to stay in the resort and play Gameboy!
For anyone travelling to the Sunshine Coast, the Great Sandy National Park is only a stone's throw away and well set up for tourists. There are heaps of family activities, top-notch picnic spots, and you're considerably less likely to drop off the face of the planet here than, say, the Belgium-sized mountain ranges I mentioned before.
Daintree National Park
Highlights:
Surf the canopy on a zipline.
Experience a guided tour from a local member of the Aboriginal community.
To be honest, there's heaps of touristy stuff.
Ok, so thus far we've had mountains, mountains that technically aren't mountains, extraterrestrial deserts, magnanimous beaches and marine life… But we haven't had rainforests. Don't fear, Oz has that too!
One of the best national parks in Australia to explore, the Daintree National Park (named after Richard Daintree, a pioneering Australian geologist and photographer) is renowned as being one of the most complex and diverse rainforest ecosystems on earth. Beginning with Mossman Gorge in the south, you'll find countless granite boulders strewn through the untainted forest rivers.
The park then stretches north to the Cape Tribulation area. Here, the forest meets the sea at more of those quintessential Queensland paradisiacal sands.
Also, it's one of the only regions in Australia to see a cassowary in the wild. What's a cassowary? Well, think of an emu that pimped itself out and is now staunching the end-of-year prom—sexy, seductive, and self-righteous.
Victoria is New South Wales's less-successful but much cooler younger sister. She may not rake in the big bucks economically, but guaranteed she'll bring better beats, babes, and bud to your party!
At a much smaller size than most of Australia's other states, everything is just a bit closer together. That combined with the central location of Melbourne on the south coast means that most of Victoria's best national parks are only a short road trip away! 'Short' being relative to the country whose second-smallest state is bigger than Great Britain.
Grampians National Park
Rock climbing is the standard.
View the ancient Aboriginal rock art sites.
Too many damn lookouts! (Boroka Lookout, the Pinnacle, Mount William, etc.).
I know the Grampians thanks to my ex (may God forever break her headphones). It was one of the two Ozzie rock climbing hotspots—alongside the Blue Mountains—that she never shut the front door about. To be fair, they are divine.
I can't crutch on the word devastating for the whole article, but often there are no other words for the Australian landscape. The Grampians are devastating. Devastating sandstone monuments bringing devastating panoramas over the Victorian Highlands. Late August to mid-November is the wildflower season, and the exquisite colour scheme only makes the whole postcard picture more devastating.
Whether you're there for climbing, hiking, or just the typical Insta-bitch shots, the Grampians are so yummy! From on-top looking down or underneath looking up, bring your best breakup Ben & Jerry's, because the Grampians will devastate you.
Wilsons Promontory National Park
Highlights:
Summit Mount Oberon.
Head out to the Big Drift after the rains.
Wild wombats are common… and friendly!
Right down in the southeast corner of mainland Australia is a peninsula that looks like the continent needs to visit its GP. That's Wilsons Promontory National Park: the bunion of Australia's mainland.
That little bunion makes an appearance on most peoples' lists of Australia's top 10 national parks, and Victoria road trip hotspots. Wilsons Promontory National Park is a hiker's paradise slammed with trails right throughout the peninsula. You'll find heaps of variety with beautiful walks around sheltered coves and lonely bays that wind deep into the coastal rainforests. Scaling one of the pink-hued granite peaks that tower above the scene is a must-do in Wilsons Promontory.
Heads up though! Being only a few hours' drive from Melbourne, a weekend trip to 'The Prom' is a pretty classic move by a lot of Victorians. It's the perfect place to go after a visit to Melbourne, but I'd avoid the weekends and holidays for the truly secluded nature experience. If you're planning on spending the night, you can always take advantage of the park's two main camper-van parking grounds or the other small campsites speckled throughout.
Port Campbell National Park AND Great Otway National Park
Chill with the Twelve Apostles.
Hike the Great Ocean Walk.
The Great Ocean Road is such good value.
Yeah, I may have cheated on this list of Australia's national parks somewhat, but these two are right next door to each other!
Port Campbell National Park is not overly impressive in scale but is famous for what it houses—some internationally-lauded natural Australian landmarks, in particular, London Bridge, the Grotto, Loch Ard Gorge, and the esteemed posse of coastal B-Boys, the Twelve Apostles.
If you're sightseeing Australia's best national parks, Port Campbell is easy as the Great Ocean Road (one of the Great Australian Road Trips) runs right past them all!
Similarly, the Great Otway National Park (easily accessible from that same beloved highway) is a chance to see the same region along with the majestic moss of the hinterland forests. There's way more adventure material in the Otway area—namely some mean hikes—to counter the 'stop, photograph, and keep going' nature of Port Campbell National Park.
There are a lot of reasons to love Tasmania. The rest of us Aussies like to give Tasmanians shit because they're inbred, but truthfully, we're just jelly. Not only do they get some of the most diverse, jaw-dropping nature in any region of Australia (accented by the incandescent colourings of the southern lights), but they also don't have to deal with our petty mainland tribalism!
Plus, there are way fewer cops in Tassie. Not saying you should smoke and drive; I'm just saying the option's there.
Cradle Mountain-Lake St Clair National Park
Cradle Mountain—mmm.
The legendary multi-day Overland Trail.
Quintessential Tassie.
Oh my god, Cradle Mountain. Like, this is still one of the most beautiful national parks in Australia regardless, but Cradle Mountain is the absolute show-stealer.
Footed by the equally impressive (ok, that's a lie, but they're close) Dove Lake and Crater Lake, Cradle Mountain is a marvel from below and a gift from on top. The views of the surrounding park are mindblowing. A rather adventurous Kiwi once told me that Tasmania is like New Zealand if you squashed it in a trash compactor; that all comes together in Cradle Mountain-Lake St Clair National Park.
Insane diversity and abundance are what marks backpacking around Tasmania. All four seasons roll into Australia's (arguably) most underrated state, and nowhere is that better reflected than here. Stargazing out across the mirrored sheen of the lakes is a must-do, and if you just happen to camp out for the Southern Lights, congrats—you just won life.
Freycinet National Park
Highlights:
A dip at Wineglass Bay.
Kayaking out in the calm bay oceans.
Discover some secret beaches.
Another piece of iconic Tasmania, Freycinet is a hugely famous national park that people journey all the way south to Australia's floating dag just to explore. Jutting off the east coast of Tasmania, the Freycinet Peninsula presents picturesque shots framed by the sometimes-surging, sometimes-calming tides of the Tasman Sea.
Wineglass Bay is the must-visit place in Freycinet National Park. A sheltered and reflective azure bay tinted by the pink granite hues of the Hazards mountain range, it's the standard attraction but far from the only delight the park has to offer.
Embarking on a multi-day hike crossing the peninsula is one of the best ways to explore Freycinet National Park. You'll unearth even more secluded beaches further down (though Wineglass Bay is consistently rated as one of the best beaches in Australia), and there are way more wildlife-spotting opportunities available too. Keep your eyes peeled because nearly 50 of Tasmania's endemic species can be found here!
Southwest National Park
Highlights
Hit up Tassie's southernmost point South Cape Bay!
Heaps of 4WDing potential.
Plenty of day hikes and multi-dayers—the South Coast Track is for the hardcore.
You won't find this entry on many other lists of the top national parks in Australia. There is limitless potential for maximum prettiness amongst Tasmania's national parks, but Southwest National Park tends to get overlooked—not because of its lack of immense majesty but rather for its lack of accessibility.
Weighing in at a staggering 600,000 hectares, it's both one of the biggest national parks in Australia and the largest in Tasmania. Uncut wilderness is a very fair way to describe Southwest National Park.
A lot of the park is inaccessible without 4×4 capability, but you'll still have some options available to you. Folks who are keen can access southern trailheads by boat or light plane for some really off-the-charts backbush exploration. Alternatively, northern parts of the park are more accessible for the boring normies while driving the southeast edge of the park to the very southernmost area of the island makes for one of Tasmania's most adventurous road trips.
That's right, Southwest National Park, a pretty healthy chunk of Tasmania's entire lower left quadrant, is an entry for the real adventurists. Somewhere to go with just an extra forecast of potential death!
Often associated with Uluru, red dirt, and the middle of buttfuck nowhere, Northern Territory is all those things and more! The Top End region (i.e. travelling around Darwin and northern Northern Territory) is greener than you may believe that with all the grasslands, river floodplains, and eucalyptus forests. Once you get to the south, however, you won't meet many folks except the flies.
But there's something magical about the Northern Territory's ancient terrain. With Australia's highest concentration of indigenous population and communities, it's the perfect destination to uncover more of Australia's near-lost heritage. There ain't many people nor many trees, but Northern Territory goes to show that there is so much beauty in the nothing between the somethings.
Kakadu National Park
Highlights:
Your own personal infinity pool at Gunlom Waterfall Creek.
Watch for the crocs, though.
Ubirr Rock's Aboriginal art walk.
So, Southwest National Park is big, but Kakadu is bigger. Weighing in at a mind-boggling 2,000,000 hectares—roughly half the size of Switzerland—Kakadu National Park is the true crowning champion and Australia's largest national park.
Kakadu is a land teeming with ancient mysticism. Having been inhabited by the Aboriginal people for more than 65,000 years, traces of their culture can be seen spread throughout the park. The rock art and ancient fables told throughout Kakadu's cultural landscape make up some of the oldest historical records of humans anywhere on the planet. You'll even get the chance to engage with Traditional Owners, listen to ancient creation stories, discover traditional meals, and learn how to weave a basket—all while spotting dingos, wallabies, and crocodiles!
And how's the park? Unreal, man. In a world that big, you can find anything. A diverse terrain teeming with wildlife including no shortage of those notorious super-sized Aussie crocs. Wetlands, sandstone escarpments, and skyscraping waterfalls that loom overhead and silence the mind.
One of my favorite things to do at Kakadu National Park is to hop on a boat for a sunrise cruise through the Yellow Water Billabong. While the park's early-morning scenery is pretty surreal, rest assured that there are five additional cruises during the day if you don't feel like waking up early!
It's easily one of the most famous and popular of Australia's national parks (probably only overshadowed by the next entry). If you can't find a moment with the divine in Kakadu, you probably won't find it in Australia.
Uluru-Kata Tjuta National Park
Highlights:
Sunrise or sunset accompanied by a cold beer.
Stargazing the Milky Way over Uluru.
Uncovering the rich Aboriginal history of the area.
Big granddaddy Uluru—quite possibly the most famous attraction in Australia in its entirety, manmade or otherwise. Uluru (the artist formerly known as Ayers Rock until colonial naming schemes got a healthy smackdown) is one of the most recognisable pieces of Australia's landscape and one of the most sacred points on the continent for both Aboriginals and non-Aboriginals alike.
The two major things to see in Uluru-Kata Tjuta National Park are indeed Uluru and the (honestly quite underrated) sister monolith Kata Tjuta. Together, rising like crimson-stained behemoths above the scrubby plains of Central Australia, they make for an otherworldly sight.
To learn more about the significance of Uluru, I would suggest you book a guided expedition alongside a park ranger. You can also check out the many walking tracks that'll take you past stunning rock art and uniquely carved crevices. More importantly, most of the tracks are completely wheelchair-accessible!
Sunrise, sunset, or any other time of day, Uluru will floor you. It's the symbol of Australia's unconquerable wilderness and its focal connection to the indigenous heritage of the land. Our big, bold, and beautiful continent's majestic outie belly button.
Now you can never unsee that. You're welcome.
A Note on Respect for the Traditional Custodians of the Land
Unlike in the past, climbing Uluru is now prohibited to respect the sacred traditions of the OG Ozzies. That's exactly how it should be.
Conveniently, I now no longer have to make the case to you to not climb it, however, Uluru is still a perfect springboard for this talking point. There was a time very recently where you could climb Uluru even in direct contradiction to the Aboriginal peoples' wishes. It was something of a hot-button issue here.
Uluru has a direct connection to the Aboriginal's creation mythology and their identity as a people. If you're kicking around Australia's national parks, it's not the only sacred place you'll visit. You'll be hardpressed to find a piece of Australia's jaw-dropping nature that isn't sacred to the Aboriginal people.
So of course, please be respectful. Not chucking ciggie butts, trashing the place, and carving dicks into the rocks is a good start. But sometimes, you may just have to follow a rule you don't want to.
Some swimming holes aren't for men; some aren't for swimming. Sometimes, you're not allowed to go to certain areas. Yes, the restrictions can be a little ingratiating, but a little respect for the home of the Aboriginal people can go a long way in healing the wounds of the past.
Tjoritja / West MacDonnell National Park
Highlights:
Hiking the world-class Larapinta Trail.
Summiting Mount Zeil—Northern Territory's highest mountain.
A dip at Ellery Creek Big Hole.
If you find yourself booked into accommodation or a hostel in Alice Springs, the trip to Uluru is the 'no shit, Sherlock' of the day! However, for an even more accessible (and more over-looked) adventure in Australia's centre, you could just hike across the MacDonnell Ranges.
These ranges that run parallel to Alice Springs—east to west—offer a phenomenal selection of gorges, natural swimming areas, and native vegetation that harkens back to central Australia's early, early, early days as a forested tropical region.
With heaps of hiking and adventure potential, the Tjoritja / West MacDonnell National Park is an easy day trip from Alice Springs It's also perfectly located for a one-night-plus trip if you're camping in Australia's national park. And if you're really keen on exploring Australia's national parks, the 223-kilometre Larapinta Trail starting from just outside Alice Springs is up there as one of the best long-distance hikes in Australia's Outback.
South Australia consists mainly of arid and semi-arid rangelands. There are some inland lakes too! But they're both dried up and salty…
Does that mean South Australia isn't uber-pretty? Hell naw! It's crazy pretty (and super underrated).
And while we're on the topic of prettiness, the Nullarbor National Park is a notable absence from the list—however, it deserves a shout-out. The Nullarbor Plain is an eerie yet intoxicating landscape and driving across it tracing the Great Australian Bight—the southern coastline marked by some of the most impactful ocean cliffsides you will ever see—is a rite of passage for both tourists and Australians alike.
It's also a road trip accessible by standard vehicles which as you venture further out into Australia's remote regions becomes rarer and rarer.
Ikara-Flinders Ranges National Park
Highlights:
Hiking inside the Ikara Amphitheatre.
Seeing its creation story at the Arkaroo Rock Aboriginal paintings.
Summiting St Mary Peak.
If you were yet to experience the Australian Outback in its full force, the Flinders Range is a helluva start! It's a bit of drive north for anyone visiting Adelaide but definitely worth the detour for anybody earning their stripes on the Nullarbor Plain.
Space is what defines the Ikara-Flinders. The enormous spread of the semi-arid zone incorporates so many elements that define Australia's Outback from its scarlet tones to its unique flora and fauna right down to that overwhelming emptiness. And sitting at the heart of that emptiness is Ikara.
Commonly known as Wilpena Pound, Ikara translates as 'meeting place' in the local language. It's a mammoth amphitheatre formed by the natural ring of the Flinder's Range containing its own ancient ecosystem inside.
Although somewhat accessible by car, a 4WD is the recommendation for really exploring the park. Despite the translation, solitude and the aim of getting lost are the real takeaways from this Australian national park. It'll be just you and the roos.
Flinders Chase National Park (on Kangaroo Island)
Highlights
Exploring the Remarkable rock formations.
Exploring the Admiral Arch.
Endless wildlife-spotting opportunities.
Speaking of roos, you'll see plenty in Australia! Considering that kangaroos outnumber Australians roughly 2:1, a close encounter of the furred kind is a guarantee.
But maybe you're not a betting man, and who'd wanna miss out? Instead, if you're checking out South Australia's national parks and are on the bottom strip around Adelaide, check out Kangaroo Island.
They have roos and more! Kangaroo Island is a closely protected habitat that works hard to keep itself free of introduced pests (foxes, rabbits, etc.). It's a lot of native bush teeming with a lot of indigenous cuties of the feather, furry, and scaly variety!
And over on the west side is Flinders Chase National Park. Though certainly not one of Australia's biggest national parks, it is for sure a very memorable one. The rugged coastal landscape makes for some jarringly shocking yet enchanting scenery with some particularly remarkable rock formations.
Still, if you want to see kangaroos that aren't smushed into peanut butter and jam on the side of the road, Kangaroo Island is the perfect destination in Australia. At least, until the roos rise up and have their long-overdue revenge…
Simpson Desert Conservation Park / Simpson Desert Regional Reserve/ Munga-Thirri National Park
Highlights:
God-tier 4×4 trails.
Camping under the stars.
Utter solitude.
This is a weird one: Munga-Thirri is technically in Queensland, but both the Simpson Desert Conservation Park and Regional Reserve are in South Australia. Wherever you go, the Simpson Desert is the real goal here.
The Simpson Desert is the Australia that you've heard so much about. It's red, it's desolate, and you'll still be cleaning butt-sand out of your undies two weeks after visiting.
There are a lot of types of national parks in Australia, but the desert parks are a real winner, and comprise some of the biggest deserts in the world. The Simpson Desert is untamed: you'll never see anything like it anywhere else in the world.
Rolling copper-stained dunes stretch into the horizon and turn fiery under a setting sun. There are no roads—the Simpson Desert is an Australian four-wheel driver's dragon to chase. There are no facilities either; you need to be prepared to eat, drink, and poop in the desert.
And the payoff? You will be soaked in the light of the Milky Way before rising to sunrise in the heart of Australia's red centre. It's worth it.
Occupying nearly a third of the continent, Western Australia is Australia's biggest state by a massive margin. It's also one of its most sparsely populated. Why? Probably cause it's a big heaping desert!
Alright, that's not fair (as WA's national parks are about to show), but you can expect a lot of heat and a lot of dirt. But pretty dirt! Extremely pretty dirt! Perhaps some of the best dirt you'll ever see ever.
Truthfully, if solitude is something you seek—but you're really not into the cold à la Alaska or Siberia—then Western Australia might be one of the best places in the world to travel to. There's 10,194 kilometres of coastline to explore, and most of it is empty.
Cape Arid National Park
Highlights:
Empty and blissful WA beaches.
Excellent beach fishing, whale watching, and other activities.
Lake Hillier is truly unique.
Cape Arid may not inspire greatness with its name, but it's not the name that counts. It's what's underneath. And under the Cape's harsh exterior lies a supple frame truly worth objectifying.
This coastal Australian national park merges from the scrubby windswept woodlands into beaches so pearly white that the glare blinds you. Another beloved 4WD playground (bring your best adventure sunnies), the bays and beaches here are every bit as isolated as Australia's western seaboard promises.
But that's not the icing on the cake. Pristine heavenly beaches are almost as common Down Under as mullets and C-bombs. The icing is the bubblegum-flavouring of Lake Hillier.
Lake Hillier is not as famous as it should be. You would think that a lake the literal colour of fairy floss framed by the deep blue of the southern Indian Ocean would be a little more common knowledge? Yet it took me twenty-five years of chomping Weeties to actually catch wind of this marvel.
Being so isolated (an isolated island off the secluded coast of Australia's sparsest state), it'll take a flight or cruise to see this hidden gem. To be fair, the flight is worth the cost.
Nambung National Park
Highlights:
Traversing the Apostles-lite of the Pinnacles Desert.
A barbie at Hangover Bay.
Top place to visit for windsurfing!
Personally, I was never too impressed by the Twelve Apostles, and this is why. The Pinnacles Desert in Nambung National Park is the Twelve Apostles on steroids!
Why have Twelve Apostles when you could have thousands of apostles? Sure, none are as tall as Victoria's golden-child cousins, but Jesus wasn't picky. Fun-sized, lanky, skinny-on-top, junk-in-the-trunk—as long as it was limestone, vertical, and jutting outta a dramatic landscape, he blessed it!
There's lots more than just the pinnacles to see too! Being a coastal region, the Pinnacles Desert runs right up to the Indian Ocean presenting some more of the majestic west coast sandy stretches.
Catch Nambung National Park in the springtime bloom (August to October) to see the wattles really come alive. However, the Pinnacles are there year-round; they were there long before we showed up, and they'll be there long after we're gone (bar rising ocean levels). Under a star-washed sky, they only become more breathtaking.
Karijini National Park
Highlights:
Gorgeous swimming holes—Fern Pools or Fortescue Falls are musts.
Hiking through the network of gorges.
Oxer Lookout for the unforgettable view of the park's gorge junction.
While not as famous as many of the other entries on this list, Karijini usually makes the cut of top three (or one) of Australia's best national parks for those who have done their rounds. Edging out Southwest National park at a bit over 600,000 hectares (though that's much less impressive compared to the size of Western Australia), Karijini is WA's answer to Utah's Big Five. Presenting deep-cut gorges of vibrant red hues, it's easy to see why the Aboriginals believed this land to be carved by primordial spirits. If Utah was the final market product, Karijini National Park was the studio where God perfected his art.
It's important to note that it gets stinkin' hot in this region. Karijini is something of an oasis in northwest Australia's arid climate. Filled with crystal-blue swimming holes and waterfall pools—the results of the summer thunderstorms—numerous cooldowns mid-hike are a must.
It's also a recommendation to visit Karijini National Park in the winter to beat the heat and storms, but let's not pretend that thunder and lightning amongst the gorges isn't well-worth the consideration too.
That's the list! Did we leave any stone unturned? Most definitely—have you seen how big Australia is?
Still, I guess you better just get out there and make your own list of Australia's best national parks! Not so hasty though; first we need to cover the basics of travelling Australia's unquenchable continental mass.
Getting around Australia's National Parks
You need a vehicle. To truly explore Australia even fractionally, you need a vehicle.
Of this, there are three standard options:
A station wagon loaded up with the car camping and road-trip essentials. It's the cheapest method as well as the roughest (which any Aussie Outback bloke is gonna respect), but a lot of remote areas will whack your car around something serious.
A van is the dream. The nomadic freedom of the vanlife lived in the unbelievable scope of Australia's backyard. Not everywhere in Australia is accommodating to the sleep-wherever van-vagrant, but once you're out of the urban cities and off the touristic east coast, things get easier.
A four-wheel drive and the experience to back it up is how you unlock Australia's final level. There are many places in Australia you'll simply never see without a 4×4.
You can vary it up—an RV for the upper-middle-class bogan-life on the road or a Prius if you're all about that gas mileage—but get yourself a goddamn vehicle.
Buying a vehicle second-hand in Australia is a snap. Check Gumtree, Facebook Marketplace, Carsales.com, or anything similar and you'll be inundated with choices. Alternatively, rental is the way to go!
There are heaps of rental companies in Australia, but I'm always going to recommend Wicked Campers every time. They don't just do campervans either! From little zippy compacts to 4WD beasts, there are tonnes of options. These guys have been in the game for serious yonks and know exactly what someone disappearing into the Outback needs.
Do I Need a Pass for Visiting Australia's National Parks?
I wish I could tell you that there was a simple unified system, but there's not. A lot of national parks in Australia do require a pass (particularly the popular ones), and there's no Big Mac season pass to rule them all.
It's done on a state-by-state basis. You'll have to do your own research—you can start with this breakdown of Australia's national park fees. However, if you're planning a big stint around one state, check their multipass options.
For example, both NSW and WA have passes that cover several of their major parks' entry fees. By and large, though, the healthy majority of Australia's national parks are free minus the odd parking or camping fee. After all, it wouldn't be Australia if they didn't try to nickel-and-dime ya!
What to Pack for a Trip to Australia's Wilderness
Oh dear—that is a big topic and not one to take lightly. Let's get something clear about your packing list for Australia…
If you drive into the remote areas of the Australian Outback and you haven't packed the car right, you can die.
So take it seriously. Start by reading this packing list of Australian road trip essentials before writing your own. A quick note though:
Water: You can never pack too much water for the Outback. Whatever you think you'll need, double it!
Plan for breakdowns: People have lost their minds out there, but I was specifically referring to the car. Have ready the gadgets to fix your car and the gadgets to remain in contact should you break down somewhere humans don't often go.
Sun protection: One of those quintessential digger hats—those broad-brimmed leather hats that are mandatory dressing in the 'white-girl-who-went-to-Alice-Springs' uniform. Particularly the hats with dangly corks hanging off of them. They look kinda dumb, but once you're being swarmed by legions of blowflies, you'll be glad to have it.
As for visiting the national parks? It's just standard backpacking and outdoor gear essentials. We've got tonnes of good gear posts, but down below you'll find the top picks from The Broke Backpacker's resident gear-savant.
Staying Safe in Australia's National Parks
Australia gets a bad rap in the safety department. It could be the cataclysmic weather conditions or the fact that our native fauna has seemingly formed its own personal Axis of Evil, but it really ain't as bad as it seems.
Bad things happen, however. And when they do, it's usually a freak accident or because someone was doing something absolutely bloody stupid. I do recommend some reading up on staying safe in Australia's Outback, but here are a few other golden tidbits the years have taught me:
Never dive headfirst into a body of water.
Shake and whack your boots before putting them on: always check for spiders!
Be careful near cliff edges. Sandstone, in particular, can suddenly collapse beneath you.
We may know how to box a kangaroo, but us Ozzies are professionals! Generally, just keep a healthy distance from our wildlife to stay safe. Even an emu can eviscerate you or a kangaroo can break your jaw.
Snake bites are much rarer than the media would have you believe, but you should still key yourself in on how to handle snake encounters.
Aspects of Australia's most remote areas can be comparable to the Deep South or Louisiana's swamps. Some folks are lovely crazies, some are not. Trust your gut.
If there's a fire ban in place or a no-fire rule, respect it. After the 2019–20 fire season, I can't say mercy will be shown to unintentional arsons.
While some fears of Australia's wildlife are overblown, crocs are another story. If the signs are saying don't swim, particularly up north, don't.
And, of course, the most important tip for staying safe anywhere…
Getting Insured for Your Travels in Australia!
You should really consider getting excellent insurance coverage before travelling anywhere, no matter what! But if you're heading to Australia, the land of dropbears and eshays, then you DEFINITELY need to think hard about insurance. Western Sydney's train stations are the real place to go wildlife spotting in Australia.
Members of The Broke Backpacker team have been using World Nomads for some time now and made a few claims over the years. They're an easy to use and professional provider that the team swears by.
If there's one insurance company The Broke Backpacker trusts to cover them while roaming the planet's furthest reaches, it's World Nomads.
ALWAYS sort out your backpacker insurance before your trip. There's plenty to choose from in that department, but a good place to start is Safety Wing.
They offer month-to-month payments, no lock-in contracts, and require absolutely no itineraries: that's the exact kind of insurance long-term travellers and digital nomads need.
SafetyWing is cheap, easy, and admin-free: just sign up lickety-split so you can get back to it!
Click the button below to learn more about SafetyWing's setup or read our insider review for the full tasty scoop.
She's Always Right, Mate
A long time ago, settlers in Australia wandered the landscape with their only worldly possessions bundled up in their bedroll and strewn across their back. That bedroll was their swag, and they were the swagmen.
A long time before even that, men, women, and children wandered the uncarved wilderness making possessions as they went. They were the Aboriginals. They'd been doing it a long time.
Australia is a crazy old place with a lot of stories to tell. You're entering Australia's national parks which means that you're entering some of its most protected and sacred land.
So just be cool, homie. Travel well, be responsible, and leave no trace. Australians aren't perfect, but overall, it's a pretty clean place. Even if it wasn't, why would you want to make it worse?
So grab your swag, budget backpacking tent, or pimped-out van (the 21st-century swagman) and get on it with it! Visit Australia and its best national parks, take lotsa awesome snaps, leave nothing but footprints, bury your poop if it comes to that, and have a sick one!
And if you do happen to see a platypus out there, that's the holy grail! I owe you a Vegemite sandwich.
---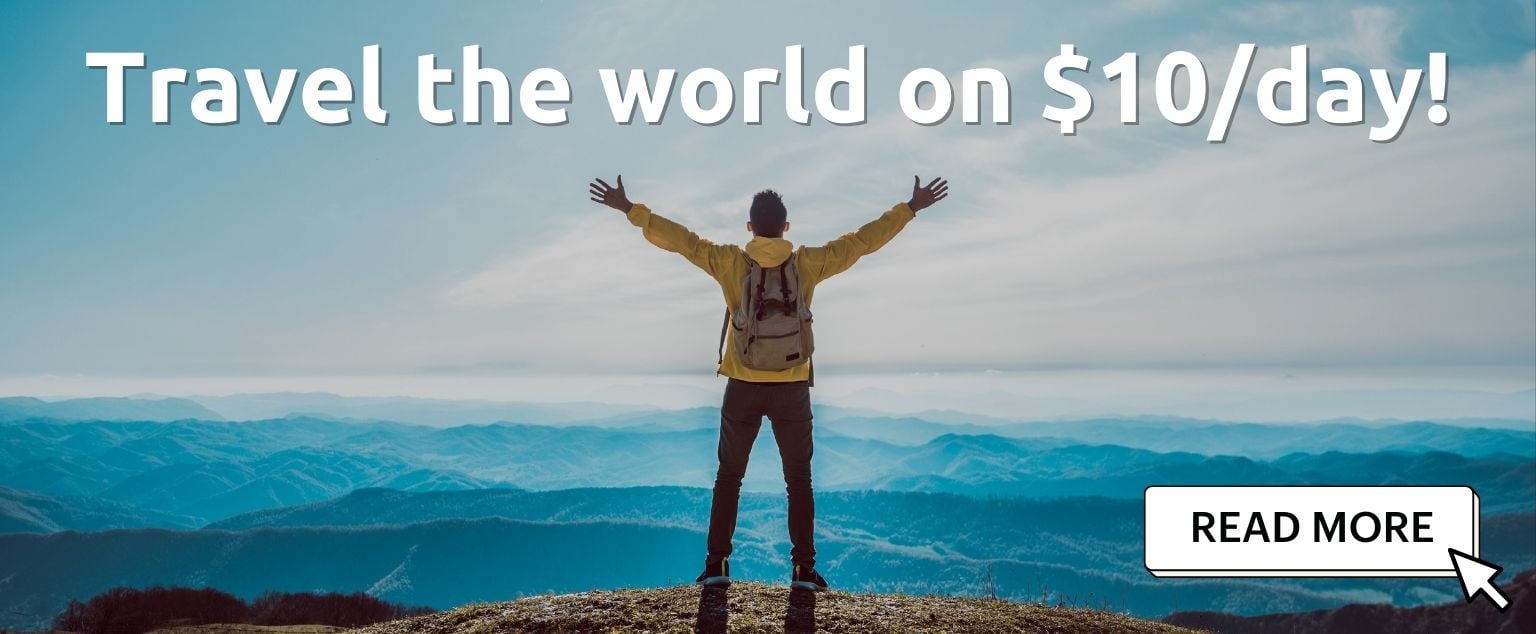 And for transparency's sake, please know that some of the links in our content are affiliate links. That means that if you book your accommodation, buy your gear, or sort your insurance through our link, we earn a small commission (at no extra cost to you). That said, we only link to the gear we trust and never recommend services we don't believe are up to scratch. Again, thank you!