Often overshadowed by the massive Australian mainland, Tasmania is almost a hidden gem. A world away from the Outback, it's famous for its diverse landscapes (beaches, mountains, you name it), pretty towns and wildlife – not limited to Tasmanian devils!
Like your food? Then take note: Tasmania is a world of fresh produce and wineries. And if you like your cities small and quaint, and your countryside beautiful, then you'll probably love driving around Tasmania soaking it all up.
But while the Australian continent has some pretty well-established road trip routes, Tasmania is less well travelled. It's got an air of mystery about it, and you may be wondering if there are any decent road trips. Is it just a tourist island? Can I even rent a car there?
We're here to fill in the blanks. Tasmania may seem far-off and remote, but there's a lot going for this comprehensive destination. We'll be digging into insurance, renting a car, and the rules of the road, before letting you in on a few of our favourite Tasmanian road trips. So get ready; you're about to become a convert to driving in Tasmania.

Do You Want to Travel FOREVER??
Pop your email in below to get a FREE copy of 'How to Travel the World on $10 a Day!'.
Why Roadtrip in Tasmania?
Tasmania is awesome for road trips.
It's small enough that the distances aren't daunting, there's a ton of stuff to see and do – towns, beaches, vineyards, hiking in mountains, river cruises, nature reserves – and the air here is CLEAN – the cleanest in the world, apparently.
But wait – there's more!
Tasmania isn't tiny, but it's compact enough to make road trips a breeze, with minimal driving time between all its excellent destinations, maximising on your precious, precious time.
Speaking of time, it doesn't matter if you've got a weekend or two weeks; you'll definitely get around. Again, the size of Tasmania is a bonus here.
Public transport in Tasmania is not great – not great at all. Well, it's okay if you live in Tas and you just want to go to school and back. But for travelling around the island? Nope.
Variety. Tasmania is all about variety. Vineyards, beaches, mountains, and charming towns mean as much hiking, culture, food and drink as you could ask for. You'll be stopping A LOT because there's always something interesting or beautiful to check out.
You won't be racing with hordes of other tourists on the roads in Tasmania and traffic is pretty light. Nothing bad about that. You may sometimes feel as if you've got the place to yourself.
From: Sheffield
To: Strahan
Total Distance: 162 miles
Days: 3
Top Road Trip Stops: Cradle Mountain; Mount Farrell; Elizabeth Town.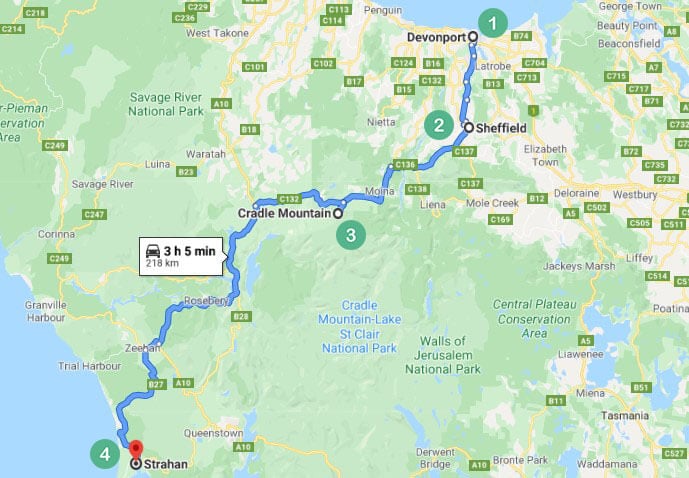 This may be a short road trip, but it's more about the places you're going to rather than the drive itself.
The drives will be beautiful, no doubt about that. The area around Cradle Mountain is craggy and green, with dramatic sweeping landscapes that are just begging to be explored.
While the time spent in the car is minimal (not necessarily a bad thing, let's be honest), that means more time spent getting to grips with places like Cradle Mountain and Mount Farrell, and the beautiful Strahan – your endpoint on this road trip.
Road Trip Highlights:
Snacking on local fare in Elizabeth Town.
Hiking around the incredible wilderness of Cradle Mountain.
Getting views of Cradle Mountain from Mount Farrell.
Dining lakeside in Tullah.
Discovering the wide sands of Macquarie Head.
Day 1: Devonport to Sheffield (1 hour)
Start your (short) journey today in Devonport on the north coast. With its beautiful beaches and friendly atmosphere, it's a good place to kick off your journey.
Your first stop is the Warrawee Forest Reserve for the chance to spot platypuses; grab a guide here and learn all about 'em.
From there, head onward to Elizabeth Town along Route 1, a rural route that feels like a world away from the coastline, with small settlements and farmlands along the way.
Elizabeth Town has some pretty delicious local produce – namely cheese and fruit. Stick around and try it out.
From there, it's just a short drive through the countryside to Sheffield, which is the gateway to Cradle Mountain. Sheffield, set in the hills of Mount Roland, is a pretty nice mix of rural and artsy.
Round up your day with a hike to Kimberley's Lookout (a few miles' round-trip) for views of the surrounding farmlands. Pretty neat.
Also, there's a place called "Nowhere Else" just out of town – if you like taking pictures of road signs to places with weird names, this is right up your alley, so to speak.
Best Stops: Warrawee Forest Reserve; Elizabeth Town.
Where to Eat: Eat local produce at Ashgrove Tasmanian Farm in Elizabeth Town; hearty fare at Bossimis Sheffield Bakehouse.
Where to Stay: Barrington Church B&B ($) is cosy and cool; Glencoe Country Bed and Breakfast ($$).
Day 2: Sheffield to Cradle Mountain (1 hour)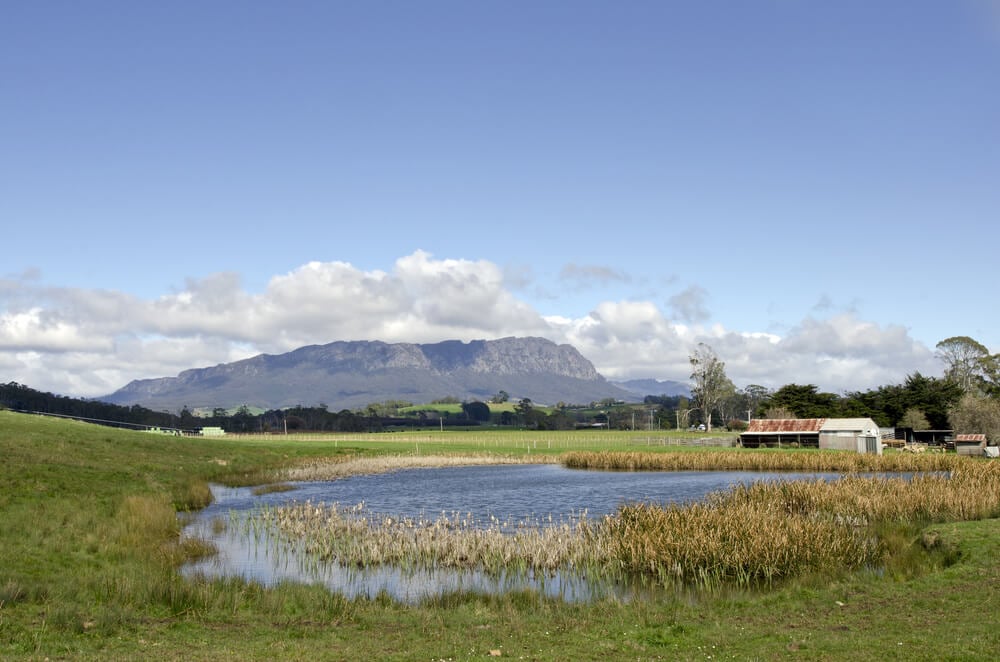 Today it's ALL about Cradle Mountain, which is an awesome epic environment. There aren't really any settlements in Cradle Mountain – and why would there be?
From Sheffield, take the C132 into the gradually all-encompassing nature of the mountainscape itself. Eventually, there'll be a turning off the road towards Dove Lake. There's a short circuit around the lake under the towering gaze of Cradle Mountain.
That's just one example. There are plenty of marked trails in the area; it's just a matter of taking your pick.
Don't rush: it may not be far from Sheffield, but that doesn't mean you should race off down the road looking for the next town. Instead, there's an option to leave your car at the Parks and Wildlife Service station and take the shuttle bus into the national park for a full day of getting stuck into it.
Best Stops: The whole thing!
Where to Eat: Altitude Restaurant and Lounge Bar is cool; Hellyers Restaurant is suitable for a drink on a mountain backdrop.
Where to Stay: Cradle Mountain Hotel ($$$) is fancy but has an insane setting; Discovery Parks Cradle Mountain offers a more rustic experience.
Day 3: Cradle Mountain to Strahan (2 hours)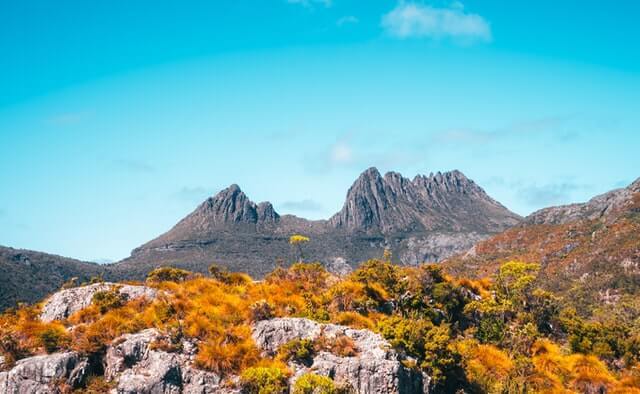 Are you ready for more mountains? Good, because today, after driving away from Cradle Mountain, you'll be saying hello to Mount Farrell.
And that's your first stop. It's close to the small town of Tullah, which makes this extra convenient for the fact that there's a lunch stop at the end of the trail up (and then back down) Mount Farrell. It's only a two-mile round-trip, but it's about 500 metres in elevation, so it's not overly easy.
It's got some of Tasmania's most insane views – especially of Cradle Mountain.
There is the option to stop for the night if you're feeling like taking it slow. The town of Tullah itself is nice, has history, and there's pretty sweet lakeside accommodation here as well (e.g. Tullah Lakeside Lodge, which is also very affordable).
Otherwise, it's a simple matter of carrying on the B28 and turning off on the B24 for coastal Strahan. The drive grazes the edges of the reserves and wildernesses of the area, so as you can imagine, it makes for a picturesque trip.
Finish up with a drive to Macquarie Heads, or go on a river cruise up the Gordon River and spend the next few days enjoying the area around Strahan. Spoiler alert – it's breathtaking.
Best Stops: Mount Farrell; Macquarie Heads.
Where to Eat: Great views, better coffee and delicious food at Tullah Cottage Cafe; eat your fill at View 42º Restaurant & Bar.
Where to Stay: Strahan Backpackers ($) is definitely rustic; Franklin Manor ($$) is charming.
Is This the Best Daypack EVER???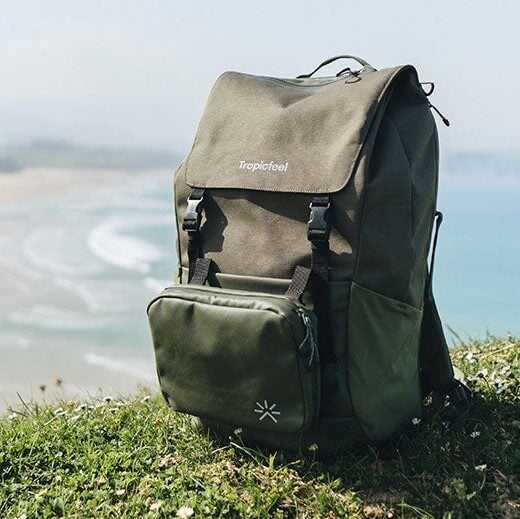 We've tested countlessday packs over the years, but the Tropicfeel Shell is something else. There are a lot of flashy backpacks on the market but not many come with a detachable wardrobe.
Weatherproof, eco-friendly, durable, feature-loaded, and comfy as fudge brownies: these are just some of the words people might use to describe the Tropicfeel Shell. But we just call it bloody beautiful.
Learn More • View on Tropicfeel
Small Pack Problems? 😉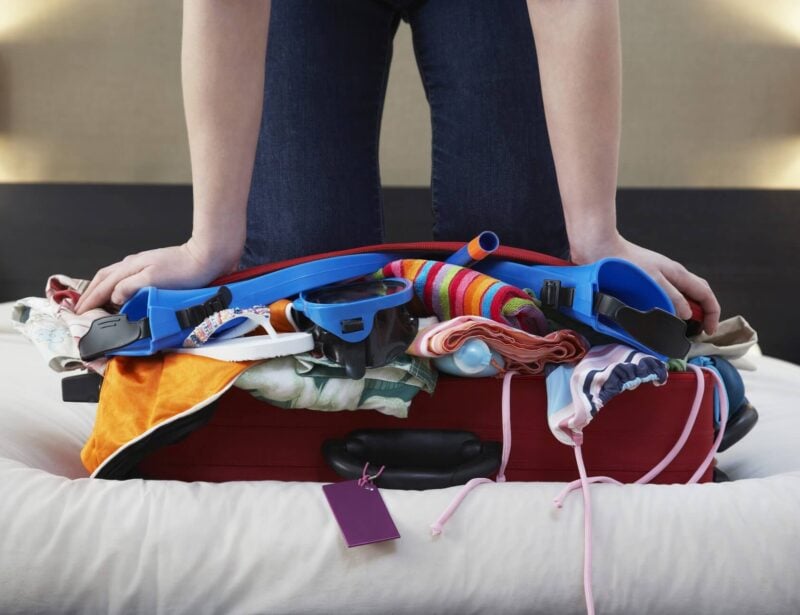 My missus travels with all her clothes in ziplock bags: don't be like my missus. UP YOUR PACKING GAME!
Packing cubes for the globetrotters and compression sacks for the real adventurers – these babies are a traveller's best kept secret. They organise yo' packing and minimise its volume too so you can pack MORE.
Or, y'know… you can stick to ziplock bags.
View Our Fave Cubes
Or Check Out the Sacks!
From: Port Arthur
To: Stanley
Total Distance: 503 miles
Days: 3
Top Road Trip Stops: Liffey Forest Reserve; Burnie; Launceston; Narawntapu National Park; Arthur River.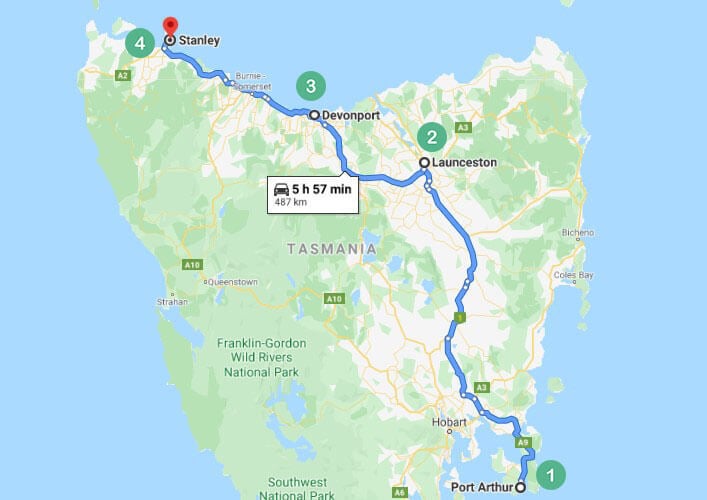 Tasmania may seem small – especially compared to the massive mainland – but this road trip proves it's anything but.
Taking in all that's big and beautiful about Tasmania, this route sees you driving from Port Arthur on the southeast coast all the way to Strahan on the west coast.
So what exactly are you in for?
There are charming villages, lush countrysides and farmland, breathtaking national parks, and (of course) epic ocean scenery pretty much the whole time. It's a driver's delight.
Road Trip Highlights:
Meeting Tasmanian devils at East Coast Natureland.
Driving through the rainforests of Liffey Forest Reserve.
Exploring Marakoopa and King Solomons caves in Mole Creek Karst National Park.
Doing some marsupial-spotting in Narawntapu National Park.
Gazing out over the seemingly endless ocean at Arthur River.
Day 1: Port Arthur to Launceston (6 hours)
Port Arthur is a great place to start. A former penal colony in the 19th century, the ruins and standing buildings that are left are now a UNESCO-listed site. It's an open-air museum, basically, and you should spend some time learning about what went on here.
If you're in Hobart (which you probably are), then it's an hour and a half drive to Port Arthur.
A potential stop-off here is Orford, a beachy coastal town with a few coastal trails to stretch your legs on, too. It's a pleasant detour, especially if you've left early (which you probably should do).
Otherwise, continue along the sparkling coastline on the A3 towards Douglas-Apsley National Park, where you'll make a stop at East Coast Natureworld – stop here to see those famous Tasmanian devils and other wildlife. In the national park, you can hike or take a dip in the Apsley River Waterhole.
Stop for lunch at St Helens, a charming fishing village (option here to check out the St Helens History Room – a small, digestible museum). Then the A3 turns inland through rolling countryside, and it's around a two-hour drive all the way to Launceston. Easy.
If you have time, you can take a turn off the A3 at Scottsdale to find Bridestowe Lavender Estate for an unreal (and very purple) photo opportunity.
Best Stops: Douglas-Apsley National Park; Orford; East Coast Natureworld.
Where to Eat: Swims East Coast Coffee for a relaxed vibe and tasty food in St Helens; The Metz is a casual dinner spot in Launceston.
Where to Stay: Launceston Backpackers ($); The Cornwall Historic Hotel for something a little fancier ($$).
Day 2: Launceston to Devonport (2.5 hours)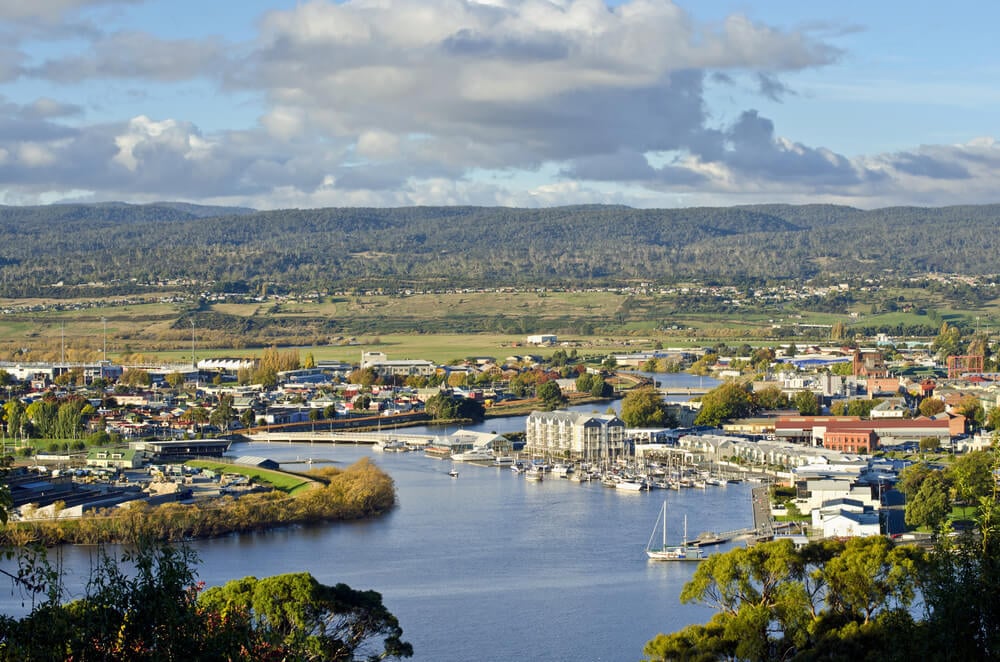 Start with a short drive to Tamar Islands Wetlands Centre, where you can stroll along boardwalks and spot local birdlife. It's a chill start to the day.
There's more epic nature to be had an hour's drive out of Launceston at Liffey Forest Reserve. Buy some supplies for a picnic along the way. Once you're there, you'll be able to dive right into 28,000 hectares of native forest. There are some great walking options here (and waterfalls), so making a stop is definitely something you should do if hiking is your jam.
After that, it's Deloraine. This historic town has some pretty insane landscapes on offer, namely the Great Western Tiers. This is Lord of the Rings level scenery. You can also pick up some locally made Tasmanian crafts in town as souvenirs for folks back home.
Carry on the B12 to Mole Creek Karst National Park for the Marakoopa and King Solomons caves for an afternoon in a geologically ancient setting. Then it's onward – to the sea! Specifically, Devonport. If you like beaches, head to Pardoe Beach, just out of town.
Best Stops: Liffey Forest Reserve; Mole Creek National Park.
Where to Eat: fresh fish 'n' chips at Strait Off The Boat in Devonport; also in Devonport, there's Prem's Seafood Bar & Grill.
Where to Stay: the Formby Hotel ($) has free parking; Dannerbrog Lodge ($$) has free breakfast.
Day 3: Devonport to Stanley (2.5 hours)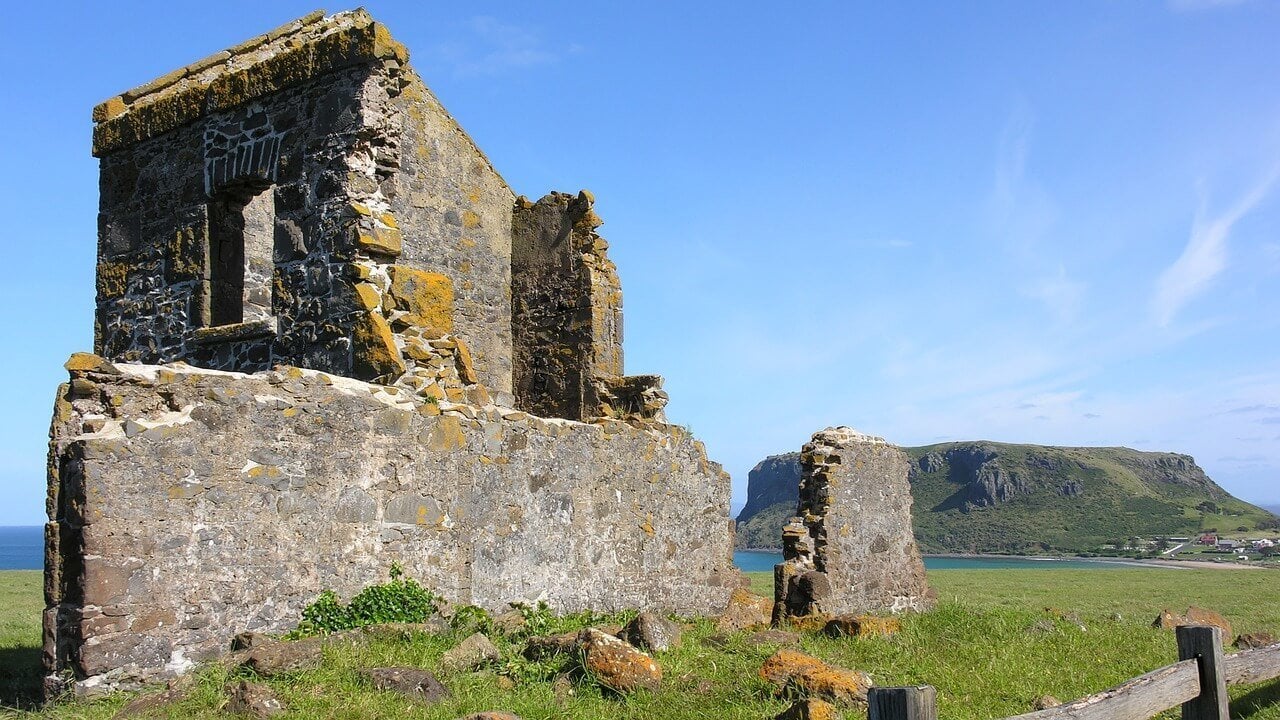 The day starts with a detour in the wrong direction to Narawntapu National Park. Here you can see wallabies, kangaroos, wombats, and pademelons (they're cute). The setting along the coast – with islands and sand dunes, wetlands and estuaries – is pretty spectacular.
Next, it's back through Devonport along Route 1 to Burnie.
On the way to Burnie, you'll pass by a place that's legitimately called Penguin. It's got a giant statue of a Penguin (in fact, a lot of things here are penguin-themed). If you like your sights oddball and offbeat, it's worth checking out.
There's a whisky distillery here, an art gallery, the Little Penguin Observation Centre – it's a cliche, but there's something for everyone here. Lunch in Burnie is an option if you're feeling hungry, too.
Further towards Stanley you can make a stop at Fern Glade to spot platypuses in their natural habitat, or stop for a swim at nearby Sisters Beach – also the gateway for Rocky Cape National Park (recommended for a stroll) – or Boat Harbour.
It's then just a short burn to Stanley, a historic fishing village.
If you've got time and you're feeling adventurous, consider driving further to Arthur River – otherwise known as 'Edge of the World'. From here, it's over 24,000 miles until the next continent, across two oceans (Indian and Atlantic) to Argentina.
Best Stops: Narawntapu National Park; Fern Glade; Rocky Cape National Park.
Where to Eat: The Chapel (in Burnie) is set in an old church, and it's pretty cool; for dinner in Stanley, try Post Sealers Cove Restaurant.
Where to Stay: Stamps of Stanley ($$) – it's right near the beach, and you get to stay in the old post office; there's free breakfast at the charming Ship Inn Stanley ($$).
From: Hobart
To: Hobart
Total Distance: 169 miles
Days: 4
Top Road Trip Stops: Bruny Island; Huon River; Hastings Cave; Hartz Mountains National Park.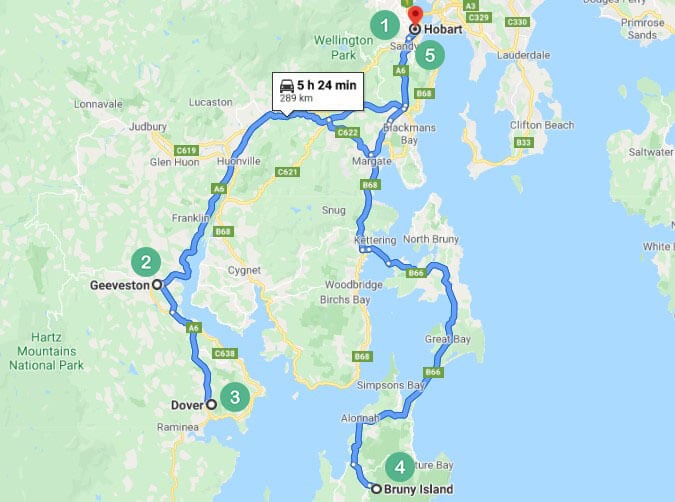 This road trip takes you all the way to Tasmania's deep south and, we gotta say, it's a doozie.
It's going to lead you through a wealth of different landscapes and places to stop off and take it all in. We're talking waterways, thick forests, vast wilderness, and even vineyards (for the thirsty) and beaches.
Then there's the tranquillity of the Huon River, as well as Hartz Mountains National Park. You'll also get to lap up a bit of pioneer history and heritage along the way.
As you can see, there's a bit of everything going on down south. You'll even get to hop across the water to Bruny Island.
Noted for its diverse, intricate landscapes as much as its seasonal produce and artsy vibe, Tasmania's south is an area you'll want to take your time on. You could do it in three days, yes – but you could also just get lost down here if you want to take time out chilling on beaches. Why not.
Road Trip Highlights:
Floating along the Huon River with its majestic riverscape.
Hiking the wilderness of Hartz Mountain National Park.
Chilling the heck out in the thermal springs of Hastings Cave.
Driving out to the southernmost drive-able point of Australia at Cockle Creek.
Whale watching on a boat trip from Adventure Bay.
Day 1: Hobart to Geeveston (1 hour)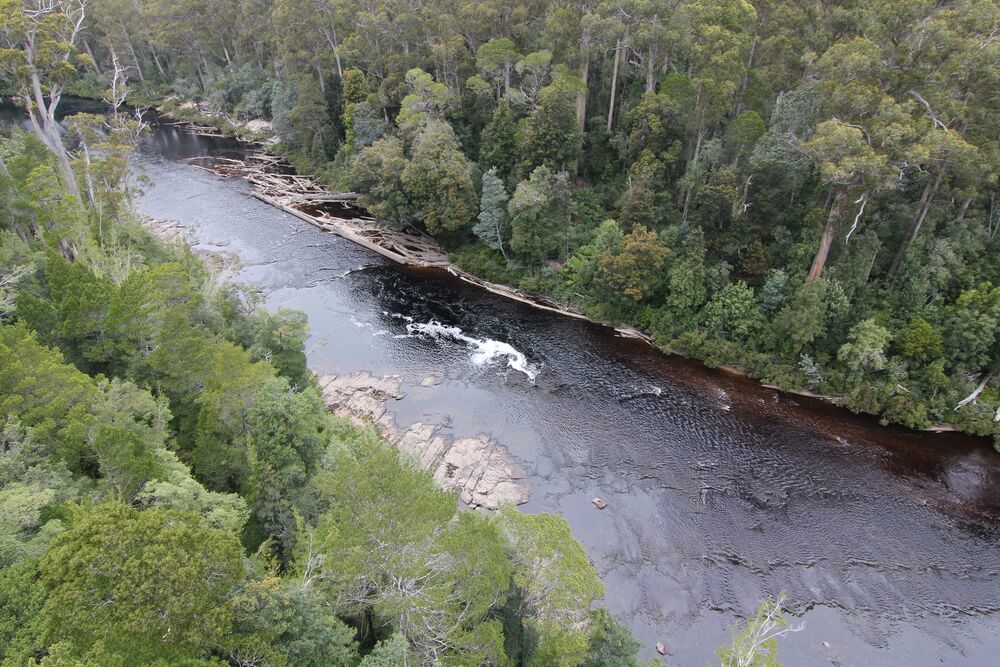 Find yourself a great accommodation in Hobart and start your journey here. You'll get a chance to stock up on all-important supplies, like snacks. After that, it's a simple matter of taking the A6 highway and hightailing outta there.
You'll leave the city behind and drive towards Kingston, meandering gently through scenic hills, until you arrive. Unless you HAVE to (or want to; there's a decent beach here), you won't be stopping in Kingston.
Instead, you'll take the Huon Highway through a patchwork of fields and hills as it wiggles its way to Huonville, your first stop.
Get out of the car, stretch your legs, and jump on a jet boat along the Huon River. It's a cool way to see the epic landscape, which is carpeted with "Huon pines." These are some of the OLDEST living things in the world, with a few allegedly topping 2,000 years old. Crazy.
Back on dry land, enjoy the fruits of the landscape with a local lunch at one of the many wineries here. (If you're the one driving, pick up a bottle for later on).
From here, drive along the river south to Geeveston, with the option to stop off in historic Franklin along the way. You're done for the day.
Best Stops: Huon River.
Where to Eat: the beautiful Home Hill Winery or Kate Hill Wines (don't drink and drive!) in Huonville; fresh fare at The Old Bank of Geeveston.
Where to Stay: rustic meets boutique at Bears Went Over the Mountain ($$); the historic B&B of Cambridge House ($$$).
Day 2: Geeveston to Dover (0.5 hours)
Waking up in Geeveston, the first thing you'll want is breakfast. Once that's over and done with, it's time to head out on the road. It may just be a short drive today, but you're going to see a TON of natural history along the way.
First stop? Hartz Mountain National Park. Geeveston's basically the gateway to this place, so you'll practically stumble into it on leaving.
A simple way to experience the national park is to hike to the top of Hartz Peak itself, complete with insane views of the Tasmanian wilderness on one side and the ocean on the other.
There's even the chance to see (and soak in) some thermal springs once you're done in the national park; heading further south, stop off at Hastings Cave to do that.
If you like the idea of "furthest north/south/etc." then you'll definitely want to make a detour to Cockle Creek. This is the furthest south you can drive in the whole of Australia. There's even a beaut of a beach here to cool off and kick back on. If you feel like it, you can finish up here (Boltons Green Campsite is the only accommodation, however).
Otherwise, drive back north to Dover. Day 2 is done!
Best Stops: Hartz Mountain National Park; Hastings Cave; Cockle Creek.
Where to Eat: cute local cafe Dover Top Stop; splash out with sea views at Dover RSL Club.
Where to Stay: cosy B&B, Ashdowns of Dover ($); Smugglers Rest ($$$).
Day 3: Dover to Bruny Island (2.5 hours)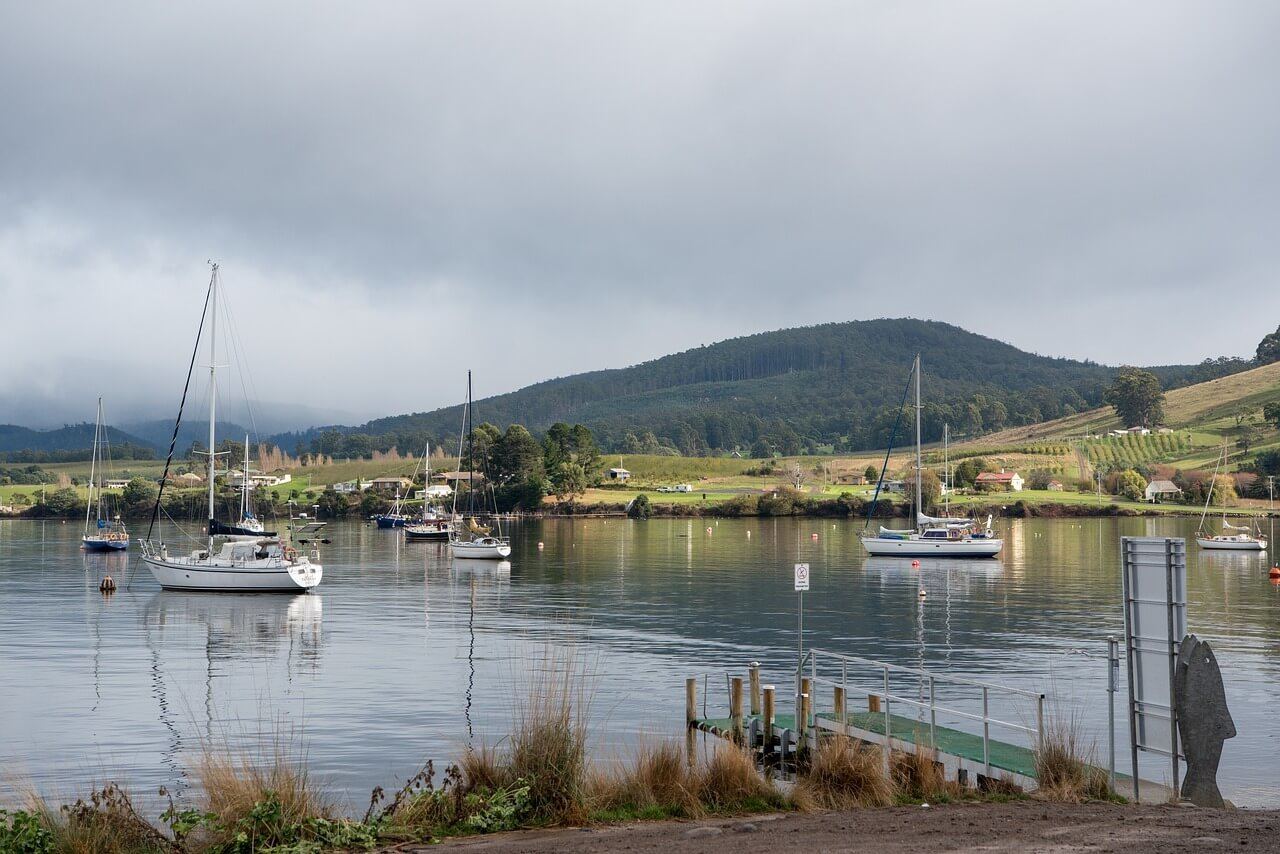 Even though Bruny Island is just across the water, you'll have to drive along the coast. That is by no means a bad thing – it's beautiful.
The drive through orchards, past farmsteads, and along the Huon River is a scenic one.
First up, you'll be stopping off at Woodbridge. This teeny-tiny seaside hamlet is a great spot for lunch. If it's a sunny day, make sure you dine al fresco with those impressive sea views as a backdrop. It's moments like this, just sitting out in a new town, in a new lunch spot, that are the simple pleasures of road trips, and what makes them special.
From Woodbridge, it's a simple ten-minute drive to Kettering. This is where you'll catch the ferry over to Bruny Island.
Once you're on the island, you'll have nature at your fingertips; there's the chance to see dolphins, seals, whales and sea eagles, as well as a fair bit of history (for example, there's the Captain Cook Memorial in Adventure Bay, where the famous explorer landed in 1777). Let's not forget the scenery! Explore at your leisure.
Best Stops: Woodbridge; Adventure Bay.
Where to Eat: local food and unreal views at Peppermint Bay (Woodbridge); casual eats at Bruny Island Seafood Restaurant.
Where to Stay: right on the beach, there's Captain Cook Holiday Park ($$); or your own home for the night, Bruny Ocean Cottage ($$$).
Day 4: Bruny Island to Hobart (1 hour)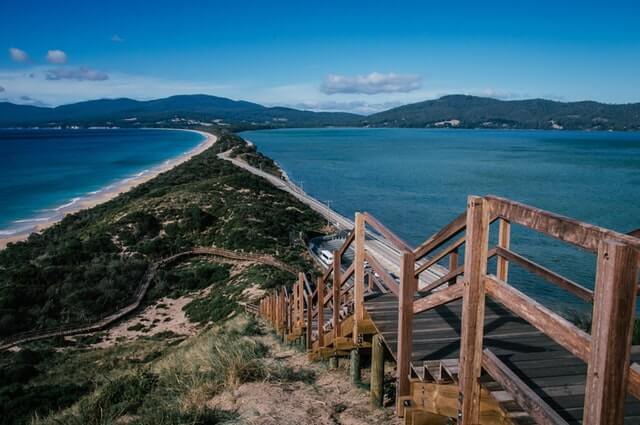 Start your day with breakfast, then explore the island, if you want.
There's the option to take a sea cruise from Adventure Bay, which will take you to the southern tip of Bruny Island to see wildlife, whales (if you're lucky), and sea caves.
Other than that, take the car for a spin to Cape Bruny Lighthouse. Built in 1834, you can get incredible views out across the Southern Ocean from this landmark.
Then, wave goodbye to Bruny Island; you're Hobart-bound. First stop, take the ferry back to Kettering. Then it's a simple 40-minute drive back up to Hobart. The scenery, as it has been the whole time, is suitably spectacular.
Best Stops: Woodbridge; Adventure Bay.
Where to Eat: breakfast at Penguin and Pardalote Cafe (Adventure Bay); hearty food at Steamhouse Cafe in Kettering.
Where to Stay: bunk up at Hobart Central YHA ($); splurge at The Henry Jones Art Hotel ($$$).
Read our guide on where to stay in Hobart if you're planning to stay the night there.
Driving in Tasmania
It's a breeze!
The weather doesn't pose much of a problem. It can suddenly change to fog, ice and snow, anywhere on the island, so it's good to be aware of that.
Fuel can be an issue. You can't rely on some of the smaller towns and villages in Tasmania to have fuel readily available, and even less so at night when places shut. Keep it topped up wherever you spot a place to fill the tank.
It's pretty much smooth sailing – which is part of what makes it so epic for a road trip. Firstly, though, you'll need some wheels to do it with…
Renting a Vehicle in Tasmania
You may already have a rental car and want to take it on the Spirit of Tasmania ferry from Melbourne to Devonport (expensive), but chances are you'll be renting in Tasmania itself. A simple task.
In this day and age, it's probably a good idea to book ahead online, just in case. Otherwise, you can pretty easily secure a rental vehicle in Hobart or at Hobart International Airport, which is probably where you'll start anyway. Hertz is a reliable option.
There are also Hertz branches in Launceston and Devonport (useful if you're arriving by ferry), as well as at their respective airports. Other franchises – Budget, Enterprise and Europcar – are available, as are smaller outfits, like family-owned Tassie Car Rentals in Devonport.
A popular choice is a motorhome – you get the extra freedom of staying in comfort pretty much wherever you decide to stop. They're more expensive, though, and aren't as social as staying in a hostel or even a hotel.
For any vehicle, most agencies require you to be 21 or over, and some require three years' of full-license driving experience. Note that if you're from a non-English speaking country, you may need an International Driving License.
Age Surcharge: If you're 21-24/under 25, you'll have to pay around $AU16.50 to $AU30.25 extra, per day, depending on the company.
Bond/Deposit: Totally depends. Some places ask for $AU100, some ask for $AU1,100 (you'll get it back 2-10 days after you return the car)
Additional Drivers Charge: It's as low as $AU5.50 per day for an extra driver to be included (usually with a max charge of $AU27.50). Enterprise offers no charge for additional drivers over 25.
You may want to consider additional insurance because it's always handy to have – RentalCover.com is a decent choice. Once you've got your car and your insurance, it's time to hit the road. But first, it's good to know what you can and can't do

Don't have a car? Well, we're going to have to sort that out! Use rentalcars.com to find the best deals on the web and save heaps of cash!
Road Rules in Tasmania
Tasmania being part of Australia, the first thing you'll notice if you're not from Australia (or New Zealand, Japan, the UK, and so on) is that you drive on the left.
This will mean driving a right-hand drive vehicle. If you're not au fait with it, just be extra careful when you drive, making sure you know how to navigate junctions and stuff. Boring, we know, but it can be disorienting – especially if it's your first time driving abroad.
The Tasmanian government has a big list of their rules of the road online, so if you're keen to read up, we recommend doing so.
Other than that, the usual stuff applies, like wearing a seatbelt and not drunk driving. Normal.
There are also a few weirdly strict rules in Tasmania that can get you fines if you don't follow them.
You can get a fine for unnecessarily sounding your horn, so curb your honking.
What constitutes correct parking is strict. Drivers can be fined for parking cars facing the opposite direction to traffic, and for being "incorrectly" parallel parked – that means at an angle, too close to other vehicles, or too far from the kerb.
In Tasmania, it is an offence to leave your car unsecured. This is defined as moving three or more metres away from a car which is unlocked, has the keys in the ignition, or is otherwise somehow not secure – having your window down, for example.
It may be natural as anything to you, but you're not allowed to use smartphone GPS in Tasmania. To use it, it has to be "mounted in a commercially designed holder fitted in the vehicle". Otherwise, it's completely illegal.
No tailgating. That's illegal as well. Leave a two-second gap if you're travelling 60km/h or less, four-second gap if you're going more than 80km/h.
Insurance in Tasmania
Insurance is not fun, but it is important. Thankfully, you won't have to worry too much as a lot of rental car companies – especially chain agencies – will have at least some level of insurance built into the price of your rental.
Collision Damage Waiver (or Basic Waiver) has a pretty high standard excess, at around AU$7,000 for cars and AU$10,800 for motorhomes. Note that some places won't cover some damage to certain parts of the vehicle under the CDW – things like punctures and replacement tyres, windscreen cracks and chips, as well as damage to underbody and headlights.
Personal Accident Insurance isn't included and will have to be purchased at an extra AU$14 (at least) per day. Neither is Roadside Assistance (at least AU$14 extra). And even if you do pay, key replacement often isn't covered.
Basically, there are quite a few things not included.
Buying insurance before you go, on the other hand, saves hassle – and saves you being bamboozled into paying for inflated insurance add-ons at the rental desk. Recommended.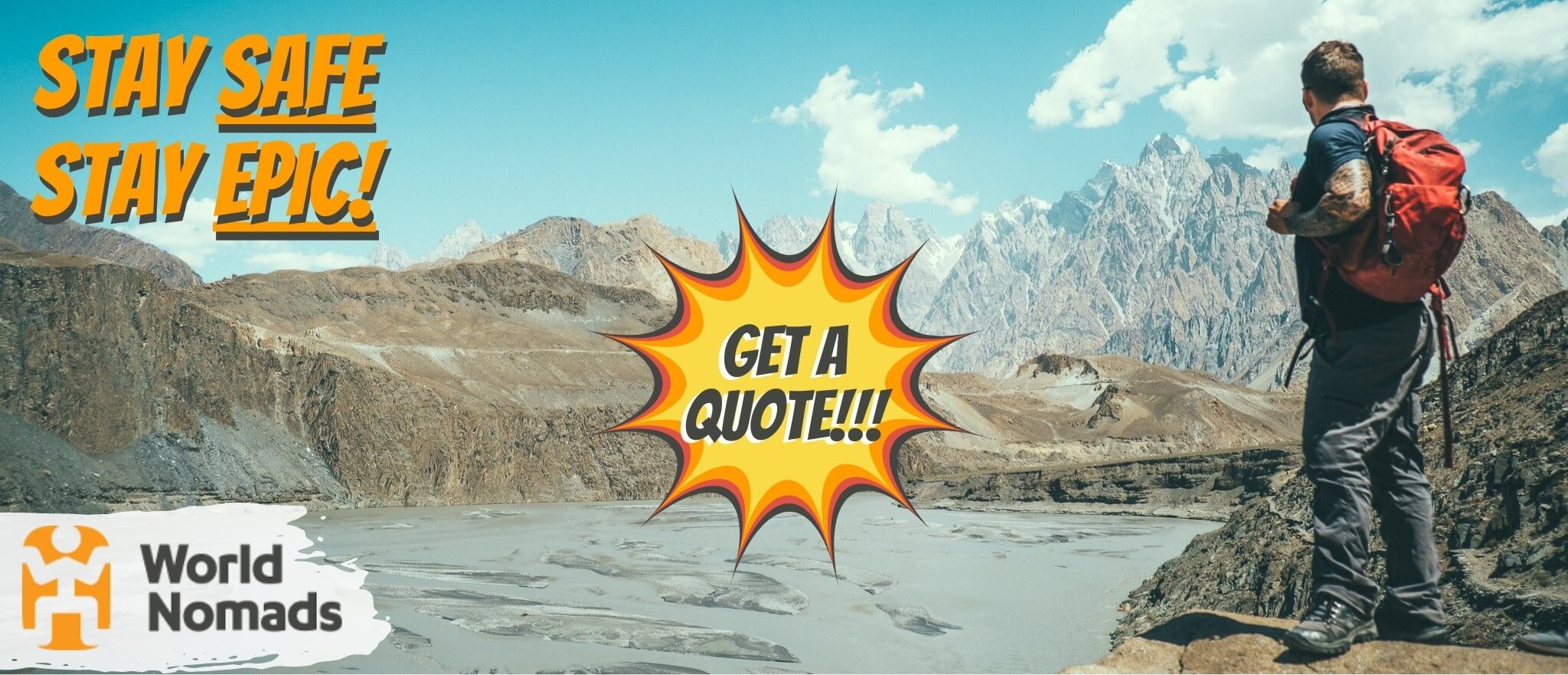 World Nomads' mission is to support and encourage travellers to explore their boundaries. They offer simple & flexible travel insurance, and safety advice to help you travel confidently.
They've been doing it since 2002 – protecting, connecting, and inspiring independent travellers just like you.
Get a quote below or read our in-depth review!
World Nomads provides travel insurance for travelers in over 100 countries. As an affiliate, we receive a fee when you get a quote from World Nomads using this link. We do not represent World Nomads. This is information only and not a recommendation to buy travel insurance.
What To Pack for a Road Trip in Tasmania
If you're not careful, Tasmania's wilderness will smack ya to next Monday. There are six road trip essentials I never go traveling without: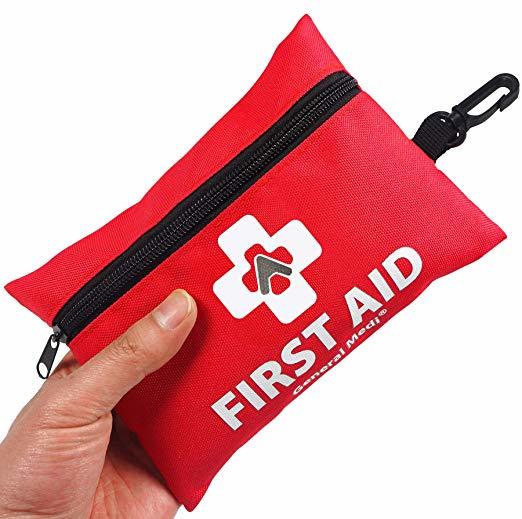 1. First Aid Kit: Even if you don't plan on doing anything extreme on your trip, like hiking, climbing, or other extreme sports, you never know what could happen. You could cut yourself while cooking, smash a finger in a car door, or burn yourself on a hot radiator. A first aid kit will be able to handle most of these minor situations.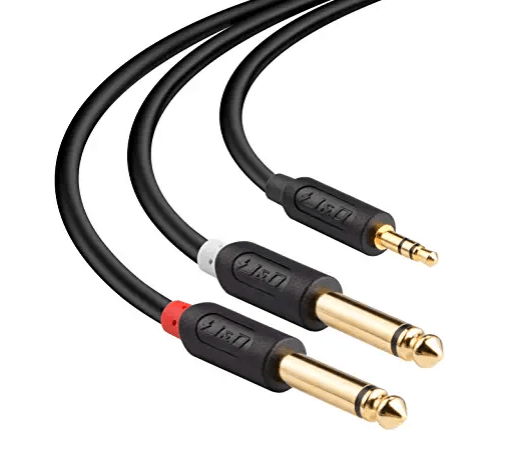 2. Aux Cord: One of the only things to do on a long car ride by yourself is to listen to music or a podcast. Since most people use their phones as an MP3 player these days, an auxillary cord is crucial to preserving your sanity. If there is no auxiliary port in your car, buy a radio transceiver or use a portable speaker.
3. Phone mount: It's very dangerous to be looking down at your phone while driving. If you need to have access to your phone, for maps and what-not, buy a mount for it. This way, you can keep your eyes on the road and your phone won't be far from your field of view.

4. Headtorch: Every backpacker should have a head torch! A decent head torch could save your life. If you want to explore caves, unlit temples, or simply find your way to the bathroom during a blackout, a headtorch is a must. Currently, I'm using the Petzl Actik Core rechargeable headlamp – an awesome piece of kit! Because it's USB chargeable I never have to buy earth polluting batteries.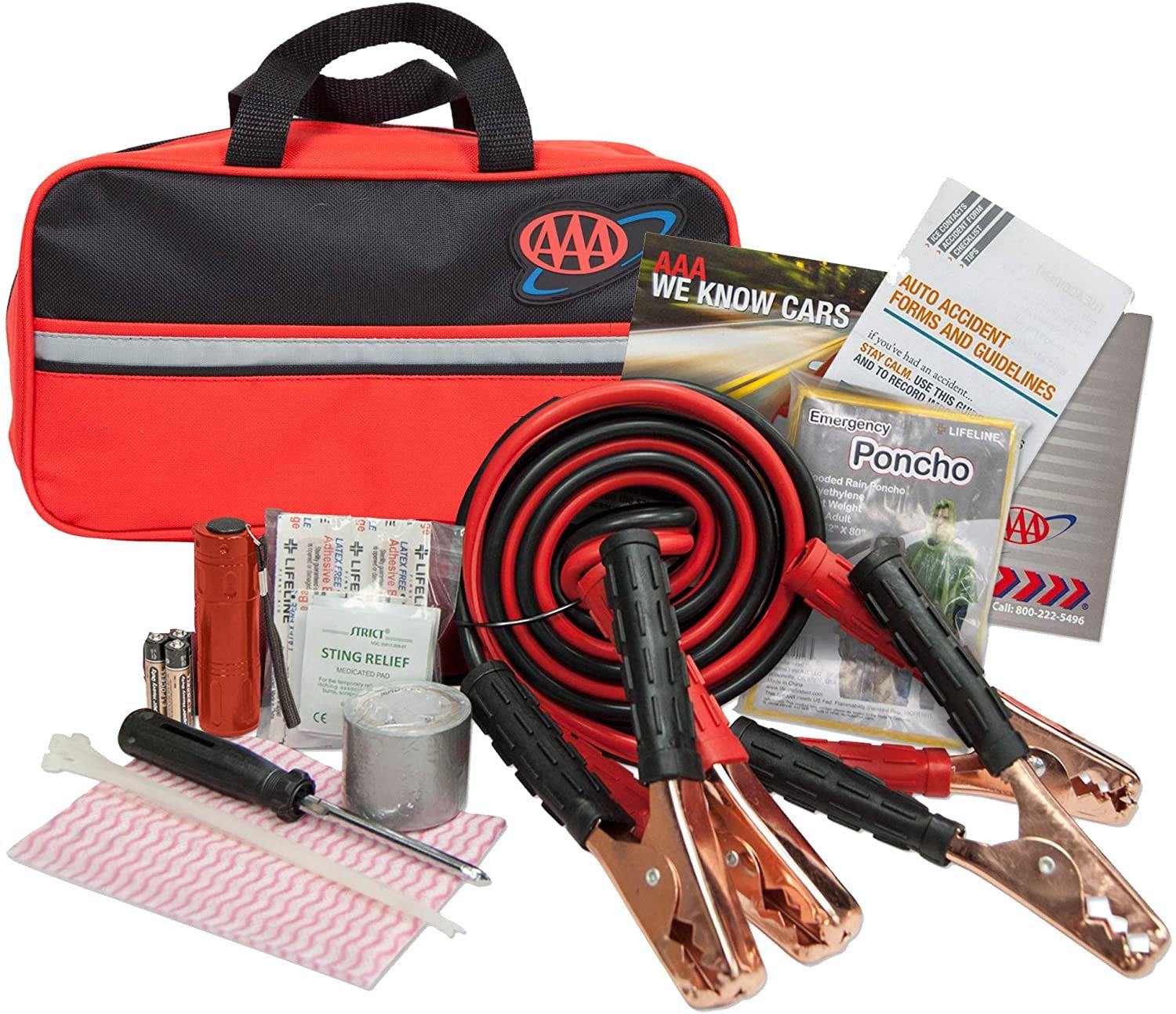 5. Roadside Emergency Kit: Just like you never know what could happen to yourself, one never knows what can happen to their car. A vehicle can mysteriously fail, break, run into a ditch; all that and then some. Most emergency kit include a pair of jumper cables, a tow rope, a set of essential tools, and ties.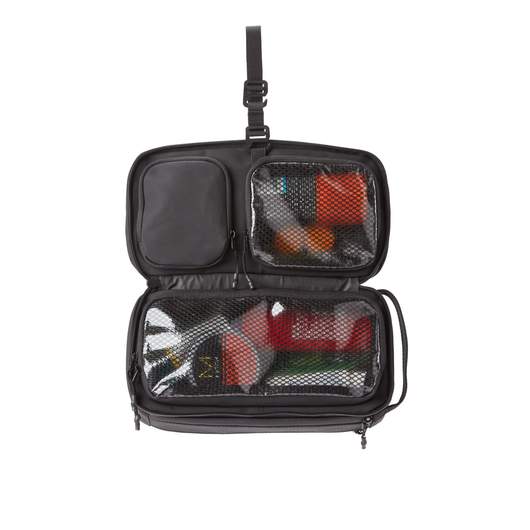 6. Toiletry Bag: I always travel with a hanging toiletry bag as it's a super-efficient way to organise your bathroom stuff. Well worth having, whether you are hanging it from a tree whilst camping, or a hook in a wall, it helps to have quick access to all your stuff.
Final Thoughts on the Best Road Trips in Tasmania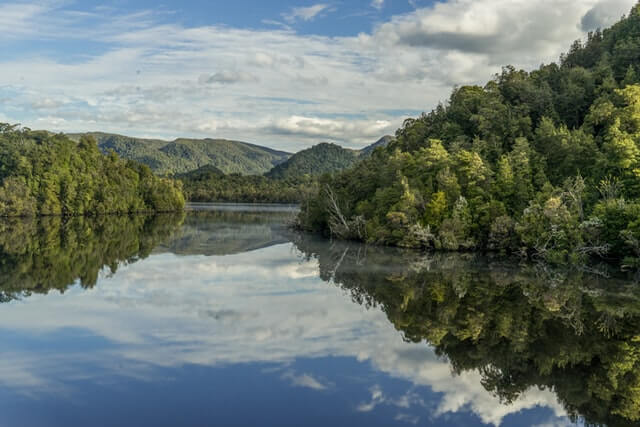 Those were just some of the best road trips in Tasmania, but this island is compact enough to let you take inspiration from our suggestions and improvise. As long as you keep the tank full, it's plain sailing – especially if you've opted for a motorhome.
Tasmania is like a well-kept secret – except we've been there, and people we know have been there, and yet it keeps this pristine feel to it. Maybe being home to something with the word "devil" as a surname keeps some people away. Maybe. Or maybe it IS a secret. Either way, it's a roadtrippers' paradise. You're welcome.
---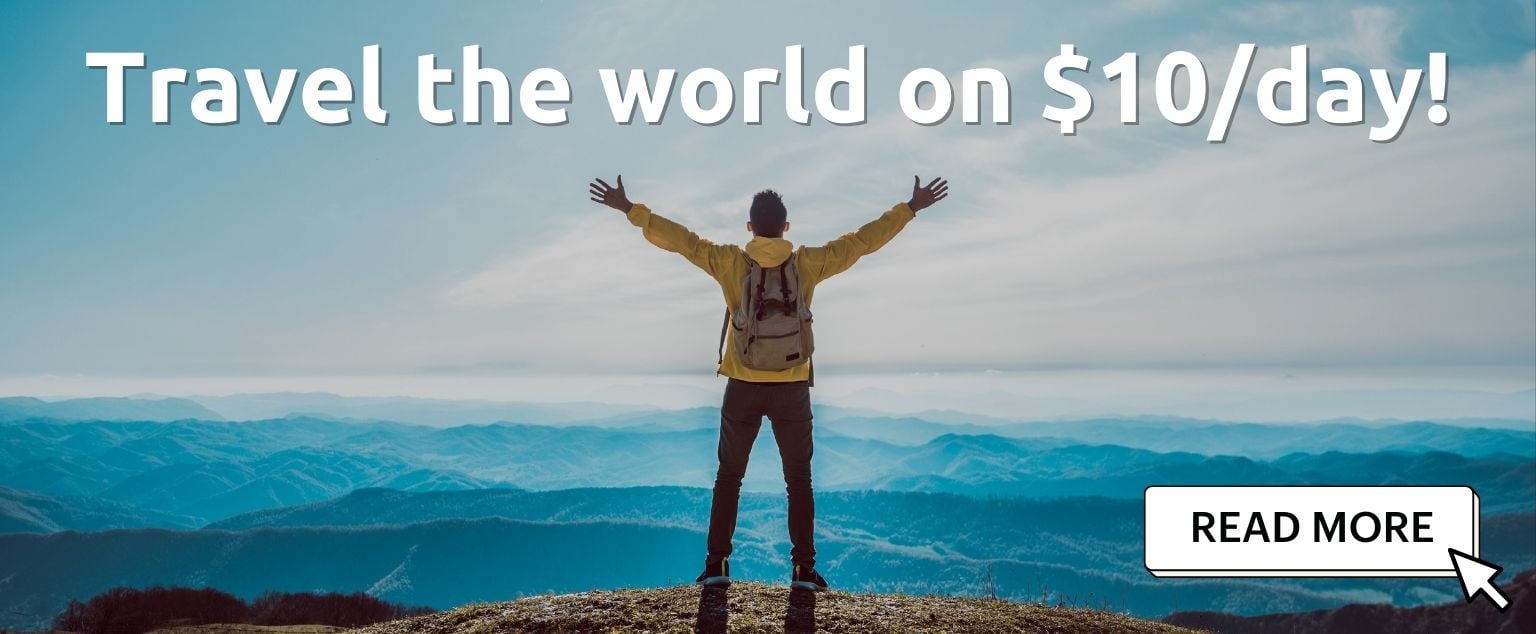 And for transparency's sake, please know that some of the links in our content are affiliate links. That means that if you book your accommodation, buy your gear, or sort your insurance through our link, we earn a small commission (at no extra cost to you). That said, we only link to the gear we trust and never recommend services we don't believe are up to scratch. Again, thank you!