The open road is a place of adventure, inspiration and explanation. There's nothing like a long, scenic drive for clearing the head.
This list of the best road trip quotes might inspire your next trip or make your next big caption! Take what you need for road trip encouragement or Instagram – just make sure to give credit where credit is due.
And enjoy the ride ?
Long Drive Quotes
Long drives can be very therapeutic and good for your soul – sort of meditative (unless they're long because you're stuck in traffic…)
The soothing feeling of being alone on the open road, listening to your favourite playlist while resting your eyes on the horizon can't easily be described.
I've however tried to capture that feeling with some of my favourite long drive quotes…
"I love road trips. You get into this Zen rhythm; throw the sense of time out the window." – Miriam Toews
"Nothing behind me, everything ahead of me, as is ever so on the road." – Jack Kerouac
"Sometimes the most scenic roads in life are the detours you didn't mean to take." – Angela N. Blount
"Map out your future – but do it in pencil. The road ahead is as long as you make it. Make it worth the trip." – Jon Bon Jovi
Don't you agree with the last two quotes? It's a nice reminder that letting go of control can lead us to beautiful places and open amazing new opportunities for us.
Many times I've tried to control my life too much and would get frustrated when it wouldn't go my way. It's only when I'd stop resisting and go with the flow that life would really surprise me…
"I climb behind the steering wheel… I drive off immediately without once looking back; it's a long journey but it leads to freedom." – Corinne Hofmann
"Live your life by a compass, not a clock." – Stephen Covey
Funny Road Trip Quotes
A road trip is an awesome opportunity to spend some time with your loved ones, driving for hours, share your best stories and relive old memories while creating new ones.
With that in mind, here are some of my favourite funny road trip quotes!
"Americans will put up with anything provided it doesn't block traffic." – Dan Rather
"You make me wanna roll my windows down and cruise." – Florida Georgia Line
"At the end of the day, your feet should be dirty, your hair messy and your eyes sparkling." – Shanti
I couldn't agree more with this quote. If you're not messy and dirty, are you even doing it right?
"A tourist is a fellow who drives thousands of miles so he can be photographed standing in front of his car." – Emile Ganest
"Kilometers are shorter than miles. Save fuel, take your next trip in Kilometers." – George Carlin
"Road trips require a couple of things; a well-balanced diet of caffeine, salt and sugar and an excellent selection of tunes. Oh- and directions!" – Jenn McKinlay
YES for the caffeine, salt, sugar and the music! However, I don't think road trips always require directions! Sometimes getting lost is the best part of a road trip… Don't you think?
"If you're not lost, you're not much of an explorer." – John Perry Barlow
YES John Perry Barlow!Get out of your comfort zone. Life will surprise you with some unexpected destinations. Just keep an open mind and heart…
Road Trip with Friends Quotes
A road trip with your best friends makes the whole difference. The car boredom or mishaps along the way become fun and exciting when you're surrounded with the right people. It can go both ways – you either end up hating your friends or developing a stronger bond with them.
Pick your travel buddies wisely, friends! It's an art.
"Even when I visit the most beautiful countries in the world, it's the people I come home telling stories of." – We Dream of Travel
"A journey is best measured in friends, rather than miles." – Tim Cahill
"Some roads aren't meant to be travelled alone." – Chinese Proverb
"What we find in a soul mate is not something wild to tame, but something wild to run with." – Robert Brault
"I travelled the whole world to discover the greatest adventure was you." – We Dream of Travel
"People don't take trips, trips take people." – John Steinbeck
"We all have that one friend who is either on a road trip or planning a road-trip or thinking about a road-trip or talking to people who are on road-trip or posting quotes about road-trip." – Crestless Wave
Oops, I may be that friend! Call me the road trip junkie – I'm always down for an adventure. Anyone wanna tag along?
Short Road Trip Quotes
Maybe you just have a weekend to go on a road trip or can't take the time off work to hit the road.
You should still get out there on a road trip! It'll help you disconnect with your routine, maintain perspective, force you to put down your phone and you will come home rested and ready to take on a new week.
Here are some of our favourite short road trip quotes to inspire your short wanderlust.
"Good company in a journey makes the way seem shorter." – Izaak Walton
Have you ever tried going on a road trip with someone who triggers the s*** out of you? YIKES.
"No road is long with good company." – Turkish Proverb
"Making memories, one road trip at a time." – Unknown
"Travel far enough, you meet yourself" – David Mitchell
I can 100% relate to this quote. I left home when I was 18 years old and moved to a new country. I've been travelling ever since and it really has helped me understand myself better. My travel experience has taught me what my values, boundaries and needs are and I doubt I would be as self-aware as I am today if I didn't hit the road so early!
Family Road Trip Quotes
You may want to leave the kids at home, take a break from your partner, or go on a solo trip to get some "me-time", but let me tell you one thing: a good old family road trip is sometimes just what you need.
Here are some of our favorite quotes for family travel…
"A road trip is a way for the whole family to spend time together and annoy each other in interesting new places." – Tom Lichtenheld
"In 1903 the Wright brothers invented airplanes, because in 1902 they took a road trip across the country with their family." – Bill Engvall
"The entire road trip could be summed up as one giant attempt to keep from crashing the car during fits of rage and fits of hysteria." – Kari Martindale
If you're going on a road trip, you want to make sure that you bring your camera to capture every second of your adventure… Let your inner artist out!
We've compiled our favourite road trip Instagram captions to accompany them!
"One's destination is never a place, but rather a new way of seeing things." – Henry Miller
"I may not have gone where I intended to go, but I think I have ended up where I intended to be." – Douglas Adams
"You may not find a path, but you will find a way." – Tom Wolfe
"Once you have travelled, the voyage never ends, but is played out over and over again in the quietest chambers. The mind can never break off from the journey." – Pat Conroy
"Sometimes, it's only in walking the path that we discover why we are walking at all." – Richard Paul Evans
"The road is there, it will always be there. You just have to decide when to take it." – Chris Humphrey
This quote means so much to me. It's a good reminder that there's always an opportunity if you look for it, or are open to it. It's sometimes so easy to get stuck in our own thoughts or in a situation, failing to understand that there's ALWAYS a way out.
"Our battered suitcases were piled on the sidewalk again; we had longer ways to go. But no matter, the road is life." – Jack Kerouac
"I am not the same, having seen the moon shine on the other side of the world." – Mary Anne Radmacher
Ohhh yes. Once you've explored the corners of the globe, you're not the same anymore. To me, it's a blessing and a curse… On the one hand, it has opened my mind so much, but on the other hand, I now have the travel bug!
"Happiness is not a state to arrive at, but a manner of travelling." – Margaret Lee Runbeck
"Life is beautiful if you are on the road to somewhere." – Orhan Pamuk, The New Life
"Sometimes you find yourself in the middle of nowhere and sometimes in the middle of nowhere you find yourself" – Stacey Westfall
In my experience, I've learned the most about myself in situations I had never been in and that were quite tricky to handle. That's when my instinct kicked in… And surprised me!
"Stop worrying about the potholes in the road and enjoy the journey" – Babs Hoffman
Road Trip TV and Movie Quotes
Have you ever watched a TV show or a movie that made you want to drop everything and go on a road trip?
Here are some of my most inspiring road trip TV and movie quotes that make me want to travel and discover new places.
"Well, we're not in the middle of nowhere, but we can see it from here." – Thelma & Louise
"According to the map, we've only gone four inches." – Dumb & Dumber
"We keep moving forward, opening new doors, and doing new things, because we're curious and curiosity keeps leading us down new paths." – Walt Disney
"Just grab a friend and take a ride, together upon the open road." – The Goofy Movie
"Adventure is out there." – Up
"It's a dangerous business, Frodo, going out your door. You step onto the road, and if you don't keep your feet, there's no knowing where you might be swept off to." – J.R.R. Tolkien, The Lord of the Rings
"We're almost there, but nowhere near it. All that matters is that we're going." – Gilmore Girls
One thing I realized through travelling, which became one of my life lessons, is that it's not about the destination but about the journey.
"Fifty years from now, when you're looking back at your life, don't you want to be able to say you had the guts to get in the car?" – Transformers
"I love waking up in the morning not knowing what's gonna happen or whom I'm gonna meet. Where I'm gonna wind up." – Titanic
"When I get home I shall write a book about this place… If I ever do get home" – Alice in Wonderland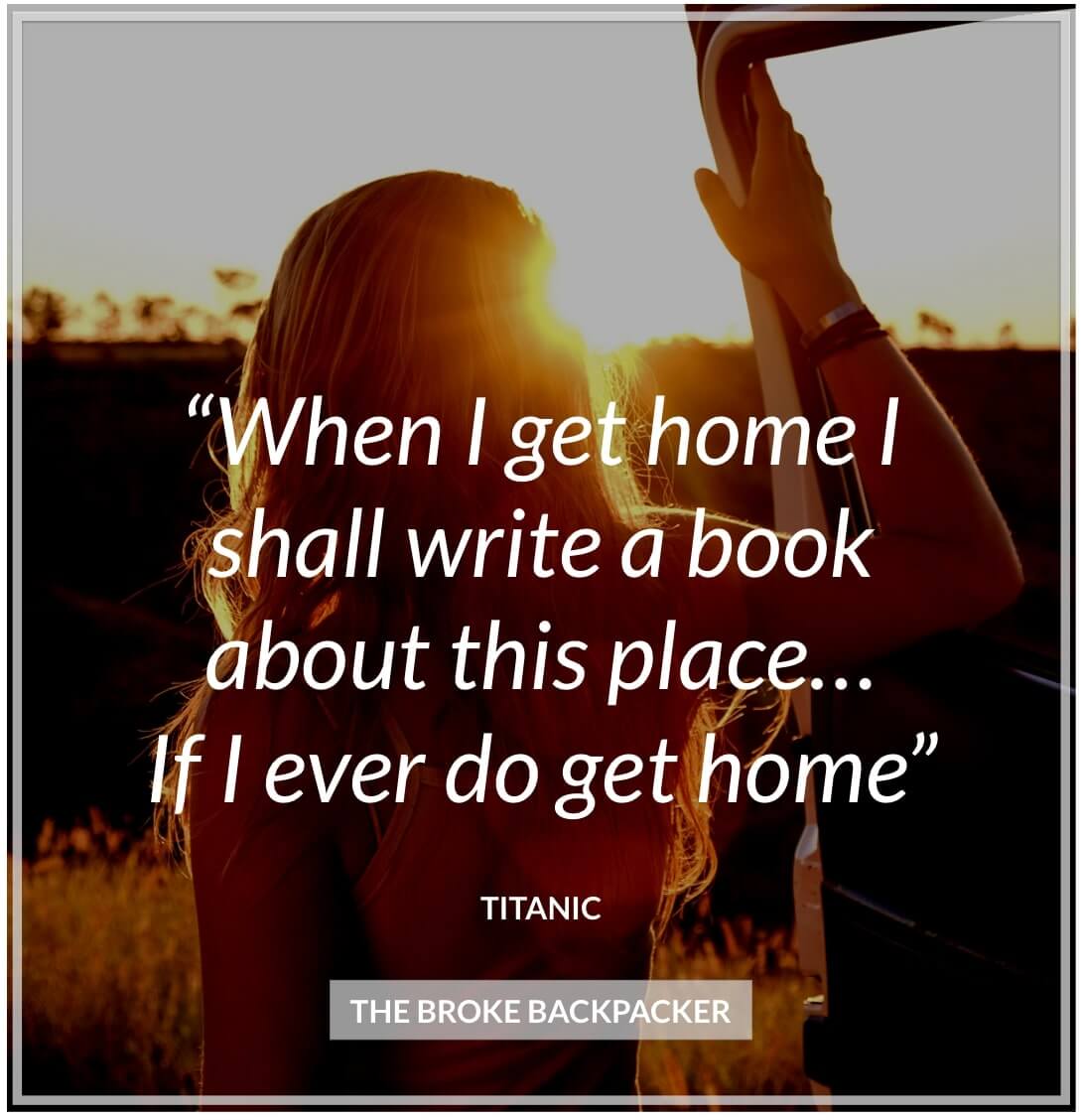 TBB Favourite Road Trip Quotes
Last but not least, here are our favourite road trip quotes at The Broke Backpacker…
"The pleasure we derive from journeys is perhaps dependent more on the mindset with which we travel than on the destination we travel to." – Alain de Botton
"Because the greatest part of a road trip isn't arriving at your destination. It's all the wild stuff that happens along the way." – Emma Chase
"Now, on this road trip, my mind seemed to uncrinkle, to breathe, to present to itself a cure for a disease it had not, until now, known it had." – Elizabeth Berg
"Life is either a daring adventure or nothing." – Helen Keller
"There's nowhere to go but everywhere…" – Jack Kerouac, On the Road: the Original Scroll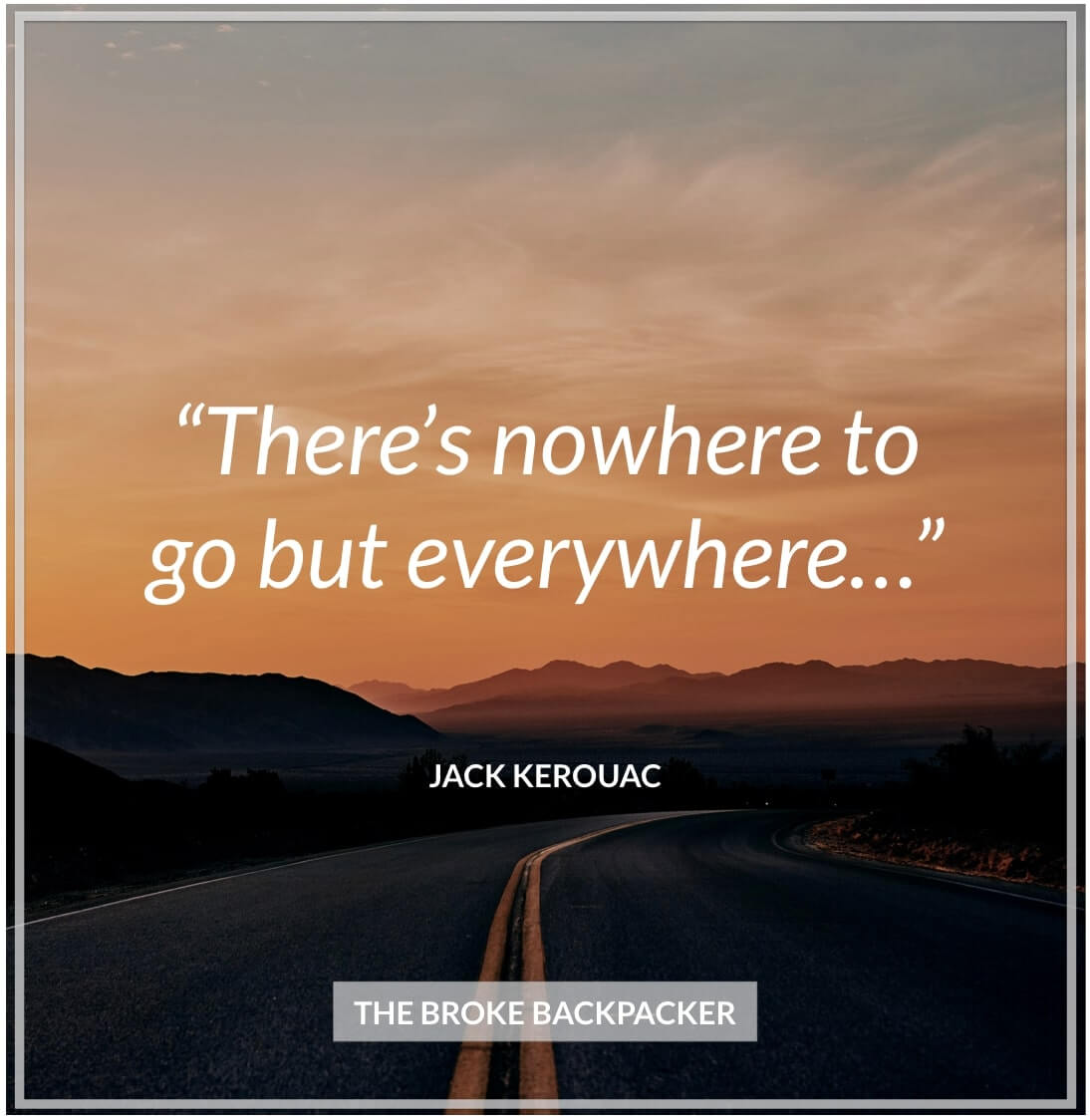 "I haven't been everywhere, but it's on my list." – Susan Sontag
Final Thoughts About Road Trip Quotes
Alright, that was a lot of road trip quotes and captions. I hope you're feeling inspired by now and ready to hit the pedal!
Road trips are the best way to travel: you will save heaps of money, you will be independent and you will get to explore some hidden gems as you're getting lost on the road. And no form of travel is more conducive to blaring slick tunes at ear-splitting volume – "Fast Car" from Tracy Chapman is a must.
Have I missed any road trip quotes or captions? What's your favourite road trip quote I've listed? Let me know in the comments, I would love to hear from you!
---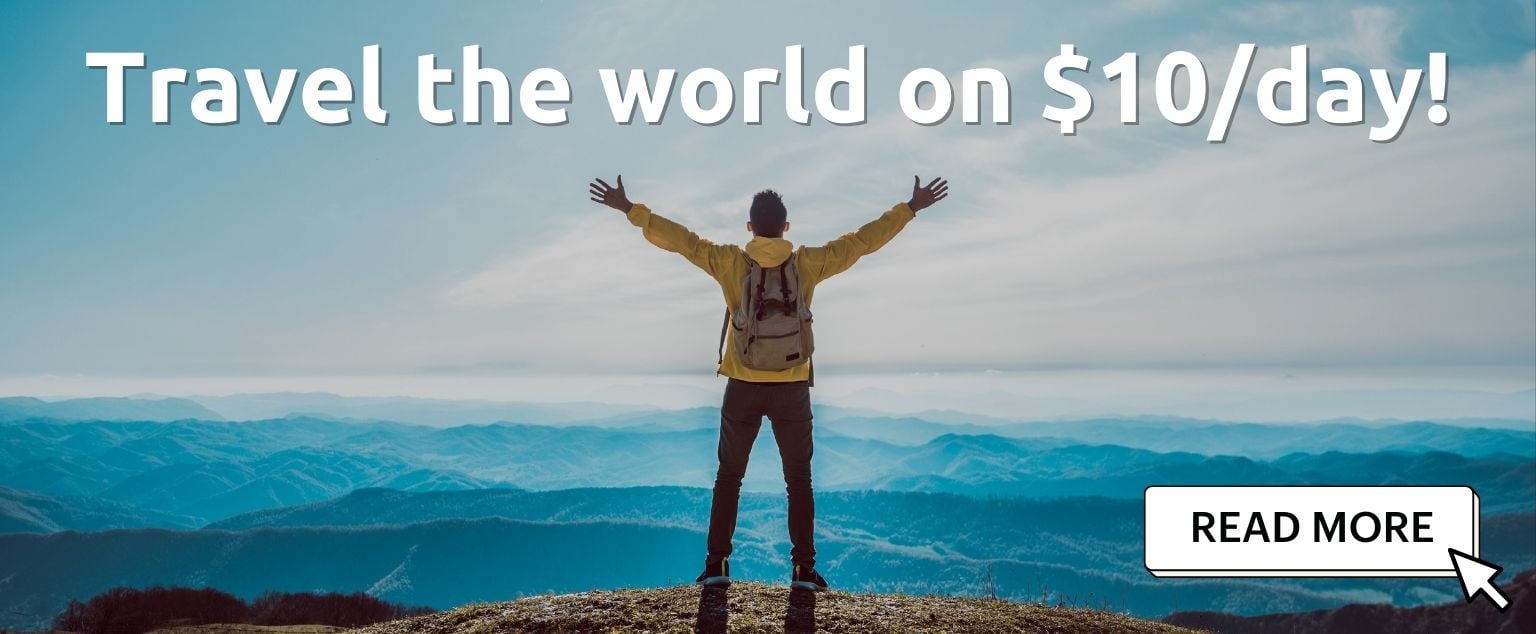 And for transparency's sake, please know that some of the links in our content are affiliate links. That means that if you book your accommodation, buy your gear, or sort your insurance through our link, we earn a small commission (at no extra cost to you). That said, we only link to the gear we trust and never recommend services we don't believe are up to scratch. Again, thank you!