The world holds many wonders to explore, if only we are brave enough to let go of comfort and security.
For those sitting on the fence about whether they should set off on a big adventure, or head into the unknown, these quotes about exploring may just give you the nudge you need to take the plunge.
Including well-known to more abstract quotes, this collection will hopefully get you up off the couch and out exploring the world. Check them out!

Unlock Our GREATEST Travel Secrets!
Sign up for our newsletter and get the best travel tips delivered right to your inbox.
1. "Exploration is really the essence of the human spirit." – Frank Borman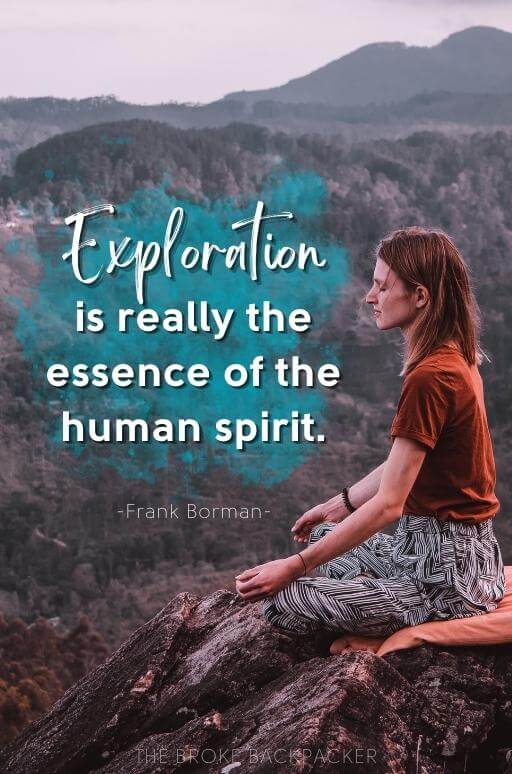 2. "Excitement lies in the exploration of the world around us." – Jim Peebles
3. "One's destination is never a place, but a new way of seeing things." – Henry Miller
Exploring the world around us often leads us to be a better understanding of the world within us. Seeing new cultures and learning new ways offers us a clear lens, through which we can view our world both internally and externally.
4. "Life is about growth and exploration, not achieving a fixed state of balance. You have a very limited time on earth to experience all that you can. Figuring out how to squeeze the most out of your family, work, and spirituality is your life's purpose. Go do it." – Mel Robbins
5. "A ship is safe in harbor, but that's not what ships are built for." – John G. Shed
This popular quote about exploring is almost a mantra for the adventurous. Sure, staying put is safe, predictable and comfortable, but that isn't what you're here to do. Humans are born to explore and be curious about their world. It fuels us, grows us and keeps us inspired. When this desire to seek out new experiences wanes, and the desire to stay put takes over, you're probably not fulfilling your full potential.
6. "I want to explore the world properly, to be able to write about and take pictures of all kinds of different cultures. Just be an explorer or adventurer." – Cara Delevingne
7. "We shall not cease from exploration, and the end of all our exploring will be to arrive where we started and know the place for the first time." – T. S. Eliot
8. "That is the exploration that awaits you! Not mapping stars and studying nebula, but charting the unknown possibilities of existence." – Leonard Nimoy
9. "I'm not lost. I'm exploring." – Jana Stanfield.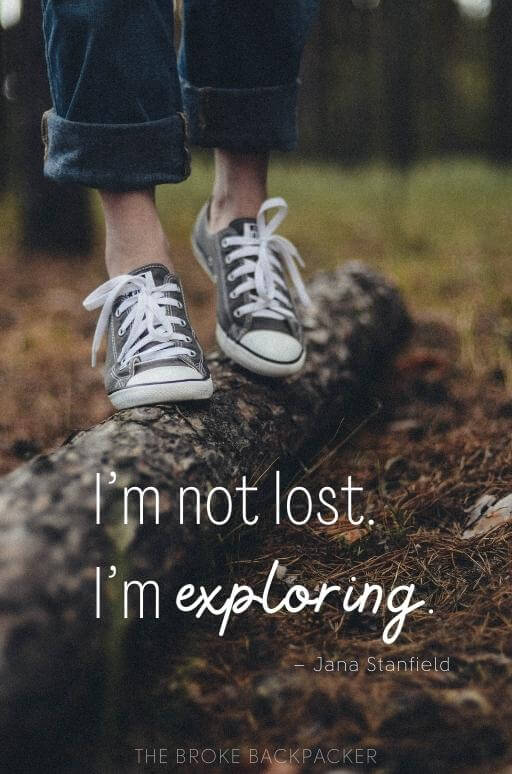 The difference between an inconvenience and an adventure is merely a matter of perspective. Every day is a chance to explore if we only approach life with the curiosity of an explorer seeking new experiences and new perspectives.
10. "Jobs fill your pockets, but adventures fill your soul." – Jaime Lyn
When you reach the end of your life, which will mean more to you? Full pockets are nice, but they also weigh you down. Filling your soul with adventures will provide treasures worth more than money. You'll know yourself better, you'll have stories to share, and you'll benefit from a new perspective on the world.
11. "Explore, experience, then push beyond." – Aaron Lauritsen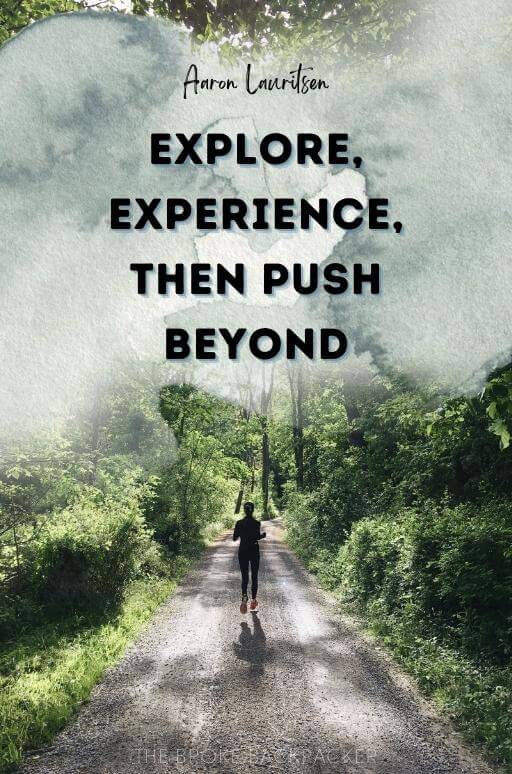 12. "Because in the end, you won't remember the time you spent working in the office or mowing your lawn. Climb that goddamn mountain." – Jack Kerouac
Jack Kerouac was an American poet, writer, and father of the Beat movement – whose work often explores the theme of travel. He would go on to influence a generation of artists including Bob Dylan, The Beatles, and The Doors.
This quote about exploring is so relevant in our world of hustle culture and success-hunting. It reminds us that it's easy to get caught in the cycle of ticking off to-do items and chasing goals. We can get swallowed up in the day-to-day and forget that outside, there are broader horizons and greater challenges to experience that would feed our souls more than simply getting things done.
13. "Adventure is allowing the unexpected to happen to you. Exploration is experiencing what you have not experienced before." – Richard Aldington
14. "An explorer cannot stay at home reading maps other men have made." – Susanna Clarke, 'Jonathan Strange & Mr Norrell.'
The need to see with your own eyes and feel with your own heart is what drives an explorer. Adventures cannot be lived by proxy, nor can exploration take place without traveling.
This exploring quote reminds us that action is what sets explorers apart. When you've faced the fear of the unknown, you'll never be able to turn down an adventure.
15. "For me, exploration is about that journey to the interior, into your own heart. I'm always wondering, how will I act at my moment of truth? Will I rise up and do what's right, even if every fiber of my being is telling me otherwise?" – Ann Bancroft
16. "Twenty years from now you will be more disappointed by the things that you didn't do than by the ones you did do. So throw off the bowlines. Sail away from the safe harbor. Catch the trade winds in your sails. Explore. Dream. Discover." – Mark Twain
A classic call to courage and adventure, this quote by the legendary Mark Twain should be emblazoned on the hearts of every human. If we could somehow speak to our future selves, this is what they would tell us.
17. "At the end of the day, your feet should be dirty, your hair messy and your eyes sparkling." – Shanti
18. "The exploration of self is only enhanced by your expeditions & innumerable odysseys that nurture the mind and soul if finding a purpose is your goal then traveling lies at the heart of it." – Sachin Kumar Puli
19. "Everything about your life, about your body, grows! Your cells regenerate; your hair, your nails, everything grows for your entire life. And your soul needs exploration and growth. And the only way you'll get it is by forcing yourself to be uncomfortable. Forcing yourself to get outside, out of your head." – Mel Robbins
20. "You cannot explore the universe if you think that you are the center of it." – Joshua Suya Pelicano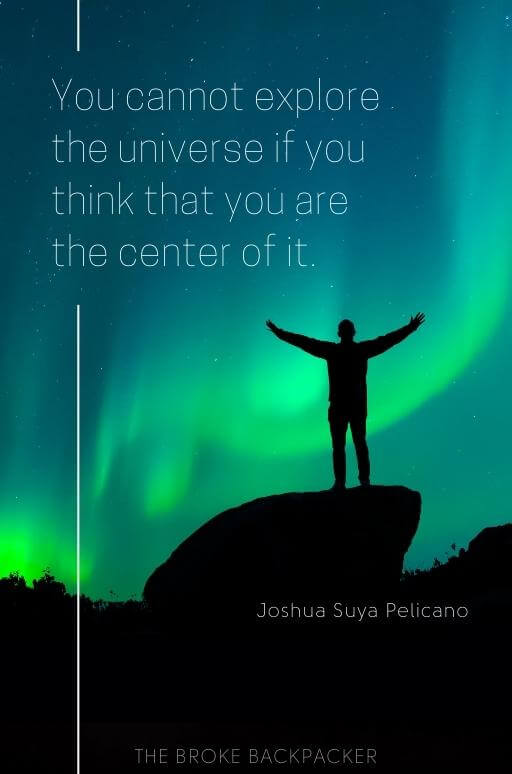 The best way to see and feel the interconnectedness of all living beings is to explore and chase new horizons. Only by throwing ourselves headlong into the mix can we truly feel part of something much, much bigger than ourselves.
21. "Once a year, go someplace you've never been before." – Dalai Lama
From one of the world's greatest spiritual leaders, this advice proves that stepping outside of your comfort zone is where the connection with yourself and others begins. By removing ourselves from our everyday surroundings, we stretch ourselves mentally, emotionally, and spiritually.
22. "When no possessions keep us, when no countries contain us, and no time detains us, man becomes a heroic wanderer, and woman, a wanderer." – Roman Payne
23. "All journeys have secret destinations of which the traveler is unaware." – Martin Buber
24. "Man cannot discover new oceans unless he has the courage to lose sight of the shore." – Andre Gide
25. "Keep exploring, you will discover a new path." – Lailah Gifty Akita
26. "Do not follow where the path may lead. Go instead where there is no path and leave a trail." – Ralph Waldo Emerson
When it comes to quotes about exploring, this is a firm favorite. It challenges us to blaze a trail of our own. If we always go where others have been we'll never see things that others have not. It's the pioneering spirit in this quote that inspires us to go off-piste and bravely forge our own path.
27. "Why do you go away? So that you can come back. So that you can see the place you came from with new eyes and extra colors. And the people there see you differently, too. Coming back to where you started is not the same as never leaving." – Terry Pratchet
28. "A journey of a thousand miles must begin with a single step." – Lao Tzu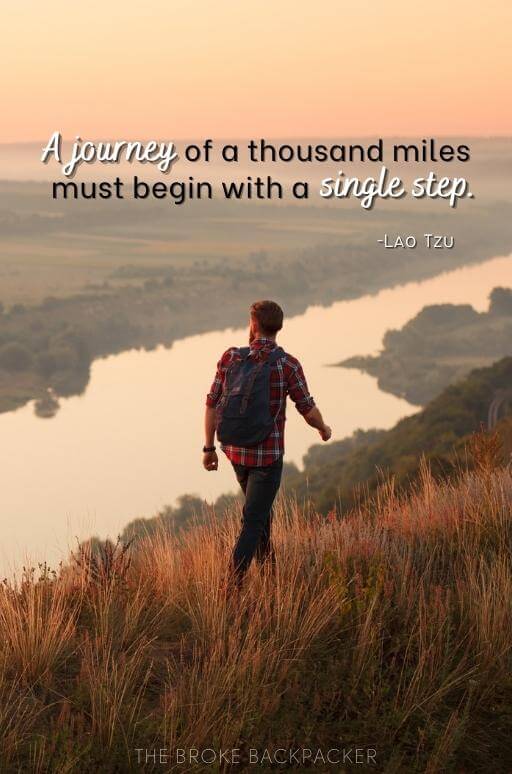 We can't explore or chase adventure if we aren't prepared to take that first step. It's the hardest step of them all, but without it, we stay the same forever. That first step symbolizes eagerness to learn and grow and challenge the status quo. It just takes one step, in any direction, to begin an adventure.
29. "Life shrinks or expands in proportion to one's courage." – Anais Nin
30. "Time to open up a new chapter in life, and to explore a larger center." – Lillian Russell
31. "And into the forest I go, to lose my mind and find my soul." – John Muir
32. "It's not the mountain we conquer, but ourselves." – Sir Edmund Hillary
This is another important reminder that our journey in the world is really a journey to ourselves. Sir Edmund Hillary knew a thing or two about it, he was a renowned mountaineer and explorer, also credited with being the first confirmed climber, along with his Sherpa Tenzing Norgay, to summit Mount Everest. 
33. "I may not have gone where I intended to go, but I think I have ended up where I intended to be." – Douglas Adams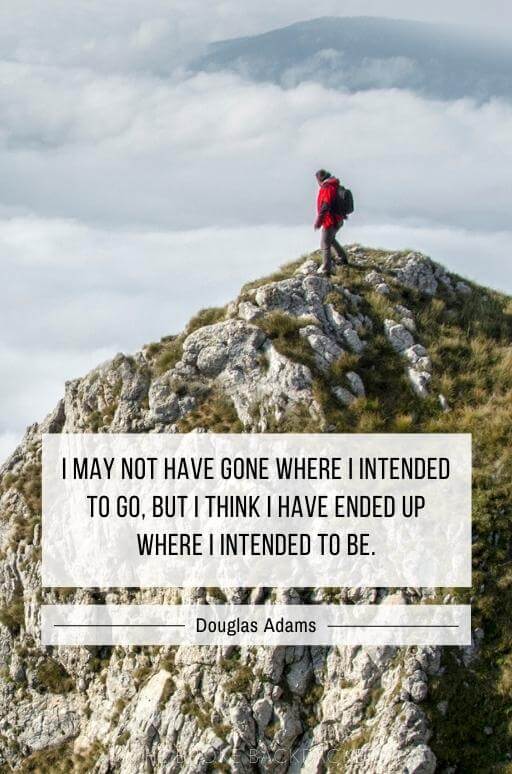 34. "Live your life by a compass, not a clock." – Stephen Covey
35. "The gladdest moment in human life is a departure into unknown lands." – Sir Richard Burton
36. "If happiness is the goal – and it should be, then adventures should be top priority." – Richard Branson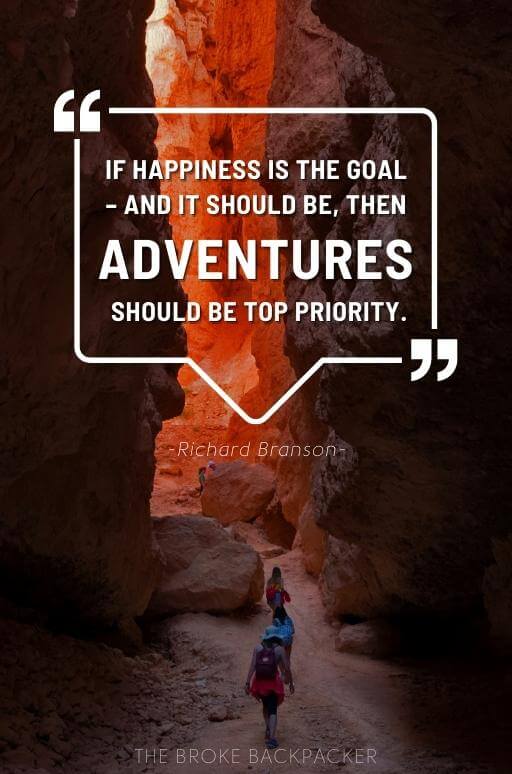 37. "The joy of life comes from our encounters with new experiences, and hence there is no greater joy than to have an endlessly changing horizon, for each day to have a new and different sun." – Christopher McCandless
38. "Blessed are the curious for they shall have adventures." – Lovelle Drachman
39. "Until you step into the unknown, you don't know what you're made of." – Roy T. Bennett
Is This the Best Backpack EVER???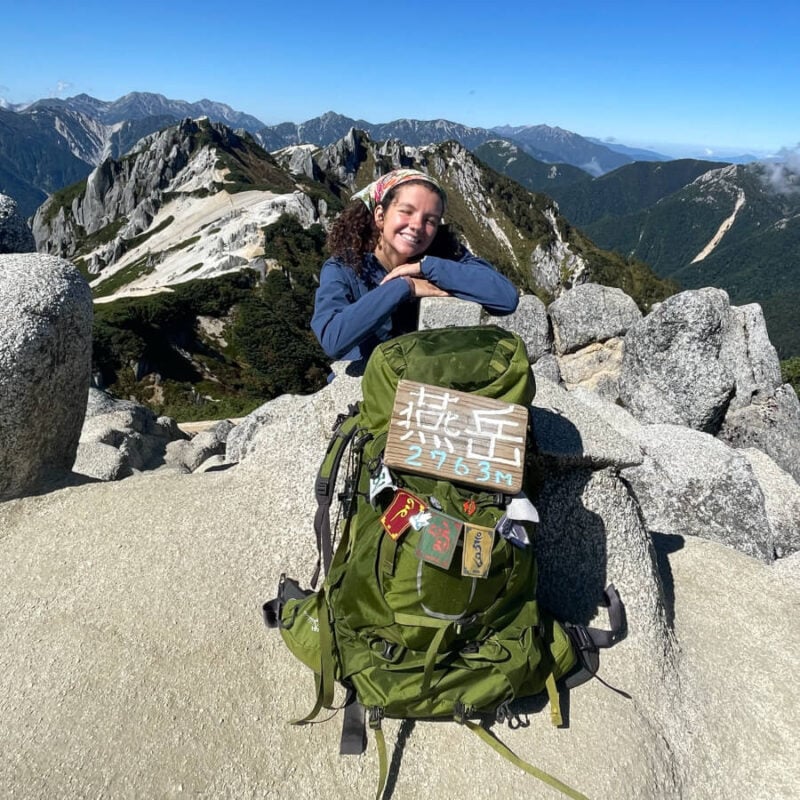 40. "The world is a book and those who do not travel read only one page." – St Augustine
This is a popular exploring quote often used to accompany incredible travel imagery on social media. Penned by theologian and philosopher, St Augustine, it has stood the test of time and remains as relevant now as it did when it was written.
St Augustine lived between 354 and 430, in a time when travel was certainly not as easy or safe as it is today, and still, St Augustine knew the value of exploring.
41. "Man cannot discover new oceans unless he has the courage to lose sight of the shore." – Aristophanes
42. "Go out in the woods, go out. If you don't go out in the woods, nothing will ever happen, and your life will never begin." – Clarissa Pinkola Estes
What's in the woods? Who knows! There's only one way to find out, and that's to brave the unknown and go see for yourself. Life begins when you choose bravery over comfort and security.
43. "There are so many avenues to explore and stories to tell. It's just about finding new ways of telling them." – Jack Lowden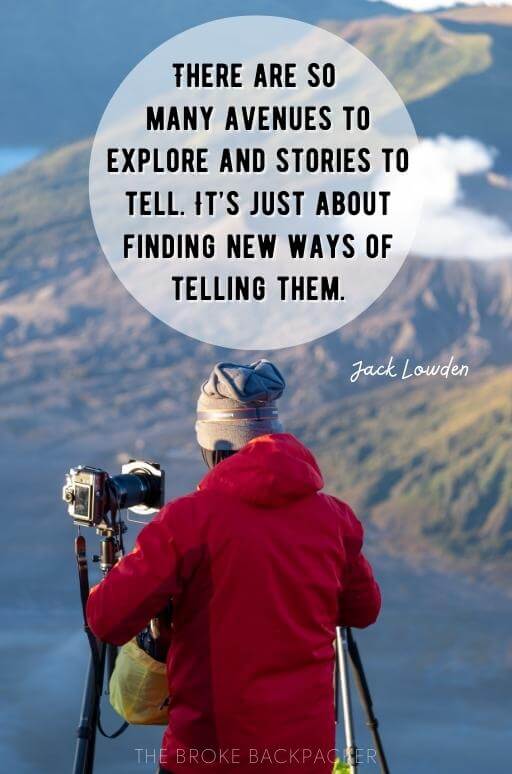 44. "There's only one place I want to go, and it's to all the places I've never been to." – Nikki Rowe
45. "Every man's life ends the same way. It is only the details of how he lived and how he died that distinguish one man from another." – Ernest Hemingway
Celebrated author Ernest Hemingway's quote isn't so much a quote about exploring, as a quote about living and how you choose to do it. We're all here for a short time and what we do with the time we have is what sets us apart. 
46. "Travelling is a key part of my life. It keeps me inspired, takes me to new places, introduces me to new sounds, and allows me to explore new environments and soundscapes." – Ludwig Goransson
47. "All men dream, but not equally. Those who dream by night in the dusty recesses of their minds, wake in the day to find that it was vanity: but the dreamers of the day are dangerous men, for they may act on their dreams with open eyes, to make them possible." – T.E. Lawrence
48. "Kids are curious, and if you don't lose that, then everything is an adventure." – Diane Greene
49. "Exploration by real people inspires us." – Stephen Hawking
50. "You're off to Great Places! Today is your day! Your mountain is waiting, so… get on your way!" – Dr. Seuss
'Oh the place you'll go..' is a poem by popular children's author Dr. Seuss. It inspires us all to get on our way and set off to face new challenges. It teaches us to face the unknown with excitement and wonder rather than let trepidation and fear stop you.
51. "If we were meant to stay in one place, we'd have roots instead of feet." – Rachel Wolchin
52. "We humans were built for exploration, and we were built to do it together." – Anne McClain
53. "There is no end to the adventures that we can have if only we seek them with our eyes open." – Jawaharlal Nehru
54. "Not all those who wander are lost."– J.R.R. Tolkien
J.R.R Tolkien is the author of the famous Lord of the Rings trilogy, an epic tale of adventure. This quote, taken from the first book in the series, The Fellowship of the Ring, is another one of those quotes about exploring you often see on social media accompanying unbelievable images.
Sometimes the destination is in the journey itself, finding yourself along the way. Sometimes, having no destination in mind or path laid out is the best way to go; to follow your heart, your feet and your instinct.
55. "It's a dangerous business, Frodo, going out your door. You step onto the road, and if you don't keep your feet, there's no knowing where you might be swept off to." – Bilbo Baggins
Similarly, this quote from Bilbo Baggins, a character from J.R.R Tolkien's The Hobbit and Lord of the Rings, cautions that adventure can grip you any time you leave your front door. It's out there, waiting for you. You simply need to meet it on the road. 
56. "Exploration is curiosity put into action" – Don Walsh
57. "The voyage of discovery is not in seeking new landscapes but in having new eyes." – Thomas Alva Edison
58. "Man cannot discover new oceans unless he has the courage to lose sight of the shore"– Andre Gide
There are many quotes about exploring that share this sentiment; if you're not willing to let go of what you know, you'll never experience what you don't know. There's a certain amount of risk in exploring, but the reward of new experiences, new sights, and new ways of being that far outweigh this. 
Fortune, as they say, favors the brave!
59. "Man can learn nothing except by going from the known to the unknown." – Claude Bernard
60. "I think, just philosophically, we're made to explore." – Peggy Whitson
61. "Never do things others can do and will do if there are things others cannot do or will not do." – Amelia Earhart
62. "A person does not grow from the ground like a vine or a tree, one is not part of a plot of land. Mankind has legs so it can wander." – Roman Payne
A popular theme in quotes about exploring are feet. Humans are blessed with mobility which means as long as there's a horizon, we're able to chase it. We're not pinned down or locked in position. We're free to move about this earth. And it's this exploration that helps us grow taller and stronger in many ways.
63. "The purpose of life is to live it, to taste it, to experience to the utmost, to reach out eagerly and without fear for newer and richer experience." – Eleanor Roosevelt
64. "When you give yourself to places, they give you yourself back; the more one comes to know them, the more one seeds them with the invisible crop of memories and associations that will be waiting for when you come back, while new places offer up new thoughts, new possibilities. Exploring the world is one the best ways of exploring the mind, and walking travels both terrains." – Rebecca Solnit
65. "I felt my lungs inflate with the onrush of scenery—air, mountains, trees, people. I thought, "This is what it is to be happy." – Sylvia Plath
66. "In wisdom gathered over time I have found that every experience is a form of exploration." – Ansel Adams

Our GREATEST Travel Secrets…
Pop your email here & get the original Broke Backpacker Bible for FREE.
67. "Until you cross the bridge of your insecurities, you can't begin to explore your possibilities." – Tim Fargo
68. "You can accelerate your development by giving yourself a fresh set of challenges, or the same set viewed from a different angle, every day. Explore a different path – if it leads nowhere, explore another." – Paul Foxton
69. "I haven't been everywhere, but it's on my list." – Susan Sontag
70. "It's important for the explorer to be willing to be led astray." – Roger von Oech
Be open to adventures and changes in plan. Sometimes it's the unplanned journey that teaches us the most about ourselves. Sticking rigorously to our plans is as counterintuitive to exploring as staying on the well-worn path. 
71. "If you want to know the truth of who you are, walk until not a person knows your name. Travel is the great leveler, the great teacher, bitter as medicine, crueler than mirror-glass. A long stretch of road will teach you more about yourself than a hundred years of quiet." – Patrick Rothfuss
If this quote about exploring doesn't frighten and excite you at the same time, you should read it again. What better way to learn who you are than to force yourself to rely solely on yourself in a foreign place. It won't always be easy but it will always be worth it.
72. "We need the tonic of wildness… At the same time that we are earnest to explore and learn all things, we require that all things be mysterious and unexplorable, that land and sea be indefinitely wild, unsurveyed, and unfathomed by us because unfathomable. We can never have enough of nature." – Henry David Thoreau
73. "Life is an experiment in which you may fail or succeed. Explore more, expect least." – Santosh Kalvar
74. "Climb the mountain not to plant your flag, but to embrace the challenge, enjoy the air and behold the view. Climb it so you can see the world, not so the world can see you." – David McCullough Jr.
This quote about exploring is important in our world of social media and doing it for the 'gram. The focus should always be on exploring to satisfy our curiosity and sense of adventure. It isn't about bragging rights or posting it online to great applause.
The value in exploring is challenging oneself and growing personally from the experience.
75. "This I believe: that the free, exploring mind of the individual human is the most valuable thing in the world." – John Steinbeck
76. "Adventures don't come calling like unexpected cousins calling from out of town. You have to go looking for them." – Unknown
77. "We were meant to explore this earth like children do, unhindered by fear, propelled by curiosity and a sense of discovery. Allow yourself to see the world through new eyes and know there are amazing adventures here for you." – Laurel Bleadon Maffei
78. "Exploring is an innate part of being human. We're all explorers when we're born. Unfortunately, it seems to get drummed out of many of us as we get older, but it's there, I think, in all of us. And for me, that moment of discovery is just so thrilling, on any level, that I think anybody that's experienced it is pretty quickly into it." – Edith Widder
Maintaining a sense of wonder, of curiosity, is what propels most of us to explore, travel and experience the world around us. Oceanographer and marine biologist, Edith Widder, has made a career out of exploring beneath the waves, seeking light (in the form of bioluminescence) in the darkest waters. 
Her quote about exploring reminds us to stay curious and we'll be rewarded with discoveries we never thought possible.
79. "Adventure is allowing the unexpected to happen to you. Exploration is experiencing what you have not experienced before. How can there be any adventure, any exploration, if you let somebody else – above all, a travel bureau – arrange everything beforehand?" – Richard Aldington
80. "Wandering re-establishes the original harmony which once existed between man and the universe." – Anatole France
81. "I'm a wanderer. But I don't wander to explore the outer physical world, I do it to explore the universe inside me." – Appu Nirmal
82. "It is in our nature to explore, to reach out into the unknown. The only true failure would be not to explore at all." – Ernest Shackleton
83. "Only those who risk going too far can possibly find out how far they can go." – T.S Eliot
Boundaries only remain boundaries if you don't go beyond them. Famous author T.S. Eliot's quote about exploring challenges us to keep pushing those boundaries, and nudging further outside of our comfort zones. 
84. "I will go anywhere, as long as it is forward." – David Livingstone
85. "Stuff your eyes with wonder, he said, live as if you'd disappear in ten seconds. See the world. It's more fantastic than any dream made or paid for in factories" – Ray Bradbury
86. "In every walk with nature, one receives far more than he seeks." – John Muir
87. "I had ambition not only to go farther than any man had ever been before but as far as it was possible for a man to go." – James Cook
…and that ambition had James Cook discovering Hawaii, and exploring the Pacific contributing to the mapping of the South Pacific. 
If there's anyone worthy of giving us quotes about exploring, we'd say James Cook is pretty well qualified. As long as we remain ambitious and curious, we'll go far. We might not chart new territories on the globe, but we're sure to navigate new states within ourselves.
88. "Once in a while it really hits people that they don't have to experience the world in the way they have been told to." – Alan Keightley
89. "We were born to be free, to expand our horizons by going where we have never gone before, and not to hang out in the relative comfort and safety of the nest, the known. There is a place within us that is courageous beyond our human understanding; it yearns to explore beyond the boundaries of our daily life" – Dennis Merritt Jones
90. "We have to establish our credentials as an explorocracy; so to survive and rule ourselves, we have to explore." – China Mieville
91. "Life is either a daring adventure or nothing. Security does not exist in nature, nor do the children of men as a whole experience it. Avoiding danger is no safer in the long run than exposure." – Helen Keller
92. "You must give everything to make your life as beautiful as the dreams that dance in your imagination." – Roman Payne
93. "Set out from any point. They are all alike. They all lead to a point of departure." – Antonio Porchia
94. "We only know a tiny proportion about the complexity of the natural world. Wherever you look, there are still things we don't know about and don't understand. […] There are always new things to find out if you go looking for them." – David Attenborough
A quote by the great explorer, David Attenborough, is always worthy of attention. From a man who has explored our planet's most remote and inhospitable locations, encountered isolated tribes, and come face-to-face with some of the world's rarest species, you can trust him when says there's always something new to discover.
Similarly, inside yourself, there's always something new to discover, and exploring the world can help you find those rare qualities about yourself to nurture.
95. "Exploration is wired into our brains. If we can see the horizon, we want to know what's beyond." – Buzz Aldrin
Buzz Aldrin is a former astronaut and was the second person to walk on the moon. We'd take his advice about horizons since he ventured where there is none; he ventured beyond. 
This quote about exploration is so much more meaningful coming from him. It reminds us to be curious, to approach the horizon with wonder, to keep chasing it.
96. "The world is big, and I want to have a good look at it before it gets dark." – John Muir
97. "Plunge boldly into the thick of life, and seize it where you will, it is always interesting." – Johann Wolfgang Von Goethe
98. "So much of who we are is where we have been." – William Langewiesche
Every adventure and journey changes us. It leaves a mark so that we can never be the same person we were before we set off. This quote about exploring teaches us to embrace the change in us that happens when we open ourselves up to new places and experiences. 
William Langewiesche is an American journalist and author who also worked for many years as an airline pilot.
99. "The journey matters more than the destination." – Tony Fahkry
100. "A good traveler has no fixed plans, and is not intent on arriving." – Lao Tzu
A good traveler knows that the value of travel is not in the destination, but in the journey. As we move through the world, the world moves through us and changes us irrevocably. It doesn't matter how you go, or where you end up – what matter is that you go. 
101. "The life you've led doesn't need to be the only life you have." – Anna Quindlen
Final Thoughts
What's clear by the end of this list of quotes about exploring, is that the need to explore and experience new things is inherent in every human. Children are curious and fearless in their pursuit of new knowledge, and so we must remain into adulthood.
Be thirsty to explore and know new places and people. You'll find happiness that can't be gained by staying safe at home and allowing daily life to swamp you with to-do lists and endless tasks. 
Adventure is how we grow and learn about ourselves. Exploring leads us back, not to where we began, but to who we are. Travel and exploration show us not just new horizons, but parts of ourselves we didn't know existed.
---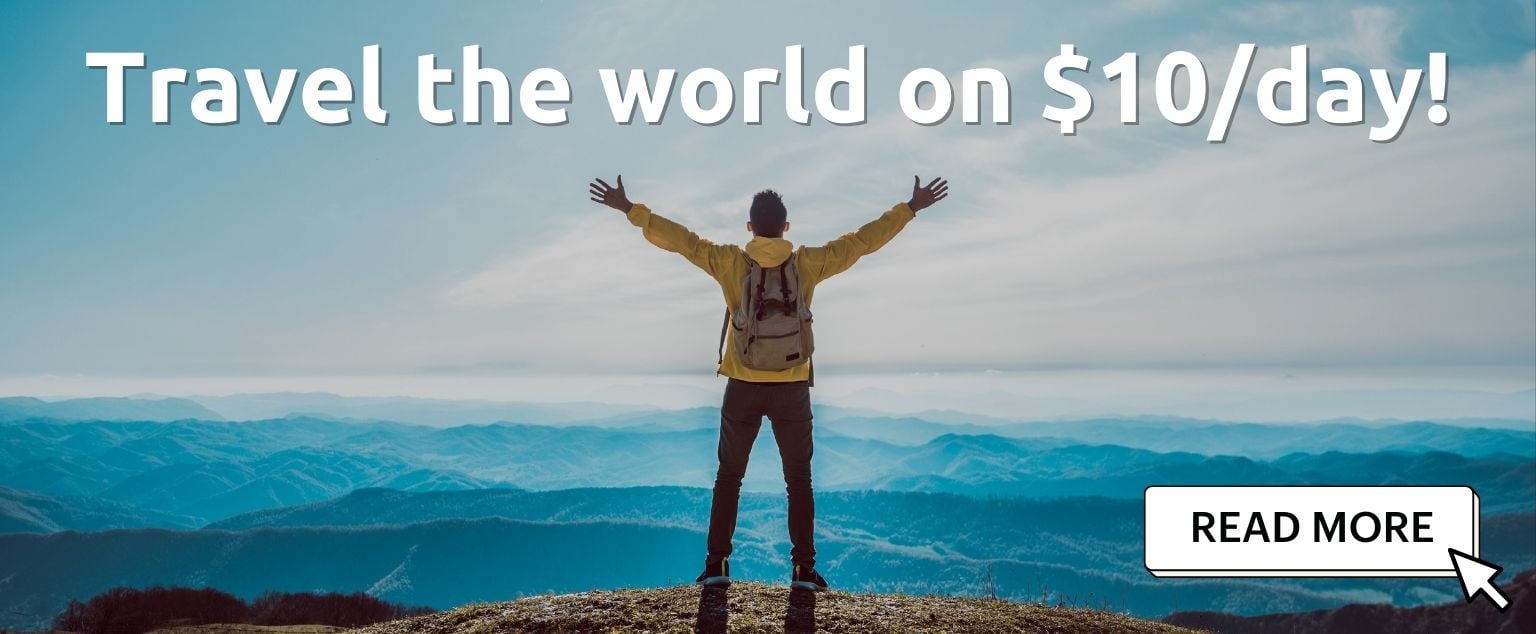 And for transparency's sake, please know that some of the links in our content are affiliate links. That means that if you book your accommodation, buy your gear, or sort your insurance through our link, we earn a small commission (at no extra cost to you). That said, we only link to the gear we trust and never recommend services we don't believe are up to scratch. Again, thank you!