Adventure quotes inspire us to embrace life's grandest and most daring moments because let's face it: life is too short to sit idly and wonder what's out there.
Inspirational quotes about adventure might just be the push that provokes exciting escapades and experiences.
Yeah, sometimes these lists can be a bit cheesy, but I've put together 101 of the best quotes about adventure written by some of the most renowned philosophers, authors, explorers, and outdoorsmen.
Travel to the farthest corners of this beautiful world or explore every crevice of your own backyard. You don't have to go far to create your best adventure stories; you just have to get after some life experiences.
After all, as stated by one of the most famous adventure quotes, "life is either a daring adventure or nothing." (Hellen Keller)
And so, without further ado, here are my 101 favorite inspirational adventure quotes to live by.
101 Quotes about Adventure
1. "Few places in this world are more dangerous than home. Fear not, therefore, to try the mountain passes. They will kill care, save you from deadly apathy, set you free, and call forth every faculty into vigorous, enthusiastic action." – John Muir
John Muir is one of the world's most famous naturalists, explorers, and outdoorsmen, known for his exploration of the Sierra Nevadas and Yosemite in California, and many of the Western United States' mountain ranges. It is because of his adventurous spirit and words that many of our favorite wild places – like Yosemite National park – are protected today.
I love this quote about adventure and action. For me, John Muir is highlighting the dangers of comfortability, which can encourage both complacency and apathy. So fear not; climb a mountain, go somewhere different, and try something new. At best, you have an incredible experience. At worst, you have an incredible story.
2. "Run from what's comfortable. Forget safety. Live where you fear to live. Destroy your reputation. Be notorious. I have tried prudent planning long enough. From now on I'll be mad." – Rumi
Rumi's poems are among my favorite. He is a 13th-century Persian poet, spiritual master, and Sufi mystic. He himself traveled across lands and experienced many adventures. For me, this adventure quote reminds me to choose adventure over comfort and embrace wonder over fear.
3. "Surely, of all the wonders of the world, the horizon is the greatest." – Freya Stark
4. "Death is more universal than life; everyone dies but not everyone lives." – Alan Sachs
5. "Twenty years from now you will be more disappointed by the things you didn't do than by the ones you did do." – Mark Twain
Mark Twain, most famous for writing Adventures of Huckleberry Fin, is essentially reminding us that living with mistakes is better than living with regret. When you look back on your life in 20 years, 40 years, or even 60 years, what are you going to remember?
In my experience, I never regret my travels and adventures. Sure, sometimes there are things I would do differently, but that just grants wisdom through experience. This adventure quote essentially tells us that taking risks and living life to the fullest is better than wondering what would have happened if you did.
6. "People travel to wonder at the height of the mountains, at the huge waves of the seas, at the long course of the rivers, at the vast compass of the ocean, at the circular motion of the stars, and yet they pass by themselves without wondering." – St. Augustine
7. "The world is big and I want to have a good look at it before it gets dark." – John Muir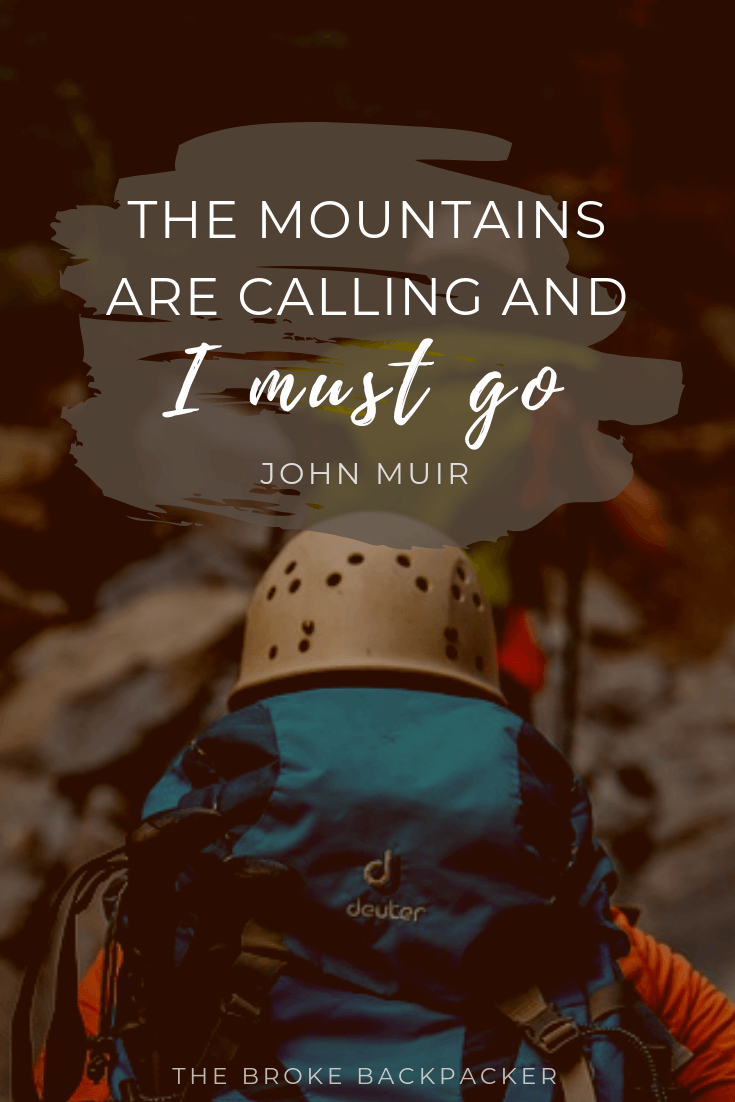 8. "The mountains are calling and I must go." – John Muir
9. "Stop worrying about the potholes in the road and enjoy the journey." – Babs Hoffman
10. "Why do you stay in prison, when the door is so wide open?" – Rumi
11. "Only by going alone in silence, without baggage, can one truly get into the heart of the wilderness. All other travel is mere dust and hotels and baggage and chatter." – John Muir
12. "Travel is fatal to prejudice, bigotry, and narrow-mindedness, and many of our people need it sorely on these accounts. Broad, wholesome, charitable views of men and things cannot be acquired by vegetating in one little corner of the earth all one's lifetime." – Mark Twain
To me, this quote by Mark Twain means that it is hard to have empathy and understand another's point of view if you have never lived through what they have or seen what they've seen. Bigotry and narrow-mindedness are born from ignorance. In other words, you don't know what you don't know. If you are surrounded by the same people, places, and experiences your entire life, how can one expect you to have a broadened perspective and understand people who come from completely different upbringings, cultures, and lifestyles?
One of my favorite aspects of travel and adventure is that it forces you to step out of your comfort zone and be the minority and experience other cultures, religions, and traditions. Only from there can we begin to understand one another.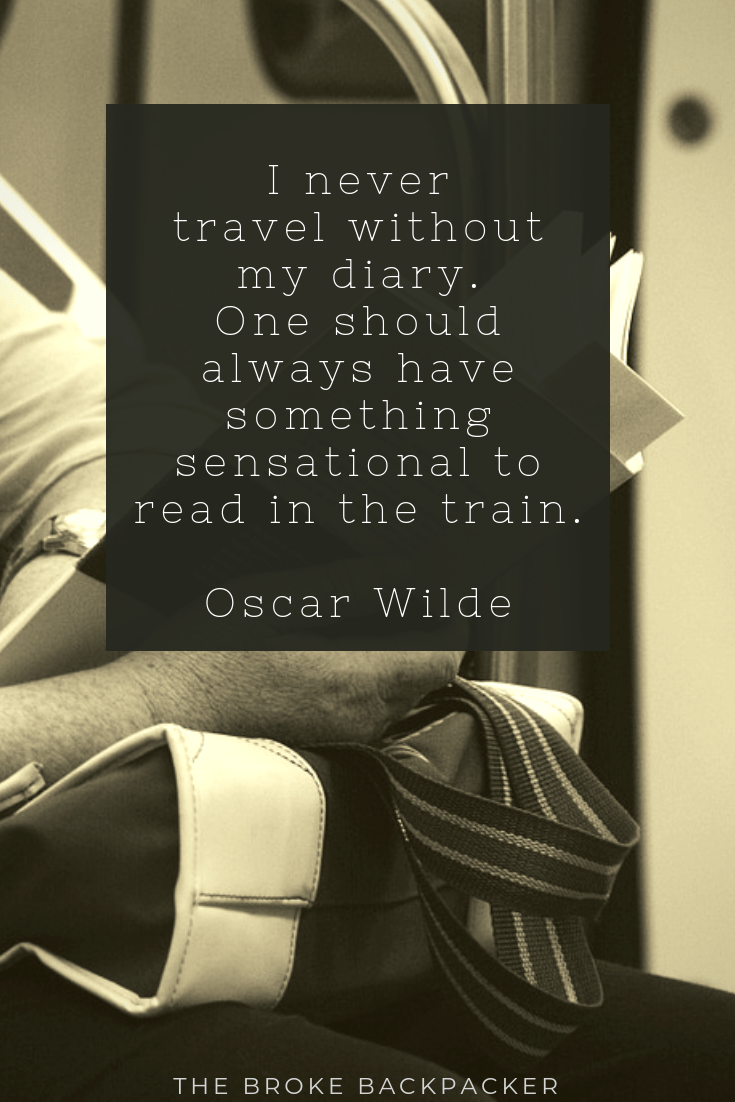 13. "I never travel without my diary. One should always have something sensational to read in the train." – Oscar Wilde
I love this adventure quote. It's comical but rings true. Essentially Oscar Wilde says his own memoir and life's account is an exciting and sensational read. The way I see it, I want my diary to be as exciting as the novels and stories that have encapsulated my attention and encouraged me to go on my own adventures too.
No one wants to read about the same mundane routine day in and day out. What makes an exciting story? New characters, plot twists, challenges, and a climax with resolution.
14. "As a well-spent day brings happy sleep, so life well used brings happy death." – Leonardo da Vinci
15. "Security is mostly a superstition. It does not exist in nature, nor do the children of men as a whole experience it. Avoiding danger is no safer in the long run than outright exposure. Life is either a daring adventure or nothing." – Helen Keller
This is probably one of the most famous adventure sayings of our time. Most of the time, we see the last sentence of the quote, but I love what Helen Keller says beforehand as well. Avoiding danger is no safer in the long run than outright exposure, and security is mostly a superstition.
I think Helen means that there is no such thing as security… you cannot predict how things will turn out, and by playing it safe you actually risk missing out on life's grandest moments.
16. "Every journey is personal. Every journey is spiritual. You can't compare them, can't replace, can't repeat. You can bring back the memories but they only bring tears to your eyes." – Diana Ambarsari
17. "The summit is what drives us, but the climb itself is what matters." – Conrad Anker
Conrad Anker is a famous climber and mountaineer, known for conquering mountains and challenges alike. This is another way of saying that we may be moving forward to reach an end goal, but it's the obstacles we overcome that make us who we are. And that is what matters. Not where we arrive, but the person we are when we do.
18. "There is no such thing as bad weather, only inappropriate clothing." – Sir Rannulph Fiennes
This is one of my favorite adventure quotes. I mean for one, Sir Rannulph Fiennes is saying that there is no such thing as bad timing, only the wrong perspective or poor planning. There is no such thing as bad weather when you have the right attitude!
19. "Real traveling is not about visiting places but about 're-visiting' our inner-self." – Sorrab Singha
20. "The perfect journey is never finished, the goal is always just across the next river, round the shoulder of the next mountain. There is always one more track to follow, one more mirage to explore." – Rosita Forbes
21. "Each morning we are born again. What we do today is what matters most."- Buddha
22. "A ship is safe in harbour, but that's not what ships are for." – John A. Shedd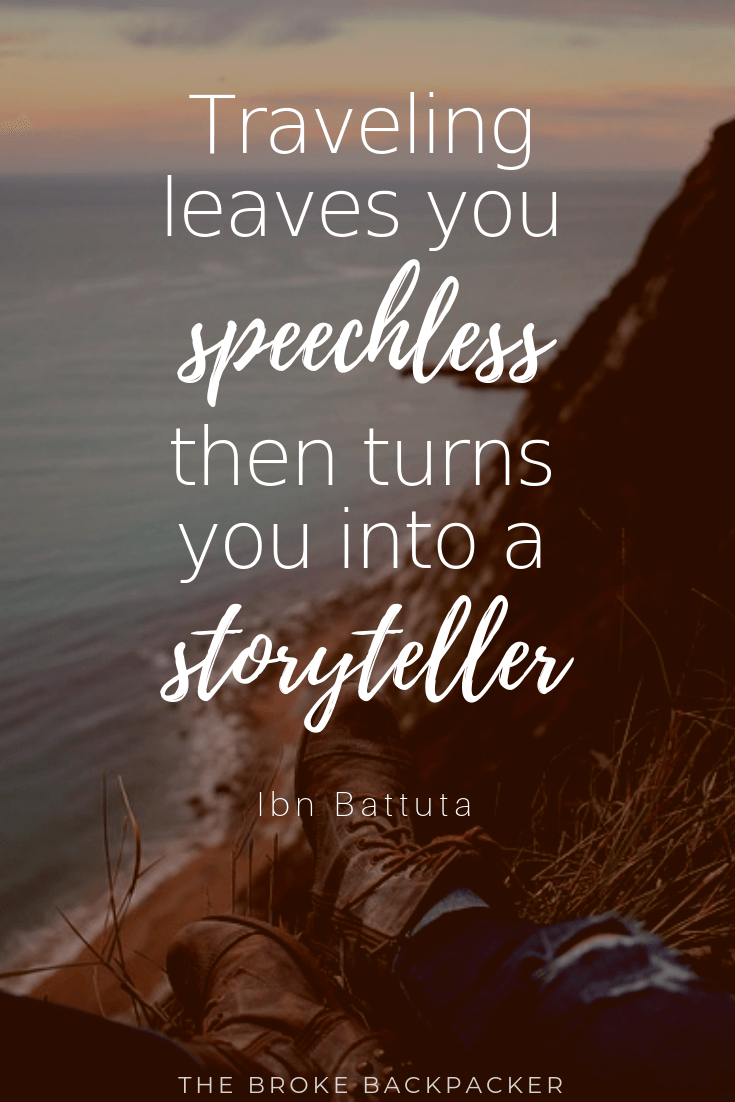 23. "Traveling – it leaves you speechless, then turns you into a storyteller."- Ibn Battuta
24. "Stuff your eyes with wonder, live as if you'd drop dead in ten seconds. See the world. It's more fantastic than any dream made or paid for in factories." – Ray Bradbury
25. "A journey, after all, neither begins in the instant we set out nor ends when we have reached our doorstep once again. It starts much earlier and is really never over because the film of memory continues running on inside of us long after we have come to a physical standstill. Indeed, there exists something like a contagion of travel, and the disease is essentially incurable." – Ryszard Kapuciski
26. "Once you have traveled, the voyage never ends but is played out over and over again in the quietest chambers. The mind can never break off from the journey." – Pat Conroy
27. "Travel not to find yourself, but to remember who you've been all along." – Unknown
28. "Travel, in the younger sort, is a part of education; in the elder, a part of the experience." – Francis Bacon
29. "It is good to have an end to journey toward, but it is the journey that matters in the end." – Ursula K. Le Guin
30. "We must go beyond textbooks, go out into the bypaths and untrodden depths of the wilderness and travel and explore and tell the world the glories of our journey." – John Hope Franklin
31. "The world is a book, and those who do not travel read only one page."- Saint Augustine
32. "We travel because we need to, because distance and difference are the secret tonic to creativity. When we get home, home is still the same. But something in our mind has been changed, and that changes everything." – Jonah Lehrer
33. "Travel makes you realize that no matter how much you know, there's always more to learn." – Nyssa P. Chopra, The Cultureur
Yes, sort of like, the larger the island of knowledge grows, so do the shores of ignorance. The more you learn, the more you realize there is to learn. And the more you travel, the more you realize you learn from those experiences.
That is one of the best parts about traveling. Before I set off for a multi-year traveling trip, I considered myself open-minded and fairly aware of what is going on in the world, but until you go see things for yourself and see things outside of your perspective your grow up around, you won't realize how narrow your viewpoint really is. And that is what I love about traveling. It makes you the outsider, the minority, or the one outside of their comfort zone.
34. "The tragedy of life is not that it ends so soon, but that we wait so long to begin it." – W. M. Lewis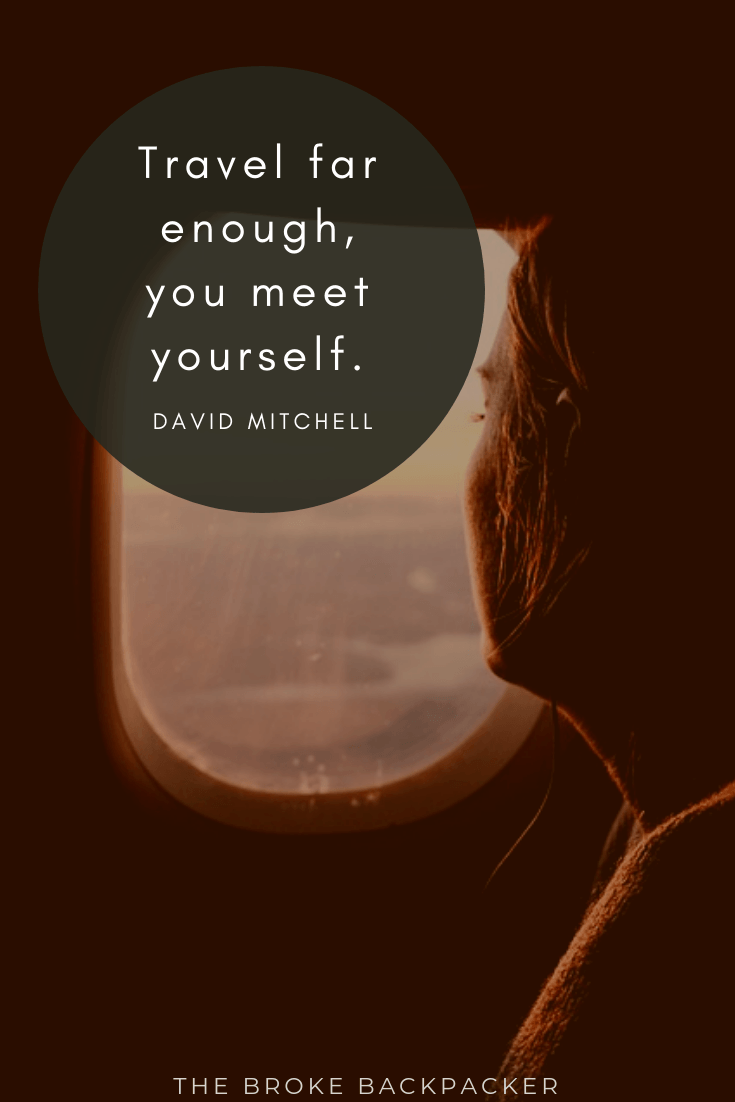 35. "Travel far enough, you meet yourself." – David Mitchell
36. "A man travels the world over in search of what he needs and returns home to find it." – George A. Moore
37. "A nation's culture resides in the hearts and in the soul of its people." – Mahatma Gandhi
38. "Focus on the journey, not the destination. Joy is found not in finishing an activity but in doing it." – Greg Anderson
39. "The whole object of travel is not to set foot on foreign land; it is at least to set foot on one's own country as a foreign land." – G.K. Chesterton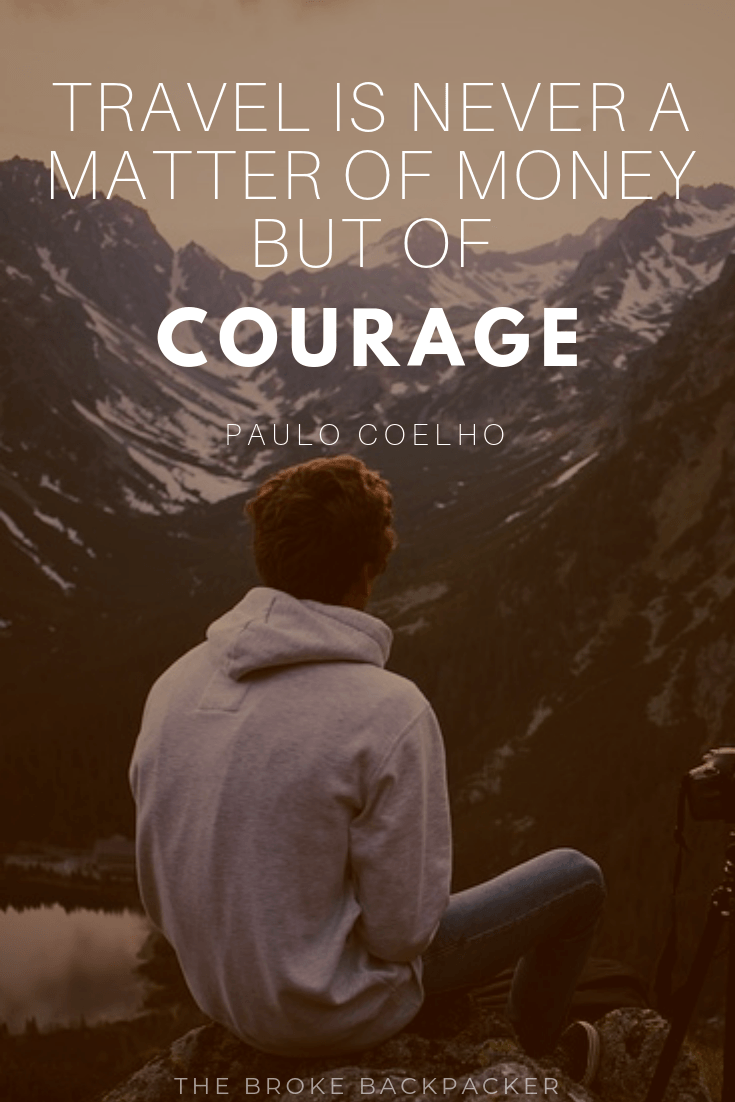 40. "Travel is never a matter of money, but of courage." – Paulo Coelho
41. "Travel opens your mind as few other things do. It is its own form of hypnotism, and I am forever under its spell." – Libya Bray
42. "Travel makes one modest. You see what a tiny place you occupy in the world." – Gustav Flaubert
43. "Thousands of tired, nerve-shaken, over-civilized people are beginning to find out that going to the mountains is going home; that wildness is a necessity" – John Muir
44. "The impulse to travel is one of the hopeful symptoms of life." – Agnes Repplier
45. "Travelling is a brutality. It forces you to trust strangers and to lose sight of all that familiar comfort of home and friends. You are constantly off balance. Nothing is yours except the essential things – air, sleep, dreams, the sea, the sky – all things tending towards the eternal or what we imagine of it." – Cesare Pavese
46. "If you obey all the rules, you miss all the fun." – Katharine Hepburn
47. "Travellers understand, instinctively and by experience, that travel and adventure change and elongate time, even while navigating the deadlines of airline and train departures." – Paul Sheeha
48. "Traveling outgrows its motives. It soon proves sufficient in itself. You think you are making a trip, but soon it is making you – or unmaking you." – Nicolas Bouvier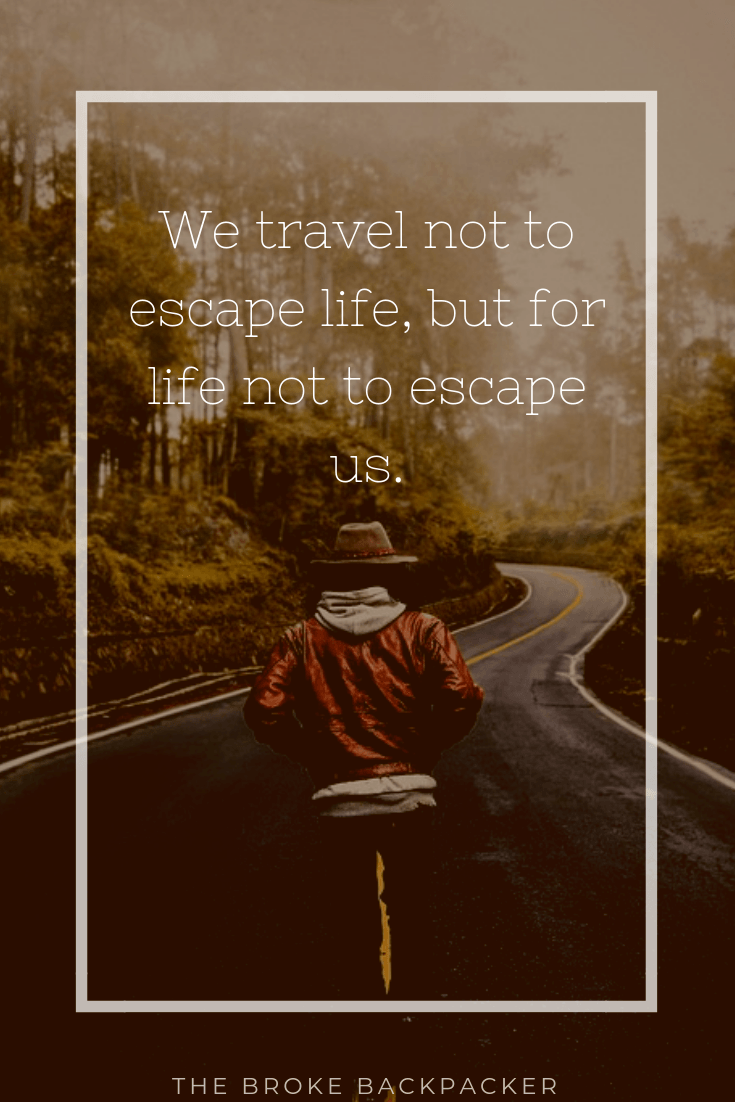 49. "We travel not to escape life, but for life not to escape us." – Anonymous
50. "The journey not the arrival matters." – T. S. Eliot
51. "Travel can also be the spirit of adventure somewhat tamed, for those who desire to do something they are a bit afraid of." – Ella Maillar
52. "Travel doesn't become adventure until you leave yourself behind." – Marty Rubin
53. "To live is to travel, on a voyage more epic than the odysseys of myth – not from place to place, but through the poignant strangeness of time." – T.L Rese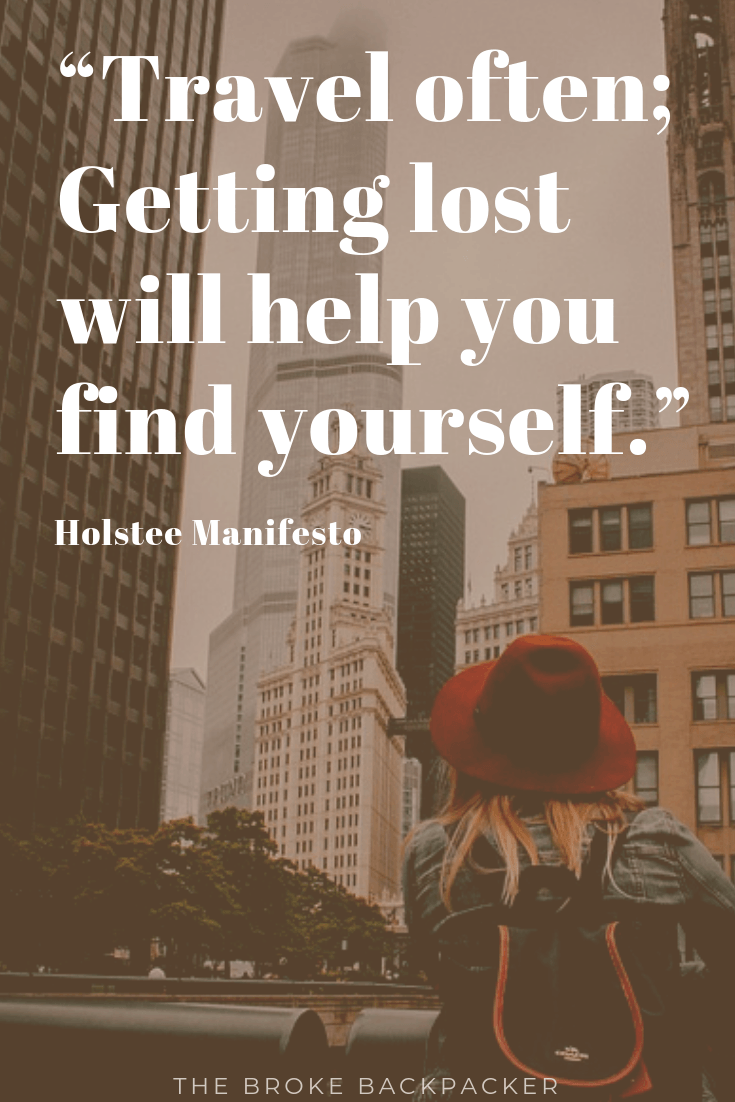 54. "Travel often; Getting lost will help you find yourself." – Holstee Manifesto
55. "The use of traveling is to regulate imagination with reality, and instead of thinking of how things may be, see them as they are." – Samuel Johnson
56. "All travel has its advantages. If the passenger visits better countries, he may learn to improve his own. And if fortune carries him to worse, he may learn to enjoy it." – Samuel Johnson
57. " I travel not to cross countries off a list, but to ignite passionate affairs with destinations." – Nyssa P. Chopra, The Cultureur
58. "With age, comes wisdom. With travel, comes understanding." – Sandra Lake
59. "To travel is to discover that everyone is wrong about other countries." – Aldous Hux
60. "Travel isn't always pretty. It isn't always comfortable. Sometimes it hurts, it even breaks your heart. But that's OK. The journey changes you; it should change you. It leaves marks on your memory, on your consciousness, on your heart, and on your body. You take something with you. Hopefully, you leave something good behind." – Anthony Bourdain
61. "A people without the knowledge of their past history, origin and culture is like a tree without roots." – Marcus Garvey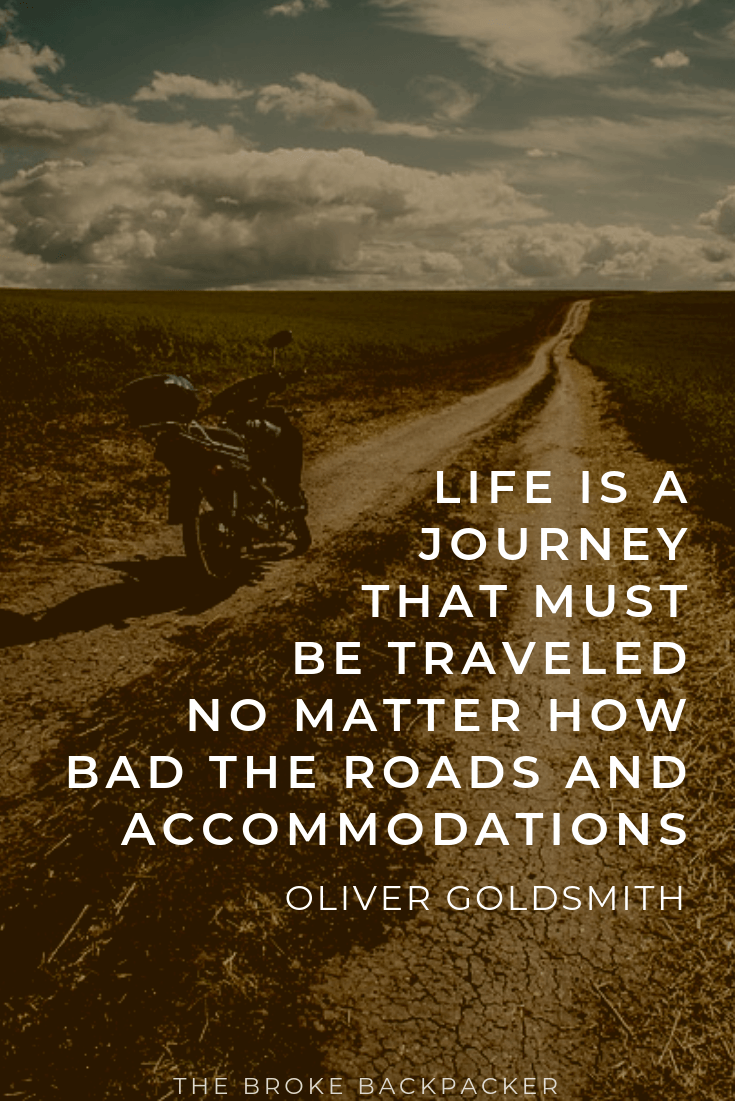 62. "Life is a journey that must be traveled no matter how bad the roads and accommodations." – Oliver Goldsmith
63. "Travel and change of place impart new vigour to the mind." – Seneca
64. "A man practices the art of adventure when he breaks the chain of routine and renews his life through reading new books, traveling to new places, making new friends, taking up new hobbies and adopting new viewpoints." – Wilfred Peterson
65. "The pleasure we derive from journeys is perhaps dependent more on the mindset with which we travel than on the destination we travel to." – Alain de Botton
66. "It is not the mountain we conquer but ourselves." – Edmund Hillary
67. "One way to get the most of life is to look upon it as an adventure." – William Feather
68. "Though we travel the world over to find the beautiful, we must carry it with us, or we find it not." – Ralph Waldo Emerson
69. "The best journeys are the ones that answer questions that at the outset you never even thought to ask." – Rick Ridgeway
70. "Oh, the place you'll go." – Dr. Suess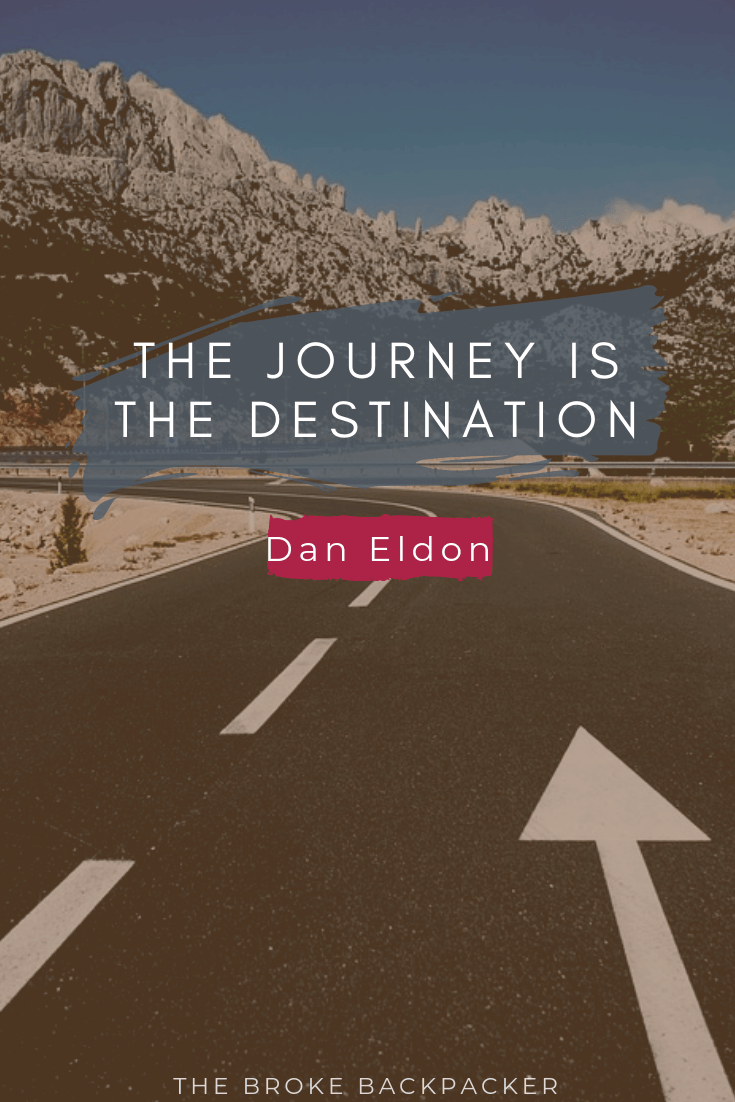 71. "The journey is the destination." – Dan Eldon
72. "Don't be satisfied with stories, how things have gone with others. Unfold your own myth." – John Muir
73. "Travel is the only context in which some people ever look around. If we spent half the energy looking at our own neighborhoods, we'd probably learn twice as much." – Lucy R. Lippard
74. "Culture is the tacit agreement to let the means of subsistence disappear behind the purpose of existence. Civilization is the subordination of the latter to the former." – Karl Kraus
75. "Just to travel is rather boring, but to travel with a purpose is educational and exciting." – Sargent Shriver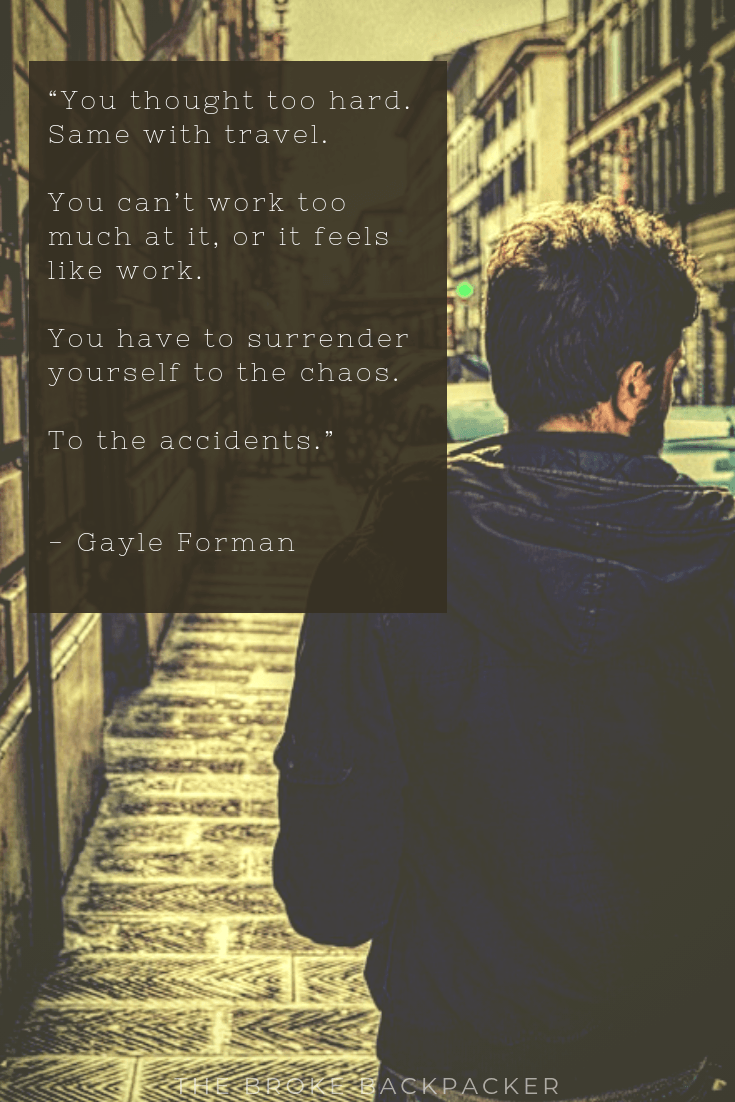 76. "You thought too hard. Same with travel. You can't work too much at it, or it feels like work. You have to surrender yourself to the chaos. To the accidents." – Gayle Forman
77. "No one realizes how beautiful it is to travel until he comes home and rests his head on his old, familiar pillow." – Lin Yutang
78. "The value of your travels does not hinge on how many stamps you have in your passport when you get home — and the slow nuanced experience of a single country is always better than the hurried, superficial experience of forty countries." – Rolf Potts
79. "When one is traveling, everything looks brighter and lovelier. That does not mean it IS brighter and lovelier; it just means that sweet, kindly home suffers in comparison to tarted-up foreign places with all their jewels on." – Catherynne M. Valente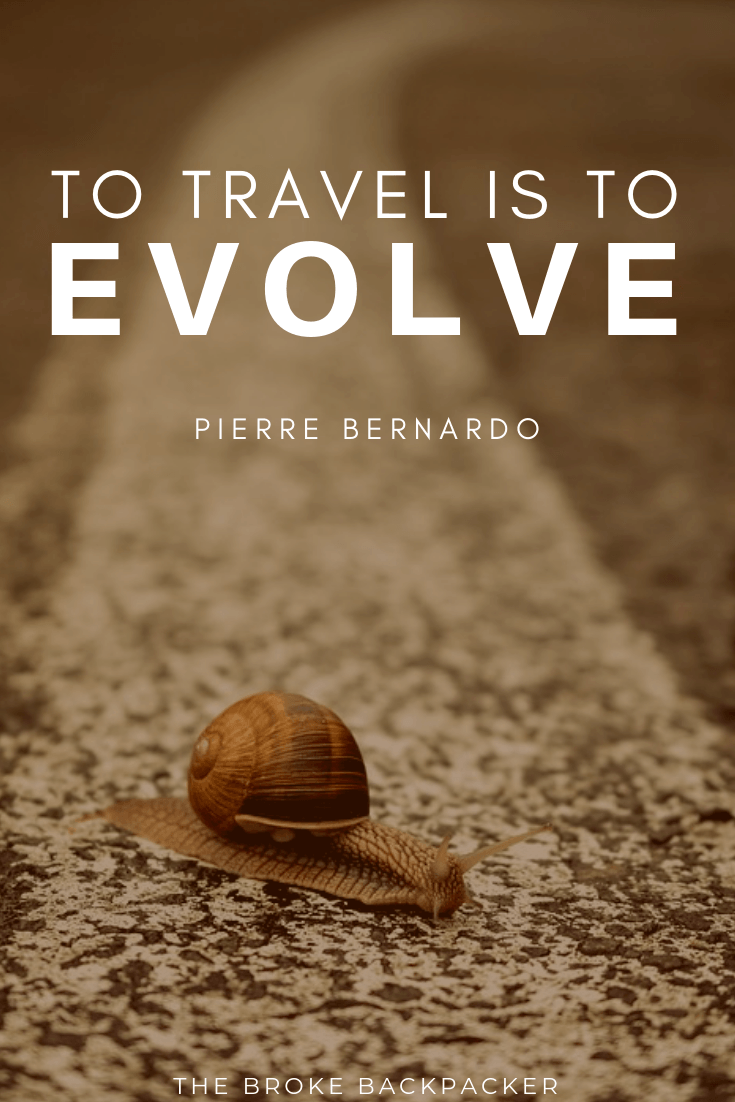 80. "To travel is to evolve." – Pierre Bernardo
81. "What gives value to travel is fear. It breaks down a kind of inner structure we all have." – Elizabeth Benedict
82. "Travel is like love, mostly because it's a heightened state of awareness, in which we are mindful, receptive, undimmed by familiarity and ready to be transformed. That is why the best trips, like the best love affairs, never really end." – Pico Iyer
83. "Perhaps travel cannot prevent bigotry, but by demonstrating that all peoples cry, laugh, eat, worry, and die, it can introduce the idea that if we try and understand each other, we may even become friends." – Maya Angelou
84. "The journey is part of the experience – an expression of the seriousness of one's intent. One doesn't take the A train to Mecca." – Anthony Bourdain
85. "Travel is not really about leaving our homes, but leaving our habits." – Pico Iyer
86. "To my mind, the greatest reward and luxury of travel is to be able to experience everyday things as if for the first time, to be in a position in which almost nothing is so familiar it is taken for granted." – Bill Bryson
87. "Travel has a way of stretching the mind. The stretch comes not from travel's immediate rewards, the inevitable myriad new sights, smells and sounds, but with experiencing firsthand how others do differently what we believed to be the right and only way." – Ralph Crawshaw
88. "Of the gladdest moments in human life, is the departure upon a distant journey into unknown lands." – Richard Francis Burton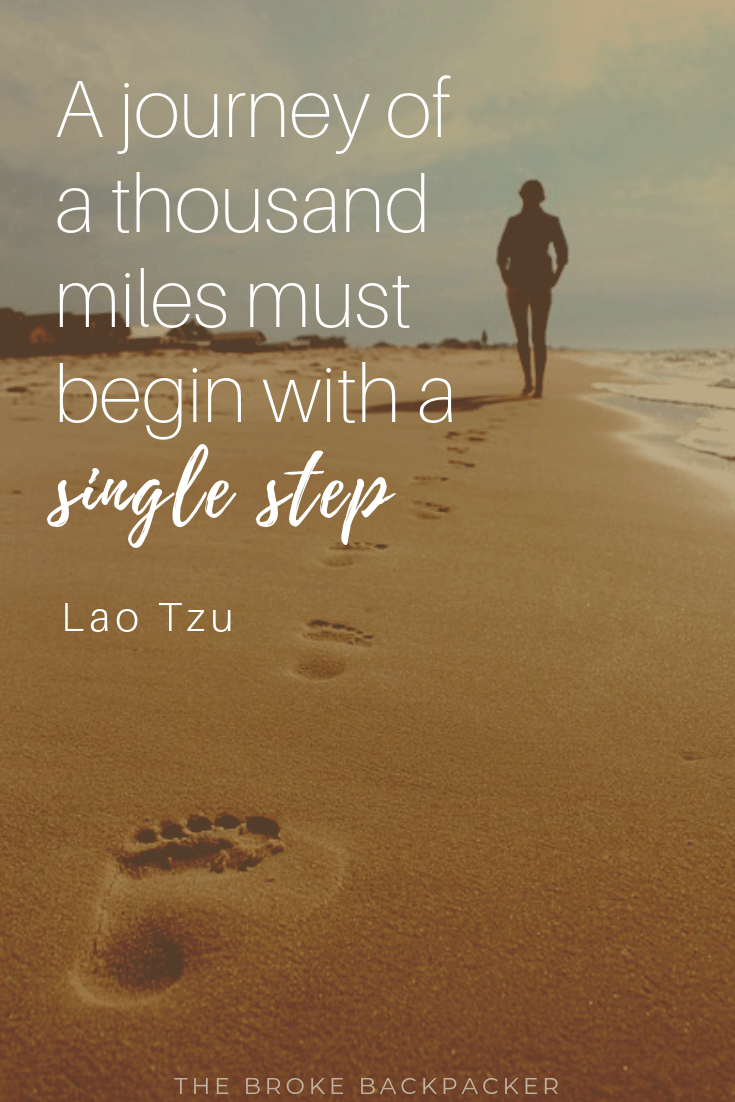 89. "A journey of a thousand miles must begin with a single step." – Lao Tzu
90. "I soon realized that no journey carries one far unless, as it extends into the world around us, it goes an equal distance into the world within." – Lillian Smith
91. "It is never too late to be who you might have been." – George Eliot
92. "Spontaneity is the best kind of adventure" – Anonymous
93. "Adventure is worthwhile" – Aristotle
94. Life is not a journey to the grave with the intention of arriving safely in a pretty and well-preserved body, but rather to skid in broadside, thoroughly used up, totally worn out, and loudly proclaiming – "WOW – What a Ride!" – Anon.
95. "A man does not climb a mountain without bringing some of it away with him, and leaving something of himself upon it." – Sir Martin Conway
96. "The purpose of life, after all, is to live it, to taste experience to the utmost, to reach out eagerly and without fear for newer and richer experience." – Eleanor Roosevelt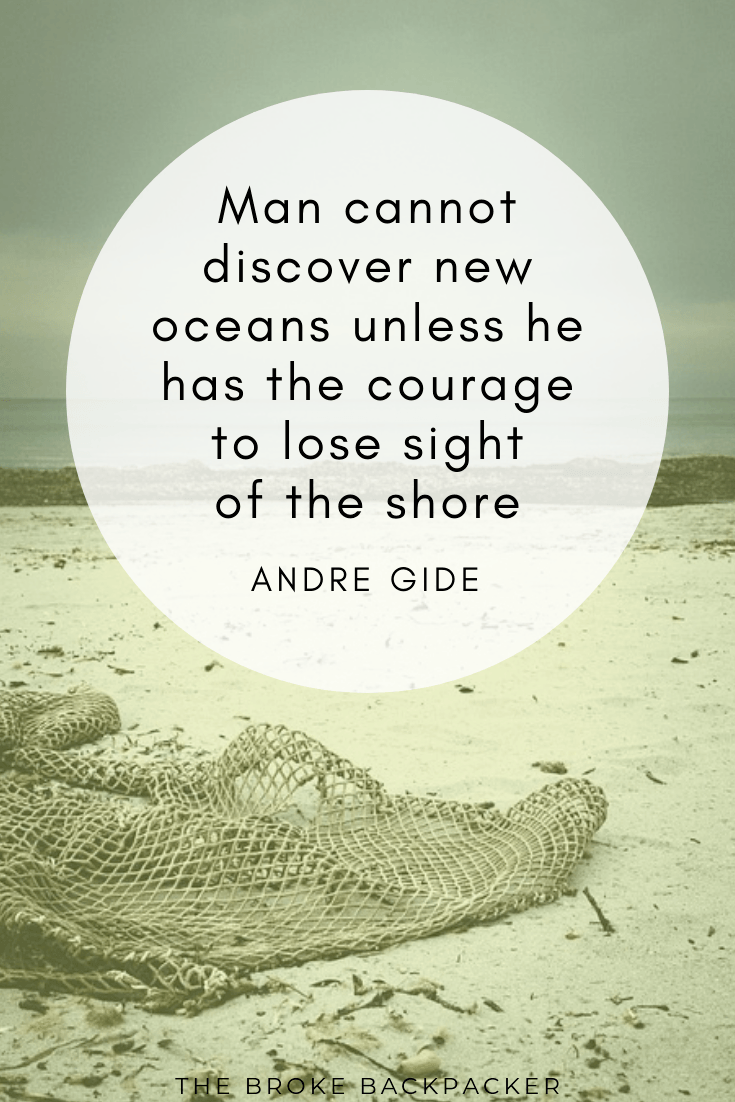 97. "Man cannot discover new oceans unless he has the courage to lose sight of the shore." – Andre Gide
98. "You will, if you're wise and know the art of travel, let yourself go on the stream of the unknown and accept whatever comes in the spirit in which the gods may offer it." – Freya Stark
99. "Travel does what good novelists also do to the life of every day, placing it like a picture in a frame or a gem in its setting, so that the intrinsic qualities are made more clear. Travel does this with the very stuff that everyday life is made of, giving to it the sharp contour and meaning of art." – Freya Stark
100. "A man travels the world over in search of what he needs and returns home to find it." – George Moore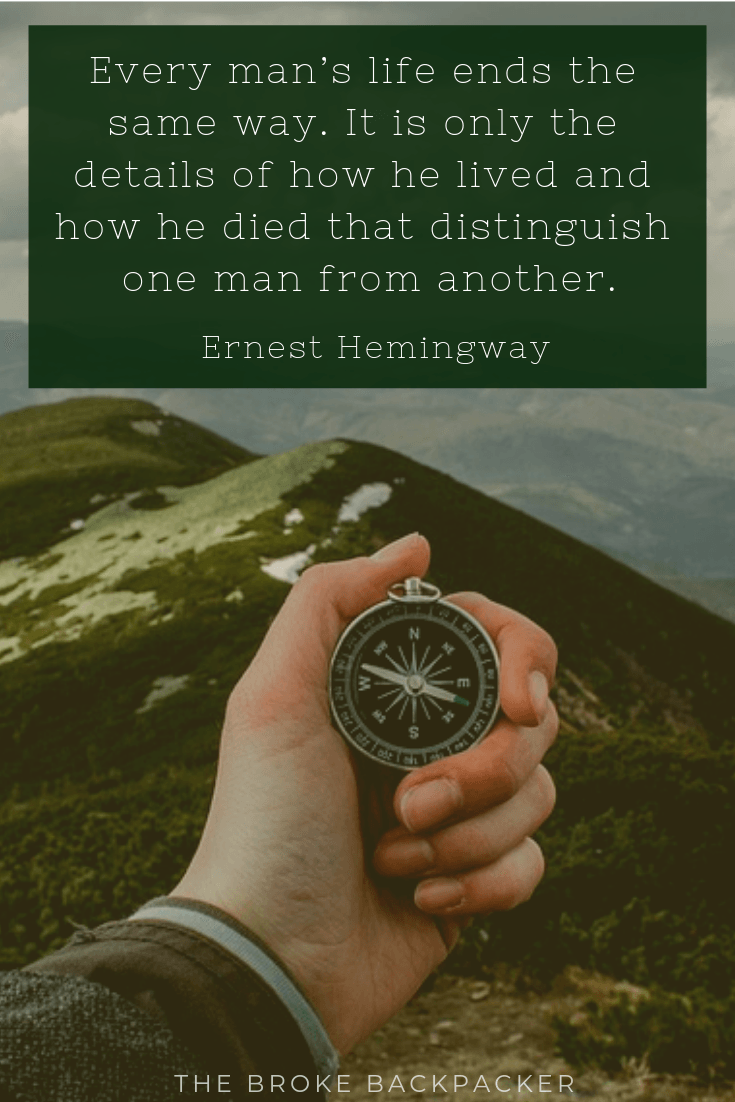 101. "Every man's life ends the same way. It is only the details of how he lived and how he died that distinguish one man from another." – Ernest Hemingway
And so there you have it. 101 of the best adventure sayings written and said by some of the most incredible explorers and intellectual minds. Hopefully, these quotes encourage you to not only travel but travel adventurously.
Here at the Broke Backpacker, we're all about embracing the unknown and the challenges of travel and going on the best adventures. Whether it's getting out into the wilderness, exploring your backyard, or traveling among completely different cultures, there is an adventure for everyone.
We live in a beautiful world, and it's just waiting to be explored.
---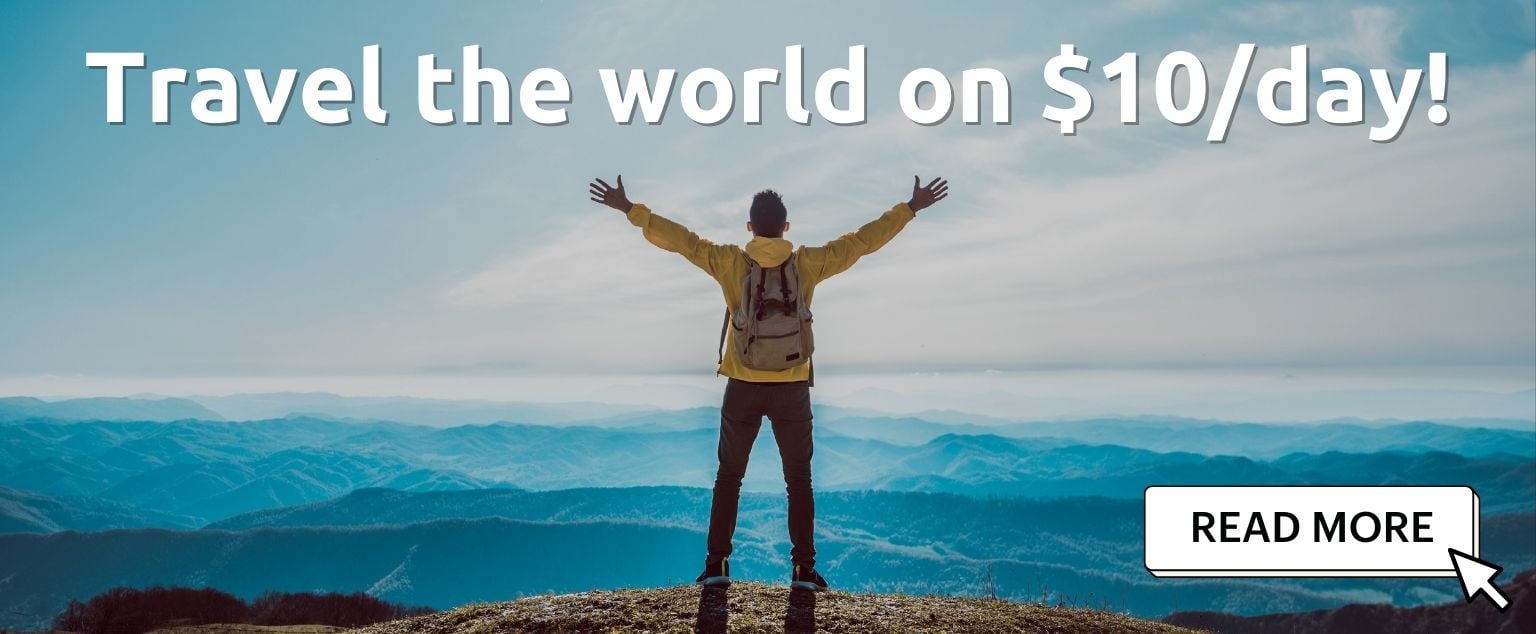 And for transparency's sake, please know that some of the links in our content are affiliate links. That means that if you book your accommodation, buy your gear, or sort your insurance through our link, we earn a small commission (at no extra cost to you). That said, we only link to the gear we trust and never recommend services we don't believe are up to scratch. Again, thank you!