Ahh, the Sunshine Coast. Even the name conjures vivid imagery. Soft sands meeting to merge with the hues of a gentle ocean all painted by the warm… uhh… sunshine!
Right, so let's be honest with each other: it's a beach town on the east coast of Australia. If you've been up and down that side at all, you know what to expect. Backpacking the Sunshine Coast means gorgeous sands, lush sub-tropical rainforest, and fish and chips at the beach.
Actually, that sound pretty damn good.
The Sunshine Coast, much like the obvious comparisons of its sister towns, sees its fair share of comers-and-goers, but it's got a different feeling. Billed more as a family holiday destination, visiting the Sunshine Coast doesn't feel so hedonistic. People aren't there to lay loose; just lay down and read a good book…
In the warm sunshine. Lulled by the gentle sound of the tides. Backdropped by dense forests and quaint villages tucked amongst cascading waterfalls. Yeah, alright, so the Sunshine Coast may be pretty bloody exquisite actually.
So, what are ya waiting for then? On your bike! It's time for a backpacking Australia adventure!
The sun is shining and the coast is calling! Here's a deliciously informative travel guide for the Sunshine Coast covering all the best places to stay – and all the best places to go – in the region. If you're lucky, I might even let you in on a few of the Sunshine Coast's hidden spots secreted away.
Oh! Also, my favourite mountains in Australia are there too!
Backpacking around the Sunshine Coast resembles visiting the Gold Coast but with the intensity turned down. Let's call it the Gold Coast's little brother: he still likes to party and surf but sometimes he gets into introverted headspaces and likes to stay home and sew.
Your visit to the Sunshine Coast resembles much of the experience of backpacking the East Coast of Australia, albeit, (marginally) cheaper than places like Byron Bay. You're looking at roughly $70-$90 a day to cover your accommodation in the Sunshine Coast plus activities, food, and your chosen selection of goodies.
Your Sunshine Coast trip expenses are going towards:
Sleeping costs are, as is the Australian standard, a bit ouch… but you do have options for cheap accommodation in the Sunshine Coast. The prices are also a bit lower than some of the other more hectic choices among Australia's east coast tourist attractions. That comes at the cost of fewer choices for hostels in the Sunshine Coast so book in advance!
Food is tasty as always but expensive if you're flaunting it up at the fancy-pants Sunshine Coast restaurants. Stick to Woolies (local supermarket) and pies unless you want your food costs to get as bad as your accommodation costs.
Public transport is around and will more than like be taken advantage of depending on where your based (I'll cover that a bit later). It's a little bit pricey but not hugely so, and you're still close to Brisbane so it's pretty damn serviceable.
I mean, one way or another, you're still looking at Australia prices and Australia prices are pretty icky. If you're really looking to go backpacking through the Sunshine Coast cheaply, you'll need to go about it broke backpacker style!
And that's a fun style.
Backpacking Sunshine Coast Budget Breakdown
Backpacking Sunshine Coast Budget Tips
Alright, let's talk about how to keep those costs down so you have more money saved for fish and chips at the beach! If you've done your no-frills backpacking experience anywhere else, then you probably know what's up:
Camping in the Sunshine Coast – Camping is the number one choice for the best budget accommodation in the Sunshine Coast and for keeping your costs down while travelling anywhere. If you're worried about getting busted, there's plenty of (pricey) caravan parks and campsites in the Sunshine Coast too. Generally, camping is better with a sweet backpacking tent but there are a lot of beaches so a hammock is a damn fine choice too!
Cook your own food – A super important budget tip for travel to the Sunshine Coast area. Aim for the best places to stay in the Sunshine coast that come with a fully-loaded kitchen for cooking. If you're camping, it's a good idea to invest in a solid backpacking stove.
Free breakfast – Yay, free breakfast! Generally speaking, any word that comes after 'free' is pretty uplifting but 'breakfast' is the best of all of those possibilities. Go to a Sunshine Coast hostel with free brekky, and pre-eat your lunch too!
Farmers' Markets – Local grower markets are always the best place to get cheap fruit and veggies. Hit up one of the farmers' markets around the Sunshine Coast and get some local produce!
Why You Should Travel to Sunshine Coast with a Water Bottle
Plastic washes up on even the most pristine beaches… so do your part and keep the Big Blue beautiful
You aren't going to save the world overnight, but you might as well be part of the solution and not the problem. When you travel to some of the world's most remote places, you come to realise the full extent of the plastic problem. And I hope you become more inspired to continue being a responsible traveller.
Plus, now you won't be buying overpriced bottles of water from the supermarkets either! Travel with a filtered water bottle instead and never waste a cent nor a turtle's life again.
You've got heaps of places to stay in the Sunshine's Coast but the choices for budget accommodation is more limited than other comparable Australian east coast tourist spots. Given the area's position as a more family-friendly alternative to the Gold Coast, you'll find yourself a range of holiday parks and resorts in the Sunshine Coast but these are pricey. Staying at a cabin on the Sunshine Coast or a hostel will work out a lot better if you're worried about money.
The Sunshine Coast's backpacker inns are a much more suitable option for the nomadically-minded and serve as an awesome meeting place for other address-less punks. Most of the Sunshine Coast's best hostels are in Noosa, the biggest traveller-draw in the area. There are a couple of other options around the coastal area too, but you're limited in choices if you're looking for backpacker accommodation in the Sunshine Coast's hinterland.
That, by no means, means you're limited to the coast! The Sunshine Coast's AirBnB accommodations are mega-sweet with heaps of options to choose from around the region. They're mega-pretty too; peaceful and further away from the Sunshine Coast's busy tourist spots.
Lastly, if dirt-cheap is your game, then your most budget option is to just to tent it. Camping in the Sunshine Coast is a totally viable option though, admittedly, a bit shit if you're there in the hot, humid summer rains. But, there's no cheaper accommodation in the Sunshine Coast than just pitching a tent somewhere (hidden) on the beach.
Maybe you're not interested in camping in the Sunshine Coast though. That's fair, beds and showers are a hard thing to walk away from. In that case, you'll probably be checking out the hostels. Lucky for you, I picked some of the best places to stay from the Sunshine's Coast's hostels for backpackers.
Best Overall Hostel in the Sunshine Coast – Noosa Flashpackers
Noosa Flashpackers is easily the top pick for one of the best hostels in Noosa and the Sunshine Coast. Modern and purpose-built for the task of housing friendly globe-trotting vagrants, Noosa Flashpackers is situated between Noosa Heads and Sunshine Beach giving you easy access to two of the Sunshine Coast's biggest tourist attractions.
But, hey, let's talk about the free stuff: free courtesy bus, free bodyboard and surfboard hire, and free breakfast. Isn't that grand!
Best Cheap Hostel in the Sunshine Coast – Nomads Noosa
A cheaper choice for a hostel in Noosa than Flashpackers, Nomads Noosa is the choice for those needing to tighten up their backpacking Sunshine Coast budget. They may not have free breakfast, but they do have a kitchen and the supermarket is right around the corner so there's no excuse not to be making lunch boxes of bulk curry!
It's also just under a kilometre away from Noosa's Main Beach. Heat up your curry lunch box and still make it to the beach before it gets cold – beach picnic!
An option for any travellers backpacking around the Sunshine Coast and not wanting to be in Noosa (you can check The Sunshine Coast's Towns section for more info on where to stay in the Sunshine Coast). Mooloolaba is located away from Noosa in the central coastal area and it's a good option if you're looking to splash a bit more cash on some of the vibrant restaurants and shopping in the Sunshine Coast.
Beach Hostel Mooloolaba is a primo backpackers: multiple floors, kitchens, and lounge areas with all the free goodies you're hoping for. The beach is only 5-minutes away and a lot of Mooloolaba's tourist attractions are close by too so it's a good place to head to if you're wanting a change of scenery from Noosa.
Right, so, I mean… at this point, we both already know that you're going to the beach. Like, that's just a bit of a 'no shit, sherlock'; the Sunshine Coast beaches have those pristine pillowy sands you imagine when you hear the words 'Australian coastline'. They're some of the best beaches in Queensland.
But there's plenty of other Sunshine Coast activities to get behind… not that strumming a six-string all day at the beach isn't good! I'm not saying don't do that; it's the best! Just don't miss out on seeing all the other awesome attractions during your Sunshine Coast trip.
1. Surfing the Sunshine Coast's good swell
Well, I feel like you saw this one coming considering how I just vastly hyped up the Sunshine Coast beaches. You've got plenty of good swell spread throughout the Sunshine Coast's surf spots with a considerable amount of them to scope out. If you haven't surfed before, then it's a perfect time to take some lessons, especially considering that your hostel almost definitely has free boards to borrow.
2. Go skydiving above the Sunshine Coast for a new perspective… on gravity
I don't really see the draw of jumping out of a plane at 15,000ft. I just think if humans were meant to free-fall through the sky at terminal velocity, we would have naturally evolved organic parachutes/wingsuits. But, some people really live for jumping out of aeroplanes and skydiving on the Sunshine Coast is a pretty damn picturesque way to go about it.
3. Take a Sunshine Coast kayaking tour and adventure with dolphins
A tradition amongst the east coast tourist spots, this is a thing to do in the Sunshine Coast that provides a more unique experience than just seeing the dolphins from a distance. Meet the cuties, hang out, grab a bite together, discuss how you want to split the bill. Make friends with the dolphins kayaking on a Sunshine Coast tour.
4. Op-shop shopping in the Sunshine Coast
There's plenty of shopping on the Sunshine Coast; you'll find yourself a cool shop, no sweat. But surf shops, hippy shops, souvenir shops… bleh! Second-hand shops are the best kind of shops and a great thing to do in Maroochydore! Head on over to Aerodrome Road and you'll find yourself a series of bang-up op-shops to get lost in.
5. See some cuties at the Sunshine Coast's Australia Zoo
There's a pretty famous zoo in the Sunshine Coast: it's called Australia Zoo. Of Steve Motherfucking Irwin fame! So yeah, of course they have some crocs there. Dolphins, crocs… you're making friends with all of the Sunshine Coast's wildlife!
6. And even more cuties at the Sunshine Coast's Sea Life Aquarium
Continuing our foray into making friends with all the Sunshine Coast's local wildlife, check out the Sea Life Aquarium in Maroochydore. An eighty-metre ocean tunnel with eight different species of sharks awaits. At the rate you're going, you'll have a whole army of Australian fauna following you soon.
7. Water parks and adventure parks: The Sunshine Coast's best parks
There's a whole bunch of water and adventure parks scattered around the Sunshine Coast's attractions. The most famous of these is Aussie World which has all the cool rides but my top pick is The Treetop Challenge. Located near the Big Pineapple (hah, 'Sunshine Coast Things to Do: Honourable Mentions') it's got the climbing and the ropes and the flying fox fun: a proper adventure park! And if you're looking for a cracker water park in the Sunshine Coast, check out Blast Aqua Park in Coolum Beach!
8. More shopping at the Sunshine Coast's markets
You have so many options for markets in the Sunshine Coast area: produce markets, craft markets, flea markets, twilight markets, night markets. The Sunshine Coast does not forget to provide in the market department! Find yourself a sweet-ass market with all the mouth-watering goodies that fit nicely into your Sunshine Coast itinerary… and your mouth.
9. The best transport on the Sunshine Coast: Jet skis!
Conquer the waters of the Sunshine Coast jet skiing! Between your bloodthirsty army of Australian native animals and your freshly raised crew of jet ski pirate-warriors, you are unstoppable! There's a dope hire shop for jet skis in Noosa.
One of the more tucked away things to do in Noosa, finding the Fairy Pools requires a bit of an adventure… which is perfect! I'll mark it on the map of Noosa in the upcoming Sunshine Coast 3-Day Itinerary but it's nothing too taxing. Finding the hidden rock pools of Noosa will be no sweat for the veteran wanderer!
Things to Do on the Sunshine Coast for Free
So, by now you may have gathered that visiting the Sunshine Coast is for holidayers. People with a bit of cash to throw around and flaunt on shopping, outings, and adventures. But you know how I feel about free things.
Not all the places to visit in the Sunshine Coast need drain your wallet and your carefully managed travel budget. Go out, climb a mountain, people watch while drinking table water at a cafe. There are lots of free things to do on the Sunshine Coast while backpacking through cheaply on your no-frills Australian travel budget!
The beautiful beaches of the Sunshine Coast – Easily the biggest drawcard out of the Sunshine Coast's attractions, the beaches have all the natural splendour you'd expect from Queensland's best beaches: white-pillowy sands and sapphire-twinkling waters.
Chill in the parks of the Sunshine Coast – Parks of the non-ticketed, sit-and-watch-the-sky variety: it's not all about the Sunshine Coast's water parks! Grab something to fry up from the supermarket and head down for a barbie in the park (by the beach). Check out Ed Webb Park in Noosa for somewhere a bit more relaxed in the crowds department with somewhere to cook your lunch.
Hiking the Sunshine Coast's splendour – If you're keen on some proper walking in the Sunshine Coast, check out The Hikes of the Sunshine Coast section because there's a dope selection of mountains, beaches, and national parks around. Suffice to say, walking is a super free thing to do on the Sunshine Coast and a super fun one too!
Meditate under the majestic waterfalls of the Sunshine Coast – Or just take photos… you're not required to torture yourself into spiritual enlightenment. The waterfalls around the Sunshine Coast are both abundant and abundantly beautiful but if you're looking for just one, check out Gardner Falls near Maleny. It's got swimming, rope swings and places to chill. The downside is that it gets busy, but hey, welcome to the Sunshine Coast experience.
Volunteering/WWOOFING for your bed – One of my favourite go-tos for saving money while backpacking around Australia and New Zealand. There's so much land so you'll always find someone needing help on their property and willing to pay with lodgings and something to munch on. If you're looking for a good way to hunt down volunteering opportunities, Worldpackers is an excellent service and you can check out our review on how to make use of them.
Places to Go: The Sunshine Coast's Towns
So, backpacking through the Sunshine Coast area means moving around if you want to see it all. It's not a huge area (by Australian standards) but there is a lot to see.
Wherever you plant yourself, plan to make some day trips around the Sunshine Coast to avoid missing out on all the prettiness:
Noosa Heads – The big name of the Sunshine Coast towns, you've probably heard of Noosa before. An idyllic resort town (sans the highrise eyesores) with all the offerings you'd imagine when hearing the words 'Sunshine Coast': beautiful beaches and nature with places to eat, shop, and chill. It's on the northern end of the coast but it's still an awesome base if you're content making some day trips from Noosa.
Maroochydore – The CBD of the Sunshine Coast but still far from a city. It's centrally located along the coast (so that means easy access to everywhere else) and, as the main commercial district, features a lot of the Sunshine Coast's nightlife.
Mooloolaba – Another coastal resort town in the same vein as Noosa but more centrally located (and with some yukky highrises). Along Mooloolaba Beach, you'll find the vibrant Esplanade with restaurants, shopping, and the 'loo with a view'. That's a fun thing to do in Mooloolaba: pooping against a breathtaking vista!
Eumundi – Much like the Byron area, heading into the Sunshine Coast's hinterland offers a different pace of things. Tucked away in the hills, Eumundi is a cute village with a bursting art scene and the Eumundi Markets happening twice a week filled with artisanries.
Maleny – For more things to do in the Sunshine Coast hinterland, check out Maleny. Boutique cheeses, lots of galleries, and surrounded by the gorgeous landscape, you'll find a more alternative-vibe here to counter the feeling of the coastal resorts.
Places to Go: The Sunshine Coast's Beaches
Well, on the off-chance you don't like the beach, the Sunshine Coast might not be the place for you. I mean, you might actually just want to leave the east coast of Australia altogether, honestly.
For everyone else that does like fun: you should check out the beaches. They're kinda stunningly beautiful.
Places to Go: Hikes of the Sunshine Coast
Right, this is the part I'm really excited to talk about because, honestly, coastal resort towns don't really do it for me. But the nature in the Sunshine Coast – oh wow! There is some real magic tucked away in the Sunshine Coast's national parks and hinterland.
I'm pointing you to this Queensland Walking Track Guide because it's got a map of the Sunshine Coast's natural attractions with a mega-comprehensive index of all the walks. Otherwise, here are a few of the Sunshine Coast's hikes that you really don't want to miss out on:
Mount Tibrogargan / The Glass House Mountains – Seeing these beautiful creatures is a thing you need to do during your Sunshine Coast trip; they're honestly the biggest draw of the whole area for me. Walk the Mount Tibrogargan Summit Route for something to knock you around a bit or the Tibrogargan Circuit for something more chill with gorgeous backdrops. Also, for rock climbing in the Sunshine Coast, the Glass House Mountains are the go-to area.
Cooloola Great Walk (Great Sandy National Park) – Making for a solid day trip from the Sunshine Coast, there are heaps of walks in the Great Sandy National Park. But hey, psst, there's even a great walk for the real hiking enthusiasts. You can expect giant sand hills, tranquil rainforests, and many contented gasps at the enchanting scenery of the Cooloola Great Walk.
Sunshine Coast Hinterland Great Walk – Another multi-dayer for the trampers (there are some really solid walks in the Sunshine Coast region). This hike features the sub-tropical rainforests and waterfalls of the Sunshine Coast hinterland and can be broken down into one-day chunks for those of you who prefer your walks culminating in a joint and a hot bath.
Noose National Park – Connecting Noosa Heads to Sunshine Beach by way of Alexandria Bay, this (admittedly busy) walk in Noosa rewards you with amazing views and the opportunity to see some of the local wildlife too. It also doesn't take several days and leave you eating baked beans in the middle of the woods at night!
Alright, so we're up to the point of the Backpacking Sunshine Coast Travel Guide where I give you an itinerary. Now, yes, I'm not a fan of itineraries either, but not all of us are blessed with a complete sense of nomadic freedom.
I'm structuring the itinerary as if you've based yourself in Noosa (which feels like the most likely scenario, all things considered). If you're travelling through the Sunshine Coast or staying in a different town, then make modifications as appropriate.
So here it is: a 3-day itinerary for the Sunshine Coast covering a bit of everything the region has to offer with some bonus scheduled allowances to lie on the beach and think about nothing.
Day 1: Big Journey
For the first day of your Sunshine Coast backpacking itinerary, you're making a solid day trip from Noosa to the Glass House Mountains area. This means it will be public transport to your destination for about 2 to 2.5 hours so leave early!
Here's the deal: there are two major Sunshine Coast attractions you're here to visit but it's tough to fit them both in one day. I mean, you can try, but it'll be crammed. I'll detail both and you can figure it out: I trust you.
First, there's Australia Zoo of crocodile hunting, 'Crikey… that's not a knife!' fame. (Wait, not that last part: wrong culturally iconic, dundee-ing caricature.) The best way there is by a couple of buses which will leave you right at Australia Zoo's entrance near Beerwah where you can spend the day seeing… well… crocodiles.
Option two, and also my favourite option (and not just because it's a free thing to do, THANK YOU) is hiking around (or up) the Glass House Mountains. Now, there's more than one mountain so you have a range of hiking options with spectacular views of the Sunshine Coast hinterland but Mount Tibrogargan is – arguably – the quintessential choice.
You'll need to catch a bus and train to the Glass House Mountains station and then you're looking at a hitch or taxi to access any of the walks but thankfully it isn't far.
After your big day is over (I hope you didn't cram both in, you maniac) you're presumably tired and hungry. Following the return journey, find yourself some solid takeaway munchies from Noosa's restaurants (ahem, a kebab, good sir) and go sit by Noosa Heads Main Beach. Nighttime swell under the moonlight with the rhythm of the waves is always a peaceful end to a fulfilling day.
Day 2: Medium Journey
Today you're making another day trip from Noosa albeit not so far. Two buses and you'll find yourself in Mooloolaba. Where to start? Probably with a well-earned swim: hit the waves at Mooloolaba Beach!
After a quick dunk, you're heading to the Sunshine Coast's Sea Life Aquarium. Here you'll get to walk an ocean tunnel with up-close views of many Australian beasties, mainly sharks. I'm mainly sending you here for the sharks.
Next up, you're heading to Maroochydore which is about an hours stroll up the Esplanade, beaches, and waterfront. Feel free to stop for a bite to eat because you really can't go wrong anywhere along the Mooloolaba Esplanade or in Maroochydore.
Once you hit Aerodrome Road, take a stroll up because you're gonna find a whole series of op shops. I'm talking the cheapest and best shopping on the Sunshine Coast!
Now it's time for some of that Sunshine Coast nightlife! There are lots of things to do in Maroochydore at night complete with alcoholic beverages (though you may want to preload on some goon from the bottle-o to save a bit of cash).
Check out SolBar – one of the Coast's longtime mainstays – for some seriously good live music with a mixed vibe of different peeps. Alternatively, for something a little different, check out Holey Moley: there's booze, private karaoke rooms, and an 18-hole mini-golf course.
Yay, drunk mini-golf. Get on it.
Day 3: No more adventures: I'm staying home!
Don't worry, no more big adventures. For the last day on your Sunshine Coast itinerary, you're staying home! I am going to tell you to wake up at sunrise though… suck it, nerd!
Why? For the good sky of course. About an hours walk through Noosa National Park is Alexandria Bay with its secluded east-facing beach (do you get it now?) Ditch your clothes and wake yourself up with a dawn-light swim.
Afterwards, I would highly recommend walking back via the northern end of the headland so you can see Hell's Gates (don't worry, they're very pretty) and the Fairy Pools. Once you're back in Noosa, find yourself a bite to eat because it's breakfast time!
The rest of the day is yours to kick around Noosa Heads as you please. There's shopping in Noosa, restaurants, and lots of time to kick it at the beach. Maybe, it's finally time to learn how to surf?
Grab a surfboard from your backpackers in Noosa and head down to Main Beach (it's a chill break for beginners). If you're really keen on learning, organise to do a lesson: it's the best way to learn.
Now, you're going to finish your time in Noosa with the only way an Australian coastal resort town deserves: a goddamn BBQ! Hit up Coles for whatchu need and then head on over to the BBQ facilities in Noosa Woods (in the Noosa Spit Recreation Reserve) to send your Sunshine Coast experience off in style.
Well, I've told you all the fun stuff: things to do on the Sunshine Coast and all the best places to stay. So what about the nitty-gritty? It wouldn't be much of a Sunshine Coast travel guide without the nitty-gritties!
I mean, to be fair, you're visiting somewhere called the 'Sunshine Coast'. I wouldn't stress it too much; chances are, wherever you go will be lollipops and rainbows.
All the same, here are some tips to keep you backpacking the Sunshine Coast in style. A grungier, slightly frayed-at-the-edges style.
The Best Time to Visit the Sunshine Coast
That's an easy one! The best time to visit the Sunshine Coast is spring (September to November). Unless you're a huge fan of the humidity, in which case, I've just excommunicated you from my social circle for being a terrible human being that also smells funny, visit the Sunshine Coast in spring.
Granted, this is peak season so you'll be battling crowds of kids, family holidayers, and other tourists. And I do stress the word 'battling'. But, it's worth it for the better weather.
Following spring, summer and autumn are hot with that Australian-humidity 'sweaty as balls' factor. And it rains more. So, maybe the 'Sunshine Coast' is something of a misnomer.
Following this is winter which is less rainy but still humid. In these seasons, outside of Spring, you'll find lower prices which is certainly a strong benefit. I just really hate humidity – it's the worst!
One thing to note: whenever you choose to travel to the Sunshine Coast, avoid the school holidays like the bubonic plague. Trust me! I like kids but not when they're forming legions of gremlin-children to conquer the beaches with their unhygienic hands.
Getting In and Out of the Sunshine Coast
The main airport thoroughfare for the region is the aptly titled Sunshine Coast Airport. It's a domestic terminal (plus Auckland, but that's pretty much domestic for an Australian) mostly used for transit from Sydney or Melbourne to the Sunshine Coast.
If you're coming from Brisbane to the Sunshine Coast though, that's no stress because you've got the train. That's right, an actual semi-decent train network in Australia – bless! The train runs through the Sunshine Coast hinterland and there's a number of stops, though, most trains terminate in Nambour or Gympie (it'll run you about $20 AUD).
If you're coming to the Sunshine Coast via plane, then you've got two options for heading into town: the airport shuttle transfer or a regular bus. The airport shuttle will drop you off where you need to go (it's better to book in advance) but it's pricey as all hell. To get to the town around the corner it'll cost you $18 AUD while any trips further out – like the Sunshine Coast Airport to Noosa – will run you $35 AUD… oh dear…
You'd be better off catching the local bus service from the airport to anywhere else for a fraction of the price. The public transport in the Sunshine Coast is honestly not-too-shabby.
When you're ready to travel to the Sunshine Coast, forgo buying tickets at the station and book them online instead! You can now book transport in advance for most of Australia using 12Go and doing so can really save you some stress (and maybe money, too).
How to Get Around the Sunshine Coast
Right, so I've already made a few references to the Sunshine Coast's public transport but it's really not-too-shabby; that's a whole lot better than quite-shabby or even slightly-shabby! By regional Australian standards, the options for transport in the Sunshine Coast are… well… existent!
First up, you have the buses and these get the job done. For a frame of reference, going from Noosa to Caloundra (the north to the south end of the coast) takes two buses, about 2 hours, and about $10 AUD. They even run inland into the hinterland.
There is also the train line which has stops running right through the hinterland. Between the buses and trains, you'll be able to get to pretty much any town in the area. The only real challenge is if you're heading out for any hikes or Sunshine Coast adventures off the beaten track where the transport doesn't go. Of course, for that, there's hitchhiking.
Hitchhiking in Queensland can be iffy. You'll get rides no sweat but there's the off-chance the cops will try to stop you. I once had a friend tell me that cops had stopped him because it's illegal but that's only partially true.
Technically, in Australia, the law states that flagging a ride from any 'road-related area' is illegal. That means if you're hitching from the footpath or nature strip, you're well within your rights. If a cop tries to stop you, be polite but firmly tell them to suck eggs.
If you're going to be making use of the Sunshine Coast's public transport I'd recommend grabbing yourself a Go Card. It's the standard tap-on-off transit card and it will net you a discount of 30%+ off on your fares. Plus, you're credit is refundable when you move on – bonus!
Safety in Sunshine Coast
Overall, backpacking in the Sunshine Coast is pretty chill. Remember to be a smart traveller that doesn't do dumb shit and then has to deal with the consequences, but outside of that, you'll be A-ok.
There is a nightlife in the Sunshine Coast which means booze, drugs, and egos but it pales in comparison to Byron, the Gold Coast, or Cairns. The Sunshine Coast experience is geared more as a family holiday destination so getting king-hit at 2 A.M. is the rarity.
The Sunshine Coast is a hot tourist spot area which means keep your eyes peeled for petty theft. Don't get your phone stolen letting your guard down in a sleepy coastal town like I once did. Keep your belongings on you and protect your cash – a well-hidden travel money belt is the best way to protect your stuff!
The last thing to note is beach safety. Take it seriously. Even if you're a confident swimmer, take it bloody seriously.
As someone who grew up in an Australian coastal town, I know how the story of the over-confident traveller unused to Australian beaches ends. I'll give you a clue: it has four letters in it and rhymes with: 'Oi, who ate the rest of my Nutella spread!'
Ideally, swim on patrolled beaches and between the red-and-yellow flags. If you do get into trouble, stay calm, tread water, and wave your hands for help. And if you get stuck in a rip, tread water to conserve energy, let the current take you, and then swim into shore when it's passed.
Oh, and keep an eye out for stray surfboards careering towards your face at 60Km/h.
Get Insured Before Backpacking the Sunshine Coast
Sometimes, when travelling, storm clouds hit, even while backpacking on the Sunshine Coast. Prepare for that rainy day-
Always consider travel insurance before travelling. Things can and DO go wrong.
Members of The Broke Backpacker team have been using World Nomads for some time now and made a few claims over the years. They're an easy to use and professional provider that the team swears by.
If there's one insurance company The Broke Backpacker trusts to cover them while roaming the planet's furthest reaches, it's World Nomads.
World Nomads' mission is to support and encourage travellers to explore their boundaries. They offer simple & flexible travel insurance, and safety advice to help you travel confidently.
They've been doing it since 2002 – protecting, connecting, and inspiring independent travellers just like you.
Get a quote below or read our in-depth review!
World Nomads provides travel insurance for travelers in over 100 countries. As an affiliate, we receive a fee when you get a quote from World Nomads using this link. We do not represent World Nomads. This is information only and not a recommendation to buy travel insurance.
Sunshine Coast Accommodation Travel Hacks
Accommodation costs are the budget killer of any great journey and that goes double for somewhere as ridiculously pricey as Australia. If the end goal is backpacking the Sunshine Coast on the cheap, or you simply prefer not metaphorically throwing wads of cash into the ocean, you'll want to get creative with your accommodation:
Couchsurf! – Couchsurfing is a great way to save on cash on accommodation in the Sunshine Coast and chances are you'll meet an awesome local human too.
The problem with Couchsurfing is that there are heaps of surfers and not many hosts. Treat it like a job interview: show your best side and plan your Sunshine Coast travel in advance. Check out our guide on Couchsurfing for tips on how to get around.
Tap into your backpacker network – If you've travelled in Australia at all (or anywhere else for that matter), then you more than likely have someone in your six-degrees that can put you up while you're in the Sunshine Coats or at the very least a lend you a yard to pitch a tent in! Reach out to friends and friends-of-friends and see if anyone in your network is happy to offer a couch in exchange for washing their car or demolishing their DIY sweat lodge (or something… I dunno, I've done some weird shit for a bed). Us travellers tend to take care of each other so never be afraid to just ask for help.
Camping – Find yourself a peaceful site on the outskirts of town or a secret spot in town. If you're prepared, you can sleep anywhere!
Places to Eat in the Sunshine Coast
There are heaps of mean feeds around the area; you're spoilt for choice when it comes to places to eat on the Sunshine Coast. The Mooloolaba Esplanade is the obvious spot for a romantic candle-lit dinner by the beach but you'll find lots more cafes and restaurants in Noosa and Maroochydore too.
Honestly, you'll find good grub anywhere around the Sunshine Coast but if it's cheap places to eat on the Sunshine Coast you're after, that's what I'm all about:
Nightlife in the Sunshine Coast
Ok, so the nightlife may not be as full-power party as the other previously mentioned east coast classics, but the nightlife in the Sunshine Coast is still dope. You can find booze, you can find things more fun than booze, and, most importantly, you'll find good tunes.
It's worth keeping up with what's on in the Sunshine Coast, but if you're looking for a few recommendations on choice spots with good music, look no further. If you're looking for recommendations on choice spots to drink and socialise… sorry, I can't really help you there. Talking is for boring people that don't dance:
SolBar – I mentioned it in the itinerary and I'm mentioning it again because it's the top-dog for live music in the Sunshine Coast. Go there and have a boogie. Now close your eyes; feel that presence beside you boogieing… that's my spirit.
The Helm – Yeah, so it's a nightclub in the Sunshine Coast which is never as nice as dancing outside with your shoes off but you're guaranteed some sweet electronic beats.
Verrierdale Full Moon Dance – If you can catch one of these monthly parties at Verrierdale Hall, they are dope! Good, solid, proper boogies with good, solid, proper folks. They get some damn good line-ups too! Like, damn good!
The Shared – For something a bit different, check out The Shared. A self-referred 'multi-functional artistic community space' it features mainly locals taking the stage.
The Piano Bar – Right, so I lied. Here's one for you if you prefer talking to dancing. It's a jazz bar lined with bookshelves so kick back with a pretentious novel, a cocktail, and a cigar. Oh no, wait, you're not allowed to smoke inside because this is Australia and our smoking laws are dumb. Sorry!
Backpacker Jobs on the Sunshine Coast
This is just a brief note to mention for anyone travelling long-term or backpacking the Sunshine Coast with a work visa. The Sunshine Coast is well-accustomed to tourists of all types so finding yourself a backpacker job – short, mid, or long-term – is super viable.
Fruit picking on the Sunshine Coast is also viable though iffier. December and January are no-goes with the rest of the year being possible but without any guarantees. If you're looking for a backpacking job fruit picking on the Sunshine Coast, aim for the Autumn or Spring months and keep your ear to the ground for strawberries. Not literally though… unless that's how you pick strawberries.
Oh, and if you're not on a work visa… I'm sure you can still find something (wink-wink). As I said, the Sunshine Coast is well-accustomed to travellers (winky-blinky).
A good source for backpacker jobs is the titularly named Backpacker Jobs Board but Gumtree or Google searches will find you something too. Oh, talking to people face-to-face? What's that? It sounds gross. How do I charge it?
Books to Read while Backpacking the Sunshine Coast
You know how this works: you're in a beach town. Waves, sunshine, and soft sand or hammock to lie on.
Here's a range of some finely-selected literature for the lazy days backpacking the Sunshine Coast:
Nevermoor: The Trials of Morrigan Crow – This book is actually written by a Sunshine Coast local and blew up to become an international bestseller. I'm just gonna say that it's heavily inspired by the Harry Potter novels and leave it at that.
Zigzag Street – Set in Brisbane (close enough), Zigzag Street is a genuinely funny, laugh-out-loud novel. The main character proceeds from one calamitous situation to the next as he desperately tries to get his shit together after being trashed by an ex. I think we can all relate to that…
The Beach House – It's set in the fictional Queensland town of Sunset Point which is essentially a representation of any and all sleepy east coast Australian towns. Beach House tells an anthology of smaller stories within the grander tale of the underdog going up against the big-name development corporation. It's a classic Aussie battler tale.
He Died with a Felafel in His Hand – A felafel as in a kebab – see, I told you it was a significant cultural tradition! Something of an off-colour modern Australian classic, it's an embellished memoir of one man's experiences in sharehouses across Australia during the 80s.
Make Money Online while Backpacking the Sunshine Coast
Backpacking in the Sunshine Coast long-term? Keen to make some cash when you are not exploring the city?
Teaching English online is a great way to earn a consistent income from anywhere in the world with a good internet connection. Depending on your qualifications (or your motivation to obtain qualifications like a TEFL certificate) you can teach English remotely from your laptop, save some cash for your next adventure, and make a positive impact on the world by improving another person's language skills! It's a win-win! Check out this detailed article for everything you need to know to start teaching English online.
In addition to giving you the qualifications to teach English online, TEFL courses open up a huge range of opportunities and you can find teaching work all over the world. To find out more about TEFL courses and how you can teach English around the world, read our in-depth report on teaching English abroad.
Broke Backpacker readers get a 35% discount on TEFL courses with MyTEFL (simply enter the code BACKPKR). To find out more, please read our in-depth report on teaching English abroad.
Whether you are keen to teach English online or looking to take your teaching game a step further by finding a job teaching English in a foreign country, getting your TEFL certificate is absolutely a step in the right direction.
Being Responsible while Backpacking the Sunshine Coast
Reduce your plastic footprint: Perhaps the best thing you can do for our planet is to make sure you do NOT add to the plastic problem all over the world. Don't buy one-use water bottles, the plastic ends up in landfill or in the ocean. Instead, pack a tough travel water bottle.
Go and watch A Plastic Ocean on Netflix – it'll change how you view the plastic problem in the world; you need to understand what we are up against.
Don't pick up single-use plastic bags, you're a backpacker – take your daypack if you need to go to the shop or run errands.
Bear in mind, that many animal products in countries you travel through will not be ethically farmed and won't be of the highest quality. If you're a carnivore, consider only eating chicken while on the road. Mass-farming of cows etc leads to the rainforest being cut down – which is obviously a huge problem.
Need more guidance? – Check out our post on how to be a responsible backpacker.
Backpacking around the Sunshine Coast will bring you ample opportunities to participate in debauchery, and it is very important to have fun, let loose, and get a bit wild at times. Most trips I have been on across the world have included at least a few mornings where I wake up knowing I went too far.
But there are some things that will put you in the category of a straight-up jackass if you do them. Being super loud and obnoxious in a tiny hostel at 3 A.M. is a classic rookie mistake.
Everyone in the hostel will hate you when you wake them up. Show your fellow travellers respect whilst backpacking in the Sunshine Coast and anywhere else for that matter!
It's pretty; the Glass House Mountains are there; there are good boogies to be had. That's three good reasons to travel to the Sunshine Coast right there!
It really is like all the best parts of the Gold Coast but without any of the yukkiness that that place draws in. You'll find a more earnest experience in the Sunshine Coast.
It's worth stopping there if you're doing the journey north-to-south (or vice versa) along the east coast. The breathtaking nature of the hinterland and the Sunshine Coast's national parks are well worth a week of exploration alone.
And what if you happen to be a little smitten while backpacking the Sunshine Coast? Maybe you stay on. Maybe get a casual job at the local kebab shop (bless you). That wouldn't be so bad, would it? Na, I didn't think so.
I think, maybe, that'd be just perfect…
Plus, you'll get a good tan.
---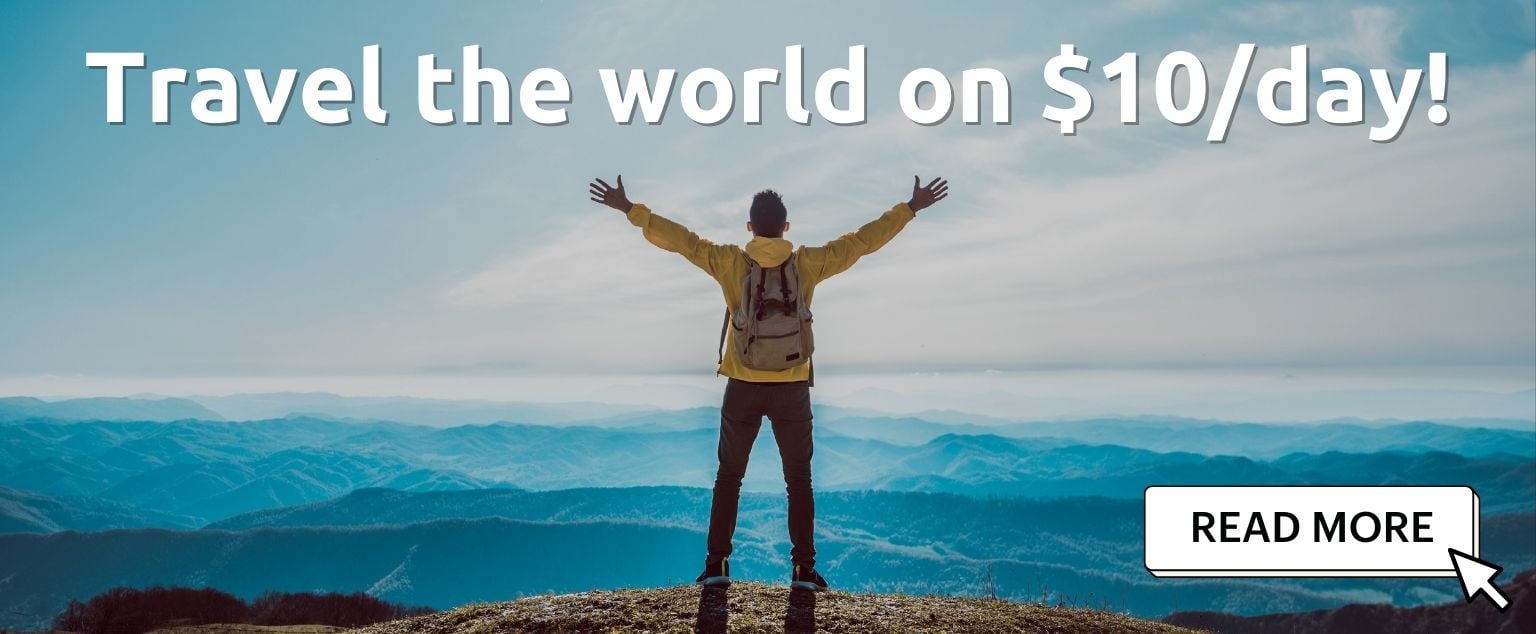 And for transparency's sake, please know that some of the links in our content are affiliate links. That means that if you book your accommodation, buy your gear, or sort your insurance through our link, we earn a small commission (at no extra cost to you). That said, we only link to the gear we trust and never recommend services we don't believe are up to scratch. Again, thank you!