Ahhh Queensland. Home to the deadliest animals in the world, hot pink slugs and where even hail can kill you.
Relax. I lived in Australia for six years, despite my ophidiophobia. I travelled all around the different states, and I'm still here today. In fact, it was probably some of the best years of my life.
Queensland is home to some of the world's most amazing natural wonders. Think of swimming in the world's largest coral reef system with some of the most exotic fish you will ever see, bathing in turquoise warm water on a white sand, picture-perfect beach and crossing the world's oldest tropical rainforest to discover clear waters cascades. Dreamy, hey…
How do you make sure that you see it all, and at your own pace? I hear you ask. The answer is: going on a road trip. However, with so much to see, it may be hard to plan a road trip itinerary.
No worries mate. In this comprehensive Queensland Road Trip Guide, I'm suggesting four road trip itineraries catering for romantic getaways, family holidays, backpackers and more.
Shall we? Yes, we shall.
"Why Queensland?", you may ask.
Well, plenty of reasons.
I will share my top five reasons with you:
Weather is amazeballs. With 300 days of sunshine a year, Queensland has some of the best weather Australia has to offer.
Phenomenal snorkelling. Snorkelling in the Great Barrier Reef is a unique experience and you will be mesmerized with what you will get to see. Please, please, please make sure that you wear reef-safe sunscreen though, and that you don't step on coral.
Pristine beaches. Whitsundays, among others, have some of the most photogenic beaches in the world.
Unique wildlife. Some pretty awesome locals live in Queensland. No, I'm not referring to Stevie from Townsville, though I'm sure he's a super nice bloke. I am referring to koalas, whales, platypus, crocs and tree-kangaroos (yep, it's a thing).
Incredible hiking. If you're a trek avid, Queensland also has world-class walking tracks. Plus, the views you'll get on top aren't too shabby. In fact, they're magnificent.
If the five above points don't convince you, I am afraid you're reading the wrong article. If on the other hand, you got as excited as I am as I write this, stay with me, my friend. We're only starting this journey.
Buckle up, friends. We are going to delve into the best road trips in Queensland along with their must-dos. Yep, I may or may not have invited myself to the party. Don't mind me. I'll be like a fly on the wall.
In a nutshell, I have planned 4 epic Queensland road trips for you to choose from:
Kicking off our list with…
From: Brisbane
To: Cairns
Total Distance: 1970 km
Days: 10
Top road trip stops: Sunshine Coast, Noosa, Airlie Beach, Ingham, Mission Beach, Atherton Tablelands, Cairns
The Pacific Coast Way is a long but spectacular drive. From coastal havens and golden beaches to hinterland towns, this Queensland road trip will surely leave a mark on you. You will meet heaps of backpackers on the Australian East Coast.
Starting in Brisbie, in South East Queensland, and ending in Cairns, in the Tropical North, linger near the stunning Pacific Ocean and discover the rare wildlife the rainforest hosts.
Pack your sunscreen, put your sunnies on, and take in all the splendours of the Pacific Ocean! If you want to experience the ocean at its finest, consider chartering a yacht along the Gold Coast for a day and get out there and explore the reefs.
Road trip highlights:
Spot whales in Hervey Bay from July to October
Take a day trip to snorkel the coral reefs of Lady Elliot
Stop in Cape Hillsborough National Park where the rainforest meets the reef
Hop on a ferry to Magnetic Island
Do whitewater rafting down the Tully River
Day 1: Brisbane to Noosa National Park (2 hours)
Get excited – our awesome Brisbane to Cairns road trip is starting! We're about to discover the splendours of Queensland and be overwhelmed with its beauty.
We will start with the Sunshine Coast, an impressive stretch of Queensland coastline that extends about 120 km from Brisbane all the way to Rainbow Beach. Golden beaches, green hills and quaint villages are waiting for us.
We'll leave early-ish to make the most of our day and head north from Brisbane on the Bruce Highway. Our day will end in Noosa National Park, on the Sunshine Coast. If you're travelling on a budget, you'll be pleased to know that there are a couple of great and affordable hostels in Noosa.
Best stops: Glass House Mountains, Australia Zoo, Mary Cairncross Scenic Reserve, Maleny, Montville, Eumundi, Noosa
Where to eat: Mary Cairncross Scenic Reserve café, The Edge Restaurant, Sumi Open Kitchen
Where to stay: Nomads Noosa Hostel ($), Caribbean Noosa ($$$)
Day 2: Sunshine Coast to Hervey Bay (2 hours 15 minutes)
Okay, the second part of our Queensland road trip itinerary is to head to Hervey Bay, which is a boat ride away from the popular and idyllic Fraser Island. We'll leave early to make sure that we can enjoy the day there.
Hervey Bay is a small coastal city which is popular for watching humpback whales from July to November. It's also the hub for tours to Fraser Island, a little slice of paradise with rainforest habitat, pristine beaches and cute (but fierce) dingoes. There are a couple of amazing hostels in Hervey Bay, making it an even better spot for backpackers on a budget as well.
Day 3: Fraser Island
Fraser Island really blew my mind. This 123 km long and 23 km wide island is a World Heritage Site with more than 1000 freshwater lakes. The whole island is made of sand, and it's undoubtedly one of the most beautiful places in Australia.
If we're driving a 4WD, we can take it to Fraser Island and drive around the island, stopping at all the main spots.
If, however, we have a standard vehicle, we won't be able to drive on the island. We can, however, take a tour and still get to visit all the best spots within a day. Of course, we could also stay one night on the island if we want to take it slow.
If we want to stay on the island, The Beachcamp Eco Retreat is a good spot. Let's just remember that staying on Fraser Island isn't cheap. Actually, it's super expensive.
Best stops: 75 Mile Beach, Eli Creek, Maheno Shipwreck, The Pinnacles coloured rocks, Indian Head, Champagne Pools, Lake Mackenzie
Where to eat: Kingfisher Bay Resort
Where to stay: The Beachcamp Eco Retreat ($$$) if staying on Fraser Island
Day 4: Hervey Bay to 1170 Camping Ground (2 hours 40 minutes)
On day 4, we will spend a relaxing morning, either in Fraser Island or in Hervey Bay, depending on where we spent the night.
When ready to go, we'll head back on the Pacific Coast Way and drive to 1170 Camping Ground, named after the second landing in Australia of Captain James Cook on the 24th of May 1770.
Near a peaceful, laid back tiny coastal town, the camping site is located in a secluded bay inside Round Hill Headland and features a white sandy beach.
Here, we can paddleboard, surf, bushwalk, visit Lady Musgrave Island, fish or play golf. The good life.
Things to do: Scooteroo, surf lessons, visit Lady Musgrave Island, walk Captain Cook's footsteps
Where to eat: 1770 Marina Cafe
Where to stay: 1170 Camping Ground ($)
Day 5: 1170 Camping Ground to Airlie Beach (8 hours)
We'll start the day nice and early and make our way to Airlie Beach, a small tropical town and the gateway to both the 74 wonderful Whitsunday Islands and the Great Barrier Reef.
On the way, and if time allows, we'll stop at Cape Hillsborough National Park, where the reef meets the rainforest.
When we'll get there in the afternoon, we can either chill out at the Airlie Beach Lagoon, a free, self-chlorinated lagoon with 3 different pools or swim in the ocean at Boathaven Beach. We can also rent a kayak and Salty Dog Sea Kayaking.
If it's in our budget, flying over Whitehaven Beach, Hill Inlet and the world-famous Heart Reef is a must-do. Either go on a one-hour scenic flight or, if we are feeling fancy, a two-hour private helicopter ride.
If we want more privacy, we'll head to Conway National Park that features secluded beaches, lowland tropical rainforest, mangroves and open forest. Here, we can hike and enjoy the spectacular views of the Whitsunday Passage and islands.
For more awesome hostel options in Airlie Beach, check our Best Hostels in Airlie Beach guide!
Day 6: Day Trip in Whitsundays
On day 6, we will take a tour to Whitsundays to make the most of it. Cruise Whitsundays is an eco-certified tour operator in Airlie Beach offering day trips on Hardy Reef in the Great Barrier Reef.
We'll relax on the sun deck, swim with exotic fish, and dive in the reef.
After a spectacular sunset, we'll come back to Airlie Beach where we'll spend the night. If we want to take the Whitsundays experience to the next level, we can book a fancy night in Whitsunday Apartments or Reef View Hotel. Note that it will cost us at least AUD300 for one night.
Things to do: Birdwatch, Scuba dive, hike to Passage Peak, go sailing
Where to eat: Hamilton Island Golf Club Restaurant and Bar
Where to stay: Whitsunday Apartments ($$$) or Reef View Hotel ($$$)
There are obviously loads more accommodation options in Whitsundays. Check out our guide on Where to Stay in Whitsundays!
Day 7: Airlie Beach to Townsville (3 hours)
We'll go back on the road early in the morning and make our way to Townsville, a gorgeous town with family-friendly attractions. The drive only is a little over 3 hours so we can take it slow.
On the way to Townsville, we'll stop in Bowen, where we will take a coffee and, if time allows, hike the Mother Beddock Walking Track which only takes around an hour to complete.
Upon arrival, we will visit the little town and take it easy. We'll need our beauty sleep for tomorrow's adventures.
Things to do: climb Castle Hill, visit Peruse Perc Tucker Regional Gallery, go to the Museum of Tropical Queensland
Where to eat: A Touch of Salt, Summerie's Thai Restaurant
Where to stay: Beach House Motel ($$)
Day 8: Magnetic Island
Rise and shine, we've got a day of exploring ahead. We will take a ferry to Magnetic Island, just 8km offshore of Townsville. It will take just 20 minutes from the mainland.
Magnetic Island is where you will be able to spot koalas or wallabies, bush walk around the National park or enjoy some watersports at Horseshoe Bay.
We'll hop from beach to beach, hike around to discover each corner of the island and make friends with wallabies.
Upon our return in Townsville, we'll explore dinner options along Townsville's bustling City Lane.
Day 9: Townsville to Mission Beach (3 hours)
Back on the road, and onward to Mission Beach, a beautiful small coastal town that's worth a detour.
Before leaving, though, we will stop in Paluma Rainforest.
On our way, we will get our caffeine fix in Cardwell, right on the waterfront. If time allows, we'll visit Girringun Aboriginal Art Centre and immerse ourselves in the Indigenous culture.
We also have the option to do white rafting in Tully River, if we feel adventurous.
We'll arrive at Mission Beach in the afternoon, strap our hiking boots and trek along the Kennedy Walking Track to land in Dunk Island, where we'll enjoy a well-deserved drink (with a view).
Day 10: Mission Beach to Cairns (1 hour 45 minutes)
Ready for our last stretch? Yay, me too! Let's make it to Cairns, a backpacking piece of heaven.
We'll opt for the scenic route onto Canecutter way to pass through sugarcane fields and charming forests, before stopping at Paronella Park. There, we'll visit the grandiose Spanish Castle, and marvel at the Mena Creek Falls. The Canecutter way ends at Kurrimine Beach.
We'll then stop in Babinda, home to some of the most stunning waterfalls in Australia. We'll have lunch in Babinda Kool Spot Cafe.
Drive past the silhouette of Walshs Pyramind rising above the historic sugar-milling town of Gordonvale. If we feel like hiking, there's a 6km return walking track we can take to climb up the summit, where we'll enjoy 360-degree views.
If we feel Fancy & Frenchie when we arrive in Cairns, we'll have dinner at C'est Bon Cairns (literal translation for: "It's Good Cairns". Must be good then.)
WEHOO our EPIC Queensland road trip ends here. Farewell, friends. It's been real.
From: Brisbane
To: Townsville
Total distance: 2,267 km
Estimated time: 8 days
Top road trip stops: Hebel, St George, Roma, Injune, Emerald, Clermont, Charters Tower, Townsville
Want to go off the beaten track? Then let's leave the coast and drive inland through Queensland's outback. We'll traverse some of the most uninhabited landscapes and rural towns, steep in history, drive through red sand deserts and gaze at the stars of the night sky.
Driving inland in Queensland is a totally different experience than the coastal drive. It may be a little rough, but has so many unique landscapes to offer as well. Less travelled, there are fewer servos so we'll have to make sure we have enough gas to make it to the next petrol station.
On this Queensland road trip, we'll retrace the steps of early explorers, enjoy some local vineyards and get a real taste of the Aussie outback experience. The entire route is fully sealed making it possible to drive with a standard car.
There will be a lot of camping sites on this road trip, so we'll make sure that we pack a tent or drive a campervan/motorhome.
Roadtrip Highlights:
Receive a Totally Tambo toilet paper roll in Tambo
Paddle on Thompson River
Explore the Lochern National Parks
Spend a day on the breath-taking Magnetic Island
Day 1: Brisbane to Goondiwindi (4 hours)
Rise and shine, lovelies!
We'll leave Brisbane nice and early and make our way to Goondiwindi, a small historic border town 350km away from Brisbane (4 hours drive). We'll jump onto the M3 heading towards Toowomba, then take the M7 and finally the M2.
M3, M7, M2. Repeat after me. Easy.
In Goondiwindi, we'll visit the Border Bridge, a historical landmark connecting Queensland and New South Wales.
We'll also visit the Customs House Museum that displays the history of wool and agriculture farming.
If we haven't maxed out on museums, we'll visit the Gunsynd Museum and Statue museum too, a statue to commemorate Gunsynd, a Melbourne Cup champion thoroughbred racehorse and one of Queensland's top icons. I personally will stay in the car, though, as I don't support horse races.
Day 2: Goondiwindi to Cunnamulla (5 hours 20 minutes)
On day 2, we will reach Cunnamulla, 495 km away from Goondiwindi. We'll stop in the typical Queensland rural town of St George for a coffee in Farmhouse Cafe.
Cunnamulla is an outback town where locals celebrate country music with a Cunnamulla Fella Festival each November. The town is very popular for its song Cunnamulla Fella by Slim Dusty who was honoured in the town with a bronze statue of him in the main street.
So what is there to do in Cunnamulla besides having a boogie to some Aussie country music?
Well. There's an art gallery. Also, there's a Heritage Trail where one can learn about the town's opal mining, pastoral, and wool production history.
We'll find a nice camping spot and will spend the night there.
Day 3: Cunnamulla to Tambo (6 hours)
Leaving early, we will drive to Tambo. If time allows, we will stop in Charleville for lunch at The Lucky Elephant Restaurant. Then, we'll get back on the road.
Tambo is the oldest town in the west. Here, we'll find cultural history and random traditions.
First thing first, we'll pop into a local business. In Tambo, it's tradition to offer a Totally Tambo toilet paper roll to visitors as a gift from the community. It may be heaps random, but we'll take it because we actually may need it.
Then, we, along with our new family addition (our Totally Tambo toilet paper), will visit the Tambo Teddies Workshops to see how the sheepskin teddy bears are created.
If we'd rather be in nature, we'll hike the Coolibah Walk that follows the banks of Barcoo where the native trees reach out across the river. Alternatively, we'll experience the Wilderness Way Self Drive Tour traversing three major river systems. We'll get to enjoy the sights of native flora and fauna. This area is arguably one of Queensland's best-kept secrets.
Day 4: Tambo to Longreach (3 hours 20 minutes)
Leaving in the morning, we'll go straight to Longreach.
Longreach is an outback town with around 3000 residents, which is pretty big for the outback. Locals call this town the "heart of the Outback".
To start with, we can cruise the Thompson River abroad a paddle. Also, the Lily Lagoon is worth the detour.
If we want to learn more about the history and local culture, we'll head to the Stockman Hall of Fame, a Powerhouse Museum.
If we're in the mood for a hike, the Inginai Nature Reserve hosts some very pretty walks. And if we're feeling royal, Camden Park Station is just a ten-minute drive out of town. There, we can visit the royals favourite outback spots: the Queen rolled up to Camden in her Rolls Royce back in 1970. Fancy pants.
Last but not least, we will have dinner at Harrys. Rumours say that this bar, named after Harry Redford, has a very strong evening meals game.
Day 5: Lochern National Parks (1 hour 40 minutes)
Spending a day in Lochern National Parks is super worth it. The National Park in Australia has 20 km of Thomson River frontage.
Here, we'll find lots of species from coolibahs, cockatoos, parrots to a new type of turtles, Emmott's short-necked turtle. Oh, and if we're lucky, we may come across black-headed python across the road. Cute.
We can also kayak in Broadwater Waterhole, fish or cycle along the park's habitat drive.
We gotta be self-sufficient and fill up our fuel, bring road trip snacks and water.
Best things to do: cycling, walks, birdwatching, kayaking, RELAXING
Where to eat: Bring your own food
Where to stay: Broadwater Waterhole ($)
Day 6: Lochern National Parks to Hughenden (5 hours 20 minutes)
Get excited! Hughenden is a third of the Australian Dinosaur Trail. Here, we'll be able to walk into what used to be a giant inland sea where Aussie dinosaurs were roaming around.
We'll stop at Flinders Discovery Centre to meet Muttaburrasaurus, a seven-metre tall dinosaur replica whose bones were discovered near Muttaburra in 1963. The fossils were preserved due to the dry climate, making rocks. Proud of this, locals launch an annual Hughenden Dinosaur Festival. It takes place in August, so if we're travelling that month, let's not miss it please!
Hughenden locals are blessed to be surrounded by four national parks:
80km East is White Mountains National Park, known for its contrasting white sandstone structures and blooming wildflowers
65km North is Porcupine National Park, boasting breath-taking sandstone gorges
Further North is Blackbraes National Park, home to native wildlife such as grey kangaroos
South East is Moorrinya National Park, an idyllic camping oasis
Let's pick one, and spend the day exploring the region.
After a day spent in Hughenden area, we'll head to Mount Walker to see the perfect outback sunset.
Day 7: Hughenden to Townsville (4 hours)
This is our last stretch! Let's make the most out of it.
This road is stunning. The 3-hour drive between Hughenden and Muttaburra really portrays the Australian outback landscapes.
Get ready to see kangaroos jumping around while we drive (let's be super careful not to hit them, though).
We made it to Townsville! It's the last stop of our road trip itinerary.
The region has an amazing natural landscape, precious Indigenous history and unique preserved Federation architecture.
If we want to stay in the Townsville region instead, we can head to the Town Common Conservation Park that boasts a natural showcase of wildlife.
Castle Hill walk and Lookout sits right in the centre of its CBD and boasts incredible views over Townsville and its surrounding Cleveland Bay.
In the evening, we'll walk around The Strand to relax and refill our energies. We'll also be able to enjoy a bite here.
Day 8: Townsville
There are many day trips to take in the Townsville region:
Day trip 1: The stunning Magnetic Island is only 20 minutes offshore and is well worth the detour.
Day trip 2: Diving the Yongala Wreck is a unique experience and is considered Australia's best wreck dive. Expect a 3-hour boat trip from the coast.
Day trip 3: Taking an Outer Great Barrier Reef Day Trip will be heaps fun. It's considered one of the World's Natural Wonders.
We'll pick one of them, based on what we feel like on the moment. Spontaneity is KEY! (I just made this up, it's catchy)
Here's where our Queensland road trip ends. We made it, friends, and what a journey!
From: Brisbane
To: Birdsville
Total Distance: 1892 km
Days: 5 days
Top road trip stops: Brisbane, Nindigully, Cunnamulla, Noccundra, Innamincka, Birdsville
This Queensland road trip isn't the most popular one, but it's probably where we'll have the most incredible outback experiences in Australia. Also, we won't bump into too many tourists so if we have tourist-phobia (yep, it's a thing), this might the right road trip for us.
Queensland's outback offers rolling landscapes of red hills, endless horizons, vintage pubs and traditional tiny towns with no more than a few hundred residents.
We'll need to rent a 4WD. This way is a long dusty drive.
If we have a 2WD, we can go through Roma and Windorah instead.
Roadtrip Highlights:
Have a bevvie in Nindigully Pub
Camp at the Riverside Park
Discover the Dig Tree's history
Enjoy the Cooper Creek
Visit the iconic Birdsville Pub
Day 1: Brisbane to Nindigully (5 hours 40 minutes)
Off we go on our epic Queensland quest!
We'll start off in Brisbane and will make our way to Nindigully, or "The Gully" for the locals. We'll cross Toowoomba and Goondiwindi along the banks of the Macintyre River.
In Nindigully, we'll have a drink and/or dinner at Queensland's oldest pub, Nindigully Pub, where Hugh Jackman played in Paperback Hero. Here, we can try the famous 5.5 kg's burger on the menu… Though sharing one sounds like a better idea.
Best stops: Toowoomba, Goondiwindi
Where to eat: Nindigully pub
Where to stay: Nindigully pub ($), camp in Moonie River (FREE)
Day 2: Nindigully to Cunnamulla (3 hours 40 minutes)
This stretch is a straight line through the outback. It boasts some of the best wineries in Queensland, such as Riversands Winery. Here, we can enjoy free wine tastings (shotgun Designated Drunk!)
Cunnamulla is a town of 1200 residents, with a library, a pool, museums and more. Compared to other towns you will go through on this road trip, there are several cosy hotels to choose from.
In Cunnamulla, we'll visit the Robber's Tree, which has a tragic history. Back in 1880, a robber called Joseph Wells tried to rob the Queensland National Bank. His attempt failed, so he ran off and scampered up in this tree, where he stayed until found. He was the last person to be hung for this type of crimes in Queensland.
Day 3: Cunnamulla to Noccundra (3 hours 40 minutes)
Back on the road again. On our way to Noccundra, near the Wilson River where we can fish.
Treating ourselves during this rough road trip is primordial. Therefore, we'll also stop at the Artesian Mud Bath in Eulo where we'll bath in nature's warm mineral-rich mud for #selfcare.
Then, we'll take our soft baby skins to Thargomindah, the third city in the world to adopt hydroelectric streets lights, after Paris and London. Who would have thought? Surely not its residents. Here, we'll grab lunch in Coffee On Dowling.
We'll stop at the Lake Eyre Basin that covers a sixth of Australia's landmass (or 1.2 million square km) and take in all its splendour.
Best stops: Thargomindah, Eulo
Where to eat: Noccundra Hotel
Where to stay: Noccundra campsite, Noccundra Hotel
Day 4: Noccundra to Innamincka (4 hours 20 minutes)
We'll leave early and make our ways to Innamincka, a town with a population of fewer than 50 residents. On our way, we'll stop at Burke and Wills Dig Tree.
Burke and Wills Dig Tree is extremely remote and located right where Queensland meets South Australia, in the Dig Tree Reserve within Nappa Merrie Station in Queensland's Bullo Shore. The tree is a little hard to find, but we're making a good team and will find it in no time 😉
Burke and Wills Dig Tree is an icon in Australia. The story goes like this: in 1860, eighteen men and twenty camels decided to make the first south-north crossing of the continent. Their expedition took over a year and well, they all died from hunger as they ran out of food provisions. However, some of them carved into the trunk of this tree instructions on where to dig to find the food provisions they had hid for Burke and Wills who were coming back from an expedition of their own.
After visiting this national icon, we'll then keep in driving to reach Innamincka and guess what… We're now in South Australia. Mind. Blowing.
We can camp, fish, swim and paddle around Innamincka. Kayaks can be hired at the Innamincka Hotel.
Day 5: Innamincka to Birdsville (7 hours)
This drive is dusty. We'll adventure across sand dunes and vast plains. Much of the road is unsealed. Depending on the season, there might also be lots of yellow and white wildflowers.
On our way, we'll stop in Cordillo Downs where we will visit the historic curved woolshed made of stone.
Birdsville is home to only 100 residents and has the most remote pub in Australia, the Birdsville Hotel.
Best stops: Cordillo Downs
Where to eat: Birdsville Hotel, Birdsville Bakery
Where to stay: Birdsville Hotel ($$)
Day 6: Big Red
We'll wake up early and head to the Big Red after a big hearty brekkie at Birdsville Hotel. Big Red is only 35 km from Birdsville.
The Big Red is a majestic sand dune on the edge of Simpson Desert. Standing at 40 meters high, it offers spectacular views of the desert. This is where our road trip ends (well, we kinda have to go all the way back to Brisbie afterwards). Let's buy a bottle of champagne to celebrate and enjoy it while staring at the sunset. Did I mention I was the Designated Drunk on this trip?
If time allows, we'll climb up the dune at nighttime to stare at the incredible night sky.
We'll then head back to Birdsville for dinner and will spend the night there.
Best things to do: Windorah, Cordillo Downs
Where to eat: Birdsville Hotel, Birdsville Bakery
Where to stay: Birdsville Hotel ($$)
PHEW. After this legendary trip, we're officially friends for life.
From: Townsville
To: Camooweal
Total distance: 1,097 km
Estimated time: 5 days
Top road trip stops: Townsville, Charters Towers, Hughenden, Richmond, Cloncurry, Mount Isa, Camooweal
The Overlander's Way will take us through historic towns, dinosaur centres and unique landscapes. In just a few days, we'll be presented with very different faces of Queensland state.
We'll get to follow the footsteps of some of Australia's explorers traversing the Nothern Territory across Queensland, and learn about their stories.
Great news – the roads are fully sealed the entire route, so we don't need a 4WD to take this road trip.
Roadtrip Highlights:
Historic Charters Towers
Porcupine Gorge
Kronosaurus Korner
Hard Times Mine
Underground Hospital and Camooweal Caves
Day 1: Magnetic Island
Magnetic Island is absolutely Magnetificent!
Here's a snapshot of what our day will look like on this little piece of heaven: palm-fringed beaches, overwhelming sunsets, fluffy koalas, amazing snorkel opportunities and adventurous hikes.
As I said – Magnetificient!
To get there, we'll hop on a ferry from Townsville. The ferry ride is only 20 minutes.
Day 2: Townsville to Charters Towers (1 hour 30 minutes)
This short 90-minute drive will take us back in time.
Charters Tower is arguably one of the prettiest inland towns in Queensland. We'll find history, heritage, stunning architecture dating from the gold rush in the 1880s.
Charters Tower offers the world-famous Texas Longhorn Safaris Tour and we can also follow the Ghosts of Gold Heritage Trail for some spooky tails (yep, that's the spirit!)
While we're here, we can also check out the Burdekin River and Dam, the largest reservoir of water in Australia.
Day 3: Charters Towers to Hughenden (2 hours 30 minutes)
During this section of the drive, stop at Porcupine Gorge. This huge sandstone canyon is now a dinosaur graveyard.
In Hughenden, we'll go check out the Muttaburrasaurus, a seven meters replica of the first intact dinosaur found in Australia.
It's also worth stopping by Flinders Discovery Centre to see all the dinosaur bones and fossils on display.
Day 4: Hughenden to Richmond (1 hour 15 minutes)
Roarsome!! More dinosaurs in Richmond. Never enough.
This small outback town is best known for its marine fossil discoveries from about 97.5 to 120 million years ago. If we head to the Richmond's Kronosaurus Korner. For example, we'll get to meet Minmi, a Richmond Pliosaur.
If we'd rather step back in more recent time, we'll take a stroll along the Heritage Walk from where we'll spot some of Richmond's historic buildings, including the Cambridge Downs Heritage Display Centre.
And if we'd rather enjoy the present moment instead, we'll hang by Lake Fred Tritton, where we'll get the chance to canoe, water ski, sail and swim.
Day 5: Richmond to Mount Isa (4 hours)
SELF CARE TIME. Let's enjoy a therapeutic soak in the Artesian Bath House on our way. We deserve it. Then let's keep rolling, direction Mount Isa.
Mount Isa, also known as the "oasis of the outback", is nestled among the ochre-red Selwyn Ranges, on the banks of the Leichhardt River. Its romantic landscapes and dramatic sunsets attract visitors each year.
We must stop by the Outback at Isa, where we'll find a Visitor Information Centre with the experience to book for the Hard Times Mine Tour, an Outback Park, the Isa Experience, the Riversleigh Fossil Centre and a cafe (the last one definitely is the best part).
Otherwise, Lake Moondarra, located 17 km north of the city centre of Mount Isa is a good spot to visit and offers a scenic shoreline drive.
Best stops: Artesian Bath House
Where to eat: Burke & Wills Restaurant, Grant's Cakes & Pies
Where to stay: Discovery Parks ($)
Day 6: Mount Isa to Camooweal (2 hours)
Before we leave Mount Isa, we'll visit the underground hospital built during the second world war.
We'll then drive to Camooweal, the "Gateway to the Northern Territory/Queensland". The road from Mount Isa we'll be taking was initially built during the Second World War, and was designed as a link between the southern states and the Northern Territory.
Remember Burke and Wills? The two explorers who perished near the Dig Tree? Well now it all comes together. The explorer William Landsborough was the first European to pass through the Camooweal Area as he was looking for Burke and Wills in 1862. Pastoralists then settled there and Camooweal Town was settled.
Let's not miss the Camooweal Caves National Park, that features caves and sinkholes from 500 million years ago. That's way older than Minmi, our Richmond Pliosaur mate…
And that's it, guys! We made it to the end of our road trip! Now, let's go back to Townsville, shall we?
Even if you're only going on a Queensland road trip for a few days, that's more than enough time to get smote by wrathful angels. As such, you could invest in two types of insurance: regular travel insurance or special rental car insurance.
Some travel insurance providers provide basic vehicular coverage and will cover you in certain circumstances. We've put together a roundup of the best travel insurance for backpackers – check it out here, or if you're low on time, get a quote from World Nomads now, our favourite travel insurance provider.
If you want total protection, go with an independent rental insurance company. Most offer excellent coverage at very reasonable rates, more so than the rental car company.
As mentioned, renting a vehicle to explore Queensland is the most logical strategy.
Whether that's a car, 4WD, campervan or motorhome, the below points will apply.
Renting a vehicle in Queensland
Renting a vehicle in Australia is super easy and thousands of backpackers do it each year. It's the easiest way to explore the country, save some money (Australia isn't cheap, to say the least) and feel as free as a Kookaburra. Queensland, in particular, is super easy to drive: the roads are high quality and well-signed.
To rent a vehicle in Queensland, you will need to have a valid driver's license to pick up your vehicle – either Australian or an international driving permit.
What's also worth noting is that you may be charged additional fees on top of your rental daily rate, such as:
Age surcharge. You need to be at least 21 to rent a vehicle in Australia and you may be asked to pay for an age surcharge if you are between 21 – 25 years old.
Bond/deposit. You will most likely be asked to pay a deposit (bond) at the rental desk when you're picking up your vehicle. The amount will vary depending on the vehicle and the rental company altogether. However, in Australia, it generally ranges from $200 – $1000.
Additional drivers. If you're not the only one driving, you will need to notify the rental company so they can add any additional drivers on the rental agreement for a small additional fee. It's super important that you notify them. If you fail to do so and have an accident when someone else was driving, your insurance won't cover you for the claim.
Insurance. Rental companies will overcharge you for super basic insurance packages. If you don't have insurance sorted before you pick up your car, you're trapped. Don't take insurance with the rental company. Instead, purchase online independent rental insurance. RentalCover.com quotes reasonable rates for Australia and loads of other destinations.
Road rules in Queensland
Australia is very strict when it comes to road rules, and Queensland, although a very laid back state, is no exception.
Growing in Belgium, where we didn't have a government for years, I've been conditioned to not take law enforcement too seriously. There was always room for negotiation and flexibility, and I just needed to apologize with a cute startled face to get away with petty infringements (we're talking not buying a bus ticket, nothing more).
This technique didn't go down well in Australia. In fact, I had to learn the hard way that it was unacceptable to try to compromise with a police officer. Oops.
Australians don't joke around with rules. The law is the law.
With that in mind, here's a summary of the unusual Queensland road rules that are leading to multiple fines each year:
You will get fined if you increase your speed while being overtaken. Fine: AU$80.
Don't use a horn "other than as permitted" (warning another vehicle or animal that you are approaching them) – it's illegal. Fine: AU$80.
Don't hitchhike. Hitchhiking is illegal in Queensland. Fine: AU$30.
Don't forget to turn off your direction indicator. Fine: unknown.
As tempting as it may be, don't lean your elbow on the window on a hot day. Yep, that's right – it's illegal to have any body parts outside of the vehicle. Fine: $298.
Don't leave your car unlocked if you are more than three meters away from it. Fine: $40.
On the bright side, it is not illegal to drive in thongs in Queensland! And by thongs, I'm not referring to knickers, but to flip flops (Aussie lingo).
If you're not careful, Australia's wilderness will smack ya to next Monday. There are six road trip essentials I never go traveling without:
1. First Aid Kit: Even if you don't plan on doing anything extreme on your trip, like hiking, climbing, or other extreme sports, you never know what could happen. You could cut yourself while cooking, smash a finger in a car door, or burn yourself on a hot radiator. A first aid kit will be able to handle most of these minor situations.
2. Aux Cord: One of the only things to do on a long car ride by yourself is to listen to music or a podcast. Since most people use their phones as an MP3 player these days, an auxillary cord is crucial to preserving your sanity. If there is no auxiliary port in your car, buy a radio transceiver or use a portable speaker.
3. Phone mount: It's very dangerous to be looking down at your phone while driving. If you need to have access to your phone, for maps and what-not, buy a mount for it. This way, you can keep your eyes on the road and your phone won't be far from your field of view.
4. Headtorch: Every backpacker should have a head torch! A decent head torch could save your life. If you want to explore caves, unlit temples, or simply find your way to the bathroom during a blackout, a headtorch is a must. Currently, I'm using the Petzl Actik Core rechargeable headlamp – an awesome piece of kit! Because it's USB chargeable I never have to buy earth polluting batteries.
5. Roadside Emergency Kit: Just like you never know what could happen to yourself, one never knows what can happen to their car. A vehicle can mysteriously fail, break, run into a ditch; all that and then some. Most emergency kit include a pair of jumper cables, a tow rope, a set of essential tools, and ties.
6. Toiletry Bag: I always travel with a hanging toiletry bag as it's a super-efficient way to organise your bathroom stuff. Well worth having, whether you are hanging it from a tree whilst camping, or a hook in a wall, it helps to have quick access to all your stuff.
For plenty more inspiration on what to pack, check out my full road trip packing list.
Ahh, I see you. You're an insurance geek too. Now we definitely have something in common.
Alright folks, now that you're here, buckle up and let me answer ALL your Australian rental insurance questions! Whoop-de-doo.
What insurance do I need to be fully covered?
The only insurance you need to worry about in Australia is the one covering damages to your vehicles. You do not need to worry about Third Party Liability or Personal Accident Insurance as it is included by default and by law in your rental agreement.
If you're Aussie, Medicare will cover your medical costs. If you're a visitor, make sure you buy travel insurance to get health insurance.
Okay, so what insurance do I need to cover my vehicle?
The insurance you will be offered at the rental desk is called the "Excess Waiver", the "Reduction Liability Waiver" or even sometimes "No Worries Mate". Rental companies name them differently, but the product offered is the same: it covers the remaining excess (the responsibility you have on the vehicle in case of damage) on your vehicle down to zero.
Don't buy this product with the rental company. It's usually super expensive ($20 – $60 per day) and excludes a lot of common damages (windscreens, animal collision, undercarriage, tyres etc). You don't want to pay a high daily fee + any common damages to your vehicle, do you?
Instead, I'd recommend that you purchase online independent rental insurance, like the one offered by RentalCover.com. At a fraction of the price, you will be covered for ANY type of damage, whether at fault or not.
Will the rental company accept that I don't purchase their excess waiver?
Rental company's sales agents in Australia can be very pushy, as they're paid on commission. They may tell you that your independent insurance policy isn't valid, but that's not true. Just stay firm on your position and refuse their policies.
However, not that they may ask you to place another deposit if you don't take their policy. The deposit may be held or debited from your credit card and could be up to the amount of the vehicle's excess ($4k – $10k). Any damage cost would then be deducted from this deposit, but you will just need to make a claim with your independent insurer that will refund you the amount.
ALWAYS sort out your backpacker insurance before your trip. There's plenty to choose from in that department, but a good place to start is Safety Wing.
They offer month-to-month payments, no lock-in contracts, and require absolutely no itineraries: that's the exact kind of insurance long-term travellers and digital nomads need.
SafetyWing is cheap, easy, and admin-free: just sign up lickety-split so you can get back to it!
Click the button below to learn more about SafetyWing's setup or read our insider review for the full tasty scoop.
Now that we've covered four epic road trips in Queensland, I hope that you're already packing your bags 🙂
Queensland offers two types of road trips: the coastal type or the outback type. Personally, I can't choose between both types. While I love the instagrammable views you'll get on the coastline (generation X much), I also love the lonely, rough vibe the outback offers.
Whichever road you take, I am 100% positive that you will have the time of your life. Wait – I meant, that we will have the time of our lives.
PS: if you're travelling around Australia, check out our guide on the Best Road Trips in Australia!
---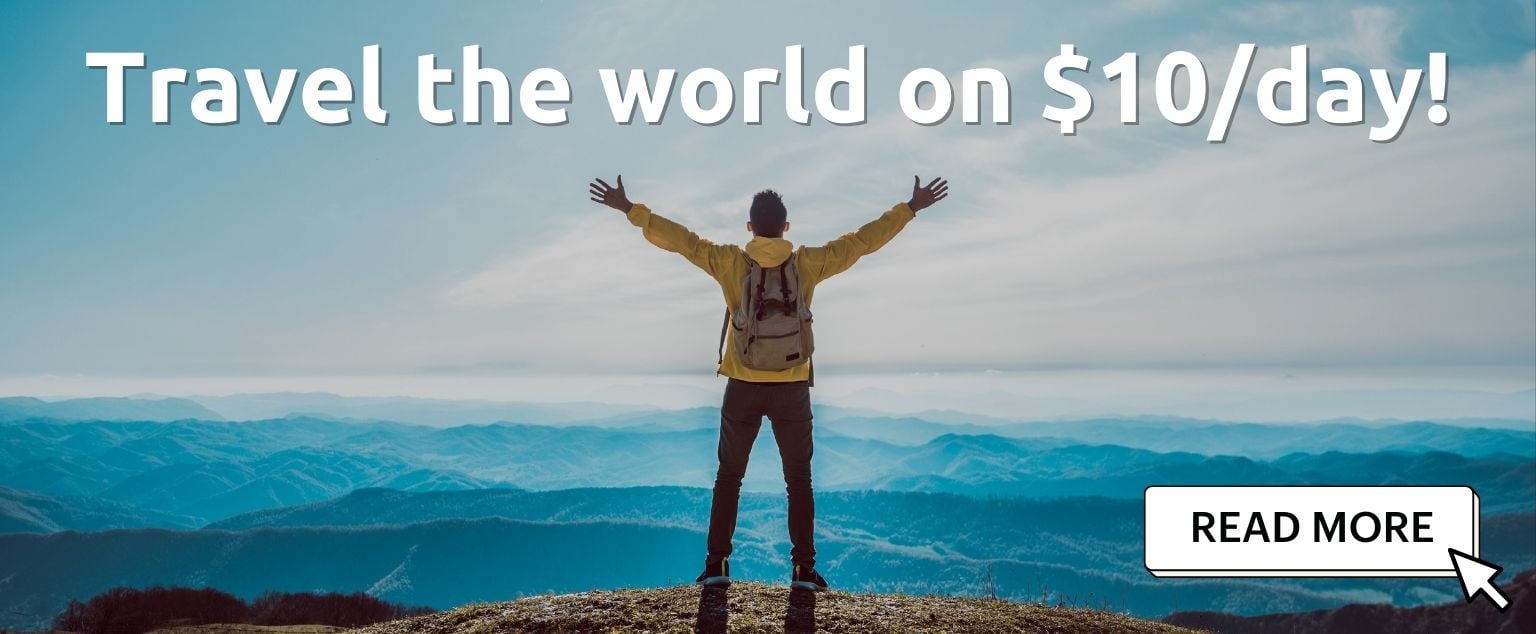 And for transparency's sake, please know that some of the links in our content are affiliate links. That means that if you book your accommodation, buy your gear, or sort your insurance through our link, we earn a small commission (at no extra cost to you). That said, we only link to the gear we trust and never recommend services we don't believe are up to scratch. Again, thank you!