Cairns is one of the most underrated cities in all of Australia. More than just the gateway to the Great Barrier Reef, this Australian city has grown increasingly popular to backpackers looking for a relaxing time in a gorgeous city with tons to do.
But a lot of backpackers means a lot of hostels, and Cairns has dozens of hostel options.
Which is exactly why we wrote this guide to the 20 best hostels in Cairns for 2020!
I believe that every traveler deserves to stay in the best hostels wherever they happen to be traveling. With this list of the best hostels in Cairns, I am certain that you will stumble across the perfect hostel match for yourself.
A stopover in Cairns is awesome, and I want you to have the best possible time backpacking here. Prepare to have all of the best hostel options laid before you!
This guide was written to help you book at one of the best hostels in Cairns – and quickly, so you can focus on enjoying this underrated Australian city.
Quick Answer: The Best Hostels in Cairns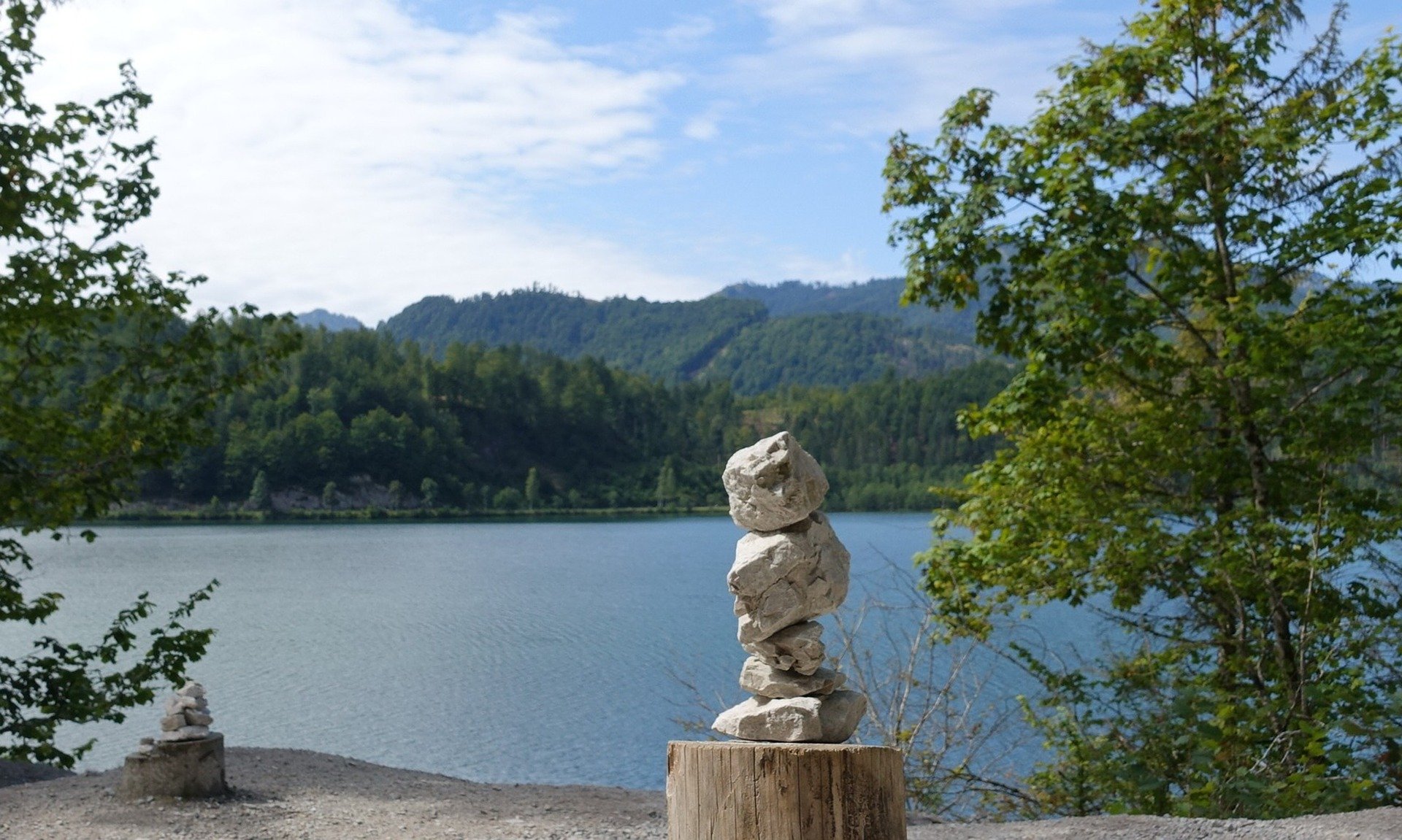 The 20 Best Hostels in Cairns
We wrote this guide with one thing in mind – to help you find an awesome hostel while backpacking Cairns! Our hostel reviews are the best on the web, and we accomplish by doing two things.
We take the highest-reviewed hostels in HostelWorld. In Cairns there are dozens of hostels, so we pluck the best so you never have to worry about booking at a crap hostel.
To take our list even a step further, we then categorize the best hostels in Cairns by different categories. Some people travel solo, others as couples. Some travel to party, others to work. Whatever your travel style, our list will show you exactly the best hostel for your travel-needs.
Here are the 20 best hostels in Cairns, Australia…
Things DO go missing sometimes…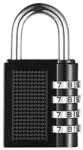 Psst! Heading to a hostel? Don't forget to pack a padlock! It's well worth having one so you can secure your locker and protect your stuff!
$$
Free Parking
Swimming Pool
Self Catering Facilities
Without a shadow of a doubt the overall best hostel in Cairns is Traveller's Oasis. As the best hostel in Cairns in 2020 Traveller's Oasis is the perfect package deal. Guests have access to the hotel's outdoor swimming pool, guest kitchen, free WiFi AND free parking too! Voted as the best hostel in Australia in 2018 by HostelWorld it's not just us who are inclined to think Traveller's Oasis is something rather special! The place is spotless and the whole space is cozy, homely yet spacious and bright. The guest kitchen is a real blessing as we all know how pricey eating out can be in Oz! Relaxed, and super welcoming, you will fit right in at Traveller's Oasis.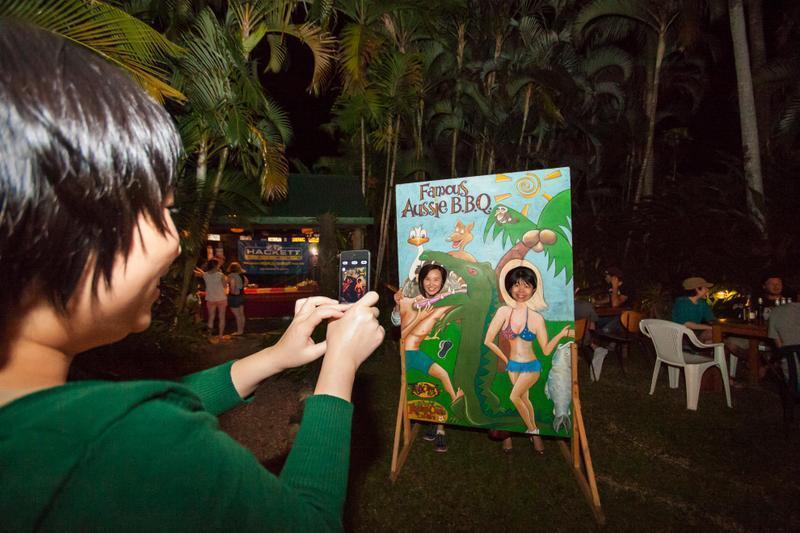 $$
Free Parking
Swimming Pool
Self Catering Facilities
Coming in joint first place for best hostel in Cairns in 2020 is Tropic Days Backpackers; we like to give you choice you see! This fantastic Cairns backpackers hostel has everything you could wish for in a hostel and more! The swimming pool is a total bonus, as is the unlimited free WiFi. The staff at Tropic Days are some of the nicest you could find; chilled out and helpful, they're the perfect hostel crew. You honestly feel right at home the moment you walk in the door. If you fancy a lazy day you can indulge in all the 'normal' things you miss out on while travelling. Hang out in the TV room with your hostel buddies, get cooking home comforts in the guest kitchen or even get through that pile of laundry!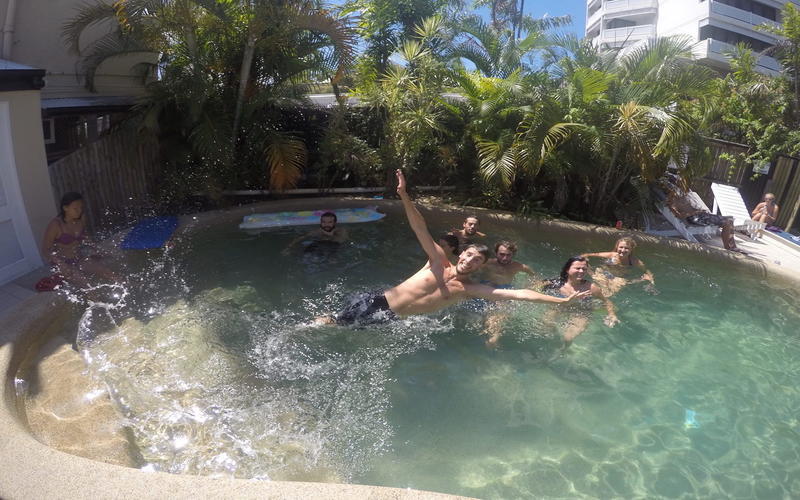 $$
Free Breakfast
Swimming Pool
Self Catering Facilities
Australia is one of the most sociable nations on earth, you're never too far away from a new friend. This is totally true of Globetrotters International, the best hostel for solo travellers in Cairns. It is true that people can make or break a hostel experience and time after time the people at Globetrotters make for an incredible stay. Whether it be the super lovely staff or the awesome crowd of people it attracts, Globetrotters International is just a great place to meet and mingle. The hostel lays on a family BBQ two times a week which is the ideal time to put yourself out there as a solo traveller. Globetrotters International has all the facilities you could ask for; namely laundry and free WiFi!
$$
Swimming Pool
Bar
Tours & Travel Desk
Dreamtime Travellers Rest is a belter of a youth hostel in Cairns, ideal for solo travellers. There's just so many opportunities to find fellow wanders; at the swimming pool, at the bar, in the guest kitchen, even while doing your laundry! Super chilled out and oh so welcoming you won't feel lonely at Dreamtime Travellers Rest, that's a guarantee. If you are a solo traveller because you like your own space that's totally cool. Dreamtime Travellers Rest has a great selection of private rooms so the introvert side of you is catered for too!
Best Cheap Hostel in Cairns #1 – Reef Hostel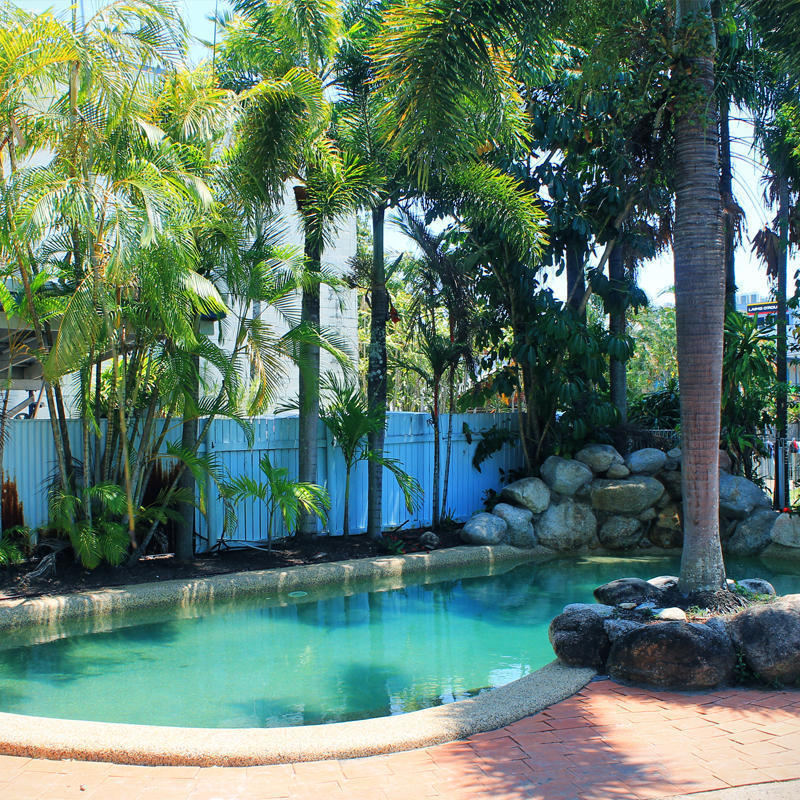 $
Swimming Pool
Self Catering Facilities
Laundry Facilities
Reef Hostel is the best cheap hostel in Cairns and offers insane value for money. This place even has its own swimming pool! Small and homely there is a great social vibe here that money really can't buy. Naturally being on the cheaper end of the price scale this place is nothing flashy but it does a sterling job. The garden area is the perfect place just to laze around and catch a tan. When the sun starts to set start up a BBQ and crack open the beers. Reef Backpackers is a top hostel in Cairns and is right at the heart of the city so there's no need to fork out on taxis at all!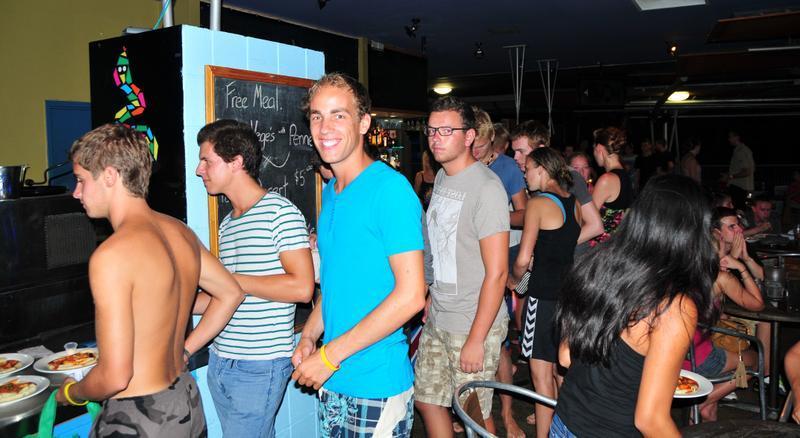 $
Bar
Swimming Pool
Self Catering Facilities
The best budget hostel in Cairns is Nomads. A little pricier than dirt cheap but either way a total steal. The Nomads hostels are something of an institution in Australia and New Zealand so why not initiate yourself into the family in Cairns? The Nomads bar, Serpent Bar is one of the best backpacker hangouts in Cairns so be sure to head down and grab a beer or two. They offer free bus and train station pickups which is a total bonus, especially for broke backpackers! Nomads is a super fun and affordable youth hostel in Cairns, well worth considering!
Best Cheap Hostel in Cairns #3 – Asylum Cairns
$
Free Airport Transfer
Swimming Pool
Self Catering Facilities
An asylum in all the positive senses of the word, Asylum is a great budget hostel in Cairns. Super affordable, well located, clean and comfortable you'll be hard-pressed to find a complaint about Asylum Cairns. They even offer a free airport transfer! The team runs an all-you-can-eat BBQ every Monday night for just $5. Not to be missed! Most dorm beds come with their own reading light and plug socket which is a total bonus. No fighting over who gets to charge their phone next to your dorm mates! FYI Asylum Cairns is a BYOB hostel, let the good times roll!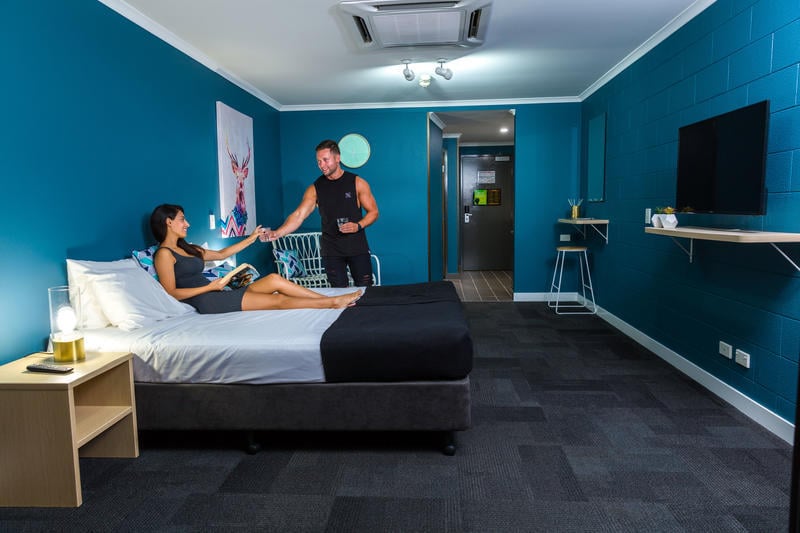 $$$
Swimming Pool
Bar & Cafe
Tours & Travel Desk
If you are travelling with your lover and want a touch of privacy but also have total hostel FOMO panic not, it's all gonna be ok. The best hostel for couples in Cairns is Gilligans Backpacker Hotel & Resort. It is just that, a hotel. Gilligan's has all the facilities and stylishness of a hotel with the price tag and laid-back feel of a hostel. Win-win all round! If you and bae wanna keep your beach bods in check while in Cairns you will love the fact that Gilligan's has a free to use fitness centre! Parties here can get pretty wild, in a good way; best brace yourselves!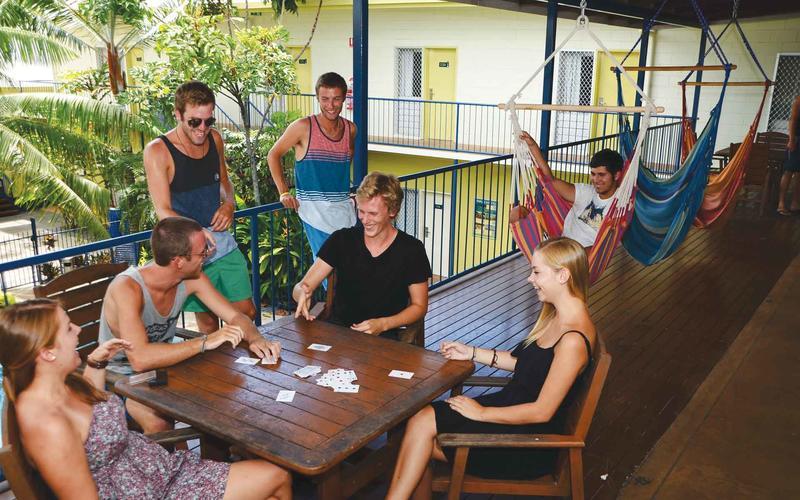 $$$
Free Breakfast
Swimming Pool
Self Catering Facilities
If you and bae prefer a more low-key kinda hostel then Cairns YHA is the perfect hostel for you. As a highly recommended hostel in Cairns, YHA Central offers free WiFi, free parking, a pool table and more. The rooms are comfortable and cosy, most importantly super clean. Cairns Central YHA is just a stone's throw away from Cairns Esplanade where you'll find some of the hottest bars and clubs in the city. If a BNO is not on the cards then you and your lover can settle down in the common room, veg out and catch up on some TV time.
Best Party Hostel in Cairns – Calypso Inn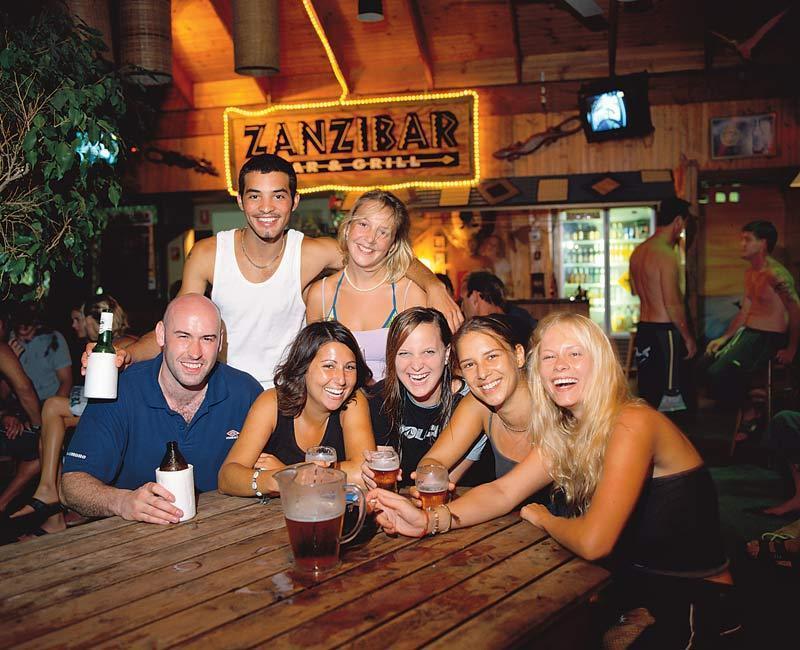 $$
Bar
Swimming Pool
Self Catering Facilities
The best party hostel in Cairns is, of course, Calypso Inn. Probably the coolest hostel in Cairns, Calypso Inn has a pumping bar called The Zanzibar, an awesome swimming pool and a pool table too. The Zanzibar lays on different entertainment each night, be sure to check at reception to see what's on during your stay. Calypso Inn offers free WiFi to all guests and is available in every corner of the hostel. Meaning when you're rolling around in bed hungover like no tomorrow you can weep down FaceTime to your buddies at home from the comfort of your bed! It's the little things that make a difference, right?!
$$
Free Breakfast
Bar
Swimming Pool
Mad Monkey Backpackers is a top hostel in Cairns and is perfect for all you party animals out there. The vibe at Mad Monkey is second to none, it's hard to describe so you've just gotta go and experience it for yourself. The Mad Monkey bar it totally lit and now they even have a gourmet pizza oven. No, eating is not cheating at Mad Monkey! Lots of travellers insist that Mad Monkey is a flashpackers, due to its stylish design and epic amenities but it's still super affordable which is brilliant news for all! Clean, bright, spacious and secure. What's not to love about Mad Monkey?! Party central!
$
Self Catering Facilities
Swimming Pool
Laundry Facilities
Digital nomads love a home from home and Njoy! Traveller's Rest is just that. As the best hostel for digital nomads in Cairns Njoy! Traveller's Rest has free WiFi and plenty of space to work in. Newly renovated and with a lagoon style pool Njoy is a treat for digital nomads. The staff are really accommodating and will help you out where they can. Digital nomads live on the road so amenities like the guest kitchen, washing machine and fitness centre are appreciated. Once the working day is done be sure to hit up the hostel bar.
$$
Self Catering Facilities
Swimming Pool
Jobs Board
Castaways Backpackers is a highly recommended hostel in Cairns that is ideal for digital nomads. With a great social vibe but without the rowdy party crew, Castaways offers digital nomads the opportunity to get a heap of work done in a quiet environment then relax and unwind with fellow travellers. The dorms are bright and spacious and the lack of bunks makes the place feel a bit less sterile. The guest kitchen is ideal for digital nomads looking to cut costs and the swimming pool is a great incentive to get the workload over and done with. Castaways is just 10-minutes from the Esplanade so you are right in the heart of the action in Cairns.
$$
Free Breakfast
Swimming Pool
Self Catering Facilities
The Northern Greenhouse is a highly recommended hostel in Cairns with a heap of freebies to enjoy. Free breakfast (hell yeah!), free WiFi, free parking, and free tea and coffee, The Northern Guesthouse is fantastic value for money. They have mixed, female-only and male-only dorms so you can stay how you like. The Northern Guesthouse has private rooms too that are super affordable and come with a TV and kitchenette. Relax and welcome if you are looking for a super chilled out hostel in Cairns you will be stoked with your choice of The Northern Guesthouse. FYI, the swimming pool is the icing on the cake with this one!
The BEST Travel Backpack?!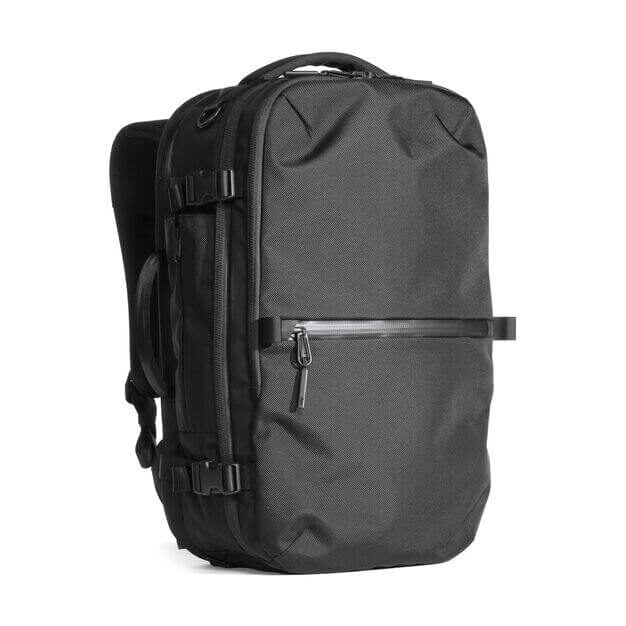 Pssssst! Not picked the perfect travel backpack yet? The Broke Backpacker team has tried out over thirty backpacks this year! Our favourite travel backpack is the Aer Travel Pack 2.
View on AER
More Best Hostels in Cairns
Want to stay in the party district or maybe somewhere more laidback? Decide on where to stay in Cairns before booking your hostel. You don't want to end up miles away from the hotspots you wanted to explore!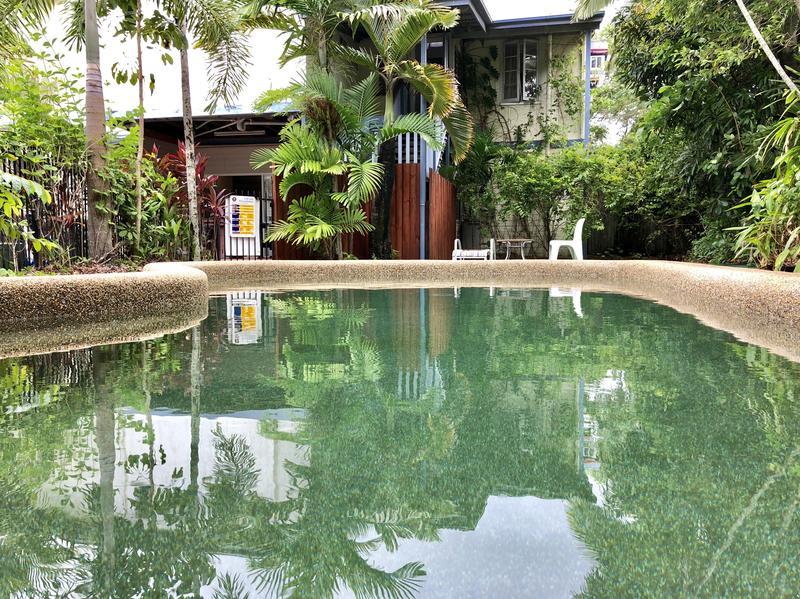 $$
Free Parking
Self Catering Facilities
Tours & Travel Desk
If you are looking for a quiet, retreat of a hostel then Gecko Backpackers is the place for you. Situated just 600m from the centre of Cairns you could not get a better location if you tried. Gecko Backpackers is a simple youth hostel in Cairns that has everything that you could need. Free tea and coffee throughout the day is a nice touch and the hostel garden is a real treat. The hostel has its own swimming pool which is the perfect place to hang out with your hostel mates. FYI, Gecko Backpackers is a booze-free hostel so if you're looking for a party perhaps look elsewhere.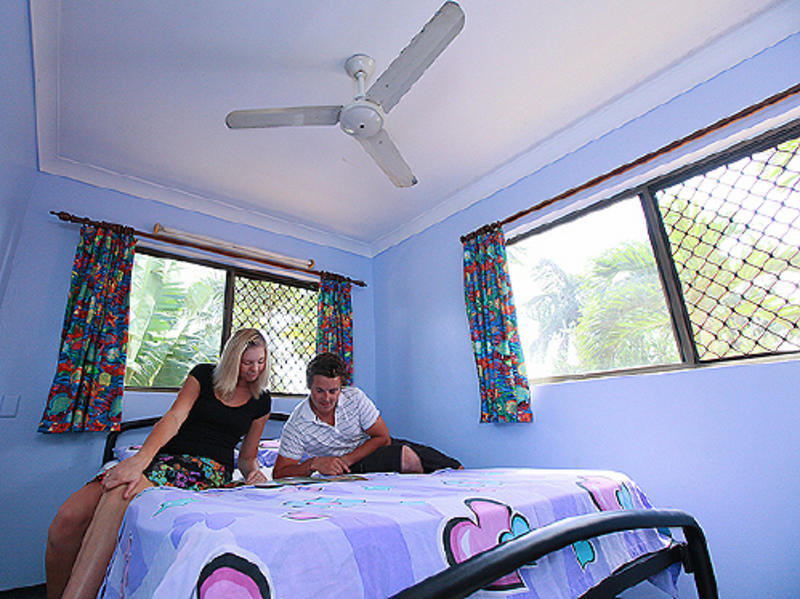 $$
Free Breakfast
Swimming Pool
Tours & Travel Desk
JJ's Backpackers is a much loved and highly recommended hostel in Cairns that sees travellers return time after time. With the right balance of party vibes and relaxed feel, JJ's Backpackers is a solid all-rounder. Guests can chill out by the poolside, in the guest kitchen or even in their spacious dorm. There is always something on at JJ's whether it be a BBQ or a pizza night. The staff here are wonderful and are happy to help you with your onward travels. Be sure to swing by the hostel's tours and travel desk to wangle a bargain on your next Australian adventure.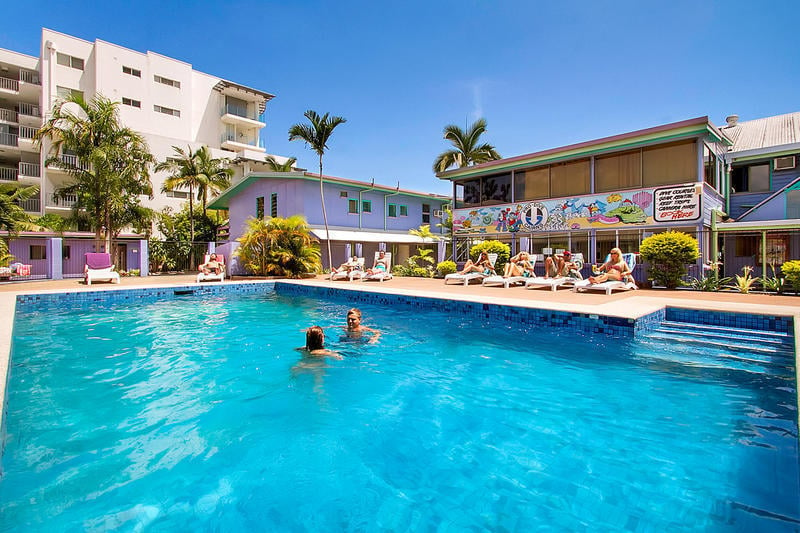 $$
Free Parking
Self Catering Facilities
Tours & Travel Desk
Caravella Backpackers is a top hostel in Cairns that overlooks the city waterfront. This place offers great value for money, guests are welcome to make the most of the free airport shuttle service and the nightly meal deals at the Caravella restaurant. There is an up-market feel to Caravella which makes you feel as if you are in a 'proper' holiday resort, rather than a budget hostel in Cairns. Just a 10-minute walk from some of Cairns' best bars, cafes and shops Caravella is a fantastic hostel well worth considering.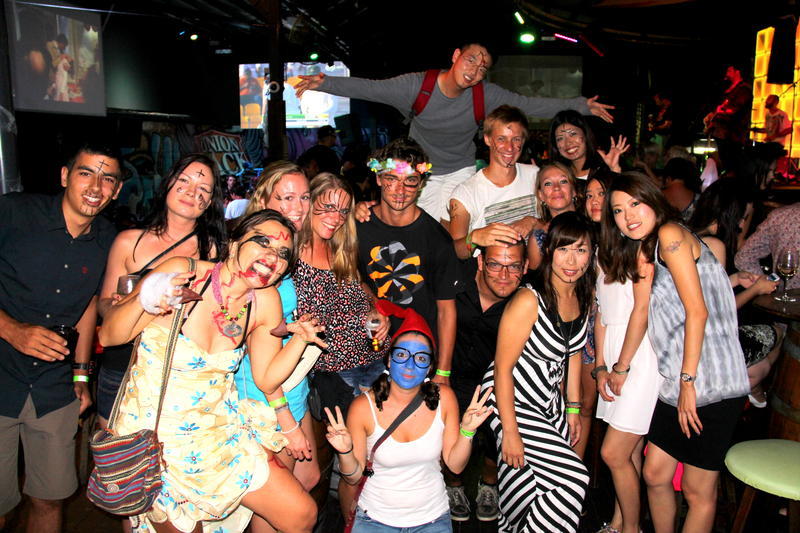 $$
Bar & Restaurant
Free Evening Meals
Tours & Travel Desk
The Jack Backpackers is an increasingly popular youth hostel in Cairns that has its own bar and restaurant. Genuinely, you don't need to leave the place throughout the course of your stay, this place has it all! It must be said that the free evening meals help give The Jack even greater value for money but too help you to meet and mingle with your hostel buddies. Invariably once dinner is over the crew hit The Jack's bar and then roll on out into town. The Jack Backpackers has the perfect hostel vibe, is super clean and the beds are comfy AF. What more could you want?!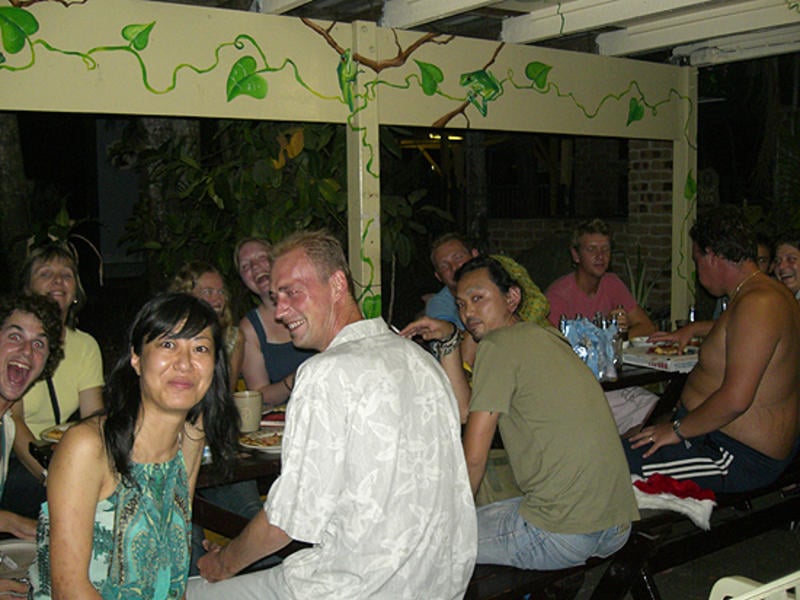 $
Free Parking
Self Catering Facilities
Swimming Pool
Cheap and cheerful, Cairns City Backpackers is the best hostel in Cairns if you are just looking for a place to crash. No frills, nothing flashy, CCB is a brilliant budget hostel in Cairns that ticks all the boxes. Free parking, free WiFi, a guest kitchen and even a little swimming pool, Cairns City Backpackers is a bit of a hidden gem. A total saving grace if you find yourself nearly skint in Cairns. If that is the case, be sure to have a gander at the hostel's jobs board. You may just be able to get cashed up quick! The staff can help you out with where to look for work too.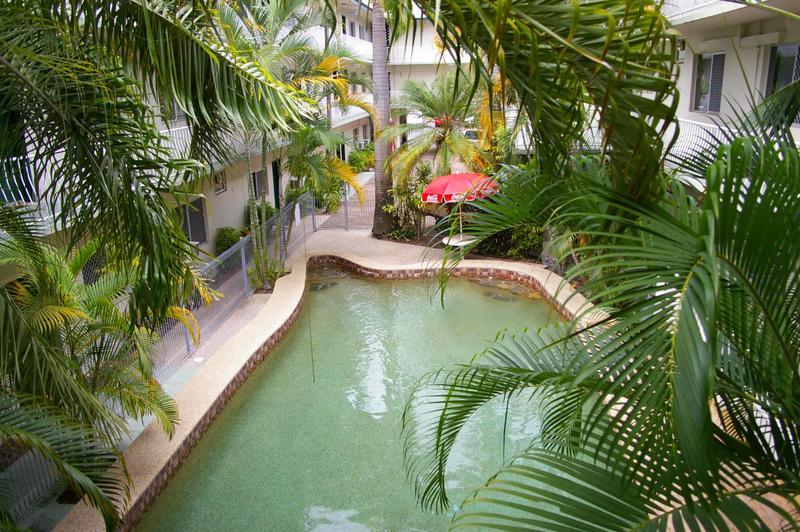 $
Swimming Pool
Laundry Facilities
Tours & Travel Desk
Cheap AF and with everything you could really ask for in a budget hostel in Cairns Koala Beach Resort is a great option for all. Whether you are hitting up Cairns with your crew or going it solo you'll feel right at home at Koala Beach Resort. Just 500m from Cairns Esplanade and the Lagoon, Koala Beach Resort couldn't be in a better location if it tried. The staff totally make Koala Beach Resort. Mostly locals, they are more than happy to point you in the right direction and let you know what's on in Cairns during your stay.
Want to save the world?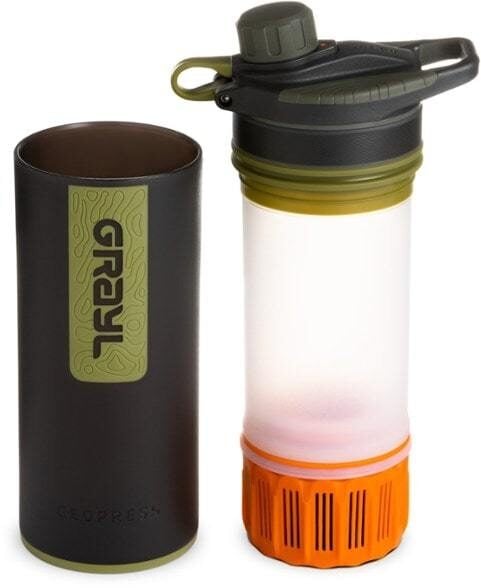 Single-use plastic bottles are a huge threat to Marine Life – Be a part of the solution and travel with a filter water bottle.
The GRAYL GEOPRESS water bottle is the ONLY all-in-one filter water bottle setup you'll need. Whether you need to purify the water from a hostel sink in Kathmandu or a stream trickle in the Andes, the Geopress has got you covered.
Read our full review of the GRAYL GEOPRESS!
What to Pack for your Cairns Hostel
Pants, socks, underwear… Here are some other items you might not have thought to pack for your Australian adventure.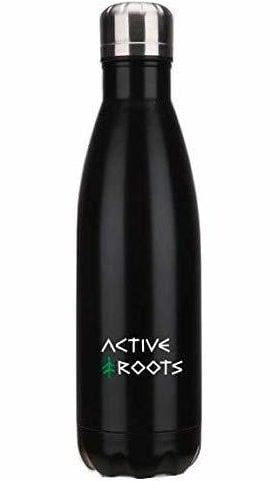 1. Active Roots Water Bottle: Hostels are increasingly meeting backpackers' demands for potable (drinkable) water. Now is better than ever to start traveling with a reusable water bottle! Aside from cutting down single-use plastic, The Active Roots stainless steel water bottle will also keep your favorite beverage hot or cold all day long and it's sized perfectly to fit an entire bottle of wine. 'Nuff said.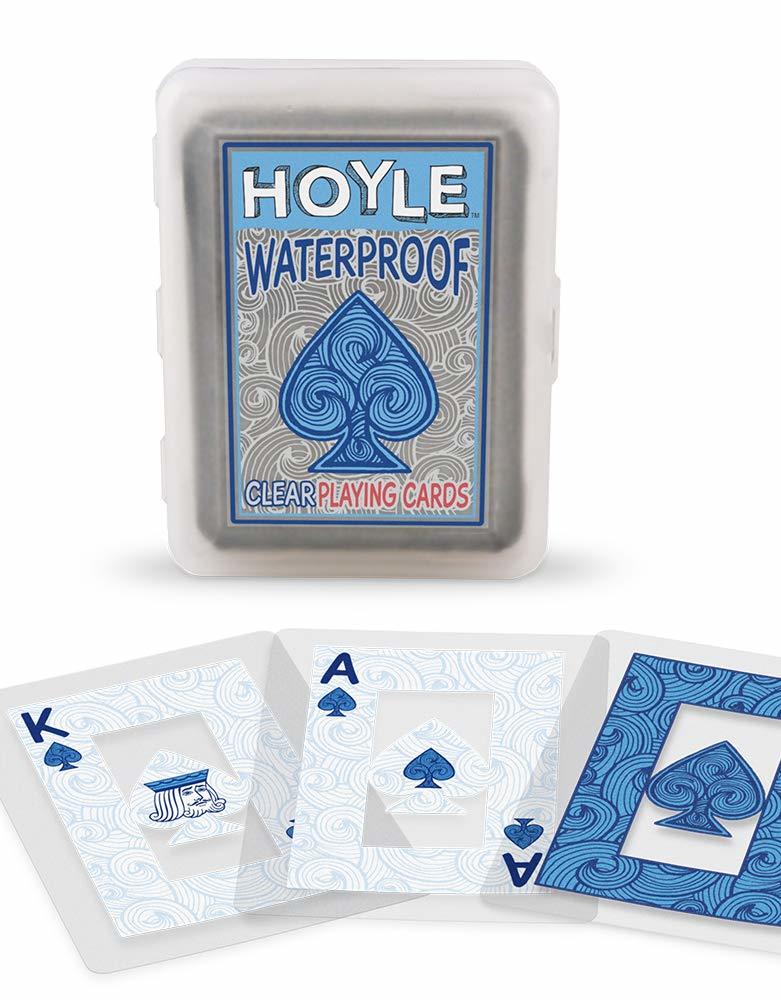 2. Playing Cards: Name your ideal night: I'm for a few cheap beers and some card games. Oh, and you don't even have to be drinking to enjoy a game – having cards with you traveling definitely helps out on those long airplane or beach days! Make sure to snag a waterproof deck to protect from the pool, ocean or Chang.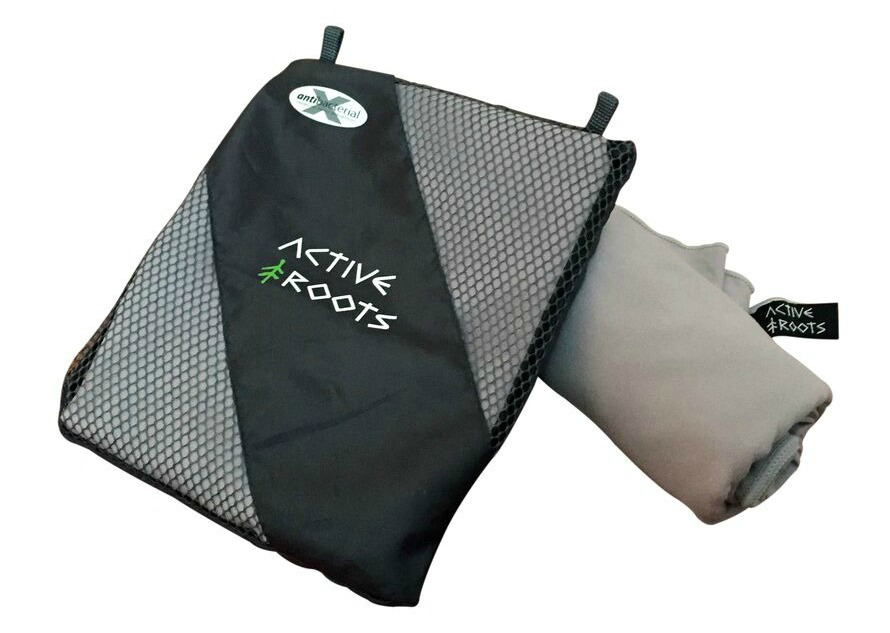 3. Active Roots Microfiber Towel: Having your own towel is a must when traveling since most hostels don't provide them. Plus as a backpacker, use of a towel will extend further than just showers, it's a minimalist yoga towel and a great beach blanket/towel combo! The Active Roots Microfiber Towel is really the best solution for backpacking.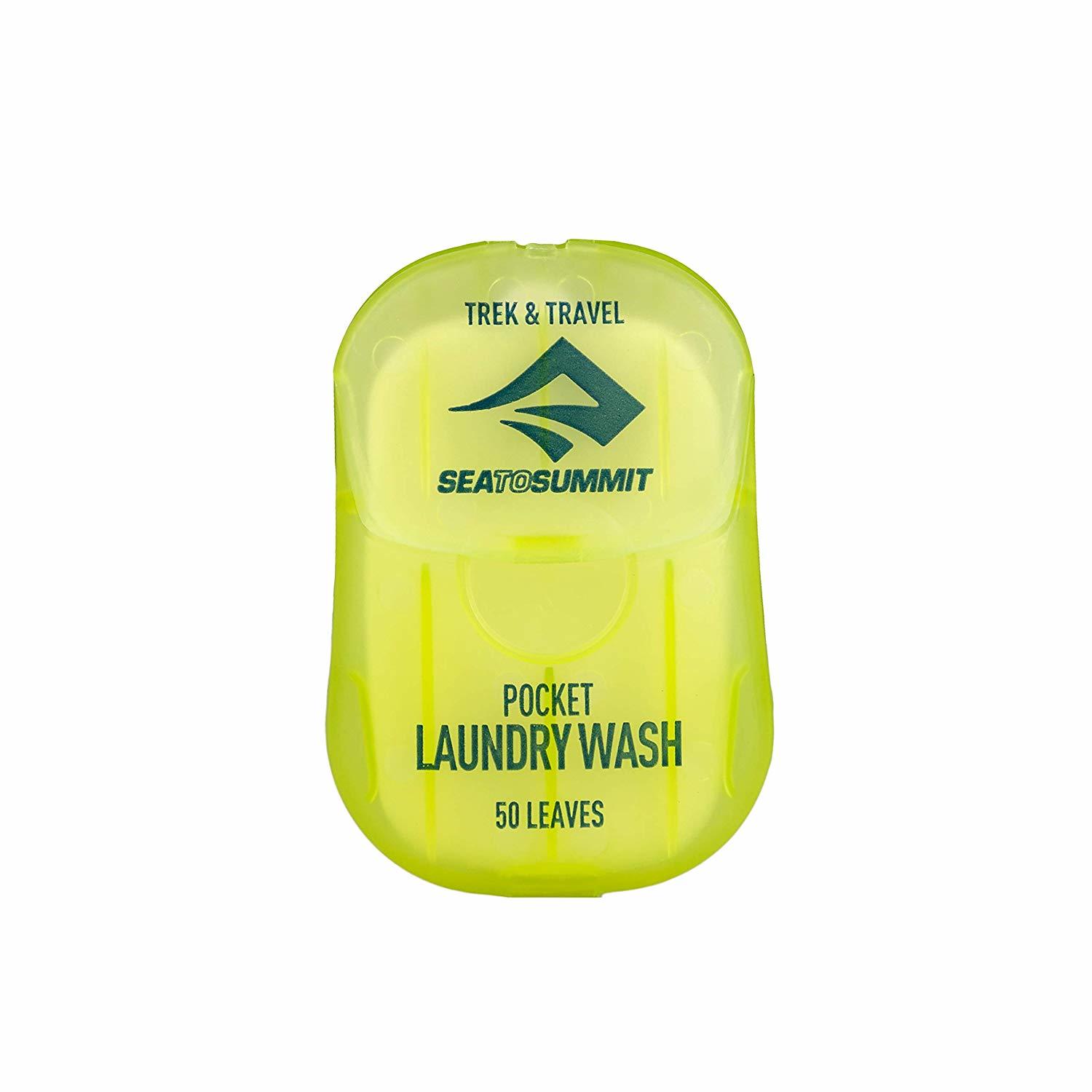 4. Sea to Summit Travel Soap: The Sea to Summit multipurpose soap leaves are the perfect hygiene travel companion. The individual, Leave-no-Trace-certified strips are great for keeping your hands clean before you eat in that dodgy but delicious restaurant. There are also little strip packs for laundry, shampoo and shaving.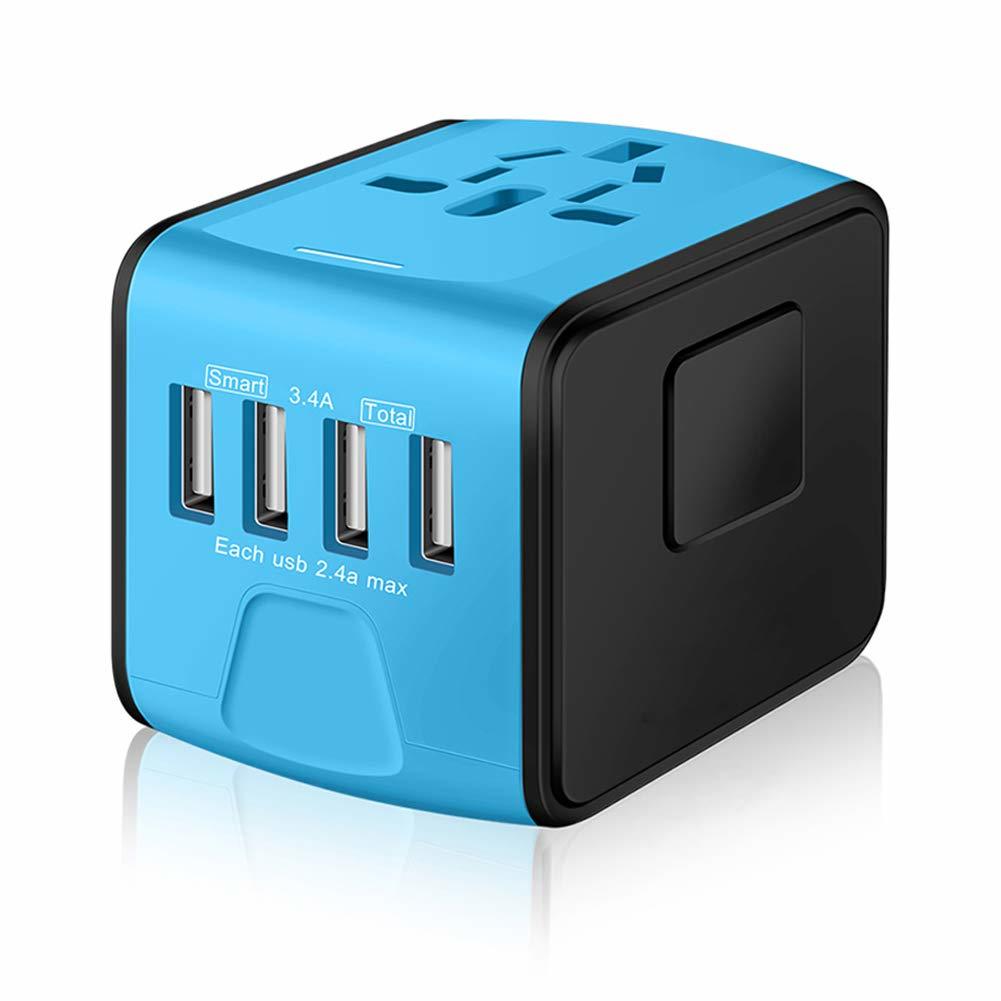 5. Universal Travel Adapter: Not every country has the same electrical plug style, so carry along a universal travel adapter. You'll want one that covers varying voltage levels, has protection from power surges, a fried laptop is not fun, and enough ports so you don't have to spend all day individually charging your devices.
6. Headphone Splitter: Don't be those awkward people sharing one earbud on the bus, as you show off your in-depth music knowledge to your new friend. A headphone splitter is a great item to bring traveling, it works fantastic on those long bus rides or easy dorm Netflix nights when you want to relax and connect with someone.
Why you should travel to Cairns
There you have it! The 20 best hostels in Cairns, Australia!
We know that with the help of this epic review, you'll be able to easily find a hostel in Cairns, and save some money while backpacking Australia.
Being as that Australia is swarming with other backpackers, you do right to book your hostel certainly before you get your boots (I mean sandals) on the ground. Don't miss out on some of the best hostels in Cairns!
Really where you stay makes a difference. Again, the goal is for you to have an excellent backpacking experience on the cheap.
The art of finding budget backpacker accommodation in Cairns should hopefully be a whole hell of a lot eaiser now that you have read my entire guide to the best hostels in Cairns for 2020! Good on ya!
So, which of the best hostels in Cairns, Australia are you going to book? The best hostel for Digital Nomads? Or maybe the best party hostel in Cairns?
Remember, if you can't pick, we recommend booking at our best hostel in Cairns for 2020 – Traveller's Oasis. Best of luck on your journey to Cairns and beyond…
Travel Safety Tips for Cairns
And don't forget Travel Insurance! We've put together a roundup of Travel Insurance for backpackers – check it out here, or if you're low on time, get a quote from World Nomads, our favorite travel insurance provider.
Getting an estimate from World Nomads is simple – just click the button or image below, fill out the necessary info, and you're on your way!

More Epic Hostels in Australia
Hopefully by now you've found the perfect hostel for your upcoming trip to Cairns.
Planning an epic trip all across Australia?
Don't worry – we've got you covered!
For more cool hostel guides around Australia, check out:
Over to you
By now I hope our epic guide to the best hostels in Cairns has helped you choose the perfect hostel for your adventure!
If you're planning on travelling further, you can be (almost always) sure that you'll find a great place to stay wherever you are. There are so many amazing hostels all over Australia, each of them offering a comfy bed, a welcoming vibe, and a chance to meet like-minded travellers – you'll be well looked after!
If you think we've missed anything or have any further thoughts, hit us up in the comments!
"Find out how YOU can support the site. We work hard to put out the best backpacker resources on the web, for free! It's all about helping out our tribe of awesome backpacker readers [that's you!]. Please visit the link to find out how you can help keep the site going 🙂
For the sake of transparency, some of the links in our content are affiliate links. This means that if you book your accommodation, buy a book or sort your insurance, we earn a small commission at no extra cost to you. I only link to stuff I've actually used and never endorse products or services that are not up to scratch. Thanks for your support.