Australia… Even the name beckons to adventure. That enormous rock floating at the bottom of the globe. What images does the call of adventure in Australia elicit?
Perhaps the red and raw sunburnt earth, devoid of life yet full of magic? Or maybe the pearly, pristine sands softly squeaking between the toes of bronzed beach-bums? Could it be that glorious feeling of Nirvana experienced between last-drinks and kick-ons with the lads as a jocular Turk serves you that 3 A.M. kebab?
The best of Australia has all that and more to offer. We get hung up on Australia's natural beauty – lost in the fantasy of its wilderness – however, everywhere in Australia, adventure is only around the corner. It's inescapable.
So, whether it's your first sample of our national treasure 'Vegemite', or your first encounter with our scaly locals, you better get ready. Bring your boots, broad-brimmed hat, and enough sunscreen for your soft, uninitiated skin, because we're going Down Under!
These are the 17 best adventures to be had in Australia! From the fantastically stupid to the stupidly fantastic, I hope you've been practising your slang, cause things are about to get a little weird.
17 Australian Adventures to Make You Go "Bloody Oath, Mate"
Weird, wonderful, and wild is the name of the game while backpacking Australia! There are a lot of adventurous things to do in Australia, but if it doesn't feel like a uniquely down-under experience, then it ain't on the list! There's things you can only do in Australia. From bushwalking to Mad Maxing to scuba diving the Great Barrier Reef, there's much to explore.
Just a warning: you might wanna grab an English-Aussie-English dictionary or the nearest hot Aussie for this wild ride. By the end of this list, you'll be perfectly fluent in the tongue of the down under – in more ways than one, if your dictionary was in human form.
1. Vanlife and the Great Australian Dream
Long before solar-power panels and proverbial van-sions, there was a simple sub-breed of Australian. They'd endlessly roam the Australian coastlines living in beat-up Kombi vans and subsisting on government handouts. And thus, a great Australian tradition was born—travelling by way of vanlife.
These days, it's a dream shared by many, from the bright-eyed and bushy-tailed backpacker clan right through to the wizened grey nomads living out their twilight years in nomadic bliss. Some of the best of Australia can be experienced from the back of a van:
Banging to sunset on the West Coast.
Banging to sunrise on the East Coast.
Banging.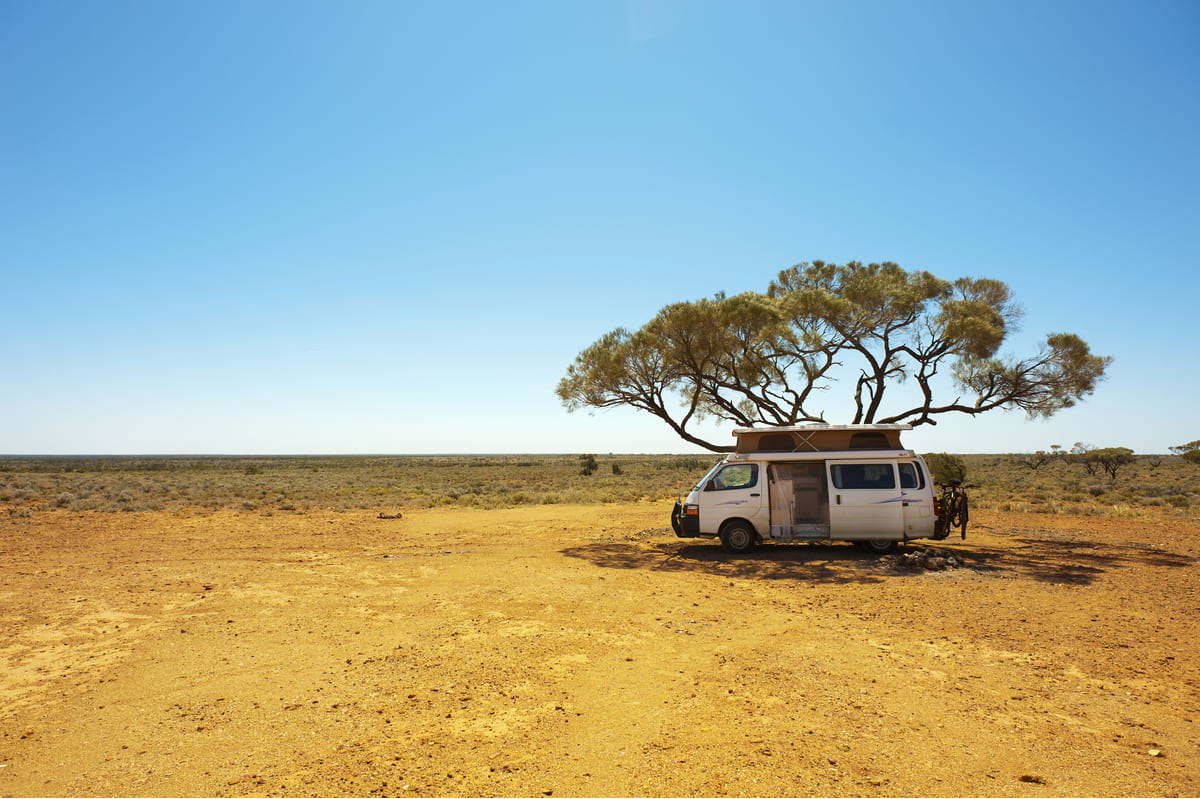 Vans are plentiful in Oz, however, good deals can be more scarce. Generally, if you're in a rush, you're either gonna find a barely-running backpacker-mobile or an over-valued and unconverted tradie van.
Instead, for the short impromptu road trip, van rental is the way to go! Rego, papers, and all the annoying stuff is already done for you. She'll already be kitted out for the outback adventures; just buckle up and Bob's your uncle!
There are heaps of rental services in Australia, but I recommend Wicked Campers every time. Many grand Aussie adventures and sordid afterparties have occurred in Wicked's campervans over their two decades of history.

Do You Want to Travel FOREVER??
Pop your email in below to get a FREE copy of 'How to Travel the World on $10 a Day!'.
2. Crossing the Continent: A Rite of Passage
Van or not, driving right across the big mama-bo-jama is the absolute classic Australian adventure! And what an adventure—have you seen how big it is? Start on one side, aim for the other, and anything that happens in between is the adventure!
There is no shortage of spectacular drives in Australia. Linking any number of them to make your own transcontinental trip across that hunk of landmass is a damn sure-fire adventure! You just gotta choose your route.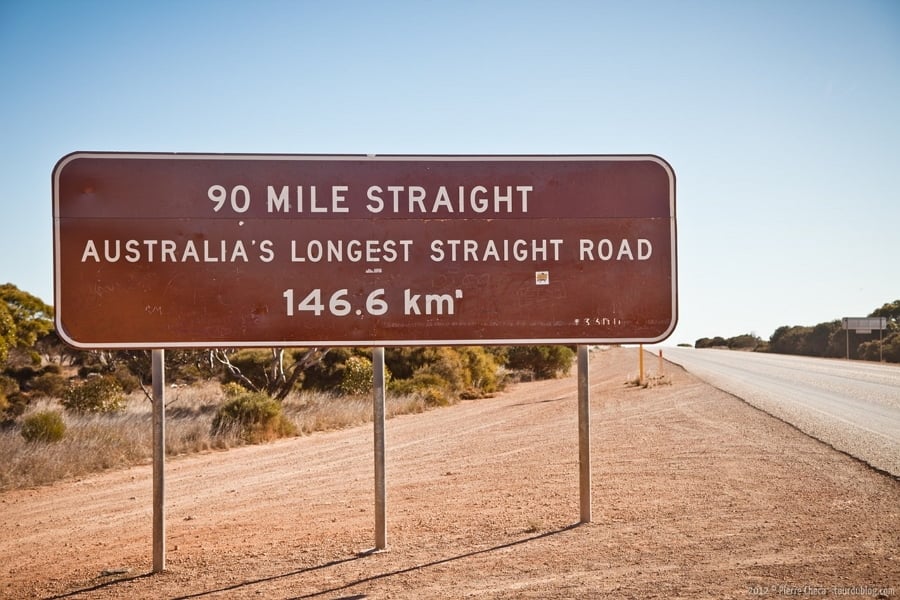 You can follow the Great Ocean Road through Victoria, leading to Port Campbell National Park and the iconic Twelve Apostles, before embarking on the quintessential crossing of the Nullarbor Plain for the full coastal gravitas. Or, you could cut up to the Oodnadatta Track in northern South Australia – one of the top things to do in South Australia – for the rural greatest hits. Follow this up with a further diversion to Alice Springs, Uluru, and Australia's crimson centre.
It doesn't matter how you do it, just as long as you do it! You can't say you've travelled Australia until you've driven six days in a straight line through the Outback with only the roadkill for company.
3. Gone Walkabout – Best Adventures in Australia's Hiking Trails
If you really wanna get wacky, ditch the car! That's when you really start to lose your mind. The roadkill even starts to talk back after a while! There are some great trails for beginner hikers although some of these treks are not for the faint of heart.
From the first men to the swagmen, going bush and just… losing yourself… is a time-honoured Aussie adventure. As my cuz said following his 57-day trek along southwestern Australia's Bibbulmun Track:
"When you're out there bushwalking, you bushwalk. You wake up and bushwalk, and while you bushwalk, you talk about bushwalking. At night, before sleeping, you reflect on the day's bushwalking and plan tomorrow's bushwalk.
…And then you dream about bushwalking."
As long as you've got the right backpacking gear for the job, then there are limitless opportunities for bushwalking in Australia. Little walks, big walks, juicy walks, and the real sluggers that'll send you loopy:
| Hike | Length | Where? | Deetz |
| --- | --- | --- | --- |
| Bibbulmun Track | 1,003 kilometres | Southwest Western Australia (Perth to Albany) | Most people aren't as insane as my cousin and prefer to tackle this behemoth in sections. Each section ends with a campsite ready for hikers! Packed into these 1,000 kilometres of madness is some of the best examples of Australian bushland . |
| Larapinta Trail | 223 kilometres | Northen Territory (Alice Springs to Mount Sonder) | The Larapinta Trail follows the West MacDonnell Ranges offering insane samples of central Australia's arid landscape. It also intersects with numerous sacred Aboriginal sites offering insight into the cultural history of the landscape. |
| Overland Track | 89 kilometres | Tasmania (Cradle Mountain-Lake St Clair National Park) | Mmm, Tassie. Tassie is a goddamn gem. The Overland Track is a fantastic example of that beauty, however, it's also crazy popular and it's generally a good idea to book in advance. |
| Kings Canyon Rim Walk | 6 kilometre circuit | Nothern Territory (Watarrka National Park) | I gotta throw at least one day hike at you, and this is one of the most popular in Australia! It's a worthy sidetrip for anyone visiting Uluru to see some more of Australia's outdoors that just boggles the mind. |
4. Get Outdoors – Exploring Australia's National Parks
I just got done writing the roundup of Australia's best national parks. That just means that now I'm loaded up on all kinds of random trivia on Oz's nature!
Like… did you know that the Greater Blue Mountains Area—incorporating seven national parks and one conservation area—is roughly one-third the size of Belgium?
Or that Fraser Island is the World's biggest sand island?
Or that one of the oldest ever examples of a ritual burial was discovered on the barren shores of New South Wales's Lake Mungo? (He was holding his dick; apparently that counts as ritualistic. I just call that bedtime.)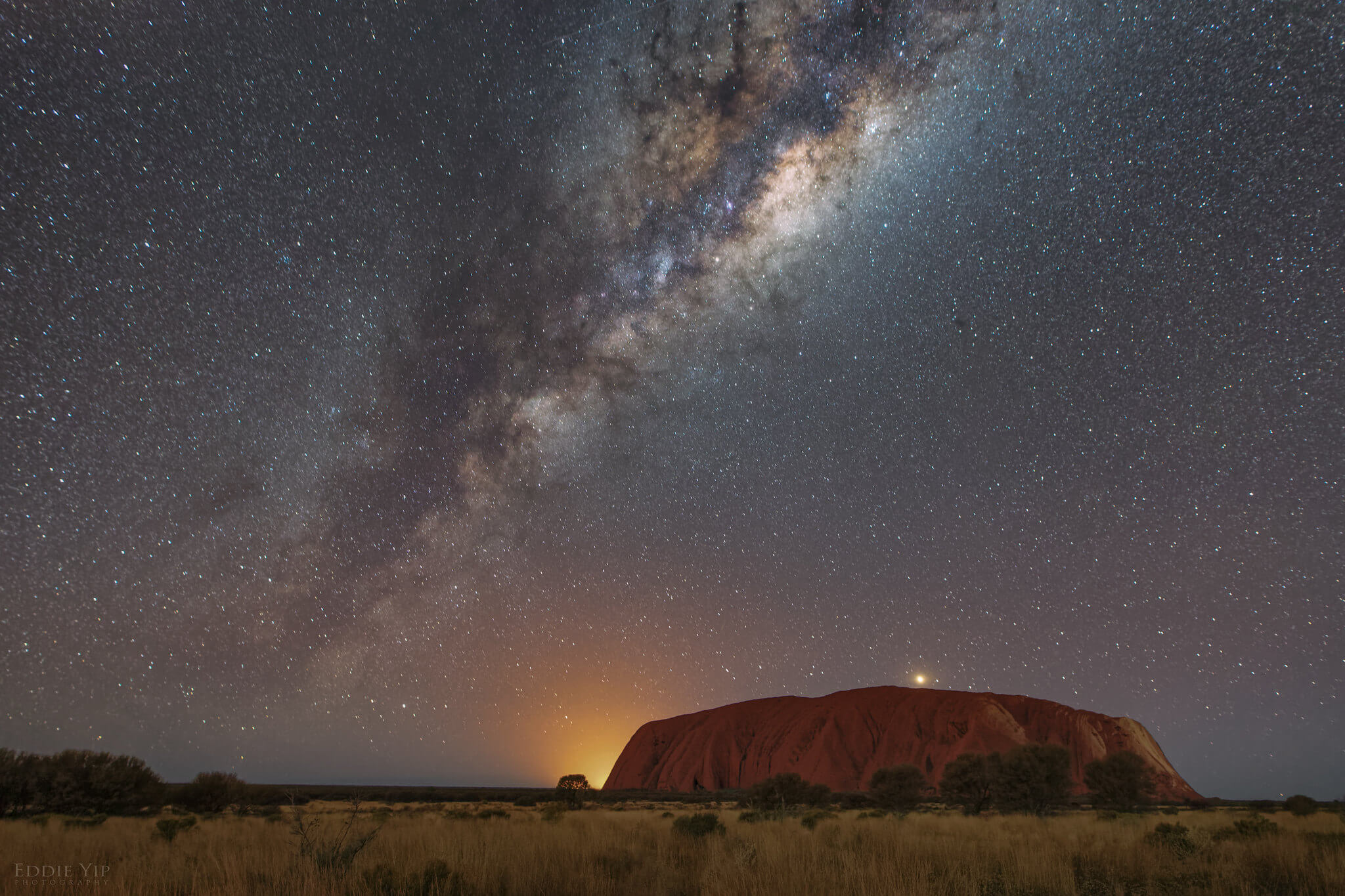 Anyway, enough deliciously nerdy trivia that's guaranteed to catch you some spunky sheila's (or cuddly bloke's) eye down at the pub! One magical image and you're already sold on the irreverent majesty of Australia's outdoor playgrounds. Whether you're hiking, mountain biking, rock climbing, or just driving up to the best sights, national parks in Australia are always a worthwhile stop.
Here are my top picks by state:
New South Wales – Blue Mountains National Park
Queensland – Daintree Rainforest
Victoria – The Grampians (bonus points for calling them 'Gramps')
South Australia – Simpson Desert
Northern Territory – Kakadu National Park
Western Australia – Nambung National Park
Tasmania – Cradle Mountain-Lake St Clair National Park
5. Mad Max, Eat Your Heart Out – The Best Australian 4×4 Trips
Some of the most beautiful places in Australia are spots that you won't be able to access without a little more torque in your fork. There's also no shortage of unsealed roads out back that you'll simply just not be forked with unless you're packing off-road capabilities!
Heading out bushbashing in a 4WD is another classic thing Australians do for fun. Now, while they usually do so very high or very drunk (or very both), they're trained professionals in the art of insanity. Instead, you'll be revving up sober with plenty of water, prep, and sexy, sexy backpacker insurance.
And once you're out there, what do you find? It's a theme park, man.
From deep-cut cavernous gorges to the rolling red dunes of the desert expanses. The national parks, the spaces between, and the entirety of Western Australia—welcome to the Thunderdome.
The Gibb River Road is an essential 4×4 adventure in Australia's unreal Kimberly Region exploring some of the best assets of outback adventures in Australia. It's popular and thus busy.
Instead, the Canning Stock Route is a meaty challenge for anyone looking for something really remote to sink their teeth into. The Victorian High Country is another winner and a significantly shorter drive presenting something very different to the sights of the Outback.
6. Really Going Down Under – Scuba Diving in Australia's Waters
Man, we're six entries in and we still haven't talked about the beaches, the draw of any island paradise…
That's because Bondi Beach isn't an adventure! You sit there, get a sandy bum, and perv on other sandy bums. No, the real adventure is what lies beneath.
Ever heard of the Great Barrier Reef—the world's longest stretch of coral reef, a World Heritage site and one of the World's best places to dive? At roughly 2,300 kilometres long, it traces nearly the entire length of Queensland's eastern coast: it's a whole other world of colourful marine life, tropical fish and oceanic peace down there.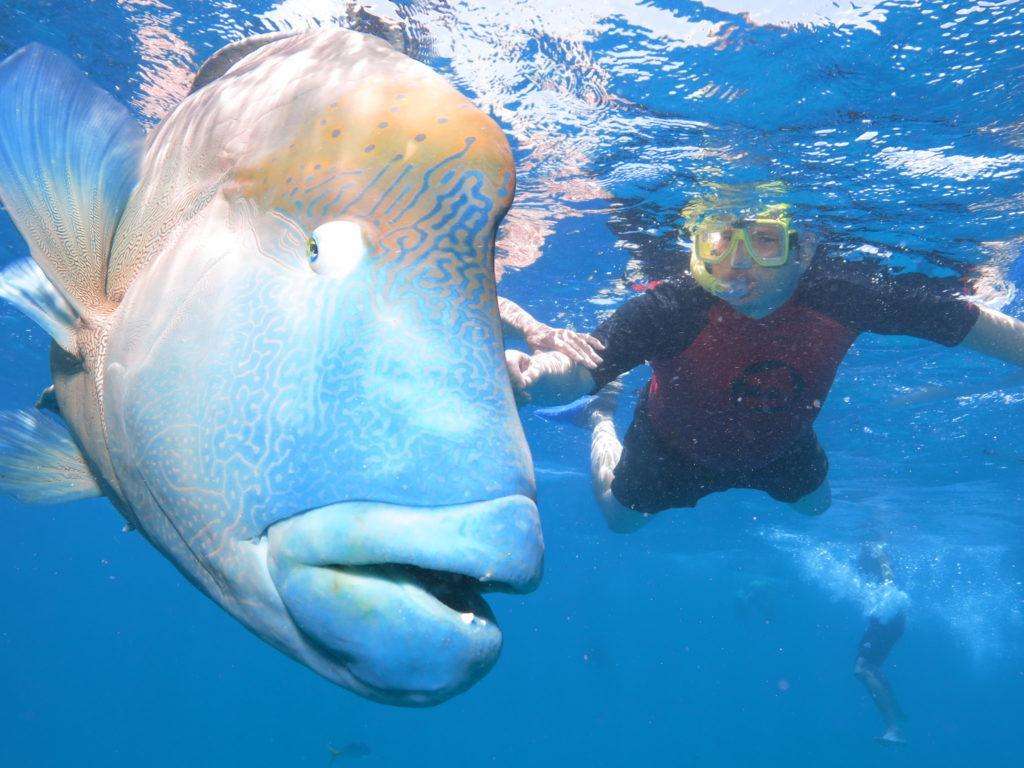 There are spectacular scuba diving territories to explore right down the Queensland coastline. Anyone visiting Cairns, Townsville, or Port Douglas is going to be inundated with a multitude of killer scuba sites to play in. It's not just about Queensland's tropical azure blues either!
Ningaloo Reef over in Western Australia is a golden opportunity to dive with an incredible variety of marine life, including whale sharks. Or better yet, get off mainland Australia to Christmas Island or Lord Howe Island for something really untouched.
Although already a magnificent diving destination, realistically, Australia is also one of the best places for a liveaboard trip in the world. Massive regions of gorgeous dive territories and endless lengths of coastline to trail just means that living on-site at the dive site is the perfect adventure vacation in Australia.
Eat, sleep, dive, repeat is the name of the game! Don't miss out: get yourself booked on a liveaboard trip and go see just how unfathomably gorgeous the Great Barrier Reef really is!
7. Grommet to Grouse – Livin' the Surfie Life
Ok, I lied: there are definitely awesome adventures in Australia to be had on those heavenly strips of sand. A beloved recreational activity in Australia for locals and foreigners alike, surfing is one of the top things to do in Australia for all skill levels! The real adventure, however, is livin' the life.
Much like those barmy bushwalkers and their penchant for pedestrianism, surfies live, breathe, and sleep-carve the waves! Wake up (probably in a van), surf, big breakfast, snooze, surf, a joint, another snooze, an arvo surf… The only difference is that surfies get a root wayyy more often than their bushwalking brethren.
There are worse ways to spend your gap year in Australia.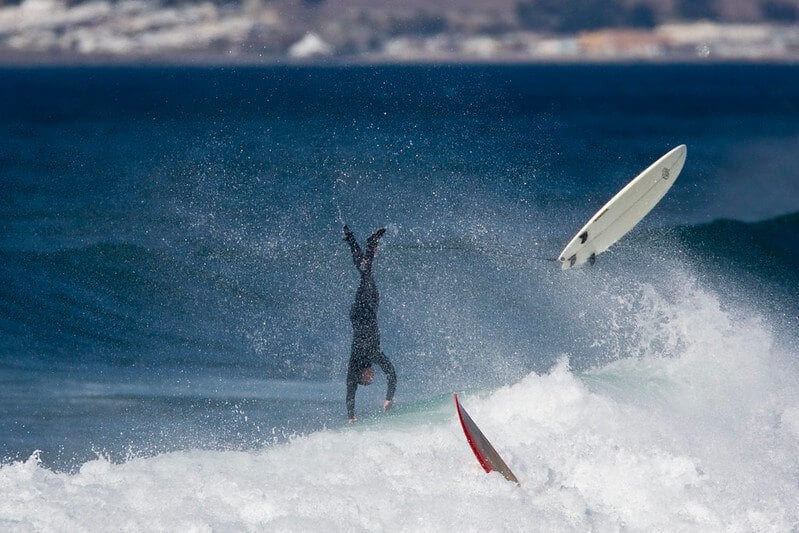 A surfing holiday around Australia's gnarliest breaks is one of the best Australian trips you can take. The hedonistic east coast experience—Cairns, the Gold Coast, Surfers Paradise, or the tried-and-true backpacker haven Byron Bay—is perfect for anyone looking to mix their surf-lifestyle with the booze-and-babes of coastal life. Surfer towns are some of the epicest places to visit in Australia.
However, for the true carvers hunting the sickest swell, head over to the Margaret River area on the west coast. The waves just get bigger and the tides wilder (provided you don't mind sharing the water with a few great whites). Keenest surfers should check out Bell's Beach in Victoria, the location of the annual Rip Curl Pro event.
Small Pack Problems? 😉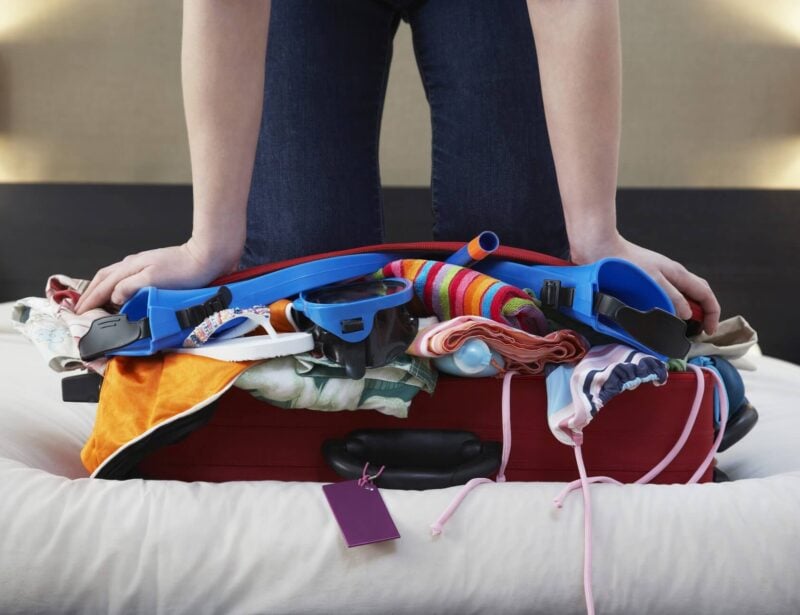 Wanna know how to pack like a pro? Well for a start you need the right gear….
These are packing cubes for the globetrotters and compression sacks for the real adventurers – these babies are a traveller's best kept secret. They organise yo' packing and minimise volume too so you can pack MORE.
Or, y'know… you can stick to just chucking it all in your backpack…
Get Yours Here
Read Our Review
8. Party Like a Feral!
Outdoors, shmoutbloors—not all Australian adventures have to take place under the sweltering sun! Ozzies have rightfully earned something of an international reputation for sticking just about anything in their mouths. (Not like that; get your mind outta the gutter, mate!)
There will always be clubs, pubs, and trashbags littering the streets of Sydney, Melbourne, and the Gold Coast as you wade your way through the most epic backpacker hostels in Australia. But the real parties don't happen in neon-swathed city-dens. They take place outside—in Australian outdoors shmoutbloors!
Yes, I'm talking 'bout doofs, kay? Those wonderful bass-induced hippy throwdowns of psy, dub, glitch, and bud.
Rainbow Serpent is probably the biggest festival in this style, but it's hella mainstream and trash-vibes. Head to Queensland for the real stellar opportunities for a solid dugga beneath the Milky Way. From multi-stage madness down to grimy one-stage fun and even Oz's regional burns, things are gonna get weird!
Even without doofs, follow the alternative trail in Australia for a bit and you'll quickly stumble upon some ragers. The ferals know how to get loose, and amongst them, Ozzies are some of the loosest cannons, with booze flowin' and bud blazin'.
There are plenty of more traditional music festivals in Australia too which are well worth checking out (the Byron Bay Bluesfest jumps to mind). It's truly an experience for solo travellers in Australia. However… You haven't partied in Oz until you've doofed.
9. Shouting Out the Best Adventures in Australia for the Indoors Lovers
What are you doing outside getting fresh air and being a sunkissed, vivacious soul! Don't you know that we have air-con in Australia?
The concrete jungle still offers the adventure-seeking traveller some cool places in Australia to explore. They may not be heart-pounding, or jaw-dropping, or even titty-titillating, but these little smatterings of Aussie culture offer an adventure in of themselves: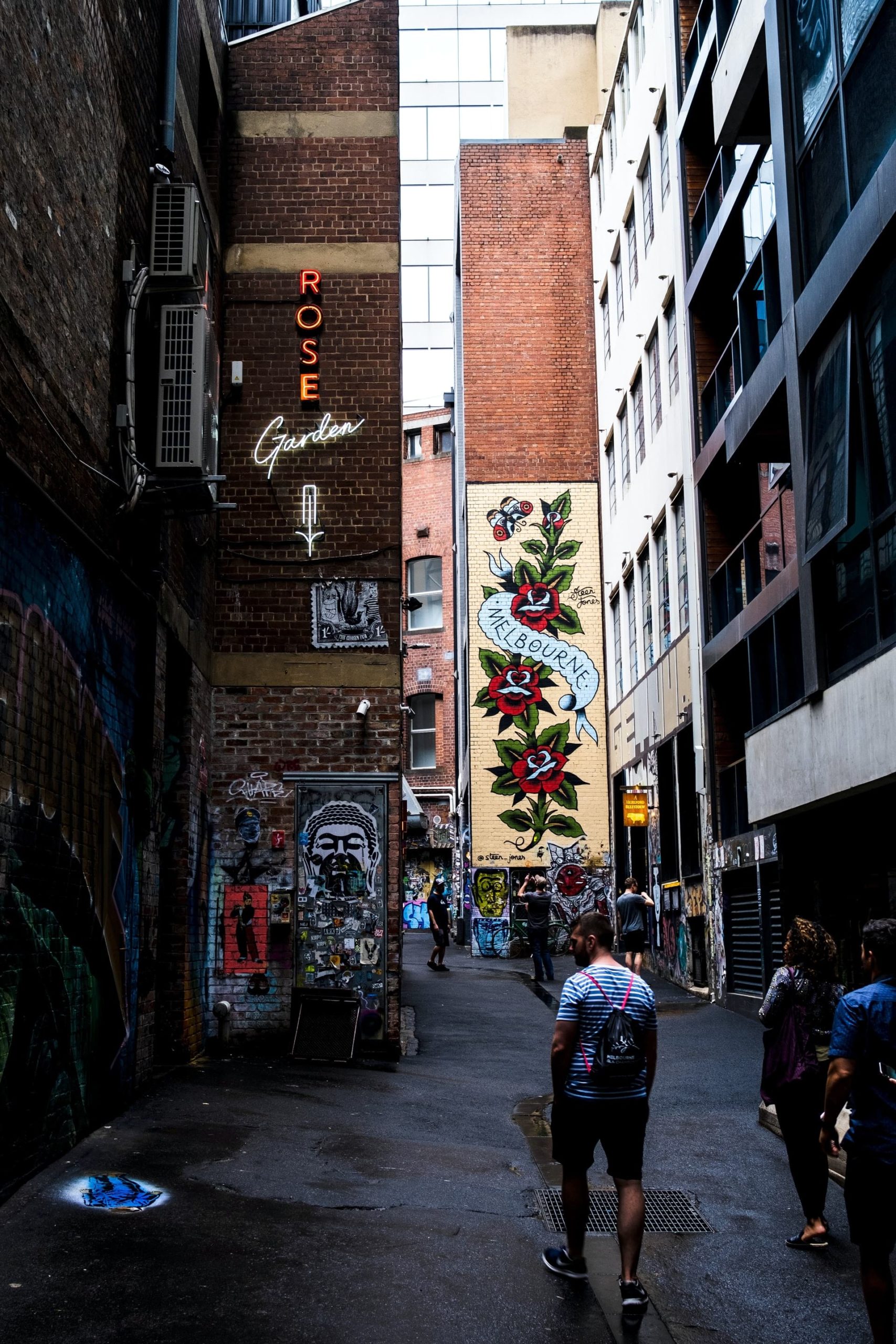 Melbourne's Laneways – Melbourne is Sydney if Sydney was cool and nothing projects that more than it's laneways. Winding alleyways of street art, velvety jazz lounges, and chic hole-in-the-walls are a defining feature of Melbourne. Yeah, sure, it's a bit wanky, but that's the point of travelling to Melbourne.
Museum of Old and New Art (MONA) – Hobart is Melbourne if Melbourne didn't try so hard to be a cool Sydney. While it's already a hive of more low-key cultural goodness, the MONA amplifies this through insane exhibitions that put the other capitals' galleries to shame. It's been described as a "subversive adult Disneyland", and that fits it to a tee.
Breweries, Wineries, and Booze – Australians drink a lot. All over the country, you're going to find fantastic breweries—garage, craft, and big-time—as well as some world-renowned wine regions. As an Australian that doesn't drink (shh, don't tell anyone—they'll deport me), I ain't no expert. That said, I do know that every time my parents go to Mudgee or the Hunter Valley, they come back with about 40 bottles of wine.
Aboriginal Ceremonies – Often, Aboriginal performances of traditional ceremonies (dances or smoking ceremonies) will pop up at events. They are definitely always worth hunting out for an insight into the first Australians' culture. I saw a performance by Bangarra Dance Theatre once and that was absolutely phenomenal.
Is This the Best Backpack EVER???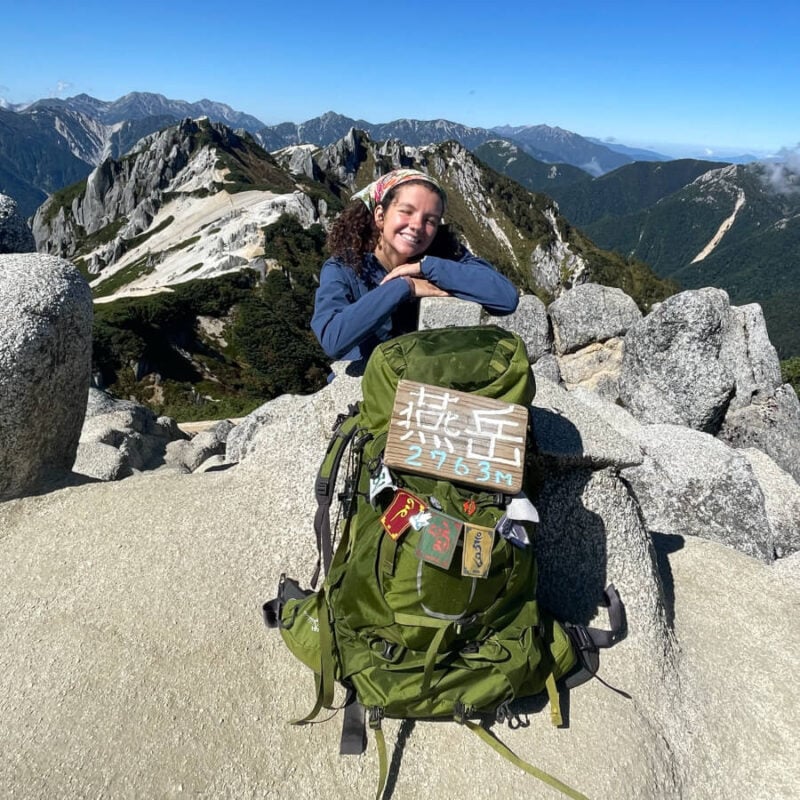 10. Shouting Out the Best Outdoor Adventures in Australia
Annnd now we're going the opposite direction! Get out of the stuffy air-conned galleries you nerd! There's hectic shit to do: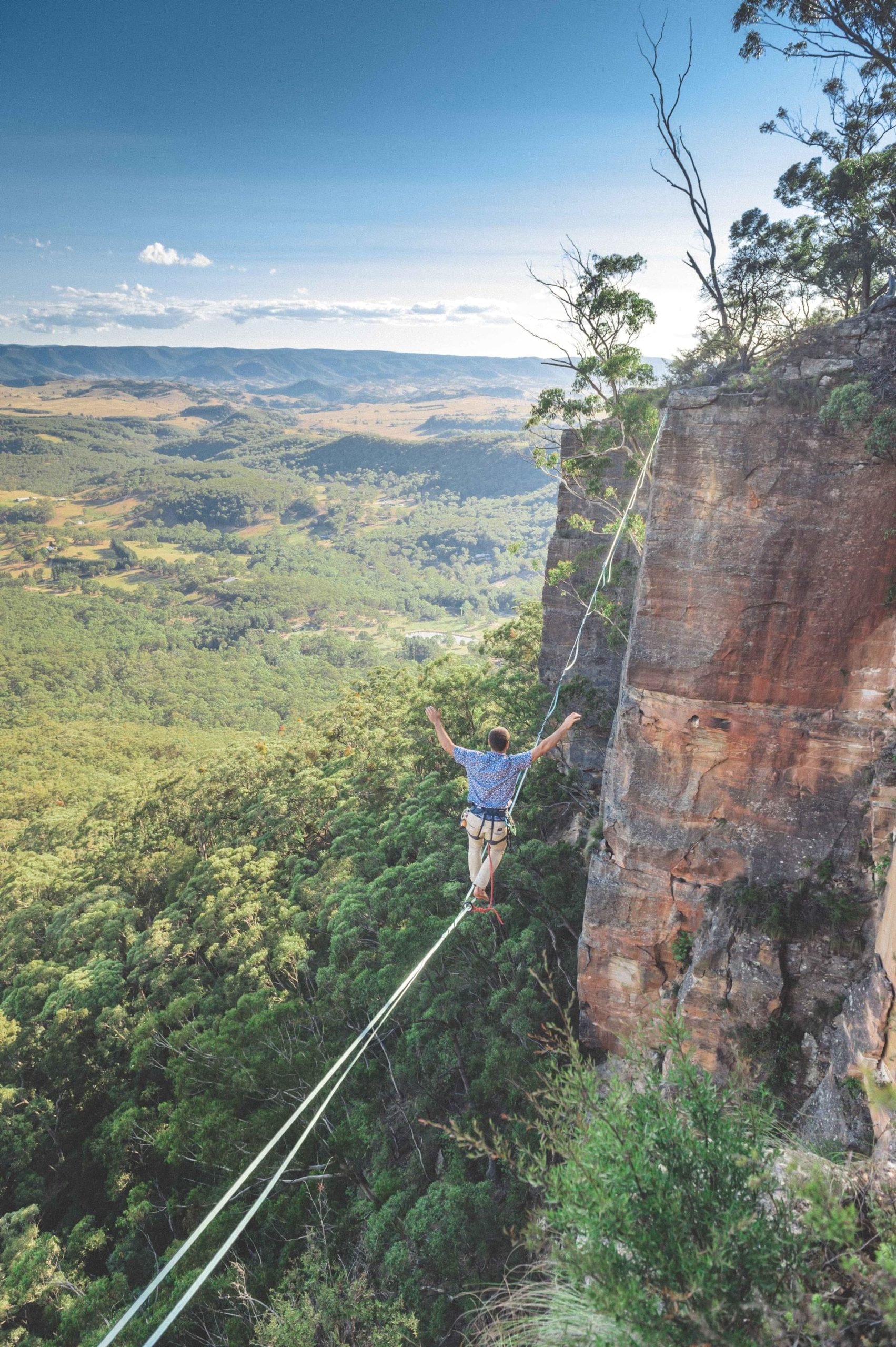 Skydiving – I'm not sure that there's really a wrong place to skydive in Australia. Still, I betcha didn't know you could skydive over Uluru! You're capped at a maximum of 12,000 feet, but what's a few thousand feet when you're skydiving above the scarlet sands of Central Australia? Another popular spot is Rainbow Beach.
Bungee Jumping – Stay in Cairns for this. Cairns is more-or-less the Queenstown of Australia with all the delicious adventure travel offerings.
Abseiling – I mean, anywhere there's steep cliffs you can do this! The Blue Mountains National Park is perfect for it though. Combine your abseiling adventure with canyoning and rock climbing for something truly memorable.
White Water Rafting – Both the Tully River and the Barron River are very respectable choices. They're year-round hotspots for rafting with a wide selection of rapids available. It's also close to Cairns; so, yeah, pretty much just go to Cairns. Cairns is one of the best places for adventure travel in Australia.
Getting Pumped on Visiting Cairns?
Good! You should be.
As far as adventure tourism in Australia goes, you won't get it much better than Cairns. Check out some of the dope offerings for mad shenanigans that the city provides!
11. Meet the Traditional Custodians of the Land
Perhaps you've heard of the Aboriginals? These guys were the OG Aussie adventurists carving trails across the monolithic landscape long before the Poms showed up and started lopping trees, building fences, and just being all-round buttholes.
You may meet some Aboriginal people in your travels around Australia. Sadly, there aren't as many as there used to be. Through a dark, twisted, and typically colonial past, much of the history and traditions of the Aboriginal peoples have been lost. Still, despite dwindling populations, their culture lives on.
So for a grand Australian adventure tour, just pay attention! All around the continent you'll find traces of the deeply-rooted mysticism that define the mythology of Australia's Dreaming and creation stories. Carvings, paintings, tools, communities, and sacred places dedicated to the celestial spirits that birthed this ancient land.
Hell, if you happen to take an actual tour and learn a thing or two from one of the ancestral guardians of Oz, that's even better! You can even take it one step further and go volunteer in Australia on a rural Aboriginal community. You wouldn't be the first traveller I've met to do so.
Whatever you do though, just be cool about it. You're looking at the oldest living civilisation on the planet.
12. The Aurora Australis
This one is an entry from my own personal bucket list for Australia. Travelling to Tasmania should ABSOLUTELY be on your list! Tassie is bombastic: it's a mind-warping Australia adventure all by itself!
But then, all the way down at the bottom of that verdant little isle, there's an even more grandiose journey waiting.
Tassie is one of the most beautiful places in Australia. Don't miss the opportunity and go see Aurora Australis.
There are numerous spots in Tasmania to see the southern lights from, however, for the proper adventure, you've gotta get to the bottom.
Down at the southern strip of Southwest National Park, there are beaches, natural rock pools and steep cliffs perfect for viewing the show.
It'll take some effort to reach, but the drive down from Hobart combined with the trek to the spectral cinema is one of the most unmissable road trips in Tasmania. You're at the southernmost point of one the southernmost habitable places on Earth. And even then, it's really only semi-habitable.
But that's the adventure, right?
Save $$$ • Save the Planet • Save Your Stomach!
Drink water from ANYWHERE. The Grayl Geopress is the worlds leading filtered water bottle protecting you from all manner of waterborne nasties.
Single-use plastic bottles are a MASSIVE threat to marine life. Be a part of the solution and travel with a filter water bottle. Save money and the environment!
We've tested the Geopress rigorously from the icy heights of Pakistan to the tropical jungles of Bali, and can confirm: it's the best water bottle you'll ever buy!
View on REI
Read the Review
13. Riding the Horizontal Falls
This one is a special something. In a country of marvels sculpted by the Gods—devasting sandstone behemoths dominating the skyline, dramatic coastlines fringed by limestone guardians, and the granite-like pecs of Hugh Jackman—the Horizontal Falls were still dubbed by David Attenborough as "one of the greatest wonders of the natural world".
Endearingly nicknamed 'The Horries' (because Australians have a natural aversion to excess syllables), the surge of tumultuous water is caused by breaks in the surrounding McLarty Ranges forming seaward gorges. Located in Western Australia's majestic Kimberly region, you could call these currents 'rapids', but it wouldn't quite do the fearsome beasts justice.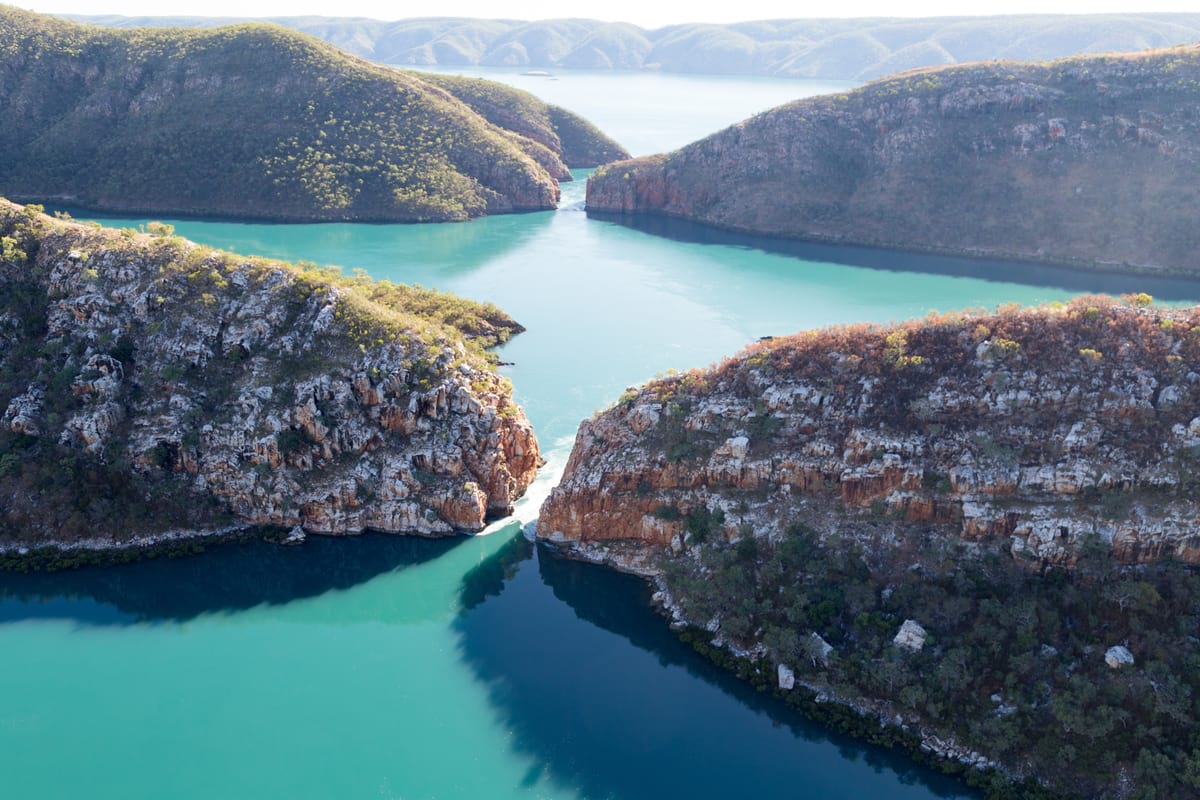 If you're looking for crazy things to do in Australia, this might be your bugle's call.
The seawater builds up to five-metre high walls of crashing whitewater horizontally-pitched waterfalls bursting through the gorges. When the tides change, the direction reverses and whirlpools form.
Surfs up? Strewth.
You've got a few options for visiting Horizontal Falls. A cruise around or a plane above is the safe and boring method. However, this is an article about the maddest and baddest adventures in Australia: of course I'm going to tell you to ride the wave.
14. Australia's Most Beautiful Train Ride – Catching the Ghan
The Ghan—derived from the original nickname 'The Afghan Express'—is one of the most famous train rides in the world. There's been a lot of talk of vans, 4WDs, and walkabouts, but another option for crossing the centre is by way of Ghan to see the best of Australia from the comfort of a cabin.
Taking its name from the Afghani cameleers that helped colonise Australia's unforgiving centre, this once-unreliable-now-luxury locomotive runs the transcontinental journey from Adelaide to Darwin (south-to-north or vice versa) right across the big heaping middle!
You get a choice of Gold Class, Platinum, and the esteemed Chairman's Carriage complete with a personal hospitality assistant… That should give you an idea of just how fancy we're talking! It might just be one of the best train journeys you've ever taken.
No, an Indian sleeper carriage this certainly is not. It's riding in the absolute lap of luxury right through one of the sparsest and most inhospitable regions on the planet. Maybe it's not quite as cool as a camel crossing, but it's a spectacular journey in Australia and an unforgettable experience all the same.
Travelling around Australia sans vehicle? Don't risk having to sit on the floor or change your itinerary because you missed the last ticket at the station! Find the best transport, best time, and the best fare with 12Go. And why not use what you've saved to treat yourself to solid pub feed once you've arrived?
It only takes 2 minutes! Book your transport on 12Go now and guarantee your seat easily.
15. Pub Nights and Piss-Ups
Ah, the ol' local. Nowhere is quite as focal to the Australian experience as the pub. Everyone has a local. You can love it or hate it—probably both—but everyone has a local.
And in rural buttfuck-nowhere Oz, the local pub is king.
You'll have plenty of opportunities for bevvies wi' da boiz (and girls but alliteration) during your Aussie adventures. But the real adventure is to do it somewhere way out back. Somewhere everyone in town knows your name.
Miners, farmers, coppers, candlestick makers all down at the pub. Wasted. With you—the only foreigner in town. Now that's a truly Australian adventure!
For a few places to visit in Australia with old-school pubs and houses of heathenry, check out:
Prairie Hotel, South Australia – A 140-year-old outback powerhouse famed for its 'feral mixed grill' featuring a wide assortment of kangaroo, emu, and camel meat (amongst other delights).
The Pub with No Beer, New South Wales – While the name may seem like a counter-intuitive marketing technique, it worked! Inspiring a classic Australian country tune of the same name, The Pub with No Beer is now a famous watering hole to get a good feed and, yes, duh, a cold one.
The Birdsville Hotel, Queensland – If you're taking a road trip through rural Queensland, on the outskirts of the Simpson Desert is a 130-year-old establishment that drips with everything an old-school Aussie pub should.
16. Parabolic Bliss: Climbing Sydney Harbour Bridge
Y'know, maybe this is a bit overplayed. Compared to a few places on this list, scaling the Sydney Harbour Bridge seems kinda smallscale. But then, the other day I caught the train running across it; as I spied the bridge in the tailing rear-view, I sighed. I legitimately sighed looking at a bridge.
The Sydney Harbour Bridge is kind of special. Looking at it and sighing like a twit is one thing: climbing it is even better. And deffo one of the top things to do in Sydney, Australia.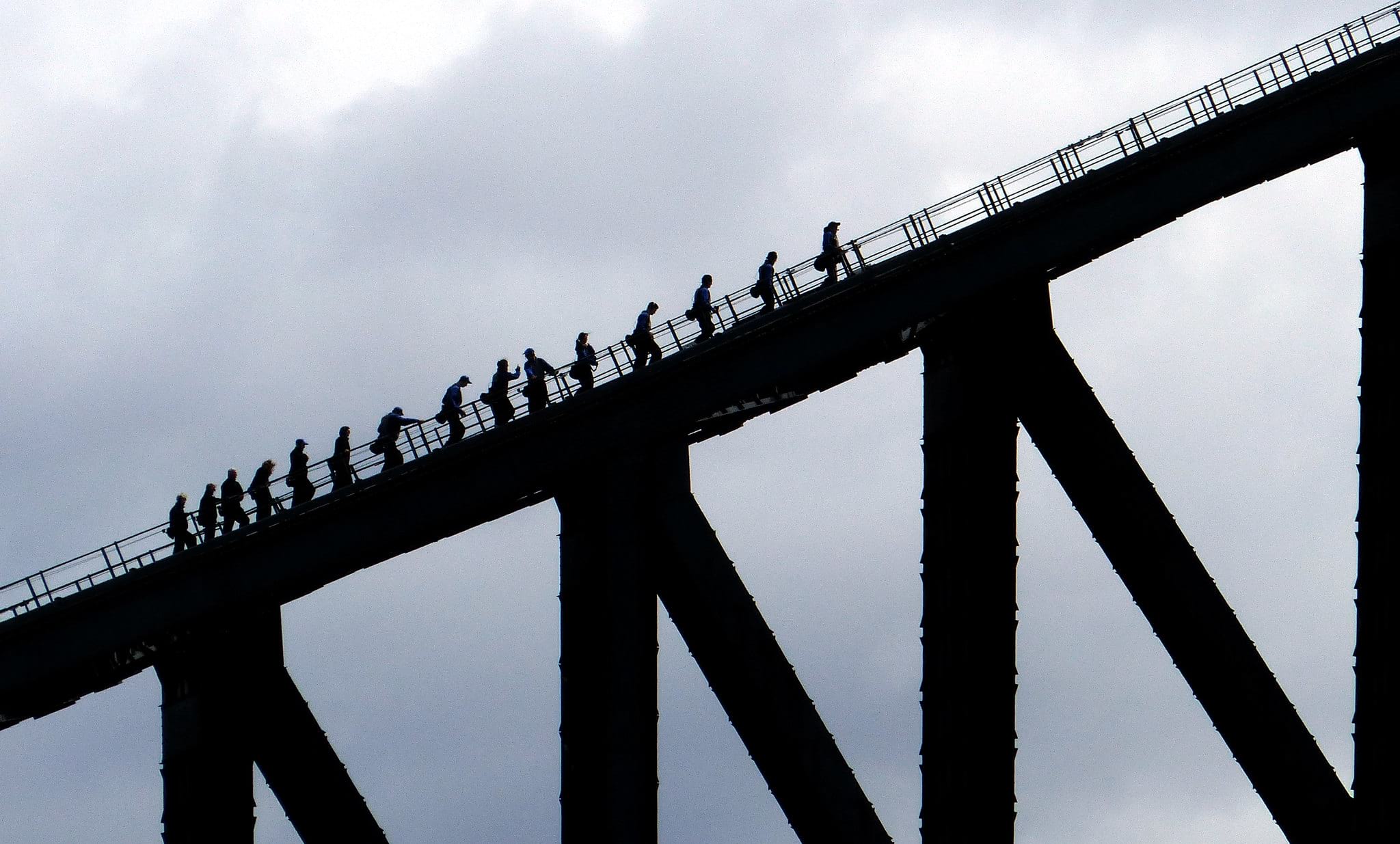 BridgeClimb is the only company taking visitors to Sydney up to dazzling heights, and they've been doing it for yonks now. Taking you up, down, and even back again (if you like), it's safe, family-friendly, and a total blast! The only downside is that everyone has to wear the same ugly jumpsuit killing your photo-ops.
And the view from the top? A total yum-fest. Views over the marina, the ultra-famous Sydney opera house, the botanical gardens… Fiest your eyes and forget about the fearsome drop.
17. Find a Funkin' Platypus
Alright, ladies. This is it. The Holy Grail of Australia's adventures: find the goddamn elusive beast!
Platypuses (yes, I did have to Google that pluralisation) are basically unicorns in a country where our wildlife doesn't look so much like majestic creatures as they do majestic creatures wearing Halloween costumes.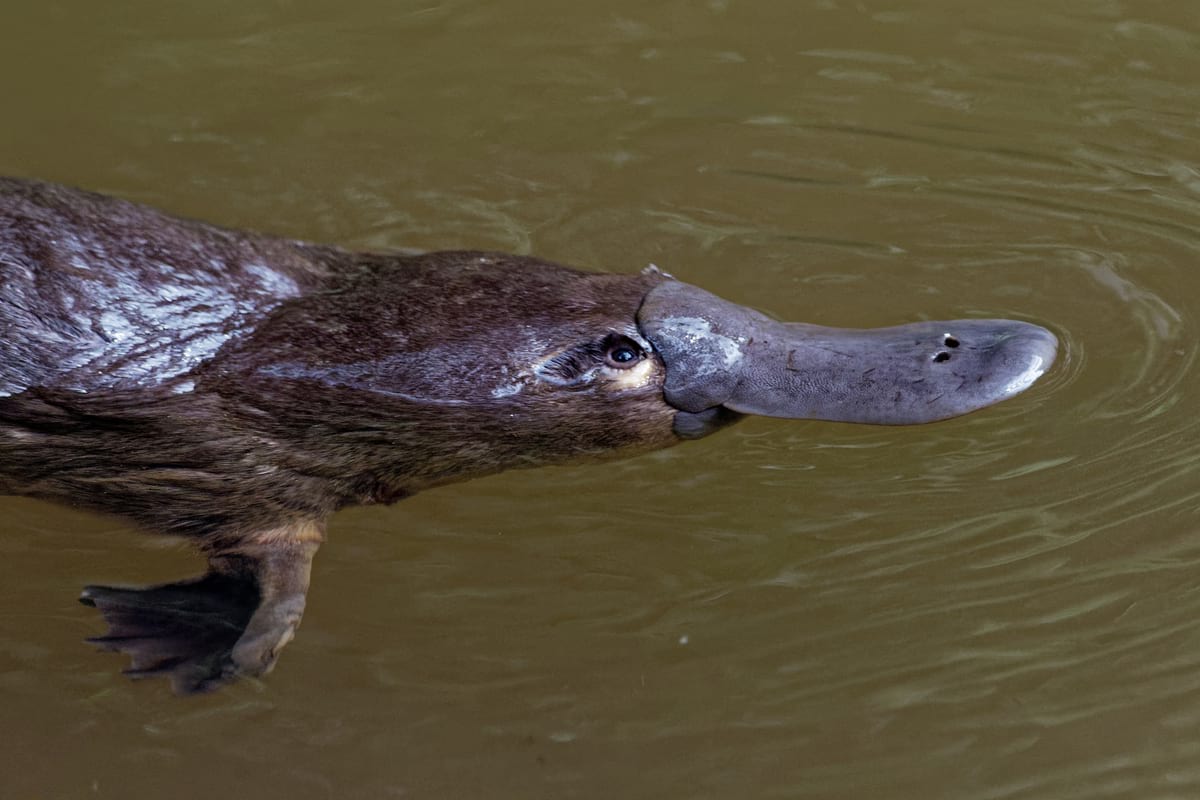 Super rare and hard to find? Check.
Super weird looking? Check-check. (A water-based mammal with webbed feet, a duck's bill, and venomous spines—why not, God?)
HOWEVER, you gotta do this legit. None of the zoos, animal tourism, and yukky shit. Just when you're out there venturing through Australia's bushland, find one in the wild. For real.
Perhaps it's more apt to say that a platypus finds you?
And hey, even if your hunt falls short, bushwhacking the more remote corners of Aussie national parks is still one of the top things to do in Australia.
Have a Crackin' Adventure in Australia… But Stay Safe!
Now that you're totally ready to go do some hectic shit, I'm going to have to mother you for a sec. Sorry, but I just love your face so damn much!
The most beautiful places in Australia can also be the deadliest. Australian wilderness is not to be trifled with. It's to be enjoyed, soaked up, and gazed lovingly at, however, always do so with your sensibility cap on. Always keep the usual travel safety tips in mind, and then some more.
There's a lot of desolate space, not much water, a sun that'll fry you like an egg, plus 66 venomous species of animals. And of the animals that aren't venomous, most of them can still smoke ya.
DON'T DIE OUT THERE! …Please 🙂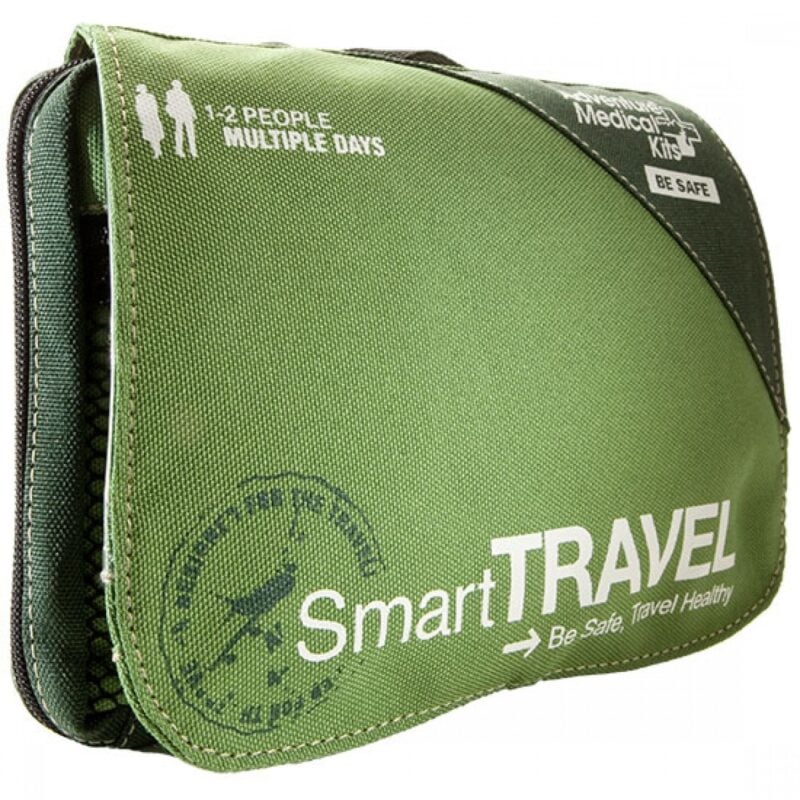 Things go wrong on the road ALL THE TIME. Be prepared for what life throws at you.
Buy an AMK Travel Medical Kit before you head out on your next adventure – don't be daft!
Buy on REI
Step 1: Know What to Pack for an Australian Outdoor Adventure
Standard packing list for Australia travels aside, there are a few things you should never be heading to outback adventures in Australia without:
Water – And plenty of it. You know that whole adage of laying out your packing for any trip and then halving it? Yeah, do the opposite: however much water you think you'll need, double it.
Plan for breakdowns – Tools, motor oil, EXTRA FUEL, a good-quality spare tire (or two), and probably a cuddly teddy bear in case you end up spending a long, lonely night or two out there. I strongly recommend doing some research on packing for an Outback road trip.
Sun protection – You ever wondered why the stereotypical Aussie has sandy-blonde multi-toned hair? It's because the sun's so goddamn strong it turns it blonde… I used to be a brunette!
Always pack big floppy hat, a big-ass bottle of sunscreen, and a little battery-powered handheld fan if you're feeling cheeky. Whatever you do though, remember to slip, slop, slap!
As for actually getting out there into our magnificent nature camping, hiking, and being an all-round badass? Just remember to pack your camping gear and whatever else you usually take on the adventure! For more inspiration, you can check out some of our excellent gear roundups on the topic.
Check out some of The Broke Backpacker's excellent gear posts!
Step 2: Know How to Stay Safe in Australia
Apart from occasionally getting rolled by some two-bit eshay in a derro train station, Australia is pretty damn safe! At least, in the urban-crime area it is.
We do have all those venemous animals though. And crocs. And rugged mountains. And cataclysmic fire seasons…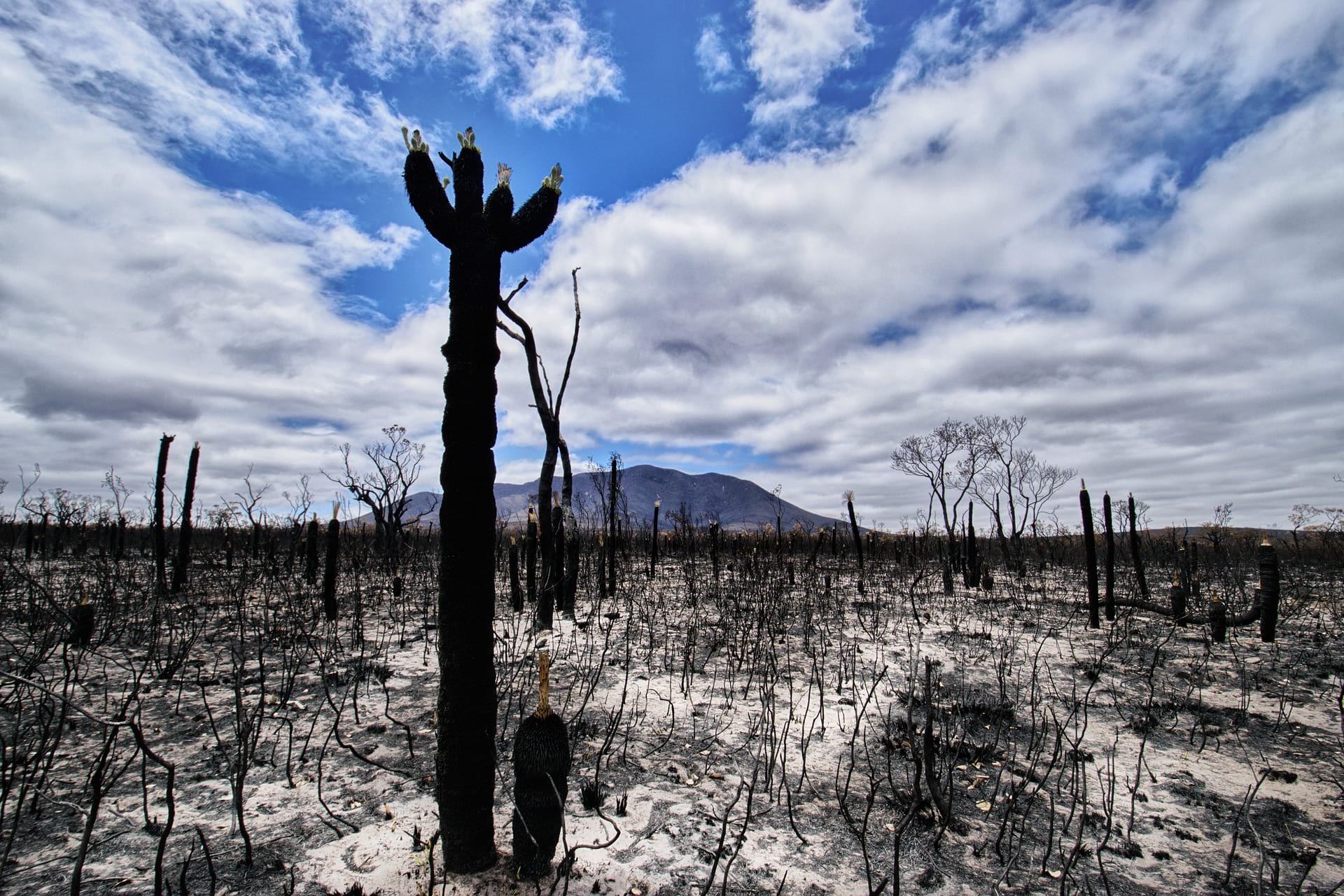 But truthfully, even that ain't so bad ('cept for the fires). The actual stats for snake and spider bites are very low, and usually whenever a tourist carks it, it's because they were doing something stupid. So don't be stupid: key yourself in on how to keep safe in Australia's Outback!
But as a few bonus tips (because I really do like to mother you)…
Always wade into a body of water—don't dive. There are plenty of places you shouldn't be swimming at all, particularly in northern areas. The Kakadu National Park is pretty till you get chomped up by a Croc.
For the rest of our infamous fauna, just keep a healthy distance. Whale sharks are not dangerous but that's not the case for all sea critters. And just in case, read up on encountering snakes.
And bang your boots upside before putting them on! That's a snake and spider thing, too.
Beach safety is also mega-important. Don't be risky, don't be over-confident, and don't swim alone, drunk, or just generally if you're just not very good at it.
Fires are a weird one. If you are lighting a campfire, make damn sure well you know what you're doing. We take our bushfires very seriously.
Sandstone cliffs can and do suddenly give way underfoot. Be wary near ledges.
And, of course, always tell someone where you're going. Your mum, the barmaid at your local, or even the cops. The popo will often supply you with a PLB (Personal Locator Beacon) for any long treks or adventures in Australia's wilderness.
Step 3: Get Insured!
You should always consider travel insurance. Whether it's an adventure in Australia, Argentina, or Antarctica, covering yo' ass with a top-notch travel insurance provider is a STRONG recommendation.
A yowie might snatch ya, a dropbear might drop ya, or a bogan might… well… be a bogan in your vicinity. One way or another, it always pays to be insured!
ALWAYS sort out your backpacker insurance before your trip. There's plenty to choose from in that department, but a good place to start is Safety Wing.
They offer month-to-month payments, no lock-in contracts, and require absolutely no itineraries: that's the exact kind of insurance long-term travellers and digital nomads need.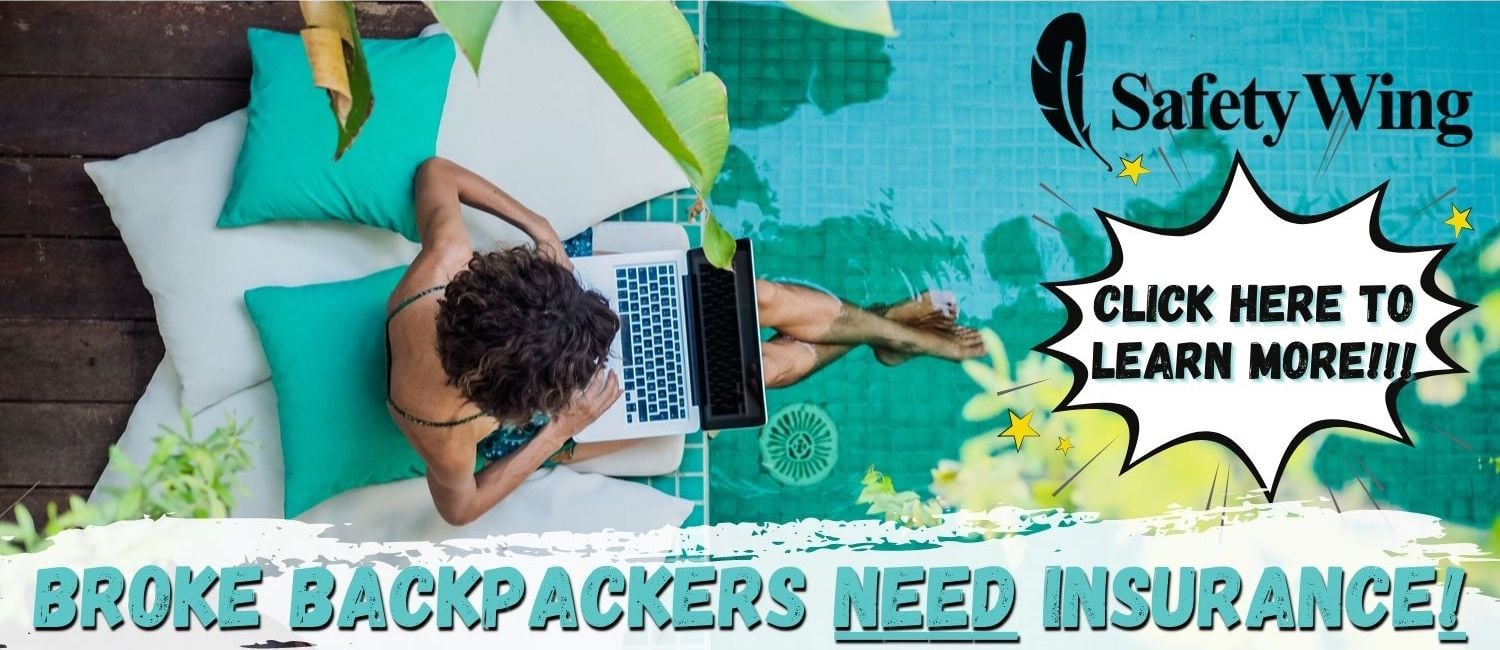 SafetyWing is cheap, easy, and admin-free: just sign up lickety-split so you can get back to it!
Click the button below to learn more about SafetyWing's setup or read our insider review for the full tasty scoop.
Australia Calls and so Does Adventure!
Coooeeeee! Hear that? She's calling.
So pick up the damn phone, you drongo! Adventure in Australia has never looked so scrumptious. The birds are singing, people are always happy to see a new face roll into town, and all in all, this natural beauty's a pretty special place to be.
It took me a long time of travelling to appreciate that. That nowhere else in the world do the gum trees grow quite so big and beautiful and the animals so strange and sublime.
There's a reason that it seems everyone in the world dreams of travelling to Australia. The warm weather and wonderfully high wages certainly help. But really, it's because it's a dream.
It's a dream that down at the bottom of the planet, there's a big, beautiful bubble. A bubble where the conflicts don't go. A bubble where people still smile and greet each other in the street (and will even chuck ya a ciggie despite how crushingly expensive they are).
So whether it's an exploration of the Australian outdoors, a sample of it's quirky indoors, or a complete loss of self in the Outback, soak up the Aussie adventures. She's a true beaut': there's nowhere else in the world with quite so much serenity.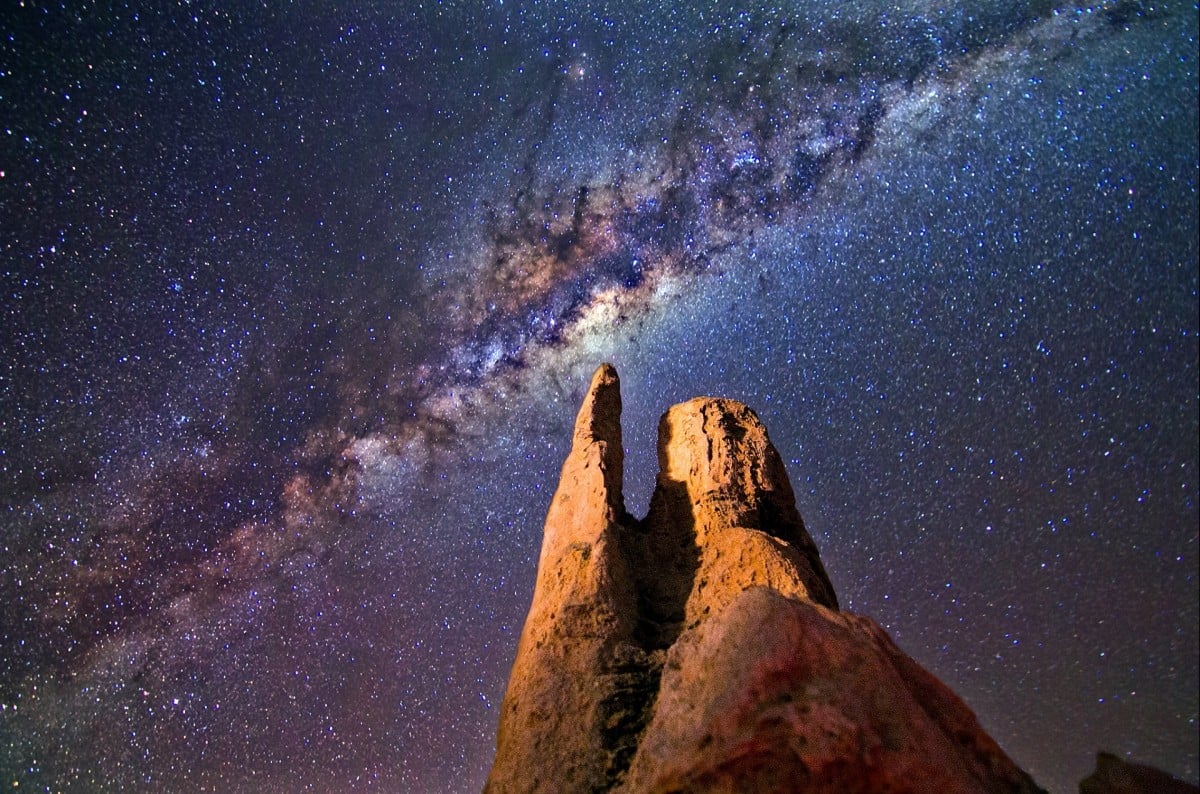 ---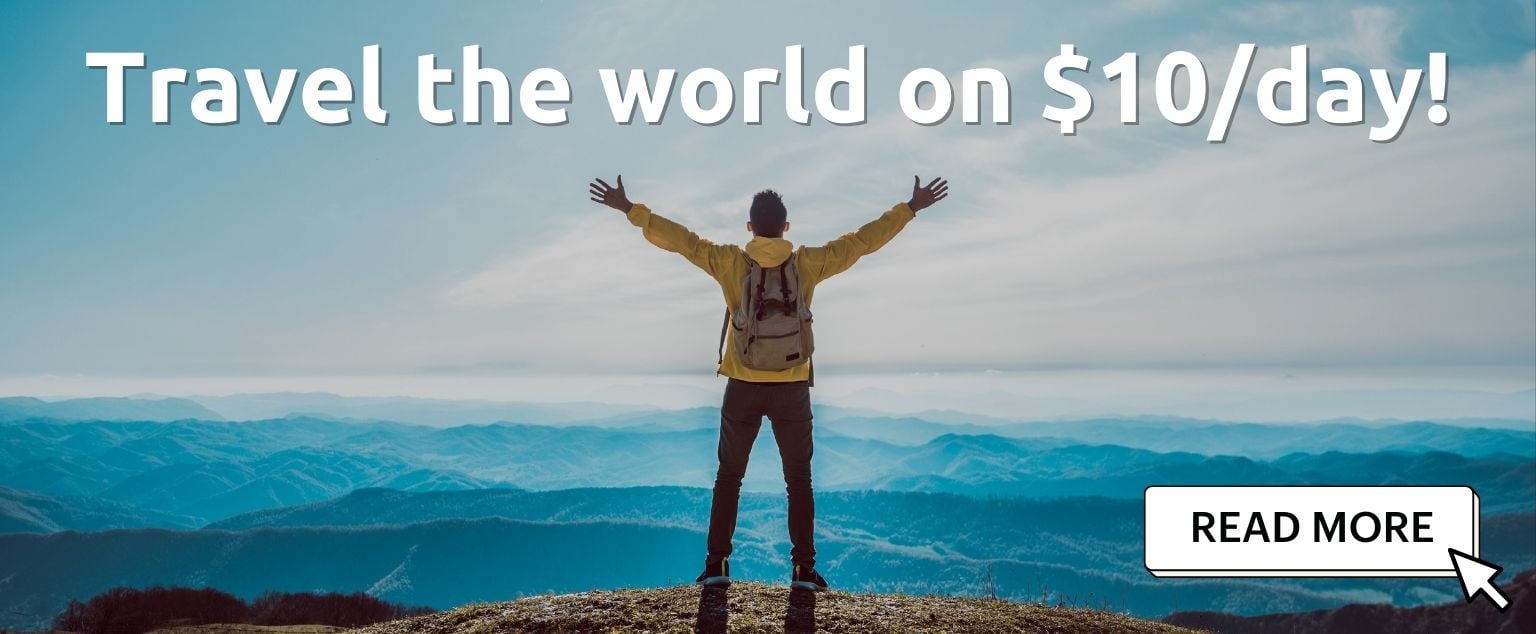 And for transparency's sake, please know that some of the links in our content are affiliate links. That means that if you book your accommodation, buy your gear, or sort your insurance through our link, we earn a small commission (at no extra cost to you). That said, we only link to the gear we trust and never recommend services we don't believe are up to scratch. Again, thank you!