Brisbane is the third most populous city in Australia, giving it a great diversity that adds to the thriving culture so prevalent in the city. Many locals lovingly refer to their city as 'Brisvegas' because of its thriving nightlife scene and the vast expanse of its reach, but its council tagline is "River City".
The city is one of the oldest in the country and was founded in the location of two indigenous settlements. Brisbane is known for its distinct Queenslander architecture, which makes up much of the cities heritage!
While taking your vacation in Brisbane, you'll need to know the very best places to visit in Brisbane, and we're here to help you. We've got all the information you need to plan your Brisbane trip itinerary!
Best time to visit Brisbane
If you're planning a trip to Brisbane, you need to know when to visit Brisbane! Although there is no wrong time of year to visit, there are certain times that will suit your preferences.
If you enjoy warm sunny weather then a visit to Brisbane during its summer season (December – February) is ideal. The city is warm but not crowded, which means finding well-priced accommodation will be a breeze!
If you're looking to go to Brisbane during their peak season (May and June), you can expect inflated prices, but the weather makes up for that! Mild weather and little to no rain means very little interference with your Brisbane itinerary.
Autumn is widely considered the best time to travel to Brisbane because of the mild temperatures, the dwindling summer rains, and the fact that prices have dropped considerably. Here's what you can expect from each month while touring Brisbane!
| | Average Temperatures | Chance of Rain | Crowds | Overall Grade |
| --- | --- | --- | --- | --- |
| January | 26°C / 79°F | High | Medium | 🙂 |
| February | 25°C / 77°F | High | Calm | 🙂 |
| March | 24°C / 75°F | High | Medium | 🙂 |
| April | 22°C / 72°F | High | Medium | 🙂 |
| May | 18°C / 64°F | High | Busy | 😐 |
| June | 16°C / 61°F | Average | Busy | 😐 |
| July | 15°C / 59°F | Average | Calm | 😀 |
| August | 16°C / 61°F | Average | Calm | 😀 |
| September | 19°C / 66°F | Average | Calm | 😀 |
| October | 21°C / 70°F | High | Medium | 🙂 |
| November | 23°C / 73°F | High | Medium | 🙂 |
| December | 25°C / 77°F | High | Medium | 🙂 |
Where to Stay in Brisbane
First up, you need to work out where to stay in Brisbane. While everyone is different and looking for something to suit their personal needs, there are a few areas that we can highly recommend for first-time travelers to the area!
Southbank is perfect for those who don't want to stay in the city center, but still want easy access to it at their disposal. Southbank is located just a 10 – 15-minute walk from the city, and holds beautiful views of the city skyline!
It has a great day and night scenes with a wide variety of pubs, clubs, cafes, bars, and interesting restaurants to explore. You can spend your days ambling along the side of the river, investigating all the best spots along the way!
New Farm is a very chilled out part of the city and is where many of the locals choose to stay. It's still a short distance from the city, so you'll have easy access at all times, but will be surrounded by a very mellow vibe.
There are great theaters, art galleries, restaurants, and cafes to explore, and it proves to be the perfect place to hang out and get to know the locals. The best hostels in Brisbane are actually spread out across the city.
Brisbane is a great place from which to explore the Gold Coast.
Here are the best places to stay, during your trip to Brisbane!
Bunk Brisbane has been known as the best party hostel in the region for quite some time now! With an onsite bar that gets the party started every evening, there's no need to visit anywhere else. Spend your days enjoying their free shuttle service to some of the most famous locations in Brisbane, but be sure to indulge in Bunk Brisbane's free breakfast before you set out for the day!
This contemporary and recently refitted apartment is in the ideal location to help you make the most of your time in Brissy. It's pretty cosy, but comes with high ceilings and a lot of light that add a sense of space. It's slap bang in the heart of the CBD, providing easy access to everything the city has to offer.
Check on Airbnb
The Madison Tower Mill Hotel offers comfortable yet stylish rooms with free WiFi and a magnificent view of the city surrounds. Because of the hotel's convenient location, it works as the perfect place to base yourself near all of the main Brisbane attractions!
The Stamford Plaza Brisbane offers elegant rooms with views over the stunning Brisbane River and Botanical Gardens. The hotel has an outdoor pool, as well as a fitness center to keep you in shape while you're on vacation. They also have four wonderful restaurants to choose from, which all have a slightly different ambiance for every occasion!
Brisbane Itinerary
Getting around Brisbane is an absolute breeze because of its comprehensive network of transportation. While the city is very walkable, and the surrounding areas are too, you may need to make use of public transport to give your feet a break!
The AirTrain is likely the first transport you'll come into contact with, as it's a popular way for travelers to get from the airport to their accommodation.
There is a Cruise Terminal at Portside Wharf, which allows you to board a ship and travel down the Brisbane River. This is perfect for those who aren't in a hurry and would prefer to take in beautiful sites as they travel!
The City Loop Bus is ideal for passengers wanting to travel through the inner city. The City Loop Bus is available from Monday to Friday (7 am – 6 pm) and is perfect for getting from point A to point B as fast as possible! A bus arrives at each bus stop every 10-minutes, which cuts down on waiting time significantly.
Visit one of the cities 150 CityCycle hire stations to pedal your way around the city. This allows you to investigate unique areas and discover hidden gems for yourself!
If all else fails, and you're in a rush, you can always hail a cab, or put your faith in a trusty Uber. However, this is bound to be a lot more expensive than taking public transport!
Now that you know how to get around the city, it's time to start planning your Brisbane itinerary!
Day 1 Itinerary in Brisbane
New Farm Park | Riverwalk | Streets Beach | GOMA | Epicurious Garden | Kangaroo Point Cliffs
On the first day of your Brisbane itinerary, you'll be spending plenty of time in nature, as well as visiting the many Brisbane landmarks that shape the cities cultural scene. If you're spending just one day in Brisbane, here's what you should be getting up to!
Day 1 / Stop 1 – Stroll Through New Farm Park
Why it's awesome:

New Farm Park is one of the most popular parks in the city!

Cost:

Free!

Food nearby:

Bitter Suite is a cute little cafe with outdoor seating that allows you to appreciate the surrounding views. Just a short walk from New Farm Park, it's the perfect place to stop off for a quick take away on your way there. If you'd prefer a sit-down meal, they serve delicious breakfasts and have a variety of vegan and gluten-free options!
Many locals make a point of visiting New Farm Park on a regular basis, as it adds a breath of fresh air to their lives. The green rolling lawns are perfect for an early morning picnic, but exploring this park is a great idea in the early morning as you're bound to have the place all to yourself!
Enjoy the blossoming flower beds, appreciate the public artworks or watch as boats float gently down Brisbane River. Grab a pastry and an early morning cup of coffee at a nearby bakery or coffee shop, and head to the park for sightseeing while taking in the beautiful, natural surrounds!
Insider Tip: If you decide to take an evening trip to New Farm Park, it's good to know that alcohol is permitted, so taking along a bottle of wine to enjoy with the view is a great idea!
Day 1 / Stop 2 – Participate in the River Walk
Why it's awesome:

The Riverwalk is a permanent pathway that runs alongside the river and leads all the way from New Farm to the CBD.

Cost:

Free!

Food nearby:

Botanica Real Food is the perfect place to stop off for a healthy bite to eat after your walk. You'll find plenty of vegan and vegetarian dishes, as well as a variety of unique healthy dishes. There's also a lot of treats like donuts and cake slices.
The 870-meter long Riverwalk contains a pedestrian lane, as well as a cycling lane, to ensure everyone gets enough space on the path. It runs all the way from New Farm to the CBD and is a beautiful way to get from one place to another!
You'll see views of boats floating peacefully down the river, and enjoy the company of locals going for their morning jog or stroll.
Unfortunately, due to flooding, the riverwalk was washed away in 2011, but has since been rebuilt and is back in tip-top shape!
Insider Tip: If you're visiting Brisbane in the summertime, be sure to do the river walk in the early morning to make sure you're escaping the full power of the sun.
Day 1 / Stop 3 – Visit the Beach in the City
Why it's awesome:

Streets Beach is a unique, beach-style lake in the middle of the city.

Cost:

Free!

Food nearby:

Vapiano Albert Lane is a quaint Italian restaurant, that's the perfect brunch spot in Brisbane. Just a short walk from Streets Beach, you can indulge in anything from pasta and pizza to salads and smoothies!
Streets Beach is completely unique, due to the fact that it is placed in the middle of the city. It's Australia's only man-made inner-city lagoon, and is absolutely stunning! Crystal clear waters are surrounded by white sands and palm trees that make this lagoon feel like a tropical paradise.
It's the perfect place to spend the afternoon basking in the sun or enjoying a picnic under a shady umbrella. Streets Beach has become an absolute hit amongst the locals, so expect the beach to be packed, especially in warmer weather! If you are visiting Brisbane on a weekend then the beach can get very busy.
Insider Tip: If you'd like to avoid the crowds, be sure to get to Streets Beach early on in the day before the crowds descend on this popular location.
The Best Travel Backpack?!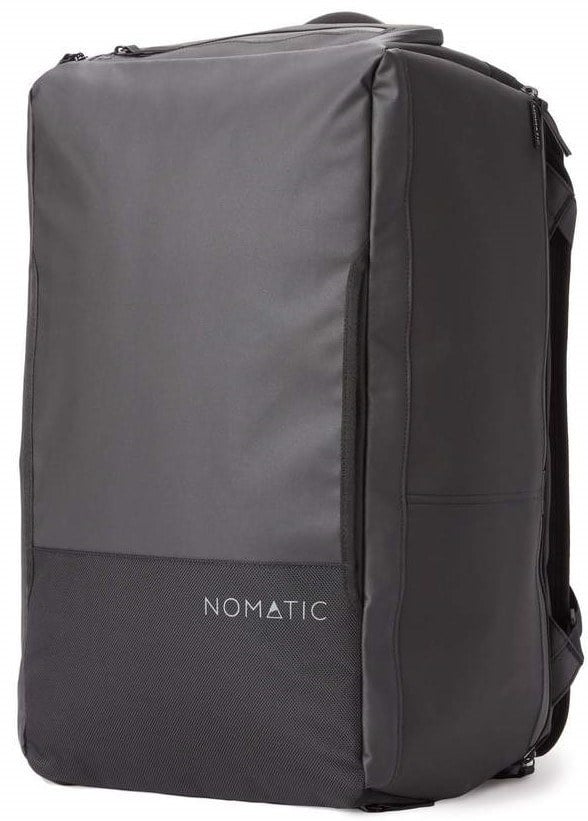 Pssssst! Not picked the perfect travel backpack yet? The Broke Backpacker team has tried out over thirty backpacks this year! Our favourite carry on backpack is the Nomatic Travel Bag.
Read our full review!
Day 1 / Stop 4 – Wander Through GOMA
Why it's awesome:

The GOMA consists of two galleries – The Queensland Art Gallery, and the Gallery of Modern Art.

Cost:

Free!

Food nearby:

Julius Pizzaria is the perfect place to stop for a mid-afternoon lunch. Whether you feel like a full pizza or tapas and dessert, this delightful restaurant has something for you! With outdoor and indoor seating, it's a great place to indulge no matter what the weathers doing!
The Goma is located across two buildings that contain some incredible artworks from a variety of different artists and art styles! No matter what kind of art you fancy, there's sure to be a range of artworks that suit your taste. This is one of the best free things to do in Brisbane!
The air-conditioned halls of the Goma are a refreshing relief from the heat outside, and provide the perfect atmosphere for admiring and contemplating awe-inspiring art!
The Queensland Art Gallery opened it's second building in 2006, together they create the Goma. The art galleries display a variety of artworks from local and international artists, which make up wonderful displays!
If you're an art connoisseur or appreciate beautiful things, this is one of the best Brisbane landmarks to visit! Be sure to add it to your Brisbane itinerary!
Day 1 / Stop 5 – Take in Sites and Smells at the Epicurious Garden
Why it's awesome:

Epicurious is a giant edible garden filled with exotic plants and fragrant herbs.

Cost:

Free!

Food nearby:

Mado Turkish Restaurant is the best place to go to if you're looking for something a little more unique. It's a cozy restaurant with a vibrant atmosphere, and serves absolutely delicious food! Indulge in an early Turkish dinner, or save your stomach for a little later and help yourself to seaweed passels, falafel balls, or a snack platter of your choice!
The Epicurious Garden is absolutely stunning and endlessly interesting for anyone with an interest in gardening. A bunch of green-thumbed locals come together to look after the garden and make it the magical place that it is!
Although you can visit the garden at any time, if you visit on a Tuesday, Wednesday, or Thursday you'll be able to take home free produce straight from the land! This is by far one of the best Brisbane activities for travelers.
Amble through the gardens and smell the delicious fragrant herbs! The wonderful thing about Epicurious is the fact that every single plant grown in the garden is edible, this makes it all the more interesting!
Day 1 / Stop 6 – Enjoy the Views at Kangaroo Point Cliffs
Why it's awesome:

On warm nights, you'll find families picnicking in the parks around Kangaroo Point Cliffs.

Cost:

Free!

Food nearby:

An Cafe Vietnamese Street Food is a delightful restaurant and as the name suggests, they serve a wonderful array of food that you'd find on the street in Vietnam. Expect Raman and soups, as well as meat and spring rolls. Any Vietnamese dish your heart desires can be found at this wonderful cafe!
Kangaroo Point Cliffs are located across the bay from Brisbane city, so in the evenings you can enjoy stunning views of the city skyline. The locals make great use of this viewing point, often picnicking in the many parks across from the lookout!
If you'd like to spend the evening watching the city lights twinkle, and the stars in the night's sky, be sure to pack a cooler-bag and a bottle of wine to make the evening even more romantic.
There's nothing better than enjoying your supper with a view that will take your breath away!
Whether you're on your own, with a partner, or in a group, this beautiful sightseeing adventure is one you simply must add to your Brisbane itinerary! The views are picturesque and prove to be a delight for travel photographers looking for the perfect shot.
In a rush? This is our favorite hostel in Brisbane!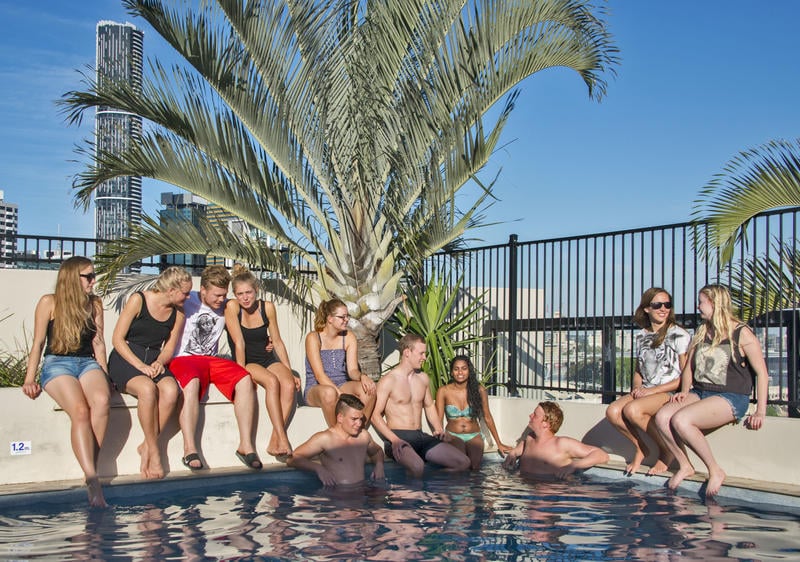 Brisbane City YHA
Cool, contemporary and convenient, the Brisbane City YHA is the perfect hostel for groups or solo travellers looking to mix with fellow adventurers and make some friends.
$$

Free WiFi

Outdoor Swimming Pool
Day 2 Itinerary in Brisbane
Shorncliffe Pier | Kings Island | Sherwood Arboretum | Queensland Parliament House | Vault Games | Roma Street Parkland
If you're spending 2 days in Brisbane, you're going to need a few more activities to add to your 2-day itinerary in Brisbane. Spend the day getting to know the locals and taking yourself on a Brisbane walking tour to explore the city a little further!
Day 2 / Stop 1 – Watch the Sunrise at Shornecliffe Pier
Why it's awesome:

Witness a stunning sunrise from the longest timber pier in Brisbane.

Cost:

Free!

Food nearby:

Satori Organics is a healthy restaurant that opens in the early hours of the morning! Pop by for a coffee and a waffle, or simply avo on toast – they cater for every kind of appetite. Be sure to add this hidden gem to your Brisbane itinerary, you're sure to be in for a treat!
Join the many early-risers on Shorncliffe pier to witness a spectacular sunrise. You'll watch with a variety of onlookers, some taking a breather from their morning jog, others dropping a line into the water to see what today's catch holds!
Shorncliffe Pier is Brisbane's longest timber pier and stretches far into the water, making it the perfect spot to see the sun rising over sleepy Brisbane!
Join the others and throw a line in the water if you're up for the sport, or grab a coffee and head to the end of the pier while enjoying the tranquil sound of water lapping at the pier's edge. This is one of the most fantastic things to do in Brisbane city!
There's nothing better than a fresh sea breeze to wake you up in the morning!
Day 2 / Stop 2 – Walk to King Island
Why it's awesome:

King Island is a small uninhabited island that connects to the mainland via a natural sandbank.

Cost:

Free!

Food nearby:

Point View Restaurant and Cafe is a great place to enjoy breakfast or brunch with a view! Take a seat in their laidback outdoor seating area to enjoy a fresh sea breeze while you enjoy delicious seafood or a traditional eggs bennie! If you're not up for a full meal, be sure to stop for a takeaway coffee and croissant to enjoy on King Island.
King Island is a small island just a 1-kilometer walk from Wellington Point. You can get to it via a natural sandbank that has formed but it's important to note that this sandbank is only accessible to walk during low tide!
It's important to check the tide times before heading out, to make sure you have enough time to get there and back safely before the tide begins to rise!
The island is uninhabited and surrounded by mangroves, but is one of the must-visit places in Brisbane. Be sure to take your camera along for the walk as the deserted island is quite a sight to behold!
Insider Tip: If you're unsure of the tides in the area, make sure you ask a local or a lifeguard that's on duty before heading out on this walk.
Day 2 / Stop 3 – Spend a Lazy Afternoon at Sherwood Arboretum
Why it's awesome:

Sherwood Arboretum is a 15-hectare plot of land for tourists and locals to enjoy their time in nature.

Cost:

Free!

Food nearby:

Cafe Europe is a cute restaurant with a casual and friendly atmosphere! They serve great budget meals in generous portions, and it's absolutely delicious! Be sure to try one of their marvelous milkshakes as they're known as some of the best in the city!
The Sherwood Arboretum is an expansive plot of land that consists of parkland as well as artificial wetlands and they look over the tranquil Brisbane River. Spend the day with a line in the water, with a chance to catch Threadfin Salmon, Snapper, Cod, and many other delicious fish.
If you're not up for an afternoon of fishing, then lazing under a shady tree with a great book is a great way to spend the hottest part of the day. This is one of the most unexpectedly fun things to do in Brisbane!
If your kids are joining you on the vacation, they're sure to have a grand time rolling down the hills, or wading through the wetlands looking for tadpoles. No matter what you decide to do at the Sherwood Arboretum, you're sure to have stacks of fun!
Be sure to stroll through these gardens as they're one of the very important Brisbane points of interest!
Day 2 / Stop 4 – Take Yourself on a Tour of the Queensland Parliament House
Why it's awesome:

Explore the wonderful architecture of this historic building!

Cost:

Free!

Food nearby:

Creole Soul Kitchen serves a variety of tapas as well as seafood and other meaty delicacies. It's the perfect place to stop off for a late lunch or early dinner. Be sure to add this wonderful restaurant to your itinerary for Brisbane!
The parliament of Queensland first met in 1860 in an old convict barracks in Queens Street. In 1865, the government began building the Queensland Parliament house, with great architecture and beautiful finishings, it not only serves its purpose but adds to the ambiance of the city!
Art exhibitions are frequently held in the lower part of the building, so be sure to check the schedule before your visit.
Apart from the magnificent architecture, there's far more to appreciate in the parliament buildings. There's an onsite gift shop that sells a variety of souvenirs and memorabilia for you to remember your trip.
And if you'd like to learn more about the way the city operates, take a free guided tour any day of the working week! There's so much to learn about the way Brisbane is so efficiently run, why not absorb all the information you can while on your vacation to this wonderful city!
Day 2 / Stop 5 – Play Boardgames at Vault Games
Why it's awesome:

Get to know locals over the latest boardgames on the market.

Cost:

Free!

Food nearby:

Guilty Rogue serves delicious pub cuisine. Juicy burgers with bacon and chips, or a pancake stack that will have you coming back for more! No matter what you have, it's sure to satisfy your tastebuds at Guilty Rogue. Be sure to grab a beer or a cocktail, as it will go down well with your meal!
Vault Games not only sells the latest board games and card games, but they also let you play them in store. Meeting a group of friendly locals at the store is the very best way to get the game started!
There are also a variety of video games that you can play by yourself, but the board games and card games are what we highly recommend. You'll not only find the usual suspects such as UNO and Monopoly, but you'll also find a wide variety of unique games that have only recently been released!
If you're looking to socialize with the locals without having to go to a pub or club, this is a great and wholesome way to meet new people. You'll also have loads of fun doing it and more than likely, a lot of laughs!
Day 2 / Stop 6 – Stroll Through Roma Street Parkland
Why it's awesome:

Roma Street Parkland is one of the most beautiful spots in the Brisbane CBD.

Cost:

Free!

Food nearby:

Moda Restaurant has a contemporary menu and prides itself on creating the ultimate food fusion meals. If you're looking for a luxury dining experience that allows you to experience completely unique flavors, this is an absolute must-visit in Brisbane!
Roma Street Parkland covers an impressive 16-hectares of land in Brisbane's city center. It's the cities largest subtropical garden and is home to a wide variety of fauna and flora. It's the perfect place to spend the evening while watching the sun go down and perhaps drinking sundowners on the lawn.
Much of the park is covered in a forested area, which is great for taking a walk and allows you to do a little exploration before settling down for the evening!
If you don't plan on going out for supper, be sure to take a picnic with you so you can sit on the lawns while enjoying the views!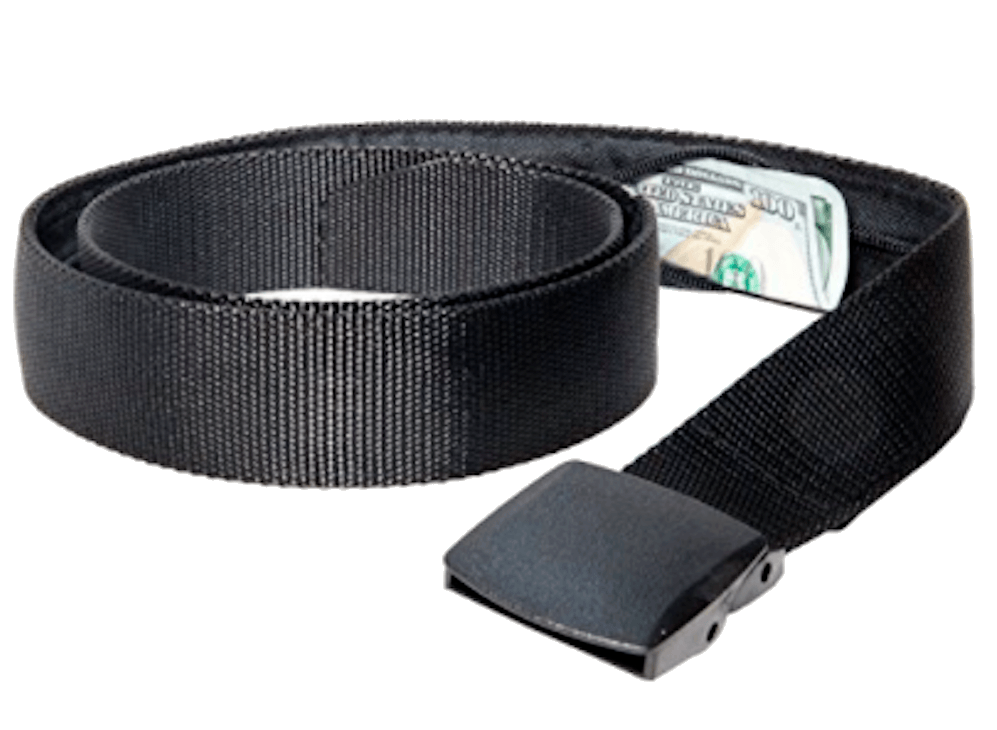 You should always have emergency cash hidden on you – pick up this awesome security belt with its hidden pocket before you travel, it's perfect for hiding money, a passport photocopy.
Day 3 and Beyond
Wynnum Wading Pool | Planetarium | Brisbane City Hall | Shop-til-you-drop Experience | Go on a Beer Crawl
If you're spending 3 days in Brisbane, you'll need a few more activities to add to your 3-day itinerary in Brisbane! There are plenty of activities that are sure to whet your appetite for adventure, so here are the very best places to visit in Brisbane on your third day!
Spend the Day at Wynnum Wading Pool
Spend the day sun-tanning and dipping in the pool

The large tidal pool offers plenty of space for everybody to enjoy

The pool is particularly busy during high tide
This shallow tidal pool was built in 1932 by relief workers during the Great Depression. It opened to the public in 1933 and ever since has been a hit amongst the local children who come to bathe in the pool in the heat of the day!
It's the perfect place to set up a picnic blanket for a full day of activities! It's a great recreational activity in the sheltered Moreton Bay, and includes modern showers, toilets and changing rooms, as well as a play area for young children!
It also has a white sandy man-made beach, which makes the area all the more picturesque. With ocean views, there's no better place to spend a day in Brisbane!
Be sure to pack a picnic, or grab an ice-cream at the ice-cream stand that often frequents the area in the summertime!
Insider Tip: There are two depth indicators on either side of the pool, so if you're not too keen to venture into the deep end you can always stick to the shallows. High-tide is generally the best time to visit the tidal pool as that's when fresh seawater enters the pool and creates a nice flow.
Spend Time Gazing at Space in the Planetarium
The Sir Thomas Brisbane Planetarium opened in 1978

The planetarium is located inside the Botanic Gardens and is home to the Cosmic Skydome

Enjoy a variety of exciting projections
The Sir Thomas Brisbane Planetarium is a truly magnificent activity to take part in. You'll learn all about the solar system and the unique star formations of the southern hemisphere. The Planetarium is home to the Cosmic Skydome, which is a 12.5-meter projection dome that allows you to see wonderful projections of the night's sky!
You can visit the dome to enjoy a show, or visit the Display Zone that allows you to watch live projections of the night's sky. After watching a show, be sure to visit the Galaxy Gift Shop for a souvenir!
After being inside for so long, you can head out into the Sundial Courtyard to learn how the sun was used to tell the time of day before the invention of clocks!
Before you head to the planetarium, be sure to check when the shows are happening and which shows are happening so that you attend something that you're truly interested in!
Be sure to grab a bite to eat at one of the local cafes located in the Botanic Gardens, or simply get a takeaway coffee and enjoy the beautiful scenery before heading back to your hotel!
Tour Brisbane City Hall
Listed on the Register of National Estate in 1978

The seat of the Brisbane city council

Contains a beautiful clock tower
Whether you're interested in history, politics or architecture, a visit to the Brisbane city hall is highly recommended, and one of the best things to do in Brisbane, Australia.
The building is so beautiful, that in 1978 it was added to the Register of National Estate! Brisbane City Hall is not only used as the seat of the council, but hosts a variety of other exciting events for the locals! Royal receptions, pageants, orchestral concerts, civic greetings, flower shows, and school graduations are just a few of the entertaining events that take place here!
But that's not why you should visit! Taking a tour of the building will allow you to learn about its rich cultural history and interesting past. You'll be able to take in the beauty of the architecture, as well as take an elevator to the top of the clocktower. This provides magnificent views of Brisbane city, so be sure to take your camera along to snap a photo of the picturesque scenery!
You'll also witness the incredible 4391 piece organ that was built in 1891 as is the pride of the city of Brisbane! Be sure to amble around the outskirts of the property to see all the great sculptures that have been placed around the premises. This outing really could take all day!
Have a Shop-til-you-drop Experience
Shop high-end luxury brands in the CBD

Two locations offering an incredible variety

Within close proximity to each other
If you love to shop high-end luxury brands, then there's no better place to go than the Queen Street Mall. With every high-end brand under the sun, you'll be absolutely spoilt for choice! If that isn't enough, Edward Street runs next to the mall and has a variety of other wonderful brands to choose from!
Spend the day meandering down the road and popping into bespoke menswear stores, international luxury labels, and other local brands. You can purchase anything from your next wardrobe to accessories and gifts!
Better than a souvenir, you can take home a beloved item of clothing to remember this incredible city!
If you're a shopaholic of note, this activity could take you the whole day, but it will be an experience worth remembering! Let's just hope you have the arm strength to carry all the luxury goods you'll be buying back to your hotel!
If not, you can always arrange a cab, or take the Skyrail for a quick and painless trip back to your accommodation. Remember to make sure you have enough space in your luggage to take home all the extra items!
Go on a Beer Crawl
There are a wonderful variety of watering holes scattered around the city

Craft beer has recently become overwhelmingly popular amongst Brisbanians

Mingle with the locals and find your tribe
There are many beer tours you can take around the city, but we highly recommend venturing out on your own, and finding the watering holes that look the most appealing to you! There are so many pubs, restaurants, and cafes that serve beer, that you're sure to be overwhelmed with choice!
Whether you're looking for a spot with a view, or a vibey joint to make friends with the locals, there's sure to be a spot to suit your needs!
Brewski is a great place to start your beer crawl. It's a bar that's been converted from an old cottage, giving it a very homely feel! You'll find locals here at all times of the night, knocking back a cold one.
Craft Brew House is another great place to visit during your beer crawl. They serve 6 varieties of craft beer and host a very sociable atmosphere!
SBC is one of the best-kept secrets in the craft beer scene! It looks like a contemporary German beer hall and provides a variety of local and international craft beer. If you have a refined taste, this is the craft beer bar you should be spending the most time at!
Which Craft is another must-visit on your Brisbane itinerary! It's the local favorite amongst craft beer fans and hosts 30 different craft brews. They also have a wide variety of board games that are great fun to play while sipping on a pint!
Don't forget to pack a good book!
Fodor's Essential Australia (Full-color Travel Guide): This is our top recommendation for an awesome and inspiring read on this magical city.
Staying Safe in Brisbane
While Brisbane is generally a very safe city, it's always important to take precautions no matter where you go!
Brisbane is home to some of the most beautiful beaches in, and those should be appreciated and taken advantage of by tourists. However, it's important to note that many of these beaches have strong tides and currents. The locations that are safe to swim in are marked by yellow and red flags, and have a strong lifeguard presence.
Although robbery is not a common occurrence in Brisbane, you should not leave personal belongings unattended. This encourages theft and is not a wise idea.
Tourists are not a target for violence or crime in Brisbane, but be careful when walking around at night by yourself. Make sure you stick to populated areas as this will make you feel a lot safer.
If anything does happen to go wrong during your weekend in Brisbane, make sure you have an emergency number saved in your phone! The number is 000, and will alert emergency services such as the fire department, police department, and an ambulance that you are in need of assistance.
Don't forget to sort your travel insurance! We've put together a roundup of the best travel insurance for backpackers, or if you're low on time, get a quote from World Nomads now, our favourite travel insurance provider.
Getting an estimate from World Nomads is simple – just click the button or image below, fill out the necessary info, and you're on your way!

Day Trips From Brisbane
If you're staying in the city for more than just a few days, you'll need to spice up your Brisbane itinerary with a few day trips from Brisbane! Here are a few of our favorites:
Moreton Island Shipwreck, Sand Dune, and Kayak Day Trip from Brisbane
On this day trip from Brisbane, you'll head out to the Tangalooma shipwreck and spend some time snorkeling. You'll see beautiful coral formations and a wonderful variety of sea-life!
You'll then navigate through crystal clear waters in a transparent kayak, giving you the ability to see a whole host of marine life through the bottom of the kayak! You'll then head to the island and slide down massive sand dunes on a toboggan. This is an activity for adrenaline junkies!
You'll then get the chance to relax on Moreton beach and soak up some sun before heading back to Brisbane!
Noosa and Sunshine Coast Day Trip from Brisbane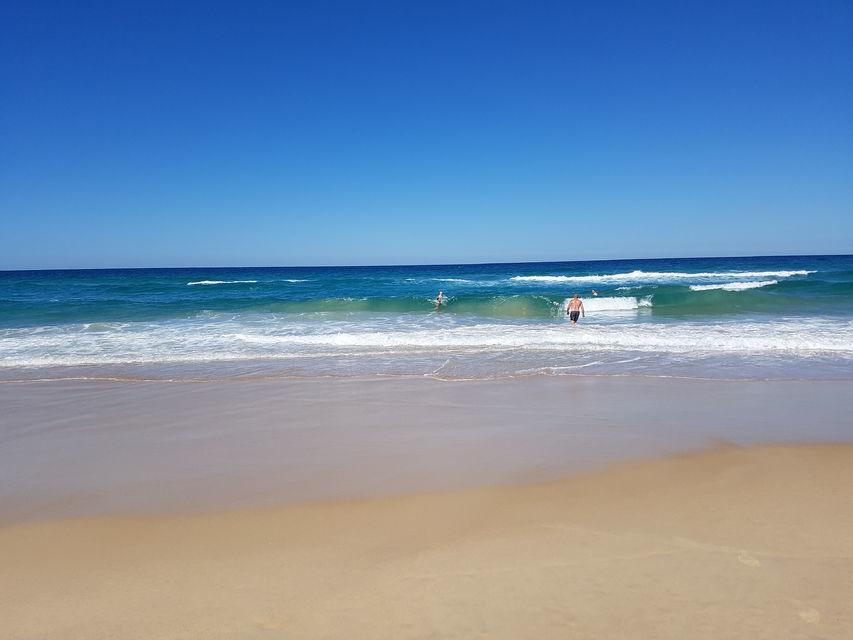 On this wonderful day trip from Brisbane, you'll head to Noosa beach and get a chance to walk along the scenic boardwalk. It's advised you take pictures along the way to preserve the picturesque memories!
You'll then take a ride on the Noosa ferry while taking in spectacular views of the Glass House Mountains. Enjoy the fresh sea breeze on your face as you glide through the water!
To finish off the day trip, you'll take a guided walk through the rainforest in Mary Cairncross Park. Nature lovers will really get a kick out of this beautiful day trip that allows you to have unique encounters with the scenic surrounds!
Bribie Island 4WD Nature Adventure
On this tour, you'll be exploring 22 kilometers of pristine white sand beaches in an all-terrain vehicle! If you love off-roading this is a great day trip to take while visiting Brisbane.
You'll get the chance to swim in the beautiful tea-tree lagoons and explore the dilapidated Bribie ruins. These were built to defend Brisbane during WWII!
During the day, you'll spot an interesting variety of Australian wildlife, so be sure o keep your eyes peeled for unique creatures! This is the perfect day trip from Brisbane for adventure lovers and thrill-seekers.
Tamborine Wine and Distillery Tour
This day trip will see you indulging in wine tastings at 5 different award-winning destinations! Included in the tour is a 2-course lunch of your choice, which is sure to enthrall your taste buds!
On the road, you'll refresh with snacks and bottled water, and you'll get the chance to tour a distillery and learn about how wine is made and where exactly it comes from.
You'll also get the chance to tour a cheese factory along the way, and pair exquisite cheeses with the best wines of the day!
Country Pub Crawl by Helicopter and Limousine
Travel to four of the best Brisbane country pubs in a helicopter, to enjoy beautiful views and delicious beers! You'll get the chance to enjoy a traditional pub lunch and at one of the four-country pubs while enjoying beautiful views of the Australian countryside.
You'll then relax and sit back in the comfort of a limousine that will transfer you back to your hotel. If you like to travel in style, this is a day trip you simply cannot miss out on!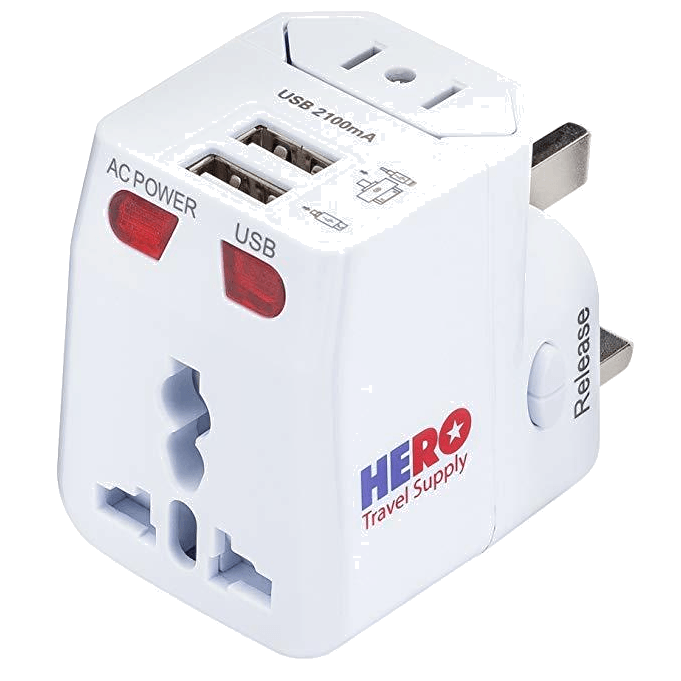 One of the best investments you can make is a
worldwide travel adapter
that will work anywhere! The one featured here is tough, reliable and a solid buy – Don't leave home without one.
GET IT HERE
Conclusion
Brisbane is an absolutely stunning city that has so much to offer! Whether you're looking to party the night away or go on outdoor adventures, you're sure to be thoroughly entertained in this diverse city!
Now that you've seen all the wonderful things to do, you're no longer wondering what to do in Brisbane. You should be well on your way to planning your very own Brisbane itinerary! Whether you just want to visit for a weekend or stay for a bit longer, there are so many epic things to explore in the city that you'll never get bored.
There are so many great adventures on offer, you couldn't possibly get bored in 'Brisvegas', so it's time to get booking those flights and preparing yourself for the Australian adventure of a lifetime!
Yay for transparency! Some of the links in this post are affiliate links. This means that if you book your accommodation through the site, The Broke Backpacker will earn a small commission at no extra cost to you. Your support helps me keep the site going.
---
Need More Inspiration?
Like this post? PIN ME!!!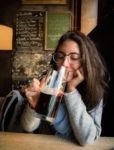 Writer and Editor, Ana Pereira is a California native, inspired by Earth exploration and introspection. Recently, she spent several months exploring Africa and South Asia. She spends most of her "down-time" out in the wilderness, climbing, hiking, and beyond, and is feverishly passionate about travel and health.