Known for its awesome cultural scene, the capital of Queensland is a seriously cool destination. However, you don't just come to Brisbane for the city. In the same area, you'll find sub-tropical beaches perfect for wildlife watching. You can also tick mountain hiking and vineyards off your list from here – everything you could want on an epic trip!
Even if you're travelling out in Queensland's bush, it still makes sense to use Brisbane as your base. If you've been travelling long term, you might want a change of scenery from a hotel or a hostel, so check out vacation rentals in Brisbane instead; they're full of character and offer great value for money.
That's where we come in. We're going to show you the 14 best Airbnbs in Brisbane, arranged according to price and travel style. Not only that, we'll show you our favourite Airbnb Experiences, too. Ready? Let's get started!
Quick Answer: These are the Top 5 Airbnbs in Brisbane
Overall Best Value Airbnb in Brisbane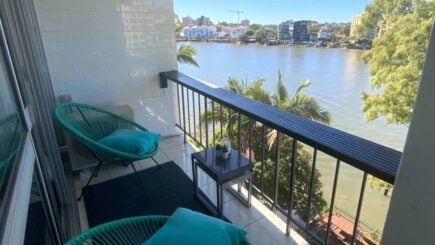 Overall Best Value Airbnb in Brisbane
Peaceful by the River
> $
> 2 Guests
> Balcony with river view
> Board games
Best Budget Airbnb in Brisbane
Best Budget Airbnb in Brisbane
Private room in Woolloongabba
> $
> 2 Guests
> Well equipped kitchen
> Good location
Best Airbnb for Couples in Brisbane
Best Airbnb for Couples in Brisbane
Riverview 25th Floor Apartment
> $$
> 2 Guests
> Outdoor terrace
> King size bed
Best Airbnb for Families in Brisbane
Best Airbnb for Families in Brisbane
Clara at Wynnum
> $$
> 5 Guests
> Great location
> High chair available
Over-the-Top Luxury Airbnb in Brisbane
Over-the-Top Luxury Airbnb in Brisbane
Restored Queensland Cottage
> $$$$$$$
> 4 Guests
> Awesome location
> Heritage listed cottage

Unlock Our GREATEST Travel Secrets!
Sign up for our newsletter and get the best travel tips delivered right to your inbox.
What to Expect from Airbnbs in Brisbane
There is a huge range of Airbnbs in Brisbane. From a stylish inner-city one-bedroom apartment to stunning townhouses in South Brisbane, and even farm stays if you're willing to go further out, there'll be something to suit your budget.
What you get from Airbnbs in Brisbane depends on a few things – the most obvious being budget. At the lower end of the scale, you'll have to make do with a private room in your host's flat or home. Happily, though, most do allow you to use their kitchen and living spaces.
Spend some more, and you'll be able to get an entire place – great if you want some privacy or are travelling in a group. The majority of rental properties you'll find here have a local feeling – though, in some of the bigger apartments, you may be dealing with a business!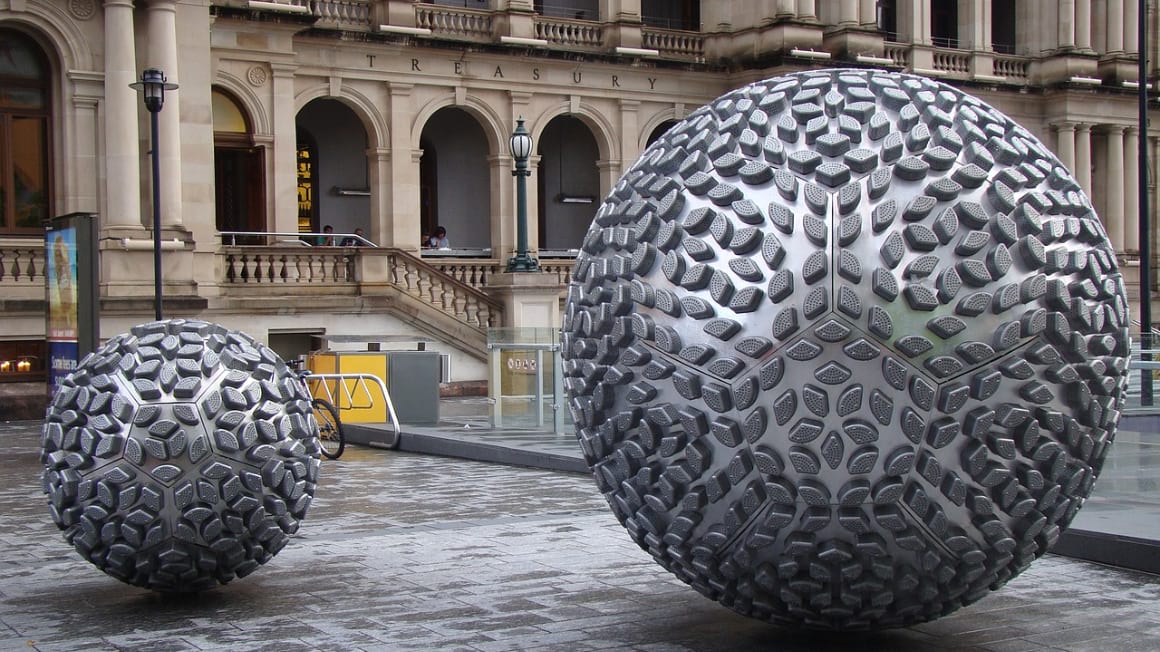 Townhouse
There are more than 200 townhouses in and around Brisbane, though you won't find them so much in the city centre. You will find them within a stone's throw through – in districts such as Redhill, Newmarket, and Rosalie.
Townhouses are mostly larger properties, so are suitable for groups of family and friends. However, a couple whose budget isn't too tight and who are looking for privacy could also benefit. If you're travelling solo and want the full Brisbane townhouse experience, you'll be pleased to know there are several private rooms in townhouses available, where you'll have access to the knowledge of your local host.
When booking a townhouse, some of the features you can expect include fully equipped kitchens, gardens, and free parking.
Farm Stay
Now for one of the more unique accommodations in Brisbane. A farm stay will help you get acquainted with the surrounding areas – and since they're managed by local hosts, you'll get some great tips on not only what to see and do, but awesome places to eat and drink – as well as perhaps hiking and swimming the areas around Brisbane.
These peaceful retreats are a great shout if you're hoping to escape from the hustle and bustle of the city centre – a way to destress, relax and recuperate. With a farm stay, you can expect your own private room and lots of outdoor space to use as you wish – there may even be some animals on site! Farm stays are perfect for couples and families with children.
Tiny House
In recent years, tiny houses have become more and more popular – and the best place to find them is on Airbnb! Though there's not a clear definition of a tiny house, it's safe to say you can expect it to be a lot smaller than a townhouse and a nice alternative to a one-bedroom apartment.
Space is used cleverly to pack in all the amenities you'd usually find in a home – often with a mezzanine bedroom hanging over an open plan kitchen and dining room area – though that's not always the case.
Brisbane and its surrounding areas have a smattering of tiny houses – one of the coolest types of unique accommodation.
Why Stay in an Airbnb
Now that you know what type of Airbnbs in Brisbane, you can expect, let's take a look at five of the reasons it's a great way to choose your accommodation.
Local Experience: When staying with a local host, you can get their recommendations on what to see and do in Brisbane. Leave your guidebook at home!
Unique Properties: As you're about to see, there are some awesome unique accommodation types on Airbnb. Perfect if you need a break from hostels and hotels!
Affordability: When it comes to value for money, Airbnbs offer a whole lot more than equally priced hotels.
Safety: With a rigorous vetting process for both host and guest, and customer support on hand 24/7, your safety and security are top priority!
Airbnb Experiences: It's not all about having somewhere to stay; choose Airbnb Experiences to find awesome things to do when you arrive with local hosts!
The Top 15 Airbnbs in Brisbane
Now that you know what to expect and why to book an Airbnb in Brisbane, let's get to the part you've been waiting for. Our 14 best Airbnbs are arranged by category – so it won't be hard to find the one most suitable for you. Let's go!
This one-bedroom apartment is perfect for a solo traveller or a couple, this river view property is one of the best value properties in Brisbane. The queen bed is a wonderful place to come home to after a day of exploring the city and its surroundings. If you're not ready to sleep, just boot up the Smart TV and catch a movie on Netflix – or how about cooling off in the swimming pool? This cosy inner city pad is in a convenient location right on the Brisbane River. You've got your own private balcony so you can take in the views over to the Brisbane CBD.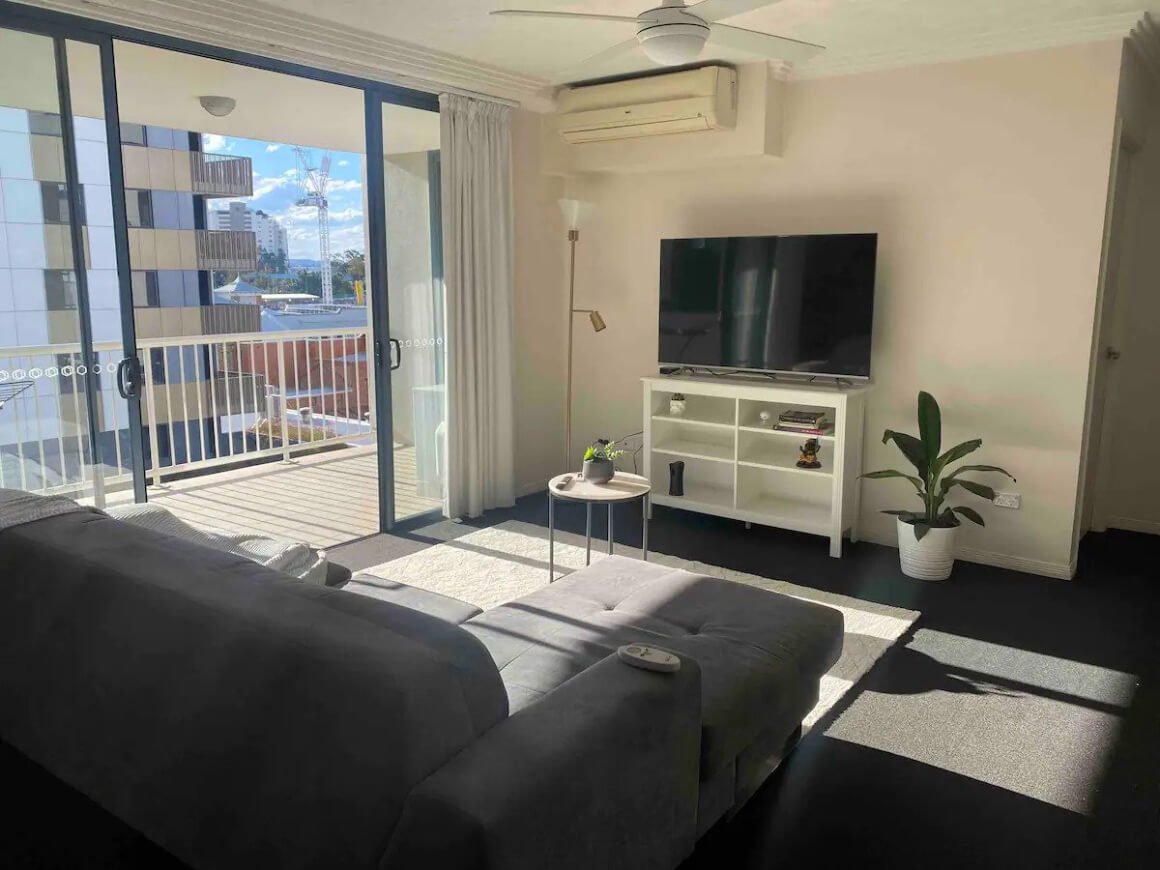 Finding a budget Airbnb in Brisbane isn't easy, but it is possible. You not only get your own bedroom in this fully-furnished apartment but access to a big living room, too. Should you want to keep your costs down even further by avoiding eating out, make dinner in the fully equipped kitchen. What more for your money? Well, this modern apartment is in an amazing location in South Brisbane within walking distance of public transport. There's also a fitness centre and swimming pool as well as air conditioning!
Perfect Airbnb for solo Travellers | Alderley Studio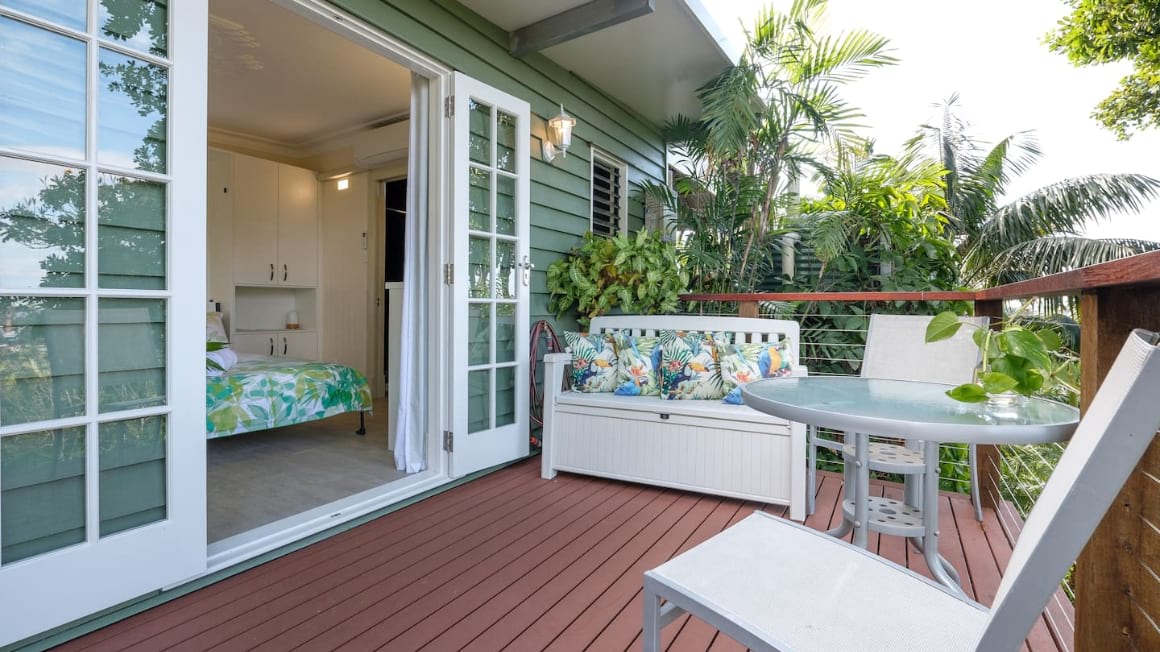 If you're looking to keep your costs down and have a local experience while travelling solo, then a Brisbane homestay is the right option for you. The Alderley Studio is one of the nicest you could have – it's more than just a private room. The house is located a little further from the Brisbane CBD than some of the others, but it's still an excellent location if you want to experience local life. It's also within walking distance to a train station too, so you can be in Brisbane city centre in no time.
There's a private decking overlooking the garden, your very own bathroom, and a queen bed. All for a fraction of the price of a hotel. What more could you want?! Free parking and air conditioning? Ok, go on then!
Is This the Best Travel Pack EVER???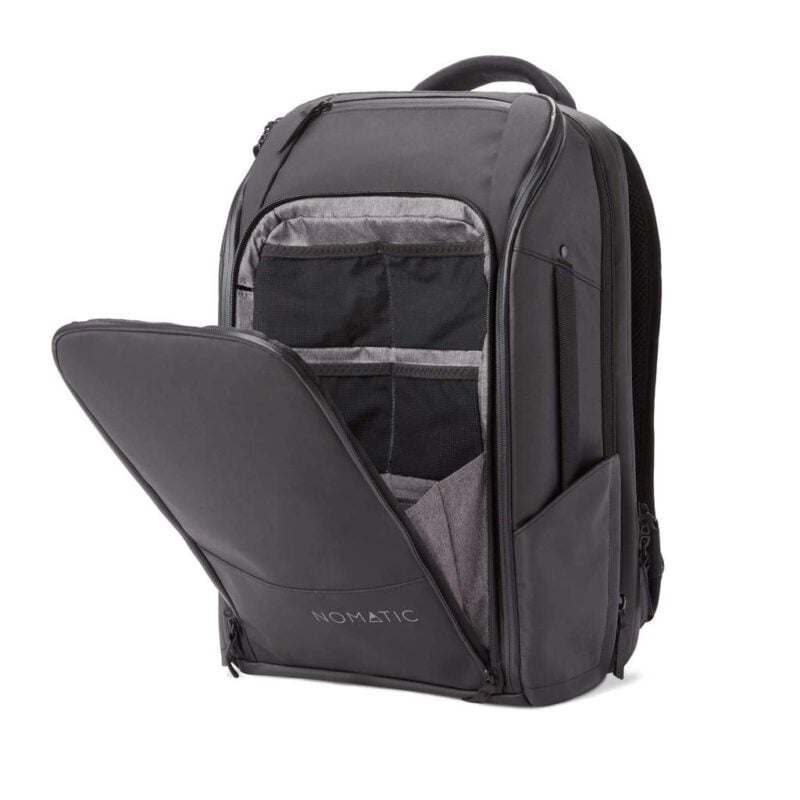 If you're travelling with your other half, you'll surely want to be near all the restaurants, bars, and hotspots that Brisbane has to offer. Look no further than this serviced apartment in the centre. As well as the wonderful location, you'll have a king-size bed and an outdoor terrace with splendid views across the Brisbane CBD. At the end of a busy day of exploring, come back for a romantic soak in the hot tub or hit the gym!
This one-bedroom apartment an in an excellent location on the South Bank of the Brisbane River. It's super close to public transport too so getting to the Brisbane CBD and exploring places like Queen Street Mall is easy.
Best Airbnb in Brisbane for Families | Clara @ Wynnum
5 Guests
High chair available
This guest suite has excellent review scores, room for five guests, and three beds across two bedrooms – making it perfect for any family staying in Brisbane. You're in an excellent location for enjoying the best of both worlds: the beach is within walking distance and so is the Wynnum Central Train Station, so you can easily access all the attractions Brisbane city centre has to offer, such as Queen Street Mall. Families with young children will be pleased to know a high chair is available, there's also free parking and air conditioning, so it's got to be one of the best family rentals in Brisbane.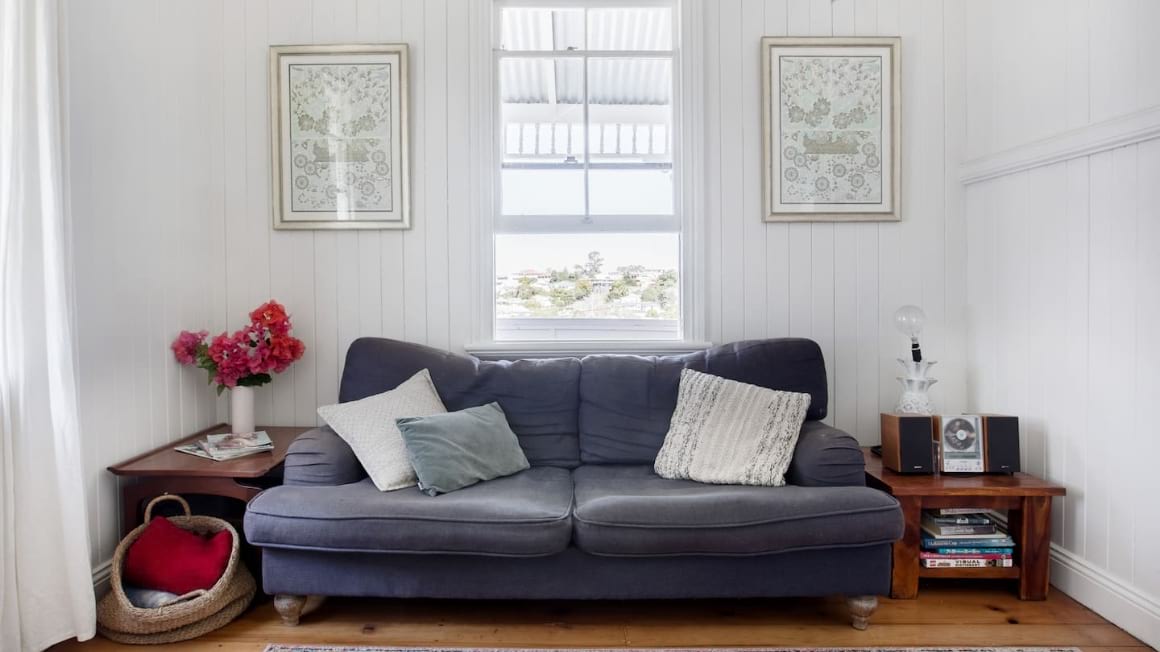 4 Guests
Heritage listed cottage
This Airbnb Plus property really has a bit of everything. The beautifully restored cottage started off life as a Queenslander workers cottage, so you're actually staying in a bit of living history! More than 100 years old, it has gorgeous antique furniture and ornate designs throughout. Despite the age and olde worlde charm, it is packed with contemporary features like a fully equipped kitchen and air conditioning. Vintage mixed with cutting edge! Oh, there's free parking too, rare for rentals in Brisbane!
This stylish townhouse is everything you could want from these types of rentals in Brisbane. The townhouse is in the hip and happening Newmarket area, just a stone's throw from Brisbane city centre on public transport. The private garden is a great place to chill out when the weather is right for it (which is most of the time), and architects have cleverly maximised the space inside. There's on-site free parking too for those who have rented cars.
A farm stay is all about escaping the hustle and bustle of the city while still being near enough to enjoy all the attractions. So, check out this comfortable country style home in Brookfield. The rural village is about 30km from Brisbane and it's easy to get there with your own car or public transport. However, you'll want to spend at least some of your time on site, where you can feed chickens and collect their eggs. Nearby, you also have a creek for hiking, picnicking, and mountain biking! It's got to be one of the most fun and unique rentals in Brisbane!
$
Laptop friendly workspace
4 Guests
Lush garden views
Travelling as a digital nomad is pretty great – as long as you have a laptop-friendly workspace and quick Wi-Fi, you're good to go. At this self-contained garden studio, you get even more than that and it's just 3km from Brisbane city centre. There's your own private bathroom and fully equipped – so you can have breakfast, get showered, and work all without leaving your room! Need to be inspired? You will be by the beautiful garden views, oh, there's a swimming pool too! It's one of the most wonderful rentals in Brisbane.
Most Unique Airbnb in Brisbane | The Old Church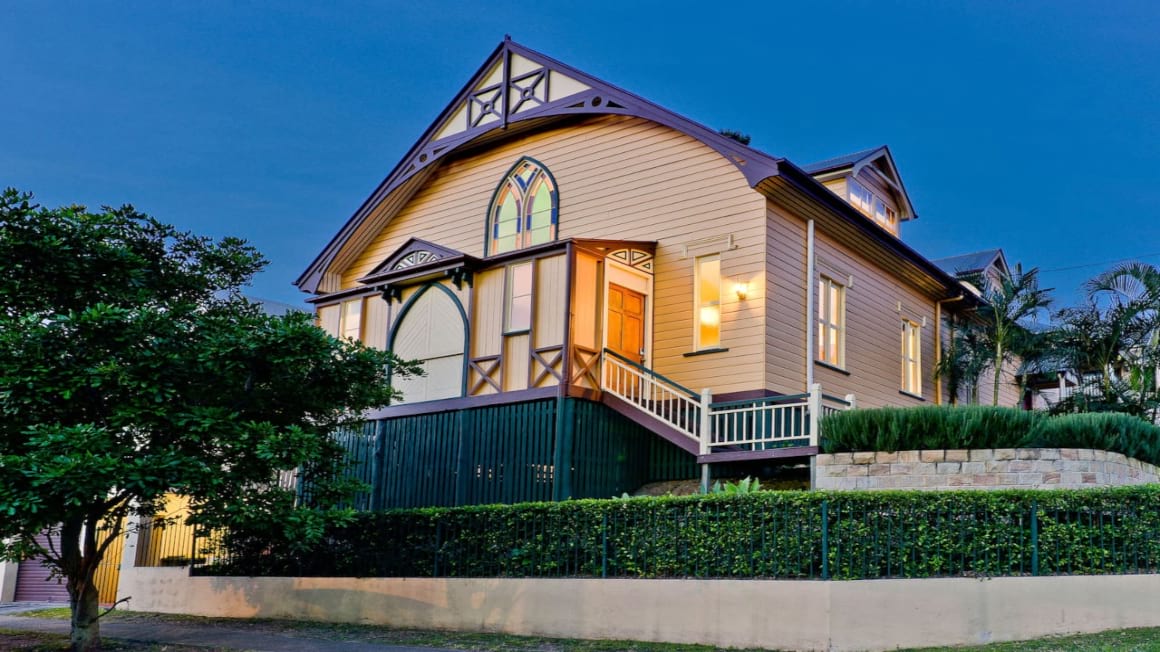 $$$$$$$$
Four-poster queen bed
7 Guests
Converted church!
You've already seen a heritage-listed cottage – but if that's not enough for you, then how about a church?! This converted church has four bedrooms and can sleep up to seven guests. The quirky accommodation offers a four-poster queen bed and super cool interiors and communal spaces. It's just over the road from the Suncorp Stadium, so if you're in town for sports, there's nowhere better.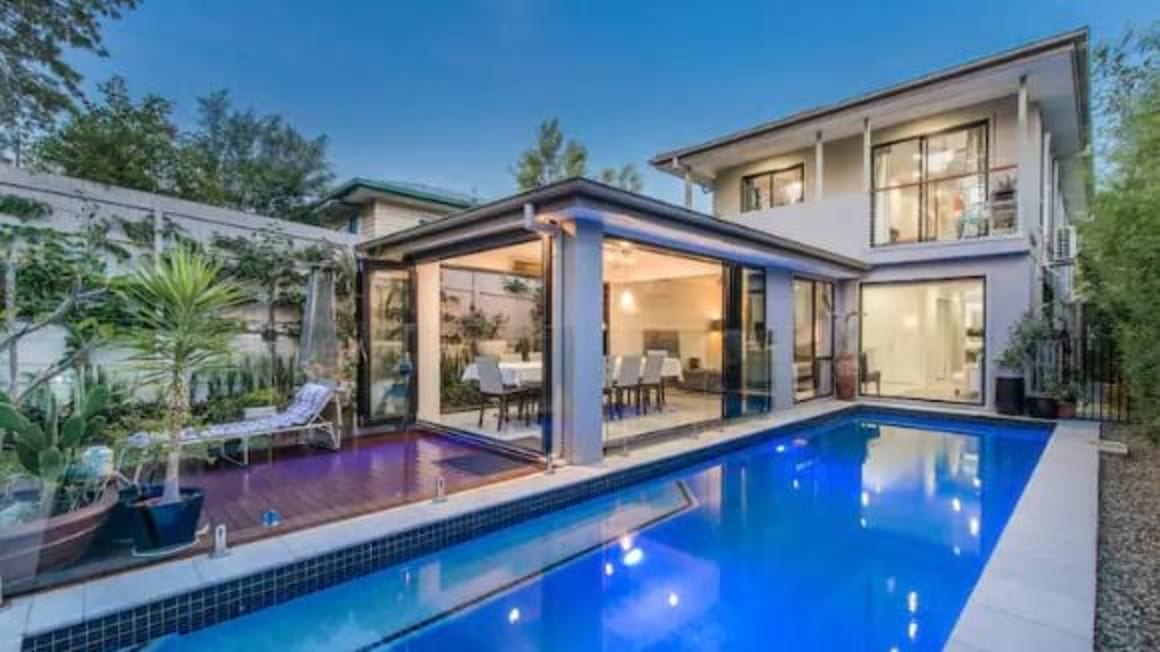 $$$$$$$
Heated swimming pool
7 Guests
Outdoor entertaining area
Though the church we've just mentioned was a contender for this category, we've decided on something more modern. This cool house with a heated swimming pool is not all about the looks, though. It also boasts a huge entertaining area outside, with a BBQ where you can host multiple guests. Weather not right for it? Head inside to relax in one of two living areas – or enjoy a meal in the poolside dining area. Located in South Brisbane it's just a short walk to the train station so it's easy to head into Brisbane city centre if you can bring yourself to leave this place!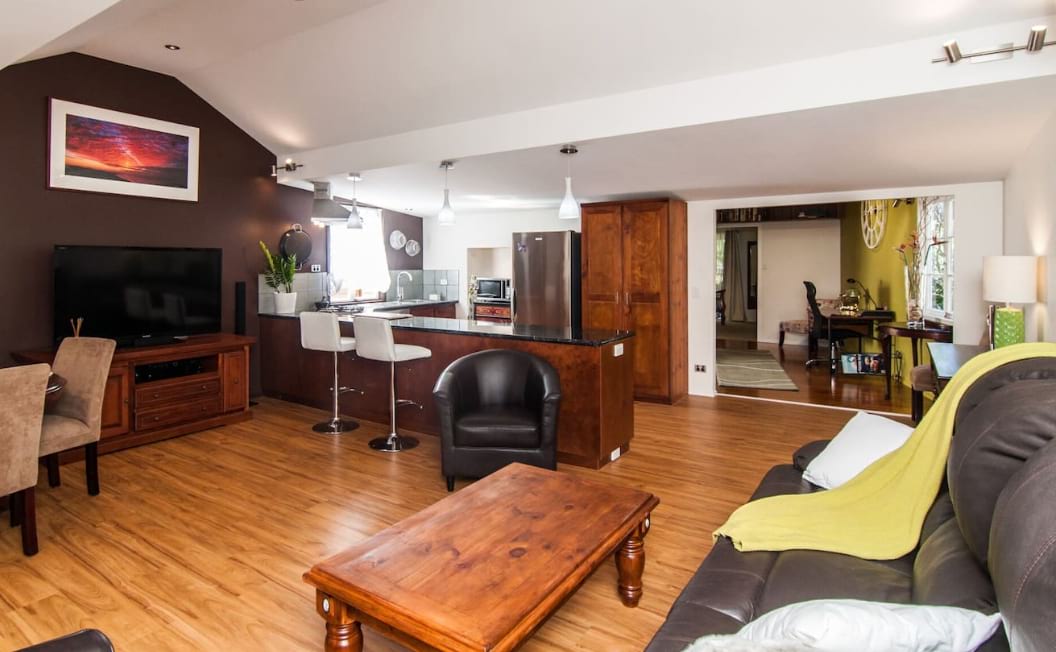 It isn't easy to decide on the best Airbnb in Red Hill, but this might just be it. Another traditional workers' cottage, don't be fooled by the classic exterior. Once you get inside, you'll find a 55 inch Smart TV, DVD Player, and Bluetooth stereo system. There's a local touch in here, too – with artwork from the area displayed on the walls. You'll not only see Queensland's landmarks but flora and fauna too.
4 Guests
Balcony with seating area
If you're spending a weekend in Brisbane, you'll want to be close to all the attractions. Well, you're in luck! You have the awesome South Bank area, Kangaroo Point Cliffs Park, and Brisbane City Botanic Gardens all within a kilometre. You might even be able to see some of them from the balcony! As well as the attractions, the city's best bars and restaurants are also on your doorstep. Not bad, eh?
Best Airbnb in Brisbane for a Group of Friends | Cosy Courtyard Oasis
Another Airbnb Plus property, this one permits six guests to properly relax and enjoy each other's company. You can do that on the outdoor patio – or if the weather isn't right for it, enjoy Netflix or a game on the Xbox in the living room. As well as two bedrooms (one with bunk beds), you can whip up some food in the kitchenette.
Top 5 Airbnb Experiences in Brisbane
Well, there you go. You've seen 15 of the best Airbnbs in Brisbane. If you need some time to mull over which one is best suited to you, take a break and think about what you're going to do when you get there.
Airbnb Experiences are a great way to explore your destination, as they are devised by locals. With everything from multi-day hikes and awesome day trips to cooking classes, you'll find something that goes hand in hand with your travel style.
Here are five of our favourite Airbnb Experiences in Brisbane – from paddleboarding to beer tours. Prices are stated in AUD.
$129/person
10 Hours
Up to 10 guests
Want an adventurous day trip from Brisbane? Who wouldn't! Head to North Stradbroke Island, where you'll feel much further than 90 minutes away from the CBD. Arriving on the island, you'll take the famous North Gorge Walk, where you'll be able to see out to the Gold Coast in the distance. Closer up, there are kangaroos and koalas on land, and perhaps dolphins and turtles out at sea—a truly magical experience.
$60/person
1 Hour
Up to 7 guests
Stand up paddleboarding is the fastest growing water sport in the world, and it's the perfect way to see Talle Creek. You'll be with an experienced SUP instructor who will get you out on the water – even if you've never done this cool sport before.
$25/person
1 Hour
Up to 10 guests
Want to learn more about the history of Brisbane and Queensland? Then it's off to the wool stores! Teneriffe is synonymous with them, and while industries may have deserted them in the 1970s, it's well and truly back on the map now. This walking tour is a fascinating trip through time. Don't miss it!
$39/person
1.5 Hours
Up to 6 guests
If you've got a fully equipped kitchen in your Airbnb, you may as well make the most of it. Do that by getting locally grown ingredients at the Brisbane farmers' market. You can buy everything from fresh veg to local meat, bread and spices. You might even find some gifts to take home for friends and family. We'd suggest skipping breakfast before this one – you'll easily find something delicious at the market.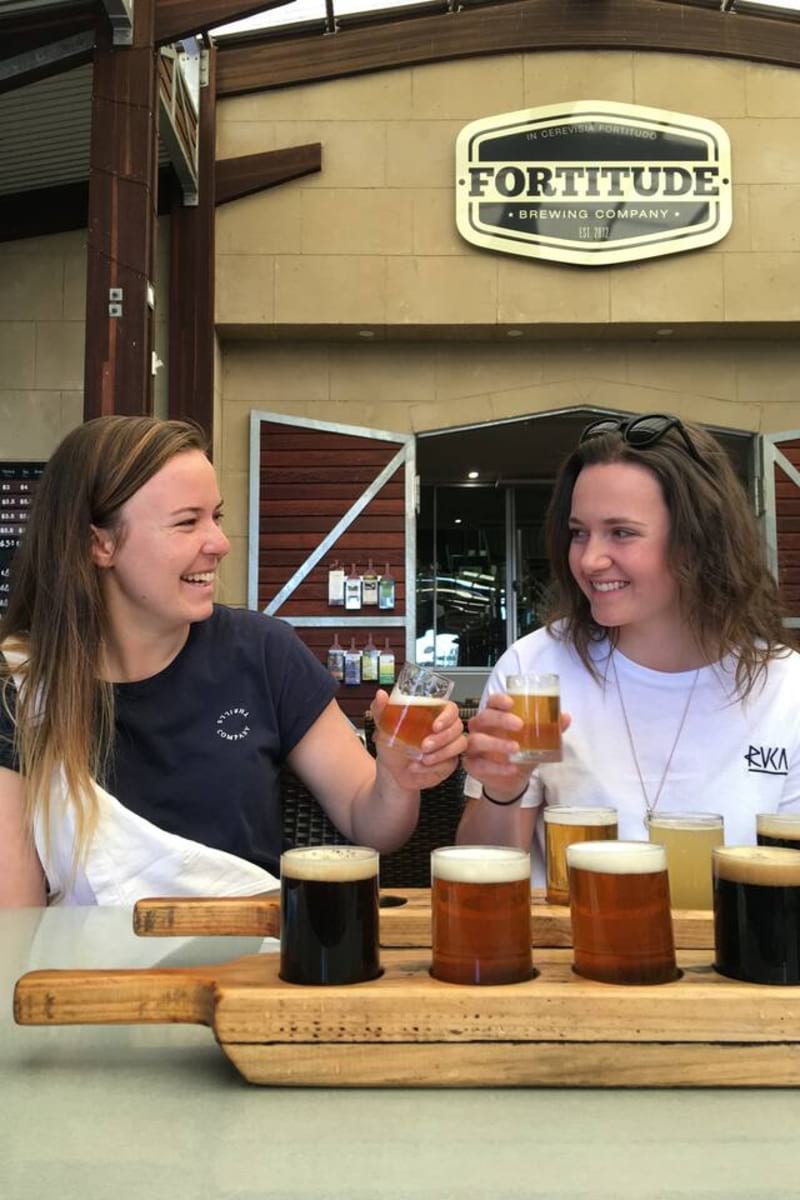 $170/person
6 Hours
Up to 10 guests
With all the food from the farmers' market, find something to wash it down with on this Brisbane Brewery tour. On this trip, you'll get to sample not only beer tasters, but lunch from four unique breweries. As well as trying several craft beers, you'll learn about the history of the city's beer industry. Want to know more? You'll have a chance to speak one on one with brewers, too.
Don't Forget Your Brisbane Travel Insurance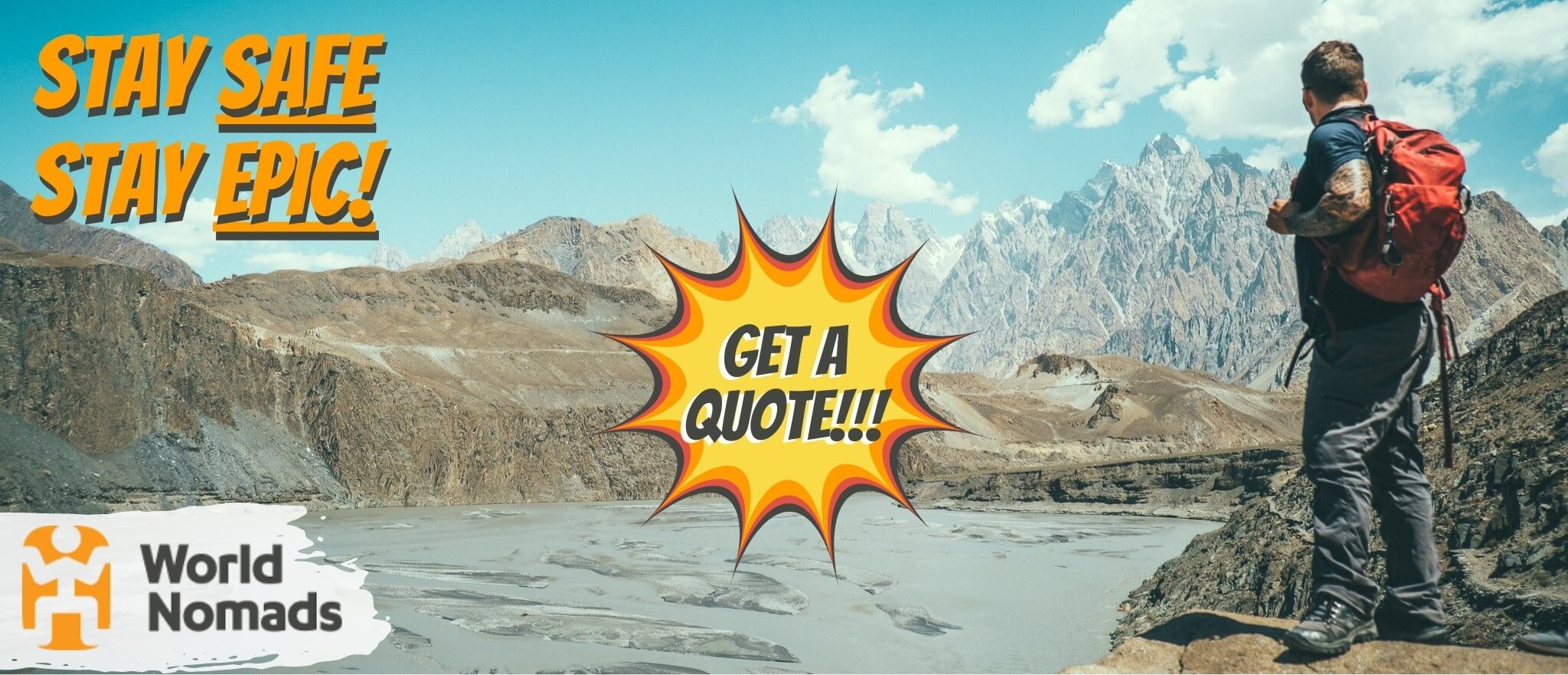 World Nomads' mission is to support and encourage travellers to explore their boundaries. They offer simple & flexible travel insurance, and safety advice to help you travel confidently.
They've been doing it since 2002 – protecting, connecting, and inspiring independent travellers just like you.
Get a quote below or read our in-depth review!
World Nomads provides travel insurance for travelers in over 100 countries. As an affiliate, we receive a fee when you get a quote from World Nomads using this link. We do not represent World Nomads. This is information only and not a recommendation to buy travel insurance.
Final Thoughts on Brisbane Airbnbs
So, there you have it. Not only have you seen the 15 best Airbnbs in Brisbane, but also five of the coolest things you can do there. Whether you want a city centre apartment, a farm stay in the countryside, or a townhouse suitable for the whole family, we hope you've found your dream stay.
And if you're still weighing up a few, let us remind you one last time of our overall best value Airbnb in Brisbane – Peaceful by the River. Not only is it in a great location, but it also offers sublime value for money, and there are wonderful views of the Brisbane River.
As well as encouraging you on how to book your trip, let us leave you with one last piece of advice. Take out a travel insurance policy with World Nomads. It'll mean your vacation is not only awesome but safe too.
---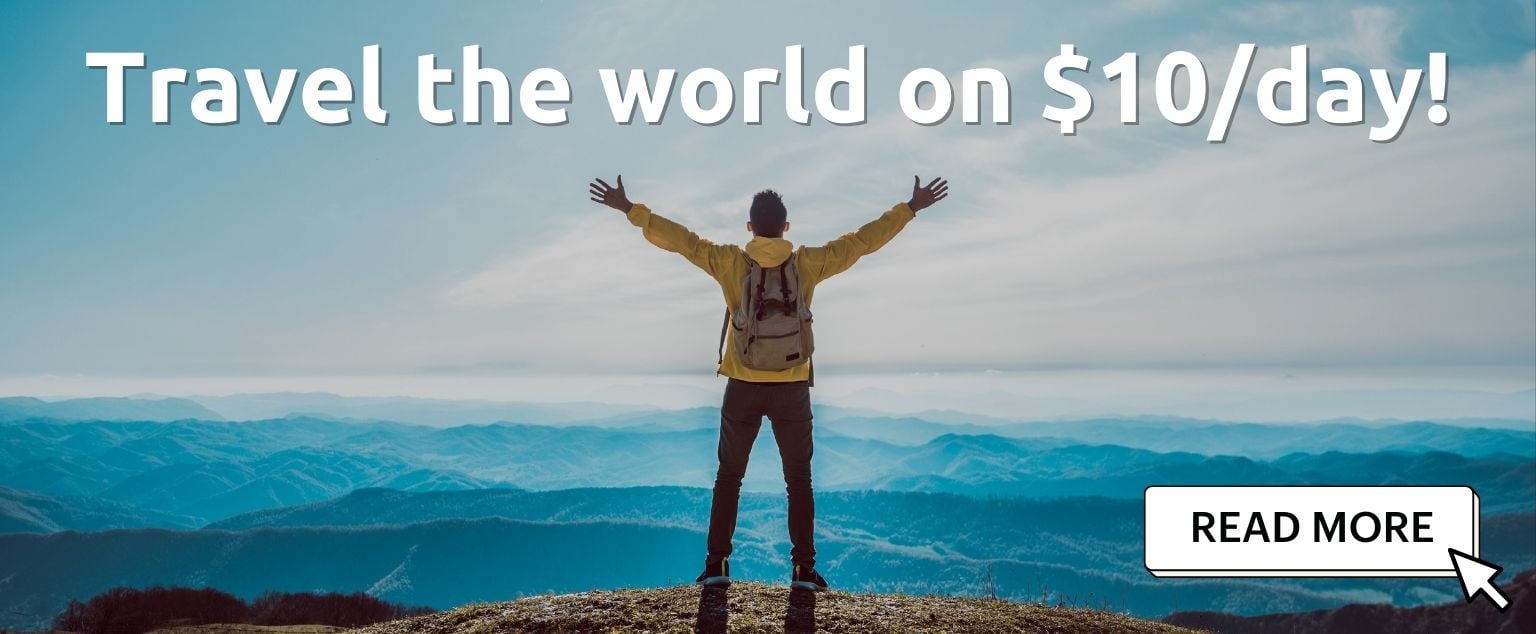 And for transparency's sake, please know that some of the links in our content are affiliate links. That means that if you book your accommodation, buy your gear, or sort your insurance through our link, we earn a small commission (at no extra cost to you). That said, we only link to the gear we trust and never recommend services we don't believe are up to scratch. Again, thank you!