Brisbane is the capital of Queensland and offers something for every kind of traveller. The bar, restaurant, and nightlife scenes are bustling, as is its cultural quarter around South Bank. It's here you'll find some fantastic museums which delve into the history of the region, which is the spiritual home of the Jagera people. There are some pretty cool galleries too where you can admire Australian and international contemporary art.
It would be a crime to visit Brisbane without getting further out into Queensland. After all the city is just a stone's throw from the golden sands and crystal clear waters of Moreton Bay. There are a number of other natural attractions nearby too!
In this article, we'll introduce you to the best places to visit in Brisbane, and help you make the most out of your holiday!
Need a place quick? Here's the best neighbourhood in Brisbane:
BEST AREA IN BRISBANE
New Farm
Delicious restaurants, cosy cafes, sweet bakeries, eclectic event spaces, kicking coffee, and interesting independent boutiques are just a few of the amazing things that New Farm offers to its visitors.
Places to visit:
Eat fresh and delicious dishes at Botanica Real food.
Grab pints at Newstead Brewing Co.
Visit the Brisbane Powerhouse for excellent events and one-of-a-kind gatherings.
These are the BEST Places to Visit in Brisbane!
Yes, there is absolutely loads to do in Brisbane. Unfortunately, fitting all of the hotspots in when you're only visiting for a short time can get very stressful. We've created an insider Brisbane itinerary to make sure you won't miss out on the absolute must-sees, even if you're only staying for a couple of days.
#1 – Lone Pine Koala Sanctuary – A very cool place in Brisbane to go for a day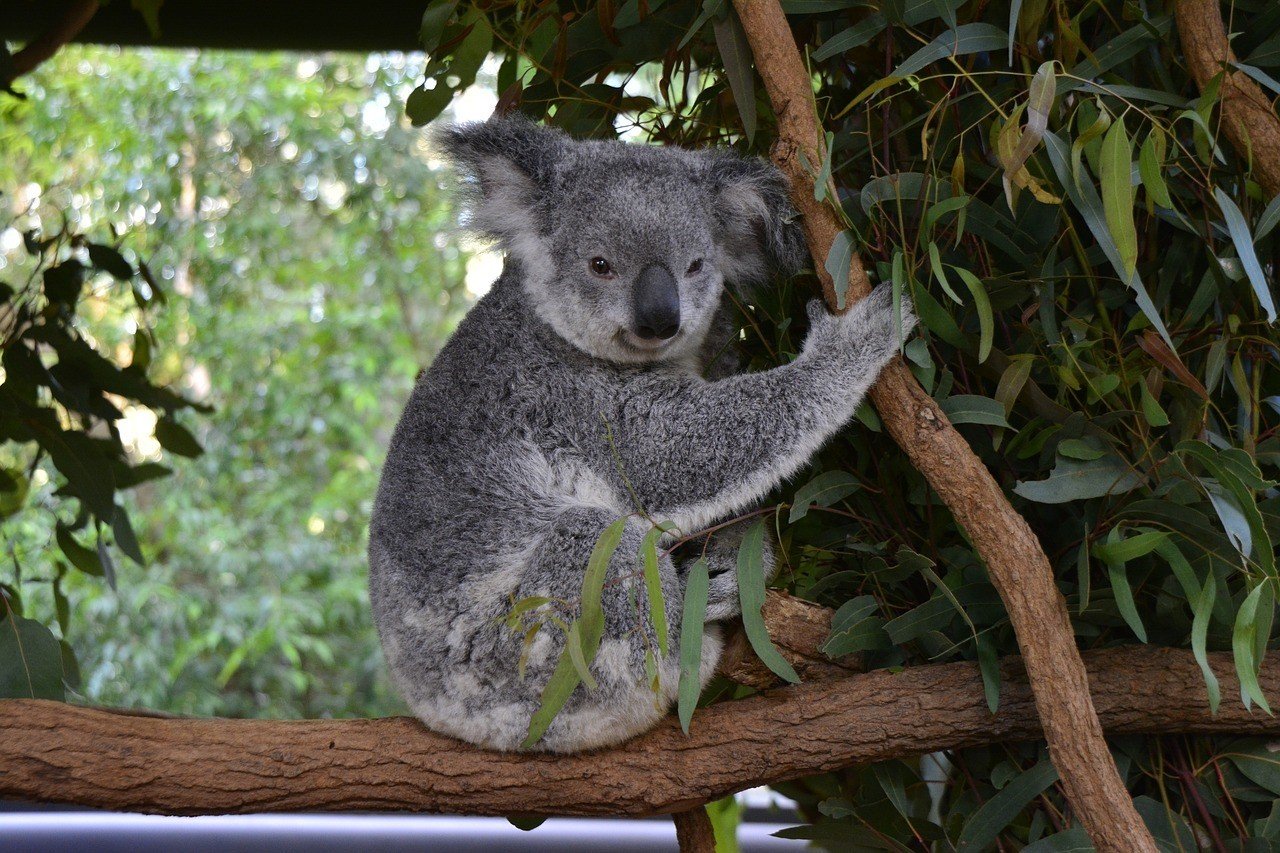 The world's largest and oldest koala sanctuary
12km from the CBD
One of the most famous places in Brisbane
Why it's awesome: This is at the top of pretty much everyone's Brisbane itinerary, and yours should be no different. One of the most interesting, fun, and educational days out in Queensland (especially if you're travelling with the family), Lone Pine Koala Sanctuary has over 130 furry grey residents for you to see. Not only that, but you can feed and pet these beautiful animals too! And it's not just koalas that call Lone Pine Sanctuary home either! There are a number of other animals native to Australia, including kangaroos, the unusual duck-billed platypus, and the Tasmanian Devil!
What to do there: Lone Pine Koala Sanctuary is not just a place to admire the beautiful Australian wildlife, but to learn more about conservation and these animals' natural habitats. Expert guides can teach you all about the creatures' lifestyles, whilst letting you feed and pet them (although maybe don't get too close to the Tasmanian Devil)! This is the perfect day out for solo travellers, families, or groups of friends. It's a Brisbane must see!
#2 – South Bank – Cool place to see in Brisbane with friends
Home to some of the best museums in Brisbane
The heart of bars, restaurants, and nightlife
Impossible to be bored here!
Why it's awesome: South of the Brisbane River (hardly surprising given its name), this area is the place and is one of our top picks for neighbourhoods to stay in when visiting Brisbane. Set across 17 acres, you'll find some pretty lovely parks to have a stroll around during the day. Or, you can head to one of the state's top museums or galleries, before enjoying one of the world-class eateries for dinner. Then, it's onto one of the coolest nighttime hotspots in Brisbane to dance the night away! You certainly won't be bored in the coolest neighbourhood in town.
What to do there: There's plenty! Art lovers should stop at the Queensland Art Gallery and Gallery of modern art (QAGOMA for short) as there are over 17,000 Australian and international works of art being shown at any one time! If you're travelling with kids, then the Queensland Museum and Science centre is a great bet – as there are some cool natural history exhibitions shown here too. If you get a bit fed up with cultural sites, maybe it's time to get some food or a drink at one of the fantastic restaurants or jazzy wine bars!
#3 – Brisbane City Botanic Gardens – A beautiful outdoor place to visit in Brisbane
Heritage listed botanical gardens
Great way to escape the hustle and bustle of the city
One of the best places in Brisbane to relax
Why it's awesome: You wouldn't think that you'd be able to find such a peaceful atmosphere so close to the beating heart of Brisbane's CBD, but this fantastic city just keeps on bringing up surprises! Queensland's tropical climate is perfect for plants and trees to thrive, and when visiting Brisbane, you simply have to stop off at the Botanical Gardens.
The city's oldest park dates all the way back to 1825 when it was used as a garden for convicts to plant vegetables for food! Nowadays, they're just a lovely place to hang out, loved by both tourists and locals alike so it does get busy if you are visiting Brisbane for the weekend.
What to do there: Taking a leisurely stroll through the Botanic Gardens is a must while you explore Brisbane. You could also bring a book and relax on a bench, or even a picnic and chill out with your travelling companions! There are guided tours of the gardens too, where you'll learn lots about the flora and fauna present. One last thing – don't confuse Brisbane City Botanic Gardens with Brisbane Botanic Gardens. They're located at our next stop – Mount Coot – Tha!
#4 – Mount Coot – Tha – A beautiful and scenic place to check out in Brisbane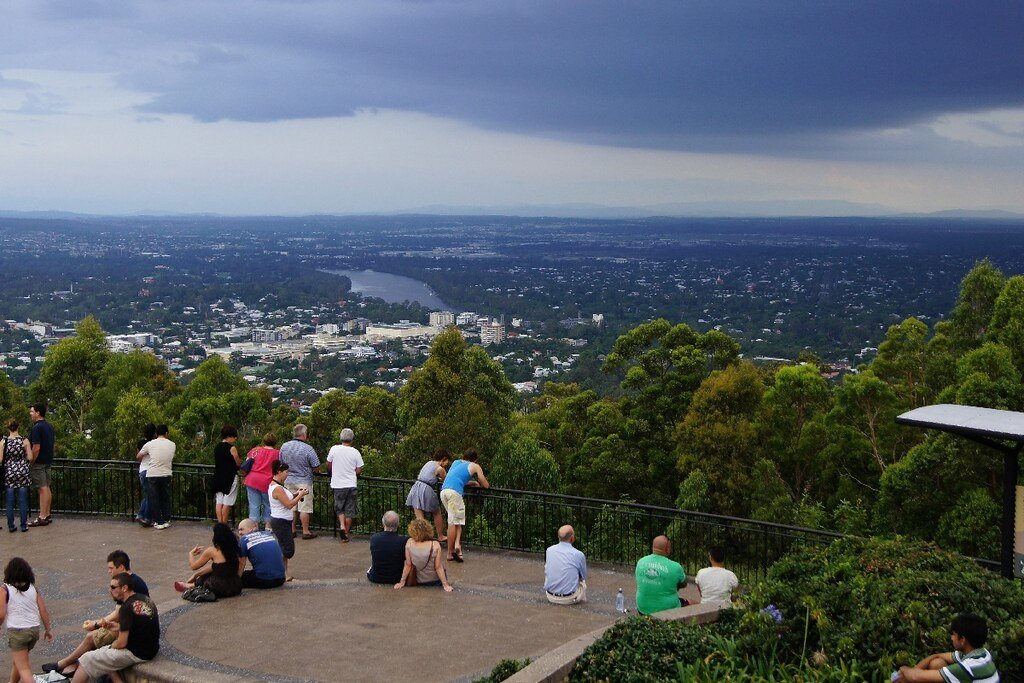 A great chance to get outdoors
One of the top Brisbane vacation ideas
Check out the scenic lookout – the views are awesome!
Bring your camera and snap pictures
Why it's awesome: This Brisbane must-see is one of the most popular tourist attractions in town, and it's not hard to see why. The scenic lookout at Mount Coot – Tha offers views of not only the CBD skyline but all the way to Moreton Bay! It's a great spot to get your legs working too, as the mountain offers a number of hiking and biking trails. You can really make a day of enjoying one of the coolest places in Brisbane!
What to do there: The first stop has to be the awesome Mount Coot – Tha lookout. Spend some time up there snapping pictures or just enjoying the view – bonus points if you can spot the hostel you are staying in! But how are you going to get up there? Well, there are over 70km of trails on the mountain, so if you're a keen hiker, you're sorted. You can take bikes up too, but they're probably a lot more fun on the way down! If you're feeling peckish (and no one would blame you after getting to the peak), enjoy some food or drink at the Summit Restaurant or Kuta Café!
#5 – Eat Street Northshore – A must-see for foodies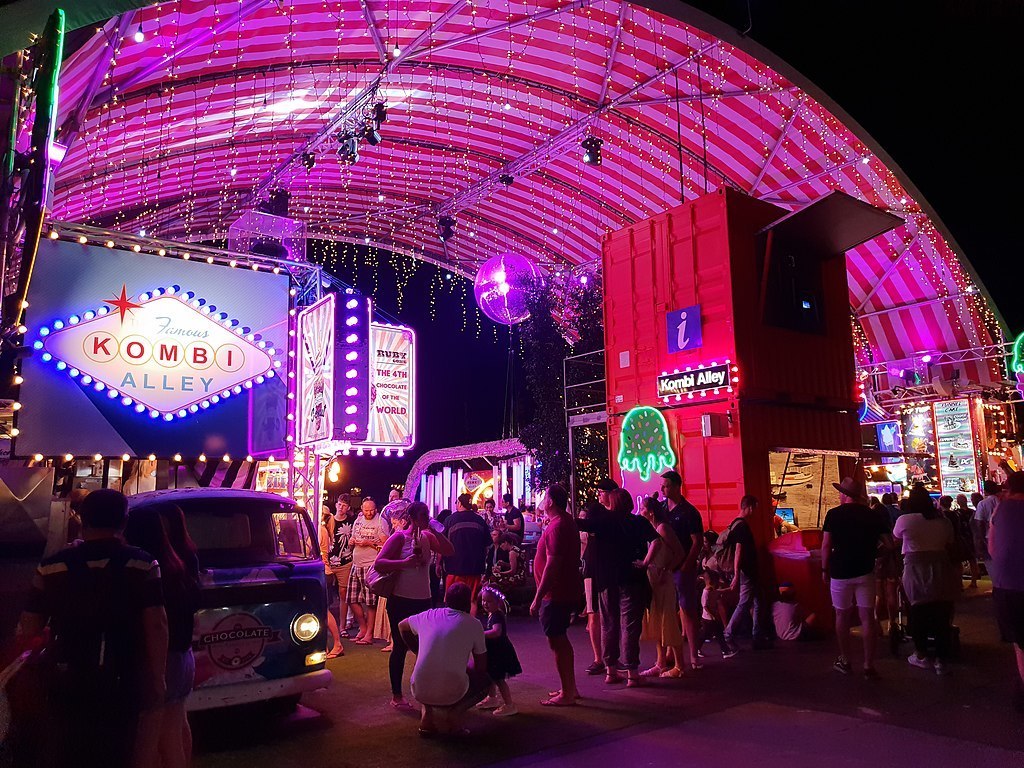 Enjoy eating in a shipping container
Discover some of the best places to eat in Brisbane
There are music and movies too!
Why it's awesome: Unfortunately, if you're visiting during the week you won't be able to enjoy the fantastic Eat Street Markets. However, if you're visiting Brisbane on a weekend then head down to sample cooking from around the world and fantastic views of the Brisbane River! These shipping containers are brimming with world food from wood-fired pizzas, to Thai street food, to Japanese dumplings! And of course, what could be better than enjoying delicious food with your mates or your significant other to the backdrop of some cracking live music?!
What to do there: You can't go to Eat Street without trying the food. It's basically the whole point! There are over 180 restaurants to choose from, and all we can recommend is that you go there and get stuff from as many places as possible! Of course, there's the live music for you to enjoy too. Check out Eat Street's events calendar to see if your favourite artists are playing any time soon!
Is This the Best Travel Backpack EVER???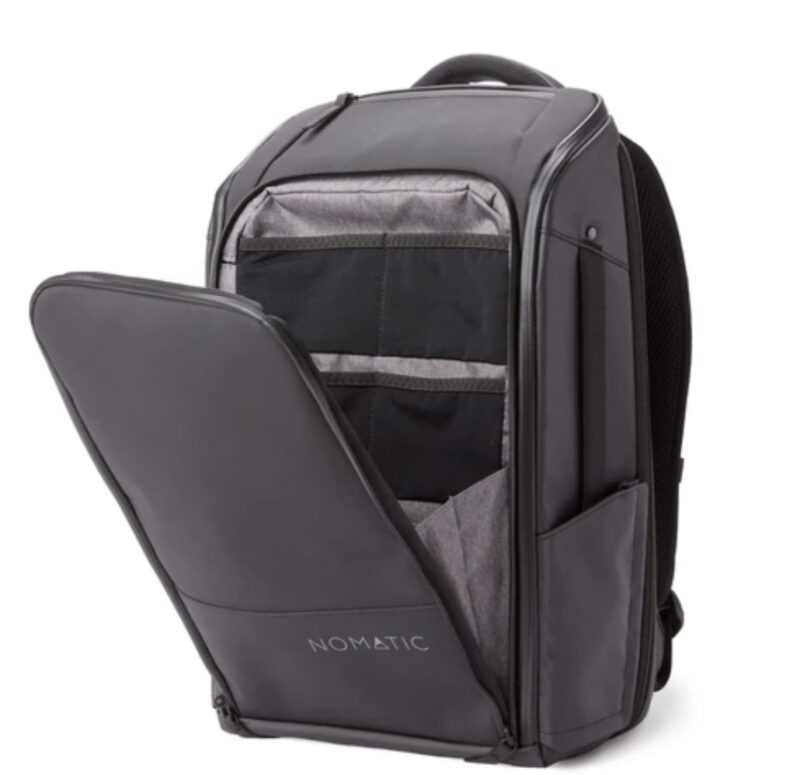 #6 – New Farm Park – Awesome place to visit in Brisbane with kids!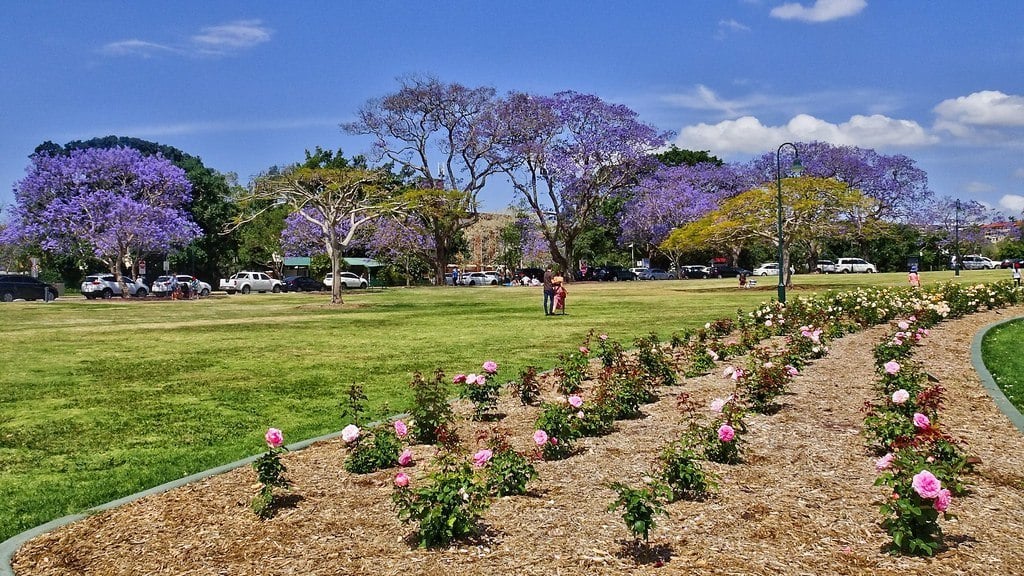 One of the biggest and oldest parks in Brisbane
Right next to the Powerhouse Farmer's Markets
Relax and connect with locals
Why it's awesome: Another of Brisbane's lovely green spaces, New Farm Park is a great spot if you're travelling with kids. There are loads of little amusements throughout the park that kids will love! It's good fun if you're travelling solo or with mates though too. There are plenty of wide-open spaces to play a bit of sport or just relax. You can even just curl up on a bench with a good book and while the afternoon away!
What to do there: As with many of Brisbane's parks, New Farm Park is a great place to escape from the hustle and bustle of the city. Take a ball or a frisbee and some friends, and you're sure to have a great time. Also, right next to New Farm Park is the brilliant Brisbane Powerhouse. Here, you can visit the farmer's market, which is one of our top-rated Airbnb experiences, to pick up some tasty artisan breads, cheeses and more. Or, you can witness a live arts show or even a movie at the open-air cinema! The possibilities are endless!
#7 – Story Bridge
Climb Brisbane's iconic bridge
Get amazing views of the city and its skyline
One of the most famous landmarks in Brisbane
Why it's awesome: If you make a list of iconic landmarks in Brisbane to put into your itinerary, then Story Bridge has to be on there. You can just take a walk or a drive across it, but if you're really daring then why not consider a bridge climb? This is the best way to get spectacular views of not only the CBD, but the city surroundings too. In one direction, you'll see the sandy islands and blue waters of Moreton Bay, while in another you can gaze at the landscapes of the Glasshouse Mountains!
What to do there: If you're not afraid of heights, then the bridge climb is one of the top activities in the whole of Brisbane. It's a real bucket list activity, and the best part is you can pick the time of day you want to do it! So, a dawn climb will let you see the sunrise over Moreton Bay. A day climb will mean you can see as far as the Glasshouse Mountains, while a twilight climb will show you all the twinkling lights of the CBD! The choice is yours, and we're sure that you'll love it!
#8 – James Street – A great place in Brisbane if you love to shop!
Explore Brisbane's best shopping!
Over 130 stores
A surprisingly relaxed atmosphere
Why it's awesome: You might not have much space in your suitcase (or budget) for the trendy fashion on offer at James Street, but it's a great place to spend some time. After all, nobody said you can't window shop! There are over 130 stores here showcasing the coolest lifestyle stores the city has to offer, as well as some of the best places to eat in Brisbane too! It doesn't always feel like the centre of town though. The leafy suburban area gives a relaxed and laidback atmosphere, which we think you'll love!
What to do there: First and foremost, people come to James Street to shop. If you're on a broke backpacker budget you might want to skip a few of the high-end designers, but there are plenty of cool Aussie concept stores where you can pick up a cool gift or two for friends and family back home! Walking around and shopping is bound to work up an appetite, so head to one of the nearby eateries to fuel up for your next activity!
#9 – Suncorp Stadium
Take in a game of rugby or soccer
Over 50,000 seats!
One of the most recognisable landmarks in Brisbane
Why it's awesome: If you're in town when there's a game on at the Suncorp Stadium, you won't want to miss being a part of it! Home to rugby league and international rugby, fans of the oval-shaped ball should definitely check out the stadium's events calendar. It's not all about sport though – the stadium, which holds over 50,000 people, also has some great concerts with world-famous artists. So, there really is something for everyone at one of the best places in Brisbane!
What to do there: If you don't have time or money to fit a gig or game into your Brisbane itinerary. Don't fret though, as you can still get to know the Suncorp Stadium! Take a tour of the stadium to find out about its history from its humble beginnings as a cemetery to what it is now! The home of rugby league, international rugby, and soccer in Queensland. Of course, you can also head to a gig, with acts such as U2 and Noel Gallagher's High Flying Birds having played here lately.
#10 – Cedar Creek Trail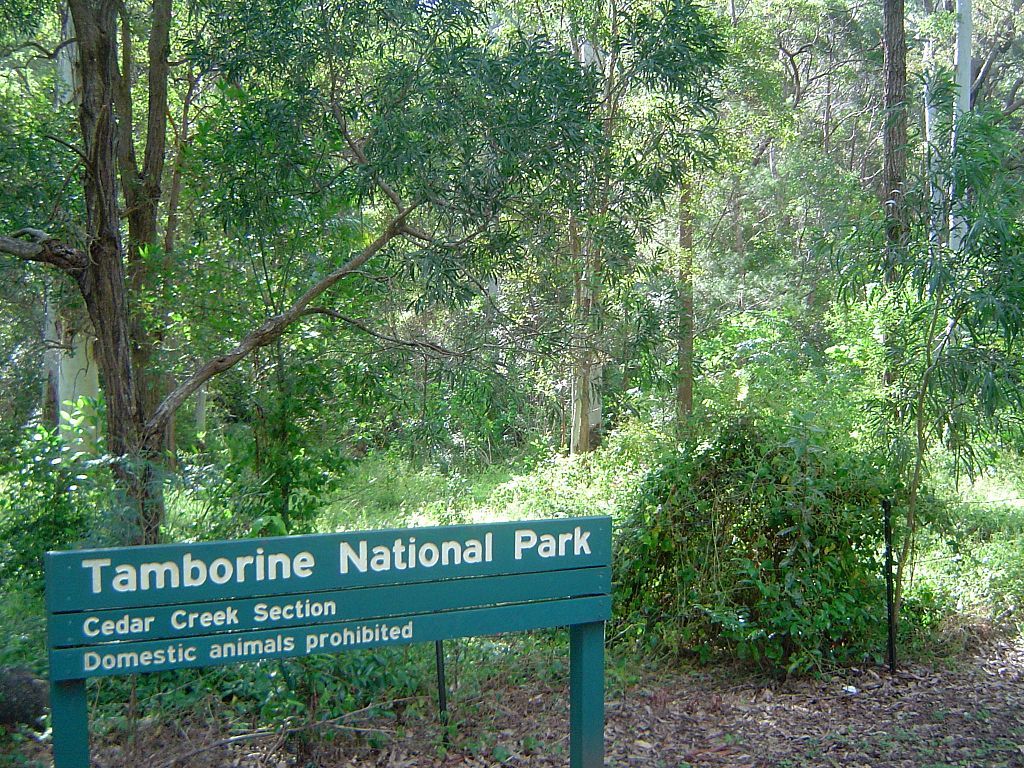 A great place to get out into the Aussie bush
Climb the waterfall
Why it's awesome: Cedar Creek Trail is a great place to really get away from the hustle and bustle of the city. 30km outside of Brisbane, this pretty nature trail will make you forget about the noise and bright lights. And have you even been to Australia if you haven't got out into the bush?! The hike is a great way to see waterfalls, rockpools, and even some native wildlife! There is a restaurant in the vicinity too in case you forget to bring a picnic!
What to do there: Well, for starters we'd recommend bringing your swimsuit! Not only can you take a dip in the rockpools, but you can climb the waterfall too. You're bound to get wet doing that! The hike along the Cedar Creek Trail isn't too challenging, so you can do this whatever your fitness level. Just make sure you bring some sunscreen as the rays can be pretty relentless!
#11 – Yatala Drive In – Great place to visit in Brisbane for couples!
The perfect date night in Brisbane
Shows a film every night of the week
Make sure you don't forget the popcorn!
Why it's awesome: If you're looking to step back into the past while you explore Brisbane, then check out this place. Obviously, it's best if you rent (or have) a car, but Yatala drive-in cinema is a magical place that you can enjoy with your other half! Showing films every night of the week, it's the perfect place to enjoy a romantic date. It's a great place to come with family or friends too. To be honest, it doesn't matter who you're with, nothing beats a night under the stars with popcorn and the big screen!
What to do there: If you don't come to a drive-in cinema to watch a movie, it's a bit pointless really! There are a few things to sort out before you arrive though. Load up on popcorn and a few drinks, and get a blanket to make the night really magical. Lie back in your seat and watch the stars through your sunroof or open roof (if you've got one!) It's a quirky option, but still one of the best places to visit in Brisbane!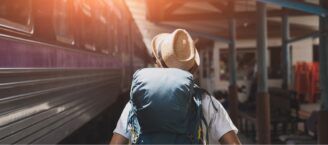 Unlock the The Broke Backpacker's GREATEST Travel Secrets
Sign up for The Broke Backpacker Newsletter to receive weekly tips on how to travel on a budget + a FREE copy of The Backpacker Bible!
Get insured for your trip to Brisbane!
Remember, when you are traveling you may need insurance! World Nomads are our go-to Travel Insurer; we have used them ourselves for years now.
Getting an estimate from World Nomads is simple – read the review or click below, fill out the form, and you're on your way!

Final Thoughts
So, that concludes our list of the best things to do in Brisbane. Hopefully, you've found this list useful and informative and have a few more ideas up your sleeve for your upcoming trip! You'll also be clued up on the best neighbourhoods in Brisbane too, and may already have a place to stay in mind.
Brisbane is a great place for a city break, as it combines great places to eat and sample the local nightlife. It's also got rich art and culture, as you can see in the South Bank area. Add in friendly locals and how easy it is to enjoy some outdoor activities, and you've got a perfect few days lined up.
We hope that this list has not only given you an insight into the best places to visit in Brisbane but has also given you a bit of an idea of how to live like a local. So, thanks for reading our comprehensive guide to the best places to visit in Brisbane and we hope you have a fantastic holiday!
---
Find out how YOU can support the site.
We're a big site with a big team and this job isn't always easy. But we do it because we love it – we love providing epic and free content. We love the knowledge that our content keeps you adventuring. We don't ask for money, but if you'd like to find out how you can help the site in more organic ways, click the button below.
Thank you for your support 🙂
And for transparency's sake, please know that some of the links in our content are affiliate links. That means that if you book your accommodation, buy your gear, or sort your insurance through our link, we earn a small commission (at no extra cost to you). That said, we only link to the gear we trust and never recommend services we don't believe are up to scratch. Again, thank you!