Backpacking in Darwin is one of the most unique experiences you can have while visiting Australia. This is where the parties are raucous, the state is laissez-faire, and the Outback is omnipresent; things are just different in Darwin.
I spent some time in Darwin and the Northern Territory at the tail-end of my Australian working holiday. It was one of the highlights of my trip to Australia and I would return in a heartbeat. Very few places in the country offer such a visceral, raw, and uncut Australian experience as Darwin.
But let's not forget that this is Strayla and things get expensive real quick! Darwin can be expensive for travelers and none of the region's top attractions – eating, drinking, trips to the Outback, etc – are particularly easy on a backpacker's wallet.
If you're going to be backpacking around Darwin, you're going to have to be a smart broke backpacker and equipped with the right sort of tools…
…Like this budget travel guide to Darwin! In this guide we cover free things to do in Darwin and how to budget for your trip; you'll be more than prepared to go backpacking in Darwin on a budget.
The cost of backpacking Darwin is slightly above average compared to backpacking the rest of Australia. It's not as cheap as Queensland or Adelaide but it's definitely more affordable than Sydney or Melbourne. With ardent backpacker habits, you can definitely backpack Darwin on the cheap!
A comfortable daily budget for Darwin would be around $50-$65 per day. With this, you'll get a dorm bed, groceries, cash for public transport, and some extra spending money. If you make a real effort, you can get by on less.
Hostels in Darwin are a little more expensive than Queensland but this is only noticeable to temporary residents. Those living in Darwin long-term for work purposes will find it a more affordable place thanks to special deals they receive from hostels. Working in Darwin is a great way to reduce the cost of travel/living expenses.
Food and drinks are victims of the notorious overpricing in Australia, but there are ways to save cash.
Always (ALWAYS) look out for special deals posted on signboards outside of restaurants. There are constantly offers like "schnitzel and a beer" or "buy one, get one free" around.
Unless you're planning to hitchhike, you'll probably rent a car in Darwin because the best places to visit are outside of the city. That's also why knowing where to stay in Darwin can be a real advantage. Try and find a group of fellow travelers who are keen to join you so you can split the car rental and petrol costs between the lot.
Darwin Daily Budget Breakdown
Below is a more detailed breakdown of the average costs of travel in Darwin:
Darwin Budget Backpacking Tips
There are always ways to save cash while traveling! With the proper spending habits, Darwin can be cheap and you can stay here for as long you feel like. Just follow the tips in this travel guide for Darwin!
Below is a list of tips for backpacking in Darwin on a budget. Follow these words of advice and you'll find that you have more money leftover at the end of the day:
Always pre-fade before going out: Buying full-priced drinks at the bar is a great way to waste your money. Instead, buy booze at the store and drink with your friends at the hostel/their house/the park/anywhere besides the actual bar. Drink lots of store-bought wine; it's freakin' cheaper than water sometimes!
Cook at home as often as possible: One of the most proven ways to save money for backpackers; buying your own groceries and cooking at home will save you heaps of cash.
Eat/drink during happy hour: Many bars and cafes offer drink and meal specials during the quieter hours of the day (4pm-6pm). Some of these deals can be quite affordable; even the locals use them!
Get a job: Whether or not you have a working holiday visa there are plenty of opportunities to find backpack jobs in Darwin. Many hostels will give you a free bed in exchange for a few hours of labor.
Do free shit: There are a ton of attractions in Darwin that don't charge you any sort of entrance fee! None of these are dull or boring either. Check out any of these free things to do in Darwin while visiting.
Walk: Darwin is not a big place. Unless it's really hot or you're really not feeling energized, then walk to save money!
Why You Should Travel to Darwin with a Water Bottle
Plastic washes up on even the most pristine beaches… so do your part and keep the Big Blue beautiful
You aren't going to save the world overnight, but you might as well be part of the solution and not the problem. When you travel to some of the world's most remote places, you come to realise the full extent of the plastic problem. And I hope you become more inspired to continue being a responsible traveller.
Plus, now you won't be buying overpriced bottles of water from the supermarkets either! Travel with a filtered water bottle instead and never waste a cent nor a turtle's life again.
Hostels are the bread-and-butter of any Australian holiday! Those who are backpacking in Darwin will find that hostels here are up to the usual Aussi standard and are complete with all of the usual amenities.
Hostels in Darwin can feel slightly rowdier than those in the rest of the country. This is because Darwin is a bit of an R&R spot for those pent-up miners as well as the more southerly Australians. Many Australians end up escaping here for a short period of time to get their kicks in before returning to the dreary winters down south or work.
Those wishing to stay long-term in Darwin should inquire with hostels about special deals. Hostels will often offer discounted rates to those who are backpacking in Australia long-term who have a working holiday visa.
Staying for a longer period at one of the hostels in Darwin could be an awesome experience as everyone knows each other and the camaraderie is really fantastic. Darwin is full of a shocking number of working backpackers doing all sort of things from working in bars to mining to developing infrastructure.
If working holidayers have the means, try to find an apartment. Real estate in Darwin is more pricey though so unless you're hanging with all the other miners, you may have difficulty finding an affordable place.
Check the local classifieds, like Gumtree, or check your hostel's bulletin board; many backpackers start in the hostel and end up moving into their own place.
To save the most money, you can, of course, reach out to potential hosts via couchsurfing. Australians are an extremely hospitable bunch and love to host unsuspecting visitors. Be sure to follow all the usual courtesies and rules of staying with a stranger though.
Below, you'll find a brief breakdown of the best hostels in Darwin.
With one of the most notorious backpacker bars in Darwin, Chili's takes the award for best party hostel in Darwin! Their location on Mitchell Street means there are plenty bars and clubs around just in case the on-site one wears on you.
There is a spa and rooftop pool crucially available as well for those hangover days.
Not gonna lie guys; just about every hostel in Darwin caters to the rough and wild backpackers who like to have a cheeky smoke or pint. No matter which hostel you stay at, they're all going to be social! Solos travelers will no problem meeting fellow backpackers in Darwin.
The awesome thing about this hostel us their 10 person jacuzzi. Don't forget to bring a towel 🙂
This is easily one of the coolest places to stay in Darwin. It offers a self-contained apartment with a fully equipped kitchen, air conditioning, and a pool. The apartment is located close to the markets and the beach as well as to the Trailer Boat Club.
So, it's a great choice when you're deciding where to stay in Darwin for nightlife. And as an added bonus, you'll have the entire guesthouse to yourself during your stay.
Best Overall Backpacker Hostel in Darwin: Melaleuca on Mitchell
Melaleuca on Mitchell is the best hostel in Darwin thanks to its amazing location, excellent communal areas, and quality of services. The rooftop deck is one of the largest of any hostel in Darwin and a great place to chill out.
The hostel itself is large and offers several different types of rooms. A lot of people end up staying in this hostel for a long time, either because they're working or because they just can't leave!
1. Explore Kakadu
Kakadu is one of the most important ecosystems and national parks in all of Australia. Visit some incredible petroglyphs in addition to some equally impressive landscapes.
2. Navigate the Katherine Gorge
The Katherine Gorge is a bit off the tourist trail, which means that it's quieter than some other attractions in the Outback. There is still plenty to do here including but not limited to cruising up the river and going on a multi-day hike.
3. Party hard
Australians love to visit Darwin in the winter because of its warm weather and access to several Outback destinations. In between their bushwalks and adventures, Australians love to have a good time in the city too! Party with the locals and your fellow backpackers.
4. Educate yourself about Aboriginal culture
Aboriginal culture is ingrained in the culture of the Northern Territory. From small day-to-day rituals to large organized events, the local indigenous people are very proud of their heritage and enjoy educating people about it.
5. Attend a local festival
There are lots of festivals in Darwin that should appeal to all sorts of people! Check out the culturally enlightening Garrmalang Festival in May or the raucous Darwin Festival in August. There are plenty more other than those as well!
6. Try a working holiday
Working and playing in Australia is one of the most enriching experiences you can have in your young life! You'll meet people that will remain in your heart for years to come, and learn things they don't teach you in school.
7. Go for a walk through World War II
Darwin was the frontline in Australia when the Japanese approached. There are several remnants from this period strewn throughout Darwin including tunnels, weapons, charters, and much more.
8. Go swimming with giant crocs
Swimming with crocs at the Crocosaurus Cove is one of the most famous activities in Darwin. Do you have what it takes to swim with these relics from prehistoric times?
However note, while this is the most famous attraction in the city of Darwin, I have heard mixed reviews, so don't expect to be blown away.
9. Take a dip in Litchfield National Park
Litchfield National Park is my favorite place near Darwin! This idyllic oasis is full of gorgeous waterfalls, the likes which are very popular with the locals on their days off.
10. Chill at the markets
Sometimes the best thing to do in Darwin is to wander around, and grab a bite and brew. Two of the most famous and best local markets in Darwin are Mindil Street and Parap.
Looking for a little inspiration? Well here's a sample itinerary for spending 3 days in Darwin!
Day 1 in Darwin: The City
Before venturing into the Outback, travelers should spend some time exploring Darwin itself. Darwin is a smaller city, so there aren't too many attractions.
Unless you're planning to stick around for some serious partying and subsequent recovery days, you'll only need one day to do and see the best things in Darwin.
Assuming you're staying close to the CBD and the main artery of Mitchell Street, everything you'll want to do is close by.
Start your first day in Darwin at Darwin Wharf Precinct and then walk to Bicentennial Park. Along the way, you'll see many of Darwin's most well-known landmarks including the oil tunnels, local Parliament, and the Aboriginal Fine Arts Museum.
Another famous attraction on the main drag is the somewhat over-hyped Crocosaurus Cove, where you can be submerged in a tank with crocodiles. Now, I'm not calling this a tourist trap but I've only heard lukewarm reviews about this place. Do it if you're inclined but don't expect anything special.
Further north is the Cullen Bay, where you'll find the Mindil Street Markets, the beach of the same name, and the Burnett House. This area is definitely worth checking out, especially in the late evening when the Markets come alive.
Honestly, there are not a ton of things to do in Darwin besides eating and drinking; you can refer to this guide's Where to Eat and Drink section for more on these activities.
If you're feeling up to it, take a bus to the Museum and Art Gallery of the Northern Territory and/or the Botanic Gardens. Both are very interesting and informative.
Day 2 in Darwin: Litchfield
This will be one of my favorite days on this itinerary for backpacking Darwin since Litchfield is one of my favorite places in Australia!
Located about an hour or so outside of Darwin, this national park is full of gorgeous waterfalls, which look really spectacular set against the red rock of the Outback.
Note, the best way to experience Litchfield is by car camping. The Outback has some of the clearest night skies in the world and sleeping underneath them is amazing, and driving is perhaps the only way to get around Litchfield anyway. Most of the roads in Litchfield are sealed and well-kept although there are a couple of 4-wheel tracks.
When driving into Litchfield, stop by the Magnetic Termite Hills. This collection of termite-made towers and arches resembles a city and is actually pretty cool.
Upon arriving in Litchfield, you have several ways of seeing the park and all of them are equally thrilling. All you really do in Litchfield is hike and swim, with a beer or two in between of course. As such, you can visit the local waterfalls in any order you see fit!
Be sure to check out Wangi Falls, the Buley Rockhole, the Tolmer Falls viewpoint, and Florence Falls. If you can manage, try to snag a campsite near Florence so you can access the falls at night. Going skinny dipping in the plunge pool of Florence Falls under the full moon was one of the coolest things I did while backpacking in Darwin.
If you have a 4×4, be sure to visit Tjaynera Falls and the Lost City. Though I didn't make it there myself, I heard very good things about both places.
Day 3 in Darwin: Kakadu
A flower of the Outback, Kakadu, is one of the most ecologically, archeological, and geographically significant parks in the entire Outback.
As Australia's largest national park, it's home to an enormous array of flora and fauna in addition to some of the most important Aboriginal rock art in the country. Kakadu is a must-visit while backpacking around Darwin.
Visitors to Kakadu are asked to pick up a park entry pass, which costs $25. You will not be required to show this pass upon entry but a park ranger may ask to see it if you run into one.
Like Litchfield, you'll probably want a car to explore Kakadu. Unlike Litchfield, Kakadu has some really rough roads, the likes of which require 4x4s. There are local tour companies that take you to remote, offroading locations like (Jim Jim Falls).
While it's advisable to go through a local tour company for certain locations, I hesitate to suggest a tour for your entire trip. Prices will be very expensive and you can see enough of Kakadu with your own car.
Some of the most beautiful natural places in Kakadu include the Gunlom pools, the Maguk pools at Barramundi Gorge, and the Nawurlandja Lookout.
Some of the park's most amazing rock art is found at the superlative Ubirr, Nourlangie Rock, and Nanguluwur. All of these places are outdoor galleries so bring plenty of water, insect repellent, and sun protection.
There are some places in Kakadu that you'll have to spend much more time and energy getting to; this includes 4x4s cars, wading rivers, and possibly overnight camping.
The aforementioned Jim Jim Falls is definitely one of Kakadu's most stunning sights but you'll have a long journey ahead of you to see it. Also worthwhile are Twin Falls and the epic Koolpin Gorge, the latter of which requires a permit.
Off the Beaten Path in Darwin
Backpacking in Darwin is a unique experience because one of the goals is to precisely get off the beaten path in the first place! In a lot of ways, the city is already off the beaten path (the nearest major Australian city is Adelaide, which is 1900 miles away).
Outdoor superlatives like Kakadu and Litchfield are very popular places to visit while backpacking Darwin. So where do you go to get away from these places then?
There are a lot of hidden attractions in the bush outside of Darwin! Possibly the best place in the Northern Territory, not named Kakadu or Litchfield, is the Katherine. This region, located further south at the turnoff to Western Australia and the Kimberley, is full of awesome natural attractions.
The most impressive site in the Katherine is the Katherine Gorge, located inside of Nitmiluk National Park. Many people come here to cruise the river or to go on one of many hikes, the most famous of which is the multi-day Jatbula Trail. Nearby the park you can visit a couple of lovely waterfalls named Leliyn and Edith.
There are several hot springs in the area that are very popular with the locals. Douglas and Katherine Hot Springs are two noteworthy ones. Be careful while bathing in the springs – the water here gets seriously hot!
Best Walks around Darwin
If you're gearing up for some trekking in the Outback, there are a couple of decent walks around Darwin to get you warmed up! Walking is also one of the best free things to do in Darwin! Check out one of these quick tracks to get started.
Traveller's Walk – A quick walk that follows in the footsteps of former immigrants disembarking from the docks. Lots of historical markers. Located at the Waterfront Precinct.
Charles Darwin National Park – Very ecologically significant wetland that was also fortified during WWII. Several leftover bunkers. Owned by the Larrakia people.
Howard Springs Nature Park – Chance to see local wildlife like turtles, barramundi, and other freshwater fish.
East Point – Lots of walking trails in addition to the Darwin Military Museum and some safe swimming holes.
Below are my best Darwin travel tips, including how to travel around Darwin, a guide to the best food and time of year to visit Darwin.
Best Time of Year to Visit Darwin
Northern Australia, or the "Top End" as it is locally referred to, is subject to a textbook tropical climate.
With only two distinct seasons (summer and winter) and temperatures that barely fluctuate – highs consistently hover around 90 Fahrenheit year-round – Darwin can be visited at any time of year so long as you don't mind humidity in the summer.
Summer in Darwin (December-March) is the rainy season. Referred to as the "Big Wet," the overwhelming majority of yearly rain falls during this time of year. Precipitation can be absolutely biblical at times, causing floods and road closures in the bush. Temperatures can feel much higher because of the humidity.
Visiting Darwin during the summer can be ideal for some. As this is the low season, prices are lower than the rest of the year. Rain usually falls in the late afternoon, thus leaving the morning for activities. The landscape is also lush and a wonderful green thanks to the rainfall.
Winters in Darwin (April-November) are the most reliable time of year to visit. During the "Big Dry," temperatures are consistently warm, rain is sporadic, and the roads are open. Since everyone in the country visits at this time, prices will be higher.
I'd say that the dry season is better for mosquitoes but these fuckers are present at all times of the year. When backpacking in Darwin, always expect to be mobbed by mosquitoes regardless of the season.
Get in and out of Darwin
Lying on the far northern coast, Darwin is one of the most isolated cities in Australia. In fact, several Indonesia cities (e.g. Makassar, Denpasar) are actually closer to Darwin than other Australian cities!
As a remote destination, one of the best ways to get in and out of Darwin is to fly. Darwin has an international airport that is well connected with the rest of Australia and much of South East Asia. Flights from Darwin to Asia are usually pretty cheap, even more so than some domestic flights from Sydney and Melbourne!
There is a shuttle from the airport to the Darwin CBD that costs $18.
If you don't want to pay for a shuttle, there are a couple of other ways to transfer using the local bus. Most importantly, you'll have to get to the Darwin Interchange Station to catch the #3. From the airport, there are 2 routes going to the Interchange: the #9 and #10. Total trip time from the airport to CBD is around an hour. Note that buses become infrequent after 9pm.
If you're planning to go on a Great Australian Roadtrip, then good on ya! Car camping, especially with a campervan, is one of the best ways to see the country and we highly recommend doing this!
Darwin is primarily accessed via the Stuart Highway if you're driving a car. This road runs all the way to Alice Springs in the Red Center and further south all the way to Adelaide. This route will take several days at an absolute minimum. Be careful of the road trains while you're driving!
When you're ready to travel to Darwin, forgo buying tickets at the station and book them online instead! You can now book transport in advance for most of Asia using 12Go and doing so can really save you some stress (and maybe money, too).
How to get around Darwin
Darwin is a relatively small city that doesn't take much time or effort to navigate. It has a public transit system that, while not extensive, is effective.
There are several bike-friendly byways in the city as well. Between public transport, biking, the potential of having a car, and your own two feet, getting around Darwin is very easy.
Darwin's local bus is called Buslink. 3-hour tickets are sold for $3, daily for $7, and weekly for $20; you can ride as many lines as you want during whichever time period you purchase.
Darwin is about as flat as a city can get, which means that biking around it is very convenient. Inquire with your hostel about renting a bike.
Honestly, most of the best things to do in Darwin are close to each other and you can walk to most of them. Granted, there are a couple of important museums and galleries a little out of the way; in these cases, a bus or campervan will be convenient.
Safety in Darwin
Aside from the party animals, Darwin is a pretty sleepy town. Not many nefarious things happen here and crime is relatively unheard of. Though we believe that Darwin is a very safe place to walk around, we also believe that you should always be prepared. Brush up on the usual safety habits of travel before backpacking in Darwin.
Mother nature is going to be your biggest safety concern when visiting Darwin. Both the elements and local wildlife can be a problem and possibly fatal in certain circumstances.
The climate in Darwin is not to be taken lightly either. On occasion, temperatures can soar and heat stroke is a real possibility. In the dry season, bushfires can grow to enormous sizes and summer floods can wash you or anything else away for that matter.
Be aware of your environment, drink a shit load of water, and do not go anywhere near a flood or bushfire.
Be very mindful of the local wildlife as well. Crocodiles are everywhere and will eat you in a heartbeat if given the chance. DO NOT go swimming somewhere that you shouldn't! If the locals aren't swimming it's for a very good reason.
Be very careful for box jellyfish, which like to hang out close to the shores from December-March. A sting from these guys is among the most painful sensations a human can experience and could even stop your heart.
Get Insured before Backpacking Darwin
Traveling without insurance would be risky so do consider getting good backpacker insurance sorted before you head off on an adventure.
I have been using World Nomads for some time now and made a few claims over the years. They're easy to use, professional and relatively affordable. They may also let you buy or extend a policy once you've started your trip and are already abroad which is super handy.
If there's one insurance company I trust, it's World Nomads.
World Nomads' mission is to support and encourage travellers to explore their boundaries. They offer simple & flexible travel insurance, and safety advice to help you travel confidently.
They've been doing it since 2002 – protecting, connecting, and inspiring independent travellers just like you.
Get a quote below or read our in-depth review!
World Nomads provides travel insurance for travelers in over 100 countries. As an affiliate, we receive a fee when you get a quote from World Nomads using this link. We do not represent World Nomads. This is information only and not a recommendation to buy travel insurance.
Darwin Accommodation Travel Hacks
Let's face it, sometimes we all need to stay in a hostel. Hostels are great for meeting fellow travelers and just having space where you can do your thing at your own pace. Paying for a bed day in and day out though can add up especially in Darwin where hostels tend to be more expensive.
So, stay at a hostel for a night or two and consider your other options for backpacking Darwin on a budget:
Couchsurf!: If you manage to land a Couchsurfing spot in Darwin, you will have successfully eliminated your biggest cost: accommodation.
Tap into your backpacker network: Before you begin your Darwin backpacking trip, I suggest you put your feelers out there and ask your network of friends if they know of someone whom you can crash with for a night or two.
Stay out of the center: Another way to bag cheap accommodation is to stay out of the city center. There are many cool beach houses in Australia that are located just outside the city and at an affordable rate.
Where to Eat in Darwin
The majority of Darwin's restaurants and cafes are located along the main avenues in the CBD, specifically around Mitchell Street. Here you can find all of the usual Australian foods like prawns, pies, chips, fish, and lots of red meat.
There are several more varied eateries here too, like Italian and Japanese, among others. You will not go hungry while backpacking in Darwin.
Below is a list of some of the best restaurants in Darwin. I tried to choose as many affordable options as possible.
Mindil Beach Sunset Markets – Street food! Jammed-packed with people trying to catch the sunset and cheap food.
Parap Markets – Asian-centric food. Famous for hangover laksa on Saturday morning.
Hanuman – Some of the best international food in Darwin and for a good price.
Chow – Slightly expensive but a local favorite.
Sari Rasa – Hole in the wall offering Indonesian food. No cards accepted here!
Manolis Taverna – Excellent Mediterranean restaurant.
Eat at Martin's – Very healthy Indian restaurant that follows strict and clean principles. Good prices.
Where to Drink in Darwin
The nightlife in Darwin is absolutely bonkers sometimes! Between the many pubs, clubs, and backpacker bars, there is no end to the number of places you can drink. Shit, most of the hostels in Darwin have their own bar, and just about every hotel and restaurant turns into a bar after a certain hour anyway.
Most bars are located in the same area as the restaurants, that is, along Mitchell Street. Below is a list of the most popular bars in Darwin
Best Bars in Darwin
The Tap – Laidback beer garden
Wisdom – Large selection of beers on tap
The Deck Bar – Classic establishment with great views of the ocean.
Viva La Vida – Large wine bar that offers sangria.
Turtles Bar and Bistro – Sports bar popular with locals.
Shenanigan's – Irish pub with live music.
Lola's Pergola – A staple of the Fringe Festival, which was one of my favorite parts of Adelaide! Circus-themed and a great time.
Books to Read while Traveling in Darwin
Unfortunately, there aren't many books that deal specifically with Darwin the city. For those who go backpacking in Darwin, I suggest reading one of the many awesome books about Australia as a whole. Here are some of my favorite travel reads and books set in Australia, which you should consider picking up before you begin your backpacking adventure…
Make Money Online while Backpacking Darwin
Traveling in Darwin or Australia long-term? Keen to make some cash when you are not exploring the city? It's no secret that you can get a holiday visa to work in Australia, which is a great way to make money and support your travels, but if you are looking for a way to make money online then consider teaching English!
Teaching English online is a great way to earn a consistent income—from anywhere in the world with a good internet connection.
Depending on your qualifications (or your motivation to obtain qualifications like a TEFL certificate) you can teach English remotely from your laptop, save some cash for your next adventure, and make a positive impact on the world by improving another person's language skills!
It's a win-win! Check out this detailed article for everything you need to know to start teaching English online.
In addition to giving you the qualifications to teach English online, TEFL courses open up a huge range of opportunities and you can find teaching work all over the world. To find out more about TEFL courses and how you can teach English around the world, read my in-depth report on teaching English abroad.
Broke Backpacker readers get a 35% discount on TEFL courses with MyTEFL (simply enter the code BACKPKR), to find out more, please read my in-depth report on teaching English abroad.
Whether you are keen to teach English online or looking to take your teaching game a step further by finding a job teaching English in a foreign country, getting your TEFL certificate is absolutely a step in the right direction.
Be a Responsible Backpacker in Darwin
Reduce your plastic footprint: Perhaps the best thing you can do for our planet is to make sure you do NOT add to the plastic problem all over the world. Don't buy one-use water bottles, the plastic ends up in landfill or in the ocean. Instead, pack a tough travel water bottle.
Go and watch A Plastic Ocean on Netflix – it'll change how you view the plastic problem in the world; you need to understand what we are up against. If you think it doesn't matter, get off my fucking site.
Don't pick up single use plastic bags, you're a backpacker – take your daypack if you need to go to the shop or run errands.
Bear in mind, that many animal products in countries you travel through will not be ethically farmed and won't be of the highest quality. I'm a carnivore but when I'm on the road, I only eat chicken. Mass-farming of cows etc leads to the rainforest being cut down – which is obviously a huge problem.
Need more guidance? – Check out our post on how to be a responsible backpacker.
---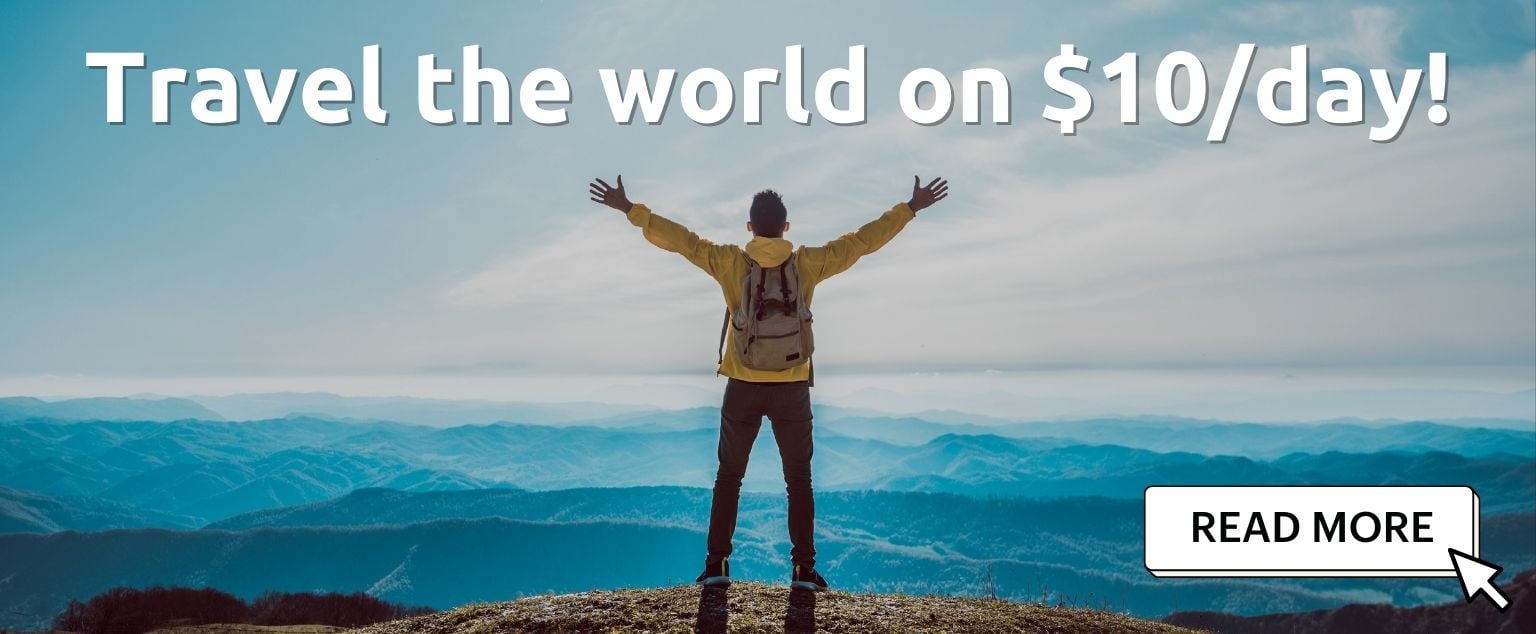 And for transparency's sake, please know that some of the links in our content are affiliate links. That means that if you book your accommodation, buy your gear, or sort your insurance through our link, we earn a small commission (at no extra cost to you). That said, we only link to the gear we trust and never recommend services we don't believe are up to scratch. Again, thank you!