Australia is home to one of the world's most epic coastlines, the largest reef in the world, and world-class diving – so it makes total sense that when planning a trip to the coast of Australia, you should look to stay in a beach house.
If you are considering beach houses in Australia as your next accommodation choice, well you're in for a treat. With its year-round warm climate, staying in a house by the beach is second nature to people here. The properties here have been perfectly designed for kicking back by the sea and ushering in a week or more of absolutely no worries, mate.
Think outdoor spaces, deckings, outdoor showers, surfboards and kayaks on hand, and swimming pools. Australians know how to build a home.
If that sounds great to you, then you're going to love what comes next. In this guide, I have included all the things you will expect from a beach house, what to look for, and of course, a list of the best of the best beach houses in Australia.
So, let's get started!
In a Hurry? Here's Where to Stay in Australia for One Night
FIRST TIME IN AUSTRALIA
Absolute Beachfront House at Hardwicke Bay
For hands down the best beach house in Australia, look no further than this beachfront gem. Situated in the Hardwicke Bay on the Yorke Peninsula of South Australia, this idyllic spot features a large deck looking out across the sea.
NEARBY ATTRACTIONS:
Magazine Bay Cave
Longbottom Beach
Burners Beach
Is this amazing Australia Beach House booked for your dates? We've got your back with our other favourite properties below!
Staying in Beach Houses in Australia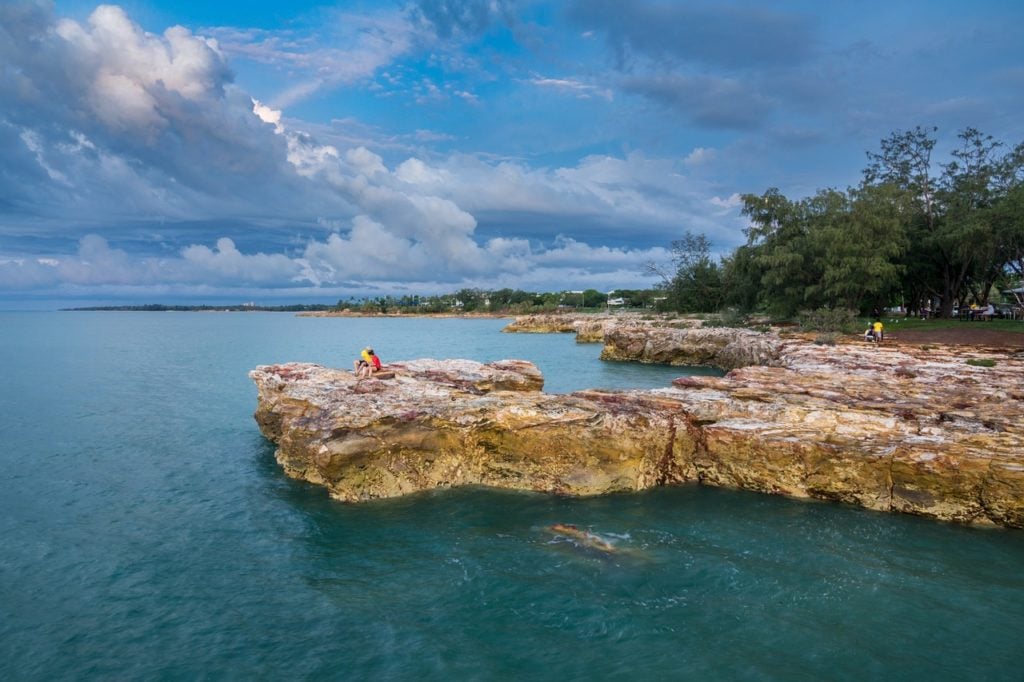 Beach houses in Australia come in all shapes and sizes. Big ones, small ones, ones with national parks right on the doorstep, ones that look like they've probably been featured in a design magazine.
There really is a lot of choices when it comes to beach houses in Australia. It's one massive island, after all, and is surrounded by some of the most beautiful (and biggest) beaches in the world. Not to mention the fact that you've got coral reefs and islands ringed by white sand off the Eastern Coast.
So what can you expect from staying in a beach house down under? Well, for starters almost always you'll have a swimming pool. That's pretty much a given. Next up is ample use of outdoor space. Aussies know how to live outside, and that is exemplified in the indoors-outdoors living going at many of the best beach houses you can find in Australia.
And even if there's not some insane deck situation going on, there will be at least a large balcony or patio. More often than not there's a BBQ area to use, or a fire pit – or even a full-on alfresco kitchen. You may even be lucky enough to have a hot tub. Pay more and obviously, you'll have swankier amenities, and sleeker design credentials added to your stay.
The spaces are pretty open plan all in all. Kitchens have dining areas attached, which spill over into living rooms with decently sized TVs. Then again, you're not here to watch TV. You're here for the seaside vibes, which is helped by the fact that many beach houses have huge windows that let the awesome sea views do the talking.
No matter if you're in South Australia, Bondi Beach, or just outside Perth, the wide-open sea surrounding Australia always looks epic.
What to Look For in a Beach House
Of course, the first thing you are going to consider is where to stay in Australia. With the largest stretches of beach in the world, you've got your work cut out in finding a spot for your vacation. If possible, I highly recommend an East Coast road trip, which runs along the Great Barrier reef and has access to many incredible islands.
If you're only in Australia for a short week, then you might want to stay closer to Sydney and Bondi beach, where you can have the best of both worlds – beach time and city adventures.
You also need to think about money. Whether you're looking for a beach house in Australia on a budget, or if you've got money to spare for a truly over-the-top stay in outright luxury, you can find somewhere awesome.
My advice would be to always opt for somewhere with big outdoor spaces, which can be had at the most expensive and least expensive properties out there. Trust me: you'll be using it A LOT.
As for the best places to find your Australian beach house, I'd say Airbnb in Australia is a great shout. The ability to talk directly to your hosts is helpful, the amount of photos of each property is very decent, and the sheer choice on this particular site is unreal. Not to mention the previous guest reviews which makes it easy to understand what to expect.
VRBO and Booking.com come in at a distant second-place to Airbnb, in my opinion, but there are some good options on those platforms. Wherever you look, you do have to do some sleuthing through search filters which is a bit of a hassle, so I've taken that hassle away from you and listed the best of the best below.
OVERALL BEST VALUE BEACH HOUSES IN AUSTRALIA
OVERALL BEST VALUE BEACH HOUSES IN AUSTRALIA
Absolute Beachfront House at Hardwicke Bay
> $$
> 10 Guests
> Large deck
> Fully-equipped kitchen
BEST BUDGET BEACH HOUSES IN AUSTRALIA
BEST BUDGET BEACH HOUSES IN AUSTRALIA
Osprey's Rest Beach House
> $
> 4 Guests
> Firepit
> Kayaks to use
BEST BEACH HOUSE FOR COUPLES
BEST BEACH HOUSE FOR COUPLES
Eco Beach Home Steps from the Beach
> $$
> 2 Guests
> Bath with sea views
> Coffee machine
BEST BEACH HOUSE FOR A GROUP OF FRIENDS
BEST BEACH HOUSE FOR A GROUP OF FRIENDS
The Beach House
> $$$
> 10 Guests
> Hot tub
> Surfboards to use
OVER-THE-TOP LUXURY BEACH HOUSE
OVER-THE-TOP LUXURY BEACH HOUSE
Campbell Point House
> $$$$
> 16 Guests
> Literally a stately home
> Breakfast and dinner included
BEST BEACH HOUSE FOR FAMILIES VISITING AUSTRALIA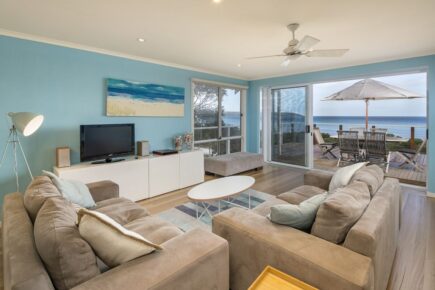 BEST BEACH HOUSE FOR FAMILIES VISITING AUSTRALIA
Alchemy on Island Beach Kangaroo Island
> $$
> 6 Guests
> Secluded
> Family-friendly amenities
BEST BEACH HOUSE FOR BACKPACKERS IN AUSTRALIA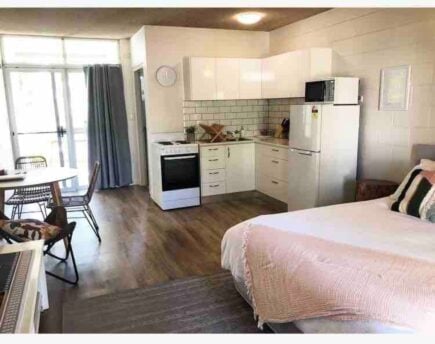 BEST BEACH HOUSE FOR BACKPACKERS IN AUSTRALIA
Beautiful Nightcliff Cottage
> $
> 2 Guests
> Swimming pool
> Food trucks!
The 15 Top Beach Houses in Australia
By now, you've probably got a good idea of what to expect from a beach house in Australia, right? Well, now you can see for yourself!
Below is my very own carefully curated list of beach houses in Australia to suit any type of traveler and budget.
$$
10 Guests
Large deck
Fully-equipped kitchen
For hands down the best beach house in Australia, look no further than this beachfront gem. Situated in the Hardwicke Bay on the Yorke Peninsula of South Australia, this idyllic spot features a large deck looking out across the sea.
You'll be right on a safe swimming beach here, which is ideal. The house also comes with everything you'll need: a fully-equipped kitchen, comfortable beds, and plenty of style. But most of all, you can't beat being able to tumble out of bed and literally right onto the beach.
With the beach right on the doorstep, this beachfront gem is ideal for families, a group of friends, or a couple. In fact, pretty much anyone will love staying in this stylish Australian beach house, which comes with everything you'll need for a comfy stay.
What is the One Item Every Traveller NEEDS???
There is one item every traveller NEEDS. Some travellers don't even know they need it, but those travellers need it more than anyone.
What is this forgotten essential of the backpacker-life? SPOILERS! Guess you'll just have to click the button to find out. 😉
Find Out What It Is!
$
4 Guests
Firepit
Kayaks to use
Located among the blissfully chilled-out vibes of Mount Dutton Bay in South Australia, this place serves up the best bargain beach break you can find in Australia, perfect for those backpacking Australia. This peaceful spot is all about relaxing with wide-open views of the ocean.
Ok, so it may not be the most polished or most high-end of spaces, but you still get bang for your buck: kitchen, dining area, three bedrooms, and a porch with a firepit. Definitely fits the bill for the best beach house in Australia on a budget.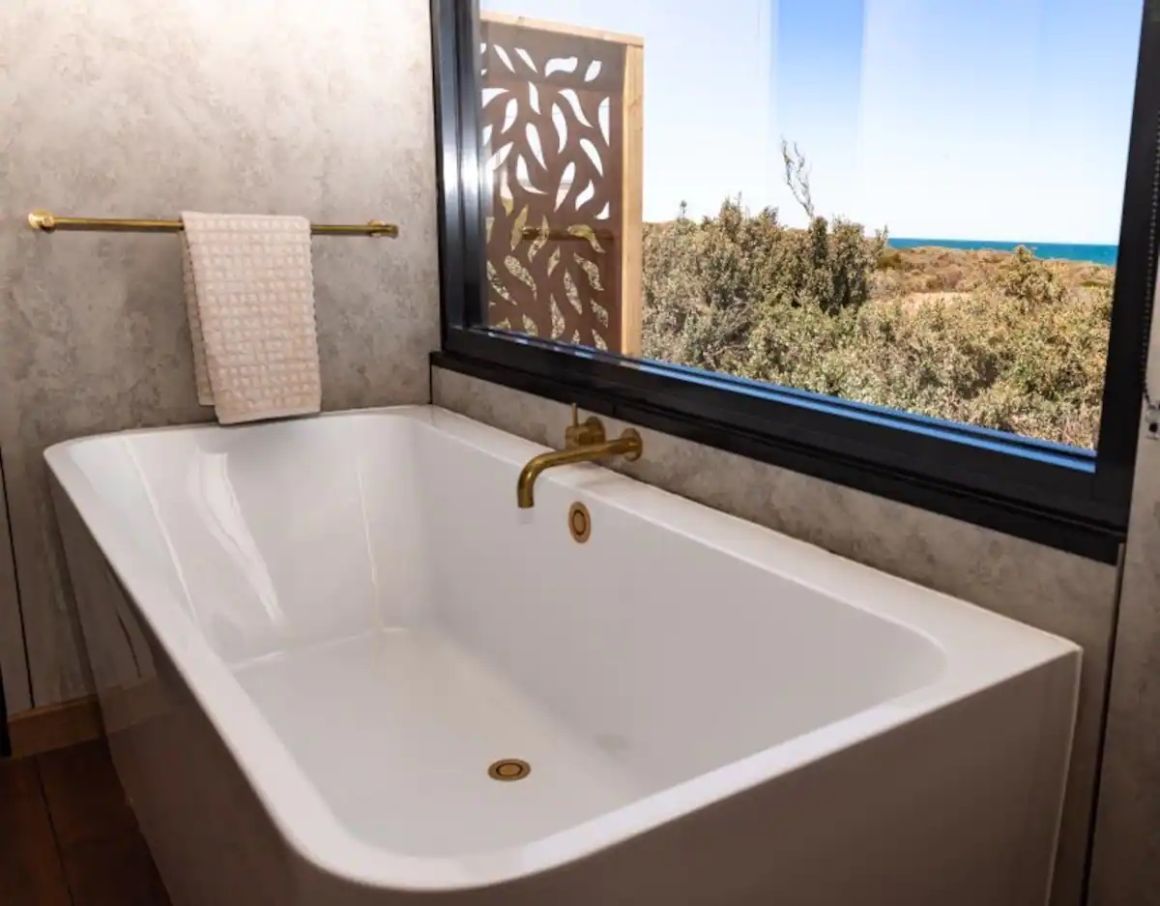 $$
2 Guests
Bath with sea views
Coffee machine
This stunning coastal cabin has been set up as the ideal romantic getaway. Tucked way in Port Gibbon, a small rural community 200 kilometers from Adelaide, this is also an eco-friendly retreat.
Suiting those looking for unique accommodation in Australia, the design has also been carefully considered to give you pure, uninterrupted beach views.
The interiors have also been decked out with high-end amenities. The bath, in particular, is awesome: you can soak for hours with sea views.
Best Beach House for a Group of Friends – The Beach House
$$$
10 Guests
Hot tub
Surfboards to use
Set in New South Wales, this place was built for entertaining in mind. No wonder it's our top choice for the best beach house in Australia for you and your pals.
With room enough for 10 people to stay, here's the spot to get together with your friends and enjoy everything a big house affords: BBQs, chilling in the hot tub, or making use of the villa's very own selection of surfboards.
Beginner at surfing? No worries! The beach has relatively gentle waves and there are lifeguards posted along the sand, too. The extra plus is having restaurants an easy stroll (or bike ride) away.
Is This the Best Travel Pack EVER???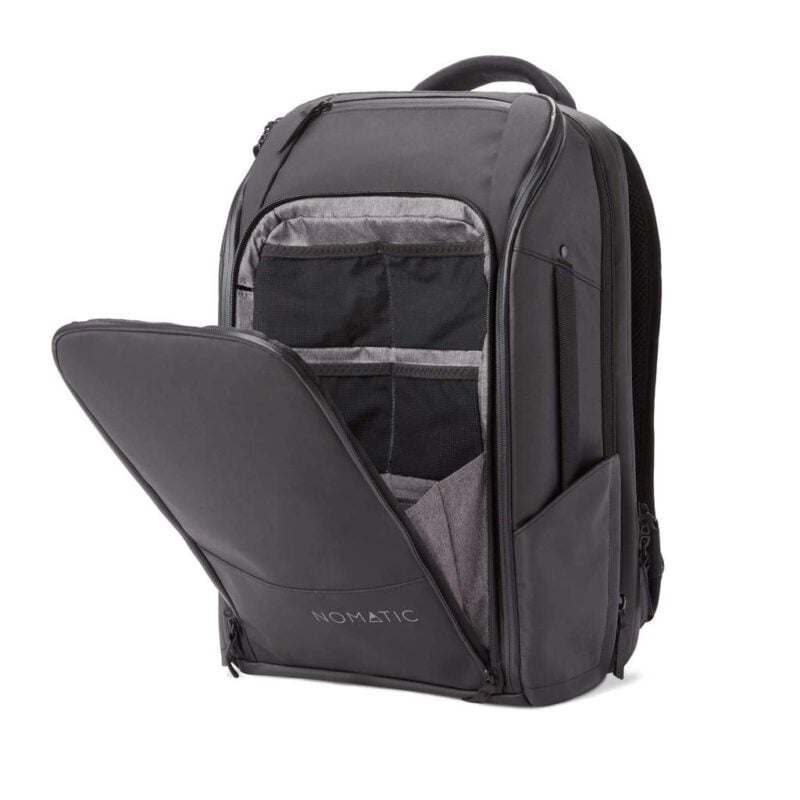 $$$
13 Guests
Outdoor saltwater pool
Huge deck
Spread across three stories, and boasting a huge terrace, this beach house is another great shout if you're heading to Oz with a group of mates. Located in Cliffton Beach, Queensland, one of the best parts of this beach house is being able to spot dolphins playing in the sea from the terrace.
Other than dolphin-watching, you can spend days splashing around yourselves in the large, saltwater pool, hanging out in one of the multiple chilled living rooms, or cooking up a feast for your friends in the kitchen. Definitely, a place to make memories.
$$$$
16 Guests
Literally a stately home
Breakfast and dinner included
Not only is this probably the best beach house in Australia, but it may just be the best in the world. Set on the shores of Lake Connewarre, this is a literal stately home that you can actually stay in.
As well as a sprawling Baroque-style mansion, complete with mindblowing interiors, there's also a lake house, cottage, and stables – oh, and sculptured gardens to stroll around.
There's an infinity pool, a tennis court… the list goes on. It's literally insane. It may be expensive, but if there's enough of you – and you're looking for luxury – then this place should be on your wishlist.
Best Beach Home for Families in Australia – Beach Kangaroo Island
$$
6 Guests
Secluded
Family-friendly amenities
Make your next family vacation one to remember by booking yourself into this stunning beach house. Tucked away on the beautiful beach on Kangaroo Island, this is truly a space to escape. Spend days here chilling on the deck or swimming in the waters of a safe swimming beach.
The house itself features picturesque clapboard exteriors and beach-inspired interiors and comes complete with modern furnishings and large windows that let the view do the talking.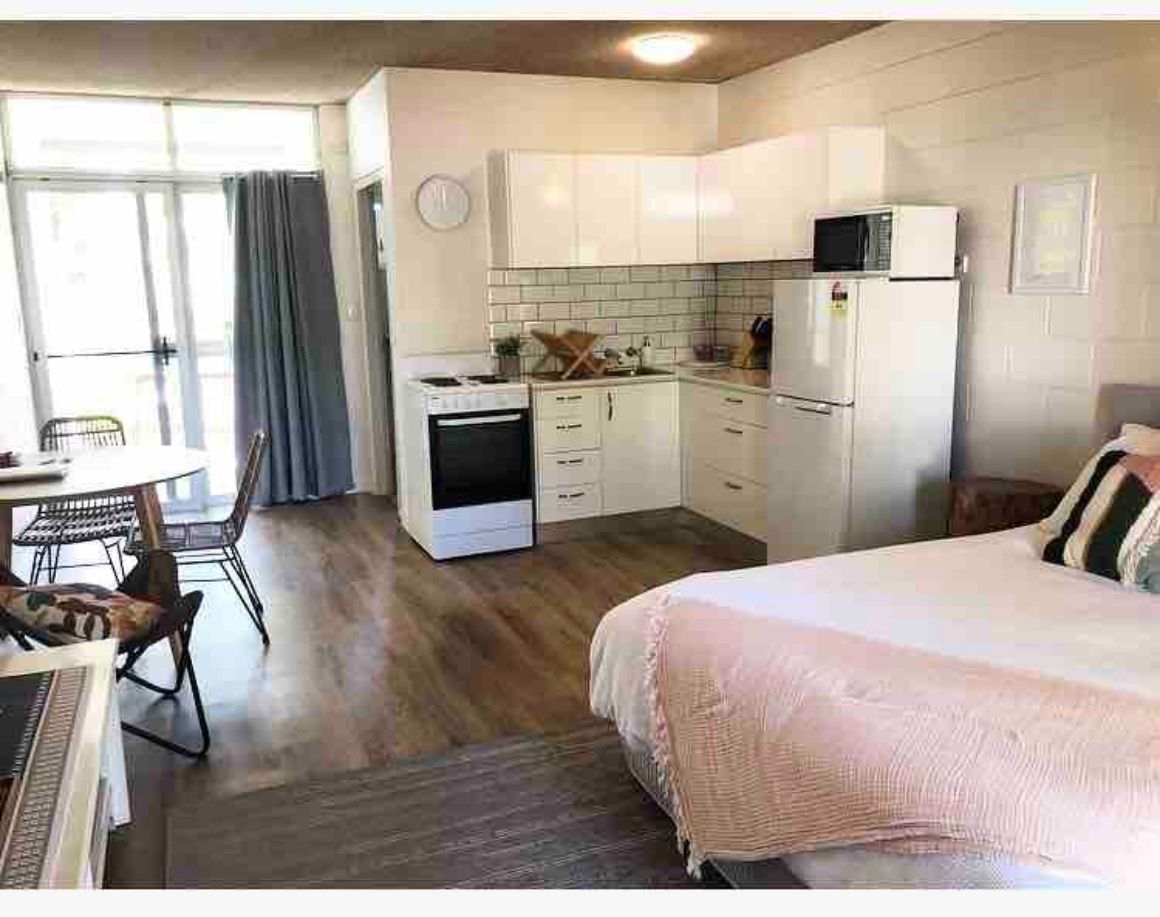 $
2 Guests
Swimming pool
Food trucks!
Backpackers in Darwin, Australia may be associated more with hostels than beach houses, but that doesn't mean independent or long-term travelers have to follow the norm. In fact, it's very possible to get your own beach house in Australia as a backpacker.
For the best example, try this place. It's a modern apartment overlooking the sea and has everything you'll need: kitchen, balcony, big comfy bed. The quiet complex where it's situated also gives you access to tennis courts, a swimming pool, and cafes. Food trucks swing by every night to serve food as well.
Amazing Luxury Beach House in Australia – Blueys Beach House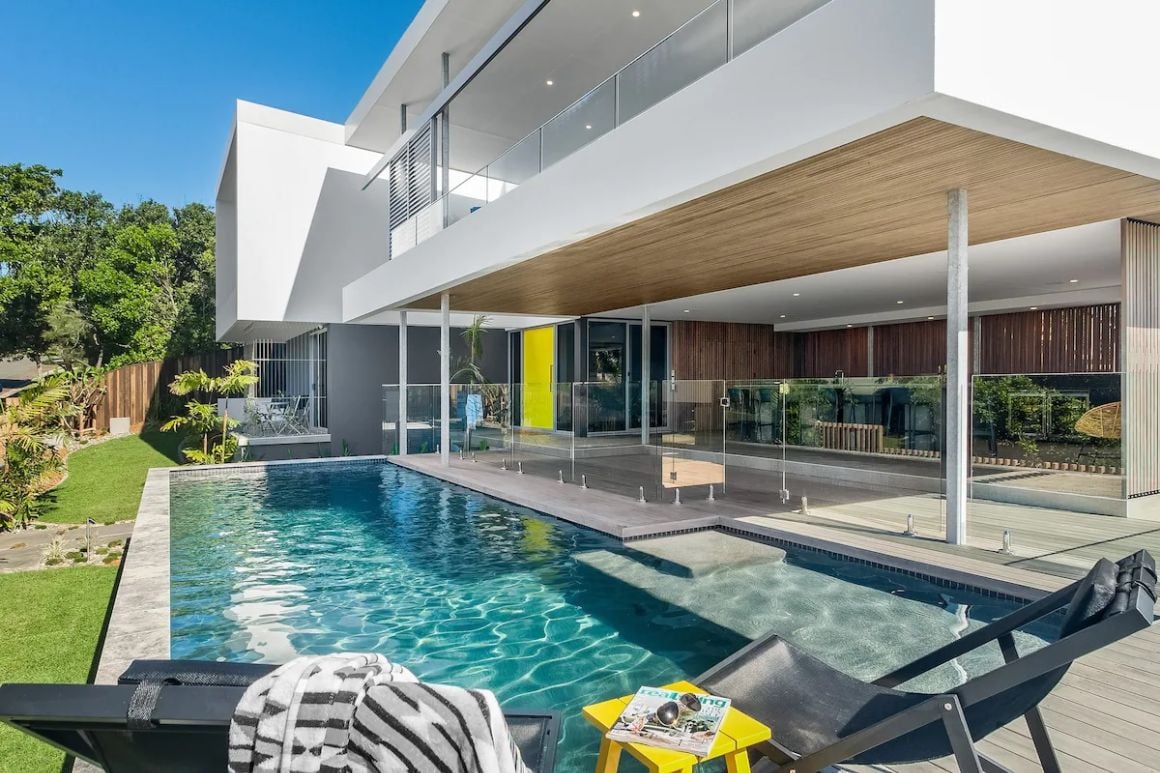 $$$$
12 Guests
Heated swimming pool
Al fresco kitchen
For some modern luxury, check out this awesome beach house in Australia. It's a slice of contemporary style that's great for any design lover or Instagram fiend. Think large open-plan living spaces, panoramic sea views, a private heated pool, and an alfresco kitchen.
The villa's location, on Sunrise Beach in Queensland, offers up the chance to explore plenty of shops and cafes – after you're done swimming and surfing on the shoreline, of course. Evenings here can be spent out on the deck, sampling some wine, or cozying up around the sizeable smart TV watching movies.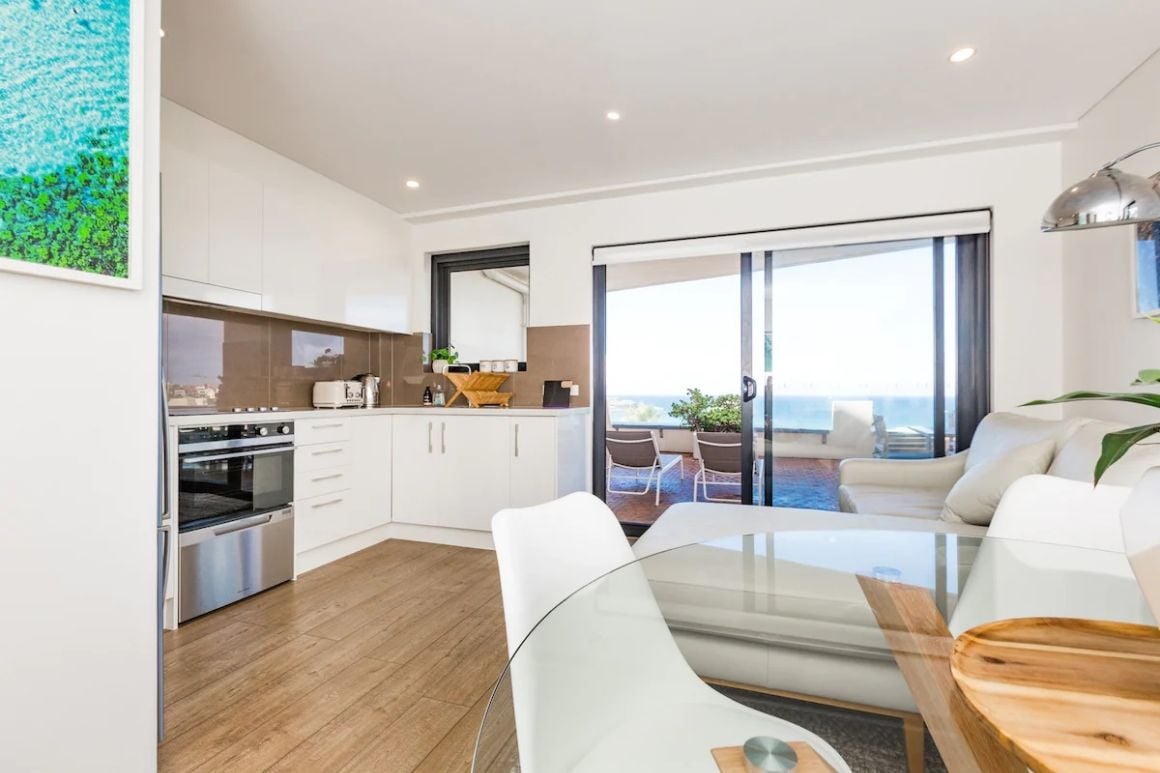 $
1 Guest
Large private patio
Access to a pool
Set right on Bondi Beach, solo travelers should take note of this awesome beach house. Here you can wake up to beautiful sunrises and spend evenings with restaurants within easy walking distance.
Or maybe you'd prefer kicking back on your own private patio. It feels quiet and private even though you're basically in the middle of Bondi.
The apartment is also packed full of amenities, so you won't want anything during your stay. The stylish space also feels refreshingly safe and secure, too.
Best Beach House for a Weekend in Australia – Beaumonts House
$$$
10 Guests
Large deck (two of them!)
Sea-view roll-top tub
Only got a weekend in Australia? Or want to get away from the city for the weekend? Then you may want to give this place a try. Featuring a stunning location right along the beach in Byron Bay, this beach house has been perfectly curated for a quick getaway.
Inside you'll find interiors decked out in stylish shabby-chic and huge windows that allow for awesome panoramic views. There's also not just one but two outdoor decks. As well as a roll-top tub with sea views, there's also an office where you can get a bit of work done if needs be.
Beach House With an Epic Location – Ocean Farm
$$$
12 Guests
Insane infinity pool
Games room
Allow us to introduce you to the best beach house in Australia – in terms of its utterly astounding location, that is. It's set in a modern farmhouse in Gerringong, around an hour from Sydney, which is the perfect place to stay if you want to combine city break and beach break.
Here you can explore 200 acres of nearby rainforest, hike on trails in Budderoo National Park or walk past grazing livestock, and follow the coastal walking track with dramatic sea views.
The house is immaculate and boasts an insane infinity pool as well as sliding doors that open up to the breathtaking sea view. The beach? Mere steps away. And as a bonus, there's a fish-and-chips joint right nearby.
$$
10 Guests
Awesome view
Large deck
If the views weren't enough for you from that last place, don't worry: we made sure to find somewhere with views in mind.
Beachcomber House, also set on Kangaroo Island, is situated high up, so you get an amazing vista over five kilometers of white sand beach lapped by the turquoise sea. It's basically paradise, and you can see it from pretty much everywhere in the beach house.
The beach is great for just about everything: chilling on, boating, swimming, you name it. The house itself is open plan, with high ceilings and all the amenities you'll need.
Best Beach House for Honeymooners – Iquique Hideaway
$
2 Guests
Private beach path
King-size bed
Situated in Victoria, this private cabin is ideal for honeymooners who want to get away from it all and be secluded. That said, it's not far from civilization, with the town of Rye just a few minutes' walk away. The house itself is nestled in two acres of native bush garden and is actually part of an adjoining national park.
Here you can fall asleep to the sound of the waves on your luxurious king-size bed, and spend mornings sipping coffee and bird-spotting. Nearby, enjoy kicking back at the famous Peninsula Hot Springs, or take a private path through the sand dunes down to the beach.
Most Beautiful Beach House in Australia – Blu Peter Penthouse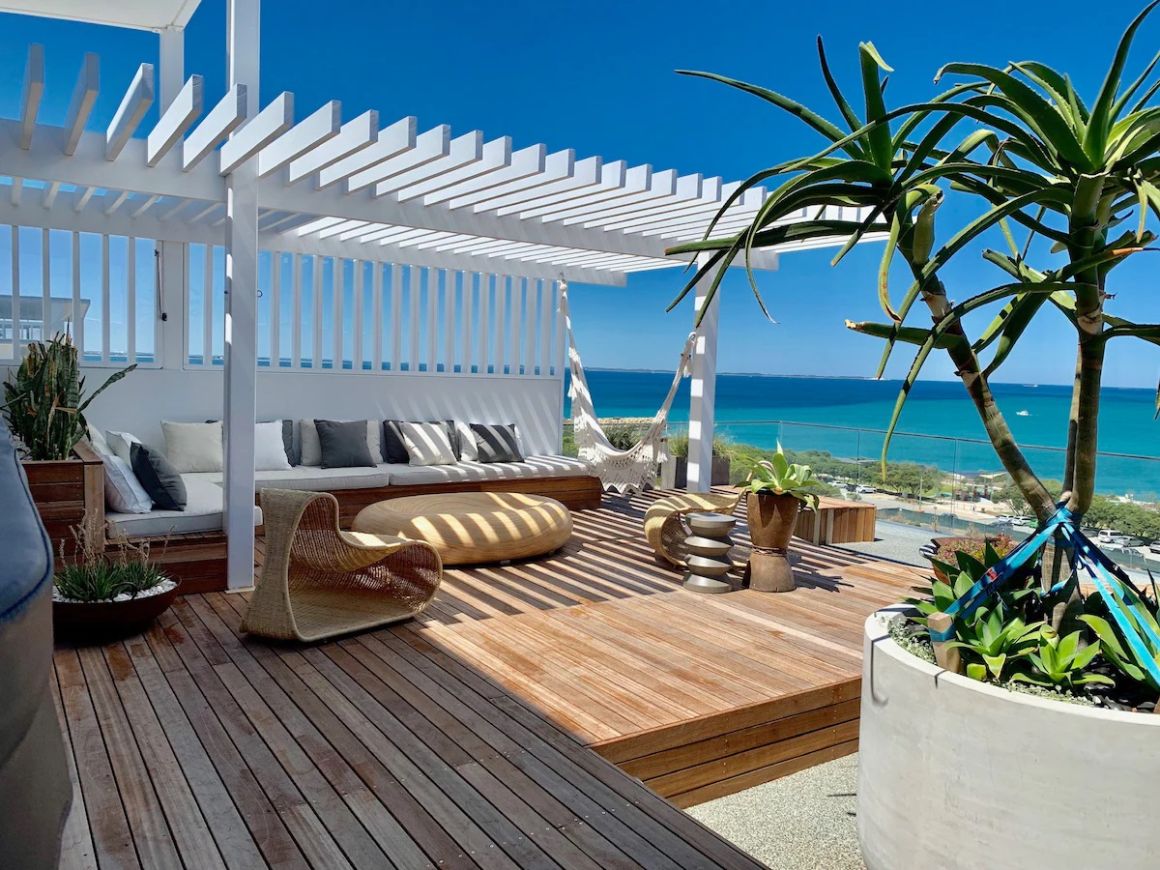 $$
2 Guests
Incredible outdoor deck
Hot tub
If you like your beach houses replete with perfectly curated design, then you'll want to make a note of this place.
Situated in North Coogee, a suburb of Perth, this stunner of a property features a showstopper of a deck, making the most of space and really showcasing indoor-outdoor living. You won't want to go back to living inside the whole time after staying here.
Like sunsets? Then you'll love viewing them from here, either from the hammock or the hot tub.
Don't Forget Your Australia Travel Insurance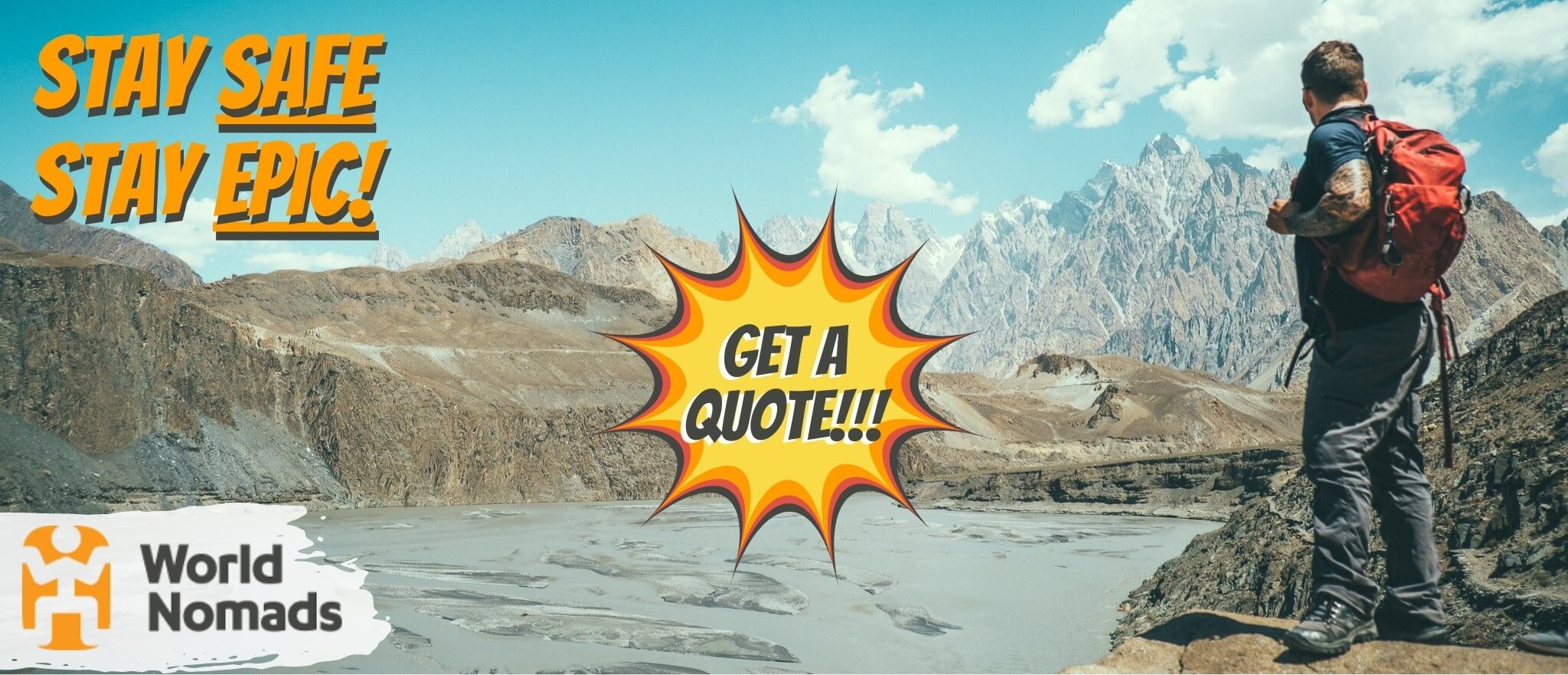 It's good to get lost sometimes, but it's also good not to get too lost. There are people that want you home in one piece.
There's one travel insurance provider The Broke Backpacker trusts for all his wildest shenanigans… World Nomads!
Click the button below to get a quote on your insurance or read our in-depth review of World Nomads' coverage. And then… let the shenanigans begin. 😉
Final Thoughts on the Best Australia Beach House
There you have it: those were the best beach houses in Australia. It turns out that people there really know how to make staying by the sea an art form.
BBQs, decks, swimming pools, kayaks, surfboards, huge windows for panoramic sea views – it's all here and it makes Australia easily one of the best places in the world for a beach vacation.
While it's also not the cheapest place in the world, it's very possible to stay in a beach house on a budget here. That makes things affordable for backpackers and families looking for a getaway alike. It's a cliche, but it's true, there's something for everyone.
And while you're here, there's one last thing I'll mention, and that's travel insurance. If you're traveling from outside Australia to enjoy all its beach house goodness, then you may want to consider getting yourself some insurance. You never know when you might need it.
---
Thanks for reading – that was fun! 😀
We bring you epic FREE content!
Find out how YOU can help support us.
We're a big site with a big team and this job isn't always easy. But we do it because we love it – we love providing epic and free content. We love the knowledge that our content keeps you adventuring. We don't ask for money, but if you'd like to find out how you can help the site in more organic ways, click the button below.
Thank you for your support 🙂
---
Bye for now, but not forever!
If you want MORE top-tier Broke Backpacker content like this, then sign up for our weekly newsletter below to get the latest and greatest!
And for transparency's sake, please know that some of the links in our content are affiliate links. That means that if you book your accommodation, buy your gear, or sort your insurance through our link, we earn a small commission (at no extra cost to you). That said, we only link to the gear we trust and never recommend services we don't believe are up to scratch. Again, thank you!