Perth is the largest city in Western Australia, and it's not hard to imagine why Australians flock to this gorgeous city from all over the country. It's been growing in popularity for centuries and it's not slowing down anytime soon.
Indigenous Australians are thought to have inhabited this area for at least 38000 years! Over the years, history has been created in this beautiful city, making for an infinite amount to learn about Perth city when you get there.
Surrounded by white sandy beaches, it's coastline is absolutely breathtaking and it's just waiting for you to explore it.
If you're looking for the ultimate to-do-list for your trip to Perth Australia, we've got you covered. We've found the very best that Perth has to offer and created a Perth Itinerary to help you along your way:
While there's no best time to visit Perth, you should take into consideration what time of year you would prefer when planning your Perth Itinerary. Springtime in Perth is considered idyllic, as you can enjoy the warm weather, uninterrupted by rain, but the temperatures aren't scorching.
During this time, the flowers begin to blossom and the birds begin to chirp again. Do note that in the Southern Hemisphere, springtime takes place in September, October, and November. This is a great time to visit Perth. However, this is when the crowds flock to Perth so expect escalated prices.
December through to February is Perth summertime, the temperatures skyrocket, so expect to gain a tan if you're visiting over this period. And never go anywhere without a generous portion of sunblock smeared on. The sea is lovely and warm during this time, so be sure to spend plenty of time in the ocean over the summer period.
Between March and May is Perth autumn which is a lovely time to visit as the weather is mild. From June to August is Perth winter, the temperatures drop and the rain pours down. This tends to scare away tourists but if you're not scared of a bit of rain and enjoy a city during its quiet season, winter is the time to go.
So you've settled on Perth as your destination of choice during your stay in Australia. But that begs another question, where is the best place to stay in Perth? That depends on who you are, and what you like to do, but there is a neighborhood for every taste in Perth, so don't hesitate to book your plane tickets! Considering where you should stay, is part of any great Perth itinerary.
Northbridge is a great neighborhood to stay in during your time in Perth! Just a short walking distance from the Central Business District, the area is great for anyone wanting to be close to the bustling city, but still wanting to enjoy the quiet of the suburbs.
This up and coming district is the arts and cultural center of Perth city. If you enjoy the art scene and theatre productions that can rival the world's finest, then this is the place for you!
If you like a neighborhood with a very laid back vibe, Fremantle is lovingly called "Freo" by those who live in Perth, and is the perfect place to chill out and relax, even as a broke backpacker as there are great hostels in Fremantle too! It's the port neighborhood and a sailing spot for those with a love for adventure! This community is a mish-mash of galleries, restaurants, bars, pubs, and shops.
This is part of the Perth metropolitan area and is home to a few very historical places. These buildings are well-worth exploring, and since they'll be so close by, you've got nothing to lose!
Staying in "Freo" or Fremantle is an awesome experience and should be done for at least one night during your Perth trip!
The Ocean Beach Backpackers is located right on the beach, overlooking the sparkling Indian Ocean. Although the dorm is pretty simple, it does come with a variety of benefits that are not often offered at hostels – female only dorms, twin dorms (for those traveling as a couple), and private dorms (for those traveling in a group). This one of the best hostels in Perth.
You won't waste a second of your stay in Perth commuting into the city, because you'll be staying right in the heart of it. This spacious modern studio has all the conveniences you'll need, and you'll be able to walk to both beach and bars with ease from your doorstep. This is one of the best Airbnbs in Perth, so you'll be in for a treat!
CityLights hotel is aptly named, as the hotel boasts great views overlooking the city. Located right in the heart of the CBD, this ideal location gives you easy access to some of the many attractions that lie in Perth City. Within walking distance, you'll find the Australian Museum and the Art Gallery which are both must-visits during your stay. Expect a comfortable stay at the CityLights hotel in Perth.
Best Luxury Hotel in Perth – Crown Towers
The crown towers hotel is nothing less than an indulgent experience. Each room is surrounded by glass, with incredible views of the cityscape below. The Crown Towers are located on the Eastern banks of Swan River, close to all the major tourist attractions in Perth. Expect nothing but pure luxury during your stay at the Crown Towers.
Perth is a great place to spend your time during your stay in Australia and a great place to kick off some West Coast exploration. The good news is that this city is easy to navigate, and transport is fairly inexpensive, that is when it's not free.
Throughout the inner city, you'll find a Bus route and a free CAT bus route, that will happily take you to any of the major attractions within the city. This makes getting around very easy and – dare we say – affordable!
There are train lines that lead to just about every neighborhood in Perth, which makes using this public transport a really great option. What makes it even better, is the fact that two of these lines are free. These would be the ones that lead to the inner city, and the Fremantle line.
Ferries are an easy way to get from one side of Swan River to the other. Although there's no free option here, the ferries are fairly inexpensive.
Taxis are also available all over Perth. You can hail a cab from the side of the road or order one from your phone. These are a little more pricey than other forms of transport but are a great alternative, especially at night if you're wanting to keep your walking to a minimum!
Knowing how you're going to get around is crucial when planning your Perth Itinerary!
If you've been wondering what to do in Perth, we've got you covered with some of the best Perth tourist attractions. Here's everything you should be getting up to on your Perth backpacking trip.
Note that there are a lot of different bus companies offering Perth city tours but the one we use is King Mini Bus Charter who can do all your tours in Perth. They do airport transfers, swan valley wine tours as well as tours to Margaret river or pinnacles.
Swan river | Heirisson island | Caversham Wildlife Park | Cottesloe Beach
On your first day in Perth, get ready for a day filled with beautiful encounters with nature and some incredibly unique wildlife. Australia is known for its natural beauty and on your first day, you'll get to see Perth in all its glory. This is a great Perth trip itinerary, even if you're only spending one day in Perth. Here's what you should add to the first day of your Perth itinerary.
Day 1 / Stop 1 – Stroll Along the Swan river
Why it's awesome: The Swan River links the entire city of Perth together. It's so significant to the area that it was named as Australia's first ever heritage icon!
Cost: Free!
Food nearby: Big Max Lunch Bar – Despite the name, they are open for early morning breakfasts from 6am. This little lunch bar is the perfect place to stop off for a sweet treat or pastry before heading back along the Swan River. The prices are very reasonable and they serve great on-the-go breakfasts.
Wake up bright and early for a stroll along the Swan River. If you're in the mood to take it easy, there are bicycles and roller skates to rent along the way. On this walk, you'll get the opportunity to breathe in the fresh air that surrounds this natural heritage site.
The Swan River weaves its way between the suburbs of Perth and if you walk far enough, will lead you through hilly terrain. If you decide to walk toward the ocean, you'll be lead to Perth harbor, which is a great place to spend the morning.
A walk along the Swan River in the morning is as good as meditation for the mind, body and soul!
Day 1 / Stop 2 – Visit Heirisson Island
Why it's awesome: During your visit, you'll be able to encounter nature and wildlife just a very short distance from the city! You'll also find plenty of yoga retreats in this area.
Cost: Free
Food nearby: Bluerock Cafe is an all-day restaurant and bar that serves great breakfast meals, wholesome tapas and a variety of craft beers. After your visit to Heirisson island, you're sure to need a beer or two to quench your thirst. They serve modern Australian cuisine in a very tasteful way. This is the perfect place to indulge in a snack, or sit down for a full-on meal after your time spent exploring the island!
Heirisson Island is an island in the middle of Swan River. It's connected to the mainland via a walking bridge that is fenced off, to prevent wildlife from walking onto the mainland and into a road! This is a lovely activity if you're looking for a walking tour in Perth.
This island has its very own wildlife and more uniquely, a kangaroo population! Get ready to spot plenty of birds that frequent the island and be sure to bring your camera along for the exploration. You're sure to capture some amazing wildlife scenes on the beautiful Heirisson island!
The island is a short walk from the inner city, so transport could never be an issue. For many, this island is the place they had their very first kangaroo encounter, and it would be a great place for you to have yours too!
Insider Tip: When it is very hot, kangaroos tend to relax in the shade to escape the heat. This can make them difficult to spot unless you actually go looking for them. We do not recomened disturning Kangaroo's without a guide.
Day 1 / Stop 3 – Experience close encounters at Caversham Wildlife Park
Why it's awesome: During your time spent at Caversham Wildlife Park, you'll get the opportunity to meet some of Australia's most unique and interesting creatures. Caversham boasts of a great variety of Wildlife, and they don't disappoint.
Cost: $21,50
Food nearby: The Old Fig Tree Restaurant is a gorgeous outdoor restaurant that has great views and even better food. This is a great spot to visit whether you're in the mood for a light snack, a slice of cake or a full-on 3-course meal! The food is wonderfully presented and the fairy lights that twinkle above your head, set the stage for a great ambiance. The Old Fig Tree Restaurant is a must-visit while you're staying in Perth, we'll even bet you'll be back for seconds!
Caversham Wildlife Park offers a variety of unique experiences. You'll get the opportunity to feed kangaroos, joeys, and wallabies, plus you can enjoy a close encounter with a real-life koala bear. You won't be able to touch him, but you'll get close enough.
You'll also get the chance to learn about and see a variety of other uniquely Australian wildlife. A red fox, dingo, llama, echidna, bats, and wombats are just some of the incredible animals you'll see during your visit.
But mammals and reptiles are not all that this wildlife park has to offer, plants and birdlife are abundant at the park. Be prepared to spend a good few hours here because you're definitely not going to want to miss anything.
If you are backpacking Australia, then you absolutely need to take some time to see it's unique wildlife and this is a great chance to do it!
Day 1 / Stop 4 – Visit Cottesloe Beach
Why it's awesome: Perth is filled with gorgeous little beaches, but this one, in particular, caught our eye. Sheltered by a small tide breaking wall, this beach is fairly calm and makes for a great place to spend the afternoon.
Cost: Free!
Food nearby: Indiana Restaurant is set on a balcony that overlooks the gorgeous little Cottesloe beach. Serving a selection of great food including delicious wood-fired pizzas, there simply is no better place to spend the afternoon. Of course, being a beach-side restaurant, the selection of seafood is delightful and incredibly fresh! The prices are reasonable and the cocktails are wonderful. The location makes for a great sundowner spot if you decide to stay on into the evening!
Cottesloe beach is a wonderfully sheltered beach on the western side of the Perth coastline. It's the perfect spot for a walk along the sand, and the photo opportunities are endless, especially in the evening once the sun has gone down.
This is one of the best beaches in Perth for swimming and snorkeling. Don't forget to buy a pair of goggles on your way there, as the underwater life is fascinating.
If you're in the mood for a picnic, the sandy beach stretches up toward a grassy open plot that is a wonderful place to relax and watch the waves. The marine life is abundant in this area, so be sure to keep an eye out for wildlife while you're by the ocean!
Kings Park | Supa Golf | Fremantle Prison | Art Gallery of Western Australia
Day 2 in Perth will see you exploring nature, swimming with sharks, messing around on a putting green and visiting historical and culturally rich venues! Here's what you should be adding to your 2 day itinerary for Perth:
Day 2 / Stop 1 – Explore Kings Parky
Why it's awesome: This incredible garden/park is located right in the heart of Perth City. Just like Central Park in New York City, it acts as the lungs of Perth, bringing fresh, purified air to the citizens of the city.
Cost: Free
Food nearby: Frasers Restaurant is situated right on the edge of Kings Park with wonderful views of the park itself! With floor to ceiling windows, this restaurant was made to show off the beauty that surrounds it. This restaurant serves delectable food that is presented wonderfully! The chef is very accommodating and willing to adapt most dishes to create vegan/vegetarian options.
Kings park is absolutely gorgeous! Filled with outdoor sculptures, botanical gardens, walking/cycling routes, playgrounds, and picnic areas. It's the perfect place to go for a morning stroll and take in all the beauty that Perth has to offer!
Kings Park has a wide array of bird life that is especially fascinating to watch in the early morning when the birds are most active!
The park also contains the Lotterywest Federation walkway, a pathway in the sky that was built so that visitors could experience walking among the treetops. From the walkway, you'll see an incredible view of the Perth skyline and get an idea of just how vast Kings Park really is.
If you're in the mood for a bit of exploring, make sure you climb the spiral staircase that leads you to the top of the DNA tower. 101 steps later you might be out of breath, but you're guaranteed a spectacular view!
Day 2 / Stop 2 – Try Out Supa Golf
Why it's awesome: Supa Golf is located in the beautiful Swan Valley. It's a great place to spend the afternoon, especially if you're travelling in a group. Supa Golf is a unique version of mini-golf, where the balls are bigger and softer than usual. This makes for an interesting challenge and is sure to elicit a few laughs!
Cost: $16 and less
Food nearby: If you're looking for a quick snack after your round of mini-golf, be sure to stop by the Oasis kiosk, conveniently situated in the Supa Golf premises! They don't sell full-on meals, but they have snacks like muffins and cookies to replenish your sugar levels. Be sure to try their coffee if you're in need of a caffeine-buzz before your game has started!
Supa Golf offers a variety of golfing options. This means you can visit for a quick round, or choose to spend the day meandering the various courses and versions of the game!
A nine-whole option is there for those just wanting to try it out. Be warned, the course is considerably longer than a round of mini-golf but arguably twice the fun! If you want a bit more of a challenge, there is an eighteen-whole course that will keep you occupied for quite some time!
If you prefer to stick to the game of mini-golf, a fun adventure putt mini-golf course is also provided. This is a beautiful mini-golf course and is surrounded by water features and trees!
After all that putting you're sure to need a snack, luckily there's a conveniently situated kiosk on the course for you to fill up your energy reserves after the game!
Day 2 / Stop 3 – Visit the Fremantle Prison
Why it's awesome: The Fremantle Prison is an old prison in the coastal area of Perth. It's Western Australia's only World Heritage Site which makes it a must-visit during your time in Perth.
Cost: around $100
Food nearby: Manuka Woodfire Kitchen serves unique dishes that are incredibly tasty! The attention to detail when it comes to service is wonderful, it's not one you'll want to miss during your visit to Perth! The cozy atmosphere adds to the ambiance and the lovely food is just the cherry on top. Be sure to save your stomach for Manuka Woodfire Kitchen as you'll want to indulge in a 3-course meal!
The Fremantle prison is an old prison that was used throughout the 1800's. Convicts from Britain were shipped to Western Australia where they were locked up in the Fremantle prison. Because of this, the prison holds great historical significance to the residence of Perth!
The jail offers a variety of tours for every taste – Torchlight tours, Tunnels tours, Art tours, Convict Prison tours, Behind bars tours and the True Crime tours.
During your visit to the prison, you'll learn all about the history of the prison and even about some of the most famed convicts who spend time here!
The prison consists of jail cells, tunnels, cottages and a gatehouse. All of which you will explore during your visit. Be sure to look out for convict graffiti that you can find in many of the jail cells! Who new that convicts were such aspiring Picassos!
Day 2 / Stop 4 – Visit the Art Gallery of Western Australia
Why it's awesome: Situated right in the heart of Perth city, it's easy to find free transport from just about anywhere in Perth city!
Cost: The Art Gallery of Western Australia is free to visit, but they do ask that you make a voluntary donation so that they can keep their doors open!
Food nearby: C Restaurant in the Sky is a revolving restaurant on the 33rd-floor! This is an amazing experience that you can't miss out on while you're staying in Perth. The elegantly designed food is absolutely delicious and the atmosphere is even better! Be sure to book before you go, as this restaurant is highly sought after!
If you somehow still have energy…the Art Gallery of Western Australia houses the State Art Collection which consists of famous local art from between 1800 to today. By the year 2020, the gallery will have been open for 125 years! That's a lot of heritage in one building!
You'll be able to learn all about the history of Australian art in the Journey Gallery section of the art gallery. You can then explore the Six Seasons space which is home to some of the most famed piece of aboriginal art. Be sure to check out the many amazing sculptures scattered around the gallery for your viewing pleasure!
You can take a free guided tour of the gallery, and be sure to buy a little souvenir at the gallery shop on your way out.
Marmion Marine Park | Bell Tower | Fremantle E-Shed Market| The Wildflowers at Ellis Brook Valley Reserve
If you plan on staying in Perth for more than 2 days, you're going to need a 3 day itinerary for Perth, or an itinerary in Perth for even longer. Here are a few activities that you should be adding to your Perth itinerary:
Visit Marmion Marine Park
Marmion Marine Park has something for everyone and is the perfect spot for diving swimming, snorkeling and fishing.
The park offers a variety of guided water activities for those unfamiliar with the area. Perfect for travelers!
The Marmion Marine Park is only a 14-km drive from Perth city.
The Marmion Marine Park is rich in all things wildlife related! Open lagoons, gorgeous coral reefs and small islands are just a few of the incredible things you'll be able to explore at the park.
Underwater tunnels, caverns, and reefs await you if you decide to go for a dive at the Marmion Marine Park. With numerous different diving spots scattered around the park, you'll definitely need more than one day to explore all that the park has to offer.
If you like to stay on dry land, there's plenty for you to get up to at Marmion Marine Park too! There are numerous hiking trails that will lead you through the park. The gorgeous flora and fauna that grows in the park is well worth the trip! Fishing is also an option if you'd like to stay dry. You'll also be able to enjoy lovely views of the ocean while you're fishing.
Take a Tour of the Bell Tower
The Bell Tower boasts of a stunning location, looking out over the tranquil Swan River.
The Bell Tower has a very unique design and if you take a tour of the inside, you'll find out about the fascinating historical history of the tour.
Contrary to most bell towers these days, the bells are not operated mechanically, but rather manually by volunteers, who donate their time to man the tower!
The Bell Tower that overlooks Swan River, has become an icon of Perth and even of Western Australia. The bells that call the bell tower their home, were given to Western Australia in 1988, as part of a national Bicentennial celebration.
These twelve bells date back to the 14th century! If you take a tour of the inside of the tower, you'll experience the bells ringing first-hand and discover what goes on behind the scenes of this incredible bell tower.
Shop at the Fremantle E-Shed Market
This Market is held in a cargo shed at the Fremantle harbor. This makes for a uniquely authentic shopping experience.
The E-Shed market has been a part of Perth history for over 100 years. Of course, it's gone through some upgrades over time, but it's a great feeling to know that you're stepping into a part of Perth's history.
This market has a little bit of everything from activities and food to groceries and goodies.
At this cute market that has considerably increased in size over the past few decades, holds everything you could ever want from a market.
Do you want to know your future? No problem! A tarot reader will be right with you. If you need a psychic reading, that can be done here too. You'll also find a numerology stand for anyone looking to find their life path.
If you're looking for a morning make-over, a beautician can help you out! Or, you can simply go about your grocery shopping for the week.
Food stalls line the market, you'll find everything from Japanese, Chinese, Indian, and Italian cuisine to ice-cream and fish and chips. There really is something for everyone at the E-Shed market!
See The Wildflowers at Ellis Brook Valley Reserve
Western Australia is home to 12 000 different species of wildflowers! That's the largest collection of wildflowers in the whole world!
The drive to Ellis Brook Valley Reserve from Perth is just over half an hour, so you don't have to waste a lot of time travelling.
The Ellis Brook Valley Reserve is home to 550 varieties of spring wildflowers, so you'll be able to feast your eyes for hours on this great variety.
During your visit to Ellis Brook Valley Reserve, you'll be able to enjoy one of the richest showcasings of spring wildflowers in the world! The locals consider this reserve to be the best place to view wildflowers in Western Australia.
Keep your eyes peeled for wildlife, as the reserve is home to kangaroos, possums, echidnas and some of the 116 bird species found in the area.
There are four hiking trails in the reserve that range from easy to challenging. From these hiking trails, you'll be able to enjoy some spectacular views of the surrounds and even of Perth city itself.
Barbecue areas are scattered around the area, so be sure to bring a packed lunch, or a ready-to-cook meal so you can make the most of these great picnic spots.
Perth is a fairly safe city, and you'll be happy to know that for the most part, you'll be able to enjoy your freedom and feel completely safe! However, just like any other major city, there are a few things you need to watch out for and be careful of.
Trains are mostly safe at night, but there are a few train lines that we advise you don't travel at night unless you're with a group of people – Rocklands, Victoria Park, and Kwinana lines.
If you've opted to rent a car for your time in Perth, it's important to note that animals often cross the roads in the suburbs late at night. If you do notice an animal crossing your path, do not swerve into the oncoming lane! Instead, break as much as possible. If you do happen to hit an animal, it's advised that you take it to a vet immediately! This one of the recuring dangers of Australia.
When visiting the ocean, be careful of standing on rocky outcrops. The tide in Perth is very unpredictable and unexpected waves can cause serious injury as well as sweeping you out to sea.
Don't Forget Your Travel Insurance for Perth
World Nomads' mission is to support and encourage travellers to explore their boundaries. They offer simple & flexible travel insurance, and safety advice to help you travel confidently.
They've been doing it since 2002 – protecting, connecting, and inspiring independent travellers just like you.
Get a quote below or read our in-depth review!
World Nomads provides travel insurance for travelers in over 100 countries. As an affiliate, we receive a fee when you get a quote from World Nomads using this link. We do not represent World Nomads. This is information only and not a recommendation to buy travel insurance.
Day trips are a great way to make the most of your time in Perth. Be sure to check out our top picks of the day trips available from Perth:
What makes this skydive unique is that you'll get an added free-float time of 5-7 minutes under a magical tree canopy after your 60-second free-fall from 15,000 feet. The stunning beach views will leave you breathless – including the Shoalwater Islands Marine Park shipwrecks and the occasional jumping dolphin.
River Cruise to Swan Valley and Vineyard Tour
Enjoy a 2-hour cruise down Swan River until you reach the magnificent Swan Valley. There you'll get the chance to sample some of Australia's premium wines, take part in a chocolate tasting and enjoy an indulgent lunch!
Along the way, you'll visit 3 boutique wineries enjoy a wide selection of craft beers and visit a chocolate lovers paradise! You'll also get the chance to learn about the history of wine in the Swan Valley, and how it came to be one of the best places to produce wine in Australia.
Wild Dolphin Swim and Cruise Day Trip
Take a peaceful cruise around Rockingham's sheltered bays and islands. After an introductory diving lesson, you'll get the chance to dive into the sea.
From there, you'll get the chance to enjoy a 45-minute dive among some of the seas most loved creatures – dolphins! There are over 200 dolphins that call this area their home, so you won't miss them!
Guides will help you every step of the way, so you don't need to hesitate if you've never tried diving before!
You'll be picked up between 11:30 and 2 pm depending on the time of year to first experience sandboarding between the seriously impressive, pure-white Lancelin sand dunes. Some of them are three stories high!
Next, a wonderful spot for a picnic awaits during wildflower season at Nilen Lookout where you'll learn about 5000 plants used historically by Australian aborigines before embarking on the main event.
Finally, get ready to experience one of Australia's most unique landscapes with a delicious barbeque dinner paired with local wines as the sun sets, revealing the milky way. You'll get the chance to look through Astro-binoculars and a computerised telescope that can be paired with your smartphone for some amazing photography. Your expert guide will be able to point out planets, constellations, and stories of Aboriginal Dream Time.
Swan River Dinner Cruise with Beverages and Live Music
Enjoy a 3-hour dinner cruise along the beautiful Swan River, and see the gorgeous Perth city skyline while the sun sets. The twinkling lights of the city are somewhat of a marvel in themselves.
You'll get the chance to enjoy a glass of wine, or specially hand-crafted beer while you enjoy the dusk views of the city. Your dinner will include a buffet of cold and hot dishes, and of course, dessert and coffee/tea are provided after dinner.
All this, while listening to the sound of some delightful piano music!
Pinnacles, Koala and Sandboarding Tour
After you've been picked up, you'll head to Caversham Wildlife Park where you'll get the chance to interact with Australia's unique wildlife. Including some very friendly Koalas. You'll then travel to the fishing town of Cervantes. There you'll tour a lobster factory and then sit down for a hot plate of fish and chips.
You'll then head to the Pinnacle desert where you'll enjoy a 4WD tour and then hop out to try sandboard on some of Australia's most spectacular dunes.
After the tour, you'll get the chance to hop in the ocean, and enjoy some of Western Australia's beautiful wildflowers on the way home.
Find out what people want to know when planning their Perth itinerary.
Conclusion
As you'll soon discover, Perth is one of the most incredible cities in the world. It's buzzing with activity 24/7 but surrounded by gorgeous views and incredible natural wonders. Just a stone's throw from the ocean, this is the perfect place for sea lovers and city slickers alike.
If you're looking for an explosion of cultural, historical, arty and tasty experiences, Perth is probably the best place to go. With so much to offer, there's a little bit of something for everyone in this great big city that 1.9-million+ people call their home. If you're only spending a weekend in Perth, you probably won't even be able to fit everything in.
Even though Perth is known as a bustling city, it's full to the brim with encounters in nature. The city is filled with botanical gardens and surrounded by beaches, so you'll never feel too far from natures great works of art.
Perth is the true Australian experience and is a must-visit for anyone entering Australia! Be sure to add some of these gems to your Perth itinerary to make the very most of your stay.
Fill your days with activities and adventures that will make your Perth vacation one to remember! No matter what time of year you decide to visit, you're guaranteed to have an incredible time if Perth is your destination of choice!
---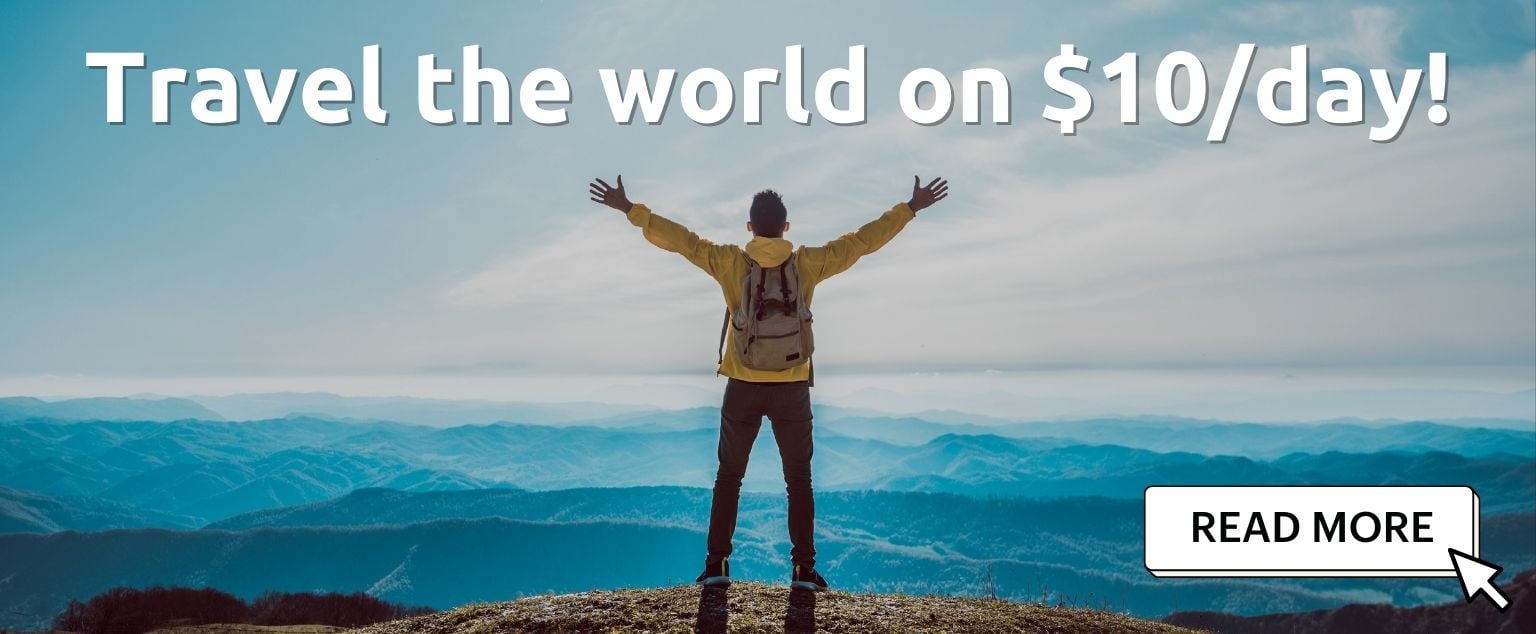 And for transparency's sake, please know that some of the links in our content are affiliate links. That means that if you book your accommodation, buy your gear, or sort your insurance through our link, we earn a small commission (at no extra cost to you). That said, we only link to the gear we trust and never recommend services we don't believe are up to scratch. Again, thank you!