Perth is one of those cities that is overflowing with activity and adventure. It is packed with both tourist hotspots and hidden local gems – Perth is designed for active lifestyles. It's got everything from beaches to deserts and cultural attractions, all under a blue sky of moderate year-round weather!
One of the best things about Perth is how much there is to do around the city's borders. We're talking desert hikes, wine farms, and tropical snorkeling adventures, all within a few hour's drive of the city center.
Depending on how long you spend in Perth, I highly recommend taking a day tour to explore a bit more of Western Australia. Not sure where to start when it comes to day trips in Perth? These are my favorite spots to visit on day tours around the city.

Unlock Our GREATEST Travel Secrets!
Sign up for our newsletter and get the best travel tips delivered right to your inbox.
Getting Around Perth, and Beyond
Perth is a stop-off on any successful Australian backpacking trip. It is easy to get around, has some incredible sights, and a pretty hectic nightlife.
Perth is very pedestrian friendly with wide pavements, and plenty of cycling lanes. The city is connected by a load bridges from east to west. There are a bunch of riverside cycling loops that are clearly marked and signposted, too. I always say, there's so much to see in a city that can't be experienced when you're taking public transport.
However, if walking or cycling isn't your thing, the best way to get around the CBD (Central Business District) is by using the free Central Area Transit Bus (CAT), which operates regular loops around the downtown shopping and cultural attractions.
The entirety of Perth is connected with efficient and affordable public transport run by TransPerth. Buses, trains, and ferries link the suburbs to the CBD. There are three main stations in the city center: Perth Station, Perth Underground, and Elizabeth Quay.
The inner city is within a Free Transit Zone (FTZ)- you can get around the city for free! These buses usually run every 5-15 minutes from 6am to 7pm. Ferries can connect you to Rottnest Island (one of the best day trips from Perth) and along the Swan River.
Like any big city, Perth has its fair share of taxis and ride-share vehicles. Although they're more pricey, they are the safest option for a late-night lift or for transporting lots of luggage.
If you rent a car, parking in the CBD can be difficult. Take note of these three public parking locations which offer free three-hour parking on weekends and public holidays:
His Majesty's Car Park
Cultural Centre Car Park
Pier Street Car Park
Half-Day Trips From Perth
A full day trip in Perth can be too time-consuming for a short vacation. When you are staying in central Perth, half-day trips come in handy. They still get you out of the city but won't take up a whole day of your trip, and are usually a little less pricey because of it.
Fremantle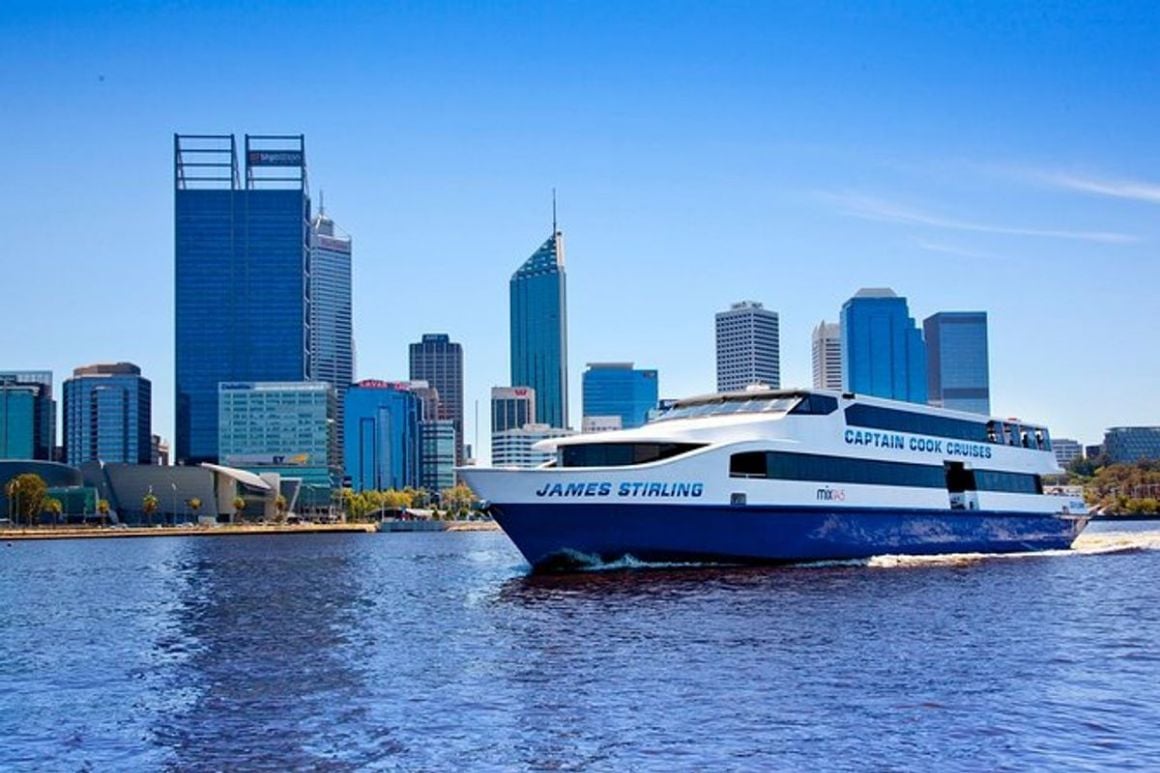 The city of Freemantle is seen as a bit of an extension of Perth. Although it's separated by the Swan River and is technically its own city, Fremantle is only a half an hour's drive from downtown Perth. You can even catch a ferry from Perth, adding a bit more excitement to this half-day trip from Perth.
Fremantle is known for its maritime history, and being home to the largest convict prison in Australia – and that says a lot seeing as though the entire country used to be a prisoner colony. Known as Perth's Port City, it is also a very inclusive, artist-friendly city known for supporting local and international artists. You'll find there are a range of street art and art gallery tours advertised around the city.
This is a great half-day trip for a quick weekend visit to Perth.
Suggested trips: Fremantle Lunch Tour
Swan Valley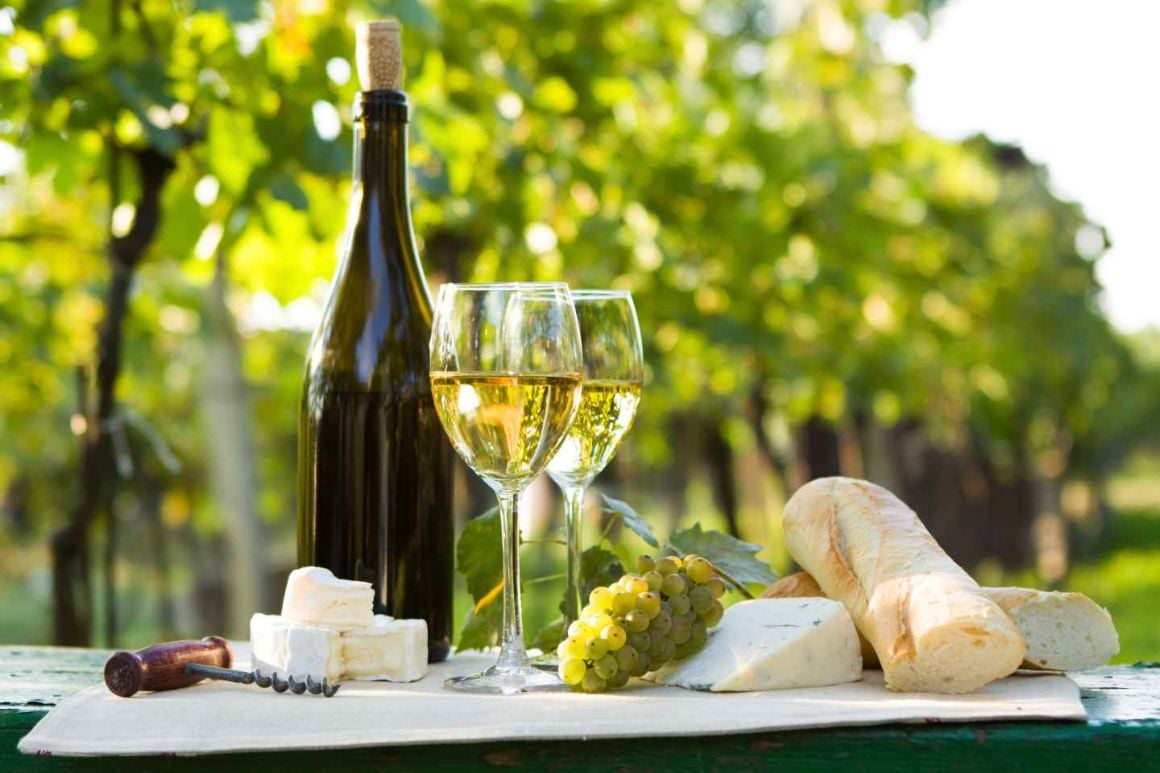 Swan Valley lies just north of Perth. Although it's only 30 minutes drive from downtown, this pristine natural valley seems miles away from city life, making it an excellent destination for a full or half-day trip from Perth.
Swan Valley is the oldest wine region in Western Australia, yet still has a small-town atmosphere. The area is super authentic, with family-run coffee roasteries, breweries, and wineries going about their daily business in and amongst the tourist rushes.
If you've rented a car, you could easily drive yourself and explore without a guided tour. You could even catch a bus to the valley, if you're willing to take the longer route up. Alternatively, there are loads of different tours that provide transport from Perth and include lunch. Some even include a boat cruise on the Swan River, which flows from the valley into Perth.
A trip to the Aboriginal-owned Maalinup Aboriginal Gallery is definitely worth your time, and will give you a sense of the wholesome inclusivity of the Swan Valley region.
Suggested trips: Swan Valley Winery Experience with Lunch and Swan Valley Cruise, Winery, Cheese, and Lunch
Is This the Best Daypack EVER???
Full-Day Trips From Perth
Exploring Perth includes a lot of big city life. A day trip is a great way to experience new places, food, and scenery. Take a look at these day trips in Perth that will get you out of the hustle and bustle.
Margaret River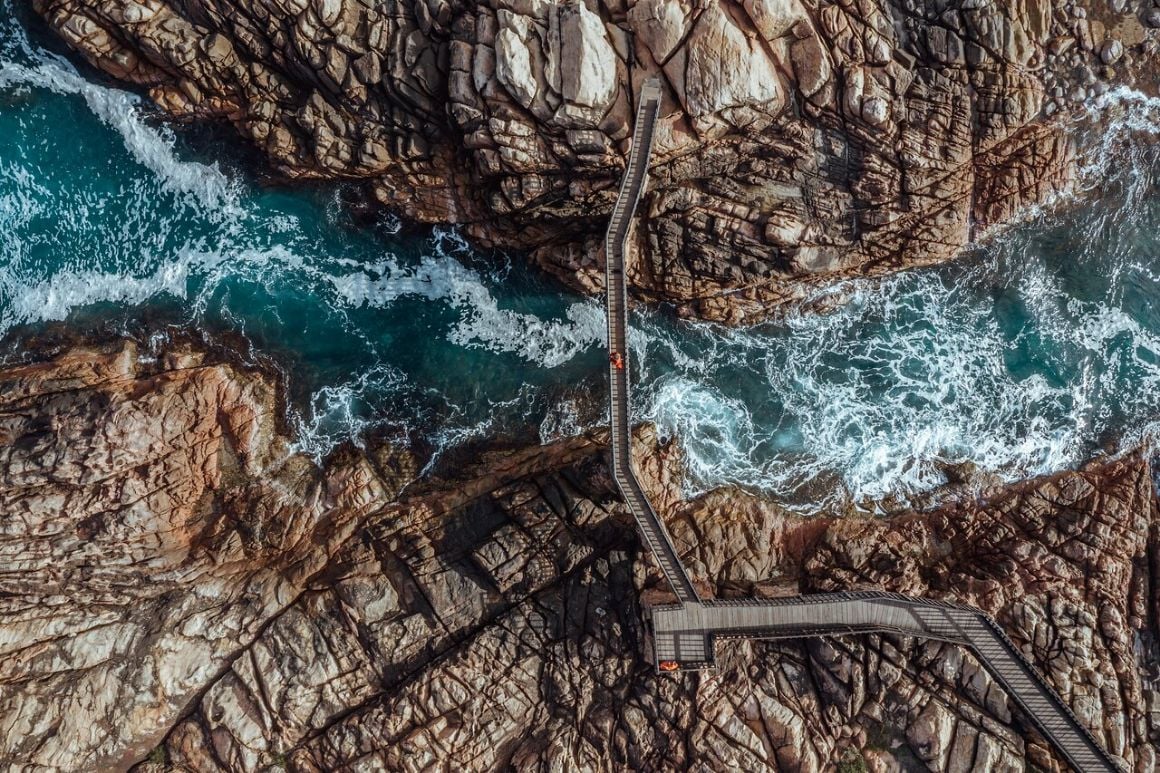 Margaret River is one of those places most tourists have heard about – it's a must-visit when in Perth! The town is located three hours south of Perth and is famous for its world-class surfing waves and wine farms. A fun combination, if you ask me!
In fact, Margaret River plays host to one of the most prestigious and anticipated World Tour Surfing competitions. During the event, surfers and spectators flock to the boardwalk to watch the world's top surfers take on some pretty heavy waves.
But there's more to do and see than big waves. For over 50 thousand years, the region has been the traditional homeland to the Wadandi (Saltwater) People. Locals ask visitors to respect this native homeland, and take in the calm vibes and ancient history as they explore.
Other than the wild ocean, the area is made popular by its wine and food experiences, and art scene. There's so much to do, from indulging in high-end restaurants to abseiling the dramatic cliff faces, or taking in the views in the Boranup Karri Forest. It's pretty much an outdoor-lovers paradise.
Suggested trips: Margaret River Highlights Tour with Wine and Cheese
Busselton and Chapman Hill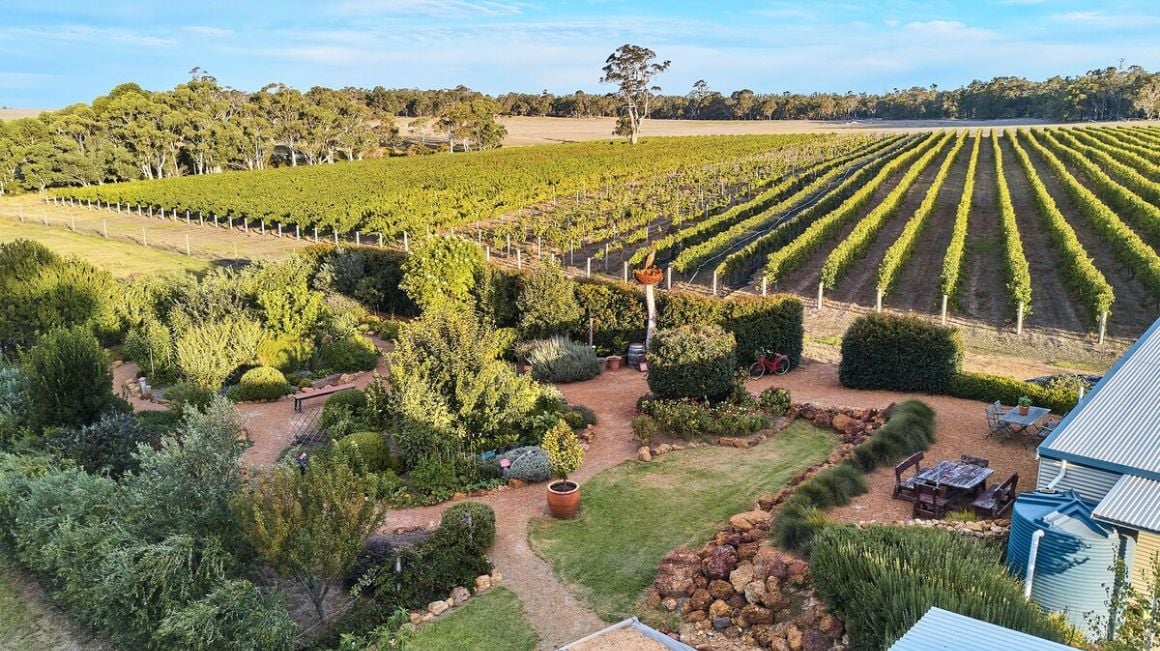 Just a two and a half hour drive south of Perth, Chapman Hill is a beautiful rural area, inland of the Margaret River coastline. Busselton is a small city, with a long history as one of Australia's most loved beach destinations. It's a local favorite for half-day trip from Perth.
The up-and-coming Margaret River wine region has helped grow the city's tourism, bringing a ton of new restaurants, shops, and attractions to Champan Hill. It is also home to the longest wooden pier in the Southern Hemisphere, which juts 6040 feet into the ocean!
While the city's historic European settlement shaped the way the buildings and land look today, the area is home to local Noongar Aboriginal populations from the Wardandi and Bibulman ancestral groups. So, not only is it a beautiful beach spot, it's also packed with history.
Only about 100 people live in and around Chapman Hill, which means it is still peaceful.
Suggested trips: Busselton Coastal and Wildlife Eco Tour
Julimar State Forest
Julimar State Forest is a national park known for its incredible off road 4X4 tracks. It's pretty much an adventure playground for four-wheel-drive vehicles. The forest is still relatively unpopulated as a tourist destination, which makes it even more enjoyable for a camping or hiking visit.
It's only an hour and a half drive north of the city, putting it right up there as one of the best day trips from Perth. The drive along the Great Northern Highway alone is a pretty spectacular experience, so make sure you pack some snacks and enjoy the journey.
Once you arrive in Julimar State Forest, it will feel as if you've been transported into a scene from Jurassic Park. Dense shrubbery and tall trees cover the hilly landscape, making for beautiful views in every direction you look.
Aside from being one of the best locations for an off-roading 4X4 experience, there are also a few walking trails and camp sites in the park.
Shoalwater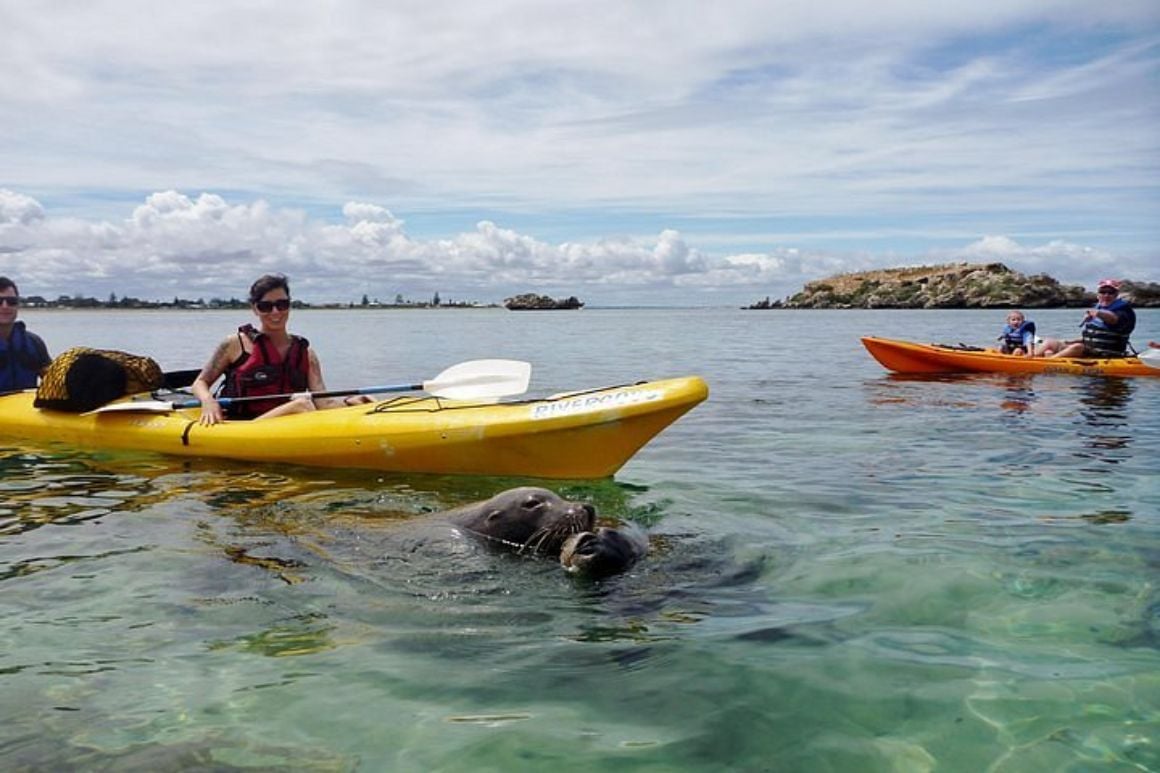 Australia is known for having some of the most beautiful beaches in the world and its one of the best things to do on a sunny day. With this reputation, city beaches can get super busy. For a little uncrowded beach getaway, Shoalwater is less than an hour's drive from Perth. As a matter of fact, Shoalwater is an outer suburb of Perth, within the city of Rockingham.
The bay is protected within the Shoalwater Islands Marine Park, which comprises many small islands, including Penguin Island and Seal Island.
Whether you're visiting with a significant other or bringing along your young kids, Shoalwater is a family-friendly location where you can watch dolphins, sea lions, and penguins in their natural habitat.
Take a boat cruise or jump in the water with a snorkel to get up close and personal with the ocean wildlife. The dolphins are used to humans, and will happily swim next to you. That is, if you're willing to brave the cold!
You could also hire out a kayak to paddle along with the dolphins as they cruise through the crystal clear water.
Feel like extending this day trip to an overnight one? Check out this comfortable home by the sea in Rockingham.
Suggested trips: Seal Island and Penguin Island Kayak Tour
Toodyay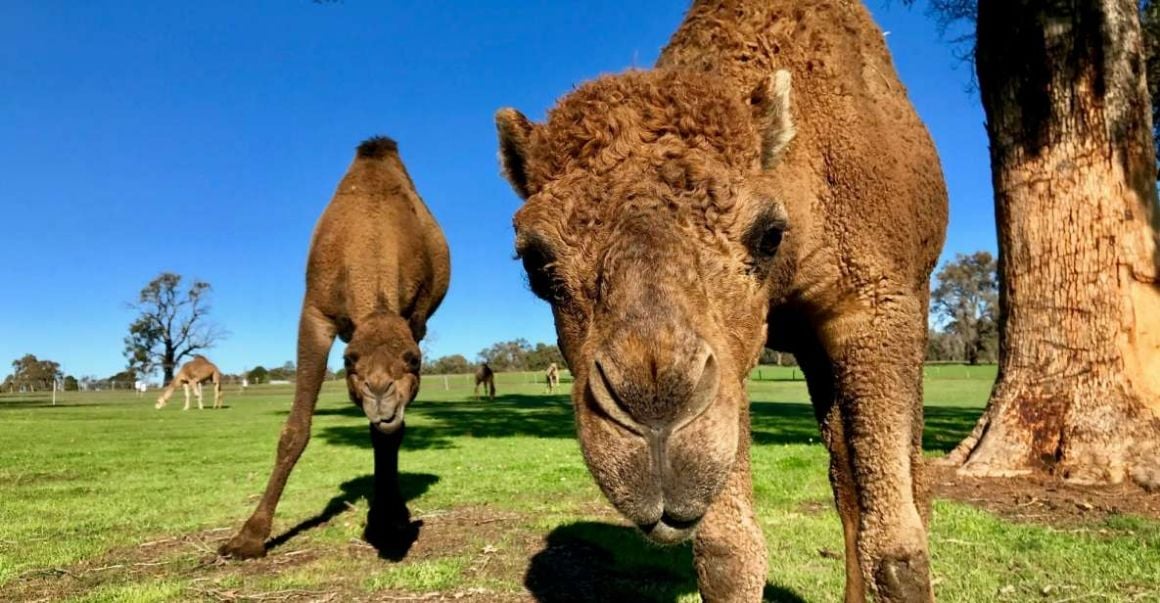 Toodyay is a historic farming town on the Avon River only 53 miles northeast of Perth. The town is connected to the city by rail, which will take you just under two hours. Toodyay has a unique history of European settler populations and indigenous Aboriginal populations, worth checking out!
While it's known for being a melting pot of historical attractions, there's plenty to do and see here if you visit with young kids too. There is the Toodyay Miniature Railway, which is located in Duidgee Park, and The Toodyay Fairytale Farm where youngsters can interact with friendly farm animals and enjoy the fresh outback air.
Of course, there are loads of great eateries and museums on this Perth day trip for the adults.
Suggested trips: Toodyay Sights Tour with Dinner and Stargazing
Mandurah
One of the main reasons I love Australia is because of the incredible wildlife occupying pretty much every corner of the country. Mandurah is a small coastal city located about an hour south of Perth, well known for its beautiful waterways, canals and holiday-town feel. It's a popular hotspot for local getaways, and from the moment you arrive, you'll feel like you're really on vacation.
On top of its laid-back atmosphere, canals and world-class cuisine, Mandurah is home to the Peel-Harvey Estuary. This nature reserve is packed with wildlife and migratory waterbirds that make their way to the area every summer. There's also a huge dolphin population in the estuary, who put on a spectacular show for those on the shore. The best spot to see the dolphins is from Halls Head Beach.
The Creery Wetland Nature Reserve and Lake Clifton Thrombolites are two more beautiful spots to explore. You're guaranteed to spot some incredible birds, marine life and wild life.
Suggested trips: Dolphin and Views Cruise
Rottnest Island
A visit to Rottnest Island is probably already on your Perth itinerary, and is one of the most popular day trips from Perth.
The island is a small, car-free island just off the coastline. It has magnificent coral reefs, untouched beaches, and shipwreck sites. It is pretty much paradise on earth.
From watching wildlife thrive in their natural habitats, lounging on white-sand beaches, and exploring calm protected lagoons, it has an incredible laid-back vibe, that will have you wanting to stay longer.
Only a 90-minute ferry ride away from the city in the beautiful Indian Ocean, it's an easy place to visit for a day trip or for a laid-back night or two. Only around 150 people live on the island, which makes sense from its wonderfully untouched vibe.
Most people visit to explore the coral reefs that grow around the many shipwrecks. The snorkeling and diving around the island is out-of-this-world. However, there are a ton of walking trail networks to explore, natural attractions, and special events hosted throughout the year.
Suggested trips: Rottnest Island Full-Day Bike and Ferry Trip and Rottnest Ferry and Adventure Boat
Lancelin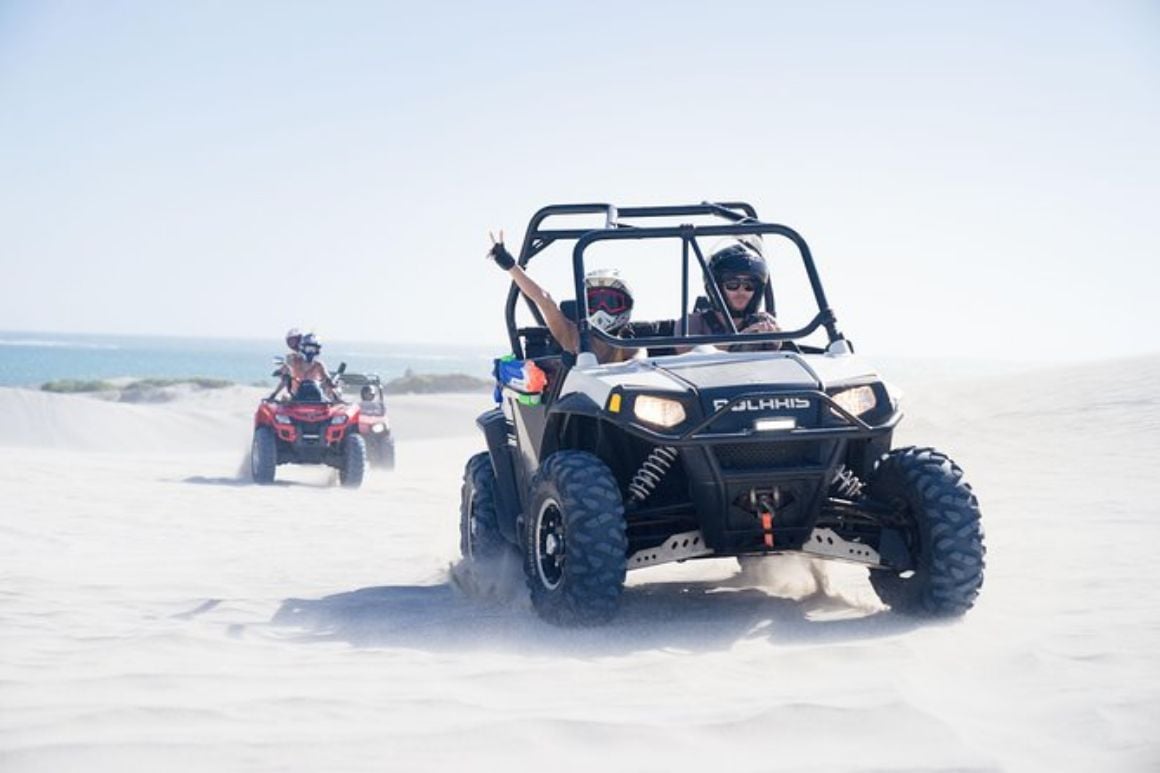 Lancelin offers the perfect combination of the beach and the desert. This otherworldly place is loved for its white-sand beaches and expansive sand dunes surrounding the coastline.
Naturally, the coastal town welcomes seasonal tourists to its shores every year, giving it a holiday atmosphere like no other.
Other than the untouched beaches, the main attraction is the Lancelin Dunes, which are a hotspot for sandboarding and 4X4ing. There are a bunch of quad-biking and 4X4 tours offered for a fun family day trip from Perth.
The town is tiny with less than one thousand permanent residents. There are a couple of places to buy grub here, too, including some seasonal food trucks.
Suggested trips: Private Sandboard and Quad Bike Adventure
Yanchep National Park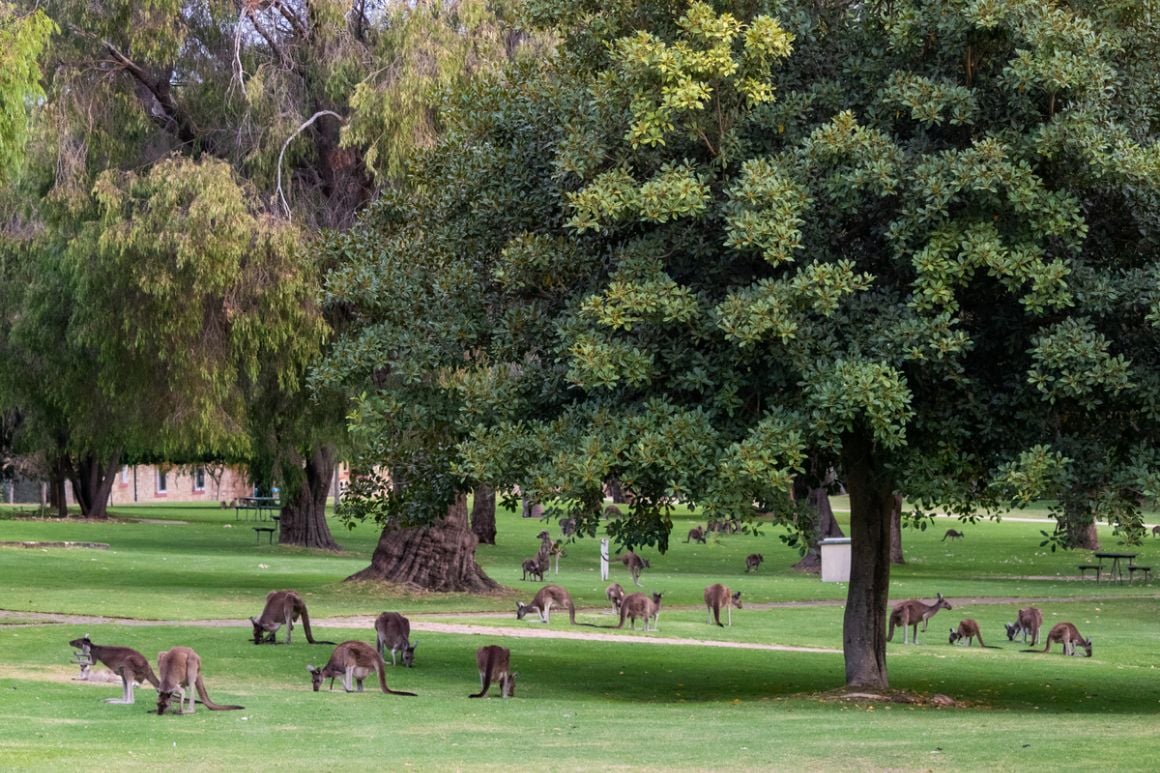 Yanchep National Park is a coastal region just an hour north of Perth. It is easy to visit without a guide or tour. You can simply arrive and purchase a day pass. Yanchep National Park is open every day, and is home to some beautiful caves, trail walks, and picnic spots.
In fact, there are over 400 caves in the park, the most well-known being Crystal Cave, Yonderup Cave, and Cabaret Cave. Golf enthusiasts can also indulge in some golfing fun, and there are even campsites where you can pitch a tent and get a BBQ going for lunch.
If you're familiar with the area, you'll know that there aren't too many koalas left in Western Australia. However, there is still a tiny colony of koalas living in Yanchep. If you're super lucky, you might just get to see one of these cuddly native marsupials in their natural habitat.
Yanchep is also home to western grey kangaroos, who are much easier to spot than the elusive koalas. The best time to see them is when it's cool in the early morning or evening.
If a Perth day trip to Yanchep isn't enough time for you to explore, check out this bright and modern home in Yanchep town.
Pinnacles Desert
Last but certainly not least, we have the Pinnacles Desert. Only two hours' drive north of Perth, the desert is located in the Nambung National Park. It is home to incredible limestone rock formations that make up what I like to call a 'photographer's dream landscape'.
Each of these rock structures date back 25-30 thousand years, making them one of the most historic and exciting geographical attractions in Western Australia. The combination between deep blue skies, golden yellow sand, and alienlike stone structures creates a super impressive backdrop for a photo.
The ancient structures are a sacred place for a local aboriginal tribe, so it's essential that visitors respect the space and its natural beauty. You might also run into a western grey kangaroo, emu, or local reptiles and birds.
Suggested trips: Full Day Pinnacles Desert
Small Pack Problems? 😉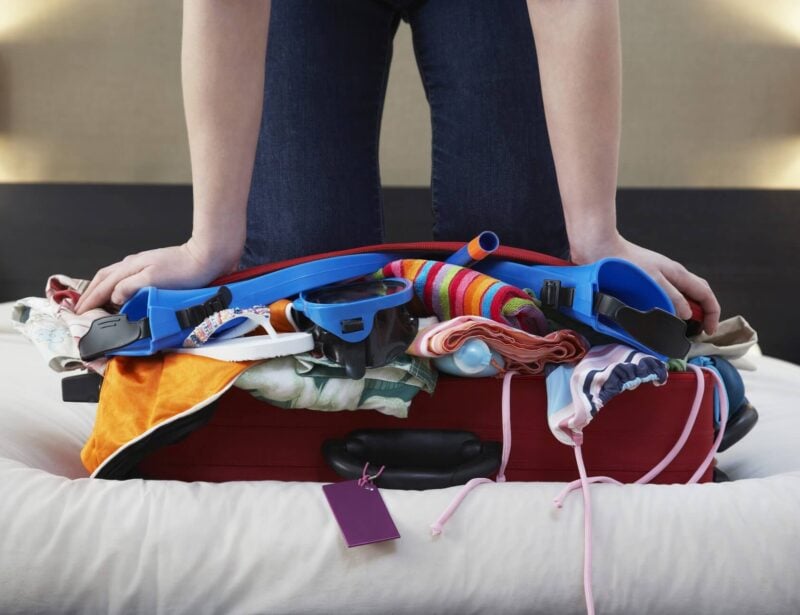 My missus travels with all her clothes in ziplock bags: don't be like my missus. UP YOUR PACKING GAME!
Packing cubes for the globetrotters and compression sacks for the real adventurers – these babies are a traveller's best kept secret. They organise yo' packing and minimise its volume too so you can pack MORE.
Or, y'know… you can stick to ziplock bags.
View Our Fave Cubes
Or Check Out the Sacks!
Don't Forget your Perth Travel Insurance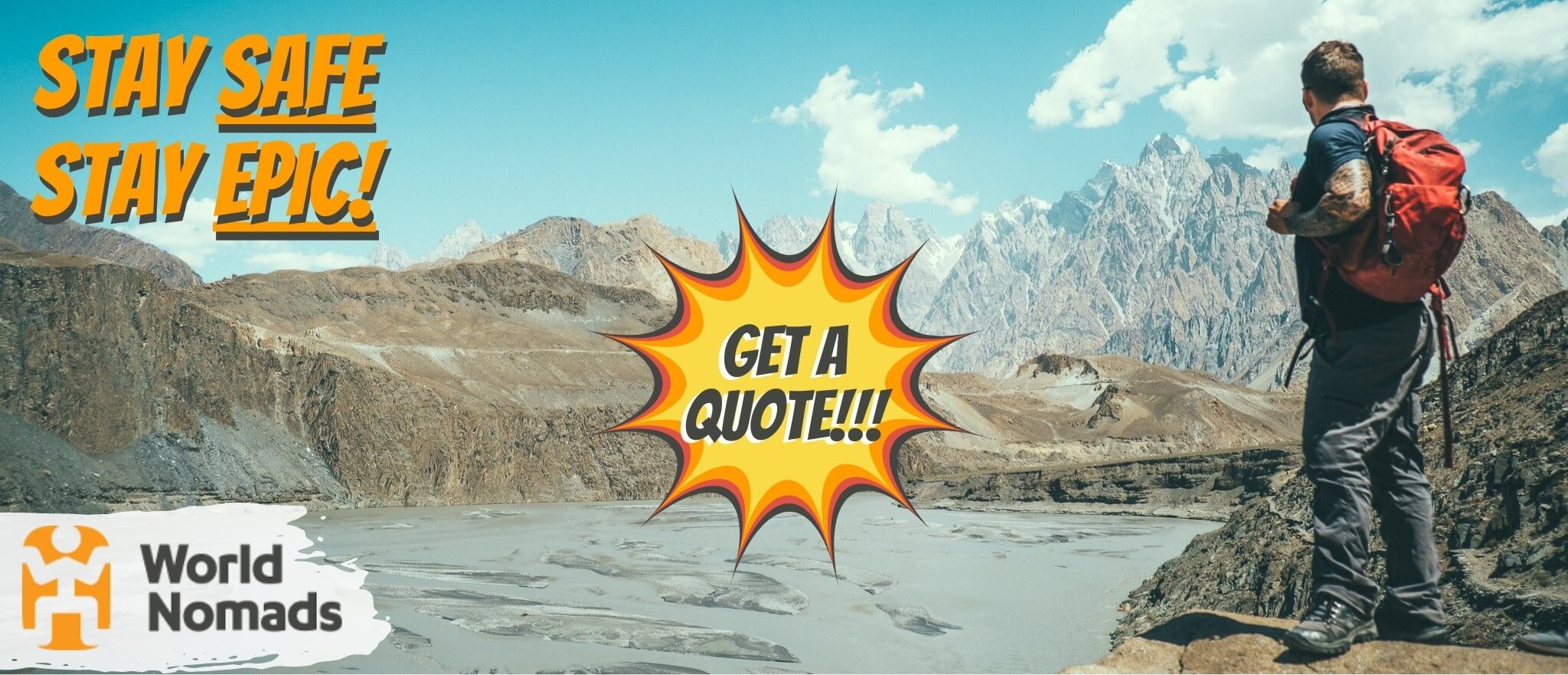 World Nomads' mission is to support and encourage travellers to explore their boundaries. They offer simple & flexible travel insurance, and safety advice to help you travel confidently.
They've been doing it since 2002 – protecting, connecting, and inspiring independent travellers just like you.
Get a quote below or read our in-depth review!
World Nomads provides travel insurance for travelers in over 100 countries. As an affiliate, we receive a fee when you get a quote from World Nomads using this link. We do not represent World Nomads. This is information only and not a recommendation to buy travel insurance.
Final Thoughts
Phew! Now, if that isn't a good selection of day trips from Perth, then I don't know what is.
Taking a day trip when you're visiting Perth is a great way to see more of what Western Australia has to offer without bouncing from one accommodation to another. The city is ideally located between the beach, vineyards, deserts, and local historic towns.
Depending on how long you have to play with on your vacation, I recommend starting with some full-day tours close to the city. One of my favorites is, without a doubt, Rottnest Island, where you can enjoy the laid-back beach scene without traveling too far. If you have a bit more time to spare, you could try fit in a desert visit and a forest adventure for the perfect outdoor trifecta.
---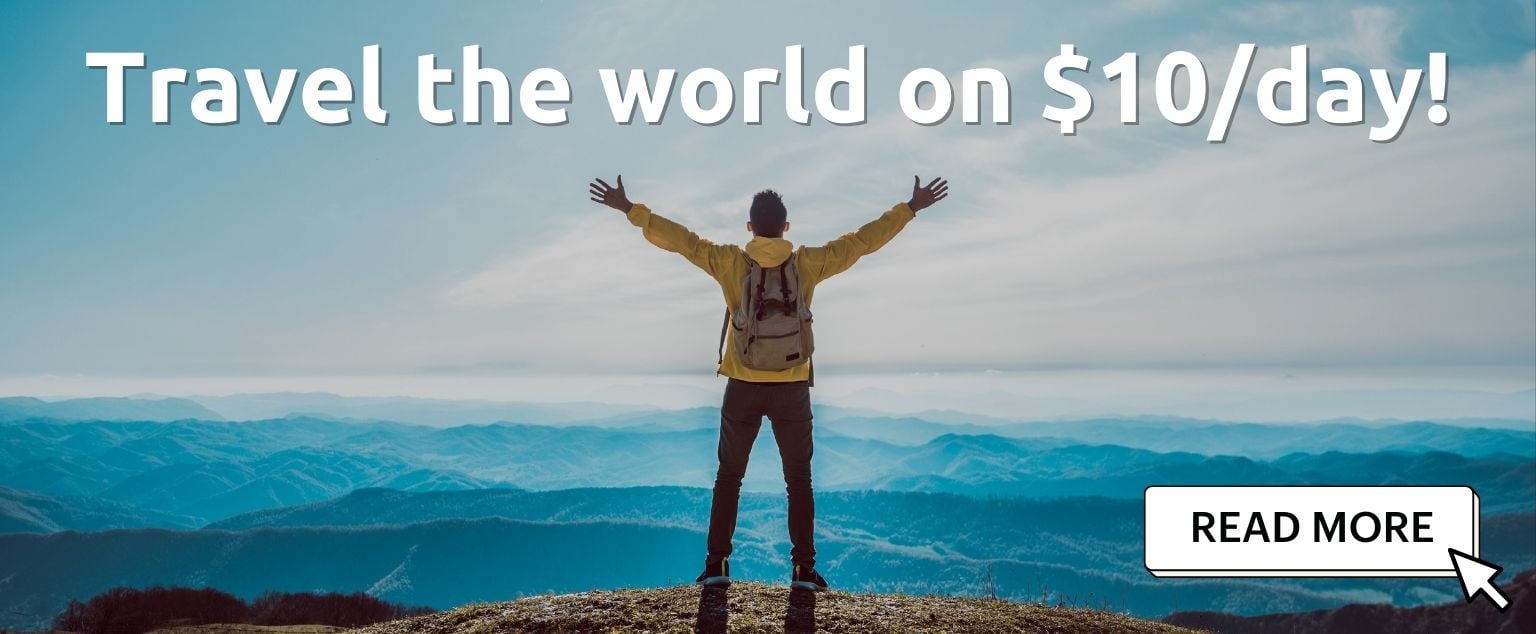 And for transparency's sake, please know that some of the links in our content are affiliate links. That means that if you book your accommodation, buy your gear, or sort your insurance through our link, we earn a small commission (at no extra cost to you). That said, we only link to the gear we trust and never recommend services we don't believe are up to scratch. Again, thank you!