Backpacking Perth, the most isolated capital city in the world, will surely captivate you with its charm.
Situated on The Sunset Coast in Western Australia, Perth happens to be the sunniest capital in all of Australia. Perth City is centered on the Swan River; a metropolitan city with easygoing character. Perth is known for its blue skies, relaxed vibe, and endless beaches—a true water sports haven.
Worldly travelers have so much to uncover here. Perth has a revitalized arts community; it is musically driven and host to many festivals. Major new urban projects are in the works—welcoming the new but treasuring the old. Perth cherishes its history as much as its future. A once quiet city, the culinary scene and nightlife are stronger than ever.
Perth has some of the best weather in the world, but hey, it's #JustAnotherDayinWA!
Backpacking Australia is by no means a budget-friendly—it's a paradise, yes—just not a cheap one. Perth has a bad rap for being one of the priciest cities Down Under, but this is simply not true.
Let me break it down in layman's term. Perth had a mining boom that drew many people to this isolated city, quickly. Prices for accommodation (mainly, hotels) skyrocketed.
Restaurant employees needed to be paid more to keep them from the mining sector. Customers ate this cost, literally.
Currently, we are in post-mining boom days. Also, price increases in Perth have been much slower relative to other Australian capital cities. Bear in mind, hostel prices in Perth are fairly reasonable by Australian standards, and attraction prices are no more than Europe and the USA.
So, do not listen to the haters and make sure you add Perth to your Australia travel destination list!
I would budget $50-75 a day to comfortably experience Perth, with no stress over money.
Average Costs of a Trip to Perth
The following is a breakdown of items to consider for you Perth daily budget:
Perth Budget Backpacking Tips
Perth can be cheap by Aussie standards if you follow my list of insider information. The following are a few tips to note before you head to Perth.
Food: For those non-foodie, budget backpacker through-and-through types, be on the lookout for daily pub specials. These specials often come as a pint/meal combination for a decent price. Also, head to Little Asia for some yummy meal deals.
Drink: Perth caters to its backpackers, so nearly every night of the week you can find club deals. Normally, these clubs offer backpackers' free entry, drinks, and sometimes transportation to their hostel. In addition, drink specials are offered to travelers after you receive your freebie. Ask your hostel which spots to check out each evening.
Transportation: Purchase a SmartRider card to save 15% off single-ticket prices on public transportation. Utilize the free transportation network within the city. Take the train, as opposed to Uber, when traveling to outer neighborhoods, as it is significantly cheaper.
Free Activities: Luckily, Perth is loaded with things to do for free! Swim at the beach, stroll around Kings Park, admire a coastal sunset, check out local art and sculptures, walk along the riverfront, view the city from lookout points, or browse the many markets and festivals. It is easy to experience Perth on a backpacker budget.
There are many different areas and neighborhoods in Perth. To give you a bit of an overview, we've listed the best ones below.
City Center: The Central Business District (CBD) is where business and culture intermingle. You can find many of Perth's amazing places in the city center. Home to convict-built Government House and Town Hall, the City Center is also within walking distance to Kings Park & Botanic Gardens.
Northbridge: Home to many restaurants, bars, pubs, cafes, and most of Perth's nightclubs. The Cultural Centre has its roots here, and it is within walking distance to the CBD.
Freemantle: Freo has a rich history with its Victorian restoration of warehouses and hotels. This is a weekend favorite with lots of restaurants, bars, and entertainment.
Scarborough: Sun, sand, surf, and home to Perth's most prized beach.
Cottesloe: A quieter beach than Scarborough with grassy slopes that are ideal for a sunset picnic.
Perth is a popular backpacker destination, so naturally, there are many backpacker hostels scattered throughout the city. I have listed my top 3 favorite hostels in Perth below.
Just opposite The Red Cat bus stop—a free transit service, Hay Street Traveller's Inn is in an ideal location. Perth's top inner-city hostel is just a minute's walk from shops, bars, and restaurants. Boasting friendly and helpful staff, this hostel also has nice facilities and a swimming pool.
The best part about Hay Street Traveller's Inn is the value for your money. Rooms come at a great price even for Australia!
Ping pong, a giant swimming pool, game room, pool table, volleyball court, movie screenings, and daily activities are all awesome ways to interact with other travelers—lucky for you, Billabong Backpackers Resort has them all!
Also offering free breakfast and $5 communal dinners, there are endless ways to socialize at this hostel. Not to mention, Billabong Backpackers Resort is located on one of Perth's trendiest strips in Northbridge if you are looking to venture out for even more fun.
You won't waste a second of your stay in Perth commuting into the city, because you'll be staying right in the heart of it. This spacious modern studio has all the conveniences you'll need, and you'll be able to walk to both beach and bars with ease from your doorstep. It's one of the best Airbnbs in Perth since it offers so muhc value but won't destroy your wallet.
Best Hostel for Solo Travelers — Backpack City & Surf
Backpack City and Surf has everything you need while backpacking Perth. (I sincerely apologize for that unintended rhyme.) From laundry services to on-site parking, a great location in Northbridge, BBQ's, and even free yoga lessons, it is hard to find a reason not to sleep here.
Oh yeah, there is a mechanic on premise that can pinpoint your car issues or offer insight as to whether you should make a car purchase or not. Now that is service! Shops are around the corner and the hostel offers weekly outings, making this one of the best places to stay while backpacking Perth.
There are endless options when it comes to things to do in Perth. If you're only visiting over the weekend, check out our favorite hotspots and activities.
1. Kings Park and Botanic Garden
The most popular visitor destination in Western Australia, Kings Park, is a 1,003-acre park located in the heart of Perth. Take a stroll around the Botanic Gardens to discover the collection of 2,000 species of flora.
Visit Kings Park war memorials or enjoy the walking tracks. Many events are held within the park, as well. Offering impressive views of the city and Swan River, especially if you climb up the DNA Tower, this famous landmark is just a piece of what makes Perth so special.
2. Take the Ferry to Rottnest Island
Rottnest Island is a day trip from Perth that you will never forget! Rent a bike to ride around the entire island, and find 360-degree views of the Indian Ocean's turquoise blue waters. Spot the island's native resident, the quokka, and snap a selfie with these adorable little creatures.
Grab some snorkel gear and cool down in the crystal clear waters at any of Rottnest's beaches.
3. Have a Sunset Picnic at Cottesloe Beach
While Perth has an endless coastline of picturesque beaches, Cottesloe Beach, happens to be a favorite for travelers and locals, alike. Cottesloe has an ocean way for pedestrians and cyclists, and cute cafes and restaurants right on the water.
In March, Sculpture by the Sea takes place, and the beach becomes an outdoor art gallery. For the ultimate Perth experience, grab snacks and wine to enjoy a picnic on the grassy Cottesloe Esplanade, while the sun sinks into the Indian Ocean.
4. Discover Fremantle
Fremantle is the city port (where you catch the ferry to Rottnest Island) located at the mouth of the Swan River. Freo, as the locals say, is home to quaint heritage buildings like The Round House—the oldest in WA. Take a tour of Fremantle prison, see the former lunatic asylum—the Fremantle Arts Centre, or shop the Fremantle Markets.
Rich in history but also artsy and hip, there is plenty to be discovered in Freo. Do not forget a pit-stop at Little Creatures brewery.
5. Surf, Swim, and Dance at Scarborough Beach
A personal favorite, Scarborough Beach has everything you could ask for a beach-day-out. A huge white sand beach with gorgeous waters is partially what makes this location one of Perth's favorites. Cafes, bars, and restaurants line the beach road, but there are also great spots for a BBQ.
Scarborough Beach Surf School is the oldest in the world, so book your surf lesson here! With so many redevelopments happening, Scarborough is looking even more attractive. Oh, and you can take dance lessons on the beach at sunset.
6. Get Artsy at the Perth Cultural Centre
The Perth Cultural Centre is an area full of gardens and galleries in central Perth. Home to a number of cultural institutions like Perth Institute of Contemporary Arts (PICA), the multi-level Art Gallery of Western Australia, and the Western Australia Museum. The Art Gallery of Western Australia is free to browse but donations are accepted.
7. Visit Yagan Square
Yagan Square just opened in March 2018 and is part of Perth City Link—an urban renewal and redevelopment project. A 2.5- acre plot of land between CBD and Northbridge, Yagan Square—named after the indigenous warrior, celebrates the significance of the Noongar people of Perth.
Visit Digital Tower with its wrap-around display screen and the statue Wirin. Yagan Square will host many events, as well as, celebrating an Aboriginal heritage.
8. Stroll Around Elizabeth Quay
Elizabeth Quay is a mixed-use development on the shore of Perth CBD. An artificial inlet was constructed here, and modifications were completed to places like Barrack Square—a local public square.
Check out the Swan Bells, commonly known as The Bell Tower, and other giant pieces of modern artwork. Walk across the Elizabeth Quay Bridge, and grab a bite to eat or drink, there are plenty of options here.
9. Hang in Northbridge
Perth's hottest nightlife can be found in Northbridge, which is walking distance from the city center. There are many pubs, clubs, and bars to choose from, and tons of shops with unique items to browse. With no shortage of restaurants, Northbridge is home to Chinatown, so be sure to try some Asian eateries.
10. Walk along the Swan River to Crawley
Situated in the neighborhood of Subiaco, Crawley is home to the Crawley Edge Boatshed or the Crawley Blue Boatshed. This well-recognized site sits on the Swan River since the 1930's and is the perfect backdrop for a photograph.
The Eliza Sculpture also resides here, named after Mount Eliza, the hill that Kings Park sits on as it overlooks the river and city. Enjoy your stroll along the Swan River that meanders and winds through the City of Perth.
On every adventure, there are six things I never go traveling without:
For plenty more inspiration on what to pack, check out my full Australia packing list.
I have done my best to break down 3 days in Perth to maximize the number of sights you can see. Adjust the itinerary to meet your personal desires. What one backpacker in Perth deems important may completely differ to another.
Day 1 in Perth
Begin with an early morning walk along the scenic Swan River, and take in the iconic Perth cityscape. Make your way towards Elizabeth Quay to see the Bell Tower and other modern structures like the Elizabeth Quay Bridge.
Catch the ferry at Barack Street Jetty to cruise along the river as you make your way to Fremantle. Wander the Cappuccino Strip for a coffee or bite to eat, while discovering hip Freo. Take an insightful guided tour of World Heritage listed Fremantle Prison for a piece of Australia's interesting convict history and prison escapes. If you want to spend the night, check out the amazing backpacker hostels in Fremantle.
If you are visiting on the weekend, check out the Fremantle Markets. Grab lunch and a beer at Little Creatures Brewery.
Make your way back to the city to explore Kings Park and Botanic Garden. September hosts the Kings Park Festival to celebrate the beginning of wildflower season. Experience nature, climb the DNA tower, see the mighty Boab tree, and take the Law Walk for panoramic views of Perth.
With Perth's endless festivals and events, there is always something to check out at night. Fringe World Festival is the largest and most popular annual festival for the city. See what is happening at these events or go to Rooftop Movies—Perth's first rooftop cinema!
Day 2 in Perth
Day 2 in Perth is dedicated to Rottnest Island. Located 19 km off the coast of Fremantle, Rotto is reached by a lovely 30-minute ferry ride. This small island is easy to explore, so hire a bike, grab a map from the Rottnest Island Visitor Center, and be on your way.
An escape from the city life, Rottnest is truly a gem. The waters are clear and inviting, so feel free to relax on the beach, swim, snorkel, fish, or surf.
Cruise around the island to get insanely beautiful views of the Indian Ocean all around you. There is a pretty lighthouse on the island as well. All the while, scan the grass for a quokka, a special creature that only exists on islands off of Western Australia.
Make your way back to the mainland for an epic sunset at Cottesloe Beach. Pack all the goodies for a picnic and sip on a cold beer or wine. Cottesloe's white sands and blue waters make this beach a top-pick for Perth.
Day 3 in Perth
For Day 3 in Perth head northwest of the city to Scarborough Beach. Hanging out here is one of the best free things to do in Perth. New renovations are happening which will only add to its charm.
Grab a morning smoothie and head to the beach. Watch the surfers, kiteboarders, and windsurfers as they ride the water. Cool down in the big waves and grab a lunch at the seaside restaurants or cafes.
Head back towards the city to visit brand new Yagan Square and the Perth Cultural Centre. Learn about the history of Indigenous Western Australians and visit some galleries—Perth locals are super hip and artsy, get on board with them.
Your last evening is all about the best nightlife in Perth. Naturally, you want to head over to Northbridge. Indulge in a nice dinner from one of the many restaurants before hitting up the bars and nightclubs. Do as Australians do, celebrate with a drink, and bid farewell to Perth.
Perth off the Beaten Track (More Awesome Things to do in Perth)
You are backpacking Perth, you are already off the beaten path, so why not wander a little more? If you have more time to spare, then the following are a few recommendations. These may require some planning to get to as they are not centrally located.
Rockingham – Just a 40 minutes drive south of Perth, you will stumble upon Rockingham. Another stunning beach, the aquatic activities are abundant here. The true highlight of Rockingham is the opportunity to swim with wild dolphins! Also, ride a ferry to Penguin Island to meet Western Australia's largest colony of little penguins.
Mandurah – A mere 20 minutes south of Rockingham, Mandurah is quickly becoming a popular backpacker destination and growing coastal town. There is plenty of opportunity for food, drink, art, and beach activities in Mandurah. Mandurah is another nice area to spot dolphins.
Swan Valley – Perth's premier wine and food destination, Swan Valley is situated just 25 minutes east of Perth City. Breweries, wineries, cafes, distilleries, and fresh produce—this is a journey for your taste buds.
Best Walks in Perth
Perth and Fremantle are both walkable neighborhoods, and the city has a metro-wide system of pedestrian footpaths/bicycle paths—some of the best infrastructures of their kind in Australia. With parks scattered throughout Perth, coastal sunsets every evening, and a favorable climate, it is easy to see why Perthies love a good stroll.
Here are a few top choices for walks:
Bibbulmun Track — From the Perth Hills to Albany, this nearly 1,000 km stretch is one of the world's greatest long-distance walking trails. A shorter 7.4 km portion of this track, from Mundaring Weir Hotel to the Golden View lookout, is said to be one of Perth's best.
Bells Rapid Walk Trail — A charming walk along Swan River that is noted for having the best vantage points for the Avon Descent. Featuring the iconic rapids, granite formations, and a waterfall, this is also one of Perth's dog-friendly walks! Two short walks make up this trail—River Walk and Goat Walk (5.5 km loop). Be on the lookout for grey kangaroos.
Scarborough-Trigg Heritage Trail — This trail is made up of three loops totaling about 7.3 km. Arguably one of Perth's best walks, it is loaded with natural beauty. Trigg Bushland Reserve is serene, and Scarborough and Trigg beaches have surfers, fishermen, and incredible sunsets on the water. This trail should not be passed up.
Law Walk — This Kings Park urban, bushland trail is a 2.5 km loop. Scenic views of the Swan River and CBD can be had here. Due to its ups-and-downs, this walk is known by locals as "the rollercoaster." Be ready for some cardio.
The following is a breakdown of the basics; everything you need to know before your Perth trip. Whether you are a first-time backpacker or experienced in the art of travel, it is always nice to have a reference of useful information.
Best Time of Year to Visit Perth
The Australian continent is in the Southern Hemisphere, so it celebrates its summer from December to March and winter from June to September. That being said, Perth has the pleasure of offering warm and sunny weather year-round with its temperate Mediterranean type climate.
There is no wrong time to visit this city, but take note that winter is the rainiest time of year. However, it is also when swells are the most consistent for surfing. A Perth winter seldom gets cold enough for frost to form.
Summer months in Perth are best for finding outdoor events and festivals. On occasion, there will be the decaying tropical cyclones that affect Australia's Northwest during summer months, which can bring heavy rainfall.
Most travelers head to Perth between October and January.
Getting in-and-out of Perth
Perth is one of the most isolated cities in the world, so much so that the nearest city with a population of more than 100,000 is 2,130 km (1,324 mi) away—Adelaide. The chances of you arriving in Perth by airplane are very high.
Perth Airport is located approximately 10 km (6.2 mi) east of Perth's city center.
There are a number of ways to get to-and-from the airport such as rideshare, taxi, hired car, Transperth bus services, shuttle, or car rental. It is important to note that there is no rail line servicing Perth Airport.
If traveling alone, consider taking a taxi to the nearest railway station. This method is cheaper for transport into the city than a full-on taxi ride, but faster than a bus route.
How to Get Around Perth
CAT buses operate daily within Perth, with four routes covering all parts of the city. The best part? CAT buses are free to hop-on-and-off. The Free Transit Zone (FTZ) is served by regular Transperth buses and is free within the zone, obviously.
Ferries run every 20-30 minutes between Elizabeth Quay Jetty and Mends Street Jetty. The Little Ferry Co runs scheduled services, and Rottnest Express runs ferries to Rottnest Island.
Transperth operates five train lines, and your ticket can be used on buses and ferries within your ticket's zone. Consider purchasing a SmartRider card for 15% off single-ticket prices for a bus, train, and ferry travel.
Driving in Perth can be a bit tricky due to parking. Parking within the CBD and Northbridge is expensive, hard to find, and often has a time limit. Consider the free bus services while in the city center.
Car-hire companies are easy to find, and Hertz is a popular choice. Taxis and Uber are also popular means of transportation in Perth.
Long Distance Trains from Perth
The Indian Pacific is an Australian passenger rail service that connects Perth with Adelaide and Sydney, once a week in each direction. This is considered to be one of the few truly transcontinental trains in the world.
Transwa operates several passenger rail trains that connect Perth to many places around Western Australia like Kalgoorlie and Bunbury.
Safety in Perth
Maintain safety in Perth by wearing sunscreen, hats, sunnies, and light clothing while going out into the Australian sun. Sunrays are dangerous especially being ever-so-close to the equator. Drink water and always carry fluids on you. A sure-fire way to destroy your trip is by ending up in the hospital with dehydration symptoms.
Otherwise, Perth is relatively safe. Some areas are considered to be trouble spots, like Northbridge in the evening. My advice is to avoid walking around alone at night.
Remain cautious while using public transportation, and steer clear of drunkards in the street.
Pick yourself up a backpacker security belt to keep your cash safe on the road. This post for plenty of ideas on ingenious ways to hide your money when traveling.
Top Tips for Broke Backpackers in Perth
To keep your spending to an absolute minimum whilst traveling in Perth and greater Australia I recommend sticking to these basic rules of budget adventuring….
Camp: With plenty of gorgeous natural places to camp around, Perth (or outside of Perth rather) is an excellent place to take a tent. Check out this post for a breakdown of the best tents to take backpacking.
Cook your own food: I took a small gas cooker with me to Australia and cooked a lot of my own meals whilst hitching and camping, I saved a fortune – check out this post for info on the best backpacking stoves.
Volunteer: If done properly, volunteering is an excellent way to cut down your costs on the road. I strongly recommend Workaway – you pay just $29 for the year and then have access to literally thousands of projects all around the world where you can help out in exchange for food and board. There is always a hostel in Perth that will take you on board, I'm sure!
Why You Should Travel to Perth with a Water Bottle
Plastic washes up on even the most pristine beaches… so do your part and keep the Big Blue beautiful
You aren't going to save the world overnight, but you might as well be part of the solution and not the problem. When you travel to some of the world's most remote places, you come to realise the full extent of the plastic problem. And I hope you become more inspired to continue being a responsible traveller.
Plus, now you won't be buying overpriced bottles of water from the supermarkets either! Travel with a filtered water bottle instead and never waste a cent nor a turtle's life again.
Travel Insurance for Perth
Traveling without insurance would be risky so do consider getting good backpacker insurance sorted before you head off on an adventure.
I have been using World Nomads for some time now and made a few claims over the years. They're easy to use, professional and relatively affordable. They may also let you buy or extend a policy once you've started your trip and are already abroad which is super handy.
If there's one insurance company I trust, it's World Nomads.
World Nomads' mission is to support and encourage travellers to explore their boundaries. They offer simple & flexible travel insurance, and safety advice to help you travel confidently.
They've been doing it since 2002 – protecting, connecting, and inspiring independent travellers just like you.
Get a quote below or read our in-depth review!
World Nomads provides travel insurance for travelers in over 100 countries. As an affiliate, we receive a fee when you get a quote from World Nomads using this link. We do not represent World Nomads. This is information only and not a recommendation to buy travel insurance.
Perth Accommodation Travel Hacks
Accommodation could make a dent in your wallet while backpacking Perth. A great way to alleviate that expense is to work for your hostel room. Many hostels will allow you to work in exchange for a bed. Although, this may only be an option if you plan to stay for over a week.
Airbnbs are great if you are traveling with several friends to cut costs.
As always, if you are on a tight budget then utilize the Couchsurfing community.
Caravan parks may not be centrally located, but are definitely a money saving option near Perth—for those of you touring Australia in a camper van.
Networking can go a long way, as well. It is very possible that you have made friends, while traveling elsewhere, that live in your destination city. For example, when I posted on social media that I was flying from Cairns to Perth—an Irish lad that I met on Australia's East Coast said that he lived in Western Australia, and he opened his home to me. It pays to flirt… kidding.
Eating and Drinking in Perth
Perth is fairly expensive to dine-out, but there is certainly no shortage of great restaurants to choose.
Local specialties include scrumptious seafood like Western Rock Lobster (crayfish)—which can be found at a decent price in-season, highly prized black truffles, and delicious wines.
Perth culture has a high standard of quality when it comes to their coffee, with many cafes dispersed throughout the city.
For beer drinkers, Little Creatures is a popular local brewery in Fremantle.
For an authentic Australian experience be sure to try: Kangaroo, Emu, Vegemite, Tim Tams, and Lamingtons.
Wine in Perth
A mere 3 hours south of Perth you will stumble upon Margaret River—a lovely region that accounts for more than 15% of Australia's premium wine production. World class wines are produced all around, but Margie's star performers are chardonnay, cabernet sauvignon, sauvignon blanc semillon, and cabernet merlot blends.
The Swan Valley, cradling the Swan River, is Australia's second oldest wine growing region. Perhaps not as highly regarded as Margaret River for winos, the area still produces some of the countries most amazing wines, with the advantage of being so close to Perth City proper.
Best Nightlife in Perth
Perth has a vibrant music scene with iconic venues like Amplifier Bar, Rosemount, Fly by Night, The Rocket Room and Mojos. It is thought that the isolation of the city, and musicians refusal to add Perth onto their tour list, has led to a strong hometown music pride. Names like Tame Impala, John Butler Trio, and lead singer of AC/DC all have roots here.
Northbridge is the hub of Perth's nightlife and the CBD is popular for Friday nights. Both areas will be open late night, but there are super hip bars located throughout the city that generally close around 12 am. Perth has many chill rooftop bars that were a personal favorite of mine.
Clubs are not open past midnight on Sundays. They are usually popping on Wednesday, Friday, and Saturday.
Raves and festivals are hugely popular throughout a Perth summer and weekends.
Books to Read on Perth
Make Money Online Whilst Backpacking Perth
Traveling in Perth long-term? Keen to make some cash when you are not exploring?
Teaching English online is a great way to earn a consistent income—from anywhere in the world with a good internet connection. Depending on your qualifications (or your motivation to obtain qualifications like a TEFL certificate) you can teach English remotely from your laptop, save some cash for your next adventure, and make a positive impact on the world by improving another person's language skills! It's a win-win! Check out this detailed article for everything you need to know to start teaching English online.
In addition to giving you the qualifications to teach English online, TEFL courses open up a huge range of opportunities and you can find teaching work all over the world. To find out more about TEFL courses and how you can teach English around the world, read my in-depth report on teaching English abroad.
Broke Backpacker readers get a 35% discount on TEFL courses with MyTEFL (simply enter the code BACKPKR), to find out more, please read my in-depth report on teaching English abroad.
Whether you are keen to teach English online or looking to take your teaching game a step further by finding a job teaching English in a foreign country, getting your TEFL certificate is absolutely a step in the right direction.
Being a responsible backpacker in Perth
Reduce your plastic footprint: Perhaps the best thing you can do for our planet is to make sure you do NOT add to the plastic problem all over the world. Don't buy one-use water bottles, the plastic ends up in landfill or in the ocean. Instead, pack a tough travel water bottle.
Go and watch A Plastic Ocean on Netflix – it'll change how you view the plastic problem in the world; you need to understand what we are up against. If you think it doesn't matter, get off my fucking site.
Don't pick up single use plastic bags, you're a backpacker – take your daypack if you need to go to the shop or run errands.
Bear in mind, that many animal products in countries you travel through will not be ethically farmed and won't be of the highest quality. I'm a carnivore but when I'm on the road, I only eat chicken. Mass-farming of cows etc leads to the rainforest being cut down – which is obviously a huge problem.
Need more guidance? – Check out our post on how to be a responsible backpacker.
Backpacking in Perth will bring you ample opportunities to participate in debauchery, and it is very important to have fun, let loose, and get a bit wild at times—as the Aussies tend to do. Most backpacking trips I have been on across the world have included at least a few mornings where I wake up knowing I went too far.
There are some things that will put you in the category of a straight up jackass if you do them. Being super loud and obnoxious in a tiny hostel at 3 AM is a classic rookie backpacker mistake. Everyone in the hostel will hate you when you wake them up. Show your fellow travelers respect whilst backpacking in Perth and anywhere else for that matter!
---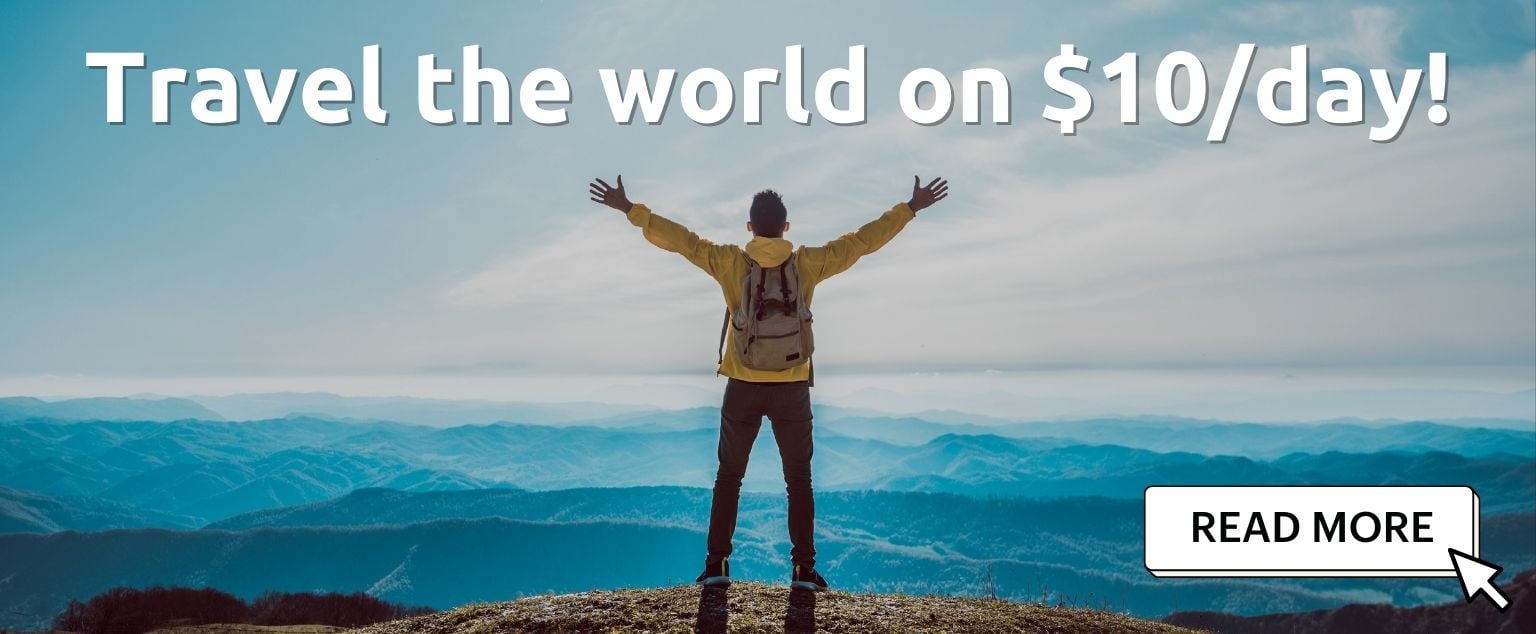 And for transparency's sake, please know that some of the links in our content are affiliate links. That means that if you book your accommodation, buy your gear, or sort your insurance through our link, we earn a small commission (at no extra cost to you). That said, we only link to the gear we trust and never recommend services we don't believe are up to scratch. Again, thank you!