ake a journey to this incredible city on Australia's south coast. With a fantastic spot between the rugged coastline and tree-fringed foothills of the Mount Lofty mountain range, Adelaide's unforgettable cityscape checks every box.
Whether you're looking for shopping spots that will knock your socks off or a laid back weekend getaway, Adelaide promises a winning combination that will suit everyone from the adventurous traveler to seekers of luxury.
Take your pick from the best in Australian hospitality, then head out for an adventure in the Australian wilderness, or enjoy a spectacular wine tour for a taste of some South Australian classics.
Australia's Festival City has it all and is more than willing to share – so jump into the Adelaide experience with comedy gold, live music galore and endless photo opportunities!
Find out what's on in Adelaide this weekend as you peruse our list of culinary wonders, dip your toes in the local culture (or the actual ocean) and experience one of Australia's finest cities.
Wondering what's on in Adelaide? Take a look at our top picks of the best places in the city for the very best weekend in Adelaide!
Know Where to Stay in Adelaide
You could say that Adelaide is designed like a giant square with a terrace at each compass point, and the River Torrens flowing through the middle like thread in a tapestry.
Most of Adelaide's tourist attractions are situated in and around the North Terrace as well as a ton of luxury to mid-range hotels. It has everything at your fingertips including the Adelaide Oval, heritage-rich buildings and cathedrals.
The city center also makes for a perfect choice. It's ideal to be fairly central when choosing your accommodation because there's so much to do in so little time. However, Adelaide has some great public transport so picking budget hostels, which is typically further out, is also an option!
Close to Chinatown.
Central location.
Fantastic atmosphere.
This perfect home-away-from-home overlooks the fantastic Light Square and is only a short walk from the Adelaide Central Market. You'll want for nothing with the hostel's huge kitchen, free guided walking tour and delicious pancakes every morning. Family en-suites also have their own balconies to enjoy the view of beautiful Adelaide!
This cute studio is the perfect Airbnb if you're visiting Adelaide for the first time. Larger than normally, the studio fits 2 people and has all the amenities you need. You can enjoy your morning coffee on the balcony, or take a quick walk to the city centre where you can find attractions, restaurants and great cafes. It's one of the best Airbnbs in Adelaide, so you'll be in for a treat! You're also close to public transportation options.
Close to the Adelaide Festival Centre.
Rooms with balconies have an amazing view.
With a prime location near the Adelaide Oval and close to Rundle Mall, this lovely hotel with historic charm is the place to be. Its on-site garden and bar, as well as the table tennis facilities create a fantastic and fun atmosphere. There's also a free bus close to the hotel for easy travel to the many nearby attractions!
Near Adelaide Zoo.
Near the Botanic Gardens.
Has a gorgeous terrace overlooking the streets of Adelaide.
This stunning hotel on Adelaide's famous Melbourne Street makes for the perfect luxury getaway. Each studio room is uniquely designed by a selection of South Australian artists with their take on the theme of 'creativity and creation'.
Know How to Get Around in Adelaide
With such a variety of great neighborhoods and areas, Adelaide has a fantastic and efficient public transport system.
Adelaide has 6 late-night and well-managed taxi ranks. The taxi ranks are clearly marked and well-lit to ensure the highest safety precautions are in place.
The city also has public buses, trams, and trains in operation. It's handy to grab a MetroCard when you arrive in Adelaide for the weekend. A Visitor Pass will give you access to 3 days of unlimited travel, which is perfect for a weekend in Adelaide.
The train is perfect for reaching attractions further outside of central Adelaide, and it departs every 20 to 30 minutes. The tram is also a useful and cost-effective way of getting around Adelaide. It runs from the north side of the city to Glenelg and leaves every 10 to 15 minutes between 7 am and midnight.
Adelaide also has a free city connector bus which is a great way for traveling between Adelaide's downtown hotels and attraction. Lastly, Uber is alive and well in this bustling city so if you're looking for a more private option, this is the way to go.
Head out for a night on the town in vibrant Adelaide. From comedy gems to a memorable evening by the sea, you'll never be at a loss for what to do in Adelaide this weekend!
Adelaide's East End
Home to a collection of high-end bars and local watering holes.
Visit Rundle Mall where you can see the iconic Mall's Balls.
Perfect for night-time exploring.
Explore Adelaide's East End where you can find the incredible BRKLYN. This New York themed spot is like Williamsburg in 4 walls and it is unmissable on a weekend in Adelaide. Begin with a New York-style deli that serves up some delicious foodie options. Experience BRKLYN's tiny DJ room then venture into the astonishing in-house barber shop. In the role of 'cherry on top', BRKLYN serves rich South Australian wine plus an inventive take on a few classic drinks.
Moseley Square
It's right on the coast overlooking a beautiful beach.
The perfect spot for a summer stroll in Adelaide.
It's right next to Adelaide's final tram stop for easy transport.
Head for the delightful and vibrant Moseley Square for a relaxed night out in Adelaide. This awesome spot in beautiful Glenelg makes for the ultimate summer night location where you can enjoy a walk along Jetty Road, peruse the many shops and cafes, then finish off with a stroll on the beach. With an amazing pier to explore and a kids play area, this is the spot for every kind of traveler. Be sure to visit the Royal Copenhagen Ice Cream Cone Co. for a tasty treat.
North Terrace
Home to some truly unique nightlife options.
A variety of options for a free night out in Adelaide.
An array of nightlife choices to suit your style.
The North Terrace is the perfect place to sample some fantastic Adelaide nightlife. If you're in town for the First Friday of the month, head down to the Art Gallery of South Australia for some after-hours live music, talks and a walk-about.
You can also get the perfect shot of unique fun to start off your weekend in Adelaide – an evening at the movies. With greenery all around you and the soundscape of an Australian night, enjoy a film at the Moonlight Cinema.
From sweet tooth to sophisticated foodie, Adelaide has an endless supply of tasty options to keep you going all weekend!
Ruby Red Flamingo
It's like being in a little Italy with the decor and food to match.
Visit between Wednesday and Saturday when their banquet menu is available.
Definitely book ahead, it's a very popular local favorite!
Visit this fun, alfresco-style restaurant with Italian food you'll never forget. From ricotta ravioli or swordfish carpaccio to desserts like the uber delicious pannacotta, this fun eatery has it all. . With its chalkboard signage, amazing food and central location, the Ruby Red Flamingo is definitely a 'must visit' on your weekend in Adelaide.
Blackebys Sweets
Has international treats galore!
Find all your childhood favorites here.
If it's not here, you won't find it anywhere.
This quaint and colorful sweet shoppe is like stepping back in time. From the vintage vinyl figures on the wall to the incredible storefront (you have to take a picture!), Blackebys Sweets is unmissable on your weekend in Adelaide. The self-proclaimed 'biggest and bets lolly shop' is filled with a variety of sweets beyond your imagination. Discover all the comfort food and treats from your childhood as well as an array of unique confectionary delights at Blackebys!
Two-Bit Villains
Caters for vegans, vegetarians and gluten-free eaters.
Located in the uber-popular Grand Ballroom of Rundle Mall.
Won an award for the Favourite Burger in South Australia.
Picture a combination of amazing aesthetics, a vintage vibe, and touches of jungle décor, and you'll have the Two-Bit Villains. This fantastic soda bar and diner has a truly unique atmosphere.
You'll find anything from the El Bandido vegetarian burger or the Long Arm of the Slaw burger – a true picture of the fun-loving Two-Bit Villains. Sit out on the balcony and enjoy one of their hand-crafted botanical sodas.
Planning what to do in Adelaide this weekend? Whether you're a sports superfan or just testing the waters, Adelaide has some fantastic sporting events on offer – take your pick!
Adelaide Oval
Check out a model of the Oval displayed in the on-site museum.
Learn about Australia's famous batsman, Donald Bradman.
Get a look at the original scoreboard from 1911.
Take a tour of Adelaide's famous cricket stadium, the home of the South Australian Cricket Association. Enjoy a walk through the Bradman Museum where memorabilia from the life and career of Australia's most famous cricket player, Don Bradman, is on display. You can choose to enjoy a tour or get tickets to one of the Adelaide Oval's exciting cricket games – home games have an especially spectacular atmosphere.
Adelaide Rush
Enjoy an action-packed game (maybe brush up on some rules beforehand).
Experience this unique sport, not played in many countries.
Learn about the history of the league and see them in action.
Adelaide Rush, the impressive women's ice hockey team, was originally named the Adelaide Assassins and were one of the 4 founding teams in the Australian Women's Hockey League.
These pro athletes play at the highest national level in Australia and catching one of their games definitely belongs on your Adelaide itinerary. If you're in town between October and March, head to the arena and take in an ice hockey game!
Watch an Adelaide Rowing Regatta
Check out the local 'Head of the River' school's tournament.
Many team members have competed in the Olympic Games and World Rowing Championships.
Enjoy a unique sporting experience.
If you're in Adelaide during rowing season, which is usually between August and May, check out one of South Australia's fantastic rowing regattas. Head over to the Alex Ramsay Rowing Course in Adelaide's West Lakes Shore where you can see the rowers in action. This fun and challenging event makes for the perfect spectator sport which is fantastic to attend!
For the very best in music, theatre and everything in between, Adelaide is filled with incredible shows to catch! You won't have to try hard to find events in Adelaide this weekend!
Festival Plaza
An amazing location along the River Torrens.
Hosts the renowned Adelaide Arts Festival.
Puts on an array of musical and theatrical performances.
This spectacular performing arts venue is the perfect place to take in a show. Festival Plaza has become an impressive artistic hub in Adelaide's thriving art scene. Its many theatre spaces are filled all year, including an amazing outdoor theatre space, The Terrace, which overlooks Elder Parka and the river. Alongside incredible performances, the Festival Plaza also plays host to the Adelaide Cabaret Festival, the OzAsia festival and the Adelaide Guitar Festival.
Live Music at The Gov
A spectacular array of sound including folk music and comedic riffs.
There's something for everyone (including a mega sing-along evening)!
Hosts big names like Arlo Guthrie, the American folk legend.
If you're looking for some of the absolute best live music in Adelaide, with theme nights and an all-round amazing experience, The Gov has you covered! From dreamy folk sessions to open mic night on Fridays, you'll find what you're looking for. The Gov welcomes a collection of pianists, blues performers like the Gumbo Room Blues to grace its stage. If you're wondering what's on this weekend, find your groove at this exceptional music hub, where Adelaide truly comes to life.
Adelaide Comedy at The Rhino Room
Brings together amateurs and comedy pros from across the globe.
Will have you belly-laughing instantly.
Building a legacy of comedy by supporting up-and-coming comics
Start your weekend in Adelaide right with a night at the Rhino Room where Adelaide Comedy brings true comedy gold to the stage every Friday night! With a collection of international stars and talent, you don't want to miss out on this one. Every show offers a fresh line-up of incredible supporting acts, then enjoy the main course of side-splitting routines. Make your Friday night memorable at this Adelaide institution where laughter is the order of the day!
10 Other Awesome Things to do in AdelaideThis Weekend
Wondering what's happening in Adelaide this weekend? Here are some of the best! Take in every inch of this incredible city as you visit stunning seaside towns, storied museums and the natural wonders of Adelaide.
#1 – Carrick Hill House
Visit Australia's most intact 20th-century house museum, with its incredible art collection and stunning landscape. Nestled in the foothills of the Mount Lofty mountains, this historic home is filled with art from across the decades, including the incredible Australian Art Collection and modernist masterpieces.
Then, explore the lush grounds which are home to the Carrick Hill Stables and a sun-kissed Apple Orchard. For families (and the children at heart), take a stroll around the unforgettable Story Book Trail where illustrations from classic children's stories are brought to life.
Walk past a Hobbit House (built into a grassy bank), discover a tiny red troll bridge and stroll by The Magic Faraway Tree, where a ring of log seats encircle a massive tree with a door in its trunk. This fairytale place is definitely a 'must-see'!
#2 – Adelaide Botanic Gardens
Explore this stunning piece of Adelaide's wilderness where natural beauty abounds and it's informative too! Discover the garden's medicinal plant section, the Mediterranean Garden and an impressive collection of native Australian plants.
The Santos Museum of Economic Botany adds a splash of education to this lush paradise, where you can get some incredible insight into its permanent collections. Stroll down Australia's oldest avenue of Moreton Bay fig trees as you take in every inch of Adelaide's Botanic Gardens.
#3 – Victoria Square
Enjoy a walkabout at this central Adelaide spot! Victoria Square is home to some spectacular architecture including the St Francis Xavier Cathedral, which makes for an amazing visit. A prominent feature at Vic Square is the stunning fountain, definitely a prime photo opportunity!
Then, take a stroll just down the road from Victoria Square where you'll find Adelaide's Central Market, a thriving hub of food and culture. As one of the largest undercover fresh produce markets in the southern hemisphere, the central market is perfect for a little bit of shopping.
#4 – Fleurieu Peninsula
Discover the pure tranquility of this beautiful coastal village. With rolling hills, perfect beaches for surfing and amazing foodie spots, the Fleurieu Peninsula is unmissable. While you're there, pay a visit to the Victoria Harbour where you can hop on a whale-watching tour or take a trip to Granite Island, the home to a colony of Little Penguins. If you're looking for a break from bustling Adelaide, this seaside stop is exactly what you need!
#5 – The Wineries of Adelaide Hills
As Australia's vineyard city, a visit to Adelaide Hills is the perfect place to explore the rolling fields and sweet-smelling vineyards that dot Adelaide's landscape.
Pay a visit to one of Australia's oldest wineries – the famous Penfolds Winery. Nestled among apple and cherry orchards in the Adelaide foothills, Penfolds Winery is home to the flagship red wine, Grange.
The Hills also hosts a number of events and festivals throughout the year including the Winter Reds Weekend where coziness, wine tasting and lit fireplaces are the order of the day. You can also enjoy the ChocoVino wine and chocolate matching experience. Definitely a winning combination!
#6 – Ayer's Historic House Museum
This spectacular example of Regency architecture is a remarkable historic landmark. Discover Adelaide's local history as well as the house's incredible collection of on a trip to the museum. You can also view the fine furniture, silver and painted finishes that paint a picture of its past. Originally owned by the Prime Minister of Australia, Henry Ayers, the home holds many stories – well-worth a visit for any history buff.
#7 – Explore Adelaide's Parks
Adelaide is the proud host to a number of stunning natural parks. Spend a day in nature at the Morialta Conservation Park where a narrow gorge is surrounded by a stunning rugged environment and 3 waterfalls cascade into the canyon below.
You could also choose to visit the incredible Torrens Island Conservation park where an amazing collection of birds swoop through the air over an incredible mangrove forest and a labyrinth of dunes.
Just a stone's throw away is the Garden Island, which lies in the Port River estuary and is the perfect place to do some boating. In warm weather, there is also the chance to see some dolphins as they glide gracefully through the water.
#8 – Adelaide Zoo
Right next door to the Botanic Gardens is Adelaide's incredible zoo. Discover the unbelievable creatures that call Australia home, including major favorite – the giant pandas. Explore this memorable place where there's something new around every corner!
You'll stroll past aviaries and the much-loved orangutans, as well as the Envirodome with its vertical garden and terrarium. You can also spot some real locals like kangaroos, quokkas and wallabies.
#9 – Port Adelaide
Explore this cultural hub just outside of central Adelaide where museums abound and you can smell the fresh sea air. Most of the town is a State Heritage Area, which is filled with touches of history.
You can take your pick from a plethora of museums including the National Railways Museum, South Australian Aviation Museum and the South Australian Maritime Museum. If you make it one of your Sunday stops, you'll be able to visit the Fisherman's Wharf Markets where you can get fresh fish straight from the boats.
#10 – Migration Museum
This marker of history is truly an incredible place. Discover the fascinating history spanning 3 centuries of immigration in South Australia. From pre-colonization to present day when the face of Australia is constantly changing, the museum shares a collection of personal stories and interactive displays to create an informative and poignant space.
On your trip to Adelaide, this museum is truly a worthwhile visit!
If you're heading on a weekend in Adelaide and all you can think of are questions you need answered, take a look at some of the frequently asked questions – as well as our answers to them. We hope you find it helpful!
Don't Forget Your Adelaide Travel Insurance
ALWAYS sort out your backpacker insurance before your trip. There's plenty to choose from in that department, but a good place to start is Safety Wing.
They offer month-to-month payments, no lock-in contracts, and require absolutely no itineraries: that's the exact kind of insurance long-term travellers and digital nomads need.
SafetyWing is cheap, easy, and admin-free: just sign up lickety-split so you can get back to it!
Click the button below to learn more about SafetyWing's setup or read our insider review for the full tasty scoop.
Final Thoughts on a Great Weekend in Adelaide
This bustling city on the coast of Australia is full of color, activity and history. You can spend your weekend in Adelaide on the beach, in the wine cellars or hitting the pavement as you explore the city to the max.
With an endless array of laneway bars, top-class theatre and every museum imaginable, Australia's golden child guarantees an amazing weekend getaway! There's also a spectacular list of culinary marvels from boutique chocolate shops to full-on American diners – you'll never be at a loss for places to eat.
There's so much on offer for your Adelaide itinerary on a weekend getaway, so jump in and don't waste a second of it!
---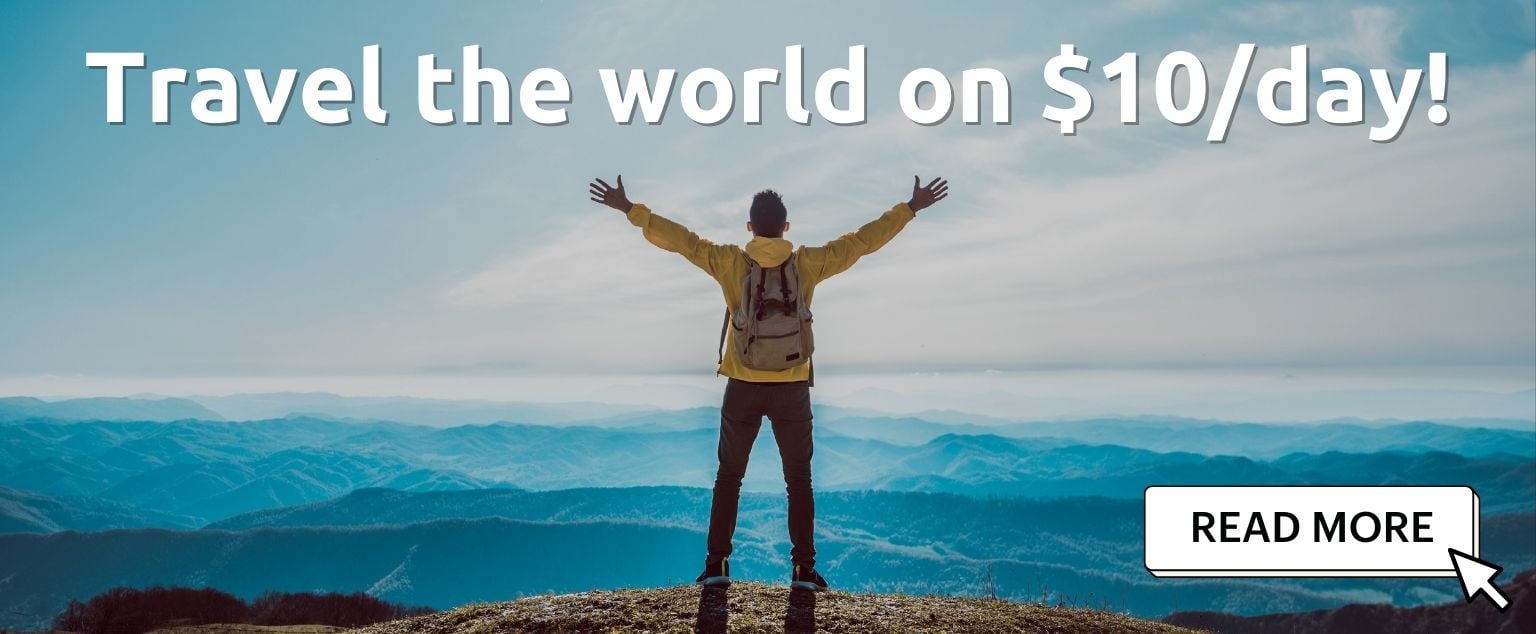 And for transparency's sake, please know that some of the links in our content are affiliate links. That means that if you book your accommodation, buy your gear, or sort your insurance through our link, we earn a small commission (at no extra cost to you). That said, we only link to the gear we trust and never recommend services we don't believe are up to scratch. Again, thank you!