As well as having the 5th highest population in the country, Adelaide is the capital of South Australia. While it may not have the big-ticket attractions of Sydney or the stunning natural attractions of Brisbane on its doorstep, Adelaide is an awesome destination for culture lovers. There are music and arts festivals throughout the year, and the food and drink scene is second to none! You can also catch some cricket or Aussie rules at the Adelaide oval!
Another good thing about Adelaide is its prices – accommodation is way cheaper than Sydney, Melbourne, and Perth, so you can be really creative with where you stay. Though hostels and hotels aren't a bad option, check out rentals in Adelaide instead if you're looking for value for money!
We're here to help you. In this post, we'll take a look at the best Airbnbs in Adelaide. Not only will we sort them according to budget and style, but we'll also show you our favourite Airbnbs Experiences in Adelaide. Let's check it all out.
Quick Answer: These are the Top 5 Airbnbs in Adelaide
Overall Best Value Airbnb in Adelaide
Overall Best Value Airbnb in Adelaide
The Orange Door Apartment
> $
> 2 Guests
> Wonderful location
> Garden views
Best Budget Airbnb in Adelaide
Best Budget Airbnb in Adelaide
Room in Modern Home Devon Park
> $
> 2 Guests
> Basic kitchen
> Outdoor patio
Best Airbnb for Couples in Adelaide
Best Airbnb for Couples in Adelaide
Retro Boutique Cottage
> $$
> 2 Guests
> Cool and quirky design
> Queen bed
Best Airbnb for Families in Adelaide
Best Airbnb for Families in Adelaide
Luxury City Escape
> $$$
> 8 Guests
> On heritage-listed street
> Outdoor terrace
Over-the-Top Luxury Airbnb in Adelaide
Over-the-Top Luxury Airbnb in Adelaide
Luxury Inner City Oasis
> $$$$$$$$$$
> 10 Guests
> Heated swimming pool
> Hammock in garden

Unlock Our GREATEST Travel Secrets!
Sign up for our newsletter and get the best travel tips delivered right to your inbox.
What to Expect from Airbnbs in Adelaide
There are loads of Airbnbs in Adelaide – in all shapes and sizes! What you get from them depends on, first of all, the style of your Airbnb accommodation. While you'll get the usual entire flat and private room in a home options as you do in most cities, Adelaide has some unique options too, such as townhouses, villas, and farm stays. You can even find a dome house or an earth house in there somewhere!
The second thing that will affect what you can expect is your budget. At the lower end of the scale, you'll be looking at private rooms – at a push, entire studio flats for couples or solo travellers. With these, you can often expect cooking facilities, but they may be basic. However, it's still a great option if you're backpacking Adelaide on a low budget, and want a bit more privacy than hostels can offer.
The more you're willing to splash out, the more you'll get. So, from entire townhouses and villas, you'll get everything you'd expect in a normal home, plus features like large gardens and swimming pools!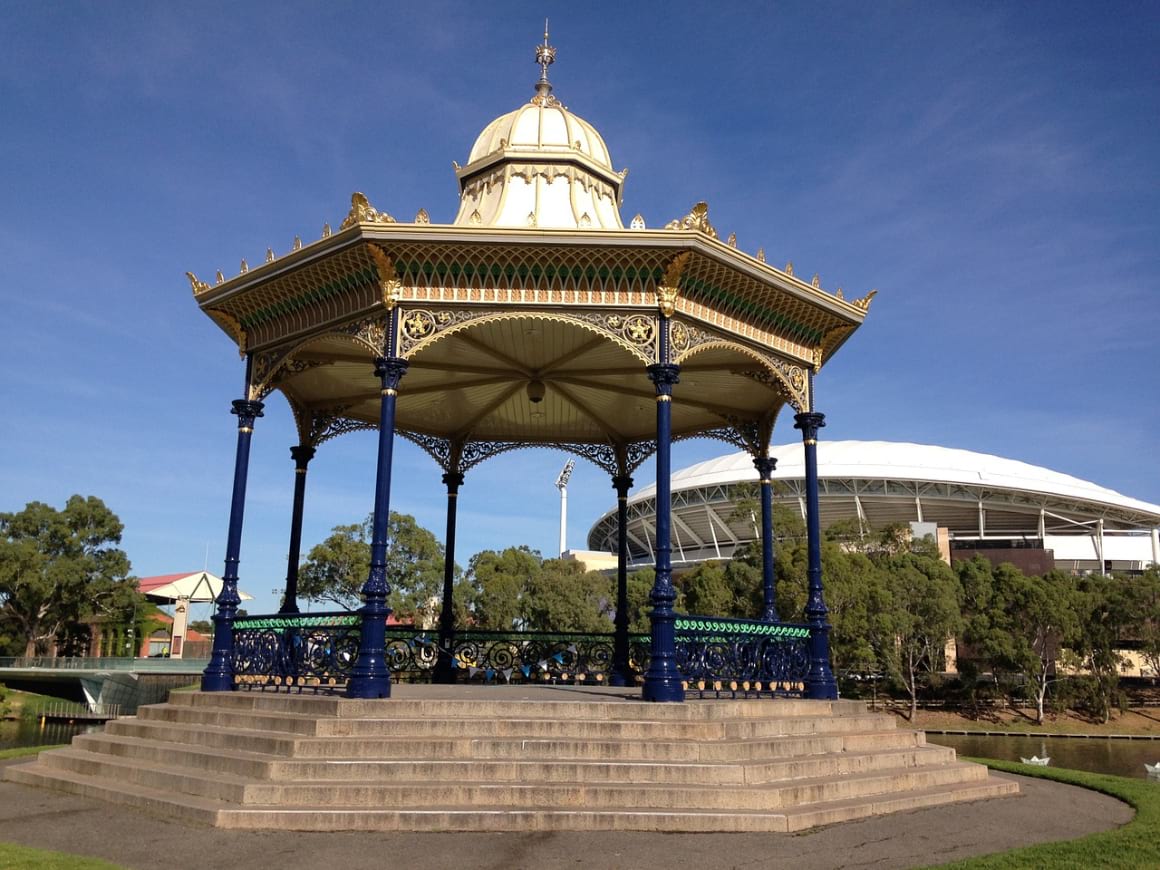 Townhouse
With more than 250 townhouse properties on Airbnb in Adelaide, it's one of the most popular unique accommodations. While in many city centres you'll be looking at flats and apartments, that's not the case here.
You can find townhouses close to all of the city centre attractions – making them perfect for spending a weekend in Adelaide. Of course, if you want to be further out, you can find them in the suburbs, too – including the desirable Glenelg area.
If your budget won't stretch to a full townhouse, you'll be pleased to know that many listings are private rooms.
Villa
Villas are a lot more exclusive than townhouses, and you won't find as many of these larger properties in the city centre! Most are around Henley Beach, Glenelg and Brighton, making them perfect for families who want to spend some time at the beach – or large groups of surfers.
However, if you want to get out into the bush east of the city, that's possible too. Villas often come with space for more than six guests and some beautiful living spaces, such as living areas, gardens, and fully equipped kitchens. In some, you'll even get a swimming pool!
You can experience a villa with a private room, but these are few and far between and get booked up quickly.
Farm Stay
Want to escape the hustle and bustle of Adelaide while being close enough to spend some time there? It's a farm stay you should be looking at instead. Experience beautiful areas such as the Barossa Valley, Highland Valley, and Millbrook Valley.
Farm stays are often a little slice of luxury, and you can mix being on a traditional farm with contemporary interiors and appliances. They're perfect relaxation retreats!
And of course, you'll get to be up close and personal with animals. We'd definitely suggest a farm stay with alpacas because they are just SO cute!
Why Stay in an Airbnb
Still not convinced that you should stay in an Airbnb? Let us give you five reasons that will reassure you this really is the best platform to book your stays.
Local Experience: With the guide of a local host, you won't find it hard to get off the beaten track. Take note of their recommendations on what to do and see in Adelaide!
Unique Properties: As you're about to see, there are some truly unique properties on Airbnb – everything from retro city centre cottages to country escapes!
Affordability: If you put an equally priced hotel next to an Airbnb, there's only going to be one winner when it comes to value for money – and it isn't the hotel!
Safety: With both host and guest vetted, and Airbnb customer support on hand 24/7, you'll have peace of mind throughout your stay.
Airbnb Experiences: Airbnb is about more than just places to stay; their experiences platform offers tours from local hosts. More on that later!
The Top 15 Airbnbs in Adelaide
By this point, you must be itching to find out more about the Airbnbs in Adelaide on offer to you. So, that's what we're going to do. Here are our 15 favourite properties, curated with you in mind!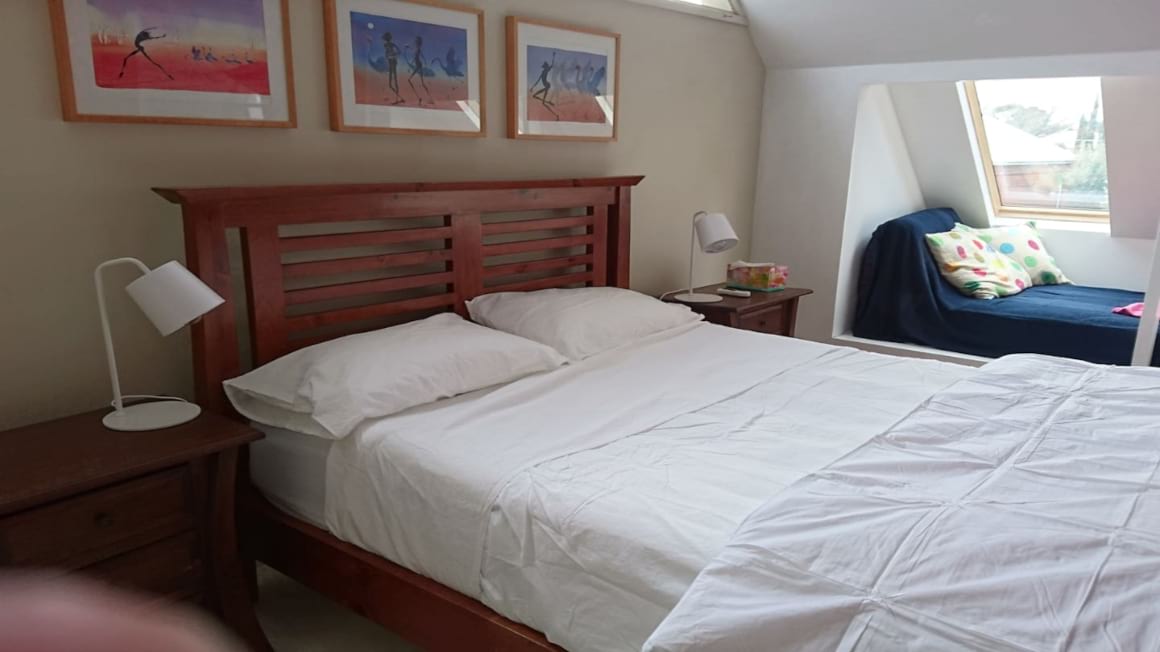 Happily, there's more to this place than the Orange Door in its name. This cute little apartment is in the fantastic location of Thebarton area of Adelaide, which is only a short walk to the Adelaide CBD. It's packed with heaps of modern amenities including free parking. There's free public transport to the shopping area there, as well as several bars and restaurants in the immediate neighbourhood. It's also one of the closest holiday rentals to Adelaide oval near North Adelaide and is within walking distance if you're coming to here to catch a game.
When you're paying as little as this, you might just be expecting a room in a house and nothing more. However, that's not the case! Your friendly host welcomes you to use their kitchen, outdoor patio, and entertainment options. Yep, there's even Netflix and local sports channels. The home is also in the heart of a district packed with cafes just above North Adelaide. It's a great location that offers somewhere quiet and peaceful with the added benefit of free parking that can be harder to find in the city centre. You'll also be able to cool down in the air conditioning after a day of exploring or working.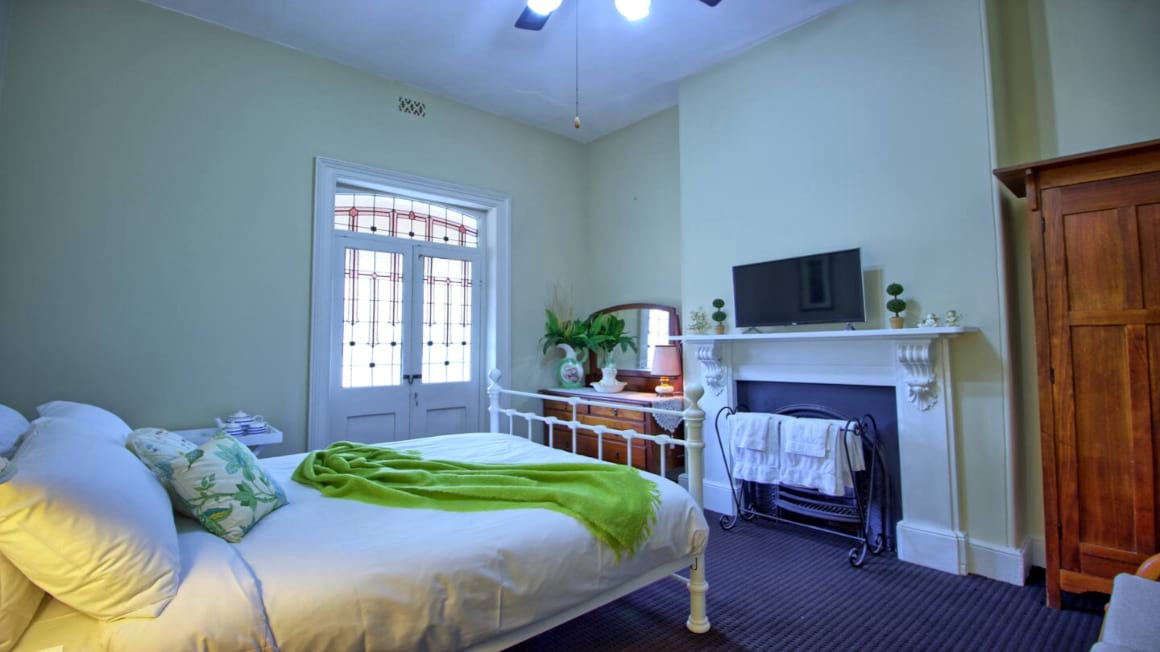 It can get tiring bopping from hostel to hostel when travelling solo, so why not freshen things up? This charming room in Glenelg is a great way to treat yourself without breaking the bank. There's free Wi-Fi, so you can easily get in touch with friends and family back home – they'll probably be jealous of your balcony! It's in a great location outside of Adelaide CBD and is only a short walk from the beach. Getting into the city centre is easy on public transport, but if you've got your own wheels, there's free parking too. It's one of the best holiday rentals in Adelaide if you want to stay by the coast.
Is This the Best Travel Pack EVER???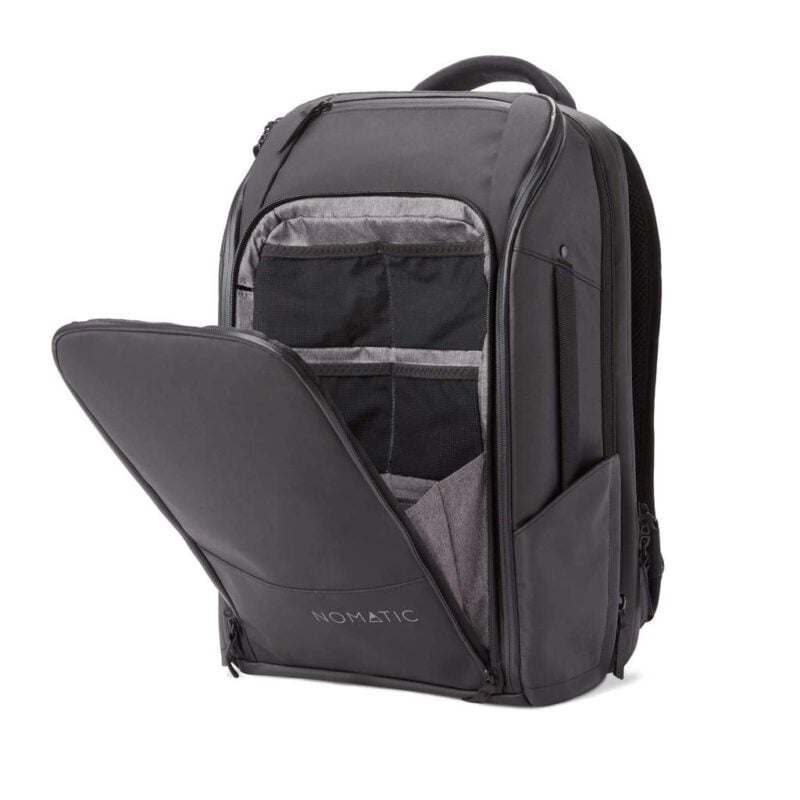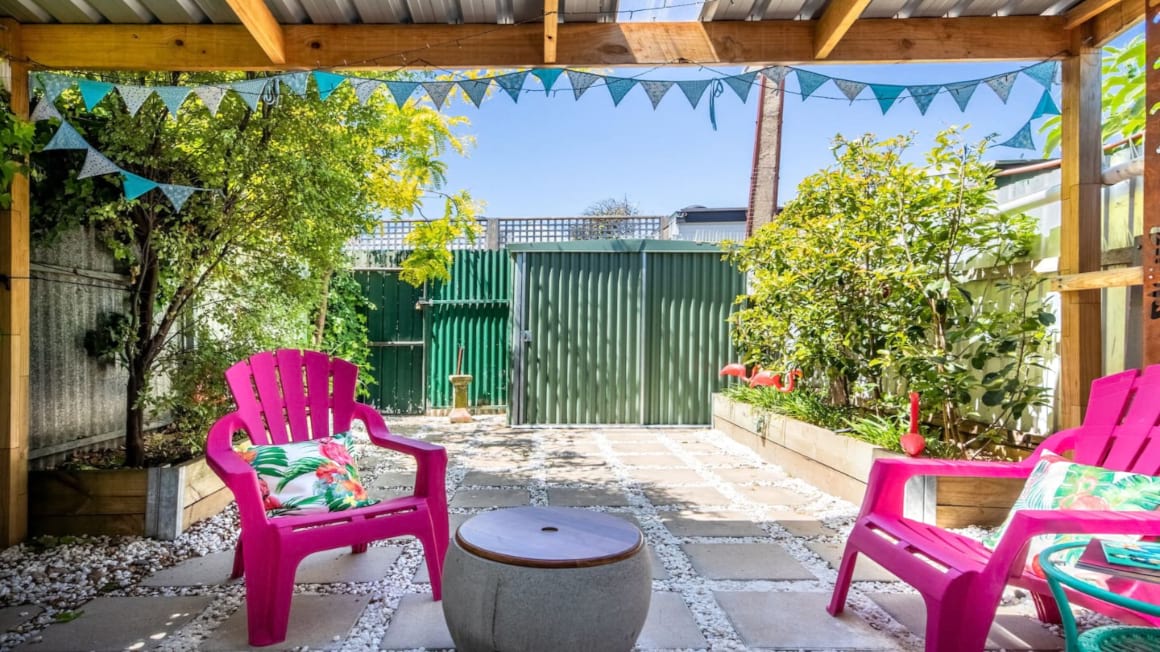 It's nice to do things for each other when you're with your other half. However, it's even nicer when someone else does things for you, which is why you should book this place. That's right; it comes with a robot waiter to bring your drinks and snacks as you spend quality time together! You've also got a squishy and comfy queen bed and a lovely bright outdoor area at this cool retro cottage. What better is this property comes with air conditioning and is situated in a great location in the heart of the Adelaide CBD.
Best Airbnb in Adelaide for Families | Luxury City Escape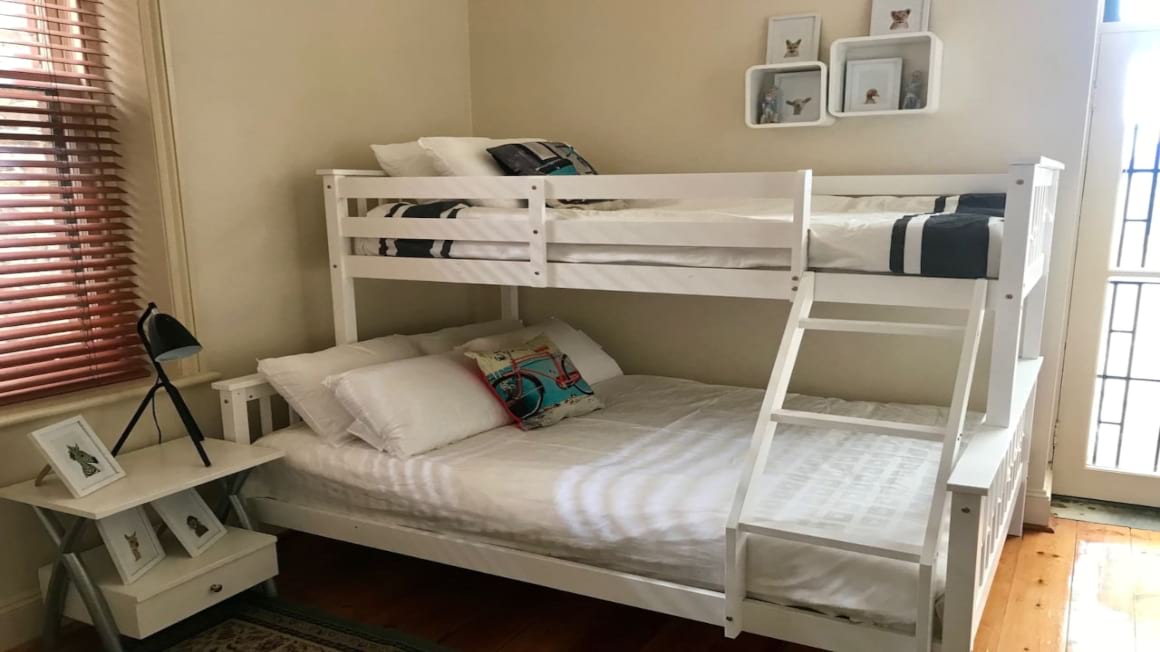 $$$
On heritage-listed street
This heritage-listed property suits families of all ages with space for up to eight guests. It's especially good if you've got young kids, as there are bunk beds and toddler beds in the Airbnb. Kids' toys and books are included too, so everyone is happy! There's unlimited Wi-Fi and Netflix – while anyone can chill out on the outdoor terrace. This has to be one of the best holiday rentals in Adelaide. What better is that it's in a great location right in the Adelaide CBD within walking distance of many of the sights including the Adelaide central market. There's even free parking and air conditioning!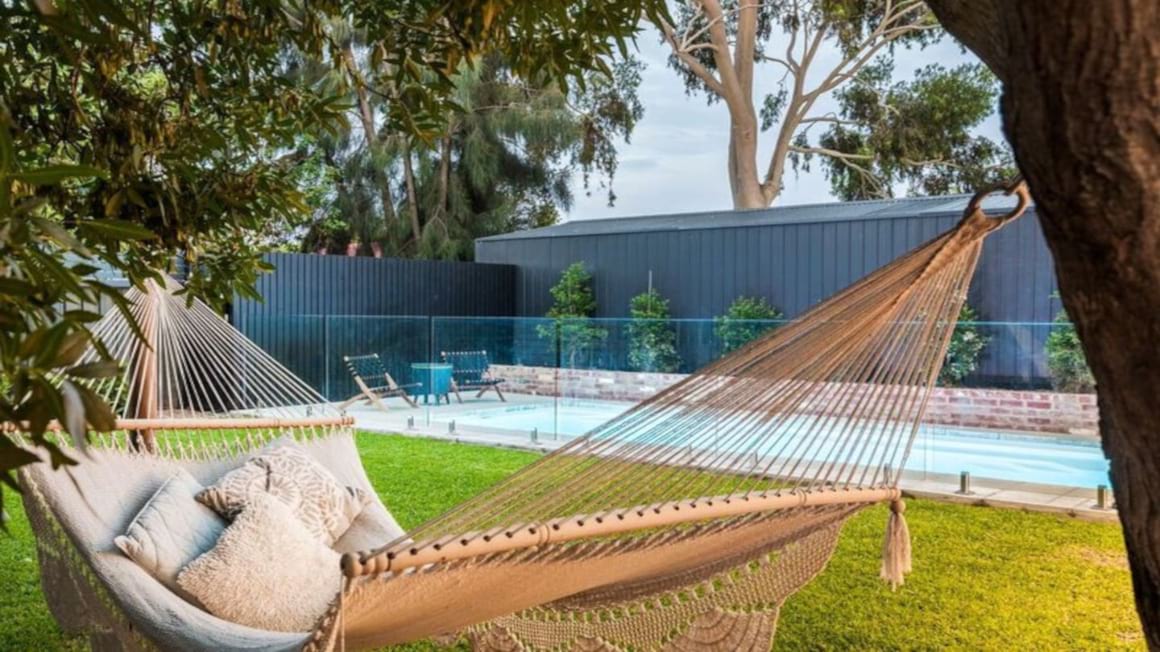 $$$$$$$$$$
Heated swimming pool
10 Guests
Hammock in garden
Want to soak up the Southern Australian sun from by the heated pool as you sway in a hammock? Of course, you do. You can do all that here and more. This gorgeous leafy oasis has a huge home living area – it's an open-plan, chef-friendly kitchen and living room, while an outdoor dining room is there too. There's room for ten guests, so it works well for large groups of friends and family. This is one of the top holiday rentals in Adelaide for those looking for a peaceful trip near the beach. Don't worry, the Adelaide CBD is easy to reach on public transport too!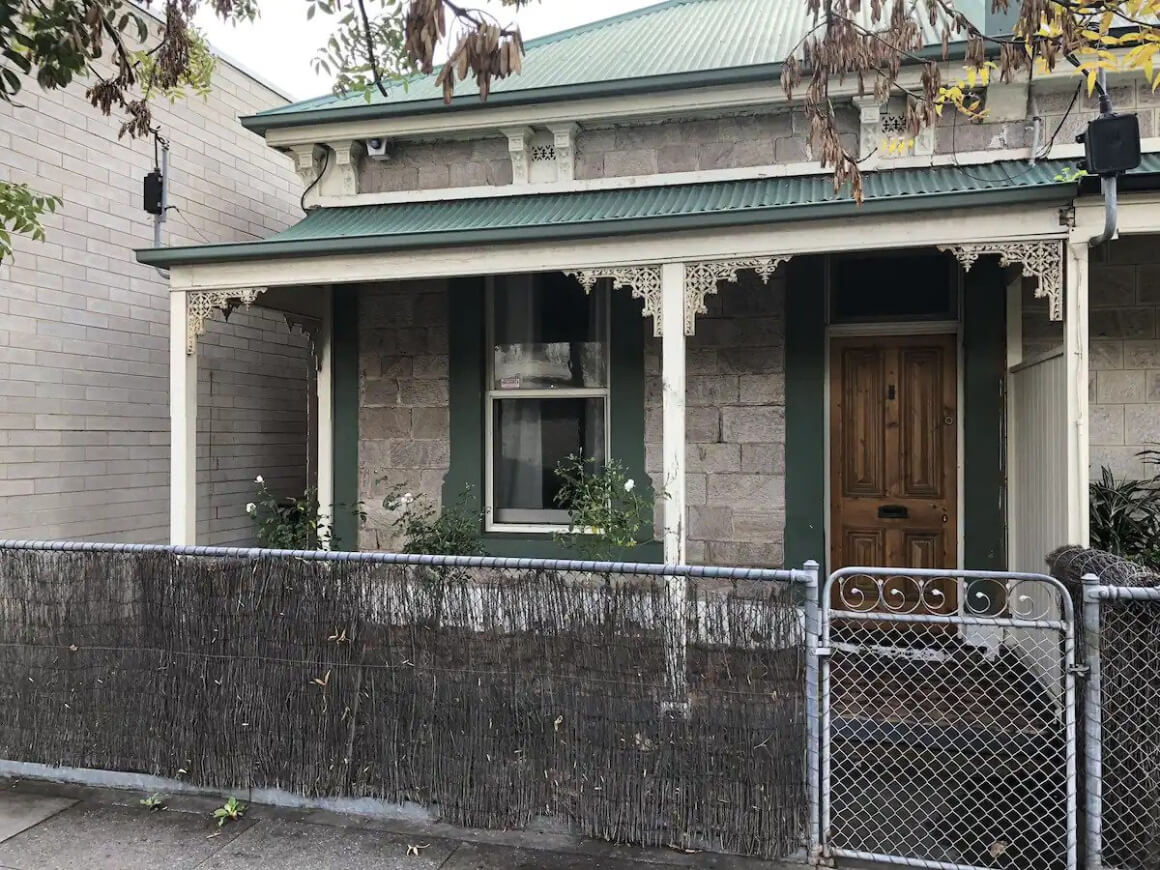 6 Guests
Fully equipped kitchen
This historic townhouse is just a hop, skip, and jump from the CBD. You get the benefits of having the attractions on your doorstep but coming home to a cosy pad on a tree-lined street. It has a fully equipped kitchen, and you're welcome to use whatever food is in the property's fridge, freezer and pantry. For a relaxed evening in, why not put a movie on or curl up with a book. When you head out, take advantage of the location as you're within walking distance of places like Victoria Square and Adelaide central market.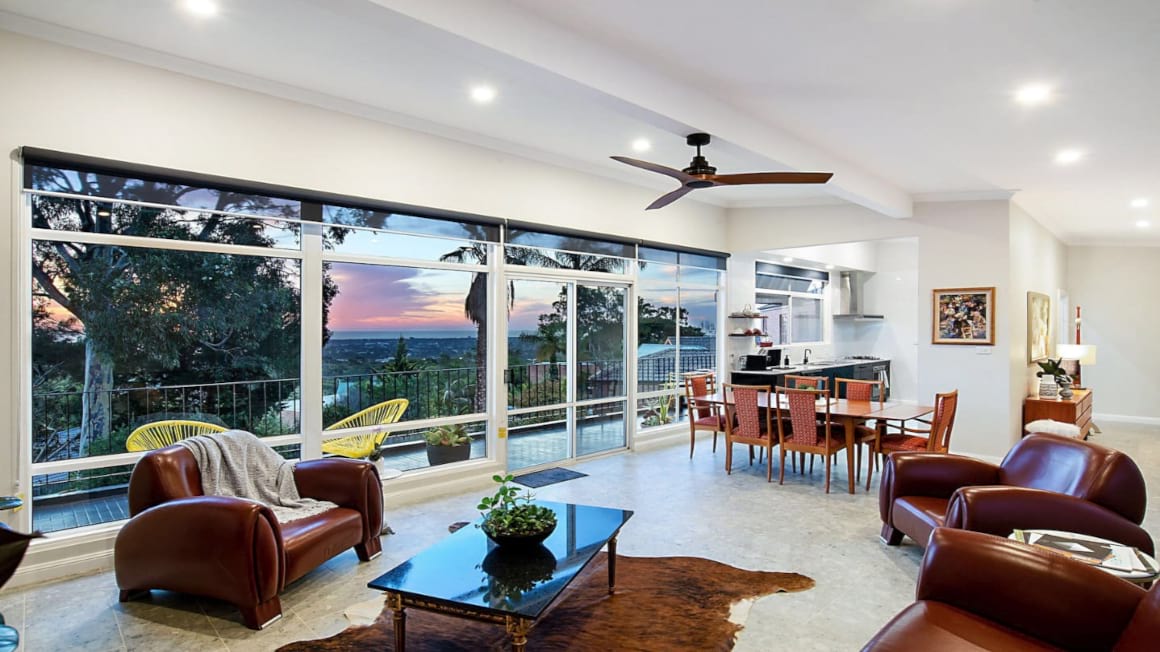 $$$$$$
Free wine on arrival
10 Guests
Designed by architects!
This luxurious villa is one of the best looking Airbnbs in Adelaide. The huge open-plan living and dining area is framed by long windows that let in huge amounts of light and the spectacular view of the surrounding greenery. You can tell it was designed by architects! Adelaide is famous for its wineries, and you'll be welcomed with a free bottle from a local vineyard. You're also close to the stunning Adelaide hills if you want to see a different side to the beautiful state of South Australia. It's one of the most spectacular holiday rentals in Adelaide for sure.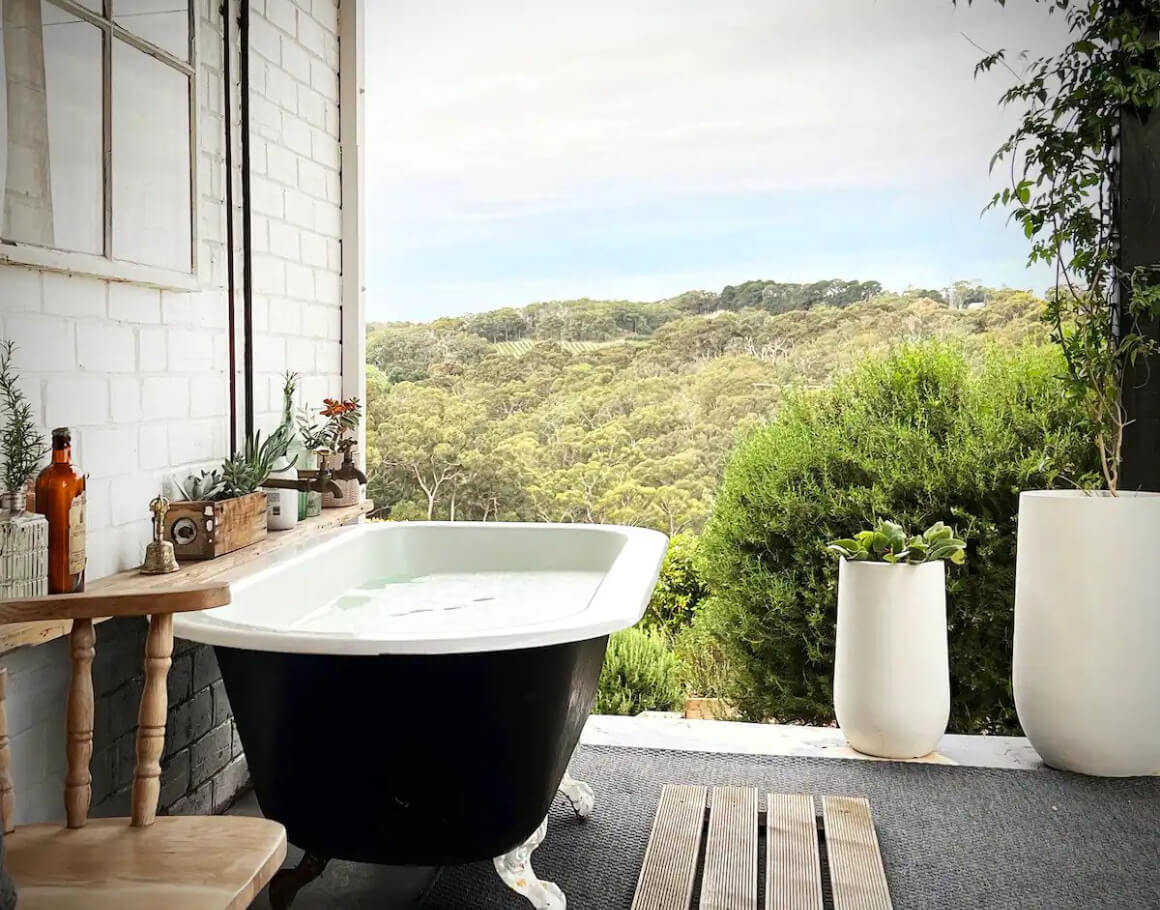 This country escape out in the Adelaide Hills is the perfect way to get acquainted with Adelaide's natural beauty. On a 16 acre ranch, there's a good chance you'll see some of the local wildlife – don't worry, we don't mean snakes and spiders! Just imagine enjoying your morning coffee in that outdoor seating area and soaking in the views of the Adelaide hills – you can make it with the farm stay's coffee machine or whip up a meal on the vintage wood-fired Aga. To make things even more idyllic, you're within walking distance of nearby vineyards.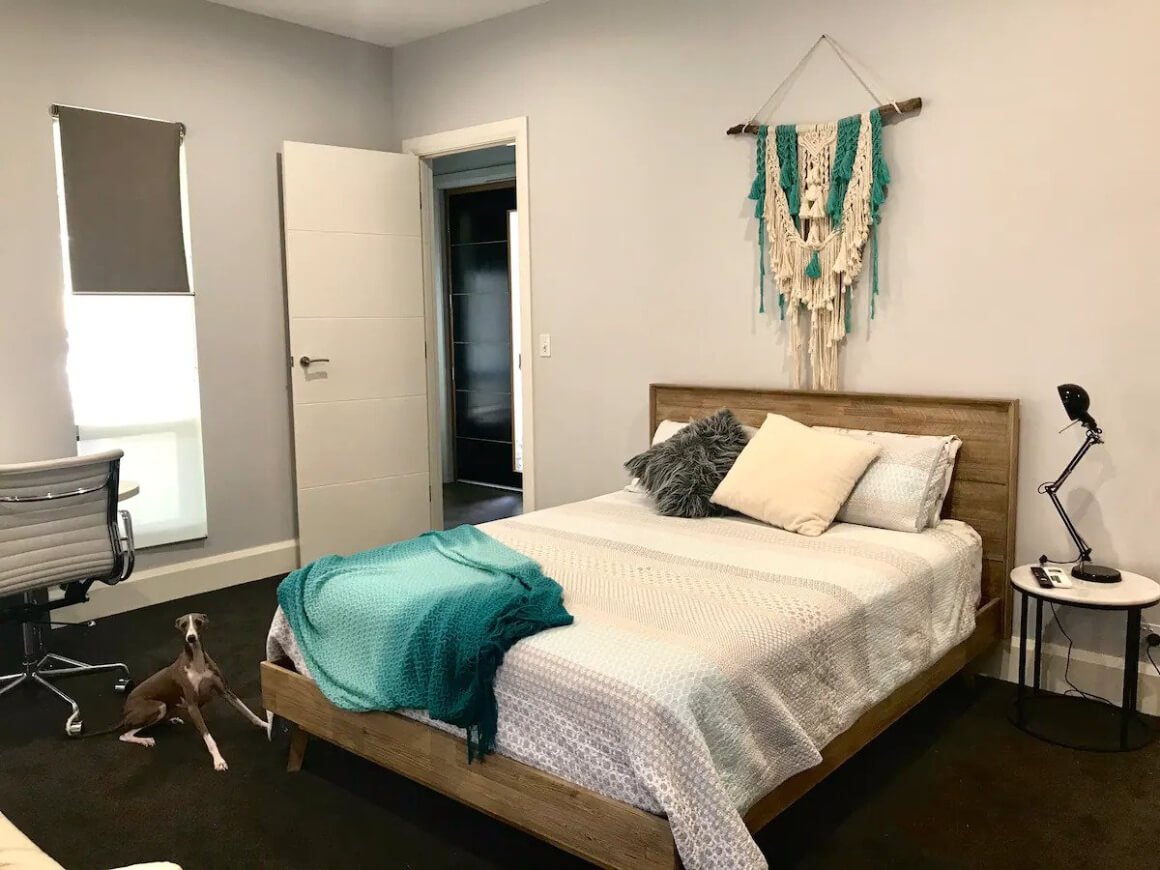 $
Laptop friendly workspace
Now, we've already seen a few places suitable for digital nomads. Of course, this has a laptop-friendly workspace and quick Wi-Fi, but there are some other great touches that you'll love. These include a private bathroom, a queen bed, and Air conditioning. You've got access to laundry facilities too – it's got all the facilities you could want in a home/office away from home! You're also within walking distance of the CBD for when you do venture out too!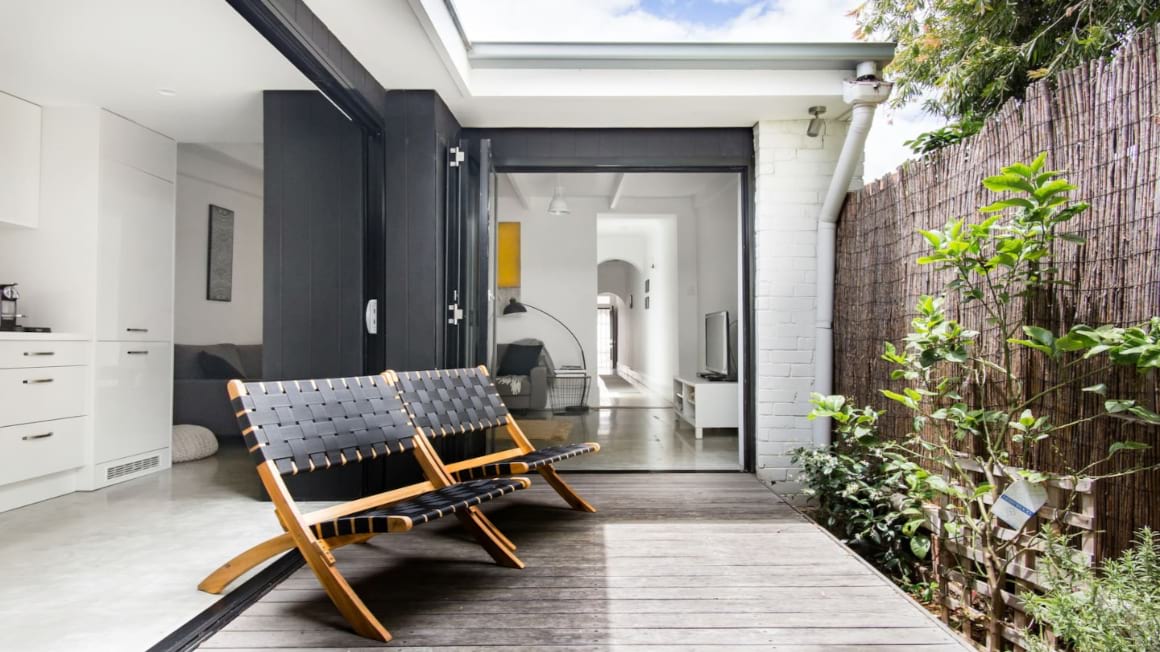 4 Guests
Light and bright interior
Airbnb Plus properties take the best features of Airbnb to another level. As well as hosts who pay close attention to detail and get consistently excellent reviews, they look great – as you can see here. This luxurious heritage cottage has even been nominated for an architectural award. Perhaps that's because of the clever use of space, or it may be the delightful and relaxing patio. Either way, we love it.
Stunning Airbnb for Honeymooners in Adelaide | Top Shelf Penthouse
$$$$$
Private garden pavilion
2 Guests
Queen bed with en-suite
If you've just gotten married, you need to find a truly special place to stay for your first holiday—cue this gorgeous Airbnb Plus penthouse. One of the most beautiful Airbnbs in Adelaide, you'll have your very own private garden pavilion overlooking the city. Spend a few hours out there taking in the views before retiring to your queen bed, which has its very own en-suite bathroom. From here you're not far from North Adelaide and the Adelaide oval… if you can bring yourself to leave!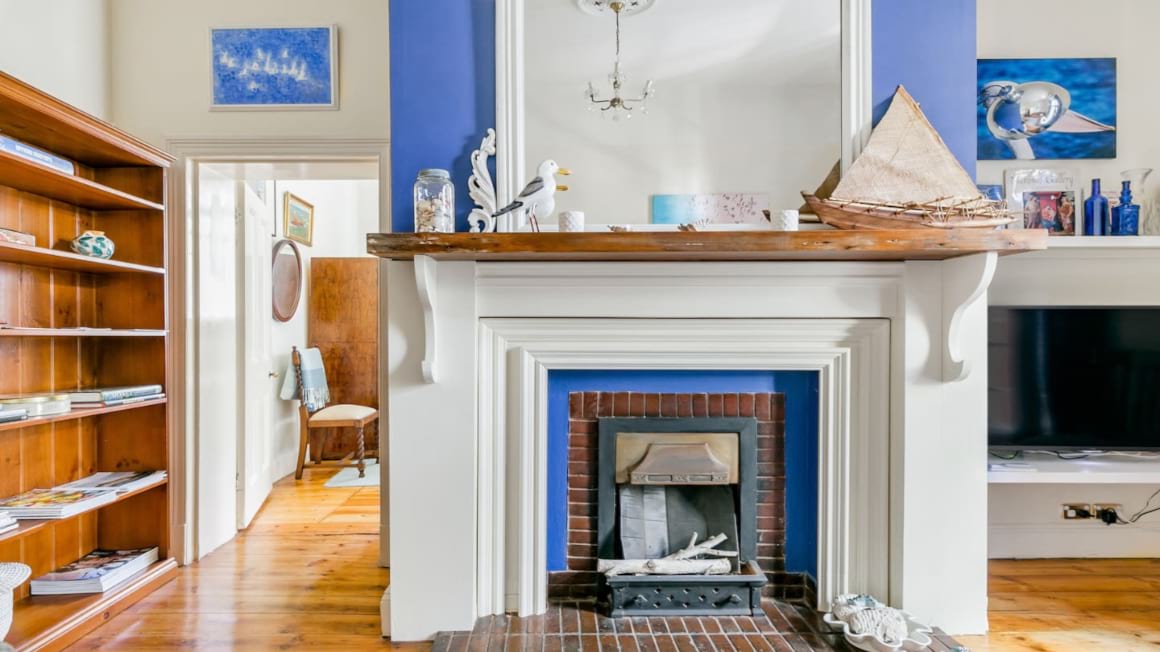 $$$$
Three minutes from the beach
We've seen some beautiful Airbnbs in Adelaide already, but this one really takes the biscuit. The cosy heritage retreat is in Glenelg South, one of the most sought after areas in the city. The living room is a wonderful place to relax, with a nautical theme around a cosy brick and wood fireplace. The antique and vintage furniture means this place is positively brimming with character.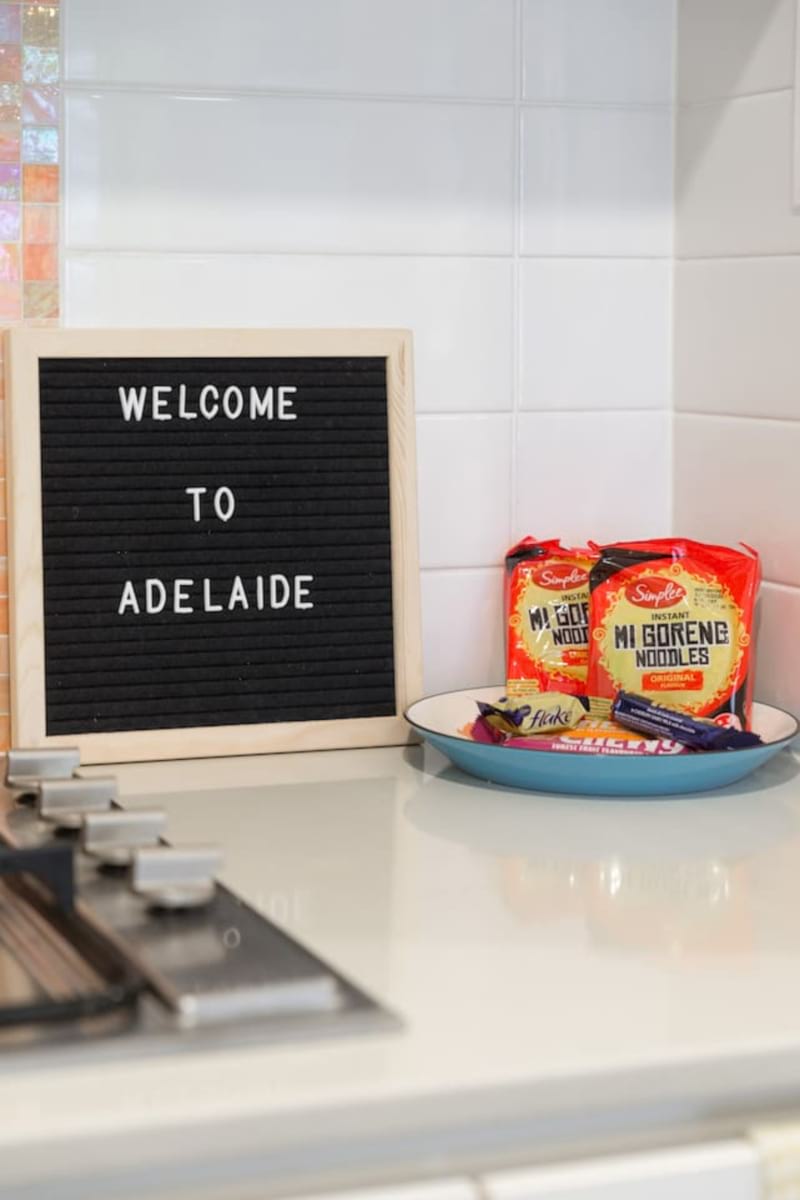 With Chinatown, the Central Market, Rundle Mall and the South Australian Museum all within a kilometre of this stylish apartment, there's nowhere better to stay for a weekend. You've got lots of public transport on your doorstep should you want to get around the city. For those who have travelled with their own vehicles or rented, there's free parking, so you can head out into the surrounding valleys and visit vineyards!
Best Airbnb in Adelaide for a Group of Friends | Kent Cottage
5 Guests
Fully-equipped kitchen
When staying with friends, it's important to have somewhere where you can enjoy quality time together. The huge garden in this cottage has a pergola with a dining table and BBQ, and a large lawn – both of which are wonderful places to spend time together. There's a fully equipped kitchen, so you can save money on eating out at restaurants.
Top 5 Airbnb Experiences in Adelaide
Now you've seen the 15 best Airbnbs in Adelaide, which one is your favourite? While you're mulling that over, let us give you a few ideas for what to do during your visit, through Airbnb Experiences.
Airbnb Experiences are locally curated tours that can be anything from hikes to cooking classes. They give you a window in the local area that you may not otherwise get, and will often be interactive or immersive.
With several Adelaide Experiences on offer, it's hard to whittle it down to just five amazing experiences. However, that's what we've done. Take a look!
Prices are listed in AUD.
$35/person
1 Hour
Up to 4 guests
Do you love animals? Then this is the Adelaide tour for you. While you're certain to see kangaroos, the echidnas and koalas are the real star attractions of this bushland walk in the Adelaide hills. Bring your camera as you'll not want to miss a chance to take photos of these elusive creatures! Besides, you're likely to see up to 40 different bird species, native orchids, and fungi.
$239/person
8 Hours
Up to 4 guests
Another tour that will delight animal lovers – a winter adventure and an opportunity to see gentle giants on the Fleurieu Peninsula. This full-day trip will see you walking across towering cliffs and down onto golden sand beaches. From there, observe whales and dolphins in the ocean and kangaroos, koalas, and echidnas on land.
$30/person
2 Hours
Up to 10 guests
While both the tours we've shown you so far have taken you outside of Adelaide, there's plenty to enjoy in the city. To learn about local history, why not take a walking tour? This two-hour stroll will show you the most important landmarks in the city, including Parliament House, the Art Gallery of SA, and the University of Adelaide. With your local guide, any questions you have will be answered, and you'll come away having learned a lot!
$65/person
1 Hour
Up to 10 guests
If there's a culinary hub in Adelaide, it simply has to be the Central Market. It's where you'll find the most delicious and best quality locally grown food – and wines from the surrounding vineyards, too. You'll sample traditional Australian foods, as well as artisan cheeses and fresh seasonal fruits. It's a great tour for picking up some souvenirs for family and friends back home, too. We'd recommend skipping breakfast or lunch before embarking on this tour!
$35/person
1 Hour
Up to 6 guests
The Barossa Valley is one of the most beautiful and accessible natural areas on the outskirts of Adelaide. But there's one thing that makes it even better – discovering it with your very own alpaca! No, you don't get to keep it, sorry. But you do get to spend an hour with these beautiful creatures as you explore this Barossa Valley farm. You'll also meet friendly sheep, and you're likely to see amiable kangaroos. There's a cafe on-site too if you want to stop for a drink after walking with your friendly ball of wool.
Don't Forget Your Adelaide Travel Insurance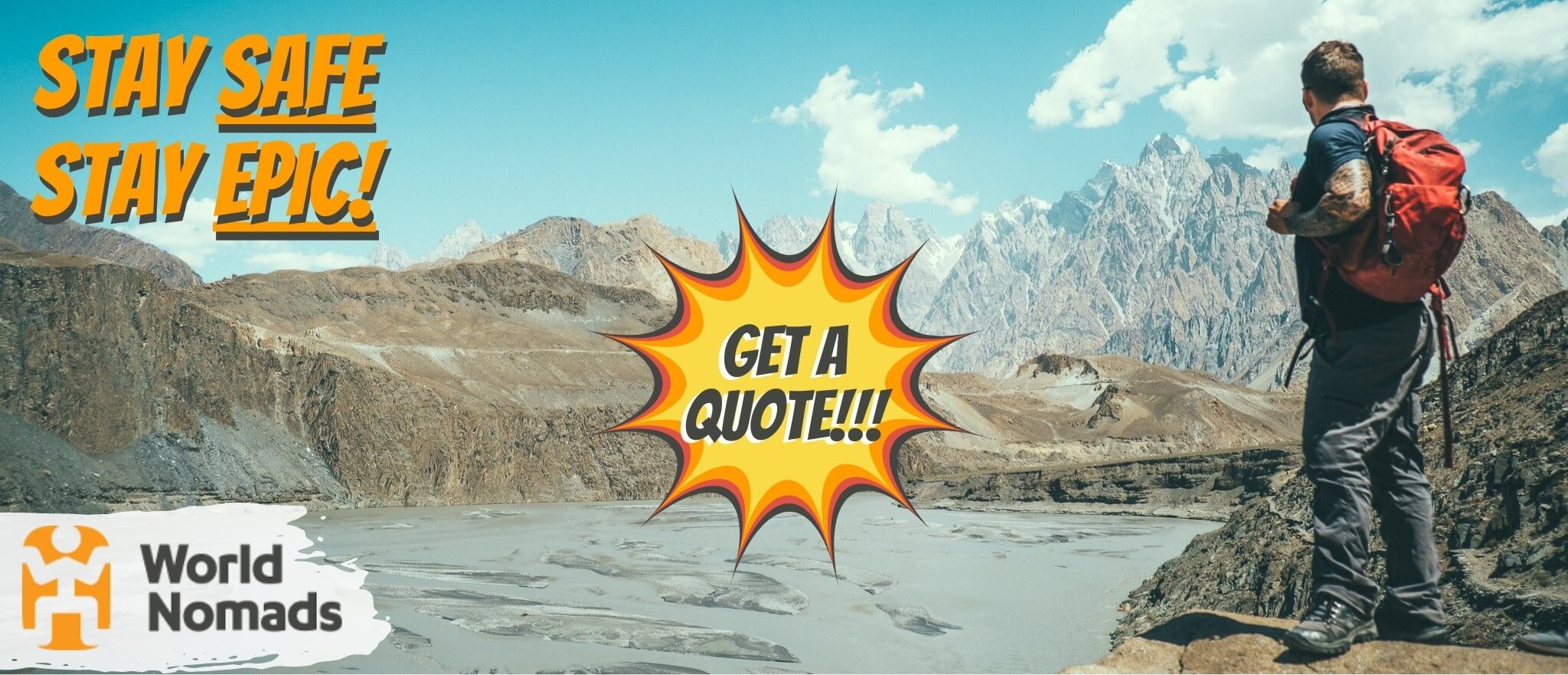 World Nomads' mission is to support and encourage travellers to explore their boundaries. They offer simple & flexible travel insurance, and safety advice to help you travel confidently.
They've been doing it since 2002 – protecting, connecting, and inspiring independent travellers just like you.
Get a quote below or read our in-depth review!
World Nomads provides travel insurance for travelers in over 100 countries. As an affiliate, we receive a fee when you get a quote from World Nomads using this link. We do not represent World Nomads. This is information only and not a recommendation to buy travel insurance.
Final Thoughts on Adelaide Airbnbs
Well, there you have it; you now have a comprehensive list of not only where to stay in Adelaide, but what to do when you get there. Now it's over to you to decide whether you want to stay in a heritage cottage, a gorgeous townhouse, a luxury villa, or a plain old private room!
If you're still struggling to decide, let us remind you of our best value Airbnb in Adelaide – the Orange Door Apartment. As well as wonderful value for money, you get an awesome location and a well-kitted out place.
Let us leave you by recommending that you also take a look at World Nomads. Their travel insurance policies mean you'll have not only a great trip but a safe one, too.
---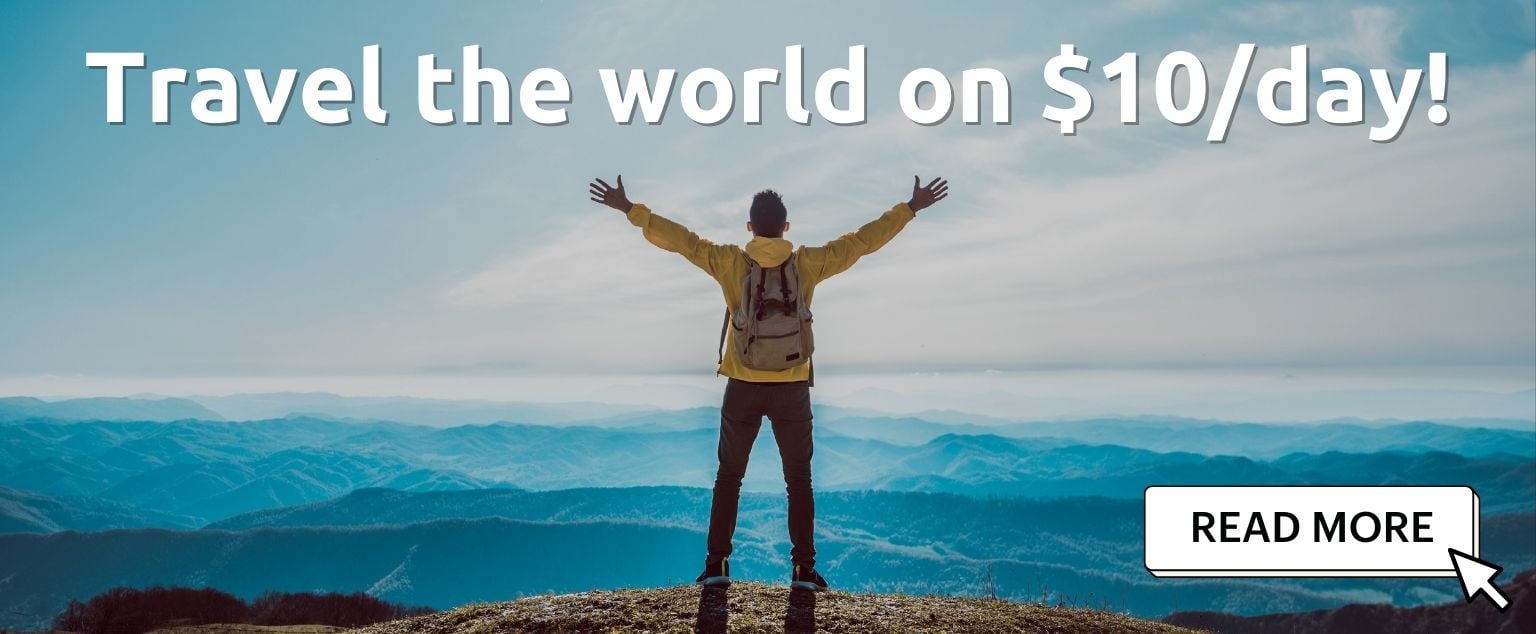 And for transparency's sake, please know that some of the links in our content are affiliate links. That means that if you book your accommodation, buy your gear, or sort your insurance through our link, we earn a small commission (at no extra cost to you). That said, we only link to the gear we trust and never recommend services we don't believe are up to scratch. Again, thank you!