What is the capital of Australia? If you said Sydney or even Melbourne, you could be forgiven for getting it wrong. In fact, it's this place – Canberra. Although, if you're going there you probably already know that! It's no accident that this place is right between the two cities. If you're visiting Canberra, you'll be pleased to know that the city is packed with exquisite architecture and culture, even though its history only dates back just over 100 years!
In this article, we'll take a closer look at the best places to visit in Canberra, helping you to plan your vacation. We think that there's more than enough things to do in Canberra in 3 days, so if you're looking to spend a long weekend in the city, our list will be perfect for you. First, though, let's take a look at the best places to stay in Canberra.
Need a place quick? Here's the best neighbourhood in Canberra:
BEST AREA IN CANBERRA
City Centre
Canberra City Centre – aka Civic, Civic Centre, CBD, or simply 'City' – is the heart of the Australian Capital. Properly established in 1927, the centre of town is a series of geometric road shapes lined by grand, early 20th-century edifices and plumes of green trees.
Places to visit:
Head to City Walk for a spot of retail therapy and some lunch al fresco
And for even more shopping, head to the shopping haven of Canberra Centre
Take yourself to Commonwealth Park for a lovely waterside walk
These are the BEST places to visit in Canberra
Yes, there are many places that you need to see. Maybe even too many. Before you scroll down any further, though, check out some of the best places to stay in Canberra and get your accommodation lined up. That'll take a bit of the strain out, as it can get quite stressful trying to fit everything you want to see in anyway. Planning ahead and having your Canberra itinerary ready will make your whole trip way more enjoyable and you won't miss out on the best hotspots. Speaking of…

Unlock Our GREATEST Travel Secrets!
Sign up for our newsletter and get the best travel tips delivered right to your inbox.
#1 – National Museum of Australia – A fascinating educational place to visit in Canberra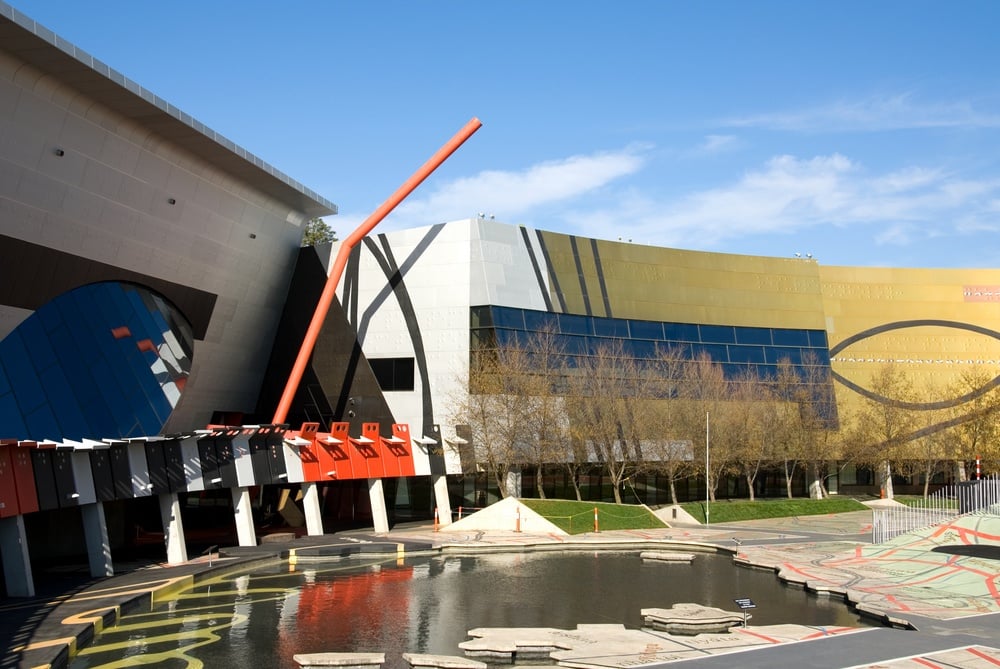 A great place to learn about the history, geography, and culture of Australia
One of the best places in Canberra for an educational experience
Admire the building's incredible jigsaw inspired architecture
Why it's awesome: You'll notice in the capital, that there are a lot of National somethings in Australia. You have the National Gallery, National Portrait Gallery, and the National Library of Australia, just to name a few. One of our favourite national attractions in Canberra is the National Museum of Australia. Sitting on a peninsula that juts out into Lake Burley Griffin, it's the perfect place to learn about Australia's history as a nation. It also has some of the most in-depth and important exhibits on Aboriginal culture in the entire country!
What to do there: If you're interested in the history, culture, and geography in Australia, then this place should be right at the top of your Canberra itinerary. However, you don't just have to admire the building from the outside. Meant to represent the many interconnected stories that hold Australia together as a nation, the intricate architecture of the building is supposed to look like a jigsaw! So, it's a must for architecture buffs too. Visiting with kids? There are some great interactive exhibitions that will keep them entertained too!
#2 – Lake Burley Griffin – A perfect place to visit in Canberra if you are on a budget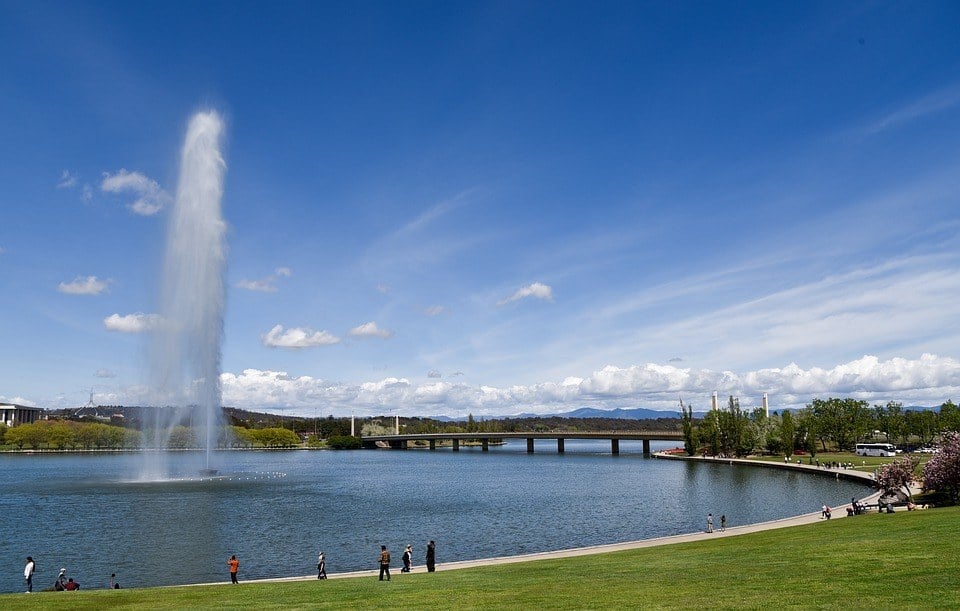 Walk or bike around the waterfront paths
Explore the six islands in the lake's centre
Home to some of the most important and recognizable landmarks in Canberra
Why it's awesome: Lake Burley Griffin was named in honour of the architect who designed Canberra. Although the city's original plan dates back to 1912, it wasn't actually completed until 1958. Nowadays, it's loved by both locals and tourists alike for its serene atmosphere and the wealth of activities you can do on and around the lake. In its centre, you'll find several of the best places to visit in Canberra (including some that are on this list), dotted across 6 man-made islands. You'll also be impressed by the 147m high Captain Cook Memorial Jet fountain!
What to do there: There's so much to do around Lake Burley Griffin that in theory, you could spend your whole vacation here! Want to see the National Gallery or Museum? Tick. There's also the Questacon science centre that's another of the best places to visit in Canberra – especially if you're with kids. While on the subject of visiting Canberra with kids, check out Commonwealth Park, which sits on the lake's north shore. Here, you'll find play areas, paddling pools, and even an amphitheatre! If you're visiting the city in Spring, don't miss the Floriade festival!
#3 – Australian War Memorial – One of the most incredible free places to go in Canberra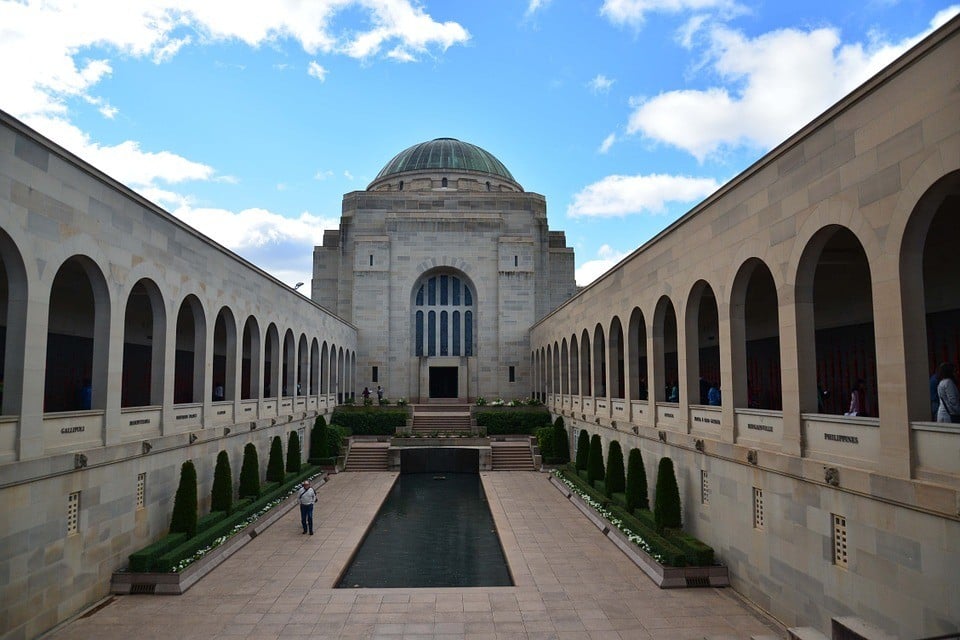 Learn about the role of war in Australian history
An incredible Byzantine style monument to honour Australia's fallen
One of the most poignant attractions in Canberra
Why it's awesome: You can't travel to the Aussie capital without visiting one of the most evocative landmarks in Canberra. The Byzantine dome of the National War Memorial looks like it's been transported from Istanbul and is a fitting tribute to all the Australian soldiers who have lost their lives while fighting for their country. This fascinating attraction is more than just a memorial though – it's also a museum that documents Australia's war history. From colonialism to the present day. The Australian War Memorial is one of the attractions in Canberra that you shouldn't miss, especially considering it's free to visit.
What to do there: This incredible museum is well worth a few hours of your time, so we'd recommend putting at least half a day aside to visit. The exhibits in the museum include a collection of old aircraft, as well as a number of galleries. There are loads of interactive displays in the Child Discovery Zone too – so it's easy to keep the kids entertained here. If you're here as the day is coming to a close, don't miss the Last Post. A tribute played every day at 4.55 pm. This is not only one of the most moving attractions in Canberra but in the whole of Australia.
#4 – New Parliament House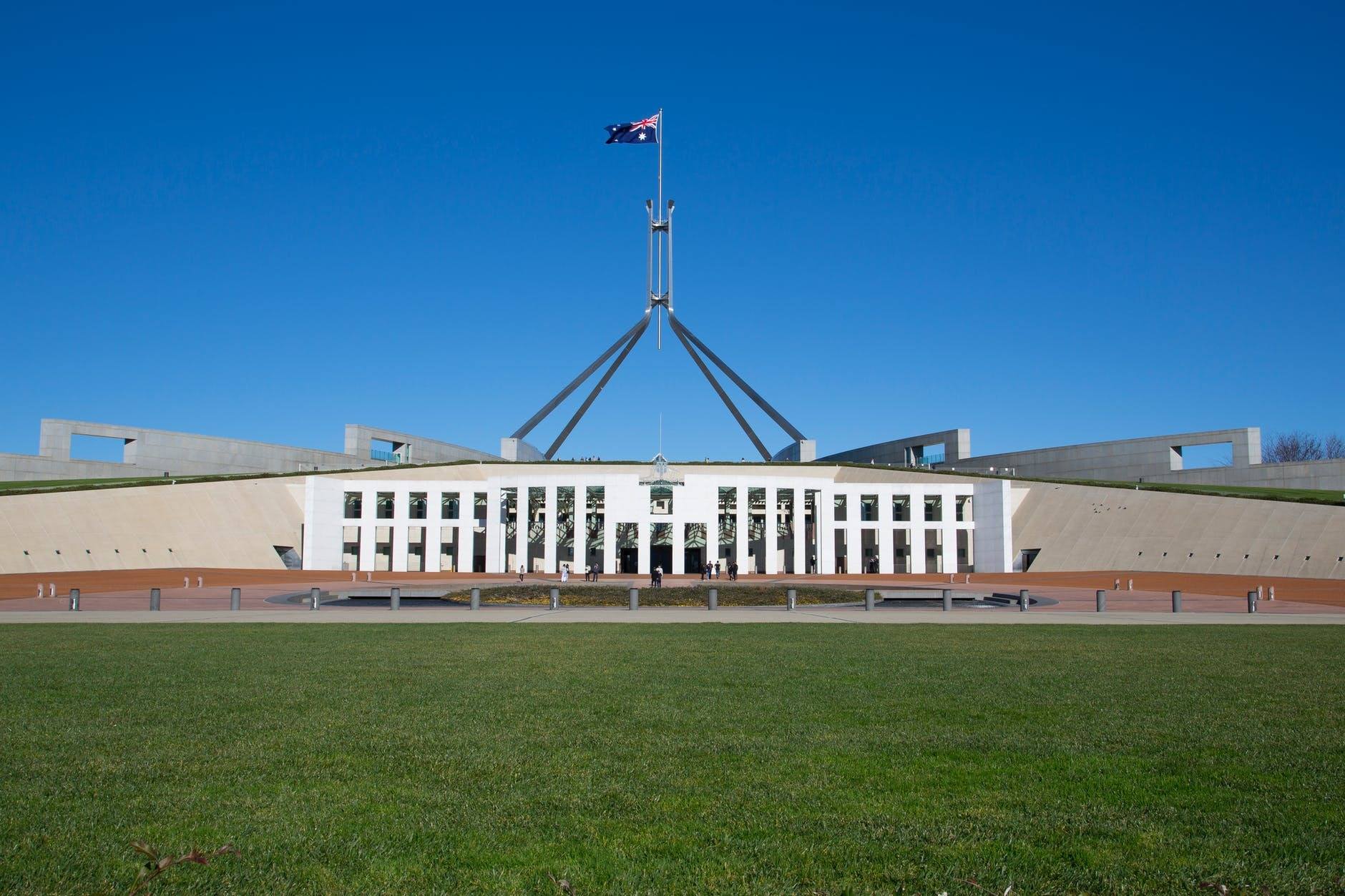 Take in panoramic views of the city from the rooftop
One of the most iconic landmarks in Canberra
Learn how Australia's unique and complex political system works
Why it's awesome: Canberra's history may not span much further back than 100 years, but in that time, they've managed to get through one Parliament House and built a second! And this one truly is a marvel of modern architecture. The building is shaped like another Aussie icon – the boomerang – and was opened by the Queen in 1988. The curved granite walls were designed to reflect the hills surrounding the capital. The Ceremonial Pool and huge flag pole are other impressive parts of this amazing building.
What to do there: If you have time, we'd definitely recommend taking a free guided tour of the New Parliament House. You'll see all the architectural aspects that we mentioned above, as well as learning how Australia's unusual political system works. You'll also have the opportunity to enter several parts of the building, including the House of Representatives and Public Galleries. If you enjoy visiting the New Parliament House, you can visit the old one too. It's now home to the Museum of Australian Democracy!
#5 – Mount Ainslie Lookout – One of the most amazing places to visit in Canberra
One of the city's most popular viewpoints
Hike or bike to the mountain's 843-meter summit
Get 360-degree views of the most iconic landmarks in Canberra
Why it's awesome: You may not realize just how well-planned Canberra is when you're at the city level. However, head to the Mount Ainslie Lookout and you'll get fantastic views of this methodical and carefully outlined capital. The mountain just happens to line up perfectly with Anzac Parade, and you'll be able to see Lake Burley Griffin and the stunning Capitol Hill. There are a couple of other lookout points where you can get fantastic views of the city too. If you're itching for more after the Mount Ainslie Lookout, try those on Black Hill and Red Hill.
What to do there: If you've been feeling a little lazy since you arrived in town, or have spent too much time gorging yourself on food, take the Mount Ainslie Kokoda Summit Trail, a 2km hike that's easy enough for beginners, but challenging enough to be fun and interesting! It's paved too, so whether you want to walk or bike, you'll not be too uncomfortable. The trail starts near the Australian War Memorial, so it's possible to incorporate both these cool Canberra must-do activities into the same day.
#6 – Australian National Botanical Gardens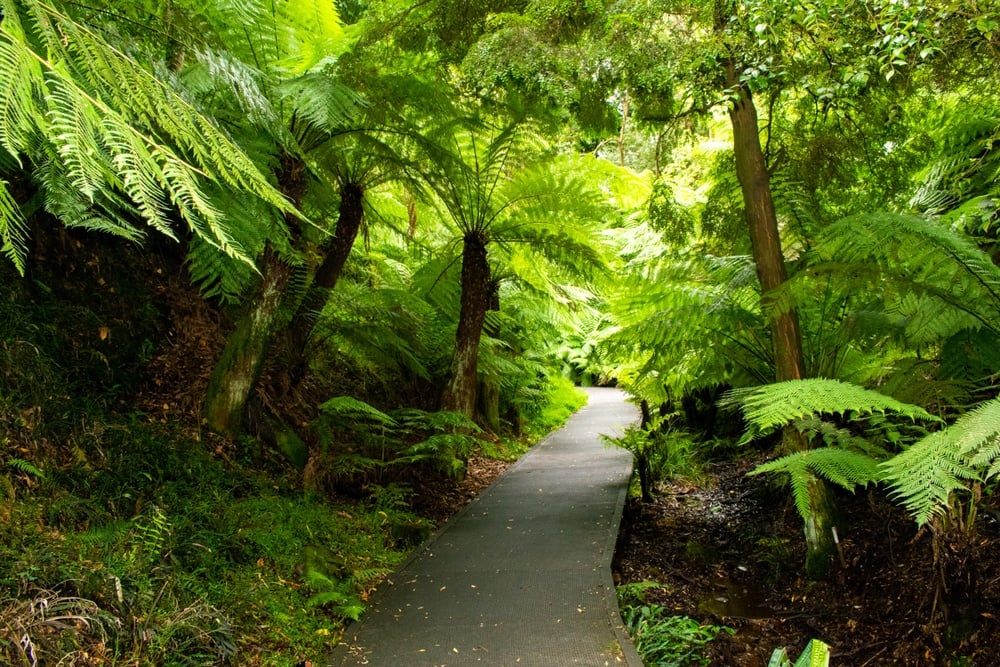 Spot birds and butterflies in the beautiful botanical gardens
Hunt for water dragons in the Rain Forest Gully
One of the most relaxing points of interest in Canberra
Why it's awesome: Australia is noted for its wildflowers, but it takes a lot of effort to trek across the country and see all of them. Instead, why not visit a place where they've all been kept together?! It's surely the perfect solution – and you can do that here at the Australian National Botanical Gardens. Not only will you get to see all this fascinating flora (and the occasional bit of fauna) at the gardens, but you'll learn about the plants' roles in Australian life and society.
What to do there: You can even take a ¾ hour bus tour (don't worry, it's air-conditioned). This should tell you just how big the gardens are! However, it's just as rewarding to visit the gardens and discover them for yourself on foot. They're split up into sections, and you'll get to see some of the different landscapes Australia is known for. For example, the rainforest gully is lush and green, and you may even be lucky enough to spot a water dragon. The Red Centre is the complete opposite – where you'll get an idea of the Outback and its grasslands!
#7 – Black Mountain Nature Park – A beautiful and scenic place to check out in Canberra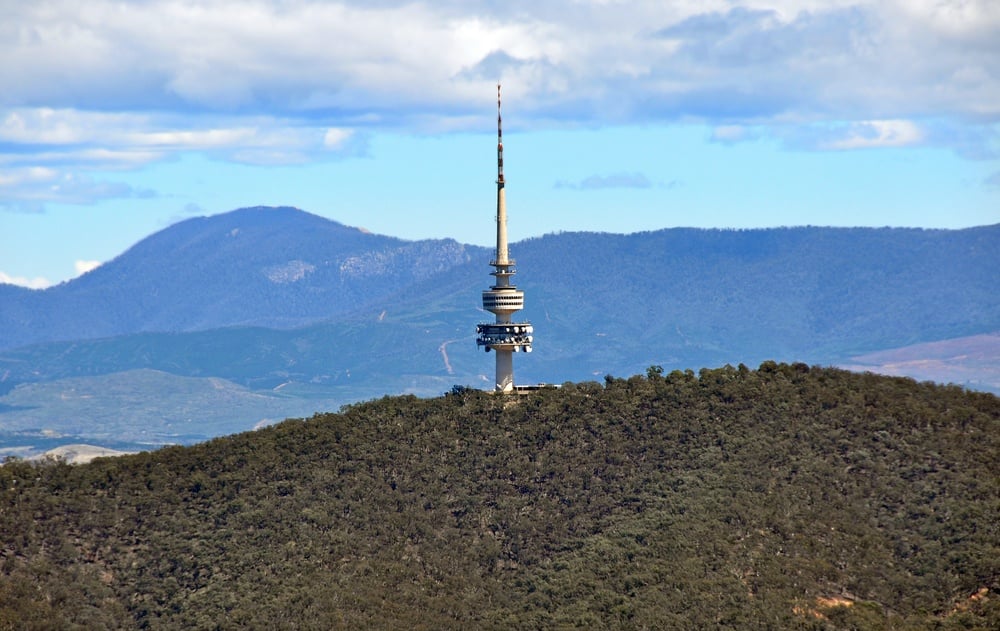 Get panoramic views of the city from the top of the Black Mountain Tower
Get out into the Aussie bush
Combine this with a trip to the Botanical Gardens for a great day out
Why it's awesome: If you really liked the Australian National Botanical Gardens but haven't managed to spend the whole day there, this is a great option for your afternoon. The Black Mountain Nature Park's views rival those of the Mount Ainslie Lookout and enable you to get out in the bush! Although you've all heard the horror stories of venomous snakes and spiders, you're more likely to catch a view of native birds here. This is also where you'll find the Australian Institute of Sport.
What to do there: We'd definitely recommend taking a walk through the bush and spotting some wildlife. Don't forget your camera and binoculars so you can really see it up close! The Black Mountain Tower deserves a place on your Canberra itinerary too. Not only does it offer fantastic views across the city, it's also one of the best places to eat in Canberra. The revolving restaurant at the top of the tower certainly is a once-in-a-lifetime experience! The Black Mountain Nature Park is one of the best places in Canberra to escape into the wilderness for the day!
#8 – Jet Flight Simulator Canberra
Learn to fly a plane and land at your airport of choice
Be guided by an experienced First Officer
One of the more unusual things to do in Canberra
Why it's awesome: Have you ever wanted to fly your own plane? Of course, you have. And Jet Flight Simulator Canberra is the perfect place to do that in a safe and secure environment. There's a choice of over 22,000 virtual airports to land at, and guided by your First Officer, you should successfully navigate onto the runway. And if you don't, just have another go!
What to do there: Learn the ropes of flying one of the most popular planes in the world, the Boeing 737. You might even realize a life-long dream! Not only is it cool having such a huge choice of airports to fly into, but there's also a range of weather conditions. So, if you're finding it too easy to fly in the sun, how about during a thunderstorm? This is a Canberra must-do if you're interested in aviation… or you're just a big kid that wants to fly a plane!
#9 – National Zoo and Aquarium
Get up close and personal with Australian and exotic wildlife
Take part in a ZooVenture Tour
The only combined zoo and aquarium in the whole of Australia
Why it's awesome: One of the most famous places in Canberra, the National Zoo and Aquarium is surprisingly the only combined zoo and aquarium in the whole country! It's a great place to visit with kids, as there's more to it than just looking at the animals and being impressed. You'll learn a lot about conservation work here, and you might even be lucky enough to get up close and personal with your favourite animal! Also, there's a cool safari lodge if you want to stay overnight and make it a visit to remember.
What to do there: Speaking of making your visit memorable, why not try one of the ZooVenture tours when you visit Canberra? Some of the options include hand-feeding giraffes, patting rhinos, and feeding bears. Don't worry, it's all perfectly safe and you'll be accompanied by someone who has plenty of experience with animals! Whatever age you are, this will be an unforgettable memory of your time in Canberra!
Is This the Best Daypack EVER???
#10 – Namadgi National Park – A beautiful outdoor place to visit in Canberra
How to see Canberra's natural beauty
Just a 40km drive south of the capital
One of eleven areas on the Australian Alps National Parks and Reserves list
Why it's awesome: Sometimes when you visit a capital city, it's just an endless concrete jungle. So, it's reassuring to know that just 40km south of Canberra, you can completely escape into the wilderness. Namadgi National Park is included on the Australian National Heritage List, as well as being one of just 11 protected areas on the Australian Alps National Parks and Reserves list. And with good reason too! The area is a habitat for more flora and fauna than you can shake a stick at (please don't hit anything with said stick). Don't miss it off your Canberra itinerary!
What to do there: If you're wondering about how to see Canberra's rugged outskirts, don't miss taking a trip down here. Hiking trails criss-cross this national park so that even the most novice hiker won't get lost. There are some incredible birdwatching opportunities in the park too, so twitchers should definitely pack their cameras and binoculars. This is one of the best places in Canberra to get in touch with nature and see the beauty of the Australian bush!
Get insured for your trip to Canberra!
ALWAYS sort out your backpacker insurance before your trip. There's plenty to choose from in that department, but a good place to start is Safety Wing.
They offer month-to-month payments, no lock-in contracts, and require absolutely no itineraries: that's the exact kind of insurance long-term travellers and digital nomads need.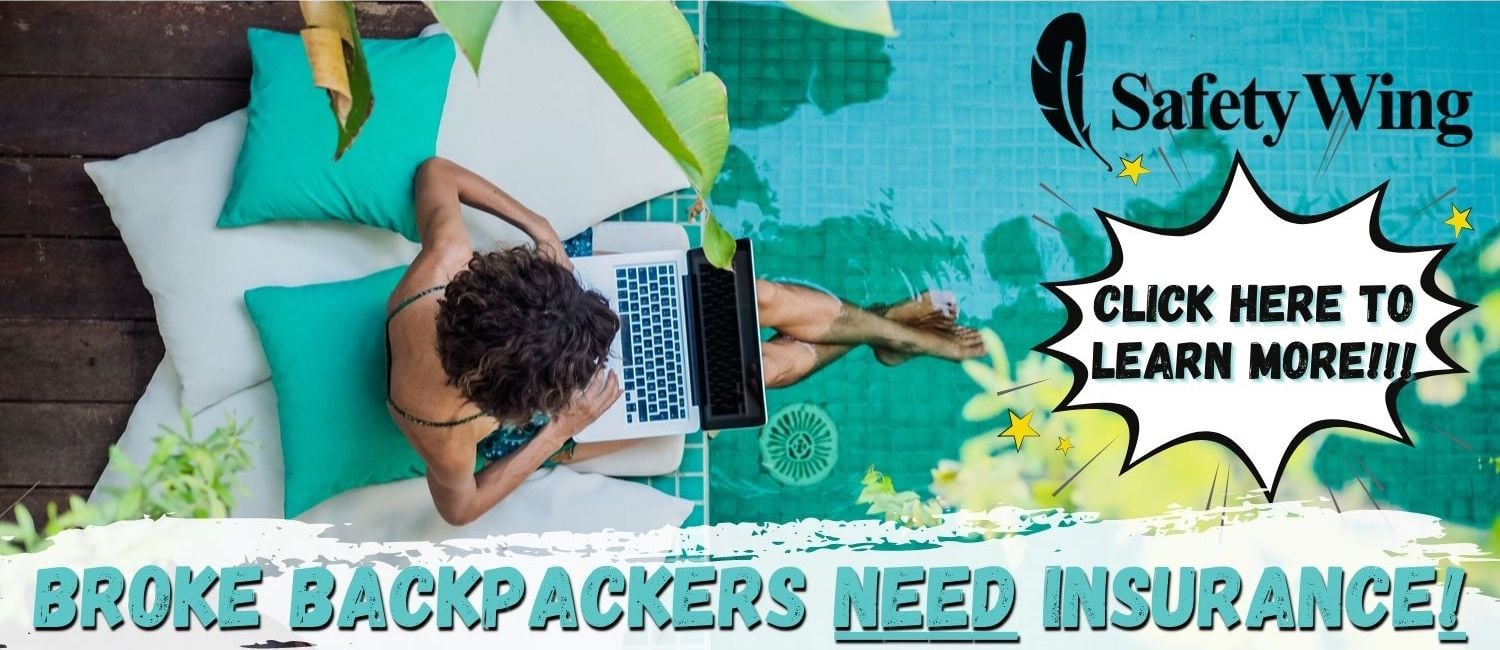 SafetyWing is cheap, easy, and admin-free: just sign up lickety-split so you can get back to it!
Click the button below to learn more about SafetyWing's setup or read our insider review for the full tasty scoop.
FAQ on the Best Places to Visit in Canberra
Find out what people want to know about the best places to visit in Canberra
Final Thoughts
So, that concludes our list of the best places to visit in Canberra. We hope that our extensive list has proved useful and helpful and that you've seen there's such a wide variety of things to do in the Australian capital! Although it may not be as popular as Sydney or Melbourne, it's well worth a visit thanks to so many museums, galleries, and cool outdoor attractions.
Not only will you have a better idea of the best places to visit in Canberra, but the best places to stay too. And with such natural beauty on your doorstep, it's easy to get away from the big city lights!
All that's left is for us to wish you a fantastic time when you travel to Canberra. And don't forget to keep a copy of our list of the best places to visit in Canberra at hand!
---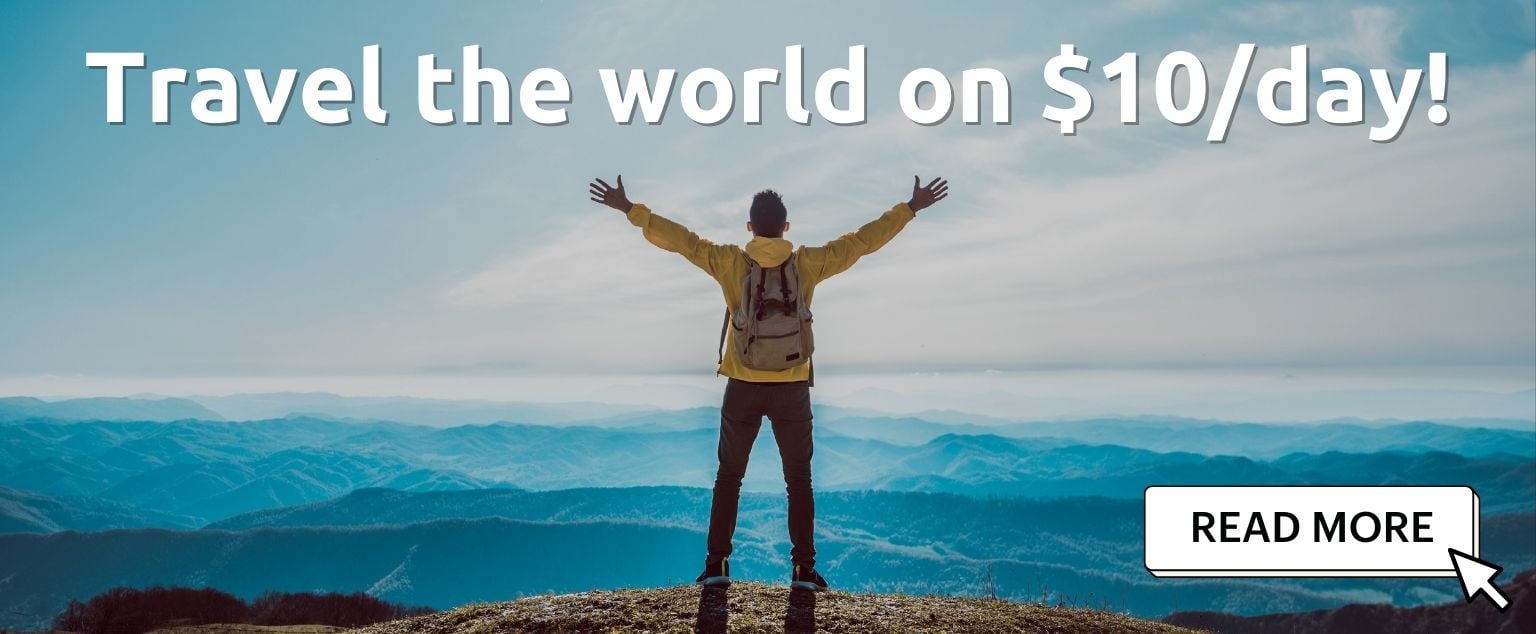 And for transparency's sake, please know that some of the links in our content are affiliate links. That means that if you book your accommodation, buy your gear, or sort your insurance through our link, we earn a small commission (at no extra cost to you). That said, we only link to the gear we trust and never recommend services we don't believe are up to scratch. Again, thank you!