Old Quebec City is a fascinating place to visit and a history-lovers dream destination. As one of North America's oldest settlements, Old Quebec City has preserved a plethora of centuries-old landmarks and is even listed as a UNESCO World Heritage Site.
As you walk along the cobblestone streets lined with colonial architecture, pleasant cafes, restaurants, and sleepy houses, you will feel like you have been transported back in time. From the most-photographed Chateau Frontenac to the largest colonial fortress in North America, the Citadelle de Quebec, there is so much to see and admire.
For those who really want to explore the city's history and heritage, choosing to stay at one of the Old Quebec hotels is the perfect way to experience the authenticity of this place. Since most Old Town Quebec hotels are in historic buildings themselves, you can literally stay in history!
That being said, there are a lot of options to choose from, and sifting through them can be overwhelming. No matter, because I am here to help. Let's look at some of the best hotels in Old Quebec City!
In a Hurry? Here's Where to Stay in Old Quebec for One Night
FIRST TIME IN OLD QUEBEC
Auberge du Tresor
Whether you're in Quebec city for the first time or the third, Auberge du Tresor should be your first pick out of all the Quebec city hotels. An ideal home base to start exploring the wonderful city, this hotel has many great amenities and comes at a nice price. The location is great too – you will have several attractions like the Parliament Building and the Chateau Frontenac just steps away. The rooms at this hotel have a charming, rustic vibe to them that will make your stay cozy and comfortable!
Places to visit:
Musee du Fort
Quartier du Petit Champlain
Basilique Cathedrale Notre Dame de Quebec
Is this amazing Old Quebec Hotel booked for your dates? We've got your back with our other favorite properties below!
Staying at Old Quebec Hotels – What to Expect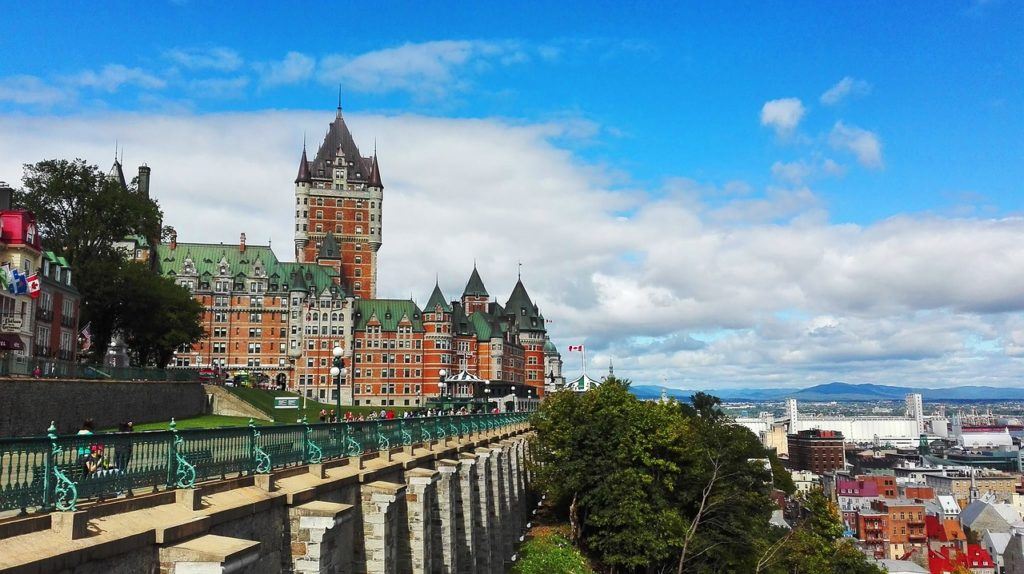 Old Quebec hotels are aplenty, peppered all around the city's old town. Most of them are situated in excellent locations, near major attractions and popular dining places.
When staying at any one of these Old Quebec City hotels, you should keep some things in mind on what to expect. You should decide well in advance where to stay in Quebec City and whether or not you want to stay in Old Town, because full disclosure, staying in history like this, does add on to the budget.
The influx of travellers increases during high season months, i.e. May to October, and during festivals such as Carnaval de Quebec and Festival d'été de Quebec. You can expect prices to be high during these times, but you can manage that by booking your hotel as early as you can.
Hotels in Old Quebec cater to every type of budget. So, whether you're travelling solo or with a partner, or with family or friends, you can find a hotel that suits your group and budget. There are several affordable hotels and mid-range hotels that offer luxury-level services, and then there are the truly luxury ones too.
Some of the best hotels in Old Quebec City are found in historical buildings. These historic hotels are officially recognized with a national historic designation. Most of them are magnificent! These Old Town Quebec hotels are well-preserved and feature period décor and traditional architecture, all with the benefits of modern amenities.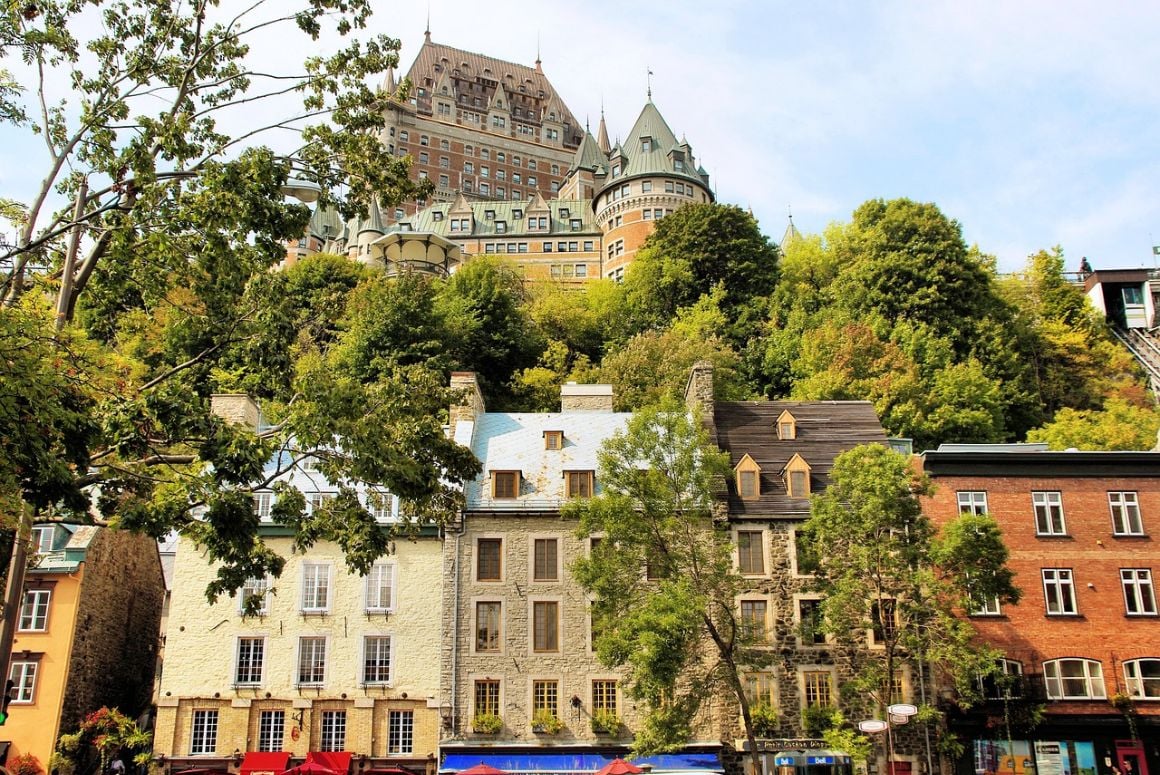 What to Look for in an Old Quebec Hotel
Old Quebec is a fascinating place to visit and see. This fortified colonial city is marked by many famous and ancient landmarks, some of which house the best Quebec city hotels.
The good news is, there are many types of hotels here. From budget hotels, to high-end luxury, to bed and breakfasts in Quebec City. Though because it is a desirable location to stay at, you can expect prices to be higher than in other areas of Quebec, even for the cheaper end of the scale.
All Old Quebec hotels come with many amenities you would normally expect such as free Wi-Fi, nice bathrooms, and comfy beds. Facilities like on-site restaurants and bars are also common, but not always available. Luxury hotels sometimes have on-site fitness centres and pools and offer spa services as well. Most hotels have family rooms and even studios and suites suitable for a group.
There's nothing like finding a great hotel for your vacation or getaway. And what's better than to find a hotel that feels like a home away from home? No matter which hotel you choose, you can expect to receive that warm and welcoming Canadian hospitality.
If you don't know where to look, you can start by checking sites such as booking.com and adding filters according to your preferences. Look for hotels in the Old Quebec area that have shopping, dining and landmarks nearby to save you time on getting around. But ah, I know this is an arduous task, so if it sounds like too much work for you, read on to see my top picks!
BEST OVERALL OLD QUEBEC HOTEL
BEST OVERALL OLD QUEBEC HOTEL
Auberge du Tresor
> $$
> 2 guests
> Outdoor terrace
> French dining
BEST OLD QUEBEC HOTEL ON A BUDGET
BEST OLD QUEBEC HOTEL ON A BUDGET
Hotel Marie-Rollet
> $$
> 2 guests
> Rooftop terrace
> Non-smoking
BEST CHEAP OLD QUEBEC HOTEL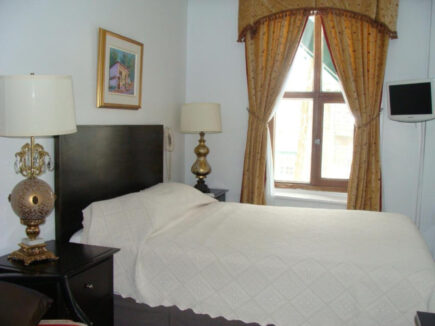 BEST CHEAP OLD QUEBEC HOTEL
Au Petit Hotel
> $$
> 2 guests
> Non-smoking
> Breakfast service
BEST OLD QUEBEC HOTEL FOR SOLO TRAVELLERS
BEST OLD QUEBEC HOTEL FOR SOLO TRAVELLERS
Auberge Internationale de Québec
> $
> 2 Guests
> Located in Old Quebec City
> Discounted rates on attractions
BEST OLD QUEBEC HOTEL FOR A BUSINESS TRAVELLER
BEST OLD QUEBEC HOTEL FOR A BUSINESS TRAVELLER
Le Germain Dominion
> $$$
> 2 guests
> Fitness centre
> Super comfortable beds
BEST OLD QUEBEC HOTEL FOR COUPLES
BEST OLD QUEBEC HOTEL FOR COUPLES
Chateau Bellevue
> $$$
> 2 guests
> Buffet breakfast
> Spa services
BEST OLD QUEBEC HOTEL FOR A FAMILY
BEST OLD QUEBEC HOTEL FOR A FAMILY
Hotel Le Saint-Paul
> $$
> 4 guests
> Non-smoking rooms
> Family rooms
The Best 15 Old Quebec Hotels
Sit back, relax and imagine yourself walking on the cobbled streets of Old Quebec City, as you scroll through our handy list of the best 15 hotels in Quebec City.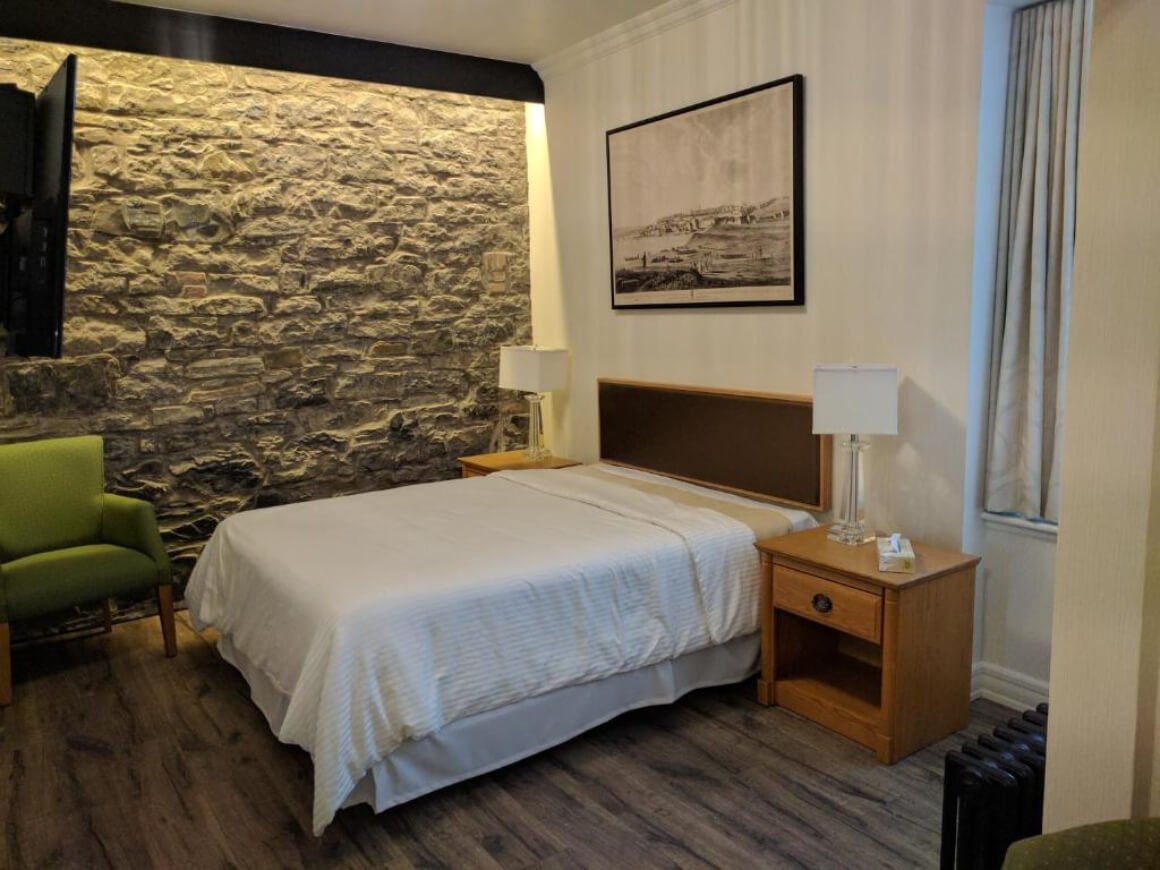 $$
2 guests
Outdoor terrace
French dining
If you're in Quebec City for the first time, you need to stay at a hotel ideally located and light on your pockets. Auberge du Tresor is the perfect base to start exploring the city. This hotel sits right in front of the historic and famous Chateau Frontenac. Some good dining spots and popular attractions such as the Parliament Building, Quebec City Armory, and La Citadelle de Quebec are nearby.
Expect awesome hospitality as you stay at this hotel and facilities like laundry, safe, in-room closet and free Wi-Fi. The brick-walled rooms give a very rustic vibe that is both charming and old-worldly. After a day of sightseeing, come back to the hotel and relax on the outdoor terrace. Or, have some delicious food at the on-site French bistro restaurant, which is perfect!
$$
2 guests
Rooftop terrace
Non-smoking
Looking for hotels close to the city center and pocket-friendly too? Well, look no further! Hotel Marie-Rollet is one of the best Old Quebec city hotels to stay at if travelling on a budget. The hotel sits in the heart of Old Quebec, with several cute cafes and restaurants just a walk away. Popular places like the Musee de la Civilisation, Port de Quebec, and Citadelle de Quebec are also nearby, within walking distance.
Housed in a charming Victorian building, this quaint hotel has a European flavour. It has sparkling clean rooms with super comfy beds. Several great amenities such as free Wi-Fi, a work desk and a seating area are provided in the rooms. The hotel also features a rooftop terrace that is perfect for some downtime with a drink.
Best Cheap Old Quebec Hotel – Au Petit Hotel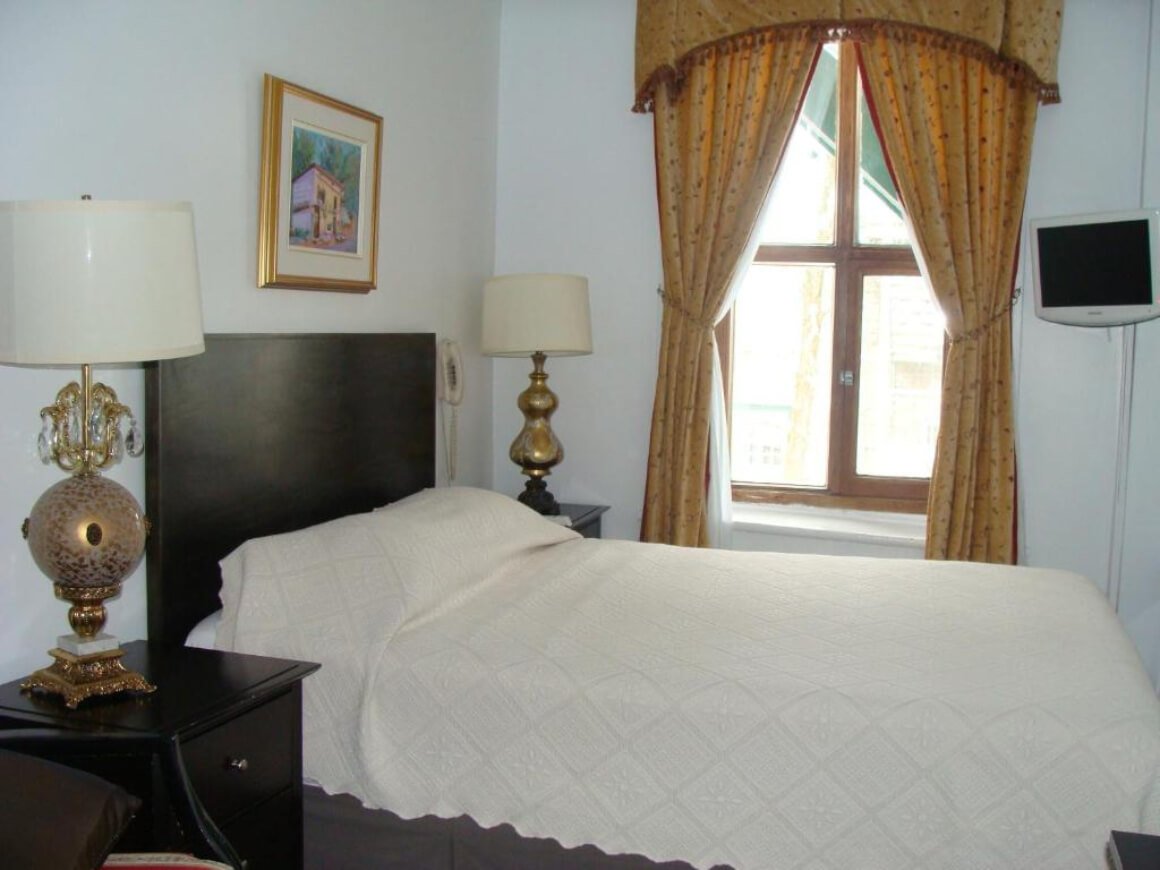 $$
2 guests
Non-smoking
Breakfast service
This small hidden gem is tucked away on a quiet street in the heart of Old Quebec. Au Petit Hotel is a budget-friendly hotel that is a charming base from which to explore the city, perfect for those backpacking Canada.
Like many Old Quebec hotels, Au Petit has a central location in the city. Hence it is within walking distance of several popular attractions such as La Citadelle de Quebec and Le Capitole theatre.
Au Petit hotel features a snug and cosy rooms with old-fashioned décor and private bathrooms. This hotel is like your 'home away from home', with amenities such as free Wi-Fi, flat-screen TV, and air conditioning. Dining options nearby are great. Do check out some of Quebec City's favourite shrimp restaurants, like the L'Affaire Est Ketchup and Restaurant Le Saint-Amour. 
$
2 Guests
Located in Old Quebec City
Discounted rates on attractions
For an unforgettable experience as a solo traveller, choose to stay at this wonderful hotel. One of the better old town Quebec hotels, Auberge Internationale de Québec offers some budget-friendly rooms.
Located centrally in the city, the hotel is within walking distance of Citadelle of Quebec. The hotel has a nice seating area and an on-site café bistro where you can meet other travellers and make friends too!
The rooms offer a comfortable stay with several amenities like free Wi-Fi and a bathroom with a hot shower. The hotel offers some great discounts for local attractions and restaurants too.
An Eco-Friendly Traveller NEEDS an Eco-Friendly Backpack!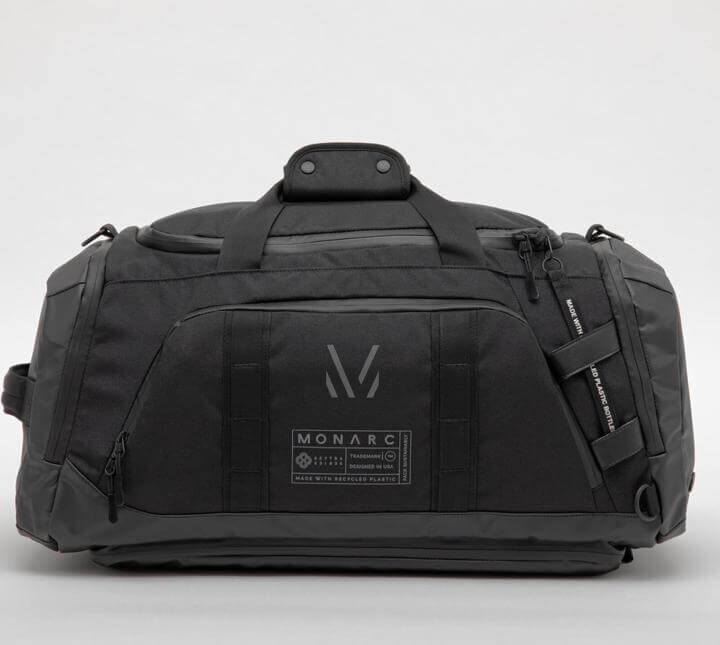 50 recycled plastic bottles – that's what goes into every Monarc Settra: the world's MOST SUSTAINABLE backpack.
Whether you're rocking duffel mode or backpack mode, if you're a traveller that gives a flying hoot about their environmental impact, then there's only one backpack you should consider – the plastic-negative Monarc Settra.
Learn More Now!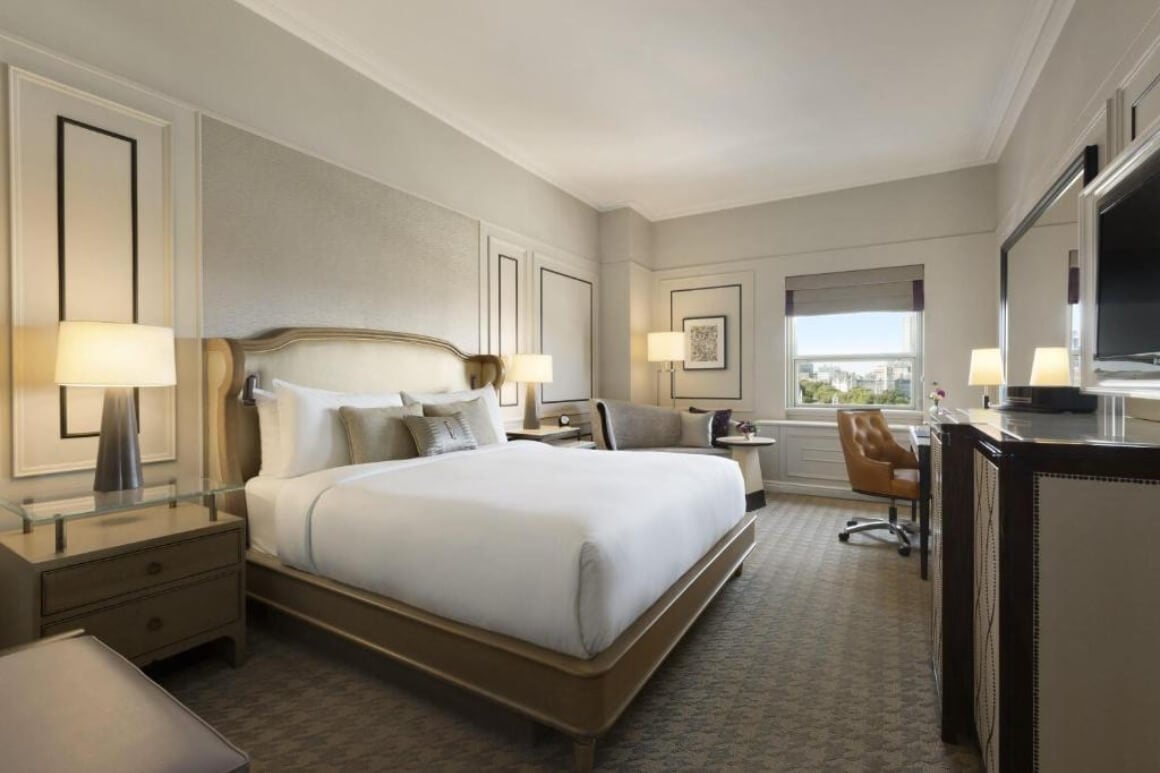 $$$
2 guests
Swimming pool
Fitness centre
The unofficial mascot of Quebec City, Chateau Frontenac is an iconic hotel that graces postcards and thousands of photographs. Overlooking the St. Lawrence River, the towering castle of this luxury hotel draws in many visitors.
With a Great Gatsby-like vibe, Chateau Frontenac houses a magnificent ballroom, a spa and swimming pool, and an opulent lobby that ends at the hotel's high-end French restaurant Le Champlain. If you're not staying, you can still look around!
Elegant European décor fills the warm-toned rooms. You will have unbeatable views of the St. Lawrence River, free Wi-Fi (of course!), and excellent hospitality services. The hotel offers use of the indoor pool, hot tub, and steam rooms. The on-site fitness centre and spa also offer a variety of treatments and services.
Best Old Quebec Hotel for a Business traveller – Le Germain Dominion
$$$
2 guests
Fitness centre
Super comfortable beds
When your work takes you to Quebec City, you will want to stay at a hotel that offers connectivity, fitness options, good food, and a great location.
Naturally, you'll want to stay at one of the best Quebec City hotels for business travellers. Le Germain is our top pick for this. Tucked away on a lovely street in the heart of Old Quebec, this boutique hotel is the perfect place for business and leisure.
Boasting heritage architecture housed with elegant furnishings and excellent service, Le Germain is one of its kind. Rooms offer comfortable beds (to pop in after a day of meetings) with calming nightlights, luxury linens, and an ergonomic workstation. You can make use of the hotel's fitness centre that is open 24/7, and enjoy free cappuccinos and espressos on-site too.
Best Old Quebec Hotel for Couples – Chateau Bellevue
$$$
2 guests
Buffet breakfast
Spa services
Rest and relax with your partner at this elegant and charming hotel in the heart of Old Quebec. European charm and rustic décor reflect at Chateau Bellevue and combined with modern comforts, it gives you a perfectly comfortable stay. The hotel is located just a few steps from popular attractions like the Citadel, Chateau Frontenac, Plains of Abraham, and Quartier Petit Champlain.
The rooms provide intimacy and comfort and a host of amenities. You start your day with a buffet-style breakfast and head out to explore the city. The hotel offers some breathtaking views of the St. Lawrence River. You can also make use of the service packages offered at the hotel. Enjoy a massage at the spa with some Old Quebec haute-cuisine, a good glass of wine, or even a horse-drawn carriage ride.
This hotel literally has everything you would need for a comfortable stay and is one of my top places to stay in Quebec, nay, in all of Canada!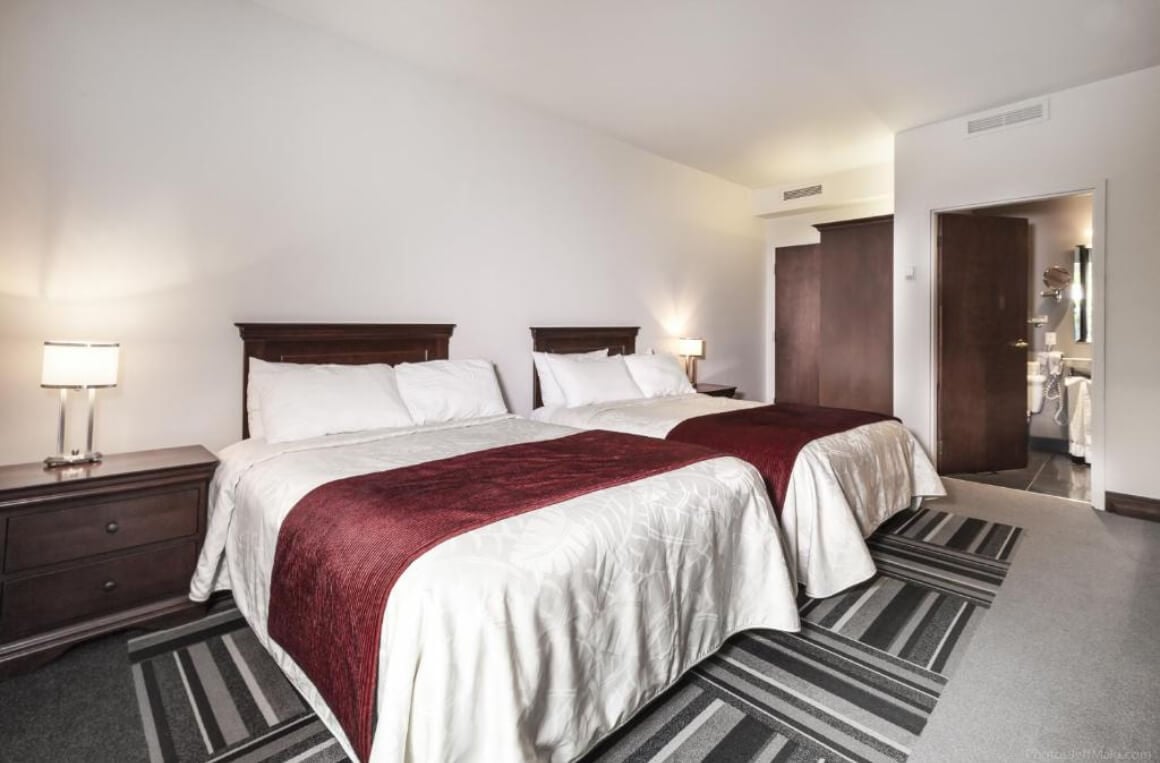 $$
4 guests
Non-smoking rooms
Family rooms
Old Quebec hotels are plenty and cater to any and every type of traveller. Hotel Le Saint-Paul is a good one if you're with your family. Located in a historic building in the heart of the Old Port of Quebec, this hotel gives off an old-world feel. It is within walking distance of several attractions such as the Musée de la Civilisation museum.
Country-style rooms with modern furnishings and amenities provide ample space and cosy comfort for you and your family. Rooms have TV, free high-speed Wi-Fi, and coffeemakers. If you opt for a suite, you'll have an extra seating area, a sofa bed, and panoramic views of the port. Hotel Le Saint-Paul offers a variety of dishes at its on-site restaurant Le Vervain and a great terrace seating area.
Best Old Quebec Hotel for a Group of Friends – Hotel Champlain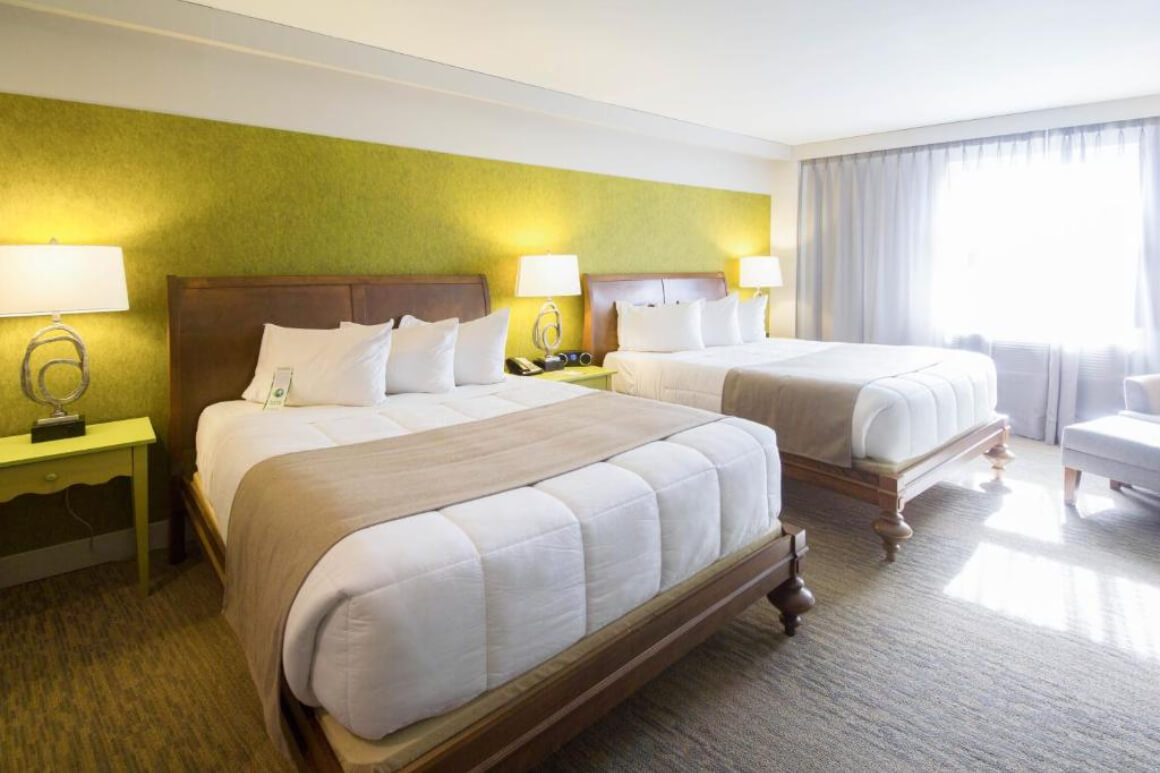 $$
4 guests
High-speed Wi-Fi
Pet friendly
Nestled within the walls of Old Quebec, among centuries-old buildings, is the perfect hotel for you and your friends. Hotel Champlain is one of those Old Quebec hotels that are located in a quiet neighbourhood and within easy reach of most of the best places in the city.
You will be only steps away from shopping centres, restaurants, and historical sites. Visiting the beautiful Notre Dame Cathedral or the scenic Battlefield Park will be a breeze!
Hotel Champlain serves delicious breakfast (with a charge!) to start your day. The hotel has comfortable and cosy rooms with modern amenities like a mini room fridge and free cappuccinos and espresso all day.
Best Old Quebec Hotel in an Epic Location – Hotel 71
$$$
2 guests
Fitness centre
Buffet breakfast
Most Quebec City hotels are known for their location but some of these have the best location among the others. Hotel 71 is one such hotel. Charming cafes, shops, gourmet restaurants and many popular attractions are all only moments away from Hotel 71. The hotel has historic architecture and contemporary décor and accommodations. 
Spacious and airy rooms await you at Hotel 71. Amenities include luxury yet cosy stuff, such as rainfall showerheads, bathtubs, and super comfy beds. Massage services are also available.
The hotel's natural lighting, cosy lobby, and stunning views of the city and St. Lawrence River all add up to its charm. Hotel 71's restaurant is worth trying out for its delicious Italian cuisine. The hotel also provides bicycles (to explore the city) which have a nice and quirky touch!
Best Old Quebec Hotel for a Weekend Getaway – Hotel Le Haute Ville
$$
2 guests
Kitchen
Seating area
If you're looking for a "home away from home" to spend the weekend at, look no further! This awesome budget hotel is one of the best old town Quebec hotels that are very well located. You will be close to all the popular attractions in the city and within walking distance of shops and restaurants. In short, it is perfect for a weekend getaway. 
Hotel Le Haute Ville features spacious rooms and apartments equipped with many amenities. There is a seating area with a sofa and a full kitchen with a fridge, oven, and cooking utensils. Other facilities such as a washer, dryer, and luggage storage are also available. 
Best Old Quebec Hotel for History Buffs – Hotel Port Royal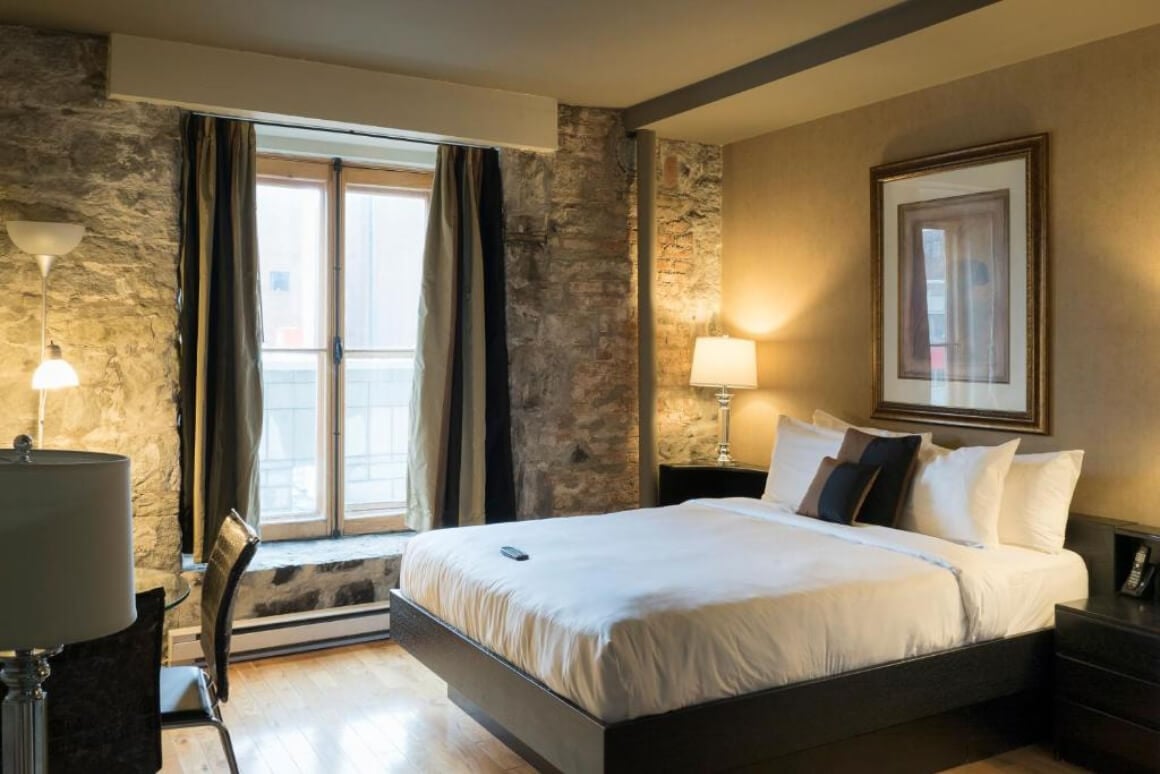 $$$
2 guests
Pet-friendly
Private kitchenette
History buffs will love this one! Located in the Old Port at the foot of Quebec City's fortifications, this hotel has a stunning architecture that dates back to the 19th century.
One of the Old Quebec hotels with modern interiors, Port Royal has contemporary designed rooms with stunning stone and brick walls. The hotel is as warm and welcoming as a hotel can be! And it is just minutes away from historical attractions like the Notre Dame de Quebec Cathedral, the Citadel, and the Museum of Civilization.
Rooms and suites at the Port Royal are each unique and equipped with a kitchenette. Comfy beds and luxury amenities make for a memorable stay. You can have your breakfast in your room too!
Best Old Quebec Hotel for a Romantic Getaway – Le Clos Saint-Louis
$$$
2 guests
City view
Spa bath
The perfect romantic getaway awaits you at the Le Clos Saint-Louis! Known as one of the most romantic Quebec City hotels, Le Clos Saint-Louis is a charming boutique hotel. Whether you're planning to pop the question to your loved one or planning your honeymoon, this hotel is where you'll fall in love all over again. Not many old Quebec hotels come as cosy as this one!
Le Clos Saint-Louis offers beautiful Victorian-style rooms that ensure a sweet and relaxing stay. A full breakfast is available at a charge. Expect superb service from the hospitality staff, which makes sure you and your partner have a warm and intimate time and all your needs and queries are tended to.
Best Unique Old Quebec Hotel – Hotel Le Priori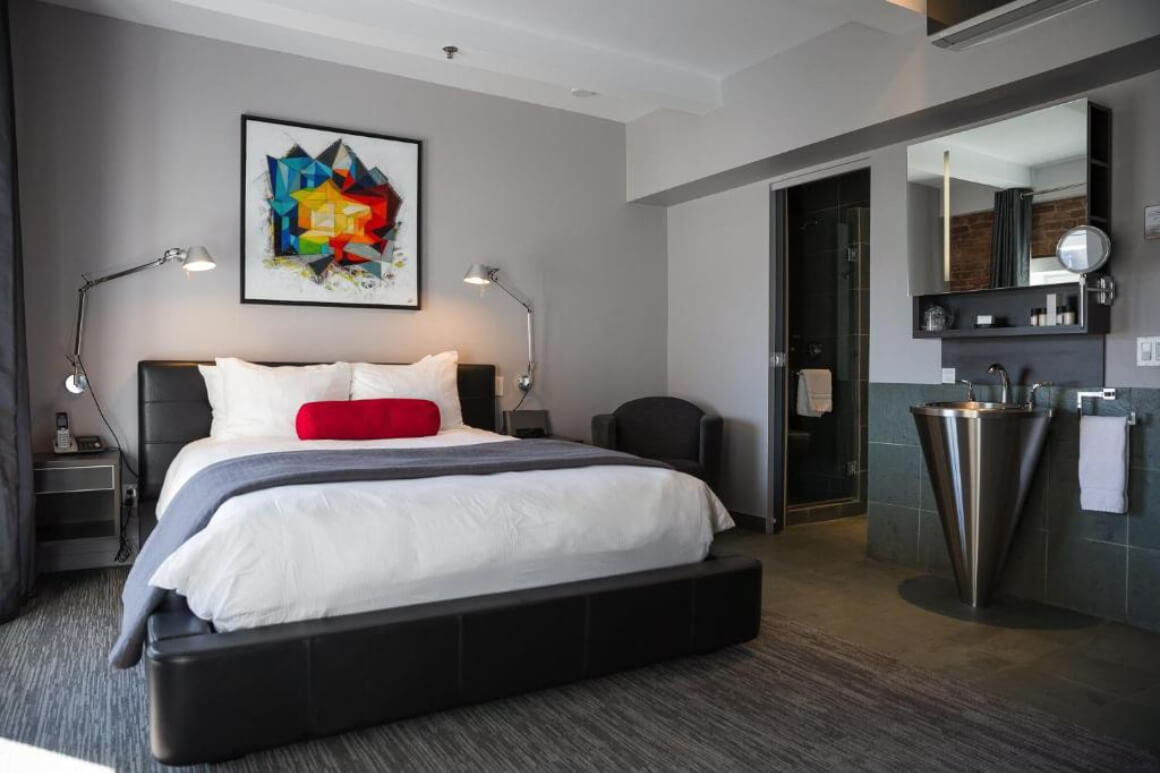 $$
2 guests
Breakfast included
Hot tub
Hotel Le Priori is located on one of the oldest streets in the heart of the historic Old Quebec city. The hotel building is an elegant World Heritage Site dating from the 18th century. Once the home of famous architect Jean Baillairge, the building was renovated and restored to maintain its architecture.
With its central location, you will find many attractions and landmarks like the Old Port and the Petit Champlain district within easy reach.
Le Priori is a boutique hotel with luxury accommodation, superb dining, and top-class service. Comfortable rooms offer luxurious beds and bathrooms with massaging showerheads and a claw-foot bathtub. Suites have a living room, fireplace, and hot tub. The hotel's restaurant serves a variety of cuisines and wines in its choc dining room and terrace. 
$$$$
2 guests
Exceptional breakfast
Fitness centre
Auberge Saint-Antoine is one of the Old Quebec hotels that are truly over-the-top luxury and fancy. Care to splurge some on your next vacation? Check this hotel out!
It features fine dining, luxurious accommodation, and hundreds of historical colonial artifacts displayed throughout. Located just steps from the Musée de la civilisation and Petit?Champlain, Saint-Antoine is set perfectly for a classy and super relaxing getaway. 
Spacious and open rooms with a load of top-notch amenities will invite you into this contemporary hotel. Soft, warm colours and big, cosy beds provide optimal comfort. The bathrooms are large and have heated floors and deep-soak tubs. Have some delicious French cuisine and exquisite wine from the on-site restaurant and wine cellar. There's also a private movie theatre and a wellness centre!
Don't Forget Your Old Quebec Travel Insurance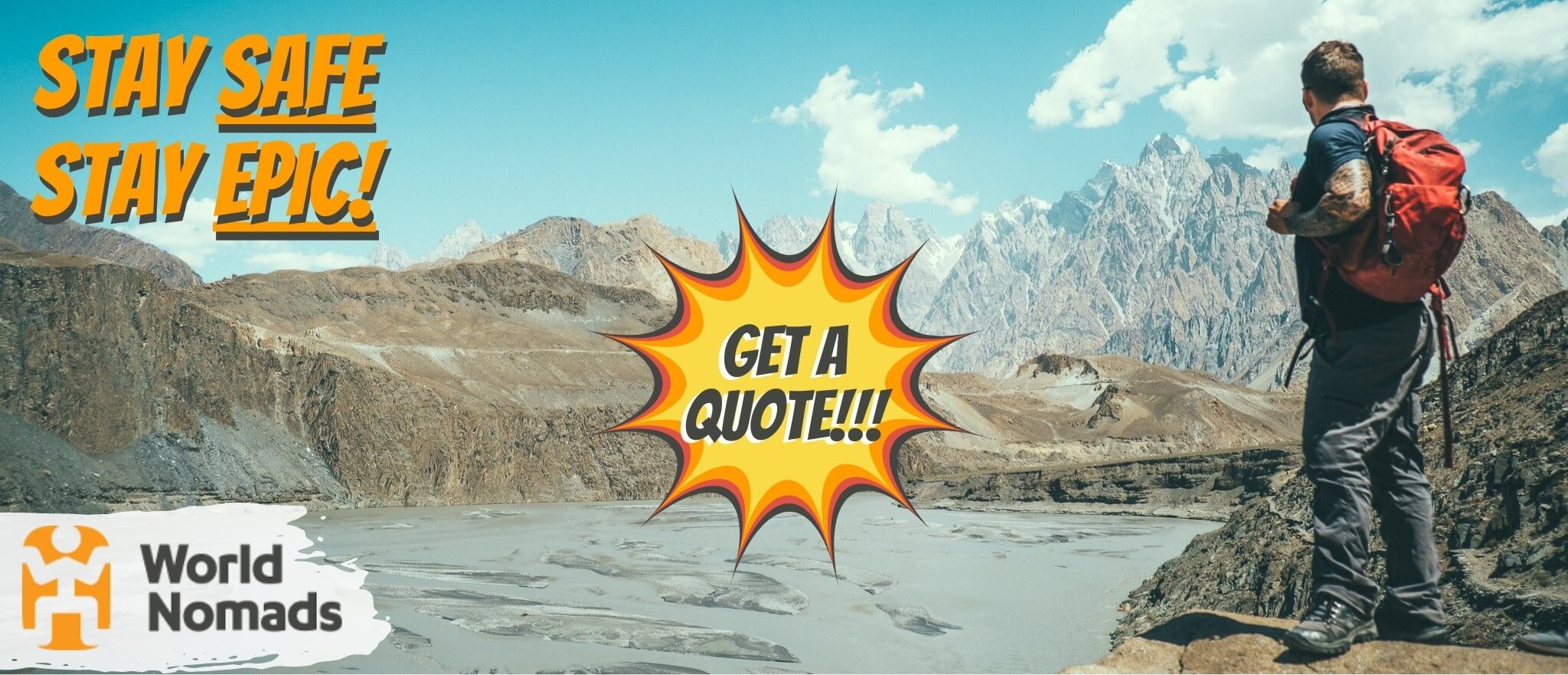 It's good to get lost sometimes, but it's also good not to get too lost. There are people that want you home in one piece.
There's one travel insurance provider The Broke Backpacker trusts for all his wildest shenanigans… World Nomads!
Click the button below to get a quote on your insurance or read our in-depth review of World Nomads' coverage. And then… let the shenanigans begin. 😉
Final Thoughts on Old Quebec Hotels  
So there you have it – the perfect starting point to planning your next Old Quebec holiday. I'm sure my recommendations for the top 15 Old Quebec hotels will come in handy for you.
From cute and affordable establishments to striking boutique hotels, to the magnificent picture-postcard-worthy mansions, I've covered the best of Quebec City hotels. And they fit your budget too. So if you're on a budget or willing to splurge, there is one perfect hotel for you here!
Old Quebec City is a dream come true for history lovers and for those looking for a peaceful and relaxing getaway. With its history and culinary heritage, it is one of the best destinations to visit in North America.
When booking your trip to Quebec City, if you're travelling internationally, consider opting for travel insurance. It's always safe and smart to have travel insurance, as there can be unforeseen situations that you need to be prepared and covered for.
Happy travels!
---
Bye for now, but not forever!
If you want MORE top-tier Broke Backpacker content like this, then sign up for our weekly newsletter below to get the latest and greatest!
And for transparency's sake, please know that some of the links in our content are affiliate links. That means that if you book your accommodation, buy your gear, or sort your insurance through our link, we earn a small commission (at no extra cost to you). That said, we only link to the gear we trust and never recommend services we don't believe are up to scratch. Again, thank you!