Montreal is a city that seamlessly blends the old and the new. It boasts the forward-facing modernity of North America as well as the quaint charm of an antiquated European city. The neighborhood of Old Montreal is one of the oldest urban areas in North America.
With the largest population in the whole of Canada, this multifaceted metropolis is a vibrant and bustling city, filled with friendly locals. It's a city where 21st-century skyscrapers meet 17th and 18th-century traditional buildings. It's also where you'll find the largest population of French speakers outside of Paris.
Montreal is the 2nd largest city in Canada, and offers plenty for visitors to see and do! It's home to some of the world's most impressive architecture and sits atop the largest underground complex on earth.
Montreal's food is world-renowned for being incredible and its arts and culture scene is top-notch. The nightlife is lively and welcoming, and the city is a Canadian sporting hub!

Unlock Our GREATEST Travel Secrets!
Sign up for our newsletter and get the best travel tips delivered right to your inbox.
Insider Tips for an AMAZING Weekend in Montreal
Weekend trips to Montreal are a great way to explore the city, but we know it can be tricky planning a trip to a new city. That's why we've put together this Montreal travel guide. It's packed full of tips, advice, and information to make your Montreal weekend trip as easy and enjoyable as possible!
Know Where to Stay in Montreal
There are many awesome neighborhoods in Montreal, each offering their own character and charm. The heart of the city is Old Montreal, the oldest part of town, where Montreal's roots are firmly planted. Old Montreal is home to most of the city's major tourist attractions.
Le Plateau is a cool neighborhood with a great vibe, and one of the best-known parts of the city, while Downtown Montreal is the central business district and has an uptempo nightlife. Griffintown is great if you're traveling Montreal on a budget, and Le Village is a vibrant neighborhood with a thriving LGBTQ community.
Seeing as you'll only be spending a weekend or two days in Montreal, it's best to find accommodation that is centrally located in a neighborhood that suits you! All of the neighborhoods we've mentioned are in great locations and well connected. Check out our Montreal neighborhood guide for more information.
Our Favorite Hostel – M Montreal
Second place award for 'Best extra large hostel in the world' in the 2019 Hoscars
Plenty of happy travelers and an absolutely awesome atmosphere
Perfectly located in the heart of the city, just a 10-minute walk from several of the most popular neighborhoods
Montreal has many great hostels, but there is one clear winner. A modern and spacious hostel set in an old building, the multi-award winning M Montreal is unarguably the best hostel in Montreal.
The decor is stylish, the rooms are clean and comfortable, and the amenities are amazing. The hostel features an incredibly large rooftop terrace with a hot tub swimming pool!
Excellent location, well-connected by public transport, and a pleasant atmosphere
Each room comes with cable TV and ironing facilities
Free WiFi, communal kitchen, coffee shop, and computer room on site
Hotel Y de Monreal offers great, comfortable accommodation at a reasonable price. The hotel is in a great location in Downtown Montreal, within walking distance of many bars, restaurants, and museums. The rooms are clean and comfortable and come with all of the usual amenities.
Stunning garden surrounds with dense greenery, cobbled paths, a pool, and twinkling lights
Delicious contemporary French cuisine available at the onsite Maison Boulud
There is a 24-hour concierge service and in-room massages are available
With a location about as central as possible, the Ritz-Carlton Montreal is an incredibly luxurious hotel with opulent design and impressive architecture. Each of the incredibly spacious rooms features multiple TVs, digitally controlled lights and curtains, and a marble bathroom with heated floors. This hotel offers the ultimate luxurious experience.
Spacious and stylish, this three-bedroom apartment in the Le Plateau neighbourhood is the best Airbnb in Montreal.
Great for a small family or a group of friends, this conveniently located apartment features a fully equipped kitchen, unlimited wifi, and a large private balcony. Enjoy a clean and comfortable home just minutes from the action.
Know How to Get Around in Montreal
Montreal is a great city for walking. Not only is it highly walkable, but strolling through its streets is a great way to see the many points of interest. You'll get to soak up the atmosphere and see the sights of the city while you move between destinations.
Another great way to move around Montreal, and the best way to travel between neighborhoods, is the public transit system. The city has an amazing public transport network, made up of a subway system and busses. The system is convenient, efficient, and highly affordable.
A three-day transit pass is a great option if you're spending two or three days in Montreal and the weekly transit pass is great for longer trips. Passes are available at any STM terminal.
Driving in Montreal can be tricky, and is generally best avoided. Parking and gas prices are both particularly high, and all of the road signs are in French. This makes driving in Montreal expensive and stressful, so we recommend you make use of public transport and your own two feet instead!
Another great way to get around is by making use of BIXI, Montreal's bike sharing system. It's an affordable and easy way to get around the city, and it can also be a great way to explore! Cycling around Montreal is not only a lovely way to get a feel for the city, but it's also an awesome holiday workout, too!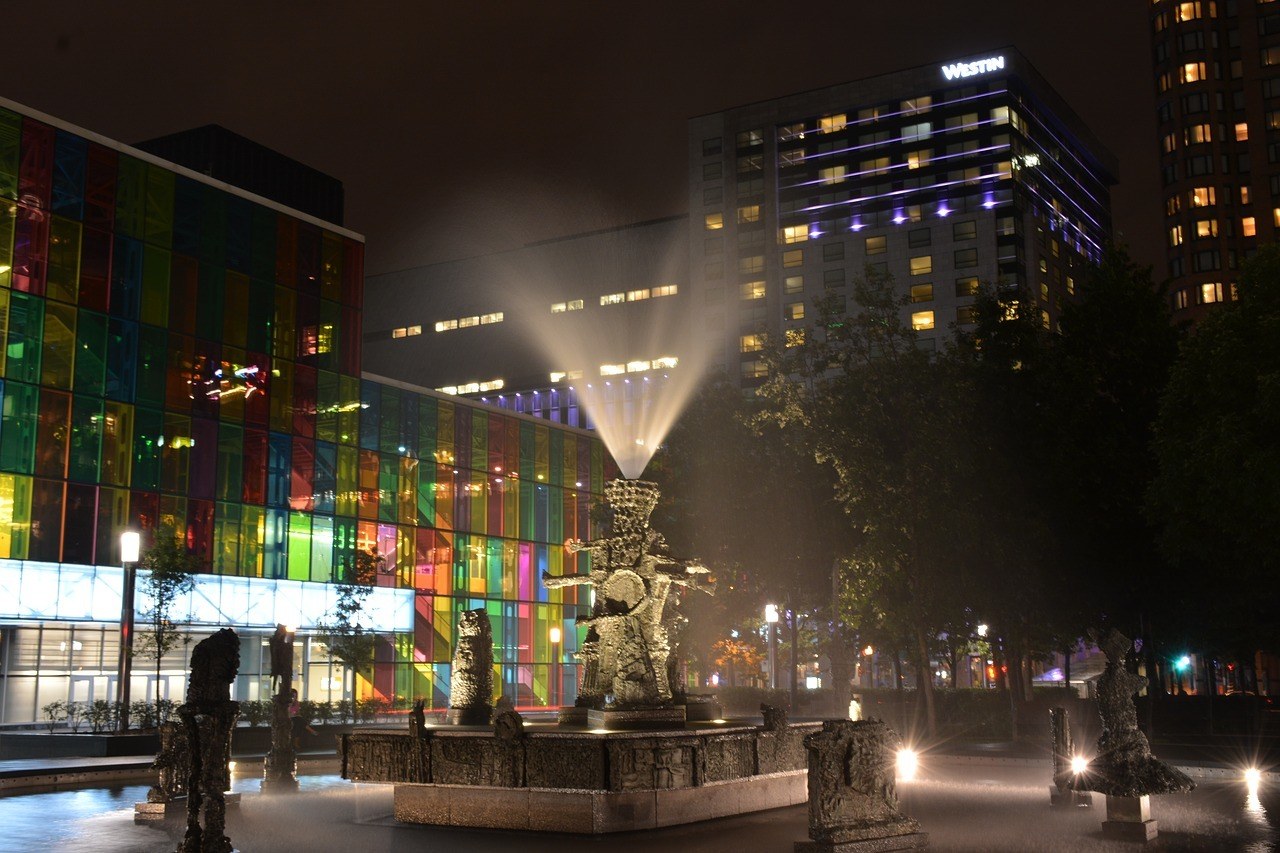 The Montreal nightlife is as varied as it is exciting, with plenty of evening venues spread across its numerous vibrant neighborhoods! From stylish nightclubs to vintage vinyl bars, Montreal's nightlife is not to be missed. Weekends in Montreal are particularly great for nightlife!
Boulevard St. Laurent – The Plateau
Plenty of clubs, bars, restaurants, and more nightlife venues to choose from!
The street (and neighborhood in which it's housed) is known for its nightlife and has a vibrant atmosphere
Particularly good area for a young professional club scene
Boulevard St. Laurent is one of the main nightlife hubs of Montreal. It runs through the heart of Le Plateau, one of Montreal's hippest and most artistic neighborhoods, and is home to a myriad of nightlife venues. Wander down for a night of clubbing at Commission des Liqueurs, or a tasty craft brew at Reservoir!
Le Village
Central location just east of Downtown Montreal
Between May and September, a main section of road is made pedestrian only and comes to life with thousands of sparkling lights
A lively atmosphere with an open and accepting vibe throughout
Also known as The Gay Village, this colorful neighborhood in Montreal has a vibrant nightlife famous for its LGBTQ friendly clubs and bars. The streets are lined with a fantastic selection of drinking establishments and restaurants, and the atmosphere is intoxicating. It's a great place to enjoy Montreal's thriving nightlife, whether or not you identify as part of the LGBTQ community.
Old Montreal
Experience the Montreal of the past and enjoy a classy evening out
Food trucks in summer make for great late night eating
The stone-walled Velvet Speakeasy is a fantastic evening venue with a great atmosphere
Old Montreal is the historic site of the original city and a cultural hub of modern-day Montreal. During the evenings, the cobblestone streets and old buildings host a classy nightlife. Here, you'll find a plethora of trendy and upscale eating establishments, clubs, and bars.
Montreal is famous for its incredible food. From traditional local cuisine to a creative and innovative modern culinary scene, this city is a foodie fantasy. And don't worry, it's not all poutine. You can eat vegan in Montreal too!
Jean-Talon Market
One of North America's largest public markets
Incredible range of culinary delights from the obscure to international favorites
Weekends are the market's busiest time, and the atmosphere is wonderfully vibrant
Located in Montreal's Little Italy district, Jean-Talon Market is an open-air food market that is open all year round! The majority of the produce is locally grown, and the food on offer is truly sensational. Hundreds of vendors offer an incredible variety of flavors, from fresh produce to wonderfully prepared culinary creations.
Local Food Tour
Delve into a journey of taste and culture as you walk through a thriving neighborhood
Six stops each offering a unique and authentic flavor experience
A three-hour tour covering around 1.4 miles (it's a walking tour, so come prepared)
This Montreal food tour takes you through Mile End, Montreal's top cultural and culinary destination. It's a thriving community of young creatives and entrepreneurs, and you'll learn all about it on this tour. You'll stop by at several foodie destinations, tasting the incredible flavors of Montreal along the way.
Bistro L'entrepont
Big portions of delicious food and good value for money
The restaurant allows you to bring your own alcohol and doesn't charge a corkage fee
Great atmosphere with a relaxed and friendly vibe
If you're after an impressive local cuisine dining experience during your weekend in Montreal, it doesn't get much better than Bistro L'entrepont. This quaint restaurant has a top-notch menu and serves some of the best local food in the city. The restaurant offers great service, a nice atmosphere, and tasty food.
Montreal is a fantastic sporting city, whether you're a team sports fan or prefer adventure activities. Despite sport being highly seasonal due to dramatic weather variations, there is always something sporty to do in Montreal!
Catch a Hockey Match
Enjoy the thrilling excitement of watching Canada's favorite sport with dedicated fans
Montreal's famous NHL team is the Montreal Canadiens
You can find fixture dates for the Montreal Canadiens on the NHL website
Hockey is by far Canada's most popular sport. This isn't field hockey; it's hardcore, fast-paced ice hockey, and it's incredibly exciting to watch. If you're a sports fan visiting Montreal in season (October – May/June), you have to catch a game of hockey. If there aren't any NHL games scheduled for when you're visiting, you could check out a minor league hockey game.
SUP, Surf, and Kayak
Admire the scenery as you Stand Up Paddle Board (SUP) or Kayak along the beautiful Lawrence river
You can even catch one of Montreal's famous river surf waves that travel right through the city
Each offers a great workout and awesome experience
The majority of Montreal is on an island, with a river flowing by it on either side. This makes it a great city for water sports (in summer, that is). KSF is an adventure tourism specialist in Montreal that offers a range of awesome water-based activities. Surf, SUP, or Kayak surrounded by the beautiful natural and man-made scenery of Montreal and one of the coolest things to do in Montreal!
Go Ice Skating
Montreal has plenty of awesome ice skating rinks and destinations, both indoor and outdoor
Parc La Fontaine is free, great for nature lovers, and located near the city center
Ice skating is a great form of exercise, and a whole lot of fun!
Montreal can get really cold in winter, but the icy temperatures don't come without benefits. Winter in Montreal means awesome ice skating opportunities. Parc La Fontaine is a large outdoor skating destination in Montreal, and one of the best places to ice skating in the city. Its rinks and ice paths are surrounded by trees and wildlife, yet it's located in the heart of the city.
Small Pack Problems? 😉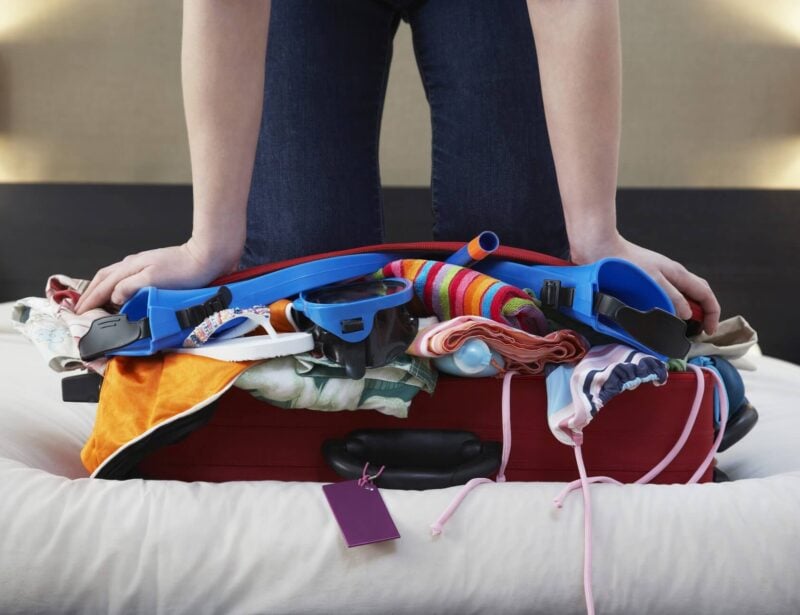 Wanna know how to pack like a pro? Well for a start you need the right gear….
These are packing cubes for the globetrotters and compression sacks for the real adventurers – these babies are a traveller's best kept secret. They organise yo' packing and minimise volume too so you can pack MORE.
Or, y'know… you can stick to just chucking it all in your backpack…
Get Yours Here
Read Our Review
Montreal is renowned around the world for its vibrant arts and culture scene. Here are some of the highlights!
House of Jazz
Delicious food and drinks are served to your table
The music is great, and the atmosphere is warm, soft, and welcoming
Open from the afternoon till late evening every day
A bar, restaurant, and landmark jazz music venue, House of Jazz in Montreal has welcomed many big-name jazz artists over the past half-decade. Each evening, the venue vibrates with the sounds of local up-and-coming jazz artists and experienced jazz masters.
Montreal Theatre
Centaur Theatre Company and the Segal Centre for Performing Arts consistently stage world-class theatre productions in English
There are many theatres in Montreal, hosting everything from big-budget international productions to local indie theatre
Watching theatre is a great way to spend an evening in Montreal, whatever the weather
Montreal is a prominent host of world-class theatre. Its theatre scene is divided into French and English language theatre production companies, and each of these communities frequently stages top-notch theatre productions. The two main English language production companies in Montreal are Centaur Theatre Company and the Segal Centre for Performing Arts.
Catch a Montreal Festival
Montreal hosts around 100 festivals each year
The majority of our favorite festivals occur in the summer months, but winter has them too!
A great range of festivals that cater to all types of interests
Montreal is known for hosting a vast array of music, culture, food and art festivals each year. During the summer months, barely a day goes by without another amazing festival hitting the streets of Montreal!
Osheaga and Jazz Fest are amongst the city's most popular music festivals, occurring around early August and late June each year respectively. But the range of festivals in Montreal is vast, from the colorful Montreal Pride and Fringe Fest to Comicon and comedy festivals, there's never a dull moment in the Montreal summer.
Travel with peace of mind. Travel WITH a security belt.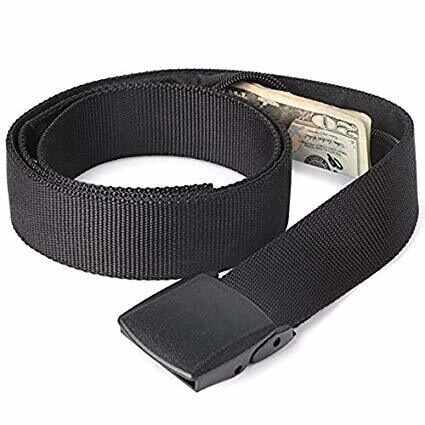 Stash your cash safely with this money belt. It will keep your valuables safely concealed, no matter where you go.
It looks exactly like a normal belt except for a SECRET interior pocket perfectly designed to hide a wad of cash, a passport photocopy or anything else you may wish to hide. Never get caught with your pants down again! (Unless you want to…)
Hide Yo' Money!
10 Other Awesome Things to do in Montreal This Weekend
That's not all Montreal has to offer; the city is packed with awesome sights and activities. We've put together 10 of our favorites below! If you decide Montreal is so lovely that you'd like to stay past the weekend, check out our Montreal itinerary for our recommendations on a longer stay.
#1 – Mount Royal
More of a large hill than a mountain, Mount Royal is located in the city just west of Downtown Montreal and stands 764 ft tall. It is Montreal's crown jewel and most beloved landmark. In fact, if it wasn't already clear, the lofty Mount Royal is where the city got its name.
Hiking up Mount Royal is a must do and a must add to your Montreal itinerary. The locals love it, it's a great bit of exercise, takes around 45-minutes, and the views from the top are truly spectacular.
Insider Tip: Mount Royal offers the best views in the city, thanks to a law that states that the buildings in Montreal may not exceed the height of the mountain!
#2 – Montreal Botanical Gardens
A popular place to visit in Montreal, Jardin Botanique Montreal is one of the largest botanical gardens in the world. With thousands of plant species and hundreds of bird species spread out across the 75-hectare grounds, the gardens offer a beautiful refuge from life in the city.
With several themed gardens, from the teleporting Chinese and Japanese gardens to the tranquil Water and Shade gardens, you'll be able to enjoy a unique, peaceful, and varied floristic journey.
#3 – Old Montreal
We mentioned Old Montreal earlier and suggested that you pay the area a visit for an evening out. But exploring Old Montreal in the day time is an even more popular tourist activity! Cobblestone streets weave between the old buildings, transporting visitors back in time.
Originally founded in 1642, this traditional part of the city comprises buildings dating back to the 17th-century. Wandering around and appreciating some of the oldest buildings in North America is a great way to spend an afternoon. There are also several museums in the area and plenty of restaurants where you can stop for a break!
#4 – Montreal Museum of Fine Arts
Much like the city in which it stands, the Montreal Museum of Fine Arts (MMFA) is a convergence of history and modernity. Founded in 1860, MMFA houses a range of local and international contemporary art as well as historic pieces from some world-famous artists, including Rembrandt and Picasso.
Seeing around 1.3 million visitors each year, the museum is spread across five pavilions in different architectural styles. It is the largest museum in Montreal, and amongst the most notable in the country.
IN A RUSH? THIS IS OUR FAVORITE HOSTEL IN MONTREAL!
#5 – The Underground City (RESO)
There is more to Montreal than what appears on the surface. An entire network of offices, shopping centers, hotels, residential and commercial complexes, universities, and venues makes up what is referred to as The Underground City.
Whilst some of it is located at ground level but covered, this sprawling interconnected metropolis of RESO lies mostly underground.
The largest of its kind in the world, RESO proves to be particularly useful in winter. While temperatures in the city above plummet, RESO remains a comfortable temperature due to being climate controlled. Visiting the underground city is an otherworldly and unique experience. You should definitely check it out.
#6 – Notre-Dame Basilica of Montreal
Nicknamed 'the city of 1,000 bell towers', Montreal is known for its myriad of stunning churches, but none are as well known or breathtaking as Notre-Dame Basilica. World-renowned as a wonder of Gothic revival architecture, the multicolored, opulent interior of the church is amongst the most beautiful and dramatic on Earth.
Entering the church transports you into an otherworldly space, filled with bright colors, sweeping pillars, and thousands of ornate wooden carvings.
One of the best ways to experience the church is at an unmissable AURA event. Taking place each night except Sundays, AURA is a spectacular show of light and sound that uses 3D projection to completely transform the inside of the church.
#7 – Montreal Biodome
Housed in a building originally constructed as a velodrome for the 1976 Olympics, the Montreal Biodome now replicates four stunning ecosystems from across the Americas. Across these four ecosystems live 4,800 animals and 1,500 plants.
Visitors are teleported from the Tropical South American Rainforest to the North American Wilderness, before being plunged into an estuary resembling the Gulf of Saint Lawrence. Lastly, the Subpolar region immerses guests in an icy habitat divided into Antarctic and Arctic replications.
#8 – Musèe d'art contemporain
Montreal's museum of contemporary art (MAC) showcases a stunning collection of contemporary art, housing over 7,000 works from more than 1,500 artists. It is also devoted to hosting contemporary performing art.
On select Friday nights, Montreal's museum of contemporary art opens its doors late into the night for a unique confluence of art, music, and live performance. Aptly named Nocturne at the MAC, the event sees DJs flood the exhibitions with tasteful tunes while patrons wander around admiring the stunning contemporary artworks and performances.
#9 – La Ronde
La Ronde in Montreal is the 2nd largest amusement park in Canada, with a wide range of awesome rides and attractions. The park is open each year from mid-May to late October and is a fantastic activity for families.
The rides range from tame rides for children to vigorously thrilling rides for adrenaline hunters. The park has some of the tallest, fastest, and wildest rides in Canada, and even has a few record-breakers!
#10 – Old Port
Originally the main port of Montreal, the Old Port has since been redeveloped and is now one of the most popular tourist attractions in Canada, with over 6 million visitors each year. It's not easy to sum up the Old Port in a few paragraphs; the area is vast and there is simply so much to do there!
From the Montreal Science Centre and the historic Clock Tower to playgrounds, pirate ships, ziplining adventures, and ferris wheel fun, the area is packed with sights and activities. Ice skating is popular in the winter and walking around, enjoying the atmosphere is awesome in summer.
Is This the Best Daypack EVER???
By now, you're probably excited and ready for your Montreal travel experience, but you may have a few questions that you want to be answered before you depart. Don't worry, our Montreal travel guide has you covered!
Don't Forget Your Montreal Travel Insurance
ALWAYS sort out your backpacker insurance before your trip. There's plenty to choose from in that department, but a good place to start is Safety Wing.
They offer month-to-month payments, no lock-in contracts, and require absolutely no itineraries: that's the exact kind of insurance long-term travellers and digital nomads need.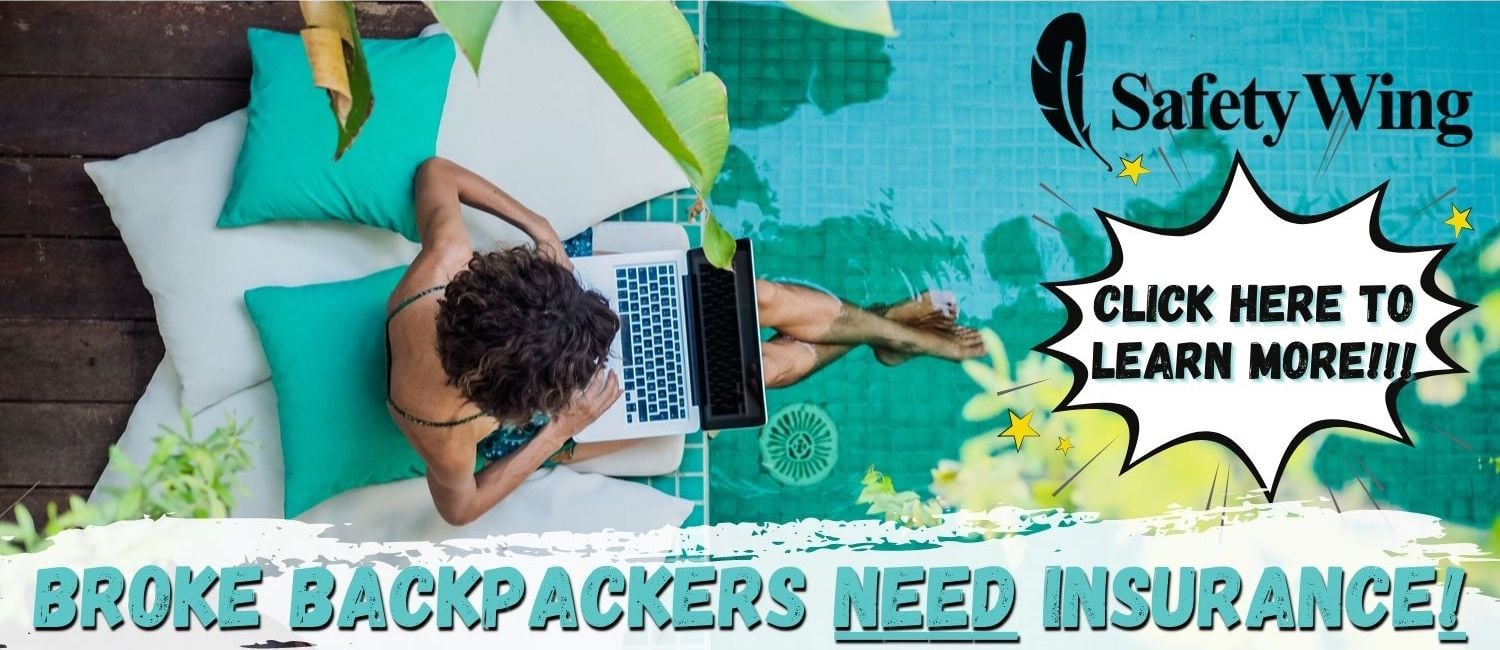 SafetyWing is cheap, easy, and admin-free: just sign up lickety-split so you can get back to it!
Click the button below to learn more about SafetyWing's setup or read our insider review for the full tasty scoop.
Final Thoughts on a Great Weekend in Montreal
Montreal is an incredible city, with so much to offer its residents and visitors. It's a city at the confluence of America and Europe and the junction of antiquity and modernity. It's a fusion across time and location, with a vibrant culture and an incredibly welcoming atmosphere.
It's an awesome city to visit for any type of traveler, from food fanatics and artistic souls to music fans and sports enthusiasts. There are beautiful sights and exceptional views, family fun, and festivals galore. You'll find a nightlife spot for any mood, plenty of sporting adventures, and a host of delicious delicacies along the way. Montreal has it all!
However you choose to spend your time there, we hope our Montreal itinerary has prepared you for an incredible weekend trip to Montreal!
---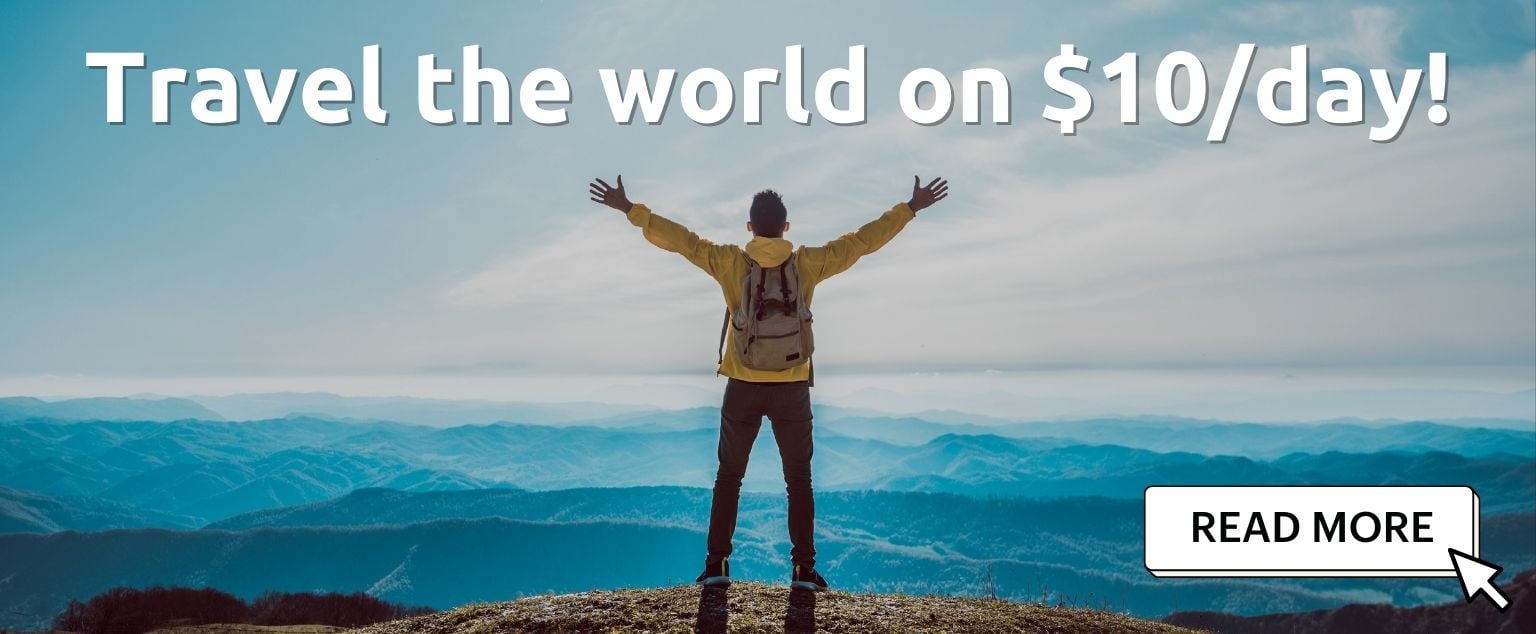 And for transparency's sake, please know that some of the links in our content are affiliate links. That means that if you book your accommodation, buy your gear, or sort your insurance through our link, we earn a small commission (at no extra cost to you). That said, we only link to the gear we trust and never recommend services we don't believe are up to scratch. Again, thank you!