In this Montreal itinerary, you'll see why Montreal is rated one of the most liveable cities, and is an important hub for commerce, arts, culture, and architecture in the Province of Quebec- the French-speaking part of Canada. With a population of just over 4 million people, Montreal is Canada's second-biggest city after Toronto, and it's the second-largest French-speaking city in the world after Paris!
The city is ethnically diverse, but there is no doubt that the French have had the biggest influence in shaping Montreal's culture, architecture, and love of food. Montreal is crazy about food! The city is bulging with restaurants and unique culinary traditions that you just have to add to your itinerary and try out for yourself when touring Montreal!
If you are planning a trip to Montreal and are busy putting an itinerary for Montreal together, check out our suggestions of places to visit in Montreal in 3 days! Whether you plan on spending a weekend or longer in Montreal, our itinerary is your perfect guide to the city.
High season in Montreal is in the summer months of June through to early September. This is when the warm temperatures make exploring the city on foot enjoyable, and a whole roster of events take place throughout the city.
The weather during the winter months can get brutally cold, but because of the ski slopes outside Montreal, the city enjoys a short busy season over the Christmas holidays. The best times to visit Montreal are from March to May, and from September to November, when the weather is milder, the ski slopes lack snow, and hotel beds are easily available.
The Fall months are a lovely time to visit even though there is a distinct lack of events taking place. It is around this time when you can enjoy colorful walks in the city's parks and the roads are less crowded for day trips into the countryside.
Check out the helpful guide below to decide for yourself when to visit Montreal!
Montreal is actually an island city, situated between the Ottawa River and St Lawrence River. It is comprised of 19 boroughs, which are further divided into neighborhoods with their own unique history, architecture, feel, and flare.
If you are planning to visit Montreal for the first time, look no further than Old Montreal (Vieux-Montreal), in the heart of the city. Many of Montreal's landmarks are dotted around this quaint neighborhood as it is the oldest district in the city. Old Montreal is known for its winding cobblestone streets, historic architecture, and vintage aesthetic.
For a fun and lively evening on the town, The Village has everything you could wish for on offer. This suburb has trendy restaurants, chic nightclubs, and a vibrant LGBTQ community.
One of the city's hippest neighborhoods, with iconic colorful row houses, is known as Le Plateau. It's loaded with dynamic cocktail bars, hole-in-the-wall hangout spots, and eclectic eateries that make it an ultra-cool area.
If you are traveling on a tight budget or backpacking through Montreal there are plenty of hostels and affordable accommodation in Griffintown. This up-and-coming neighborhood is centrally located, close to many well-known Montreal points of interest, and is friendly on the pocket.
Best Hostel In New Montreal – M Montreal
If you're looking for a great hostel look no further than the award-winning M Montreal. It offers a modern and spacious environment for travelers to hang out and relax.
M Montreal feels like a home away from home, with super comfortable beds, clean facilities, and welcoming staff. The rooftop terrace is amazing and brings together travelers from all over the world is a social and relaxed atmosphere.
Hostels are fun to stay in, and these are our top picks for the best hostels in Montreal.
For a great budget stay, choose L'Hotel Particulier Griffintown in Montreal's Griffintown District. This is an urban B&B, housed in a beautiful historic building. Guests can enjoy access to a large garden with trees and a terrace with a barbecue.
All units are fitted with a flat-screen TV and a private bathroom equipped with a bath and a hairdryer. L'Hotel Particulier Griffintown also offers a city view and is close to important Montreal landmarks.
Best Luxury Hotel in Montreal – Hotel Gault
Hotel Gault offers luxurious guest rooms, exceptional spa services, and gourmet dining options in a contemporary boutique hotel in the heart of Old Montreal.
This is one of the best places to stay in Montreal for several reasons: there's 24-hour dining service, a cozy library area with a fireplace, and on-site DVD rentals. Spacious accommodations at the hotel feature heated bathroom floors, mini-bars, flat-screen TVs, and large picture windows.
Spacious and stylish, this three-bedroom apartment in Montreal's Le Plateau neighbourhood is the best Airbnb in the city.
Great for a small family or a group of friends, this conveniently located apartment features a fully equipped kitchen, unlimited wifi, and a large private balcony. Enjoy a clean and comfortable home just minutes from the action.
Getting around and visiting various destinations on this Montreal Itinerary is a breeze with multiple forms of transport at hand to ensure you arrive safely and on time. Montreal has an affordable and convenient public transport system and prides itself on being bike- and pedestrian-friendly.
The city's transit system, called la Société de Transport de Montreal (STM), provides a bus and metro (subway) system that connects the city to all the main suburbs and tourist hubs. The metro has a simple network of just four lines, and it is a fast and clean way to get around Montreal.
Montreal boasts a whopping 480 miles of bike paths, and is one of the most bike-friendly cities in North America! Experience the city like a local and lower your carbon footprint at the same time by renting a bicycle from the many bike rental outlets, or try out the city's BIXI system.
As Montreal is an island, you can also get around via the waterways using a water taxi. They operate between the Old Port of Montréal and Parc Jean-Drapeau, Longueuil, and other points of interest along the St. Lawrence River.
Taking public transport will make getting around the city a breeze on our 2-day and 3-day itinerary in Montreal! Have a look at our suggestions for what to do an what to visit in Montreal to ensure you have a great trip!
Old Montreal | Notre-Dame Basilica | Old Port of Montreal | Pointe-a-Calliere Museum | Barbie Expo
The first day on our 2-day itinerary in Montreal is centered around the historic district of Old Montreal, getting a glimpse of the city's past, and enjoying everything the area has to offer.
Day 1 / Stop 1 – Old Montreal (Vieux-Montréal)
Why it's awesome: It's a city within a city, packed into a quaint neighborhood frozen in time.
Cost: Free
Food recommendation: Start your day off with an opulent coffee and breakfast at Tommy.
The perfect place to start your Montreal itinerary is at the site of where it all began, Old Montreal! This quaint area with its cobblestone streets, chapels and old architecture is where French settlers first built the town in 1642.
Old Montreal was once enclosed by thick, fortified walls, and was the financial powerhouse in the early days of the Dominion of Canada. The remnants of the city's past still stand today. With churches, stone warehouses, and financial houses of the 18th century standing as a testament to the city's prosperity.
The neighborhood is still alive with activity as many companies still continue to operate in the area. This is undoubtedly the best place to embark on a Montreal walking tour, be it for culinary delights or a good history lesson!
If you have time, search for a great deal in the bargain clothing stores, take a horse-drawn carriage ride around the cobbled streets, or come back in the evening and enjoy a drink at one of the many lively bars!
Insider tip: Make sure you take a walk down St Paul Street, one of the most iconic streets in Montreal. You'll find art galleries, restaurants, the Bonsecours Market, and the Notre-Dame-de-Bon-Secours Chapel.
Day 1 / Stop 2 – Notre-Dame Basilica
Why it's awesome: A grandiose church comparable with some of the most exquisite in Europe.
Cost: $6 USD
Food nearby: Indulge in a sweet or savory crepe at Crêperie Chez Suzette just around the corner.
The next stop on our Montreal itinerary is one of the most visited of all Montreal attractions. The Notre-Dame Basilica is Montreal's oldest church and one of the most awe-inspiring churches in North America.
The Gothic Revival-style church opened to the public in 1829 after construction began in 1824. The interior is adorned with detailed statues, intricate carvings, and thousands of beautiful gold stars studded on the ceiling.
Notre-Dame is a grand old lady with some impressive features. Two imposing 228-foot towers soar above the skyline, the impressive Casavant Frères pipe organ dominates the front of the 3,200 capacity church, and the base bell weighing 12 tons is the largest in North America!
Interestingly, the stained-glass windows along the walls of the sanctuary do not depict scenes from the bible, but rather scenes from Montreal's own religious history. The Chapelle Notre-Dame-du-Sacre-Coeur (Our Lady of the Sacred Heart Chapel) is a very popular venue for weddings, and it's where some of Canada's biggest celebrities have tied the knot!
Insider tip: Be sure to catch "Aura," the 40-minute multimedia spectacle that celebrates the basilica's exquisite features through light and sound.
Day 1 / Stop 3 – Old Port of Montreal
Why it's awesome: Take advantage of one of the many fun activities on offer in the vicinity of the Old Port.
Cost: Free
Food nearby: Grab a drink and a contemporary Canadian dish at Terrasses Bonsecours on the water's edge.
The Old Port of Montreal was once the city's commercial hub. It's now Montreal's favorite waterfront park and one of the most popular tourist attractions in Canada! There are over 50 fun-filled activities to enjoy in the area, from carnival rides to water sports.
A stop here is a great way to enjoy the St. Lawrence River. For a relaxing time, you can rent a pedal boat, catch a ferry to Île Ste-Hélène, or enjoy a leisurely dinner cruise. More action-packed activities include river rafting and riding a jet boat through the turbulent Lachine Rapids!
On land there is also lots to keep yourself entertained with, like taking a ride on the tallest Ferris wheel in Canada, the Grande Roue, sunbathing at Clock Tower Beach, and perusing the many art displays and street shows. Warships from the Canadian and other national navies often dock here and allow the public to explore their decks.
On fair weather days, you can rent a bicycle or a pair of in-line skates and explore the waterfront at your leisure, and in winter you can skate on the outdoor rink. For a bit of silly fun, head to Shed 16 and get lost in the Labyrinth, a maze of alleys and obstacles built inside an old waterfront warehouse!
Day 1 / Stop 4 – Montreal Museum of Archaeology and History (Pointe-a-Calliere Museum)
Why it's awesome: Visit the actual foundations of the city, see the layers of Montreal history and walk around the old sewers beneath ground level.
Cost: $16 USD
Food nearby: Sit down to an eclectic seafood dish at the stylish SeaSalt & Ceviche Bar one block over.
The Museum of Archaeology and History is a great place to begin discovering Montreal and its past. A short elevator trip underground reveals a hidden world of ruins and ancient artifacts. The experience starts with an immersive multimedia show presenting a time-lapse of the city's history and life throughout the ages.
Archaeological digs reveal the foundations of the original settlement, established in the 17th century. As well as the many other layers of the city's development, from a small colony to the thriving city is is today. Visitors even get the chance to walk through the original underground sewer system, from one exhibit to another.
There are numerous period fairs in the summer months as well as temporary local and international exhibits on display year-round. The displays are well designed and engaging in manner, giving you some needed background to the city on your Montreal itinerary!
Day 1 / Stop 5 – Barbie Expo
Why it's awesome: See Barbie like never before, dressed to the nines in designer outfits.
Cost: Free
Food nearby: Enjoy a fine seafood meal at the acclaimed Ferreira Café, across the road from the mall.
If you love fashion then you'll love a quick stop at the Barbie Expo, located in Les Cours Mont-Royal, an upscale shopping mall in the heart of downtown Montreal. This is more than just a Barbie exhibition, but rather a cleverly disguised advertisement that showcases the haute couture fashion available at the exclusive flagship boutiques found at the mall.
There are over 1,000 Barbies on display, the largest permanent collection in the world, each dressed up in an intricately designed outfit representing a different nationality, profession, or fashion era. Some adorn clothes designed by famous fashion designers including Christian Dior, Donna Karan, Armani, Ralph Laurent, Vera Wang, Bill Blass, Oscar de la Renta, and Christian Louboutin!
There is a fashion show with Barbie models walking down the catwalk presenting the latest in high-fashion wear, and a delighted Barbie audience looking on in admiration. What would a Barbie expo be like without celebrity-themed Barbies resembling mega-stars such as Marilyn Munroe, Elizabeth Taylor, and Cher on display?
The expo has the ability to induce nostalgia, and is a good alternative to keep yourself entertained while your significant other is browsing through the designer label stores of the mall.
Montreal Museum of Fine Arts | Mount Royal Park | Saint Joseph's Oratory of Mount Royal | Jean-Talon Market | Montreal Botanical Garden
The second day of our Montreal trip itinerary combines art, culture, good food, and plenty of walking to give you more of what this city has to offer.
Day 2 / Stop 1 – Montreal Museum of Fine Arts (Musée des beaux-arts de Montréal)
Why it's awesome: The most impressive collection of fine art in all of Canada, spread out over five buildings.
Cost: $17 USD
Food nearby: Have a healthy smoothie or plant-filled meal at La Panthère Verte, an eco-conscious vegan cafe and juice bar further down Sherbrooke Street.
The second day of this Montreal itinerary begins with a dose of culture at the Montreal Museum of Fine Arts.
Montreal's premier fine arts museum is proudly one of Canada's most visited museums, and has been showcasing an assortment of fine arts for over 150 years! Located on the historic Golden Mile Square, the Montreal Museum of Fine Arts is spread out across five pavilions, all linked by underground tunnels.
A visit here will thrill the senses with various artistic disciplines on display including art, music, film, fashion, and design. It houses some of the finest Canadian art and also an impressive collection of international works. It includes pieces by renowned artists such as Rembrandt, El Greco, Renoir, Cézanne, and Picasso.
There are also other notable works in the museum's collection that include 18th-century English porcelain, World War I artifacts, and furniture designed by Frank Gehry.
The MMFA complex includes Bourgie Hall, a 460-seat concert hall, and the Michel de la Chenelière International Atelier for Education and Art Therapy, the largest educational complex of its kind in North America.
Day 2 / Stop 2 – Mount Royal Park
Why it's awesome: Escape the city and stretch your legs in the park locals fondly call 'the mountain.'
Cost: Free
Food nearby: Have lunch with a view at Mount Royal Chalet, a cafe inside Mount Royal Park with sweeping views of the city below.
If you enjoy a natural oases in the urban jungle, don't even think about missing the next stop on our Montreal itinerary!
Mount Royal Park is a well-loved, freely-used natural park in the center of the city. Inaugurated in 1876, the park was designed by Frederick Law Olmsted, the same designer behind New York's Central Park.
The park is situated on a mere 760-feet high mound of basalt-like rock, and locals affectionately refer to it as their mountain. It's a refuge and a pocket of wilderness within the city, where you can go to relax, unwind, admire the nature, and the city below.
There are loads of enjoyable routes to walk that make you feel like you're venturing down a quiet country lane, with grassy lawns to settle down for a picnic and a lake that attracts waterbirds. In winter the park is a great snow-covered wonderland where you can cross-country ski, skate at Lac-aux-Castors, and toboggan or sled down some slopes.
Insider tip: If you want to explore with minimum effort, you can hire the services of a horse-drawn carriage (or a sleigh in Winter).
Day 2 / Stop 3 – Saint Joseph's Oratory of Mount Royal (L'Oratoire Saint-Joseph du Mont-Royal)
Why it's awesome: The largest cathedral in the world dedicated to Jesus' father, Joseph, with a beautifully decorated interior and glorious city views from the domed roof.
Cost: Free
Food nearby: For some Parisian-style pastries or savory deli meals head to Duc de Lorraine, North-east of the cathedral.
Close to Mount Royal is the aptly named Saint Joseph's Oratory of Mount Royal. This grand cathedral is dedicated to Saint Joseph, the patron saint of Canada, and is the largest shrine of its kind in the world!
The Oratory was built in an Italian Renaissance style with a huge copper dome rising 318 feet high! From the top you can enjoy beautiful panoramic views of the city and surrounding areas. Luckily, there is a shuttle to take you to the top if you don't feel up to climbing the Basilica's 99 steps.
The interior of the cathedral is intricately decorated with carved murals, and the votive chapel houses no less than 1,000 candles! There is also an Oratory museum that features nativity scenes from around the world.
St Joseph's Oratory receives several million visitors a year and welcomes both the devout and the non-religious to discover the cultural and spiritual treasures within its walls.
Day 2 / Stop 4 – Jean-Talon Market
Why it's awesome: A concentration of all the different cuisines offered in Montreal and a meeting place where everyone will be well-fed and happy.
Cost: Free
Food nearby: Choose your meal among the biggest variety of food under one roof.
For a buzzing atmosphere and a social gathering point, try out the Jean Talon Market. It is a great place to mingle with Montrealers and taste all the lovely local delicacies!
This open-air market is one of the largest public markets in North America. In a city that prides itself on gourmet delicacies, this is a must-visit for anyone looking to stimulate their culinary senses! Browse the market for fresh produce, meats and cheeses, taste the best local dishes in Quebec, or indulge your sweet tooth at one of the many food stalls that occupy the market.
The Jean-Talon Market is not a quick stop, 'take a picture and leave' type attraction on the Montreal itinerary, instead, it's a place to experience an authentic piece of Montreal's culture, interact with others, and see locals go about their daily business. A must-do for any 'foodie' itinerary for Montreal!
Day 2 / Stop 5 – Montreal Botanical Garden (Jardin Botanique de Montréal)
Why it's awesome: Regain your zen surrounded by 190 acres of calm paradise.
Cost: $15 USD
Food nearby: Stay a little longer and enjoy a meal at the Restaurant Jardin Botanique inside the botanical gardens.
The final stop on day two of the itinerary is for all the nature-lovers, botanists, naturalists, and romantics!
Recognized as one of the world's greatest botanical gardens, the Montreal Botanical Gardens is one of the city's jewels and is a place you should visit on a pleasant day. With a collection of 22,000 plant species and cultivars, 10 exhibition greenhouses, a tree house, and more than 20 thematic gardens spread out over 190 acres, it's a perfect place to enjoy the fresh air and natural beauty!
Spend some time strolling through the tranquil bonsai trees in the Japanese Garden, learn about the principles of yin and yang in the Chinese Garden, and don't miss the ever-popular toxic plant garden. Another fascinating feature is the Insectarium, one of the largest insect museums in North America, with more than 250,000 specimens of living and naturalized insects!
Insider tip: Make sure you wear some comfy shoes and maybe pack some snacks for a picnic in the lush grounds.
Montreal Olympic Park | Parc Jean-Drapeau | Montreal Science Centre | Flavors of Montreal Walking Tour
If you plan on spending more than a few days in Montreal, don't worry, there is still lots more to see and do! For your convenience, we have included extra points of interests in Montreal to provide the perfect three-day itinerary in Montreal!
Montreal Olympic Park
The site of the 1976 Summer Olympic Games
Admire Montreal from atop the highest inclined tower in the world
Take a tour of the stadia and emulate the athletes that stood upon the medal podium
This one is for the fans, specifically sports fans! Montreal's Olympic Park was the site of the 1976 Summer Olympic Games, with the original stadia from the Games still hosting events and welcoming visitors to the precinct.
One of the main attractions of the park is the 165 meter-high Montreal Tower, an architectural work of art and the tallest inclined tower in the world! A glass-enclosed funicular transports visitors to the observatory at the top of the tower, providing spectacular panoramic views over the city. From up here, you overlook the Stadium, Esplanade, and other incredible structures that make up the Olympic Park.
The Olympic Stadium is a unique monument and now an international symbol for Montreal. It is the largest covered amphitheater in the province of Quebec, and it continues to host major sporting events, concerts, and exhibitions.
The outdoor spaces of the Esplanade are open to anyone. The four levels combined make a unique public space that accommodates a range of cultural and sporting activities throughout the warmer months. While not much happens here on a typical day, it is interesting to see and a good place to chill out with friends or family.
Parc Jean-Drapeau
See the dome of the Biosphere Environmental Museum, built for the 1967 world expo.
Wander around the miles of paths in the natural parks.
Visit the scenic Circuit Gilles Villeneuve, the scene of the Canadian F1 Grand Prix and NASCAR races.
This stop on the Montreal itinerary is best experienced at your own speed, as you can easily spend half a day exploring the two islands and their many sights!
A jewel in the St. Lawrence River, the two islands of St Helene and Notre-Dame combine to form Parc Jean-Drapeau. The park was named after the former mayor of Montreal who commissioned the metro and brought the 1967 World's Fair and 1976 Olympic Games to the city!
Here you will find an urban park with miles of walking and cycling paths that take you all around the islands. The park includes an amusement park, colorful flower gardens dotted with public art, and the Circuit Gilles-Villeneuve.
If you are feeling lucky, then have a gamble at the Casino de Montreal, or brush up on your military history at the Stewart Museum. Bring out the child in yourself and have some fun at La Ronde Amusement Park, have a splash at the water park, or just enjoy a tranquil lie-down on Jean-Dore beach!
Parc Jean Drapeau has a whole host of cultural and sporting programmes that take place throughout the year, so be sure to have a look at the schedule of events when you visit Montreal!.
Montreal Science Centre
Watch a documentary in 3D in the huge IMAX cinema.
Overcome your fears and learn all about the fascinating world of spiders (main exhibit).
Experience science in action at one of the many permanent science displays.
Satisfy your scientific curiosity with a trip to Montreal Science Museum, located at the Old Port. This stop on the Montreal itinerary is recommended for all ages, and is a great way to keep children entertained and allow them to learn in a fun and interactive environment, even when on vacation in Montreal.
The Science Center sits on a pier overlooking the St. Lawrence River, enclosed in a large glass and steel exterior. It is a modern establishment with lots of fun and interactive exhibits that indulge the senses and provide an immersive experience.
You could find yourself riding a unicycle on a high wire, walking into a large bubble, and viewing pictures of yourself aging in a progression machine. Cutting-edge responsive technology is cleverly employed and brings to light the work of Canadian innovators and where technology could lead us over the next century.
Check out what's showing at the state-of-the-art IMAX theatre, and make sure to watch a fascinating film if you have the time!
Flavors of Montreal Walking Tour
Explore the streets of Old Montreal.
Stop at various locations to sample the culinary delights.
Learn about the history of Montreal's gourmet food scene.
What better way to get a taste of Montreal than on a walking food tour! The city is rich in delicious flavors and variety of delicacies.
A walking tour of Montreal's culinary scene will take you to numerous locations, where you get to sample a delicious array of French-inspired plates and experience the eating culture of the city first-hand. You don't have to be a foodie to enjoy the tour, as there is also plenty of interesting history behind the arrival of the various cuisines.
The cobblestone streets of Old Montreal makes for a fantastic setting to learn about the long-standing French influence on the city's culinary scene, and how the World's Fair in 1967 expanded the palates of local residents. This historic district also happens to be home to some of the city's finest boutique food sellers and patisseries, some of which have been providing excellent food for over a century!
A tour like this is a real treat, where you can expect to taste some fine smoked meats, cheeses, pastries, and pates. Combine this tour with another stop on the Montreal itinerary, and you'll find it a great way to spend one day in Montreal!
Overall, Montreal is a safe city with a low crime rate and friendly residents that only add to the attraction of the city. However, some petty crimes and theft are frequent as in any other major city, so tourists should keep an eye on their valuables.
Cases of pickpocketing are common around restaurants, cafes, and markets where thieves are known to take valuables from purses and pockets. It is, therefore, advisable to keep your valuables close to you and out of sight in these areas.
Visitors must also be aware of the threat of natural disasters when touring Montreal. It is common for temperatures to dip below freezing in winter with ice storms and blizzards posing real hazards. Flooding is possible in spring, and it is also possible for earthquakes to occur anytime of the year.
Don't Forget Your Travel Insurance for Montreal
World Nomads' mission is to support and encourage travellers to explore their boundaries. They offer simple & flexible travel insurance, and safety advice to help you travel confidently.
They've been doing it since 2002 – protecting, connecting, and inspiring independent travellers just like you.
Get a quote below or read our in-depth review!
World Nomads provides travel insurance for travelers in over 100 countries. As an affiliate, we receive a fee when you get a quote from World Nomads using this link. We do not represent World Nomads. This is information only and not a recommendation to buy travel insurance.
If you are looking to use Montreal as a base for exploring the countryside or for seeing the rest of Quebec, check out these great options for day trips from Montreal!
Quebec City & Montmorency Falls Full-Day Tour
On this full day tour, you'll get the chance to explore the history of Quebec City and discover the birthplace of French civilization in North America.
You'll see notable historic streets and buildings on the tour. It includes the Palace Royal and Vieux-Quebec (Old Quebec), the oldest public stairs at Escalier Casse-Cou, the elevator linking Lower and Upper Quebec, and panoramic views of Chateau Frontenac hotel.
Along the way, there will be time for lunch, shopping, spirit tasting, and some fun at the Winter Carnival. The last bit of the tour stops at the Ile D'Orleans, as well as the magnificent Montmorency Falls where the more adventurous can attempt to climb the frozen ice.
Laurentian Mountains Fall Leaves Full-Day Tour from Montreal
Enjoy a day out in the countryside surrounded by the beautiful backdrop of the Laurentian Mountains, where you'll find a smattering of remote villages less than an hour from the city. The Laurentian Mountains are fondly renowned as Montreal's four-season playground because of its various ski slopes and outdoor activities.
The tour includes stops at the charming villages of Saint-Adolphe-d'Howard, and then St. Agathe des Montsat where you will be treated to a boat cruise around Lac-des-Sables. Lastly, there is a photo stop at the lovely town of Saint-Sauveur before returning to Montreal.
Rivière-du-Loup: Whale Cruise & Bus Transport from Montreal
This tour takes you right up the St. Lawrence River to the little town of Riviere-du-Loup, 4.5 hours away by bus. From here you board the AML Levant for an incredible whale watching experience.
The vessel will make its way into the heart of the Saguenay-St-Lawrence Marine Park, where there is a bounty of marine life and a good chance of encountering the giants of the sea. Lunch is provided onboard and a professional guide is on hand to point out the various marine wildlife and share a history of the region.
After a few hours at sea spotting mink, fin, beluga, and possibly humpback whales, you will depart back to the city, stopping for a delicious meal along the way.
Ottawa: Ultimate 4-Hour City Tour
If you are interested in exploring Ottawa, the capital city of Canada, there aren't any tours departing from Montreal, but getting there by public transport is fairly quick and easy!
Ottawa has so much to see and do, so we recommend a half-day tour that will allow you to visit some of the city's most popular attractions and landmarks. The main stop is at Parliament Hill where you'll get a great introduction to the city and an opportunity to explore Canada's parliament buildings.
This tour includes a 1.5-hour river cruise giving you a different perspective of the over 55 must-see sites throughout the capital city! These include everything from Chateau Laurier Hotel and Rideau Falls to the Supreme Court of Canada and the Prime Minister's House.
Montreal: Private Tour with a Local
If you think a tour of Montreal would be better with a local, or want to find additional hole-in-the-wall spots, then we suggest a private tour.
Learn about the best places to eat and buy groceries, the easiest ways to get around, and more unusual things to do in Montreal. This tour is customizable to fit your every need, and can last between 2-4 hours long!
By the end of the tour, you'll feel more comfortable navigating the city, and confident that you have seen all that Montreal has to offer!
Find out what people want to know when planning their Montreal itinerary.
Conclusion
By now you should have all the information you need to have a great vacation in Montreal!
Montreal may well be Eastern Canada's most popular city to visit, and you'll easily see why. Its diverse population of friendly locals, quaint neighborhoods, impressive architecture, and amazing food options combine to make Montreal a great holiday destination!
If you are backpacking through Canada, and are moving onto other cities, be sure to check out our Backpacking Canada Travel Guide for more travel itineraries, places to visit, and information on where to stay and cost of travel!
---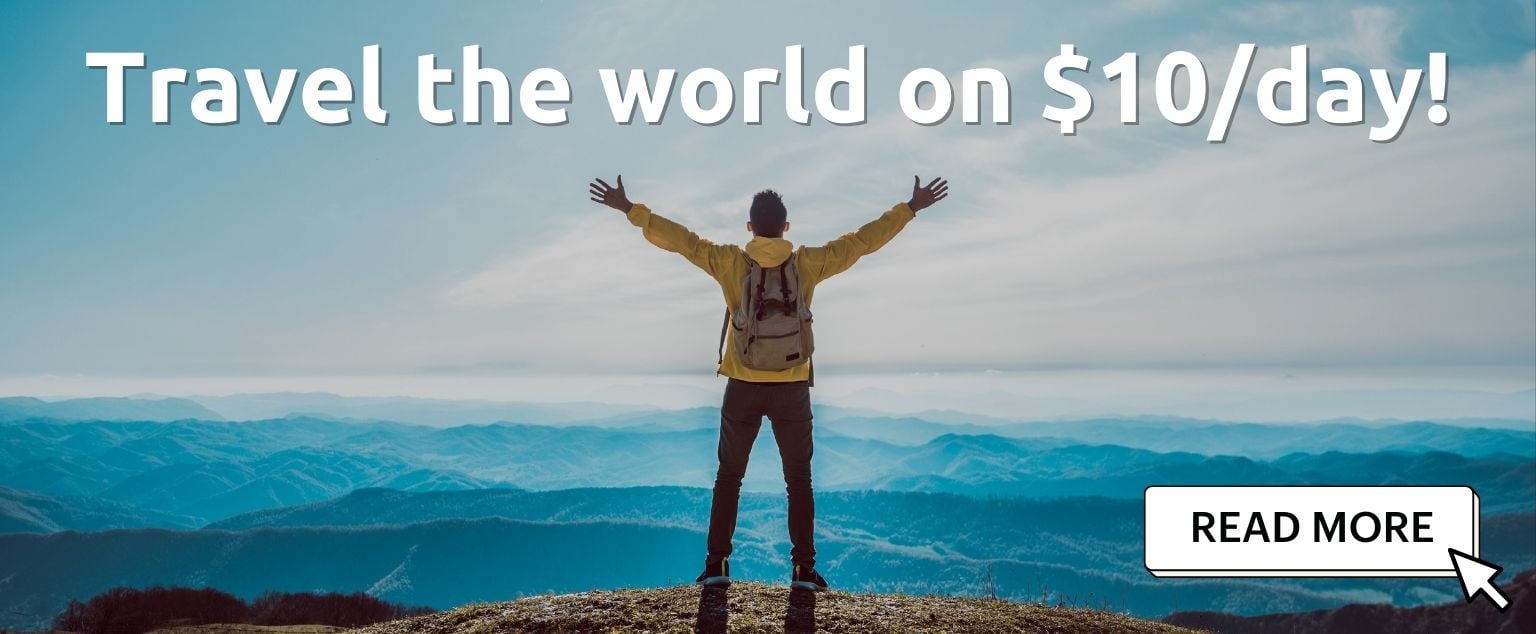 And for transparency's sake, please know that some of the links in our content are affiliate links. That means that if you book your accommodation, buy your gear, or sort your insurance through our link, we earn a small commission (at no extra cost to you). That said, we only link to the gear we trust and never recommend services we don't believe are up to scratch. Again, thank you!