Canada's second-largest city and the largest in Quebec province is buzzing with cool things to do. This extremely walkable city blends old and new – an ultramodern skyline meets quaint and traditional 18th-century architecture.
The cobblestone streets of the Old City open up onto lively market places and there are more than your fair share of world-class museums! Once you've had enough of the city, get out to Parc du Mont-Royal, where you can enjoy a decent hike.
With everything going on here, you'll need a cool place to stay. Rather than a hotel or a hostel, why not treat yourself to somewhere with a bit of character and charm? Rentals in Montreal are a great way to find the perfect place to stay.
From cool downtown lofts to friendly and authentic homestays, there really is something for everyone when it comes to Montreal Airbnbs.
Rather than letting you spend ages trawling through the web, I've put together this list of the 15 best Airbnbs in Montreal. I've taken a load of different budgets, travel styles, and personalities into consideration to help you find the place perfectly suited to you.
Quick Answer: These are the Top 5 Airbnbs in Montreal
OVERALL BEST VALUE AIRBNB IN MONTREAL
OVERALL BEST VALUE AIRBNB IN MONTREAL
The Montreal Mariner Loft
> $
> 3 Guests
> Air conditioning
> Light and airy décor
BEST HOMESTAY IN MONTREAL
BEST HOMESTAY IN MONTREAL
Spacious Room in Dowtown
> $
> 2 Guests
> Fully equipped kitchen
> Friendly and helpful hosts
BEST AIRBNB FOR COUPLES IN MONTREAL
BEST AIRBNB FOR COUPLES IN MONTREAL
Charming Little Studio
> $$
> 2 Guests
> King Bed
> Comfortable office space
BEST AIRBNB FOR FAMILIES IN MONTREAL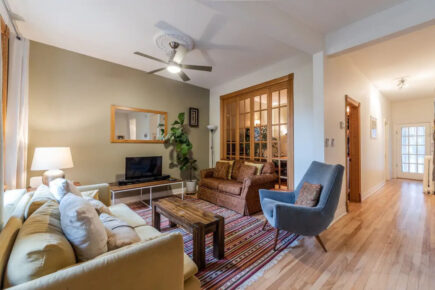 BEST AIRBNB FOR FAMILIES IN MONTREAL
Beautiful House w/ Garden
> $$$
> 6 Guests
> Seated Dining Area
> All essentials included
BEST LUXURY AIRBNB IN MONTREAL
BEST LUXURY AIRBNB IN MONTREAL
Pristine Downtown Penthouse
> $$$$$
> 4 Guests
> Fully equipped kitchen
> Security cameras in common areas

Unlock Our GREATEST Travel Secrets!
Sign up for our newsletter and get the best travel tips delivered right to your inbox.
What to Expect from Airbnbs in Montreal
Montreal is a vibrant French Canadian city with so much to offer. From the rivers and lakes, and artsy downtown to the historic cobbled streets of old Montreal, there is literally something for everyone, and the same goes for the accommodation options too!
The cosmopolitan city is filled with towering buildings that host stylish condos and apartment rentals of all styles, while downtown Montreal has quirky urban lofts that range from budget one-bedrooms to luxurious multi-bedroom lofts.
When you are looking to be in the heart of the action you can find a ton of options in Old Montreal. For those who want something a bit more chill and peaceful, there are some family-friendly neighbourhoods located a few metro stops out of the city centre.
Wherever you choose to stay in Montreal, its public transport network is great for getting you to all the best sites.
But before you go booking a place to stay, let's take a quick look at the most common types of vacation rentals in Montreal.
Condos, Apartments and Lofts
Condos and apartments are prime real estate in Montreal and the ideal vacation rental for those who want a modern, luxury and central stay.
Think panoramic city views, all the amenities and easy access to all the must-see places in Montreal. If you want to kick things up a notch, you can opt to stay in an entire loft apartment.
These are two-floor apartments that often have one or two bedrooms. They are most commonly found in Old Montreal and downtown areas. Whether you're backpacking Montreal or travelling as a family, you'll find a loft for you.
If you are traveling alone and want an entire rental unit to yourself, the good news is you don't have to splash out on a luxury condo as many condos, apartments and lofts are just as affordable as a hotel.
Private Rooms
Private rooms are another great option for budget travelers in Canada or those travelling alone, as you get to share an apartment with a local host and sometimes other travelers. They have similar luxuries to apartments and condos but without a hefty price tag.
If you are wanting to be in the city center this is an affordable way to do it, since private rooms can be found all over the city.
Have your own space to lounge and rest, as well as communal spaces where you can meet the host or other renters. Just make sure you have your own private en suite bathroom so you don't have to share with strangers.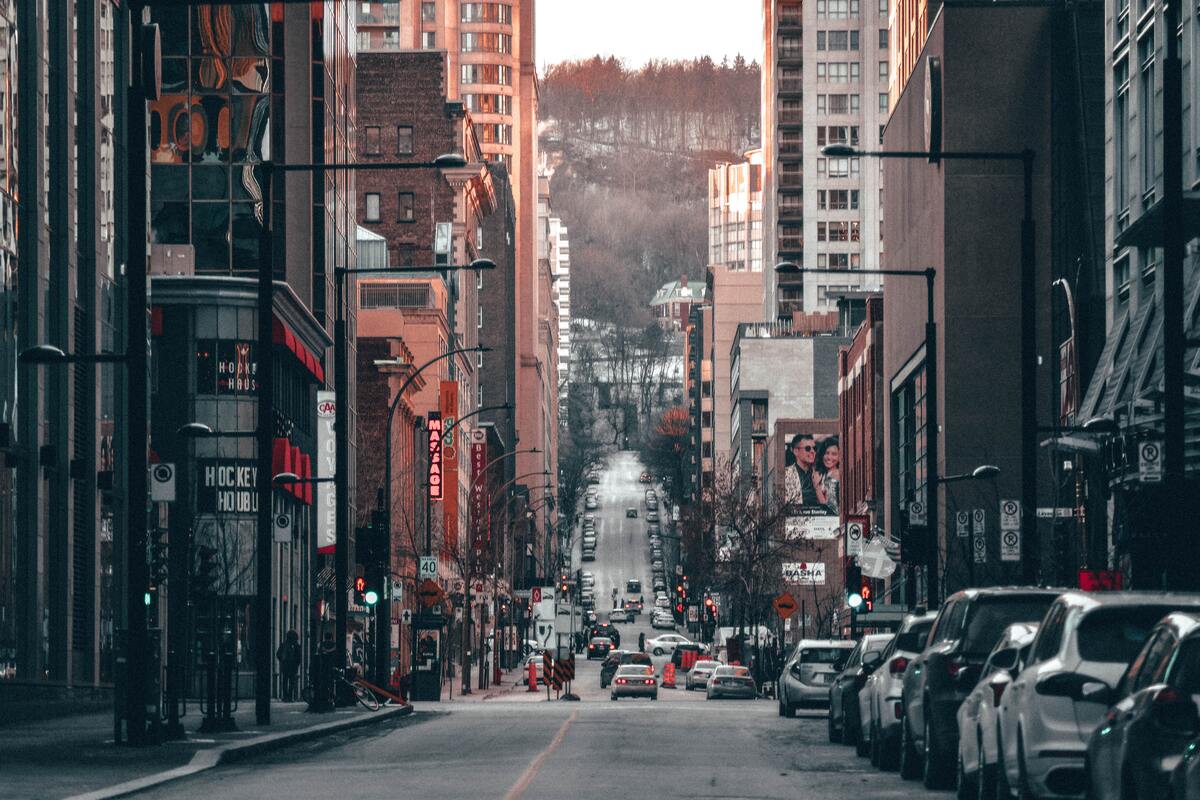 Entire Homes
If you're visiting Montreal with a large group or a family, you might find an entire house much more comfortable. You can find modern spaces, traditional cozy homes, cabins and everything in between.
They nearly always come with a fully equipped kitchen, living areas, and good-sized bathrooms. If you have kids, make sure to look for one with a yard so they can run around and play. These are the most expensive type of home in Montreal so wouldn't be ideal for solo travelers or couples.
Why Stay in an Airbnb?
I can think of many reasons why you should choose a Montreal vacation rental over a hotel, but here are just a few…
Local Experience: Having a local as a host means you can find out all the best places to visit and things to do that are off the beaten tourist track. That doesn't just go for Montreal, but for all travel destinations in the Canada.
Unique Properties: A vacation is a break from the norm, so why not stay in a property that reflects that? Airbnb is where to find the coolest and most unusual places to stay!
Privacy: Cabins, chalets, and treehouses mean you and your companion(s) can get the break you need without anyone else interfering.
Affordability: When it comes to value for money, Airbnbs offer so much more than hotels at the same price.
Airbnb Experiences: It's not all about where to stay – check out what there is to do in the area with Airbnb Experiences!
The Top 15 Airbnbs in Montreal
Now you know what to expect from Montreal Airbnbs, it's time to take a look at the best ones!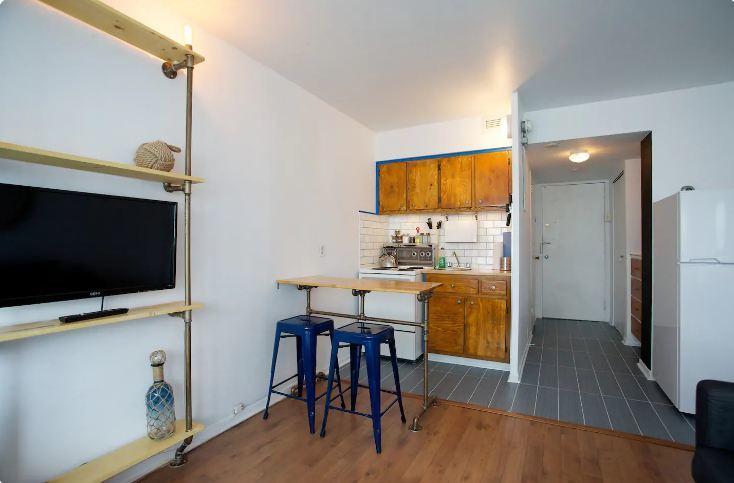 3 Guests
Light and airy decor
Let's kick off with the best value Airbnb in Montreal. For a relative pittance, you can have a cool, cosy, and comfy studio apartment with space for up to 3 guests.
This nautical-themed accommodation is just a hop, skip, and a jump from the world-famous McGill University, Mount Royal Park and the Old Port making it the ideal base for exploring this magnificent city.
You've got plenty of facilities too – couples will love the space, while digital nomads will be delighted with the laptop-friendly workspace! If you're unsure about where to stay, you can't go wrong here!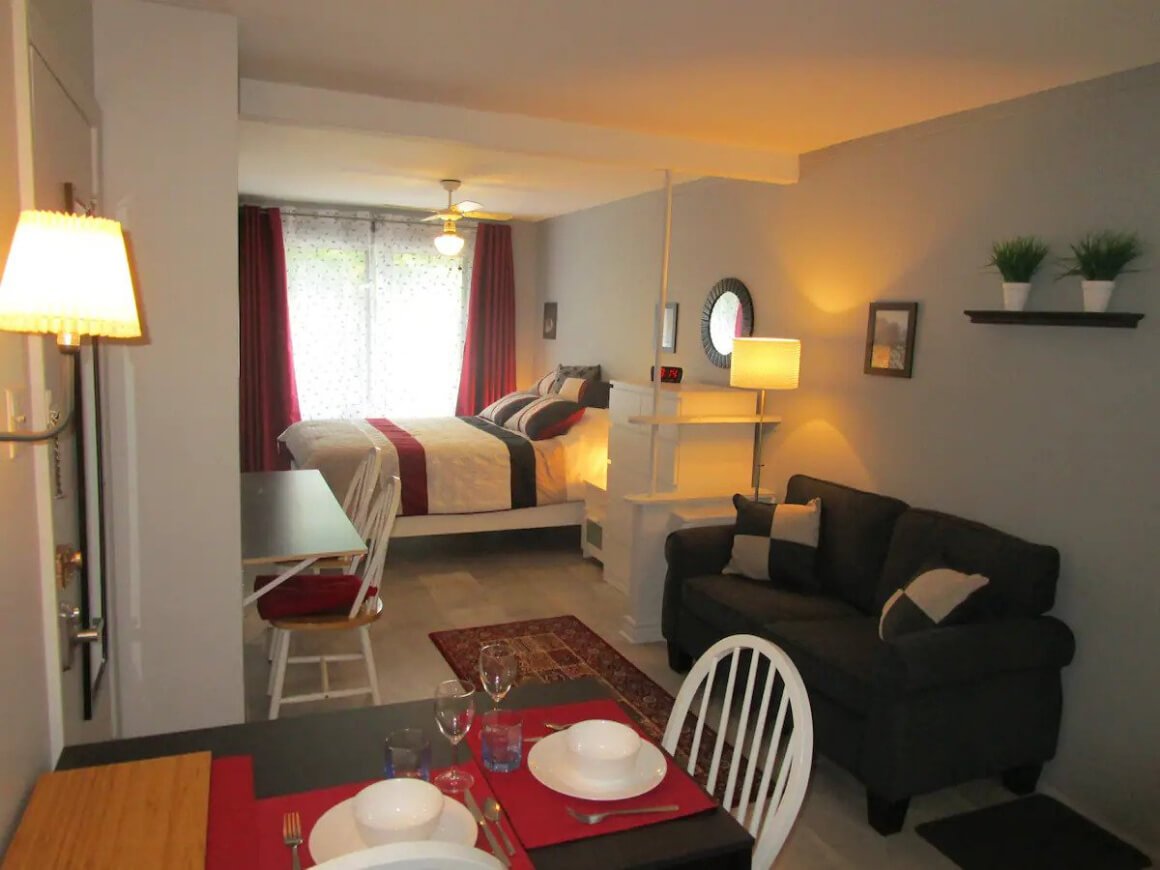 $
Great location in La Petite Partrie
It can be pretty expensive to travel in Canada, but I've found an Airbnb in Montreal that will take away any nagging money worries away for the length of your stay! There's space for up to two people in this cosy studio in La Petite Partrie.
Located a little way out of the city center, you can save money on accommodation, avoid the loud honking of the city and be within walking distance of Montreal's attractions like Mont Royal Park. Sounds great, right?
You've got a fully equipped kitchen to prepare your meals! Not only that, but you can use the clothes washing facilities too!
Perfect Short Term Rental for Digital Nomads | Artsy Loft Apartment
$
Laptop friendly workspace
2 Guests
Great location in Quartier des Spectacles
Fast and reliable Wi-Fi and a laptop-friendly workspace are the key amenities for a digital nomad. Anything else is a bonus, and there are plenty of those in this awesome stylish apartment!
Decorated with artsy and contemporary furnishings, and with enough space to play football in your living room, you'll be able to make yourself feel right at home here. There's a comfy double bed, and a fully equipped kitchen.
Since you're in the Quartier des Spectacles district, you are within easy walking distance of the Old Port and Plateau Mont Royal.
Is This the Best Backpack EVER???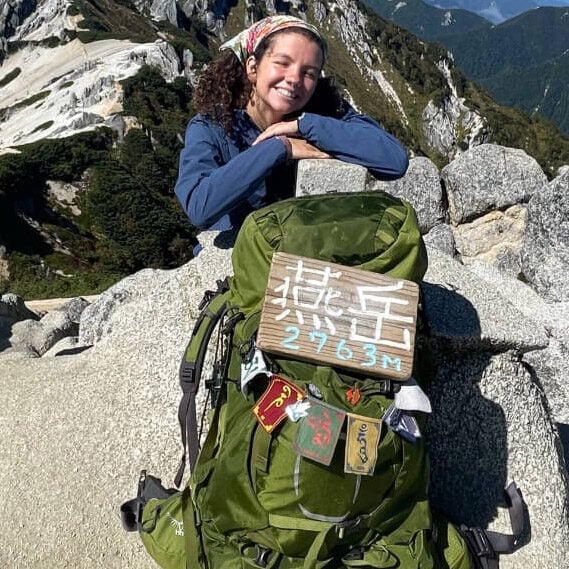 1 Guest
Chance to meet other travellers
If you're travelling solo, most people will encourage you to go to a hostel. However, we understand that's not for everyone. Thankfully, this Montreal apartment is a great alternative as it's cheap, you've got a friendly host, and you might just bump into some other travellers in your accommodation!
You're also just 1 minute away from the famous St. Denis Street where there are some great bars and places to eat. So, if there's no-one else in the apartment, you've got a back up for meeting new people!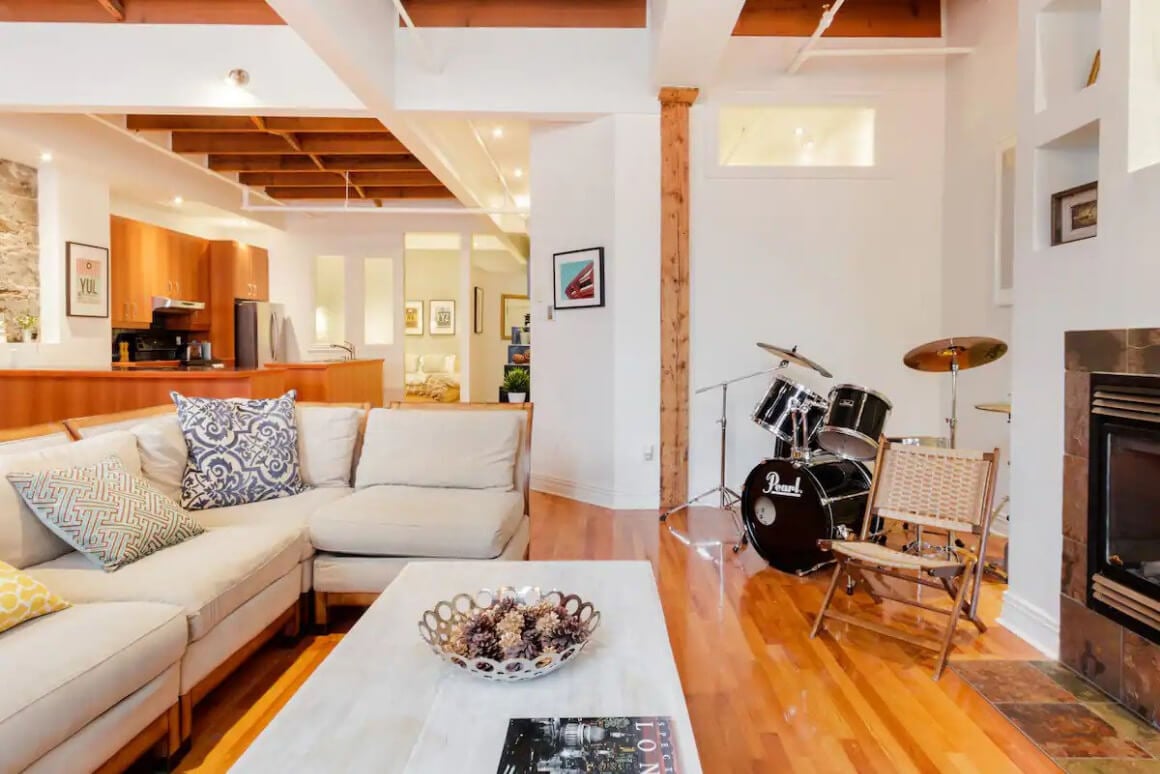 2 Guests
Located in Old Montreal
Not only is this place right near to the city's best nightlife, but you're located in the heart of Old Montreal near all the museums, perfect for day time too!
With designer furnishings and state-of-the-art amenities, you'll feel right at home in this airy loft. With a drum kit, smart TV and a deep bathtub, you've got all you need to keep you entertained before hitting the town.
There's space for 2 guests, but if you meet some friends, the living area is the place to have pre-drinks. The following day, rustle up something tasty in the fully equipped kitchen and kiss goodbye to that wretched hangover!
2 Guests
Comfortable office space
If you're travelling with your other half, you won't want just any old double room, right? Well luckily, this is quite a nice space for two with a king bed!
This is not only a great spot for couples but a fabulous Montreal Airbnb for business travellers to. That's because it comes equipped with a comfortable office space!
Also, you'll be treated to a hot breakfast if you're staying here too, while you can prepare lunch and dinner in the kitchen!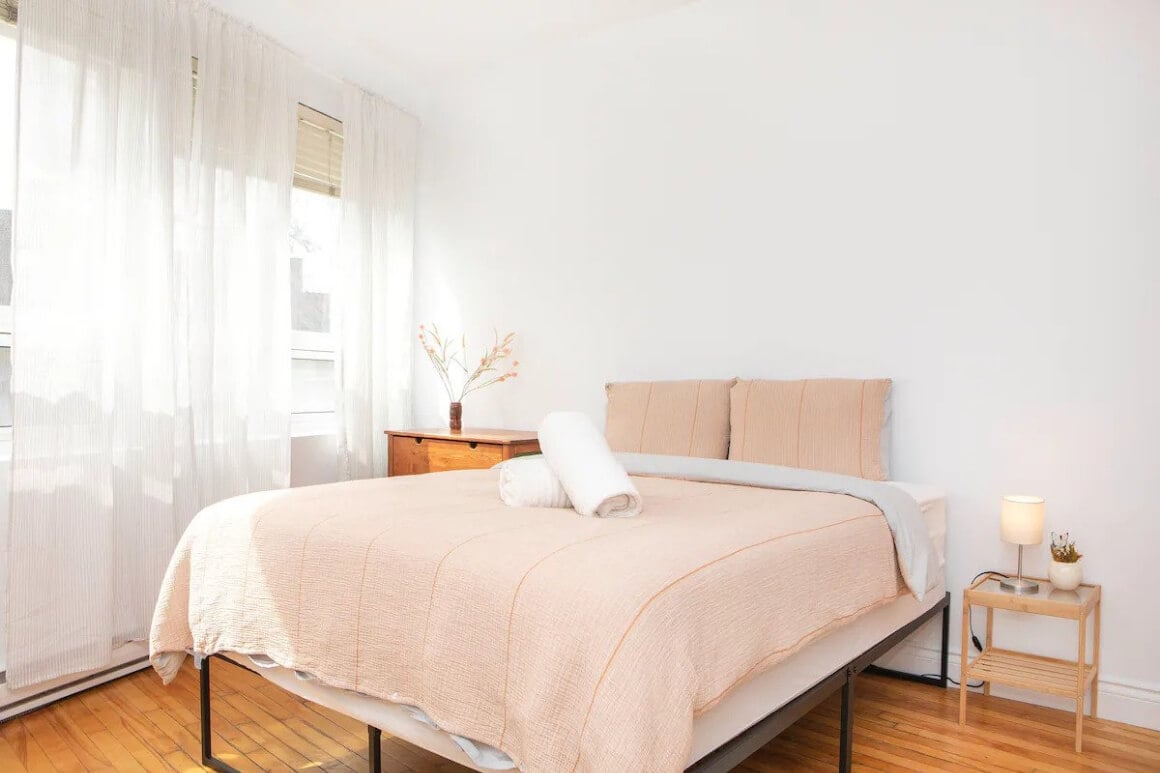 2 Guests
Friendly and helpful hosts
If you're travelling on a budget and want to have an authentic experience, the best way to do that is by staying with a local. So, let's take a look at the best homestay in Montreal!
This charming and bright private room is in a home in the Quartier Concordia neighbourhood of the city, so you're a little out of the city center but that means you get a quiet night's sleep. It's still within walking distance of Ville Marie.
Your friendly hosts will welcome you into their home and offer you great advice on what to see in the city. And you can use their kitchen, living room, and washer and dryer during your stay. Like a home away from home!
1 Guest
Private working space
If you're visiting Montreal on a quick stopover and need to stay close to the airport, this private room is a perfect choice. It's got a cosy double bed, a working space and a closet.
You will have access to the shared amenities including living area, fully-equipped kitchen and balcony. You can even use the washing machine and have your own space in the fridge.
Though you're near the airport, you are staying near Atwater Market and are within walking distance of downtown.
5 Guests
Designer loft space
You know this Airbnb in Montreal is a little bit special as soon as you see the photos. It's located in the heart of downtown, near to the Old Port, and is near to all the best cafes and restaurants.
This loft has three bedrooms, each with a king size double bed, plus an aquarium-style terrace complete with a firepit, the ideal place to spend your evenings. If you need to work, there are two working spaces and there's even a library wall
The space has 2 King bedrooms, with an elevated 3rd bedroom overlooking the beautiful living space.
can enjoy a warm and homely apartment, thanks to the softwood floors and open plan space. The real clincher here is that lovely outdoor terrace! On it, you'll find a BBQ and lovely views of the city skyline.
It's the perfect place for you and your travel companions to spend a relaxing evening with a few beers and tasty food before hitting the town!
$$$$$
Fully equipped kitchen
4 Guests
Security cameras in common areas
If money's no object, then check out this incredible Montreal Airbnb. This huge loft is a pristine penthouse in one of the very best locations in town!
You're right in the heart of the Golden Square Mile – one of the busiest and coolest areas in the entire city! Although, staying here won't be a problem.
You've got a huge TV equipped with Netflix and Apple TV, and a fully equipped kitchen. Rest assured you'll be safe as there are security cameras in the common areas too!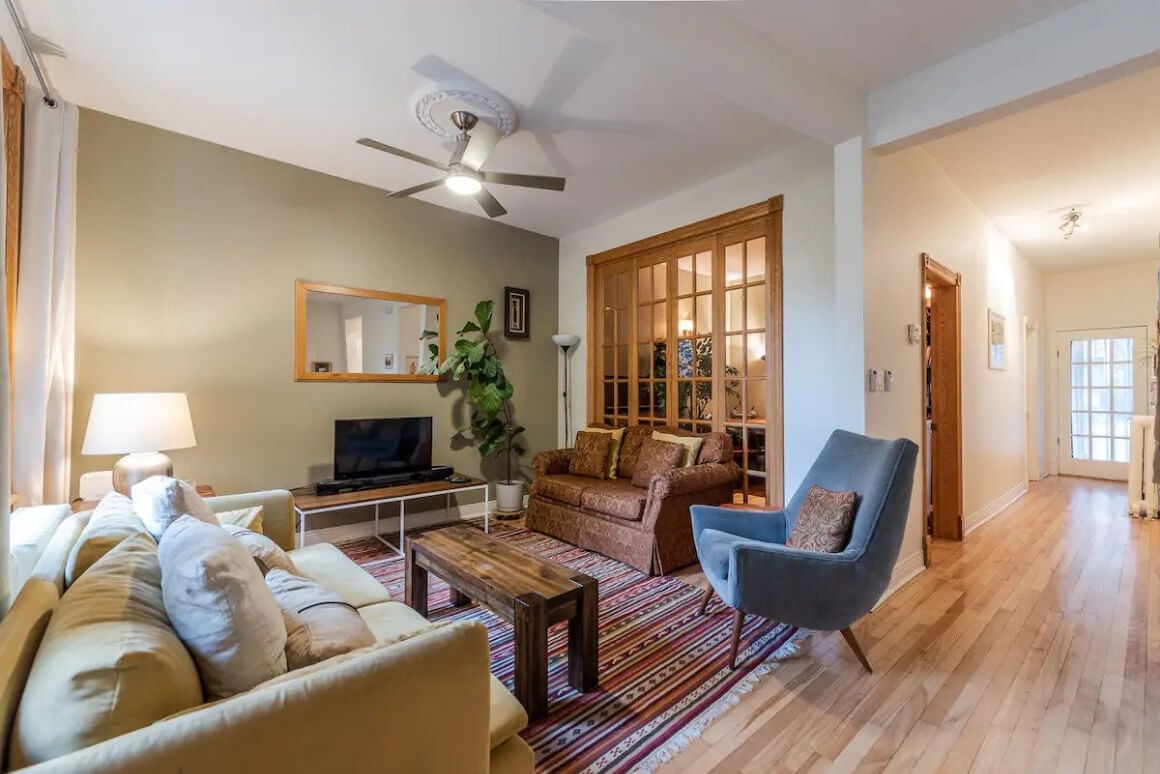 6 Guests
All essentials included
Travelling to Canada with the family? If that's the case, this is one of the best short-term vacation rentals in Montreal. Perfectly set up for families of up to eight people, there's a fully equipped kitchen and a seated dining area so that everyone can spend some quality time together.
Once you've run out of conversation, head to the living room where there's a large TV. Stick on a film or use the fast Wi-Fi so that everyone can connect their devices up!
When it's time to sleep, there are 3 bedrooms with queen size beds and a king size bed that can be split into two singles in the fourth bedroom.
And once you leave the apartment, there's certainly no shortage of things to do nearby!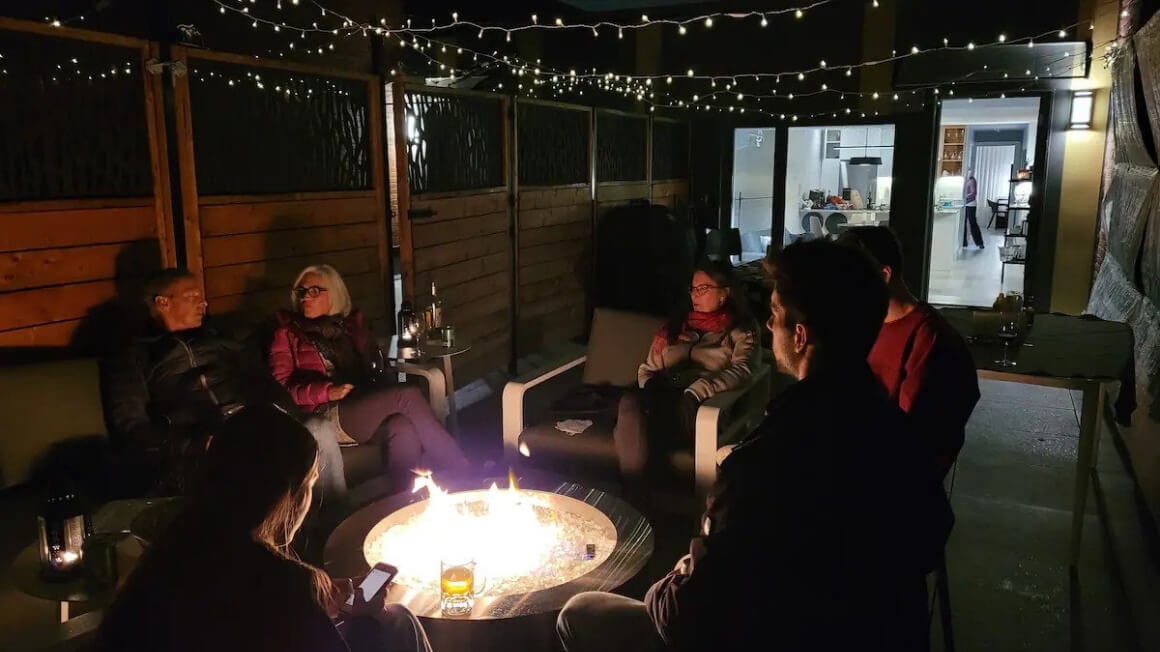 8 Guests
Gym and indoor fireplace
This apartment in Montreal is the ideal place to stay with your friends! It's rare that you'll find a great centrepiece like a terrace with lounge chairs, firepit and fairy lights. When you want to hang out indoors, there's a huge living area with a good sized TV.
The space boasts fast WiFi so you can stream movies all night. There's only one bedroom though, so you'll have to fight over who gets the bedroom and who sleeps on the sofa bed.
And, if you've all arrived with your own transport, you'll be happy to know that there's free parking included with this awesome Montreal apartment!
Everyone knows that Scandinavia is one of the most stylish regions in the world, especially when it comes to interior design. So, it's exciting that this downtown apartment has a bit of 'hygge' about it!
I know that most of the Montreal apartments I've shown you so far are in the Downtown area, but I just couldn't miss this one off.
As well as the gorgeous interior design, you've got access to a jacuzzi in the building. And those views from floor to ceiling windows are pretty much unbeatable!
3 Guests
In a historic building
Okay, I promise this is the last Airbnb I'm going to show you in Downtown Montreal! This urban retreat is an oasis amid all the hustle and bustle of the vibrant city centre.
There's lots of space and even a little table by the window so that you can enjoy the views with your morning coffee. It's not just coffee you can make on-site though – the fully equipped chef's kitchen may mean that you rustle up something that surprises even yourself!
If you're only staying in Montreal for a weekend, then this would be the perfect base.
2 Guests
BBQ Grill outside
Last but not least, let's check out a Montreal Airbnb in one of the city's coolest districts – Le Plateau Mont Royal.
This Caribou loft is perfect for solo travellers, couples, and those on business, as it's near to the city but also on the same street as the relaxing Lafontaine Park!
Enjoy the privacy of your own terrace, where you'll be able to prepare your own BBQ. What could be better?!
FAQ about Airbnbs in Montreal
Here's what people usually ask me when they look for vacation homes in Montreal.
Don't Forget Your Montreal Travel Insurance
ALWAYS sort out your backpacker insurance before your trip. There's plenty to choose from in that department, but a good place to start is Safety Wing.
They offer month-to-month payments, no lock-in contracts, and require absolutely no itineraries: that's the exact kind of insurance long-term travellers and digital nomads need.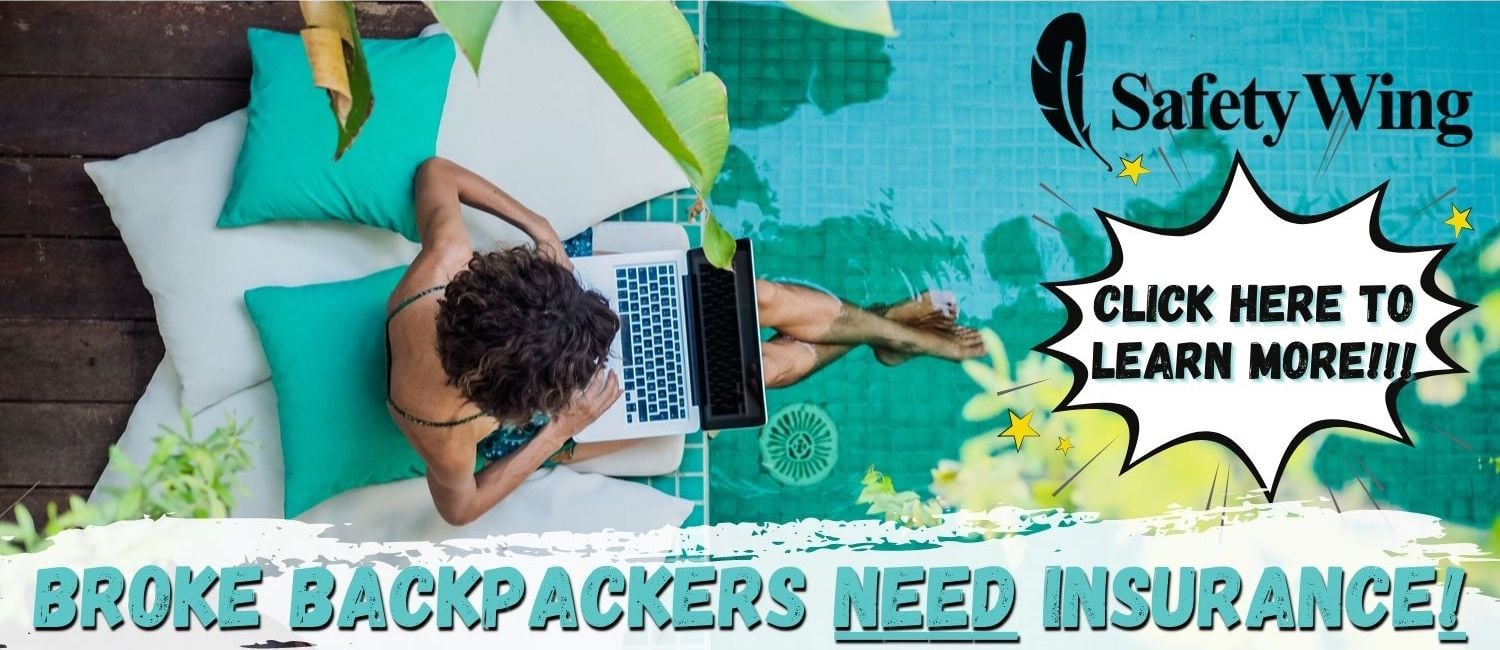 SafetyWing is cheap, easy, and admin-free: just sign up lickety-split so you can get back to it!
Click the button below to learn more about SafetyWing's setup or read our insider review for the full tasty scoop.
Final Thoughts on Montreal Airbnbs
So, that concludes my list of the best Airbnbs in Montreal. I hope you've found something suitable for your budget, personality, and travel style. Not only that, something big enough for your group too!
As you can see from my extensive list, there are a lot of choices. From cool Scandinavian-style apartments to urban wildernesses, to penthouses with awesome views, there's a short-term rental in Montreal perfectly suited to you.
And you know what? I'd totally understand if I've overwhelmed you and given you too much choice on my list.
So, now that you've seen all the best Airbnbs Montreal has to offer, all that's left is to wish you an amazing vacation. I hope you have a great trip!
---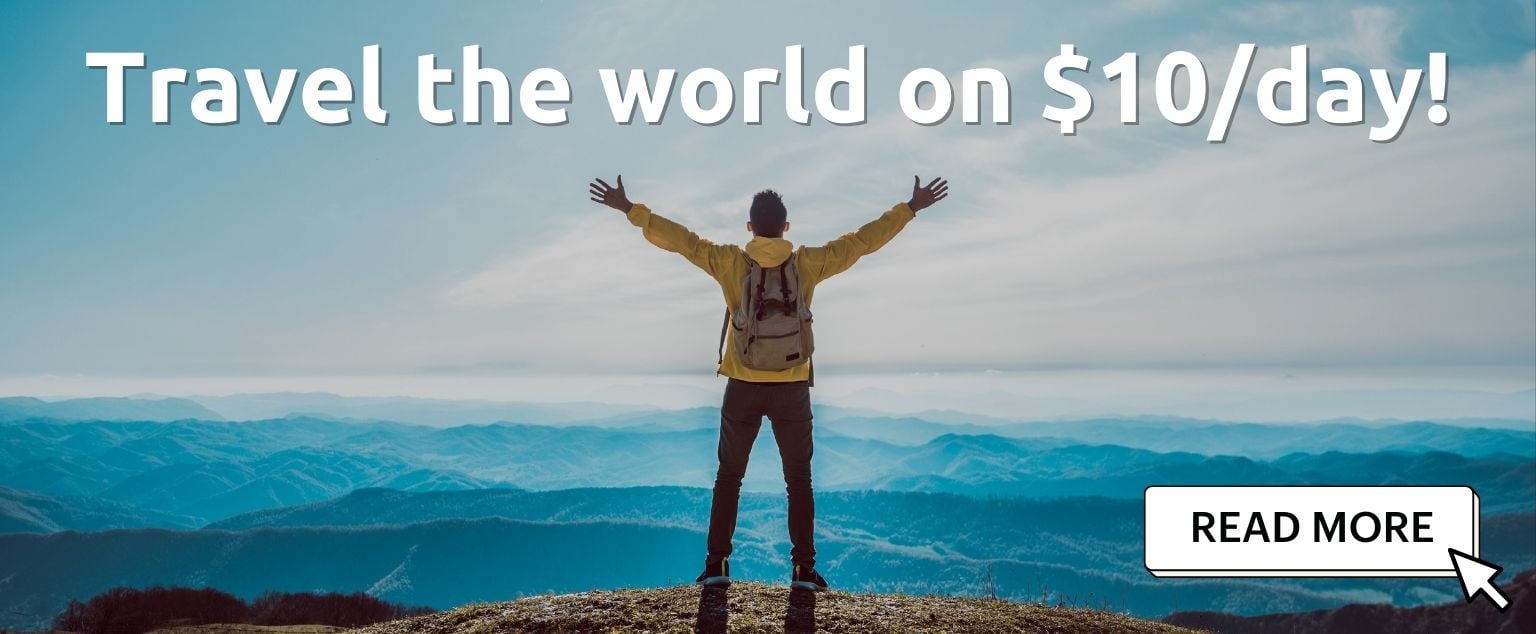 And for transparency's sake, please know that some of the links in our content are affiliate links. That means that if you book your accommodation, buy your gear, or sort your insurance through our link, we earn a small commission (at no extra cost to you). That said, we only link to the gear we trust and never recommend services we don't believe are up to scratch. Again, thank you!