In this Montreal Travel Guide, I will tackle a city that has existed since the inception of Canada, itself.
Still relevant, MTL has stood the test of time by embracing its diversity through multiculturalism; a flawless fusion of historic, European architecture and New Age society.
"Keep Calme et Franglais on!"—a Montrealer's reality, despite a reputation for being cold to those who do not speak the native tongue.
If Canada is cool then Montreal is the chill-est. Très, très, chill. That was lame but MTL is a dope city, I mean, weed is legal here.
Montreal touts exhilarating festivals, delicious food, gay rights, gorgeous architecture, rich history, sports galore, large green spaces, intellectuals, smooth jazz, hilarious comedy, and interesting acrobats/entertainers.
With this in-depth and comprehensive Montreal travel guide, you will be ready to undertake the island metropolis of the Quebec province from top to bottom—on a budget.
I will cover everything you need to know about backpacking Montreal, such as travel costs, where to stay, what to do, nightlife, and more!
How Much Does Backpacking Montreal Cost?
Montreal—the Paris of the Great White North is, surprisingly, not as pricey as one may think. Having earned itself a reputation for great food, wild festivals, hot clubs, and winter sports; it is possible to indulge in these distinct Quebecois experiences without breaking the bank.
A daily budget of $80 CAD ($60 USD) is recommended for backpacking Montreal.
Backpacking Montreal on a budget is easy if you are wise with your flights and accommodation.
Luckily, long-distance trains/buses can get you to Montreal from other Canadian cities and the United States, for a low price.
Try purchasing flights to Toronto or NYC; it will probably save you several hundred dollars. Then take a train for the last leg of your journey.
Visit Montreal during off-peak seasons to save a wealth on accommodation. Often, rooms fill-up well in advance for festival season, so either pre-book your spot or try Couchsurfing for a more intimate stay in La Metropole.
Below is a breakdown of items to consider for your Montreal daily budget.
Daily Costs in Montreal
Hostel — Dorm Bed:
$28 CAD (off-peak season)
Couchsurfing: Free
Bixi 1-Day Pass: $5 CAD
STM Pass 24hrs: $10 CAD
Breakfast:
Free (hostel)
Schwartz's Sandwich: $10 CAD
Poutine: $12 CAD
Free Walking Tour: Leave a tip!
Montreal Budget Backpacking Tips
1. Free Walking Tours: Given Montreal's walkability, a free walking tour is just the thing you need to become acquainted with the lovely city. Tours are led by local guides that offer great recommendations, showcase unique places, and gift you a few free history lessons.
2. Free Activities: Head for Mont-Royal Park to listen to a Tam Tam jam! Parades always pass through the city—a nice way to have fun without paying. Outdoor concerts are everywhere during festival season.
Visit the Lachine Canal to find free events happening a majority of the time. Parc Jean Drapeau is a cute spot to try free dance lessons. Parc La Fontaine in the Plateau has a skating pond to check out.
3. Public Markets: Montreal is famous for its food, so make fresh, delicious meals affordable by shopping at the local markets. A picnic in Mont-Royal Park is better than a restaurant, anyway!
4. Food/Drink Hacks: Look for table d'hôte meals, which are fixed-price menus of 3 or 4-course meals, to be savored for little more than the price of an a la carte main course.
Cinq à sept is happy hour in Montreal, which happens to be a wildly popular après-work affair. Promotions at establishments throughout the city bring patrons in for cheap drinks.
5. Pack a water bottle and save money every day!
6. Free Art: Many of Montreal's museums offer a day/time when entry is free!
Visit the collections at the Redpath Museum which never charges a fee. Majestic City Hall offers free guided tours, and gazing at incredible architecture is free of charge. Street art is hugely popular and worth seeing. Art installations are scattered throughout the city. Free, free, free!
Where to Stay in Montreal
Montreal is blessed with an endless array of lodging options throughout the island. While there is no shortage of places to sleep in Quebec's Metropolis, staying on a budget is the real trick of the trade.
Check out our full list of backpacker hostels in Montreal for a compilation of the best accommodation for budget travelers. I have listed our top 3 picks below.
For a full neighborhood breakdown, check out our guide on where to stay in Montreal based on your specific travel needs!
Best Backpacker Hostel in Montreal:
M Montreal
M Montreal, to a T, is ultra sleek, impeccably clean, and seriously modern. These are just a few descriptors that demonstrate what makes this the overall best backpacker hostel in Montreal!
Located in central Montreal, M Montreal is just a short walk from Berri-UQAM Station, a 10-minute walk to Old Montreal and the Festival District, and a mere 5-minute walk to the Latin Quarter.
Set within a historical building, the inner workings of this hostel are anything but ancient. Designed and built in the city, the bunk beds for the dormitories offer personal outlets, curtains, lights, hangers, and lockers.
Bask in the glory of the rooftop terrace, relax in the outdoor jacuzzi, party at the on-site bar, work using the free WiFi, and utilize all of the amenities at your disposal. Trust me, it will be hard to find a reason not to stay here.
Book Your Montreal Hostel Here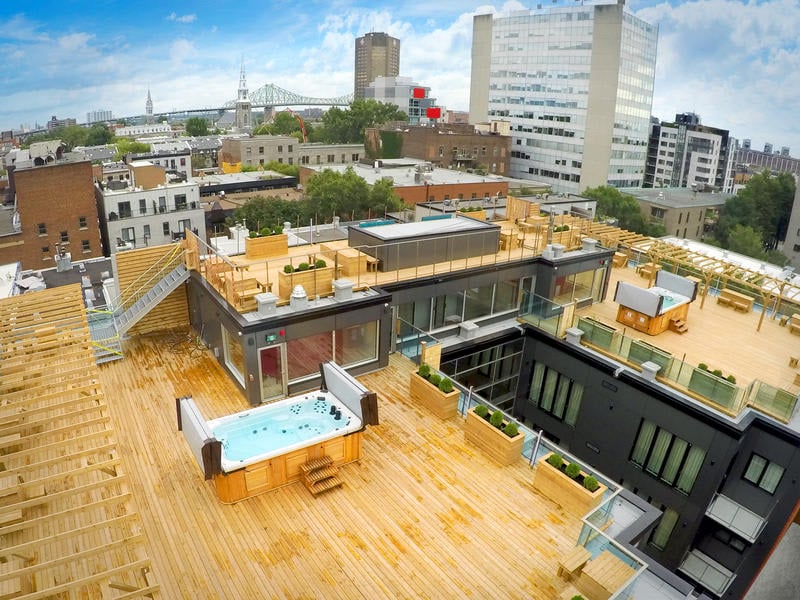 Best Party Hostel in Montreal: HI-Montreal
HI-Montreal is the place to meet fellow travelers. Hostelworld even recommended it as the spot to mingle with interesting people from other countries.
An on-scene cafe/bar is a great place to socialize while taking advantage of free continental breakfast, dinner, or drinks. Not to mention, daily activities that include pub-crawls are available, and the convenient location (a single block from Lucien-Allier Metro station) make it no-hassle to catch a train to Old Town or the rest of downtown.
Perks of staying at HI-Montreal include: clean, comfortable rooms; friendly, informative staff; great facilities; and HI/YHA members receive 10% discount upon check-in. See what everyone is raving about at the best party hostel in Montreal!
Book Your Montreal Hostel Here
Samesun Montreal Central is centrally located—it is in the name for a reason—easily accessible to all that you wish to do within the city. Walk to Notre-Dame Basilica and Vieux Montreal or scout the neighborhood's shops, restaurants, and nightlife.
A few steps are all it will take to reach public transportation. Many of Montreal's hippest hoods are within walking distance from your front door.
Take into account the hearty free breakfast, air-conditioned rooms, bar with happy hour specials, free WiFi, and all of the little extras to see why we rank this as the best hostel for solo travelers in Montreal.
Book Your Montreal Hostel Here
Spacious and stylish, this three-bedroom apartment in Montreal's Le Plateau neighbourhood is the best Airbnb in the city.
Great for a small family or a group of friends, this conveniently located apartment features a fully equipped kitchen, unlimited wifi, and a large private balcony. Enjoy a clean and comfortable home just minutes from the action.
Book Your Montreal Airbnb Here
Top 10 Things to do in Montreal
1. Le Mont-Royal
Locally known as "The Mountain," Mount Royal consists of three peaks on a volcanic-related hill. Montreal's name was actually christened from Mount Royal, itself. Situated in the middle of town, make your way up the hill for the best angles and panoramic views of La Metropole. En route to the top, be sure to catch a glimpse of the iconic illuminated cross.
Parc du Mont-Royal, which is found on the mountain, is one of Montreal's largest greenspaces. The originator of Mount Royal Park, Frederick Law Olmsted, is also noted for co-designing Central Park in New York City.
Although, Olmsted's plans were not fully brought to fruition here in Quebec. His vision aside, there is plenty to do and see in this immense urban playground.
Gaze at the city from the Mount Royal Chalet (Kondiaronk Belvedere lookout); join the tam-tam jam (hand drums); in the winter sled, ski, skate Beaver Lake, and snowshoe; or visit the slopes that are home to Saint Joseph's Oratory, McGill University, or Université de Montréal.
2.
La Biosphère de Montréal
An iconic architectural landmark and environment museum, the Biosphere is a futuristic, geodesic dome. Originally, it took shape as the United States Pavilion at Expo 67 built by Buckminster Fuller.
Through interactive exhibits and scientific events, the Biosphere addresses many environmental issues related to air, water, energy, climate change, and sustainability; while encouraging the public to live as eco-citizens.
This spectacular sphere comes to life at night with a lighting display that changes through the seasons.
Located at Parc Jean-Drapeau on Saint Helen's Island, admire this piece of public art before then taking a closer look. Admission fees are $10 for students and $15 for adults.
3. Parc Olympique
The Olympic Park is a district in Montreal that is composed of 4 of the city's main attractions, the Olympic Stadium, Insectarium, Jardin Botanique, and Biodôme (not to be confused with [see above] Biosphere).
These sites can all be visited in one trip, but it is recommended to allow yourself at least 4 hours.
Built for the 1976 Montreal Summer Olympics and nicknamed "The Big O", The Olympic Stadium is certainly a structure to marvel at.
Take a funicular to the top of the Olympic Tower—the world's largest leaning structure, for breathtaking city views. The area surrounding the stadium has become a concrete playground for many action sports enthusiasts.
Nature meets the city at the largest museum devoted to insects in North America at the Montreal Insectarium. Sometimes you are given the chance to eat insect-based dishes—yuck! Ticket prices vary throughout the year but admission does include the Botanical Garden.
A peaceful oasis from the city, in the city, Montreal Botanical Garden is stunning. Featuring themed gardens and 22,000 plant species, this is also home to a Chinese lantern festival each autumn.
Originally constructed as a velodrome (an arena for track cycling) for the Olympic Games, The Montreal Biodome allows visitors to walk through impressive replicas of four ecosystems. Temporarily closed for major renovations, Biodome is scheduled to reopen in summer 2019.
4. Vieux-Montréal
The 17th-century settlement of Old Montreal is a neighborhood with structures dating back to the era of New France. The neighborhood lies within the borough of Ville-Marie in the center of the city.
Being one of the oldest urban areas in North America, Old Montreal makes for an interesting hybrid of contemporary life and historic beauty.
Wander the charming cobblestone side streets like Saint-Paul Street, and step inside the modern boutiques that are housed in gorgeous antique structures.
Top choices for Old Montreal: Place Jacques-Cartier, Basilique Notre-Dame, Bonsecours Market and Notre-Dame-de-Bon-Secours Chapel (Montreal's oldest chapel), Pointe-à-Callière Museum, Château Ramezay, Hôtel de Ville de Montréal, Vieux Séminaire de Saint-Sulpice, Saint Jacques Street which is lined with old bank buildings like the Old Royal Bank Building, and Vieux-Port.
5. Vieux-Port de Montréal
The historic Old Port stretches over two kilometers on the St-Lawrence River in Old Montreal. Dating back as early as 1611, French fur traders used the port as a trading post.
Today, Montrealers and visitors flock to the shores of the St-Lawrence for a variety of activities.
View the Clock Tower and lounge on the urban beach called Plage de l'Horloge; go fish at one of the most famous spots in Montreal during any season; check out the Montréal Science Centre with an IMAX Theatre; attend the many cultural events and festivals in the area; walk, cycle, or even Segway along the riverfront; and of course, relish the views from the Old Montreal Ferris Wheel.
6.
Place Jacques-Cartier
Place Jacques-Cartier is a public square and the entrance to the Old Port of Montreal. Deriving its name from Jacques Cartier, an explorer who claimed Canada for France in 1535, the square shows its honor.
A major gathering place and site for entertainment, Jacques Cartier square was once a public market. Nelson's Column, Montreal's oldest public monument has roots here.
A car-free zone in the summer, it is easy to stumble upon a restaurant with Parisian-style terraces to enjoy a bite to eat. Many street artists and musicians set-up shop in this quaint little area.
7. Notre-Dame Basilica
The city's most spectacular church, Notre-Dame Basilica, serves as a testament to Quebec's religious heritage, and it is an important art piece that represents Gothic Revival architecture.
Spectacular and highly decorated, the stained glass windows depict scenes from Montreal's religious history as opposed to standard biblical ones. Built between 1824 and 1829, the church's dual towers stand reminiscent of Notre-Dame-de-Paris.
An $8 admission fee is charged unless you are there to attend mass. Be respectful and note that photographs are not to be taken during services.
Aura, a luminous experience with orchestral music reveal the wonders of the basilica every evening for about $25.
8. Montreal's Must-Try Treats
Montreal's culinary scene is well-known; it is jam-packed with evolving restaurants and unique dishes. Truly, you can find a delicious meal no matter what your taste. However, a trip to MTL is not complete without trying some of the most iconic Québécois staples. Give these a go:
Poutine — French fries, gravy, and cheese curds are the perfect combination that officially mark this as Canada's National Dish! La Banquise is among the most popular places to enjoy poutine, it helps that they are open 24hrs, but most eateries will serve this Canadian grub.
Smoked Meat — Tender Montreal smoked meat served on a sandwich with mustard is to be tasted at Schwartz's Deli. This 90-year-old famous deli is no-frills but packed with celebrity endorsed foodie goodness.
Bagels — A Montreal-style bagel outshines New York's doughy delight. Compare the two most well-known bagel shops Fairmount Bagel versus St. Viateur, and be sure to try a Lox bagel while you are at it.
9. Get Cultured!
Referred to as Canada's Cultural Capital, Montreal has characteristics of any metropolis, but being at the confluence of French and English traditions makes the city rich in multiculturalism and abundant in intellectual life.
Place des Arts is a major performing arts center and the heart of classical art for MTL, like the orchestra and ballet.
Music is wildly popular with concerts and music festivals popping-up throughout the summer like the Montreal International Jazz Festival—the largest in the world.
Just for the Laughs, the largest comedy festival on earth, is a must-do for all comedy junkies. It should come as no surprise that Cirque du Soleil is based in this northern metropolis.
A vast network of museums, art galleries, and exhibitions are available for the artsy-fartsy types. Be sure to check out the Montreal Museum of Fine Arts and peruse the streets to see Montreal's awe-inspiring street art.
North America's Sin City has a hugely popular nightlife scene. Oddly enough, Montreal is also known as the city of a hundred steeples and is renowned for its churches.
Downtown's most commercial street, Rue Sainte-Catherine, extends to the center of Montreal's vibrant Gay Village.
Cultural communities are host to many parades each year, and plenty of ethnic cuisines can be found in the city.
Each year, Montreal is the site for the Canadian Grand Prix of Formula 1, a high-profile auto racing event. Oh, and there is hockey. Lots and lots of hockey.
10. The Underground City
RÉSO, commonly referred to as The Underground City, is the name given to the underground connections between the buildings that compose the core of Downtown Montreal (central business district).
The CBD consists of hotels, shopping centers, commercial complexes, office towers, convention halls, universities, and art venues. In addition, the Montreal Metro (underground rapid transit system) has been fully integrated into the Underground City.
As is the case for many Canadian cities, tunnel and skywalk systems have been adopted into the downtown transit network to avoid the weather.
This proves to be especially useful if visiting Montreal during the winter months. You may not even realize you are underground, and your walk across the city may feel more like a stroll through a mall.

Backpacking Montreal 3-Day Itinerary
Without a doubt, 3 days in Montreal is a reasonable amount of time to see the city's main attractions and landmarks. Keep in mind that Montreal is a big city, so it is best explored by area; time will hardly be wasted on transportation.
The following is a breakdown of each day, with a focus on maximizing the number of sights you can see, while backpacking Montreal on a budget. Adjust the itinerary to meet your personal Montreal trip goals.
Day 1 in Montreal
Begin day 1 in Montreal by taking the subway to Place-d'Armes in Old Montreal. Sometimes it is nice to become acquainted with a city through a free and informative walking tour, but this is certainly not necessary as the cobbled streets are fun to get lost in.
Montreal is older than Canada, itself, so naturally, there are many historic sites to fill your day of exploration.
With its undeniable splendor and impressiveness, Notre-Dame Basilica always atop the list of the best places to visit in Montreal. If you attend mass there is no entrance fee; listen to the organ music and immerse yourself in the church vibe. No pictures are to be taken if attending a service.
Other points of interest in Old Montreal include Montreal City Hall, Champ-de-Mars Park, Château Ramezay Museum, DHC/ART gallery, Bonsecours Market, Notre-Dame-de-Bon-Secours Chapel, Pointe-à-Callière museum, just to name a few.
With so much gorgeous architecture, it is best to leisurely roam the streets and see what you stumble upon.
Make it down to Place Jacques-Cartier, a beautiful public square and a great place to grab a bite to eat. This is also an ideal entrance to the Old Port of Montreal—a busy waterfront recreation area on the edge of the St. Lawrence River.
View the Clock Tower or ride the Old Montreal Ferris Wheel for stunning views. The urban beach is a nice place to unwind and catch some rays.
Cross over to Saint Helen's Island to arrive at Parc Jean-Drapeau. It is here that you will find the signature Biosphere. Admire the public art and enter for a $15 admission fee.
Day 2 in Montreal
On Day 2 in this Montreal travel guide, we're going to switch gears and see what modern-day MTL has to offer! Start your morning off with a pit-stop at Canada's largest church—Saint Joseph's Oratory. A guided tour is about $6; be sure to dress appropriately. Now onto present-day adventures.
Head out for a hike to the top of Mount Royal. Go towards McGill campus where you will find a staircase that leads to the top, to save your toots a significant amount of steps. Mount Royal Chalet (Kondiaronk Belvedere lookout) offers the most glorious skyline views of Montreal.
Parc du Mont-Royal has plenty of seasonal activities depending on your preference. Beaver Lake is an easy trip if you would like to dabble in some water activities.
When you head off the Mountain go toward The Plateau district in which the hip, artsy, laid-back neighborhood of Mile End is found. Tour the streets for funky street art, grab a delicious coffee, and stop off at St-Viateur Bagels for one of the most famous bagels in the world!
It is easy to access the Underground City during your travels each day, and it may even be advised for transit if backpacking Montreal in the winter.
Finish off day 2 in Montreal with a Cinq à sept (happy hour). Get some late night grub at Schwartz's Deli or try some poutine to feel like a true Montrealer.
Day 3 in Montreal
For day 3 in this Montreal travel guide, you will make a journey to the Olympic Park district. See if there are any events to attend at The Big O (Olympic Stadium) like monster truck shows or major league baseball games.
Hop on board the glass funicular to ascend the Olympic Tower for awesome views of the city. It is possible to bundle your ticket purchase with other tours in the Space for Life museum district.
The most prominent natural museums: Rio Tinto Alcan Planetarium, Montreal Botanical Garden, Montreal Insectarium, and of course the Montreal Biodome.
Exhibits at any of these museums are spectacular approaches to sustainable development.
Potentially, this could take up a large portion of your day.
Head to Chinatown for some cheap eats and prepare for a late night. Day 3 in Montreal is your last chance to find a dope nightclub to see what everyone is raving about!
Montreal off the Beaten Path (More Awesome Things to do in Montreal)
This wouldn't be a Montreal travel guide without covering some awesome off the beaten path things to do in Montreal. Here are a few options:
Go to a Festival — Montreal is teeming with epic festivals during any season! Something is always going down, so just have a look online before your arrival for festival tickets. Among the most famous events are the jazz fest, Piknic Électronik, and Montreal Completement Cirque (Montreal Circus Festival).
Sporting Event — Are you really in Canada if you have not seen a hockey game? Go watch the Montreal Canadiens play or head to a sports bar to show your support. Not an ice hockey fan? (That's weird.) There are endless sporting events to check out like the Canadian Grand Prix (Formula One racing), cycling, and the Canadian Football League just to name a few.
Food Tour — The best way to experience any city is to taste its culinary heritage. Local Montreal Food Tours hosts several walking tours that allow you to delve into the city's history, delicacies, and of course, craft beer. Yum!
Comedy Show — Canada's comedy capital is home to several prominent Quebec artists and humorous groups. In Montreal, comedy is king, so see some hilarious performers at the comedy clubs. If you are lucky enough to travel during the Just for Laughs comedy festival, you would be kidding yourself not to go!
Best Walks in Montreal
Canada has infinite space to traverse, but this is a list of the best walks that are near and dear to Montreal:
Parc du Mont-Royal: The quintessential Montreal (6 km) stroll has various choices for activities all along your route. A panoramic view of the city is visible from the chalet at the top.
Lachine Canal: A pleasant 14.5 km strip of waterside recreation. Check out the Atwater market, hop in a kayak, or cycle the entire trail. There is plenty of opportunity for exercise and fun.
Dieppe Trail: One of several trails that explores the high points of Mont-Saint-Hilaire in the Gault Nature Reserve. Home to many butterfly species and peregrine falcons. It is about 3.8 km to the summit with impressive views below.
Grand Prix des Couleurs: Hike to the top of Tremblant without using the gondola! This is the most direct route from base to the summit, at 2.7 km from bottom to top.
Backpacking Montreal Travel Guide and Tips
The following is a breakdown of the basics and everything you need to know before backpacking Montreal. Whether you are a first-time backpacker or experienced in the art of travel, it is always nice to have a reference of useful information.
Best Time of Year to Visit Montreal
Backpacking Montreal is ideal when temperatures are mild between March to May and September to November. As is common with most of Canada, Montreal undergoes cold, snowy winters, but relatively hot summers.
Montreal's tourism industry is thriving, so summertime is peak season—characterized by inflated rates, high temperatures, and crowds. Inversely, The City of Festivals is in celebration mode with all of the hottest, big-name festivals in-full-force. The historic city can be toured solely on foot (bad pun) in the heat. Rooms for summer stays should absolutely be booked ahead of time to secure a budget-friendly price.
Spring in Montreal brings a rise in temperature allowing the city to thaw and gardens to turn green. Be forewarned that Quebec's weather can be dicey as winter sometimes lingers into April.
Fall in The City of Saints is overwhelmed with bright, colorful foliage. Prepare for cooler temperatures though, especially at night.
Winter on the St. Lawrence is typically cold, snowy, and icy, but it gives you a taste of true Canadian life! Reap the benefits of discounted rates and open streets, and utilize the Underground City for protection from the brisk air. This is a great chance to attempt a new snow sport that you have always wanted to try.
Getting in and out of Montreal
Pierre-Elliott Trudeau International Airport (YUL) is the closest commercial airport serving Montreal located 20 km (12 mi) west of the city center.
Taxi prices to-and-from downtown are a fixed rate of $41; if you are not within the flat fare zone, then you will pay a metered price with a $17 minimum. The tip is not included.
STM Airport Express bus 747 offers 24/7/365 service between the airport and downtown. A single fare is $10 that includes unlimited use of the STM bus and metro network for 24 hrs.
Purchase tickets at a machine in the airport. Timetables vary according to traffic and which of the nine downtown stops you utilize (45 mins to 70 mins).
Car rental, airport shuttle, and Uber are always an option, too.
The Montreal Central Station (Gare Centrale de Montréal) is the major inter-city rail station and a major commuter rail hub.
Buses arrive and depart from the Station Centrale d'autobus, not to be confused with the central station, with extensive services to nearby major Canadian and U.S. cities.
The Port of Montreal includes the Iberville cruise terminal on the Alexandra Pier in Vieux-Port.
How to get around Montreal
Despite the city being a booming metropolis, on the largest island in the Hochelaga Archipelago, backpacking Montreal is no-hassle with its wealth of transit options.
Metro

–

Clean, safe, fast, and easy to navigate with just 4 lines connecting downtown with major sites and train/bus stations.
Bus

–

STM (Montreal Transit

) is a

public transport

agency that includes the metro and bus services.

OPUS

–

Contactless smart cards used for fare payments.

Bike

–

An extensive system made-up of 780 km of bike paths. Rent or bring your own to make getting around a breeze.

BIXI

–

From April to November 24/7, rent a bike and re-dock it at the 600 stations within the network. Low cost and easy to use.

Walk

–

You are in good company walking through this architecturally and artistically rich city. It helps that perusing is free!
Car

–

Rent a car, ride-share, or hail a taxi for bopping around MTL.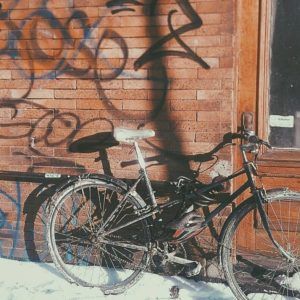 Long Distance Trains from Montreal
Trains are a convenient way to reach any major city in the mammoth landmass that is Canada.
VIA Rail Canada operates fast and comfortable trains to destinations in northern Quebec, New Brunswick, Nova Scotia, and along the Quebec-Ontario border.
Amtrak's Adirondack has services to New York City that depart daily with connections to major cities in the United States. This journey is arguably one of North America's most beautiful at an excellent price.
If you are continuing your travels to the United States, check out our East Coast and New England road trip guides!
Safety in Montreal
Montreal is considered one of the safest cities in Canada and violent crime is very rare. As a whole, Canada is an extremely safe place to travel. In case of emergency: dial 911.
Maintain safety in Montreal by using common sense. The most prevalent crime against tourists is pickpocketing. Keep your valuables close and be aware of your surroundings.
Snow and ice are among the highest ranking safety concerns if you are self-driving.
Montreal also offers a "between stops" bus service for women. In short, if the driver feels a certain stop is too dangerous for a woman at night, he/she can offer to drop this woman at a spot in-between regular stops for continued safety.
Pick yourself up a backpacker security belt to keep your cash safe on the road, and check out Backpacker Safety 101 for tips and tricks to stay safe while backpacking Montreal.
Get Insurance before Backpacking Montreal
A wise man once said that if you can't afford travel insurance, you can't really afford to travel – so do consider backpacker insurance sorted before you head off on an adventure! Traveling without insurance would be risky. I highly recommend World Nomads.
I have been using World Nomads for some time now and made a few claims over the years. They're easy to use, offer the widest coverage, and are affordable. Also, this is the only company I know of that lets you buy travel insurance after leaving on a trip.
If there's one insurance company I trust, it's World Nomads. Find out why I recommend World Nomads, check out my World Nomads Insurance review.
Getting an estimate from World Nomads is simple – just click the button or image below, fill out the necessary info, and you're on your way!

Montreal Accommodation Travel Hacks
This would not be a Montreal travel guide without giving you some accommodation hacks! Slash prices by booking your hostel room well in advance and during off-peak seasons.
Airbnb can be great if you are traveling with several friends to cut costs.
As always, if you are on a tight budget then utilize the Couchsurfing community. It is insanely popular in Montreal!
Caravan parks are definitely a money saving option for those of you touring Canada in a camper van.
Networking can go a long way, as well. It is likely that you met a Canadian friend in your travels with a place to crash while backpacking Montreal.
Eating and Drinking in Montreal
Montreal is a culinary mecca with great food options found in every nook and cranny of the city. Undeniably, Montreal is a foodie's heaven.
MTL offers Québécois fare, classic French cuisine, and countless ethnic restaurants from every nationality under the sun.
Life in Montreal revolves around food. Here is a little tidbit to make sure you are eating right:
Jean-Talon Market, located in the Little Italy district, is open every day (8AM-6PM) and noted for its selection of produce.
Atwater Market, located near the Lachine Canal in the Saint-Henri area, has an incredible selection of fish, cheeses, and meats.
Be sure to try regional specialties like raw cheeses, foie gras, maple syrup, and game meats like caribou.
Local must-haves include: poutine from La Banquise (or anywhere for that matter), smoked meat sandwiches from Schwartz's Deli, and Montreal-style bagels from Fairmount Bagel and St. Viateur.
Haute cafe culture is immensely popular as we lean towards a generation of coffee producers practicing direct-sourcing from single farms. Essentially, Montreal feels the journey from bean to cup is an important one.
Buy alcohol from the government-run liquor stores called Societé des Alcools du Québec (SAQ).
Nightlife in Montreal

Montreal is Canada's unofficial party capital! Quebec's legal drinking age is 18 years old—one of the lowest in North America, and a godsend to young adults from the neighboring United States.
From wine bars to live music, jazz clubs to brewpubs, and everything in between; there is a nightspot to suit any taste while backpacking Montreal.
Cinq-à-sept (5 to 7) is the way to begin your evening in MTL. Happy hour specials will save you some cash on the heavily taxed alcohol within the province. Bars typically open at 5 PM and clubs at 10 PM, while booze is served until 3 AM.
Nightlife is not only found in bars and clubs. The city is also known for having some of the biggest and best festivals on the planet. Whether you like jazz, comedy, circus, cultural events, EDM, or rock music; there is certainly a festival to get you amped-up.
Rue St. Catherine—Downtown Montreal's main stretch, is home to a wide array of dance clubs, restaurants, bars, strip clubs, and festivals.
Rue Crescent is a great strip to search for fun. The majority of the market here is going to be 20-somethings and undergraduate students.
Boulevard St. Laurent in The Plateau district is also a hip spot to find bars, pubs, and clubs. In this area, the market is made up of young professionals, for those of you more mature travelers.
Montreal's Gay Village or simply "The Village" is popular, vibrant, and full of fun whether you are part of the LGBTQ community or not. There is an entire section of The Village that becomes pedestrian-only for part of the year; making it super safe to wander the streets and party through the night.
Weed is legal in Canada so happy smoking, my friends.
Books to Read on Montreal
The Backpacker Bible – Learn how to ditch your desk and travel the world on just $10 a day whilst building an online income.
Lonely Planet Montreal and Quebec City (Travel Guide) – Relevant, up-to-date travel information and advice from the world's leading travel guide publisher, Lonely Planet.
The Tin Flute – A classic Canadian work of fiction, written in 1947 by Gabrielle Roy, which chronicles the life of a young woman in the slums of St-Henri in Montreal.
The Fat Woman Next Door is Pregnant – Michel Tremblay's story which takes place over the course of a day in 1942, in the Plateau Mont-Royal neighborhood of Montreal, is known as a great piece of French language literature used to express the issues in early and late 20th century Quebec.
The Apprenticeship of Duddy Kravitz – This story represents the life of the poor English-speaking residents of Mile End. Mordecai Richler depicts Duddy as the third generation of a Jewish immigrant family, with funny tales and lessons learned about living in Montreal.
Make Money Online whilst Backpacking Montreal
Traveling in Montreal long-term? Keen to make some cash when you are not exploring the city?
Teaching English online is a great way to earn a consistent income—from anywhere in the world with a good internet connection.
Depending on your qualifications (or your motivation to obtain qualifications like a TEFL certificate) you can teach English remotely from your laptop, save some cash for your next adventure, and make a positive impact on the world by improving another person's language skills!
It's a win-win! Check out this detailed article for everything you need to know to start teaching English online.
In addition to giving you the qualifications to teach English online, TEFL courses open up a huge range of opportunities and you can find teaching work all over the world. To find out more about TEFL courses and how you can teach English around the world, read my in-depth report on teaching English abroad.
Broke Backpacker readers get a 35% discount on TEFL courses with MyTEFL (simply enter the code BACKPKR), to find out more, please read my in-depth report on teaching English abroad.
Whether you are keen to teach English online or looking to take your teaching game a step further by finding a job teaching English in a foreign country, getting your TEFL certificate is absolutely a step in the right direction.
"Yay for transparency! Some of the links in this post are affiliate links. This means that if you book your accommodation, buy a book or sort your insurance, I'll earn a small commission at no extra cost to you. I only link to stuff I've actually used and never endorse crap. Your support helps me keep the site going."
---
Need More Inspiration?
Like this post? Pin below!