Montreal is a chic, multifaceted metropolis with a European soul, offering up a tantalizing fusion of the old and the new. It blends the best bits of North America with the charm of a European city. So it shouldn't be a surprise if we tell you that there are awesome things to do in Montreal.
It's a city that has a taste for great food, a passion for the arts, and a love for life. Montrealers also adore their festivals, with the city hosting over 100 of them throughout the year. It's home to cobblestone streets and buildings dating back to the 17th-century, which could keep architectural admirers in awe for days.
There's also no shortage of green spaces in Montreal. Parks like Mount Royal and Parc La Fontaine provide plenty of peaceful places to relax and enjoy the sights and sounds of nature.
Between wholesome food tours, brilliant museums, a top-notch nightlife, and so much more, there's an endless number of amazing things to do in Montreal, Canada. We made a list of our favorites, so you can make the most of your time in this incredibly cool city.

Unlock Our GREATEST Travel Secrets!
Sign up for our newsletter and get the best travel tips delivered right to your inbox.
Top Things to Do in Montreal
If you're wondering what to do in Montreal, Canada, these activities are the best of the bunch, and a great way to start your adventure.
Montreal is home to an incredible culinary scene and famous for a number of local dishes. Food is woven tightly into its culture, with traditional favorites meeting innovative and international delights.
Sampling the city's cuisine is an almost compulsory part of visiting, and one of the best places to do so is around the Mile End area.
Some essential local dishes include the world-famous poutine and a classic, fresh-out-the-oven, Montreal-style bagel. It's also well worth trying some local Quebecois beer during your culinary explorations.
While in Mile End, be sure to hop over to neighboring Little Italy, where you'll find a wholesome variety of delicious Italian dishes.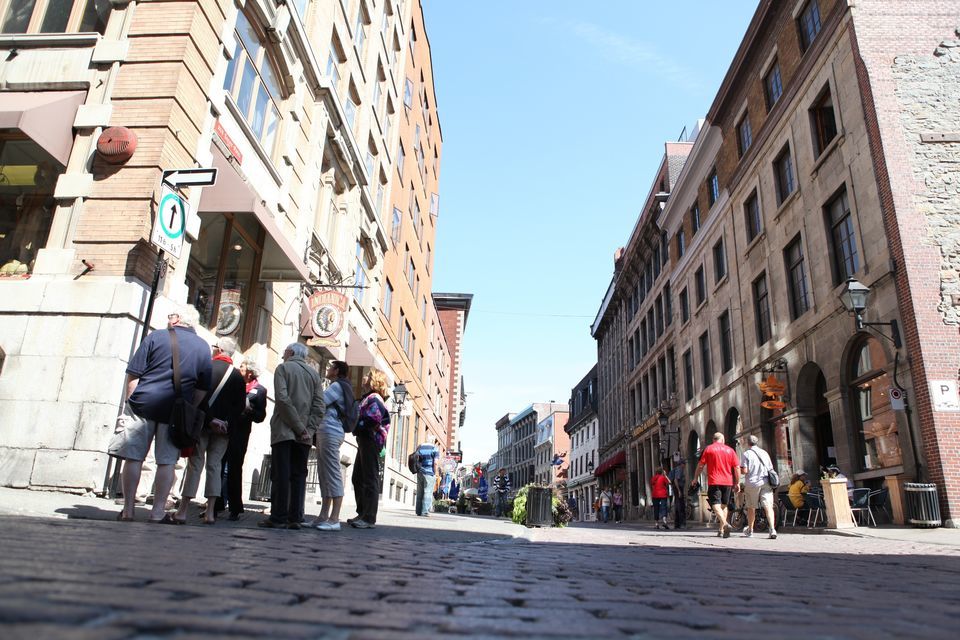 Old Montreal is about as close as you'll get to a European city in America. Quaint cobblestone streets, centuries-old architecture, and a distinct, charming atmosphere that's rare to find outside of Europe. Exploring it is an essential part of any trip to Montreal.
Dating back to the 17th century, Old Montreal is one of the oldest urban areas in North America, and the seed from which the rest of the city grew. So it's packed with historical and cultural significance, waiting to be discovered.
Stroll along Rue Saint-Urbain, Rue Saint-Paul, Rue Saint-Pierre, and Rue des Recollets for a quintessential Old Montreal experience, and some of the best stores in the area.
FIRST TIME IN MONTREAL
Old Montreal
Old Montreal is not only the epicenter of the city, and Montreal's cultural quarters, it's also perfectly located. It's surrounded by the coolest areas in the city, including Le Plateau, Le Village, Chinatown, and Downtown.
Places to visit:
Notre-Dame Basilica of Montreal
The Old Port
Place Jacques-Cartier square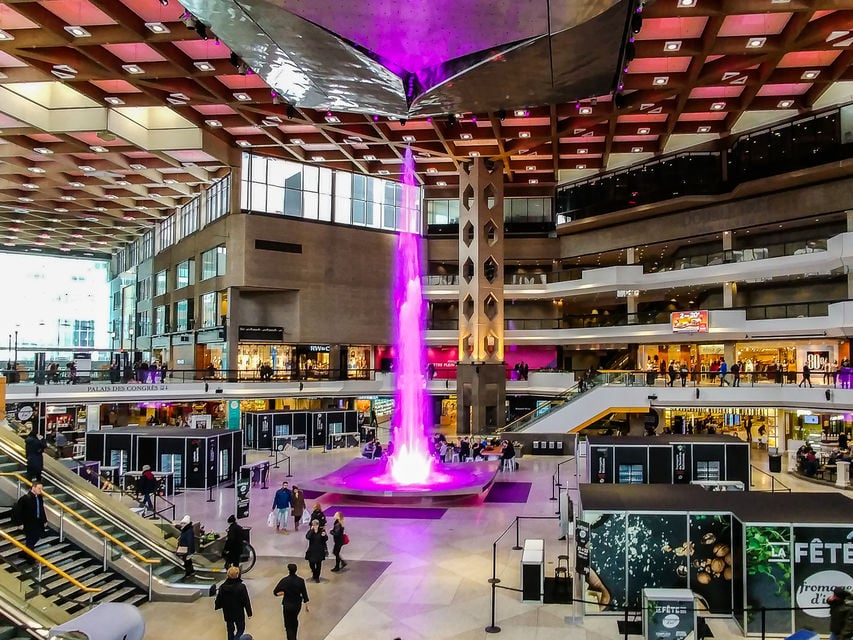 Unbeknown to some, Montreal is home to the largest subterranean pedestrian network on Earth. A sprawling web of shops, offices, hotels, and more all tucked beneath the city streets.
The area is known as The Underground City, or RÉSO, and visiting it is a truly unique experience. Wander through over 20 miles of tunnels and passages, admiring the fascinating architecture, unique spaces, and interesting artworks. It's also a great place to do some shopping!
RÉSO is particularly popular during Montreal's frigid winter months. While the city above freezes over, The Underground City remains comfortably climate controlled.
4. Montreal Museum of Fine Arts
For more than one and a half centuries, the Montreal Museum of Fine Arts has been curating an incredible collection of art from Canada and around the world. It's Montreal's most revered museum and the oldest and largest art museum in Canada.
Amongst its vast collection, you'll find works by some of the world's finest artists, including Rembrandt, Picasso, and El Greco, to name a few. A visit here is essential for all lovers of art and cultural history.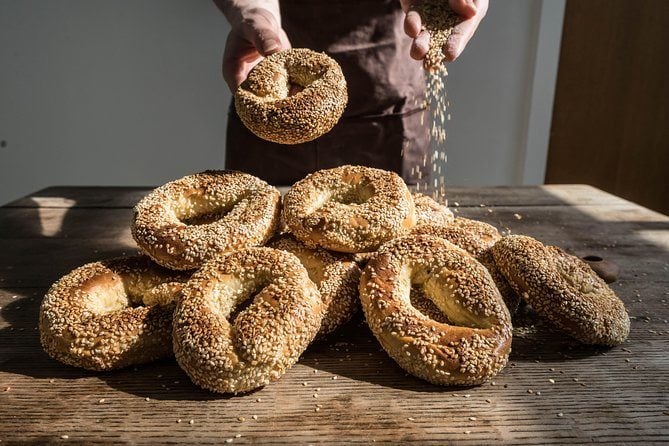 Sampling a famous Montreal-style bagel may be a mouth-watering experience, but learning how to make them is one better. Get hands-on with an immersive lesson that takes you through each step of the bagel-making process.
Montreal-style bagels are different from their cousins around the world. They tend to exclude salt and are traditionally boiled in honey-sweetened water before being baked in a wood-burning oven. They're warm, crispy, soft, delicious, and best enjoyed as they are, with no fillings!
From the first flop of the flour and kneading the dough, right through to enjoying the finished product, making Montreal-style bagels is both fun and delicious.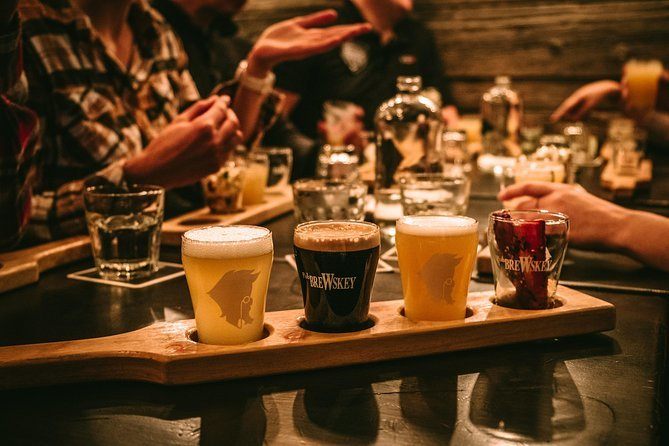 Craft beer is something that Montreal does right. The scene is about as good as they come, with a host of talented brewers crafting a range of brilliant beers. Several of the best craft breweries in Montreal are located in the Old Port area.
Drop into a few of these local breweries, chat with the craft-masters, and sip on a selection of tasty brews. Get familiar with the brewing process, and learn about the history of the craft.
Small Pack Problems? 😉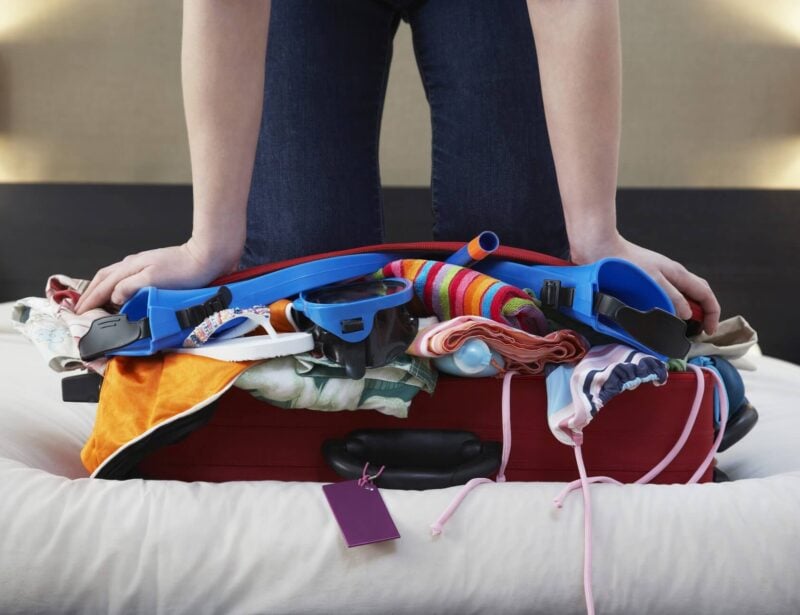 Wanna know how to pack like a pro? Well for a start you need the right gear….
These are packing cubes for the globetrotters and compression sacks for the real adventurers – these babies are a traveller's best kept secret. They organise yo' packing and minimise volume too so you can pack MORE.
Or, y'know… you can stick to just chucking it all in your backpack…
Get Yours Here
Read Our Review
Unusual Things to Do in Montreal
These are some of the less conventional things to do. Montreal has some pretty unique activities on offer!
Standing proudly in the heart of the city is Montreal's famous Mount Royal. While it's relatively small in stature, the hill is what gave Montreal its name, and is the city's pride and joy.
A trip up Mount Royal is a must-do activity on any visit to the city, offering exceptional city views and stunning natural scenery. Journeying up on an electric fat tire bike is one of the coolest ways to experience it.
Fat tire bike trips up the hill take place in the winter months when Montreal is blanketed in a healthy layer of snow. It's a particularly beautiful time of year in the city!
Not many cities on Earth have an adrenaline-pumping zip line at their core, with stellar views of the city surrounds. Montreal is an exception. Head over to the picturesque Old Port for a thrill ride that sees you soaring at speed over the Bonsecours Lagoon.
You'll fly by cheering pedestrians, over treetops, and past La Grande Roue, Montreal's famous observation wheel. It's a bunch of fun and a great way to see the city from above. And don't worry, safety is a primary concern, with every measure in place to ensure a safe, fun-filled flight.
9. Seek Unique Entertainment at PY1
Dreamt up and created by the co-founder of Cirque du Soleil, PY1 is a new entertainment venue in Montreal. Taking the form of two staggered pyramids, the venue specializes in out-of-this-world multimedia experiences.
Amongst the offerings are two brain-melting shows that envelope viewers in a pyramid of light and sound. But the venue also hosts regular party nights, which utilize its audio-visual capabilities to throw the regular club vibe into a new dimension.
Safety in Montreal
Montreal is considered a safe city. Most crime is petty theft and some simple precautions can ensure that you'll have a safe trip.
Keep your personal belongings close and stay out of areas that seem seedy, particularly at night. It's always a good idea to get travel insurance when visiting a new city, to add an extra layer of security and peace of mind.
Read our tips for traveling safely before you fly and always get travel insurance. Check out our roundup of the best travel insurance.
Travel with peace of mind. Travel WITH a security belt.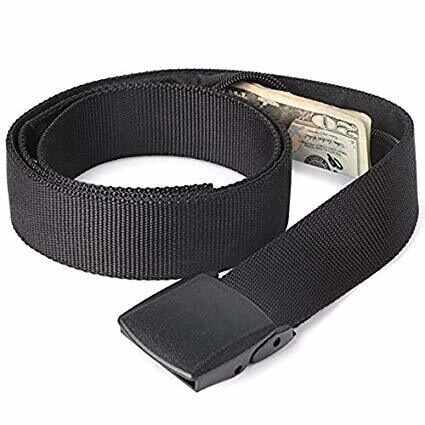 Stash your cash safely with this money belt. It will keep your valuables safely concealed, no matter where you go.
It looks exactly like a normal belt except for a SECRET interior pocket perfectly designed to hide a wad of cash, a passport photocopy or anything else you may wish to hide. Never get caught with your pants down again! (Unless you want to…)
Hide Yo' Money!
Best Things to do in Montreal at Night
If you're looking for a good evening out, these are some of our favorite Montreal activities. They're also amongst the best things to do in Montreal this weekend.
With an incredible range of evening establishments, Montreal is a great place to enjoy a night out on the town. Most of the city's best nightlife is located around Le Plateau and Le Village, with St. Laurent Boulevard being a particularly vibrant hotspot.
Many of the best bars, pubs, and clubs, are within walking distance of one another; the perfect setup for a night of bar hopping. Sample some dusty jazz and tasty concoctions at Mayfair Cocktail bar, sip a craft beer at Reservoir, and dance the night away at Soubois nightclub.
11. Have a Laugh at The Comedy Nest
Montrealers love to laugh and there's no better place to join in on the action than The Comedy Nest. It's been voted one of the top comedy clubs in North America, offering 90 minutes of pure comedy every evening of the week.
The club hosts talented local comics, as well as international masters of the craft. So be sure to check the schedule ahead of time to catch a gig that suits your taste. With cabaret-style seating, a welcoming atmosphere, tasty nibbles, and a well-stocked bar, you're sure to have a top-notch evening at The Comedy Nest.
Be sure to check out one of Canada's festivals, Just For Laughs, right here in Montreal.
12. Catch some Canadian Cinema at Cinema Moderne
Located in the Mile End district, Cinema Moderne is a cozy independent cinema with a top-notch cafe-bar in tow. It screens a diverse range of independent Canadian cinema and international classics.
Alongside a wholesome selection of food, the on-site cafe-bar offers up delicious coffee, a comprehensive selection of wines, and Quebecois beers to accompany your cinema experience.
Where to Stay in Montreal
Montreal isn't a small city. There are many interesting and unique areas, neighborhoods, and hotspots that need to be explored. Knowing where to stay in Montreal is a real advantage when it comes to booking your accommodation. Not only does it make things a lot easier, but you can also be sure to stay close to the things you want to see.
To make your life a bit easier, we've listed our top 3 accommodations in Montreal.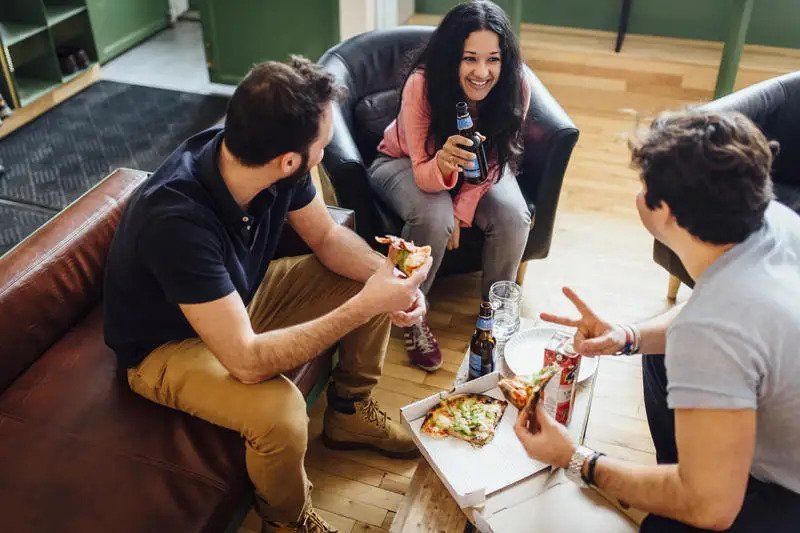 Perched alongside the St. Lawrence River in Montreal's Old Port, this hostel offers comfortable accommodation and a welcoming vibe. It's a great place to meet adventurous travelers and the perfect spot to kick back after a long day.
The dorms are light and spacious, the kitchen is stunning and fully equipped, and the staff is committed to providing a comfortable stay.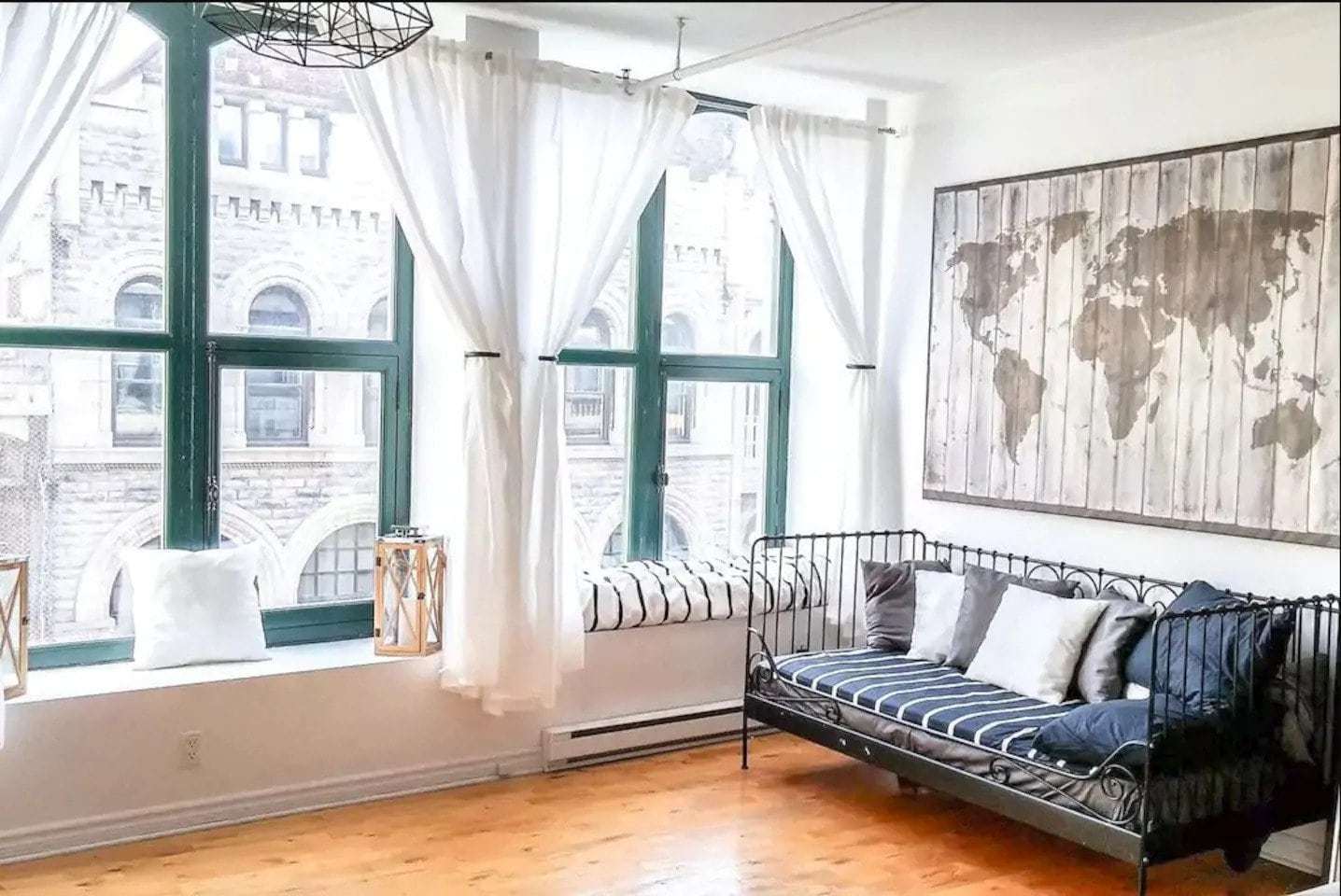 Located at the core of Old Montreal, this spacious studio offers all you could want during a trip to Montreal. The loft is 150 years old but is styled with elegant, modern touches to provide all the comforts of home and more. Enjoy stunning furniture, large windows, and a fully equipped kitchen.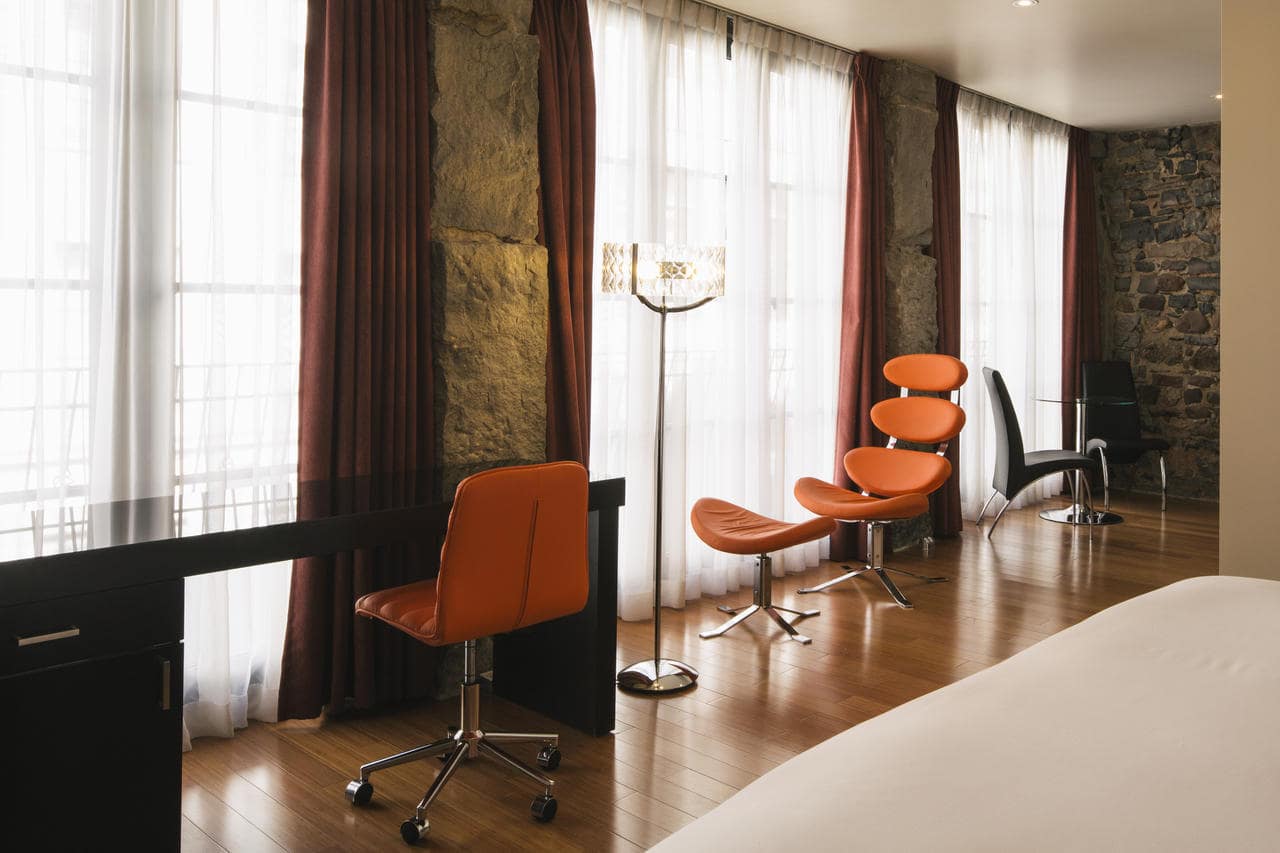 Located just a stone's throw from Notre-Dame Basilica, this modern and stylish hotel offers affordable luxury in Old Montreal. Each room comes with a flat-screen TV, comfortable seating, a work desk, and a deluxe shower. Enjoy a daily buffet breakfast and borrow bicycles free of charge to enhance your Montreal sightseeing.
Romantic Things to Do in Montreal
As if the French language flowing through the cobblestone streets isn't romantic enough. Couples will love the atmosphere these activities can offer.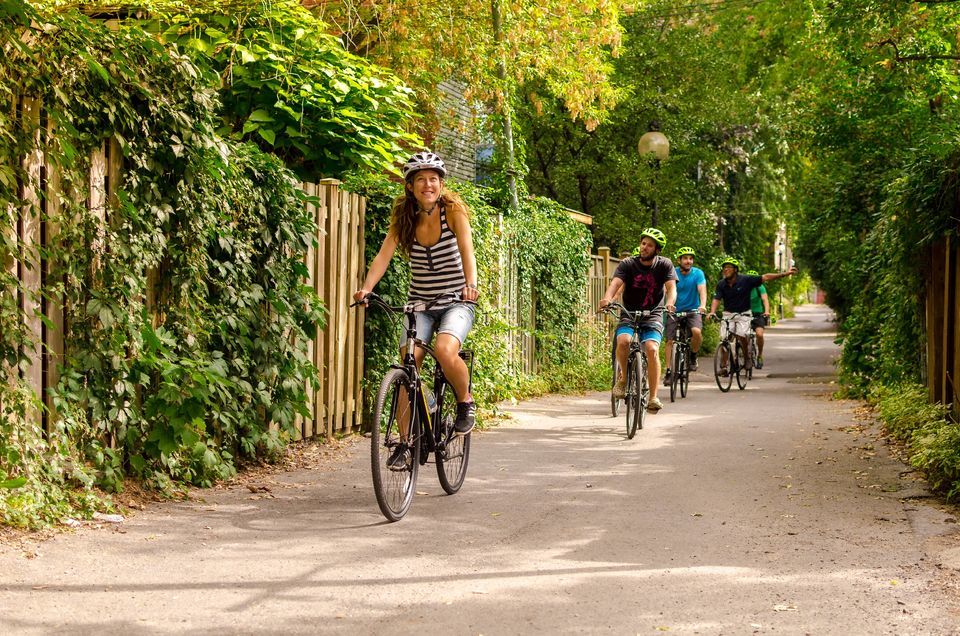 Montreal is a great city to explore by bike. In fact, it's considered amongst the most bike-friendly cities in North America. So it's well worth hopping on one, grabbing a map, and going for an adventure ride through the city.
Glide through the quaint streets of Old Montreal, admiring the historic buildings and charming atmosphere. Check out the colorful streets of Chinatown, vibrant atmosphere in Le Village, and hip happenings of downtown Montreal. The city is your oyster with the help of a bicycle! And a perfect romantic excursion for couples.
Standing at almost 200 feet tall, La Grande Roue is the tallest observation wheel in Canada. It offers amazing views of the Old Port, St. Lawrence River, and the city surroundings. The ride lasts around 20 minutes, each one packed with gorgeous city sights.
Riding the wheel is particularly romantic in the evening when the city lights start to twinkle and reflect off the river below. Even better, try to catch the sunset. They operate all year round and are perfectly climate controlled, to keep you comfortable no matter the weather.
Is This the Best Daypack EVER???
Best Free Things to Do in Montreal
Short on cash? This is the section for you. Budget backpacking in Montreal is definitely possible – so don't hesitate to plan your trip!
15. Marvel at Montreal's Notre-Dame Basilica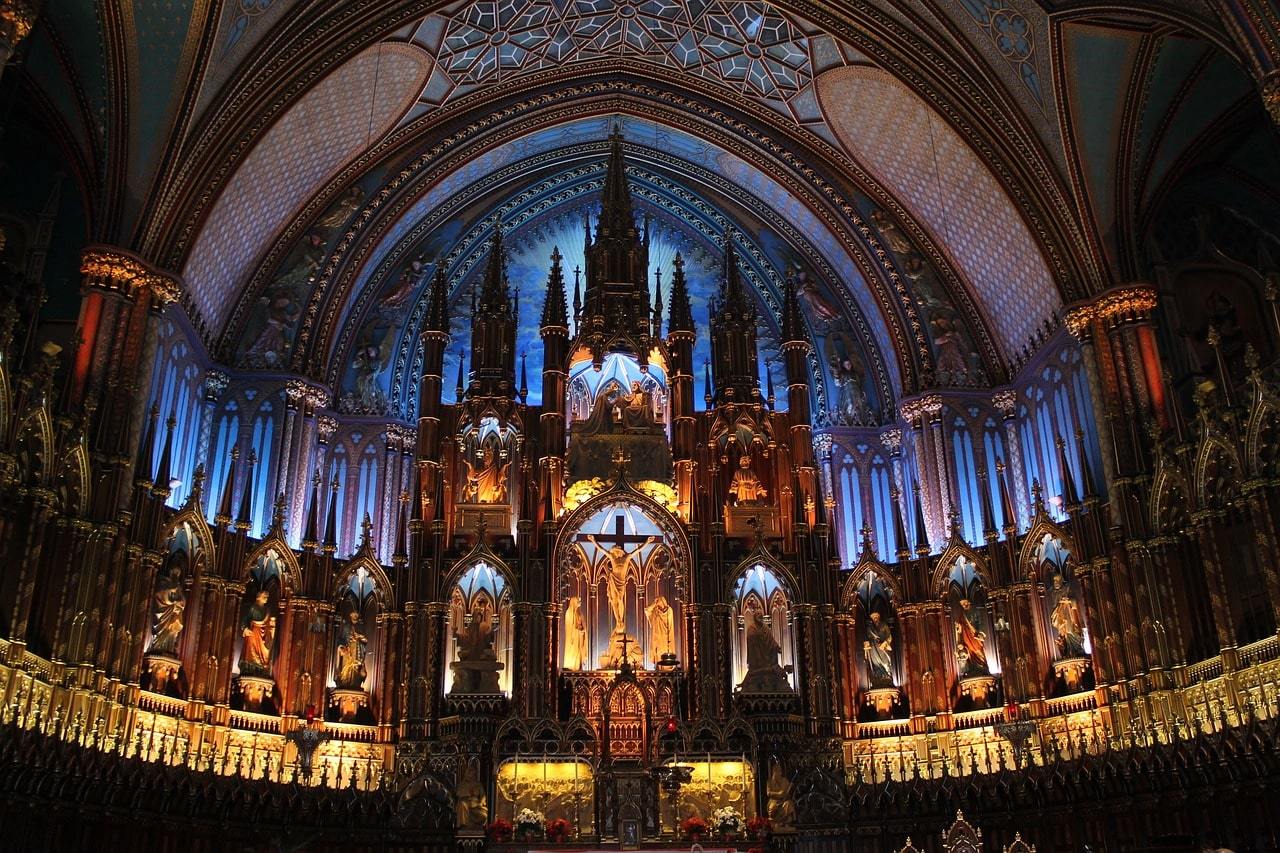 Seeing around 11 million visitors each year, the Notre-Dame Basilica is undoubtedly one of the most popular Montreal tourist attractions. With roots stretching back to the early 1800s, and an impressive facade, the building towers boldly above a bustling city square.
But the real attraction is the interior, which was crafted and tweaked over the course of generations. It's incredibly colorful, ornate, intricate, and breathtaking, with domed, decorated ceilings soaring high overhead. If you're wondering what to see in Montreal, this is a good place to start.
Entry to the basilica is free for early morning prayer and mass daily, but it can be entered at other times for a small fee ($5).
For an entirely otherworldly experience, aim to catch a spectacular AURA event, which takes place inside the basilica every evening bar Sundays.
16. Meander Around Mount Royal Park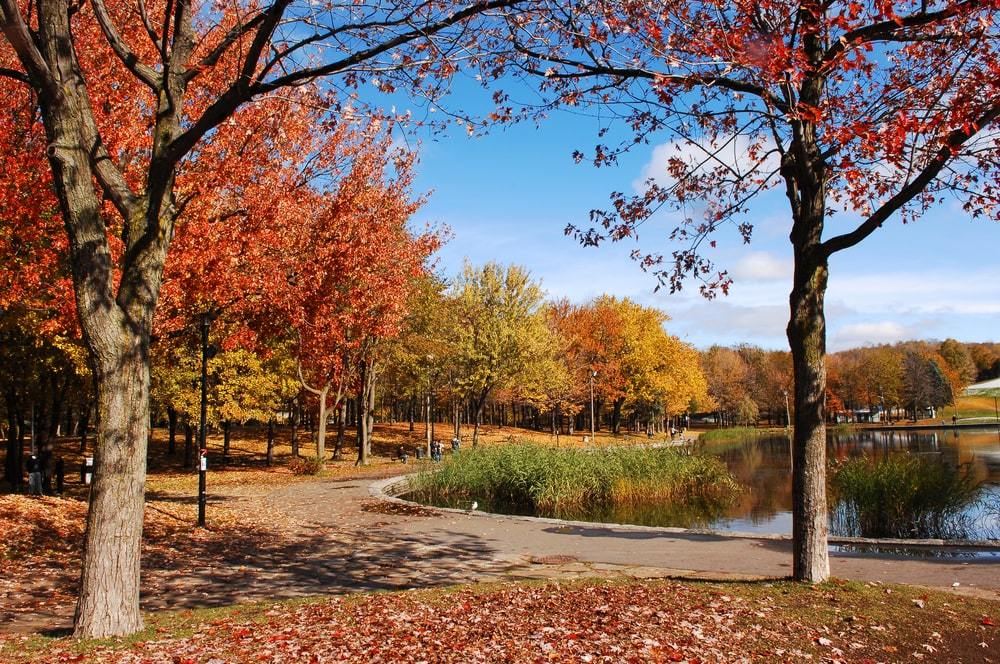 Mount Royal is topped with the city's favorite green space, Mount Royal Park, where you'll find plenty to see and do.
One of the main attractions is, of course, the stunning views of the city that the hill affords those who climb it. But the park has much more to offer. Head to Beaver Lake during the winter for some scenic outdoor ice skating, or during the summer for a picnic and a peaceful paddle.
The park also frequently hosts live entertainment at the gazebo. And every summer Sunday, you can move to the groove of a thousand drummers at the Tam-Tams weekly drumming festival.
17. Discover the Flavors of Jean-Talon Market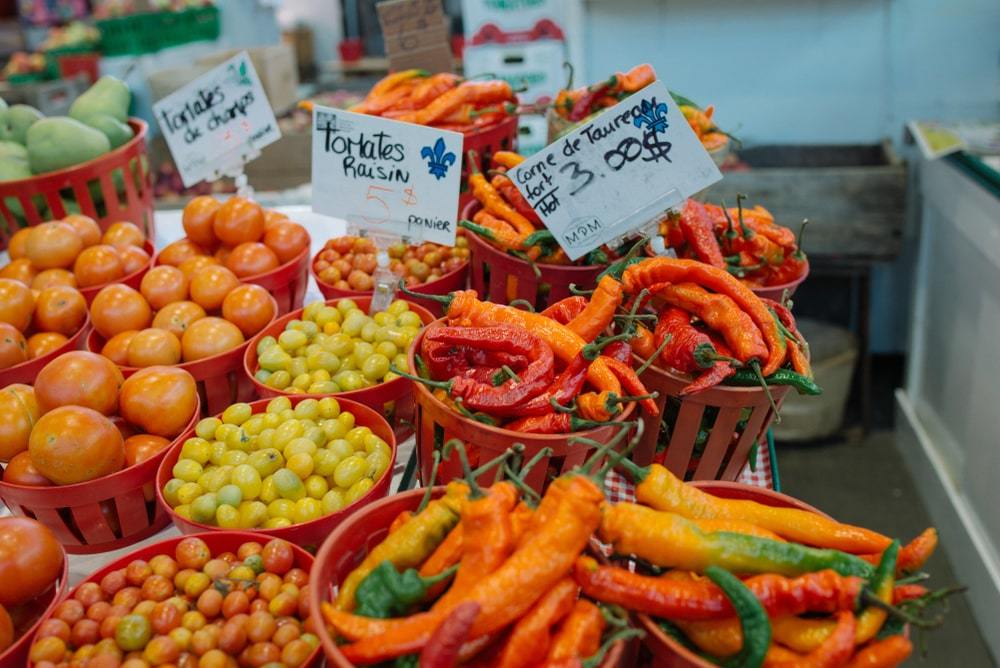 The Jean-Talon Market is a wonderful open-air market near Boulevard St. Laurent, showcasing the city's wealth of talented, local chefs, produce-growers, and craft-makers. The food here is the main attraction, with fresh-from-the-ground, locally grown produce and a myriad of deliciously prepared dishes.
Alongside Canadian specialties, you'll find flavors from all around the world. But even if you'd prefer not to spend, the market has a great atmosphere and is a great place to dive into the local culture.
Books to Read in Montreal
Whether you're waiting for the bus or being stuck on a train, having a nice book to read with you is always great. Educate or entertain yourself or simply get your mind off for a while – definitely better than staring at your phone screen all day. Here are our favorites:
The Tin Flute – A classic Canadian work of fiction, written in 1947 by Gabrielle Roy, which chronicles the life of a young woman in the slums of St-Henri in Montreal.
The Fat Woman Next Door is Pregnant – Michel Tremblay's story which takes place over the course of a day in 1942, in the Plateau Mont-Royal neighborhood of Montreal, is known as a great piece of French-language literature used to express the issues in early and late 20th century Quebec.
The Apprenticeship of Duddy Kravitz – This story represents the life of the poor English-speaking residents of Mile End. Mordecai Richler depicts Duddy as the third generation of a Jewish immigrant family, with funny tales and lessons learned about living in Montreal.

Our GREATEST Travel Secrets…
Pop your email here & get the original Broke Backpacker Bible for FREE.
Fun Things to Do in Montreal with Kids
Keep the kids entertained without compromising your enjoyment. These Montreal points of interest are fun for the whole family.
18. Meet the Montreal Biodome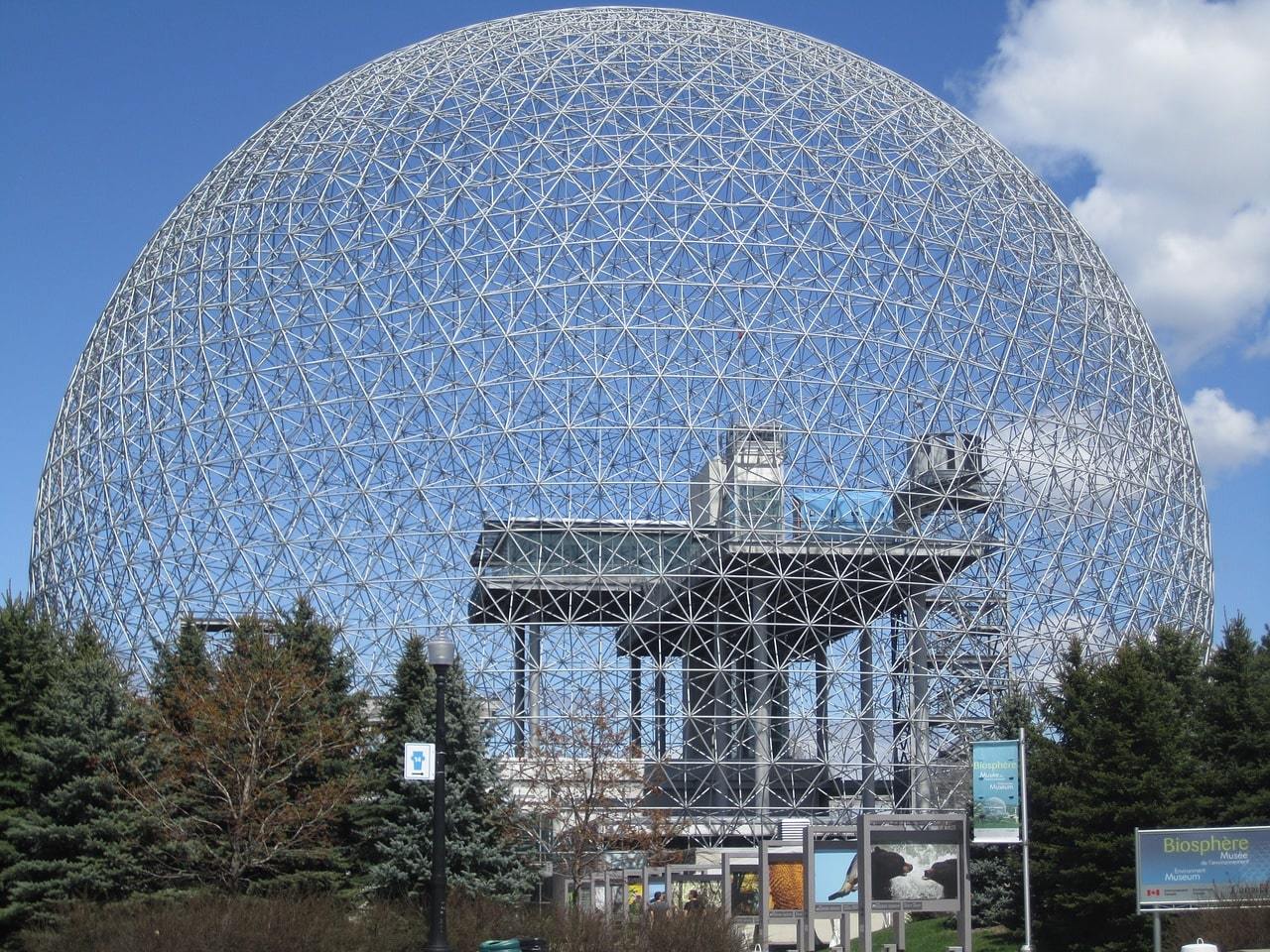 Montreal's Velodrome was originally constructed for the Olympic Games in 1976. It has since, however, been completely converted to an incredibly immersive nature exhibit.
Now known as the Montreal Biodome, the enormous space replicates four ecosystems found throughout the American continent. It houses almost 5,000 animals, living amongst 750 species of plants.
Each ecosystem drops you and the kids into a new world, surrounded by the flora and fauna that make it unique. Stroll through a tropical rainforest, a subpolar region, a Laurentian maple forest, and the Gulf of St. Lawrence, all in one short visit!
19. Immerse Yourself in Nature at the Montreal Botanical Garden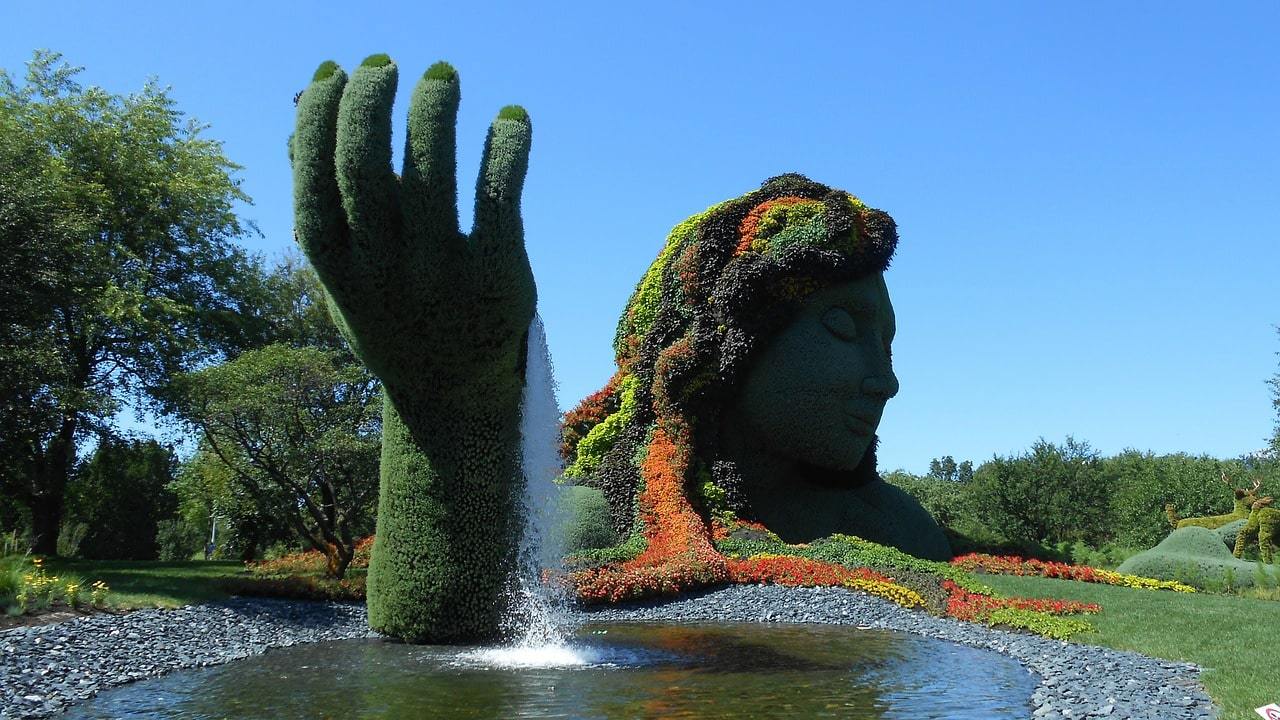 Montreal's Botanical Gardens are the city's central oasis. A peaceful retreat from the city where you can enjoy the sights and sounds of nature from around the world while the kids explore. It's one of the largest botanical gardens on the planet, featuring a vast variety of plant and animal life. 22,000 types of plants to be precise.
The gardens are divided up thematically, featuring a number of indoor greenhouses and several outdoor gardens.
Though the gardens are best enjoyed during the warmer months, they are a year-round attractions, with the indoor greenhouses operating throughout every season.
Other Things to Do in Montreal
Here are a few more exciting activities to add to your Montreal Itinerary.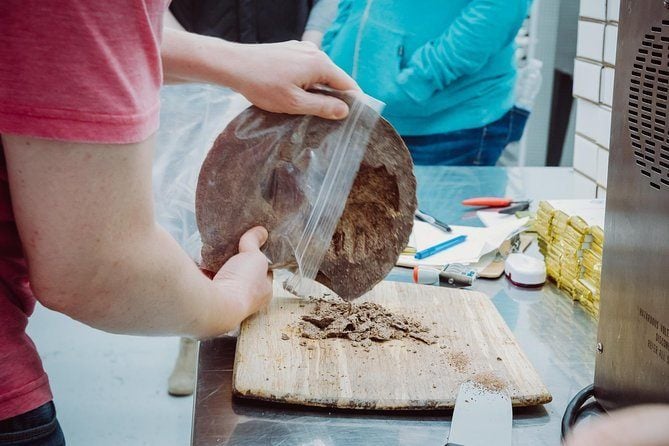 Who doesn't love chocolate? Montreal certainly does. It's home to a host of talented chocolatiers and cocoa connoisseurs, some of whom are happy to share their craft with interested travelers.
Dip your toes into the world of chocolate tasting in Montreal, by visiting its chocolate makers, and sampling some of the finest flavors the city has to offer. You'll also learn all about the craft of chocolate making, it's history, and the bean to bar movement.
Much of Montreal's skyline is stacked cozily between Place Ville Marie Observatory and Mount Royal. This affords visitors to the observatory some of the best views in the city. Perched 600 feet above the city streets, the vistas extend across the majority of Montreal, including Mount Royal, St. Lawrence River, and everything in between.
The top level is where you'll find the indoor observatory, with floor to ceiling glass. But two floors below is a stunning rooftop terrace where you can grab a drink and a bite to eat.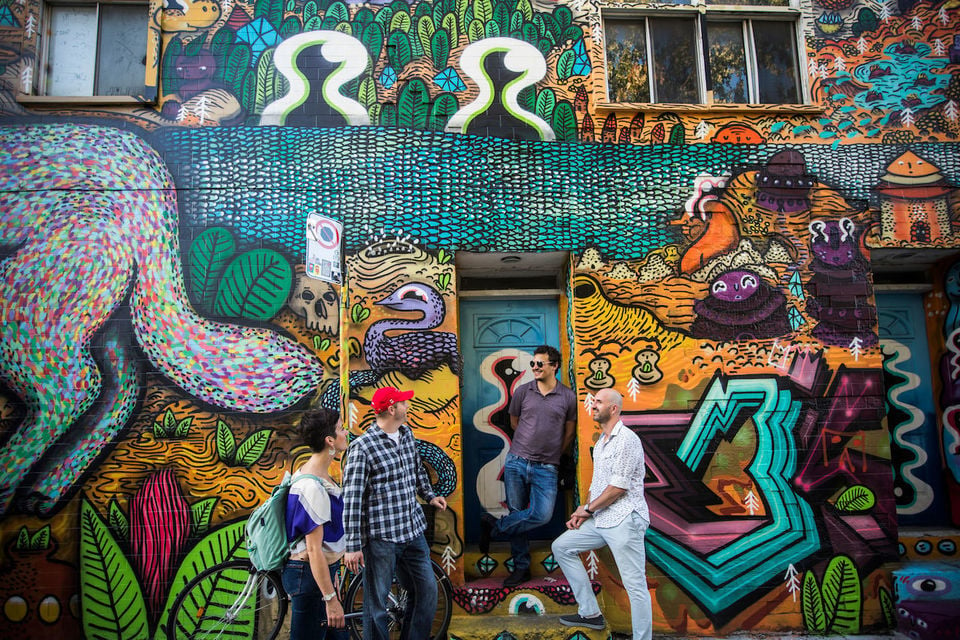 Splashed across Montreal's walls and alleyways is a myriad of murals just waiting to be admired. The city is bursting with colorful street art, both legal and illegal, amongst which you'll find some incredibly impressive artworks.
Some are small and simple, some are vast and complex, extending up the sides of entire buildings. But each one has a fascinating story behind it. Head over to the Plateau neighborhood for the best of the bunch, and jump on a street art tour to learn all about the creators of these cultural wonders.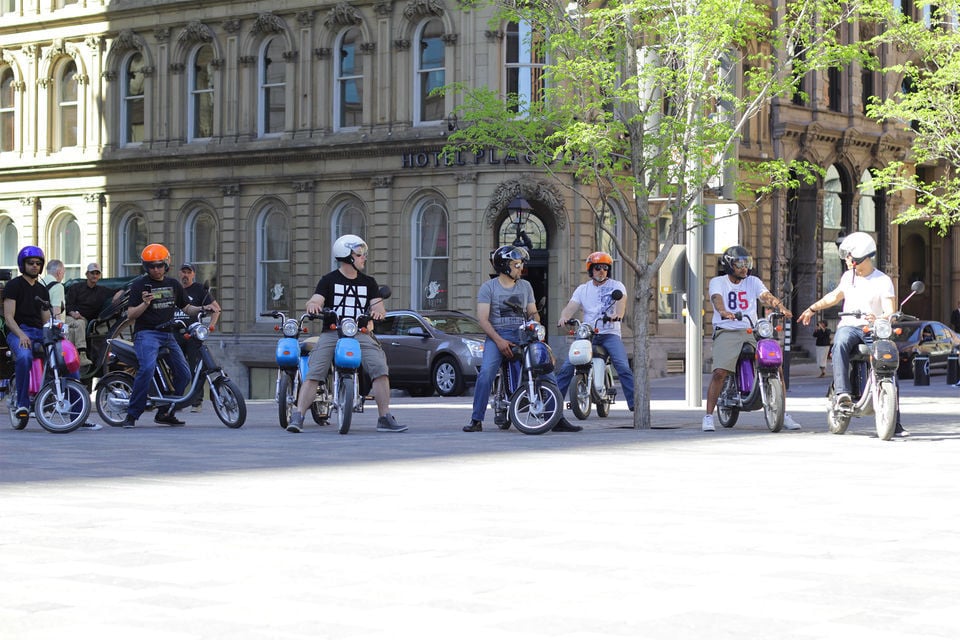 There are plenty of things to see in Montreal. So why not kick your explorations up a gear and scoot through the city on an electric-powered scooter? It's a fun-filled adventure and a sure-fire way to tick off the best of Montreal's sights.
It'll also give you an intimate sense of the city that can't quite be captured when exploring by bus or car. Along the way, stop and immerse yourself in the city scenes, with visits to local markets, parks, boutiques, galleries, and music venues. Grab a bite to eat at the Atwater market and soak up the sights of the city as you cruise through its streets.
Day Trips From Montreal
Quebec has much more to offer than just Montreal. Take the opportunity to explore the city's surrounding areas and activities with these day trips. Having a Montreal itinerary ready can make the whole trip a lot less stressful and heaps more enjoyable.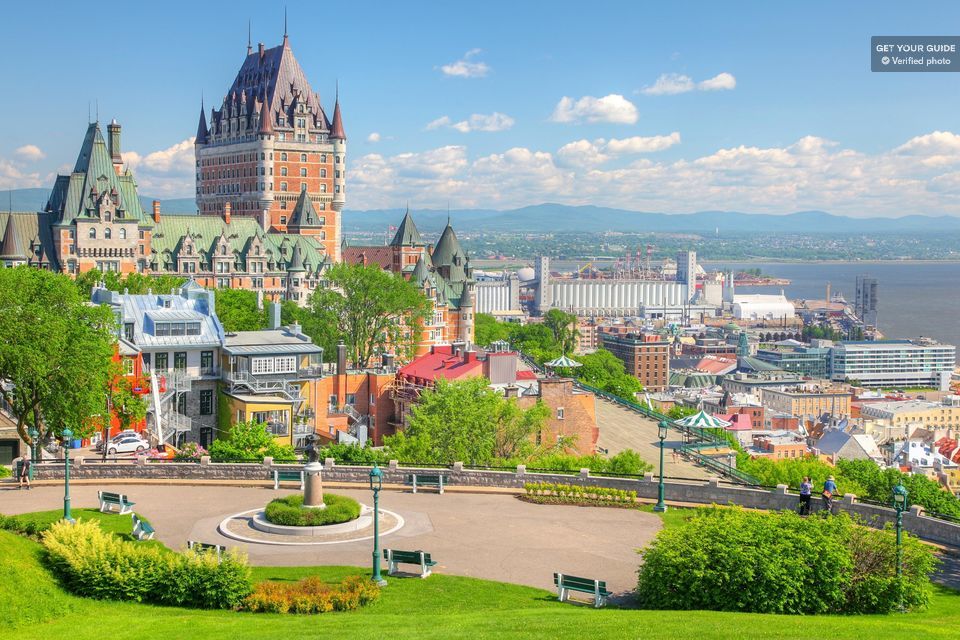 Montreal's neighbor to the northeast, Quebec City, offers arguably more European charm than Montreal itself. It's a smaller, historic city that has retained many of its original buildings throughout the centuries. It's well worth a visit if you appreciate history, culture, and architecture. Wind your way through narrow streets and steep staircases, soaking up the Old World ambiance.
Amongst other attractions, you'll get to dip inside Quebec City's very own Notre-Dame Basilica. You'll get spectacular views of the city and St. Lawrence river while riding the funicular that joins Upper and Lower Quebec City. And this day trip also makes a stop at Montmorency Falls, which are amongst the most impressive in the country.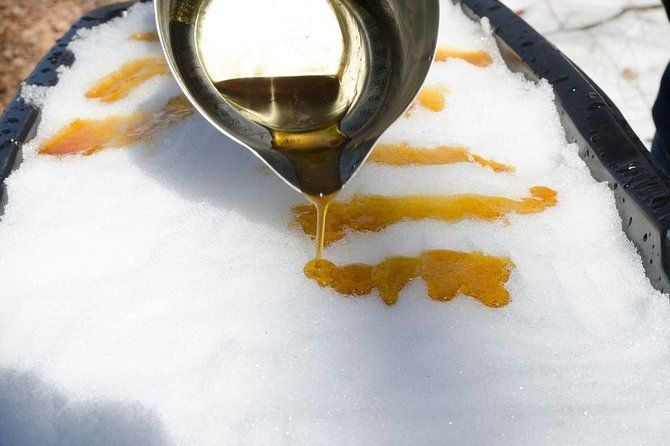 A sugar shack is where the sap of maple trees is boiled into maple syrup. And no place on Earth undertakes this process as passionately and successfully as Quebec. Almost ¾ of the world's maple syrup is produced in the province.
This day trip sees visitors driving through the gorgeous Canadian mountainside between Montreal and one of the nearby sugar shacks. You'll experience and learn about the traditional production process of Canada's favorite condiment, from tree tapping to tasting.
Indulge in an authentic all-you-can-eat meal, where a range of different dishes can be paired with the local maple syrup. Lastly, if weather conditions are right, try out a maple-taffy-on-snow tasting.
Save $$$ • Save the Planet • Save Your Stomach!
Drink water from ANYWHERE. The Grayl Geopress is the worlds leading filtered water bottle protecting you from all manner of waterborne nasties.
Single-use plastic bottles are a MASSIVE threat to marine life. Be a part of the solution and travel with a filter water bottle. Save money and the environment!
We've tested the Geopress rigorously from the icy heights of Pakistan to the tropical jungles of Bali, and can confirm: it's the best water bottle you'll ever buy!
View on REI
Read the Review
3 Day Itinerary in Montreal
Wondering how to structure your time? Here's a simple three-day plan.
Day 1 – Explore Old Montreal
Old Montreal is a perfect introduction to the city. It offers some of the best sights and attractions, as well as a charming atmosphere that will make you fall in love with Montreal.
Start the day off with a stroll through the area's historic streets. Rue Saint-Paul, Rue Saint-Urbain, and Rue Saint-Pierre are some of the best streets on which to start your explorations. But be adventurous and head down any avenue that catches your attention! Next, walk over to Notre-Dame Basilica for a peek inside.
After marveling at the church's Gothic architecture, take a stroll to the Old Port to switch things up a bit. Here, you can tackle the thrilling zip line ride over the port for an adrenaline rush and stellar views. Lastly, finish off the afternoon with a ride on La Grande Roue observation wheel before heading for a delicious meal at one of the city's top-notch restaurants.
Day 2 – Parks and Culture
Wake up fresh and early and head to a Montreal Cafe to fuel up for the day. Mount Royal will be your first stop. There are a number of options for getting up the hill, including driving, walking, cycling, and bussing. The 45-minute walk is a great experience if you're up for the challenge!
Once up in Mount Royal Park, walk to Beaver Lake for a spot of ice skating or paddling depending on the season. Enjoy the atmosphere for a while before making your way back down on the eastern side.
The Montreal Museum of Fine Arts is located right at the bottom of the hill, so take the opportunity to check it out.
Next, embark on the 15-minute stroll northeast to reach Place Ville Marie Observatory. From the top, you'll get a great view of the city and be able to plot out the places you've already visited. End the day off with a bit of stand-up comedy and a drink at The Comedy Nest, just a short metro ride away.
Day 3 – Food and Further Explorations
We'll allow you a slow start on day three. Have a sleep in and grab some coffee before making your way to Mile End for an 11 am food tour. You'll get well acquainted with the area, as well as with Montreal's vibrant culinary scene.
By mid-afternoon, the tour will be finished and it'll be time to head to RÉSO. There are over 100 exterior entrances to The Underground City, but we recommend catching a 10-minute metro to Place-des-Arts metro station. This is one of the main hubs of RÉSO, from which you can start your explorations.
Once you've had your fill of The Underground City, catch a metro to Le Plateau and head up to the surface. Spend some time soaking up the vibe in this hip area, exploring any street you please. You can also do some street art spotting along the way. End the day off right by walking to Le Lab for fantastic cocktails, tasty treats, and an awesome atmosphere.
Don't forget your travel insurance for Montreal
ALWAYS sort out your backpacker insurance before your trip. There's plenty to choose from in that department, but a good place to start is Safety Wing.
They offer month-to-month payments, no lock-in contracts, and require absolutely no itineraries: that's the exact kind of insurance long-term travellers and digital nomads need.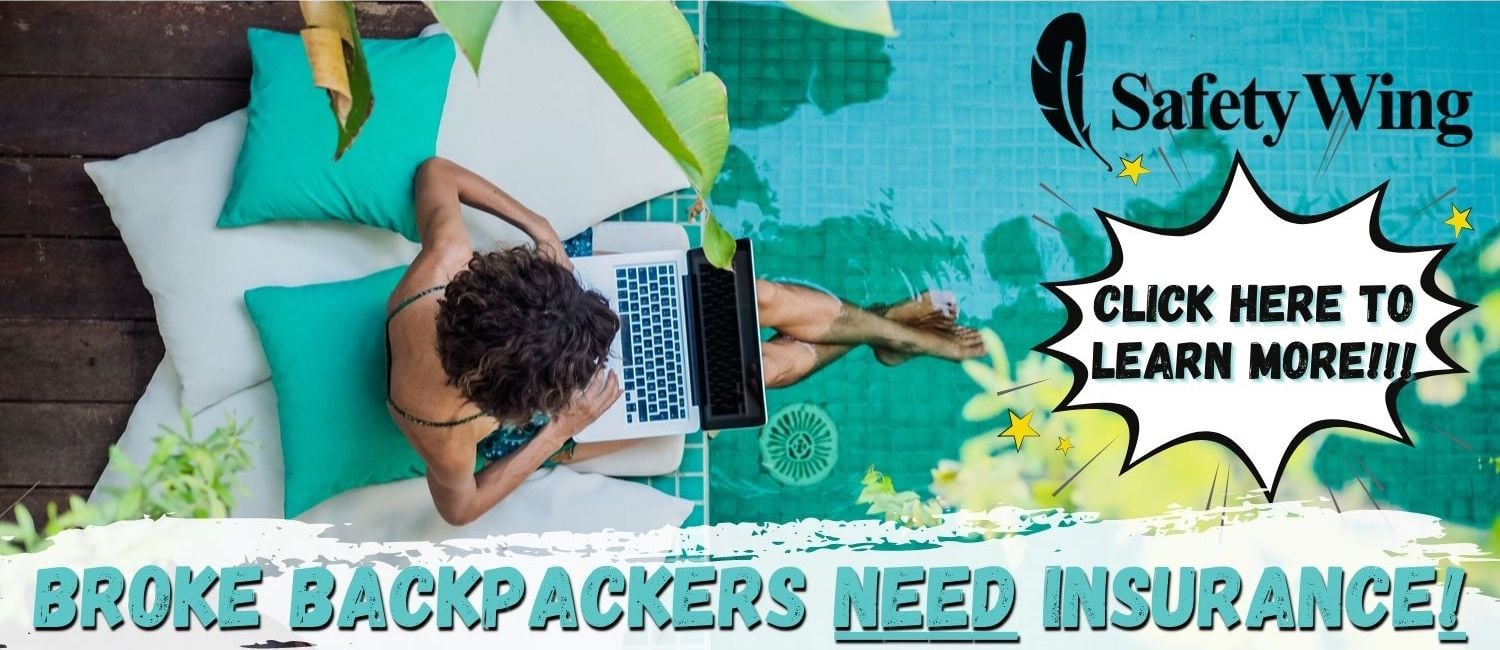 SafetyWing is cheap, easy, and admin-free: just sign up lickety-split so you can get back to it!
Click the button below to learn more about SafetyWing's setup or read our insider review for the full tasty scoop.
FAQ on Things to Do in Montreal
Here are some quick answers to common questions about what to do and see in Montreal.
Conclusion
Montreal has something for everyone. It's a foodie fantasy, a history buff's nirvana, a paradise for night owls, and a dream for lovers of art and culture. It offers the energy and modernity of North America, with a layer of charm and elegance filtering through from its European roots. Stunning views, peaceful parks, and plenty of cultural events are also part of the package.
Whether you're visiting for the atmosphere, the culture, the architecture, or the crafts, there's something perfectly suited to you on our list. These activities are the best the city has to offer, and we're sure they'll set you up for an incredible time!
---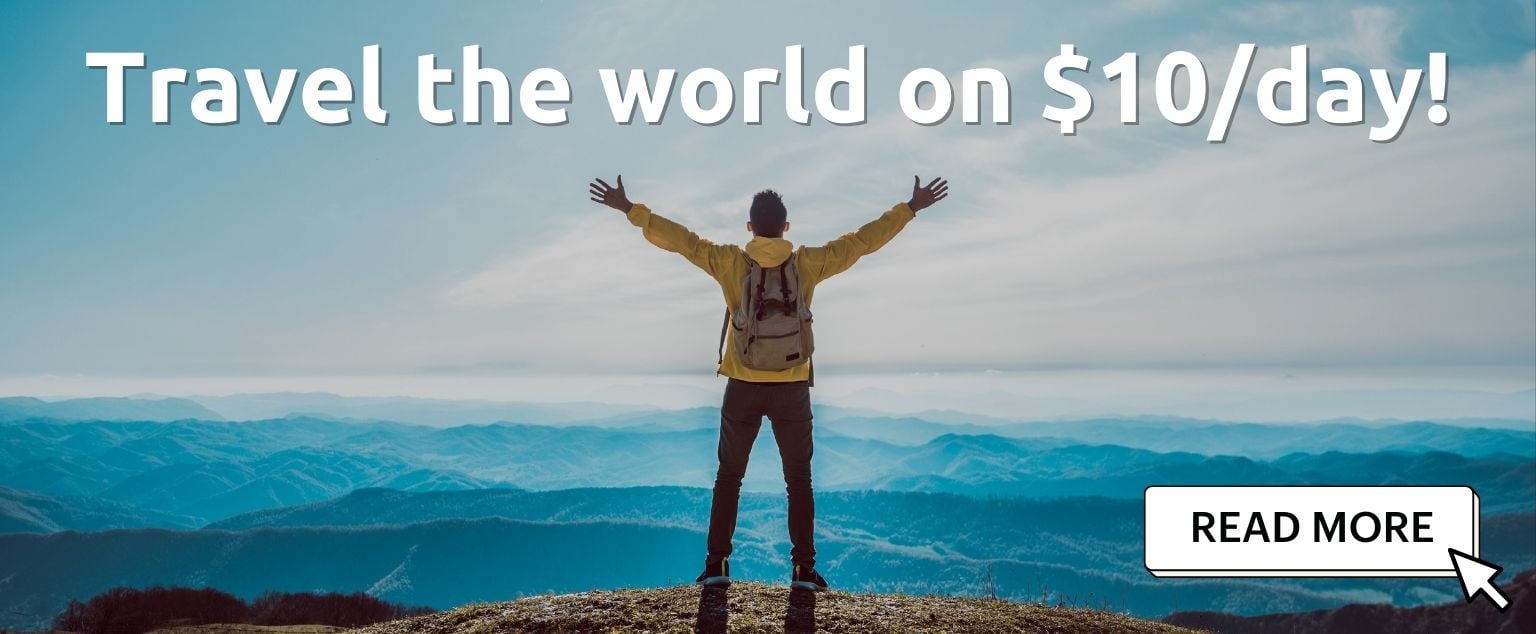 And for transparency's sake, please know that some of the links in our content are affiliate links. That means that if you book your accommodation, buy your gear, or sort your insurance through our link, we earn a small commission (at no extra cost to you). That said, we only link to the gear we trust and never recommend services we don't believe are up to scratch. Again, thank you!