Surrounded by snow-capped mountain ranges of British Columbia, a temperate rainforest, sandy beaches and all the cultural and culinary benefits of a buoyant urban metropolis, there is nowhere in the world quite like Vancouver!
Vancouver is packed with museums and galleries and the surrounding area is a haven for outdoor activities, sports enthusiasts, and nature seekers. Not only is Vancouver one of Canada's densest cities, but it's also one of the most ethnically diverse cities in the entire country which means that every neighbourhood has its own character and the cuisine in the city is an adventure in its own right!
There are many reasons why Vancouver is consistently rated one of the top 10 liveable cities in the world – but we want to tell you why it's also one of the most lovable!
To help you plan your visit to British Columbia's crown jewel, we've compiled the ultimate list to the best things to do in Vancouver!
Top Things to Do in Vancouver
Let's start with the cream of the crop shall we? These activities are undoubtedly the best things to do for travelers visiting Vancouver.
1. Explore Grouse Mountain and cross the Capilano Suspension Bridge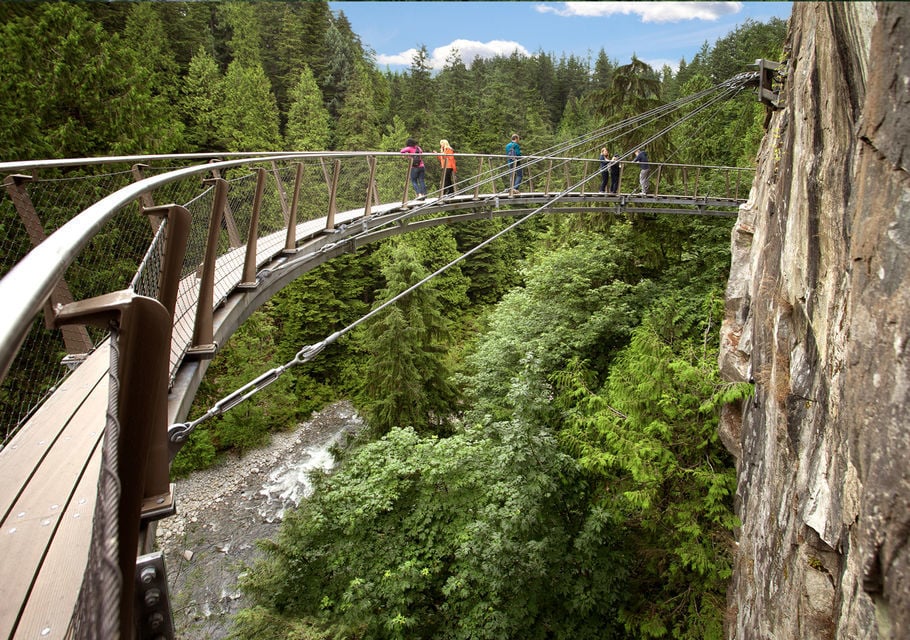 No matter what time of year you go to Vancouver, exploring Grouse Mountain is a must-do!
This North Shore mountain offers a temperate rainforest abundant in wildlife, incredible hiking trails and phenomenal views. You can ride the Grouse Gondola up or brave the Grouse Grind track. The summit has heaps of activities, you can even cross the world's largest suspension footbridge – the nail-biting Capilano Suspension Bridge!
Make a full day of it by pre-purchasing a ticket, skipping the line, and exploring all the best bits of Grouse Mountain. Whatever you do, don't miss the chance to see the grizzly bears at the Refuge for Endangered Wildlife!
2. Go kayaking in Deep Cove
Deep Cove is a picturesque village in North Vancouver, with a sheltered cove offering perfect conditions for kayaking or stand up paddleboarding.
You can rent a kayak and explore the tranquil waters safely without a guide. The cove is flanked by lush green forestry, sandy beaches and sweeping mountains – you'll be rewarded with stunning views as you paddle the area. It's great for getting some fresh air and exercise.
FIRST TIME IN VANCOUVER
Yaletown
Yaletown is located in downtown Vancouver and our recommendation for where to stay in Vancouver for first-time visitors. On the waterfront, this neighbourhood is a revitalized industrial zone that is now one of the city's hottest areas. It's home to a number of chic hotels and independent boutiques as well as modern restaurants and trendy bars.
Places to visit:
Ignite your imagination at Science World at TELUS World of Science
Catch a concert or major sporting event, like a B.C. Lions football game at B.C. Place
Enjoy good food, tasty drinks and a great atmosphere at Yaletown Brewing Company
For more awesome places to stay, check out our full Vancouver Neighborhood Guide!
3. Discover the flavours of Vancouver's Gastown
There's no better way to digest the culture of a city than by tucking into its local food, and Vancouver is a treasure trove of gastronomic delights.
Gastown is full of eateries including fresh seafood, gourmet sandwiches and mouth-watering pizza. These quaint cobblestone streets and historic Victorian buildings are a pleasure to explore, even better when teamed with cuisine! You can wander the streets and dip into eateries that catch your fancy or let a Vancouverite take you on a walking tour and show you the best spots in Gastown.
4. Learn about where Vancouver all begun at the Museum of Anthropology
If you want to brush up on your facts and get to know the origins of Vancouver, be sure to donate a few hours of your time to the Museum of Anthropology.
The institution is home to Indigenous artefacts and totem poles from First Nations as well as contemporary art.
Definitely one of the better things to do in Vancouver on a rainy day!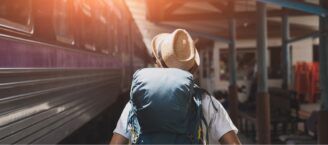 Unlock the secrets of traveling on a budget!
Sign up for The Broke Backpacker newsletter to receive regular tips on how to travel for less plus a FREE copy of The Backpacker Bible!
5. Go cycling in Stanley Park
Find out why Vancouver's largest park has captured the hearts of locals and tourists from around the world!
Boasting 400 hectares and kilometres of trails, Stanley Park is best explored by bicycle. Explore the natural and cultural landmarks, inhale the flowers and spot wildlife in the forestry and wetlands. There are even some fine beaches to relax on.
You can hire a bicycle independently or join a tour group to team up with other travellers and a friendly local if you're feeling sociable.
6. Peruse art at the Vancouver Art Gallery
This stunning building is home to over 11,000 artworks from local and internationally acclaimed artists.
Those looking to save some money can visit on Tuesday evenings where the admission is by donation. Bargain!
The BEST Travel Backpack?!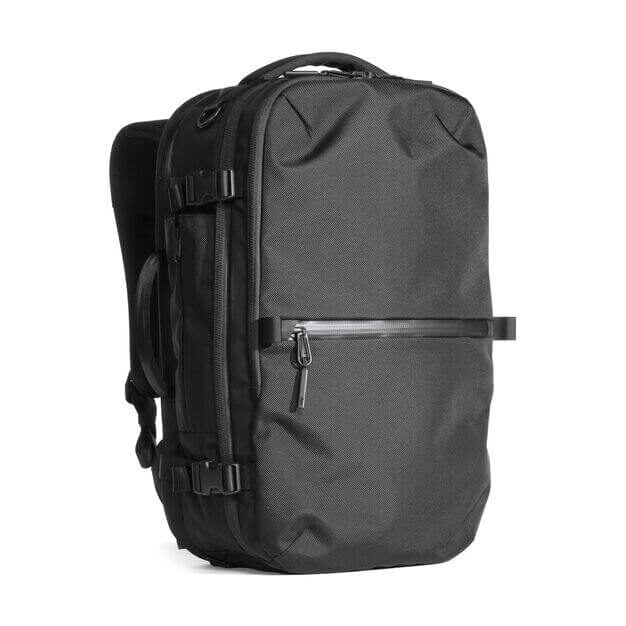 Pssssst! Not picked the perfect travel backpack yet? The Broke Backpacker team has tried out over thirty backpacks this year! Our favourite travel backpack is the Aer Travel Pack 2.
View on AER
Unusual Things to Do in Vancouver
Plan trip to Vancouver to remember by ticking off at least one of these unusual things to do!
7. Ski and surf on the same day
There are only a handful of places in the world unique enough for people to ski in the morning and surf in the afternoon. You're in luck – Vancouver is one of them!
Only two hours from the city is North America's most famous ski area, Whistler. The ski season usually runs from November until late April. Experienced snow bunnies can ski the glaciers of Blackcomb Mountain, whilst newbies can take classes on the gentler slopes. You can ski on Grouse Mountain too.
If you love carving just that much, then stay in Whistler the night before and leave in the early afternoon to makes it back down the slopes in time to catch the surf on Vancouver Island!
8. Visit the abandoned Riverview Hospital
A short drive out of the city brings you to the abandoned psychiatric hospital of Riverview Hospital. This is an eerie but fascinating and extremely unusual way to spend a few hours in Vancouver! Visitors are welcome to visit the building and explore the derelict wards and wander the grounds.
Hauntingly desolate, the hospital was in use until as recently as 2010. Nowadays, it is Canada's most highly scouted film location! Rumour has it the premises are haunted, so check your photos closely for mysterious orbs…
9. Embrace your inner-hippy at Wreck Beach
Who'd have guessed that Vancouver is home to North America's largest (and world's greatest, apparently) naturist beach!
This 7.8 kilometres stretch of golden sand is one of the busiest beaches in Vancouver during summer and hosts a whole agenda of games and events including the Bare Buns Run and world record skinny dipping event.
Wreck Beach a clothes-optional policy, so if you'd rather have a couple of tan lines to take home – that's totally OK.
Safety in Vancouver
Another great thing about Vancouver is that it is an extremely safe city.
Of course, visitors should always exercise caution, particularly at night. If you hire a car, do not leave any valuables in overnight as unfortunately, break-ins do happen. Petty crime is still possible such as pick-pocketing so be hide your money when traveling in crowded and touristic areas and whilst taking public transport.
And damn well make sure you get always get travel insurance before you fly! It's super important for any trip, even to safe and beautiful cities.
Check out our roundup of the best travel insurance policy providers.
Want to keep your money safe?
You should always have emergency cash hidden on you – pick up this awesome security belt with its hidden pocket before you travel, it's perfect for hiding money, a passport photocopy.
Things to Do at Night in Vancouver
If you're spending the weekend in Vancouver, don't expect to get much rest. Vancouver certainly doesn't go to sleep once the sun sets, here's how to keep yourself busy!
10. Tickle your tastebuds at the Richmond Night Market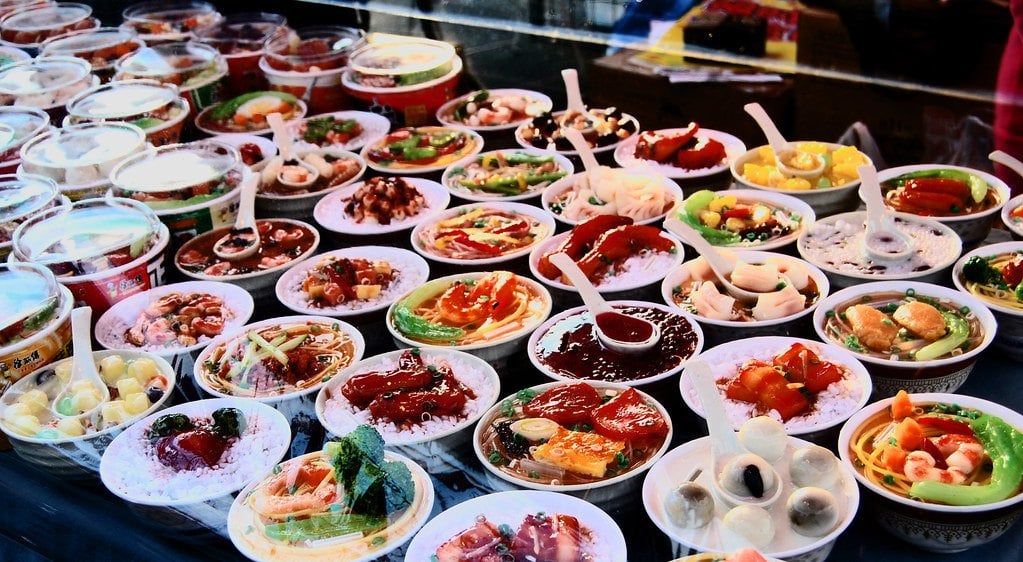 Did we mention how the awesome cuisine in Vancouver? It's surprisingly exotic, too! Richmond is home to Vancouver's largest Chinese population, and the market reflects this by dishing up eastern flavours.
The Richmond Night Market opens every day during Vancouver's summer months of May – October and you'll find dozens of stalls to explore.
11. Glug Vancouver's renowned craft beer
Vancouver's craft beer scene is so epic that there is even an entire district dedicated to the harder stuff – the Brewery Creek neighborhood! Take yourself out for a night of evening in this East Vancouver 'hood and get to know your hops from your malts.
We can recommend the Brassneck Brewery, Steamworks Brew Pub and Brewhall to get you started but there are loads of fine drinking dens to choose from.
Where to Stay in Vancouver
Looking for a specific place to stay? Whether you're looking for a swanky apartment or a cheap Vancouver hostel to crash at, the city provides. These are our highest recommendations for places to stay in Vancouver.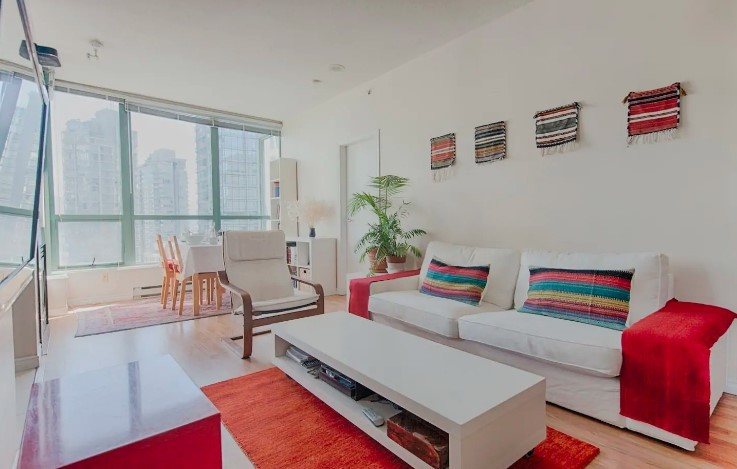 Exactly what it purports to be – a bright warm room in a high-up apartment. Awesome city views await, and it helps that the apratment complex is so decked out with goodies – gym, pool, jacuzzi, and a sauna!
There is also a fully equipped kitchen too so if you need to make lunch or dinner, there's no problem there. The location is super convenient, and it's just nice places to stay in Vancouver's bustling heart.
This West End hostel is the best place to stay in Vancouver if you're on a budget. Situated at the center of this safe and beautiful neighborhood, this hostel is close to shops, restaurants, bars, and the beach.
Offering private and shared accommodations, each stay includes bed and bath linens, a comfortable mattress, and free daily breakfast.
The Victorian Hotel Vancouver offers guests affordable luxury in the centre of the city. This charming three-star hotel is within walking distance of the city's top attractions, best shopping, and trendiest restaurants.
It features a wide variety of modern amenities, including a gym and ski lockers. Each room is outfitted with iPod docking stations, a flat-screen TV and personal coffee/tea making facilities.
Check out our other awesome Vancouver accommodation posts – book your stay!
Romantic Things to Do in Vancouver
Vancouver is a dreamy spot for date night, make the most of the beautiful outdoors with your true love!
12. Share a sunset stroll along the beach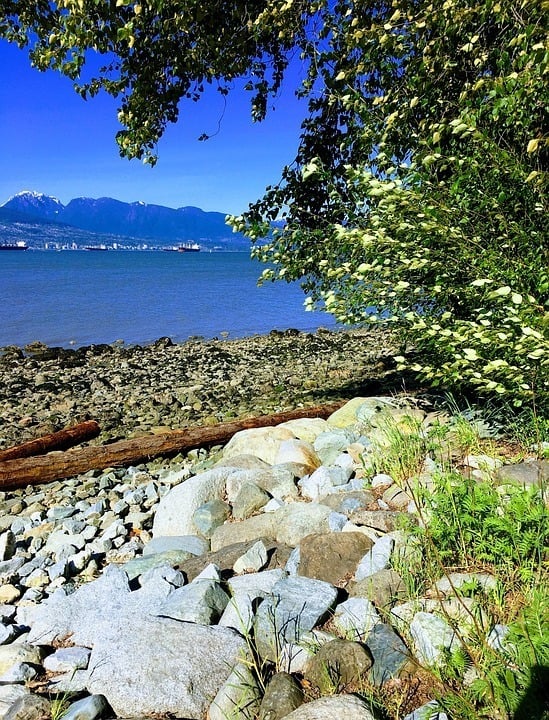 Yes we know it's a cliché, but we know nobody can resist a sunset wander, hand in hand with their beau. English Bay Beach and Sunset Beach (unsurprisingly) offer terrific views of the departing sun.
Pack a beach picnic and take along along a bottle of British Columbia's finest wine to enjoy in Sunset Beach Park.
13. Wander through the VanDusen Botanical Gardens
Take a walk in the green oasis of VanDusen Botanical Gardens which has over 7,500 plant species and varieties from around the world. Visiting the botanical garden is easily one of the most romantic things in Vancouver to do, and most relaxing too. It's blooming lovely in summer!
Always Be Insured
What's our top travel safety tip forever and always? Get insured.
Don't forget to sort your travel insurance! We've put together a roundup of Travel Insurance for backpackers – check it out here, or if you're low on time, get a quote from World Nomads, our favorite travel insurance provider.
Getting an estimate from World Nomads is simple – just click the button or image below, fill out the necessary info, and you're on your way!

Still not sure if World Nomads is right for you? Then check out our in-depth World Nomads review for the inside scoop on their pros and cons.
Best Free Things to Do in Vancouver
Even a huge city like Vancouver has some freebies to keep travelers smiling!
14. Strike your best warrior with a free yoga class
Another reason to fall in love with Vancouver: free yoga! The Mat Collective host free yoga classes all summer.
These classes take place outdoors in two different locations and are suited to newbie or experienced yogis. Wake up your body and nourish your soul with Chaturangas and Savasanas!
15. Hang out at Canada Place
Canada Place is a great spot to people watch and admire cruise ships arriving into the city and seaplanes doing their laps around the port. The building is fashioned to resemble the sails of ships and can rival the Sydney Opera House as a waterfront landmark.
Soak up the sun and the atmosphere!
Books to Read in Vancouver
Things to Do with Kids in Vancouver
There are plenty of cool places to go in Vancouver to keep the kids happy, safe, and temporarily outta your hair!
16. Spend a day at Granville Island
Or Granville Peninsula, to be more correct! Accessible by Aquabus or old-fashioned road bus Granville Island is crammed with theatres, artisan workshops and craft studios ranging from pottery to sake. There's also the Granville Island Public Market.
Little ones are spoilt with their very own Kids Market, which features toy and costume shops. The Adventure Zone indoor playground is open year-round, and during summer kids can make a splash at the Granville Island Water Park. With sprays, hydrants and a colossal water slide, it's totally FREE!
17. Scout the city from a seaplane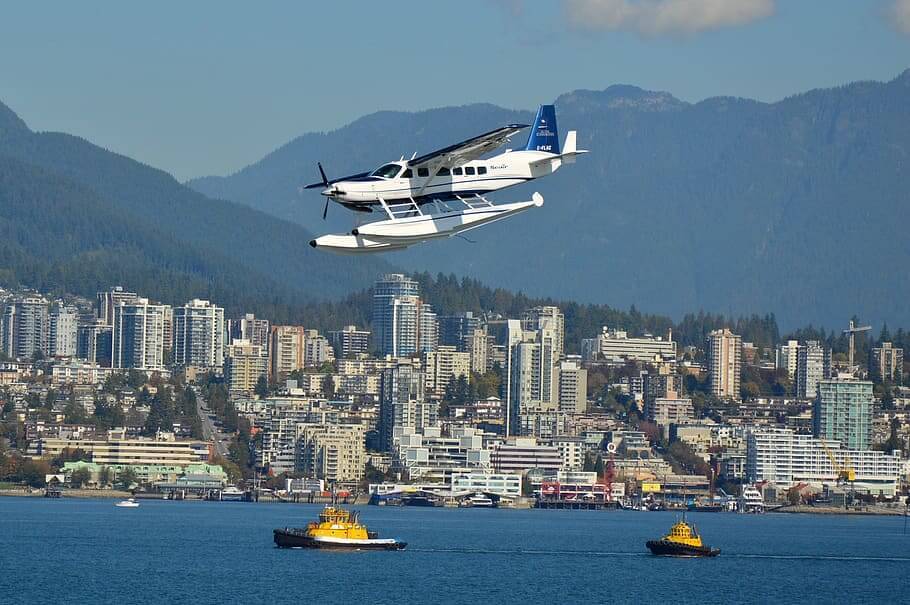 Now we know this is a pricey one for the whole family, but if you want to treat yourselves to something really special we wholeheartedly recommend readying your sea AND AIR legs for a seaplane adventure
A seaplane panorama excursion around Vancouver consists of a half-hour trip exploring the sky and seeing views of the city from a whole new perspective. The kids will love the feeling of darting around the city's upper reaches, and the fact that you start and end the tour in the water itself is just the extra spicy bonus!
Day Trips From Vancouver
Whether you are spending a weekend or a memorable three days in Vancouver, you will want to make time for these day trips. Each one offers you an adventure, leading you to the best and most exciting parts of the city to make your journey on this Vancouver itinerary unforgettable!
Indian Arm Half-Day Lunch Cruise from Vancouver
Go on the day trip of a lifetime and cruise the easy ocean waters of the Indian Arm for a relaxing and scenic four hours spent in Vancouver. Along your tour of these inland waters, take in the magnificent sights that surround you as you sail!
Enjoy views of the majestic vistas, admire authentic waterfront homes, admire the Silver Falls and even venture privately owned islands along the way! You will be able to spot so much on this fun trip, so be sure to keep your eyes peeled.
You may encounter native wildlife, such as the famous grizzly bears and bald eagles on one of the best day trips from Vancouver!
Vancouver Delights: 7 Hour City Tour
Discover the best places to visit in Vancouver on this insightful and enthralling 7-hour city tour! Not only will you learn more about Vancouver, but you will also get to learn more about the adjacent North Shore. Your tour is fully narrated by an award-winning and passionate guide who will take you on an urban adventure!
Spend your day embarking on a thrilling tour through the city, seeing the incredible Capilano Suspension Bridge Park as well as the heart-stopping Cliffwalk, learning about the life cycle of the famous salmon fish and so much more! You are bound to fall in love with the sites and wonders of Vancouver on this city tour.
Sea Vancouver Waterfront Sightseeing Adventure
Whilst you are onboard this zodiac boat, you will have the chance to spend 1.5 hours cruising the tranquil waterways and sightseeing. You will also be lead with expert commentary as you sail along the most prominent and gorgeous Vancouver waterway channels, such as Burrard Inlet, English Bay and Stanley Park!
3 Day Vancouver Itinerary
Day 1: Get to know the real Vancouver
Uncover the cultural history of Vancouver by spending a few hours exploring the Museum of Anthropology and discovering art and totem poles of the First Nations.
Once you're ready, hop on the Sky Train and take a stroll around the fetching Van Dusen Botanical Gardens and the serenely green Livingstone Lake with a picnic for lunch.
Next, take the Aquabus across to the sandpit Granville Island and spend the rest of your day picking up souvenirs and enjoying the art and coffee shops on the peninsula alongside Vancouver's locals. Make a night of it by catching some live music and feasting on the many food options at the Granville Island Public Market.
Day 2: Connect with Vancouver's natural wonders
Head up Grouse Mountain to take in panoramas of Vancouver – this is easily a must-do thing in Vancouver! You can either take the gondola or tackle the Grouse Grind hiking track if you're feeling fit enough. Don't miss the chance to get some photos crossing the jaw-dropping Capilano Suspension Bridge! In winter you can ski on the mountain.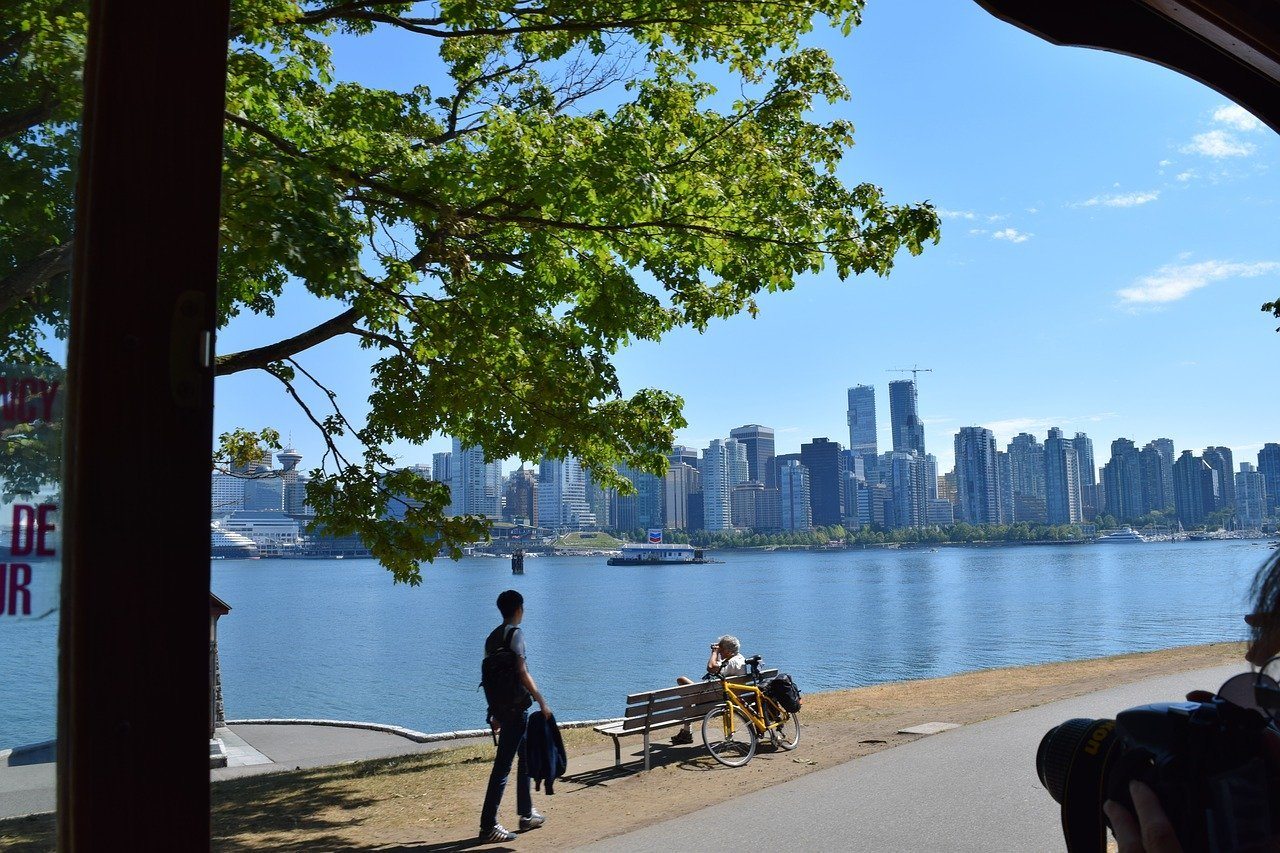 In the afternoon, go for a leisurely walk or cycle around Stanley Park. It's not far from the foot of the mountain, and you can take the bus. Simply chill on one of the beaches in this beautiful park with a book if you prefer some downtime or call into the Aquarium in the southeast end of the park.
Day 3: Eat your way around Gastown and Downtown Vancouver
After an active day yesterday, take it easy today by plunging into Vancouver's gastronomic scene and explore the culinary delights and historic sights of Gastown and Downtown Vancouver.
You could take a food tour with a local, or simply explore and lose yourself among the eaters and of the neighborhod such as the Steam Clock. Between snacking, you could either people-watch at Canada Place or take a meditative moment at the Dr. Sun Yat-Sen Classical Chinese Garden. Either are within walking distance of Gastown!
From here you can also walk to Vancouver Art Gallery and conclude your day by watching the sunset from Sunset Beach or English Bay Beach.
Concluding Your Visit to Vancouver
Vancouver has been beckoning both international and visitors from North America to the sandy shores of British Columbia for decades. It's a top travel destination and there are just so many unique things to do in Vancouver!
There are heaps of attractions in Canada which offer an easy list itinerary fillers, but there are plenty of non-touristy opportunities to keep you busy.
The mountains, islands and beaches that cradle the city are well-suited to outdoorsy travelers who like to get an adrenaline rush or try a new (or practice their favorite!) outdoor sport. There's no shortage of outdoor activities in Vancouver to soak up that gorgeous nature!
We hope that our ultimate guide on the top things to do in Vancouver will help you plan your time in the city or even inspire you to make this Canadian gem your next vacation destination!
"Find out how YOU can support the site. We work hard to put out the best backpacker resources on the web, for free! It's all about helping out our tribe of awesome backpacker readers [that's you!]. Please visit the link to find out how you can help keep the site going 🙂
For the sake of transparency, some of the links in our content are affiliate links. This means that if you book your accommodation, buy a book or sort your insurance, we earn a small commission at no extra cost to you. I only link to stuff I've actually used and never endorse products or services that are not up to scratch. Thanks for your support.