Vancouver the biggest city in British Colombia, and packed with exciting things to do. It's also a great spot to base yourself for taking some day trips around the province.
The landscape is so diverse you could find yourself exploring wineries, hot springs, snowcapped mountains, and dynamic cities all within a short drive from one another. Half-day tours and full-day tours are an epic way to see more, without having switch from accommodation to accommodation.
Let's take a look at the top day trips in Vancouver. From hiking adventures to winery tours and so much more, there is something for everyone. Pack your bags, grab your camera, and get ready to see some of the best scenery and hotspots around Vancouver.

Unlock Our GREATEST Travel Secrets!
Sign up for our newsletter and get the best travel tips delivered right to your inbox.
Getting around Vancouver, and Beyond
Vancouver is a must-see when visiting Canada. As popular as it is, it's no surprise Vancouver has a safe, reliable, and efficient public transport system.
Downtown Vancouver is known for being super walkable. When you want to explore the outskirts, taxis are in abundance, and super easy to hail. There are designated taxi stands where you can find drivers ready and waiting.
If you fancy driving yourself, there are car rental companies in abundance. Parking downtown can get busy – check out the EasyPark app to locate available parking in advance. Cycling is super common around the city almost year-round. There are loads of dedicated cycling lanes and paths that make it a very safe way to get around.
TransLink operates the bus, SkyTrain, and SeaBus networks, as well as the West Coast Express train. All of these public transports are wheelchair accessible, and can be used to enjoy day trips from Vancouver to the outlying districts surrounding the city.
Buses in Vancouver run from 5am to 1am, and are convenient, efficient, and affordable. The SkyTrain light rail system has three different lines that operate between downtown and the city's suburban areas. You can stay anywhere in Vancouver and still find it easy to get from hotspot to hotspot. This train also connects the city to Vancouver International Airport. The SeaBus is a ferry service that connects the Vancouver Waterfront to Lonsdale Quay on the North Shore.
Fares for TransLink depend on the zone in which you are traveling. If you're visiting Vancouver for a while, purchasing a Compass Card will be in your favor. Alternatively, you could pay with contactless payment, cash, or card.
The prices for one-way tickets on public transportation are:
Zone 1: $3.05
Zone 2: $4.35
Zone 3: $5.90
Use Bookaway to find the best deals on transport – buses, planes, trains, and ferries. It'll save you a load of time when organising transport and you'll probably nab an EPIC DISCOUNT too!
Book your transport on Bookaway NOW. Get the best price for the best ride… then use those savings to buy the best feed in town!
Book Your Transport Here!
Half-Day Trips in Vancouver
When you're running short on time, there are tons of amazing half-day tours that you can take around Vancouver. You can explore hot springs, vineyards, and exquisite mountain views all in a short hour's drive away from the city.
Stawamus Chief Mountain
If it's an adventure that you're after, ditch the city life and head straight for the mountains. Stawamus Chief Provincial Park is just a 45-minute drive from Vancouver and boasts some of the most beautiful hiking trails.
Rising over 2000 feet above the Squamish region, Stawamus Chief Peak is one of America's largest granite monoliths. It's also one of the most famous rock climbing monoliths in the world. The granite climbing walls – The Apron and The Grand Wall – should only be attempted by seasoned climbers.
A gentle family hike to the top of the peak will certainly impress, boasting some of the most breathtaking views you'll ever set your eyes on. There are three different peaks to hike with different elevation gains. When it's your first time visiting, we recommend going with a guide who knows the ins and outs of the mountain for a true adventure.
Although a visit to Stawamus Chief Mountain can be done as a half-day trip, these guided full-day tours could convince you to extend your visit.
Suggested trips: Stawamus Chief Hike and Photography and Stawamus Chief Hike and Local Brewery Tasting
The Gulf Islands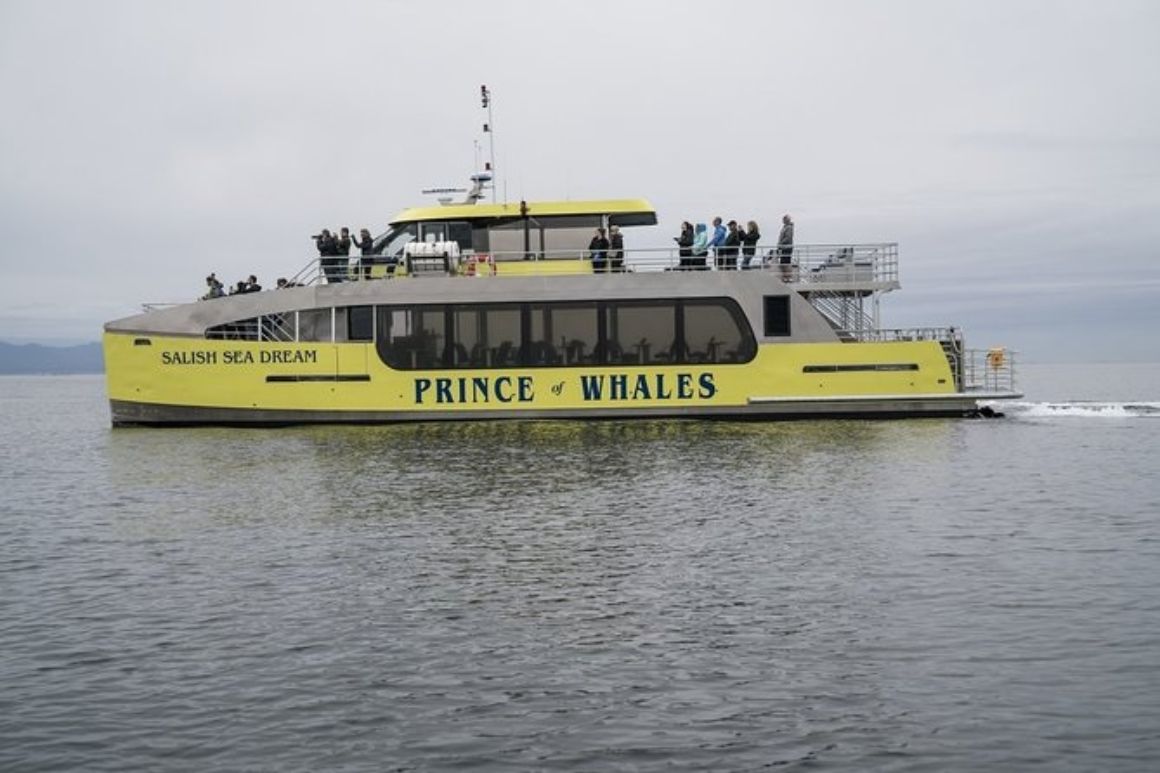 One of the biggest draws to the region are the beautiful islands and bays that surround the city. Just two hours from the city center, a visit to the Gulf Islands is one of the best day trips to take in Vancouver.
You'll need to hop on a ferry for this one, or you could book a private tour.
The Gulf Islands are the Canadian siblings of the USA's San Juan Islands, which are just across the bay from one another, and all a quick ferry ride away.
If you're into kayaking, I'd recommend a visit to Pender Island. The waters are calm and clear, so this trip will be more a relaxing adventure than an adrenaline-pumping one. When you get peckish, the Saturday farmers market on Spring Salt Island is a great spot for a lunch stop.
There's so much to explore you could extend your trip with a stay at this cute cottage with beautiful ocean views on Galiano Island. Galiano has a beautiful mountain you can hike up for exquisite bay views. On a clear day, you'll be able to see the Olympic Mountain Range in Washington, USA.
Suggested trips: Whale Watching Adventure
Is This the Best Daypack EVER???
Full-Day Trips in Vancouver
Whether you visit in the midst of winter or during the warmer summer months, there are countless day trips in Vancouver. Struggling to choose from the countless options on the internet? We picked out the very best tours from the city to make your life a bit easier.
Fraser Valley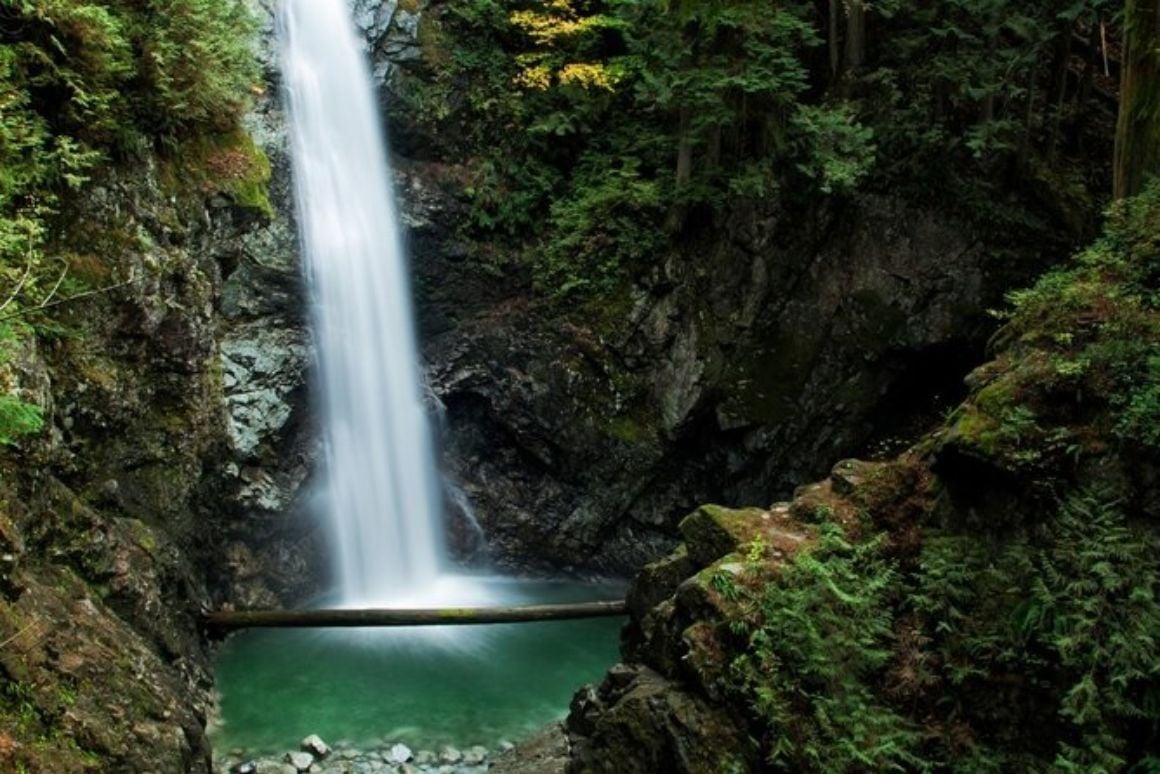 Just two hours east of Vancouver, Fraser Valley is a beautiful farmland area where you can find much more than just beautiful landscapes and views.
The small villages in the valley are overflowing with local produce and home-cooked menus waiting for you to try out. Many of the local private farms are open to the public, where kids can play on the lush lawns, explore the grounds, and get up close and personal with farm animals.
You'll also find the Chilliwack River in this area, which is a hotspot for white water rafting – talk about an adrenaline kick. There are lots of cultural sites to visit, including an indigenous site of the Stó:lo people and a 9000-year-old archeological dig.
Throw in some local breweries and incredible river fishing opportunities, and you have one of the best day trips in Vancouver for the whole family!
Suggested trips: Fraser Valley Winery Tour and Fraser Valley Day Tour
Langdale and The Sunshine Coast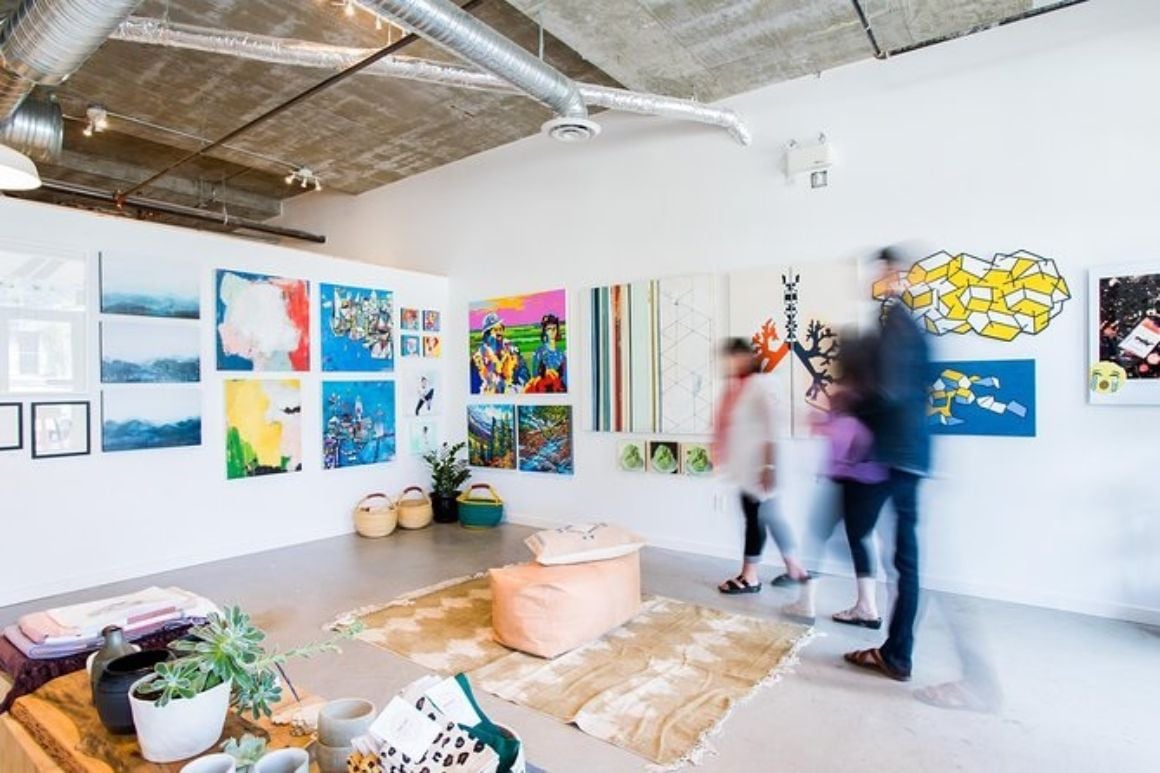 Vancouver is a top destination for culture seekers and artists. The Sunshine Coast, located just two and a half hours from Vancouver, is as lovely as its name. It's a stretch of coastline tucked away in the SouthWest corner of mainland British Colombia, and is locally known as the region's hidden gem.
You can enjoy whale watching from the bay, forest adventures, hikes, white water rafting, waterfall hunting, and shipwreck exploring. There's so much more to see than just the great outdoors. Be sure to check out the quaint harbors, local breweries, and trendy eateries, too.
An indigenous homeland of the la'amin, Klahoose, shíshálh, Skwxwú7mesh, and Homalco Nations, remember to be respectful of their beautiful land when you visit.
Suggested trips: Sunshine Coast Art Tour and Tour of The Sunshine Coast
Whistler
If there's anywhere in British Colombia you've heard about, it's likely to be the ski resort town of Whistler. This world-class destination is only an hour and a half out of the city, making it one of the easiest day trips from Vancouver.
The town has a super laid-back and down-to-earth vibe that will keep you entertained for days, even if you don't like to ski or snowboard. The famous attraction in Whistler is the world-record-breaking Peak 2 Peak gondola which boasts some of the most beautiful views of Whistler Village, the mountain peaks, glaciers, forests, and lakes.
Not only is this legendary spot an amazing ski resort in Northern America, it's also a hiker's paradise year-round. When you visit during fall, you'll be treated to a kaleidoscope of colors across the forest landscape.
This is one of those trips that is super easy to do without following an official tour. You can rent a car or hop on a two-hour train ride from the city. If only a day in the snow isn't enough for you, why not extend your trip and spend some time in this creekside studio that's just a short walk from the ski lifts?
Suggested trips: Sea to Sky Gondola and Whistler Trip, Whistler Tour: Horseshoe Bay and Shannon Falls and Tour to Discover Whistler
Victoria and the Butchart Gardens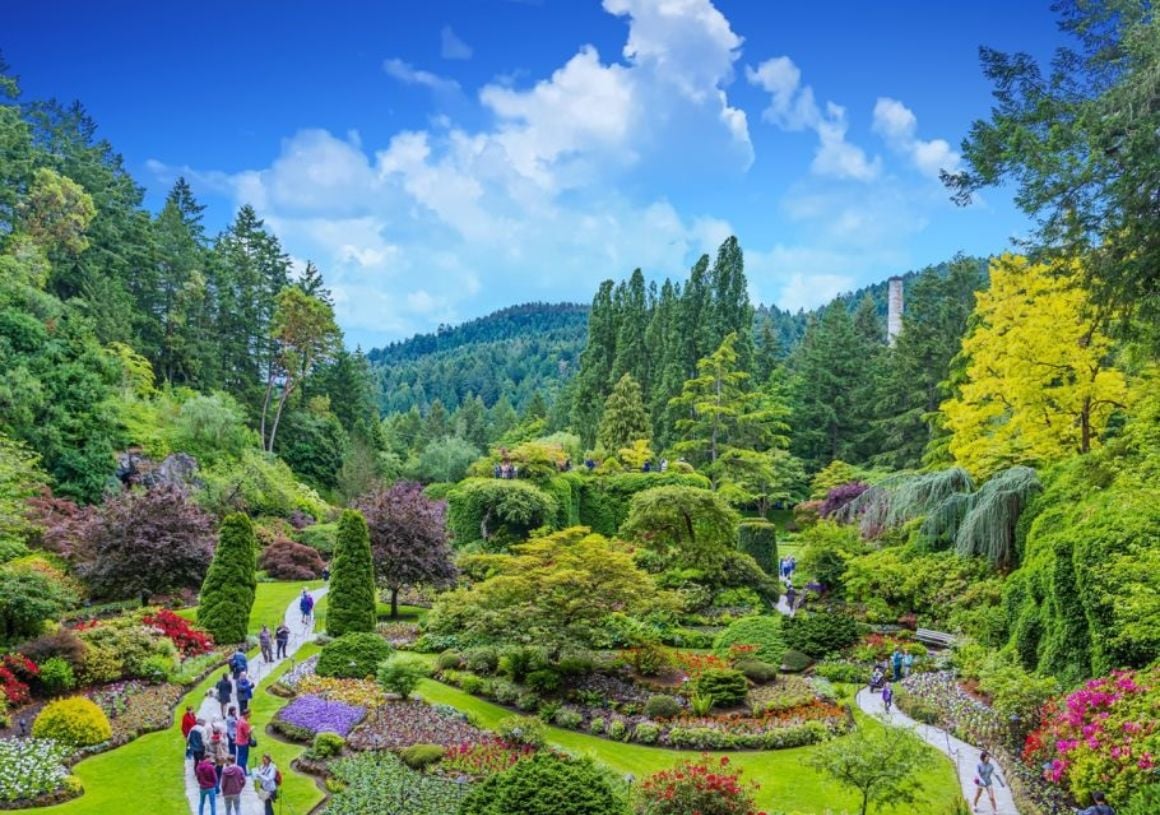 The Butchard Gardens are a coveted attraction, located less than three hour's drive from Vancouver with a ferry ride. The gardens are just north of the capital of British Colombia, Victoria, which has a unique colonial British history. In fact, this lush city is pretty much made up of beautiful gardens; the Butchart Gardens is just one of them.
Naturally, the best time to visit is during spring, but these gardens will exceed your expectations year-round. You'll be able to explore 26 greenhouses and 900 different varieties of plants in this colorful and historic garden which has been blooming for over 100 years.
If you don't feel like visiting with an organized tour, you can buy your day pass online and explore the gardens alone.
Suggested trips: Victoria and Butchart Gardens Tour
Grouse Mountain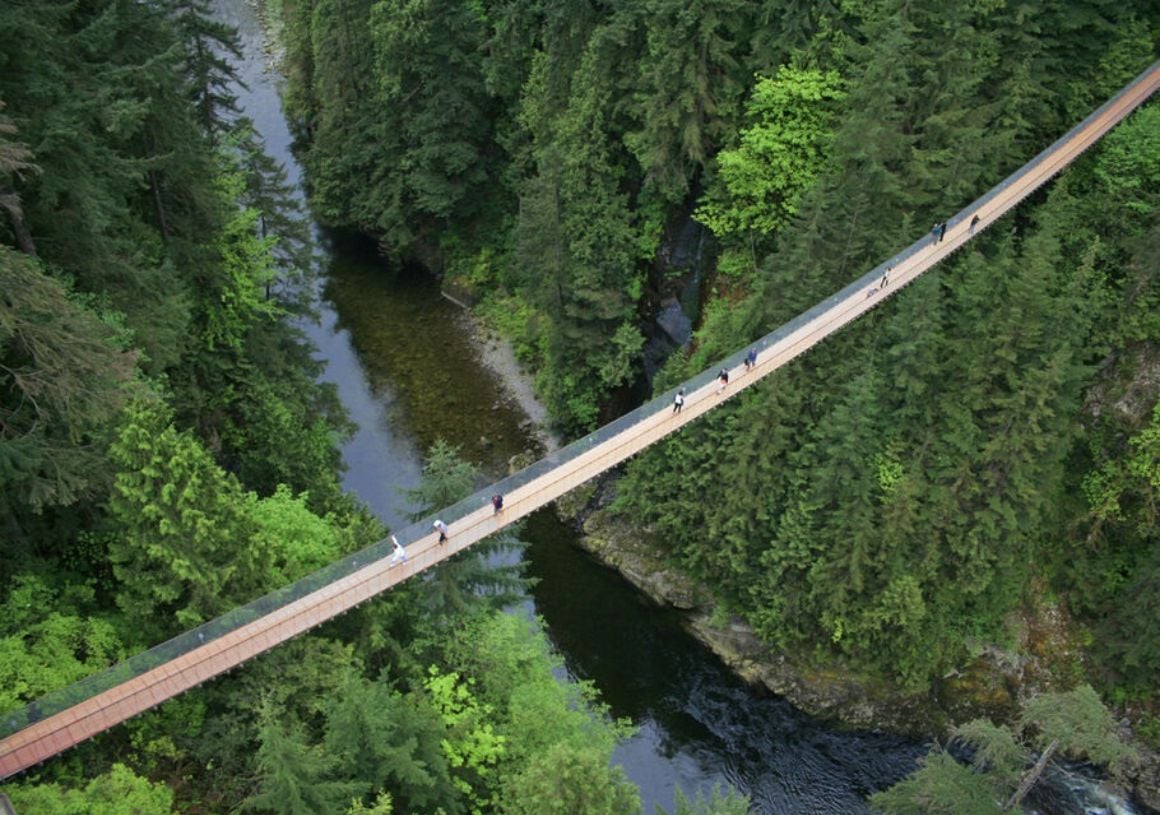 Grouse Mountain has a 4100-foot elevation in the North Shore Mountains. During the winter months, it gets tons of snow and is one of the best (and closest) alpine ski areas to the city of Vancouver. It's a quick 20 minutes from the city on Route 99, making it easy to visit from the city and get some powder laps in.
You could go with a tour, rent a car, or use the train to get to the resort and get your own private ski passes. If skiing and snowboarding aren't for you, take advantage of the kids 'Sliding Zone', ice skating, or snowshoeing adventures offered at the base of the mountain.
Like any ski resort, there are a bunch of shops to explore and restaurants to try out in the village.
Suggested trips: North Shore Capilano Suspension Bridge and Grouse Mountain
The North Shore Mountains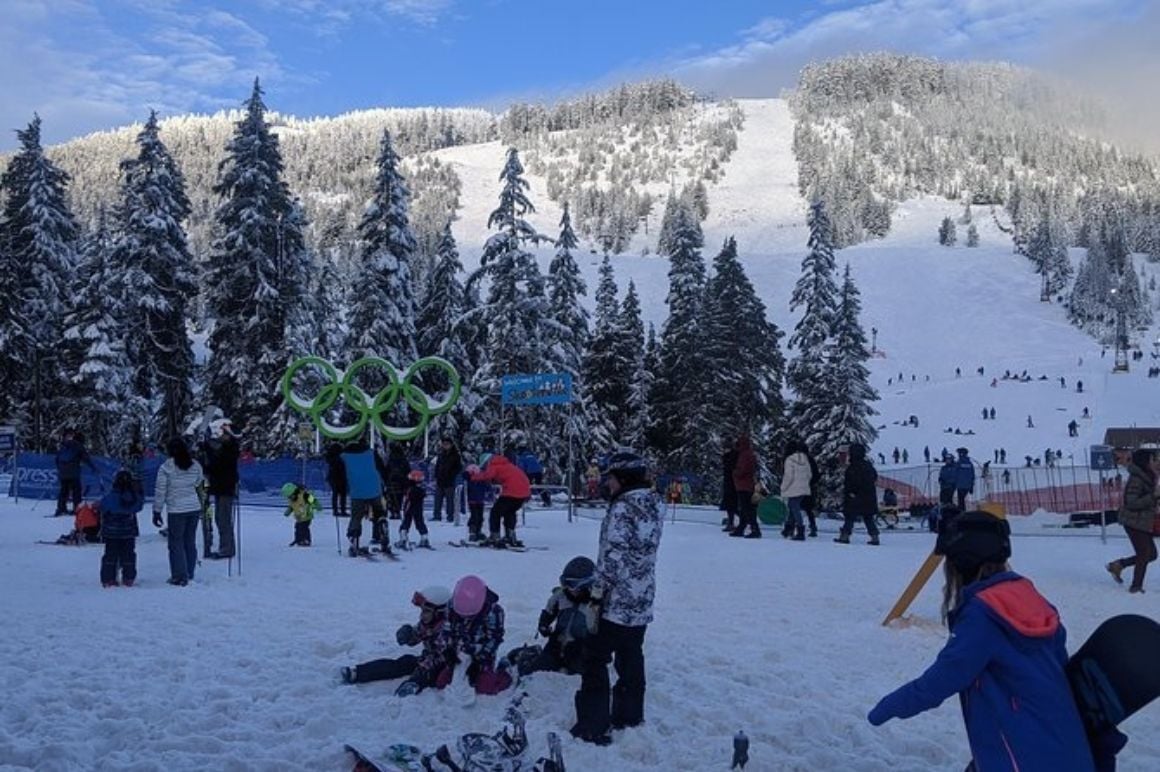 The North Shore Mountains are located, you guessed it, on the north shore of Vancouver, boasting spectacular views of the city.
All three of the mountain peaks – Grouse, Seymour, Cypress – offer skiing and snowboarding activities as well as tons of summer hiking trails and ziplining adventures.
These mountains have been attracting hikers and climbers for years because of their conveniently close proximity to Vancouver. While much of the area is family-friendly, a lot of the trails get steep very quickly and are only recommended for advanced backcountry hikers.
Suggested trips: North Shore Mountains, Grouse, Seymour, Cypress
Horseshoe Bay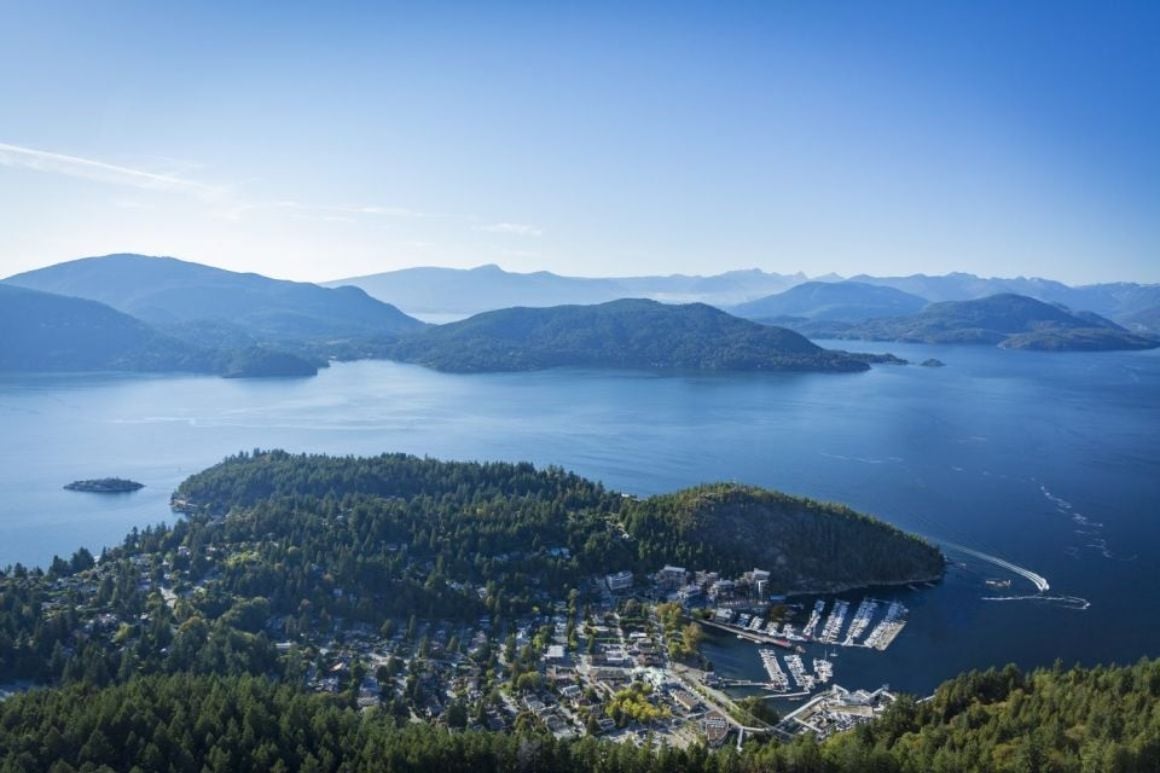 Horseshoe Bay is a seaside town west of Vancouver that is home to a major ferry port, connecting the mainland with Vancouver Island. While most tourists just pass through this village to catch a ferry, the town itself is definitely worth a visit if you have the time.
It's under an hour's drive from the center of the city. There's even a bus that departs every 30 minutes that can take you directly to the bay. The town is designed for pedestrians, where most streets are safe to walk around without having to worry about cars. There's a variety of restaurants to choose from when you get peckish, too. Our favorites are Olive and Anchor, and the Boathouse Restaurant.
If you get around quicker than expected, hop on the Bowen Island ferry. This short 20-minute ferry ride will take you to a nearby island with an artisan square, museum, golf course, and (surprise, surprise) more breathtaking views.
Suggested trips: British Colombia Coastline Day Trip
Vancouver Island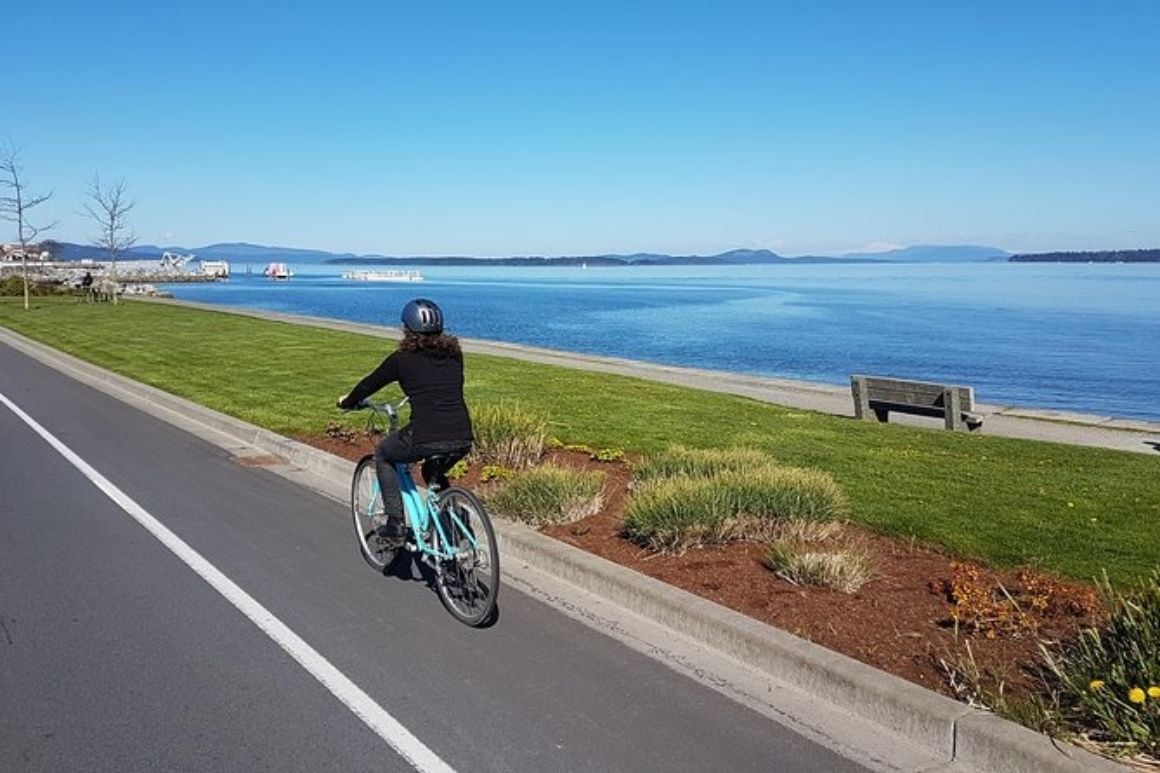 You didn't think we'd leave out a Vancouver Island day trip, did you? If you've never visited before, you might think Vancouver Island and the city of Vancouver are the same place. However, while they share the same bay, Vancouver Island is a two and a half hour trip from the city of Vancouver.
You'll need to catch a ferry from Horseshoe Bay to get there, but once you arrive, you'll see what the hype is about. This huge island combines everything from cultured cuisine to raw nature. Most people visit for the majestic nature reserves and parks, which are home to exciting wildlife, including black bears and orcas.
Among other activities, you can spend your day whale watching, hiking, and kayaking around the island.
The land is a traditional ancestral home to the Kwakwaka'wakw, Nuu-chah-nulth, and Coast Salish peoples. Visitors are urged to respect the land and its people.
Suggested trips: Vancouver Island Cycling Tour with Lunch and Wine Tasting
Squamish
Squamish is a municipality and close-knit community just north of the Howe Sound. It's a quick one-hour drive from the city, and a convenient location for a day trip from Vancouver.
The main attraction is the Stawamus Chief hike, which we covered above. However, there's a lot more to this area than its beautiful granite cliff faces and hiking trails. Shannon Falls is an exquisite wild waterfall just a mile south of Squamish. There's also the Elaho River and Squamish River where you can try out river-rafting activities.
Squamish also has a world-class golf course, and when the weather is cold, it's great for experienced backcountry skiers and snowmobilers.
Suggested trips: Squamish with Porteau Cove and Britannia and The Great Squamish Day Trip
Fort Langley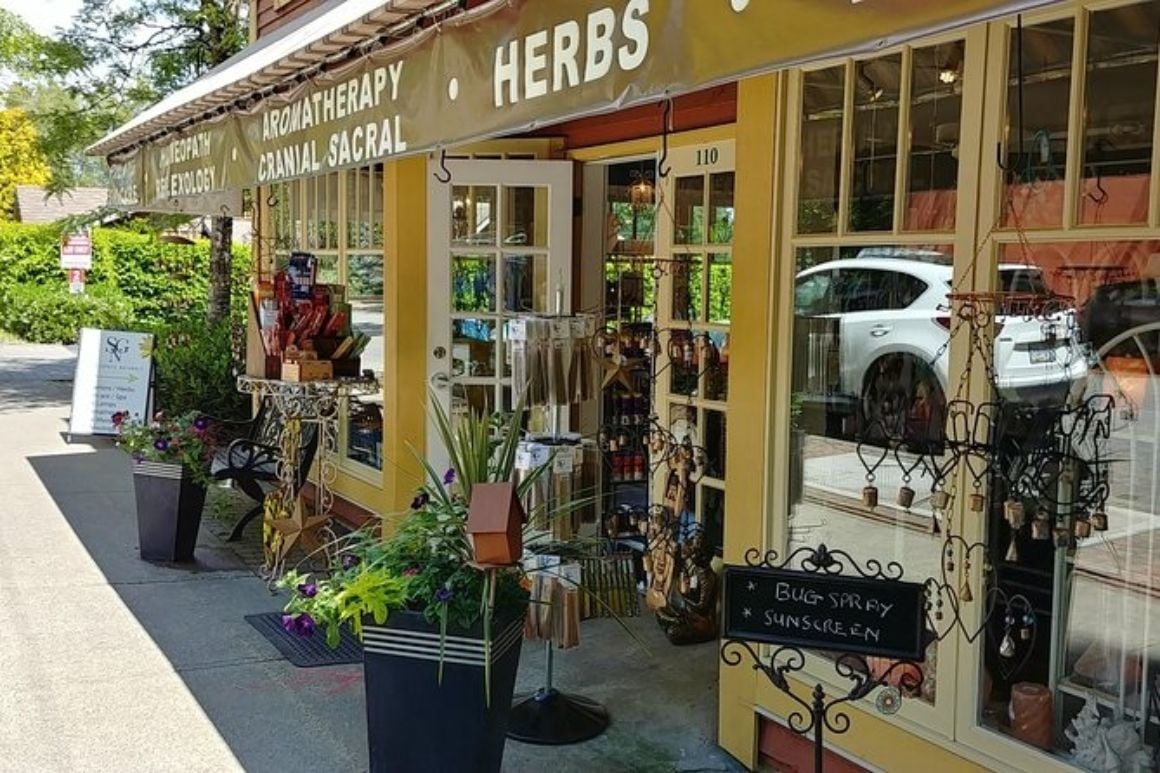 Fort Langley is a quaint town located about 45 minutes east of Vancouver on the Fraser River. The town has a long colonial history which can be seen in the beautiful old buildings and architectural styles.
The town itself is home to a bunch of museums, shops, galleries, parks, and restaurants to explore. But it's the surrounding vineyards that we're most interested in! You can find some of Canada's best wineries in this region.
It is a great place for history buffs and wine fanatics alike, and you'll learn more about cultivation and winemaking from both grapes and berries.
Suggested trips: Fort Langley Magical Mystery and Vineyard Explorer
Harrison Hot Springs
Sometimes, all we feel like is a bit of relaxation and rejuvenation at a spa. A trip to the Harrison Hot Springs might just be the best Vancouver day trip for the job. Located on the northern shore of Harrison Lake, surrounded by towering mountains, the Harrison Springs Resort and Spa is a luxurious place to spend a day.
It's more than just a fancy hotel. It has five healing hot mineral spring pools and a therapeutic spa.
You'll be able to spend the day soaking in the relaxing springs, which are said to have healing properties. Make sure you also visit the village or walk along Harrison Lake before you head home.
Suggested trips: Harrison Hot Springs Private Tour
Small Pack Problems? 😉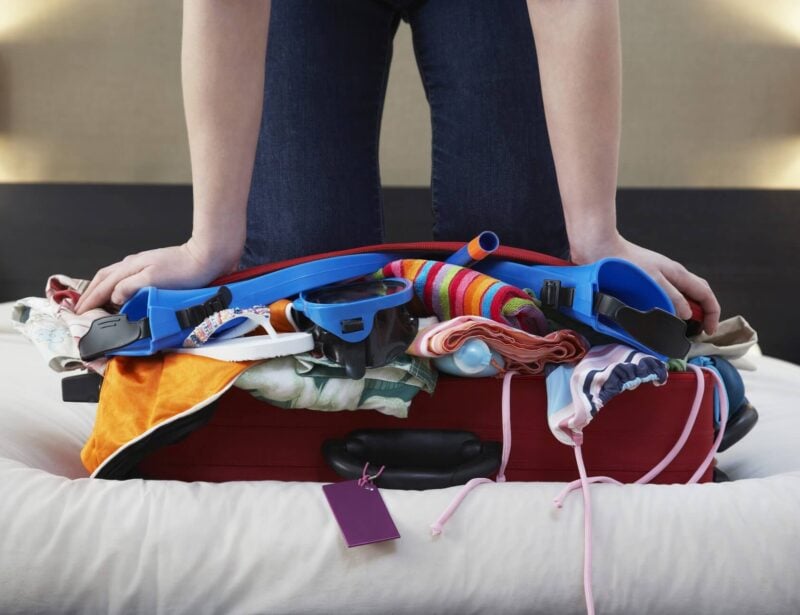 My missus travels with all her clothes in ziplock bags: don't be like my missus. UP YOUR PACKING GAME!
Packing cubes for the globetrotters and compression sacks for the real adventurers – these babies are a traveller's best kept secret. They organise yo' packing and minimise its volume too so you can pack MORE.
Or, y'know… you can stick to ziplock bags.
View Our Fave Cubes
Or Check Out the Sacks!
Don't Forget Your Vancouver Travel Insurance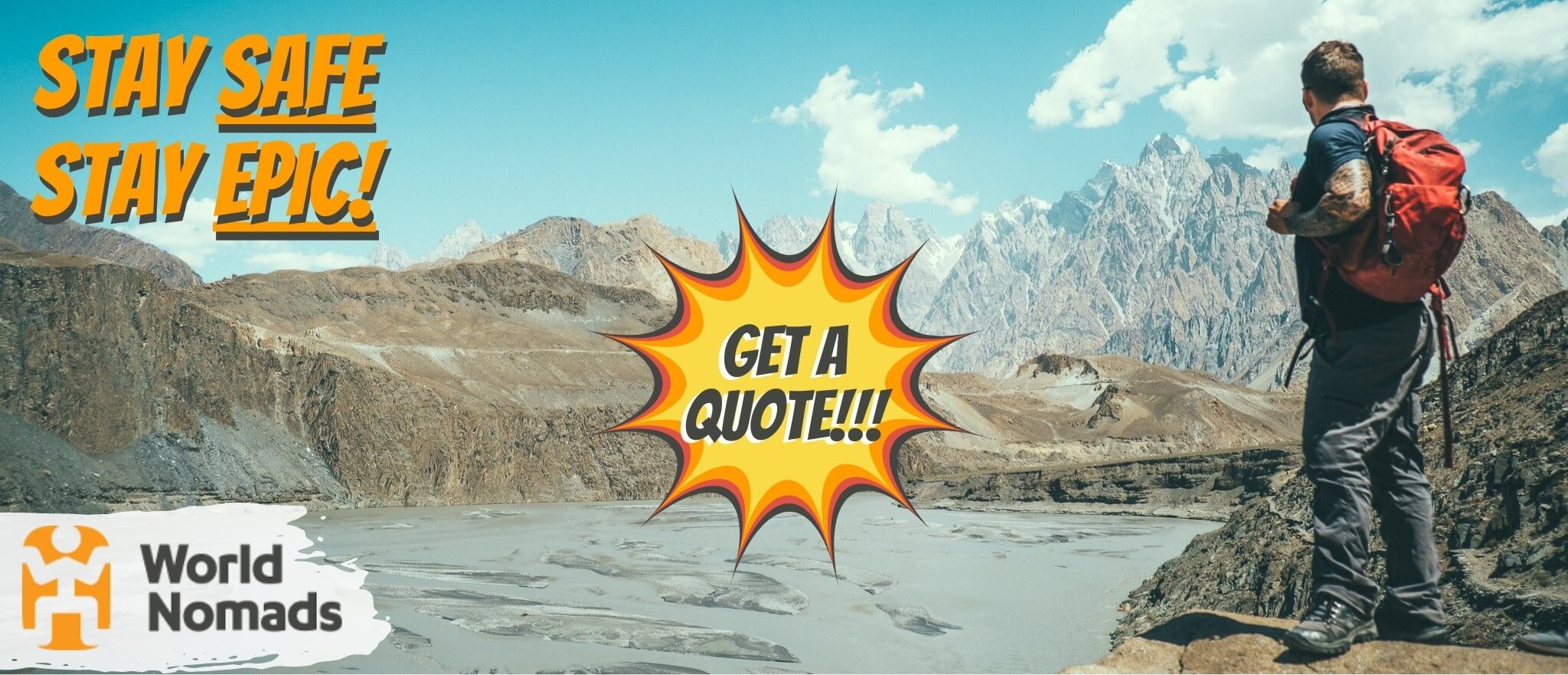 World Nomads' mission is to support and encourage travellers to explore their boundaries. They offer simple & flexible travel insurance, and safety advice to help you travel confidently.
They've been doing it since 2002 – protecting, connecting, and inspiring independent travellers just like you.
Get a quote below or read our in-depth review!
World Nomads provides travel insurance for travelers in over 100 countries. As an affiliate, we receive a fee when you get a quote from World Nomads using this link. We do not represent World Nomads. This is information only and not a recommendation to buy travel insurance.
Final Thoughts on Day Trips from Vancouver
The city of Vancouver is conveniently located between oceans, mountains, and forests and is only a short distance from British Columbia's capital city of Victoria. It's also has a unique and interesting indigenous history to share.
Depending on your preference for natural beauty or culture (and the time of year you visit), my two favorite tours would have to be the Victoria and Butchart Gardens tour, and the Whistler Ski Resort tour. There's not much better than driving a quick hour and arriving in a powder draped ski resort.
You'll be able to take some of the best day trips from Vancouver without having to travel more than a couple of hours at most.
---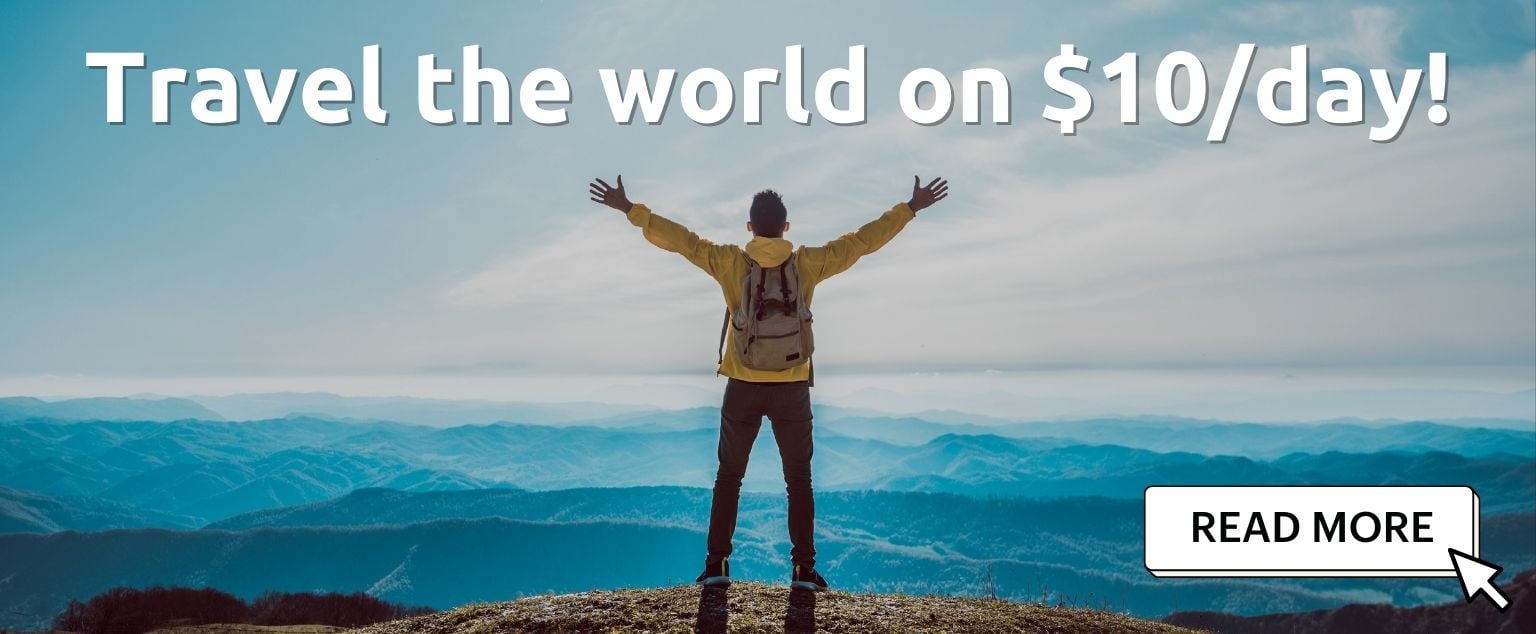 And for transparency's sake, please know that some of the links in our content are affiliate links. That means that if you book your accommodation, buy your gear, or sort your insurance through our link, we earn a small commission (at no extra cost to you). That said, we only link to the gear we trust and never recommend services we don't believe are up to scratch. Again, thank you!