If you love everything in nature, from the coast to the mountains, then there's no better place to go than Vancouver. This city has everything, from the best seafood you've ever tasted to stunning natural vistas. When you add this city to your travels, you'll be shocked and awed by the many amazing places to visit in Vancouver. And to make these attractions even better, you'll be able to see them while surrounded by some of the friendliest, politest people on the planet.
The only real problem you'll while visiting Vancouver is working out what to see. This city has everything, and you don't want to waste your time trying to find the best places to suit your tastes and preferences. Which is why we've created this ultimate list to the best attractions in Vancouver no matter what you enjoy doing.
Need a place quick? Here's the best neighbourhood in Vancouver:
BEST AREA IN VANCOUVER
Gastown
Gastown is one of the oldest and most charming neighbourhoods in Vancouver. Located at the northeast end of Downtown Vancouver, this area is made up of cobblestone streets and stunning heritage architecture.
PLACES TO VISIT:
Visit the Steam Clock and stand at the spot where the city began.
Good drinks and a great atmosphere await you at the Lamplighter Public House, a classic and modern pub at the heart of the city.
Visit the Alibi Room for a great lineup of cocktails, beer, drinks and food.
These are the BEST Places to Visit in Vancouver!
You're spoiled for choice when it comes to what to see AND excellent accommodation in this splendid city. Check out where to stay in Vancouver before you dive in on the rest of the fun below.

Unlock Our GREATEST Travel Secrets!
Sign up for our newsletter and get the best travel tips delivered right to your inbox.
#1 – Stanley Park – One of the most incredible free places to go to in Vancouver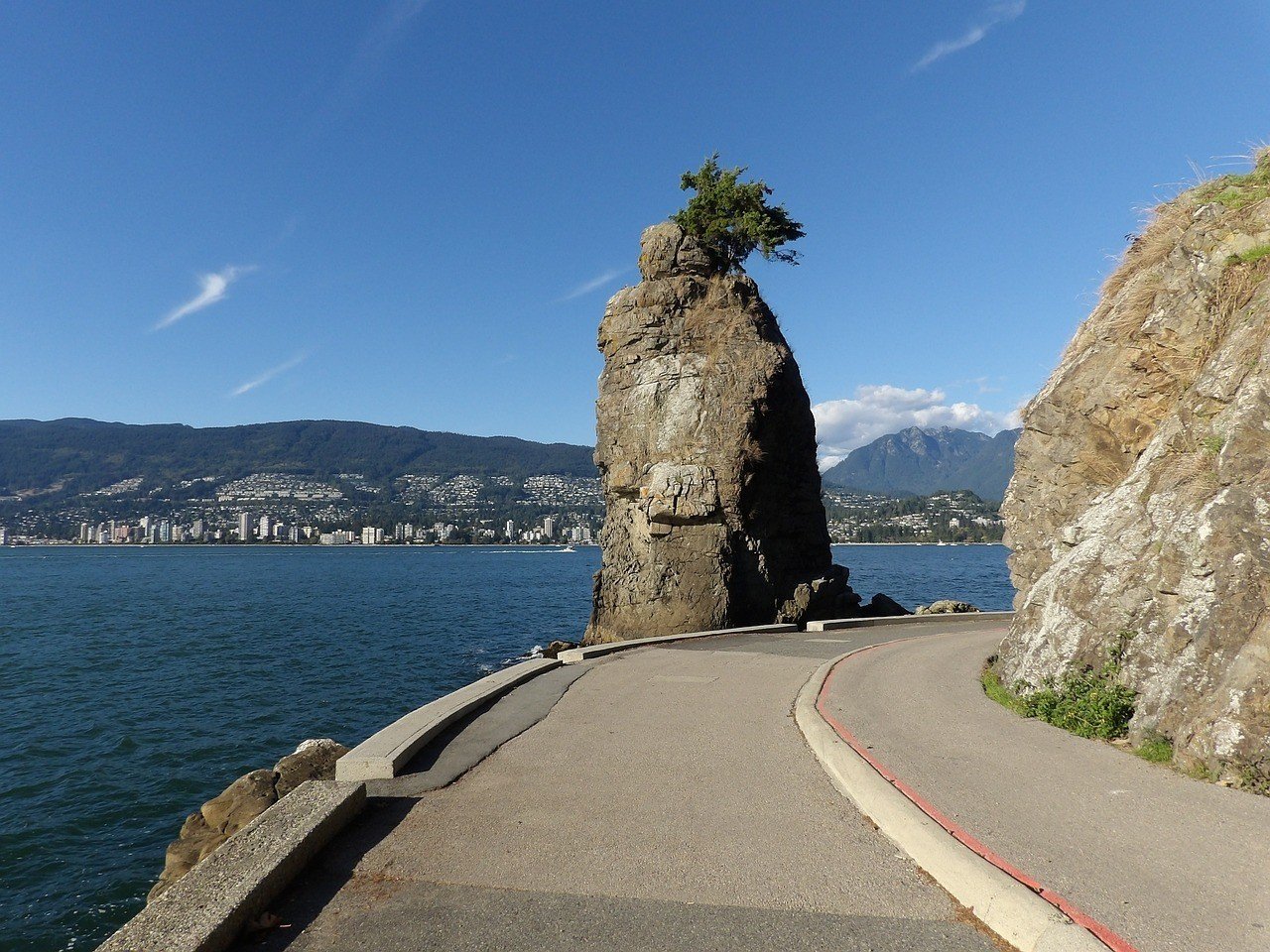 A stunning green space next to Downtown Vancouver.
This part contains a number of attractions from an aquarium to the best views in the city.
Why it's so awesome: Vancouver has amazing natural scenery and this park allows you to enjoy that right in the middle of the city. It contains huge trees with a paved seawall path around the space and you can wander on foot or hire bicycles to get around more quickly. Stanley Park takes pride of place amongst the various things to do in Vancouver.
What to do there: There are lots of things to do in this park, which is why it's one of the most popular hotspots in Vancouver for tourists and locals. There are numerous points in the park where you'll enjoy amazing views and make sure you check out the totem poles at Brockton Point as well.
#2 – The Museum of Anthropology – A fascinating educational place to visit in Vancouver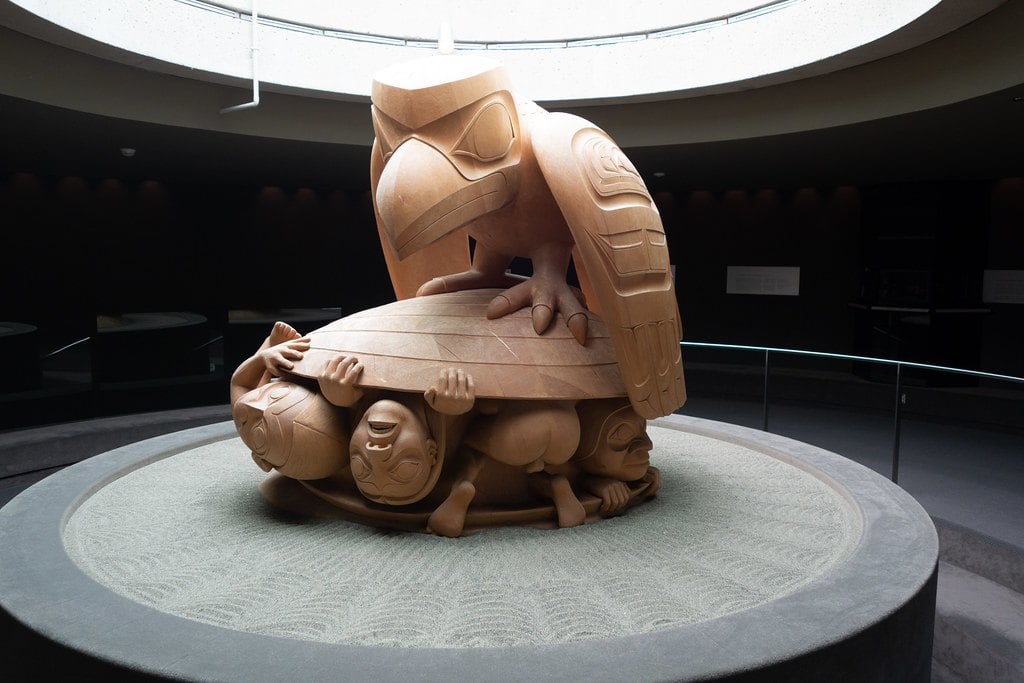 This museum is part of the University of British Columbia and there are lots of interesting attractions on the campus.
The focus is on British Columbia First Nations, but there are displays from cultures all over the world.
Why it's so awesome: The Museum of Anthropology explores cultures from all over the world with a particular focus on British Columbia First Nations. This means that you can explore native art, archaeological objects from Asia, Africa, Europe, and the South Pacific, all in one place.
What to do there: You can't travel to Vancouver without checking out examples of native art, so make sure you learn more about totem poles in the Great Hall before you move on to other histories. And once you're done with the museum, head down to the UBC Botanical Garden for some nature and a famous Nitobe Japanese Garden.
#3 – Granville Island – A very cool place in Vancouver to go for a day
A thriving creative area with lots of things to do and places to eat.
Make sure you check out the Granville Island Public Market for amazing seafood.
Why it's so awesome: Although this is called an island, it's actually linked to the residential areas of Vancouver by a road and footbridges as well as a ferry from the Downtown Peninsula. It's a thriving center of activity, where artists, theaters, restaurants, galleries, and cafes have been set up in converted warehouses.
What to do there: If you're looking for a great day out, then this is area should be on your Vancouver itinerary. It has a lovely relaxed atmosphere, which will encourage you to wander, explore the shops and markets, and stop in at restaurants and cafes for something delicious.
#4 – Grouse Mountain
The best place to visit in Vancouver for the most amazing views you can imagine.
There's something to do on this mountain in every season, from skiing in winter to wildlife in summer.
A gondola runs from street level to the summit, so you don't have to be incredibly fit to enjoy this Vancouver must see.
Why it's so awesome: If you want incredible views of the city, then Grouse Mountain is second to none. The views are especially good in the evening at sunset, when the sky is changing color and the city lights are coming on. When you travel to Vancouver, you need to visit this mountain no matter what time of year it is, because it's the center of seasonal activities. If you are visiting Vancouver for the weekend the mountain may be a bit busy.
What to do there: In summer, take advantage of the weather to go hiking over the mountains many trails including the famous and very difficult Grouse Grind. And if you love winter sports, then Grouse Mountain offers snowshoeing, skiing, snowboarding, and outdoor skating in one convenient location. It's also considered one of the 100 best ski runs in the world!
#5 – Kitsilano Beach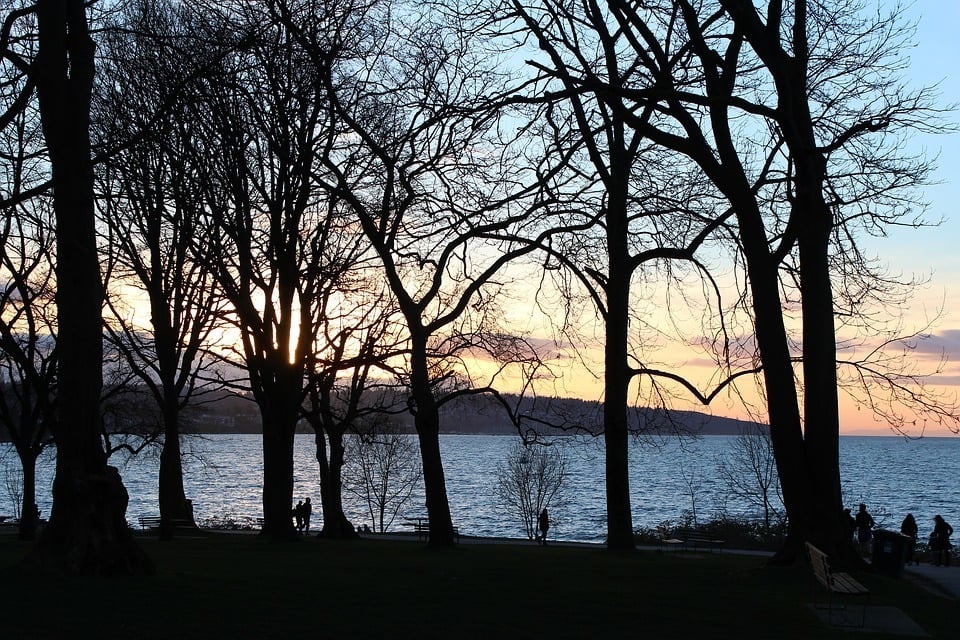 A laidback beach where locals and tourists go to enjoy the outdoors, heated pool and amazing views.
One of the best places to visit in Vancouver if you're looking to relax, eat and drink great coffee or tea.
Why it's so awesome: Vancouver is a famously laidback city and this beach personifies that attitude. Locals and tourists alike visit to spend time with friends, swim in the heated pool, and explore the cafes, all with the majestic mountains as a backdrop. The views are simply spectacular in this area and there's a great shopping strip a few blocks away if you get tired of nature and want to spend some money.
What to do there: If you like to swim, then you absolutely must go for a dip with the mountains as a backdrop. The pool is heated, so your swim should be comfortable unless it's the dead of winter. Afterwards, explore the shops and cafes, spend time on the beach watching the ocean, and just soak up the relaxed, friendly atmosphere.
#6 – Chinatown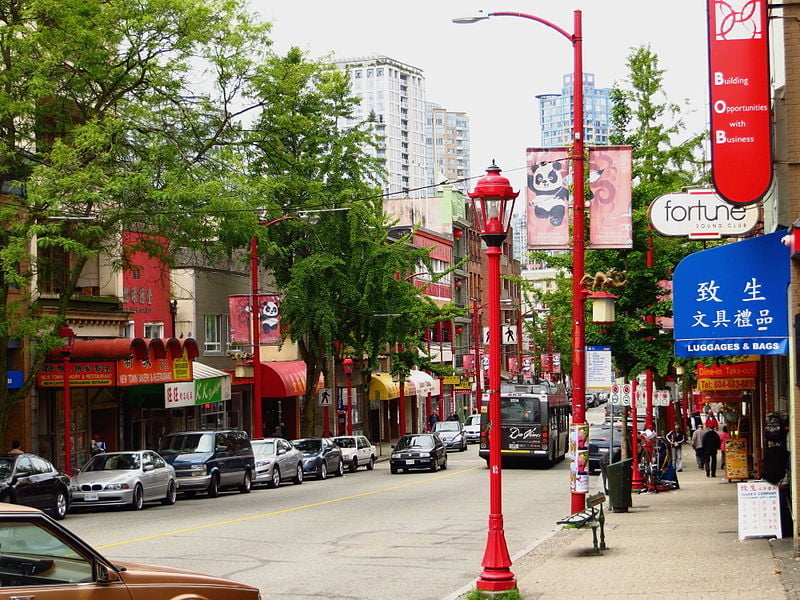 The best place to visit in Vancouver if you want to enjoy modern and Victorian architecture.
There are some amazing shops and restaurants in this area.
If you're visiting Vancouver in the Chinese New Year, make sure that you experience the parade in this area.
Why it's so awesome: Chinatown in Vancouver is an exotic break from the Victorian feel of the rest of the city. It's filled with modern and Victorian buildings with signs written in Chinese and some of the best shopping and eating in the city. The famous Dr. Sun Yat-Sun Chinese Garden is in this area too, so make sure you see it.
What to do there: Enter another world and grab some souvenirs or check out one of the many restaurants. People also come to this area to enjoy the atmosphere of Chinatown, which is particularly good on Keefer, East Pender and Main streets, which are also the best shopping areas. The Sam Kee Building is another of the most popular points of interest in Vancouver because it claims to be the narrowest building in the world.
#7 – English Bay – Cool place to see in Vancouver with friends!
One of the loveliest and most interesting areas in the city.
If you like beaches, great restaurants, shopping, and outdoor areas, then this is the place for you.
Why it's so awesome: English Bay is part of the West End neighborhood, so you'll find a variety of high-end restaurants and shops in the area. But it's also a popular outdoor space and creative space that's home to outdoor art installations, festivals, and events.
What to do there: Check what's on while you're in the city, because you definitely don't want to miss the public art installations or the summer events when thousands of people crowd the streets to watch the evening fireworks. Over the new year they also hold the New Year's Day Polar Bear Swim in English Bay, so you can watch the shivering swimmers braving the icy water.
#8 – Gastown – A great place to see in Vancouver if you love architecture
This is the oldest part of the city.
Restored Victorian buildings are home to a variety of galleries, shops, and restaurants in this area.
Why it's so awesome: This is the oldest part of the city, but it's been carefully renovated so that it can be enjoyed by locals and tourists well into the future. The carefully restored Victorian buildings in this part of the city are fascinating and make the restaurants and shops they hold feel even more interesting.
What to do there: This is one of the best attractions in Vancouver for shopping, eating, and getting a bit of culture. So, put aside half a day, or a whole one, and just explore. Make sure you take a picture with Gassy Jack, a statue of the man who founded this part of the town and visit the Steam Clock, which chimes every fifteen minutes. Other than that, just enjoy the atmosphere that the cobblestone streets and iron lampposts give to the area. There are some great hostels in Gastown if you'd like to stay here and soak up the atmosphere.
#9 – VanDusen Garden's Elizabethan Hedge Maze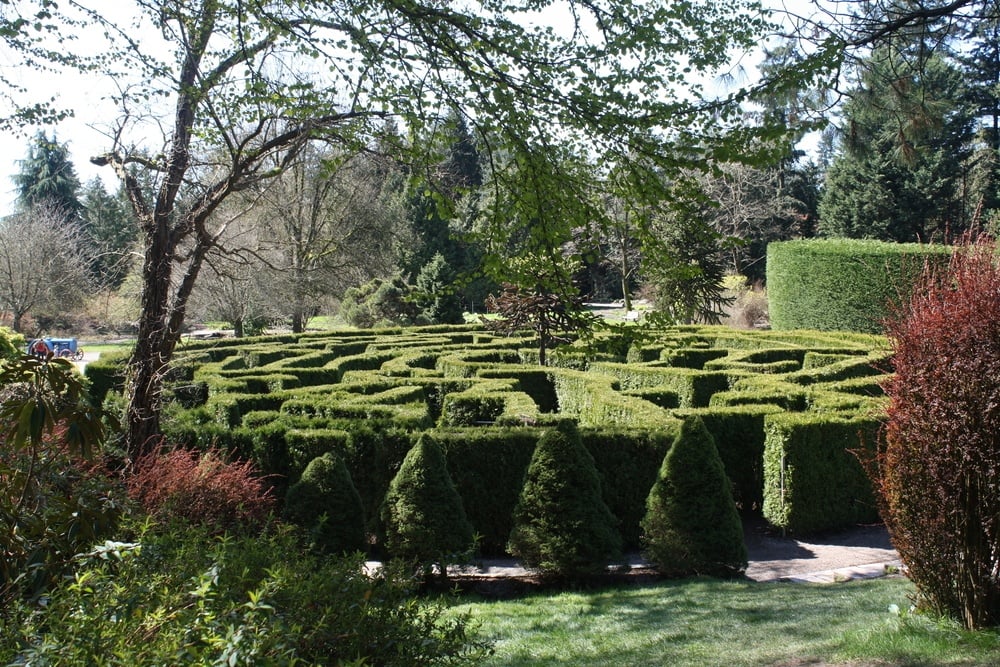 One of only six Elizabethan hedge mazes in North America.
The maze consists of 3,000 cedar trees planted in 1981.
Why it's so awesome: There's something about a maze that excites the imagination and has done so for hundreds of years. Mazes have been used throughout history in story and in reality, to confuse people and to symbolize the often confusing paths of life. That's why exploring them can be so engrossing for children and adults alike. You can indulge in this pleasure right in the middle of Vancouver, at the carefully maintained maze that today is run by the Vancouver Park Board and volunteers.
What to do there: This maze is open to the public every day except Christmas so you can pick your way through it or watch others do so from an observation terrace. Once you've had enough of the maze, make sure you spend some time in the surrounding 53 acres of gardens, which contain plants from all over the world.
Is This the Best Daypack EVER???
#10 – Dr. Sun Yat-Sen Classical Chinese Garden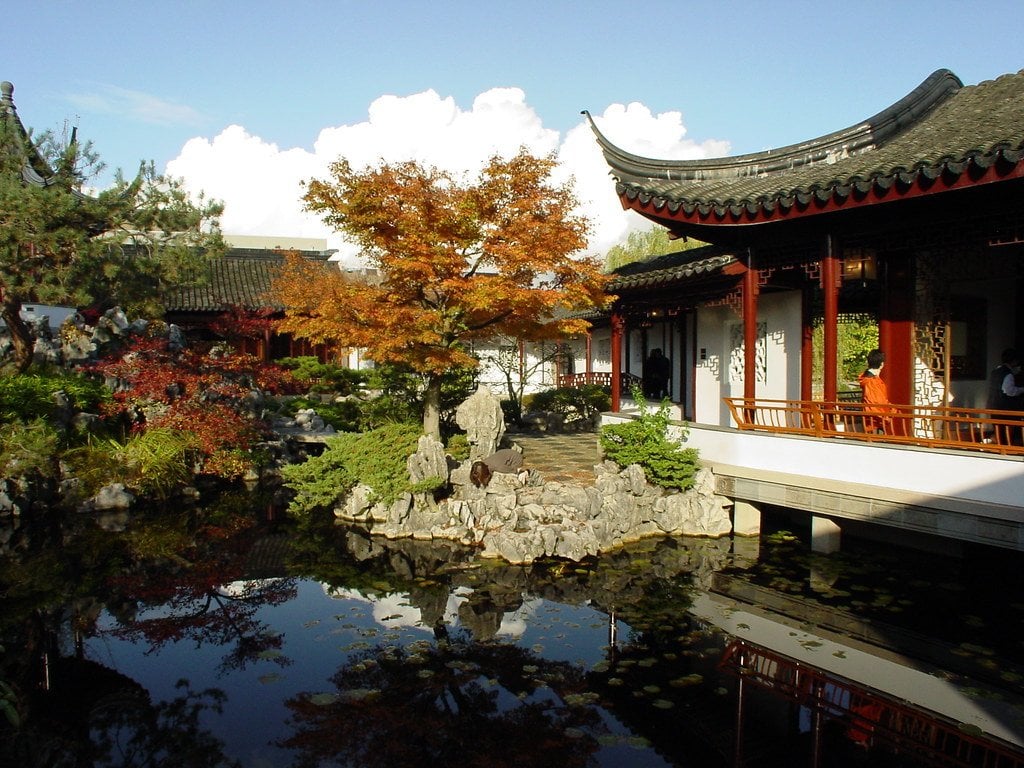 A traditional 15th-century garden, incongruously located in the middle of Vancouver.
This garden was constructed by 52 craftsmen from Suzhou and is based on garden homes of Ming dynasty scholars.
This is the first garden of this type to be created outside of China.
Why it's so awesome: This garden was a joint effort between Canada and the Republic of China and is a stunning example of what collaborations between two cultures can create. It was funded by both countries and some of the most skilled craftsmen from both countries were part of the project. And when you spend time in the garden, you'll understand just how skilled they really were. Like most Chinese gardens, this is a mosaic of color, winding paths, moongates, and surprises. And it was deliberately designed so that every view of the garden is different and to ensure that you can't see the entire thing all at once.
What to do there: You'll have to find this garden first because it's hidden behind a low white building in the middle of Chinatown. Once you're there, make sure you enjoy the unique history and structure of this garden, which is the first example of this garden type created outside of China. You'll need to take some time to really appreciate the mix of Feng Shui and Taoism that went into this garden as well as its near perfect balance of yin and yang.
#11 – Science World – Awesome place to visit in Vancouver with kids!
If you're looking for a fun day out for the kids, this exploration center will have something on that will keep them occupied for hours.
The exhibits are hands-on and there's a theater on site too.
Why it's so awesome: Located in a lovely building on the waterfront, Science World is dedicated to making science interesting to every member of the family. It explores the natural and man-made world through interactive exhibits and demonstrations that will interest both children and anyone who wants to learn about the world around them.
What to do there: Take the time to explore all of the exhibits, which are dedicated to the themes of water, air, invention, and motion. Also, check out what's on in the theater and what special exhibitions are on while you're in the city. Science World is home to amazing regular exhibits, but they also host world-class visiting exhibits too.
#12 – Capilano Suspension Bridge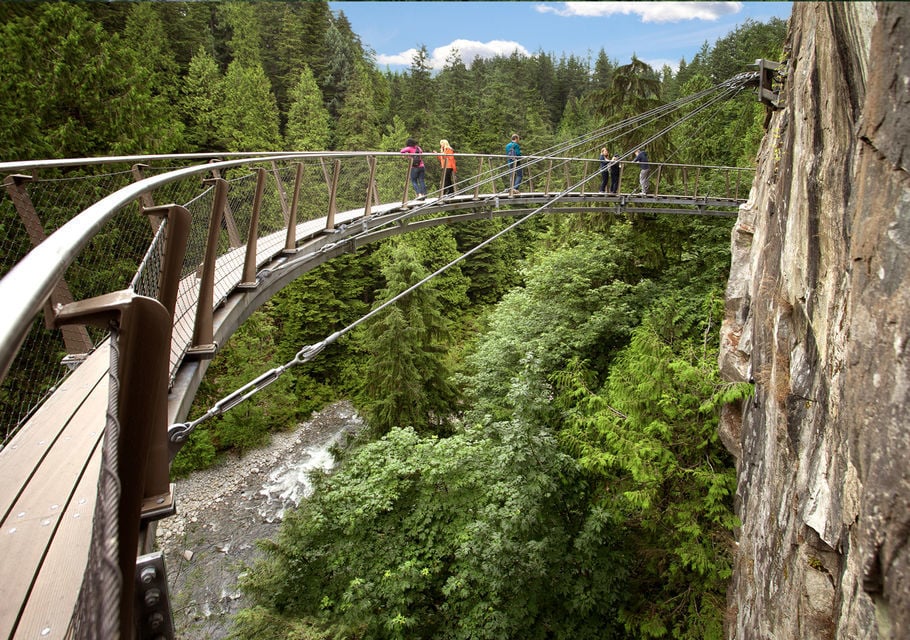 One of the first and most popular tourist attractions in Vancouver.
Definitely not for anyone who's afraid of heights!
Why it's so awesome: This suspension bridge sways its way 137 meters (450 feet) across a canyon with the Capilano River below. The bridge is 70 meters (230 feet) above the river and is surrounded by lush forests and a series of suspension bridges as part of the Treetops Adventure.
What to do there: If you don't mind high places, even when they're swaying in the wind, head over the bridge and take in the amazing view. The bridge leads to an activity park filled with forest trails and a treetop walk for you to explore. So, if you love nature, then head out to this bridge to see it up close and swaying back and forth.
Small Pack Problems? 😉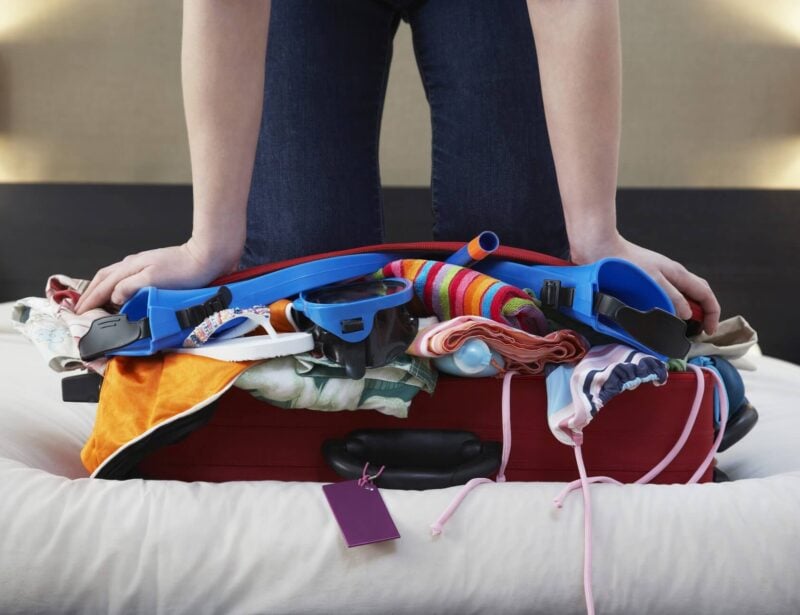 My missus travels with all her clothes in ziplock bags: don't be like my missus. UP YOUR PACKING GAME!
Packing cubes for the globetrotters and compression sacks for the real adventurers – these babies are a traveller's best kept secret. They organise yo' packing and minimise its volume too so you can pack MORE.
Or, y'know… you can stick to ziplock bags.
View Our Fave Cubes
Or Check Out the Sacks!
#13 – Queen Elizabeth Park – A perfect place to visit in Vancouver if you are on a budget!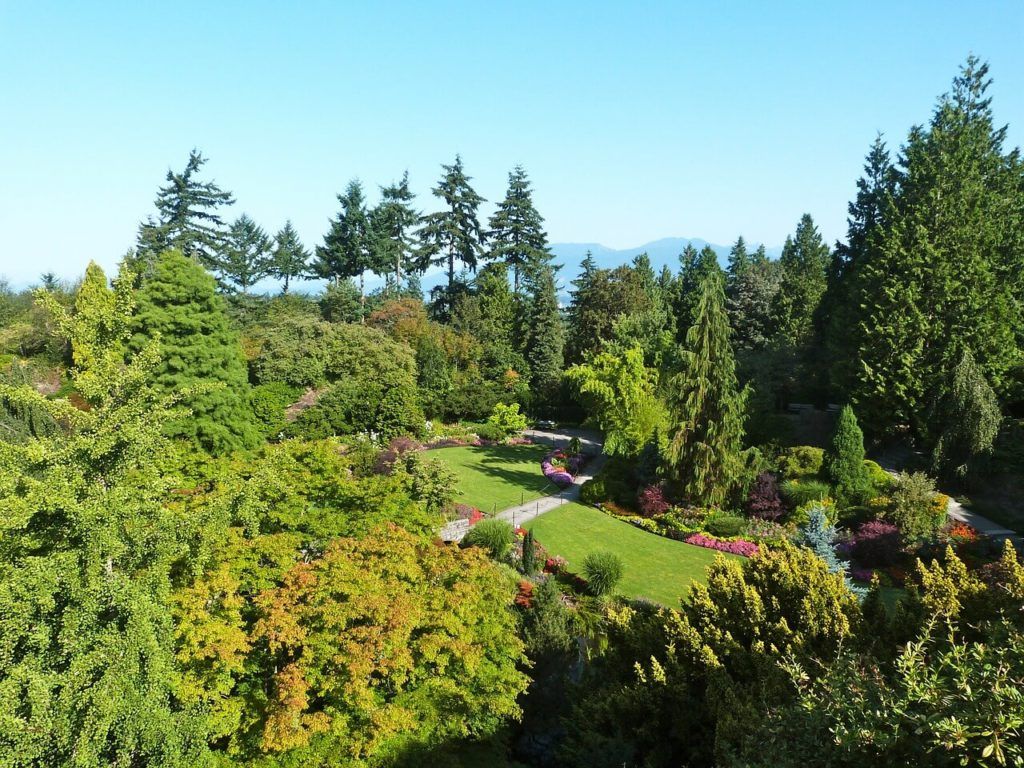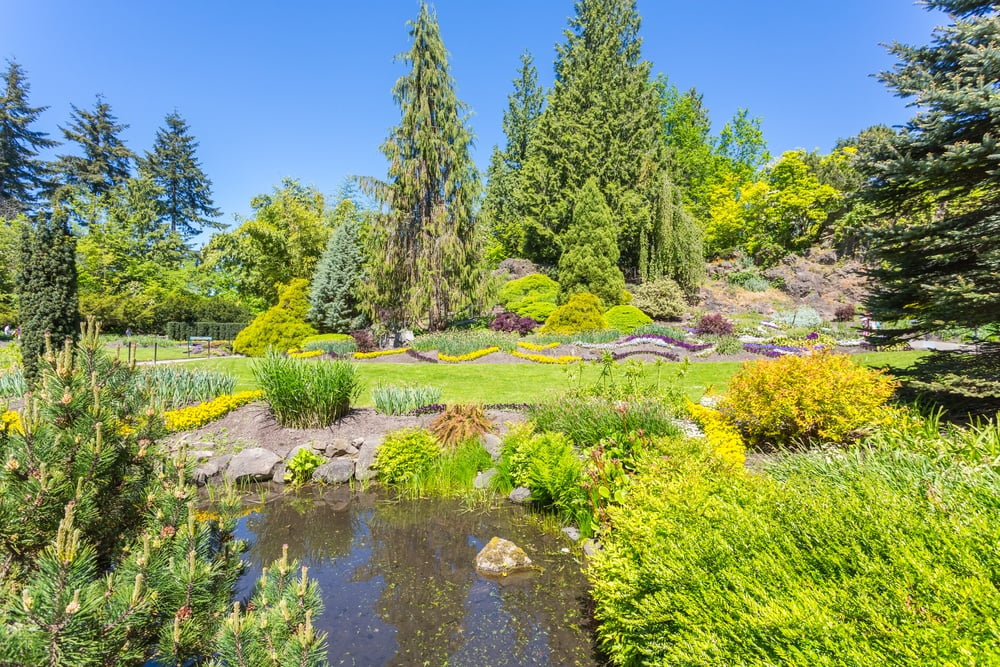 One of the most popular outdoor spaces in Vancouver.
This park has displays that include both flora and fauna, so if you find the plants a little boring then check out the exotic birds or different climate zones.
Why it's so awesome: This is one of the city's most popular parks and for good reason. It's 130 acres that include a rose garden, arboretum with 1,500 native and exotic trees, conservatory filled with exotic birds and tropical plants, and amazing fountains. This makes it the perfect place for a cheap afternoon outing that will allow you to get up close and personal with the best parts of nature.
What to do there: However long you have to spend at this Vancouver must see, you will be able to find something that relaxes you and stuns your eyes. Check out the Dancing Waters fountain display just outside the conservatory as well as the sculptures throughout the plaza. The park sits at a high point in Vancouver, which is why you should also take the time to enjoy the amazing views over the city skyline, mountains, and ocean.
#14 – Spanish Banks Beach – A nice non-touristy place to visit in Vancouver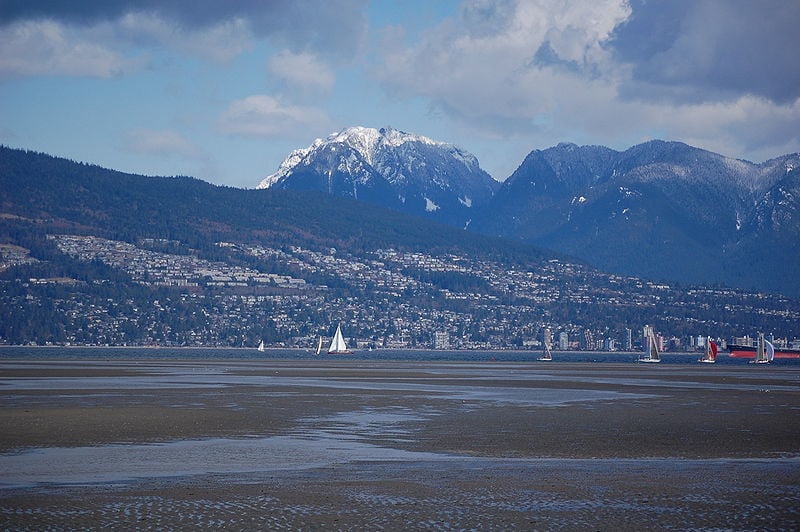 A quiet beach away from the tourist crowds.
This beach is known for skimboarding, which is a cross between skateboarding and surfing, so give it a try if you enjoy water sports.
This beach has a low tidal condition, which means the water is more than half a mile off shore at low tide, so it's the perfect place for kids to explore.
Why it's so awesome: If you like the beach but hate the crowds, then this beach is the answer as it's not on every Backpackers' Canada travel guide. It's about 5 miles out of downtown Vancouver and is the least crowded beach in the city. This is where the locals come to enjoy the weather or play sports on the beach. It's also great to explore at low tide when the water goes out and leaves rockpools to investigate.
What to do there: If you like water sports, then try skimboarding, a favorite at this beach because of the low tidal conditions. You can swim in the water if you're brave and don't mind the cold, but if you'd prefer to stay warm then there are volleyball courts on the beach that you can use. Exploring the beach at low tide is also a favorite activity and you never know what kind of strange sea creature you might find stranded until the tide comes back in!
#15 – Yaletown – Easily one of the most fun places to check out in Vancouver
Checking out the boutiques, restaurants and bars in this area is definitely one of Vancouver's must-do activities.
If you're looking for the best nightlife in the city, chances are that you will find it in this area.
Why it's so awesome: Yaletown is often compared to New York's SoHo neighborhood. It's a recently renovated warehouse district that has become the trendiest area in town. It contains countless fashionable restaurants, cafes, boutiques and cocktail lounges for you to explore and is the place to see and be seen!
What to do there: Grab your friends and head to Yaletown for a fun night out. Some of the more popular hangout options include Yaletown Brewing Co, Bar None, and Pierre's Lounge. But no matter what your taste or your budget, you'll be able to find a variety of dining and drinking establishments that will suit your needs.
#16 – Vancouver Lookout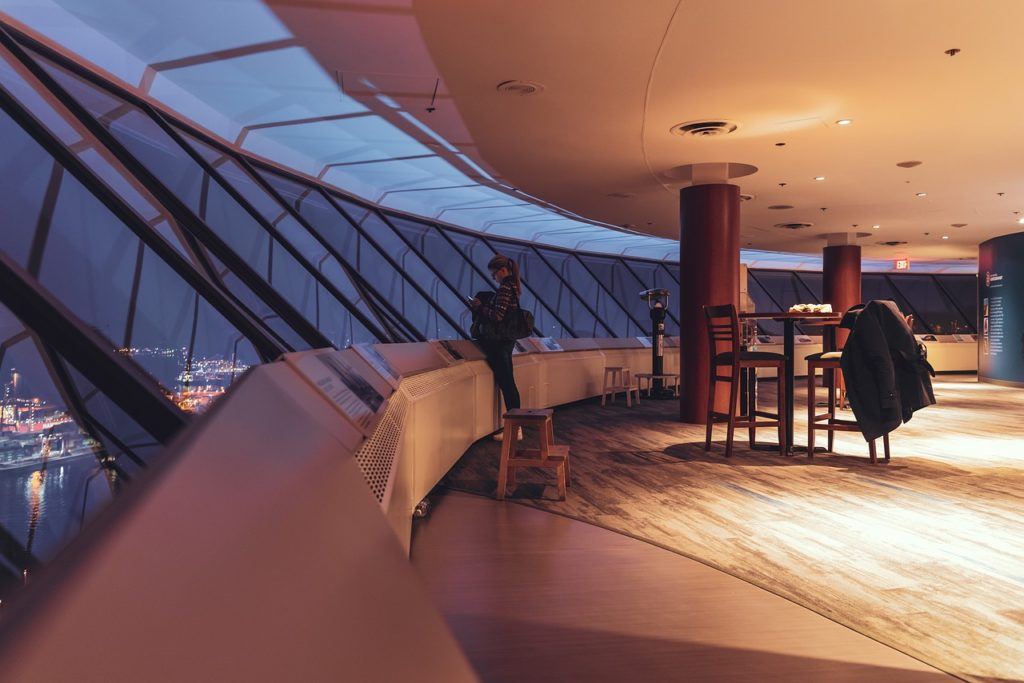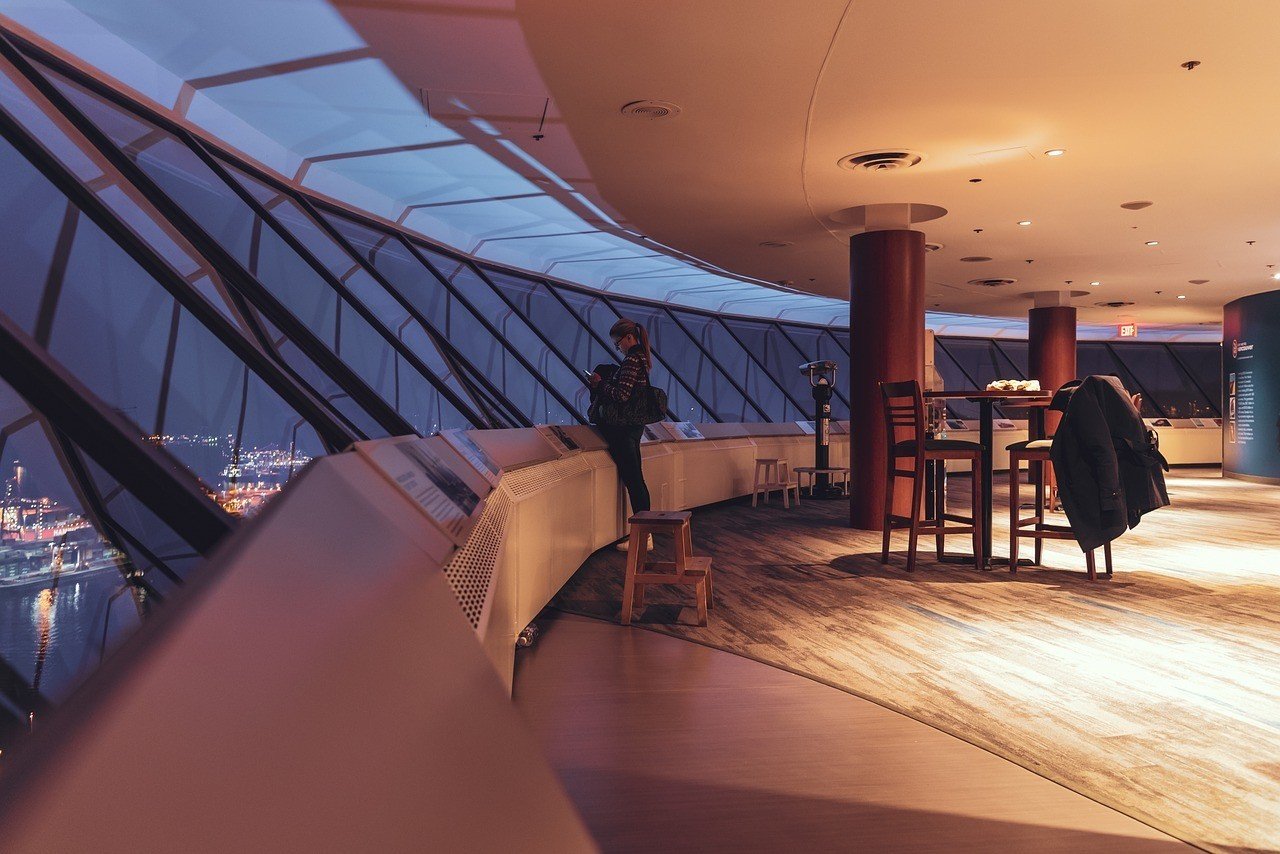 This should be the first stop on your sightseeing tour so you can take in the whole city before you visit specific places.
The observation deck offers 360 views of the city as well as the shore.
Why it's so awesome: Located on the 55th floor of the Harbor Center building in downtown Vancouver, this lookout can be reached in 40 seconds via a glass elevator. Once at the top, you'll be 550 feet above the ground and be treated to a 360 view of the city including the North Shore, Stanley Park, and the Olympic Peninsula Mountains.
What to do there: If you don't mind heights, then you need to visit the lookout and take lots of photos. Try to make sure you choose a clear day, because if there's cloud cover then the view won't be as amazing.

Our GREATEST Travel Secrets…
Pop your email here & get the original Broke Backpacker Bible for FREE.
#17 – Canada Place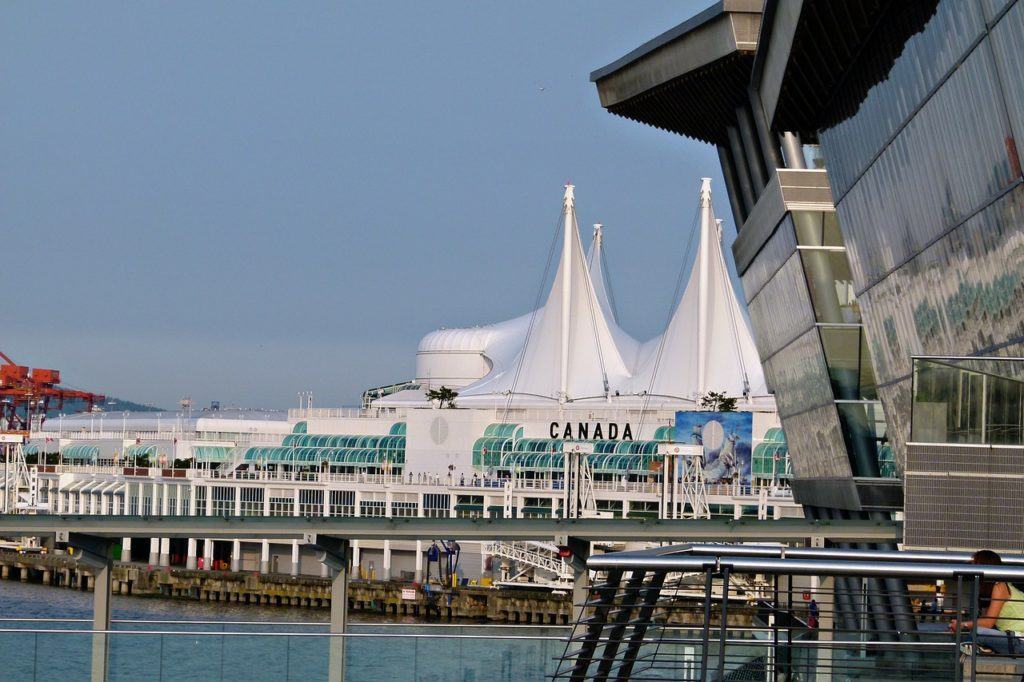 One of the city's most recognizable locations.
This ferry terminal does more than welcome boats, it's also the center of activity in the city.
Why it's so awesome: This building, which looks like a boat in its own right, has become one of Vancouver's busiest and most recognizable landmarks. A variety of events are held in this location and it's designed to give you a happy and slightly kitschy overview of Canadian culture and everything that it entails.
What to do there: Check out what's on I the city and make sure you don't miss any events at this venue, as they're bound to be amazing. You can also take a really interesting guided walking trail to learn about the different areas of Canada represented. Also, try to be there one evening during the trip as the Sails of Light show is held every night and is a spectacle worth seeing.
#18 – Vancouver Art Gallery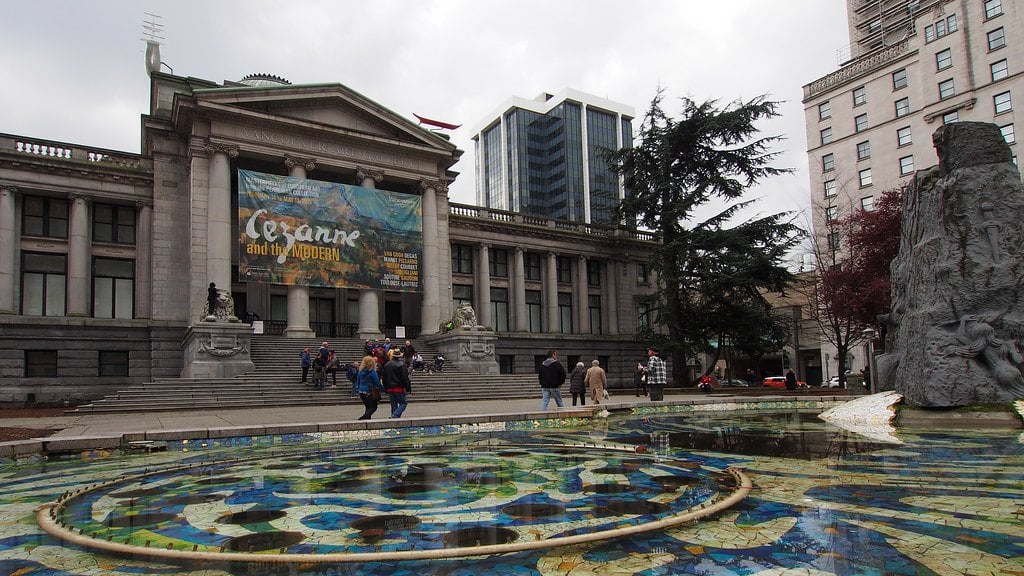 This world-class art gallery surrounded by some of the most stunning natural scenes in Canada.
There are more than 10,000 art pieces in this gallery ranging from photography by Ansel Adams to Canadian pictures.
Why it's so awesome: This art gallery is home to a world-class collection of British and Canadian paintings as well as photography by some of the most well-known names in the business. This includes Emily Carr, Jeff Wall, Marc Chagall, and Harry Callahan. This gallery also plays host to some amazing international exhibitions as well as a regular schedule of public programs and lectures.
What to do there: Before you head to the gallery, check out what's on and make sure you attend any special events they have on while you're visiting Vancouver. Afterwards, make sure that you explore the gift shop and library, and have a coffee and snack at the attached café as well.
#19 – Museum of Vancouver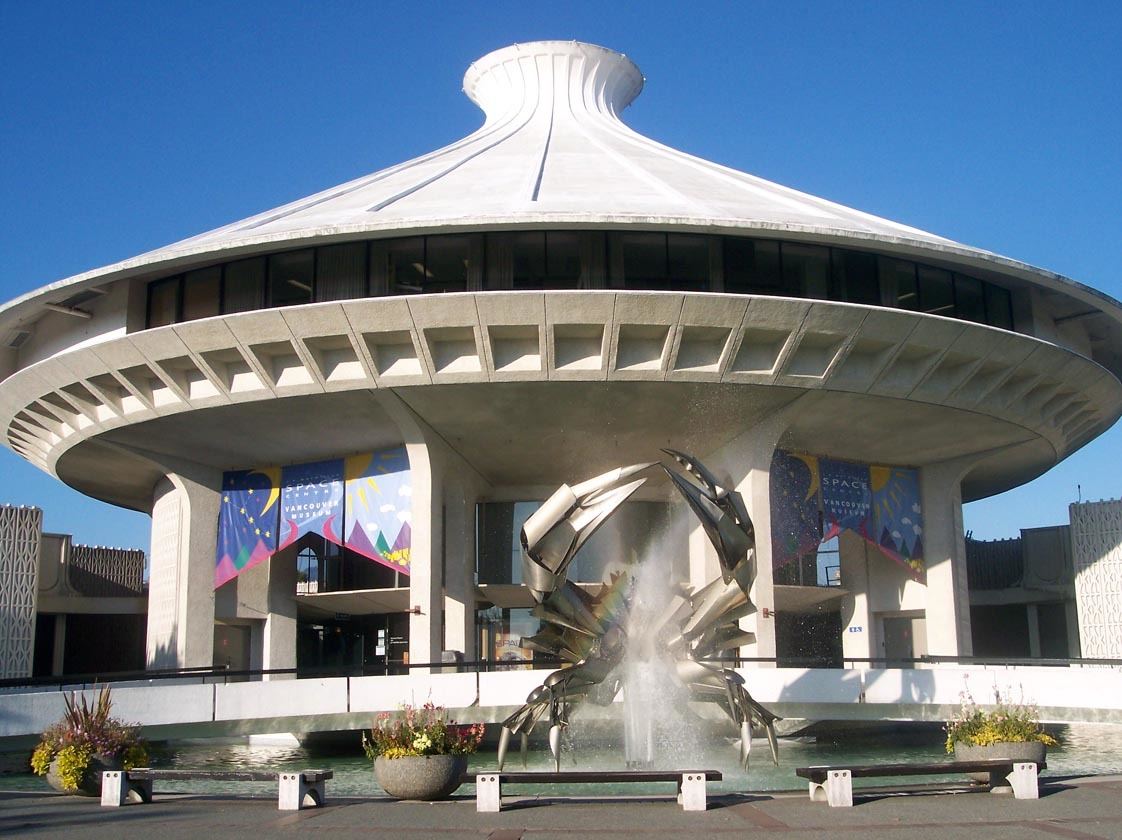 The best way to learn a little about the history of the city.
One of the best places in Vancouver if you're interested in going deeper when you travel.
Why it's so awesome: This museum explores the past, present and future of the city through fascinating displays. It starts in ancient times, with exhibits on the Musqueam people who originally lived in the area and moves forward to the present-day city and how that long distant past influenced its development.
What to do there: The museum is located in Vanier Park, which means that it's easily accessible from the downtown. So, you should take the time to explore the history of the city in the museum and then spend some time relaxing in scenic Vanier Park to soak up all things nature.
#20 – The Marine Building
You may recognize this building but not know from where because it's been used in comic books for years.
One of the world's most amazing art deco buildings.
Why it's so awesome: The Marine building opened in 1930 and was once the tallest building in the British Empire. It was designed to look like a crag rising from the sea, tinted with color, and it certainly meets that goal. The level of detail all over this building is amazing. The exterior is covered with reliefs of different forms of transport from the 1920s. The brass doors are carved with images of the ocean and the creatures that live within it. And the lobby is defined by ensconces of ships riding the waves.
What to do there: This is a building that will strike you with its beauty. Though it's now dwarfed by the skyscrapers around it, that beauty hasn't dimmed. In fact, it's so amazing that the building has been used in movies, TV shows, and even in superhero comics. It was actually Clark Kent's workplace in Smallville and the Baxter Building in the Fantastic Four films.
Save $$$ • Save the Planet • Save Your Stomach!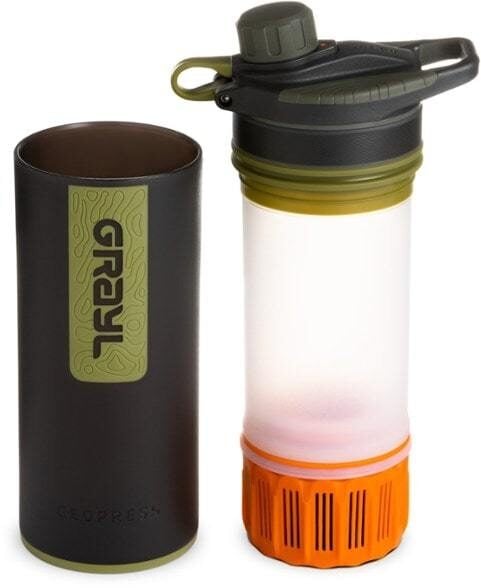 Drink water from ANYWHERE. The Grayl Geopress is the market's leading filtered water bottle protecting your tum from all the waterborne nasties. PLUS, you save money and the environment!
Single-use plastic bottles are a MASSIVE threat to marine life. Be a part of the solution and travel with a filter water bottle.
We've tested the Geopress rigorously from the icy heights of Pakistan to the tropical jungles of Cuba, and the results are in: it WORKS. Buy a Geopress: it's the last water bottle you'll ever buy.
Buy a Geopress!
Read the Review
#21 – The Seawall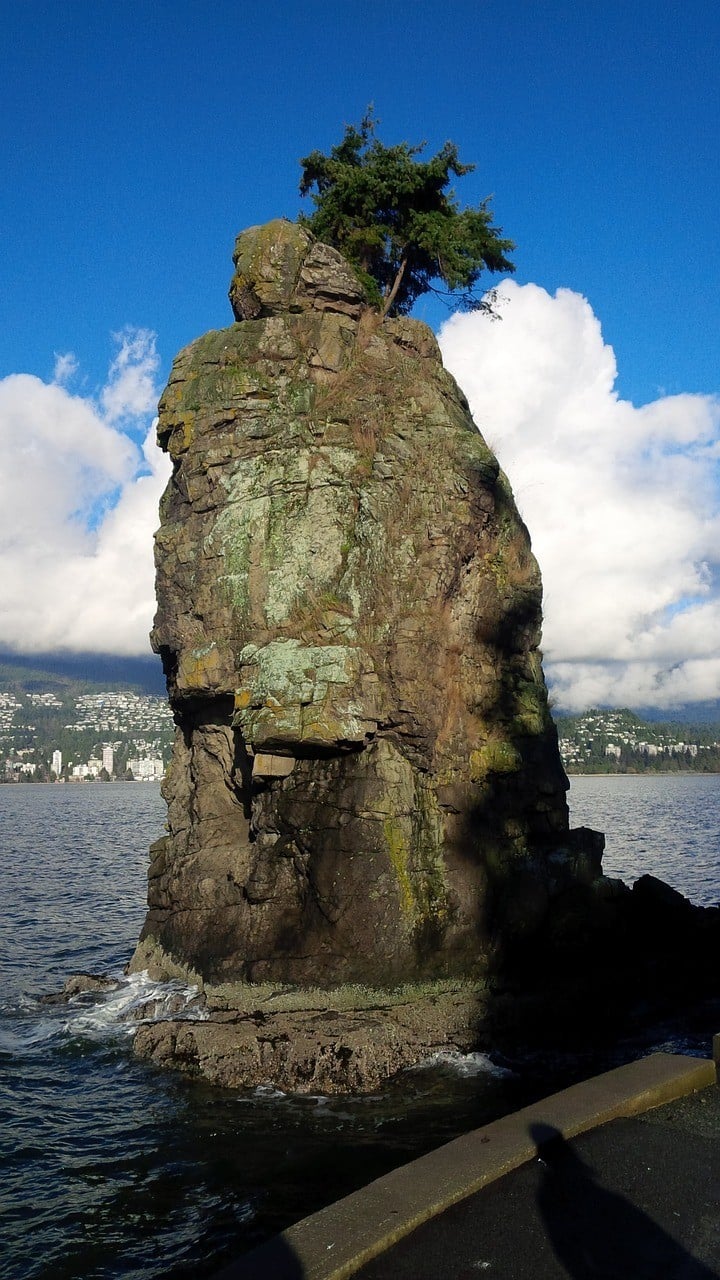 A 5.5-mile pathway that's a Vancouver must do.
There are amazing views all along this pathway, which is popular with tourists and locals alike.
Why it's so awesome: This long pathway starts in downtown Vancouver, travels around Stanley Park and then circles past Kitsilano beach and English Bay. It's an incredibly popular path amongst locals, who cycle, jog, or walk the path, and amongst tourists for the amazing views.
What to do there: It feels good to move and stretch, even when you're on holiday, and this path will give you the chance to do that in stunning surroundings. Take your camera with you when you walk this path. Do the whole thing or just part of it, and make sure that you walk on your designated side of the pathway at all times or you might get run down by cyclists.
#22 – Richmond Night Market – A must-see for foodies!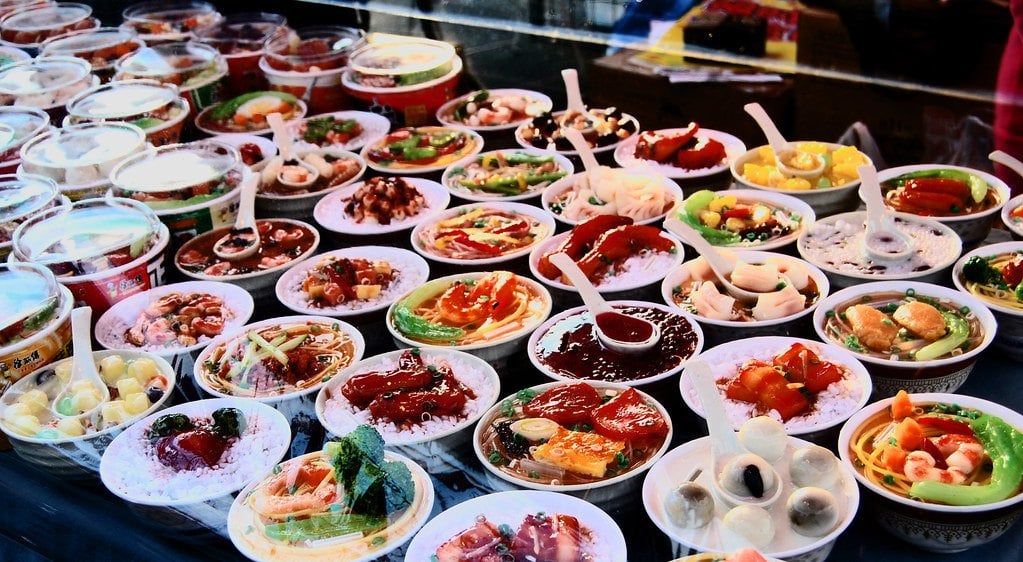 A taste of Asia and the largest night market in North America.
This is one of the best places to eat in Vancouver.
Why it's so awesome: If you're visiting Vancouver from May to October, then you absolutely must check out this market. It's the largest market in North America and feels a lot like some of the night markets in Asia. The stalls also sell some of the best and most varied food you'll eat during your trip!
What to do there: if you're in Vancouver at the right time of year, then plan a night at this market. Eat grill squid, roti mac and cheese, nitrogen ice cream, or pho fries at one of the 100 food stalls. There are also more than 200 retails stalls at the market so you can pick up a souvenir of your trip and they also have live music for you to listen to.
#23 – Vancouver Police Museum
A slightly twisted look at a darker side of Vancouver.
Make sure you take the walking tour if you want to learn more about the historic and atmospheric neighborhood of Gastown.
Why it's so awesome: If your tastes run a little towards the macabre, then you can indulge them at this museum. It's the oldest on the continent and contains more than 20,000 crime related artifacts where you can learn about crime in the city's early years.
What to do there: You can take a tour through the museum that also includes a special walking tour around key parts of Vancouver's Gastown. It will give you a deeper understanding of the history of this amazing part of town and of the sometimes macabre and sometimes strange crimes that were committed there.
#24 – Cypress Mountain Ski Area – One of the most amazing places in Vancouver!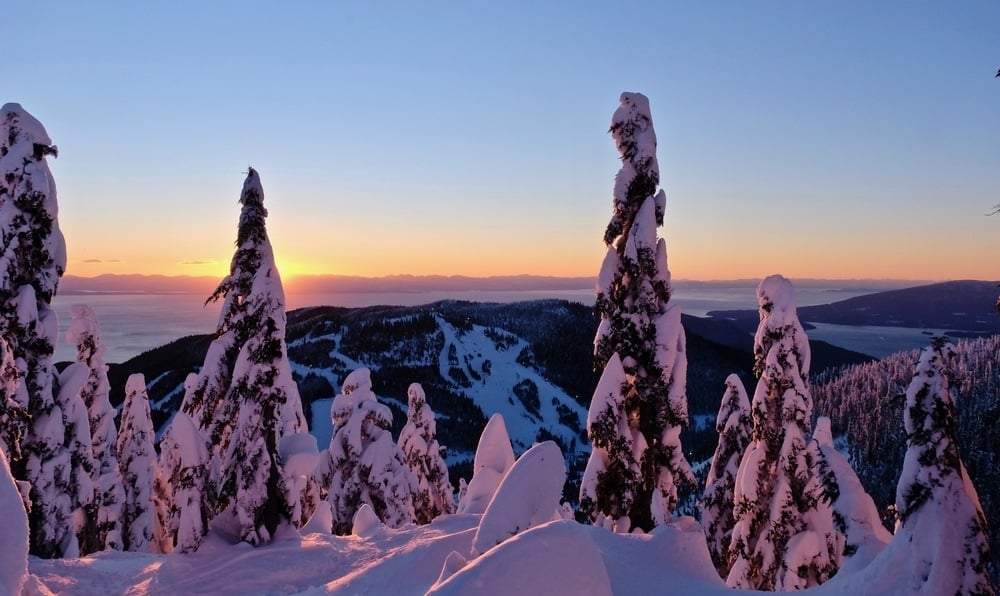 This is one of the most popular places to visit in Vancouver if you want to go skiing!
The ski area is only 30 minutes from the center of the city, which makes it perfect for a quick side trip.
Why it's so awesome: Vancouver is an incredibly popular skiing destination and the Cypress Mountain Ski Area is probably why. It's spread across 593 acres and located within a short drive of the center of the city. There are around 53 alpine ski runs as well as 19 kilometers of cross-country ski trails for you to try.
What to do there: If you love winter sports, then this area is for you. So, put on your cold weather clothes and head out to enjoy nature covered in snow. You can go skiing, do some cross-country skiing, or just sit indoors and enjoy the snowy landscape with a hot drink, it's entirely up to you!
#25 – Lighthouse Park – A must visit place to visit in Vancouver on the weekend!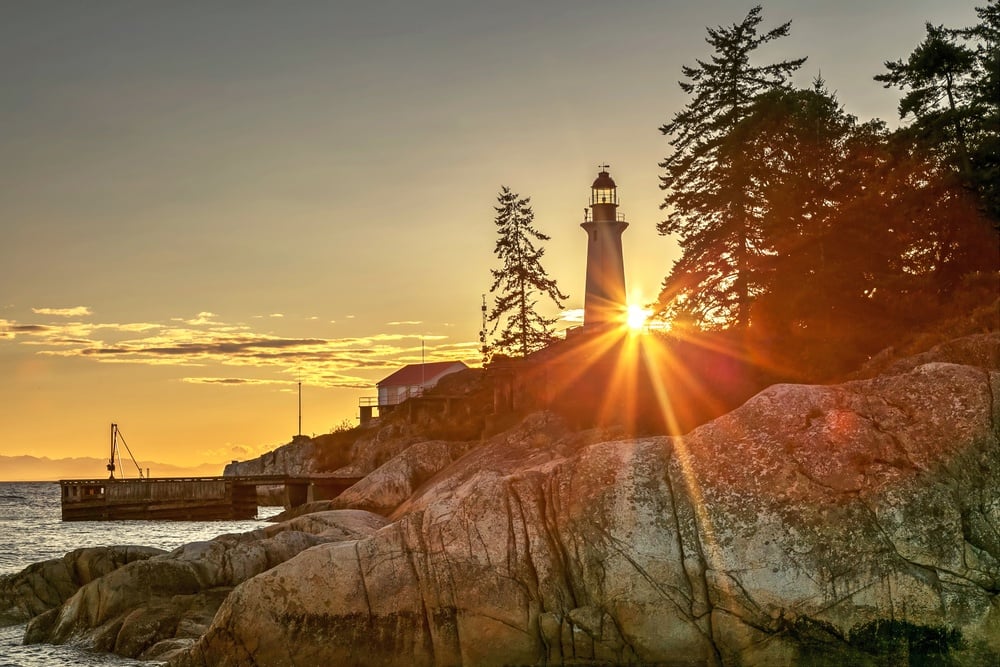 If you enjoy hiking, then this is one of the best places in Vancouver to do it.
The natural scenery in this area is simply stunning.
The lighthouse in this park is a national historic park and quite popular with tourists.
Why it's so awesome: The park around this lighthouse includes rugged terrain, a variety of hiking trails, amazing trees, and ocean views. It's the perfect place to visit if you want to enjoy the great outdoors and get some exercise at the same time. If you prefer a more active holiday, then this is where you'll find it.
What to do there: If you have a reasonable level of physical fitness then you'll enjoy exploring this area. There are a variety of hiking trails available from more rugged trails to beginner level hiking trails and all of them have amazing views. So, choose the hike that suits your fitness and energy levels, grab your camera, and get moving!
#26 – BC Place Stadium
The best place in Vancouver to see your favorite sports teams!
Why it's so awesome: If you enjoy your sports then you'll be in good company while you're in Vancouver. The BC Place Stadium is the home of football, soccer, and rugby in Vancouver and also served as the main stadium for the 2010 Winter Olympics and the 2010 Paralympics.
What to do there: If you're a fan of sports in all forms, then find out what's on in the city and show up for a game. Sharing in the triumphs of a sporting team when you're traveling is one of the best ways to go deeper into the culture and understand the people more. And you might even gain a new interest while you're doing it!
Get insured for your trip to Vancouver!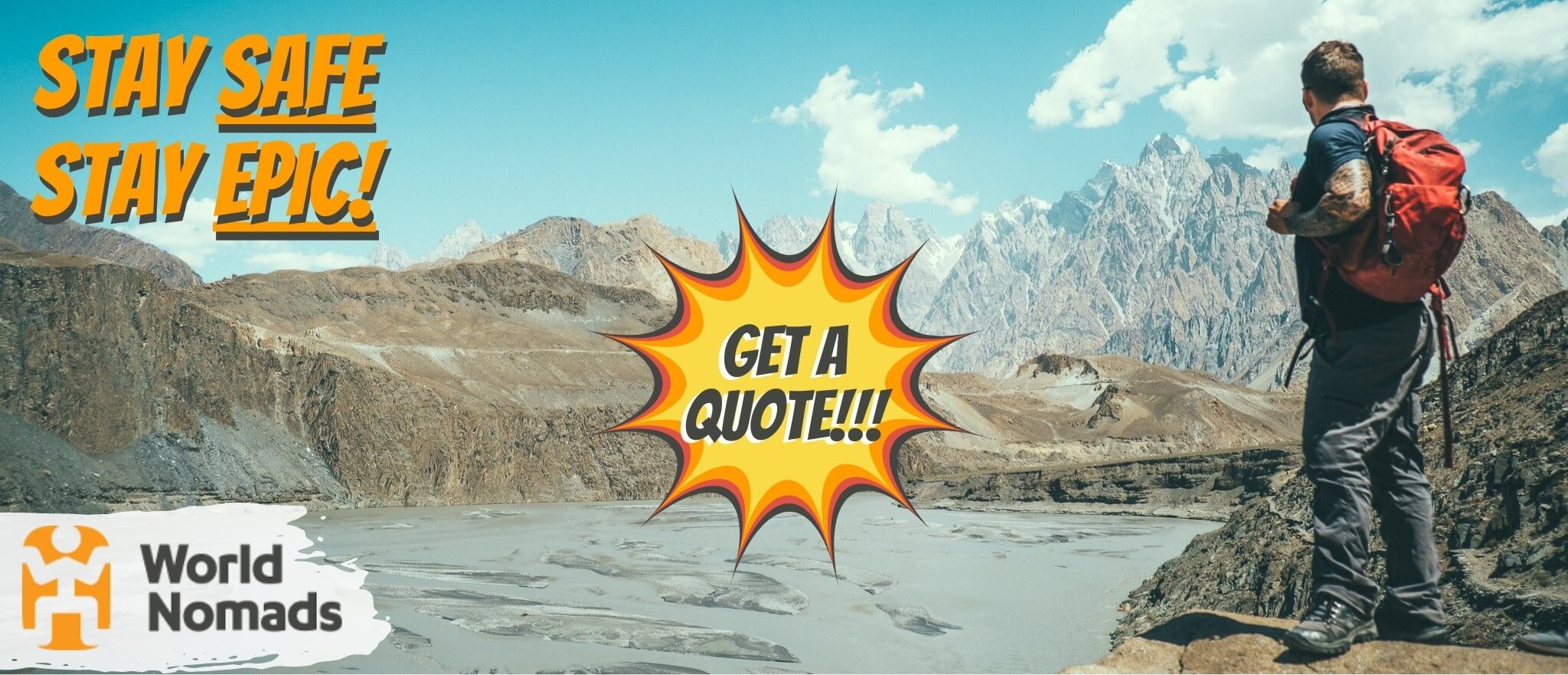 World Nomads' mission is to support and encourage travellers to explore their boundaries. They offer simple & flexible travel insurance, and safety advice to help you travel confidently.
They've been doing it since 2002 – protecting, connecting, and inspiring independent travellers just like you.
Get a quote below or read our in-depth review!
World Nomads provides travel insurance for travelers in over 100 countries. As an affiliate, we receive a fee when you get a quote from World Nomads using this link. We do not represent World Nomads. This is information only and not a recommendation to buy travel insurance.
FAQ on the Best Places to Visit in Vancouver
Find out what people want to know about the best places to visit in Vancouver
Final Thoughts on the Coolest Places to Visit in Vancouver
Vancouver is an amazing city to live in and to visit and when you decide to explore it during your holiday your days will be filled with amazing food, friendly people, and beautiful nature scenes. However, this is your trip, which means that you need to work out which Vancouver must-see places need to be on your list. This guide to the best sites and places to visit in Vancouver could help, and you can use it to create the trip of your dreams no matter how long you have in this amazing city.
---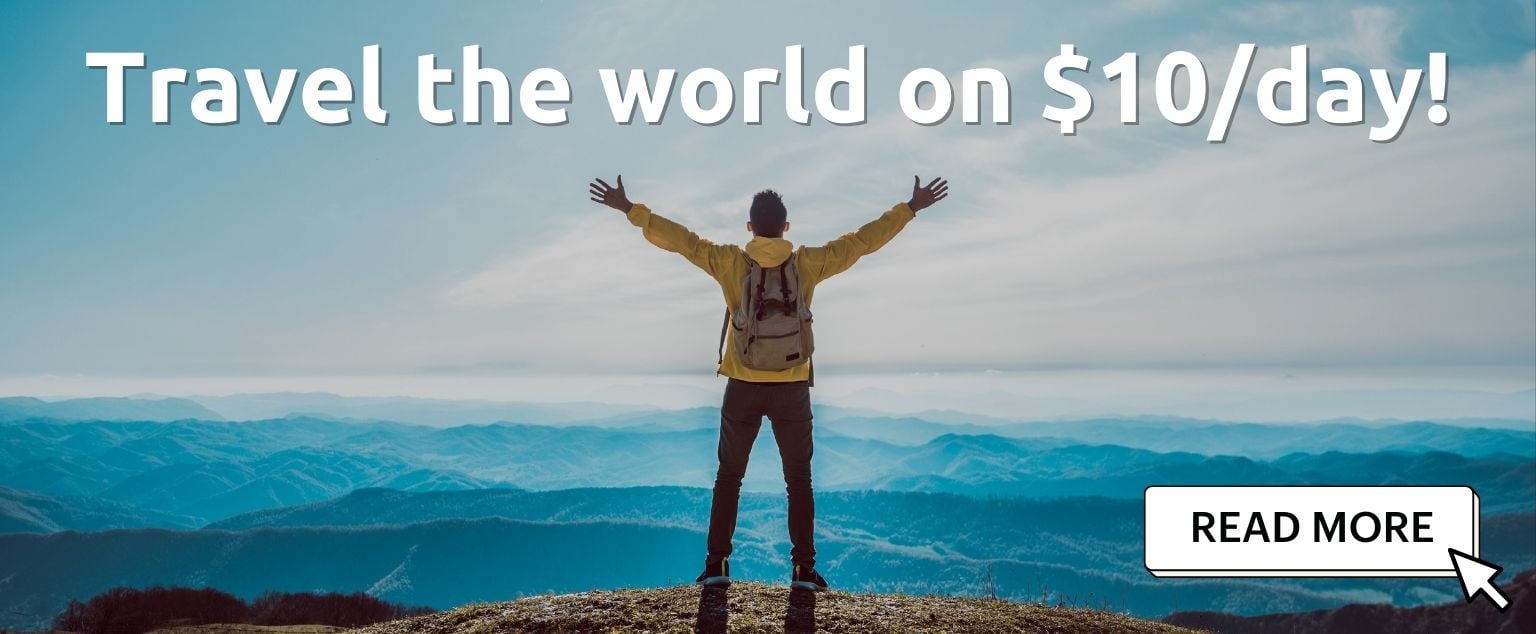 And for transparency's sake, please know that some of the links in our content are affiliate links. That means that if you book your accommodation, buy your gear, or sort your insurance through our link, we earn a small commission (at no extra cost to you). That said, we only link to the gear we trust and never recommend services we don't believe are up to scratch. Again, thank you!