Ontario is a wonder of a place. This Canadian province is huge, and comes packed to the brim with a whole lot of nature to explore.
If you're thinking of a camping excursion, there's no reason why you can't keep it local and head off into Ontario. If you're near enough for this to be a convenient trip… well, you're super lucky.
Giant lakes and forests, islands and beaches, snowshoeing opportunities and kayaking expeditions – it's all here in this awesome province.
If this is all news to you, then you're in the right place.
We've crafted this guide to camping in Ontario to give you all the information (and inspiration) you'll need to get you to the best spots out there. Let's do this!

Do You Want to Travel FOREVER??
Pop your email in below to get a FREE copy of 'How to Travel the World on $10 a Day!'.
Why Camp in Ontario?
Ontario packs a punch when it comes to natural beauty. For one thing, it's huge: Ontario is three times the size of Germany. That means the wilderness here is that much more vast and all-encompassing.
Part of what makes Ontario so awesome is its many, many waterways. Pretty much the entire 1,678-mile border between this Canadian province and the United States is made up of lakes or rivers.
There are some big hitters on the list, including Lake Huron, Lake Erie, Lake Superior, and Lake Ontario. That's four out of five Great Lakes on the doorstep – and let's not forget Niagara Falls!
Elsewhere, Ontario boasts rare oak savannah areas, forested areas, and even a wine-producing region or two. It's fully equipped for outdoor activities for any season, whether its the freezing winter or the blazing summer.
If you don't fancy staying in a hostel and want to get in on the action, there are heaps of far-flung, off-the-beaten-path campsites for you to pick from. These serve up some beautiful landscapes by the ton.

Sort out your rental before you arrive to get the best price. Rentalcars.com simplifies the process at a lower cost and can match you with the right vehicle for your adventure.
Primitive Camping in Ontario
If you like your nature to be properly undisturbed, primitive camping could be for you. This means being away from other campers and without modern conveniences – just you, your tent, and the wilderness.
Primitive camping – or "backcountry" camping, as it's sometimes called – is definitely an option in Ontario. In fact, with all the space in this vast province, it's pretty awesome.
Ontario's national and provincial parks have some unparalleled opportunities for you to adventure into its many beautiful landscapes. Backcountry camping is a great option for those heading out on a hiking or kayaking trip, who want a weekend (or longer) in complete seclusion.
However, you'll require more than just knowledge of the environment: you'll need some specialized skills to ensure you're safe in the backcountry.
Depending on where you're going and what trip you have planned, there are different rules and recommendations to take note of. These aren't just for you; they're to keep the environment intact, too.
Do your research. Know the route you're taking and ensure that where you plan to camp is available for primitive camping.
In certain parks, backcountry camping is only allowed in designated backcountry campsites. An orange sign marks these sites; on maps, they're marked with a triangle.
In some provincial parks there's a reservation system for backcountry campsites. That's due to popularity. Reserve a spot online at sites such as this one for Algonquin Provincial Park.
It's recommended that you set up camp in previously cleared areas that have already been used, so you minimize your impact on flora and fauna.
Keep your campsite as small as you can. If possible, hone in on areas absent of vegetation.
When it comes to fire, you should use a lightweight camp stove instead of a campfire. This reduces the fire hazard and firewood consumption.
If you do want a campfire, check local regulations beforehand to see if they're permitted.
Do not build new fire pits/fire rings; only use pre-existing ones.
As for waste disposal, if you don't have a toilet, you'll need to bury your business 15-20cm deep and at least 30 meters from water, official campsites, and trails.
Be aware of boundaries. Some parks have irregular borders, which means you should ensure you're not camping on private property.
Many of Ontario's parks require a permit for backcountry camping: it's called an Interior Camping Permit. These will need to be acquired from a park office beforehand.
And last but not least, leave no trace!
Backcountry/primitive camping in Ontario is fairly free and easy, especially in its provincial parks. Algonquin Provincial Park, which we mentioned, gets rave reviews from keen campers wanting nothing but wilderness. Another great option for backcountry camping is Wabakimi Provincial Park in Thunder Bay (that one's pretty great for kayaking).
For a more in-depth list of options for primitive camping in Ontario, check out the Ontario Parks site here.
If all those regulations seem like too much to remember, or you don't want to put yourself 100% at nature's mercy, maybe you could just opt for one of Ontario's numerous campsites. These are often (not always) very basic and offer a next-to primitive experience.
If you like to keep things official but still want a bare-bones camping vacay, plenty of campsites offer that. Let's take a look and see what's in store…
10 Best Campsites in Ontario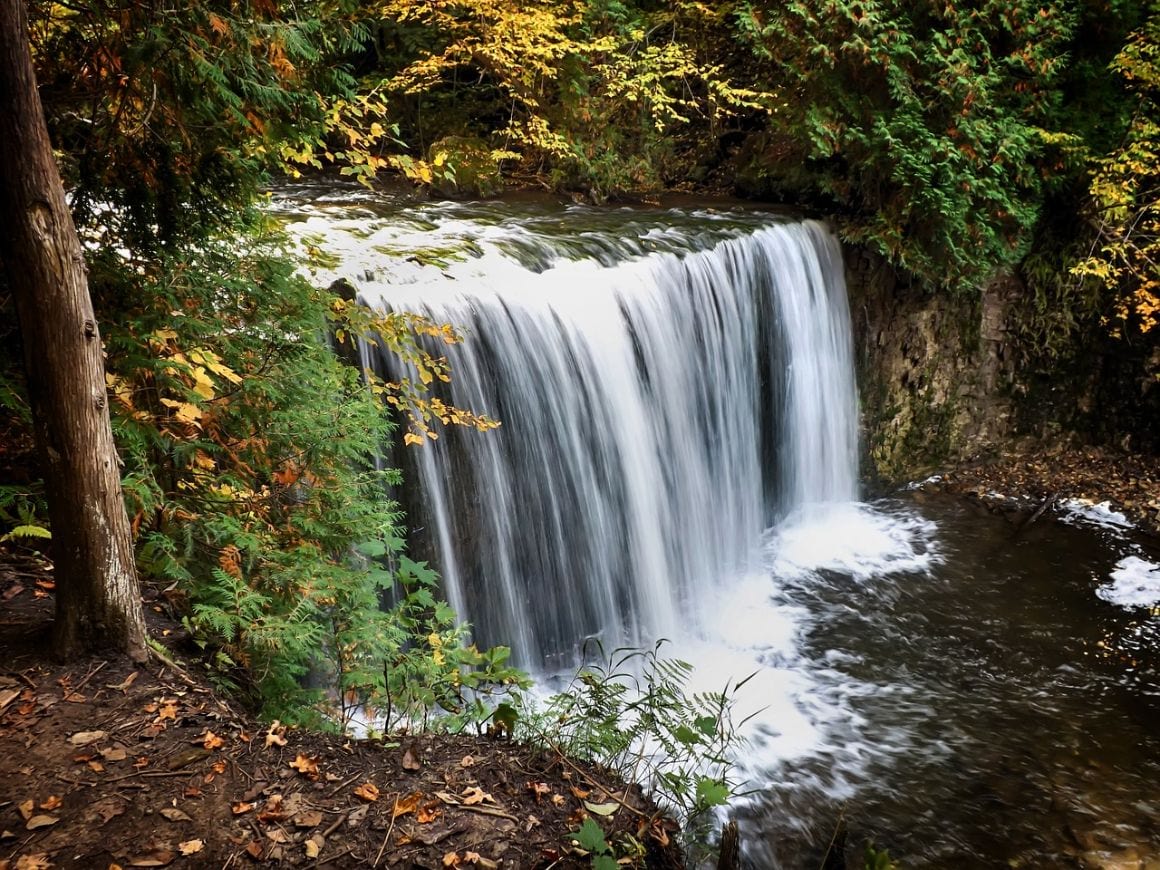 Now that you've read all about the primitive camping experience in Ontario, you can probably decide as to whether or not that's for you. If so, that's great. If you're not so sure, check out what's on offer in terms of Ontario's "official" campsites.
We're fairly confident that you won't be disappointed with our selection of the best campgrounds in Ontario. From the very rustic to the family-friendly and well-equipped, there's something for everyone on our handy list. So without further ado, let's check 'em out.
1) Hattie Cove Campground – Pukaskwa National Park
Pukaskwa National Park lies on the shore of Lake Superior in Northern Ontario, and it's a dreamy natural wonderland. Boasting the longest undeveloped shoreline of any of the Great Lakes, here you can enjoy incredible views and beautiful boreal forests. There are even ancient rock structures constructed by the area's original inhabitants.
Given its remote location, camping here is mainly about backcountry campsites. But the Hattie Cove Campground in the northern part of the national park is easily accessible via Highway 627. Operating on a first-come, first-served basis, the sites here are private, with plenty of greenery. The waves crashing on the nearby shoreline will soothe you to sleep.
Amenities: Campfires allowed, Toilet available, Showers available, Potable water available.
Campsite fee: From $19 per campsite per night.
2) Cyprus Lake Campground – Bruce Peninsula National Park
Bruce Peninsula National Park is at the heart of the UNESCO-recognised Niagara Escarpment. It's an incredible place to spend your time, with many opportunities to head out into the great outdoors. There's a range of hiking trails to choose from, (including the Bruce Trail) and birdwatching.
Camping at Bruce Peninsula National Park means having the opportunity to enjoy a spectacular sunset long after the day-trippers have gone home (or sunrise before they arrive). Cyprus Lake Campground is our top pick.
Nestled beside an inland lake, there are 232 plots to on offer. While it's a no-frills sort of place, there are some basic amenities. That makes it fairly popular in the summer months.
Amenities: Campfires allowed, Toilet available, Pets allowed, Potable water available, Showers available, Picnic table available.
Campsite fee: From $16 per campsite per night.
3) Sturgeon Woods Campground – Point Pelee National Park
Point Pelee National Park (pelee is French for "bald" FYI) comprises marshy landscapes and woodlands that jut out into Lake Erie. It's the southernmost point of the Canadian mainland and offers visitors a plethora of natural wonders to enjoy.
Spring brings migratory birds; autumn heralds clouds of monarch butterflies; there are ice formations in winter and beaches in summer (obviously). And where better to base yourself than Sturgeon Woods Campground?
It's set outside of the national park itself, but offers great amenities. For one thing, showers are free (and warm). It's the sort of place where you'll find swimming pools and other things for kids to do, so it's a primo family option.
Amenities: Campfires allowed, Toilet available, Pets allowed, Potable water available, Showers available, Picnic table available.
Campsite fee: From $20 per campsite per night.
4) Beausoleil Island – Georgian Bay Islands National Park
Made up of 63 small islands, this national park is all about waterways and intricate coastline. Here, you'll find rock formations and pinewood forests to explore and opportunities to hop around the islands by kayak.
The best way to camp in Georgian Bay Islands National Park is on Beausoleil Island – mainly because that's the only island that allows camping. There are 103 plots across nine campgrounds on the northern shore of the island, which you can only reach via boat from the mainland.
If you're not sure exactly which one to pick, go for Cedar Spring Campground, complete with a visitor center, bike rentals, and direct beach access. You can't go wrong
Amenities: Campfires allowed, Toilet available, Potable water, Picnic table available.
Campsite fee: From $45 per campsite per night.
5) Lake of Two Rivers Campground – Algonquin Provincial Park
Nestled between Georgian Bay and the Ottawa River, this provincial park is the oldest of its kind in Canada. The park is dotted with dozens of lakes and ponds, and streams and rivers run throughout. It's home to a unique mixture of coniferous and deciduous forests, supporting the diverse animal species that live here.
If you want to stay in this area of Canada, your best bet is to camp. The best place for that is Lake of Two Rivers Campground. This beachside campsite is located along Highway 60, close to many of the park's attractions. There are over 200 plots to choose from among the white pine forest, half of which have electrical hook-ups.
Amenities: Campfires allowed, Toilet available, Potable water available, Picnic table available.
Campsite fee: From $55 per campsite per night.
6) George Lake Campground – Killarney Provincial Park
Killarney Provincial Park is a force to be reckoned with, home to sweeping wetlands, forests, and towering mountains. Here you can embark on some adventurous hikes such as the La Cloche Silhouette Trail, which winds through the white quartz ridges of the La Cloche Mountains. Otherwise, keen canoers can connect the lakes with an epic paddle between them all.
Primarily a wilderness, the provincial park has just one campground to its name, George Lake. You'll find this near the entrance to the park. It's an awesome base for exploring – think backcountry camping except with hot showers and flushing toilets. We recommend booking ahead, as it can get pretty busy.
Tip: In winter, the pre-erected yurts at George Lake Campground are available for walk-in campers.
Amenities: Campfires allowed, Picnic Table Available , Potable water available
Campsite fee: From $20 per campsite per night.
Is This the Best Backpack EVER???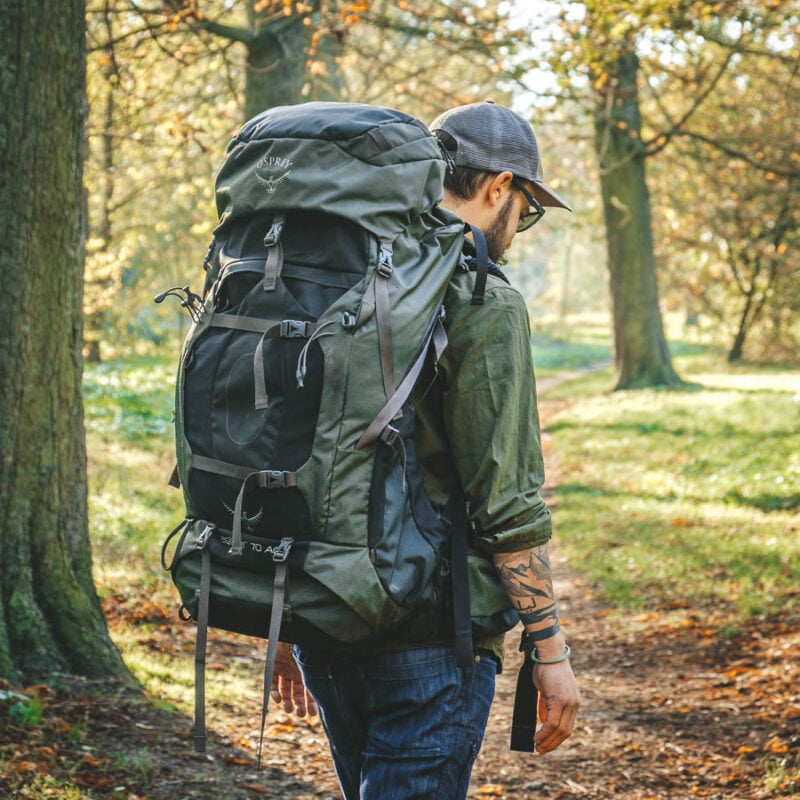 7) Flowerpot Island – Fathom Five National Marine Park
Fathom Five National Marine Park is pretty dang awesome, there's no two ways about it. Situated in Lake Huron's Georgian Bay, this protected area consists of cliffs, ancient rock formations, and an abundance of freshwater ecosystems. It's also a popular dive site: there are no fewer than 22 wrecks to explore.
Though people usually camp at nearby Bruce Peninsula, camping options are available on Flowerpot Island. The tiny, two-kilometer-wide island (complete with famous flowerpot rock formations) is one of the coolest places to camp in Ontario.
There are six tenting sites on the island, all a short walk from the main dock. There are platforms to pitch on, but that's about the only development. Everything else is pretty rustic but no less cool as a result.
Amenities: Toilet available, Pets allowed, Non-Potable water, Picnic table available, Camp platforms available
Campsite fee: From $10 per person per night.
8) White Spruce Campground – Grundy Lake Provincial Park
Grundy Lake is one of the less-visited Parks in Ontario, but that doesn't mean it should be overlooked. Just east of Georgian Bay, it's easily accessible by the Trans-Canada Highway, making it a great stop for road trips. Here you can explore its glacially-shaped lakes and rocky shorelines, beaches, and pine forests via its many bike 'n' hike trails.
There are nine camping options at Grundy Lake, we reckon White Spruce Campground is the best one. It offers a waterfront setting with trails leading around the shore. There are also clean washrooms, electrical hook-ups, and other amenities – including laundry facilities – close by.
Amenities: Campfires allowed, Toilet available, Pets allowed, Potable water available, Showers available, Picnic table available
Campsite fee: From $25 per campsite per night.
9) Marie Louise Lake Campground – Sleeping Giant Provincial Park
We love the name of Sleeping Giant Provincial Park. It was given this name for a good reason: when viewed from the west, the erosion of the basalt landscape looks like a giant sleeping on its back. Pretty cool. Otherwise, there really is some storybook scenery going on here, with valleys, cliffs, and waterways to explore.
The best campground here is over at Marie Louise Lake. It's got over 200 plots, some with electric hook-ups. It's a small-ish but pretty Ontario campground (especially if you manage to bag a lakeside spot), with friendly staff and an information center where you can get maps and other helpful stuff.
Amenities: Toilet available, Pets allowed, Potable water available, Showers available, Picnic table available.
Campsite fee: From $18 per campsite per night.
10) Rossport Campground – Rainbow Falls Provincial Park
The rather remote 1,421-acre Rainbow Falls Provincial Park boasts shorelines on Lake Superior and Whitesand Lake. There are scenic trails along the Hewitson River and even an eerie abandoned campground to explore. Visitors with families will love the education program that runs here during the summer months.
You won't be camping at the spooky abandoned campground. Instead, you should head to Rossport Campground on the shore of Lake Superior, where you can camp at one of 36 plots situated among grassy birch groves. The only other option is Whitesand Lake Campground, which has 100 plots and is around five kilometers away from Rossport.
Amenities: Campfires allowed, Toilet available, Pets allowed, Potable water available, Picnic table available
Campsite fee: From $22 per campsite per night.
Save $$$ • Save the Planet • Save Your Stomach!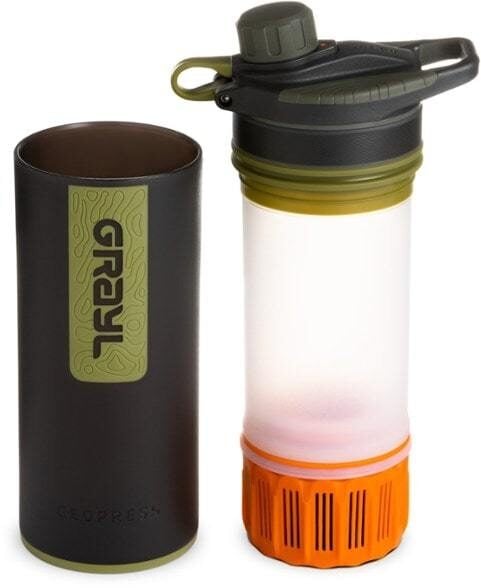 Drink water from ANYWHERE. The Grayl Geopress is the market's leading filtered water bottle protecting your tum from all the waterborne nasties. PLUS, you save money and the environment!
Single-use plastic bottles are a MASSIVE threat to marine life. Be a part of the solution and travel with a filter water bottle.
We've tested the Geopress rigorously from the icy heights of Pakistan to the tropical jungles of Cuba, and the results are in: it WORKS. Buy a Geopress: it's the last water bottle you'll ever buy.
Buy a Geopress!
Read the Review
The Best Glamping Sites in Ontario
So there you have it; those were our top choices for the best campsites in Ontario. There are some pretty amazing places to really discover the beauty of this province for yourself.
But maybe you don't think so. Maybe you'd rather a few more mod-cons than just a shower block and an information center. If that's you, we have the solution – glamping.
You may know all about glamping – you may not (it's "glamourous camping"). Either way, it's definitely a more luxurious way to experience Canada – except with four walls to protect you from the elements.
There are some varied options for glamping in Ontario, so get some inspiration and see what's out there.
For a real fun glamping experience in Ontario, you can't go wrong with this huge lakeside cabin. With loads of space, this is perfect for a couple looking for a weekend getaway. The interiors are modern, with wood furnishings and an overall cozy cabin feel that you can't help but love.
The outdoor space here is pretty cool, too. There's a huge deck with sun loungers, an outdoor corner couch, sunshades, and a grill for cooking up a storm. The cabin also comes with a couple of pontoons floating out on the lake – awesome for sunny days spent swimming. Plus, you'll get to use the kayaks and paddle boards.
This Ontario Airbnb is truly the place for you if you want some real privacy, peace, and quiet. It's literally advertised as having no neighbors. But even though this is definitely some stripped-back living, it comes with just about everything you need for a comfy stay out in the wilderness.
There's a queen-sized bed, electric fireplace, and a small indoor/outdoor kitchen to use. There's a hammock to chill out in. Overall, this a great option for those who like to wander, as the property has access to numerous hiking trails. There are even some fantastic look-out points from right near the cabin itself – perfect for wildlife-spotting.
Small Pack Problems? 😉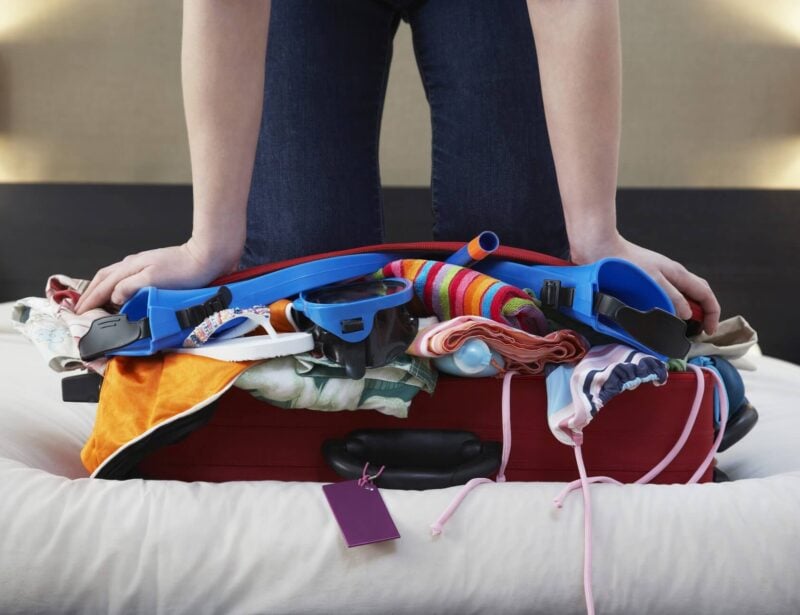 My missus travels with all her clothes in ziplock bags: don't be like my missus. UP YOUR PACKING GAME!
Packing cubes for the globetrotters and compression sacks for the real adventurers – these babies are a traveller's best kept secret. They organise yo' packing and minimise its volume too so you can pack MORE.
Or, y'know… you can stick to ziplock bags.
View Our Fave Cubes
Or Check Out the Sacks!
When you think about staying in a cabin, your mind might conjure images of a place like this. It's a log cabin with bare wood floors and kitsch furnishings, with everything in one room. It's definitely some of the most rustic glamping in Ontario we've seen: there's no running water or electricity, for a start, and you can forget about wi-fi or cell signal.
Instead, the cabin is lit by candles and lanterns, and heated by a wood-burning stove. The bathroom is an outhouse. Basically, this is a place of tranquility – a place to come and truly disconnect. Nearby there's a pond for swimming in summer, or ice-skating in winter (awesome). A bonus is the wildlife look-out on the property.
This well-developed log cabin comes with many modern conveniences. Set across three floors, you'll find a queen-sized bed complete with views of the farm it's located on. There's also a small kitchen, a cozy couch, and a bathroom.
The cabin itself was built way back in 1866, which is pretty dang cool if you ask us. That means staying here is like staying in a slice of Ontario history. There's also a patio out the back with a fire pit and an outdoor bath tab, plus loads of outdoor equipment to use, such as canoes and snowshoes.
For a spot of modern glamping in Ontario, this place certainly fits the bill. It's basically a compact cube with a huge glass window providing beautiful views of the treetops. Inside it's got some pretty cool interiors – think clean lines, neutral colors, and minimalist furnishings—a design-lovers dream.
This contemporary studio-slash-tiny house sits on a cliff surrounded by woodlands, making it a very serene place to be. One of the best things about it is the outdoor hot tub – imagine chilling the heck out under the stars here. Huntsville is a quick drive away, so you can reach restaurants and shops when you've had enough seclusion.
DON'T DIE OUT THERE! …Please 🙂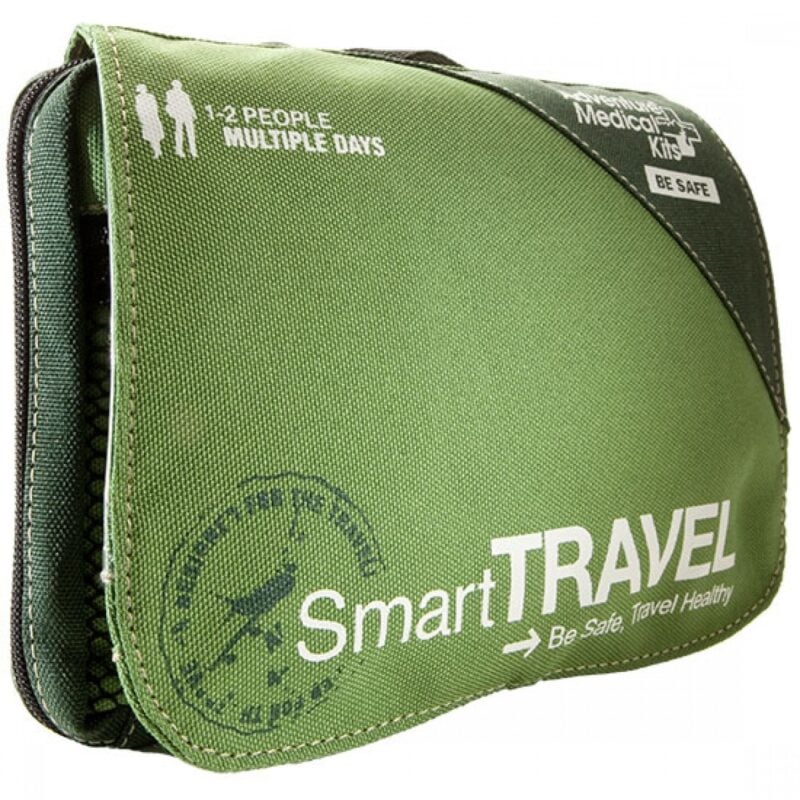 Things go wrong on the road ALL THE TIME. Be prepared for what life throws at you.
Buy an AMK Travel Medical Kit before you head out on your next adventure – don't be daft!
Buy on REI
Camping Packing List for Ontario
Wide-open spaces and a whole host of camping opportunities make Ontario ideal for camping. We've covered a lot of information so far and hopefully helped you work out where you will base yourself in this huge province.
But before you get out there and stuck into camping, you're going to want to know what to pack.
Packing for a camping trip in Ontario can be tricky; it's such a vast place with changing landscapes that will really alter what you need to bring.
Those of you who like to live life with a little luxury without going completely off-grid, might want to think about packing camp chairs and coffee makers. Whatever your camping style, the natural world needs to be considered when you're packing your car for the trip. Will you need to protect against bugs and bears? How about the weather conditions?
Don't worry; we've got all your packing questions covered with this camping packing list. Whether you've never camped before or are a seasoned pro, this is our helpful guide to what to pack for an Ontario camping trip.
Camping usually means heading out into the middle of nowhere – or at least, far from home. To make sure you don't end up at your campsite without any of the essential kit, here's a check-list of the things you really need to take camping with you.
If you don't have any of the stuff on the list, no sweat – you have the chance to purchase it now!
Sleeping bag – Things can get pretty cold (even freezing) out in the parks of Ontario. You're going to need to pack a good sleeping bag with a tog that is suitable for the conditions you'll be expecting.
Reliable tent – Tents come in all shapes and sizes, but one thing you should make sure you have is a tent that won't let you down. Get a tent that is totally waterproof and will withstand the weather conditions on your planned camping trip.
Microfiber towel – Get yourself nice and dry with a microfiber towel. Not only are they super light to pack, but they dry quickly, too.
Torch – A strong torch is important to bring with you. YOu can use it to find your way into your tent at night time, make your way to the bathroom, or tell spooky ghost stories around the campfire.
Camping stove – Camping stoves don't have to be big and bulky, there are some great streamlined models on the market today. This means you can cook yourself a meal without feeling like you're lugging around the kitchen sink.
Camping plates/cutlery – You will need some plates to eat your hearty camp meals off. Some cutlery and cups will also come in handy.
If you're into hiking, then you're totally going to want to get out on the trail in Ontario. Trust us, there are some seriously stunning hikes and wilderness adventures to be had. But it's not a good idea to attempt a hike in Ontario without a little preparation beforehand.
Some hikes lead off into really remote areas, plus there's the wildlife to be aware of. So here are some tips on what to bring with you…
Daypack – A much-needed item for almost any hike, a reliable daypack should be comfortable and have enough space to hold your essential hiking kit.
Hiking shoes – Finding the right hiking shoes is super important. The shoes you wear should be appropriate for the hike you're tackling; they should also have a good grip and not cause you any discomfort.
First aid kit – It's always a good idea to go prepared for a worst-case scenario. A well-stocked first-aid kit in your daypack is a must.
Filter water bottle – It's not always easy to access clean drinking water when out hiking. A filter water bottle means you have a way to keep hydrated when you're out and about in nature. Good for the environment, good for your health.
Sunglasses – Protect your precious eyes from the glare of the sun with a cool set of shades.
Hat – Either a hat to protect your head and neck in the sunny summer months or a wooly winter hat to keep you warm when it's chilly.
Camping offers huge scope for outdoor adventures, but you still want to keep at least a little bit clean. Some campsites in Ontario have well-maintained toilets, while others are totally off-grid. Either way, hygiene still matters, so here's a list of a few essential toiletries you should pack.
DEET insect repellent – Keep these mosquitoes and other busy bugs at bay. You won't want to leave this stuff at home!
Toothbrush and toothpaste – Keeping your pearly whites clean can even be done out in the backcountry. There's no excuse.
Toilet paper – You never know when you might need it, and don't expect it to always be available, even in the more developed campsites.
Sunscreen – Another must-have for your kit, sunscreen means the difference between being sensible in the sun or spending your trip being sore and red (not fun).
Shampoo bar – A great alternative to bringing a plethora of shampoos and soaps, a solid shampoo bar works for washing just about everything. It's also eco-friendly and lightweight.
Camping Tips for Ontario
Now that you have a ton of information about what it's like to camp in Ontario, you're probably pretty amped to get out there. But hold your horses! Before you head out, there are a couple more things you might want to know. Here are some tips and further information about camping in Ontario so that you stay safe in Canada and have a fun trip.
Bring a GPS – You might not always be able to get a cell phone signal when you're out in nature; a GPS and a physical map will ensure you don't get too lost out there.
Only 6 people per campsite – If you're planning on camping in a big group, note that only 6 of you can camp on one site at a time to prevent damaging erosion and reduce environmental impact.
Keep to the trail – The parks and natural habitats of Ontario need to be looked after. By staying on the trails and roads, you will help protect the land.
Respect the plant and animal life – It's illegal to destroy anything in a provincial park, so don't harm any habitat. Not that you would, but still, don't.
Purchase your firewood from the park store or a local vendor – You're not allowed to collect wood for your fire from the natural habitat.
Take care with substances – Although it's a-ok to drink alcohol in many of Ontario's parks, it is banned for the two weeks surrounding Victoria Day. Interesting.
Know where you can smoke – Smoking tobacco, cannabis, or using a vape is not permitted in some areas. This includes near children's playgrounds and sporting areas.
Make sure you check the weather – Ontario's weather changes vastly depending on the seasons. Check the weather before you go camping so you don't get caught out.
Plan ahead – Call in at the park office, get some advice, and plan your trip. It's not a good idea to set up your tent in the dark, so make sure you arrive at a campsite with plenty of daylight to spare.
Book ahead if you can – In summer months, many of the campsites in Ontario are pretty full. Secure your spot ahead of time by making a reservation to avoid disappointment.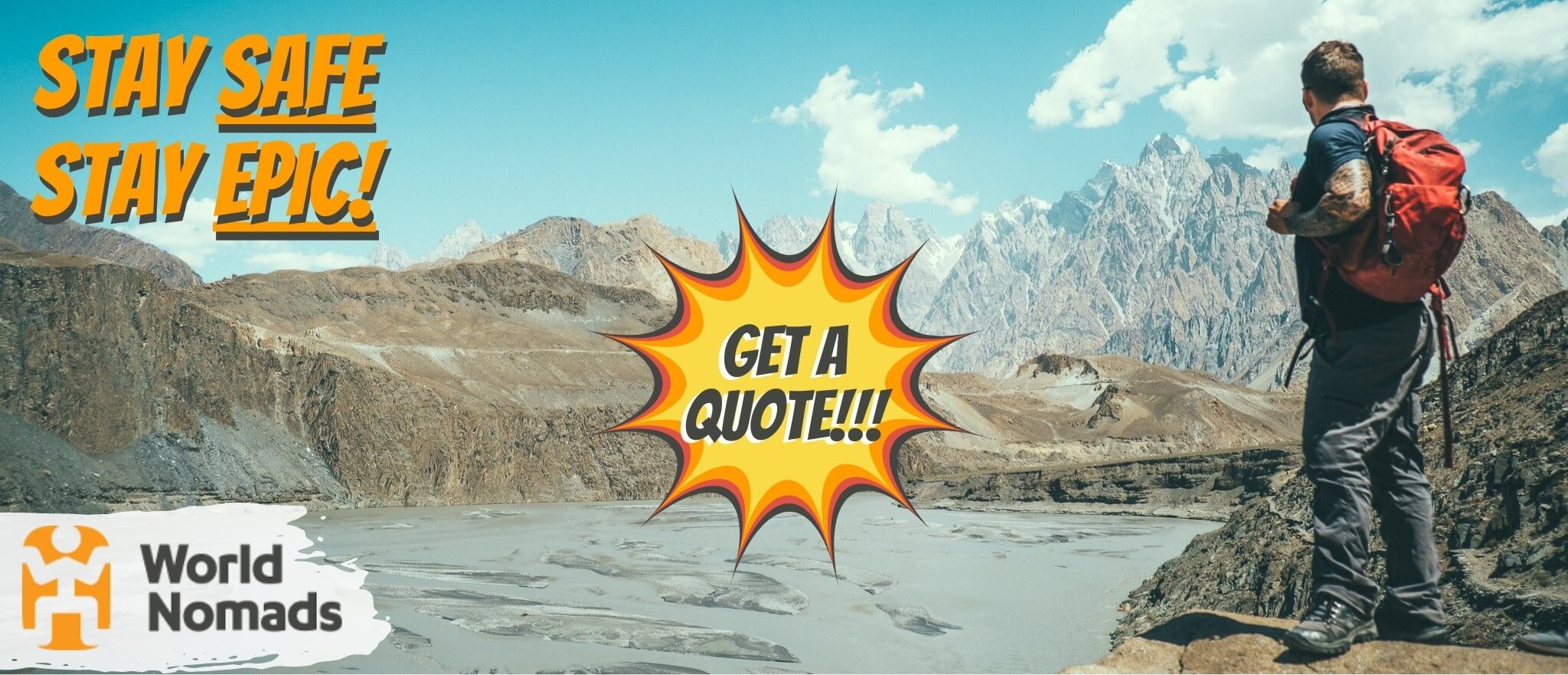 World Nomads' mission is to support and encourage travellers to explore their boundaries. They offer simple & flexible travel insurance, and safety advice to help you travel confidently.
They've been doing it since 2002 – protecting, connecting, and inspiring independent travellers just like you.
Get a quote below or read our in-depth review!
Final Thoughts on Camping in Ontario
So there you have it, our guide to camping in Ontario. By now, you should have all you need to get you started planning an epic tenting trip.
There's so much to explore here that there's enough for dozens, if not hundreds, of camping trips. Ontario is bigger than a lot of countries, so it's no wonder that it's packed with so much natural goodness.
Whether you feel like backcountry camping, opt for an official, well-equipped campsite, or go for glamping comfort in a serene location, there's no way the landscape here won't have you coming back for more. You've been warned!
---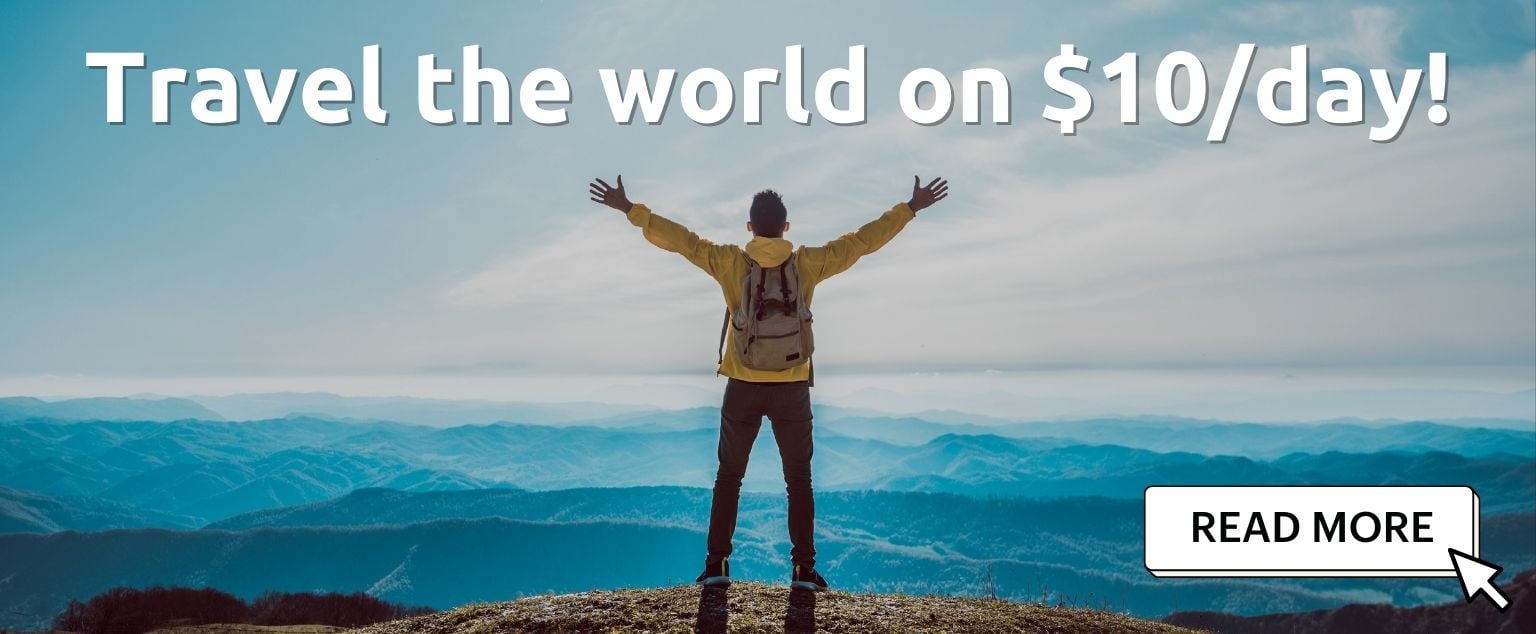 And for transparency's sake, please know that some of the links in our content are affiliate links. That means that if you book your accommodation, buy your gear, or sort your insurance through our link, we earn a small commission (at no extra cost to you). That said, we only link to the gear we trust and never recommend services we don't believe are up to scratch. Again, thank you!