Ontario is the most populous province in Canada, home to both the country's capital city of Ottawa and the dynamic city of Toronto. There is so much to do in this beautiful province, that you could easily spend months exploring the area.
It's also conveniently situated on the Northern border of the USA, bordering a bunch of the Great Lakes and America's Minnesota, Michigan, and the New York States. Depending on where you're based, you might just be able to take a day trip across the border too!
Day trips are a great option for all types of travelers because they can give one a broader feel of the place you're visiting. Not only will guided tours be super educational, but they're also a great opportunity to reconnect with your family on a fun adventure. If you live in the area, full or half-day trips in Ontario are a cheaper alternative to a full-blown vacation.
We're going to take a look at some of the local trips you can take in Ontario!
Getting Around Ontario, and Beyond
No visit to Canada is complete without exploring Ontario and all it has to offer. Before we dive into some of the best Ontario day trips, let's take a closer look at how to get around the area.
Like any large province or state, the biggest cities in Ontario (Toronto and Ottawa) have reliable, affordable, and safe public transportation. A lot of the inner cities also have buses, subways, streetcars, and ferries. 
In Toronto and Ottawa, these modes of transport connect metropolitan and suburban districts with extensive routes. A one-way ticket can cost around CAD$3.25, while a day pass will set you back CAD$13.50.
If you're looking to move between cities, or explore Ontario's roads-less-taken, you'll have to consider other options. When you're familiar with the area and venturing out on day trips without a tour guide, renting a car is the most convenient option. As with all car rentals, make sure you get insurance before you leave the lot!
The big Ontario cities are also all connected by railway, which is a great way to get from A to B when traveling across the province. VIA Rail Canada services the whole of Ontario, Ontario Northland services the north of the province, and GO Train connects Hamilton to Oshawa.
Use Bookaway to find the best deals on transport – buses, planes, trains, and ferries. It'll save you a load of time when organising transport and you'll probably nab an EPIC DISCOUNT too!
Book your transport on Bookaway NOW. Get the best price for the best ride… then use those savings to buy the best feed in town!
Book Your Transport Here!
Half-Day Trips in Ontario
Not everyone has the time to explore far afield, sometimes a half day trip is all you can fit in. These half-day trips in Ontario will get you out of the city and seeing some of the best bits of the province.
Cobourg Beach 
Cobourg is a quaint lakeside town just west of Victoria Park on Lake Ontario, only an hour outside the city of Toronto by rail. Cherished by locals as a weekend haven, Cobourg Beach offers a blend of sand, grassland, and a picturesque boardwalk. 
Cobourg Beach is in fact two beaches. Most tours will take you straight to the main beach, also known as Victoria Park Beach, but there is so much more to explore along these sandy shores. 
The beach is designed for family fun, offering lots of amenities including bathrooms, restaurants, and splash pads for all types of visitors. They even host volleyball and sandcastle-building events throughout the year!
If you're after a more secluded beach experience, the lesser-known West Beach is a local favorite. This beach has a more natural appeal and is less busy. An afternoon here can include relaxing on the beach, reading a good book, and swimming in the clean lake water. Bring along a picnic, because, unlike the main beach, West Beach has no food or beverage amenities.
When a single day trip in Ontario's lake district isn't enough, why not extend your visit and spend a few nights in this tiny house on the beach in Brighton near Cobourg Beach? It's only a short drive from the lakeside town and has exquisite lake views.
Rattlesnake Point 
Located just an hour's drive out of Toronto, Rattlesnake Point is a beautiful location for outdoor enthusiasts looking for a respite from the city. The mountainous woodlands are a top location for rock climbing, hiking, and trail running. 
Conveniently, there are no rattlesnakes in the area – yes, we were surprised by this too. In fact, the park gets its name from the snake-like path that cuts through the Niagara Escarpment.
Take note that reservations are required before you visit, so be sure to reserve your visit with Conservation Halton Parks.
Whether you go to the top of the Buffalo Crag lookout point or watch the eagles soaring overhead from beneath the thousand-year-old cedar trees, the landscape here is nothing short of extraordinary.
For something different, and if you have some extra time on your way back home, try out an oil painting class in nearby Erin Mills.
Is This the Best Daypack EVER???
Full-Day Trips in Ontario
Packing in a day trip from Ontario is a lot more rewarding than taking half-day trips. By heading out before the sun rises, and leaving at the end of the day, you can easily pack in a full day of adventure and fun with your loved ones. These aren't narrowed down for tourists alone, Ontario locals also love to explore their home!
Niagara-on-the-Lake
If you're a first-time visitor to Ontario, Niagara falls will be at the top of your day trip list but there's more to see in this lush region than just the waterfall. Only a two-hour drive from Toronto, Niagara-on-the-Lake is a small town near Niagara Falls which is packed with historic sites, galleries, parks, and restaurants.
The town has a heritage square which is well worth a visit, but it's the surrounding Winelands that we are most excited about. Niagara Wine County is a quick 20-minute drive from the waterfall.
It's the Napa Valley of Canada, and for good reason. The area is as lush and beautiful, and is home to over 20 top wineries that follow tons of different wine-making techniques. Some of our favorite wineries for a day trip in Ontario include the Jackson Triggs Winery, Pillitteri Estate, Stratus Wineries, and the Peller Estates Winery.
Niagara Wine County offers year-round wine tasting activities, but the most beautiful time to visit is definitely during summer and fall. Can you think of anything better than some bucket-list sightseeing combined with a wine tasting? 
Suggested trips: Winery Tour with Tastings & Lunch
Niagara Falls 
I have no doubt you've already planned your trip to Niagara Falls. Hell, I wouldn't even be surprised if your entire Ontario trip is based around this visit. 
Over eight million visitors visit Niagara Falls State Park each year. While it's not the biggest waterfall in the world, it certainly is one of the most impressive, with the world's highest flow rate of about 700,000 gallons of water moving every second.
The waterfall lies on the border between Canada and the USA, and offers awe-inspiring scenery in every direction. If it's the waterfall you're most interested in (naturally), we recommend taking a boat cruise or a scenic helicopter ride over the waterfall (if you have the budget for it). 
If you're feeling very adventurous, why not zipline to the falls? Alternatively, a visit to the Skylon Tower observation deck offers equally breathtaking views, without having to get soaking wet.
However, there is so much more to see than first meets the eye. The adventure-packed area is a top location for hiking and also offers a bunch of family-friendly activities, entertainment, and dining. 
Suggested trips: Niagara Falls Day Trip and Day and Night Tour
Canada's Wonderland Amusement Park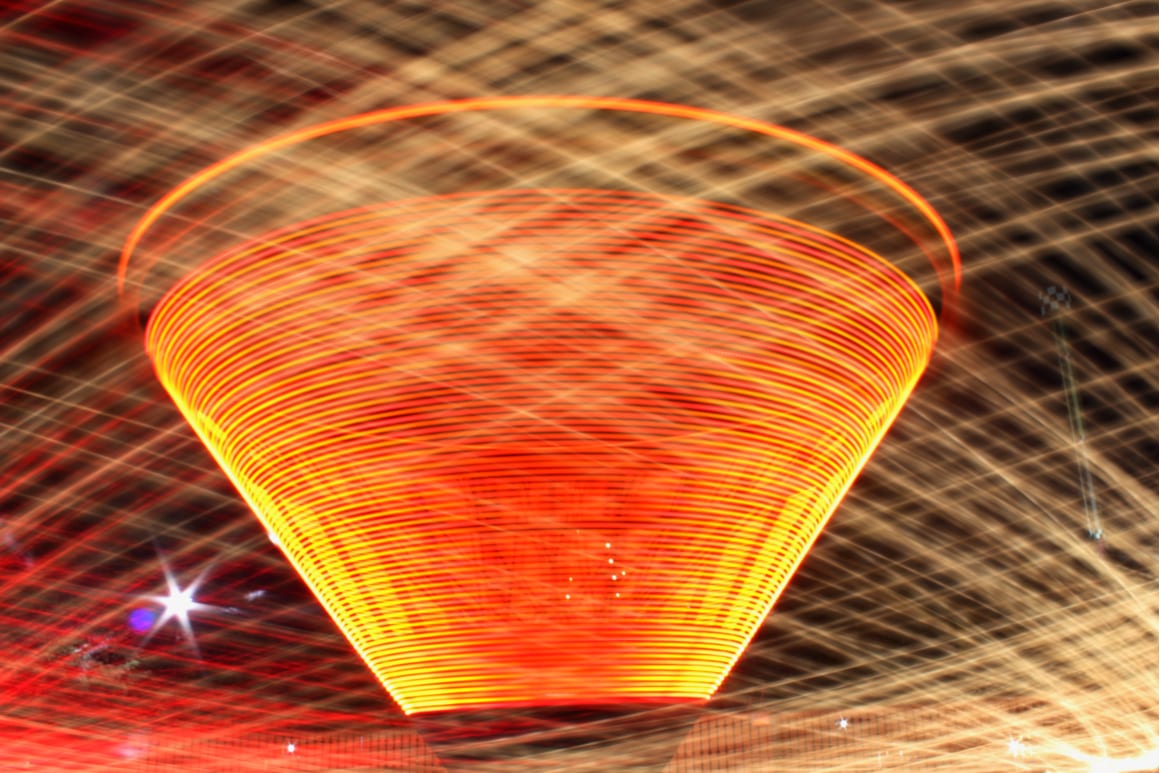 Visiting Ontario with young children? Perfect for family day trips from Ontario, Wonderland Amusement Park has been making visitors smile since 1981. The park features more than 200 attractions, including 17 roller coasters, two children's areas, and a 20-acre water park.
It's open year-round through all four seasons, and hosts daily live shows and special events throughout the year. When you visit around Christmas or Halloween, you'll be treated to themed adventures.
That being said, Canada's Wonderland isn't just for youngsters, and the park is a top location for corporate adventures, vacations with friends, or a romantic trip. Like any world-class amusement park, it is home to fantastic dining and shopping arcades, which will be sure to keep you busy between rides.
Feel like turning this into an overnight stay? This comfortable townhouse is an ideal home overlooking the amusement park.
Blue Mountain and Collingwood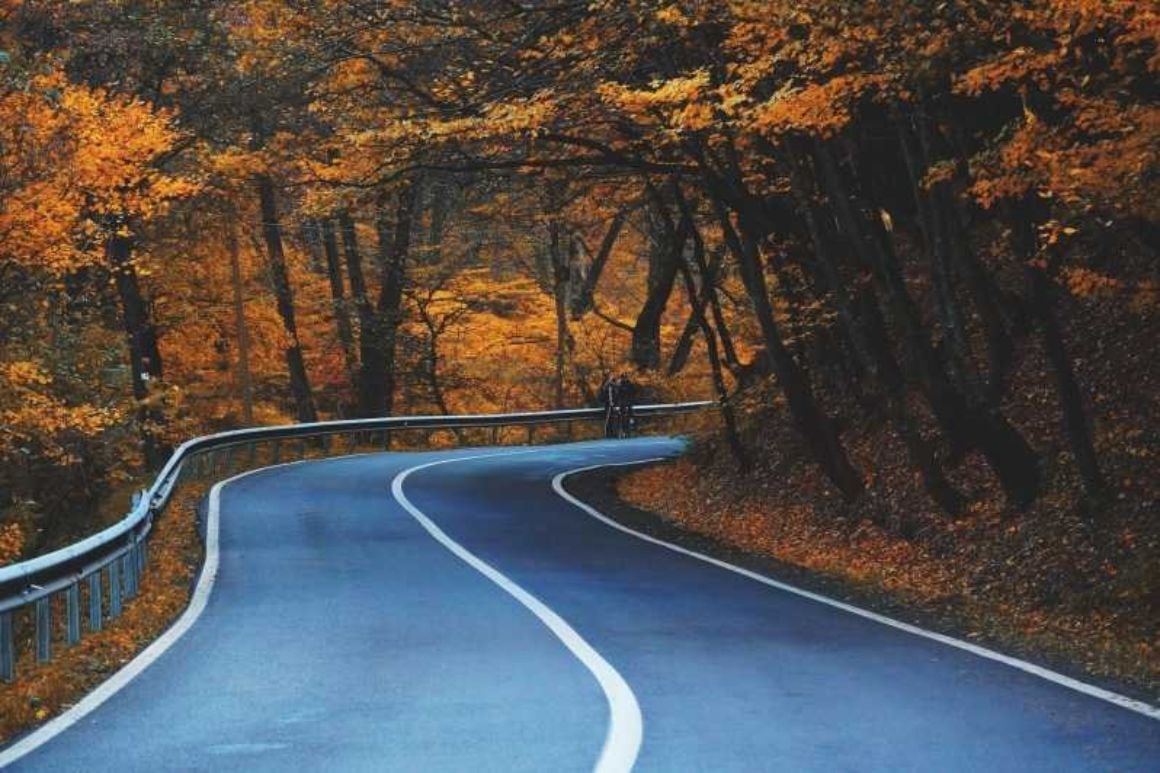 There's nothing better than a good old trip into the mountains. The Blue Mountains are a two-hour drive from Toronto and offer adventures from summer through to winter. 
As a snowboarder myself, I'd highly recommend checking this mountain out if you're visiting during the colder months. You'll find a charming base village that leads up to over 15 ski lifts and an abundance of easy to expert terrain.
If skiing, snowboarding, and tubing aren't for you, there is lots to keep you busy in the village, which is packed with cozy eateries and trendy shops. The town of Collingwood on the Georgian Bay is only a 10-minute drive away from the ski resort.
Blue Mountain and Collingwood are also great destinations for a summer Ontario day trip. When you're visiting with kids, be sure to purchase the Play All Day Pass, which will give you access to over 10 different attractions including a mountain roller coaster, a canopy climbing net, ziplines, and more.
Suggested trips: Between Collingwood & Toronto: Smartphone Audio Driving Tour
Algonquin Provincial Park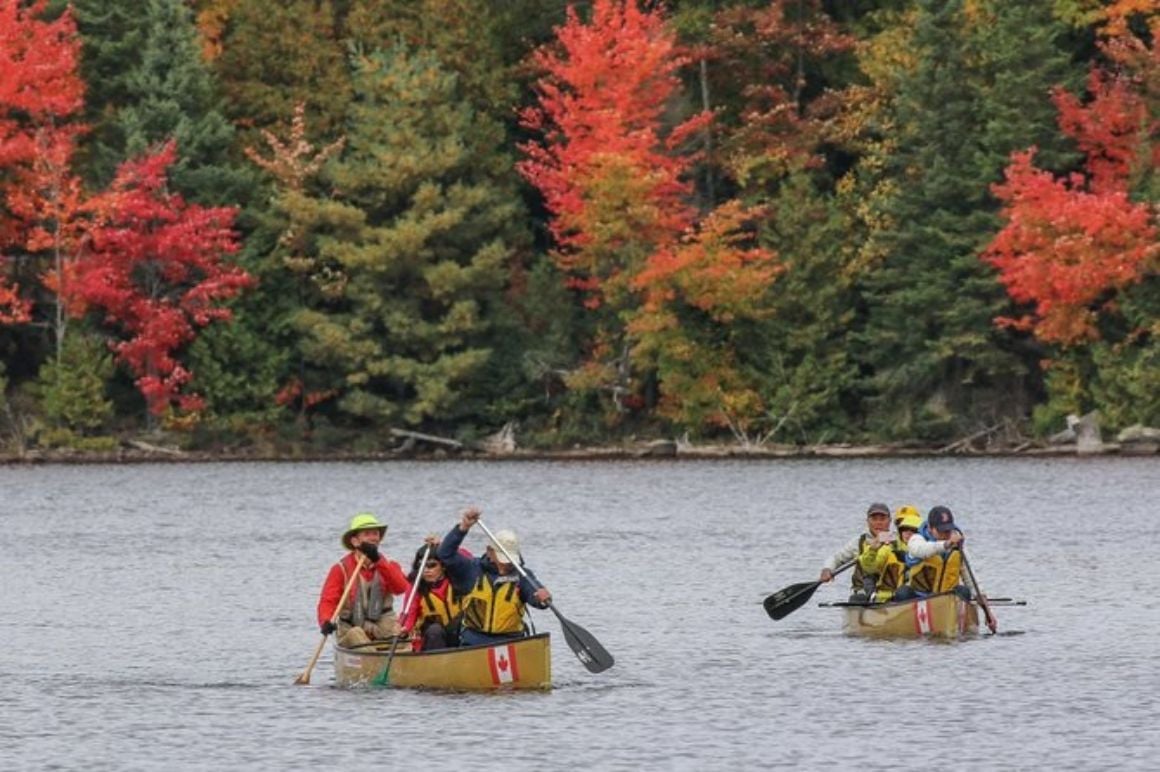 Located between the Georgian Bay and the Ottawa River, Algonquin Provincial Park is a natural wonder worth a visit in Ontario. The park is huge, to say the least, with over 2400 lakes and miles worth of streams.
Driving from Toronto to the entrance of the park will take just under three hours, but once you're there, you could spend a lot more time driving between the different attractions. While it's a great park for a day trip, Algonquin has been praised for having some of the most beautiful campsites in Ontario. Take what you want from that!
You have to pay for a permit to enter the park, so make sure the tour you pick includes entrance fees in the day rate. An outdoor lovers' playground, Algonquin Park is a hotspot for recreational activities. From backcountry camping to boating, canoeing, dog sledding, fishing and hunting, picnicking, skiing, snowmobiling, and swimming, there is something to do all year round in this exquisite area.
Suggested trips: Algonquin Provincial Park Day Tour, 6 Hour Algonquin Park Canoe Trip, and Algonquin Park Winter Adventure
St Jacobs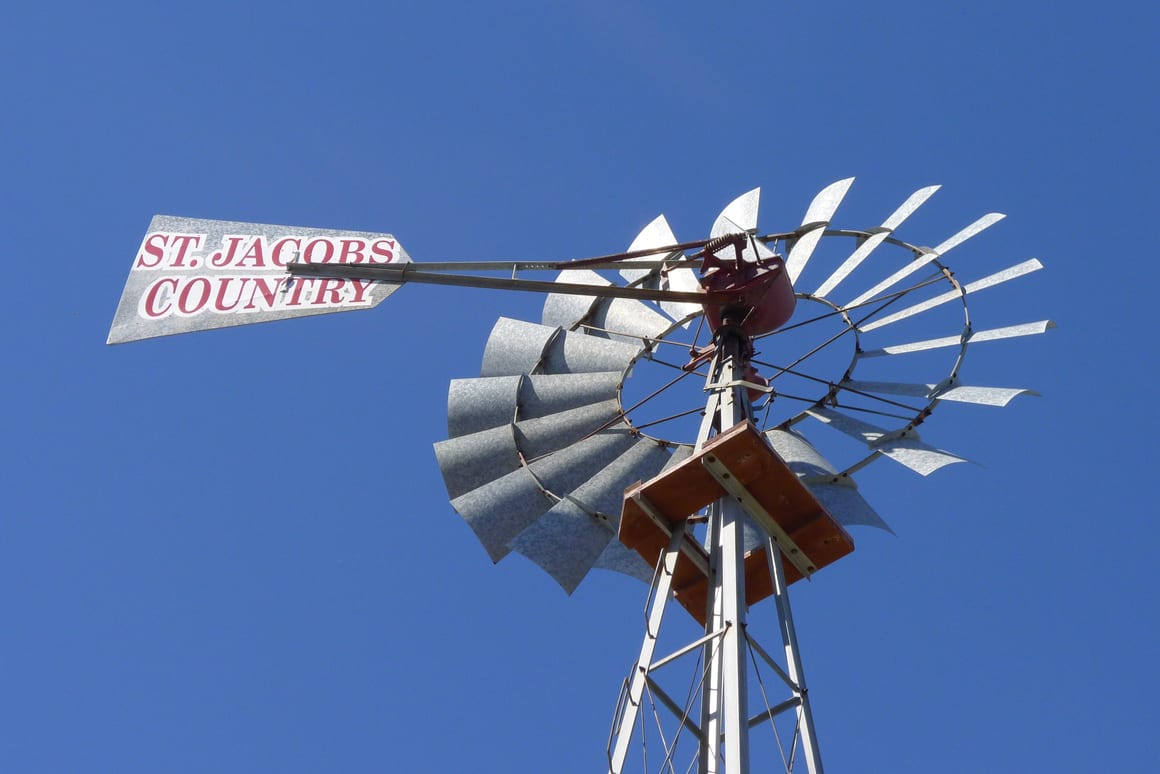 Located just outside of Waterloo along the Conestoga River, only an hour and a half drive from Toronto, The Village of St. Jacobs is a charming spot to visit for a cultural day trip in Ontario.
If you're up for some local history, St. Jacobs has a unique Mennonite heritage. The town was first settled in the early 1830s by Pennslyvania Dutch populations. The heritage of the village has been well preserved – you can even still visit the first mills built in the area! St. Jacobs had a small population with a strong Germanic culture, which is still evident today. 
Walking through the streets feels like you've taken a step back in time. But today, the streets are lined with trendy boutiques, specialty stores, and antique spots. Don't forget to check out the Farmers' Market, which is a big drawing point in the village. It sells everything from artisanal to home-baked goods.
If you want to extend your day trip to an overnight one, spend a night in this classic 1842 B&B with village views. 
Port Dover 
Known for its bustling fishing industry, Port Dover is a small town located in Norfolk County on the northern shores of Lake Erie in Ontario. Today, this lakeside village is well-loved for its beaches, piers, and local community, making it a great stop for an Ontario day trip.
If you've never been to Norfolk County, Port Dover is the place to start exploring. Named after the town of the same name in England, it was established in the early 1800s. The village was burned down and rebuilt, and has since developed a name for itself as one of the largest freshwater fishing areas in the Americas.
Boaters will love the Port Dover Harbor Marina, while foodies will be kept busy by the restaurants along the lake shores. If you happen to visit on a Friday the 13th, you'll be greeted by lines of motorcycles that parade through the streets. 
The village is about a two-hour drive from the city of Toronto. If you feel like exploring more of the area, rent out this charming waterfront cottage outside the city.
Ferris Provincial Park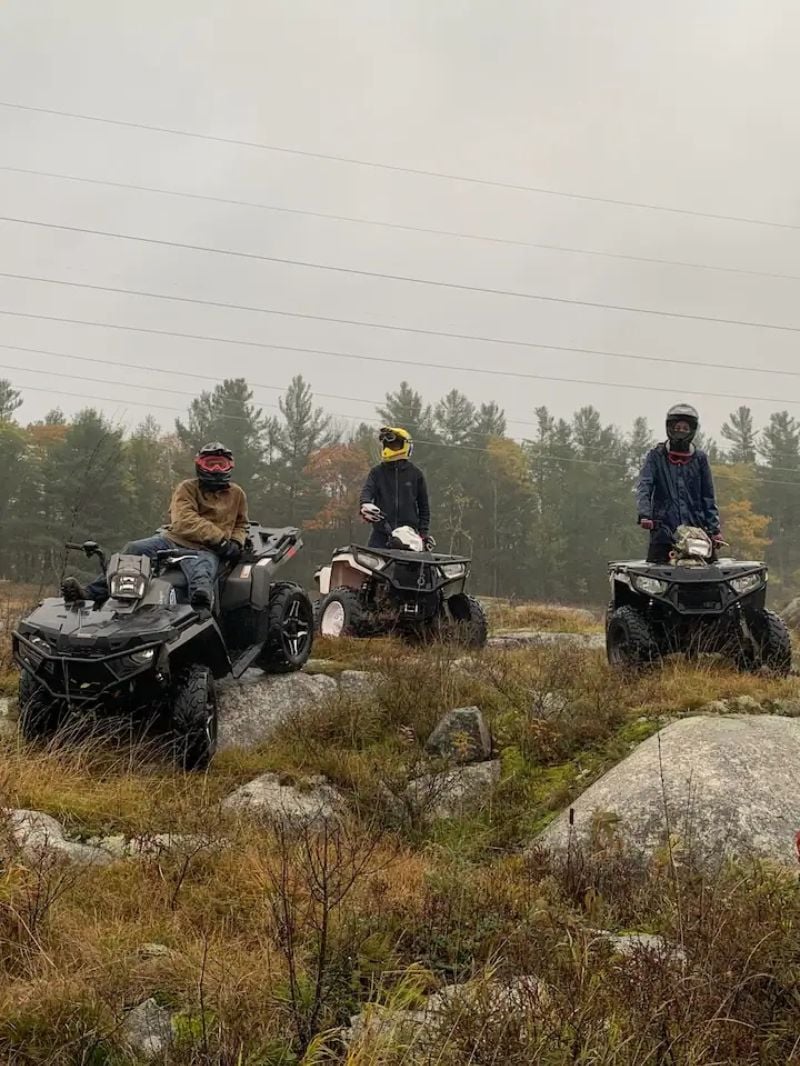 Ferris Provincial Park is another outstanding nature-lovers paradise on the doorstep of Ontario's big cities. Just like Algonquin Park, Ferris is a top destination for overnight camping, but being only two hours from Toronto, it's also a great spot for a day trip.
There are a ton of adventurous things to do in the park. If you visit during the fall months, you'll be blown away by the colorful trees from the lookout over Ranney Falls. Spring is just as gorgeous, when the park shows off brightly colored wildflowers along the Drumlin Trail. In winter, you could backcountry ski and enjoy the snowshoe trails which are well maintained by park rangers.
Summer is the best time for enjoying time on the Trent River. Whether you enjoy kayaking or prefer admiring the bird and wildlife from the shore, there's something for everyone. Don't miss the pedestrian suspension bridge over the Trent River Gorge, which overlooks exquisite panoramic views of the park.
Fancy spending some more time in the park? This quaint cottage Airbnb in Campbellford has everything you might need for a short stay.
Suggested Trips: Rail Town Off-Road Quad Adventure
The Stratford Festival 
A short two-hour drive from Toronto, Stratford is a small city on the Avon River in Ontario's Perth County. Just like the Stratford Upon Avon in England (which was home to the Great playwright Shakespeare), Ontario's Stratford was also settled by English, Irish, Scottish and German immigrants in the early 1800s.
The city is best known for its selection of top-rated restaurants, its art scene, and its festival season which runs from May through to October. When you visit during these months, you can plan your trip around the Stratford Shakespeare Festival or the Stratford Summer Music Festival. Trust me when I say, these festivals are worth a visit, and they are the city's claims to fame.
That being said, it's a spectacular place to visit on a day trip from Ontario year-round, with a charming small-town atmosphere, outstanding dining options, and a fascinating history rooted in English literature, theatre, and western culture.
Suggested trips: Stratford Countryside Dining Experience
Prince Edward Wine County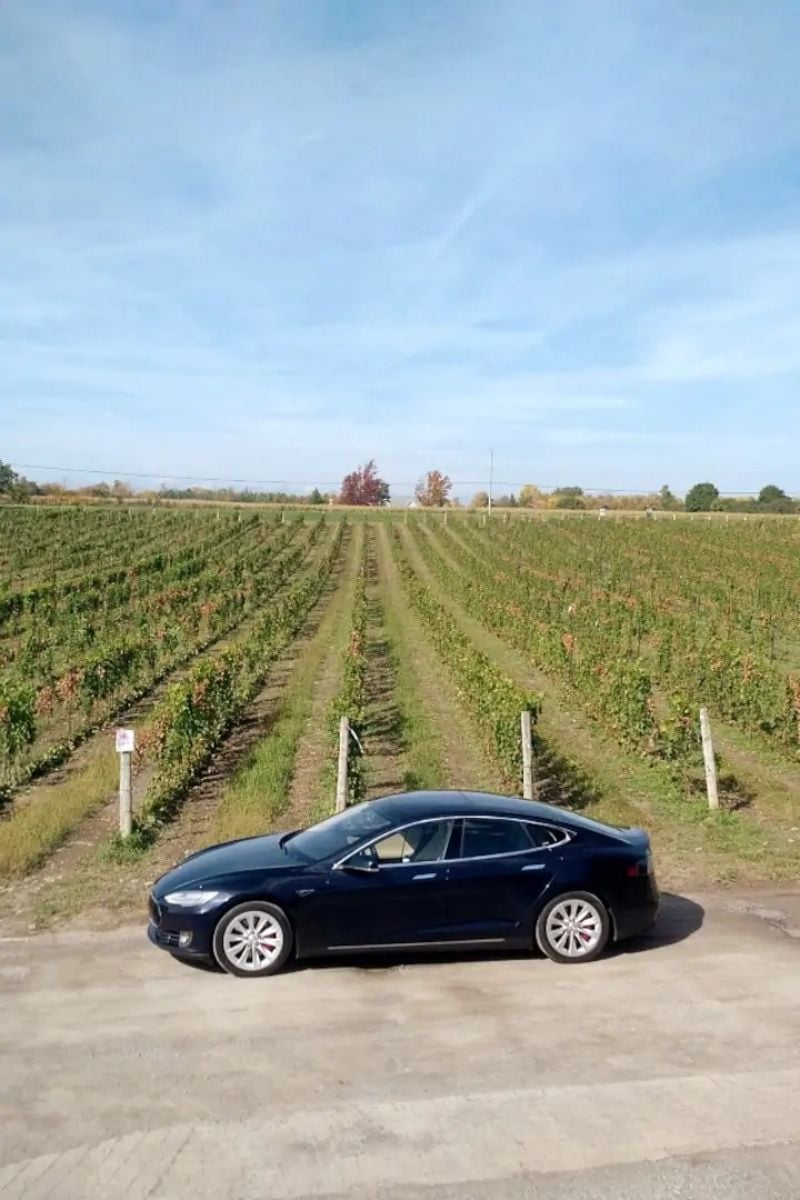 More wine tours? We like the sound of that! Thanks to its limestone-rich soil and moderate climate, Prince Edward Wine County is home to some of the most famous Canadian wine producers.
Just over two hours from the city of Toronto, the county plays host to over 35 independent winemakers, each using different wine-making techniques to create uniquely tasty craft beverages. Unlike many other wine tasting trips, winetasting in Prince Edward is refreshingly unpretentious and offers a more down-to-earth experience than most.
Most of the wineries in the region specialize in Pino Noir and Chardonnay, but the local winemakers are always learning new tricks and testing new techniques. It's not all about wine here, though, and you could also make a stop at the local brewery for a cold one, or wander through the local farmers' market and museums until your feet give in.
Suggested trips: Tesla Wine Tour and Horseback Adventure at Fina Vista Farm
The Muskoka Lakes and Gravenhurst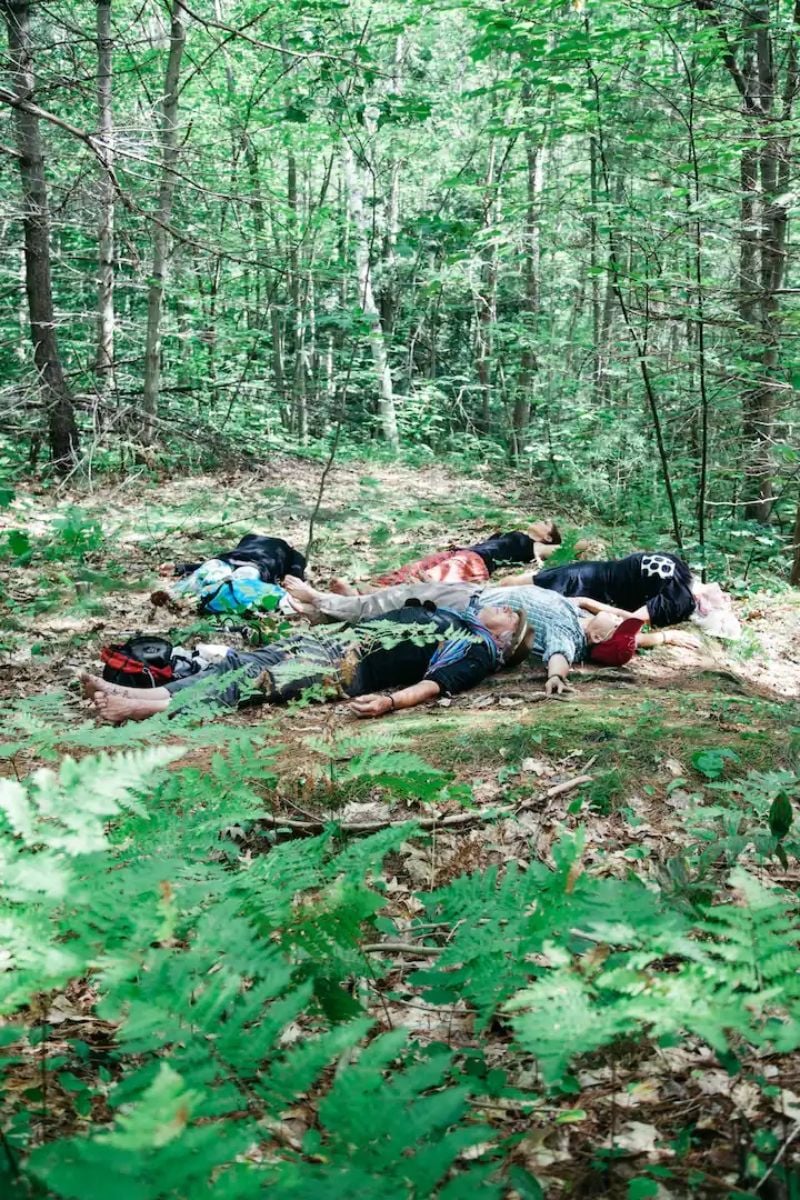 Muskoka is a collection of eclectic towns and villages about two and a half hours drive from Toronto. Together with over 1600 lakes, a vast forest, and a bunch of great restaurants and bars, it's no wonder Muskoka is such a desirable destination for an Ontario day trip.
In fact, when you're visiting this area, you might bump into Tom Hanks, Justin Bieber, Kate Hudson, or Steven Spielberg, who all allegedly have cabins on the lake shores! While the best time to visit is definitely during the warmer summer months, the lakes and their surrounding trees put on a spectacular show of oranges and yellows during fall too. 
Suggested trips: Barefoot Earthing Experience and Canoe Fishing Guide
Wasaga Beach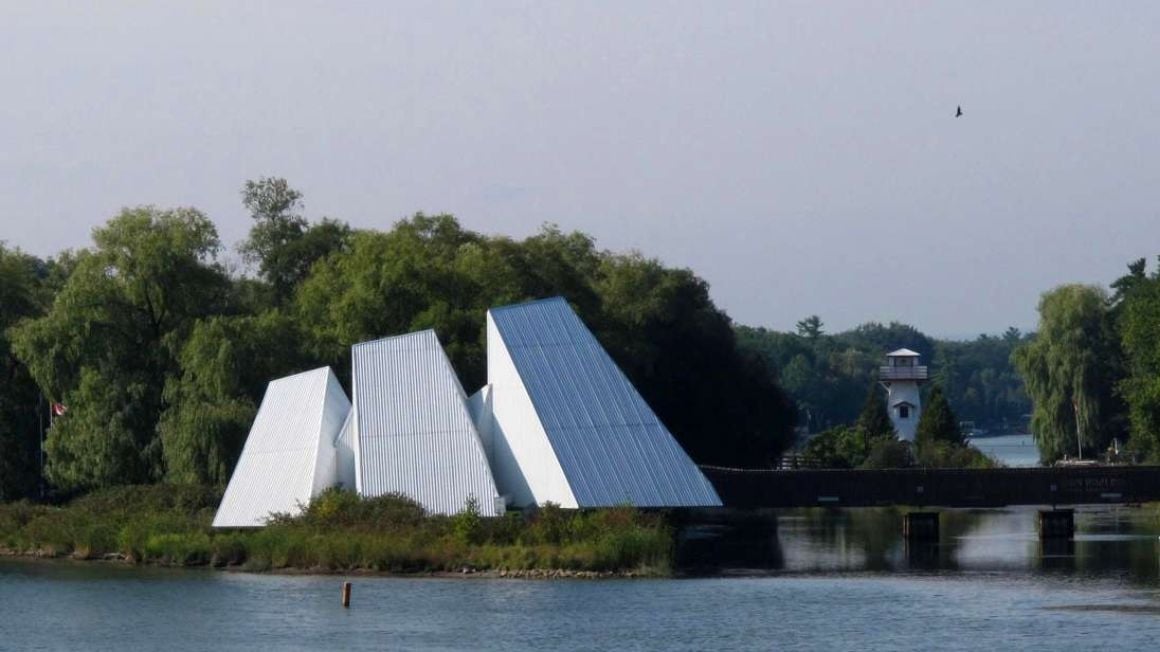 Wasaga Beach is a great spot for a day trip if you want your own adventure, without the hassle of organizing a tour. The beach is only an hour and forty-five minutes from Toronto, and is the world's longest freshwater beach. With pristine white sand and panoramic views of the Niagara Escarpment across the Georgian Bay, it's also one of the most beautiful!
If fishing is your thing, the Nottawasaga River nearby is excellent for game fishing. You can rent a boat or canoe and explore the area. Go golfing, skydiving, hiking, biking, or even snowshoeing and cross country skiing during the winter months. The activities are endless no matter what time of year you choose to visit!
Mount St. Louis Moonstone Ski Resort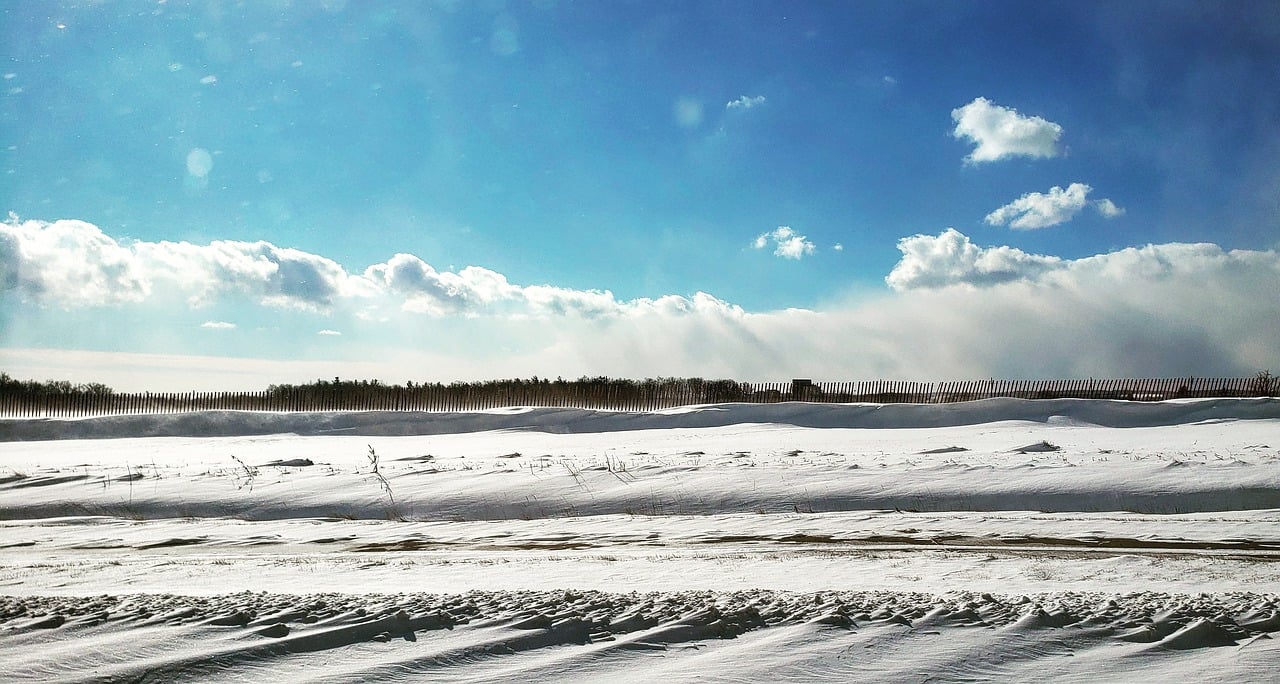 Ski and snowboard trips are so nice, we had to add them twice! Mount St. Louis Moonstone Ski Resort is only an hour and a half from the city, making it perfect for a winter day trip. 
About half the terrain is groomed for intermediate skiers and riders, while 35% is appropriate for beginners. If you're after the hard stuff, 15% of the terrain is categorized as difficult.
There is a well-equipped snow school and rental shops which will keep young kids busy all day. If you're a confident skier or snowboarder, you could try a run down the park and pipe (locally known as the Skool Yard, Junkyard, and Outback) for a kick of adrenaline. 
A day out in the snow can get exhausting, but there is a spacious cafeteria at the base of the mountain where you can grab a hot chocolate or bite to eat for a quick refuel at any time. You can make this an overnight trip with a stay in this cozy villa with a jacuzzi and private parking.
Small Pack Problems? 😉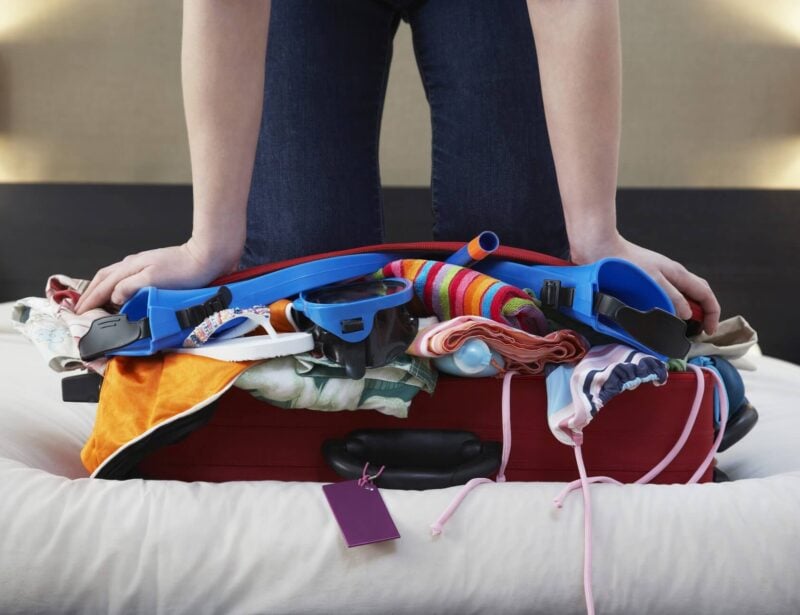 My missus travels with all her clothes in ziplock bags: don't be like my missus. UP YOUR PACKING GAME!
Packing cubes for the globetrotters and compression sacks for the real adventurers – these babies are a traveller's best kept secret. They organise yo' packing and minimise its volume too so you can pack MORE.
Or, y'know… you can stick to ziplock bags.
View Our Fave Cubes
Or Check Out the Sacks!
Don't Forget Your Ontario Travel Insurance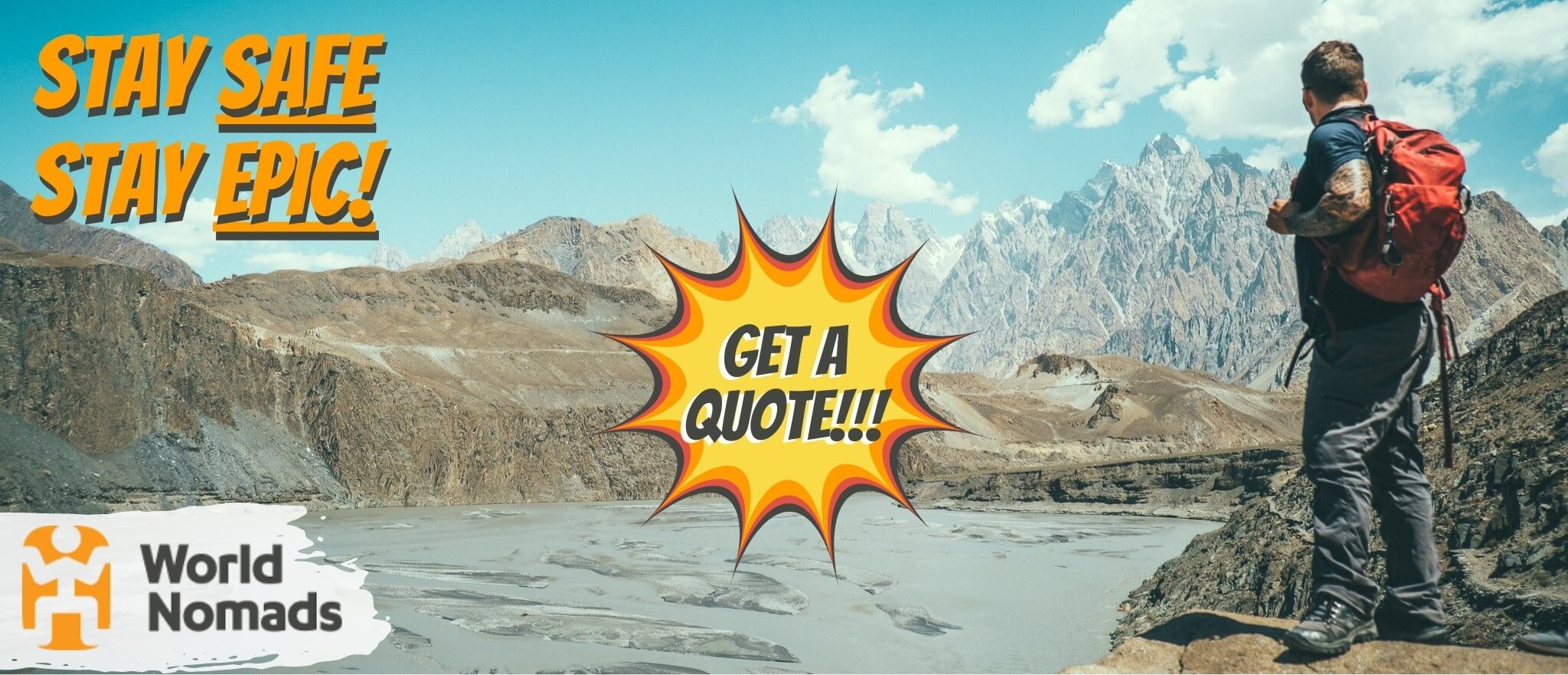 It's good to get lost sometimes, but it's also good not to get too lost. There are people that want you home in one piece.
There's one travel insurance provider The Broke Backpacker trusts for all his wildest shenanigans… World Nomads!
Click the button below to get a quote on your insurance or read our in-depth review of World Nomads' coverage. And then… let the shenanigans begin. 😉
Final Thoughts on Day Trips from Ontario
Ontario is one of those spread-out provinces that has so much to offer. The majority of tourists spend their time in the big cities. However, when visiting a city like Ottawa or Toronto, it's always important to spend some time checking out the areas beyond the skyscrapers and highways.
Taking a day trip from Ontario and exploring the beautiful nature that the province has to offer will be the highlight of your trip. From pristine lakeside beaches to cozy winter ski resorts to exquisite national and provincial parks, there is so much more to do in Ontario than first meets the eye.
The Prince Edward Wine County is a personal favorite of mine, however, the convenience of seeing Niagara Falls and the Niagara Wine Region in one day is ideal for those without much time to spare.
---
Bye for now, but not forever!
If you want MORE top-tier Broke Backpacker content like this, then sign up for our weekly newsletter below to get the latest and greatest!
And for transparency's sake, please know that some of the links in our content are affiliate links. That means that if you book your accommodation, buy your gear, or sort your insurance through our link, we earn a small commission (at no extra cost to you). That said, we only link to the gear we trust and never recommend services we don't believe are up to scratch. Again, thank you!