The Great Smoky Mountains of North Carolina and Tennessee in the US are over 850 square miles of protected mountain landscapes. It's the most popular national park in the States, known for its pristine nature, adventure sports and an abundance of beautiful black bears.
The area is big, and knowing where to stay can be the hardest choice when planning your trip. The best spot for you depends on the kind of experience you want.
The great thing is that Airbnb has an absolute abundance of options for stays in the Smoky Mountains, so whatever kind of trip you're looking for, they've got you covered.
Limited accommodation exists inside the boundary of the park and people often choose to stay in 'gateway cities' which are just a short drive from the entrances to the national park. These towns – the most popular being Gatlinburg, Pigeon Forge and Sevierville – combine nature with classic Americana attractions including Dollywood, the theme park of local legend Dolly Parton.
We've chosen a range of different properties that are suitable for all kinds of travelers. Some are in the cities, others are in remote locations and everywhere between. Keep reading to find our top 15 Airbnbs in the Smoky Mountains, including the best Airbnb Experiences in the region.
Quick Answer: These are The Top 5 Airbnbs in the Smoky Mountains
Overall Best Value Airbnb in Smoky Mountains
Overall Best Value Airbnb in Smoky Mountains
Lux Cabin With an Epic Back Deck
> $$$
> 8 guests
> Outdoor hot tub
> Game room
Most Romantic Airbnb in the Smoky Mountains
Most Romantic Airbnb in the Smoky Mountains
Cozy Mountain Cabin
> $$$
> 4 Guests
> Hot tub
> King-sized bed
Perfect Airbnb in the Smoky Mountains for Families
Perfect Airbnb in the Smoky Mountains for Families
Gatlinburg Log Cabin with Mountain Ridge Views
> $$$
> 8 Guests
> Game room
> Sunset views from the balcony
Over-The-Top Luxury Airbnb in the Smoky Mountains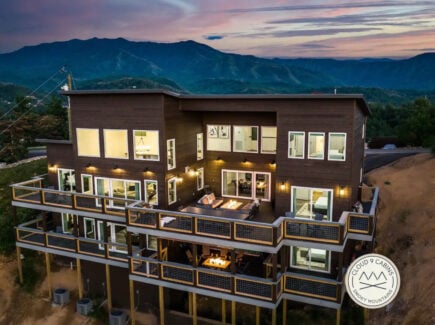 Over-The-Top Luxury Airbnb in the Smoky Mountains
Rabbit Run Luxury Home
> $$$$
> 8 Guests
> Games Room
> Sunset views from the balcony
Best Airbnb for Solo Travelers
Best Airbnb for Solo Travelers
Chalet Room with An Incredible View
> $
> 2 Guests
> Balcony access
> Room with a view

Unlock Our GREATEST Travel Secrets!
Sign up for our newsletter and get the best travel tips delivered right to your inbox.
What to Expect from Airbnbs in the Smoky Mountains
The most common listings you'll find in the Smoky Mountains are entire homes or private rooms. There are also a lot of unique spaces like RVs, tiny houses, and campsites.
You'll most often be dealing with a private owner, but the larger and more expensive properties are likely to be run by a business.
Either way, the Airbnb booking process is the same.
Many places outside of towns are only accessible by car, and if you are visiting in the winter when it's likely to be wet and snowy, you might need a 4WD.
Types of Airbnbs in the Smoky Mountains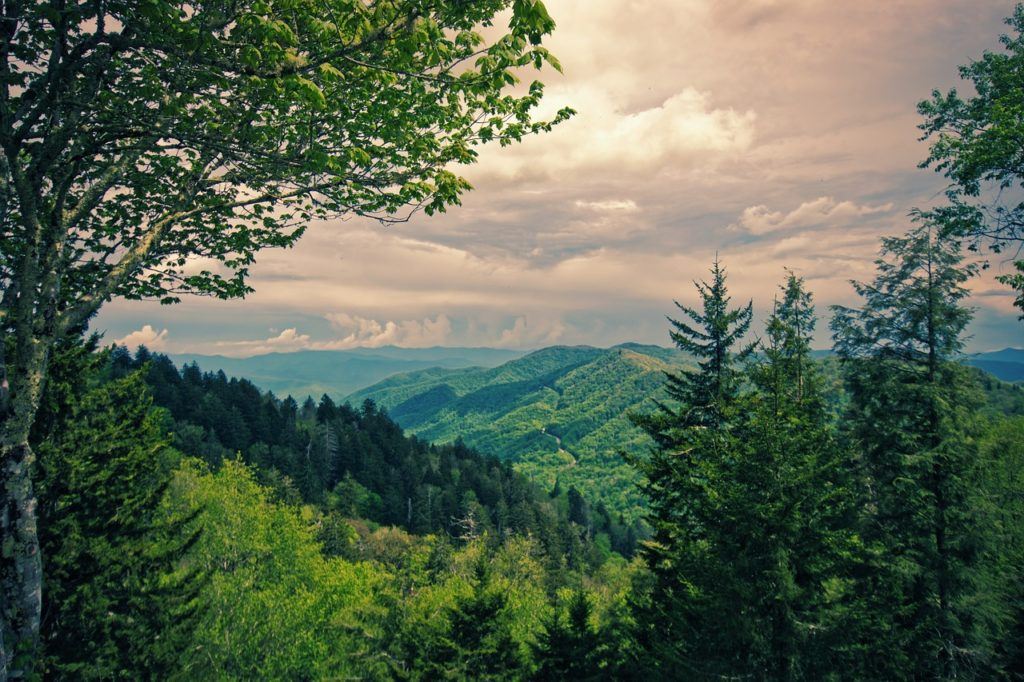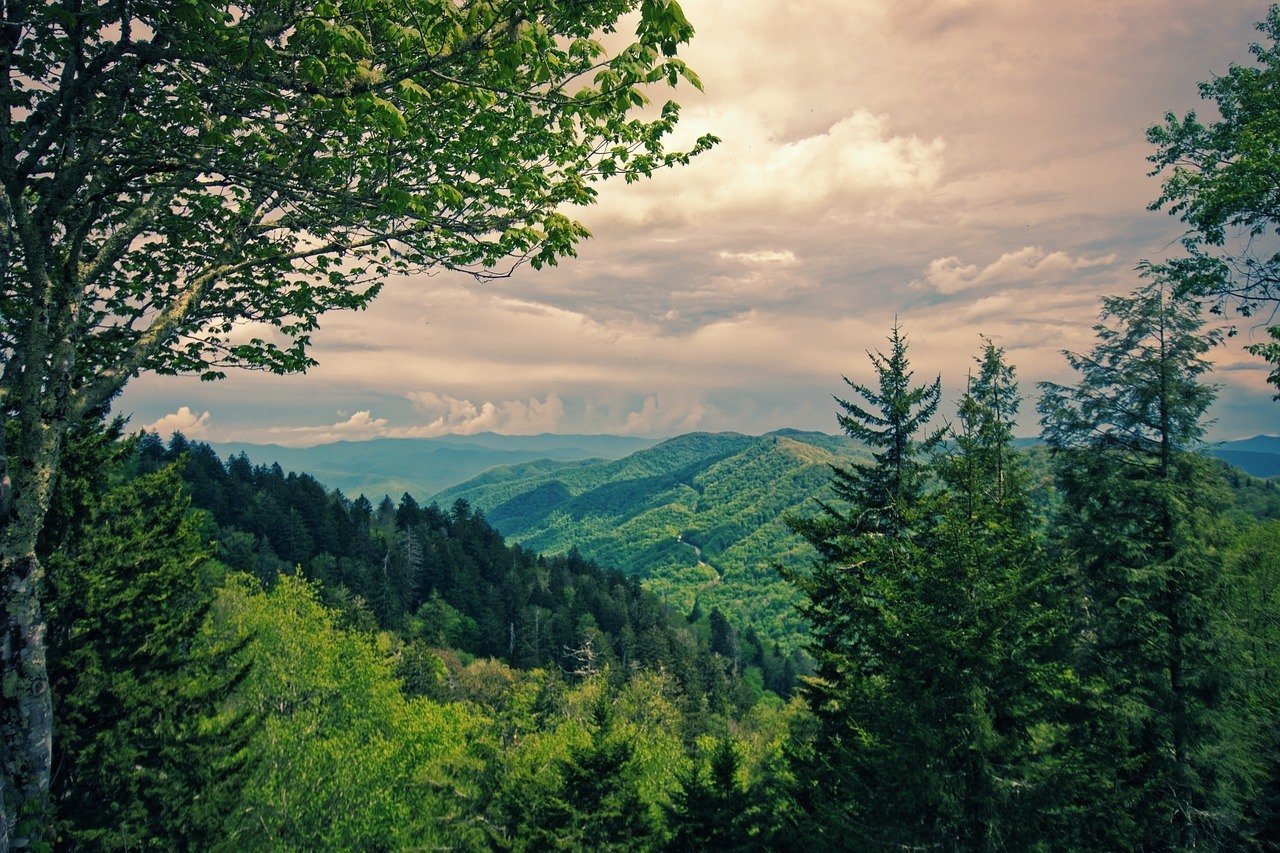 Entire Homes
This is the most common type of Airbnb in the Smoky Mountains. Renting an entire home on Airbnb is the best choice for family getaways, couples or solo travelers who value personal space. It can also give you a more local feeling while you're on a trip, giving you your own space while staying in your home away from home.
Many Smoky Mountains Airbnbs are available to be rented long-term. Hosts offer a generous discount on long-term rentals which makes it an appealing option for digital nomads and slow travel enthusiasts.
Although renting a whole space is more expensive on the whole than other options, the price per person, per night, is often less than you would pay for a cheaper option once you've split the cost. This is a great hack to keep in mind if you're traveling in a group or planning a family getaway.
Private Rooms
Private rooms in Smoky Mountain vacation rentals are a great choice for those who want to have some space of their own without renting an entire place.
Often the facilities like the kitchen and bathroom of these properties are shared with the other members of the house. It can be a more affordable option in many cases. These kinds of rooms are popular choices for solo travelers and couples.
If you're staying in the private room of a local home, you'll end up with a bunch of tips and tricks to best discover the region.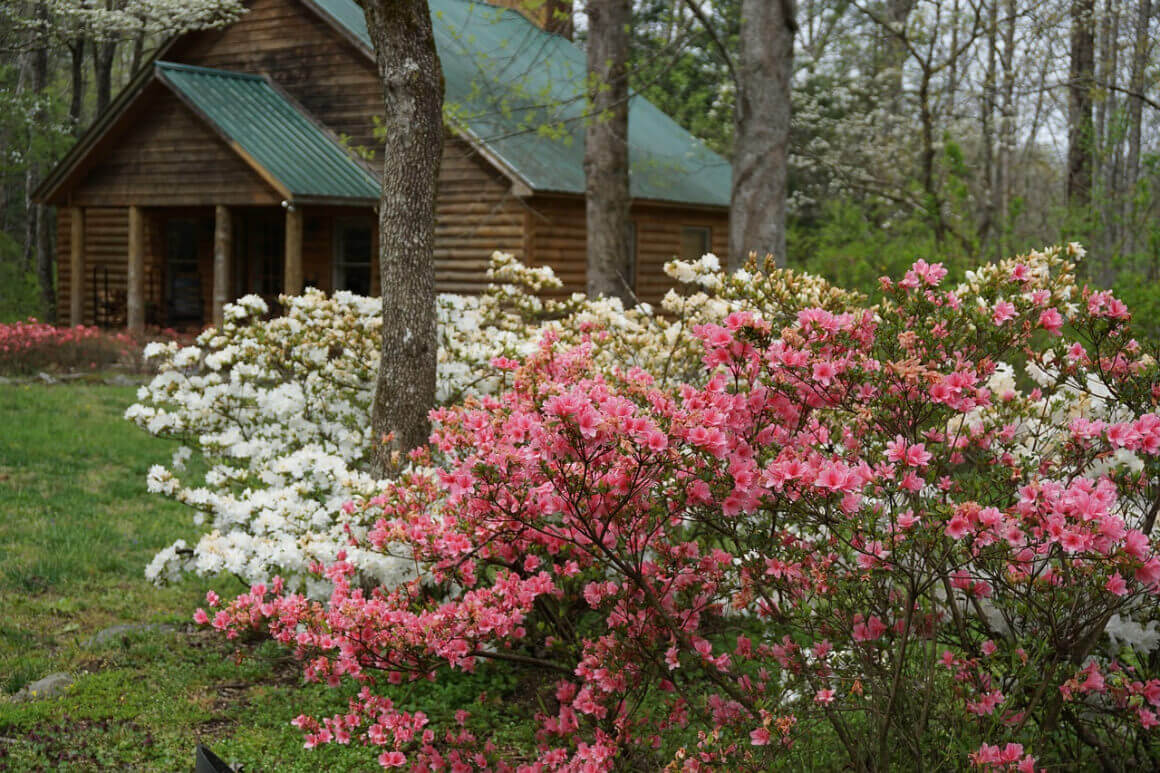 RVs and Campsites
Many Airbnbs in the Smoky Mountains are RVs and campsites. There is a lot of range with these properties, and it's a totally great and authentic kind of accommodation in the area.
RV stands for Recreational Vehicle, and in many cases, these setups are in fixed locations like RV Resorts or on private property. This is often a more affordable option than other entire homes listed on Airbnb, although don't let that make you think it's necessarily an inferior option. Many RVs have all the functionality of a house!
Campsites are rented on official camping grounds or on private properties. They may be simple setups with a regular tent, although some listings will take it up a few levels to make it glamping. This is definitely the most affordable option for a Great Smoky Mountains Airbnb and a great option for those who love nature and want to save a few dollars.
Why Stay in an Airbnb?
There are a lot of perks to staying in an Airbnb in the Smoky Mountains (or anywhere else for that matter):
Local Experience: Tips from your local host can give your trip a real advantage. Check for Airbnb properties with a Superhost rating, these hosts are the ones who have been proven to go out of their way to make sure their guests have the best possible stay.
Affordability: A quality Airbnb will almost always end up cheaper than a nice hotel room. Smart money choices can make a big difference while you're on the road, especially when you're on a shoestring budget. Who knows what you can do with the savings?
Unique Properties: Realistically, why would you want to stay in a boring hotel room when you could stay somewhere unique? The Airbnbs in the Smoky Mountains cater to all kinds of tastes, like cozy log cabins and intimate treehouses.
Privacy: Planning a romantic getaway or looking to avoid other humans altogether? With Airbnb, you can use filters to find completely private accommodation. Many Airbnbs have self-check-in too to keep any interaction at a minimum.
Staying Long-Term: Long-term stays on Airbnb are often rewarded with hosts setting up discounts for those who want to hang around a bit longer. This is a great outcome for slow travel enthusiasts and digital nomads who tend to stay for longer in each place and/or work online.
Safety: Airbnb vets every host that signs up to their platform. There is customer service available 24/7, so if any issues arise, they've got your back.
Last-Minute Booking: You can filter properties to show who is still accepting guests last minute which is a great option for those moments when you realize you haven't organized a place to stay!
Airbnb Experiences: Airbnb isn't just a place to find accommodation. The platform also offers experiences that are unique activities with a local touch. We'll get into this more later in the article and share the best Airbnb Experiences on offer in the Smoky Mountains.
The 14 Best Airbnbs in the Smoky Mountains
Now that you know what to expect from an Airbnb near the Great Smoky Mountains National Park, let's dive deep into the very best listings.
No USA trip is complete without some time in the Smokies!
If you're looking for the Great Smoky Moutains Airbnb that truly has it all, look no further. This incredible listing cannot be beaten! This massive secluded cabin is one of the best places to stay in Sevierville and features virtually every amenity you can think of.
Relax in the private hot tub that happens to be right next to a 70-inch TV, or get into a group game of mini golf at the property's very own 9-hole course. A dedicated game room features both arcade classics and a pool table, whereas the living room has an incredible indoor stone fireplace.
The hot tub location provides an epic forested view, and staying here will also get you access to a top-ranked community pool. This luxury cabin doesn't have any neighbors within view, and is also equipped with a jacuzzi bathtub, an outdoor grill, and fire pits!
With all this to offer, it's undoubtedly the best Smoky Mountain Airbnb for a family getaway, a couples' weekend, or anything in between!
Most Romantic Airbnb in the Smoky Mountains | Cozy Mountain Cabin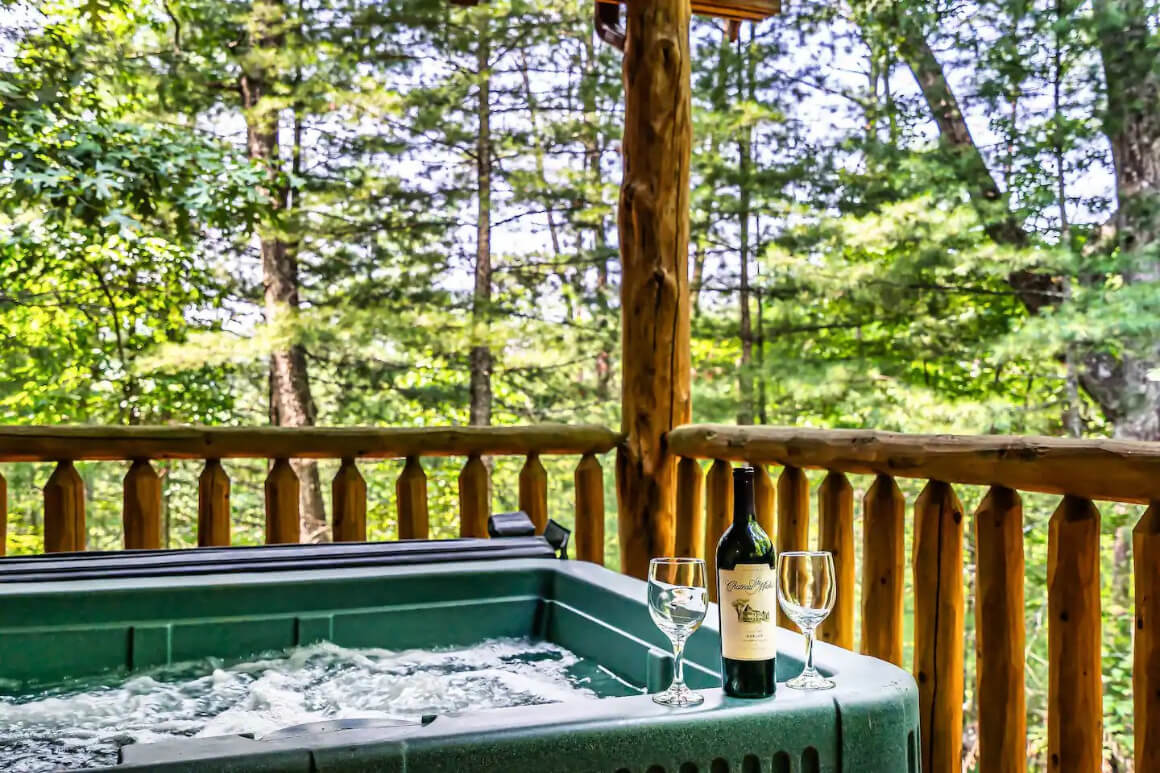 What could be more romantic than a romantic cabin in the woods?
This gorgeous Great Smoky Mountains Airbnb is the perfect spot to escape for a relaxing getaway. The cabin is surrounded by trees and the back patio is completely secluded for you to make the most of the outdoor hot tub and BBQ area with your significant other.
The living space is all open plan and modern with an indoor fireplace, a comfy couch downstairs, and a king-sized bed in the loft bedroom above. If you want to spoil the romance, you can invite your friends or family, as there's a sofa bed downstairs in front of the fireplace.
While this home sets the scene for some serious romance in seclusion, you're only 25 mins from Downtown Gatlinburg.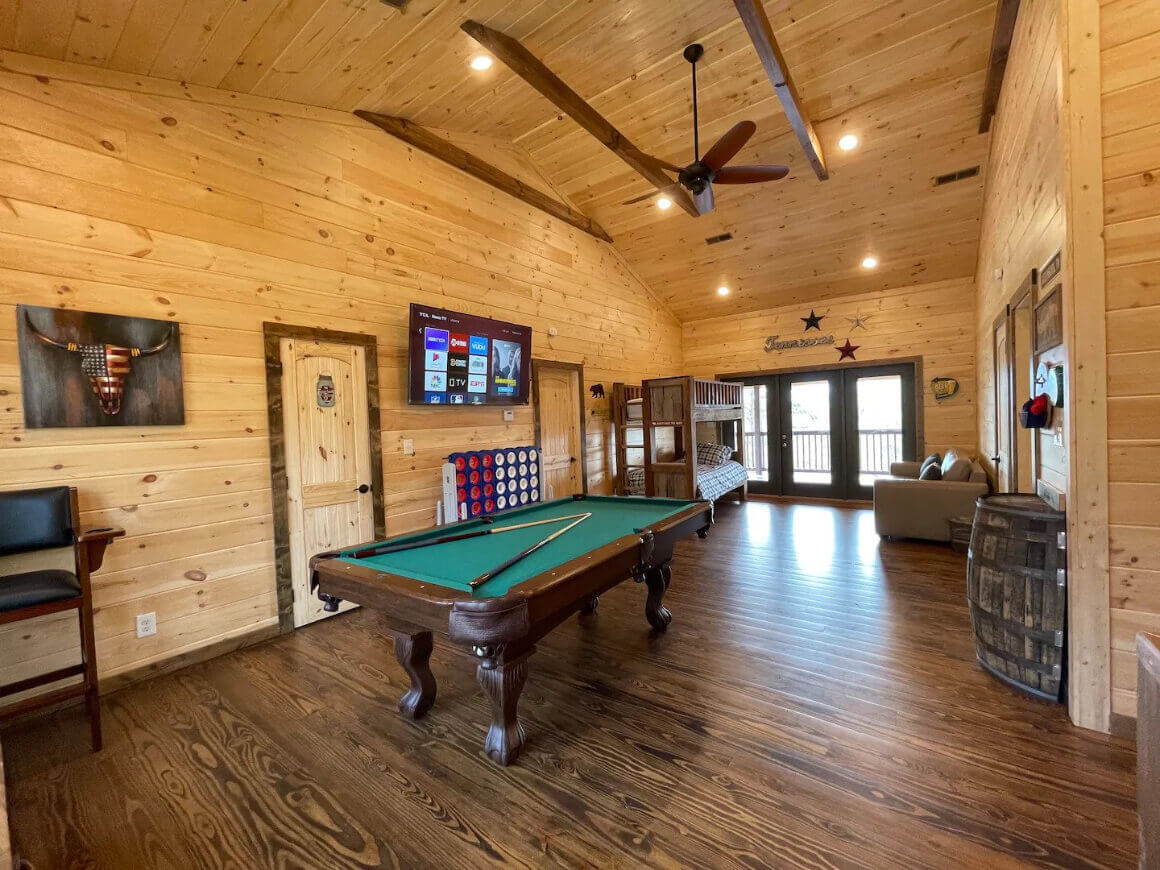 8 Guests
Sunset views from the balcony
This Gatlinburg log cabin has absolutely magnificent views out over the mountain ridge. It's got a big open plan and features that the whole family will love.
The loft area has been made into a games room, complete with a pool table, giant connect four, board games and bunk beds. There's a beautiful indoor fireplace, a TV in each room and multiple outdoor balcony areas on both levels. Enjoy a BBQ and the spectacular sunset over the Smoky Mountains from either the hammock or the rocking chairs.
While very spacious and modern, this stunning cabin retains the rustic charm of a cozy mountain abode. It's located in Gatlinburg and is close to all its best attractions, like the Great Smoky Mountains National Park.
Over-The-Top Luxury Airbnb in the Smoky Mountains | Rabbit Run Luxury Home
Games room
Sunset views from balcony
This incredible luxury cabin can be more accurately described as a mansion. This is undoubtedly the bougiest Smoky Mountains Airbnb! With 6 bedrooms, two wrap-around decks, and more amenities than you could ever imagine, this not-so-humble abode is the ultimate Gatlinburg cabin.
Enjoy your sitting evenings around the multiple fire pits, take a dip in the pool, or spend a late night relaxing in the outdoor hot tub. The home also features a game room with a pool table, and multiple flat-screen TVs.
With enough space to fit a large group, this cabin is ideal for families, groups of friends, retreats, or couples who want to experience the Smokies in a whole lot of luxury.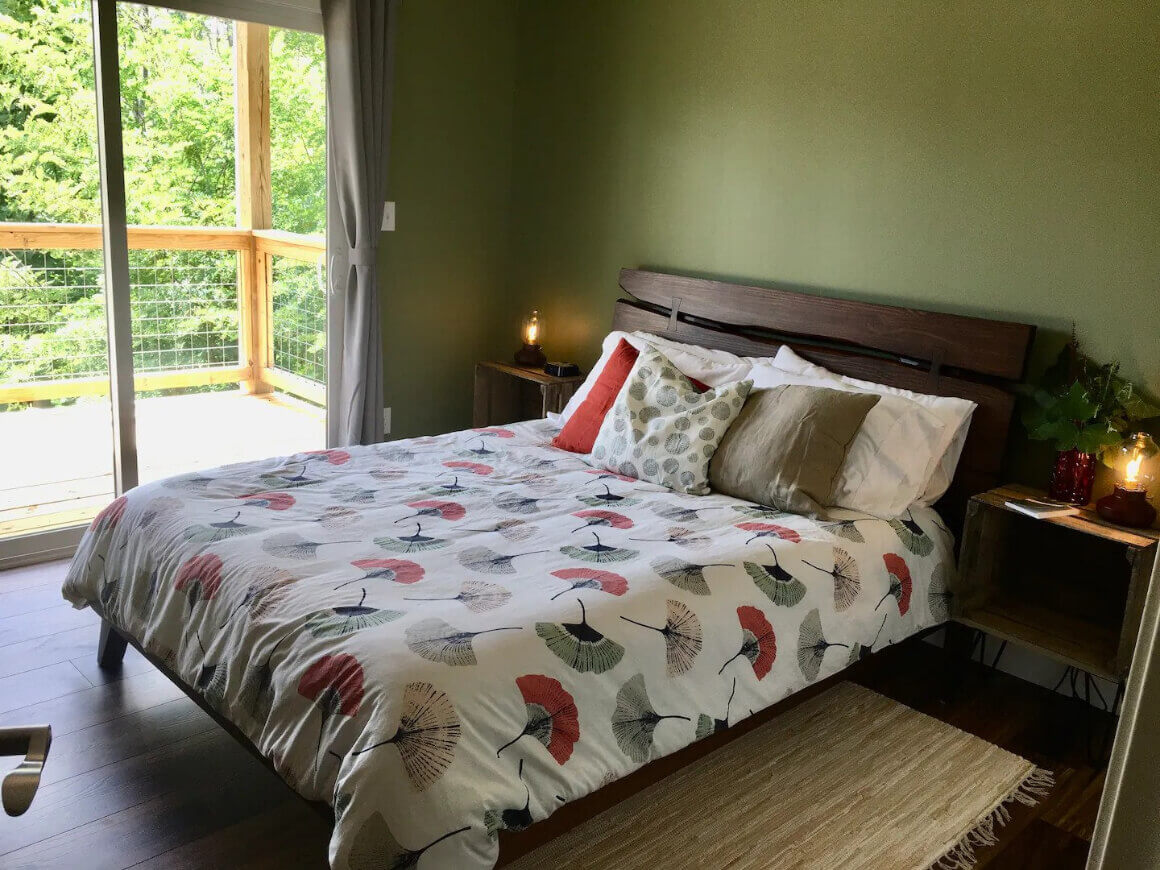 This cozy private room has a gorgeous view of the Smoky Mountains, and for a decent price, there's no doubt it's the best Smoky Mountain Airbnb for solo travelers. It's got a comfy queen-sized bed, its own private ensuite bathroom and a huge deck overlooking the surrounding landscape.
Located between Gatlinburg and Pigeon Forge, the two most popular towns in the region, this Airbnb is a great shout for one person (or a couple) who wants to stay close to nature and all the best things to do in the Smoky Mountains. A light breakfast is included so you can start your day right!
Is This the Best Backpack EVER???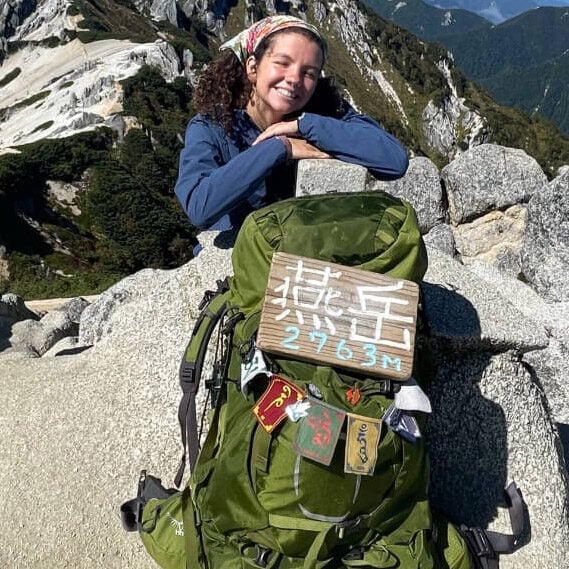 Vintage interior
Charming camper surrounded by nature
This gorgeous vintage camper named "Bananza Jellybean" is my pick for a unique and charming Smoky Mountains Airbnb.
The 1959 Shasta camper is nestled in between the trees and will give you a comfy camping experience. You'll be able to collect your own firewood from the yard and sit by an open fire under the stars. The place has a heater and a fan to make you comfy depending on the season.
You'll need a car to access this property. It's located 15 mins from the Greenbrier entrance into the Great Smoky Mountains National Park. Gatlinburg and all its Americana charm is just a 25-minute drive.
Keep in mind, this camper is best suited to people under six feet tall, and the property doesn't have internet access, making it a great place to unplug.
Best Budget Airbnb in the Smoky Mountains | Birds Nest Tiny Home
This secluded tiny home is one of the coolest accommodations in Tennessee. It features 240 sq feet of modernized living space, including a comfy queen-sized bed set in a loft.
The cabin is quite literally in the woods and is located on a private and serene piece of land near Sevierville. You won't have to deal with any irritating neighbors here!
Fire up the grill on the outdoor patio, play with some of the games in the shed, or get into a movie night on the flatscreen TV. The centralized location means you'll only be about 30 minutes away from both Gatlinburg and Pigeon Forge, though you'll feel like you're in a faraway forest oasis.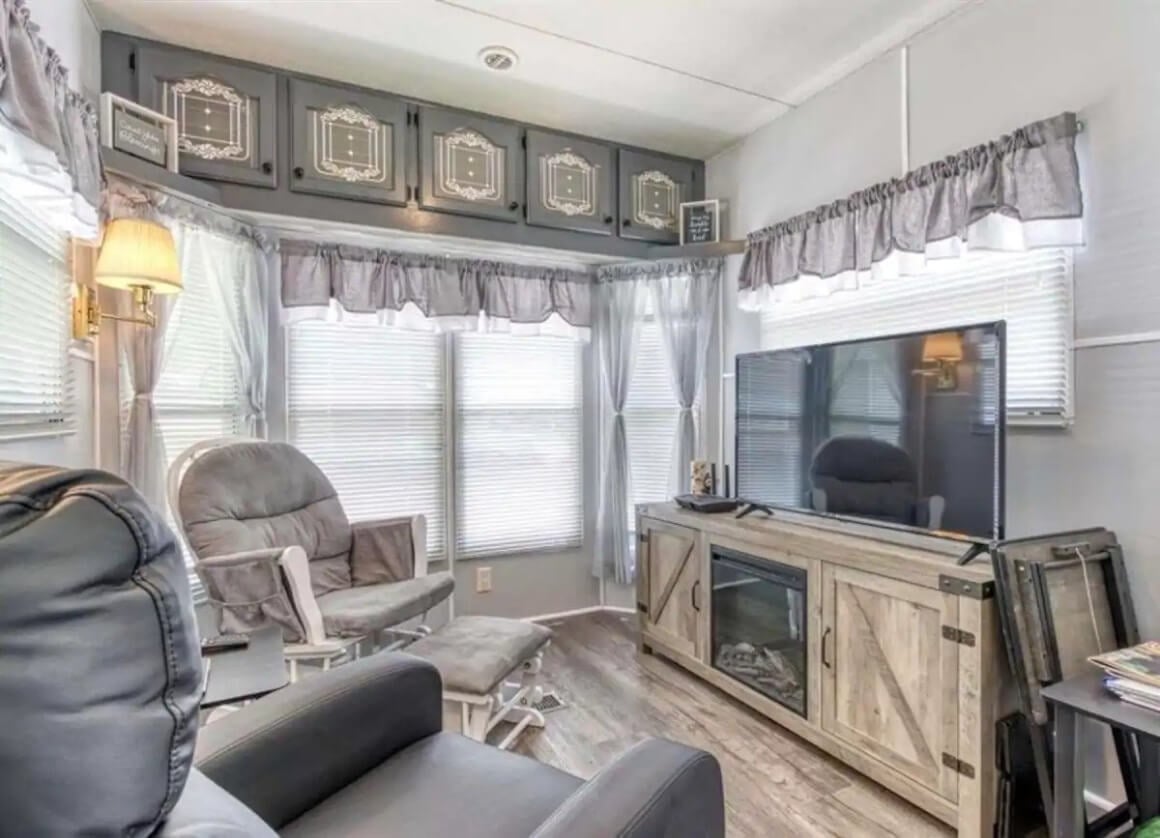 $
Access to RV resort facilities
4 Guests
Recently renovated interior
This Smoky Mountains Airbnb gives guests some serious RV luxury. It's located in a gated RV resort close to Gatlinburg which has two community pools, a fishing pond, a mini-golf course, a ping pong table, and a laundromat.
You'll have access to all of this plus close proximity to nature. You can hear the peaceful sounds of the nearby creek while you're lying in bed.
Inside there is a recently renovated kitchen, Wi-Fi, TV with cable, aircon, and an indoor fireplace. What did I tell you about RV luxury?
$$$
Free parking in Downtown Gatlinburg
This is an awesome private condo in the heart of Gatlinburg. It's recently renovated and has great facilities, including a gas heater for the winter and access to the community pool in the summer months.
This is the best Airbnb in the Smoky Mountains for those traveling without a car thanks to its ideal downtown Gatlinburg location. You can easily access the best of the town, such as minigolf, restaurants, arcades, etc, on foot. Plenty of tours run from the town if you want to get deeper into nature too.
The master bedroom is the only room in this 1×1, but you can easily fit 4 guests as there's a big sofa bed in the living room.
Best Smoky Mountains Airbnb in Pigeon Forge | Honky Tonk Hideaway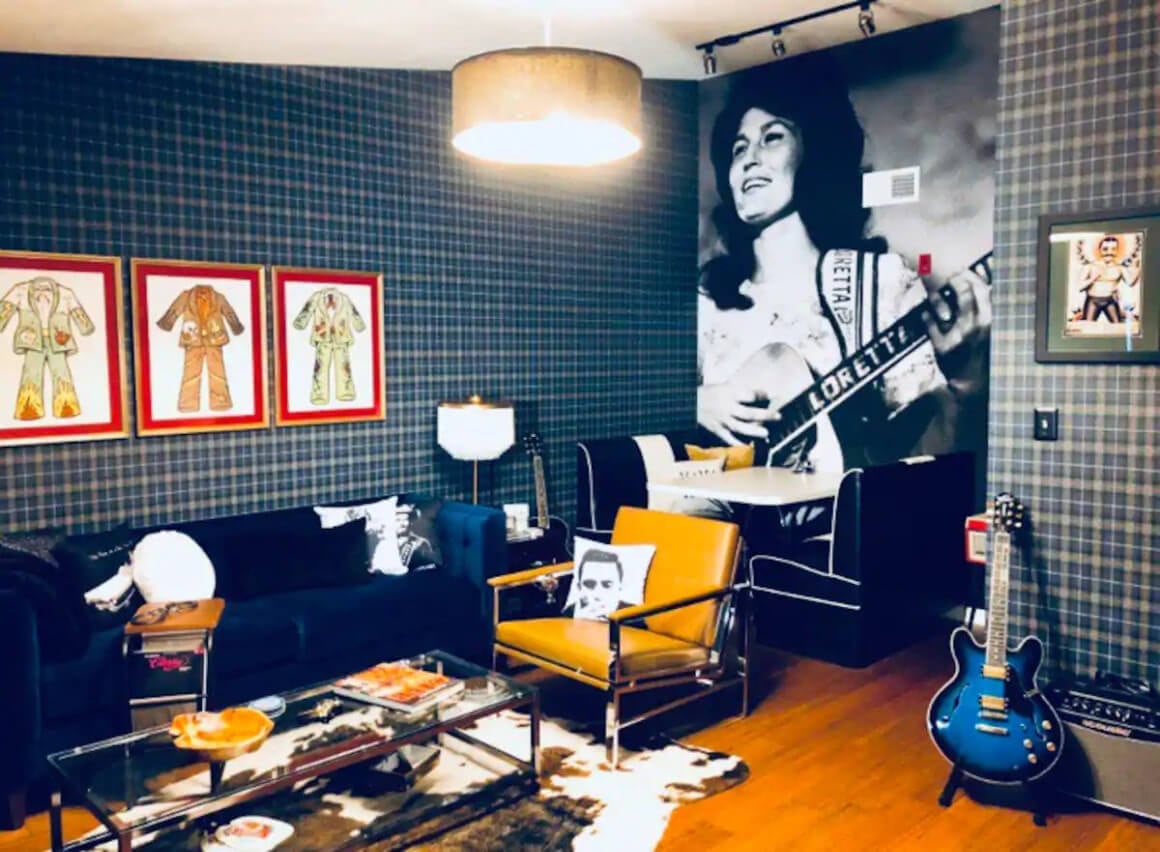 $$
Private stage with instruments and microphones
2 Guests
Country music themed
This Smoky Mountains Airbnb is as iconic as the folks it pays tribute to. The decor here is in tribute to the musical greats of Nashville and Old Country with nods to Dolly Parton, Kenny Rogers, Minnie Pearl, and more. While there's a lot to do in the wonderful town of Pigeon Forge and the surrounding area, you don't even need to leave the house to have a super fun time.
In the living room, there's a replica of the Grand Ole Opry Stage with functional instruments and microphones for you to play around with. There's even a dressing room/vanity area complete with costumes to dress up as your favorite star! The apartment is perfect for a couple or two people with a big comfy king bed in the bedroom named the "Slumbertime Saloon".
Because of its close proximity to many of the city's top attractions, this is one of the best vacation rentals in Pigeon Forge.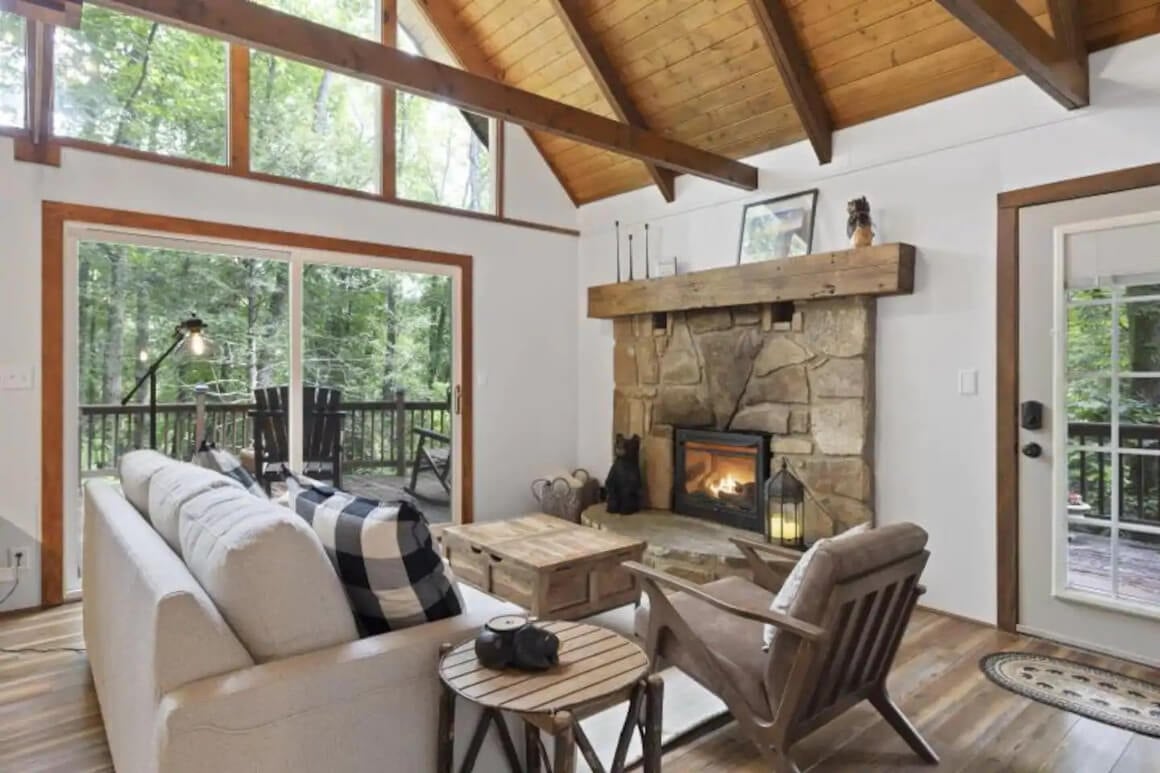 6 guests
Close to Gatlinburg
This big but cozy home is an ideal choice for groups or families. The living areas are spacious with bright lighting and modern features. There's even a stone fireplace where you can snuggle up in winter and a large wraparound balcony to enjoy the fresh air and green surroundings.
This Smoky Mountains Airbnb feels very private and secluded, but it's just around the corner from downtown Gatlinburg, so you truly get the best of both worlds.
Ideal Airbnb in the Smoky Mountains for Skiiers | Ski-In-Ski-Out Home
8 Guests
Ski in-ski out property
This stunning Smoky Mountains Airbnb is perfect for snow lovers. A set-up like this is pretty hard to come by. You can literally ski in and ski out right off the back decks and glide down to the village.
The home has been recently renovated but maintains its rustic charm with comfy living areas and a woodfire heater. There are three bedrooms including one with bunk beds. It's the perfect Airbnb in the Smoky Mountains for a family or group of mates who want a winter getaway.
Located on Beech Mountain, it is not just great for skiing but also for other winter activities like tobogganing and snowshoeing. You won't be disappointed in the summer months either with hiking trails and fresh mountain air.
$$
Copper bathtub with a view
2 Guests
Dolly Parton themed decor
The hosts of this condo have curated the perfect Dolly Parton-themed space for you to tumble out of bed, stumble to the kitchen, pour yourself a cup of ambition, and get out exploring the best of Downtown Gatlinburg. This home is the ideal Airbnb in the Smoky Mountains for anyone who is a fan of the area's most famous person.
It's bound to get you excited for your visit to Dollywood and any activity in the Smokies. As well as an impressive collection of Dolly paraphernalia, the condo also has a king-sized bed, a copper bathtub, a rain shower, and a board game collection. Not included in the images of the space is a beautiful view out over the Smoky Mountains.
Incredible balcony
Indoor jacuzzi + outdoor hot tub
This iconic Airbnb Plus cabin is located in Sevierville and boasts an incredible view of the Smokies. Rustic vibes and loads of open space are the hallmark features of this cozy cabin, as well as an unobstructed mountain vista.
When you're not soaking in the hot tub, you can make use of the air hockey table or pop into a game of pool. With plenty of space and amenities for all ages, this cabin is ideal for a family getaway or friends' trip.
Its "Plus" status means it meets some high standards set by Airbnb, so you don't have to worry about it being a dud
Top 4 Airbnb Experiences in the Smoky Mountains
So your Airbnb in the Smoky Mountains is sorted. Now it's time to fill up your days with exciting activities to best explore the area.
If you thought Airbnb was just a place to book accommodation, think again. Airbnb experiences are trips organized by locals. They can be anything from food tasting, urban exploration or in the case of the Smoky Mountains, an exciting mountain bike adventure.
What you get is an intimate insight into what makes that area special, plus the chance to explore with someone who knows the area like the back of their hand. These experiences are usually a lot more intimate than a commercially organized tour.
You can browse and book any Airbnb Experiences through the Airbnb App or website. This way you have all the important details about your accommodation and activities for your trip in one place instead of losing track in a complicated email trail.
I went ahead and picked out these top four Airbnb Experiences you can have in the beautiful Smoky Mountains, focusing on the nature and local booze culture that the area is most proud of.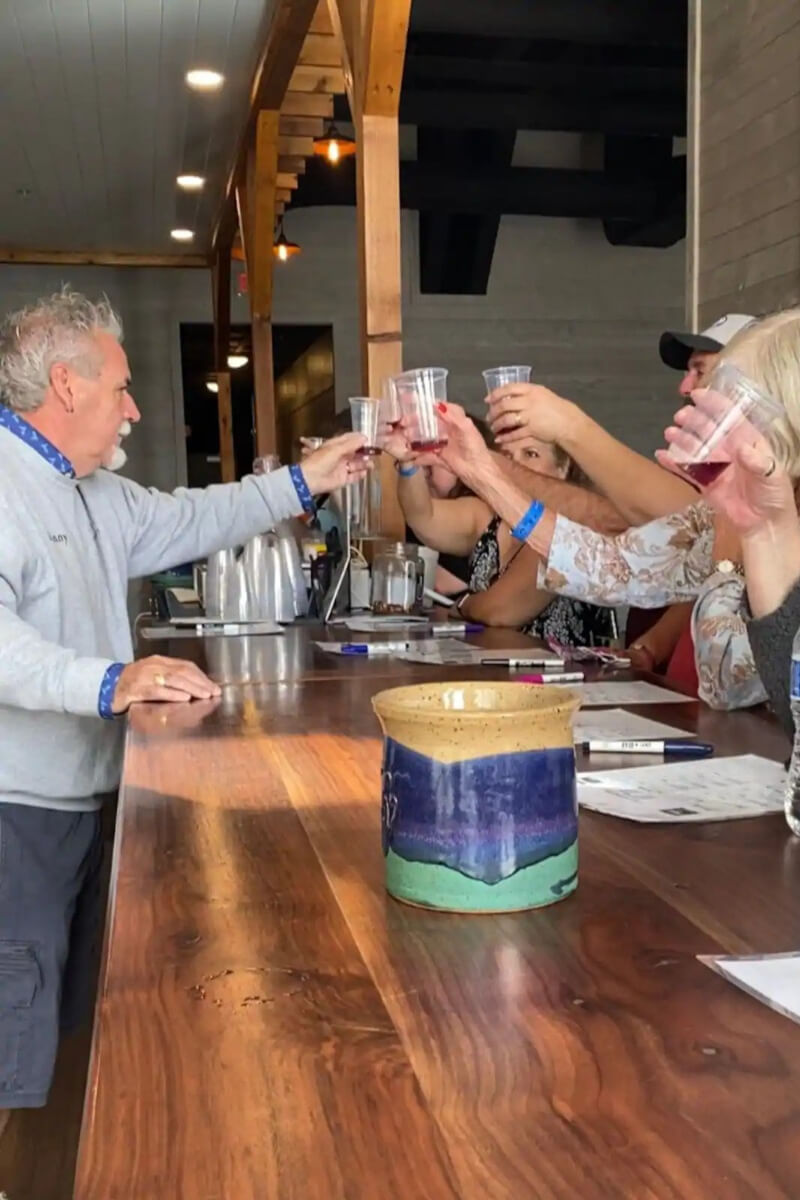 From $68 per person
3.5 hours
Up to 10 people
This tour will have you sampling the best Tennessee wines and "grain to bottle" spirits including vodka, moonshine and whiskey. You'll get a true backwoods style moonshine experience and avoid any tourist trap distilleries and posers that have popped up recently.
Your hosts first visited the Smoky Mountains as travellers and fell in love with the area. They now call the Smokies home and love to share their local perspective.
Transport is included, so no one needs to argue over who's driving. It's all about cultural immersion, after all. You'll even get a delicious lunch to soak up all the booze too.
From $97 per person
3 hours
Up to 8 people
Explore the stunning hiking trails and waterfalls of the Great Smoky Mountains with an experienced guide. This is the perfect tour for those who love to get out into nature but prefer to have an expert lead the way.
These hosts have been leading hikes in the Smokies for the last 20 years and know everything about the local history, flora and fauna of this stunning region. You'll see three amazing waterfalls on this trip which leaves from Bryson City. Snacks and water are provided.
From $88 per person
2 hours
Up to 6 people
Get out on the water on Fontana Lake, the biggest lake in western North Carolina. You have the option of using lake kayaks or stand up paddleboards for this guided exploration.
You'll spend the two hours on the water with your experienced nature guide Mark, who will show off the coves and beauty of the Nantahala National Forest.
All gear, including life jackets, is included in the experience.
From $160 per person
10 hours
4-7 people
This tour combines the best of the stunning Smoky Mountains nature and its renowned craft beer scene. The experience departs from Bryson City in the morning and takes you to discover four beautiful waterfalls and five craft breweries. Included in the experience is a pint of beer at each brewery, your designated driver and guided hikes to each waterfall.
Please note, the tour only runs with 4+ people over the age of 21 and you need to be staying in Bryson City for pickup and dropoff.
Don't Forget Your Smoky Mountain Travel Insurance
ALWAYS sort out your backpacker insurance before your trip. There's plenty to choose from in that department, but a good place to start is Safety Wing.
They offer month-to-month payments, no lock-in contracts, and require absolutely no itineraries: that's the exact kind of insurance long-term travellers and digital nomads need.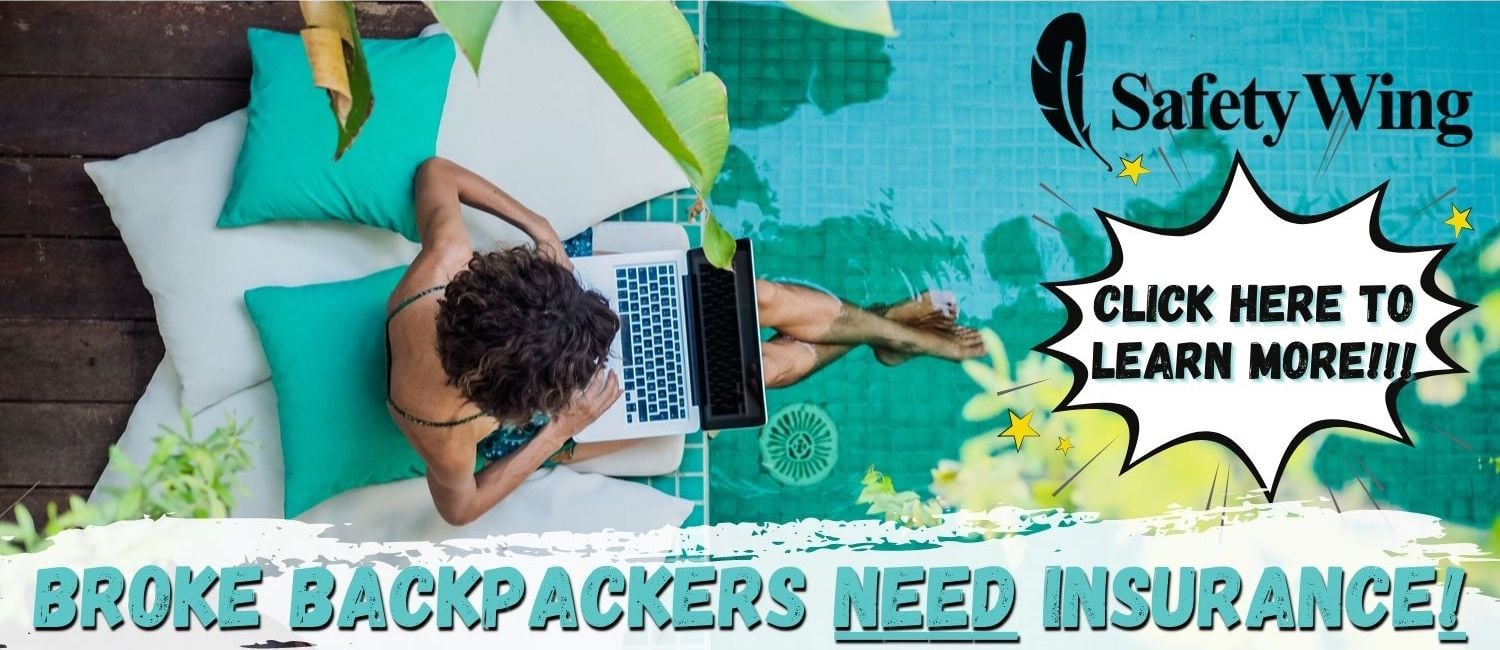 SafetyWing is cheap, easy, and admin-free: just sign up lickety-split so you can get back to it!
Click the button below to learn more about SafetyWing's setup or read our insider review for the full tasty scoop.
Final Thoughts on Airbnbs in the Smoky Mountains
Now that you've seen what Smoky Mountains Airbnbs have to offer, all that's left to do is book!
Whether you're looking for a private mountain retreat or a huge cabin for all your family and friends, I'm confident you've found at least one ideal listing for you.
So what are you waiting for? Lock in your dates and mark your calendar: it's time to adventure in the Smokies!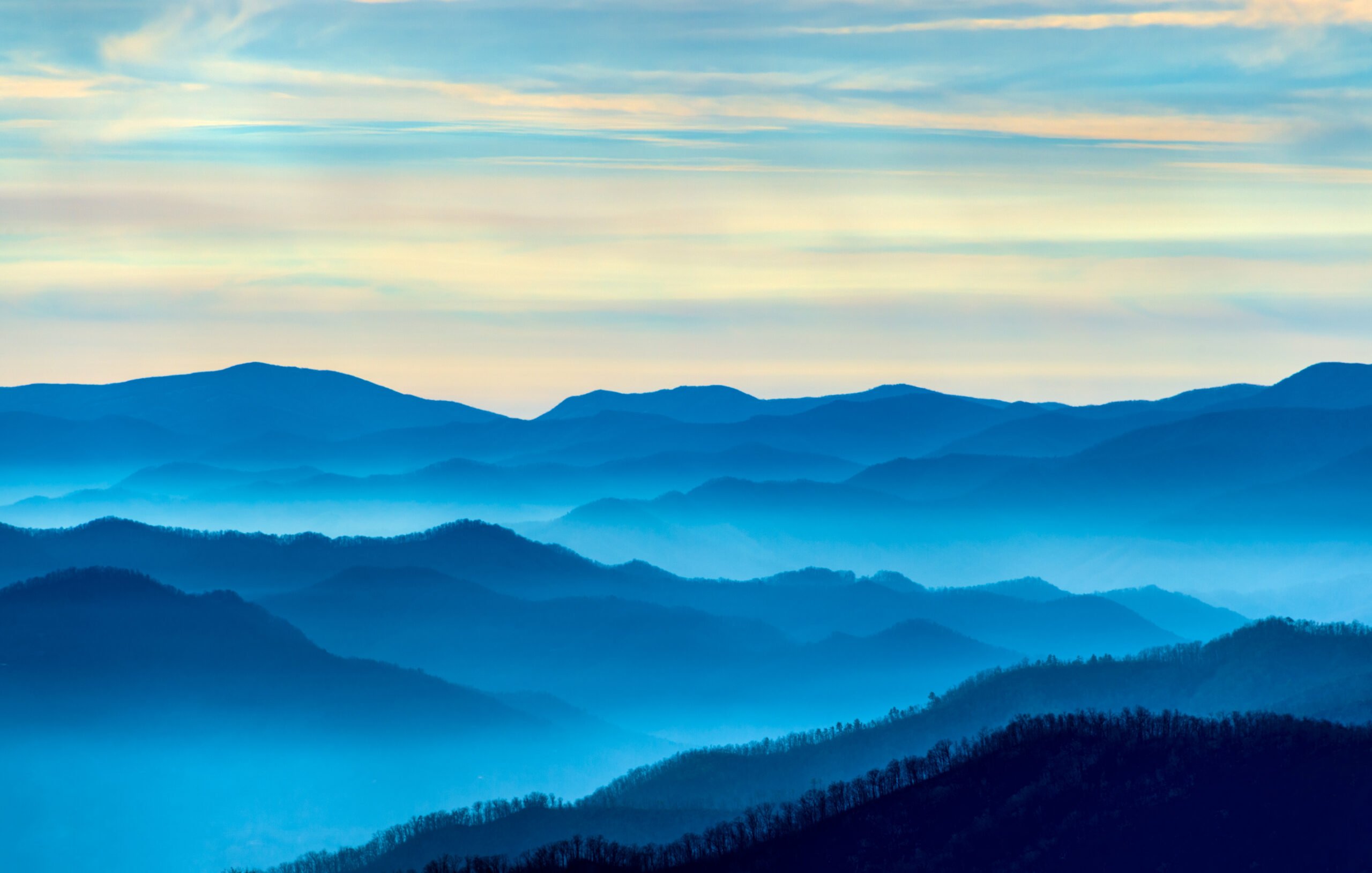 Updated September 2022 by Samantha from Intentional Detours
---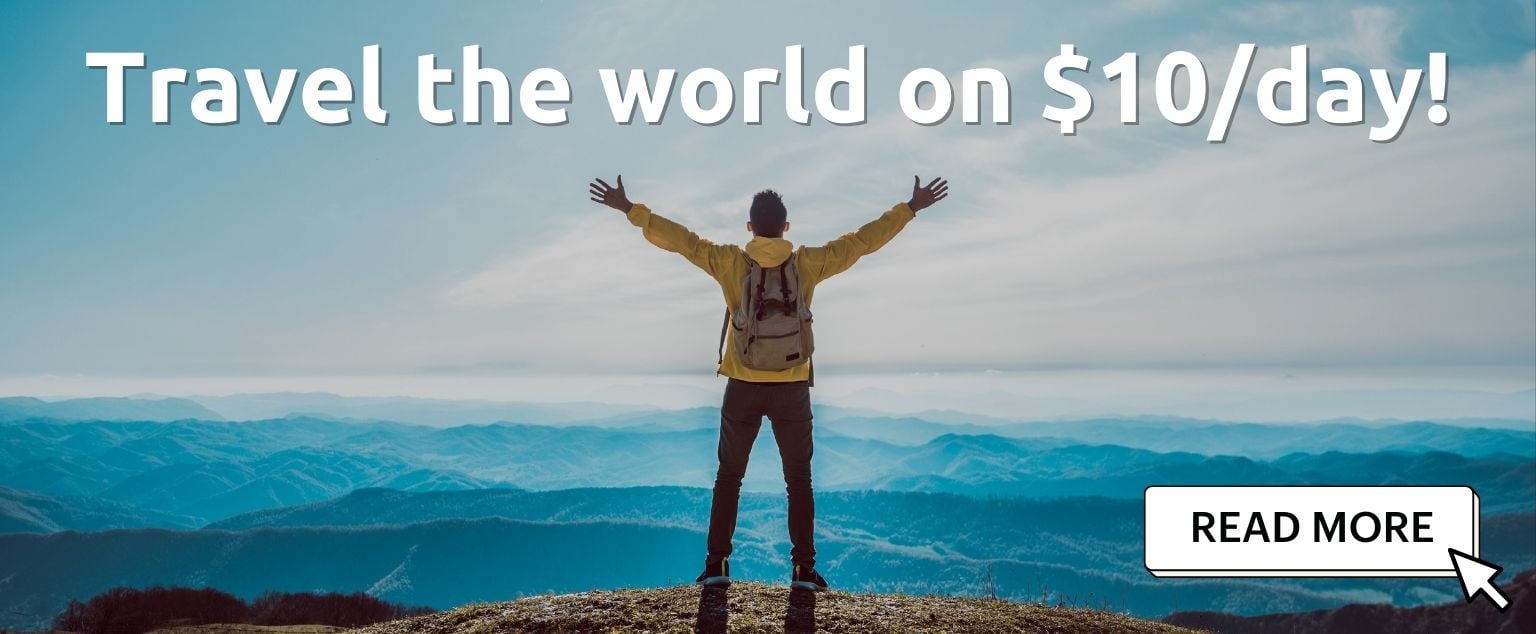 And for transparency's sake, please know that some of the links in our content are affiliate links. That means that if you book your accommodation, buy your gear, or sort your insurance through our link, we earn a small commission (at no extra cost to you). That said, we only link to the gear we trust and never recommend services we don't believe are up to scratch. Again, thank you!