In the past, Pigeon Forge was nothing more than a roosting spot for the now extinct passenger pigeon. But now? It's your first stop on getting to know Tennessee's Great Smoky Mountains. It's the home of Dollywood and a whole host of crazy attractions – including the Titanic and Ted Bundy's car!
While there are no shortage of hotels and hostels, you'll want to stay in somewhere as unique as Pigeon Forge. For that, turn to Airbnb. Vacation rentals in Pigeon Forge come in a whole manner of shapes, sizes and styles – and are usually just as affordable as a standard hotel.
I'm here to help you choose your Airbnb in Pigeon Forge. In this post, I'll show you some of the best cabins, treehouses, chalets, and everything else on offer in this traditional Tennessee town. There's sure to be something that will suit your budget and travel tastes. Are you ready? Then let's go!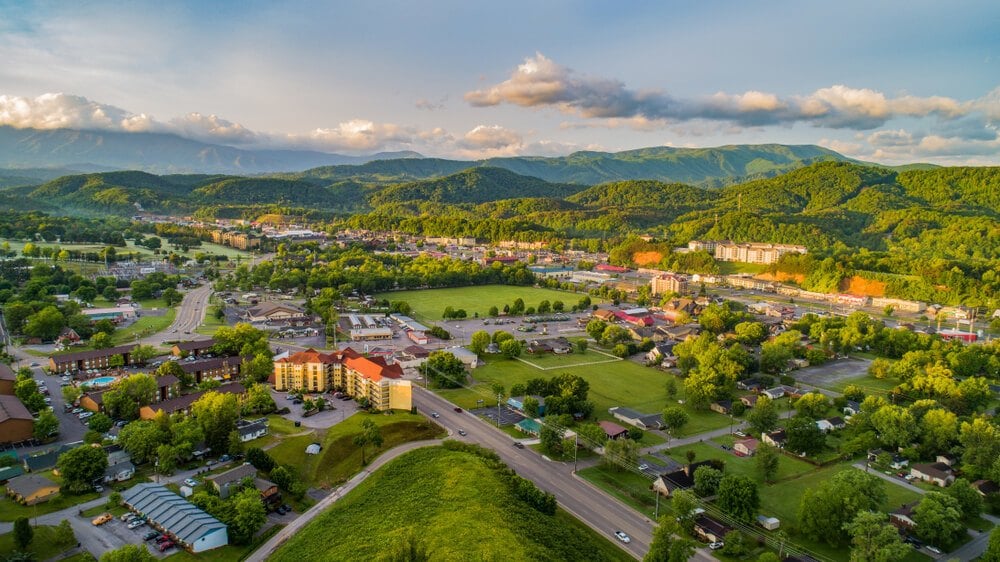 Quick Answer: These are the Top 5 Airbnbs in Pigeon Forge
Overall Best Value Airbnb in Pigeon Forge
Overall Best Value Airbnb in Pigeon Forge
Sugar Bear Cabin
> $
> 6 Guests
> Large front lawn
> Porch with rocking chairs
Best Budget Airbnb in Pigeon Forge
Best Budget Airbnb in Pigeon Forge
Laurel Crest Villa
> $
> 4 Guests
> Swimming pool
> Giant board games
Best Airbnb for Couples in Pigeon Forge
Best Airbnb for Couples in Pigeon Forge
Leroy's Quiet and Cozy Cabin
> $$
> 2 Guests
> Queen bed
> Cosy indoor fireplace
Best Airbnb for Families in Pigeon Forge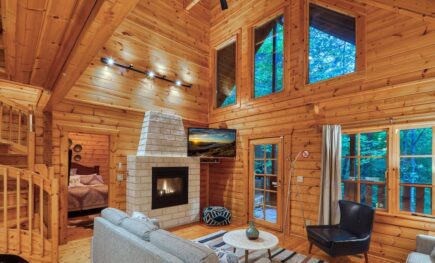 Best Airbnb for Families in Pigeon Forge
Elegant Cabin Near Dollywood
> $$
> 5 Guests
> Porch with rocking chairs
> Pool table and board games
Over-the-Top Luxury Airbnb in Pigeon Forge
Over-the-Top Luxury Airbnb in Pigeon Forge
Bella Vista Mountainside Cabin
> $$$$
> 12 Guests
> Firepit
> Climbing wall

Unlock Our GREATEST Travel Secrets!
Sign up for our newsletter and get the best travel tips delivered right to your inbox.
What to Expect from Airbnbs in Pigeon Forge
When it comes to Airbnbs in Pigeon Forge, there are a lot to choose from. In cities like New York and LA, you can expect to find lots of apartments and townhouses. But this is a whole different part of America. Because you're right on the edge of the Great Smoky Mountains National Park – one of the best National Parks in the US, you're looking at places that really blend into the surroundings.
That means cabins, treehouses, chalets, that sort of thing. Many properties owned by a private host will be secluded and have their own touch on the classic cabin. If you're looking at a cabin-style accommodation owned by a company, you may be more likely to be near others.
Many of these unique accommodations are self-contained, so even in the most basic, you can expect a living area, kitchen, and bedroom. The more you spend, the more you'll get – such as hot tubs, pool tables, and stunning mountain views!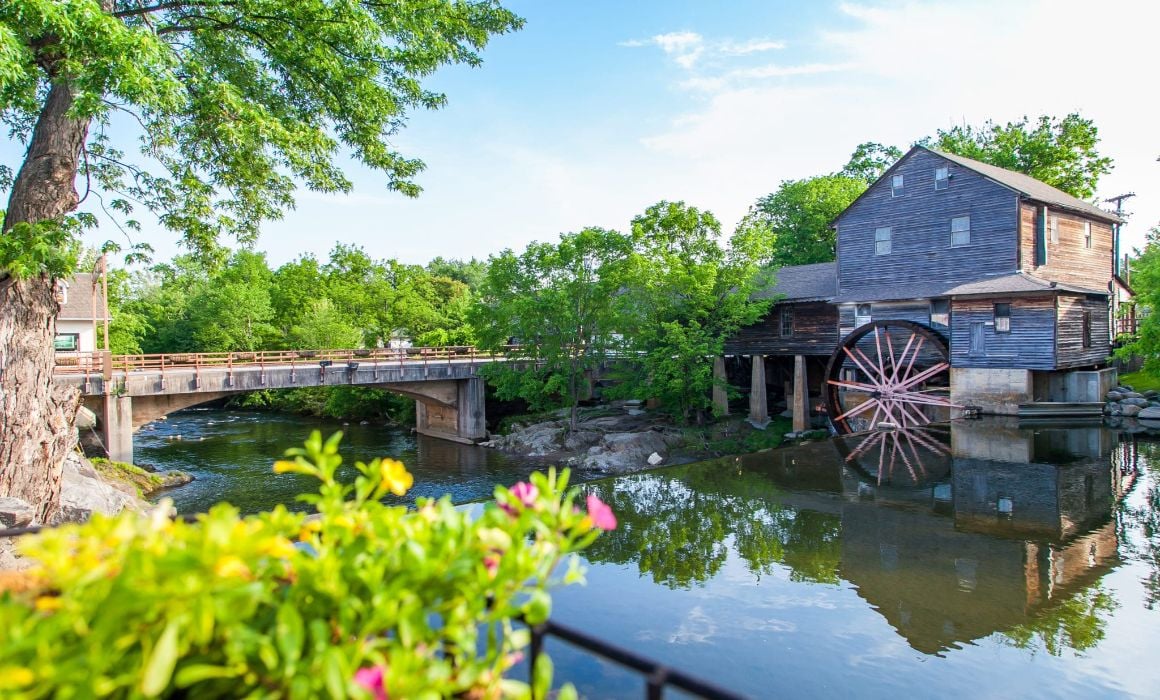 Cabin
First off is the most common type of Airbnb in Pigeon Forge. It's easier to find a cabin here than it is an entire flat or a private room. But why would you want one of those?
Cabins come in a range of shapes and sizes. From cosy love nests for you and your other half with queen or king beds and hot tubs to properties for a group of friends with a pool table, porch, and a chill-out room. And if you're travelling with the whole family, there's nothing better than a cabin for a celebration. Some can fit up to 20 people!
Cabins tend to be in more rural neighborhoods in Pigeon Forge, so you'll want to make sure you pick one with a parking space or look for one nearer to downtown if you don't drive.
It is unavoidable that a cabin will set you back a fair amount of money; it may not be the best option for a solo backpacker! However, the bigger your group, the cheaper it gets as you're able to split the cost more ways.
Treehouse
Treehouses are one of the more unique types of Airbnbs in Pigeon Forge. They're a once-in-a-lifetime opportunity for many travellers. If availability and budget permit, there's no reason you shouldn't treat yourself while in the Great Smoky Mountains.
The number of treehouses in the area around Pigeon Forge is in double figures, with a park of unique buildings in this style close to nearby Gatlinburg.
Treehouses are pretty pricey, but for the money, you can expect a lot of home comforts. As well as a fully equipped kitchen, expect rapid Wi-Fi, rain showers, and large deck spaces where you can appreciate the surrounding nature. They're often smaller than cabins and better suited to a small family getaway or groups of friends than a great big knees-up!
Chalet
Now, let's be honest. There isn't a whole lot of difference between chalets and cabins in Pigeon Forge vacation rentals. Originating in Alpine regions in Europe, such as Switzerland and France, chalets are usually made of wood and have overhanging eaves. This is unlike a cabin, which is made of logs.
They also are often more than one story tall, but that's not always the case. In Pigeon Forge, you can expect your chalet to be smaller than your average cabin – they're great for a romantic getaway with a loved one.
Chalets in the Great Smoky Mountains are much like cabins once you get inside – you'll have the living space, kitchen, and bedroom. It may be open plan or split into separate rooms – that all depends on the overall size.
Why Stay in an Airbnb
If you're not already convinced that you should stay in an Airbnb in Pigeon Forge, am I doing something wrong?! Even if I am, these top five reasons are sure to make up your mind. Here's why you should stay in an Airbnb.
Local Experience: Whether your host is a private owner or a business, they'll be able to give you the top tips on what to do nearby. That doesn't just go for Pigeon Forge, but for every USA travel destination.
Unique Properties: In a place chock full of cabins and chalets, why on earth would you want to stay in a drab and dull hotel?!
Privacy: Whether you're travelling with the whole family or your other half, it's nice to have your very own space where you won't be disturbed.
Affordability: Airbnbs offer a lot more value for money than equivalently priced hotels. And with big group stays, you can split the cost multiple ways!
Airbnb Experiences: Choosing Airbnb isn't just about where to stay – it's about enjoying the area like a local with curated tours, too!
The Top 15 Airbnbs in Pigeon Forge
And now, for the part, you've all been waiting for. You've seen why you should stay and what type of properties are available, but lay your eyes on my definitive list of the top 15 Airbnbs in Pigeon Forge!
Overall Best Value Airbnb in Pigeon Forge | Sugar Bear Cabin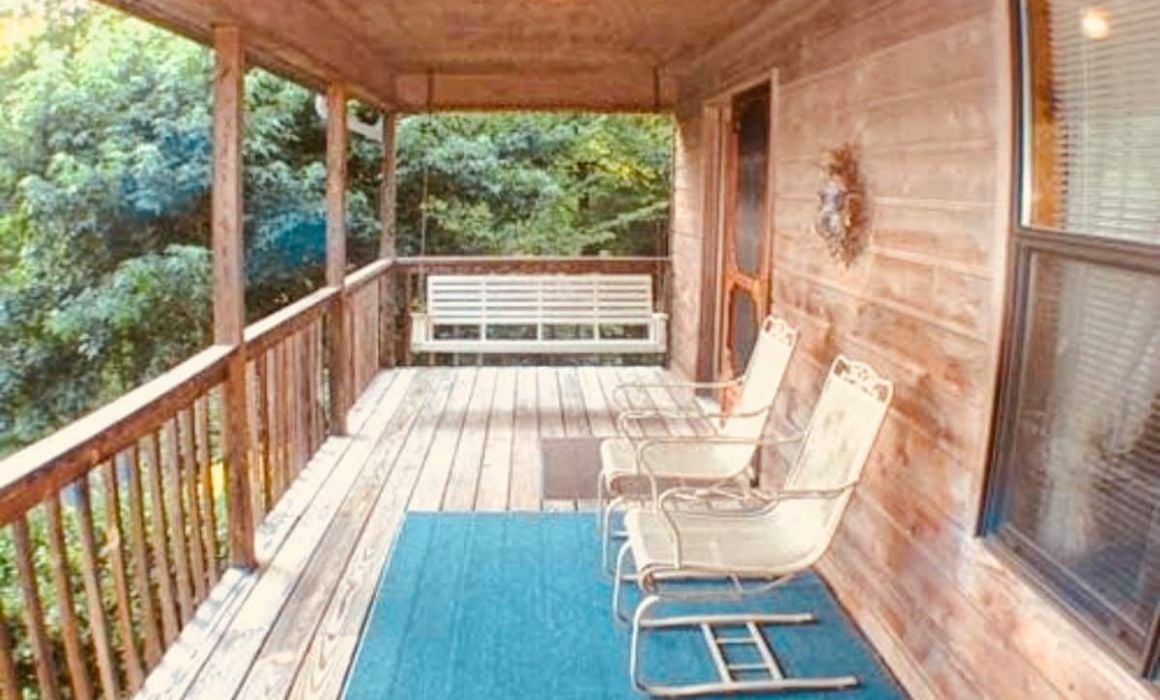 6 Guests
Porch with rocking chairs
First of all on my list of the best Airbnbs in Pigeon Forge is this perfect cabin right in town. The Sugar Bear Cabin is suitable for a group of friends or family looking to enjoy everything the town has to offer from a convenient location.
After a day hiking in the Smoky Mountains or going wild at Dollywood, come back to chill out in a rocking chair on the back porch while the kids play on the lawn. Perfect!
Best Budget Airbnb in Pigeon Forge | Laurel Crest Villa
4 Guests
Giant board games
You may notice that Pigeon Forge isn't the cheapest place in the world. However, if you look hard enough, you can find a place that suits the budget traveller. Laurel Crest Villa is a condo off the main drag but still close enough to Pigeon Forge to enjoy the town's attractions.
There's a community pool on-site and giant board games that are great for kids. There's room for four in this cute little cabin – more ways to split the cost!
---
Psst…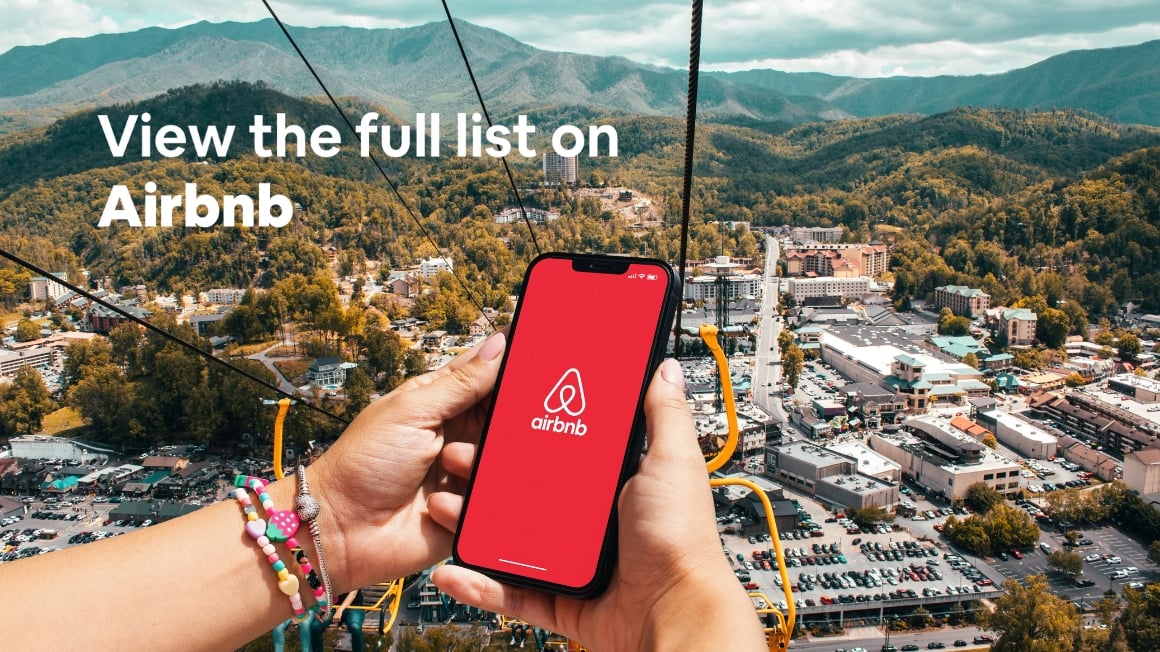 ---
2 Guests
Designed by local artist
Looking to get some peace and quiet when you travel to the Smokies National Park? This art loft is the perfect private mountain paradise. Originally a studio for a local artist, Dale Gillespi, his stamp is still on the house with the cool artwork on the property.
There's self-check-in, perfect for a bit of isolation. The queen bed means it's a great shout for couples, too! When you want to relax after a day of exploring nearby Sevierville, soak in the jetted tub in the private bathroom. This is the ultimate mountain getaway cabin for couples looking to escape the city.
Is This the Best Travel Pack EVER???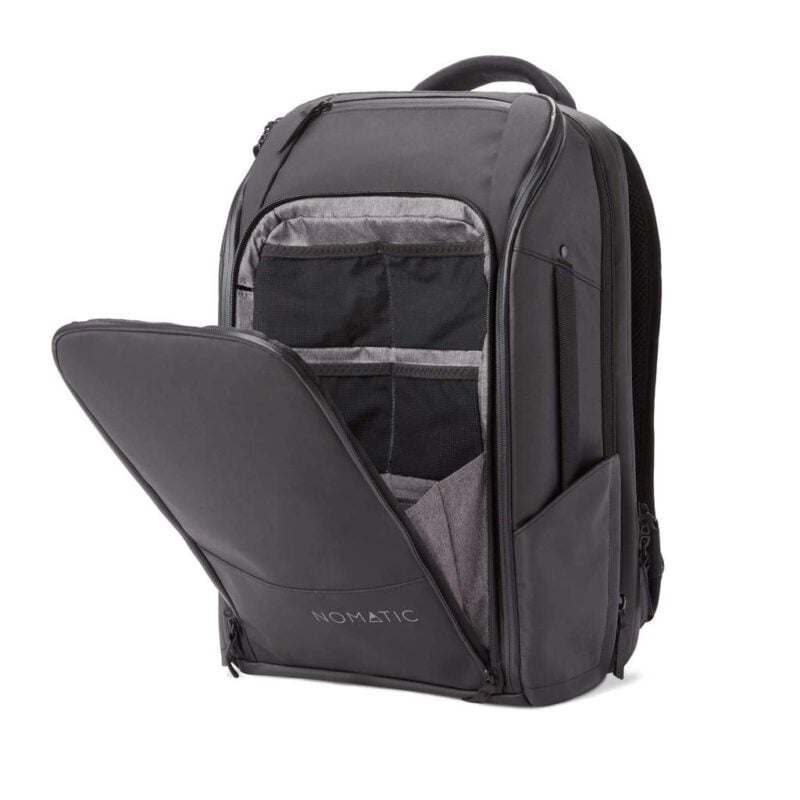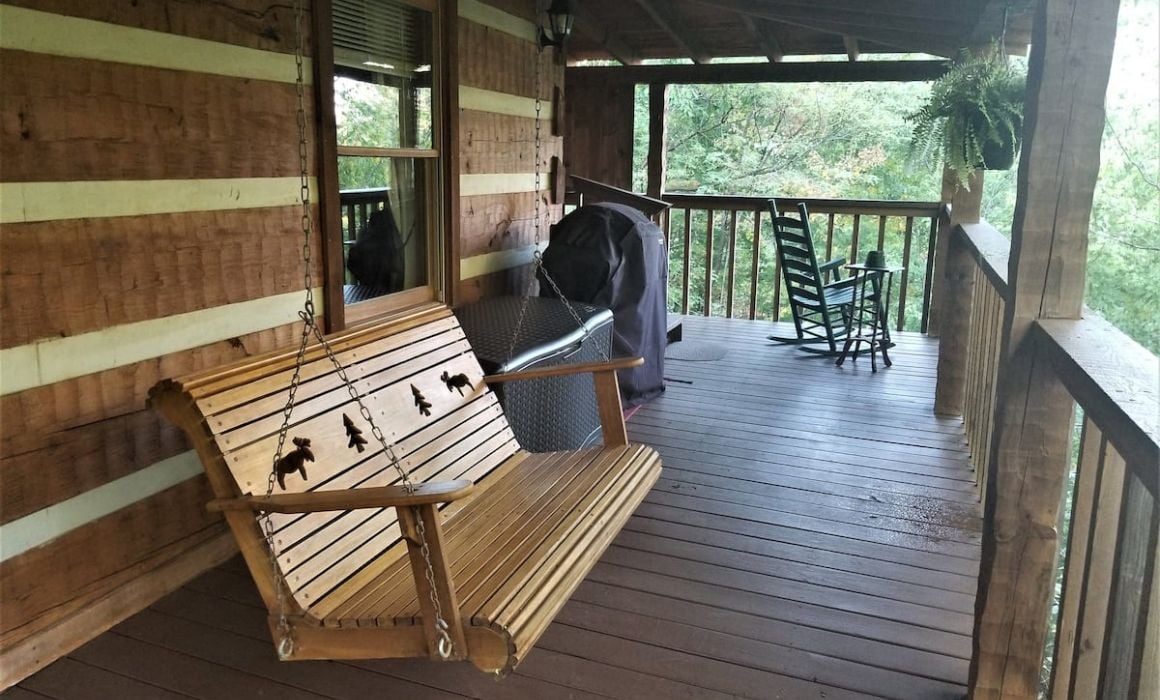 2 Guests
Cosy indoor fireplace
Want to spend a weekend getaway with your other half on the rocking chair out on the porch, then evenings in front of the merrily crackling fire? That can be arranged – just make sure you book Leroy's quiet and cosy cabin.
It's ten minutes from the restaurants and Pigeon Forge attractions such as Pigeon Forge Parkway, and an awesome base for hiking in the Smokys National Park. The living area has plush, comfy sofas surrounding an open fireplace.
The kitchen is fully stocked so you can cosy up and cook meals in the evenings. Oh, and the decor is dead romantic!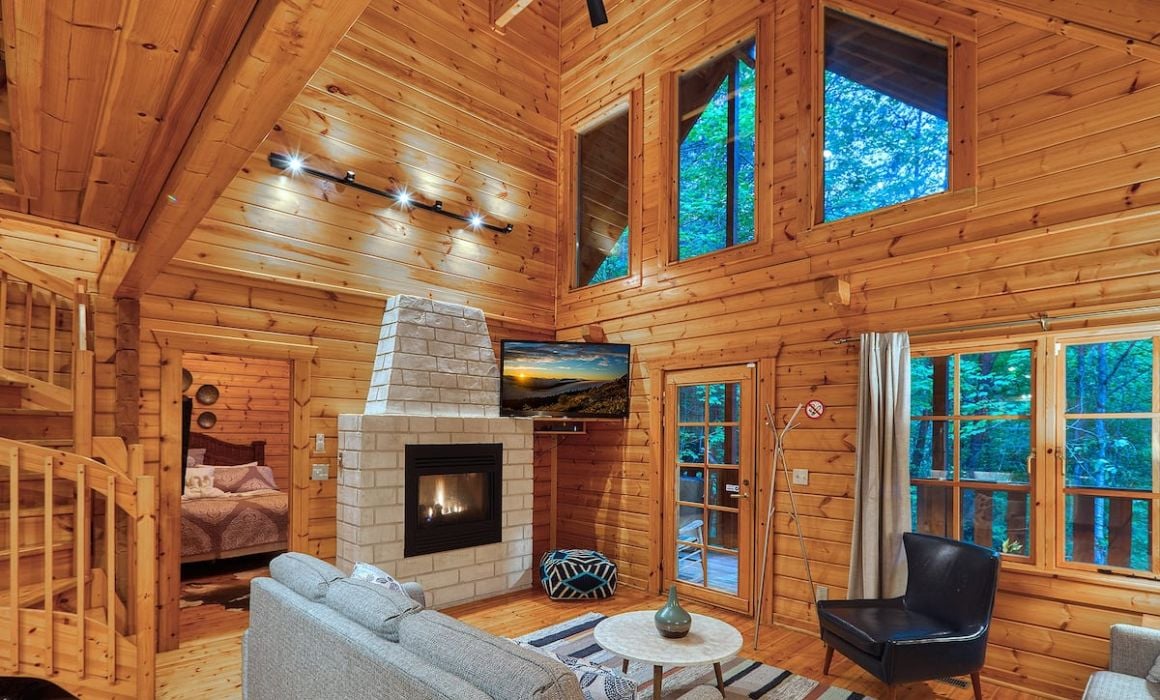 $$
Porch with rocking chairs
5 Guests
Pool table and board games
There won't be many families heading to Pigeon Forge without spending a day at Dollywood, so it makes sense to stay as close to this epic theme park as possible!
The fun of your day out doesn't have to stop when you arrive back at your Pigeon Forge vacation rental – this cabin has a pool table and board games that can be enjoyed in the huge, open-plan living area!
It also has a huge wraparound porch with outdoor seating area, so you can sit and admire your woodland location. Though you're close to attractions, you'll feel seclusion and tranquility from your home away from home.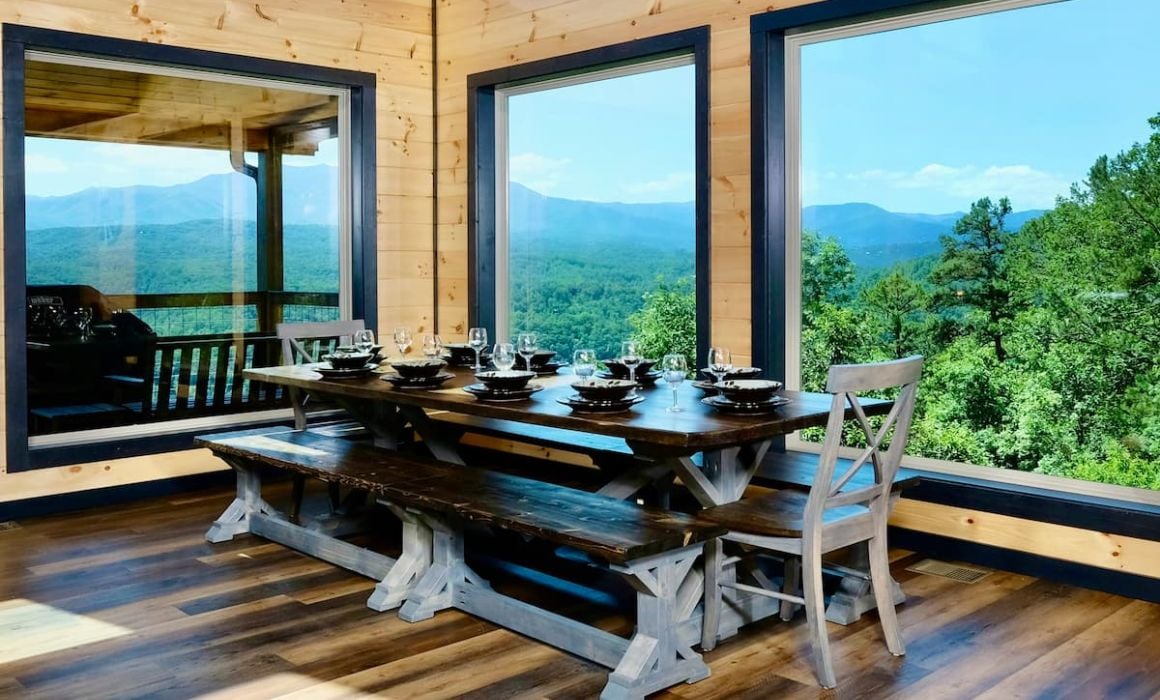 If money's no object for your trip to Pigeon Forge, take a look at this 12 person property. It's stunning! Yes, it has the usual features you'd expect from a cabin – like a large dining room, BBQ, and amazing views of the Smokys – but this takes it to another level.
One room in the house is practically made of windows, which really frame the gorgeous backdrop. And if you need a bit of practice for hitting the mountains, there's a CLIMBING WALL here?!
This Pigeon Forge vacation rental also has a theatre room, a game room with arcade games, and a pool table, and do I dare tell you about the outside space? Not only are there three balconies, but there's also a fire pit and BBQ and plenty of seats to admire the sprawling mountain views around you. It's paradise!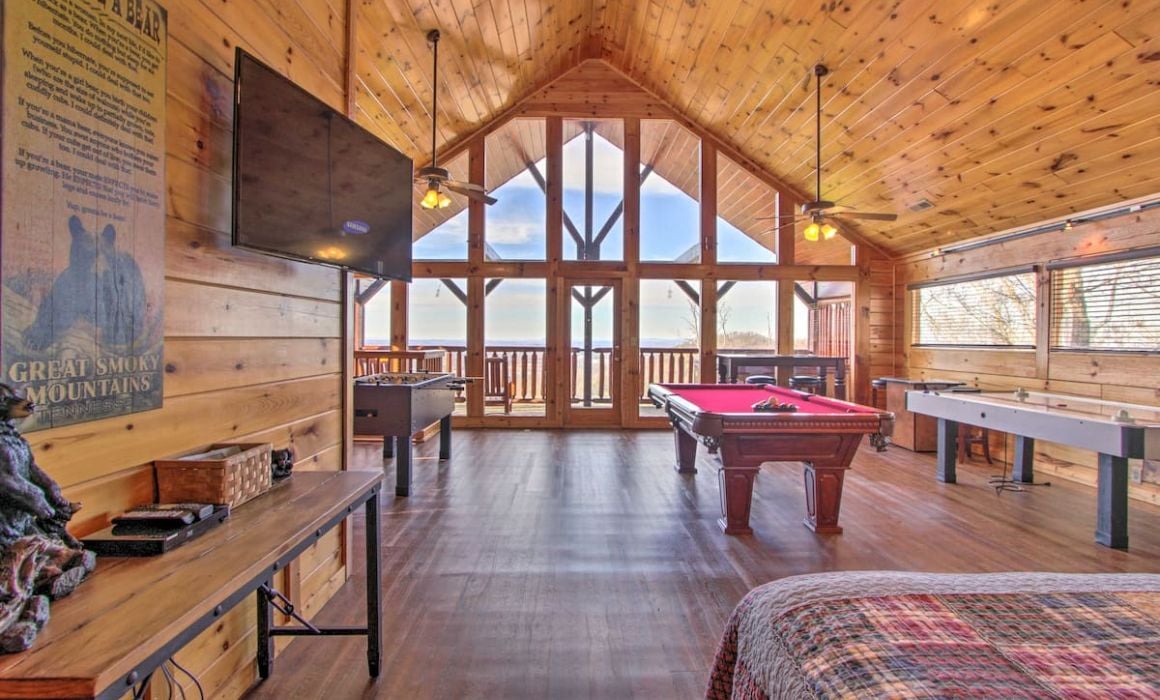 Choosing the best cabin in Pigeon Forge isn't an easy choice. However, a games room and a deck providing amazing views of Mount Lecomte make that decision a little easier.
This expansive wooden cabin is spacious but homey, with exposed wood and open fireplaces. There's a huge kitchen that's stocked with everything you need to prepare meals. Arguably one of the best features is the huge bathtub that sits next to a large window, allowing you to look out over the mountains while you soak in some bubbles.
The outdoor deck has views for miles, which can be enjoyed from your own private hot tub. If you fancy a lazy day in the cabin, you can enjoy your surroundings from the private hot tub, play games of air hockey or pool in the game room!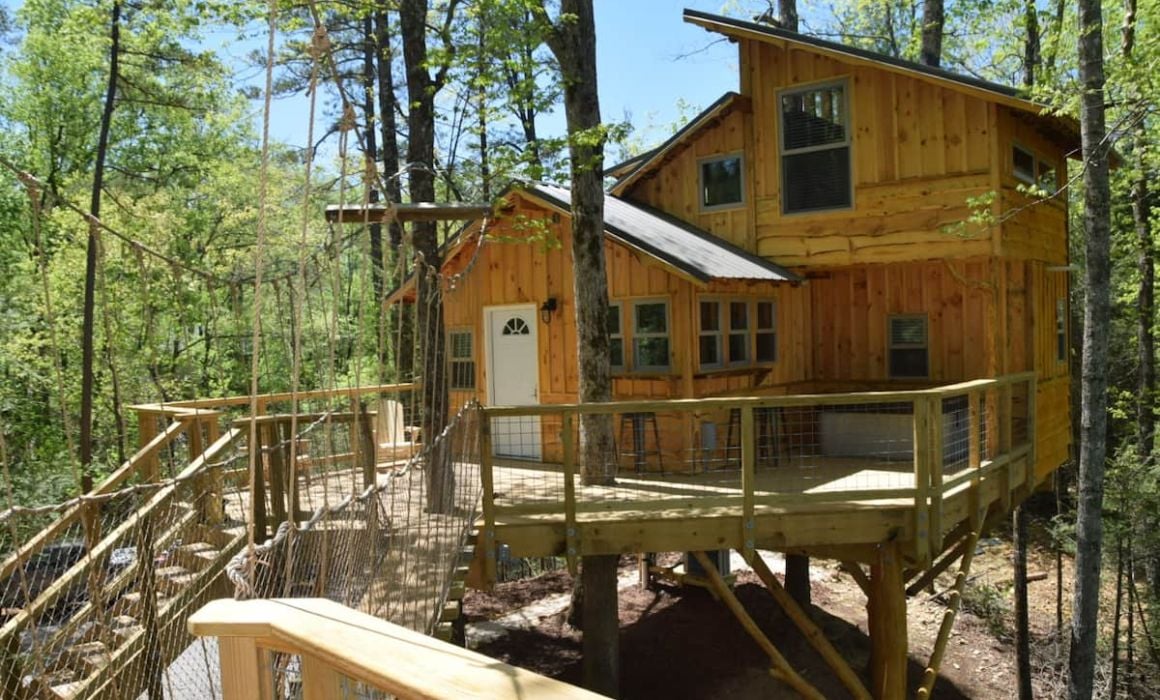 4 Guests
Cool hanging chairs
If you've got your heart set on a treehouse, this cosy hidden gem will blow you away. It has a crow's nest viewpoint connected to the rest of the house by a narrow walkway, the perfect place to admire the woodland views from.
The best feature is the wraparound deck which has comfy outdoor seating, a hot tub, and BBQ. At night, turn on the fairy lights and sit around sharing stories under the night's sky.
Though it's small, it can easily sleep up to four guests – perfect for small families looking for a budget vacation rental. Though you may not want to bring toddlers or babies, since the sleeping area is in a loft.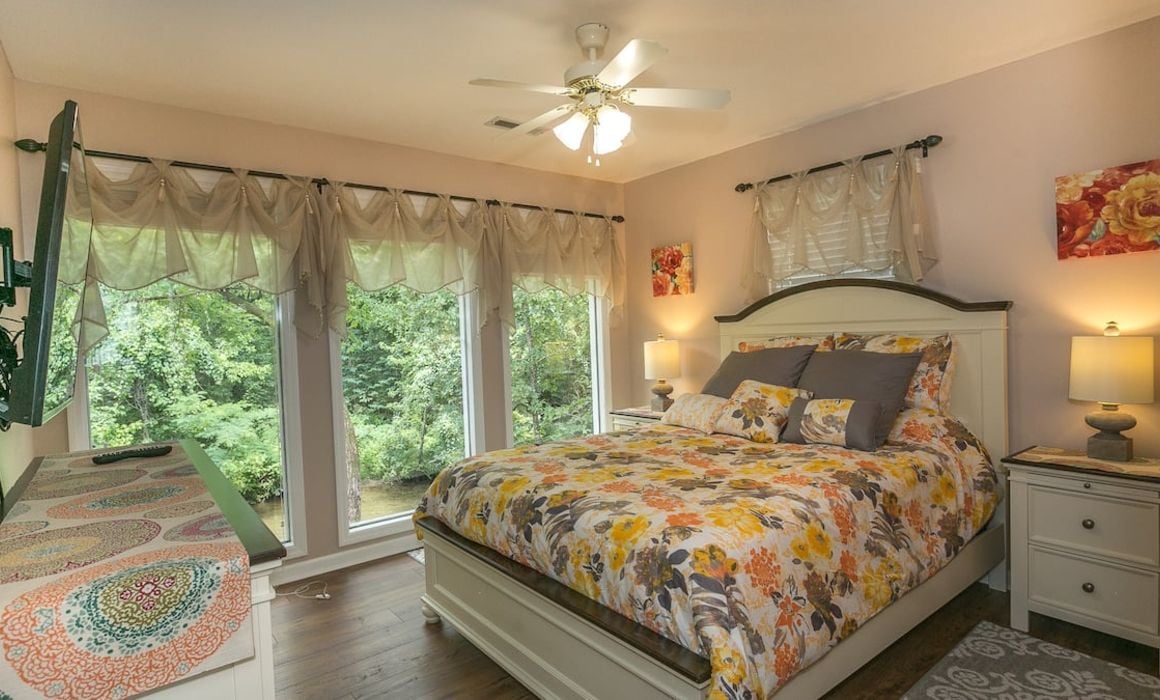 4 Guests
Cosy lounge spaces
Many of the best Airbnbs in Pigeon Forge make light of their perfect location near the hiking trails in the Great Smoky Mountains, but this chalet is a little different.
Located by the Pigeon River, this one is more about chilling out and being surrounded by water. Despite being in such a quiet area, it's just five minutes from the bright lights of the city – so you get the best of both worlds!
It comes with two spacious double bedrooms with queen size beds, a fully equipped kitchen, and a balcony overlooking the river. If you're looking for a home you can relax in, this is it.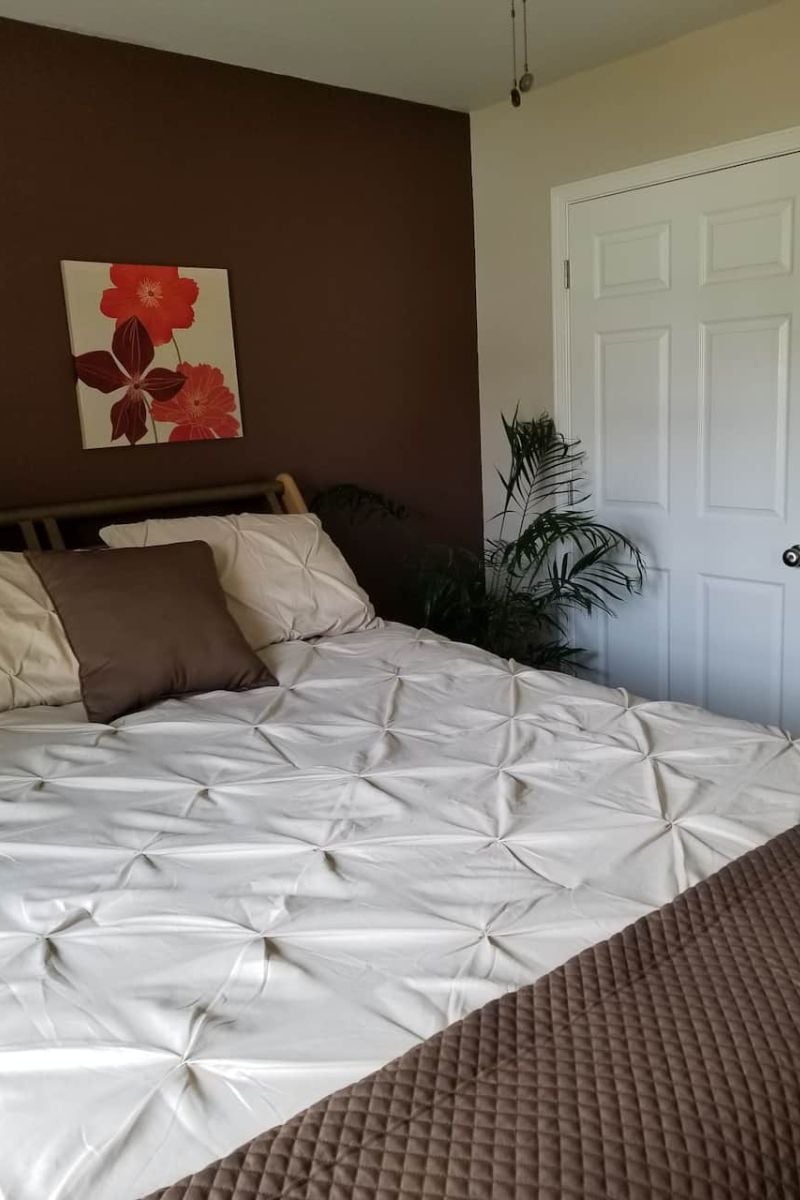 $
Laptop-friendly workspace
You'll find more than just fast Wi-Fi and a laptop-friendly workspace at this private home in Pigeon Forge. Once you've finished your day's work, why not head out onto the porch and enjoy your host's hot tub?!
The property is just blocks from Pigeon Forge's legendary parkway, meaning that if you want a change of work scenery like a cafe, you won't struggle to find one!
What's even better about this private room, is you have a private bathroom as well. Though you're staying with your host, you can have your own privacy. You're welcome to make full use of the kitchen and living areas too.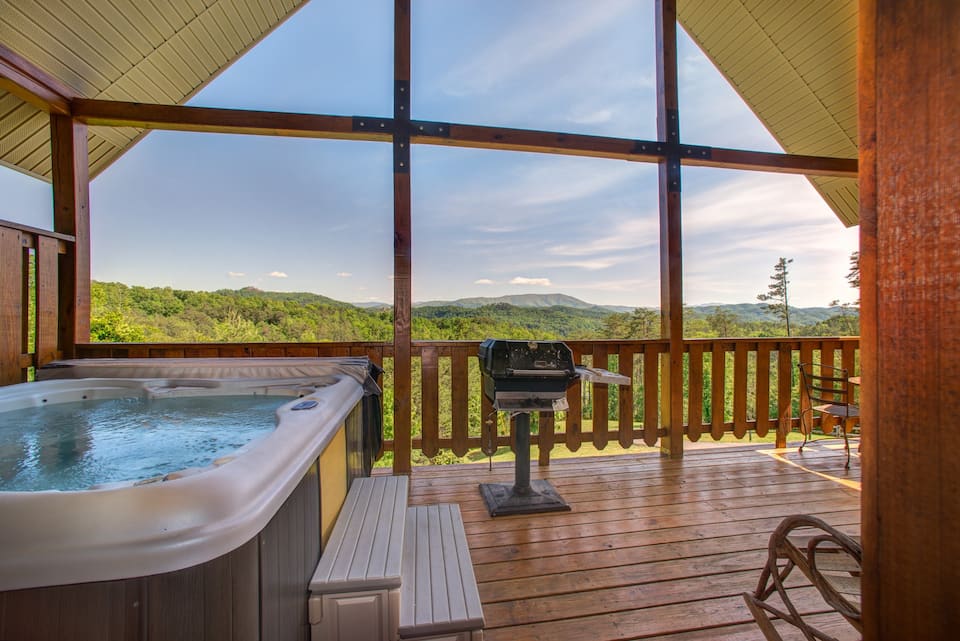 4 Guests
Spectacular mountain views
Like picking the best entire cabin, it's hard to choose the most beautiful Airbnb in Pigeon Forge. However, that huge triangular window does frame one of the most stunning views in the area, so that makes your choice easier.
Just imagine sitting in the private hot tub with that in front of you, as the food cooks on the BBQ beside you. You can bring pets here, too – so no family member is left behind!
On the inside, you have huge living areas with huge sweeping ceilings, a cosy fireplace and one huge bedroom with a four poster bed. The house also comes with a pool table and is pet friendly. This would be the perfect vacation rental for couples with pets.
6 Guests
Open Design Living
Imagine spending the first night of married life with your other half in an outdoor hot tub in a secluded forest in Pigeon Forge. You cannot get much better than that, can you?
This lovers' retreat has two bedrooms and can sleep six guests, but since it's so affordable and romantic, it would be a perfect place for two. There's two floors with an open plan design. The spacious living area has a fireplace and access to the outdoor deck, where you'll find the outdoor hot tub and BBQ.
If you feel like cooking, there's a stunning kitchen with marble tops and an island. There's also a separate backyard with a swing bench and fire pit, the perfect setting for planning your entire lives together. Not to mention, it's also a stone's throw away from the Great Smoky Mountains National Park, and Ober Gatlinburg Ski Park.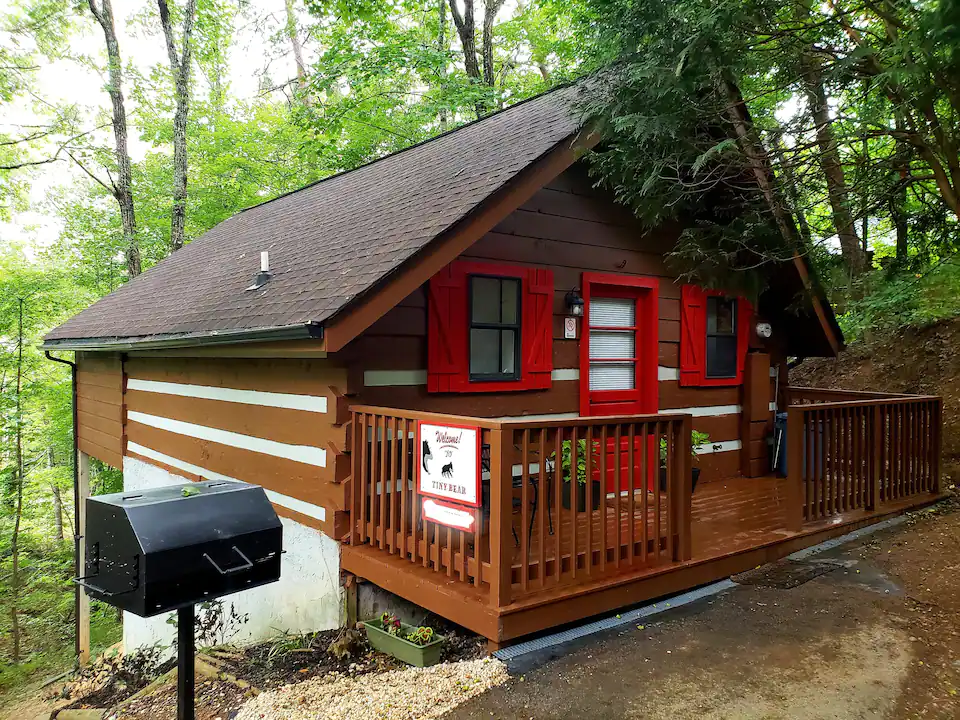 Sometimes travelling with the family is hard when you've got a furry friend in tow; many Airbnbs will turn you away – but not this awesome entire cabin. It's ideally located for long walks and stick throwing, and you can cozy up in front of the fire with Rover when you're tired out and back at the apartment.
Though this cabin is small, it has everything you need. It has a king size bed, a sizable living area, and a warming fireplace. There's also a full kitchen for cooking meals. It's a little basic, but it's affordable and in a great location.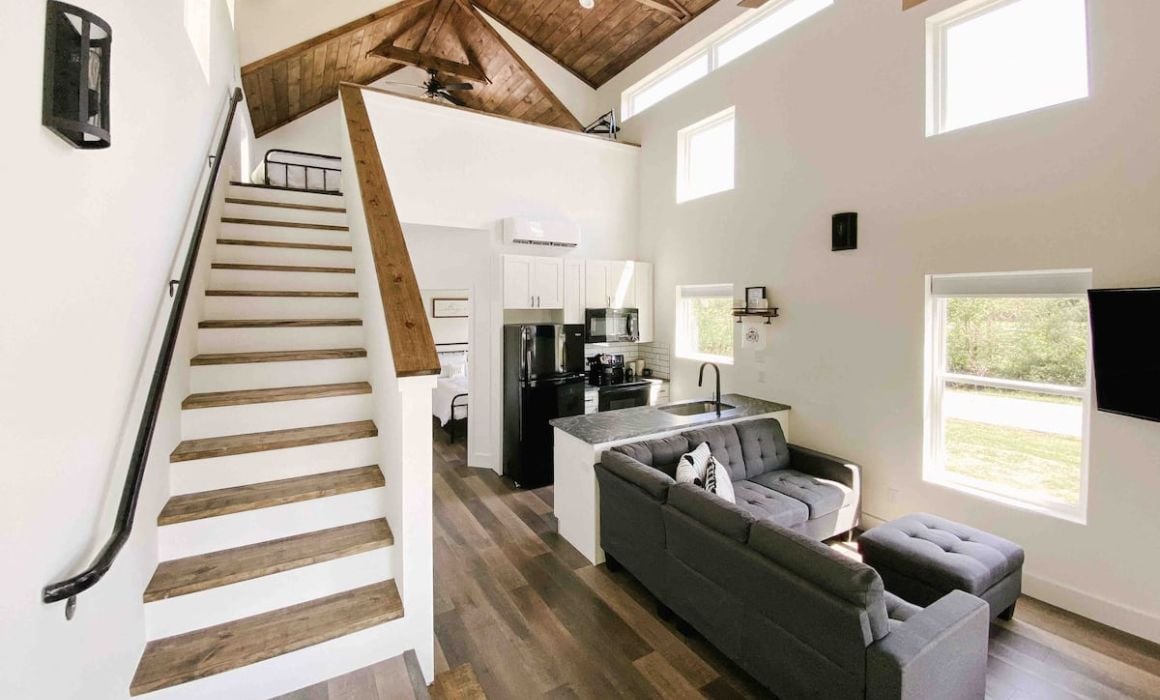 6 Guests
Cool upstairs bedroom
In most other parts of the world, cabins and treehouses would easily win the most unique vacation rental. But not in Pigeon Forge! Instead, it's a tiny house that takes the crown.
This cosy blue number in downtown Pigeon Forge manages to cleverly squeeze in up to six guests. Though the house is billed as tiny, it doesn't feel like it – with a fully equipped kitchen and a large airy living room where you can chill out.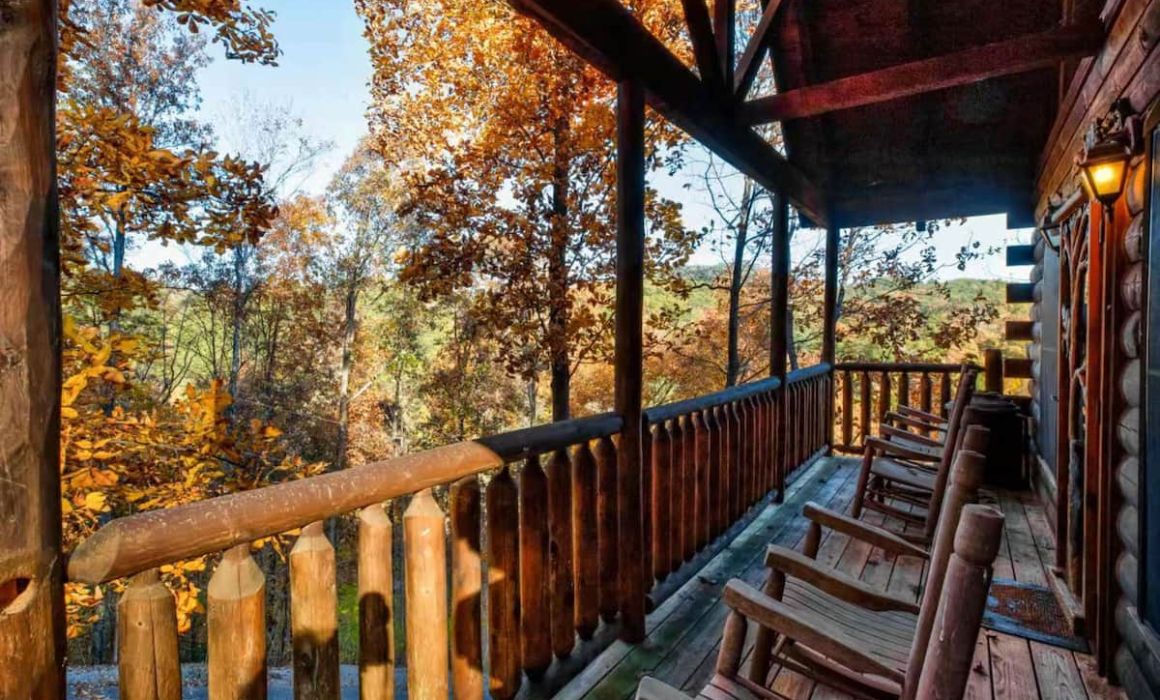 6 Guests
Three satellite TVs with games
Looking for an escape with your best pals? Look no further than the Toasted Marshmallow Cottage. You can bring five of your nearest and dearest here!
Have a pool competition in the afternoon on the pool table in the game room – with the loser having to make dinner for everyone. Not that it'll be a chore – the fully equipped kitchen has everything you could possibly need to rustle something up for six!
Top 5 Airbnb Experiences in Pigeon Forge
Are you looking to see Pigeon Forge through a local's eyes? Then Airbnb Experiences are exactly what you want. These tours are curated by people who live in the area and know exactly what tourists want to see when they're not enjoying the obvious attractions like Dollywood.
Airbnb Experiences can be absolutely anything; in the Great Smoky Mountains, you can spend the day painting the mountains themselves before enjoying a moonshine and whiskey tour in the evening.
Let's now look at five of the best Airbnb Experiences in Pigeon Forge. Each is vastly different from the next, so at least one or two will fit into your trip.
$59
3 hours
Up to 30 guests
No trip to the Smokys would be complete without heading out on a hike. This gorgeous hike is suitable for all levels, and takes you off the tourist path and deep into the wilderness of the Smoky Mountains!
This trail features several cascading waterfalls and dense forests. But this hiking tour isn't all about seeing nature, but being grateful for it. As you unplug from the stresses of day-to-day life, your guide will inspire you to play a gratitude game to help you remember to be grateful and positive.
This is a no phones allowed tour, so you can really be at one with nature. But don't worry, your guide will take some pics for you and you can, of course, take your own camera.
$45
2 hours
Up to 10 guests
The Smoky Mountains mystifies us all, and the best part of it is you get to completely cut yourself off from the stresses of city life. If you are someone who need to relax and unwind a bit more, then you'll enjoy this mountain meditation tour with a gentle hike in the Greenbrier section of The Great Smoky Mountain National Park.
Focus on deep breathing, inhaling clean fresh mountain air and exhaling all that negative energy that's been brewing inside. The tour focuses on healing and understanding the importance of slowing down and enjoying the sounds of silence.
Find inner peace and enjoy the sounds of the forest on this unique Airbnb experience.
$125/person
5.5 Hours
Up to 8 guests
No talent for painting? Perhaps you're more of a whizz with a camera. This small class will uncover all the secrets that your personal camera has been hiding from you, so you can move away from automatic settings. Before testing out your camera and your newfound knowledge of how to use it, you'll enjoy lunch at a local BBQ house. What a great way to spend the afternoon!
$52/person
4 Hours
Up to 10 guests
Want to try the food and drink that is famous in Pigeon Forge? Look no further than this oddly named tour. You'll start off at a local winery, before heading on to a distillery to try one of the strongest moonshines in town – away from the tourist traps! All that drinking will work up an appetite, so it's a good job the tour ends at a BBQ joint!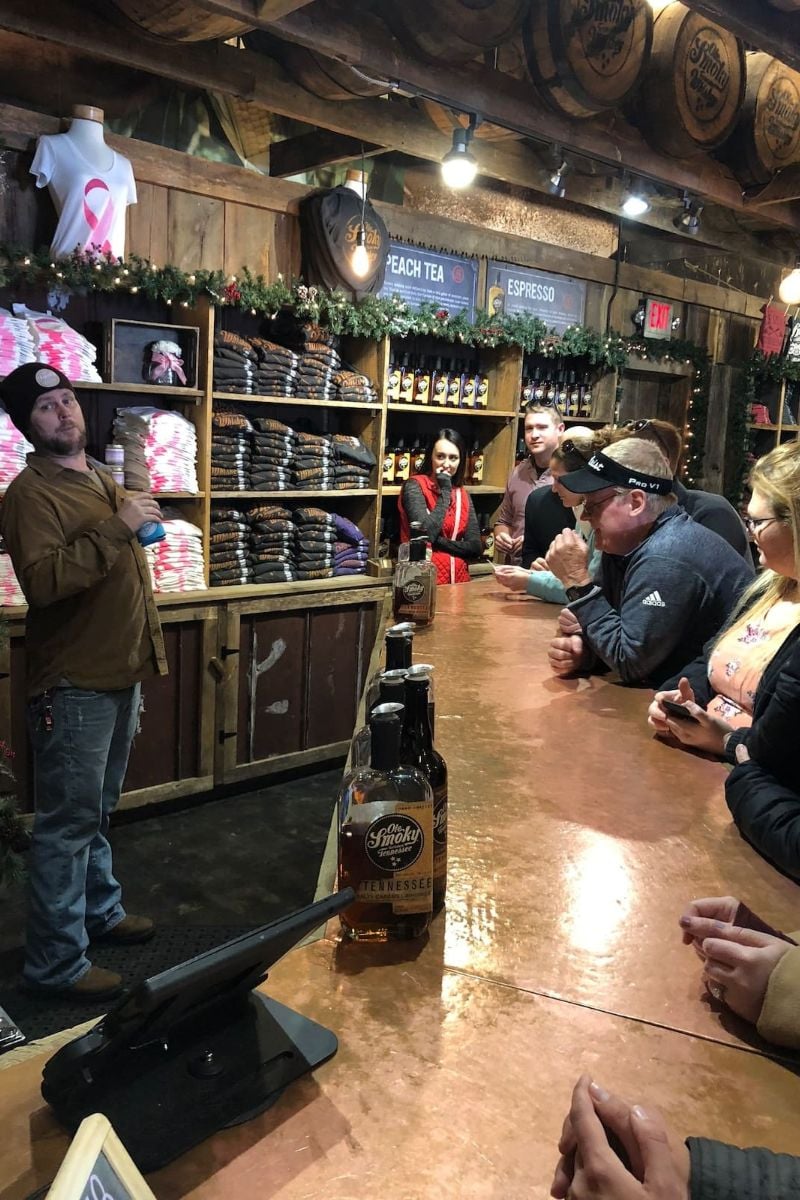 $44/person
3.5 Hours
Up to 10 guests
This one's in nearby Gatlinburg, but I don't recommend you drive there!
That's because you'll be sampling whiskeys and moonshines. It's a beautiful and scenic walk, just be sure you can walk in a straight line while enjoying that scenery!
Throughout the tour, you'll also learn about the history of moonshining in Tennessee – no wonder it gets so many great reviews.
FAQs About Airbnbs in Pigeon Forge
Here's what people usually ask us about vacation rentals in Pigeon Forge…
Don't Forget Your Pigeon Forge Travel Insurance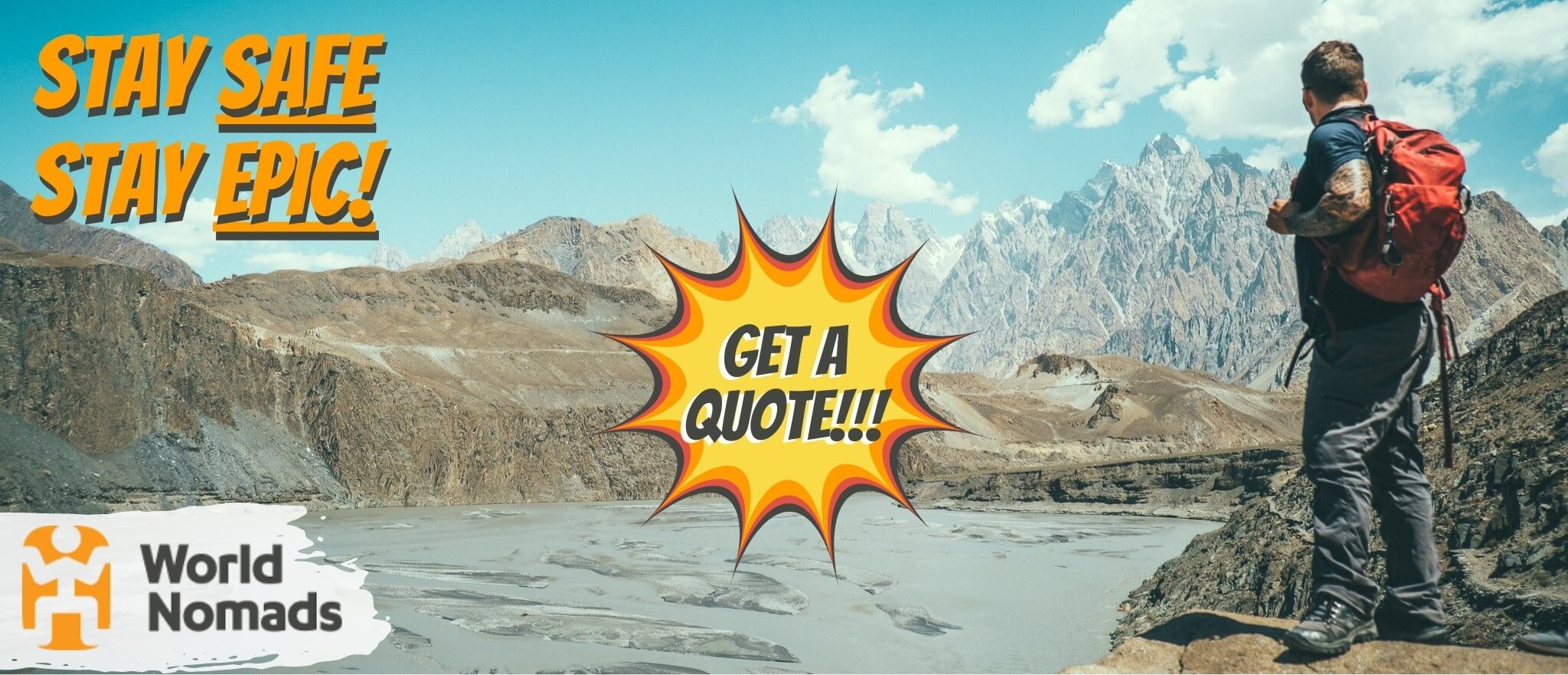 World Nomads' mission is to support and encourage travellers to explore their boundaries. They offer simple & flexible travel insurance, and safety advice to help you travel confidently.
They've been doing it since 2002 – protecting, connecting, and inspiring independent travellers just like you.
Get a quote below or read our in-depth review!
World Nomads provides travel insurance for travelers in over 100 countries. As an affiliate, we receive a fee when you get a quote from World Nomads using this link. We do not represent World Nomads. This is information only and not a recommendation to buy travel insurance.
Final Thoughts on Pigeon Forge Airbnbs
Whether you want to chill out in a treehouse or enjoy the whole family's company in a massive cabin, there's nowhere better to find your accommodation in Pigeon Forge than on Airbnb.
Still struggling to make up your mind on where to stay? If that's the case, go for my overall best value Airbnb in Pigeon Forge – that's the Sugar Bear Cabin. There's room for six people in a great location, and it won't cost the earth!
One last thing now that you've got ideas for accommodation – have you thought about travel insurance? This is hugely important if you're going abroad, so check out World Nomads!
---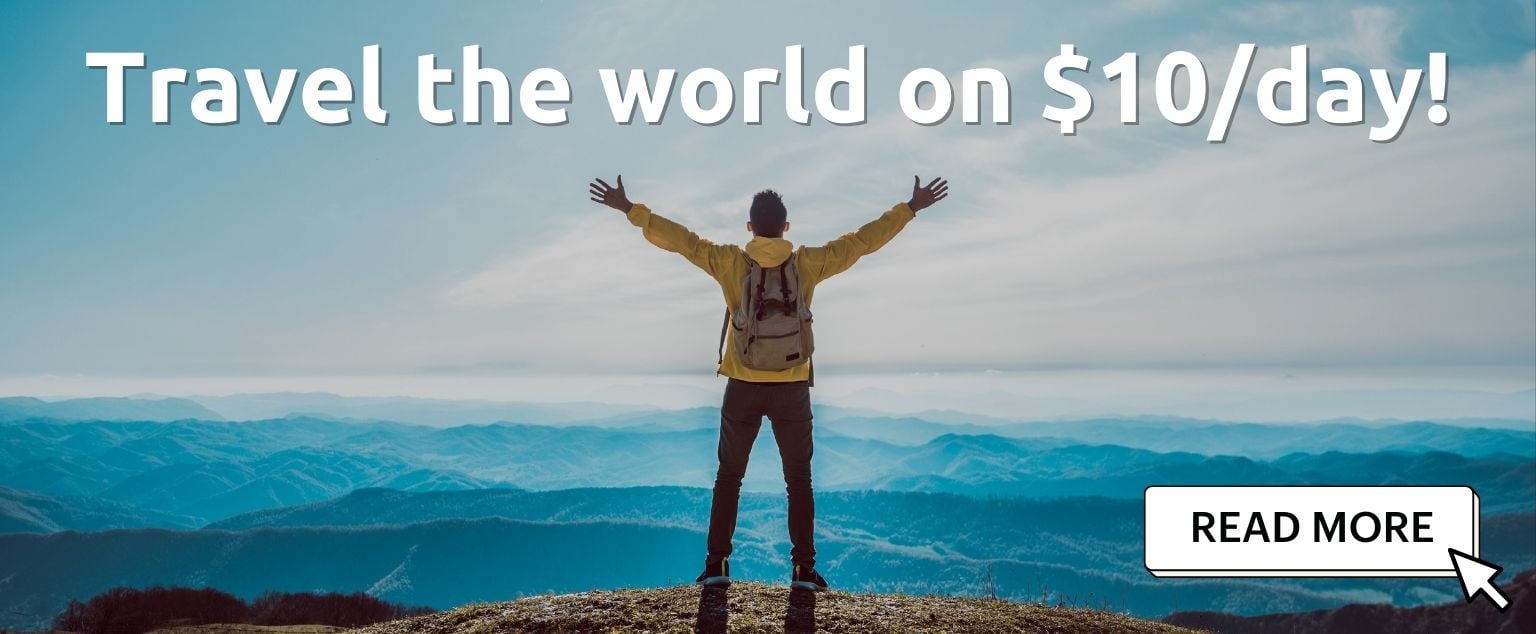 And for transparency's sake, please know that some of the links in our content are affiliate links. That means that if you book your accommodation, buy your gear, or sort your insurance through our link, we earn a small commission (at no extra cost to you). That said, we only link to the gear we trust and never recommend services we don't believe are up to scratch. Again, thank you!