Budget travellers stay at hostels, right? It's either that or outside in a hammock. But never at a hotel…
That's where you're wrong! Cheap hotel chains in the USA are plentiful. Better than that though, they're cheap!
The best budget hotels chains in the US are truly excellent pieces of accommodation and not to be overlooked. They offer a fantastic alternative to the classic choices of budget stays for domestic travellers in America. Instead of staying somewhere completely derelict or somewhere fiendishly expensive (or somewhere in the woods), you can get yourself a cheap sleep and a hot shower somewhere comfy!
However, we've all heard the sordid stories of America's cheapest hotels and motels. Hushed whispers in dank corridors of "hard, feculent motel pillows"…
Not all the cheap hotel chains in the USA are going to be somewhere you want to spend a night. Some are just downright putrid! Others are simply intended for the more questionable activities of the night.
Never fear though—you have this guide: a comprehensive comparison of the best budget hotel chains in the USA. I've done the hard work researching which cheap hotel chains are really deserving of your cash. We have winners, runner-ups, honourable mentions, and everything in between, so let's get this show on the road!
We'll leave no feculent motel pillow unturned in our search for the ULTIMATE marshmallow mattress… at a reasonable price.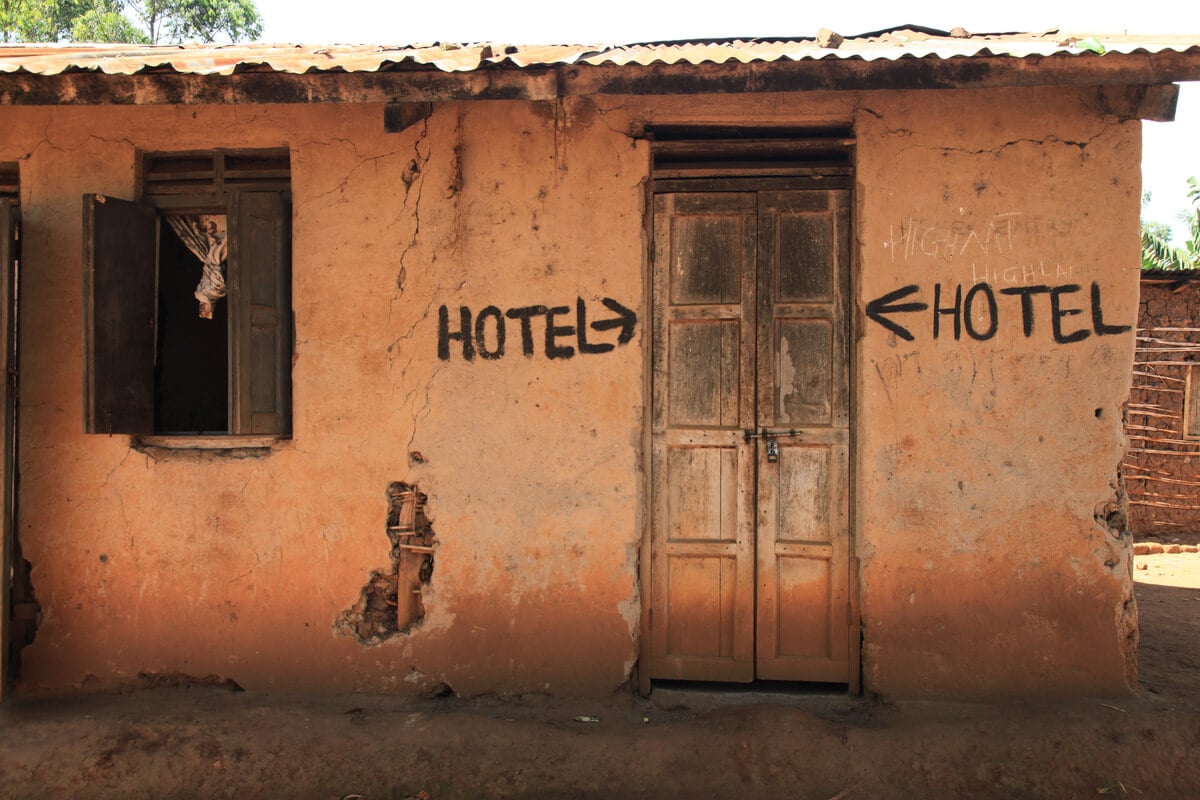 The 8 Best Budget Hotel Chains in the USA
We're now running through the top picks of America's most affordable hotel chains. Despite what you may have heard, not all cheap hotels in the USA are dens of debauchery and decay.
Nay, these babies are sparkly clean and lined with the amenities to keep a smile on any soulful bachelor's face! Standards are high and renovations and refurbishments are surprisingly regular amongst most of these listings.
While all these chains top out customer satisfaction surveys on the regular, it's really unfair to call any 'the best'. They all do something different, they all do it well, and they're all worthy of a booking for it!
So in the order of most awesome to equally most awesome—with a little something for every frugal holidayer and tight-assed traveller exploring the US on a budget—here are the best budget hotel chains in the USA.

Do You Want to Travel FOREVER??
Pop your email in below to get a FREE copy of 'How to Travel the World on $10 a Day!'.
1. Motel 6 – The Most Budget Hotel Chain in America
What's the Score?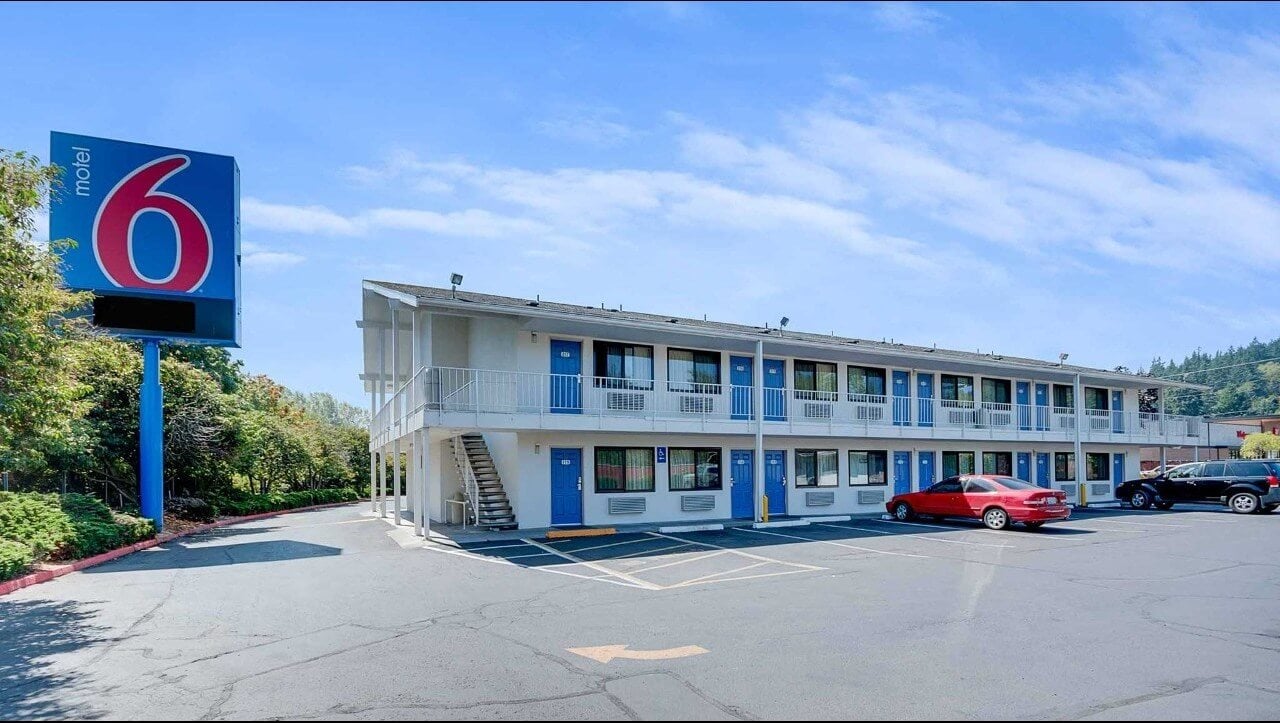 Probably the cheapest hotel chain in America outright!
Never enters the realm of a squatter's den.
Pet-friendly!
Anyone who's spent some time on America's byways and highways has encountered a Motel 6 at this point (they are ubiquitous in American motel culture). You could call it a discount hotel chain, you could could it a budget motel chain, but the point is that they're cheap and they have plenty of beds!
What they don't have is any extra platitudes. Free WiFi and brekky are simply not gonna be a thing most of the time (although free coffee in the morning IS a thing and ALWAYS appreciated).
So if Motel 6 is lacking in bells and whistles, what's the point? I mean, I really can't reiterate enough just how cheap these guys are.
Relative to the other options on this list (and across America), you won't find much cheaper—they're easily one of the best budget hotel chains in the USA for travellers strictly looking for budget. They also allow up to two pets per room at no extra cost which is honestly quite impressive and gracious.
Currently, Motel 6 is in the process of refurbishing its 1200+ properties across numerous the USA's famous and lesser-famous destinations. Watch the space because while the prices aren't going up, the living standards are!
Our Favourite Motel 6!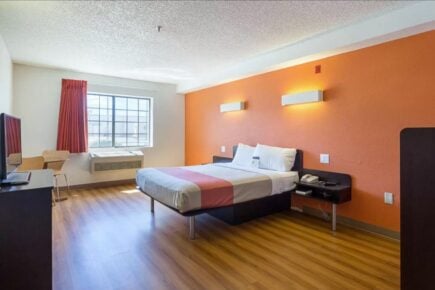 Motel 6 – Williams, Arizona
A supremely basic and cheap place to stay right on the doorstep of the Grand Canyon National Park! There's free parking for the road trippers, free coffee for the brew hounds, and an indoor pool for everybody else.
2. Microtel Inn & Suites – Budget Hotels Balancing Comfort and Price
What's the Score?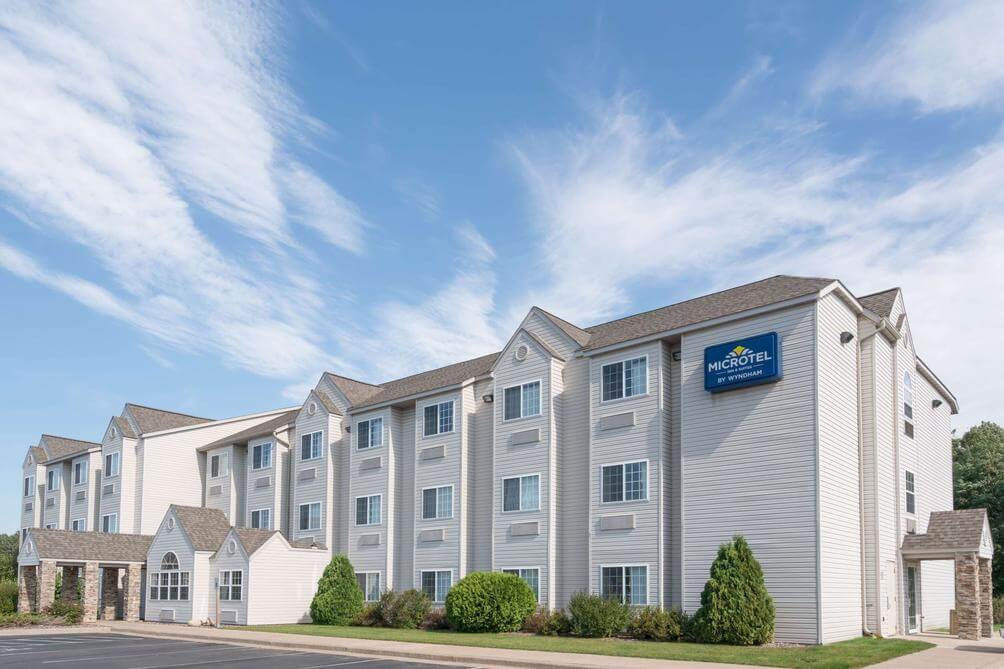 Not as budget as other hotel chains.
Rooms are smaller but flashier to compensate.
Strikes the delicate balance between an economy hotel chain and a midscale one.
Ahh, Microtel… Microtel makes the cut for most budget hotel brand roundups and with good reason—they rock!
Now, as far as budget hotel chains go, they aren't strictly the cheapest, but that's also kinda the point. The rooms are smaller, but they're also more luxurious. They aren't the cheapest, but they also aren't the most expensive…
It's the sweet, majestic middleman.
Owned by the Wyndham Hotel Group (a name you're going to see repeated on this more than once), Microtel Inn & Suites has always been a top contender of the best economy hotel chains in America, however, since their acquisition by Wyndham, they've only become more consistent!
If you're looking for the true no-frills experience, look elsewhere. Microtel's rooms may be a touch… micro… but they're also decked with a lotta nice trimmings. They're the perfect choice for anyone looking to live cheaply and with some privacy but a touch above the true budget traveller lifestyle.
Our Favourite Microtel Hotel!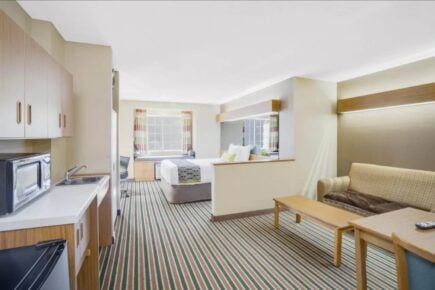 Microtel Inn & Suites – Pigeon Forge, Tennessee
Get a cheap yet blissful night's sleep in the mountainous resort city of Pigeon Forge! Only 15 minutes drive from the Smoky Mountains National Park, spend your days exploring the region (after a free breakfast) before returning for a dip in the outdoor pool. It's the perfect balance of luxury to budget-friendly!
3. Travelodge – Cheap All-Rounder Hotel Accommodations
What's the Score?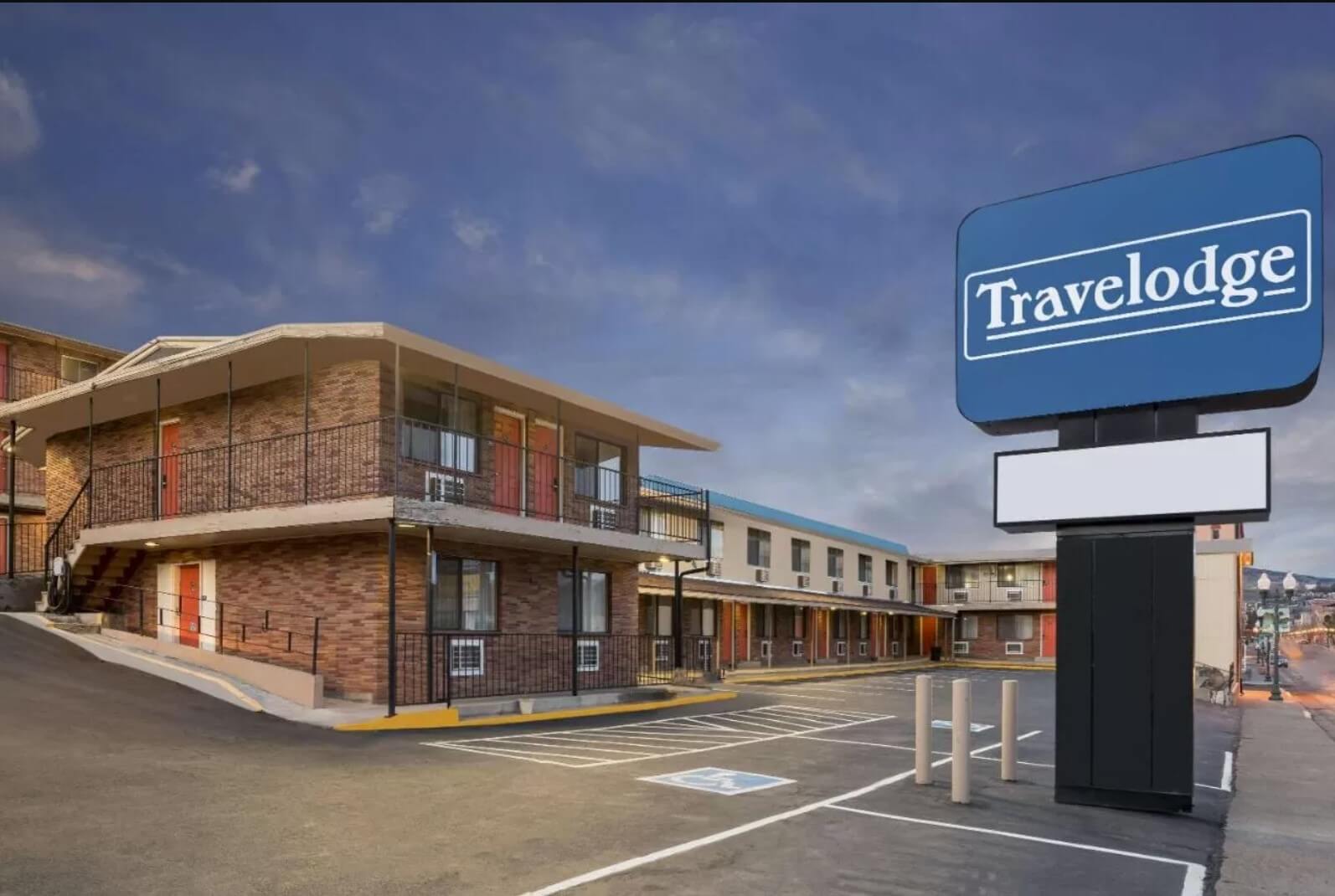 Extensive and excellent service history.
A budget hotel chain but not to the extreme.
Another Wyndham wonder child.
Wyndham is at it again with another kickass economy hotel chain! With nearly 100 years of history behind it, the Travelodge hotel chain has been taking care of frugal travellers' needs for a long-long while.
Travelodge accommodations tend to be very well located. There are even a number of Travelodges neatly situated around some of the USA's most famous national parks making it perfect for anyone on a tour of the Great American Wilderness.
Generally speaking, right around the board, they offer mint rooms for the price of entry. King-size beds, workspaces, full-power showers, and, yes, internet connectivity. Sometimes there are charging ports by the bed, blackout curtains, LED lighting, and other finishing touches that make you go "Ooh, that's nice."
The long and short of it—they're just one of the best economy hotel chains in the US. A solid all-rounder from start to finish. AND (for the cherry on top), every location has an on-site bar.
Cheers to that!
Our Favourite Travelodge Hotel!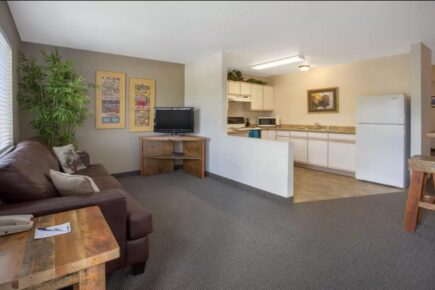 Travelodge – Gardiner, Montana
One of the cheapest places to stay close to Yellowstone National Park—only 25 minutes drive from Mammoth Hot Springs! Rooms are surprisingly spacious (particularly if you nab one with a kitchenette), and the mountain views just tie the package together perfectly.
4. Super 8 – One Cut Above the Cheapest Hotel Chain
What's the Score?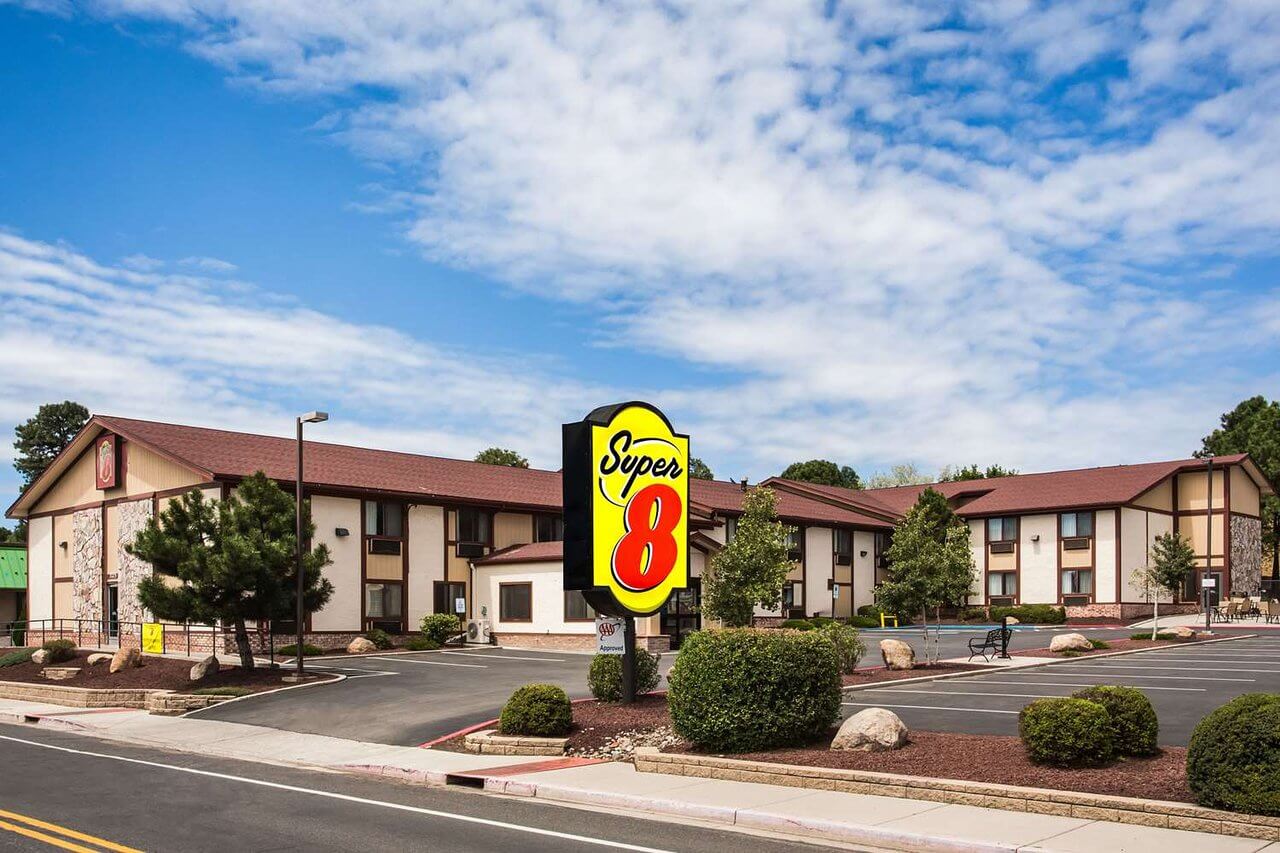 Cheap rates.
However, not totally no-frills.
Free breakfast and WiFi are a standard.
Wyndham you sneaky devils. The aces up your sleeve just keep coming!
Super 8 is Wyndham's ultra-budget answer to Motel 6. The prices are still low, albeit a touch higher than Motel 6's, but you get wayyy more bang for your buck. WiFi is included, as is the continental breakfast, and the rooms are generally splashier than Motel 6.
Prices have crept a bit higher over the last few years, but that seems to be reflective of the constant renovations taking place at many of Super 8's locations across the USA. Overall, Super 8 isn't the cheapest hotel chain in America, but it's far from expensive and offers a lot for what you pay.
The choice between a Motel 6 or a Super 8 really just comes down to your budget and how much you like the extra creature comforts… and WiFi. It's all about that WiFi.
Our Favourite Super 8 Hotel!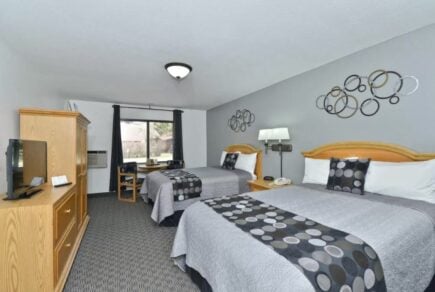 Super 8 – Deadwood, South Dakota
Pool, breakfast, nice rooms… these things are all great, however, how about an on-site casino right inside the hotel! Still not tickling your fancies? Then maybe the on-site pizza and sub shop inside the casino will do the trick!
5. America's Best Value Inn – The USA's Fastest Growing Budget Hotel Brand
What's the Score?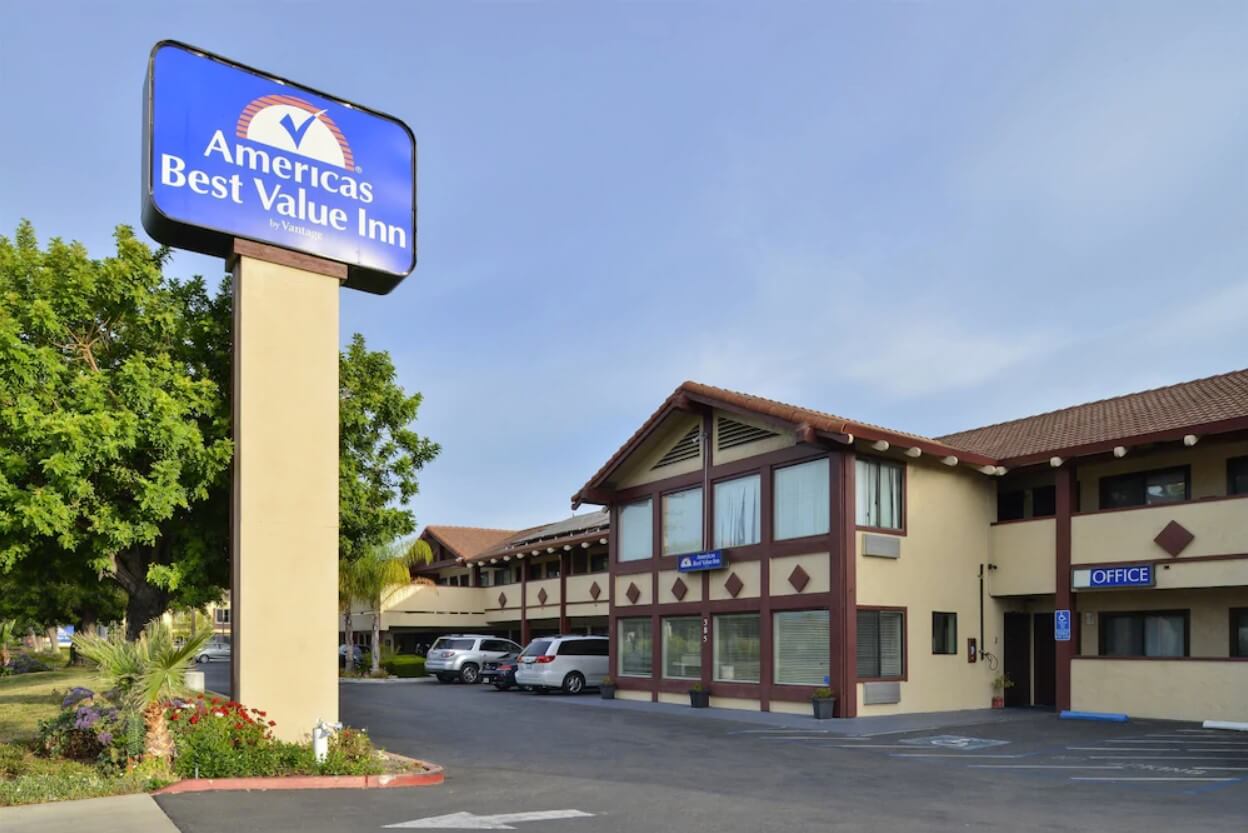 A relative newcomer on the budget hotel scene.
And a real hit!
A top pick with amongst the travelling business-humans.
Over a short 13-year span, this budget friendly hotel chain has grown from a meagre 2 listings to a whopping 1000+ opulent locales at a fair price! In fact, prior to Microtel's acquisition by Wyndham (and subsequent refinement), America's Best Value Inn was topping most customer surveys on the best value hotel chains in the US.
Free breakfast, WiFi, and parking are standard at most of their locations, and the internet is cracking fast. That—combined with the in-house meeting rooms throughout their constantly expanding network—make it a favourite with the travelling business sorts.
Given how quickly this hotel chain has both expanded AND shot up through the ranks of customer satisfaction, you definitely won't go wrong booking a budget stay in one of their esteemed guestrooms. They've even got a pool to take a dip in before you head to your room for that steamy evening shower!
Our Favourite America's Best Value Inn!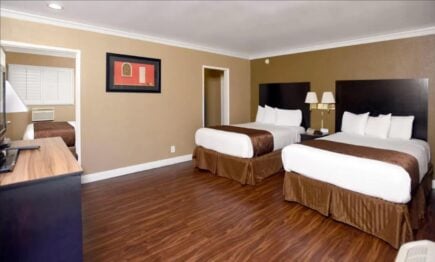 America's Best Value Inn – Anaheim, California
It's probably not necessarily the nicest America's Best Value Inn, however, being only a 10-minute walk from Disneyland, who's to complain? The guest rooms have got a few extra trimmings to make this an extra sweet deal, and there are even discount tickets for Disneyland available at reception!
6. Candlewood Suites – Mid-Range Economy Hotel Chain for Long-Stayers
What's the Score?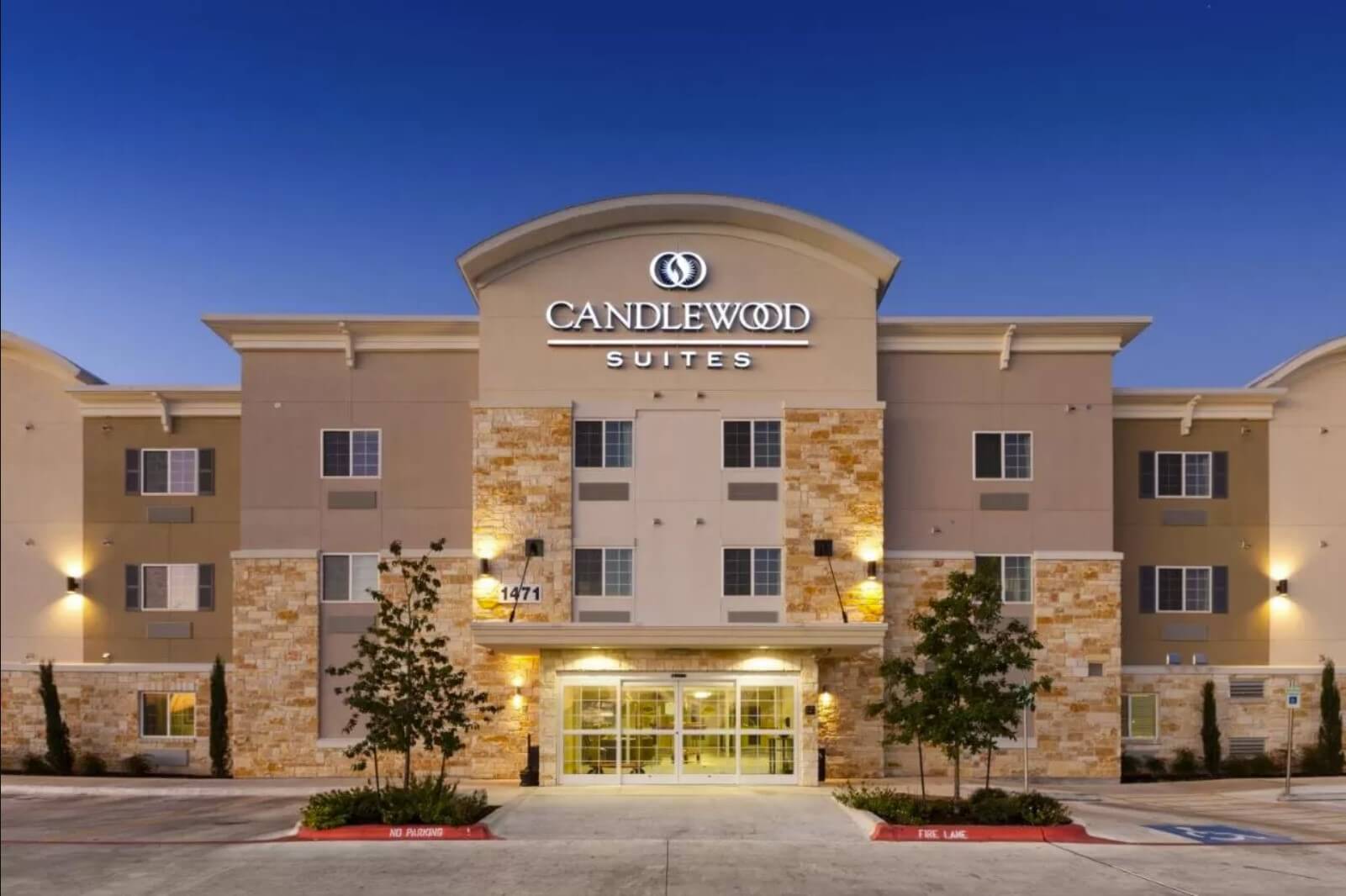 Suites more equipped for a long-term living situation.
A touch fancier and priced accordingly.
Plenty of parking for truckies and RVers.
So, Candlewood Suites is broaching into midscale territory, however, I'm such a fan of what they're about that I just have to mention them. Candlewood Suites is the best inexpensive hotel chain for long-stayers!
Each suite comes with a fully-equipped kitchen decked out and ready for cooking some cost-effective meals from the comfort of your room. With choices between studios and one-bedroom rooms for solo travellers or the larger suites for families and couples, there really is something for everyone at Candlewood Suites.
Most locations have parking, including truck parking for the roadwarriors (meaning those planning an RV trip will find themselves some spacious spots too). Plus (if you are doing those longe interstate drives), you'll find a pool at most Candlewood Suites locations for a dip at the end of the day.
OR, for one better, a hot tub! Now that's something most cheap hotels in America certainly do not offer!
Our Favourite Candlewood Suites Hotel!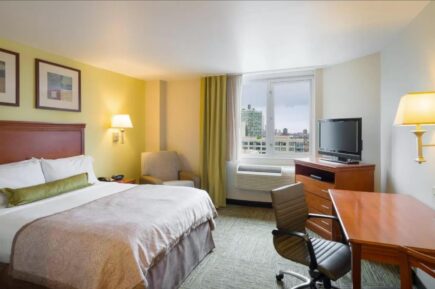 Candlewood Suites, NYC – New York
Dude, you're five minutes from Times Square smack bang right in the heart of Manhattan. There's an on-site fitness centre AND business centre (plus the rooms are certainly flash), however, just taking a healthy and scrumptious bite of the Big Apple life is more than enough reason to book this hotel!
7. Holiday Inn Express – Mid-Range Economy Hotel Offering Limited Services for Less
What's the Score?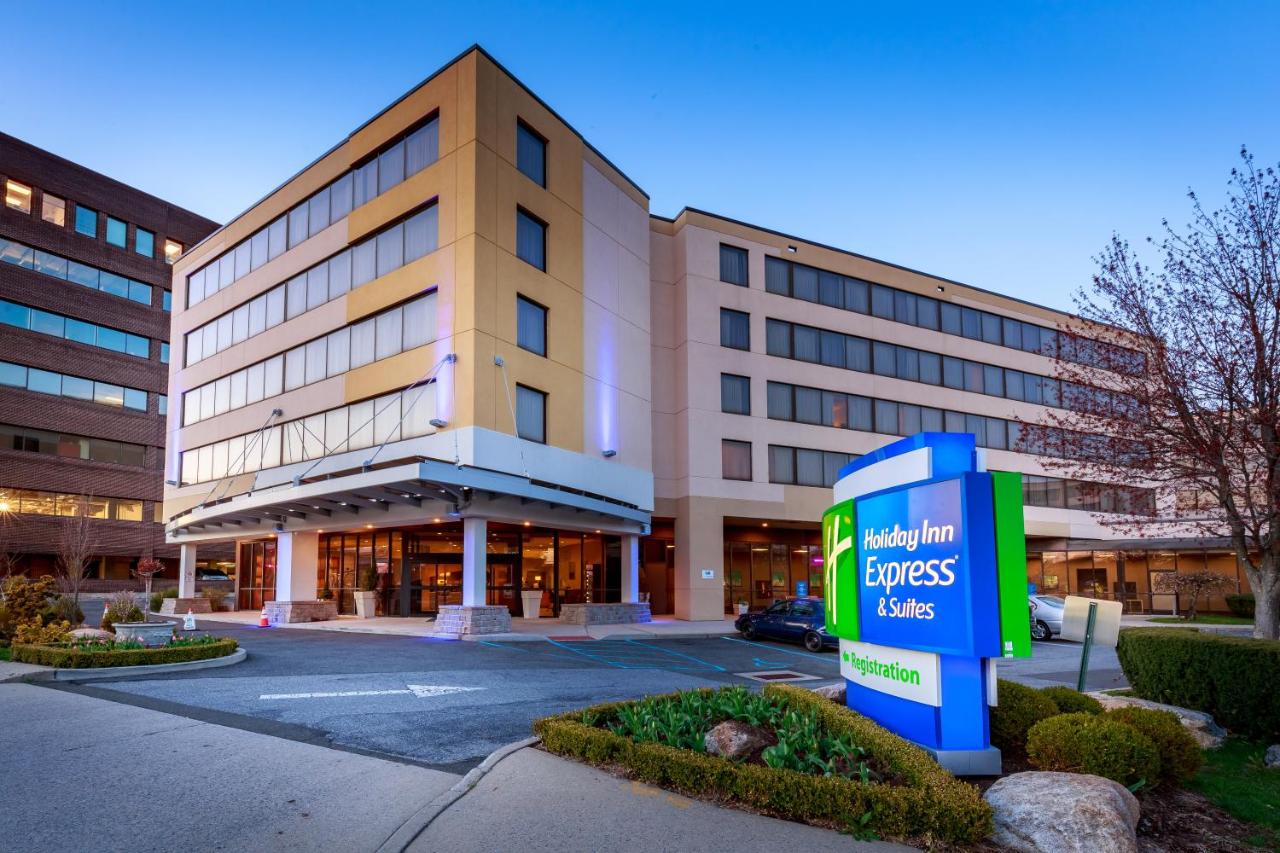 Enjoy a complimentary breakfast buffet
Modern amenities
Upscale compared to some budget chains on this list
Holiday Inn Express is not exactly cheap, but it's still oen of the most affordable hotel chains in the USA. It's a great choice for travellers who have a bit more money to spend but still want to keep the trip budget friendly.
Rooms are relatively small, making this chain particularly great for business travellers who won't be in their rooms often. Each room is well designed with modern furniture, free wifi, coffee and tea.
You can also expect free breakfast – which is much-loved by guests and goes above and beyond your typical hotel buffet.
With thousands of properties across the States AND the world, you'll find a wide variety of amenities from outdoor pools to fitness centers and room service. Plus, it's super safe – you won't get any seedy motel vibes here!
Our Favourite Holiday Inn Express Hotel!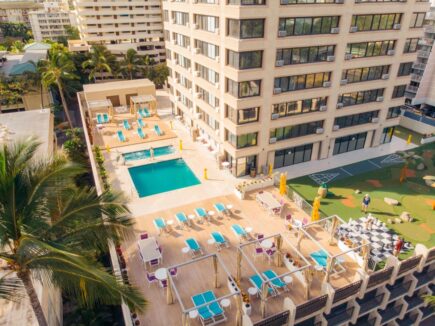 Holiday Inn Express, Waikiki, Hawaii
There's a colourful pool deck, a delicious and convenient buffet breakfast… plus we can't forget the obvious: YOU'RE IN HAWAII! You'll get to enjoy spacious rooms (some of which have an ocean view), and remain firmly within walking distance from just about everything Honolulu has to offer. While its not as cheap as other Holiday Inn Express locations, it is a remote island chain after all.
8. Red Roof Inn – The Honourable Mention
What's the Score?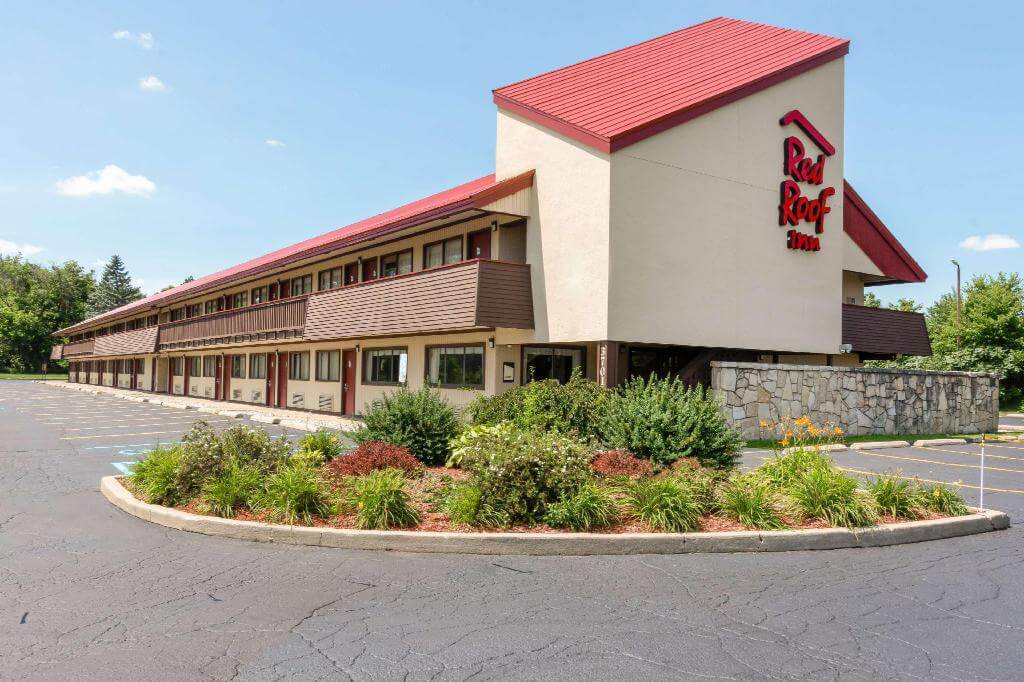 Free breakfast and WiFi at most listings.
Pet-friendly.
Optional luxury room upgrades at a higher rate.
Look for the trademark red roof and chances are you've found a Red Roof Inn! Despite having over 500 locations across the States, they are still one of the lesser-widespread cheap hotel chains in America. So what makes them worth the booking?
Well, free brekky and WiFi at most of their establishments certainly ain't bad! Rooms generally are equipped with workspaces (along with the aforementioned free WiFi) making it a good choice for people working on the road.
And speaking of the road, Red Roof Inn accommodations are an excellent choice of a hotel chain for road trips across the USA. They're cheap, they offer a decent night's sleep following a long day's drive, and best of all…
They allow pets! Well, pet. One pet per room. You won't exactly be able to start a menagerie in your budget hotel room, but at least you'll have a friend!
Red Roof Inns are now also offering Red Roof Plus rooms—$15 extra a night scores you a bit more luxury in your lap. Perhaps it's not totally worth the extra dollars, however, you can't deny the rooms look mighty sleek.
Our Favourite Red Roof Inn!
Red Roof Inn – Ocala, Florida
Only a short way from the airport is this cheap stay and springboard for exploring Florida state. It's a clean but basic place to stay, but the cheap price, central location, and on-site gym kick it up a notch. Besides, score yourself a room with a hot tub and you'll be living the high-flier's lifestyle on a low-flier's wage!
Small Pack Problems? 😉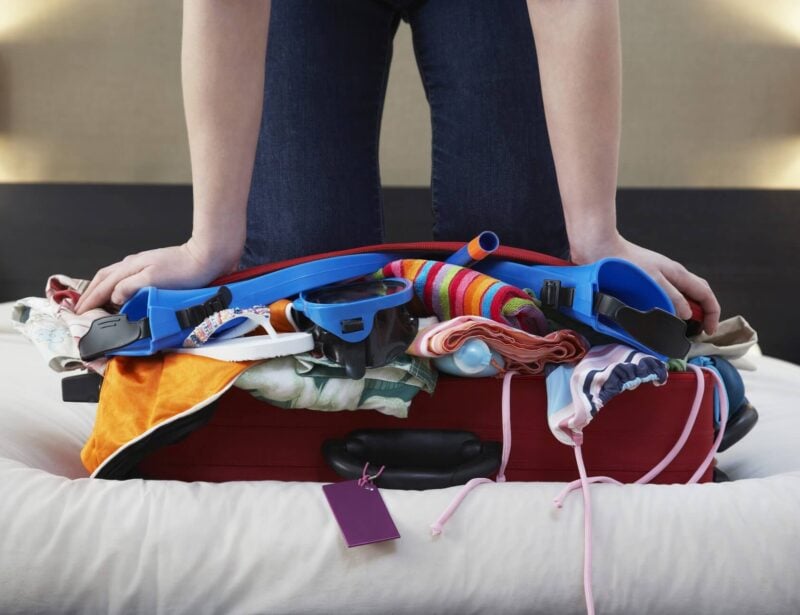 My missus travels with all her clothes in ziplock bags: don't be like my missus. UP YOUR PACKING GAME!
Packing cubes for the globetrotters and compression sacks for the real adventurers – these babies are a traveller's best kept secret. They organise yo' packing and minimise its volume too so you can pack MORE.
Or, y'know… you can stick to ziplock bags.
View Our Fave Cubes
Or Check Out the Sacks!
Tips for Booking a Cheap Stay in a Budget Hotel
Driving the West Coast, East Coast, or all the way to Argentina—doesn't matter! The laws of booking a cheap hotel are pretty universal.
Plan well, book far in advance, and reward points are your friend.
Where to Book Cheap Hotels
Booking.com. I mean there are plenty of other excellent sites for booking hotels, however, nine times out of ten, you'll probably end up booking through Booking.com.
Booking.com has an incredible range of places to stay and, in particular, types of places to stay. It's not just hotels—apartments, guest houses, homestays, treehouses, geodesic wonder-domes… There's something for every holiday!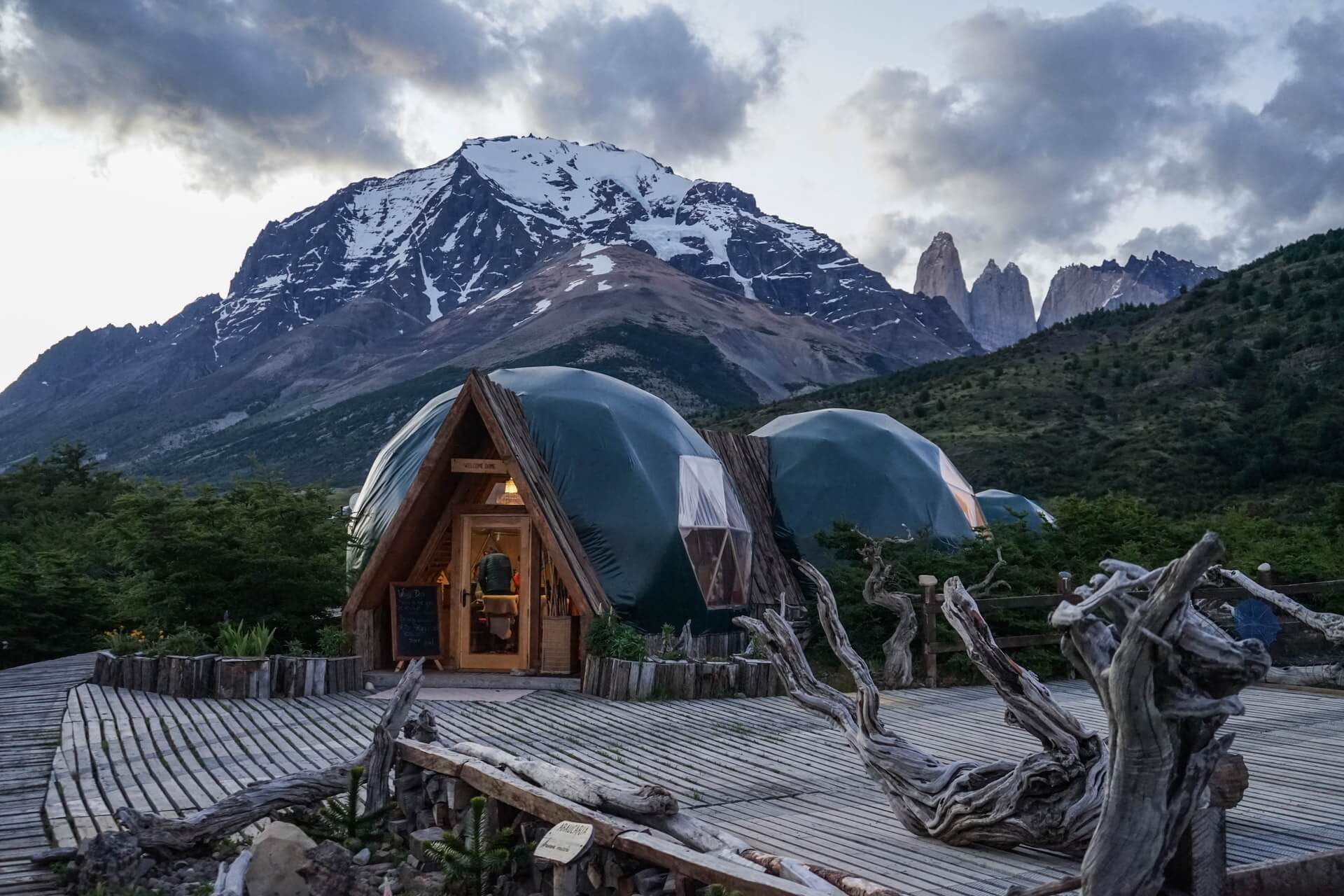 They get solid discounts on the regular too, both for last-minute scores or for rabid itinerary planners who like to book early. They're not perfect—the interface behaves like a bit of a wiener and they really have a lockdown on the lion's share of the market (which is never really a good thing).
However, most times when scouring for cheap chain hotels, chances are it'll end up being through Booking.com. They're the gold standard for a reason.
Past that, there are a few other mentions to keep in mind. Though most budget hotels can be found on Booking.com, savvy consumers don't put all their eggs in one basket—you gotta spread that love around! You never know when a different hotel booking platform is going to have the same (or similar) budget hotel at a smidgen cheaper.
Other baskets to put your love into include:
HotelsCombined – It's all about that metasearch! HotelsCombined is a search aggregator meaning that it scours other booking sites for their best deals and lists them all in one handy place.
Agoda – To be totally honest, I'm not a fan of Agoda's cluttered interface at all, but it does get some pretty crankin' deals for destinations around Asia. You can also book cheap flights through Agoda and even airport transfers; they're the one-stop-shop for holidaying in Asia!
Hotels.com – One of the old guard. Hotels.com doesn't really offer a unique angle, however, they've been around since the olden days when people would call up and book over something called a telephone. (At least, that's the legend my gramps told me.)
Hostelworld – Yeah, ok, if you're looking for the best budget hotel chains, then you're probably looking for personal space, a decent shower, and somewhere private to bang. HOWEVER, if cheap is the ultimate end goal, then you may just end up living in a hostel for a few nights here and there.
Budget Hotel Loyalty Programs are Your Friend!
A long, long time ago, I had a whole stockpile of reward points for a major supermarket chain banked up. Then, breakups happened; my ex whisked herself off with all my waiting freebies just before the Christmas shopping season. Now, I don't know what she did with those points, but whatever it was, I can guarantee it was black-hearted and evil!
What's the moral of the story? Bitchez be cray! Use your reward points!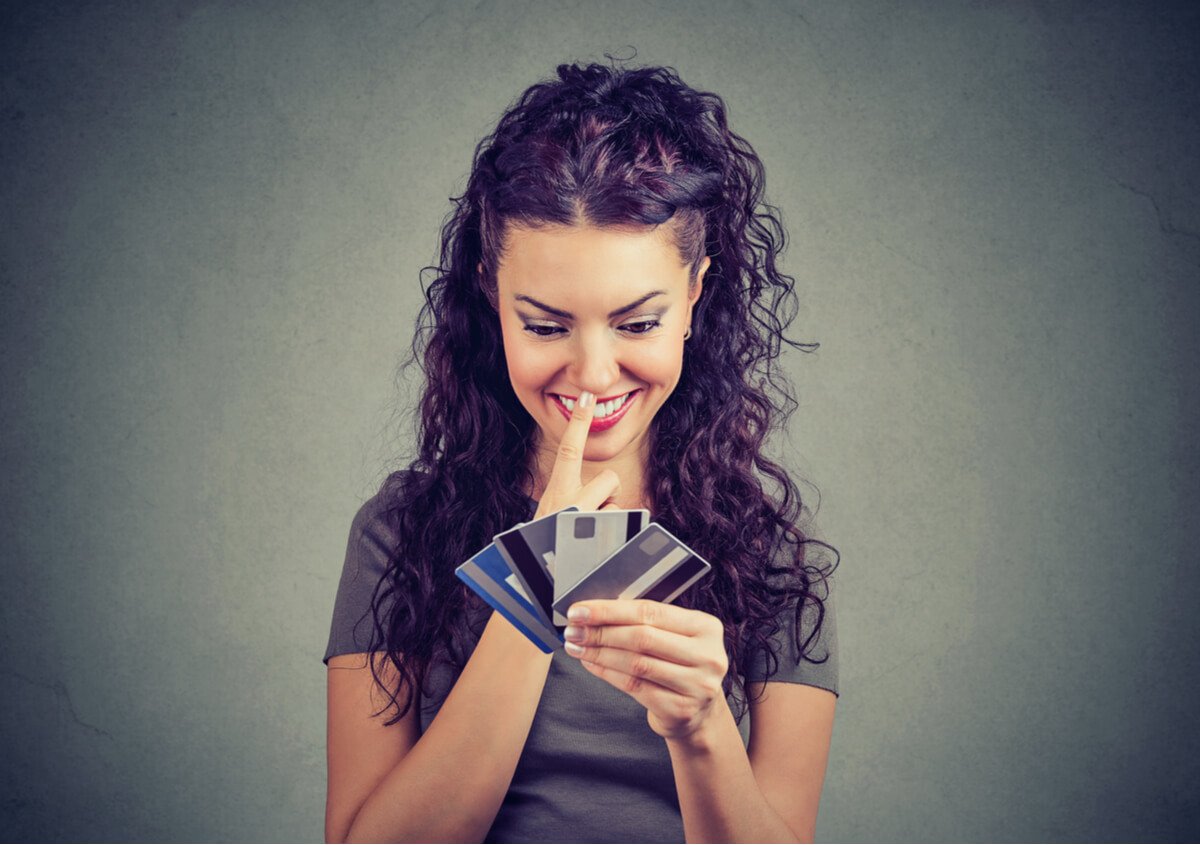 A staple of America's thriving motel scene, you can save a lot on most of the best hotel chains in the USA with their in-house loyalty programs. (And the cheap hotel chains are just the same!) Book enough nights or often enough and soon you'll find yourself the proud recipient of a free night stay.
Most budget hotel chains have some sort of rewards system, and they tend to be pretty easy to sign up for. Usually, a quick Google or chat at the reception will get the job done.
For the hotel chains that we've covered in this article…
Wyndham Rewards – For the Wyndham Hotel Group hotels we covered in this article: Microtel, Travelodge, and Super 8. Stay at any of Wyndham Hotel Group's numerous chains and you'll earn points for free stays, shopping discounts, tours, and a bunch more rad stuff! Honestly, you could milk this a whole lot. Wyndham owns a lot of the top budget hotel chains around the USA that we didn't even mention in this article (check out La Quinta, Sleep Inn or AmericInn). You can save a lot of cash just by sticking to one large group/rewards program.
My 6 – Motel 6's rewards program is comparatively weak, however, it may occasionally nab you a extra few bucks off the booking price.
IHG Rewards Club – InterContinental Hotel Group covers Candlewood Suites plus a whole bunch more chains with their rewards program (though none are particularly budget).
RediRewards – The loyalty program for Red Roof Inn is keeping it simple—stay nights, earn points, win freebies and discounts. Couldn't be simpler!
Lastly, if you're a total point scrounger, then investing in a credit card that stacks up the reward points is a smart idea too. Both the Capital One Venture Rewards Card and the Chase Sapphire Preferred Card can earn you some seriously sexy savings on a whole bunch of travel-related things (including accommodation booking or even flights).
If you're really looking for the cheapest stays across America's hotel chains, it's all about them points.
So Many Budget Hotel Chains in the USA, Such Little Time
See—it's not all wicked dens of heathenry and unwashed linens! There are plenty of stellar budget hotel chains in the USA that makes travelling the States affordable–there are even a few we didn't mention like Best Western, Days Inn, Sleep Inn, and the Hampton Inn. Yes, the USA does love its Inns!
Competition is fierce in the market, and that breeds higher standards. The more our favourite budget hotel brands renovate and refurbish, the nicer things become. Prices may creep higher, however, cheap is still the goal (and usually the reality).
In a world of Airbnb and the sharing economy, hotels are finding themself less-and-less the star of holidayers' dream getaways. Similarly, sites like Booking.com and Agoda are branching out from hotels and increasingly pitching themselves as an alternative to Airbnb (among the growing market of sites doing things like Airbnb).
Still, there will always be a place for the humble budget hotel chain amongst the deserts, rivers, and mountains of the American landscape. There's nothing quite like the feeling of driving 8+ hours across the wastes only to sight that motel signage heralding a cheerful night's rest on a hard, feculent pillow.
And until we're paying hourly rates at motels for whatever your—ahem—'needs' might be (thank you, Colombia, for this winning innovation), that'll do just fine.

---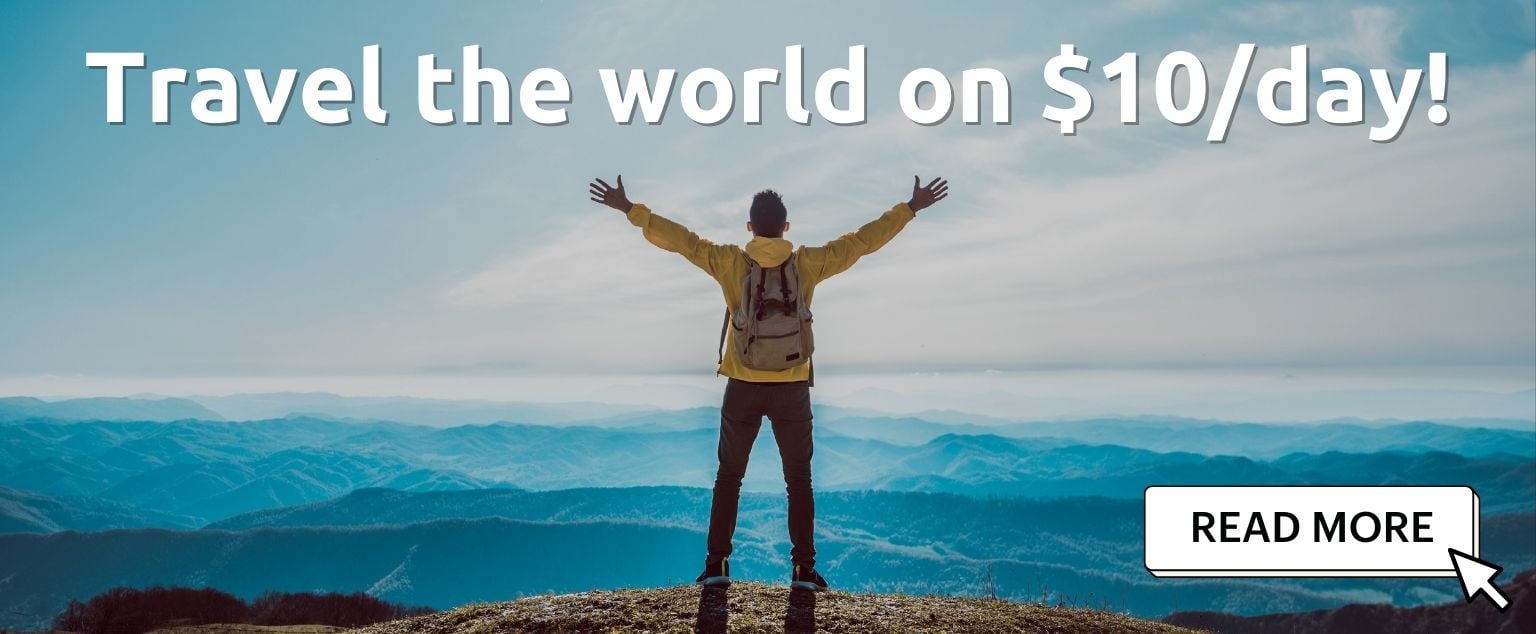 And for transparency's sake, please know that some of the links in our content are affiliate links. That means that if you book your accommodation, buy your gear, or sort your insurance through our link, we earn a small commission (at no extra cost to you). That said, we only link to the gear we trust and never recommend services we don't believe are up to scratch. Again, thank you!