Georgia is one of the largest and most dynamic Southern states in the US. Stretching from the Atlantic Ocean to the Chattahoochee River, Georgia has an abundance of nature. From hiking to sailing and kayaking, you'll never be short of outdoor activities to do, all year round.
For a big-city experience, Atlanta and Columbus are the place to be. Here, you'll find many modern condos on the vacation rental market. Savannah is a smaller and more charming historic city filled with authentic heritage homes that were built by Victorian English settlers.
Southern hospitality is rife by the ocean, where you'll be able to choose from quaint river cottages to beach vacation rentals. Smaller mountain towns like the Tallulah Gorge State Park are dotted with secluded tree houses and log cabins, offering adventure lovers a perfect place to stay in.
Inland farmhouses are another popular option for vacation rentals in Georgia for anyone who's craving country-life relaxation.
As you may have guessed already, Georgia is pretty huge, and finding a place to stay can be overwhelming. So we've taken the hard part of researching out of your hands. So, let's take a look.
Quick Answer: Top 5 Vacation Rentals in Georgia
Overall Best Value Vacation Rentals in Georgia
Overall Best Value Vacation Rentals in Georgia
Contemporary 3 Bed Victorian Townhouse
> $$$
> 6 Guests
> Historic exterior combined with brand new interiors, a traditional porch, and balcony
> In the historic center of Savannah, walking distance to top attractions and dining options
Best Budget Vacation Rentals in Georgia
Best Budget Vacation Rentals in Georgia
New and Cozy 1 Bed Tiny Home
> $
> 3 Guests
> Modern wooden home with high ceilings and a covered deck with a view
> Located in a peaceful street just outside downtown Atlanta
Best Vacation Rentals for Couples in Georgia
Best Vacation Rentals for Couples in Georgia
2 Bed Riverside Cabin with Deck
> $$
> 4 Guests
> Traditional secluded log cabin with a deck and BBQ on the river
> Remote cabin on the Cartecay River, 5 minutes drive away from Ellijay
Best Vacation Rentals for Families in Georgia
Best Vacation Rentals for Families in Georgia
Homey 2 Bed Beach Cottage with Yard
> $$
> 6 Guests
> Bright and spacious home with warm wooden interiors and an outdoor shower
> A mile from the beach at St. Simons Island, near restaurants and boutique shops
Over-the-Top Luxury Vacation Rentals in Georgia
Over-the-Top Luxury Vacation Rentals in Georgia
Upscale 5 Bed Carriage House with Garden Apartment
> $$$$
> 12 Guests
> Historic exterior with beautiful new interiors and fittings blended with antique touches
> A few roads from the Chattahoochee River in Columbus, walking distance to top attractions, and eateries

Unlock Our GREATEST Travel Secrets!
Sign up for our newsletter and get the best travel tips delivered right to your inbox.
Types of Accommodation in Georgia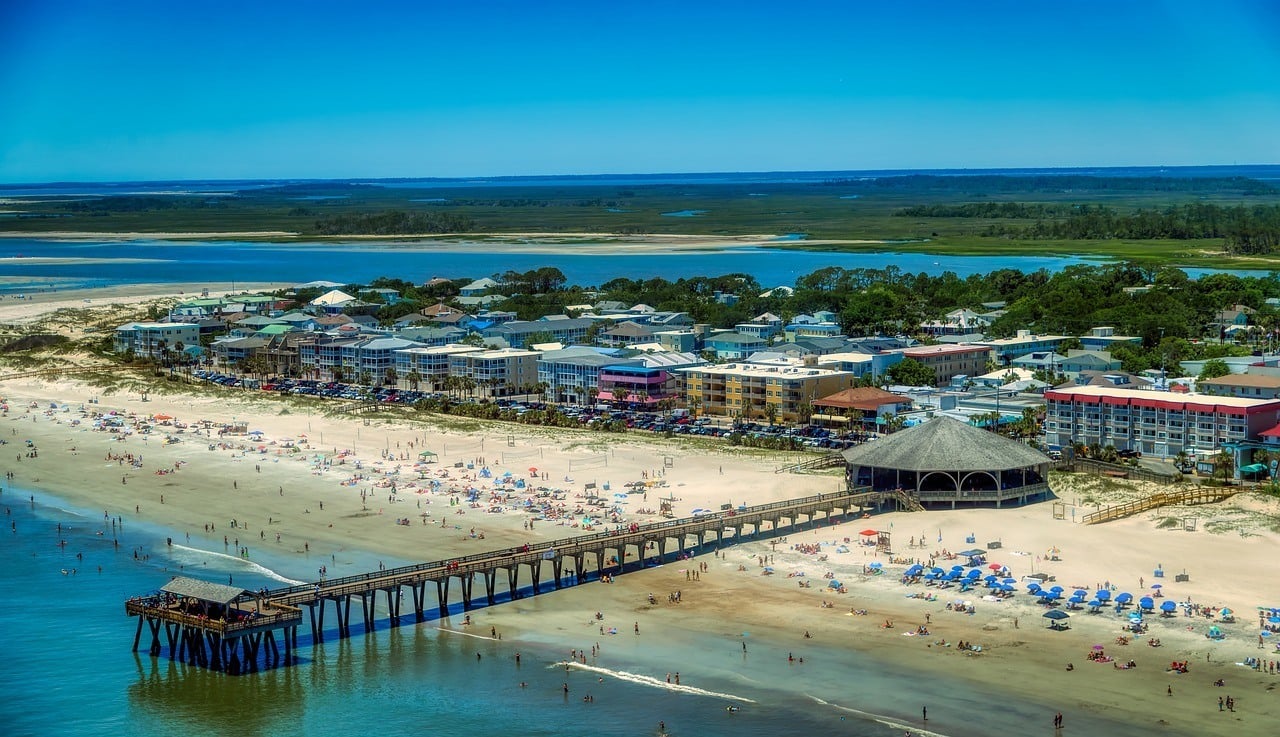 Historic Homes
As one of the last colonial establishments in America, Georgia is filled with preserved, historic architectural buildings and homes reminiscent of another era.
Savannah is the hotspot for many of these Victorian homes, spanning from enormous mansions with symmetrical columns, high ceilings, and extravagant interiors to old industrial factories repurposed as vacation rentals.
Although you'll find most historic homes in the cities, there are a bunch out in the farmlands and in smaller towns too. This type of holiday home ranges in price depending on its size, location, and how well they have been looked after.
Large historic homes are ideal for big groups, including extended families and groups of friends.
Mountain Cabins
Hidden between mountains and rivers, Georgia is a hotspot for mountain cabins and treehouse homes, ideal for adventure seekers searching for a breath of fresh air. Cabins and treehouses in Atlanta are usually made from local timber and feature a common living area with high ceilings and a cozy fireplace, as well as a deck with a beautiful view of surrounding nature. You might even be so lucky as to find a spot with a private Jacuzzi or fire pit to enjoy the views from.
Located in remote regions surrounded by nothing but tall woodlands and mountain vistas, these homes are ideal for outdoor enthusiasts and nature lovers. Whether you're after the best hiking trail or are interested in doing some birdwatching and reading from the deck, this type of rental is ideal for couples or families looking for a breath of fresh air.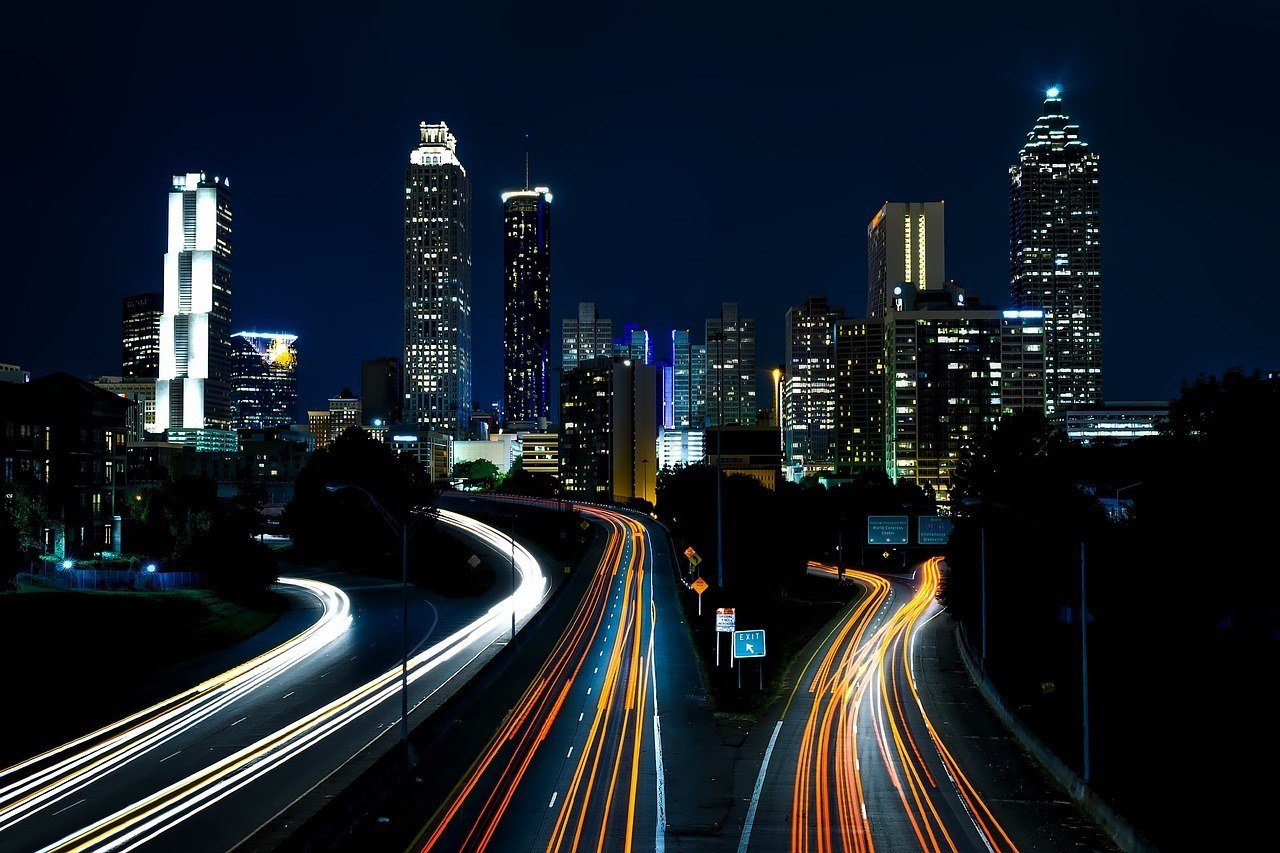 City Condos and Townhouses
When it comes to city life, Atlanta, Columbus, Augusta, and Savannah are home to a large portion of the population, and attract tons of tourists each year. Atlanta, in particular, is known for being a luscious green city with tons of nature parks. Here, you'll find many urban paradise condos and townhouses up for rent.
Choose from duplex townhouses in trendy neighborhoods or from penthouses and condos on top floor skyscrapers overlooking the city. Whether you're after a small studio with a view for yourself or a spacious townhouse for your extended family, you'll find plenty of beautifully refurbished luxury vacation rentals in Georgia's big cities.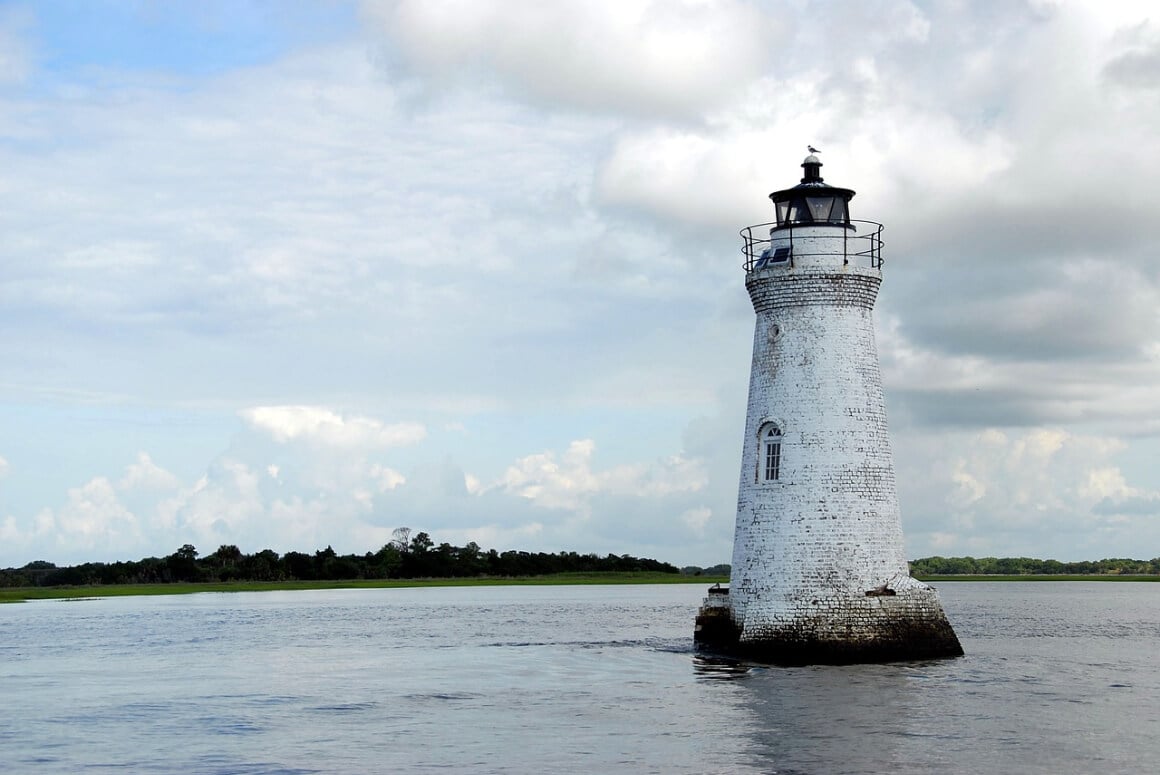 Top 20 Vacation Rentals in Georgia
From the best mountain treehouses and historic coastal mansions, you'll find many unique places to stay in Georgie. To make it easier for you, here are our top picks of the top vacation rentals across the state of Georgia.
$$$
Historic building with porch and balcony
6 Guests
Located in historic center of Savannah
This beautiful old Victorian townhouse is among many located in a residential historic district in Savannah. While the exterior still looks like it would have a hundred years ago, the interior has been fully kitted out with contemporary furniture and modern fittings, while retaining the historic beauty of the home.
You can expect to see a blend of old wooden floorboards, traditional bedroom fireplaces as well as modern glass furniture and high-quality appliances. Feel free to bring along your dog to this pet-friendly spot, which also has a large yard with a fire pit, perfect for pets to enjoy. This is by far one of the best historic rentals in Savannah, Georgia.
Best Budget Vacation Rental in Georgia | Cozy 1-Bed Tiny Home
$
Covered deck with a view
3 Guests
Located just outside downtown Atlanta
Tiny homes are all the rage at the moment. This super modern home is brand new and has been built to optimize space and offer luxury for a low price. The studio home has one full bed and a pull-out sleeper couch suitable for another guest (or two children).
The kitchen is my favorite part of this spot. It has everything you might need to cook a home-cooked meal, as well as top-of-the-range appliances following a sleek black style. There is even a washer/dryer in the unit – perfect for long stays and digital nomads on a budget
Feel free to eat your meal on the private balcony which overlooks a beautiful leafy forest.
Most Beautiful Vacation Rental in Georgia | Elegant 3-Bed Mansion
$$$$
Remodeled by famous interior designer
9 Guests
Located in Savannah's Historic District
Without a doubt, one of the most beautiful self-catering vacation rentals in Georgia, this exquisite refurbished Victorian home has spared no detail for beauty. From the road, you might think this lavish home was a museum or an embassy. However, walking inside will reveal an iconic home that has been tastefully remodeled with a blend of antique-inspired and contemporary furniture.
The surrounding gardens are equally as attractive as the home. Expect manicured lawns, garden paths, and archways draped with creeping plants. Best of all, the home is just a few steps away from Savannah's famous Forsyth Park. If you're looking for a luxury place to stay in Savannah, this is it.
Is This the Best Travel Pack EVER???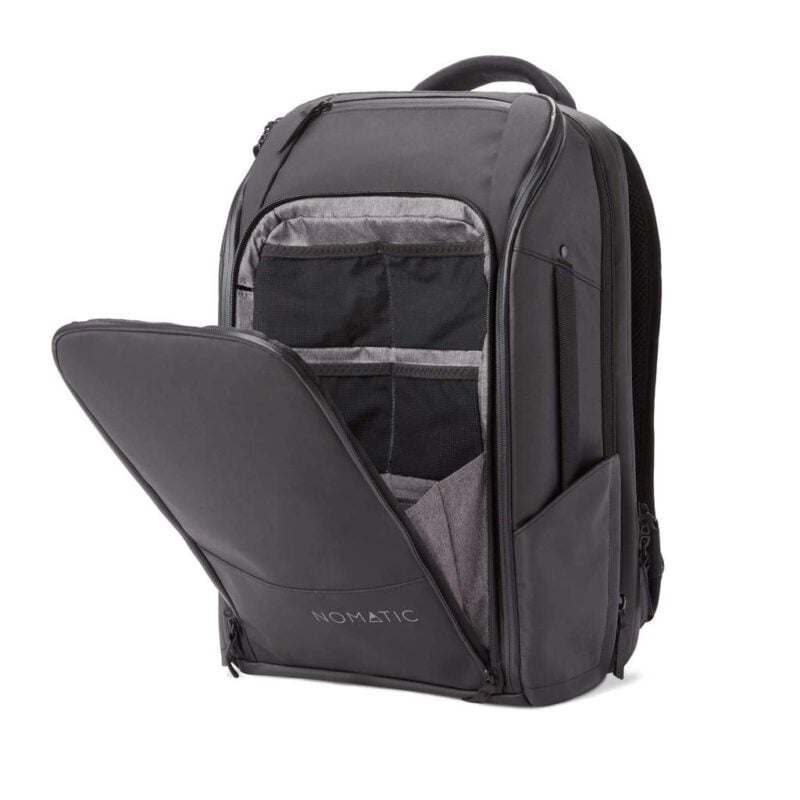 Most Luxurious Vacation Rental in Georgia | 5-Bed Carriage Home
12 Guests
Nearby Chattahoochee River in Columbus
At first glance, we think this home looks a bit like the White House. Symmetrical roman-inspired pillars, a dramatic gate, and french window shutters frame the historical exterior. The authentic interior has been fully restored, combined with a blend of modern and antique furniture.
The hanging tapestries, silver tea-sets, Persian rugs, and pressed antique fireplaces, provide every room with an opportunity for photographs. With five bedrooms, the carriage house also includes a separate upstairs apartment, and a garden apartment, each with its own kitchenette.
Best Vacation Rental in Georgia for Families | 2-Bed Beach Cottage
$$
Spacious home, outdoor shower
6 Guests
A mile from St. Simons Island's beach
This homey beach vacation rental in Georgia is a great option for small families looking for an affordable spot to stay. The single-story family home is surrounded by a spacious yard with seating and a BBQ grill, and both a front and a back porch.
There is no lack of seating inside either, and your family will feel right at home in the inviting living room filled with cozy furniture. With plenty of beach towels and even washer/dryer facilities, bring just the bare necessities and enjoy a relaxing vacation by the sea.
Best Vacation Rental in Georgia for a Weekend | 2-Bed Family Home
$$
Gourmet kitchen and large garden
6 Guests
Located in Downtown Covington
Popping into Georgia for the weekend, or just passing through en-route elsewhere? We have the perfect vacation rental for you. This townhouse is just a few minute's walks from historic Downtown Covington, which is a real-life movie set of many well-known modern television shows.
Once you've explored the area, head back home to make use of the fully-equipped kitchen to cook a home-cooked meal. Feel free to enjoy your food in the open-concept living space and dining room, or on the patio outside, which boasts a full dining set under a trendy umbrella.
Best Vacation Rental in Georgia with a Pool | 5-Bed Forest Home
$$$
Secluded with outdoor pool
8 Guests
Mountains retreat near Atlanta
Nestled high in the woodlands, this gorgeous home is one of few in the area with a full-sized swimming pool and that makes it one of the best vacation rentals in Georgia. The main house has been fitted with top-of-the-range appliances, classy furniture, and atmospheric lighting.
Best of all, wooden decking surrounds the pool, which looks as if it is floating above the forest floor. A cabana structure covers an outdoor fireplace and living area. I can just imagine spending a day by the pool or jacuzzi, grilling on the BBQ, and relaxing under the shaded cabana.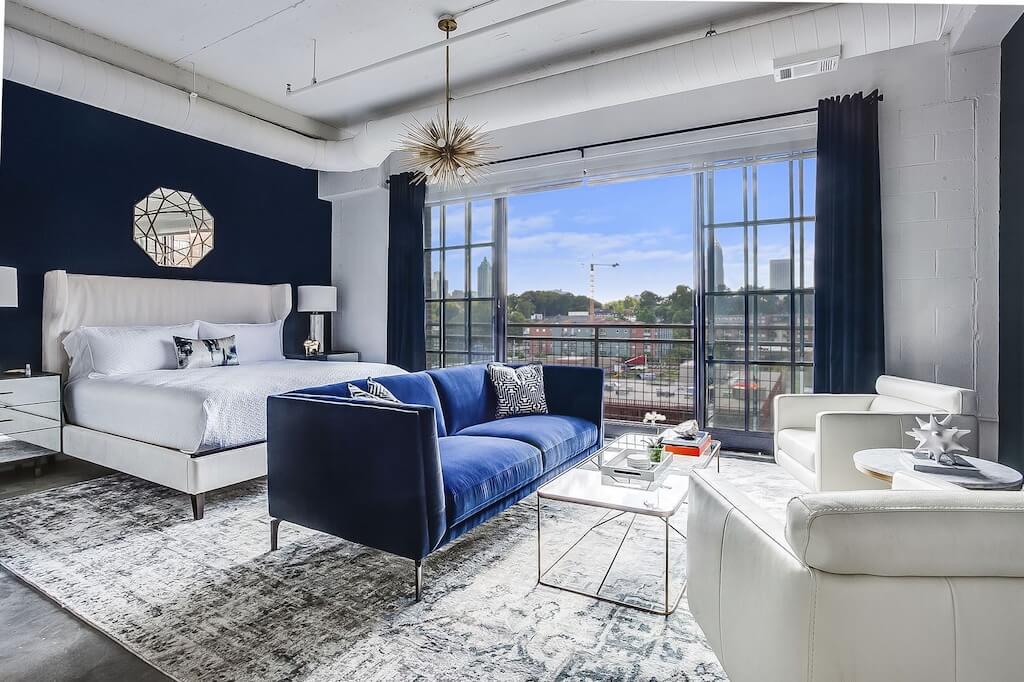 $$
Balcony overlooking the city
2 Guests
In the heart of Atlanta
White linen couches, mirrored furniture, modern decorations, and cozy carpets bring new life into this contemporary Atlanta VRBO. The industrial-style building, which includes exposed ceiling piping as well as large urban glass and iron sliding doors has lift access, making it a great option for wheelchair users.
This bright and spacious spot has plenty of room for movement, and even has a Juliette-style balcony, allowing for the large doors to slide open completely on a warm day.
$$$
Outdoor deck with pool and BBQ
6 Guests
In the heart of downtown Savannah
Savannah is a great option for a central Georgian holiday, offering visitors a mix of outdoorsy adventure and history combined in one. This classic brick home is a beautiful spot located in the beating heart of the city, surrounded by other historic homes and green parks.
The house is designed with inspiration from French-Provance style and includes a beautiful new kitchen with top-quality appliances. In the backyard, you'll be surprised to find a small dipping pool and an outdoor living and BBQ area – perfect for a summer vacation!
Best Vacation Rental for a Large Family in Georgia | Rustic 5-Bed Home
$$$$
Refurbished industrial building
14 Guests
Located in Old Savannah
With five bedrooms, a huge shared living space, and a well-equipped kitchen, you can't go wrong staying in this self-catering vacation rental in Georgia with your extended family. The home has an industrial urban vibe to it, created by exposed red-brick walls and piping running across the ceilings.
The huge living space is the perfect family gathering spot. Tons of seating, a pool table, and an outdoor playground for younger children will make sure your family is well-occupied when on vacation. And if not, it's only a short walk from SCAD Museum of Art and Georgia State Railroad Museum.
Best Vacation Rental in Georgia for Friends | 5-Bed Victorian House
$$$
Classic old and traditional interiors
10 Guests
Located in a historic area in central Douglas
This authentic heritage home is another prime example of an earlier era in America. The home has Victorian pillars, a coastal wooden exterior, and original interiors including stain-glassed windows, etched fireplaces, and high ceilings.
With five bedrooms latching onto a large common living area and an outside BBQ and fire pit, you and your friends will have plenty of space to enjoy each other's company while still having a peaceful oasis to call your private room.
$
Queen bed and outdoor BBQ area
2 Guests
Near the Canoochee River in Claxton.
Tucked away beneath the trees along the river, you'll find a peaceful yurt home offering couples a unique oasis outside of the city. The permanent circular tent structure is filled with a mixture of lavish and simple furniture. It comes with basic kitchen facilities, crystal chandeliers, velvet couches, and luxurious linens.
For those who enjoy being out in nature, this spot has a lovely BBQ area and fire pit with views of the river and surrounding forest landscape. For those with privacy issues, take note, the bathroom and toilet are only separated from the bed with a thin screen. It is recommended to rent a car as this property is in a remote and secluded location, perfect for couples visiting Georgia.
Best Vacation Rental in Georgia for Honeymooners | Beach Cottage for 2
$$
A private porch and lush garden
2 Guests
Near the beach in St. Simons Island
Honeymooning in Georgia is always a good idea. Packed with beautiful towns and natural wonders, you'll find some of the most romantic holiday homes in Georgia. This gorgeous spot sits tucked beneath oak trees hanging with live moss, making for an immediate romantic setting.
Inside this luxury vacation rental in Georgia, you'll be greeted with warm wooden interiors and eclectic furniture from different parts of the globe. Enjoy garden views from the two-seater swing on the porch, or simply enjoy your meals on the outside dining table.
$$$
High ceilings and hardwood floors
8 Guests
Located in Downtown Savannah
Savannah is a great city to base yourself in if you're after Georgia's nightlife. This bright and spacious home is only a few minute's walk from some of the historic city's best bars, restaurants, and nightclubs. You can spend a few hours enjoying drinks and snacks with your friends made using the gourmet kitchen at the house before heading out on the town.
Returning home after a night out never felt so good, with such high-quality bed linens and comfortable beds to recuperate in.
$$$
Big deck with untouched mountain views
4 Guests
12 acres of private property near Trion
Views are abundant in Georgia. However, the views from this modern cabin are exceptionally special. From the huge balcony with both a pool and Jacuzzi, you can gaze out over hundreds of miles of untouched mountains and woodlands.
The self-catering vacation rental in Georgia is exquisitely designed following a modern style and is furnished with stylish and sleek touches including leather loungers and velvet cushions. The top-of-the-range kitchen is equipped with everything you'll need in the remote location, with all the appliances matching in a sleek black color.
Romantic Vacation Rental in Georgia for Couples | 2 Bed Riverside Cabin
$$
Secluded log cabin on the river
4 Guests
5 minutes drive away from Ellijay
Romance abounds in this private and secluded riverside cabin. It is quite literally located a stone's throw from the river, offering visitors stunning views and continuous relaxing river sounds.
The cabin itself is decorated like a traditional cabin, with wooden walls, floors, railings, and vaulted ceilings. Expect alpine-inspired furniture including comfortable sofas, patchwork linen, rocking chairs fashioned from old sleds, and fishing rods hanging on the walls as pieces of art. With a full kitchen and washer/dryer facilities, you'll have no reason to leave this oasis.
$$
Traditional farmhouse on a working stud farm
2 Guests
Private Jacuzzi and deck
This stunning traditional redwood farmhouse sits on a peaceful stud farm in one of the most scenic parts of Georgia. The inside of the home boasts a lot of natural wood – from the floors to the walls to the ceilings to the cabinets. This gives the space a warm and welcoming feel.
Make yourself at home in the open-concept living room, where you can enjoy mountain vista views from the comfortable sofas. Built for events, this spot also includes access to a separate events kitchen, if you're hoping to host a special occasion during your stay.
Most Remote Vacation Rental in Georgia | Secluded 3 Bed Cabin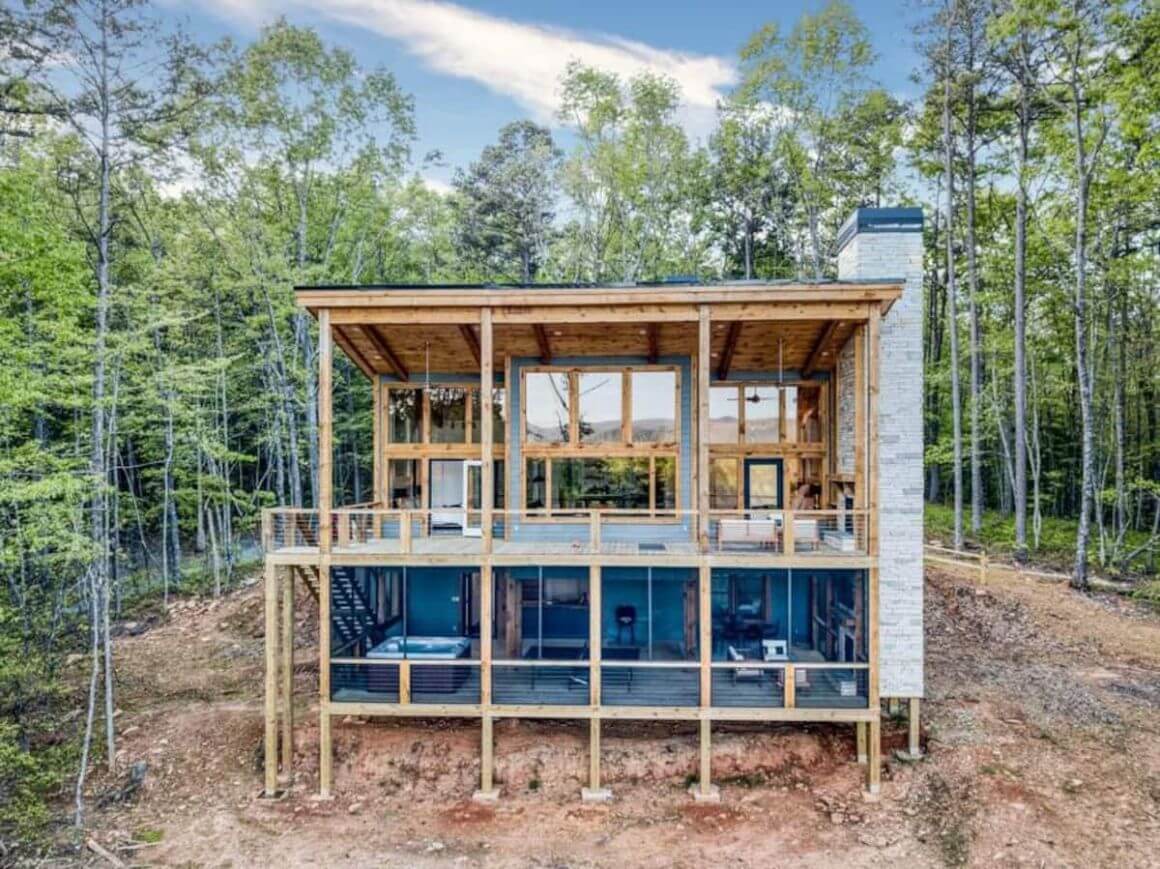 $$$
Large deck with mountain views
8 Guests
A few miles from Blue Ridge.
Remote, luxurious, and exquisite mountain views, are the three ways to describe this luxury vacation rental in Georgia. The contemporary structure was built to resemble a traditional cabin, yet it has so much more going on. This home centers itself around the open-concept living space, which has high ceilings and massive glass windows, inviting tons of natural light into the home.
Even each of the three bedrooms is overflowing with windows opening out to beautiful views, surrounded by tall trees and mountain vistas. The rough outdoors meshes perfectly with the contemporary interiors, which boast glass, marble, and brass fittings throughout. Because of it's rural location, renting a car is advised.
$$
A porch overlooking the lake
With so many cabins in Georgia, choosing our favorite was a tough one. We landed on this for three reasons. First, its lake location and stunning views. Second, the traditional log cabin interiors. And finally, the expansive windows and abundance of natural light.
The cabin sits on a large private farm on Chatuge Lake, surrounded by emerald green pastures, fields, and authentic picket fencing. Lake views can be enjoyed from almost every room, which is also decorated with traditional mountain cabin interiors and touches.
Best Tiny Home Vacation Rental in Georgia | Cute 2-Bed Home
4 Guests
In the Eastwood neighborhood of Atlanta
This has to be one of the best vacation rentals in Georgia for such a tiny home. It's sleek and modern, and has been designed with super classy yet welcoming interiors. A combination of textures, including rough wood, marble countertops, and stainless steel kitchen appliances mix together perfectly.
With two beds in the house, the best thing about this tiny home is its privacy (which is unique to many tiny homes). The main bedroom has a sliding wall that completely separates it from the rest of the house. This way, the spot basically has two private bedrooms!
Don't Forget Your Georgia Travel Insurance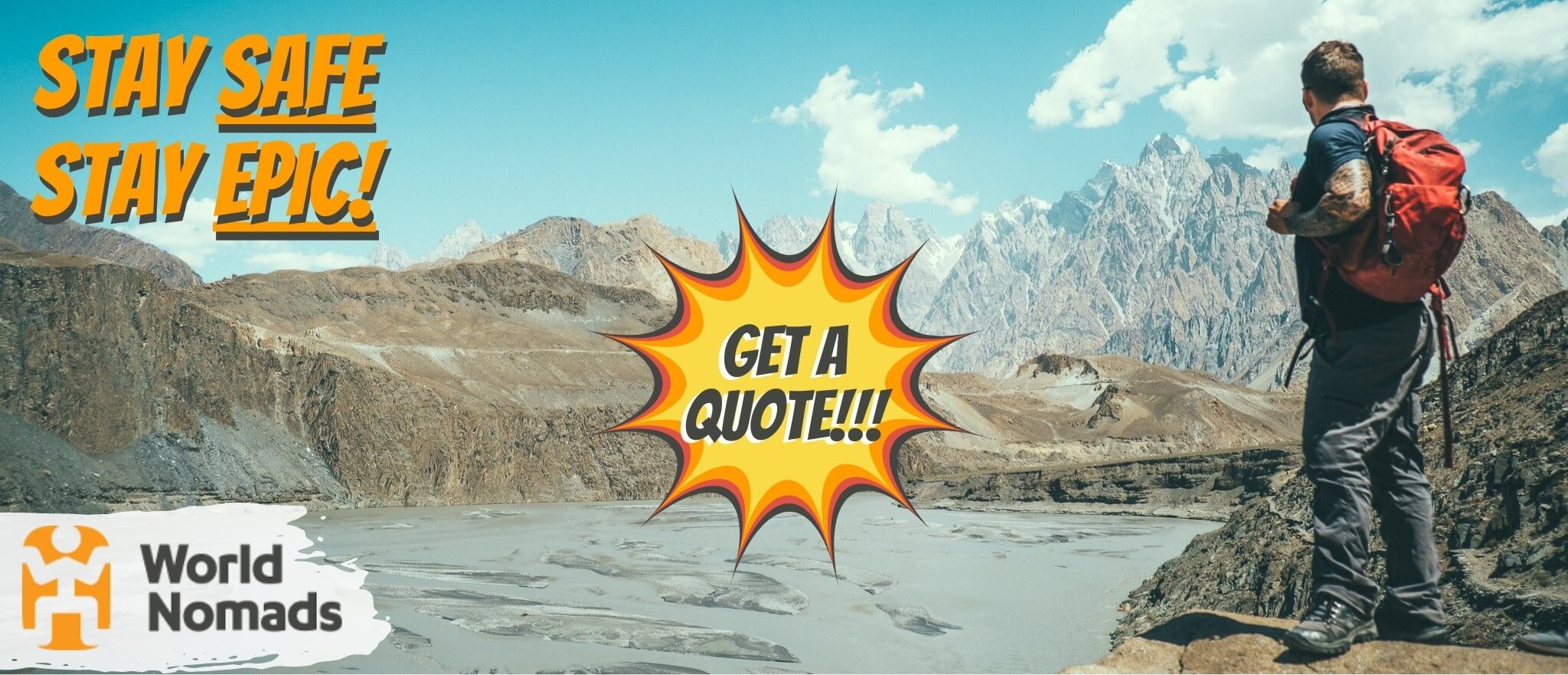 World Nomads' mission is to support and encourage travellers to explore their boundaries. They offer simple & flexible travel insurance, and safety advice to help you travel confidently.
They've been doing it since 2002 – protecting, connecting, and inspiring independent travellers just like you.
Get a quote below or read our in-depth review!
World Nomads provides travel insurance for travelers in over 100 countries. As an affiliate, we receive a fee when you get a quote from World Nomads using this link. We do not represent World Nomads. This is information only and not a recommendation to buy travel insurance.
Final Thoughts
Located in the heart of the South, and bordered by rivers, mountain ranges, and the Atlantic Ocean, it's no wonder why Georgia is such a popular destination for vacationers and passers-by.
Whether you're a history-lover after the deep heritage of the area, an outdoor adventurer keen on hiking, or an avid reader just looking for a relaxing spot to park off, Georgia has what you're looking for.
From the historical towns filled with authentic Victorian homes to tranquil beach homes dusted by sand to traditional log mountain cabins in remote locations, there is a holiday rental in Georgia for everyone.
Did you find what you were looking for today? Let us know in the comments.
---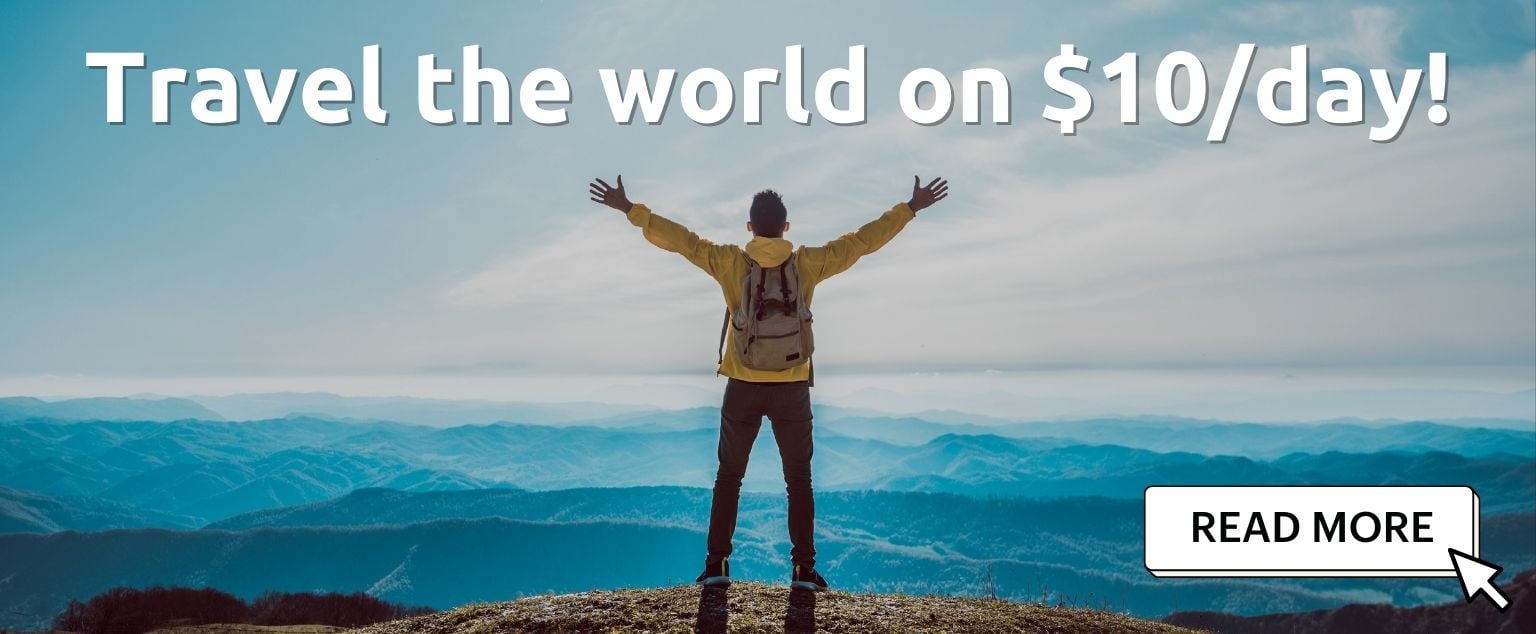 And for transparency's sake, please know that some of the links in our content are affiliate links. That means that if you book your accommodation, buy your gear, or sort your insurance through our link, we earn a small commission (at no extra cost to you). That said, we only link to the gear we trust and never recommend services we don't believe are up to scratch. Again, thank you!