Ever wanted to rent out a historic residence or stay in a hundred-year-old haunted Southern home? As Georgia's oldest city, Savannah greets its visitors with southern comfort. There is a rich history filled with intriguing ghost stories, and beautiful natural scenery.
Known as the 'Hostess City of the South", it's no surprise that this city houses some super exciting rental options. You know what they say about old homes ' – if these walls could talk!'
The city itself is interspersed with green spaces and parks. Step inside one of its historical homes and you'll feel as if you've left the 21st century.
Read on to find our favorite vacation rentals in Savannah that show off the classic Southern charm.
Quick Answer: These are the Top 5 Vacation Rentals in Savannah
Overall Best Value Vacation Rental in Savannah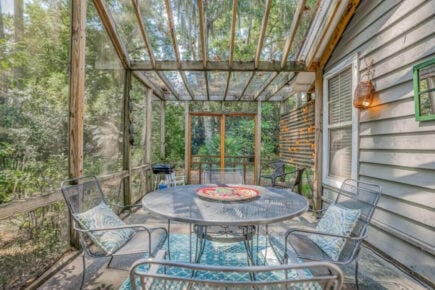 Overall Best Value Vacation Rental in Savannah
Bright 2 Bed Family Home with Conservatory
> $$$
> 10 Guests
> Large glass conservatory and front porch
> Located in Wilmington Island
Best Budget Vacation Rental in Savannah
Best Budget Vacation Rental in Savannah
Stunning 2 Bed Bungalow with Garden
> $
> 4 Guests
> Pastel blue modern interiors
> Located in Benjamin Van Clark Park
Best Vacation Rental for Couples in Savannah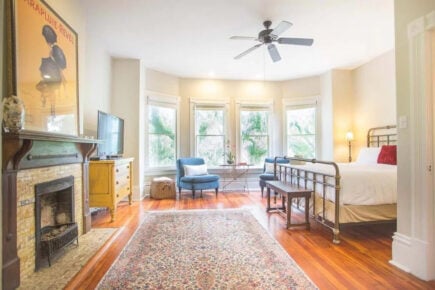 Best Vacation Rental for Couples in Savannah
Historic 1 Bed House with Fireplace
> $
> 3 Guests
> Bay windows overlook the lush Forsyth Park
> Located in the Victorian District
Best Vacation Rental for Families in Savannah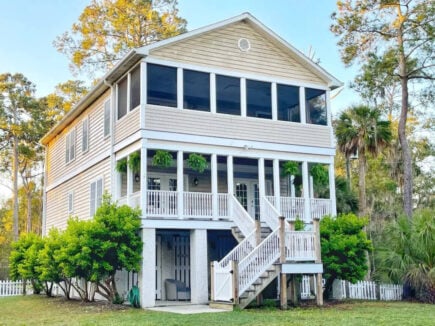 Best Vacation Rental for Families in Savannah
Coastal 4 Bed Home with Jacuzzi
> $$$
> 8 Guests
> Three stories of private bedrooms
> Located between Downtown and North Tybee Beach
Over-the-Top Luxury Vacation Rental in Savannah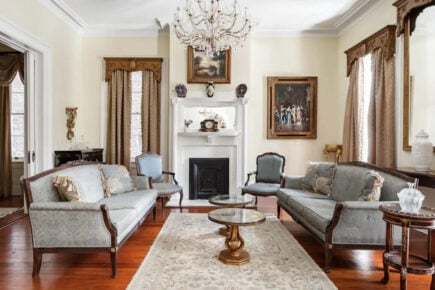 Over-the-Top Luxury Vacation Rental in Savannah
Grand 5 Bed Mansion with Courtyard
> $$$
> 10 Guests
> Baroque style interiors
> Walking distance to Forsyth Park, Mercer House, and Chippewa Square

Unlock Our GREATEST Travel Secrets!
Sign up for our newsletter and get the best travel tips delivered right to your inbox.
Types of Accommodation in Savannah
Savannah's City Market neighborhood is a fun and edgy spot to stay. You'll find trendy restored warehouses and boutique rentals.
River Street is the best spot to stay for nightlife, however slightly heavier on the wallet, lined with refurbished inns that were once working warehouses and canneries.
Midtown is the cheapest spot and is mostly a residential area. If you're angling for a Southern beach adventure, Tybee Island is flooded with hotel chains, B&Bs, and Airbnbs. Don't forget your sunglasses and suntan lotion as this area is home to some of the East Coast's most picturesque beaches.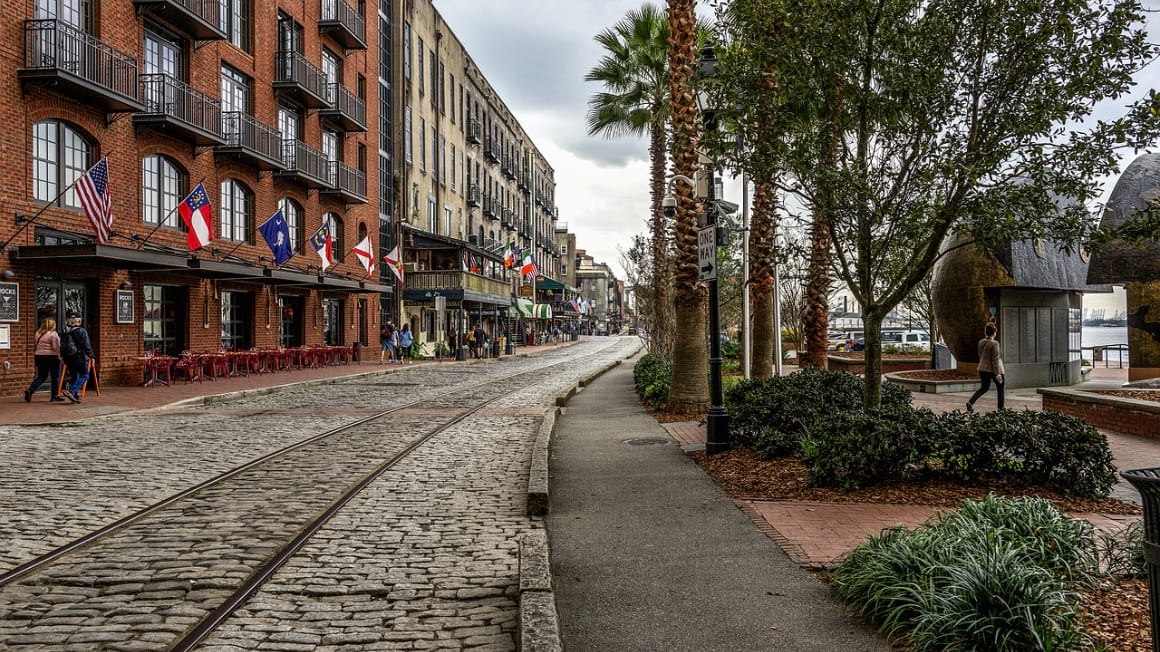 Historic Homes
The most in-demand vacation rentals in Savannah are historic buildings. In fact, many of the buildings still standing in the city were built in the early 1800s. Today, the majority of historic homes on the market have been refurbished and renovated. With freshly painted walls, renewed fittings, and updated furnishings, these spots have a more modern and homey feel while still maintaining their classical historic charm.
Located mostly in the historical district, these homes range in size from quaint one-bedroom homes to ten-bedroom mansions. They are ideal for couples, families, and groups of friends interested in Southern culture and history.
Coastal Cottages
Just 20 minutes from the center of Savannah, is Tybee Island oceanfront town. It is full of history and stunning beaches, a great family-friendly area to rent out a holiday home in Savannah.
In this quaint oceanside village, you'll find many secluded and peaceful coastal cottages and houses, as well as inns and B&Bs. These homes are usually small and simple, painted cool white colors, and boast ocean-style interiors. Many of these coastal spots also hold historical significance and were once owned by local seafarers.
This small area has over 1,000 vacation rentals up for grabs! They range from small sandy beach bungalows to huge estates and villas large enough to house big groups or families. These rentals offer ocean views, private off-street parking, large yards, and beach access. By definition, coastal cottages offer a more laid-back vibe than city homes and are a great option for families with young children as well as couples seeking a bit of quiet and romance.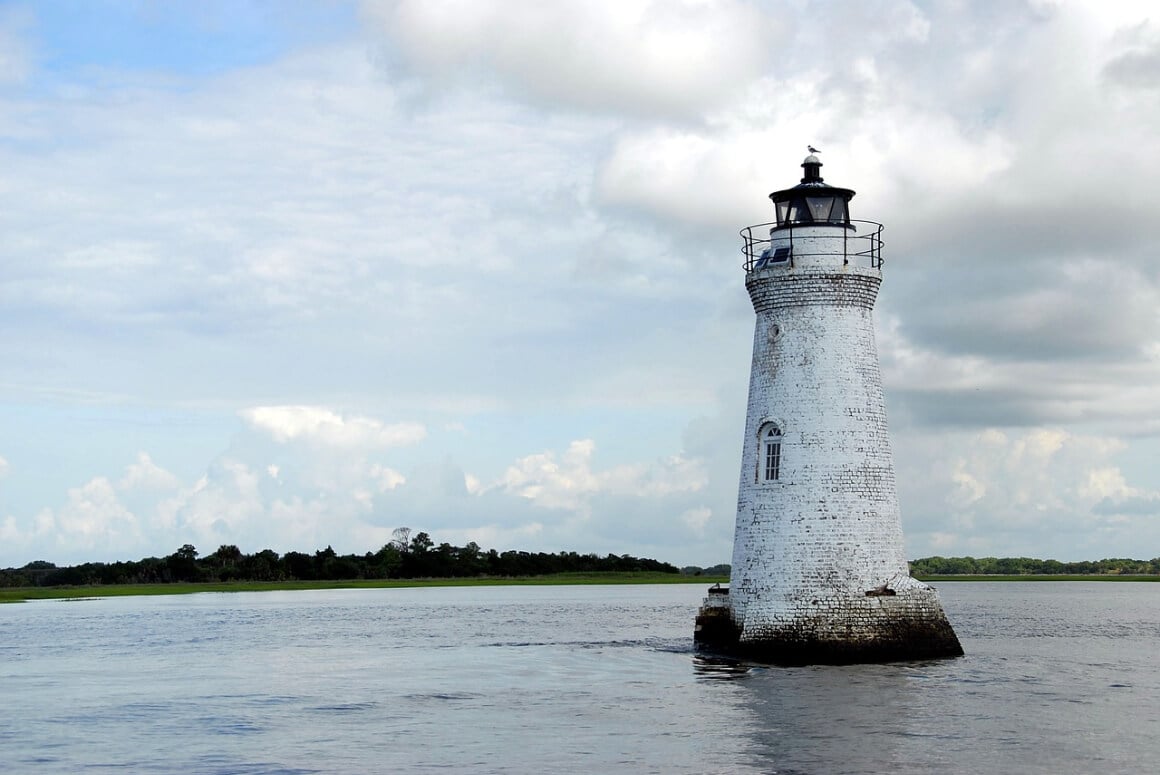 Apartments and Condos
The city of Savannah is filled with new and old apartment blocks. From brand new modern condos to old industrial factories that have been repurposed as modern apartments, these spots offer a home-away-from-home in this dynamic and historical city.
Apartments and condos are centrally located, right in the hustle and bustle of downtown Savannah. The benefits? They're within walking distance of shops, restaurants, and bars, have stunning city views, and are located nearby parks and green squares.
Fully equipped for a self-catering vacation, these homes are perfect for couples and families, as well as travelers itching to explore the historic city.
Top 20 Vacation Rentals in Savannah
When it comes to accommodation, Savannah stands out as having some of the most historic places to stay in the USA. From haunted inns to historic hotels, there's an option for every personality and budget here.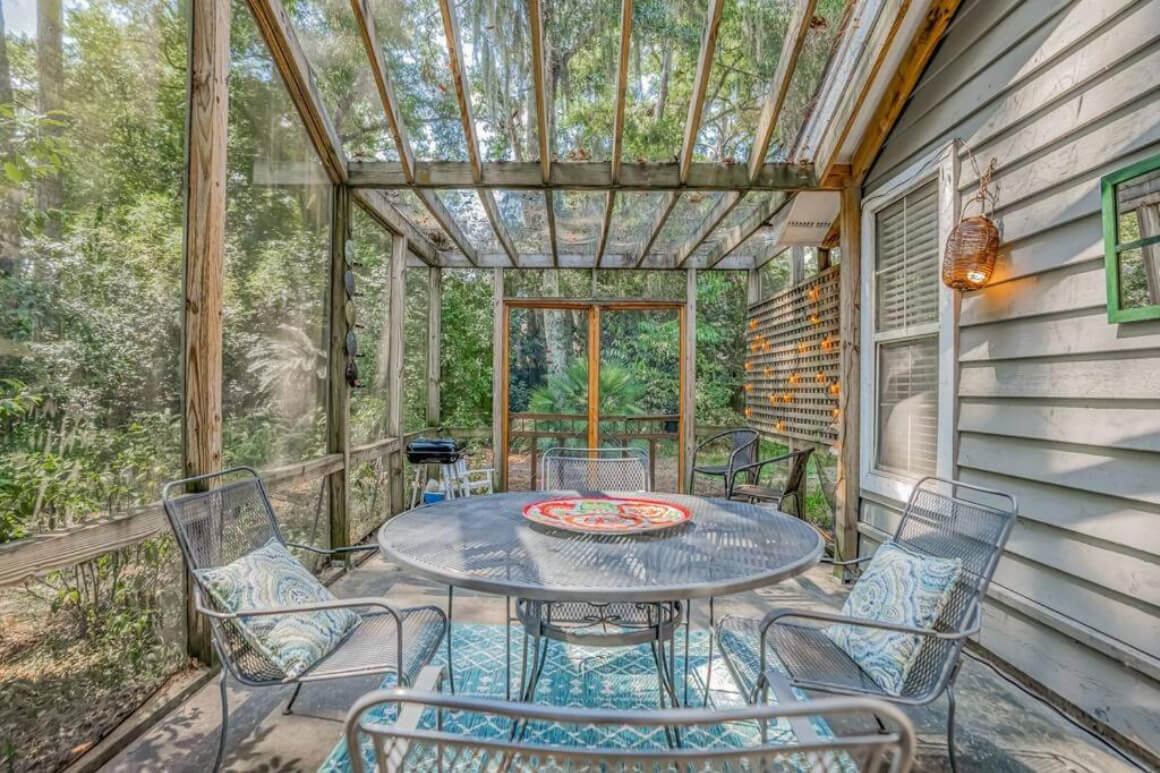 $$$
Large glass conservatory and front porch
10 Guests
Located in Wilmington Island, 15 minutes drive to downtown Savannah
This home is perfectly positioned out of the hub of the city. Between the historic district and coastal Tybee Island, this cozy rental is in the best location for those who want the best of both worlds. It's only a few miles from the famous haunted Bonaventure Cemetery. Go ahead and Google this attraction if you're up for a fright!
Warm whites and comfortable furniture give this spot a super homey feel. Beach-inspired interiors, including blue velvet furniture and beaded chandeliers, give off major vacation vibes. The best part of this rental is the sunny glass conservatory. I can just imagine sipping my morning coffee in this warm sunny space.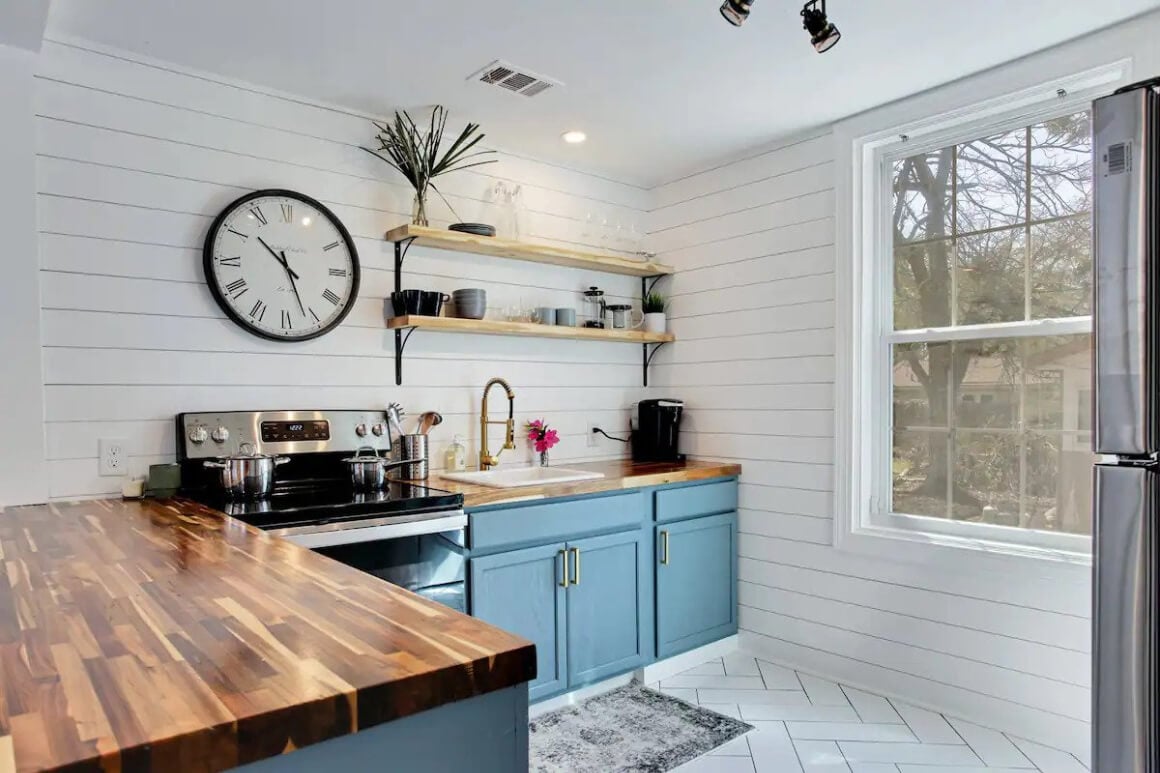 $
Pastel blue modern interiors and tons of natural light
4 Guests
Nearby local restaurants and cafes
Simplicity and style come to mind when walking through this modest bungalow. The home has been fully renovated with clean white finishes and light blue details. Furnished with a contemporary style, this spot will make you feel right at home in the South.
It's fully equipped with a well-stocked kitchen, brand new appliances, and two large bedrooms. All in all, for a low price and those on a budget, this is without a doubt one of the best vacation rentals in Savannah.
$$
Gorgeous warm and inviting interiors
4 Guests
Located in the heart of downtown Savannah
This home beautifully meshes old charm with contemporary style. Originally built in 1860, the home has been fully refurbished with stunning new fittings and furniture, yet it still boasts the original exposed wooden ceilings and light fittings.
Tons of windows invite natural light into every corner of this space. Enjoy the warmth of a fire burning in the kitchen as you cook a home-cooked meal. This stunning space is right in the center of downtown Savannah, within walking distance to all the shops, interesting attractions, and eateries you could wish for.
Is This the Best Backpack EVER???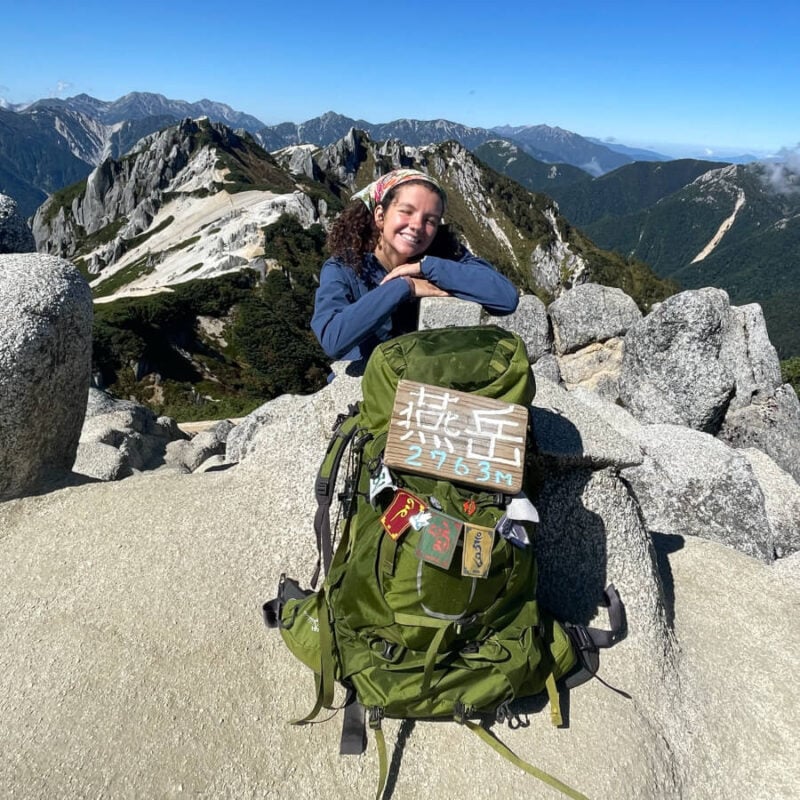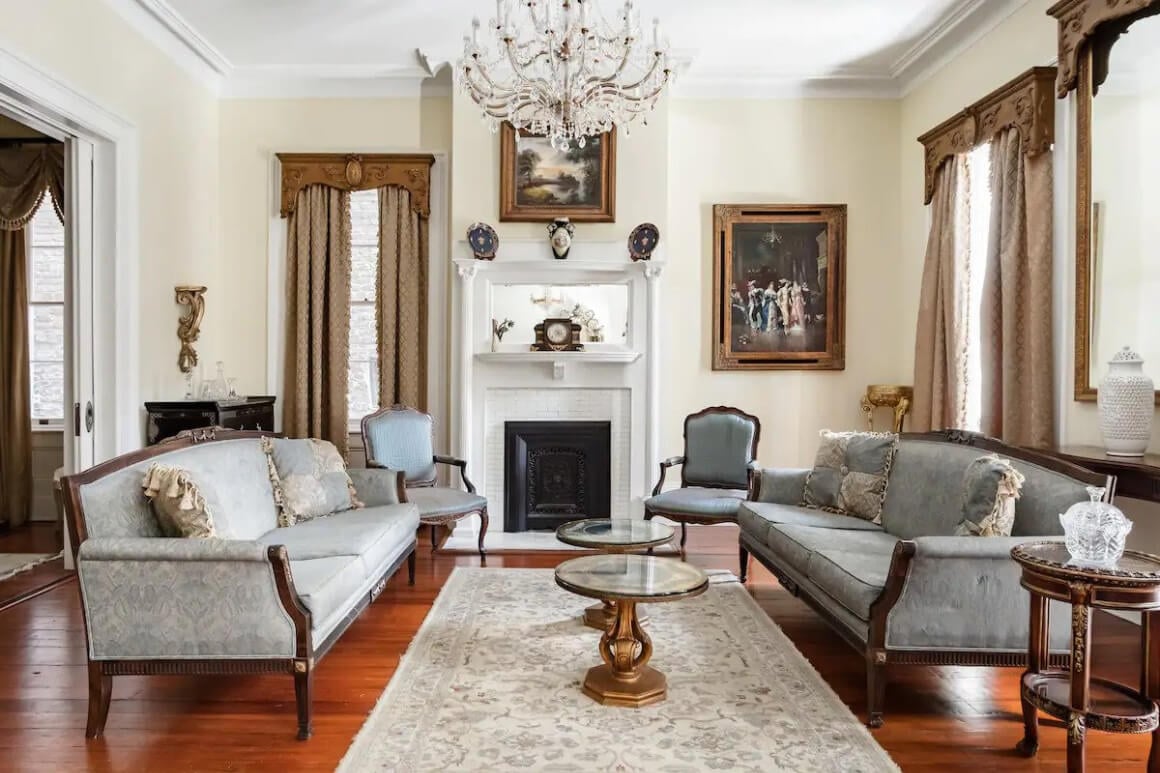 $$$
Baroque style interiors with antique furniture
10 Guests
Walking distance to Forsyth Park
Historic grandeur oozes out of every corner of this luxurious 1869 home. Each room is filled with extraordinary Baroque and Victorian influence – from decorative stain-glass windows to intricately carved wooden furniture, to embossed iron details. Spend an evening sipping wine by the fireplace under a grand crystal chandelier in the extraordinary living room.
While the home is stacked with some prestigious antique furniture and art pieces, it's by no means old-fashioned. Crisp linens, renewed wood floors, and stunning bathrooms will make you feel like you've taken a step back in time to a more regal era.
$$$
Three stories with beach style interiors
8 Guests
Located between Downtown and North Tybee Beach
This spacious four-bedroom home sits on 1.4 acres of beautiful marshland. The grounds include lush green lawns and moss-clad trees, a private Jacuzzi, and a secluded gazebo perfect for a garden picnic.
The rooms are decorated according to themes, including a cute, fruit-themed, and beach-themed bedroom. The spot has a coastal-style living room with a smart TV leading into a dining space and kitchen. Fitted with a large fridge and gas stove, you'll have no issues cooking up a storm for a large family in this luxury vacation rental.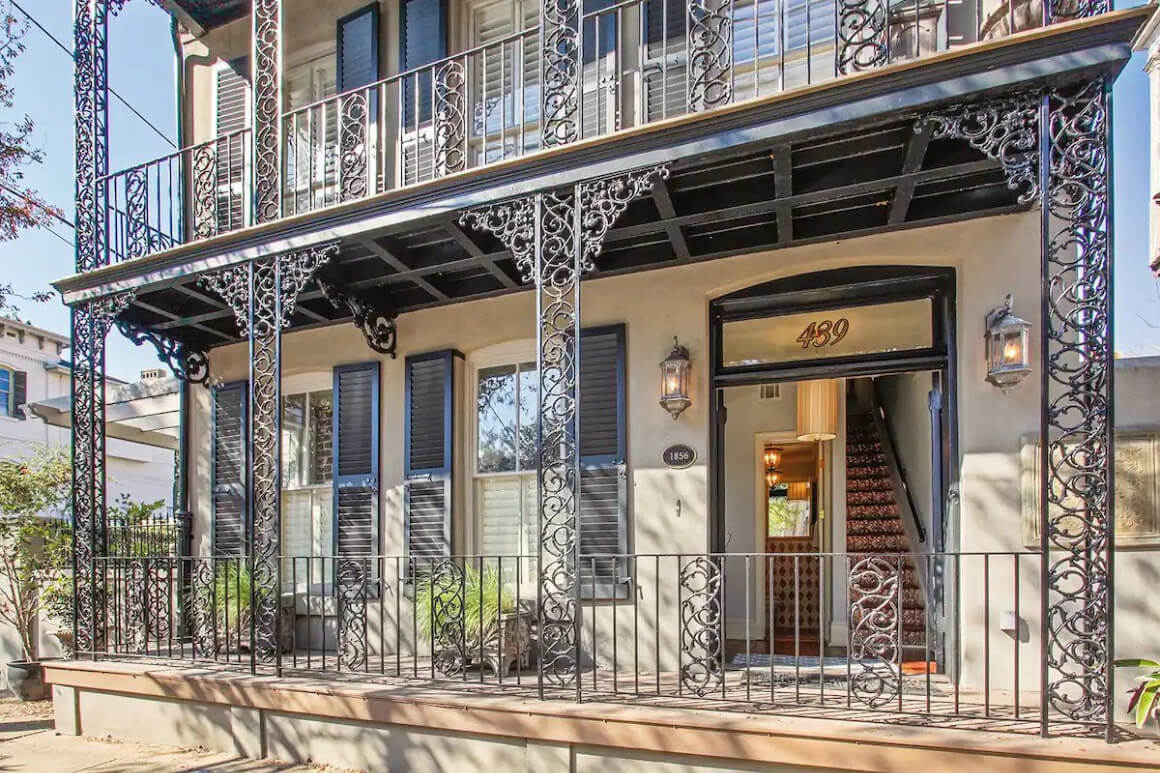 $$$
Old-charm exterior with a contemporary interior
6 Guests
Walking distance to shops and restaurants
This quaint historic home is perfect for visitors who want to explore the city on foot. It has original hardwood floors and red-brick fireplaces combined with modern bathroom tiling and kitchen cabinetry. The stark amount of windows is a throwback to when residents in Savannah used to pay a tax for the number of doors in their homes. That's one way to get around the law!
The best part of this space? It has a spacious half-covered outdoor living area with a dining table, lounge seating, and a romantic fountain.
The home has everything you need for a short visit, and is ideal for a quick weekend stop-off on an East Coast road trip.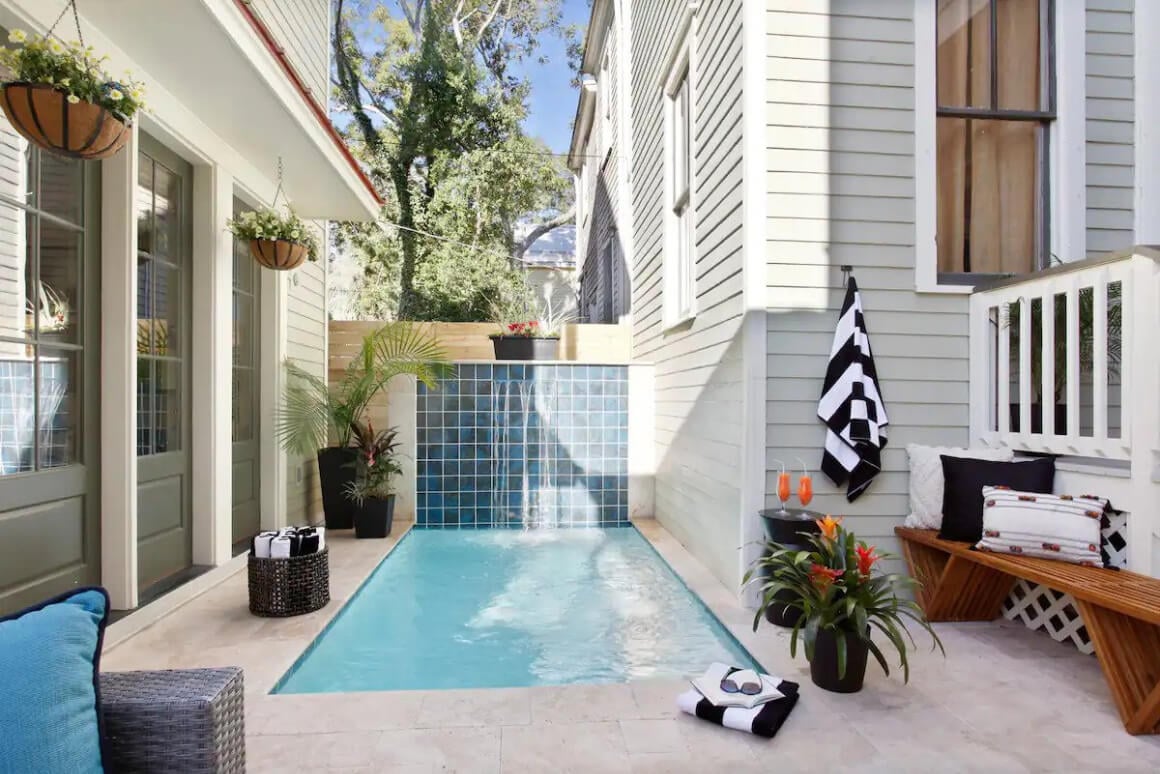 $$$$
Courtyard with a seating area and private pool
16 Guests
Walking distance to Forsyth Park and historic landmarks
Behind the original wood-paneled walls of this old house lies a super trendy contemporary home. Stylish tiling, glass touches, and trendy furniture bring an exciting vibe to this spot.
Multiple dining and seating areas decorated with pops of color, greenery, and modern art gives tons of space for privacy. The dipping pool with a waterfall feature is the centerpiece of the outdoor courtyard. Trust me when I say, it will be difficult to leave this gorgeous sunny spot.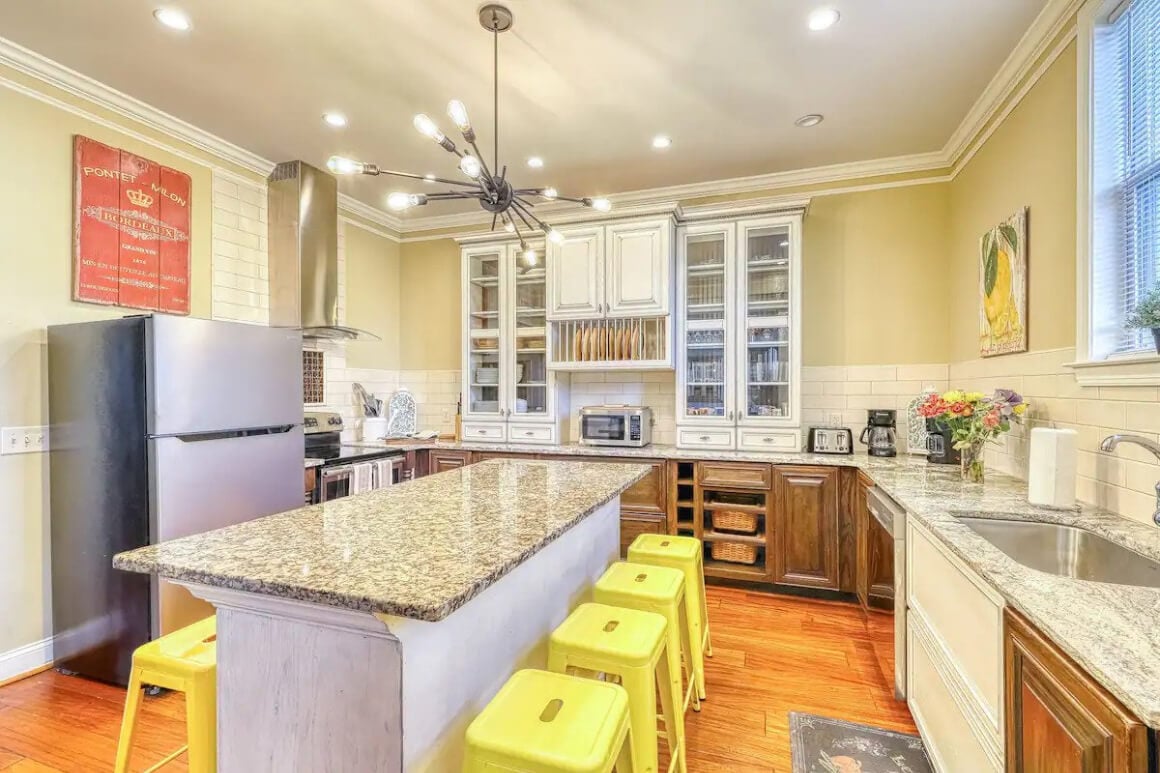 6 Guests
Located nearby restaurants and attractions in the historic district
Hidden behind historic brick walls of an old industrial building, this sunny home invites an abundance of natural light through its huge windows. The home has been recently remodeled with neat finishes, warm wooden cabinetry, and marble countertops. A large living room includes two sleeper couches which can fit additional guests if need be.
It is the best vacation rental in Savannah for those with low mobility with its ground floor position, wide open hallways, and no steps.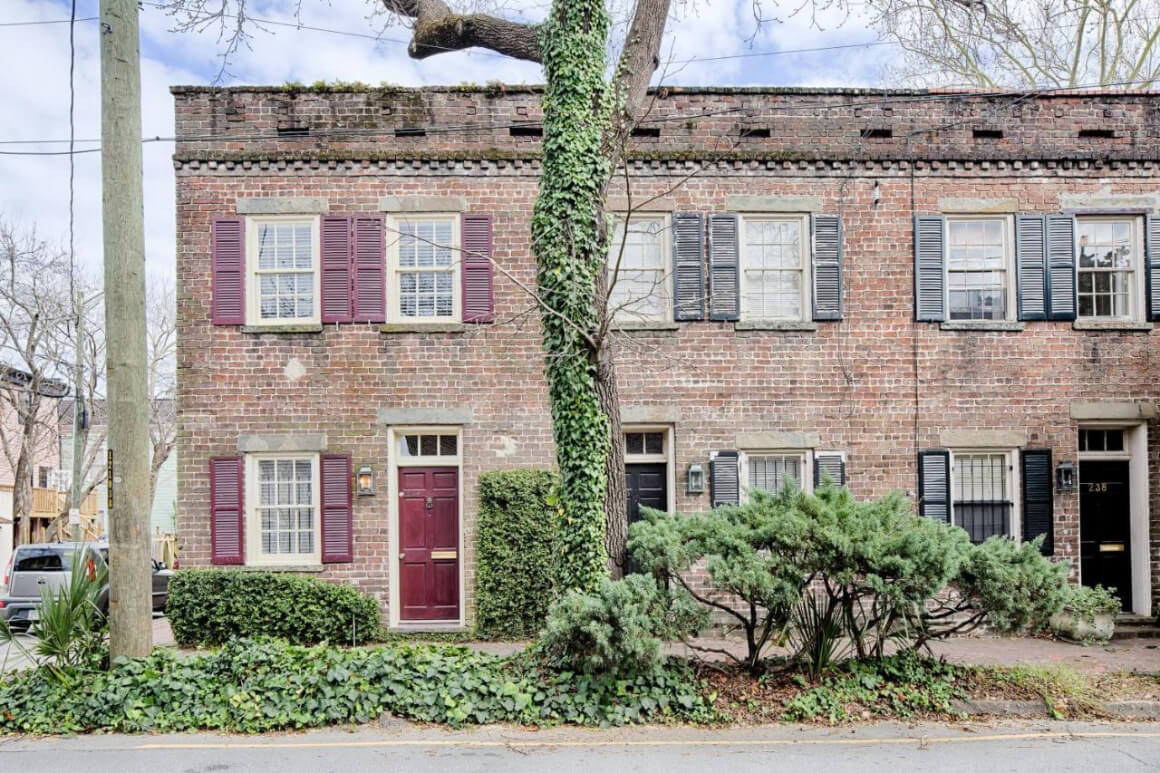 $$$
Industrial building with eclectic Victorian interiors
4 Guests
Close to historic attractions
This beautiful industrial building turned residential space is located between historic tourist attractions. With two bedrooms, a small but well-equipped kitchen, and washer dryer facilities it is great simple holiday home in Savannah.
Everywhere you might want to explore from River Street to Forsyth Park, to Oglethorpe and Lafayette Square, are within walking distance.
$$$$
Combined carriage house and townhouse
14 Guests
Includes a private pool
This huge home has multiple open-concept living spaces, French doors opening out onto balconies, and a chef-standard kitchen.
In fact, this property is two homes in one. It's a carriage house paired with the main house to create the ultimate luxury home! The benefit of having two unique homes combined is the excellent privacy for a large family who wants to stay together, but not be on top of each other every hour of the day.
I love the stunning swimming pool deck nestled between the two homes. With seating areas and a spouting water fountain, you'll have little reason to leave this oasis on a warm day.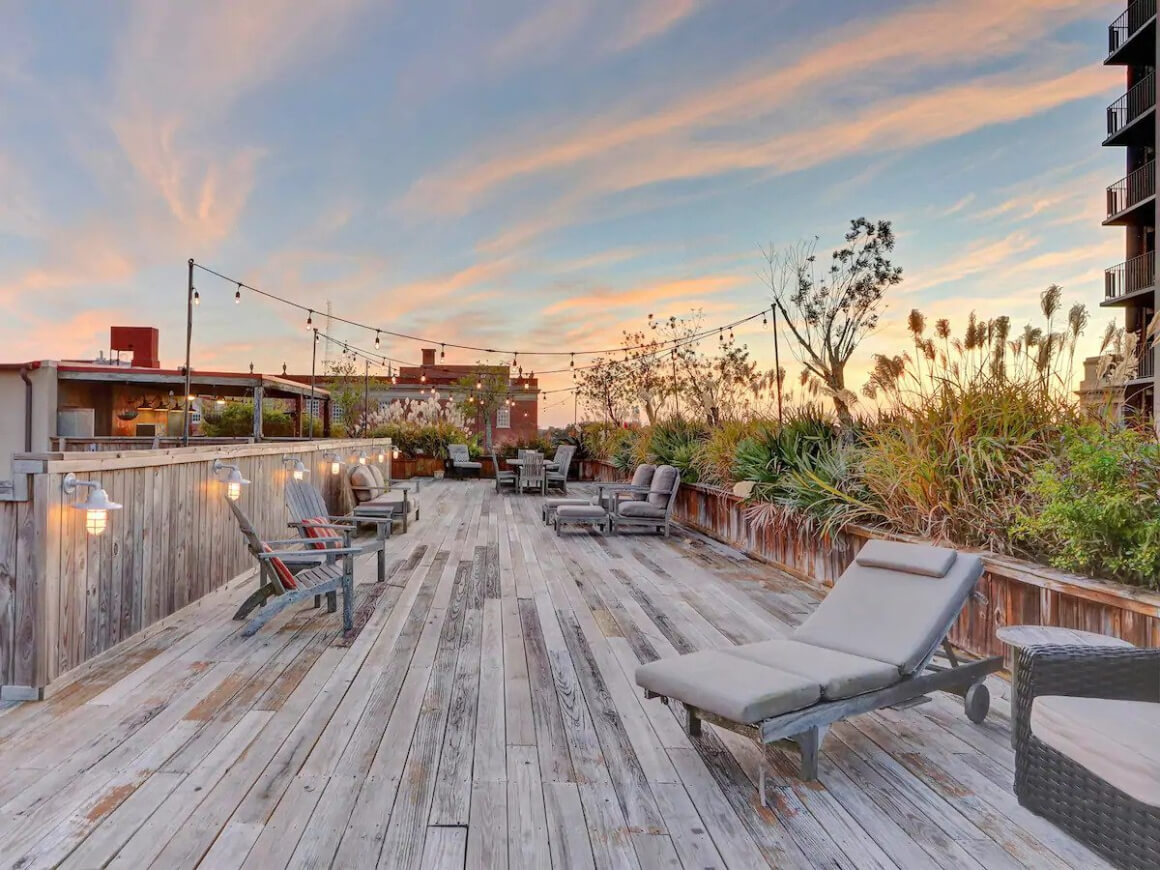 $$$$
Rooftop deck and access to a shared pool
8 Guests
Located in the vibey Jones East neighborhood
A getaway with friends calls for a central location and good spot to enjoy an evening drink. This home includes access to a heated rooftop swimming pool and sunset deck with second-to-none views.
The mansion itself is overflowing with natural light which illuminates the stunning antique furniture and decorative art. The space is huge, giving you the freedom to enjoy your personal space when you need a bit of time away from your friends. The kitchen is the perfect spot to cook a family meal, which can be eaten at the dining table overlooking the vibey Jones East neighborhood.
Finally, a billiards room with a private bar and a separate cinema room make this one of the best luxury vacation rentals in Savannah for good reason.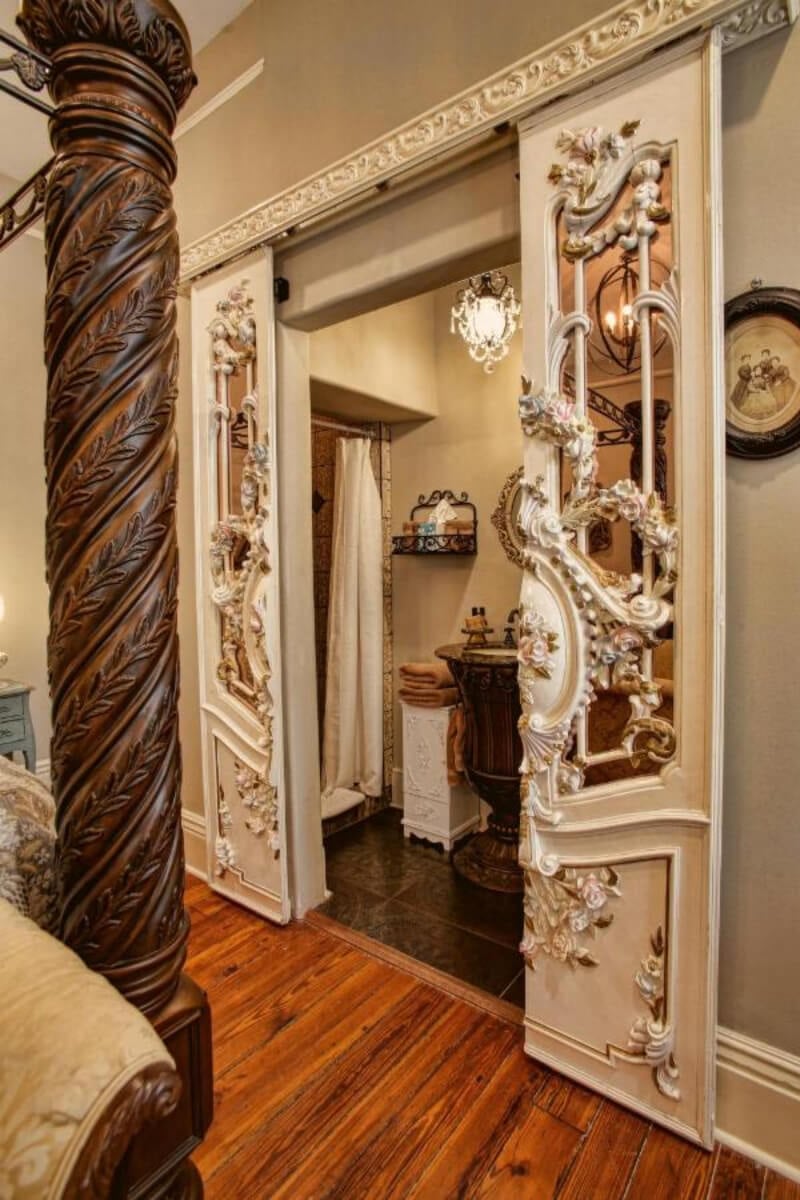 $$$
Victorian Baroque interiors with over-the-top antique furniture
2 Guests
Close to the river and historic cathedrals
If you're looking for a unique holiday rental in Savannah, look no further. This extravagant Victorian Inn has perfectly preserved its interiors from the Baroque and Edwardian ages. You've heard the saying OTT – well, this spot truly is over-the-top in all senses!
Carved and painted doorways lead into bedrooms filled with historical antique furniture. Four-poster beds, decorative mirrors, marble statues, and crystal chandeliers add to the grandeur of this Inn. There's also a stunning swimming pool and manicured gardens to explore.
When else will you get a chance to stay in a palatial home in the USA, surrounded by furniture and artefacts that are quite literally steeped in history?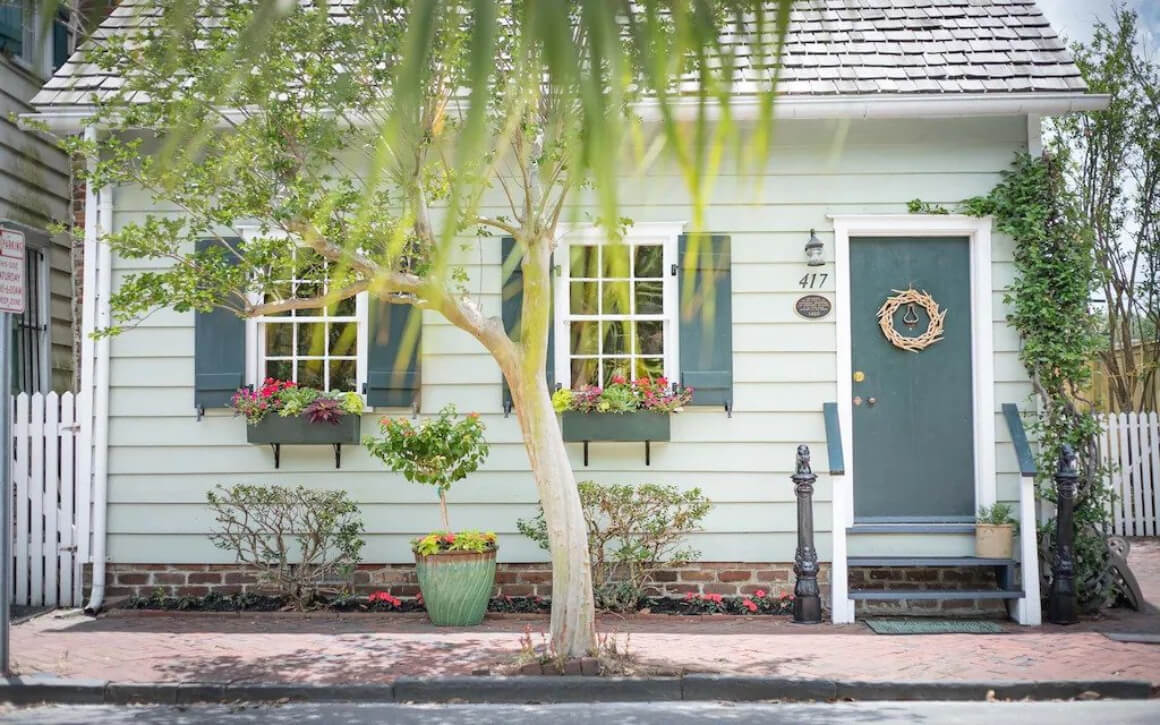 $$
Intimate wooden home with sunroom and porch
2 Guests
Located in the heart of the historical district
Farmstyle window shutters and a wooden interior give this home a farmhouse feel. Originally constructed in 1820, the owners have done well to preserve the era it was built in. Inside, the home almost looks like a European cabin, with warm wooden floors, walls, ceilings, and furniture. It is fitted with comfortable seating and a mixture of contemporary and old-style furniture, giving it a really homey feel.
Two wood-burning fireplaces, a glassed-in sunroom, and a romantic bedroom loft space make this home ideal for couples and honeymooners. I can imagine cozying up by the fire for a romantic evening after a day exploring the city.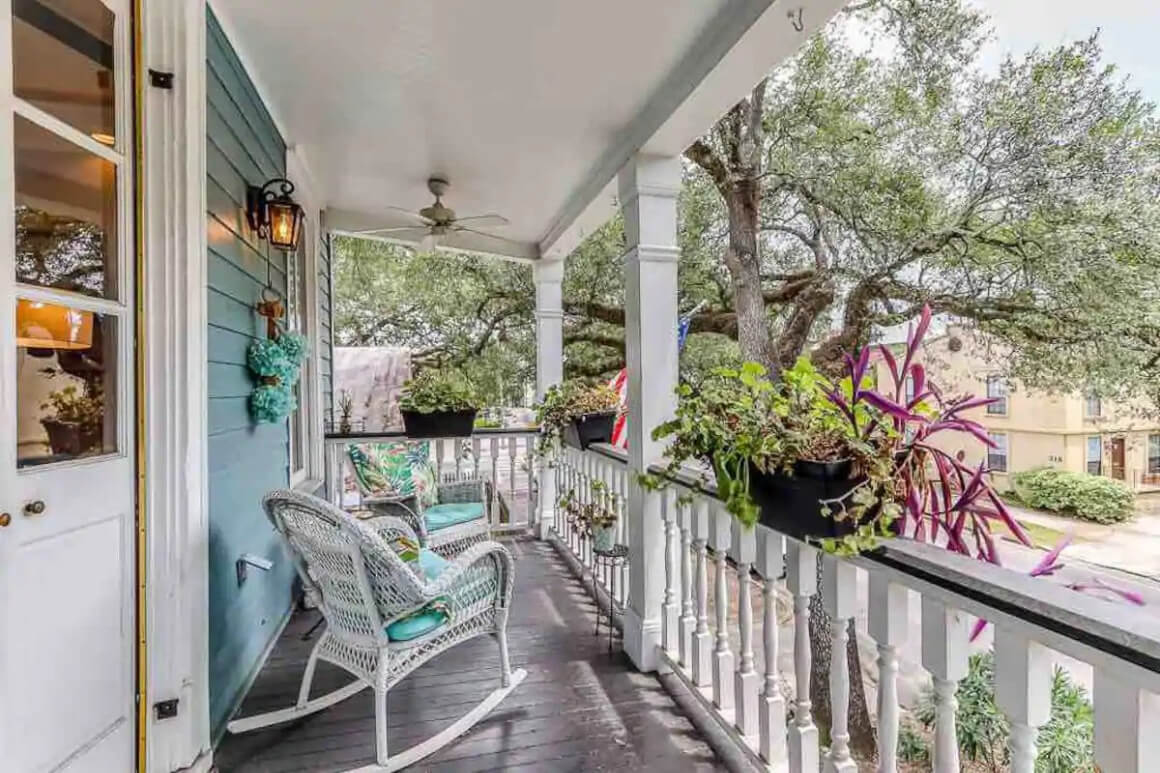 $$
Contemporary and bright 130-year-old condo
4 Guests
Walking distance to trendy cafes, bars, and nightclubs
This historic home is located in the Historic East Victorian District, within walking distance to some of the city's top restaurants, bars, and nightlife. It's only be a five-minute walk from Forsyth Park and 15 minutes from downtown!
The interior of this old home boasts sleek modern furniture, leather seating, and a fully-equipped contemporary kitchen with a four-seater bar. It's the ultimate self-catering vacation rental in Savannah for a small crew.
Enjoy a drink on the traditional rocking chairs on the porch as you admire the gorgeous surroundings and do some fascinating people-watching. There's even a cute little courtyard with an old mossy fountain in the backyard.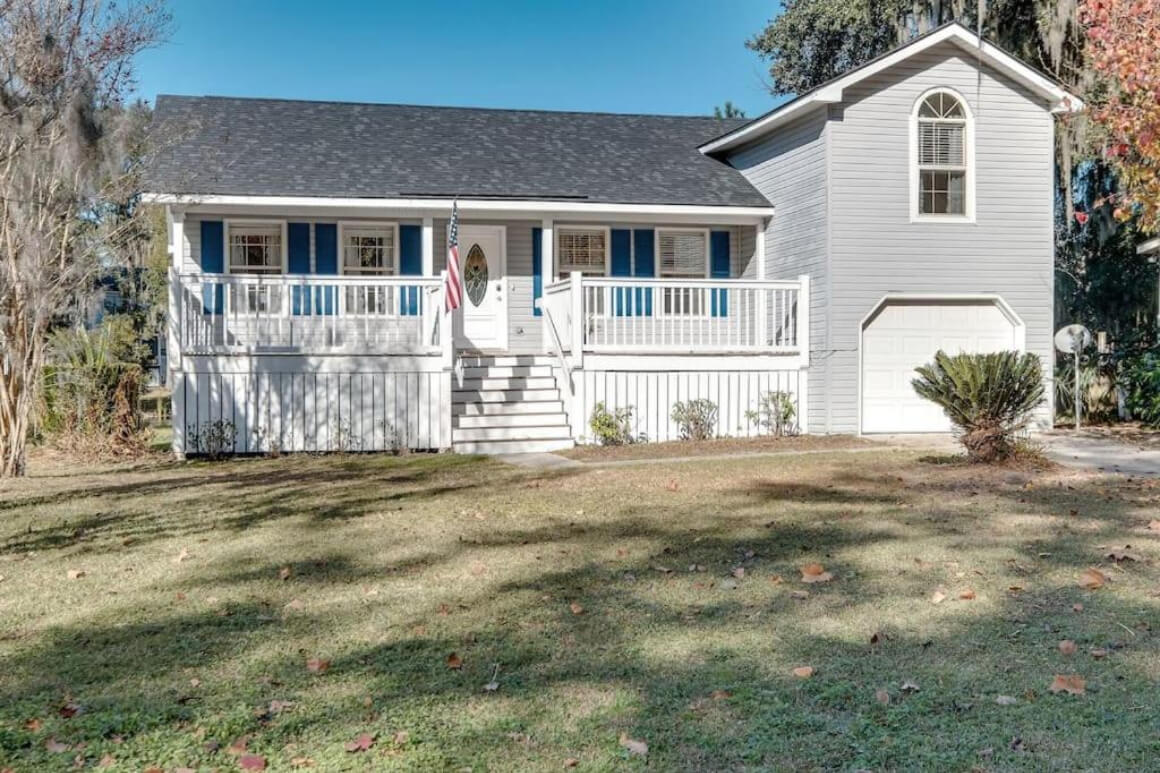 $$
Spacious home with a yard and large deck with river views
6 Guests
Located on the Marsh-Talahi Island
While historic city views are abundant in Savannah, you need to venture out of the city center to find the stunning natural views of the surrounding marshlands and coastal regions. This charming coastal home is located in the marshlands and features a huge balcony overlooking the water.
The inside of the home is decorated modestly with homey furniture and classic fittings. Comfortable bedrooms, a large open-plan concept living space, and off-street parking make this a perfect home-away-from-home.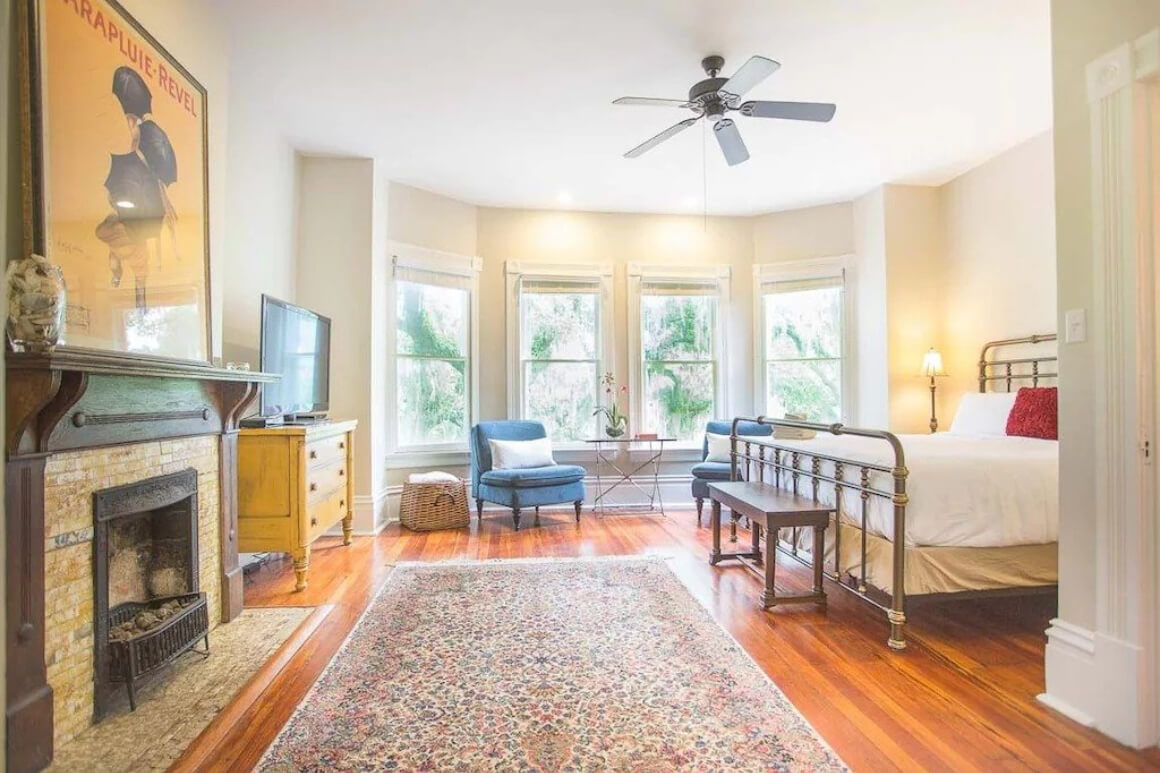 $
Bay windows overlook the lush Forsyth Park
3 Guests
Located in the Victorian District
Warm tones, original historic fireplaces, and a luxuriously large bedroom are all you need for a romantic vacation. This old home has large bay windows bringing ample sunshine into the home. Even better? These gorgeous historic windows overlook the famous Forsyth Park which is, quite literally, steps away from the front door. Throughout the year, there are many exciting festivals and events hosted in this park.
A large bedroom, homey living room, and fully-equipped kitchen give the home a very welcoming feel, making it one of the best vacation rentals in Savannah for couples.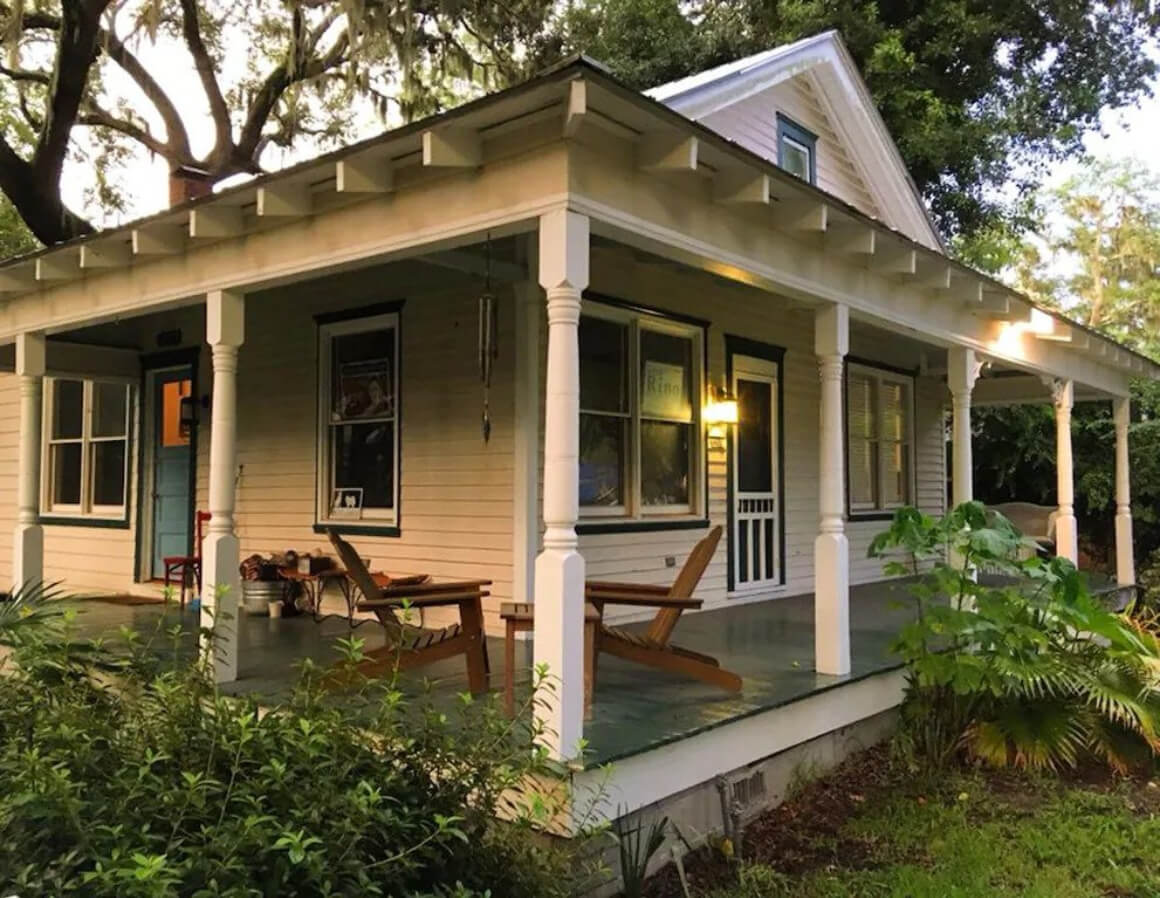 $
Petite coastal home with wraparound porch
6 Guests
Located between the historic district and Tybee Island
This classic cottage with a wraparound porch is a peaceful and quiet oasis just outside the center of Savannah. With a swinging chair on the green Victorian porch and a white picket fence surrounded by ancient oak trees, it is the Southern belle of accommodation. In fact, it has such a classic Southern feel that it was used as a location for a Cate Blanchett Hollywood movie!
The hosts of this historical property will treat you like royalty leaving you with a supply of snacks and starter toiletries for your stay. While the home has two queen-sized bedrooms, a sleeper couch in the living room can be used as an additional sleeping area.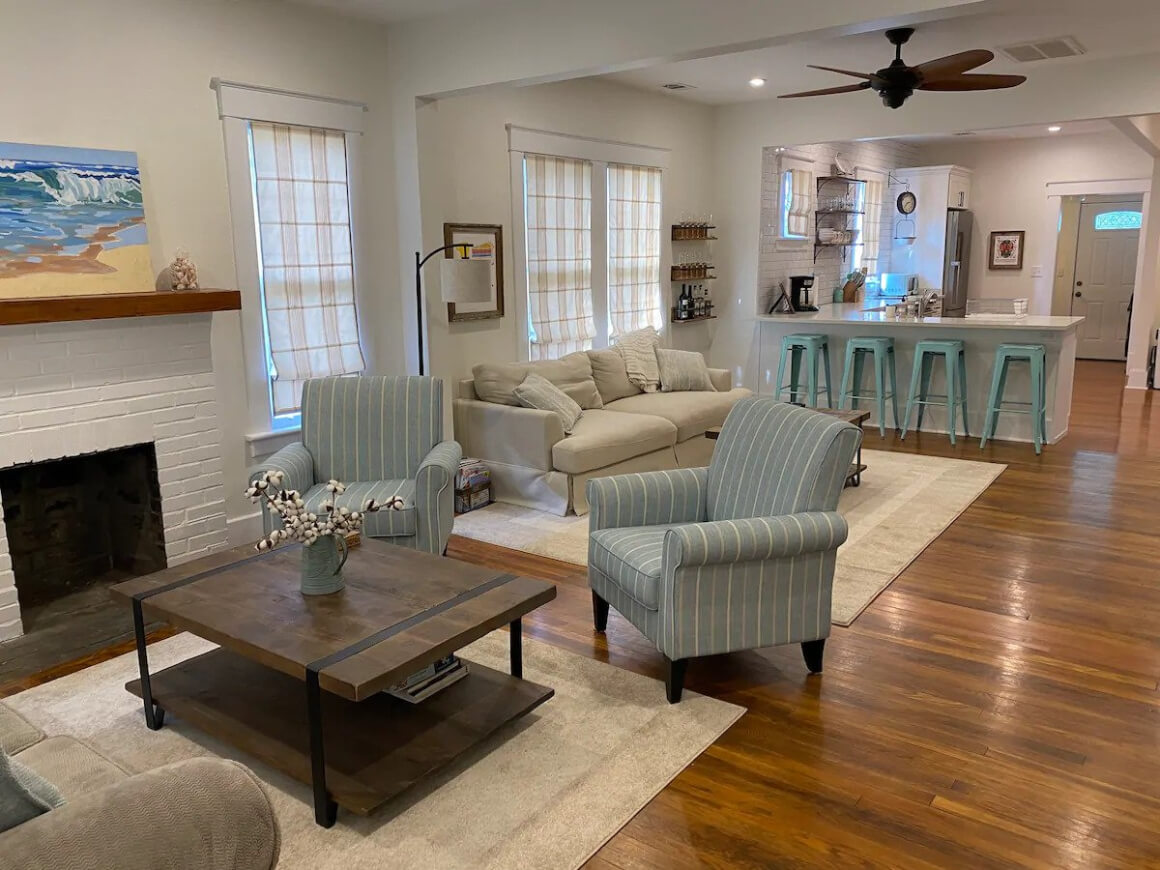 $
Long-stay rental with alarm system and off-street parking
7 Guests
Just out of the bustle of the city in a quiet neighborhood
As a digital nomad, your best bet is to stay in a quiet neighborhood that is close to the city center. This bungalow is beautifully designed with an open-plan living area featuring a fireplace and hardwood floors. Touches of light blue bring a coastal vibe into the home which has three bedrooms and two bathrooms.
The home comes fitted with an alarm system, great quality Wi-Fi, off-street parking, and a washing machine and dryer.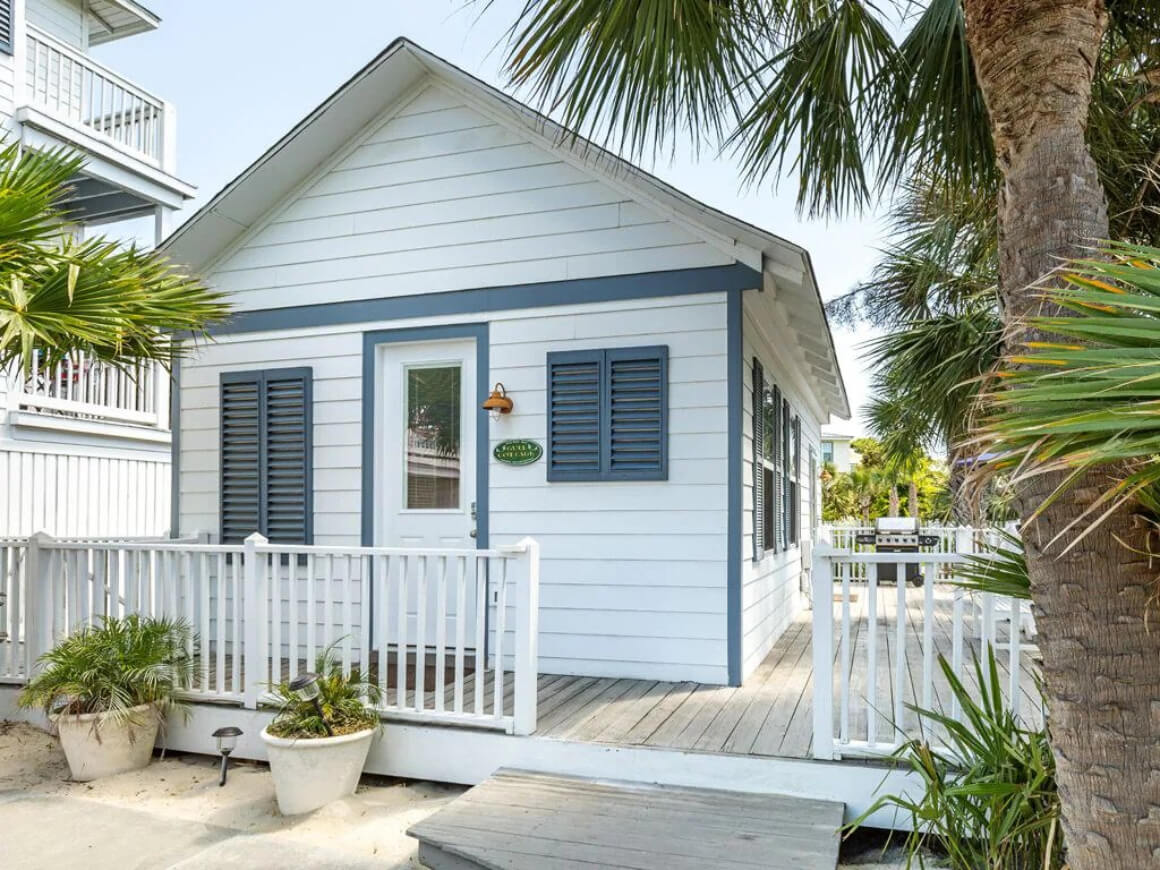 $$
Fully-equipped and comfortable home on the sand
2 Guests
Located on the beach in Tybee
This might be my favorite accommodation in the area. The tiny single-story cottage sits on the white sand of the gorgeous Back River Beach. You couldn't be closer to the water if you tried, making it the top beach vacation rental in Savannah. The charming home is painted white with blue shutters and has a spacious sun deck with a barbeque and dining area.
Inside, recently remodeled finishes complement antique-style furniture and Persian rugs. What better way to wake up than to the sound of seagulls chirping and the wind whistling through the beach reeds. I can just picture having my morning tea with my toes in the sand.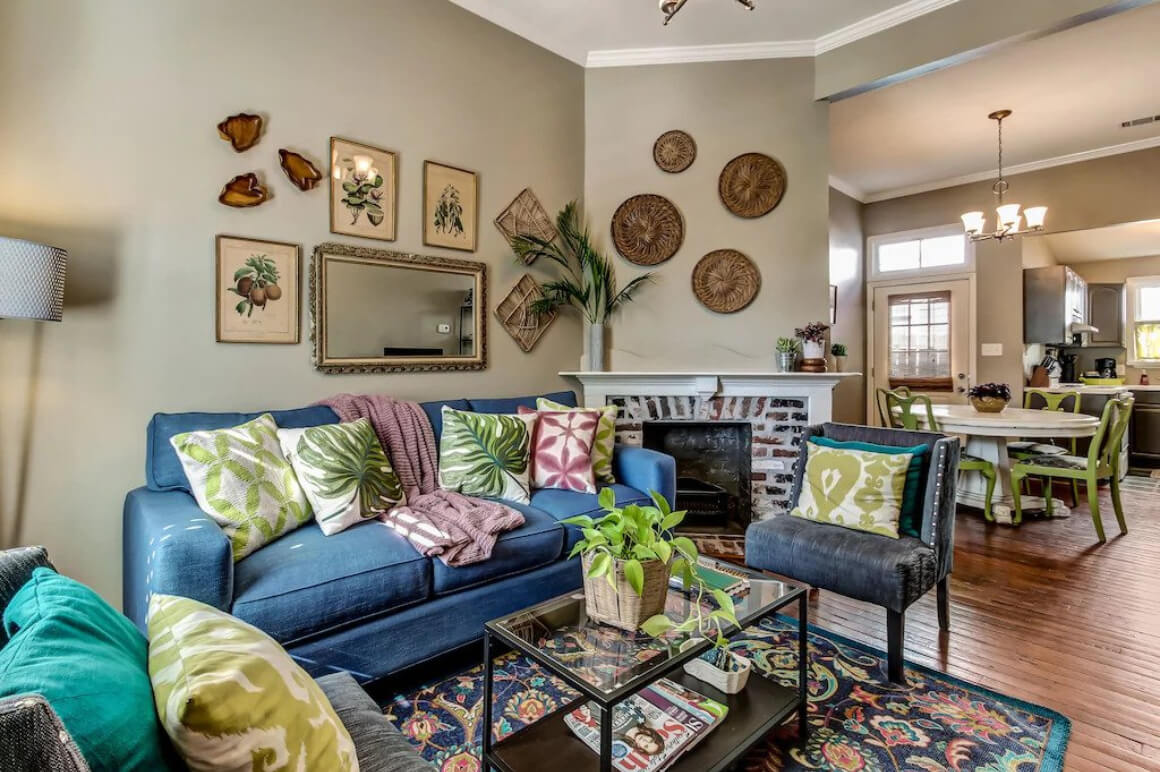 $
Recently remodeled unit with two porches
5 Guests
Located walking distance to shops and eateries
Looking for a spot to bring your pets along on holiday? This exciting home in the Savannah Historic Landmark District invites your dogs along too. The home is located a few minute's walk from one of Savannah's best dog parks with acres of lush grass for your furry friends to enjoy.
The house itself is filled with colorful furniture, patterned carpets, and printed linen. Interesting art hangs on the walls, and pops of bright color bring fun energy into the home. There's also a spacious walled-in deck with a seating and barbeque area.
Don't Forget Your Savannah Travel Insurance
ALWAYS sort out your backpacker insurance before your trip. There's plenty to choose from in that department, but a good place to start is Safety Wing.
They offer month-to-month payments, no lock-in contracts, and require absolutely no itineraries: that's the exact kind of insurance long-term travellers and digital nomads need.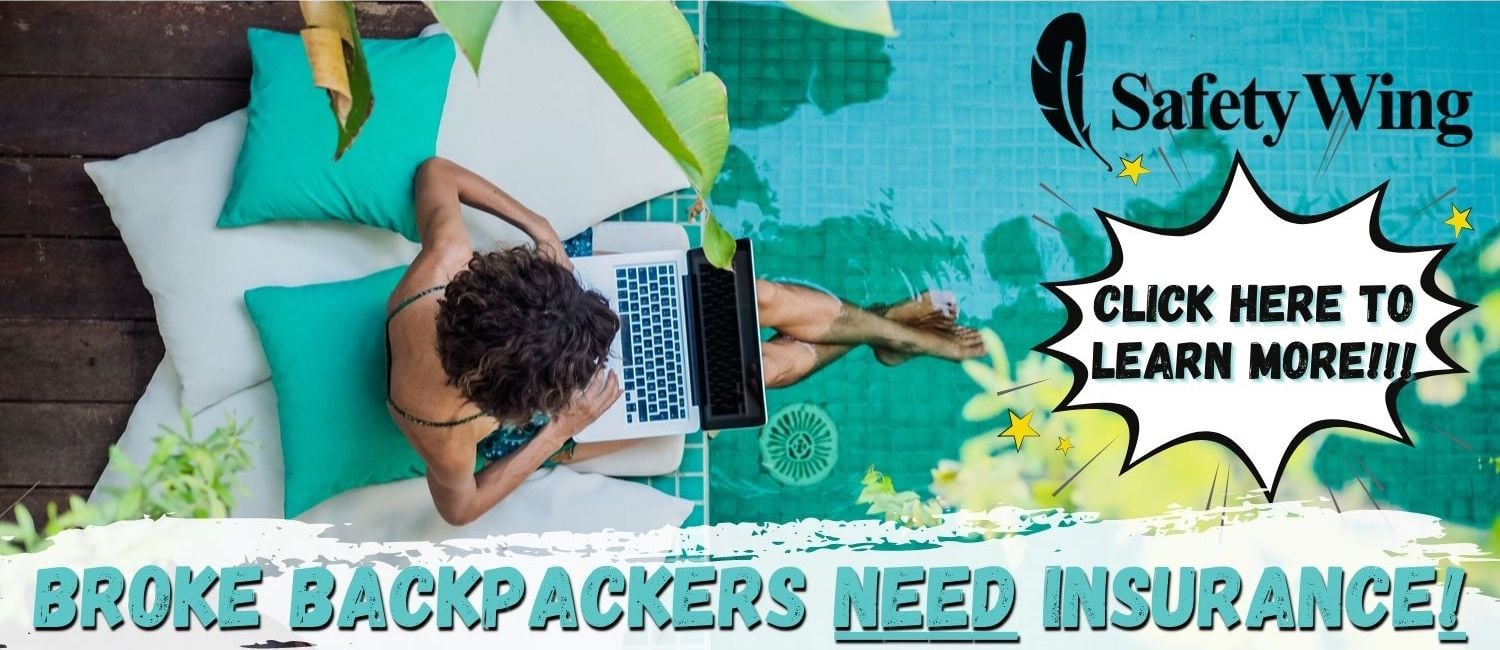 SafetyWing is cheap, easy, and admin-free: just sign up lickety-split so you can get back to it!
Click the button below to learn more about SafetyWing's setup or read our insider review for the full tasty scoop.
Final Thoughts on Vacation Rentals in Savannah
Self-catering holiday rentals are abundant in Savannah. They offer guests a bit of extra space and freedom when compared with the region's hotels, B&Bs, and inns. Whether you prefer a luxurious modern home or a historically significant building with authentic charm, you'll find the perfect vacation rental in Georgia's 'Hostess City of the South'.
From beach vacation rentals in Savannah's Tybee Island to riverside condos and downtown homes with haunted histories, there's something for everyone in this welcoming Southern city.
---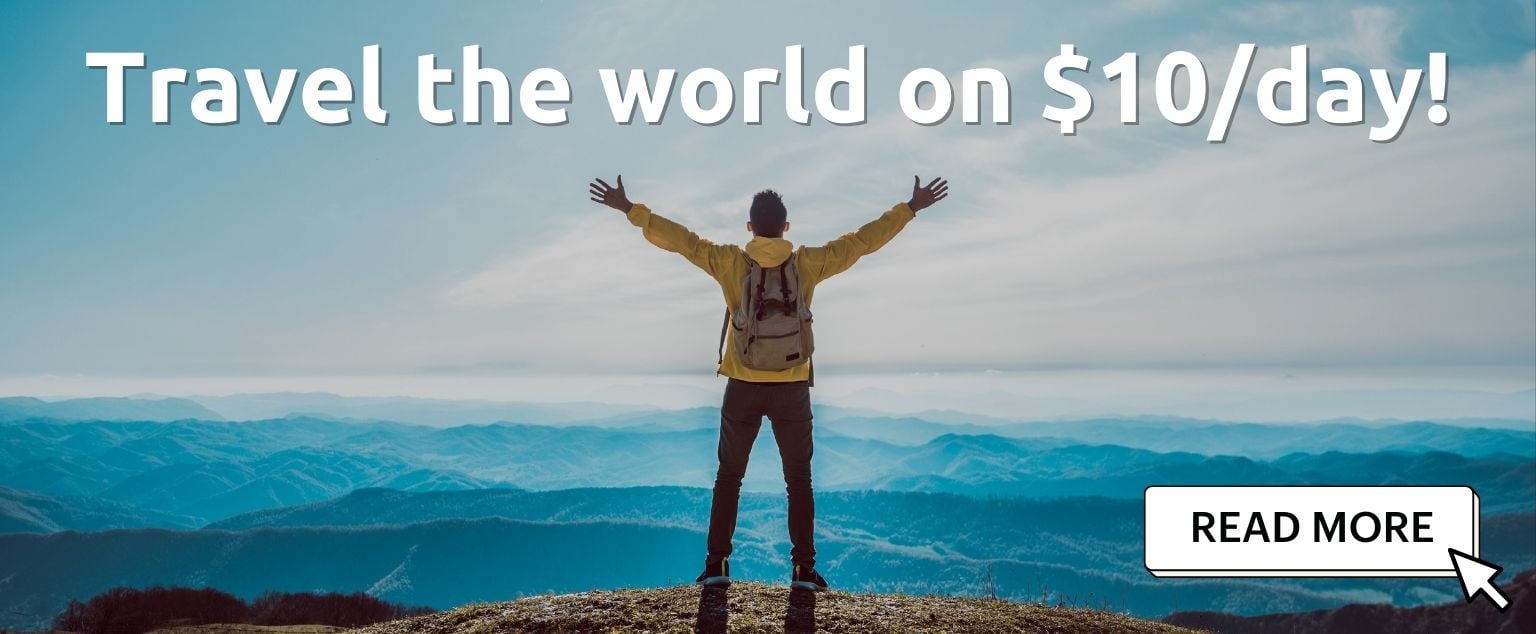 And for transparency's sake, please know that some of the links in our content are affiliate links. That means that if you book your accommodation, buy your gear, or sort your insurance through our link, we earn a small commission (at no extra cost to you). That said, we only link to the gear we trust and never recommend services we don't believe are up to scratch. Again, thank you!