Savannah is one of the most important cities in Georgia both culturally and historically, and it was the first state capital. The last of 13 British colonies, it's also known as the Hostess City of the South. Yep, you'll get the famed Southern hospitality, along with some of the best soul food and seafood in the state!
Staying in Savannah is like stepping back in time. Instead of hotels and hostels, check out vacation rentals in Savannah. With gorgeous townhouses dating all the way back to the 18th century, your jaw will drop at your temporary home – especially in the Victorian or Midtown Districts!
To give you a hand, we've put together this list of the 15 best Airbnbs in Savannah. We've selected the most beautiful properties and sorted them according to travel style and budget. For good measure, we've thrown in five fabulous Airbnb Experiences, too. Let's go!
Quick Answer: These are the Top 5 Airbnbs in Savannah
Overall Best Value Airbnb in Savannah
Overall Best Value Airbnb in Savannah
Modern Downtown Loft
> $$
> 3 guests
> Views of Broughton Street
> Beautiful décor
Best Budget Airbnb in Savannah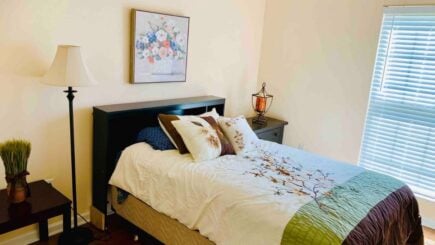 Best Budget Airbnb in Savannah
Private rooms in quiet home
> $
> 2 guests
> Free parking
> Safe and quiet neighbourhood
Best Airbnb for Couples in Savannah
Best Airbnb for Couples in Savannah
Vintage Carriage House on Chatham Square
> $$$
> 2 guests
> King bed
> Fully equipped kitchen
Best Airbnb for Families in Savannah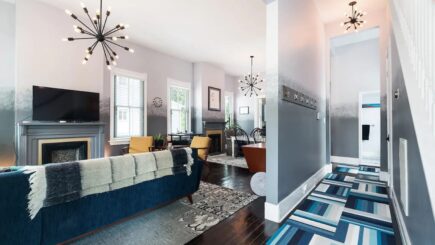 Best Airbnb for Families in Savannah
Dog Friendly home in Victorian District
> $$$$
> 5 guests
> Two patios and fire pits
> Dog friendly!
Over-the-Top Luxury Airbnb in Savannah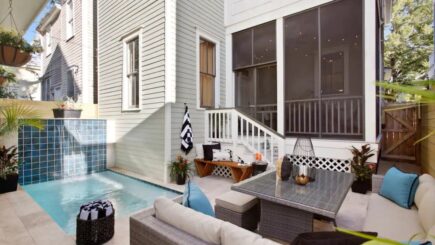 Over-the-Top Luxury Airbnb in Savannah
Historic Victorian Luxury Retreat
> $$$$$$$$$$
> 14 guests
> Swimming pool
> Decorative brick fireplaces

Unlock Our GREATEST Travel Secrets!
Sign up for our newsletter and get the best travel tips delivered right to your inbox.
What to Expect from Airbnbs in Savannah
Whichever Airbnb in Savannah you choose, you can expect a lot of character. The most obvious properties are the cottages, townhouses, and carriage houses of the city centre – that is where most people will probably decide to stay.
Expect indoor brickwork and fireplaces, high ceilings, and wooden floors wherever you go. It's an interior designers dream… just hope there aren't any ghosts lurking in these historic properties! The average nightly price is pretty high here, but with a bit of careful searching or out of the box thinking, you'll be able to find something affordable if that's what you're looking for.
Most vacation rentals in Georgia are rented from local hosts, but with the bigger townhouses, you might be dealing with a business instead. Should you want to escape the hustle and bustle of the center, you can look for more unique properties on the 'Creative Coast.'
Let's dive deeper with what to expect.
Cottage
There are more than 100 cottages in Savannah. These gorgeous properties are often historic buildings boasting more than a century of history. They could be an entire house or a carriage house – which is your own space but on your host's property.
You'll find the best cottages concentrated around the Victorian and Historic Districts. However, it is possible to find similar properties if you cast your net wider – in places like Thunderbolt.
While many properties will be historic homes, you can expect modern appliances and conveniences, such as Wi-Fi, fully equipped kitchens, and smart TVs.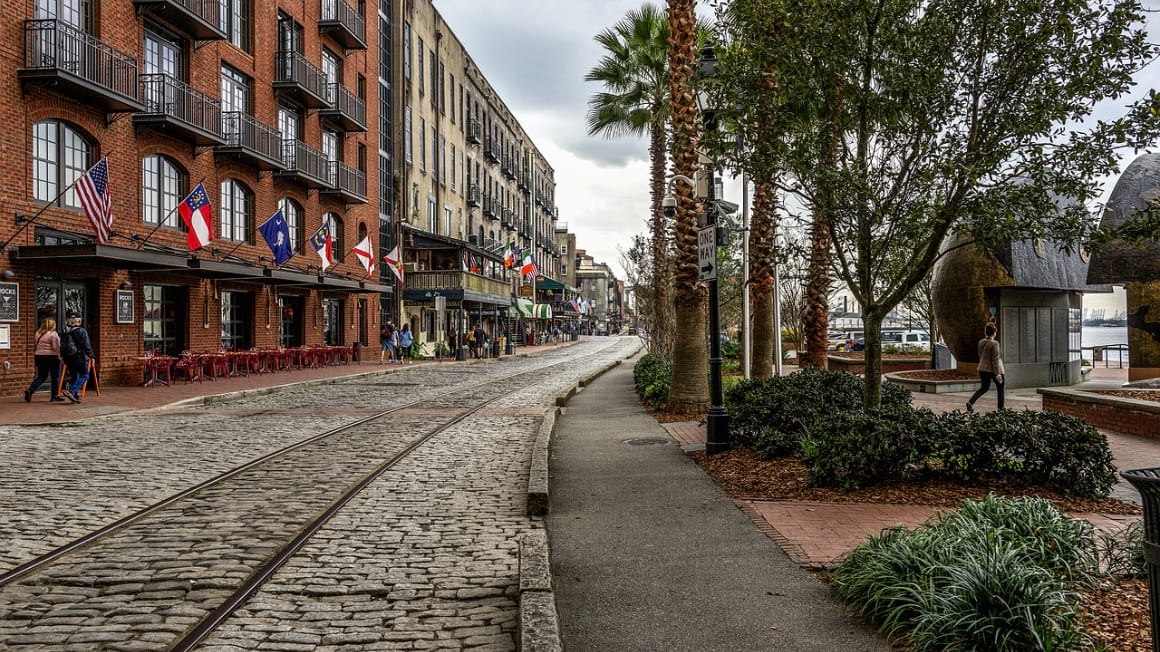 Townhouse
Savannah is famed for its beautiful townhouses. Like cottages, many of these have centuries of history and are part of the attraction of staying in the city. As with cottages, most townhouses can be found in the Historic and Victorian Districts in the center of town, though you do have more selection in the suburbs.
Townhouses often have high ceilings and beautiful interior design touches, such as indoor brickwork, wooden beamed ceilings, and gorgeous fireplaces. If you want the full townhouse experience but your budget won't stretch to it, you'll be pleased to know it's easy to find a private room, too.
Because a townhouse is the most popular type of home in Savannah, they may not all fall under that category in Airbnb listings. Include entire homes in your search to ensure you don't miss a single one!
Boat
While you might be coming to Savannah to learn about history, you may want a break from it every so often. If that's the case, perhaps you should stay out of the city center – there's no better way of doing that than by staying in a boat!
You can find these in and around the islands, just a stone's throw from Savannah's historic districts – such as Wilmington, Tybee, and Talahi. Boats are small but pricey, so would be best suited to a small group of family or friends.
Why Stay in an Airbnb
Still not convinced about staying in an Airbnb? We can't think why. Regardless, we've got five reasons why Airbnb is the best platform for booking your trip to Savannah.
Local Experience: With a local host on hand, you can leave your guidebook at home. They'll give you all the recommendations for the best things to see and do in the area.
Unique Properties: Sometimes, hotels can seem a bit lacking in character. Airbnbs can't be accused of that, with each one different from the next.
Affordability: Put a hotel next to an equally priced Airbnb, and there's only one winner when it comes to value for money. Hint, it's not the hotel!
Safety: Staying in someone else's house may seem like an unnecessary risk. However, the vetting of both host and guest takes that risk out of the equation.
Airbnb Experiences: Airbnb Experiences are locally curated tours that you can book through the platform. But we'll get to that in more depth later!
The 15 Top Airbnbs in Savannah
Okay, time to get down to the real business; here are the top 15 Airbnbs in Savannah, selected with you in mind. They're arranged by category, so it shouldn't be too hard to find your perfect place to stay.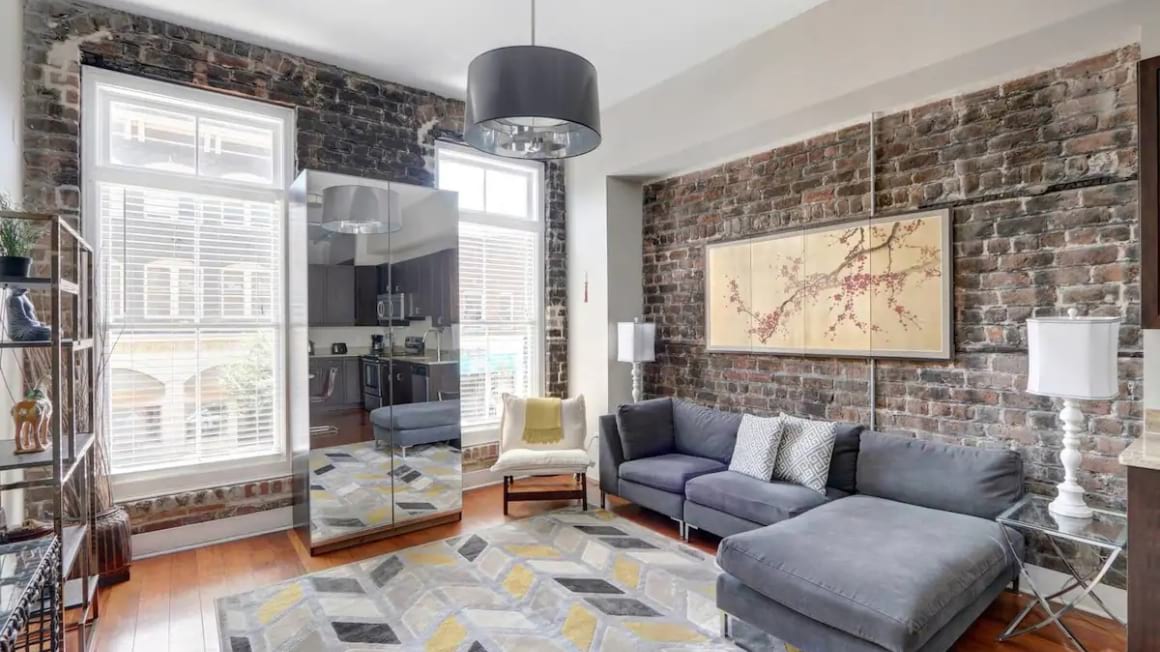 $$
Views of Broughton Street
You'll find this beautiful loft apartment right in the heart of Savannah. Though it's listed as having space for three guests, one of the beds is a sofa bed, so it'd probably be better suited to a couple or perhaps even a solo traveler looking to really treat themselves. It has views of the iconic Broughton Street, which you can head on down to for the best nightlife in town – that is, if you're not enjoying a movie on the Smart TV!
2 guests
Safe and quiet neighbourhood
Savannah is many things, but it ain't cheap. If you're looking to keep your costs as low as possible, you have to venture outside of the Historic and Victorian Districts. Though that might seem disappointing at first, you'll quickly get over it when you're welcomed into this lovely family home in the suburbs. It's in a safe and quiet neighborhood, and you've got access to communal areas throughout the house.
Want to keep your costs low and have an authentic local experience? Then choose a homestay – it's the perfect way for solo travelers to integratethe local life, no matter where you're travelling in the US! In this charming Thunderbolt property, you have access to the kitchen and living room, which is packed full of books. It's a relaxing and charming place to spend your free time when you're not exploring the city.
Is This the Best Backpack EVER???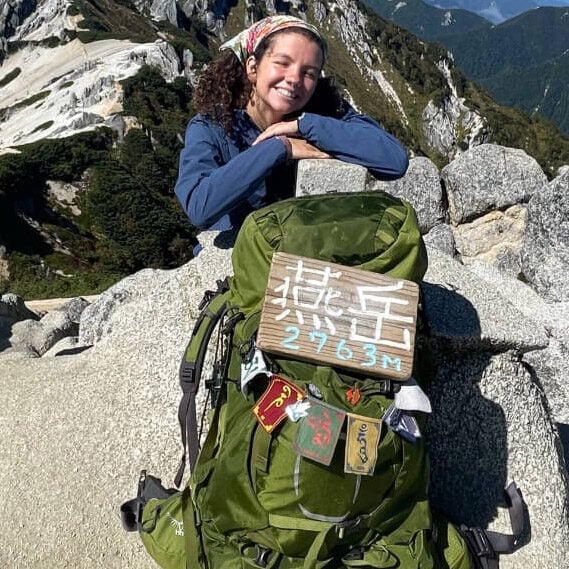 2 guests
Fully equipped kitchen
When traveling with your other half, you'll want somewhere a bit special, right? Look no further than this carriage house on Chatham Square. Not only does it have a king bed, but there's also a fully equipped kitchen where you can cook up a storm together. Don't fancy cooking? It's a good job all the best restaurants and bars are right on your doorstep then!
$$$$
Two patios and fire pits
Everyone knows that a family isn't just made up of humans. With this three-bedroom property, you can bring man's (and woman)'s best friend along for the ride too. Yep, this dog-friendly Airbnb in Savannah is perfectly equipped for families of all ages, with a big garden, two patios, and fire pits. If the weather isn't suitable for sitting outside, you'll be pleased to know that the open-plan living and dining area is BEAUTIFUL.
14 guests
Decorative brick fireplaces
If you're looking to host a big family get together, this luxurious Airbnb might just be the place for you. You wouldn't think it possible, but they've somehow managed to fit a pool in that townhouse yard… with a dining area too! The interior is gorgeous – and it can host up to 14 guests. Everyone will be impressed by the cute touches, such as decorative brick fireplaces and four-poster beds.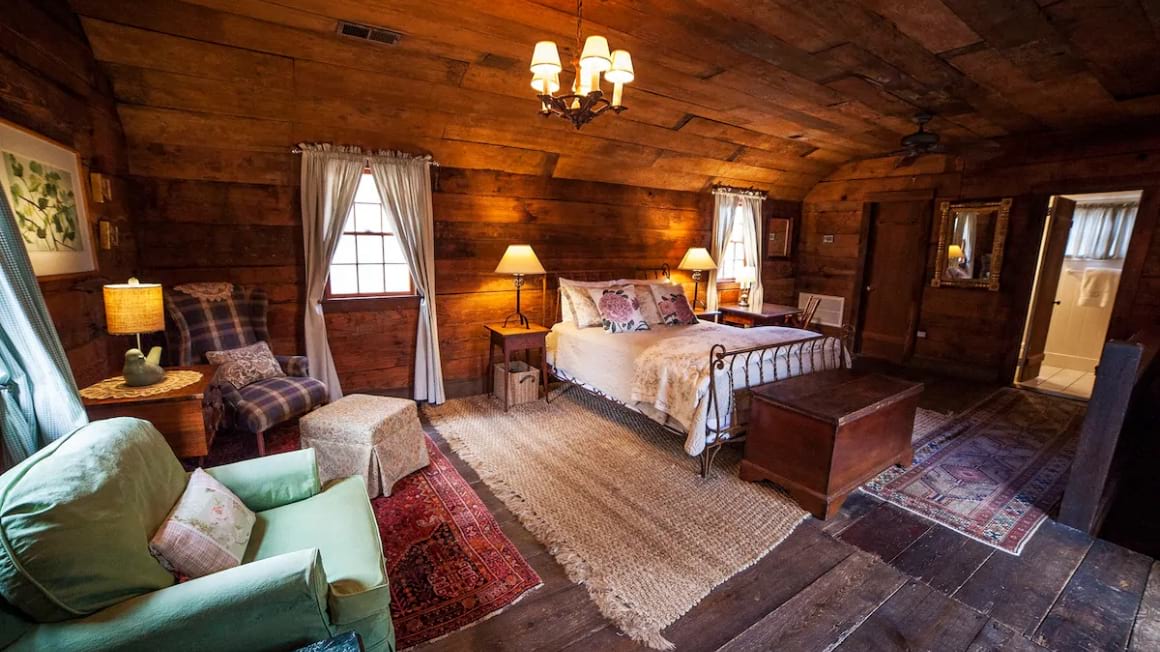 4 guests
Antique furniture
This cottage really does feel like stepping back in time, and it's packed with olde worlde charm. The wooden beams on the roof of the bedroom make you feel like you're in some sort of fairytale. The 18th-century cottage is right in the heart of the Historic Downtown area, which you can observe from the rocking chairs on your front porch. Despite its charming appearance, there are useful touches like free parking, too.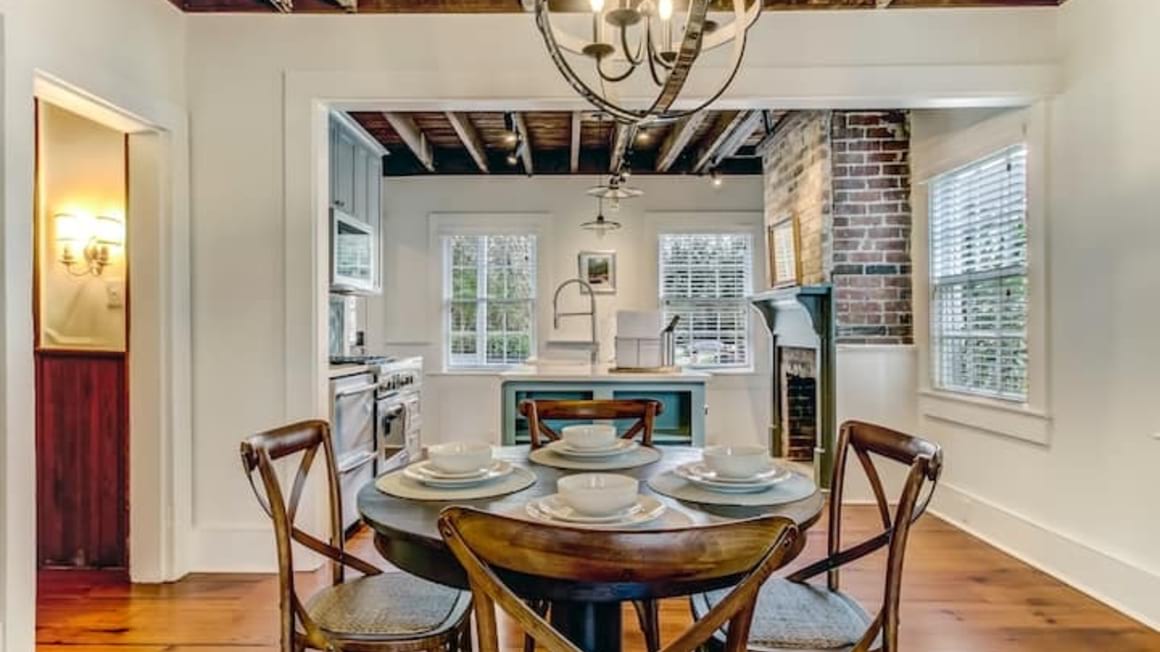 4 guests
Exposed beam ceilings
Choosing the best townhouse in Savannah is like choosing what to pick at your favorite restaurant – there are about 82 choices that are all perfect. This beautiful townhouse wins by a nose thanks to the design – just look at that indoor brickwork and exposed roof beams. The home dates back to the 1860s, but there are some awesome mod cons, such as keyless entry and a fully equipped kitchen.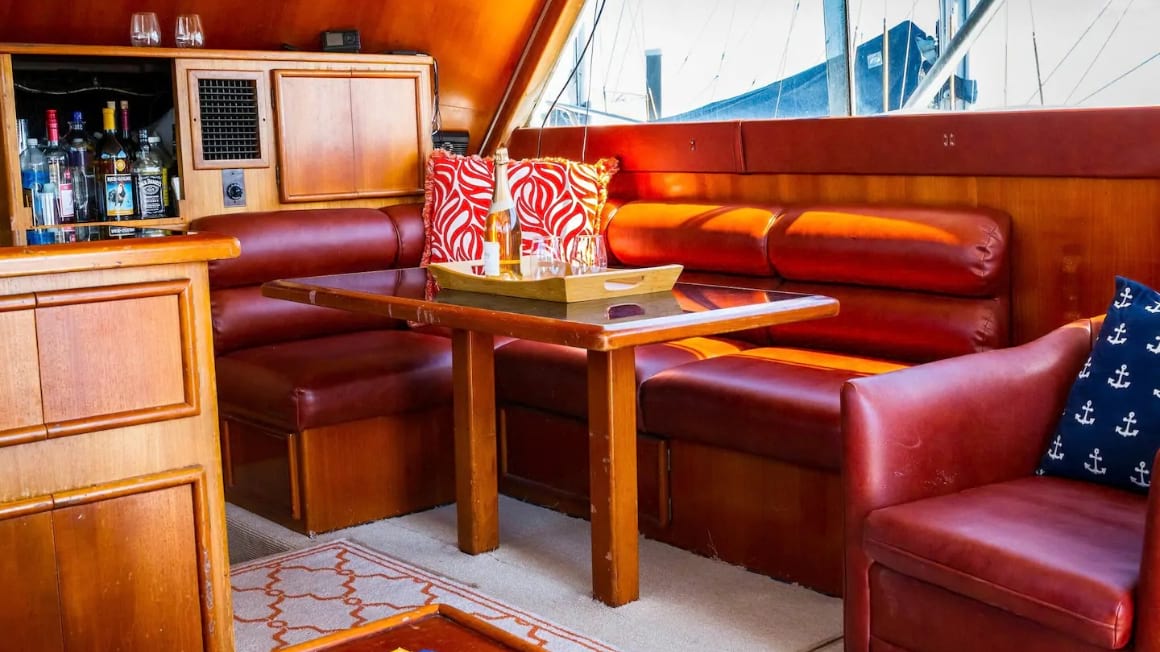 4 guests
Full galley (kitchen)
Want to get out of Savannah and explore the South-East coast? How about this boat on the Wilmington River? There's a sun deck where you can top up your tan and a full galley where you can cook up a delicious dinner. Of the two staterooms, one has a queen bed while the other is a twin – it'd suit parents with kids who are looking for a unique accommodation experience.
$
Laptop friendly workspace
Being a digital nomad means you can work anywhere with a Wi-Fi connection and (ideally) a laptop-friendly workspace. Thankfully, this spot has both those things and much more. There are coffee shops on your doorstep where you can set up your laptop for a change of scenery. After a busy day of exploring or working, relax and treat yourself to a bath in the clawfoot tub!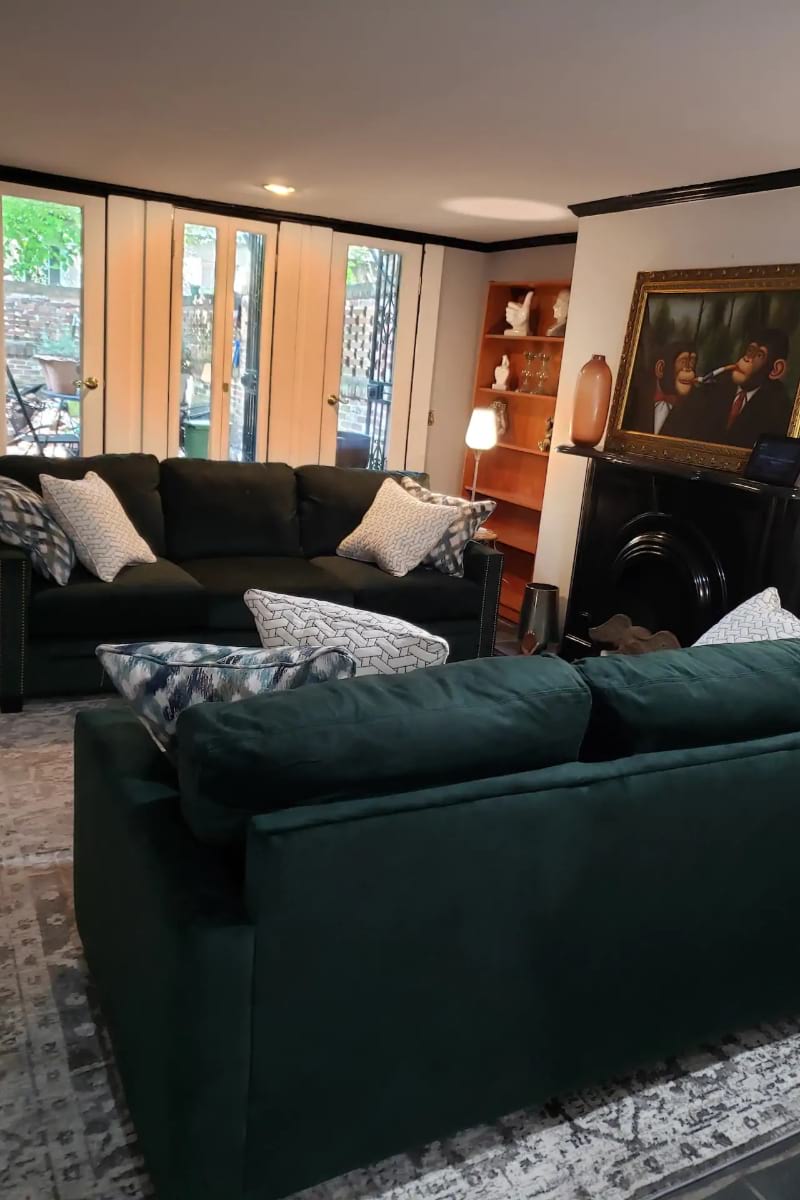 It can be a little daunting traveling to the southern United States if you identify as LGBTQ. But staying in an LGBTQ+ friendly, you're likely to feel much more relaxed and enjoy your time. That's where the Stable comes in. There's an office at your service, too, so no problem if you need to do some work while you're here. On top of that, you've got your own private bathroom!
4 guests
Courtyard with fire pit
If you're planning a weekend in Savannah, you'll want to ideally be in the Historic Downtown area. That way, you can make the most of the restaurants, bars, the awesome history museums, and ghost tours that are so popular with visitors. Do make sure you set aside enough time to enjoy the house itself – there's a fire pit and a courtyard!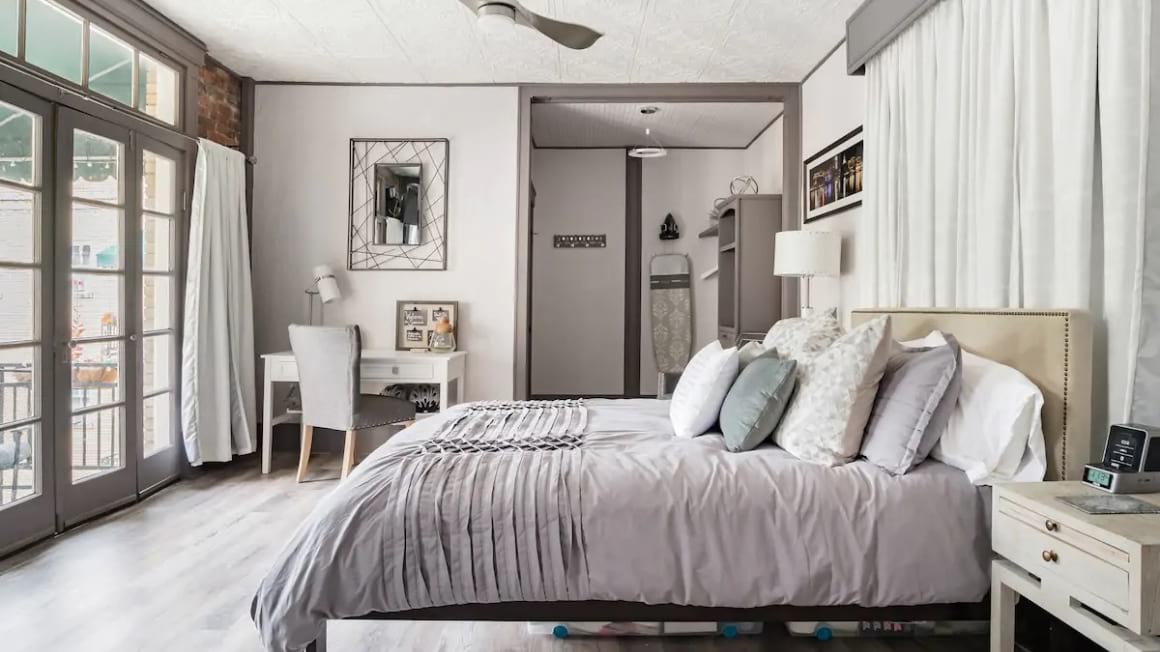 2 guests
Balcony overlooking Oglethorpe Square
For your first vacation as a married couple, you have to choose something truly special. How about this apartment overlooking Oglethorpe Square? Enjoy your morning coffee out on the balcony overlooking one of the most bustling parts of Savannah. If it's the evening, you could even enjoy a cocktail! You'll probably be spending some time in the apartment, so it's good to know there's a queen bed and a fully equipped kitchen.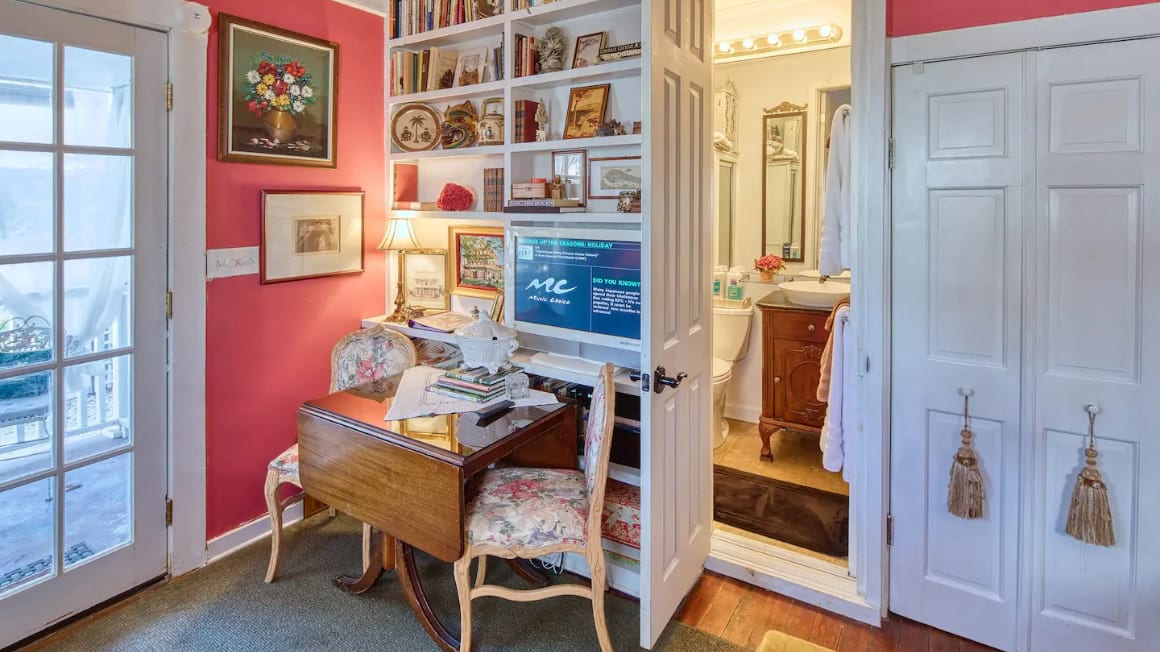 A slight departure from the townhouses of Savannah, this cute cottage dates back to the 19th century. Painted in a light shade of pink, it is packed with period furniture, and there's a garden where you can enjoy your morning coffee or breakfast. The bedroom boasts its own en-suite bathroom and a queen bed, so it's very well suited to a couple.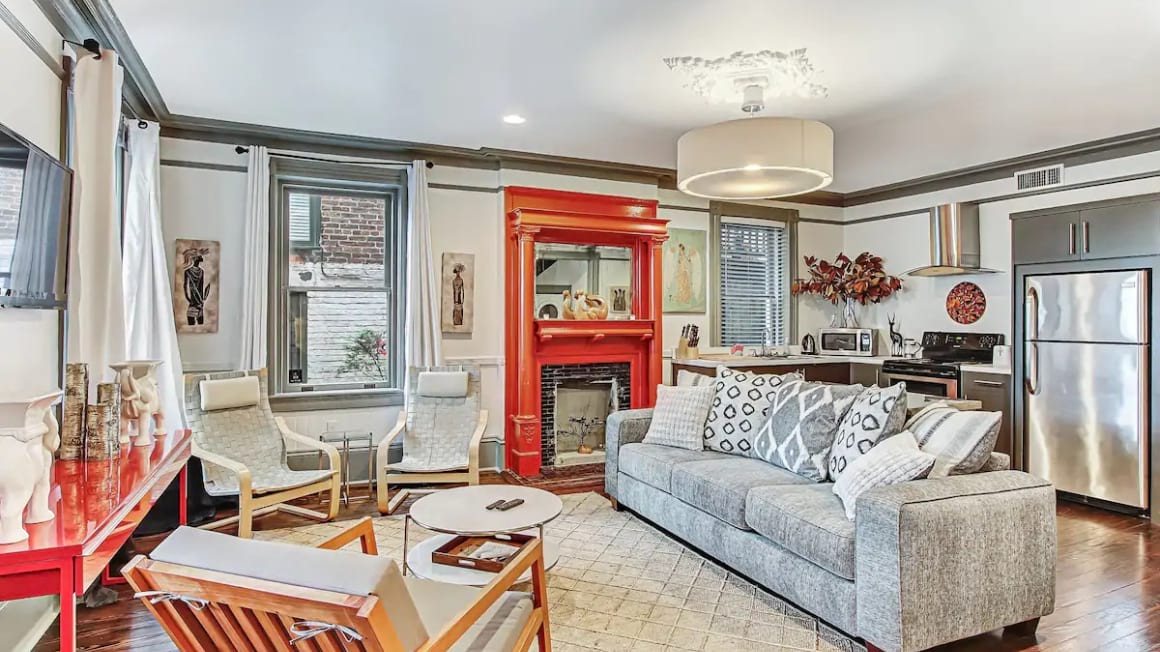 $$$
Beautiful living space
6 guests
Fully equipped kitchen
This historic home dates back to the beginning of the 20th century and has space for up to six guests. There are four beds too, so no need to top and tail in one of three doubles! It's just two blocks from Forsyth Park, so a nice place to spend the day with a stroll or a game of frisbee – before hitting the bars and restaurants in the evening!
Top 5 Airbnb Experiences in Savannah
Well, there we go? What did you think of those! While you're mulling over which Airbnb is best for you, let's take a look at what you can do when you arrive.
Booking an Airbnb Experience is the best way of seeing your destination. You'll have a local guide who has curated their own tour – it could be anything from a walking tour of town to water sports at the nearest beach.
We've put together our list of our five favorite Airbnb Experiences in Savannah. There's a huge range of interests in there, so all you need to do is decide which you're going to do first.
$42/person
1.5 hours
Up to 8 guests
Take a couple of hours out of the city to explore the waterways surrounding Savannah with this kayaking tour. If you've never done it before, not to worry; you'll have time to work on your technique before heading out into Broad Creek. Fuel up for kayaking with some local coffee from the Hilton Heads area.
$100/person
9 hours
Up to 3 guests
Looking to spend a full day out of the city? Then a trip to Sapelo Island is in order. This trip is flexible, and you can choose between taking a golf cart around the island or beachcombing and swimming. There's an early 19th-century lighthouse that is very Instagrammable. History buffs can see the oldest sugar mill in the US and many infamous landmarks from the slave trade.
$20/person
1.5 hours
Up to 10 guests
Savannah is known for its paranormal activity, and while you wouldn't want to witness it alone, it can be really fun on a ghost tour! This spooky tour is family-friendly, so it's a great way for kids to get to grips with the local history. You'll visit antebellum mansions, creepy parks, and even wander through a few graveyards. Have a go if you're brave enough!
$38/person
2 hours
Up to 10 guests
Doing an Airbnb Experience doesn't have to be about being scared senseless or tiring yourself out with an all-day trip. It can be something as simple as sampling chocolates and coffee with a local guide – and who doesn't want to do that?! You'll enjoy roasted gourmet coffee and a few artisan truffles from one of the city's gourmet chocolatiers. A treat for your taste buds!
$24/person
1.5 hours
Up to 10 guests
While the previous haunted tour was family-friendly, this one most certainly isn't. If you want to have a few drinks and toast Savannah's ghosts and ghouls, this one is for you. Hit up the most haunted locations in the city and enjoy the spirits on offer… whether that's drinks or otherwise is up to your interpretation!
Don't Forget Your Savannah Travel Insurance
ALWAYS sort out your backpacker insurance before your trip. There's plenty to choose from in that department, but a good place to start is Safety Wing.
They offer month-to-month payments, no lock-in contracts, and require absolutely no itineraries: that's the exact kind of insurance long-term travellers and digital nomads need.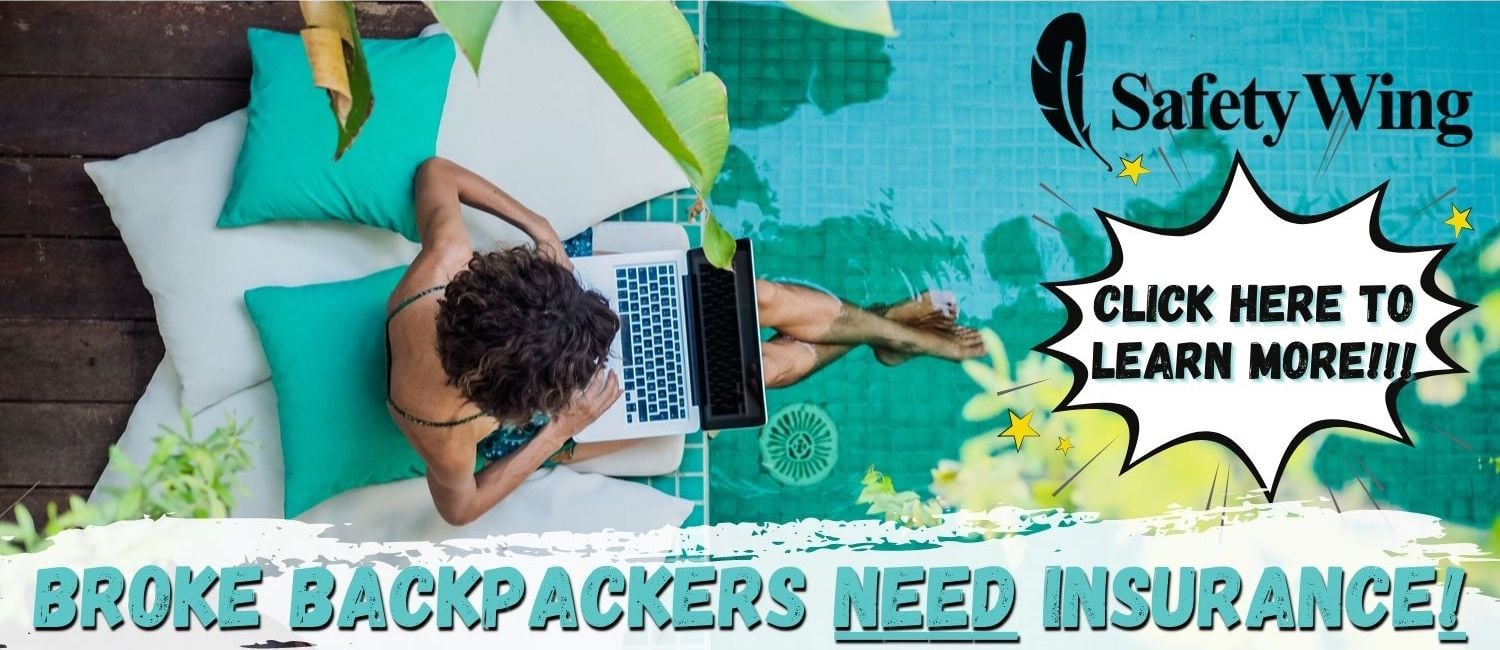 SafetyWing is cheap, easy, and admin-free: just sign up lickety-split so you can get back to it!
Click the button below to learn more about SafetyWing's setup or read our insider review for the full tasty scoop.
Final Thoughts on Savannah Airbnbs
Well, there you have it. Not only have you seen the 15 best Airbnbs in Savannah, but five of the coolest things you can do when you get there. Whether you're looking to stay in a period cottage, a historic townhouse, or a cool boat, it's all there waiting for you.
If you can't make up your mind where you want to stay in Savannah, don't worry! Just scroll back up to the top of our list and go for the best value Airbnb in Savannah – the Modern Downtown Loft. It's in a great location and a wonderful base to explore the city from.
---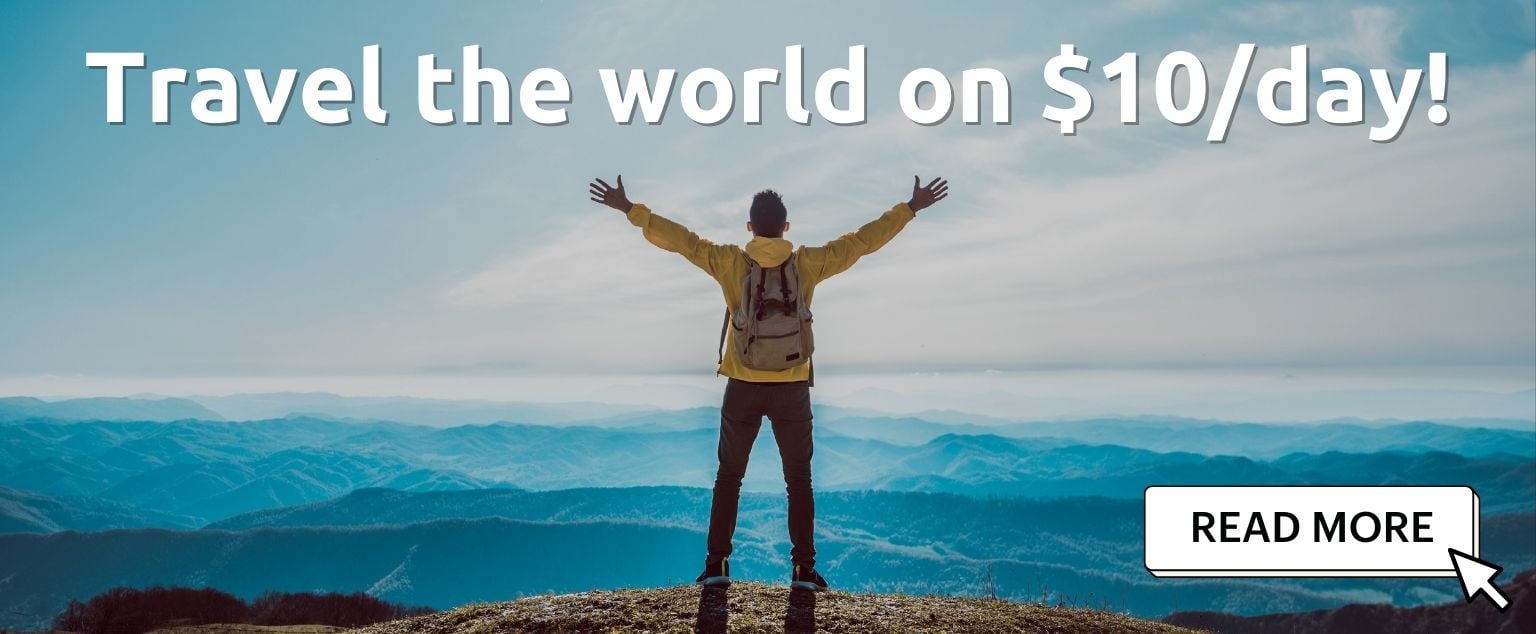 And for transparency's sake, please know that some of the links in our content are affiliate links. That means that if you book your accommodation, buy your gear, or sort your insurance through our link, we earn a small commission (at no extra cost to you). That said, we only link to the gear we trust and never recommend services we don't believe are up to scratch. Again, thank you!