Georgia's diverse landscape includes coasts, forests, and mountains, not to mention cool cities like Atlanta and Savannah. Although this state might not be quite as popular as big-name destinations like New York or San Francisco, you'll quickly discover that a whole world of adventure can be found in this unique southern vacation destination!
One of the ways to make your trip special is by finding unique accommodation in Georgia. And if you don't feel confident about being able to find good options, yourself, then we've got you covered with this list of the best treehouses and cabins in Georgia!
Whether you're on a long family road trip or a solo weekend retreat, staying in a treehouse or cabin in Georgia is a great way to make sure you can experience a side of the state that many tourists entirely miss.
In a Hurry? Here's Where to Stay in Georgia for One Night
FIRST TIME IN GEORGIA
Bed + Bough Enchanting Treehouse Retreat
Enjoy a sweet, peaceful setting in the woods but still have access to nearby city conveniences! There are plenty of fun activities nearby like visiting waterfalls, wineries, hiking trails, and excellent wineries so everyone can find something to enjoy.
NEARBY ATTRACTIONS:
Gold Museum
Cane Creek Falls
Historic Downtown Dahlonega
Is this amazing Georgia Treehouses and Cabins booked for your dates? We've got your back with our other favorite properties below!

Unlock Our GREATEST Travel Secrets!
Sign up for our newsletter and get the best travel tips delivered right to your inbox.
Unique Accommodation in Georgia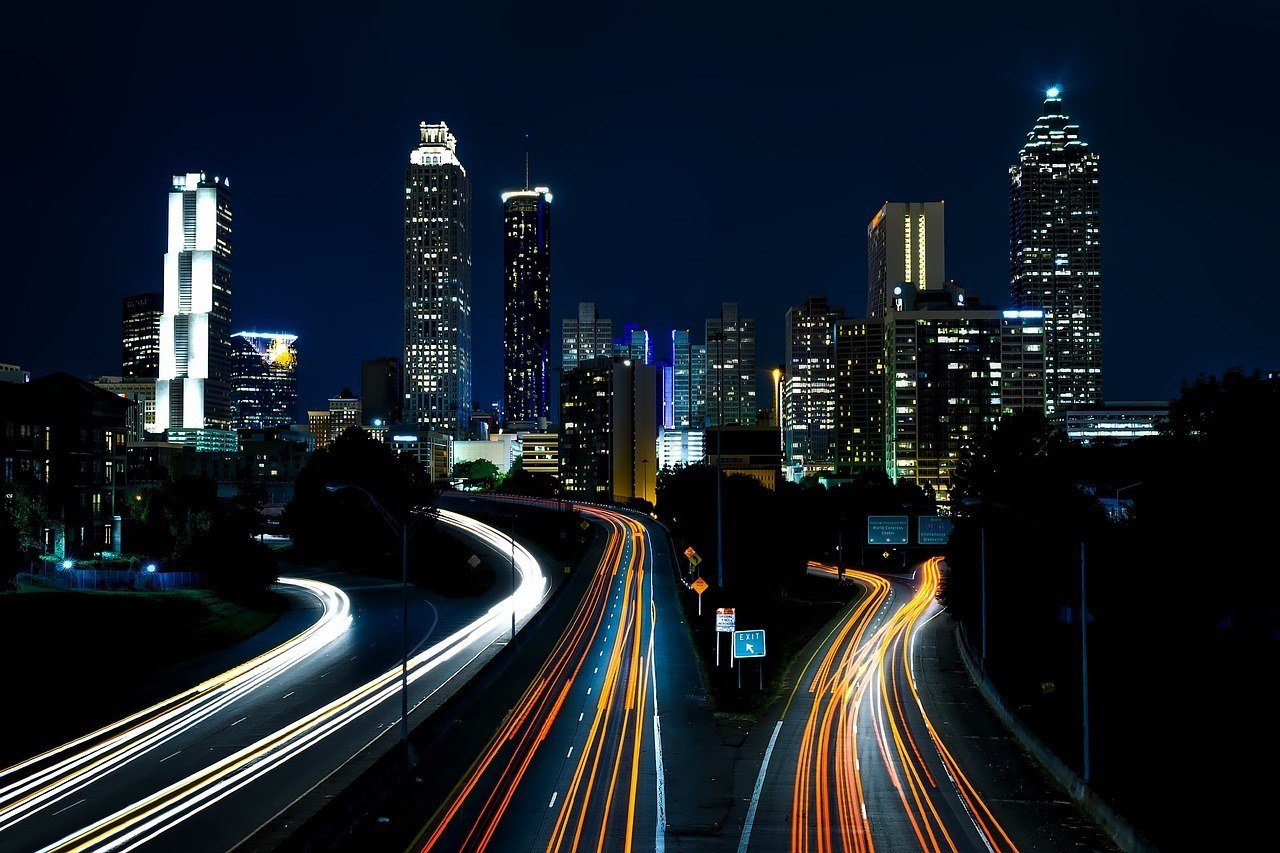 There are a lot of options for great unique accommodation in Georgia beyond the basic hotels that most travelers stay in. Treehouses and cabins in Georgia are some of the best choices since there is great variety and many properties are even cheaper than hotels and have just as good of amenities!
Most of the best treehouses and cabins are family-owned, so not only will you be supporting a local business, but you'll also have the chance to ask a local for advice. This way you might discover some cool Georgia attractions that the guide books never mention.
If you're someone who likes to have privacy, treehouses and cabins in Georgia are way better than hotels. Usually, you'll have the entire property to yourself, and while sometimes the hosts live nearby, you won't have to deal with loud neighbors or other guests during your stay.
Although a lot of Georgia's cabins and treehouses are a bit more remote, they're usually still very close to nearby towns and cities. If you drive your own vehicle there's usually free parking onsite, but if you'd rather be more centrally located and have access to public transportation, there are also some properties within city limits, which might work better for your needs.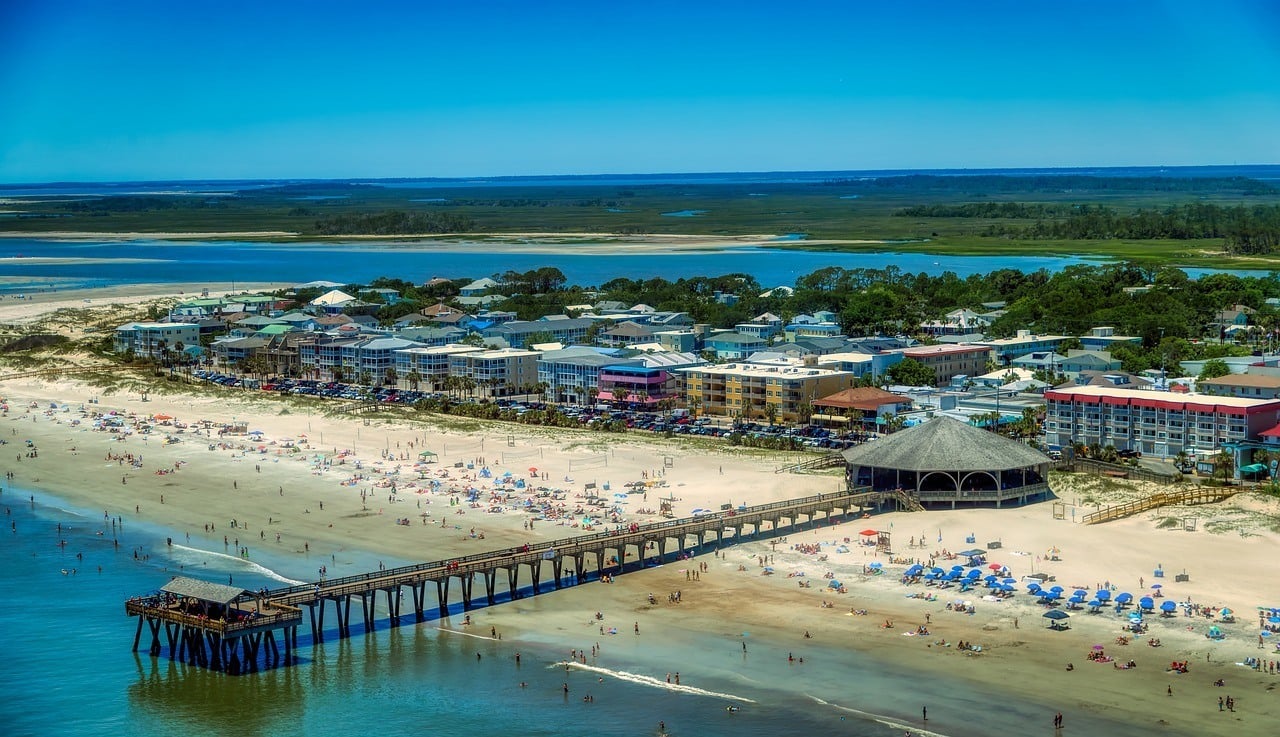 Staying in a Treehouse in Georgia
Spending a vacation in a treehouse might sound like a childhood dream come true for many people – and if you're backpacking the US, it might become reality in Georgia. And don't worry, the best treehouses in Georgia will not come as a disappointment either in location, amenities, or price!
While treehouses are made with people who enjoy the outdoors in mind, it's easy to find spots that still have comfortable modern features like electricity, running water, Wi-fi, TVs, and air conditioning.
Towns and cities typically aren't far if you want to get groceries, go shopping, or check out some of the local restaurants, but it's usually a good idea to plan on needing your own vehicle for transportation when you stay at a treehouse.
If you're hoping for a more rustic and camping-style experience, there are all some really cool options for unique treehouses with a remote location. These properties are usually the cheapest, but are a place where you can unplug from daily life and enjoy a wilderness retreat. Fortunately, Georgia is not short of unique vacation rentals including log cabins and treehouses.
Most treehouses in Georgia are close to parks, hiking areas, lakes, or the ocean, so there's never a shortage for fun outdoor activities. Sometimes equipment like kayaks, bikes, or inner tubes will either be included in the price or available to rent onsite! If you're backpacking through Georgia, we'd highly recommend staying in these unique accommodations since it gives you a completely different view and insight into the area.
Since most treehouses are smaller in size, they are often better suited for solo travelers or couples. However, there are some larger treehouses that can accommodate groups or families, but if you're traveling with young children it's a good idea to check if the property is safe for kids.
Staying in a Cabin in Georgia
If you want hotel-quality amenities but a more private and natural setting, then a cabin is the perfect option for you! And thankfully, Georgia has a great variety of awesome cabins so everyone can find something that works for them.
Since cabins range from single-room huts to large multi-story properties, you can find places suitable for solo trips or big group retreats. Depending on the property, some cabins charge a flat rate, while others charge per guest, which is something to take into consideration when booking.
You can count on having modern amenities which often include equipped kitchens, air conditioning, Wi-fi, and hot water. Sometimes there are even fun luxury add-ons like private hot tubs, outdoor picnic spots, and BBQ grills.
Usually, cabins are located close to fun outdoor recreation sites like parks, lakes, or the beach. If you need supplies or are interested in seeing some of the historic attractions of Georgia, cities and towns are usually within a short driving distance.
Since summertime is the peak tourist season, many cabins will be booked in advance. Some places also require a minimum length of stay from two nights to several weeks. For long-term travelers, a lot of cabins will give discounts for extended stays or if you book during the off season when there aren't as many tourists in the area.
OVERALL BEST VALUE TREEHOUSE IN GEORGIA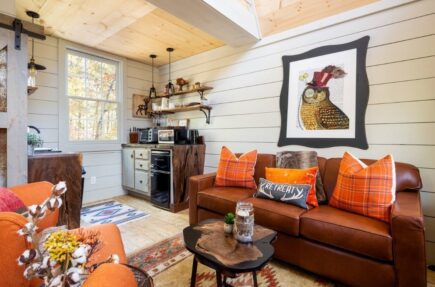 OVERALL BEST VALUE TREEHOUSE IN GEORGIA
Bed + Bough Enchanting Treehouse Retreat
> $$
> 2 Guests
> Kitchen
> Picnic area
BEST BUDGET TREEHOUSE IN THE GEORGIA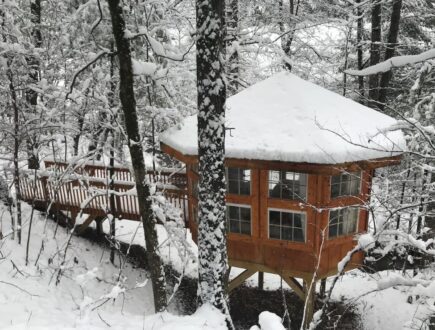 BEST BUDGET TREEHOUSE IN THE GEORGIA
Abbie's Waterfall Treehouse
> $
> 2 Guests
> Hot tub
> Heating
THE BEST BUDGET CABIN IN GEORGIA
THE BEST BUDGET CABIN IN GEORGIA
The Shady Lady Cabin
> $
> 2 Guests
> Wi-fi
> Screened in porch
BEST TREEHOUSE FOR COUPLES
BEST TREEHOUSE FOR COUPLES
Jackson Fishing Lake Treehouse
> $$
> 2 Guests
> Hot tub
> Paddle boat and canoe
THE BEST CABIN FOR COUPLES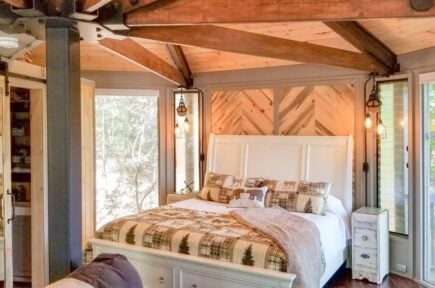 THE BEST CABIN FOR COUPLES
The Nest Mountain View Cabin
> $$
> 2 Guests
> Hot tub
> TV and Wi-fi
THE BEST TREEHOUSE FOR A GROUP OF FRIENDS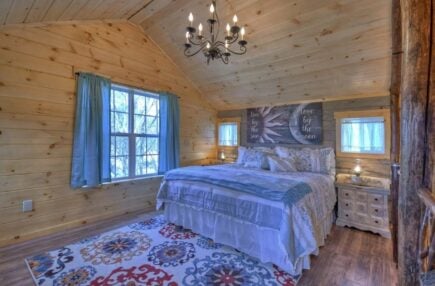 THE BEST TREEHOUSE FOR A GROUP OF FRIENDS
Blue Ridge Mountain Retreat Treehouse
> $$
> 4 Guests
> Hot tub
> Wi-fi
THE BEST CABIN FOR A GROUP OF FRIENDS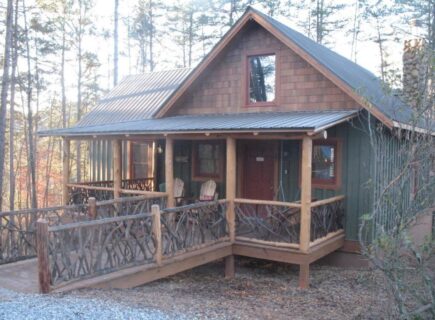 THE BEST CABIN FOR A GROUP OF FRIENDS
North Georgia Mountain Retreat
> $$
> 6 Guests
> Equipped kitchen
> Outside Jacuzzi
The 15 Top Treehouses and Cabins in Georgia
Ready to travel to Georgia? Whether you're a history fan, and outdoor enthusiasts, or simply looking for a cool place to relax, once you look through our list of the best treehouses and cabins in Georgia, all that's left to do is make a reservation and you're on your way!
$$
2 Guests
Kitchen
Picnic area
A perfect treetop escape awaits you at the Bed+Bough, which includes excellent modern amenities as well as a stunning location. The treehouse has an equipped kitchen, hot and cold water, an outdoor grill, and a pizza oven.
You can explore the nearby hiking trails, then come back and relax around the campfire at the end of the day. There's one king-sized bed and an additional pull out bed which can accommodate two more guests if necessary.

Unlock Our GREATEST Travel Secrets!
Sign up for our newsletter and get the best travel tips delivered right to your inbox.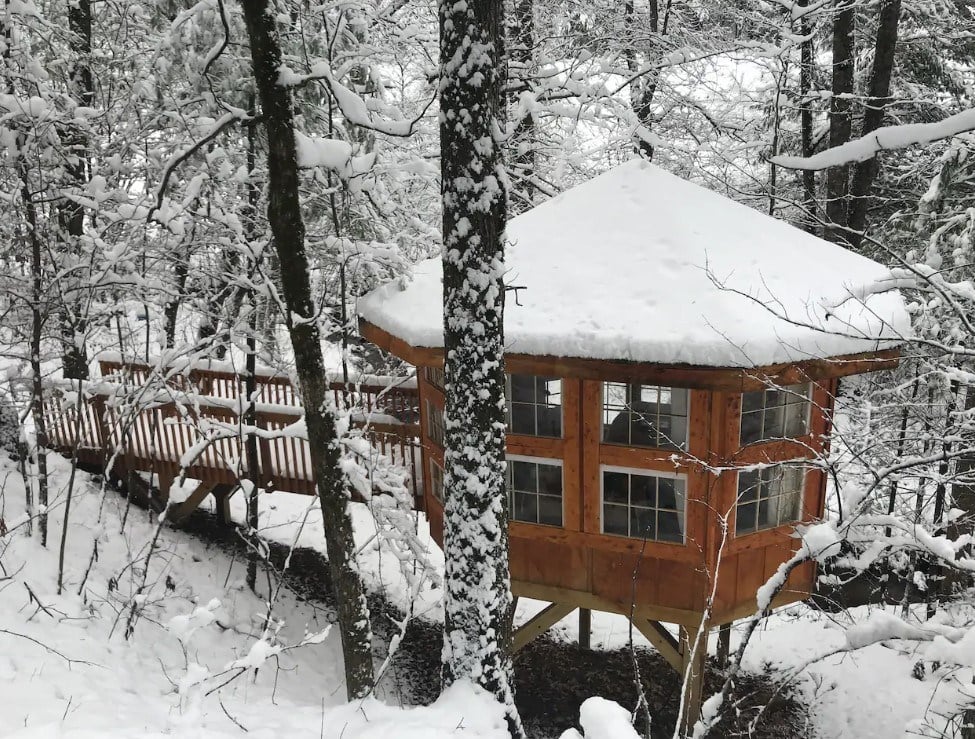 This all-season cabin is the perfect escape at any time of year! The cozy, octagon structure and large windows give you a unique setting to appreciate the trees, nearby waterfall and creek, and wildlife in the area.
The cabin has heating, a microwave, a refrigerator, and a coffee brewer to keep you comfortable during your stay. Nearby there are plenty of places to go hiking in the mountains or go fishing, and the hosts can help with suggestions or arranging activities during your stay!
$
2 Guests
Wi-fi
Screened in porch
Budget travelers looking for a convenient place to relax and enjoy the outdoors of Georgia will love this little cabin property. Located in Cleveland, there are plenty of cool hiking trails nearby and the town of Helen isn't far away if you want more options for restaurants and shops.
The cabin has heating and air conditioning to keep you comfortable in all weather, and there's a little kitchen where you can cook your own meals to save money. Free parking is available onsite, but it isn't too out of the way for ride services like Lyft and Uber.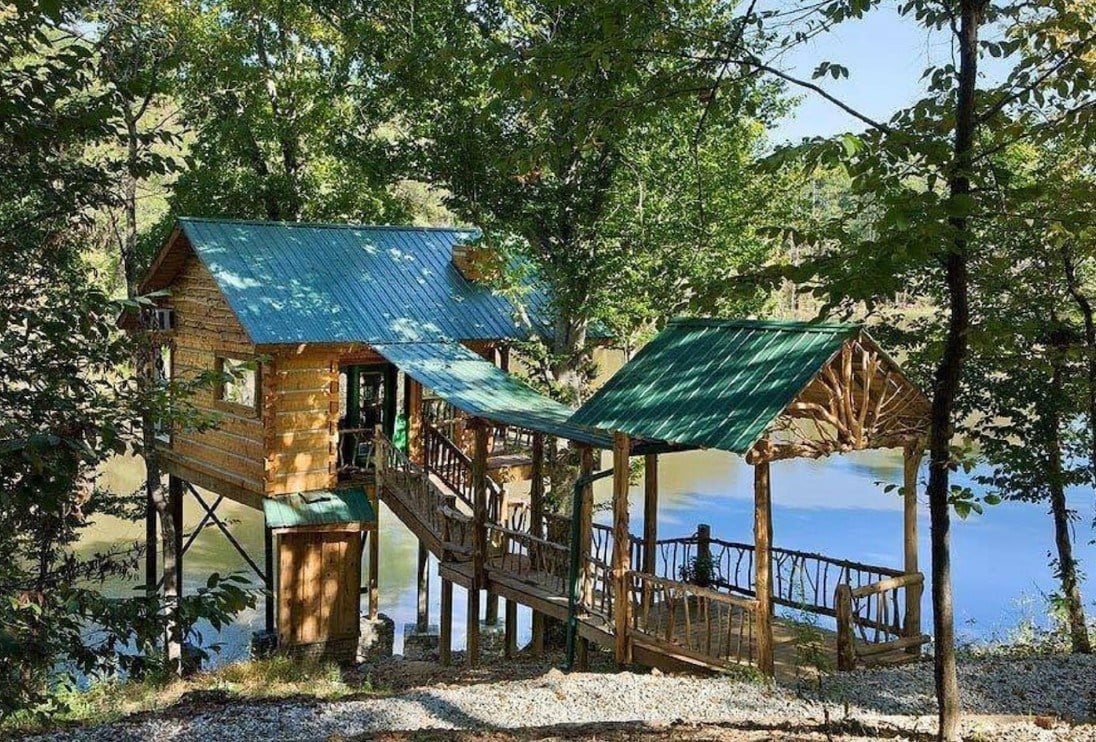 $$
2 Guests
Hot tub
Paddleboat and canoe
Located on the edge of a private lake, this stunning treehouse is a great pick for couples who enjoy fishing, and boating, especially since a paddle boat and a canoe are included in the price!
At the end of the day, you can come back and relax in the hot tub, have a cookout on the gas grill, or just relax and enjoy the scenery. The cabin has a more remote location, but there is free parking available onsite in case you need to drive into town to pick up supplies or check out a local restaurant.
An Eco-Friendly Traveller NEEDS an Eco-Friendly Backpack!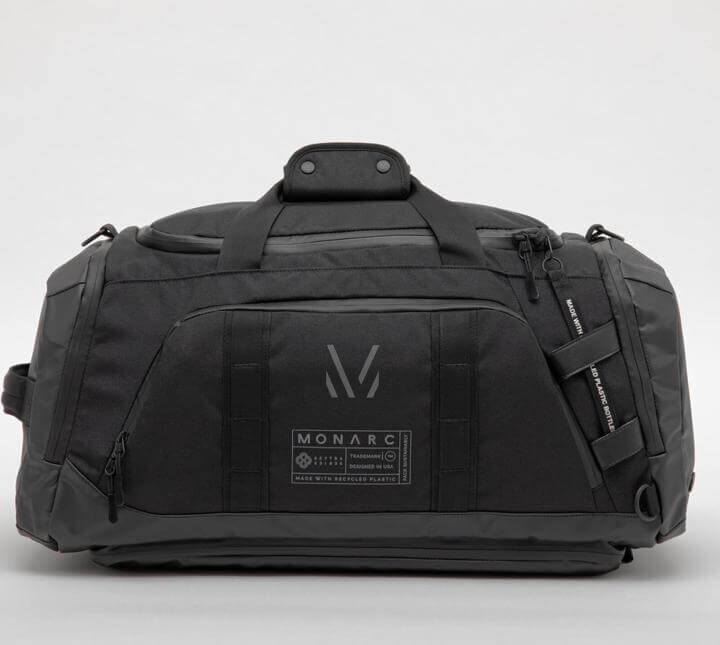 50 recycled plastic bottles – that's what goes into every Monarc Settra: the world's MOST SUSTAINABLE backpack.
Whether you're rocking duffel mode or backpack mode, if you're a traveller that gives a flying hoot about their environmental impact, then there's only one backpack you should consider – the plastic-negative Monarc Settra.
Learn More Now!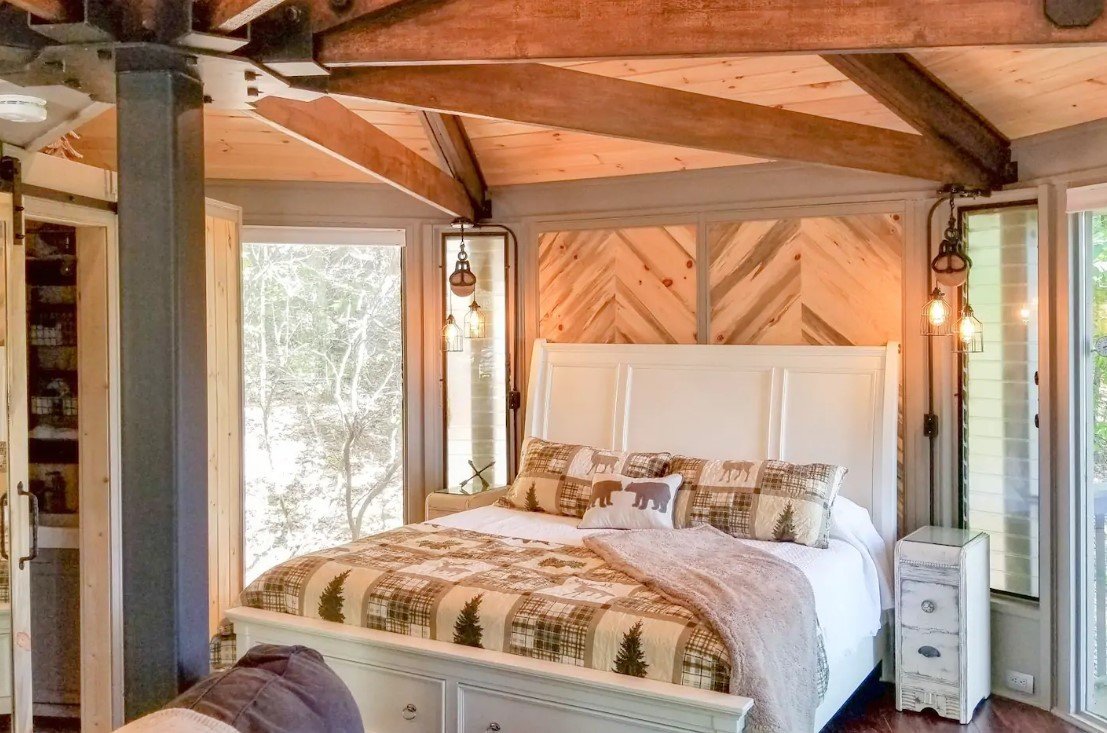 $$
2 Guests
Hot tub
TV and Wi-fi
A stunning mountain view will be yours to enjoy in this lovely wood cabin located in the wildlife sanctuary of Big Canoe. You'll have the opportunity to spot plenty of wildlife like deer, rabbits, and maybe even a black bear!
The cabin comes equipped with great modern comforts like an equipped kitchen, outdoor grill and seating area, hot tub, and TV. There are lots of hiking trails nearby and you can rent boats to explore the lakes. For conveniences, there are nearby towns and great local restaurants like the Clubhouse at Lake Sconti.
For groups of friends who want the experience of staying in a treehouse together, this elegant, modern option is a great place to stay. You can stay cozy even in cold weather thanks to the indoor heating, or cool off from hot summer afternoons with the air conditioning.
The treehouse is located in Ellijay which is one of the most popular places for outdoor adventures in Georgia. Nearby there are lots of hiking and biking paths, incredible waterfalls like Amicalola Falls, and famous vineyards.
$$
6 Guests
Equipped kitchen
Outside Jacuzzi
With two bedrooms, a sleeper sofa, 3 bathrooms, and 4 TVs, your entire group of friends can enjoy a comfortable trip together at this beautiful woodland cabin. Not only will you have great scenery, but also home-style conveniences like laundry, a kitchen, and games.
During the day you can go out hiking, visit nearby water parks, check out Unicoi State Park, or head into town to eat at a local restaurant. At the end of the day exploring, build a fire in the outdoor fire pit, cookout on the grill, or watch your favorite movies together in the cabin!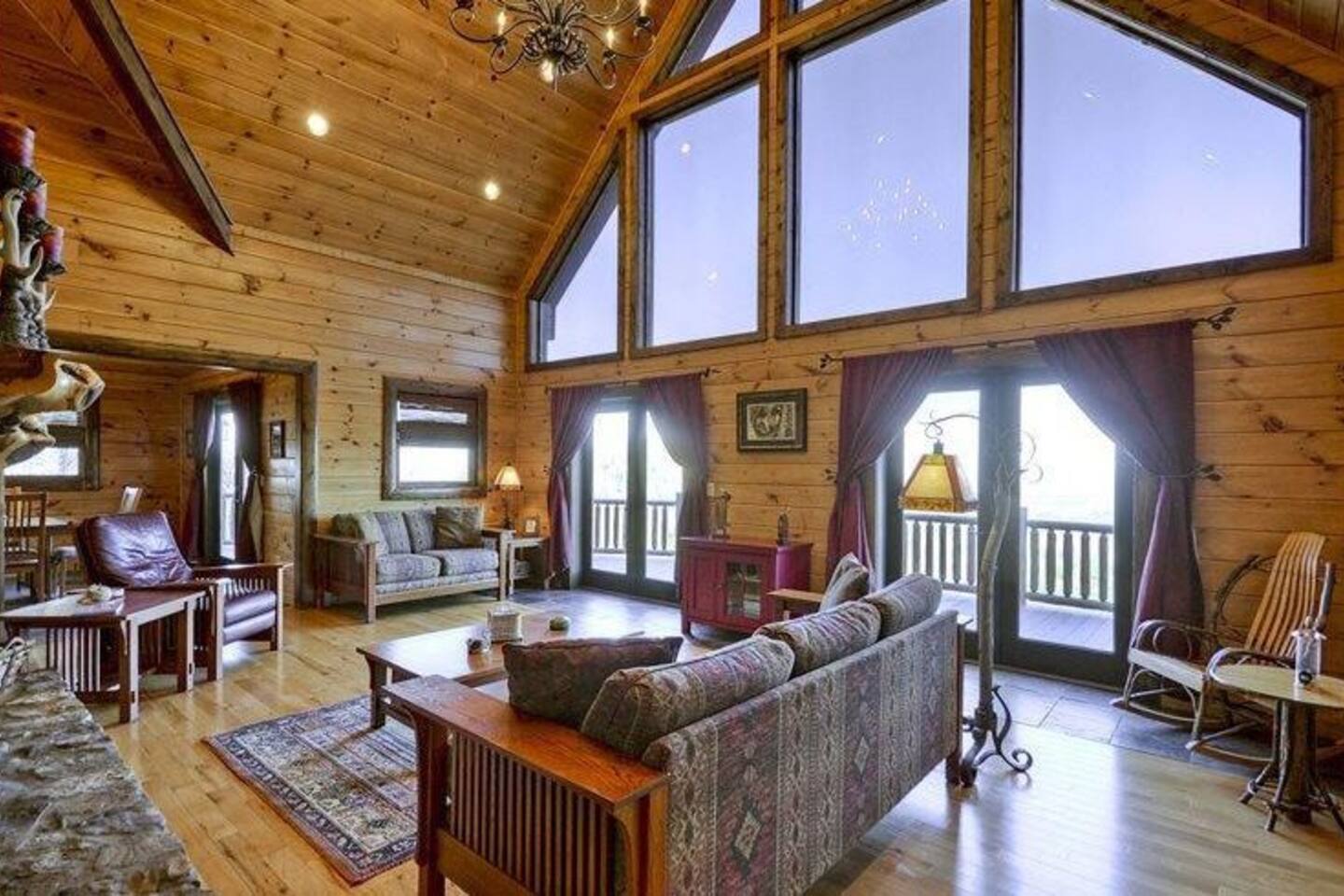 $$$$
8 Guests
Hot tub
Air conditioning and heating
At any time of year you can treat yourself to a luxury cabin in Georgia with incredible views at this incredible accommodation in Blue Ridge. The cabin has everything you could dream of and more including large balconies, a hot tub and sauna, home cinema, and a pool table.
The Blue Ridge area is famous for its hiking trails and beautiful lakes where you can go fishing and boating. In the nearby town there are plenty of restaurants and cool shops, and at the end of the day, you can come back to the cabin to watch a stunning sunset from the porch!
The Best Cabin for Families visiting Georgia – Mountain View Hideaway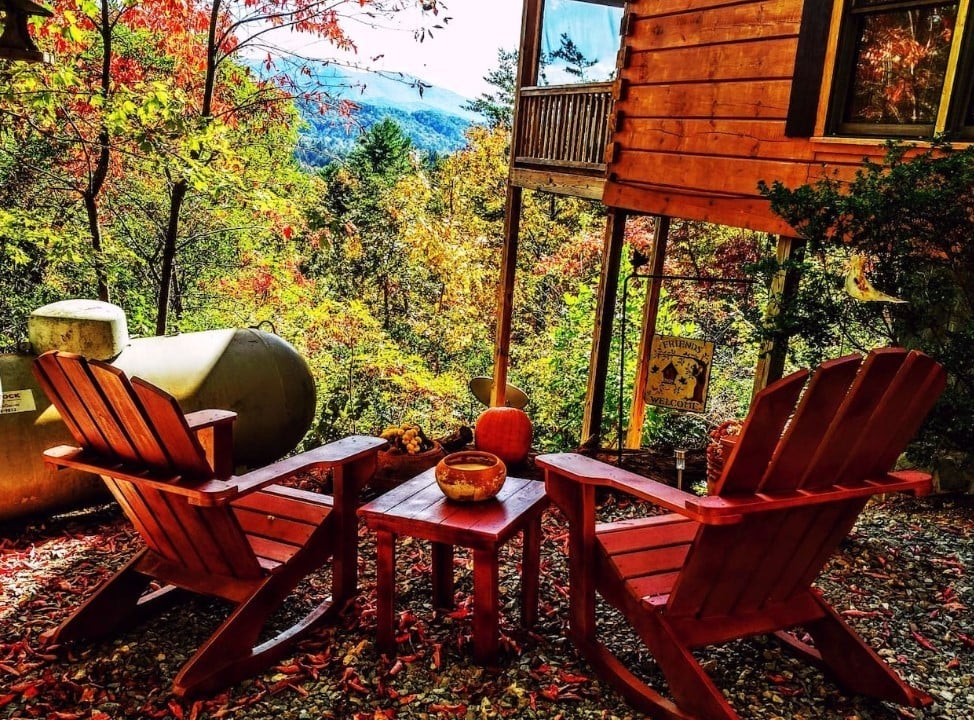 $$
7 Guests
TV and Wi-fi
Laundry
Families will love the great home-style conveniences of this lovely mountain view cabin close to the town of Blue Ridge. You can cook meals for picky eaters in the kitchen, wash clothes with the onsite laundry, and even have a bathtub for young kids to get clean.
Blue Ridge is full of lakes where you can go fishing or boating and tons of parks where you can enjoy fun family hiking expeditions. Plus, the cabin has three separate TVs so you don't have to worry about having arguments about what to watch!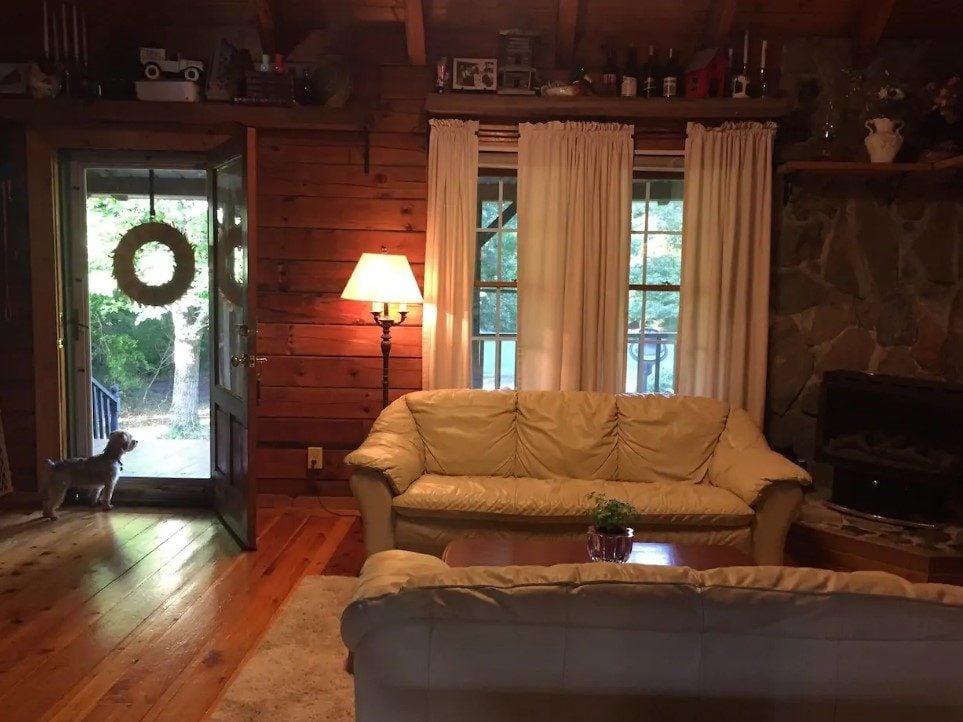 $
2 Guests
Air conditioning
Cool antiques
Located in Winston just to the west side of Atlanta, this charming little cabin is perfect for backpackers who want a more remote place to stay while still being close enough to cities to use ride services like Uber.
You can relax and enjoy the mini pond, check out the antiques, or enjoy the view from the outdoor seating area. The hosts are on hand to give you suggestions about local attractions or places to visit in the area like good restaurants or the best hiking trails.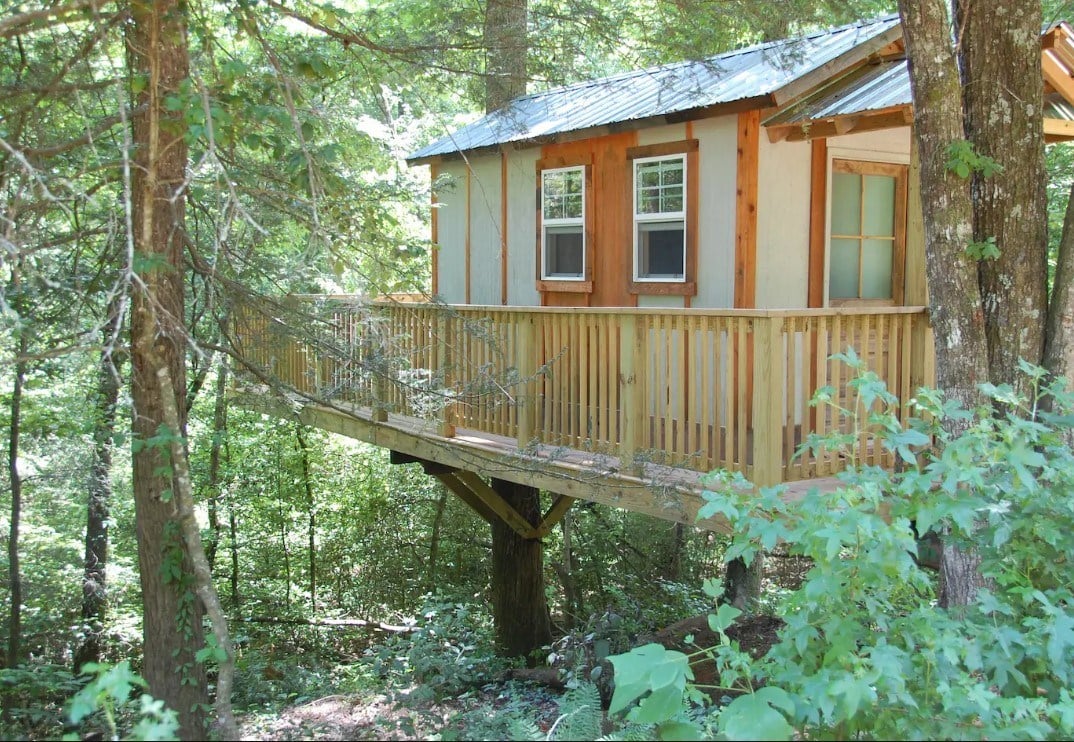 $
3 Guests
Recycled material construction
Very peaceful location
A great option for adventurers and campers, this cute little treehouse in the woods is like an upscale version of camping. Mattresses are provided, but you'll need to bring your own sleeping bag and pillow during your stay.
Cars aren't allowed, but you can rent a golf cart from the main office which is also where you can find regular showers, bathrooms, and Wi-fi. For a small fee, you can also pitch additional tents outside of the treehouse if you're traveling with a larger group of people!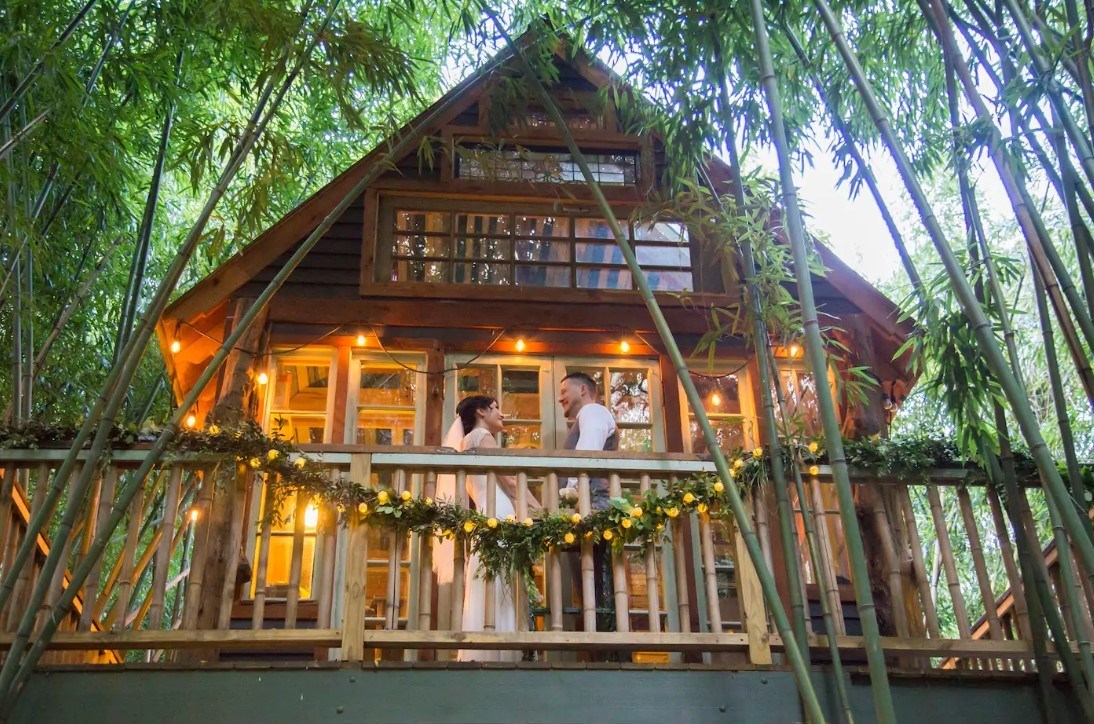 $$$
4 Guests
Air conditioning
Bamboo forest
Situated in a stunning bamboo forest, the Atlanta Alpaca Treehouse has received great praise from many travel sources. The elegant treehouse is equipped with homey amenities like air conditioning, a bathroom with running water, and a wrap-around porch.
You can meet the friendly alpacas and llamas onsite (feed them carrots to become friends forever!), and with parking available for 2 cars you can easily come and go as you need. The treehouse is just east of Atlanta, so it's only a short distance to restaurants and city attractions.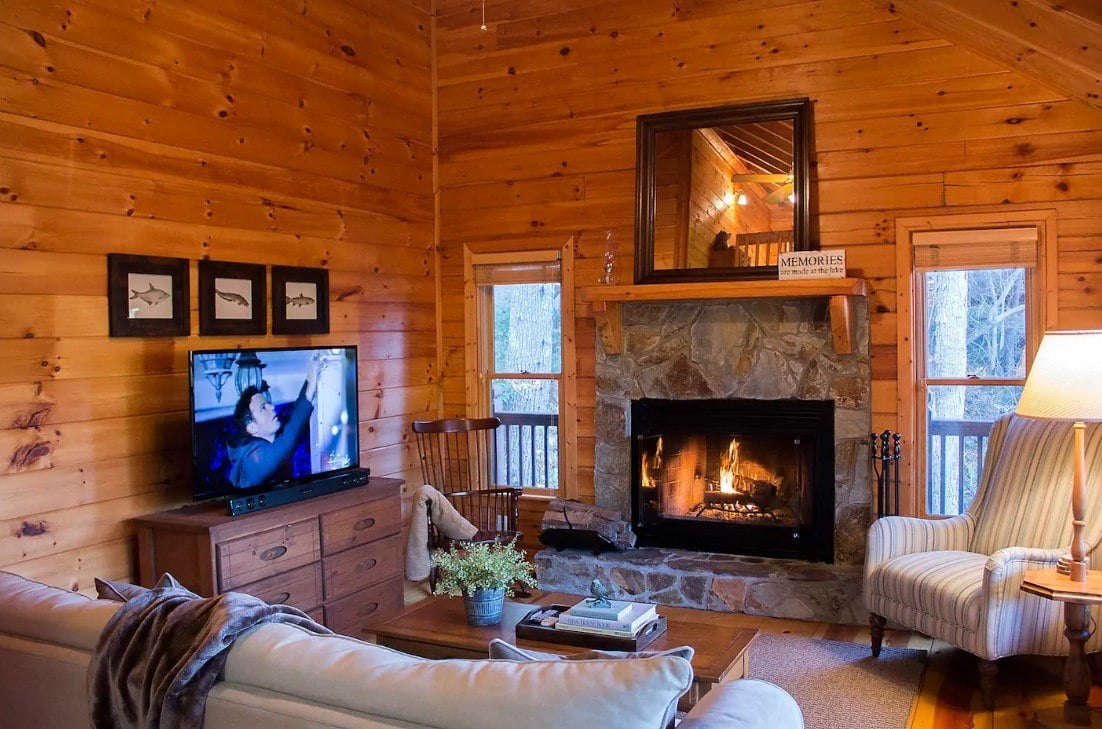 $$
6 Guests
Equipped kitchen
Lakeside property
Situated right on the shores of Lake Allen, this cabin is perfect for people who enjoy fishing, boating, and outdoor adventures. You can spend all day on the paddle boat which is provided with the cabin, then come back and relax around the campfire at night.
In addition to having a perfect place to enjoy the outdoors, you can also count on having a comfortable stay since the cabin has a full kitchen, washer and dryer, 2 bathrooms (one with a Jacuzzi tub!), and Wi-fi so you can keep up to date with everything going on.
$$$
2 Guests
Hot tub
Huge windows
A beautiful treetop perch for couples, you can also host parties, dinners, and ceremonies onsite if you want to make more of a celebration! It's also great for a private and romantic retreat with a great natural setting but excellent modern comforts.
There's a composting toilet in the treehouse as well as a full-functioning bathroom in the main house. You can relax in the hot tub, use the grill and picnic area, or explore the Atlanta area. You can park your own vehicle onsite, but it's also easy to use Uber or Lyft if you don't want to rent a car.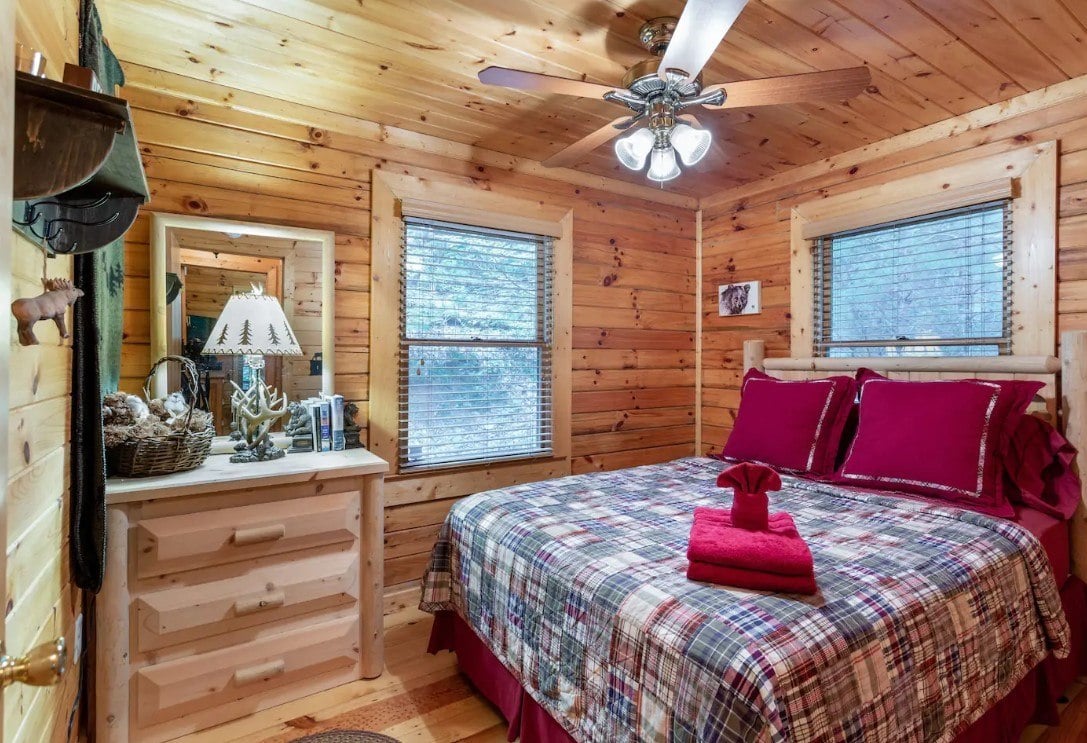 $$
4 Guests
Hot tub
Wi-fi and TV
If you only have a weekend to enjoy the best of Georgia, then this little mountainside cabin is the place to be. With paved roads leading right up to the cabin, you can easily drive in and visit the towns of Blue Ridge and Ellijay.
There are great antique shops, orchards and wineries, awesome hiking trails, and lakes for boating and fishing all within a short distance. Plus, the cabin has all the comforts of home like a kitchen, Wi-fi, laundry, and even a hot tub to relax at the end of the day!
Check out these other great resources
We have loads more information to help you plan your trip.
FAQ about Treehouses and Cabins in Georgia
Here's what people usually ask us when they look for vacation homes in Georgia.
Don't Forget Your Georgia Travel Insurance
ALWAYS sort out your backpacker insurance before your trip. There's plenty to choose from in that department, but a good place to start is Safety Wing.
They offer month-to-month payments, no lock-in contracts, and require absolutely no itineraries: that's the exact kind of insurance long-term travellers and digital nomads need.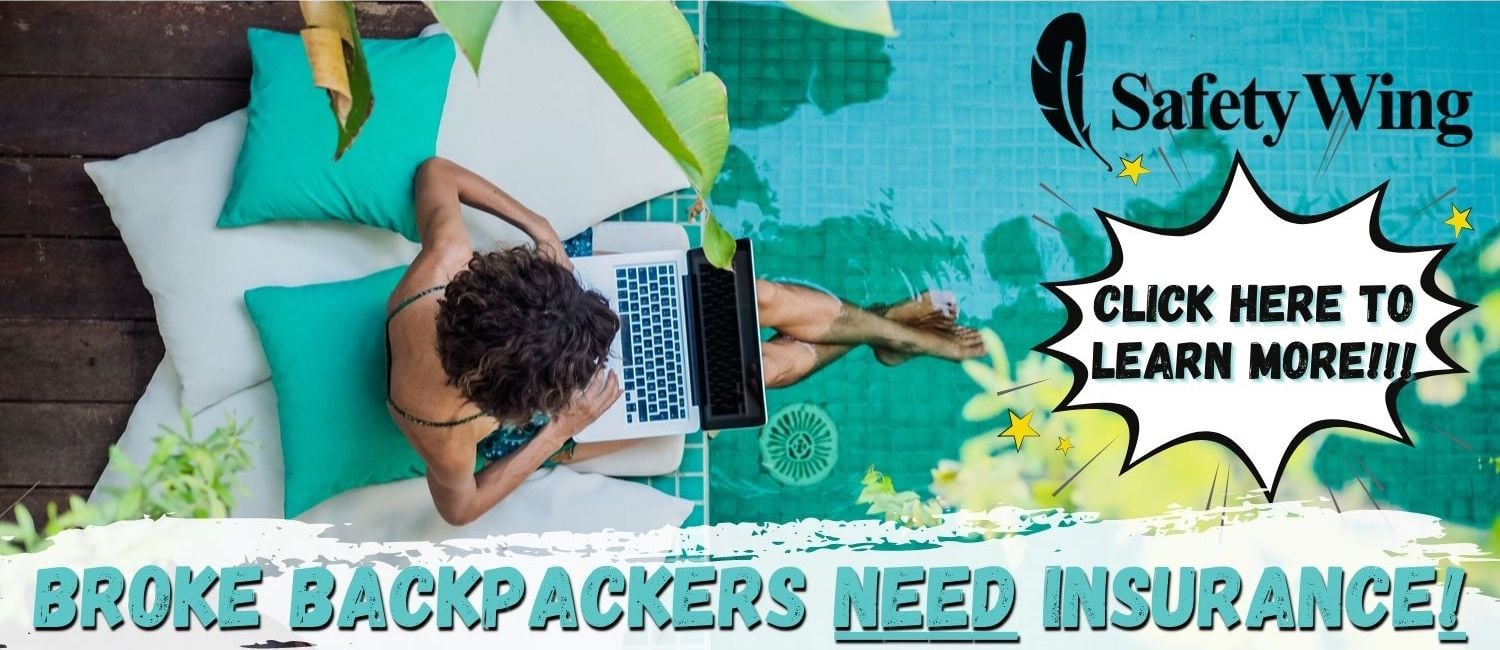 SafetyWing is cheap, easy, and admin-free: just sign up lickety-split so you can get back to it!
Click the button below to learn more about SafetyWing's setup or read our insider review for the full tasty scoop.
Final Thoughts about the Treehouses and Cabins in Georgia
Whether you're traveling for a summer vacation or needing a quiet place to take a break during the winter, Georgia is always a beautiful place to visit. The best way to make a regular trip into an exceptional adventure is by staying in unique treehouses and cabins in Georgia.
Hopefully, now that you've gone through our list of the best treehouses and cabins in Georgia, you've found a place that perfectly fits your dream vacation goals. From canoe explorations on the lakes to hiking through the Blue Ridge Mountains, there are endless opportunities for adventure awaiting you in Georgia!
---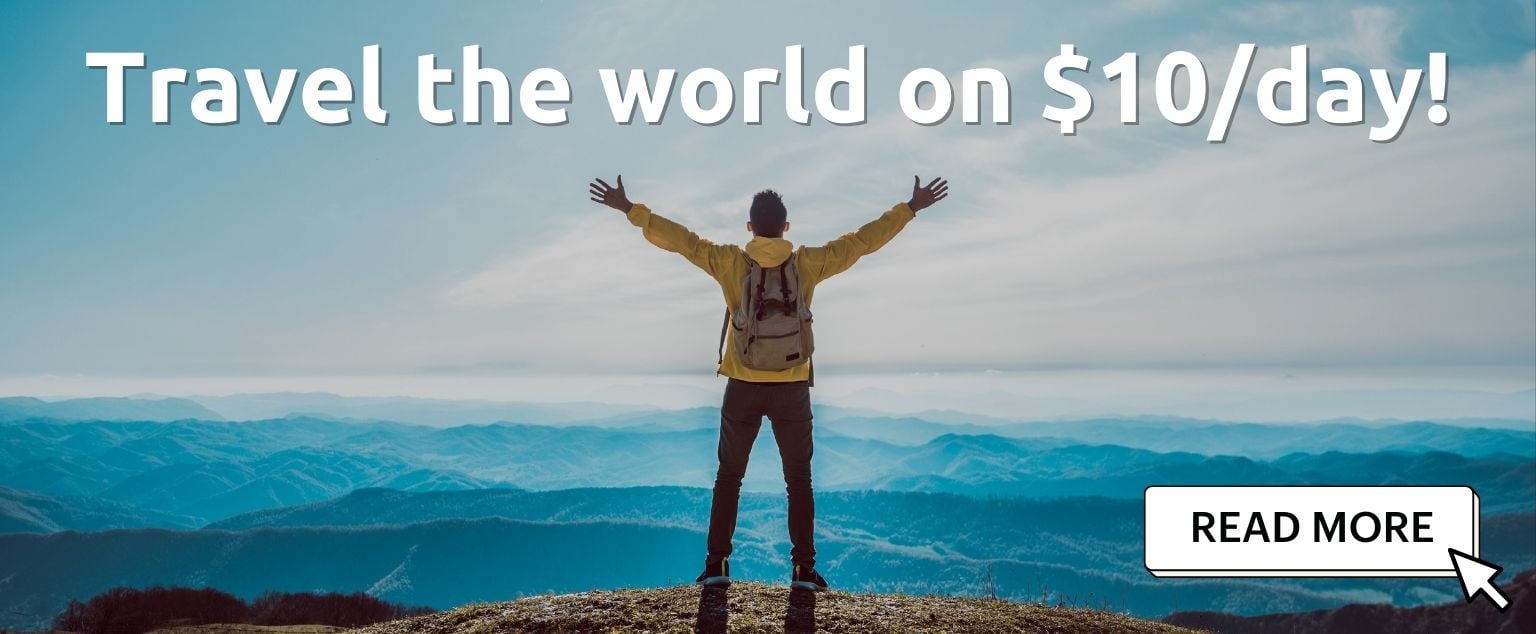 And for transparency's sake, please know that some of the links in our content are affiliate links. That means that if you book your accommodation, buy your gear, or sort your insurance through our link, we earn a small commission (at no extra cost to you). That said, we only link to the gear we trust and never recommend services we don't believe are up to scratch. Again, thank you!