North Carolina is the perfect 'in-between' state. It somehow manages to mix great year-round weather, burgeoning cities, ancient mountains, and white sand beaches.
North Carolina is a place where you can start the morning surfing an Atlantic break and finish with a sunset hike on towering mountains. The state has a flurry of historical cities and old architecture filled with thriving restaurants and bars quietly going about their business.
From Asheville and Greenville to Charlotte and the Outer Banks, N.C. has an exciting range of destinations all with unique breweries, food, adventures, and sights.
When you aren't trying the Tar Heel State's delicious, yet down-to-earth cuisine, you could be rafting down rivers or hiking through the Great Smoky Mountains.
Such changes in geography means spending your nights at rentals in North Carolina is the way to go. Don't fork out on another hotel stay – be among the mountains, by the lakes, or in front of the ocean. Getting yourself a sweet Airbnb in North Carolina will make your trip a memorable one.
Before we dive into the best Airbnbs in the state, here's what you can expect on your adventure.
Quick Answer: These are the Top 5 Airbnbs in North Carolina
Overall Best Value Airbnb in North Carolina
Overall Best Value Airbnb in North Carolina
Treefrog Tower
> $$
> 2 Guests
> Sleep among trees
> Backs onto state park
Best Budget Airbnb in North Carolina
Best Budget Airbnb in North Carolina
Riverside Cabin
> $
> 3 Guests
> Sits on river
> Fish from deck
Best Airbnb for Couples in North Carolina
Best Airbnb for Couples in North Carolina
Rustic Mountain Studio
> $$$
> 2 Guests
> 16 Private acres
> Inspiring views
Best Airbnb for Families in North Carolina
Best Airbnb for Families in North Carolina
Mountain Cove Farm
> $$$
> 7 Guests
> Family space
> Bunk room
Over-the-Top Luxury Airbnb in North Carolina
Over-the-Top Luxury Airbnb in North Carolina
The Pineapple Beach Club
> $$$$
> 16 Guests
> Oceanfront
> Beach access

Unlock Our GREATEST Travel Secrets!
Sign up for our newsletter and get the best travel tips delivered right to your inbox.
What to Expect from Airbnbs in North Carolina
The best Airbnbs in North Carolina come in all shapes and sizes, and the price points will make even the most budget-conscious traveler smile.
In the Tar Heel State, you will find Airbnbs that bring out the best in their destination and complement the surrounding nature. You'll find options from downtown studio apartments that give you great access to the most happening parts of the city, to rustic cabins tucked away in the canopy and overlooking the sparkling river below.
Visitors can expect attentive hosts excited to show off their little piece of North Carolina.
Many homes have been designed to enhance visitor enjoyment whether that be through incredible views or free kayaks to use on the lake.
Regardless of the experience you are after, there will be an Airbnb for you.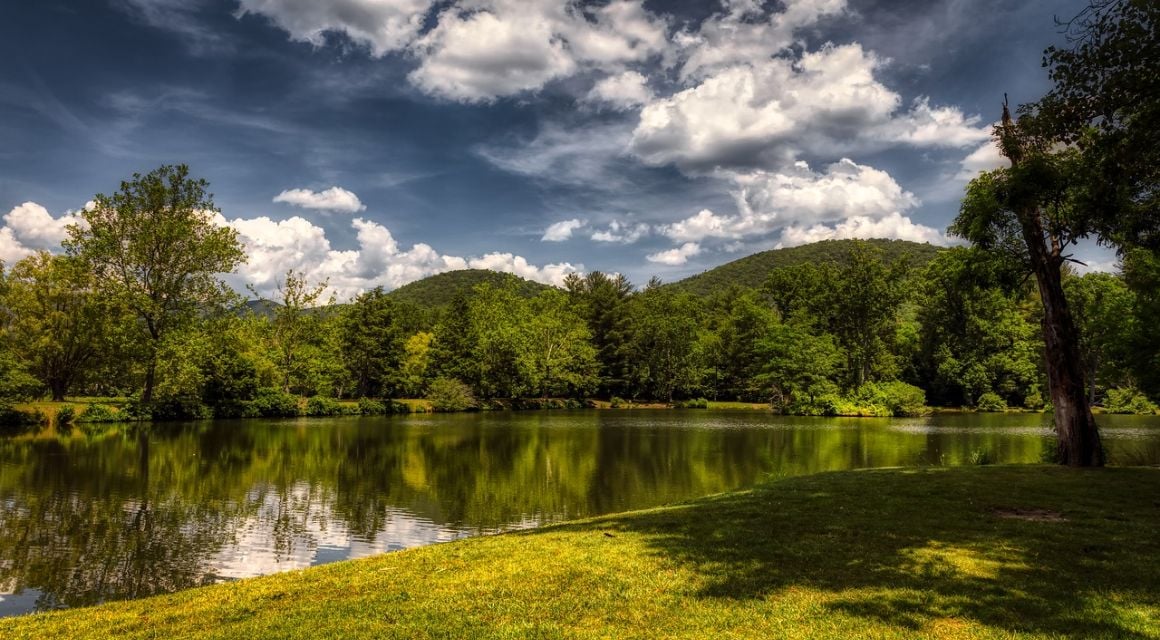 Cabin
Cabin Airbnbs in North Carolina are some of the most common accommodation options you will find.
Although they aren't designed for easy access to a city's downtown or for a quick night's sleep before heading to the airport, cabins are one way to have a quintessential North Carolina experience. If you are after an opportunity to escape the hustle and bustle of daily life, this is the option for you.
Cabins here tend to be towards the western half of the state, nestled in the foothills of the Appalachian Mountains. Some of the best Airbnbs of this kind will have amazing summit and valley views, and if you're lucky be right near the Smokeys.
Perfect for couples looking to have a romantic retreat just the two of you, you can cuddle up by the fire and enjoy the Jacuzzi under the stars.
Guesthouse
The beauty of a guesthouse is its flexibility, which is why you will find them on Airbnb right throughout North Carolina.
Guesthouses are separate sections of a home, closed off just for you. Essentially, this will provide you with a private home, your own bathroom, bedroom, and kitchenette. Guests will also enjoy having access to their room without having to see another soul.
This is a great option for solo travelers who want an easy trip to the center of town, or be close to the beaches, as guesthouses are usually in the neighborhoods around popular destinations.
The other common type of guesthouse in North Carolina is a separate home on a shared property that has been reformed to create a unique Airbnb experience. These can be in the mountains or on open farms granting you wonderful views and a quiet retreat for the weekend.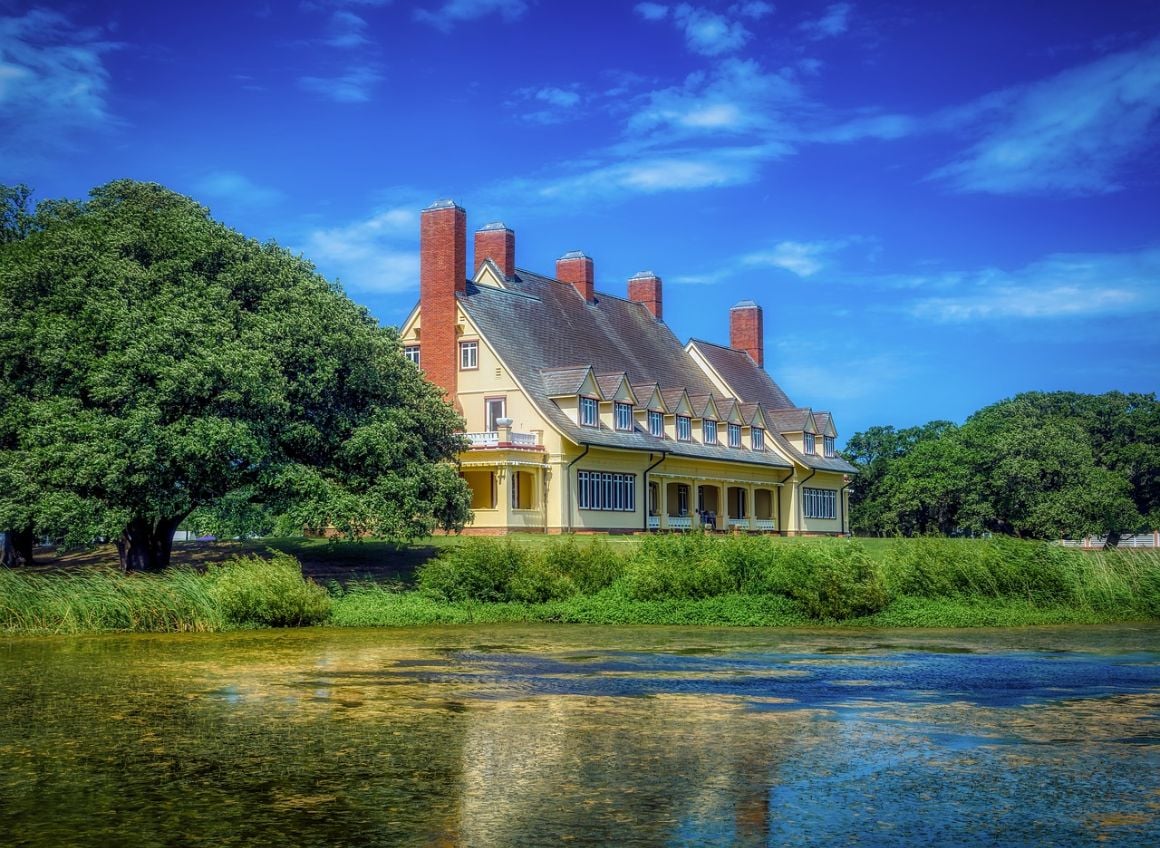 Condo
The coastline of North Carolina is some of the most picturesque in the country. It is home to a fabled history, featuring over 2,000 shipwrecks right off-shore, including a ship captained by the infamous Blackbeard.
Since the beginning of the 19th century, lighthouses have been guiding ships through this 'graveyard' and now add another beautiful element to the scenery.
Why am I waffling on about the coast instead of condos? Well, for those after a beach adventure to North Carolina, a condo Airbnb is the way to go. Stay right on the beach with inspiring views of the Atlantic Ocean, enjoy the sunrise to start every day, and wander down to the many beachside cafes for your morning coffee.
Condos place you right where you want to be and come in a variety of sizes. The most common is a two-bedroom apartment, great for a small family, a few friends, or a couple that wants plenty of space.
Why Stay in an Airbnb
Still not sure why you should stay in an Airbnb? Here are some more reasons:
Local experience: Tap into the minds of your hosts, get tips and insights to enjoy your destination even more.
Unique properties: Hotels don't change that much, but Airbnbs vary from log cabins in the woods to beach shacks by the ocean and everything in between.
Privacy: Ditch the dorm rooms and get your own space. Have contactless check-in, private access, and a room all to yourself.
Stay in the Smoky Mountains: The Great Smoky Mountains is one of the most popular parks in the country, stay on the border of the park, and wake up to amazing views.
Airbnb Experiences: Airbnb Experiences allows you to experience North Carolina through the eyes of locals, our favourite experiences are listed below!
The 15 Top Airbnbs in North Carolina
Now you know a bit about Airbnbs in North Carolina, here are our favorites!
Overall Best Value Airbnb in North Carolina | Treefrog Tower
2 Guests
Backs onto a state park
For a one-of-a-kind trip to an Airbnb in North Carolina, you must pack your bags and head to Treefrog Tower!
Nestled in the trees that surround the Outer Banks, you can soak in the scenery of a private nine-acre property. The tower backs onto Jockey's Ridge State Park where there are hiking trails, beaches, and waters for kayaking and kitesurfing.
If that 450-acre adventure paradise isn't enough, the home is just two blocks from the closest beach and a three-minute drive to fantastic local restaurants.
As for the tower itself, cozy up in the bohemian living space and wake up to amazing views without leaving your bed.
Best Budget Airbnb in North Carolina | Riverside Cabin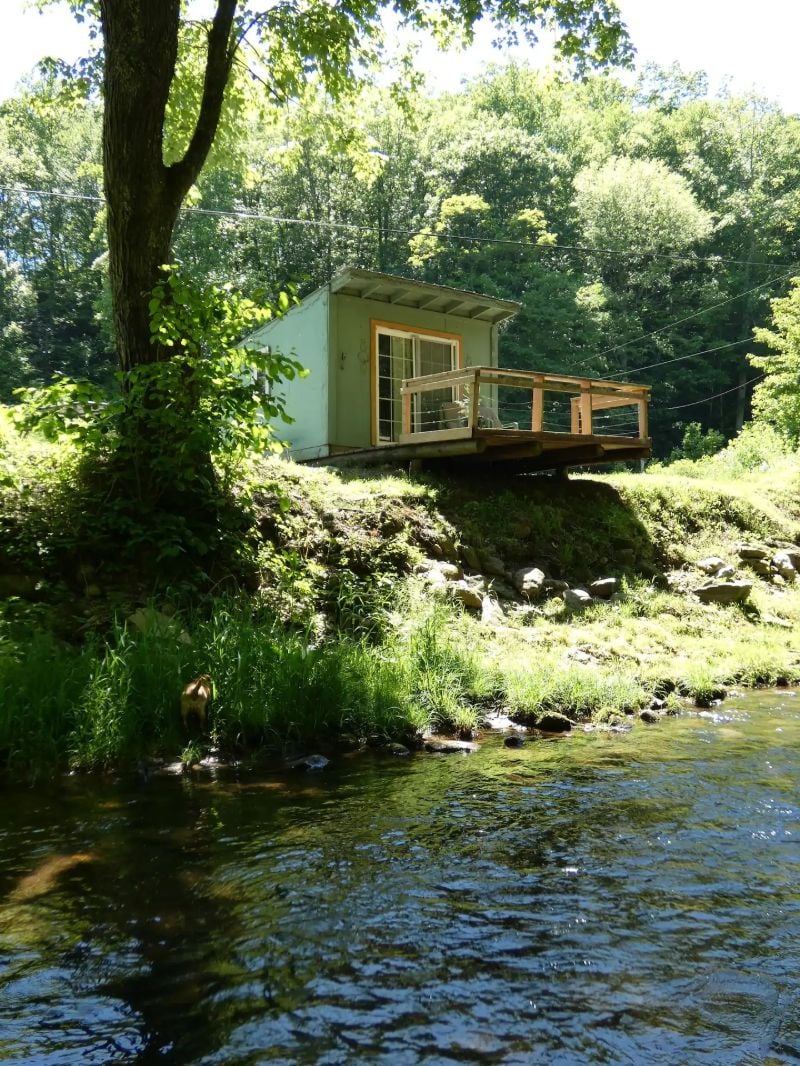 3 Guests
Fish from the deck
When it comes to having an adventure on a budget, there isn't a better Airbnb in North Carolina than Riverside Cabin.
This simple cabin has electricity and A/C yet feels very much off the grid. Each morning you can wake to the sounds of the rushing North Fork River. Enjoy a morning coffee on the deck, hovering over the water's edge.
Such is the cabins proximinity to the river that you will be able to throw in a line without leaving the deck.
When you are ready to roam, the Pisgah National Forest is all around you. Meanwhile, the iconic Blue Ridge Parkway is nearby.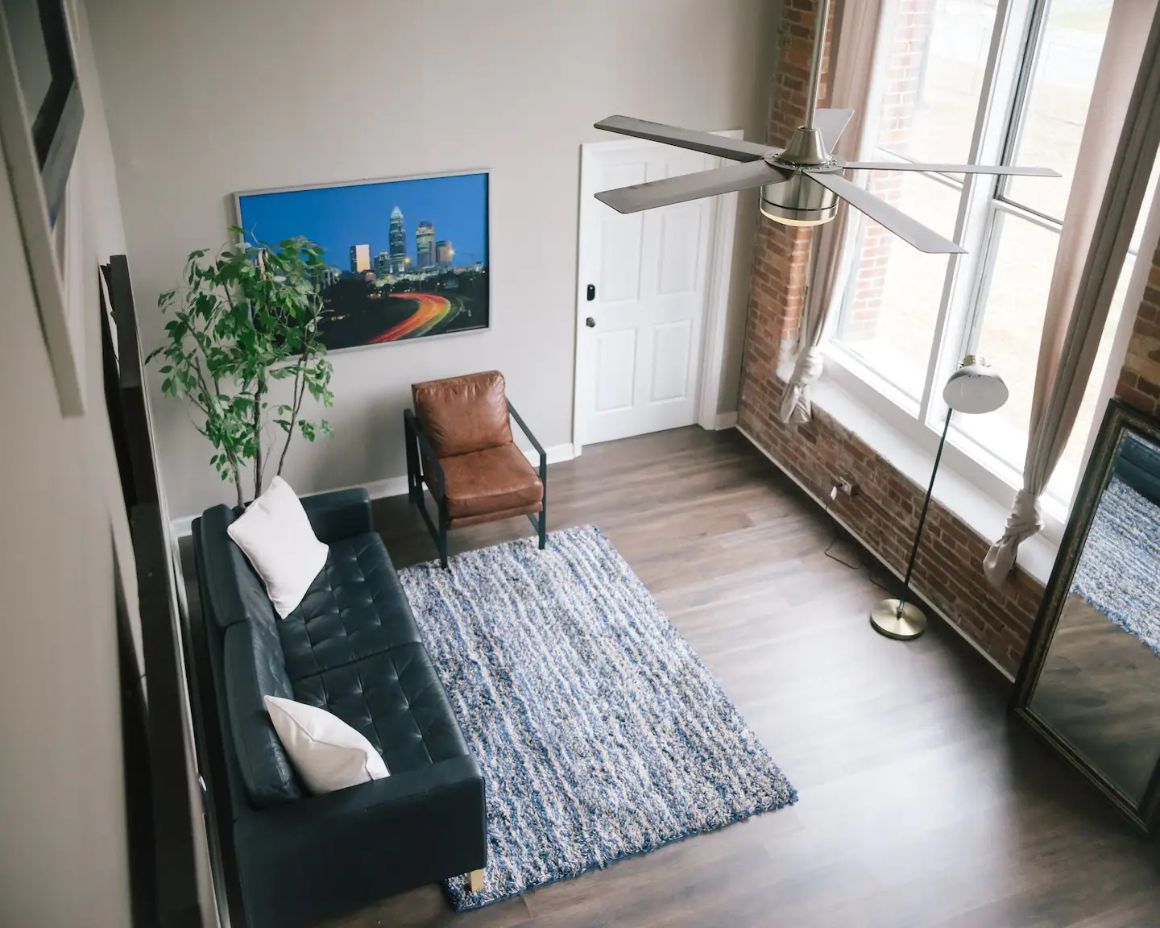 Inspired by New York City, this suite features a newly renovated industrial style loft.
In other shared homes, you may be used to communal bathrooms and living rooms, but here you will have your own private bedroom, living space, and bathroom, perfect for when you just want to chill. If you're feeling social, you will find fellow travelers in the upgraded kitchen, dining area, and shared living room.
The suite is close to Charlotte's best attractions and next to the exciting Uptown district. Have the best of both worlds – mingle or don't – while being a hop, skip and a jump away from Charlotte adventures.
Is This the Best Travel Pack EVER???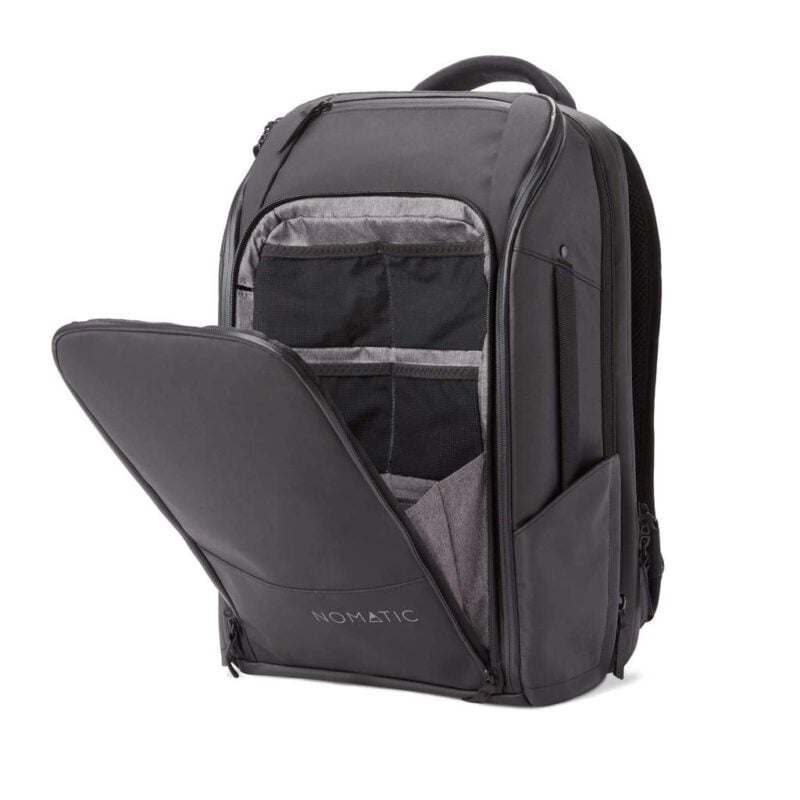 This Airbnb in North Carolina is a truly romantic escape, perfect for couples looking to shut off the outside world and have time to themselves.
At this mountain cabin, inspired by Italian villas, you will have amazing views, no neighbors in sight, and be just seven minutes from shops and restaurants.
The outdoor patio space is the real MVP at the cabin. There is a grill, fire pit, and a hot tub that all look out over the mountains. Grab a blanket and sit under the stars with your loved one.
In the morning, venture beyond the property to Asheville, the Blue Ridge Parkway, or the Great Smoky Mountains National Park.
Best Airbnb in North Carolina for Families | Mountain Cove Farm
Take the family on an adventure to this wonderful farmhouse Airbnb in North Carolina.
Just minutes from downtown Asheville, you can be close to the shops, restaurants, and the bare necessities during your stay.
The farmhouse has two main bedrooms, plus a bunk-bed room that can sleep up to three guests. With plenty of room inside and out, you won't have to worry about a lack of space. The kids will love running around outside this epic Asheville vacation rental.
Each part of the home boasts mountain views, and in the evening you can watch the sun fall behind them from the comfort of your outdoor fire pit.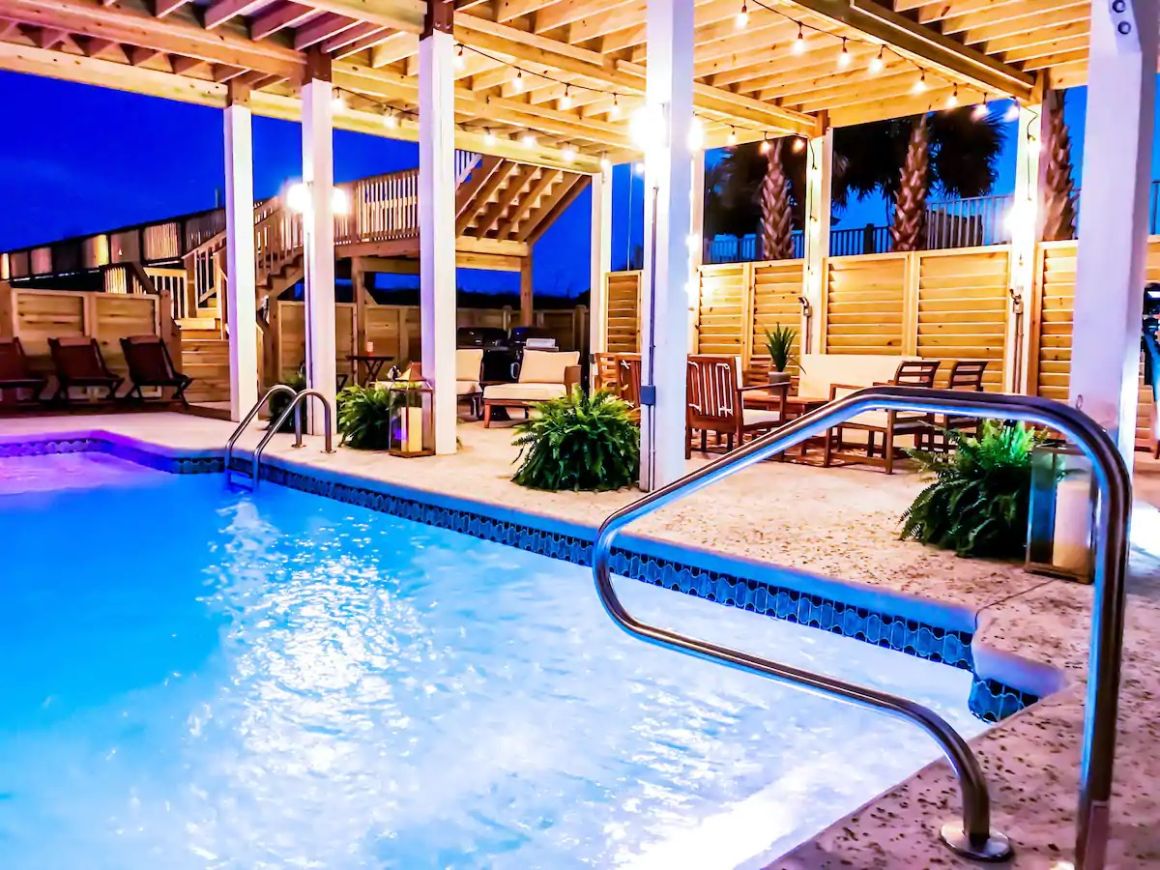 Have your own bridge out to the beach at this incredible Airbnb in North Carolina. You can walk right into the lap of luxury the second you enter the home.
The luxurious home on Ocean Isle Beach is the largest home in the area. Each bedroom has its own private bathroom and a handy 4K Smart TV. When you aren't gawking over the interior, head outside to the heated pool, outdoor bar, and alfresco lounge with its own fire pit.
Grab your towel to enjoy the private beach access, and swim in the Atlantic Ocean.
Best Cabin on Airbnb in North Carolina | Cozy Creekside Cabin
4 Guests
Fire pit & hot tub
Go on a romantic couples escape, or grab some friends, and head to this secluded cabin in the woods.
Located alongside a glistening creek, you can enjoy total serenity, and won't have to worry about annoying the neighbors.
The cabin is on the south side of the Great Smoky Mountains National Park which is home to some of the best hiking in the country. When you're done hiking for the day, head back to the cabin, light up the remote controlled fireplace and enjoy a nice dinner.
Wake up the next morning for a coffee on the multi-level deck area, and do it all over again.
In the historic Fisher Park neighborhood, you will find this sunny garden studio, and one of the coolest guesthouses in North Carolina.
From the cozy queen bed you can look out to the beautiful green gardens, and open up the doors for easy indoor to outdoor living. The kitchenette has a microwave and coffee pot, with complimentary tea and coffee, as well as a mini-fridge.
When you aren't chilling in the gardens reading a book, the guesthouse is just walking distance of downtown Greensboro. The home of the University of North Carolina, this buzzing college town is full of shops, restaurants, and delightful breweries.
Enjoy expansive views of the Atlantic Ocean from the balcony, and watch the sunrise every morning. At this Airbnb condo, you will be just a few steps from Carolina Beach and its world famous boardwalk.
Watch dolphins jump out of the ocean, and surfers strut their stuff on the surf break. There are shops, restaurants, and beach bars to wander and explore on sunny days.
The beach has weekly fireworks which you can watch from the complimentary beach chairs, and the condo also has a shared pool for the days you just want to chill with your partner and friends.
Hang out in your private Jacuzzi, and look out over snow-capped mountains at this amazing cabin in North Carolina.
You and your friends can enjoy relaxing in this cozy cabin that features two bedrooms, a spacious kitchen, and a living area with a fireplace. Make some coffee in the morning and watch the mist rise over the mountains from the comfort of your own porch.
Load up the car with gear, and head to Nantahala Outdoor Center for some world-class rafting, or hikes along the Appalachian Trail.
There is no doubt that chilling in the Jacuzzi, with its amazing mountain views, is the cabin's real highlight.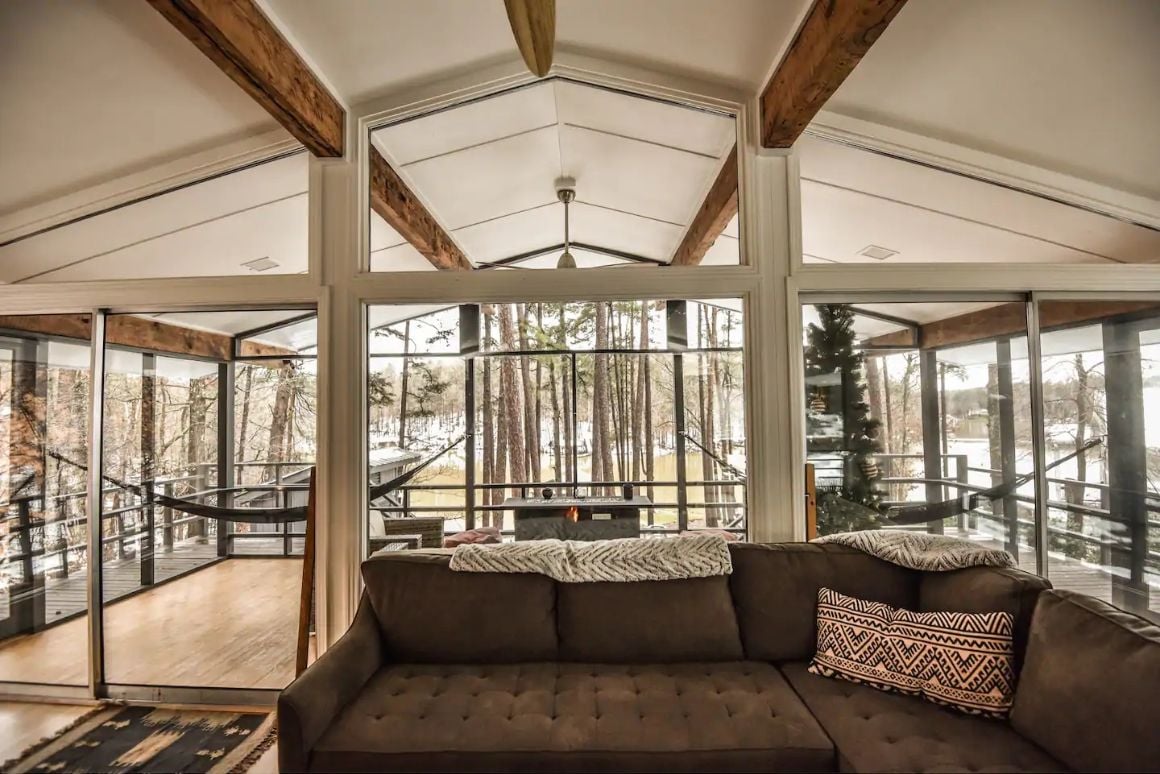 When it comes to having a weekend away in North Carolina, it will be hard to say no to the Glass House on Hyco Lake.
And amazing, modern Airbnb, this home has never-ending views down to the lake thanks to its sweeping window panes. The exposed beams, hardwood floors, and natural lighting will make the heart of any architecture buff flutter.
Walk down the steps to the epic patio space with plenty of spots to lounge and torelax on.
Just a few more steps down to the lake itself, and find your very own dock complete with paddle boards and kayaks.
Stunning Airbnb for Honeymooners in North Carolina | Creekside Honeymoon Heaven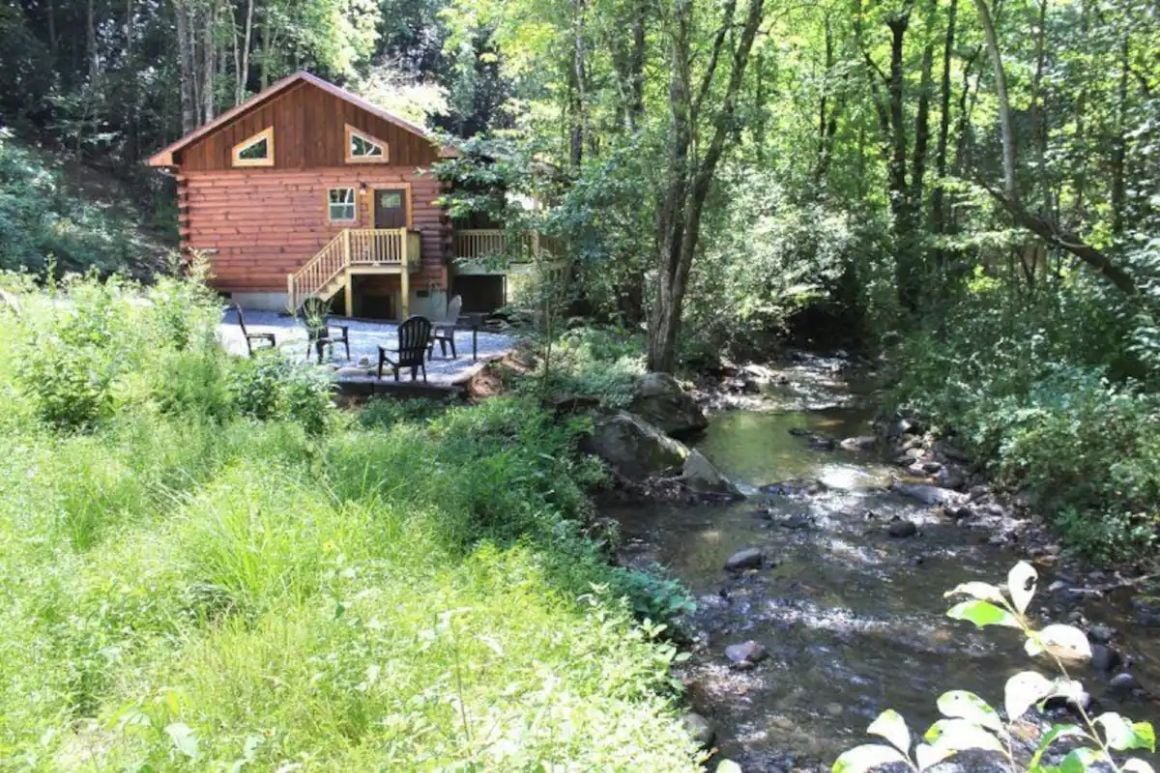 For newlyweds looking to add a bit of seclusion and nature to their getaway, check out this Airbnb in North Carolina perfect for honeymooners.
A beautiful, brand new log cabin and a gorgeous spot for all romantic retreats. This home sits alongside a rushing creek, with a porch that features two rocking chairs and a hot tub.
Soak in the morning views, and venture around the property which is its own natural paradise.
Have peace and quiet every evening when you make dinner on the outoor BBQ and cook up s'mores by the campfire.
Best Airbnb in North Carolina for a Group of Friends | The River House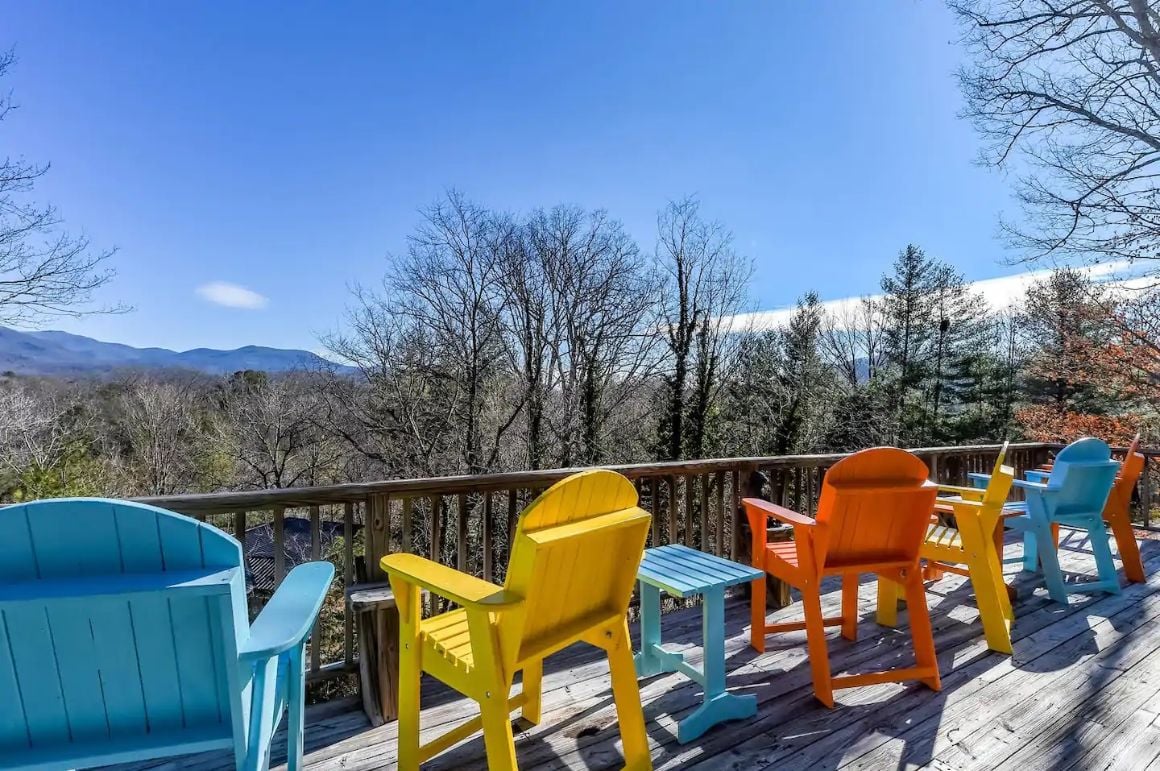 Be minutes from the buzzing country town of Asheville at the best Airbnb in North Carolina for a group of friends.
It is big enough to sleep ten guests, which makes it the perfect place to go with your crew. You can chill out on the huge patio, toast to the marvellous mountain views, and jump in the hot tub and star gaze every night.
Start each day hanging out in the spacious living area creating plans for the day before adventuring out into the wilderness.
Come home and relax on the balcony swing, and challenge your friends to a game of billiard.
Most Beautiful Airbnb in North Carolina | The Modern Treehouse
Airbnbs in the Tar Heel State are often spectacular, so it was hard to choose just one for the most beautiful award. However, we've taken a shot anyway.
Located right on Hyco Lake, this 'treehouse' home has views of the lake from all sides of the property. The sunset views are surreal, and best captured from one of the homes' hammocks, hot tub, or even down at the boat dock.
To be honest, the real view is the house itself. Under the moonlight, this beautiful home shines and will have you never wanting to leave.
But when you do, make use of the private dock, complimentary paddle boards and kayaks.
2 Guests
Close to Asheville
Not quite as famous as the Alaskan 'Magic Bus', this romantic bus overlooking the Black Mountains is still the best Airbnb in North Carolina for a unique getaway.
Forget your hippy busses, this unique home is elegant and well furnished. Combined with the surrounding pine forests, it is a romantic sanctuary for couples.
Make the most of the total peace and quiet, and wake only to the sounds of songbirds and leaves rustling.
Asheville is a simple 15 minute drive away where you will find all the supplies you need, plus a number of tasty restaurants and happening bars.
Top 5 Airbnb Experiences in North Carolina
Airbnb Experiences are all about connecting travelers with their destinations. The experiences are designed and run by locals who know the towns, mountains, and bays like the back of their hands.
With passion and knowledge of their destinations, you will receive amazing insight into not just the well-known attractions but all the hidden gems and underrated places.
See North Carolina through the eyes of residents, hike through the mountains they call home, and paddle along their local river. Walk through the downtown streets, try new food and craft beers, and learn about the town's history and architecture.
Airbnb Experiences range from walking tours and cooking classes, to morning yoga, sunset sails, and even multi-day excursions.
Here are our top 5 Airbnb Experiences in North Carolina:
$68 p/p
4 Hours
Up to 10 people
Equipment included
Does it get much better than floating down an age-old river, having refreshing dips under the sun, and stopping every once in a while for a tasty craft beer?
Our guess is, probably not.
But you get to do just that on this Airbnb Experience. Solo, with your partner, or with a group of friends, grab a paddle, strap on your life jacket, and head down the French Broad River.
Paddle down the simple but adventurous river, one of the oldest on earth, and hit up three breweries along the way.
Canoe up to the entrance or hang in the wading pools. Even non-drinkers will enjoy this trip for the scenery alone.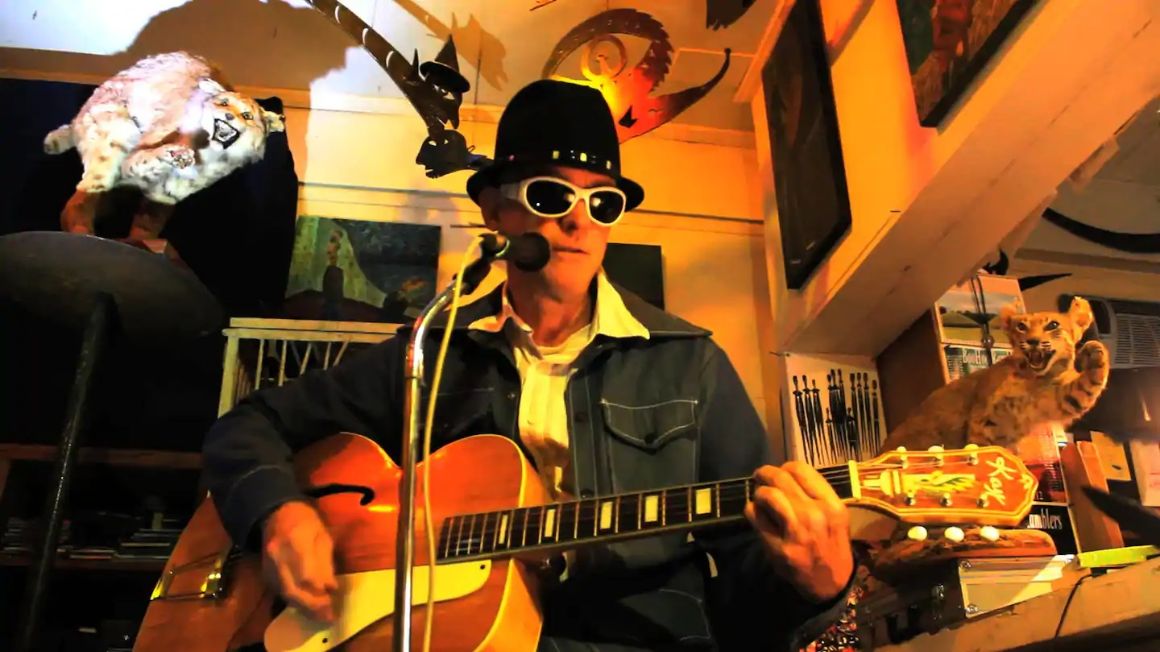 $
3 Hours
Up to 10 people
Drinks included
Enjoy an artist-led tour of the Mechanical Riverfront Kingdom in this whimsical Airbnb Experience.
The tour goes into over 200 years of history, the land's previous owners, and the almost four-decade creation of art on Druid Hill.
This is a unique experience for lovers of art, the weird and wonderful, and anyone looking for something different.
Your guide is the brains behind this marvelous environment and will be able to walk you through each piece in the Kingdom.
End the night with a musical performance and a short film on The Bateman 500 art installation.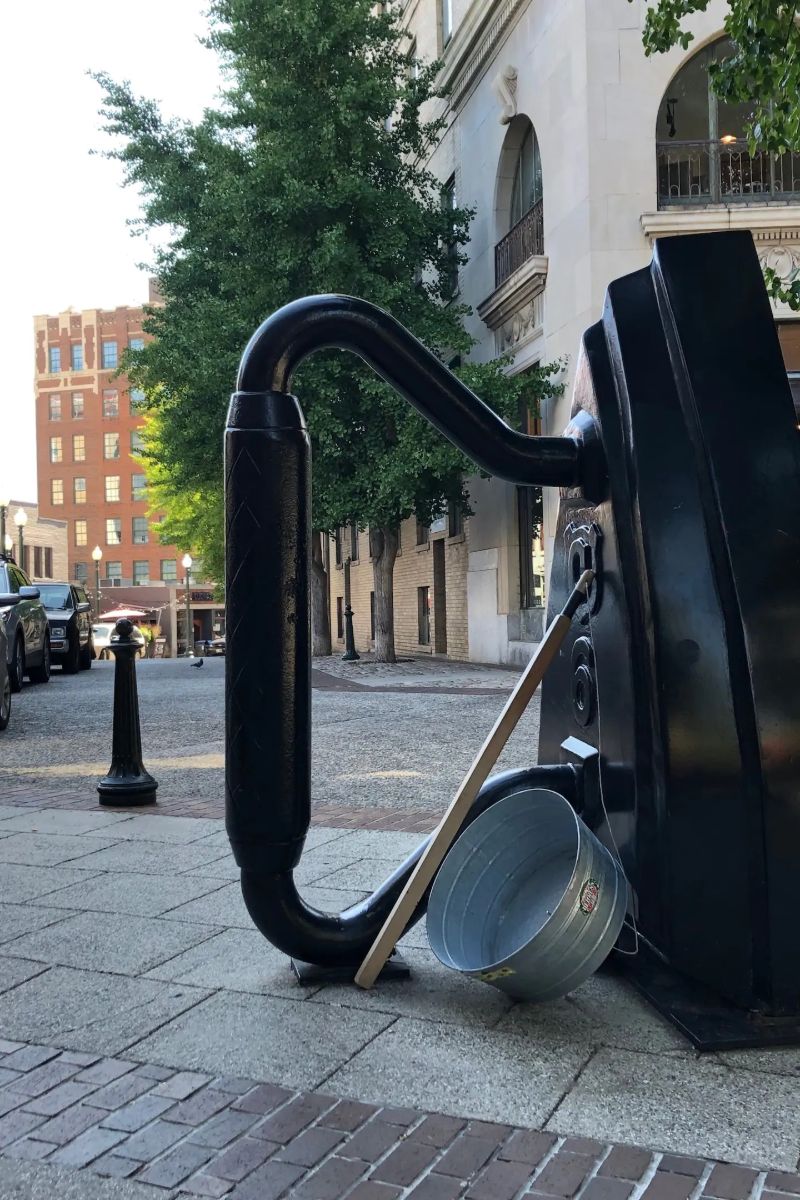 Tip Based Tour
2 Hours
Up to 10 People
Food & Drinks Included
Now that you've paddled along the French Broad River, why not head to downtown Asheville for this highly rated walking tour?
Jordan, your knowledgeable guide, has traveled the world over and knows a few things about running a great tour.
She will show you all the Asheville sights, plus its history, architecture, and some iconic local personalities.
See the Basilica of St Lawrence, Grove Park Arcade and go into Asheville's buy local culture.
Finish up the tour with a trip some one of Asheville's best craft brewery and even get a free donut tasting on the way!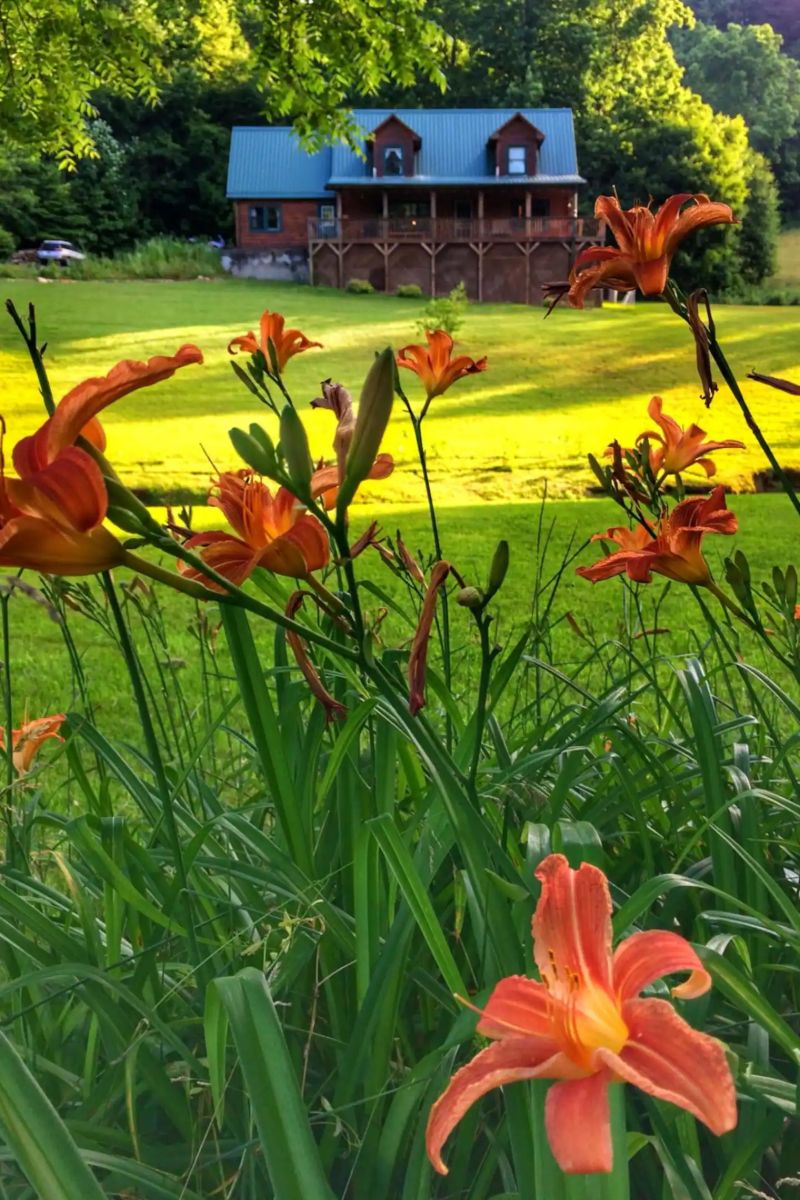 $65 p/p
2 Hours
Up to 6 people
Food and drinks included
The creator and voice behind the Thai cooking blog, Thai-Foodie, will be your skilled and entertaining host for this amazing cooking class.
After explaining her love for eating and cooking Thai food, you will get to work alongside her to make three dishes.
She will show you all her tips and tricks for working with unique ingredients as you create your own coconut soup, pad Thai, and mango sticky rice.
At the end, the real fun begins as you will be able to eat your dishes alongside your fellow chefs.
Sit by the warm log fire, or outside admiring the mountain views.
$80 p/p
2 Hours
Up to 4 people
4 Stops
Begin your magical craft cocktail tour at the revered Maestro Bistro.
Alongside your guide, who is part cocktail connoisseur part foodie, you can try a specialty cocktail paired with a yummy appetizer.
Afterwards, wander down to Greenville's famous Mexican hangout for margeritas and dirty queso.
Your fourth stop is right next door, at Sassafras, where you can enjoy southern fare with a French twist.
You'll end the night with a martini and dessert at Roost.
All throughout, you're guide's passion for Greenville's restaurant and bar scene will rub off on you. Greenville's thriving downtown will undoubtedly be a surprise and delight.
Don't Forget Your North Carolina Travel Insurance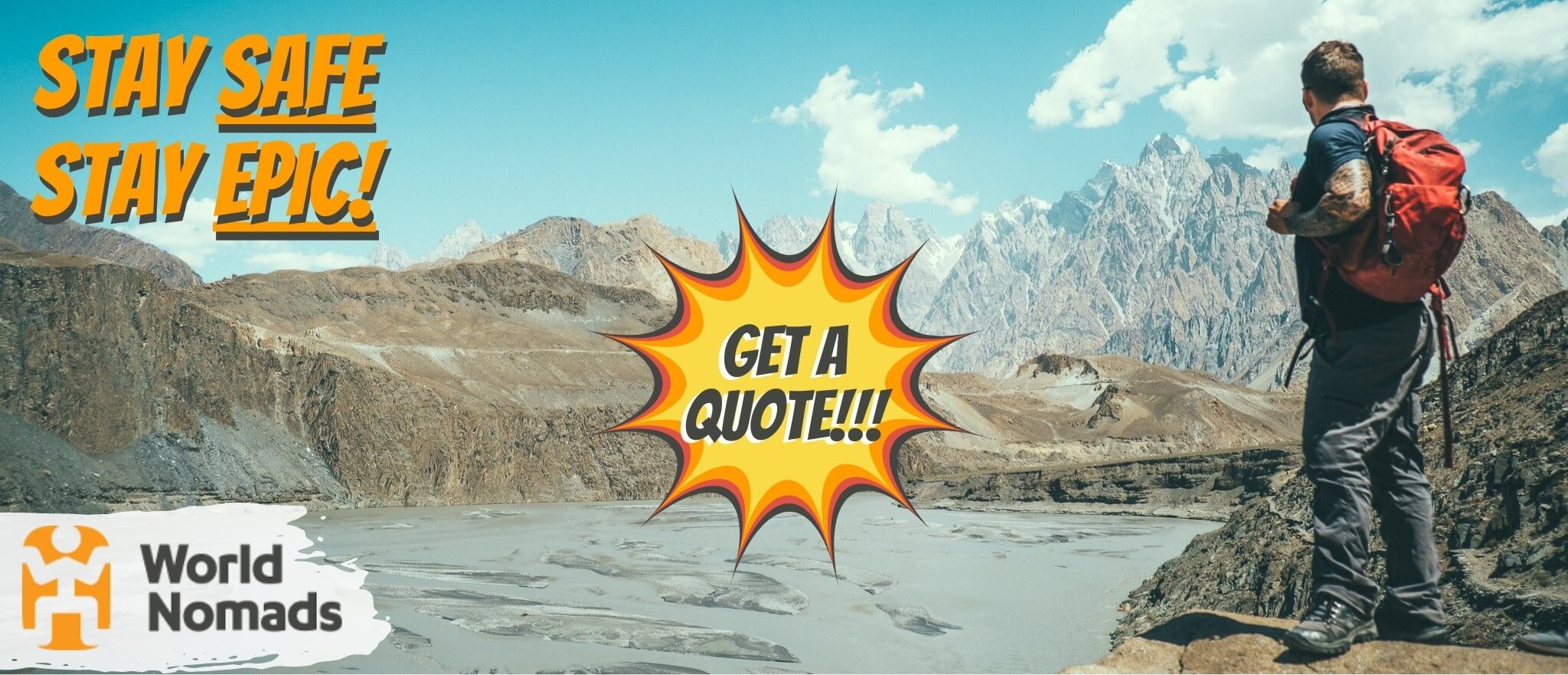 World Nomads' mission is to support and encourage travellers to explore their boundaries. They offer simple & flexible travel insurance, and safety advice to help you travel confidently.
They've been doing it since 2002 – protecting, connecting, and inspiring independent travellers just like you.
Get a quote below or read our in-depth review!
World Nomads provides travel insurance for travelers in over 100 countries. As an affiliate, we receive a fee when you get a quote from World Nomads using this link. We do not represent World Nomads. This is information only and not a recommendation to buy travel insurance.
Final Thoughts on North Carolina Airbnbs
North Carolina is home to impressive scenery and creative towns with fun to be had around every corner. It makes sense to ditch regular accommodation and stay at an Airbnb in North Carolina.
Why stay among the crowd and drive to each destination, when you can wake up right where you want to be?
The best Airbnbs in North Carolina will have you in the heart of old towns, steps from lakes, rivers and oceans, and among the most exciting parts of the Tar Heel State.
Before you venture out, consider grabbing some travel insurance for your journey.
---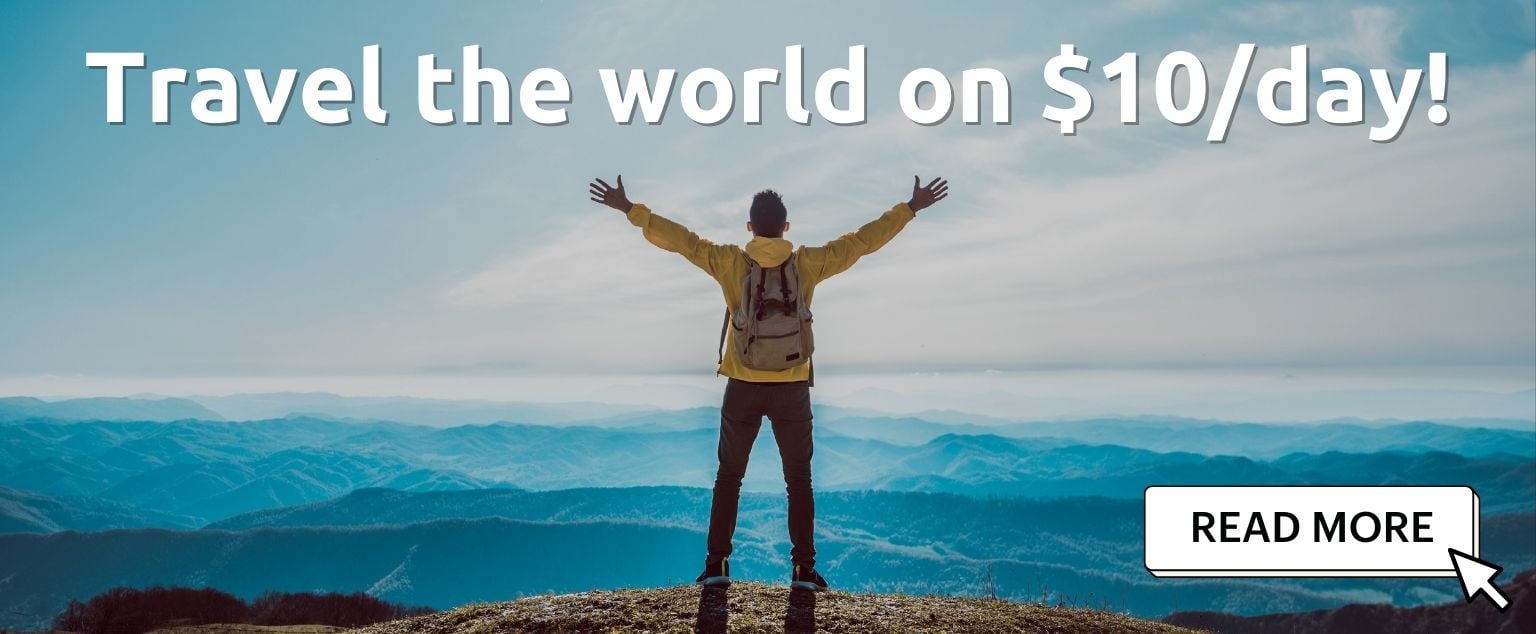 And for transparency's sake, please know that some of the links in our content are affiliate links. That means that if you book your accommodation, buy your gear, or sort your insurance through our link, we earn a small commission (at no extra cost to you). That said, we only link to the gear we trust and never recommend services we don't believe are up to scratch. Again, thank you!