Known for being one of the most botanically diverse regions in the world, the city of Asheville in North Carolina is not to be missed. It is a great place to breathe fresh mountain air and admire the stunning Blue Ridge Mountain range which surrounds the city.
Asheville is home to one of the grandest and largest residential homes in America, known as Biltmore Estate. This extravagant 1800s French Renaissance Castle in Biltmore Village is overflowing with history and architectural grandeur.
Downtown Asheville is equally attractive. It's lined with restaurants, shops, museums, and art galleries, and boasts architectural styles from the Victorian Era to Art-Deco. This city has especially important ties to African American communities and is one of the oldest Black cultural centers in America.
World-class hiking trails, gorgeous mountain views, and historic architecture give this American city a charm like no other.
Ideal for a weekend escape or family getaway, Asheville vacation rentals are diverse and beautiful.
Quick Answer: These are the Top 5 Vacation Rentals in Asheville
Overall Best Value Vacation Rental in Asheville
Overall Best Value Vacation Rental in Asheville
Quirky 2 Bed Cottage with Porch
> $$
> 4 Guests
> Private home with mountain views
> In Biltmore Village
Best Budget Vacation Rental in Asheville
Best Budget Vacation Rental in Asheville
Bright and Homey 2 Bed House
> $
> 5 Guests
> Comfortable furniture, free parking, and balcony
> Quiet neighborhood
Best Vacation Rental for Couples in Asheville
Best Vacation Rental for Couples in Asheville
Luxury Glamping Tent with Jacuzzi
> $$
> 2 Guests
> Full shared kitchen
> On a hiking trail north of Asheville
Best Vacation Rental for Families in Asheville
Best Vacation Rental for Families in Asheville
Classic Contemporary 2 Bed Condo
> $$
> 6 Guests
> Includes fireplace and parking and is accessible for prams
> Located in Biltmore Village
Over-the-Top Luxury Vacation Rental in Asheville
Over-the-Top Luxury Vacation Rental in Asheville
Extravagant 4 Bed Home with Manicured Gardens
> $$$$
> 8 Guests
> Event friendly home
> Two blocks from Downtown Asheville
Types of Accommodation in Asheville
With stunning natural views and a historic city center, you'll find modern apartments, quaint townhouses, cottages, mountainside cabins, and treehouses scattered around this beautiful region. There's no shortage of luxury vacation rentals in Asheville, either.
Mountain Cabins and Treehouses 
Asheville is surrounded by the vast Blue Ridge Mountain range. The scenic Blue Ridge Parkway leads to some of the highest eastern peaks of the mountain range and has unrivaled views. You'll find stunning cabins and treehouses perched atop the cliffs, or hidden between the greenery along this highway.
The cabins and treehouses vary in size and affordability, and can sleep anywhere from two to eight guests comfortably. With so much privacy and proximity to hiking trails, these holiday homes in Asheville are best suited for couples and small families, as well as outdoor adventure seekers.
Townhouses and Cottages
There are tons of townhouses and cottages located on the outskirts of Downtown Asheville. Just 25 minutes from the city, you'll find the quaint and historical Black Mountain town. This town is well known for its art scene and traditional rocking chairs dotted along the streets. Even closer to the city, Biltmore Village is an historic neighborhood that houses some of the area's most famous attractions.
Townhouses and cottages often include full kitchens, spacious yards, and barbeque facilities. While swimming pools are scarce, some may have private Jacuzzis!
Couples and families will appreciate the secluded feel of these holiday homes in Asheville, and long-stay visitors such as digital nomads will benefit from slightly lower prices outside of the city center.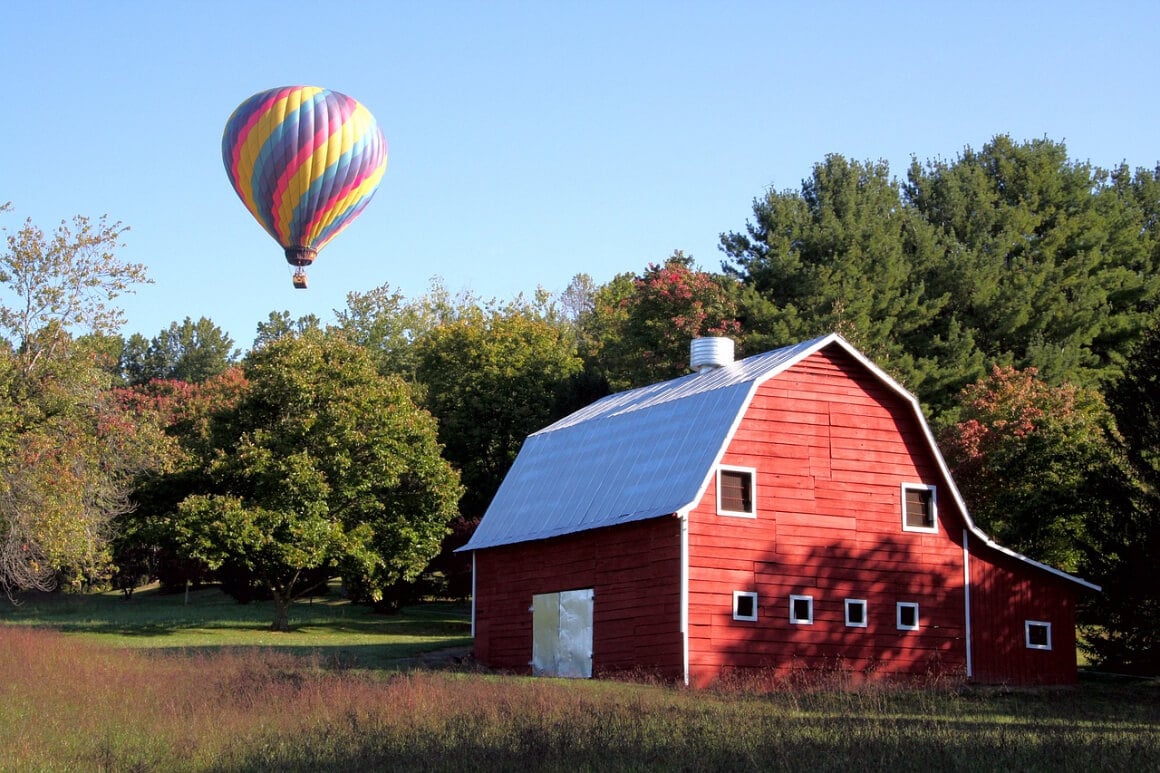 Apartments and Condos
If you're up for a more dynamic Asheville experience, you're best off staying right in the city center. Downtown is a small but bustling city and is easy to walk around. Most apartments and condos in the area have been remodeled to boast clean finishes and modern furnishings, yet many maintain a historic charm. 
Located within walking distance to many bars, restaurants, nightclubs, and tourist attractions, apartments and condos are ideal for those hoping to experience the nightlife, culture, and history of this vibey city.
Groups of friends and even long-stay digital nomads would also benefit from being in the center of town. For wheelchair users, many refurbished apartment blocks include lifts and wheelchair-friendly access making this a safe bet for accessibility.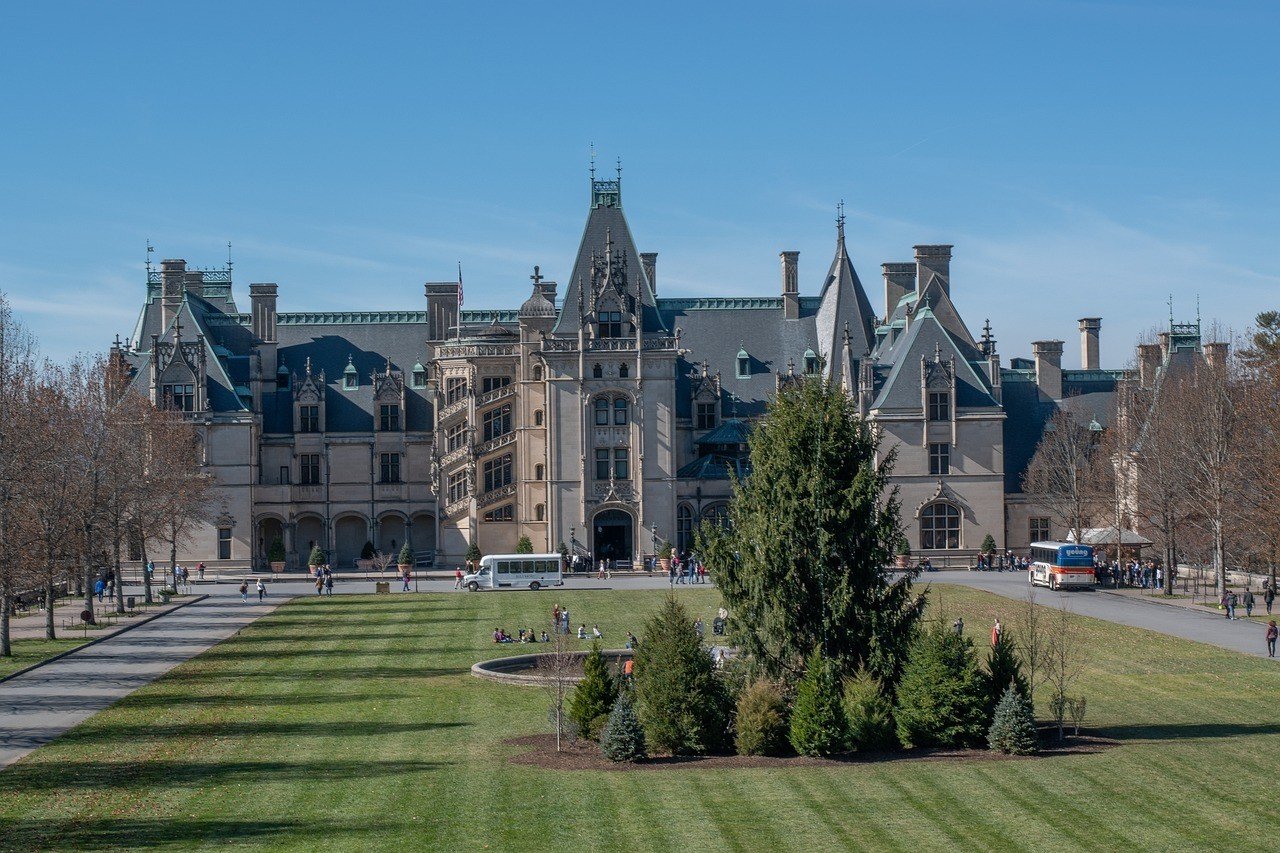 Top 20 Vacation Rentals in Asheville
Check out these incredible vacation rentals in Asheville for every type of traveler.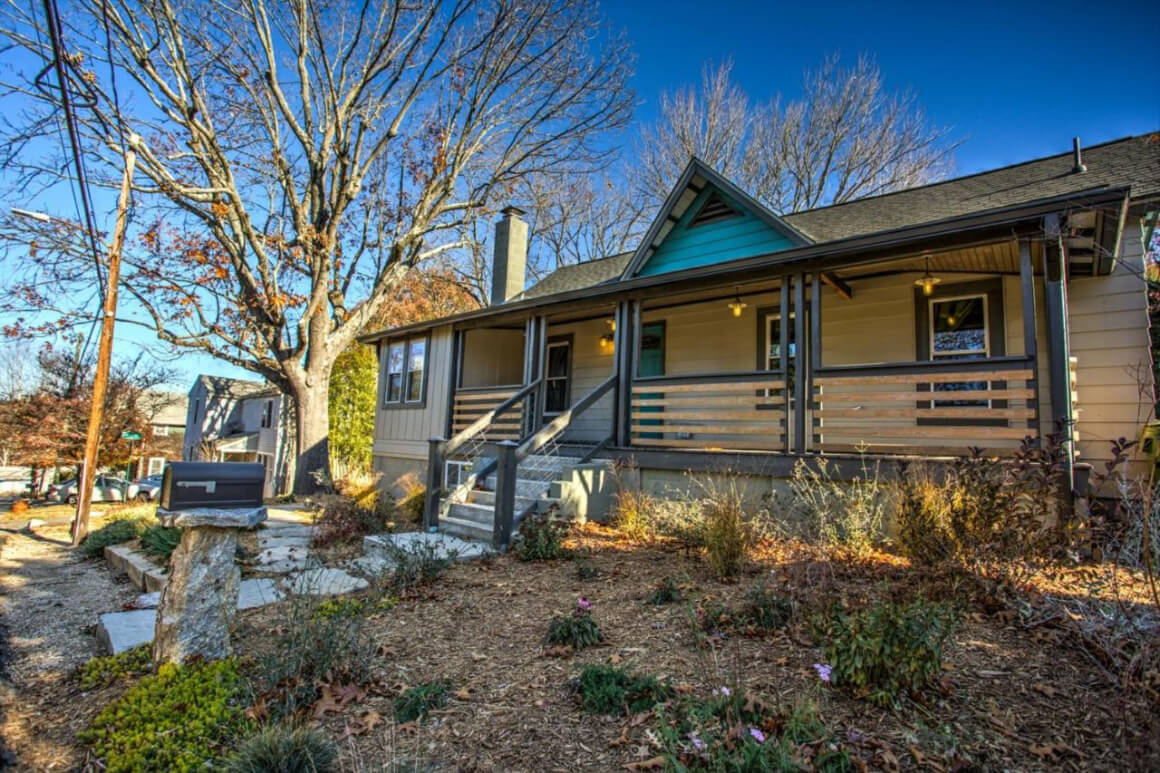 $$
Private home with mountain views and air-conditioning
4 Guests
In Biltmore Village, just south of Asheville
If you're looking for a cozy, affordable, and well-located self-catering vacation rental in Asheville, look no further! This spacious cottage can sleep up to four guests in two private bedrooms. Hardwood floors, cozy carpeting, and quirky touches of furniture and decor give the home a super homey feel. A large covered front porch and sunny backyard are great for spending time outdoors when the weather allows.
Another bonus is that this cottage is located in the heart of Biltmore Village, moments away from the center of Asheville and nearby the area's most coveted Renaissance castle.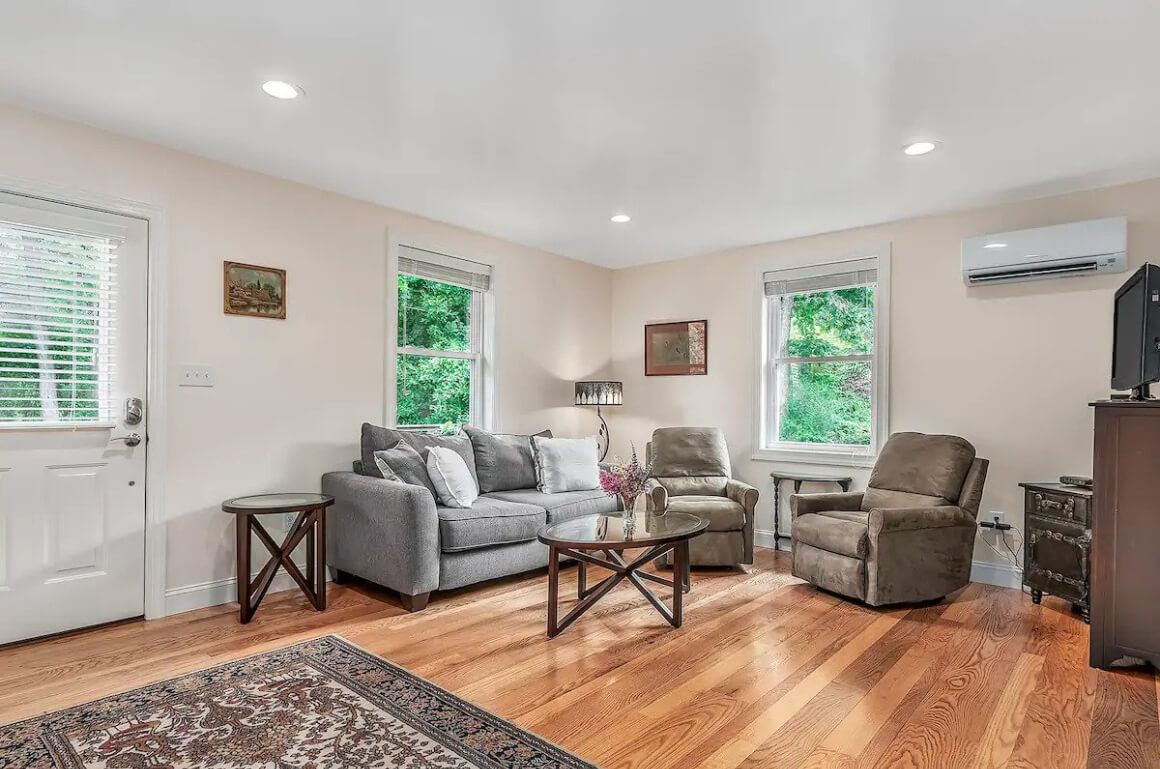 $
Comfortable furniture, free parking, and balcony
5 Guests
Quiet neighborhood, a short walk from the French Broad River
This super-affordable rental in West Asheville is spacious, clean, and simply gorgeous. A large kitchen and dining area lead into a comfortable living area with a sleeper couch. The home also includes a washing machine and dryer in a secluded laundry passageway. The furniture across the charming home ranges from top-quality modern to classy antiques. 
Every window in this home looks onto sunny gardens and greenery making it feel very private and secluded. The large deck overlooking the forest is the perfect spot to catch some sun and sip on an afternoon cocktail. Sounds like luxury on a budget to me!
$$$
Secluded family farmhouse with modern furnishings
7 Guests
5-mile drive to Downtown Asheville
Nestled between Biltmore Estate, Downtown Asheville, and the Botanical Gardens, you'll find this exquisite mountain home. A beautiful open-plan living area is complemented by a huge double-story window feature bringing tons of natural light into the home. High ceilings, wooden floors, and classy furniture and carpets make this easily one of the top luxury vacation rentals in Asheville.
To top it all off, the home has unrivaled mountain views which can be admired from almost every room, as well as from the large undercover balcony with a private Jacuzzi.
Is This the Best Travel Pack EVER???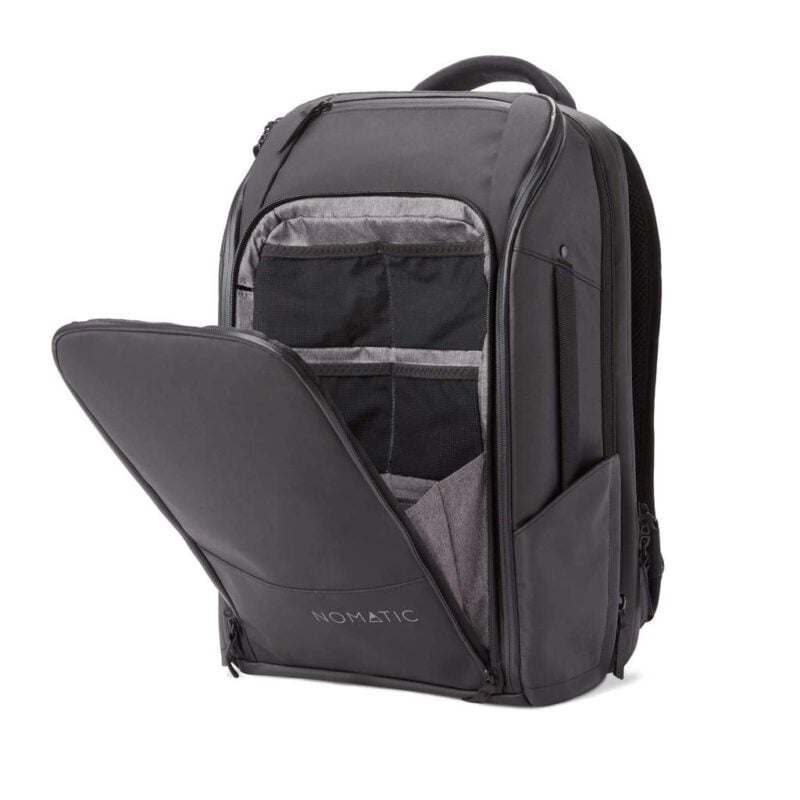 $$$$
Event friendly home with huge outdoor dining area
8 Guests
Two blocks from Downtown Asheville
In the heart of Asheville, this mansion is within walking distance of some of the most sought-after restaurants and attractions in the city. It is fitted with top-of-the-range-fittings, furniture and appliances, and it even has two fully equipped kitchens!
The home has a patio overlooking perfectly manicured gardens, a large outdoor barbeque and dining area. A rooftop terrace and private bedroom balconies boast panoramic city and mountain views. The four private bedrooms and large family living area make this the ideal luxury holiday home for friends or family gatherings.
$$
Fireplace, parking and accessible for prams
6 Guests
Located in Biltmore Village, walking distance to restaurants
Walk tulip-lined streets into this bright and stylish condo. A family of six will be more than comfortable in this spacious home, filled with contemporary furniture and natural light. High ceilings with exposed beams, granite countertops, and wooden floors give the home a classic feel. 
This spot has a fully equipped kitchen, featuring everything you might need from a holiday home in Asheville, including a five hob gas stove, dishwasher, and double-door fridge. With a safe fireplace behind a glass door, a full laundry, and a fully accessible entrance, this home is ideal for families with strollers or wheelchair users.
$$
Multi-story home with river view balcony
6 Guests
Between Asheville center and Biltmore Village
If you only have time for a quick weekend visit to Asheville, you're best off renting a holiday home in a central location. This modern house is strategically located between Asheville and Biltmore Village, the two areas you're likely to spend most of your time. 
Large enough for six guests, this multi-story home has recently been refurbished with brand new modern fittings and furnished with gorgeous contemporary items. Leather furniture and warm wooden tones make it feel like a home-away-from-home. There's even an outdoor fire pit and a large balcony overlooking the river!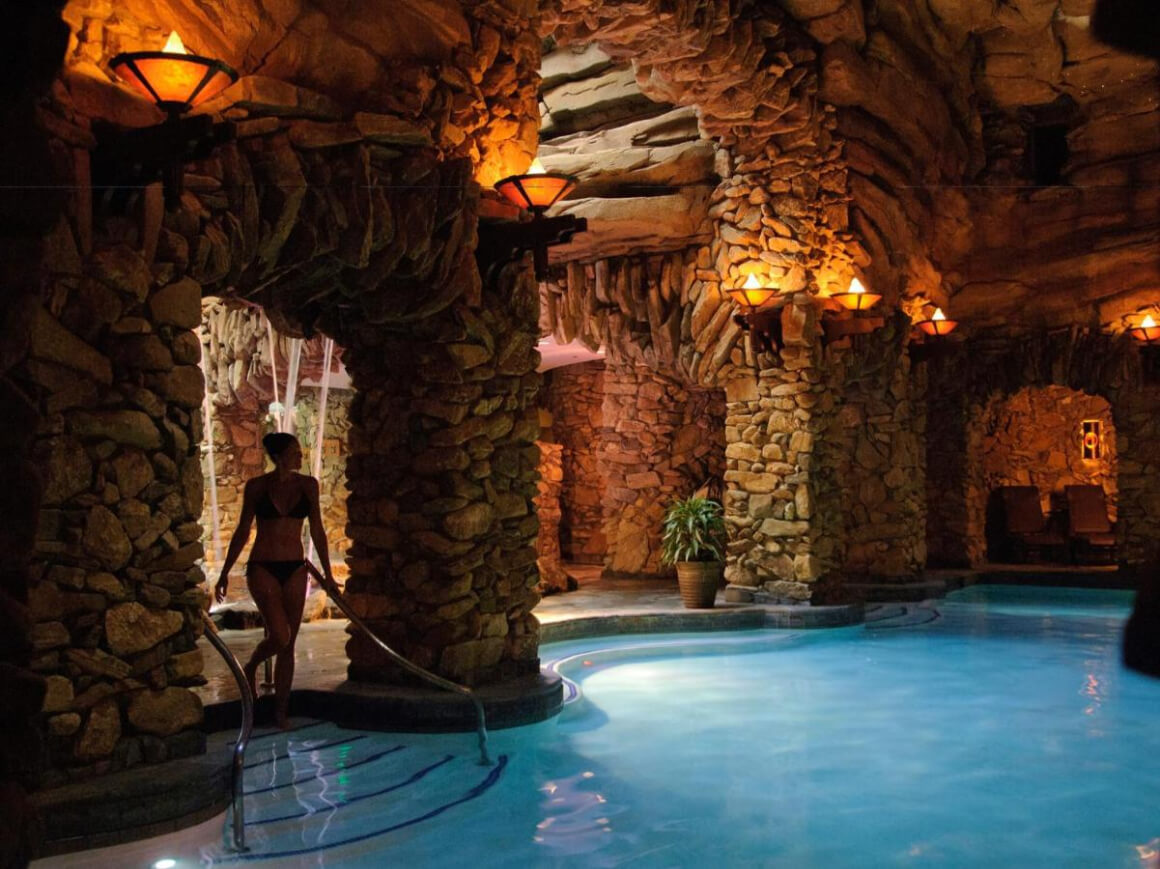 $$$
Includes outdoor and indoor cave pools!
2 Guests
Located in Grove Park Sunset, north of Asheville
Because of the high altitude and cool climate in Asheville, swimming pools are few and far between. If you're craving a swim, your best bet would be to rent a room at one of the region's historical inns. This one was built in 1913 and features a range of indoor, outdoor and underground cave pools.
The clean hotel-style rooms come fitted with a basic kitchenette, although not ideal for cooking a full meal. This shouldn't be an issue though, as the Inn has to four restaurants and bars. Ideal for short-stay visits, this Inn is accessible for wheelchair users, and even allows you to bring along your pet!
$$
Spacious condo with elevator and natural light
4 Guests
Located just north of Downtown Asheville
Bright open spaces, wide passageways, and building elevator access make this contemporary downtown apartment one of the best vacation rentals in Asheville for accessibility. The corner apartment boasts large floor-to-ceiling windows and sliding doors inviting tons of natural light into the shared open-plan living area.
Recently remodeled with clean marble countertops, smart dark wooden flooring, and top-of-the-range kitchen appliances, you'll love cooking in this kitchen as much as you enjoy eating out! Moments away from one of America's most scenic highways, gaze out your bedroom window from your luxurious bed to admire the stunning mountain views.
$$
Lots of natural light and open space
2 Guests
In the heart of Downtown Asheville
Location, location, location. This modern apartment could not be better located – within walking distance to all the shops, restaurants, and cafes you could wish for in Asheville. Located in a prestigious apartment block on the famous Broadway street in the center of Downtown Asheville, you'll be spoilt with city views from the wall of windows sprawled across the living area.
The home has been recently remodeled using ultra-modern yet warm and inviting fittings. For example, sleek wooden cabinetry complements postmodern art, clean white walls, and leather interiors.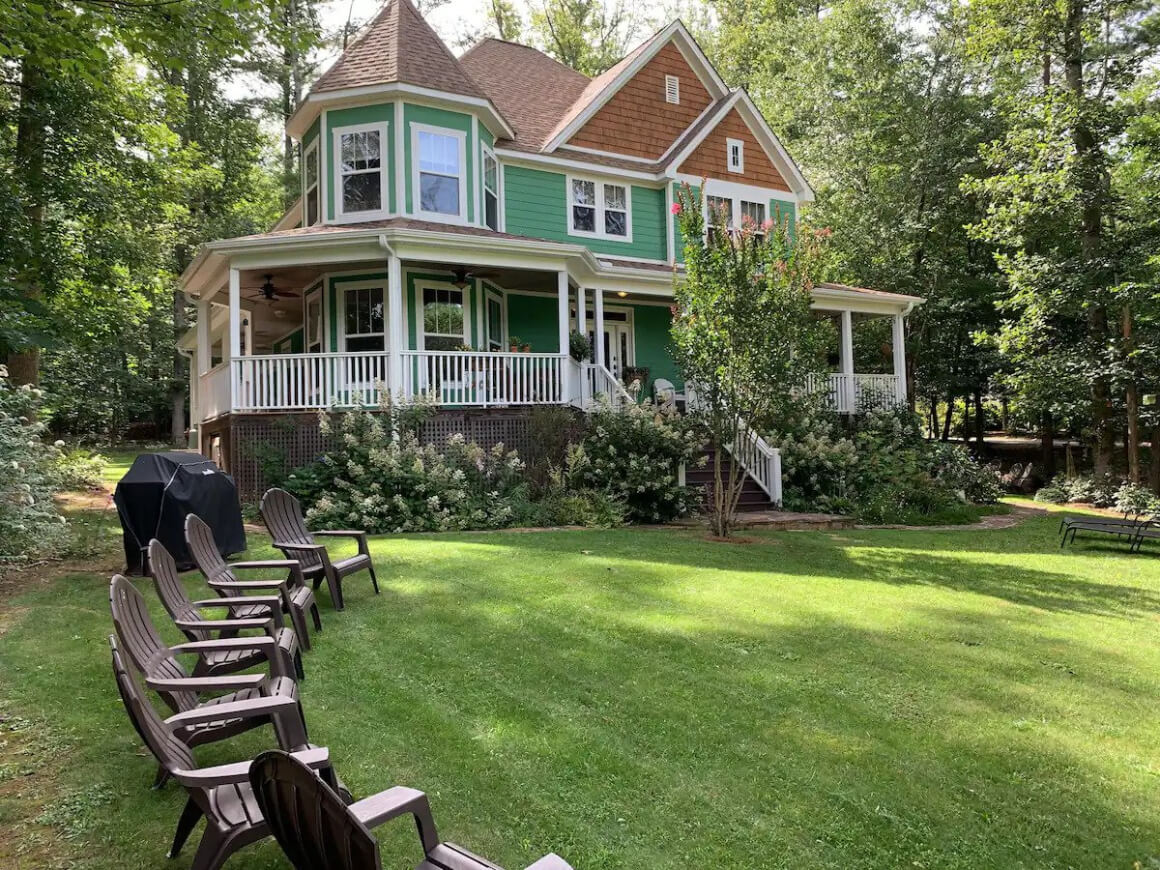 $$$
Classic old farm home with porch and library
10 Guests
Mountainside house just outside the city
Asheville is a top location for a family vacation with an abundance of both indoor and outdoor fun to be had. This quaint three-bedroom house is located on a large and secure property just outside the hustle and bustle of the city center. Nestled between private gardens and rolling lawns, the seclusion will make you feel totally relaxed in this self-catering vacation rental in Asheville.
The home includes an outdoor fire pit area and a stunning undercover porch scattered with comfortable furniture and pot plants. Step inside and you'll be treated to warm yet quirky interiors, antique-style furniture, and artsy wallpapers. There's even a library filled with books!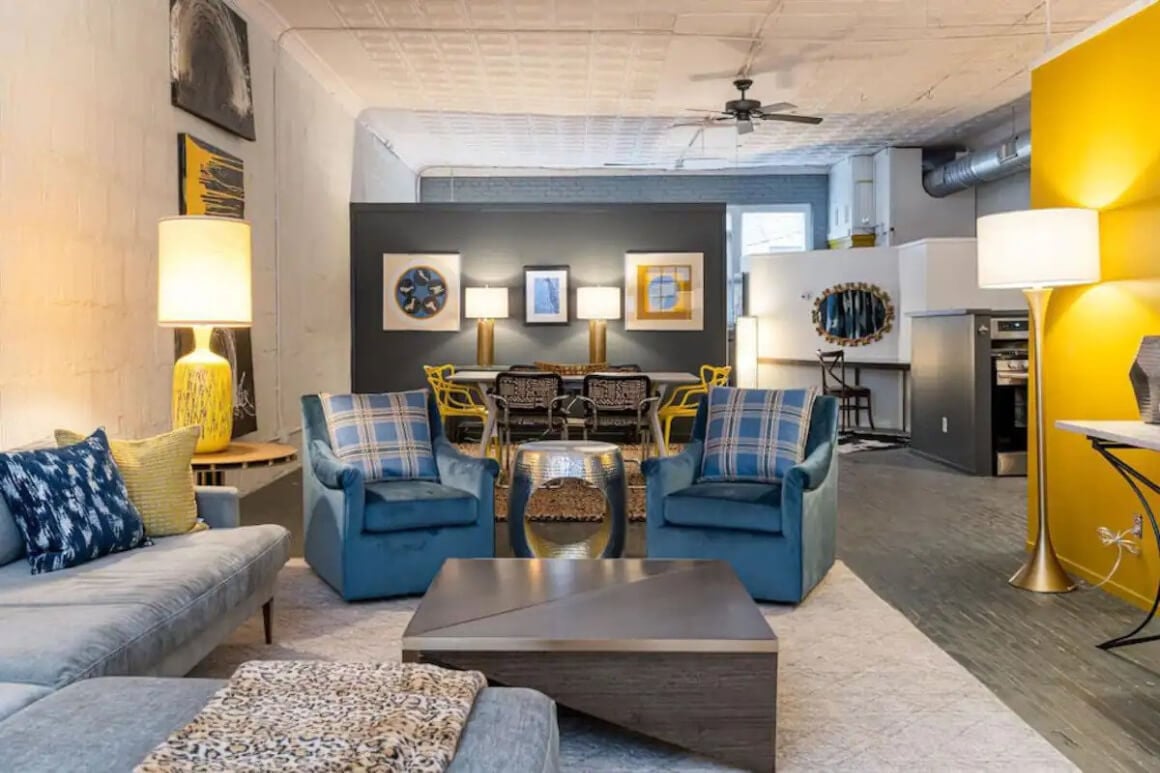 $$
Industrial style and edgy apartment in the city center
4 Guests
Located in the heart of Asheville on Historic Alley
Located in a historical building, this funky two-bedroom loft is inspired by bright pops of color and an industrial feel. The condo boasts an antique clawfoot bath, original wooden floors, and an etched ceiling from another era. With a modern yet historical and industrial feel, it's a super well spread-out space for four friends to enjoy. 
The best thing about it? It's located in a perfectly convenient city center spot, a few minutes' walk from some of the best shops and eateries in Asheville. Retreat to your edgy and comfortable sanctuary while still having the whole city at your doorstep.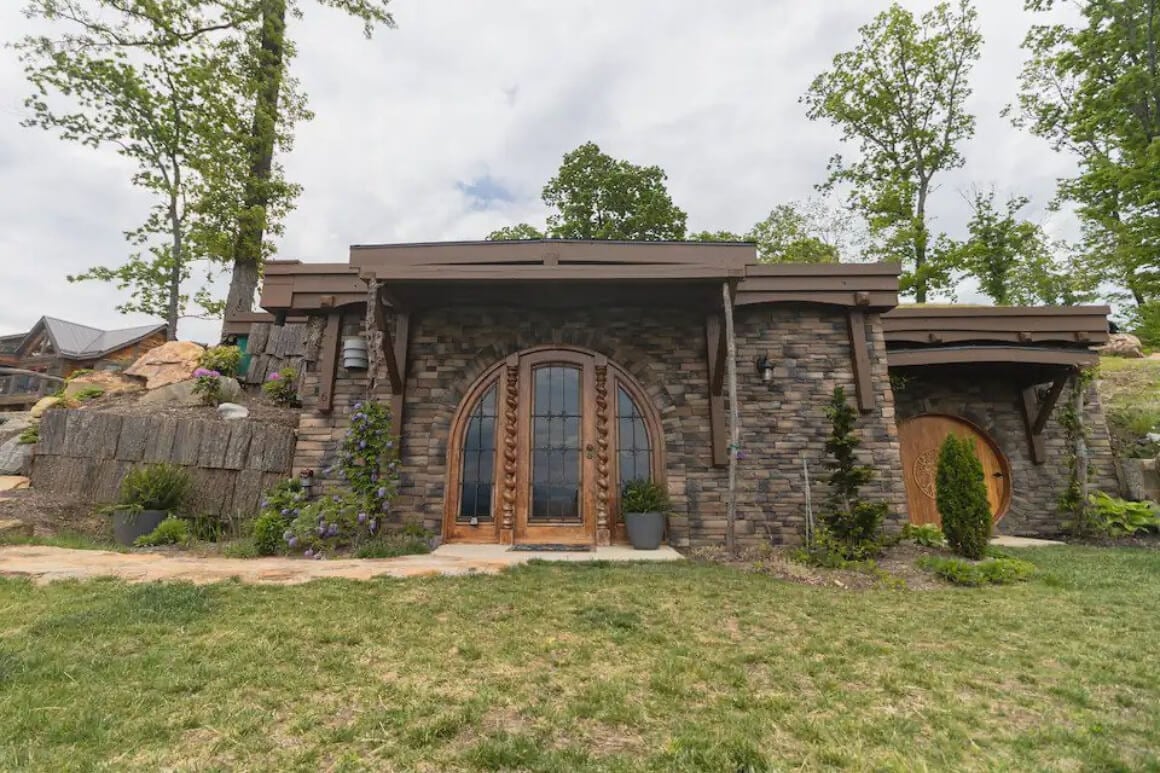 $$$
Cozy home built into the mountain landscape
3 Guests
Located north of Asheville, in a quiet area
Ever wanted to spend a night in a hobbit hole inspired by the Lord of the Rings? Well, now you can! This unique themed home is located on a secluded property in the forest just north of Asheville.
Round wooden doors etched with Elvish-inspired designs, wooden floors and cozy furniture give this underground home a warm and inviting feel. With a kitchenette stocked with complimentary snacks and world-class views of the Blue Ridge mountains, this is easily one of the best vacation rentals in Asheville. Although it only has one private bedroom, a pull-out sleeper couch can comfortably fit another adult or two children. 
$$
Isolated treehouse in wooded mountains with outdoor bathtub
4 Guests
Located in North Asheville, a short drive to the city
Just north of the city of Asheville, you'll be delighted to find this private treehouse overlooking beautiful mountain and valley views. The wooden stilt home has clean interior finishes and exposed wooden beams complimented by large windows which bring the view into every section of the small home. 
Classic furniture in muted tones combined with rustic raw wooden touches makes for an ultra-romantic day spent at home (and with views like this, that's a very decent option). This one-bedroom spot also has two sleeper couches which are comfortable for an additional two guests, for those with kids. I can feel the cool mountain breeze on my face already.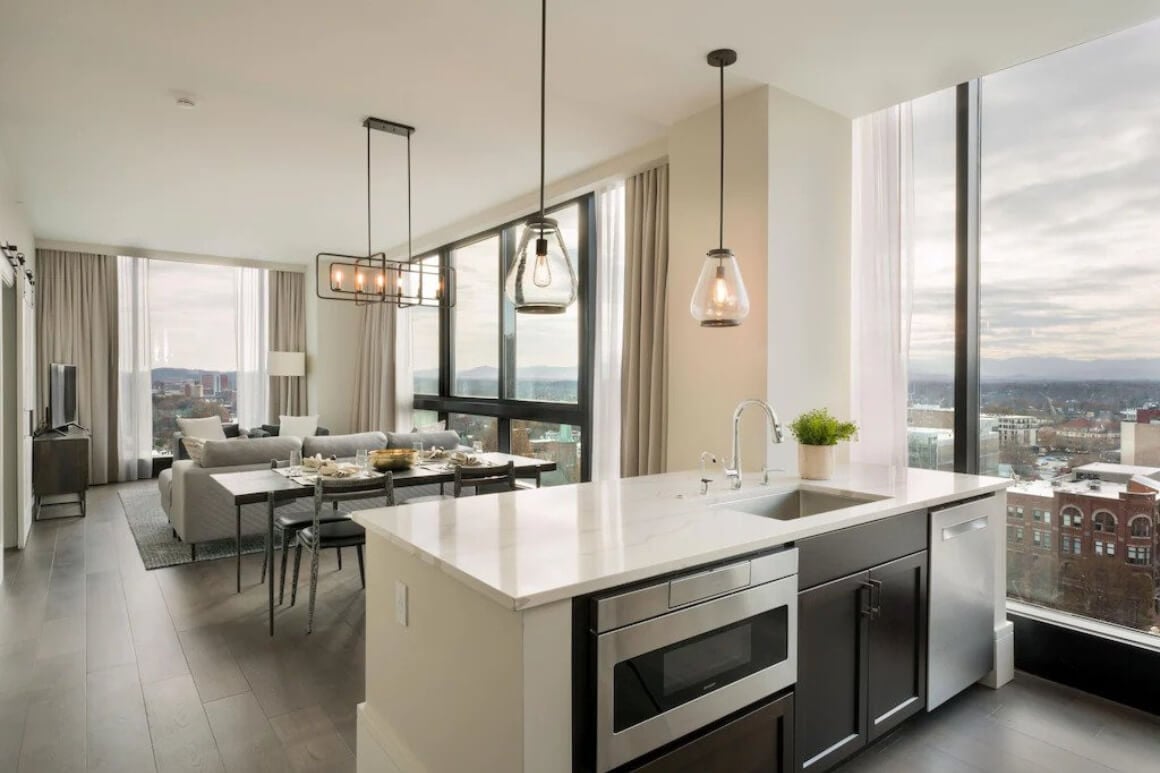 $$$
Modern loft with open-plan living area
2 Guests
Downtown Ashville, walking distance to bars and nightclubs
This luxury vacation rental in Asheville is located in the perfect spot for guests seeking the party scene and nightlife of the city. Located in one of the tallest buildings in the area, it towers over the stunning city offering a gorgeous urban view. The home has an ultra-modern appeal with clean white and grey touches, huge glass windows, and contemporary furniture.
Recently renovated with white marble countertops, wooden touches and honeycomb tiled bathroom floors, this conveniently located condo also includes washer/dryer facilities and top-quality appliances. 
$$
Spacious home with a stylish balcony, barbeque, and firepit
6 Guests
Located in a quiet neighborhood, 8 minutes from Downtown Asheville
Stunning views are not hard to come by in this mountainous district. This home is located on the mountainside just four miles from Blue Ridge Parkway which is known for the best views in the area. The round shape of the house makes it possible to enjoy the views from every corner of the space.
Wooden floors, an exposed rustic stone fireplace, classy furniture, and quality linen make this one of the best vacation rentals in Asheville. It even includes a private office nook with forest views, perfect for digital nomads and long-stay visitors.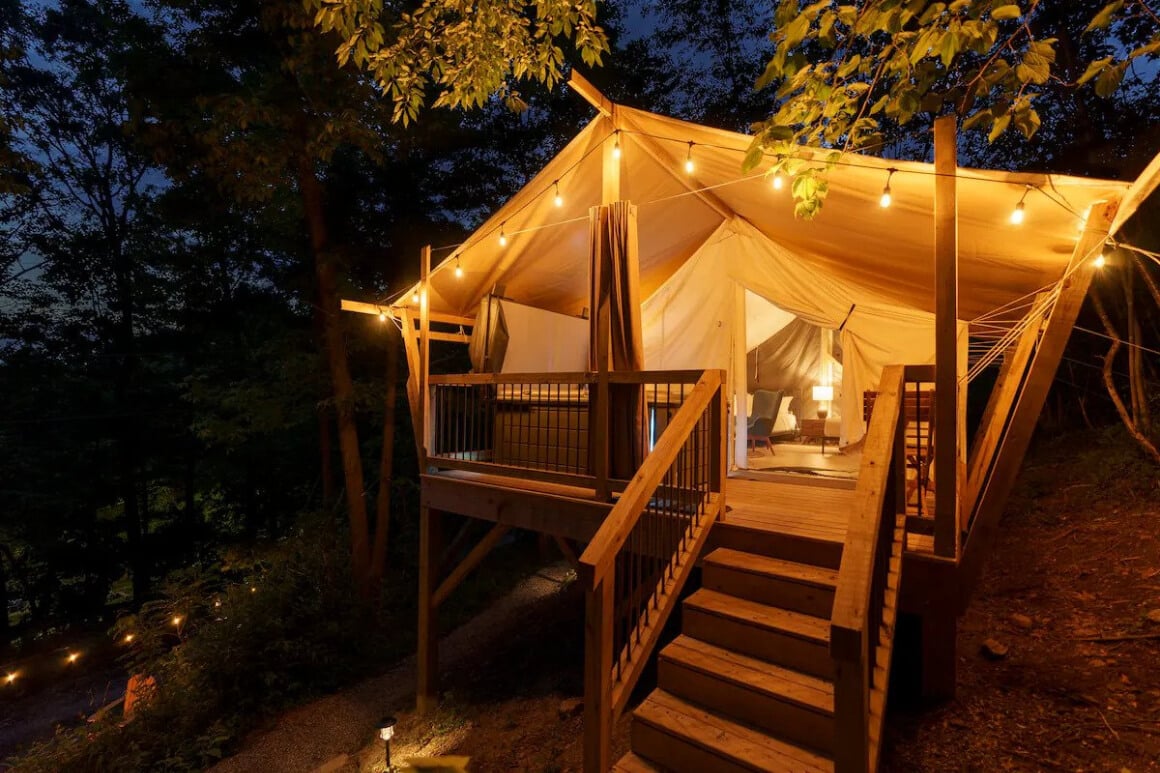 $$
Full shared kitchen, firepit, and private Jacuzzi
2 Guests
On a hiking trail north of Asheville
With stunning mountain views, this luxurious glamping tent is without a doubt one of the most romantic holiday rentals in Asheville. The tent itself is completely secluded in a forest of greenery and boasts a large bed with high-quality linen, a comfortable seating area, and romantic strings of light covering a private Jacuzzi.
This glamping experience also includes a fully equipped shared kitchen, which the host stocks with fresh food for you to cook your very own breakfast. The dim evening lighting creates a super romantic vibe at the campsite – this is the perfect spot for couples to unwind.
$$
Large windows and balcony with sunset and mountain views
4 Guests
Treehouse in quiet Woodfin neighborhood, North Asheville
Tranquility and charm await you in this quaint mountainside treehouse. This forest green-colored home looks like something out of a fairytale, with purple doors juxtaposed against exposed wooden railings and beams. 
The eclectic loft has large wooden barrels used as a countertop, geometric-shaped windows, colorful carpets, and whimsical wall art. Brew your morning cup of coffee in the fully-equipped kitchen and enjoy it with a dose of fresh air on the balcony overlooking the mountainous landscape.
$
Fully equipped home with large yard and fireplace
2 Guests
Located south of Downtown Asheville
This might just be one of the cutest-looking vacation rentals I've ever laid eyes on. A rustic double-story farmhouse with exposed wooden ceilings and copper piping, whitewash wooden cabinetry, and roughly plastered walls, you are promised a comfortable stay. Combined with a wood-burning fireplace, warm wooden stairs, and antique-style furniture, this farm stay has everything you might need from a self-catering vacation rental in Asheville.
A comfortable bed and ensuite bathroom await you upstairs in this open-plan loft perfect for a couple. The hosts have left no stone unturned and have included all the amenities you might need for your stay.
$$$
Stunning multi-story treehouse with forest views
3 Guests
Located on an 8-acre property, 10 minutes from downtown
Simplistic and whimsical luxury comes to mind when walking through this top-heavy treehouse home. The wooden structure towers over the forest floor, boasting amazing mountain views from every direction. Simple furniture, warm interiors, and personalized touches make this one of the top luxury vacation rentals in Asheville.
The loft-style treehouse has one bedroom but space to fit an additional guest on a comfortable sleeper couch. Quirky touches such as the teal-painted door frames, string lights, and stained-glass windows give this treehouse a ton of character.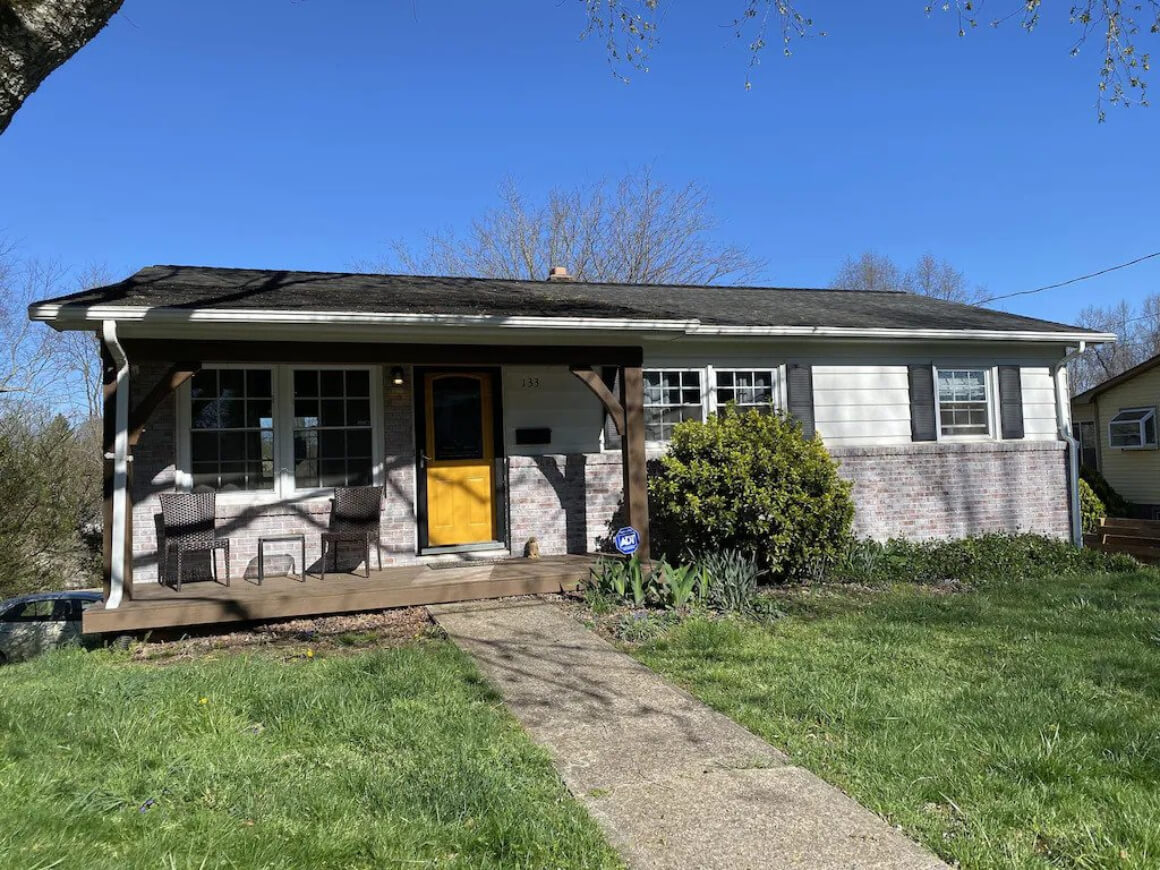 $
Simple home with a Jacuzzi and large yard
4 Guests
Located in trendy West Asheville neighborhood
Don't be fooled by the basic exterior of this family home which is filled with contemporary furniture and stylish finishes. The home has a large deck with an outdoor dining area and a Jacuzzi overlooking gorgeous forest views. 
Ideal for bringing your furry friends along, the home includes a dual-use yard space. The upper part has a firepit and games area, and the lower part has a huge fenced-in lawn space reserved for your fluffy friends.
A top drawing point to this home is its close proximity to the French Broad River which is a great place to enjoy a summer day with your family and dogs.
Don't Forget Your Asheville Travel Insurance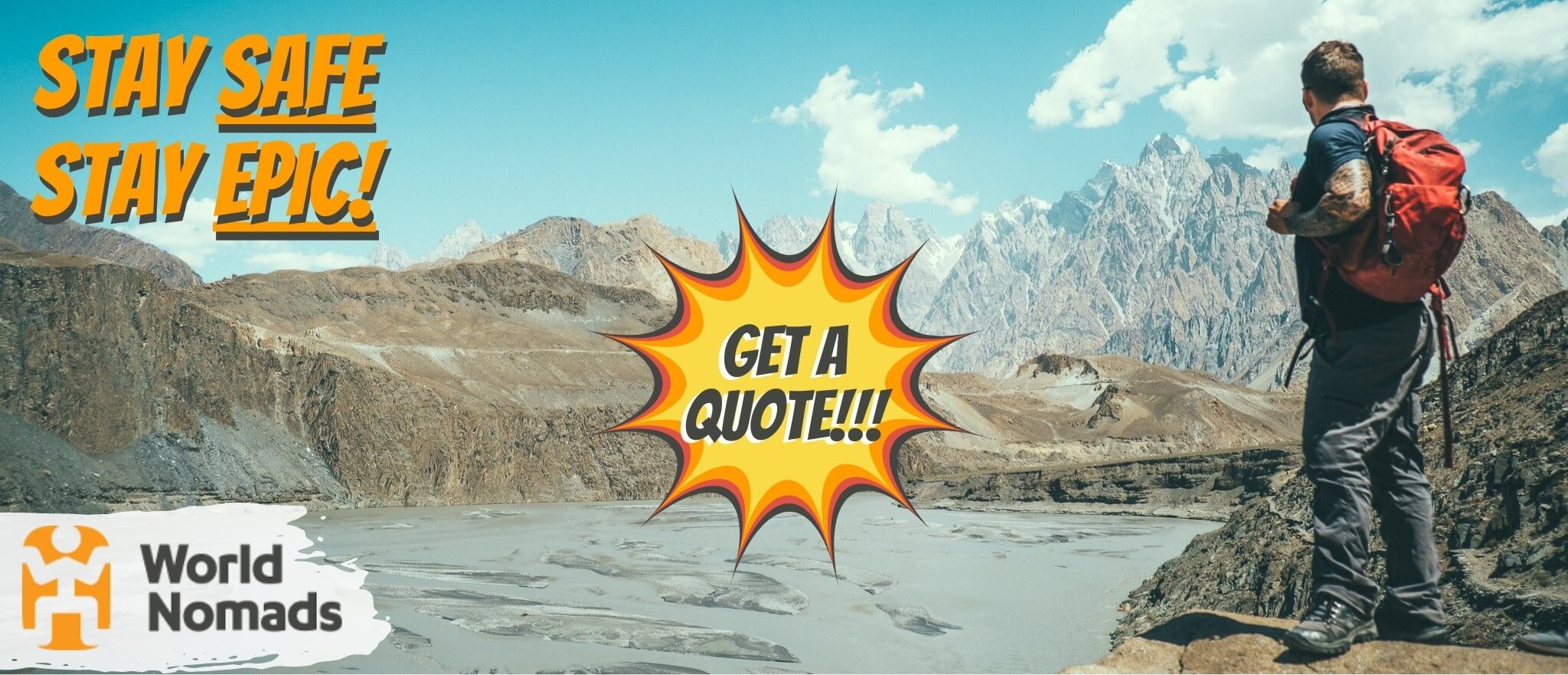 It's good to get lost sometimes, but it's also good not to get too lost. There are people that want you home in one piece.
There's one travel insurance provider The Broke Backpacker trusts for all his wildest shenanigans… World Nomads!
Click the button below to get a quote on your insurance or read our in-depth review of World Nomads' coverage. And then… let the shenanigans begin. 😉
Final Thoughts on Vacation Rentals in Asheville
Asheville is packed with opportunities for both indoor and outdoor activities. From hiking and bird watching to antiquing and partying, there's something for everyone in this small city.
When it comes time to choosing where to stay, you'll be surprised by the varied options available in this city. Pick a cozy cabin in the Blue Ridge Mountains or go for a chic downtown apartment. You can even stay in an old Victorian-style manor with a long history. 
While it's possible to walk around the city on foot, it's a great idea to rent a car to explore the stunning Blue Ridge Parkway and surrounding towns and villages.
---
Thanks for reading – that was fun! 😀
We bring you epic FREE content!
Find out how YOU can help support us.
We're a big site with a big team and this job isn't always easy. But we do it because we love it – we love providing epic and free content. We love the knowledge that our content keeps you adventuring. We don't ask for money, but if you'd like to find out how you can help the site in more organic ways, click the button below.
Thank you for your support 🙂
---
Bye for now, but not forever!
If you want MORE top-tier Broke Backpacker content like this, then sign up for our weekly newsletter below to get the latest and greatest!
And for transparency's sake, please know that some of the links in our content are affiliate links. That means that if you book your accommodation, buy your gear, or sort your insurance through our link, we earn a small commission (at no extra cost to you). That said, we only link to the gear we trust and never recommend services we don't believe are up to scratch. Again, thank you!