Ask someone what happens in New Orleans and 90% of the time they will say, "Mardi Gras" or "hurricanes." While both of these things are assured most years, visiting New Orleans offers so much more than wild weather and even wilder parties.
There are tons of things to do in New Orleans! From exploring the roots of jazz to playing on the roots of colossal oaks, the Big Easy caters to all kinds of travelers! You could spend a week in New Orleans, a month, even a lifetime, and you'll still find new things to keep you entertained here.
Obviously, I'd be remiss if we didn't cover the food or festivals in this New Orleans travel guide as they are, admittedly, pretty spectacular. So don't you worry – we are going to talk plenty about all the essential New Orleans travel tips you'll need for your NoLa adventure.
So pack your bags and bring your most comfortable clothing with you. By the time you finish all those crawfish and sazeracs, you're going to be rolling out of New Orleans in a wheelbarrow!
A melting pot of people and culture, musical vibes all day and night, and America's best seafood are just some of the standout things that make a stop in the Big Easy a must during your USA backpacking trip.
Go crazy at wild parties, bask in the mild climate almost year-round, and get seriously caked up from one of the many bakeries around Mardi Gras season.
New Orleans is known for its debauchery, but it's got a softer side too. The city is resilient and exudes vibes and decor that can pretty much only be found here. Sure Bourbon Street is just one of those NoLa locales you just can't miss, but New Orleans is so much more than that!
Dive into the New Orleans history, pop into some day-time music scenes, and spend a day or two appreciating the majestic Spanish moss. No matter how you choose to spend your New Orleans itinerary, you can guarantee it'll be entertaining!
What are the Major Attractions in New Orleans?
There are tons of places to visit in New Orleans, ranging from wild parties in the French Quarter to sunny days spent amongst Spanish Moss. But seriously–this is a city that truly has something for everyone.
Love food? New Orleans has some of the best eats in the entire United States. Craving some live music? Just head on downtown at any time of day for that smooth traditioal New Orleans jazz.
Paranormal and nature lovers will particularly fall in love with this Southern city by the Mississippi River, though anyone is bound to find a highlight. You could easily spend a WHILE exploring every nook and cranny of the Big Easy. If you're short on time, here's what you just can't miss:
The French Quarter
New Orleans City Park
St. Charles Street Car Ride
The Garden District
Historical Mausoleums
How to Long Spend in New Orleans?
There's a very good chance that you're not going to want to leave once you make it to the Big Easy. The overwhelming amount of delicious food, live music, and beautiful architecture tends to impress most travelers.
So while you could easily spend a lifetime getting to know New Orleans, 3 days is the perfect amount of time to start a New Orleans itinerary. This will allow you to see all the city's famous attractions, fill your stomach with creole & cajun, and even get off the beaten path a bit.
The following is a sample 3-day itinerary for a weekend in New Orleans. The top destinations mentioned in this New Orleans travel guide are coming your way…
New Orleans Itinerary Day 1: The French Quarter and Bywater
On the first day of this New Orleans travel guide, we're going to get the touristy stuff out of the way. Today, you're going to knock out the French Quarter and then hit up Marigny/Bywater.
Let's start in the French Quarter. This is the oldest part of the city and, as the name suggests, was originally built by the French. Interestingly enough, most of the architecture here isn't even French – the Spanish are responsible for the majority of the Quarter's contemporary architecture.
A lot of New Orleans' must-see sights are located in the French Quarter. Here you'll find the infamous locales of Bourbon Street and Jackson Square. You can spend a fair amount of time in Jackson just people watching.
There are a number of interesting sites around Jackson Square. First, stop at The Cabildo–a museum dedicated to New Orleans' origins– while Preservation Hall is one of the most significant Jazz landmarks in the city.
The French Quarter hosts many of the most famous restaurants in New Orleans as well as some cool places to shop. Be sure to swing by the French Market, a flea market of sorts that's been open since 1791. End your time in the Big Easy's most famous neighborhood with a quick (or not so quick) stop at the Old Absinthe House for a Sazerac.
When you're ready to escape the masses, head toward Marigny and Bywater. These are two local neighborhoods in New Orleans and are more laid back.
If you walk up Royal Street, you'll get to pass the Lalaurie Mansion, Palace French Market, and Studio Be. Royal Street itself is pretty boutique so you'll get to window shop a lot.
End your day with a drink at Bacchanal Spirits and a show at Music Box Village.
New Orleans Itinerary Day 2: City Park and Lakeview Vibes
On the second day of this New Orleans travel guide, head toward the lake for a day of relative peace and quiet. You'll be spending a lot of time in the park and exploring New Orleans' many grandiose cemeteries.
From the French Quarter, grab the Canal Street Streetcar and ride it until the end of the line. First, you'll shoot through the bustling city center. As you pass under the I-10, you'll see the first of the day's mausoleums on the right: St. Louis Cemetery. Hop off if you like or push on.
After about 20 mins, you should reach the terminus of the streetcar. Directly in front of you should be two more of the city's most opulent cemeteries: Metairie and Greenwood. Wander around these necropolises and admire the many lavish headstones and bronze ornaments. Just please be respectful of offerings and Holy Ground, if there are any.
Just up from the cemeteries is the enormous New Orleans City Park, which is where we're heading next. This park is a great place to relax and watch the clouds go by.
You'll be walking under giant oaks and cypresses that are covered in one of New Orleans' most famous features: Spanish Moss AKA "Old Man Beard." The trees creak and the moss moves from the wind, in most serene moments you'll have in the city. If you visit the Singing Oak near the Art Museum, you'll have the chance to hear its own song made from a handful of custom wind chimes.
When you're ready, head back to the city center via Esplanade Avenue or head up towards Harrison. Harrison is the main street of the residential Lakeview neighborhood and has a number of good bars and restaurants.
New Orleans Itinerary Day 3: St. Charles to Audubon
Let's start at Lee Circle, which hosts two museums that we haven't seen yet: the National World War II Museum and the Ogden. In particular, the Ogden is worthwhile for its collection of historical Southern art, which often deals with complex issues like slavery and colonialism.
At this point, we're going to be using the St. Charles Streetcar as our primary means of transport. You'll be passing through and near a lot of the best neighborhoods in New Orleans, so get ready to hop on and off.
Freret Street and Magazine Street are located a couple of blocks on either side of St Charles Avenue and both are really nice to walk around. You could conceivably walk down one and return back via the other, though that would be quite a bit of walking.
Very close by Lee Circle is Oretha Castle Haley Blvd (OCH), which is on the cusp of becoming the next big pedestrian street. If you wanted to see a bit of New Orleans before it's absorbed into the mass consumer matrix, drop by this little slice.
Further along, you'll eventually arrive in the Garden District. Here you'll find rows of grand oaks and even grander mansions from the old days. Lafayette Cemetery is also in this area and it is arguably the coolest in the city.
Audubon Park is the end of the line for us. As you leave the tram, you'll see Tulane to your right. The Newcomb Art Museum is on campus and it's open to the public as well.
Spending More Time in New Orleans?
For those with more time on their hands, New Orleans can absolutely provide. The city has enough to keep you busy for at least a week, though you can easily spend months here and not get bored. Here are some lesser-known things to do in New Orleans:
Ride the Steamboat Natchez: Cruise down the Mississippi River on New Orleans' only authentic steamboat. Not only will you get to enjoy a slight breeze as you move along the water, but this being the Big Easy, you can also expect some live New Orleans jazz music on board.
Visit Mardi Gras World: Go behind the scenes of one of the world's coolest festivals at Mardi Gras World, which is open 7 day a week. Learn about the history of the event and see how the iconic floats are made!
Check out Marie Laveau's House of Voodoo: This museum and store–located in the former home of the Scond Voodoo Queen of New Orleans–will introduce you to the practice that's deeply embedded into the city's culture and heritage. Window shop, have a psychic reading, or grab a souvenir at this totally unique-to-New Orleans store.
See the St. Louis Cathedral: The oldest Catholic cathedral in the continental US, this historical church dates back to the 1700's and is an ideal place for some peace in Jackson Square.
Go on A Bike Tour: One of the best ways to take in New Orleans is from the seat of a bike! Yup–the city is surprisingly cycle friendly and a self-guided or group tour is a fab way to see all of the city's most iconic sights.
Here are some of the top things to do in New Orleans that you just shouldn't skip:
1. Eat everything
There are so many places to eat in New Orleans that it's hard to know where to start. Cajun food, French, BBQ, seafood; you're just going to be excited for the next time you can eat it. You could spend a week in New Orleans, eating out for every meal, and still not come close to grasping the full breadth of the food here.
2. Join the party
Mardi Gras is one of the most famous parties in the world. But there are so many other festivals in New Orleans too! The likes of Jazz Fest, Satchmo, and Voodoo are all worth attending, if not for their cultural offerings than for their great fun.
3. …Or the dead
New Orleans isn't necessarily the first place you think of if you're into dark tourism. But here's a bit of New Orleans' insider information: did you know that there are seven supposed entryways to the underworld here? Referred to as the Gates of Guinee, these portals are fabled in voodoo culture.
Explore New Orleans and see if you can discover their location. Otherwise, visit the graveyards for a more literal deathly experience.
4. Visit a plantation
There are a number of plantations on the outskirts of New Orleans that have been preserved for the means of modern education. Louisiana was an area where slavery was extremely high and it has affected New Orleans history dramatically. Visit either the Whitney Plantation or the Oak Alley Plantation to educate yourself about this horrible era.
5. Listen to live music everywhere
If you don't know what to do in New Orleans at night, then just step outside. Almost immediately, you should hear music blaring from some local lounge or street corner. Just follow the sweet sounds of rhythm and harmony and you'll find your place soon enough.
6. Be a pedestrian
No matter where you stay in New Orleans, there's always a cool and exciting street nearby. Between the likes of Freret, Royal, St Claude, and everything in between, there is always something going on nearby. Just leave the flat and wander around a bit.
7. Chill out under the trees
Two points of interest in New Orleans that may go unnoticed are the Spanish Moss and the enormous trees that host it. For locals, these two floras are among the most iconic features of the city and are great sources of nostalgia. Hang out under a mighty oak and just watch the Old Man's Beard blow in the wind.
8. Ride the tram on St. Charles
New Orleans has several historic streetcars that are wonderfully vintage. The St. Charles line is particularly pretty though as the way is lined with beautiful trees. You'll get to pass by the Garden District as well, which is one of the most elegant neighborhoods in New Orleans.
9. Fall in a second line
If you only have 3 days in New Orleans, the one thing that you have to look for is a second line march. These mini-parades are led by Jazz ensembles and are usually organized for specific celebrations. They also have a tendency to grow, as most people can't resist joining in the line.
10. Learn about New Orleans history
Some of the absolute must-see places in New Orleans are the many museums that explain its heritage and identity. Places like the Cabildo, the Ogden, and Mardi Gras World provide a wealth of knowledge concerning one of the most culturally unique places in the USA. Don't forget to ask the homegrown New Orleanians about where they live either.
New Orleans hostels are dirt cheap and, given New Orleans' wild reputation, are a great way to meet other people. A lot of hostels in New Orleans are inherently social and can be pretty loud at times. Hopefully, you're not the introverted type who hides in the dormitories.
Keep in mind that New Orleans is a tourist town and tourist towns are meant to have lots of accommodation! You'll find all kinds of different lodges in New Orleans besides just hostels, from weird bungalows to the ritziest penthouse suites along with eco-friendly digs. The choice is yours!
I generally prefer Airbnb in New Orleans. They are more personable and homier than hotels, and New Orleans has endless options to choose from for every kind of traveller! If you like nature, you can find some incredible Louisiana cabins in the French Quarter and in rural areas outside the city.
For more variety in your accommodation choices, be sure to check out Airbnb's top competitor: VRBO. VRBOs in New Orleans are fun, quirky vacation rentals, perfect for a trip to one of the US' most unique locales.
New Orleans actually has a number of RV parks/campgrounds within the city limits and these should appeal to people traveling on a shoestring budget. Just remember to lock your car and bring a quality backpacking tent!
The Best Places to Stay in New Orleans
Deciding where to stay in New Orleans isn't complicated when you're armed with the right information. Check out some of the top neighborhoods to come home to while out in the Big Easy:
New Orleans Budget Accommodation Hacks
Sometimes you need your own roof above your head – I know the feeling. Other times, you're doing everything you can to save a nickel and dime.
If you're trying to cut the costs of travel to New Orleans then maybe it's time to stay somewhere besides a hostel. And you might struggle to find a Bourbon Street hotel that doesn't cost an arm and a leg. If you need to save money, try one of these:
Couchsurf! – Couchsurfing is the best way to save on cash when it comes to accommodation since most of the time you're crashing for free. Staying with a local host is also a great chance to experience a more authentic side of the city and to visit hidden New Orleans.
Tap into your backpacker network – You never know when you have a friend in a foreign city! If you've traveled a lot, you may have met someone from New Orleans or know someone who knows someone.
Camp! – Urban camping is a growing trend in many cities. These campsites are comfortable, sociable, safe, and cheap. They are often located on the outskirts of town, which means they are quieter too.
New Orleans is a very seasonal town, which means prices will fluctuate greatly depending on when you visit. Come during Mardi Gras and be ready to spend a pretty penny. During the low seasons though, visiting New Orleans can be very cheap.
Regardless of when you are planning a trip to New Orleans, there are always ways to cut costs and spend less. Having some budget travel tips is crucial to visiting anywhere in the USA on the cheap and extending your trip.
I've gotten pretty good at limiting my travel expenses. It took me years to perfect some methods, but here I'm going to share my best New Orleans travel tips. With this advice, you'll be able to visit New Orleans on the cheap, no matter what time of year.
A lower daily budget for New Orleans would be around $50-$60. This will get you a dorm bed, groceries, bus tickets, and some extra money for beers or whatever.
Accommodation in New Orleans will undoubtedly be your highest expense. Hotels in New Orleans can be affordable in the summer and fall, but watch out for the spring – prices are highest from February-May.
To save the most on lodging in New Orleans, stick to hostels, use local campgrounds, or check out a New Orleans eco-lodge to spice things up.
Food can be more or less as expensive as you want it to be. Fancy Michelin-star French cooking in the Garden District? Good luck wrapping your head around that bill. You're better off eating in one of the food halls or just sticking to street gumbo if you're on a budget.
As always, be mindful of how much you drink as well. Lack of inhibition can really do a number on your wallet.
A Daily Budget in New Orleans
Here's a breakdown of a daily budget in New Orleans including the average daily costs of various expenses!
A Few Free Things to Do in New Orleans
The best way to visit New Orleans on a budget is to take advantage of all the free activities. Some of the most fun things to do in New Orleans are totally free as well, so enjoy yourselves!
Movies – New Orleans is a big fan of outdoor screenings. These are often held in public places, like parks, and are free to the viewing public as well. Be sure to check out the Moonlight Movies series, Cinema Sundays in the French Quarter, and Rivertown Movies in the Park.
Free museums – New Orleans has quite a few cultural centers that offer free entry on certain days of the week/year. The Historic New Orleans Collection, Newcomb Art Gallery, World War II Museum, and the House of Dance and Feathers are all such places. The Ogden Museum and Art Museum offer free days, but only to Louisiana residents.
Concerts and jam seshes – There is music everywhere in this city – a lot of the time, it's totally free as well! There are numerous free concerts in New Orleans held year round, like Wednesdays at the Square and Jazz in the Park. Local Bon Operatit also hosts free opera performances every 2nd Wednesday. If you strike out with these, there's always a street performer around to serenade you.
Comedy shows – New Orleans has an enormous comedy club scene and every week there is something free going on. Open mics, workshops, and improv sessions are just a few of the events. You may have to buy a drink at the bar and we suggest you do just that – being cheap is easy heckling material.
The finer things – Many of New Orleans local breweries offer free guided tours of their facilities. NOLA Brewing offers free beer to participants! The New Orleans Cigar Factory also offers tours of their facilities from 10am-10pm. Smoking is allowed.
Travel Tips – New Orleans on a Budget
If you're looking for more ways to do New Orleans on the cheap, then try using one of these money-saving techniques!
Be a coupon clipper – There are visitors coupons on New Orleans official webpage! Print a sheet out and take advantage of some extra discounts.
Practice the three-martini lunch – Though the three-martini lunch harkens to a time when it was socially acceptable to get day drunk, nowadays it mostly refers to amazing drink deals. Some New Orleans eateries offer martinis for as low as $0.25! This shit is just dangerous.
Cheap (sometimes free) oysters – One of the cheapest things to do in New Orleans is to take advantage of the many oyster deals around town. You can find these for as low as $0.50 per shellfish or less. They're even free at Le Bon Temps Roule on Fridays!
Eat at the local restaurants – New Orleans' is renowned for its culinary scene, but eating in the touristy areas or at a 5-star restaurant is going to ruin you. Go to a dive bar and eat the house gumbo once in a while or visit a greasy spoon diner.
Happy hour – If you aren't already impressed by the free oysters or the quarter martinis, well there's plenty more offers in town. New Orleans has a crazy array of happy hours. Just wander around the city between 4 and 6 pm and you'll definitely find something.
Cook at home as often as possible – One of the most proven ways of saving money for backpackers: buying your own groceries and cooking at home will save you heaps of cash.
Why You Should Travel to New Orleans with a Water Bottle
The plastic problem is global now… so we need to work globally to make a difference.
It's not going to change overnight, but you can be part of the solution and not the problem. When you travel, avoiding single-use plastic is one of the ways you can do that. I know it's tasking at times, but together, being a responsible traveler with plastic use is only going to get easier.
Plus, now you won't be buying overpriced bottles of water either! Travel with a filtered water bottle instead and never waste a cent nor a turtle's life again.
New Orleans is massively affected by various festivals and weather seasons, so there definitely is the best time to visit. Avoid Mardi Gras season if you're not a fan of mass tourism.
What to Pack for New Orleans
While your exact packing list will depend largely on the season, here are some essentials you shouldn't skip out on.
Safety in New Orleans took a bit of a dive following Hurricane Katrina. In the wake of the horrific storm, New Orleans became a wasteland as entire neighborhoods and communities were decimated. What resulted was widespread displacement, food shortages, and an increasing reliance on federal aid.
As time went on, the city became somewhat lawless. Like a purgatory, the poor souls that remained in NOLA had to resort to criminal means to survive. There was looting, theft, and violence. Even after the city began to rebuild, endemic crime still hung around.
Today, New Orleans has returned quite close to its former self and is certainly not the chaotic mess it was following Katrina. Almost all of New Orleans' points of interest are safe and accepting visitors.
That being said, New Orleans is still one of the most violent cities in America. Though much of the violence is located in the outer neighborhoods – places that should hold little appeal to tourists.
Before even going near these districts, be sure to check their status with the local authorities. Venturing into one of these areas randomly could put you in a bad place.
Regardless of where you are, you must exhibit common-sense safety precautions at all times when visiting New Orleans. Pickpockets and scammers still hang around touristy areas and will take advantage of you.
Sex, Drugs & Rock 'n' Roll in New Orleans
In the opinion of many, it's New Orleans that's the best place to party in the USA – it makes visiting Las Vegas look like a kid's party. With its infamous Mardi Gras, eccentric characters, and daily opportunities for debauchery, you're going to want to get lit at least once while in the Big Easy.
Alcohol is obviously plentiful, and while nothing else is legal in Louisiana, you can certainly find everything and everything in the city if you know where to look.
If you plan on partaking in drug tourism in New Orleans, be very careful of who you buy from. Dealers are notorious for cutting their blow and selling God knows what to tourists. Wait until you're with a savvy local who knows the difference before diving in nose-first.
New Orleans has many strip clubs and other adult entertainment scenes–whether you dabble in this and sex on the road, make sure you're being respectful of everyone you meet and practise safe sex, too.
Getting Insured BEFORE Visiting New Orleans
Traveling without insurance in New Orleans would be risky. Especially with the infamous (and ridiculous) for-profit health system in the USA. So do consider getting good travel insurance sorted before you head off on an adventure.
I have used World Nomads for years now and made a few claims over the years. They're easy to use, professional, and relatively affordable. They may also let you buy or extend a policy once you've started your trip and are already abroad which is super handy.
World Nomads' mission is to support and encourage travellers to explore their boundaries. They offer simple & flexible travel insurance, and safety advice to help you travel confidently.
They've been doing it since 2002 – protecting, connecting, and inspiring independent travellers just like you.
Get a quote below or read our in-depth review!
World Nomads provides travel insurance for travelers in over 100 countries. As an affiliate, we receive a fee when you get a quote from World Nomads using this link. We do not represent World Nomads. This is information only and not a recommendation to buy travel insurance.
New Orleans has one major airport that handles most of its air traffic – Louis Armstrong International Airport. The airport is located quite close to the city but getting to and from is not as easy as it should be.
The airport is a quick 20-minute drive away from the French Quarter but costs a minimum of $35, Uber or taxi. If that sounds like a bit much to you, that's because it is.
Those who want to travel cheaply to the city center from Louis Armstrong can use the E-2 bus, which stops on the second floor. Travel time is 45 minutes.
There are numerous Amtrak trains and mainliner bus companies offering services to New Orleans. Union Passenger Terminal is the primary arrival/departure port for all of these.
Visiting New Orleans with a car is a relatively straightforward task. I-10 is the main highway in and out of New Orleans and it runs right through the heart of the city.
When driving in the city center just be aware of where you park – parking meters can be expensive and carjackings are on the rise.
When you're ready to leave New Orleans, there are plenty of onwards destinations. A sunny Florida road trip is a good choice if you're living the vanlife. Just be aware that the South is a pretty big region and that drive times can be longer than you think. Refer below for a list of Southern cities and their distances.
Baton Rouge (LA) – 1.5 hours
Mobile (AL) – 2 hours
Tallahassee (FL) – 5.5 hours
Houston (TX) – 5.5 hours
Memphis (TN) – 5.5 hours
Atlanta (GA) – 6.5 hours
Dallas (TX) – > 8 hours
Getting Around New Orleans
Once you can wrap your head around the weird layout, New Orleans is actually relatively easy to get around. New Orleans is pretty fun to walk in and the public transport is good enough that you can just about anywhere you need to.
The city itself is shaped like a crescent and tends to disorientate those who are not used to its odd shape. Cardinal directions seemingly don't exist in New Orleans, which is a phenomenon you can test out simply by asking a local which way is north. (They'll look at you like you're crazy.)
The best way to navigate New Orleans is to just refer to major landmarks in the city. If you ask for directions, you will often be told to just "head towards the river" or "the lake." Figure out where these places are at all times, and you'll be golden.
Thanks to its overwhelming array of shopping streets, one of the most fun things to do in New Orleans is to just walk around.
You could spend an entire afternoon just browsing around the likes of Magazine Street, Freret Street, or Royal Street, and you wouldn't be wasting your time.
New Orleans has several historic trams that are as useful as they are enjoyable. The streetcars themselves resemble their European cousins and could fit right in Milan or Lisbon.
There are two streetcar lines: red for Canal Street and green for St Charles. Both are major throughways and can get quite busy.
New Orleans has a public transport system, referred to as RTA. There are plenty of buses running throughout the city. Rides cost $1.25 one way or $3 for an entire day.
While New Orleans isn't a well-known digital nomad destination, it might just be one of the coolest places to visit in the USA and work online. Actual brick and mortar jobs will be hard to come by without US citizenship or other work permits.
But because the cost of living is cheap in New Orleans compared to other American cities, it's certainly a quality place to base. Especially if you're a live music, seafood, or Spanish Moss lover.
Volunteering, on the other hand, is a good travel job opportunity in New Orleans, mostly in the form of working in hostels. If you do want to volunteer in the Big Easy, I recommend you do so with a trusted company.
The Broke Backpacker recommends Worldpackers as an easy to use and reputable volunteer platform. It's transparent and filled with real reviews, so you'll know exactly what to expect before you arrive.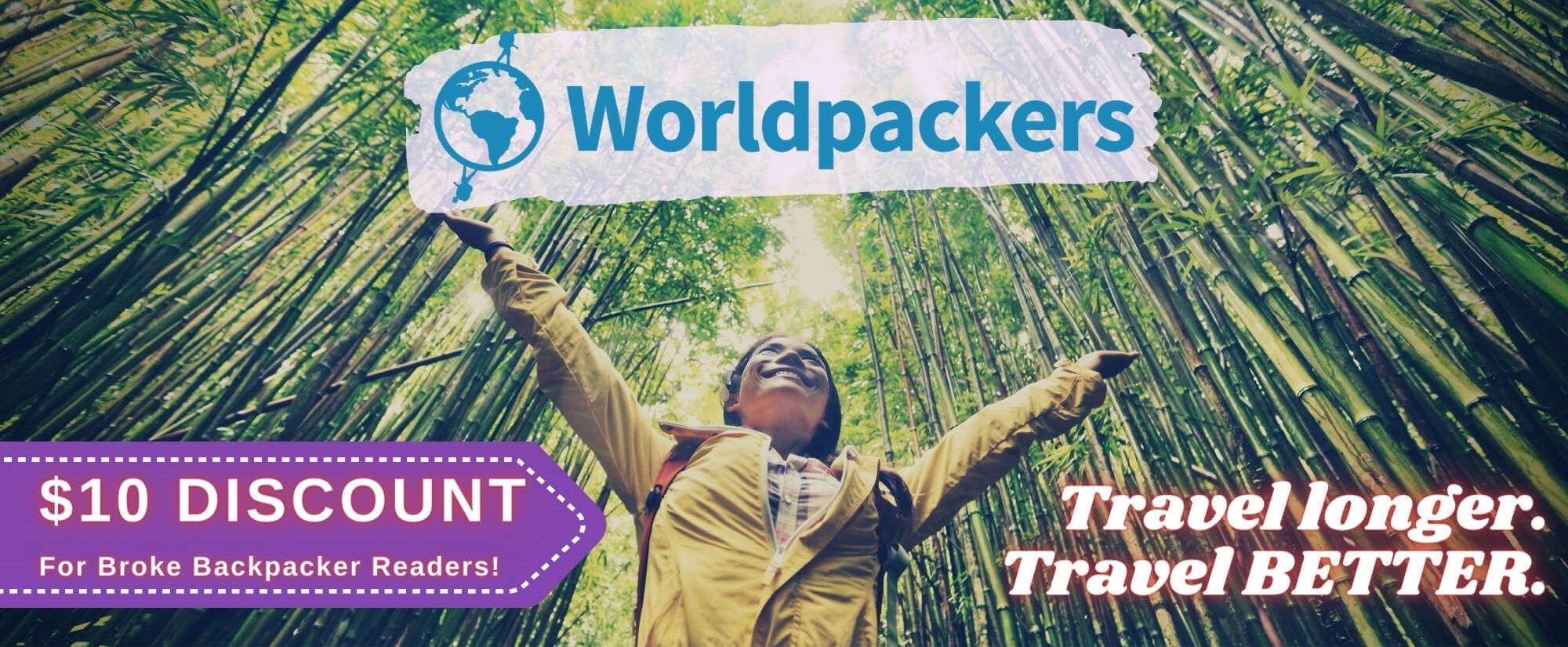 Worldpackers: connecting travellers with meaningful travel experiences.
New Orleans nightlife reputation certainly precedes itself – this is one of the most fun, drunkest, most laissez-faire cities in the entire USA and almost never lets up!
There are so many things to do in New Orleans at night. Comedy, live music, honky tonks, line dancing, parties, traditional New Orleans jazz, festivals, binge drinking; you name, New Orleans has it.
Obviously, a live music act is a must-see in New Orleans. You can easily walk into a show on the likes of Frenchman Street, which is booming pretty much every night. Diehard jazz fans ought to head to the Spotted Cat, the original Tipitina's or Kermit's Mother-in-law Lounge in the Treme. All are hallowed jazz club venues among the Orleans jazz community.
Bourbon Street is Bourbon Street – and by that I mean it's flooded with tourists – all the time. I'd spend about 15 minutes walking through here if I could. Although, there are a number of quality cabarets and strip clubs here (if you're into that kind of thing).
A much cooler area to drink in is Bywater. This neighborhood is a lot more local and, as such, way less snooty or idiotic. St Claude Street is a bit of an artist's haunt and has a bunch of unpretentious bars.
If you wanted the opposite of this, then you should probably head to the Warehouse District. This is New Orleans redeveloped, darling. Think SoMa in SF or the Pearl in Portland – and as such it attracts a lot of yuppies.
Finally, Oak Street in Uptown mainly attracts students. If you were looking for cheap drinks and opinionated young adults to go with them, then this is probably the place to be.
Wherever you choose to spend it, you can rest assured that nightlife in New Orleans will surely be entertaining.
Dining in New Orleans
It is no secret that New Orleans is a foodie town. In fact, it's home to some of the most prized dishes in the entire USA. People travel from all over the world to sample local favorites, like beignets or banana fosters, and to search for the best Cajun food in New Orleans.
The food of New Orleans is a divine mix of Creole, African, French, and Southern cooking styles. Honestly, I don't think I can define the heavenly flavors of New Orleans cuisine simply with words – I can only say that it is supremely delicious and not at all healthy.
Since it's located right on the Gulf of Mexico, seafood is very big in New Orleans. Crawfish is the primary catch of the day and can be found on just about every menu.
If you get a boiled craw and its tail is straight, don't eat it – it was already dead when it was cooked. Catfish is a personal favorite of mine, especially when it's blackened and spicy.
Beignets are those little, fried dough balls that you get at breakfast. The Muffuletta sandwich is an awesome collab between New Orleans and its Sicilian population (go to Central Grocery & Deli for the original). Sandwich lovers should be on the lookout for Po Boys, which usually contain a healthy dose of fried meats and a bit of veg.
You can go to the most famous restaurants in New Orleans to sample delicacies if you like. Honestly, though, you can consistently find some really good food at the smaller, less upscale eateries as well. If you want to ensure you don't miss any of the iconic treats the Big Easy has to offer, a New Orleans food tour is the best shout.
Slick Restaurants and Cheap Eats
Here are some of my favorite restaurants in New Orleans:
Festivals in New Orleans
Some of New Orleans' best attractions are its lavish parties! This wouldn't be a legit New Orleans travel guide if I didn't recommend you to plan your trip around any one of these festivals for instant good times.
Mardi Gras (February/March) – the most raucous cultural festival in the country. Mardi Gras AKA "Fat Tuesday" is New Orleans' version of Carnival. It includes parades, Mardi Gras Indians, costumes, binge drinking, music, and, of course, beads.
Tennessee Williams/New Orleans Literary Festival (March) – Dedicated to the beloved author. Features writing competitions, spoken performances, a book fair, and other literary activities.
French Quarter Fest (April) – A showcase of Southern music styles. Quite large and totally free to attend. Claimed to be "the largest free music festival in the USA."
New Orleans Jazz and Heritage Festival (April) – The single most important music festival in New Orleans. Showcase of everything the city is known for including jazz, folk, bluegrass, Cajun, and then some.
New Orleans Oyster Fest (June) – Celebration of the greatest mollusk ever. Here's a fun game: eat 20 and try to figure out if you're sick or horny.
ESSENCE (July) – The largest celebration of African-American music and culture in the USA. Described as a "party with a purpose." Features rap, hip-hop, R&B, jazz, gospel, and more soulful sounds.
Running of the Bulls (July) – New Orleans own version of the Spanish tradition, but instead of bulls, there is a great stampede of roller-blading Derby girls. They chase people with plastic bats so I hope you're nimble.
Satchmo Summerfest (August) – A New Orleans jazz festival celebrating the great Louis Armstrong with citywide performances. St. Augustine church holds a "jazz mass" that is purportedly amazing.
Blues and BBQ Fest (October) – Fairly self-explanatory festival held in Lafayette Square Park. Free admission!
Voodoo Music (October) – New Orleans biggest Halloween party! A multi-day music festival that features a huge array of genres.
Getting Off the Beaten Path in New Orleans
As cool as mainstream NoLa is, there's plenty more to be experienced off the beaten path! While I'm not saying you shouldn't do all the classic activities while visiting New Orleans, just make sure you take some time for some lesser-known ones, too.
In the famous French Quarter for example, you can hit up three very weird museums: the Pharmacy Museum, the Voodoo Museum, and the Museum of Death. Certainly unique if you ask me.
To get a feel for New Orleans history, you can spend a few hours touring the Whitney Plantation Museum where you'll discover some pretty dark shit. For example, the city (and Louisiana as a whole) was entirely built by enslaved people. The museum focuses exclusively on the lives of the people who suffered the most and gives you insights you'd be hard-pressed to find anywhere else.
You can also marvel at the cute and quirky architecture of Algiers Point, a residential neighborhood that's just a short ferry ride away from the French Quarter and filled with lovely old homes in all colors.
No doubt you're going to have a few questions before traveling to New Orleans. Luckily, I've got answers!
The Big Easy is an adventure waiting to happen. You'll be hard-pressed to find another city in the US with so much character, entertainment, and delicious food.
While other party destinations in the USA have become tacky these days, NoLa has retained its charm even as its popularity has skyrocketed.
New Orleans is a city with a whole lot of soul, and delicacies that I can absolutely assure you can't be found anywhere else. Fill up on crawfish, pop your Sazerac virginity, and get acquainted with New Orleans' interesting paranormal scenes.
Just make sure you roll up into town with an open mind and a bit of spontaneity: while Bourbon Street is an experience to be had, the rest of the city is teeming with jazz clubs, food tours, and just as many memorable moments.
So what are you waiting for?
Go enjoy the Big Easy–just make sure you show up with an empty stomach!
Updated February 2022 by Samantha from Intentional Detours
---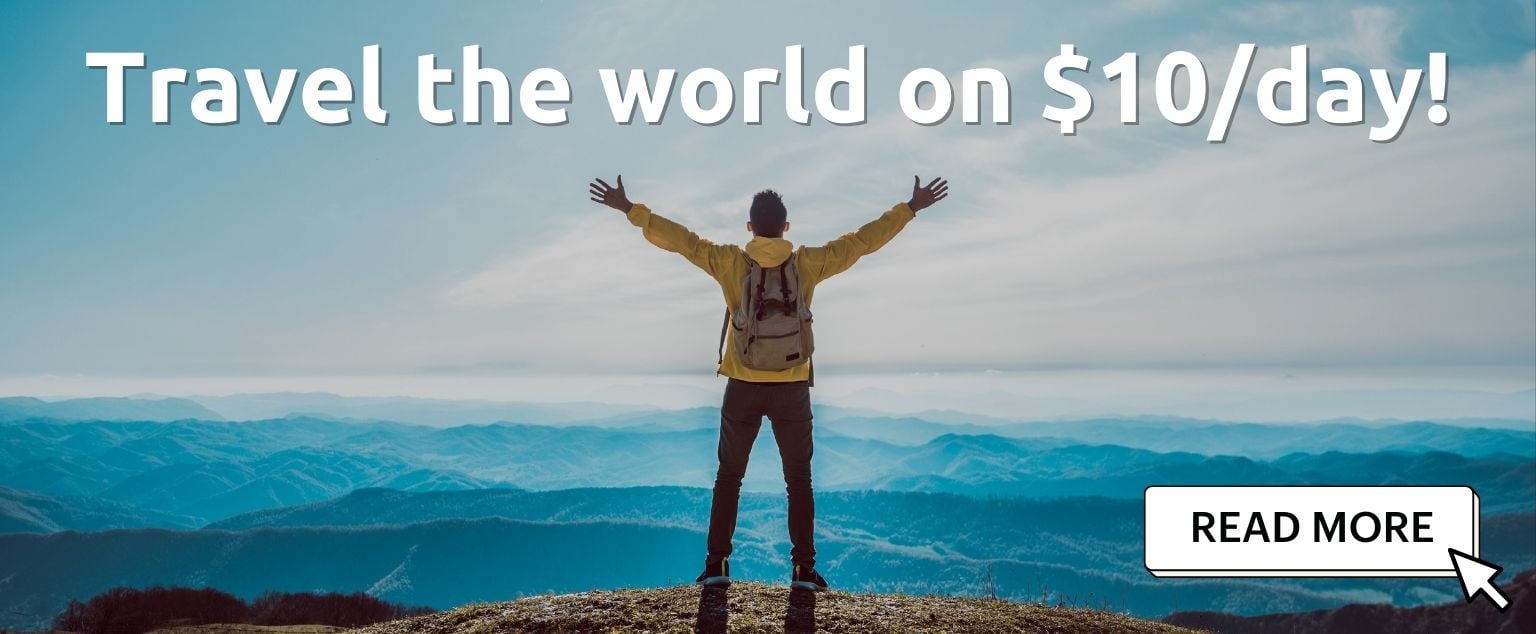 And for transparency's sake, please know that some of the links in our content are affiliate links. That means that if you book your accommodation, buy your gear, or sort your insurance through our link, we earn a small commission (at no extra cost to you). That said, we only link to the gear we trust and never recommend services we don't believe are up to scratch. Again, thank you!