New Orleans, a colorful and vibrant city that looks like it was painted into life! Lovingly known as the 'Big Easy', this incredible city is one to remember. Use this New Orleans itinerary to explore all the things that make this city so wonderful.
From the deep-rooted history that touches every building on every street to the sound of jazz that flows out of the city's many music spots – your New Orleans itinerary promises to be epic! Traveling to New Orleans offers delicious food from the migrant groups who found a home in soulful New Orleans, gorgeous natural parks and streets that you could spend hours exploring!
No matter how many days in New Orleans you have to explore, we've got you covered! Take a look at our picks for the top things to do, eat and see on an amazing New Orleans itinerary!
One of the major factors in planning an itinerary for New Orleans is deciding when to go. The best time to visit this amazing city is between February and May when the weather is beautiful and festivities are in full swing!
You can enjoy everything from the iconic Mardi Gras celebrations to the New Orleans Jazz & Heritage Festival and the Tennessee Williams/Literary Festival. However, keep in mind that many other New Orleans attractions close during Mardi Gras which can affect sightseeing.
If you're looking to visit when the city is calmer, December and January are perfect for relaxing strolls and taking in the sights! The city has usually cooled off by this time and there are fewer tourists joining you on your trip to New Orleans.
When touring New Orleans, it's probably best to avoid New Orleans in the summertime (June – August) as it rolls into town with high temperatures and the threat of hurricanes. Decide when to visit New Orleans with this helpful guide!
One of the biggest decisions to make when planning a trip to New Orleans is where to stay! This fantastic and storied city is divided into a variety of neighborhoods, each with a unique vibe. We've compiled some of the best and most memorable areas to stay in New Orleans, so take your pick and start dreaming about your weekend in New Orleans!
As a true contender for the best place to stay in New Orleans in 3 days or more, the historic French Quarter is the oldest neighborhood in New Orleans! It also happens to be home to a collection of top New Orleans landmarks, some of which have been converted into luxury vacation rentals.
Take a stroll down Bourbon Street where vibrant nightlife spots, old-world properties, and antique shops await. Experience quintessential New Orleans as you visit St. Louis Cathedral in this gem of a neighborhood.
The Garden District is another top choice with a grand air and incredible sights to see. Meander past impressive mansions and Magazine Street (which sounds pretty unreal already). This is a number one spot for architecture buffs!
Faubourg Marigny is as incredible as its name filled with fantastic music venues, restaurants, and art galleries! Experience its dynamic vibe as you visit top music spots like the Spotted Cat Music Club.
This amazing hostel with an electric atmosphere is perfect for a stay in New Orleans! With a prime spot in the Lower Garden District, this award-winning hostel is just one block from the main streetcar route.
Complete with parties, social events, and top-notch entertainment facilities – you'll be spoiled for choice at the Auberge NOLA Hotel.
Take a look at our other picks for the best hostels in New Orleans!
Smack dab in the middle of the French Quarter; you can find this hidden gem apartment with a pool and many other amenities. It's in an authentic historic Lousiana building giving you the feeling you expect to get when visiting this timeless city. Conveniently, you can walk to everything here, and trust us when staying in New Orleans you need to stay in a walkable place to activate your feet and get exploring. With all the fantastic cafes, you don't need a kitchen, but this place has a kitchenette for you to whip something up real quick for those late nights.
For more unique accommodation options in the city, check out our epic guide to the best bed and breakfasts, cottages and lodges in New Orleans.
Just a stone's throw away from Bourbon Street, this elegant spot makes for an amazing stay in New Orleans.
Complete with a washer and dryer, this fantastic hotel is also close to almost everything in the French Quarter including the New Orleans Jazz Museum! Enjoy the attentive staff and gorgeous artistic design at this top New Orleans accommodation.
Admire beautiful New Orleans from the idyllic balcony of the Bourbons Orleans Hotel! Complete with a pool, on-site restaurants, and live jazz music nights – you'll get the star treatment.
Just a 5-minute walk from the Riverwalk Marketplace and Louis Armstrong Park, the hotel has a prime location. Enjoy an unforgettable stay at this top New Orleans hotel!
The zesty city of New Orleans is home to some incredible things! From the numerous homages to jazz to the museums that hold their own on the world stage, there are plenty of New Orleans landmarks to admire and enjoy.
During your weekend in New Orleans (or longer), seeing as many of the city's iconic spots as possible is often a top priority. So, knowing how to get around in New Orleans is vital as well! While New Orleans is quite large, it is also extremely accessible thanks to the classic streetcars that fill the colorful lanes. Many of the city's top attractions are close to stops along the streetcar route so you'll be able to reach them with ease.
While renting a car is an option, it's not recommended as New Orleans' is known for its narrow roads, parking restrictions, and driving conditions that can be difficult for visitors. Despite its size, New Orleans' central neighborhoods are quite compact, which makes walking the perfect option for sightseeing!
Renting a bicycle is another top choice because the city is extremely flat. New Orlean's also has a bike share program called Blue Bikes with stations dotted around popular neighborhoods.
With a variety of transport options at your disposal, enjoy your choice of fantastic options on a memorable New Orleans itinerary!
Mardis Gras World | City Park | New Orleans Museum of Art | Sydney and Walda Besthoff Sculpture Garden | Historic New Orleans Collection | Preservation Hall
What better way to start day one of your New Orleans itinerary than with an unforgettable walkabout at Mardis Gras World and the green-splashed City Park?
Then, experience the eye-pleasing NOMA and sculpture garden, enjoy a walk through history at the Historic New Orleans Collection and finish off the day at the incredible Preservation Hall!
Who knew one day in New Orleans could promise so much?
Day 1 / Stop 1 – Mardis Gras World
Why it's awesome: It's the largest float-designing and building facility in the world!
Cost: USD $22 for adults, USD $17 for seniors over 65 and students with a college ID, USD $14 for children between 2 and 11, free for children under 2 years old.
Food nearby: Enjoy your choice of amazing breakfast options at Surrey's Juice Bar. The Banana Foster French toast is not to be missed!
As one of the top New Orleans' attractions, Blaine Kern's Mardis Gras World deserves prime real estate on your New Orleans itinerary!
The massive warehouse brings hordes of visitors to its doors to experience the incredible colorful floats inside. Located just along the Mississippi River, Mardis Gras World has gained international acclaim as the front runner in float-building.
This riot of color offers visitors a chance to see behind the curtain – from designing, the materials used, and even the super futuristic robotic arm! Enjoy a peek into the history of the iconic event and stroll past new creations (as well as some old favorites).
If you can't make it to Mardis Gras, this fun and interesting activity is 100% the next best thing!
Insider Tip: There is a free shuttle for pick-up and drop-off!
Day 1 / Stop 2 – City Park
Why it's awesome: Home to a lot of New Orleans attractions like the Louisiana Children's Museum and Storyland!
Cost: Prices range depending on whether you're getting a general admission ticket or including other events/locations.
Food nearby: Enjoy some classic American grub at the Blue Oak BBQ! From smoked brisket burger to garlic mac and cheese, there's plenty of hearty fare to go around.
The gorgeous and lush City Park is another winning option on your New Orleans itinerary! The park has earned its spot as one of the most visited parks in the USA, and is home to a collection of stellar features.
City Park holds the largest collection of mature live oak trees, which are truly spectacular to see and recline under on a sunny day. You can also visit one of the truly iconic New Orleans landmarks – the Tad Gormley Stadium where musicians like the Beatles have performed!
The park is the crown jewel of New Orleans, from boating on the Big Lake to the incredible bird life and fantastic trails to explore! Stroll past meadows of incredible wildflowers, sprawling lawns and take a few memorable pictures on the idyllic bridge over the old Bayou.
If you've got a top-notch handicap (or just play for fun), City Park is also home to an 18-hole golf course!
Day 1 / Stop 3 – New Orleans Museum of Art
Why it's awesome: One of the best art institutions in the country!
Cost: USD $15 for adults, USD $10 for over 65s, USD $8 for university students with ID, USD $6 for children between 7 and 12, children under 6 years old enter for free.
Food nearby: Enjoy a meal at the renowned Courtyard Cafe: a Ralph Brennan Restaurant! From incredible sweet treats to amazing seafood, there's something for everyone.
As one of the oldest fine arts museums in New Orleans, NOMA's reputation is a hefty one! Within the lush boundaries of City Park, this historic house fo art holds a collection of over 40,000 objects ranging from the Italian Renaissance to modern day works!
As one of the major New Orleans points of interest, NOMA has been wowing visitors for decades. Stroll through the impressive halls as you enjoy the impressive furniture collection, amazing examples of Louisiana artists as well as works by the European greats.
If you're a photography connoisseur on vacation in New Orleans, NOMA's significant collection of over 1,200 art photography pieces will be a major attraction! Admire poignant images that cover questions of racism and amazing tintype portraits of American musicians.
Day 1 / Stop 4 – Sydney and Walda Besthoff Sculpture Garden
Why it's awesome: Newly commissioned works include a 60-foot-long mosaic wall and an amazing glass bridge.
Cost: Free entrance!
Food nearby: Ralph's in the Park is a fantastic choice for Cajun and Creole-style food with a lovely view of the park thrown in as well!
Add a visit to the amazing Sydney and Walda Besthoff Sculpture Garden to your New Orleans trip itinerary! Stroll past an incredible collection of sculptures set amidst eleven acres of lush greenery.
Enjoy the incredible artwork on display as you stroll past amazing water features and across quaint bridges. The open-air museum has become a classic New Orleans feature, where sculptures include modern works as well as well-known additions from across the decades!
Intricately woven into their natural surrounds, the garden's prominent features include the Alu Tress Star, Monkeys, Pablo Casals' Obelisk, the History of the Conquest and Restrained, an incredible woven horse sculpture.
There's even a massive safety pin that can't be missed! This is one of the best places to visit in New Orleans!
Insider Tip: This is the perfect place to go straight after a visit to NOMA on your weekend in New Orleans itinerary.
Day 1 / Stop 5 – Historic New Orleans Collection
Why it's awesome: Home to the William Russell Jazz Collection which includes instruments, records, sheet music and books!
Cost: Free entrance but tours are available for USD $5.
Food nearby: Enjoy classic southern cuisine at K-Paul's Louisiana Kitchen. Taste everything from fried green tomatoes to the impeccable crawfish enchilada.
The next stop on your jam-packed one day in New Orleans is the Historic New Orleans Collection. As its name suggests, you'll find artifacts, memorabilia and art from across New Orleans' history!
Admire a collection of over 350,000 items including photographs, prints, drawings, paintings, and other historic treasures. Enjoy a range of exhibitions that include the battle of New Orleans as well as the cuisine and life of locals after the tragedy of Hurricane Katrina.
The collection is scattered throughout a number of buildings including the fascinating Creole Cottage and Louis Adam House, where Tennessee Williams lived for a short time. Discover the history and culture of New Orleans across the decades at this historic spot!
There are a few notable collections to look out for as well including the Tennessee Williams Collection which houses major manuscripts like A Streetcar Named Desire and The Glass Menagerie!
See everything from modern art to historical items that give a true insight into New Orleans and how it became what it is today!
Insider Tip: Give yourself a few hours to truly appreciate this one!
Day 1 / Stop 6 – Preservation Hall
Why it's awesome: It began as an art gallery called Associated Artists and grew into the pantheon of jazz it is now!
Cost: Tickets range from USD $40 to USD $50 depending on where you're sitting.
Food nearby: Cafe du Monde is almost as iconic as Preservation Hall! Enjoy their classic and tasty beignets and some fantastic chicory-blend coffee made famous by the Creole people.
When you travel to New Orleans, it would be a crime not to visit this incredible hall of music, specifically jazz music!
As a major feature of New Orleans' French Quarter, Preservation Hall is one of humble beginnings that has grown into a house brand, recording label, and unforgettable venue. Fans from all over the world flock to this iconic spot to hear traditional jazz played by some of the genre's finest performers!
Enjoy intimate acoustic shows featuring players from over 50 masters of the art. The low-lit and personal setting allows for fantastic interaction between the musicians and the crowd, making for a truly memorable evening!
The Preservation All Stars jazz band offers an ever-evolving take on the New Orleans Jazz tradition, bring their unique stylings and fantastic sound to the world. For an incredible jazz experience, this one definitely deserves a spot on your Itinerary for New Orleans!
Insider Tip: Making a reservation gets you excellent seats but it is pricier!
National World War II Museum | Food and History Tour | Audubon Aquarium / Zoo | Carousel Gardens | Music Box Village | Frenchmen Street
Start the next leg of your 2 days in New Orleans right with a poignant walk around the National World War II Museum, then enjoy a touch of nature at the Audubon Zoo or Aquarium. If you're visiting for the weekend, New Orleans has you covered with some spectacular options for a 2 day getaway!
Experience the city's whimsical side at the Carousel Gardens and Music Box Village, then finish up the second evening of your New Orleans itinerary on a musical note as you stroll along the jazz-filled Frenchmen Street.
Day 2 / Stop 1 – National World War II Museum
Why it's awesome: Gives amazing insight into the USA's role in an Allied Forces victory!
Cost: USD $28 for adults, USD $24 for senior citizens, USD $18 for college students, military personnel with ID and children under 12, WWII veterans enter for free.
Food nearby: Enjoy classic Cajun eats as well as tasty pork dishes and amazing desserts at Cochon!
Begin the second day of your New Orleans trip itinerary with a glimpse into the heavy history of World War II.
Experience notable exhibits like The Campaigns of Courage Pavilion, which explores how the Allies were able to defeat two enemies on opposite sides of the world at the same time! From immersive displays and digital exhibits to recreated battle sites, this museum gives an inside look at this torrid time in the world's history.
One of the major features to look out for are exhibits about the amphibious invasion of Normandy. This is where the connection to New Orleans comes in as the boats that became vital to the operation were designed and built in New Orleans!
Experience jungle battle sites, bunkers, and the beaches that became wartime monuments as you walk through this historic museum!
Day 2 / Stop 2 – Food and History Tour
Why it's awesome: Experience the flavor of a diverse range of New Orleans' staple dishes!
Cost: USD $76.
Food nearby: This tour is all about the food so you'll enjoy a bite to eat all over town!
Get a taste of history and incredible cuisine on this memorable New Orleans walking tour! Spend a golden three hours exploring the city accompanied by your food-loving guide. Enjoy 10 amazing dishes at 6 locations across the city's French Quarter from elegant to classic street-style food!
Discover the origin story of some of New Orleans' classic dishes as you make your way from high-end eateries to quaint candy shops and hole-in-the-wall foodie spots. On this epic food trail, you'll have the chance to sample everything from boudin balls and sweet potato beignets to Leah's Pralines where the sweet treats are amazing and the sugar is plentiful!
Get a taste of New Orleans' classic sandwiches – the Muffuletta and the iconic Po-Boy, which have gained 'folk hero' status among the locals. You'll even get the chance to learn all about seafood harvesting in Louisiana at NOLA's Po-Boys!
What better way to sink your teeth into this 2-day itinerary in New Orleans than with a memorable food and history tour?
Day 2 / Stop 3 – Audubon Aquarium / Zoo
Why it's awesome: The aquarium is the coordinator of the Louisiana Marine Mammal and Sea Turtle Rescue Program!
Cost: Depending on where you go, adult ticket prices range from USD $18.95 to USD $29.95.
Food nearby: Enjoy classic New Orleans cuisine from tasty seafood to soups and pasta at Restaurant August. With an imaginative Mediterranean spin, they offer top-notch dishes!
Add a sprinkling of wildlife to your amazing 2 days in New Orleans with a trip to the Audubon Aquarium or Zoo.
As one of the top New Orleans attractions, you can't go wrong! Nestled along the banks of the Mississippi River, the aquarium is home to over 10,000 animals across 530 species. Stroll through the incredible Caribbean Reef exhibit, which is a 30-foot-long tunnel where sea life surrounds you!
For an encounter with some nerve-inducing creatures, stop over at the Amazon exhibit where piranhas, freshwater stingrays, and an anaconda roam. Spot everything from the stunning white alligator to the adorable Southern sea otters, as well as a few celebrities like the moon jellies and potbellied seahorse!
If you enjoy animals a little closer to home, the Audubon Zoo is another menagerie of unforgettable animals. With a mix of creatures from across the globe, you'll be able to see an impressive range from Amur leopards to the rosy Caribbean flamingo!
You could even stop off at the Insectarium where an array of fascinating spiders, butterflies, and beetles make their home – look out of the humble ladybug!
Insider Tip: Buying your tickets online brings the price down!
Day 2 / Stop 4 – Carousel Gardens
Why it's awesome: The Gardens' famous carousel has been in operation for 100 years!
Cost: USD $4 for adults, children under a certain height get in free! There are additional payments for rides.
Food nearby: Enjoy a taste of true-blue Italian cuisine at the fantastic Venezia Restaurant – their pizza is incredible!
Feel like a child again on your trip to New Orleans at the Carousel Gardens! This seasonally operated fun park is a major feature in within City park and is home to a collection of charming and old-fashioned rides that fit the gardens' aesthetic.
Enjoy attractions like the Live Oak Ladybug Rollercoaster, the classic Ferris Wheel and a drop ride called the Coney Tower. There's even a miniature train that tours the park so any little ones on your holiday can go for a spin round the gardens.
This amazing splash of greenery and excitement is home to one of the oldest carousels in the USA, which has become known as the Flying Horses. It is one of only 100 hand-carved carousels left in America, and the only one of its kind in Louisiana! You may even recognize this iconic landmark from a film or two, including Now You See Me.
The Carousel Gardens also hosts events for adults like the uber-popular, Brews and Boos!
Day 2 / Stop 5 – Music Box Village
Why it's awesome: Performers are invited every year to create new and experimental works at the village!
Cost: USD $12 donation for entrance bu visitors and a smaller donation for locals.
Food nearby: For top-notch burgers, gumbo, and amazing vegan options, enjoy a meal at Bar Redux!
If you're looking for something truly photo-worthy on your vacation in New Orleans, this is the place to go! You'll feel like you've entered a fantasy as you discover this incredible sculpture garden where each little house is a musical instrument.
Let the fun of it take hold as you open, tug on, and beat the tiny musical homes which let out sounds that fill the air! Adorned with festoon lights and wooden detailing, this cozy space is for music, experimentation, and fun!
Enter this surreal world, which is half sound playground and half musical camp – and create a symphony under the stars. This incredible village filled with treehouses and quaint cabins are the work of over 80 contributing artists. It truly captures the essence of New Orleans with its creativity, joy, and rhythm!
You can even enjoy events throughout the year including art markets or pop-up food stalls from local restaurants.
Insider Tip: Check their online calendar to find events and decide on your best time to go!
Day 2 / Stop 6 – Frenchmen Street
Why it's awesome: Home to a plethora of amazing music venues!
Cost: This depends on whether you attend any shows or events.
Food nearby: Visit Adolfo's for incredible Italian food and a memorable atmosphere!
Finish off the second day of your New Orleans itinerary with a stroll along the iconic Frenchmen Street! Just east of the French Quarter, this is where you'll find top bars, restaurants and jazz clubs on your trip to New Orleans.
Enjoy an evening out at the many live music spots including the Three Muses, where local legends fill the air with classic New Orleans jazz or the Maison, where bands play everything from traditional jazz to funk and soul! Igor's Checkpoint Charlie is another local staple where the punk-flavored music and incredible cheeseburgers are the order of the day.
If you're looking for a sample of the New Orleans' art world, pop into the Art Garden. It's an open-air venue that showcases local artwork, sculptures, and crafts. This is the ultimate spot to find the perfect souvenir to mark your trip!
Musical Legends Park | Oaks of New Orleans | Faulkner House Books | Royal Street | Lafayette Cemetary No. 1
You've reached 3 days in New Orleans, and there's still more to see and do in this vibrant city! From a celebration of jazz at the Musical Legends Park to getting in touch with nature and enjoying New Orleans' literary side, your New Orleans itinerary is just getting more exciting.
If you're wondering what to see in New Orleans in 3 days or more, take your pick from our selection of stellar options!
See the Musical Legends Park
Tiny park in Bourbon Street!
Live jazz music every day from 10 am.
Amazing atmosphere in central New Orleans.
Your New Orleans itinerary wouldn't be complete without a visit to the Musical Legends Park, where music icons have been brought to life on Bourbon Street.
Stroll past life-sized bronze statues of some of New Orleans' musical greats including Al Hirt, Pete Fountain, Fats Domino, Ronnie Cole and Irma Thomas. Discover Pete's Wishing Well fountain where you can toss a coin in! The money donated by visitors to the park is given to the McDonough Elementary School to provide band equipment to the children.
Cafe Beignet is there to provide you with delicious pastries in their sun-kissed courtyard. With a lovely atmosphere and music in the air, the Musical Legends Park is a quintessential New Orleans landmark!
If you're looking for the best things to do in New Orleans in 3 days, this is a winning choice!
Visit the Oaks of New Orleans
Home to many members of the Live Oak Society.
Old Grove houses some of the oldest oaks in New Orleans!
They are idyllic and beautiful landmarks.
New Orleans is known for many things: its jazz, its cuisine and, of course, its oaks! One of the most tranquil and photo-worthy things to do in New Orleans is going on a self-guided oak tree tour.
Your first stop could be the incredible Singin Oak in City Park. As one of the city's many unexpected joys, the impressive oak is adorned with a set of wind chimes which send a sweet sound through the park!
Next in line on your tour of these incredible New Orleans landmarks is the remarkable Tree of Life. Settled in the beautiful Audubon Park, its amazing crown of branches and massive trunk make for quite the sight.
With a look that seems like it was buried upside down, the Tree of Life is one of the city's premier climbing spots and is the ideal perch for giraffe-watching in the next door zoo. Gnarled and wizened, the oak is between 100 and 500 years old!
The Military Cemetary Road is another treasure trove of oak trees, where their incredible arms are thought to shelter the soldiers who were lost.
The final oak tree on our list is a memorable one – the Duelling Oak of City Park! Origianlly used as a location for dwelling, what was a pair of Duelling Oaks became one after Hurrcane Katrina. The lone oak retains its beauty and has quite a story to tell from its perch on Duelling Okas Drive (it has a sign and everything)!
If you're backpacking through America, deciding what to do in New Orleans, and you've got something unique in mind, this is a perfect choice.
Discover Faulkner House Books
Along the intriguing Pirate's Alley!
Considered a national literary landmark.
William Faulkner rented the rooms in the bookstore's building.
On our list of places to visit in New Orleans in 3 days, Faulkner House Books is perfect for any literary buffs or anyone who loves a good book store!
Known as one of America's most charming bookstores, you'll find collections, first editions, and literary treasures that you won't get anywhere else. Discover classics and rare editions by Faulkner himself, as well as other historic writers! What else could you expect in the house where Faulkner wrote his first novel?
Stroll through the store's gorgeous rooms at your leisure, perusing its fantastic collection as you go. Faulkner House Books also happens to be home to the Pirate's Alley Faulkner Society, which has been cultivating the literary community of New Orleans for over 20 years.
This hidden gem is the perfect addition to your spectacular New Orleans 3-day itinerary!
Insider Tip: Take a walkabout around this historic area and enjoy other nearby sights including the amazing church just behind Faulkner House Books.
Explore Royal Street
One of the city's original streets.
Home to fantastic music and art!
Find amazing New Orleans architecture.
We couldn't put together a top-notch New Orleans itinerary and leave out Royal Street! Draped like a thread across New Orleans' French Quarter, this iconic street dates back to the 18th century.
Filled with antique shops, art galleries, and amazing music, this is the place to be. Make a stop at the gallery of Ally Burguieres, where you can admire her incredible sketches and paintings. Royal Street is also a pedestrian's best friend with its walking-only zone where street performers fill the square with music and color.
Enjoy a memorable New Orleans walking tour where you can truly feel the atmosphere of the city along this pastel-hued street! Royal Street strikes a perfect balance with the neon-tinged rhythm of Bourbon Street.
You can find 40's and 50's inspired retro dresses at the Trashy Diva or enjoy a Creole brunch or enjoy the evening ambiance at the Court of the Two Sisters. Don't miss a glimpse of the Gallier House, which is one of the most well-preserved historic homes in the city!
Insider Tip: Royal Street looks incredible at night with its glowing lanterns and old-school feel.
Tour Lafayette Cemetary No. 1
Historic burial place in the Garden District.
Amazing architecture!
Author, Anne Rice, staged her own funeral at the cemetery.
A visit to this historic and well-known cemetery makes a fantastic addition to a memorable 3 days in New Orleans! As a famous burial place, the Lafayette Cemetary No. 1 has become a hugely popular tourist spot.
Taking its name from its location which was once the City of Lafayette, the cemetery is also home to an incredible collection of tombs and mausoleums. This is the perfect place for history and architecture buffs to visit on a 3-day trip to New Orleans!
There is an amazing sense of importance and depth when you visit the cemetery, which is surrounded by tranquil magnolia trees. Made up of 1,000 tombs, the cemetery has garnered attention from film producers and is now the most filmed cemetery in New Orleans.
Walk past the lettered landmarks, which tell stories of people lost and gives insight into the city's long and rich past. It's also the site of a few oddities including the false funeral staged by author, Anne Rice. This renowned 'City of the Dead' is quite unforgettable and has earned a worthy spot on your New Orleans itinerary!
Insider Tip: Get the most out of your trip to the cemetery with a guided tour.
While planning a banging New Orleans itinerary is key, knowing how to keep safe while you enjoy it all is important too.
The crime rate in New Orleans is considered to be fairly high and is not the safest destination for travelers. This also depends on where you are in the city but it is always best to travel with a companion when walking.
While in New Orleans, try not to look like a tourist so pickpocketers don't pick you. Petty criminals target tourist-rich areas like the French Quarter and Bourbon Street, so keep your valuables to a minimum and carry your belongings close to your person. Vehicle break-ins are also fairly common in New Orleans, especially in the hubs.
It's a good idea not to venture into Central City, Desire, Florida, Fischer Dev, West Lake Forest and the Lower 9th Ward after dark. It's also advisable not to visit the cemeteries after dark or by yourself – rather go with an organized tour.
In terms of natural disasters, New Orleans is at risk for hurricanes during summer and has a higher risk of tornadoes than other cities within the USA. Just to be on the safe side, read up on safety procedures in the event of a natural disaster.
Whether you're planning a weekend getaway or 4 days in New Orleans, keeping safe is always a priority.
Don't Forget Your Travel Insurance for New Orleans
World Nomads' mission is to support and encourage travellers to explore their boundaries. They offer simple & flexible travel insurance, and safety advice to help you travel confidently.
They've been doing it since 2002 – protecting, connecting, and inspiring independent travellers just like you.
Get a quote below or read our in-depth review!
World Nomads provides travel insurance for travelers in over 100 countries. As an affiliate, we receive a fee when you get a quote from World Nomads using this link. We do not represent World Nomads. This is information only and not a recommendation to buy travel insurance.
While the city is filled to the brim with fantastic activities, we've also compiled a list of amazing day trips from New Orleans! From exploring the bayous to rolling down the Mississippi on a riverboat, take your pick our top choices for a memorable day trip.
This is the perfect opportunity to expand your horizons even more on a trip to New Orleans!
New Orleans Airboat Swamp Tour
Enjoy an incredible ride along the swamps of Louisiana where you'll have the chance to learn all about the Cajun way of life in tranquil wetlands.
Step your New Orleans itinerary up a notch as you zip past raccoons, alligators, wild pigs, and other fascinating creatures! Experience the wilds of Louisiana on this amazing small-group tour where you're surrounded by birdlife. You'll even be able to ride in the shallows where more traditional boats can't reach.
For an informative and fun ride in the bayous accompanied by your knowledgeable local guide, this one's a winner!
Mississippi Jazz Boat Cruise
Experience one of the ultimate day trips from New Orleans on a jazz boat cruise up the Mississippi River!
Listen to the cool jazz played by the incredible Dukes of Dixieland. Take your pick from a brunch, lunch, or dinner cruise where you can take in the beautiful scenery as you glide down the river.
As the only surviving authentic steamboat in New Orleans, the Sternwheeler Steamboat Natchez is a local treasure, making this an absolute must on your trip! Set sail from the old-world docks of the French Quarter on a memorable, jazz-infused trip where the food is rich and the atmosphere is dreamy.
Whitney Plantation Historical Tour
If you love a glimpse into history, this is the perfect addition to your 3-day itinerary in New Orleans! As the only plantation museum in Louisiana with a focus on slavery, a day trip to the Whitney Plantation promises a lot.
Gain insight into the lives of owners and slaves in Antebellum Louisiana as you walk amongst the museum exhibits, memorial art, and restored buildings. There are also hundreds of first-person narratives given by the slaves, which paint a heartwrenching picture.
The Big House is also one of the finest surviving examples of Spanish Creole architecture, which is fascinating to see! This tour is truly special as it pays homage to slaves who lived and worked on the plantation as well as across the USA!
New Orleans Bayou Boat Tour
If you're looking for day trips from New Orleans with a touch of nature and history, this checks every box!
Journey through the stunning Jean Lafitte National park where alligators, raccoons, and snakes roam free. You'll even have the chance to observe their nesting grounds! Enjoy a memorable trip on the water in a custom-built swamp boat and gain insight into Louisiana's seafood industry.
Local guides reveal the history and traditions of the Cajun people, which is fascinating and informative. For a fun and fascinating day trip on your New Orleans itinerary, a trip down the bayou is a winner!
Louisiana Plantation Half-Day Tour
Add this fantastic day trip to your 3-day itinerary in New Orleans where you'll discover the area's torrid past and admire the breathtaking scenery.
Choose between the Laura and Oak Alley Plantations, which sit along the historic River Road! See the incredible architecture and antique furniture as you stroll around the grounds and homes.
Oak Alley is also famous for its 28 live oak trees, which are believed to be at least 100 years older than the big house! Learn all about the heritage of the local people and visit the 'Memories of Laura' at the Laura Plantation where you'll discover the history of the Creole men, women and children who lived and worked on the plantation.
Find out what people want to know when planning their New Orleans itinerary.
Conclusion
Armed with an epic New Orleans itinerary, this incredible city is your oyster! From the weathered oak trees across its landscape to the colorful and rhythmic jazz venues that fill the city streets, New Orleans is a true American treasure.
If you need some more inspiration check out our 33 AWESOME Things to Do in New Orleans!
When you travel to New Orleans, you may expect the fried catfish and the historic architecture, but what you'll discover is a whole world of incredible landmarks! With streets that are easy to navigate and gorgeous buildings that will fill a million camera rolls, New Orleans has something for everyone.
Whether you love to find those undiscovered gems or love a good art gallery, you'll never run out of things to do in the 'Big Easy'. Filled with history, color and an atmosphere that is all its own, a trip to New Orleans is something you won't forget anytime soon!
---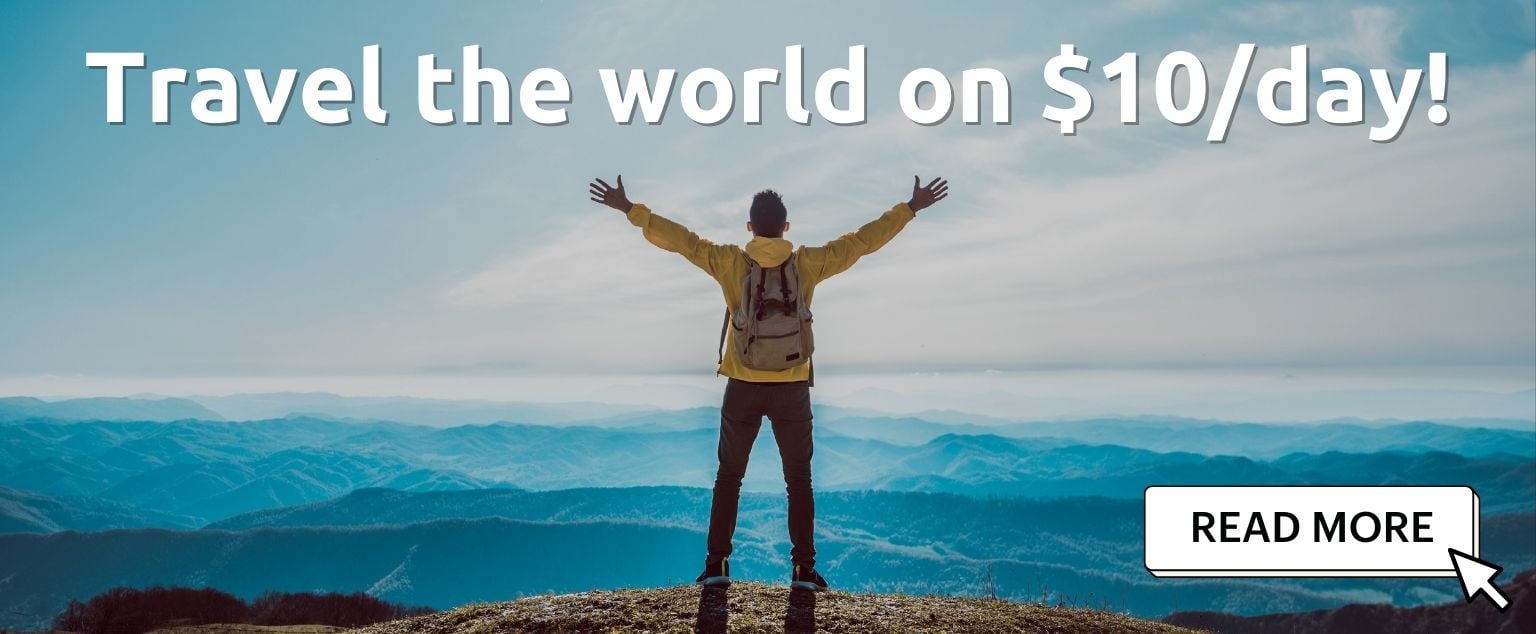 And for transparency's sake, please know that some of the links in our content are affiliate links. That means that if you book your accommodation, buy your gear, or sort your insurance through our link, we earn a small commission (at no extra cost to you). That said, we only link to the gear we trust and never recommend services we don't believe are up to scratch. Again, thank you!