Located on the Mississippi River, near the Gulf of Mexico, lies the lively city of New Orleans. Often called by the nicknames the "Big Easy" for its laid back easy-going vibe, and NOLA, which stands for New Orleans Louisiana, the city goes by many names and is known for many things.
We've put together a comprehensive list of the best things to do in New Orleans, from round-the-clock entertainment, to creative cuisine and a legendary jazz scene, there's really no other place like it. If you're planning a trip to this southern city, we've got you covered with this guide that highlights the culture, history, and heritage of the "Big Easy."
Here are the best things to do in New Orleans!
Top Things to Do in New Orleans
New Orleans is a hub of entertainment, fun attractions, and iconic sites. To fully immerse yourself in the fantastic energy and vibe of the city, here are the top 10 things that should be on your NOLA bucket-list.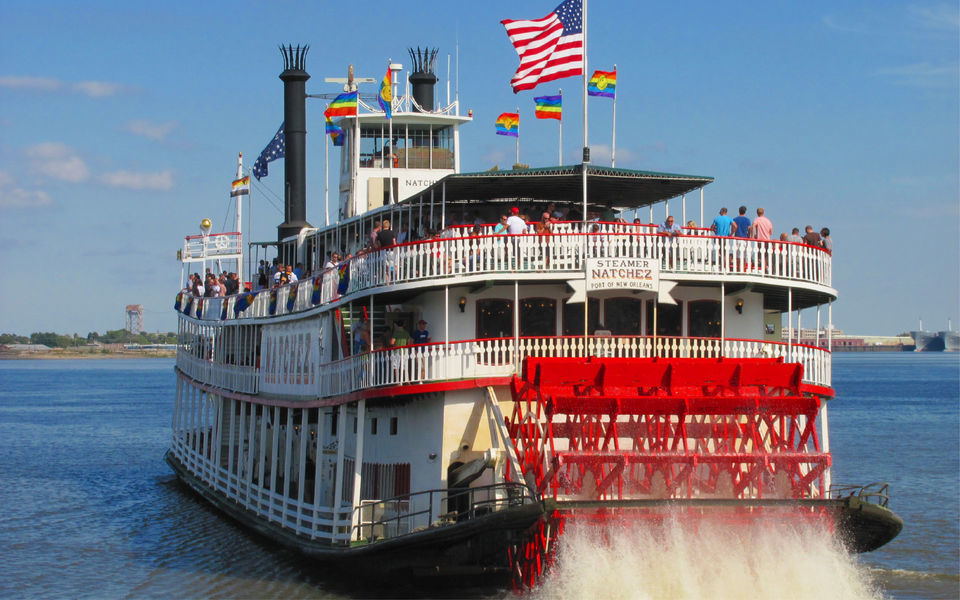 Journey back in time aboard the Steamboat Natchez, the only authentic steamboat in New Orleans. Travel down the mighty Mississippi as you relax while a live band plays classic New Orleans Jazz. You'll have the option of enjoying an authentic Creole lunch, prepared fresh on board!
Visit the preserved steam engine room and learn how steam powers the boat. Stand on the ship's top deck and admire the spectacular views that surround you.
Savor the tastes, sounds, and sights of New Orleans culture aboard this historic vessel.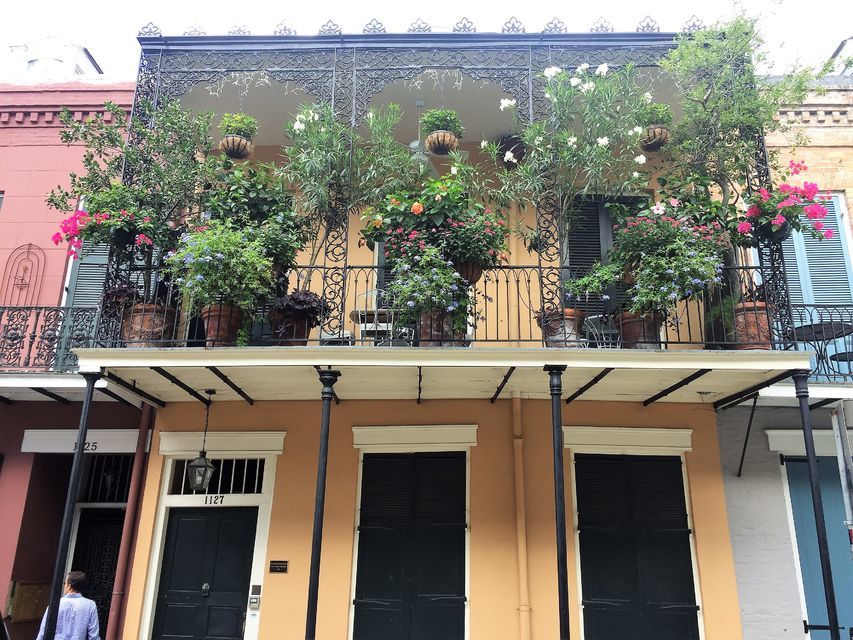 The French Quarter is the heart and soul of New Orleans. It's famous for its jazz clubs, Cajun eateries, cocktail bars, vibrant nightlife, and much more! This area of the city is teeming with tourists almost all the hours of the day.
It's New Orleans's oldest neighborhood, filled with many of the city's most iconic attractions. The St. Louis Cathedral, Jackson Square, French Market, and the Mississippi River can all be found inside this lively square.
You'll also find plenty of hidden gems tucked away in the quieter streets of the French Quarter. These lead to gourmet restaurants, local stores, and quirky cafes.
You can't visit the "Big Easy" without soaking in the culture, history, and architecture of the French Quarter.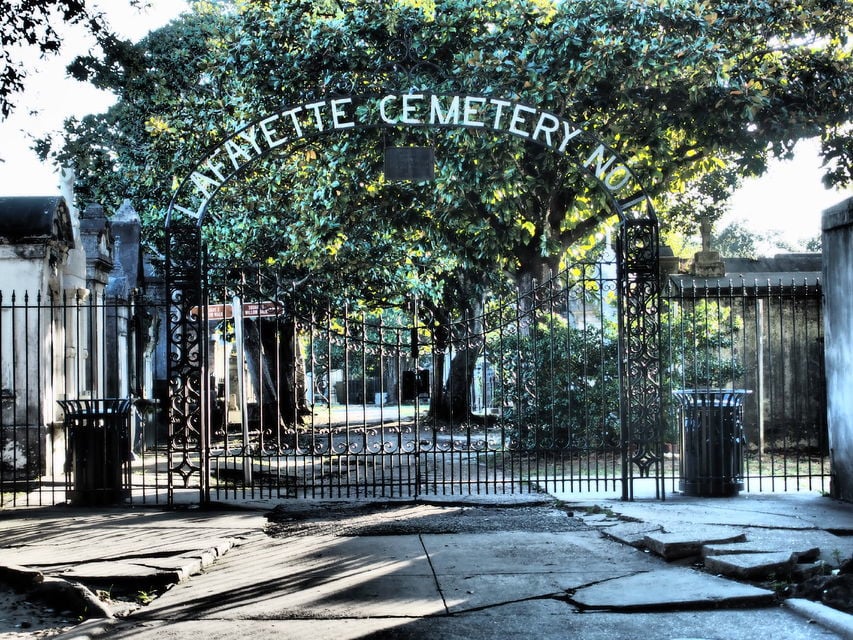 The New Orleans Garden District is the city's lovely, quiet neighbourhood. From oak-shaded streets and magnificent crepe myrtles to lavish mansions with sweeping front porches and cast-iron balconies, this area represents quintessential up-scale southern living. Many prominent authors, poets, movie stars, artists and sports legends have all put down roots in the Garden District.
Magazine Street is located in the Lower Garden District. It's a shopping mecca, with high-end boutiques, antique shops, and local stores sitting alongside fine-dining restaurants, cosy cafes, and local eateries.
Visit the city's oldest municipal cemetery, Lafayette #1. This historic graveyard has been used to film many famous movies and TV shows. See the elaborate tombs that contain many famous figures and some of the city's first settlers.
New Orleans cuisine is one of a kind. It infuses French, Spanish, African, Cajun, and Creole flavors and creates a unique taste you won't find anywhere else!
New Orleans has a large range of food staples you don't want to leave the city without trying.
If you're a meat-eater, try out boudin. This is a type of sausage with a mix of meat, rice, vegetables and plenty of cajun spice inside a casing.
For something sweet, try a beignet. This deep-fried pastry is sprinkled with powdered sugar and goes great with coffee, especially if you can squeeze your way into the illustrious Cafe du Monde.
For seafood lovers, we highly recommend you indulge in a nice seafood gumbo, made with a strong-flavored stock and what Louisianians call the "Holy Trinity" of vegetables, which is celery, bell peppers, and onions.
First Time in New Orleans
French Quarter
The oldest and most famous neighbourhood in New Orleans, there's no better place to stay on your first visit than the French Quarter as it's close to New Orlean's best attractions.
Places to Visit:
Enjoy the sights and sounds of New Orleans in central Jackson Square
Browse the shops, stalls and cafes at the Old French Market
See the historic Preservation Hall, a renowned jazz venue
For more Places to Stay, check out our full New Orleans Neighborhood Guide!
Travel just outside the city centre of New Orleans and take a cruise on the bayous of the Louisiana wetlands. Hop aboard a typical swamp boat and explore the wonders of the southern swamps up close.
See moss-draped trees and Louisiana's abundant wildlife. You'll encounter a wide range of local birds, fauna, fish, and possibly even an alligator! Make sure to pack your camera, this is an authentic Louisiana experience you don't want to miss out on.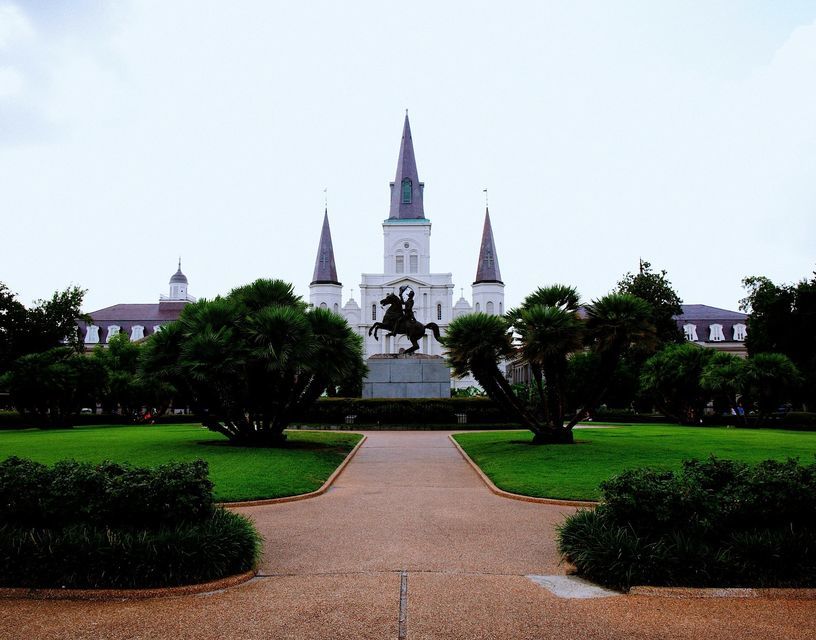 Learn about the history of New Orleans in a unique way as you pedal past the city's most iconic sites. With the aid of a bike you'll cover much more ground than you would by walking.
New Orleans is a very bicycle-friendly city, and there are plenty of parks and bike paths to ride through. Moreover, the fact that there are barely any hills in the city makes this is an activity all ages and fitness levels can partake in.
Ride along the Mississippi River and the seven different districts of the city as you enjoy the fresh open air and a bit of exercise, NOLA sightseeing on a cycle ride is a great way to see the city from a different perspective!
New Orleans voodoo isn't just a marketing ploy. The history and ideology behind this faith are set in ancient African tribal religions and embedded in the city's culture and heritage.
There are a couple of places in the city that are strongly associated with the voodoo culture. Marie Laveau's House of Voodoo is one of them. This shop is packed full of just about anything you could possibly think of when you think of voodoo. Swing by and purchase a Voodoo 'magic' potion, or simply stop in to admire the selection of unique items.
The St. Louis Cemetery No. 1 is another spot connected to voodoo. In this graveyard sits the tomb of Marie Laveau, history's most esteemed voodoo queen. Visitors and locals leave offerings year-round in the hope of gaining her favor.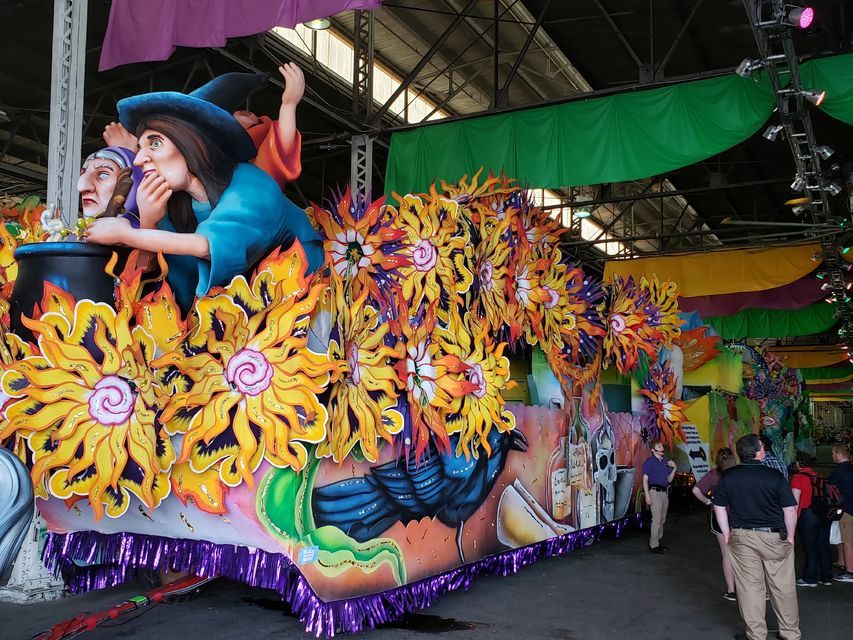 Mardi Gras World is a tourist attraction that provides guests with a behind-the-scenes look at the city's most celebrated celebration! The museum is housed in the warehouse where the floats are made for the Mardi Gras parades. Discover the unique process of making the floats and learn about them in various stages of completion.
Mardi Gras represents the best of New Orleans, and if you're wanting to gain more insight into this cheerful celebration, or you're not able to travel to the "Big Easy" during the annual Mardi Gras festival, visiting the museum is a must-do in New Orleans!
Travel inside the walls of New Orleans' famous cemetery, St. Louis Cemetery No. 1! Wondering what makes this New Orleans cemetery so special? Well, the city is often saturated with water. Therefore, the dead are not buried underground, but rather, above ground in tomb. These elaborate tombs house coffins and are a unique piece of NOLA history.
Explore the cemetery and see the final resting place of many of New Orleans' most notable residents, including famed voodoo queen Marie Laveau.
Admire the eerily beautiful "City of the Dead" and take in the uniqueness of this elaborate burial ground. St. Louis Cemetery No. 1 is the oldest graveyard in the city and visiting the cemetery is one of the most popular New Orleans attractions.
10. Learn About Jazz in the City it Originated in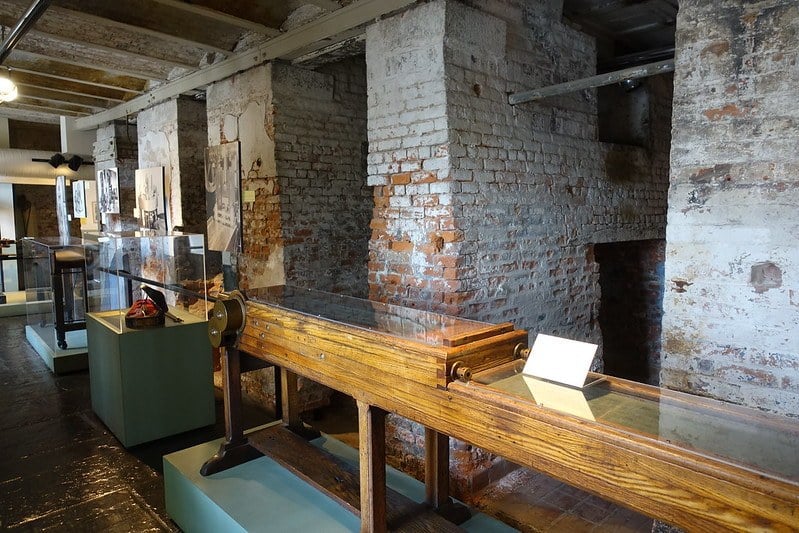 Visit the New Orleans Jazz Museum and learn about the music that defines the city. See the largest collection of jazz artefacts in the world, including musical instruments played by jazz greats like Louis Armstrong's first cornet, and a 1917 disc of the first jazz recording ever made.
See photographs from the early days of jazz, listen to recorded interviews from prominent jazz figures, and explore the museum's interactive exhibits!
The museum is open every day except Mondays and admission is USD $8.00.
More Great Resources!
The Best Travel Backpack?!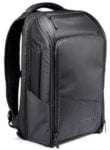 Pssssst! Not picked the perfect travel backpack yet? The Broke Backpacker team has tried out over thirty backpacks this year! Our favourite carry on backpack is the Nomatic Travel Backpack.
Check out our full review!

Unusual Things to Do in New Orleans
Are you looking for a few unique attractions to add to your NOLA trip? Here are the most fun and unique things to do in New Orleans that should be high on every traveller's bucket list!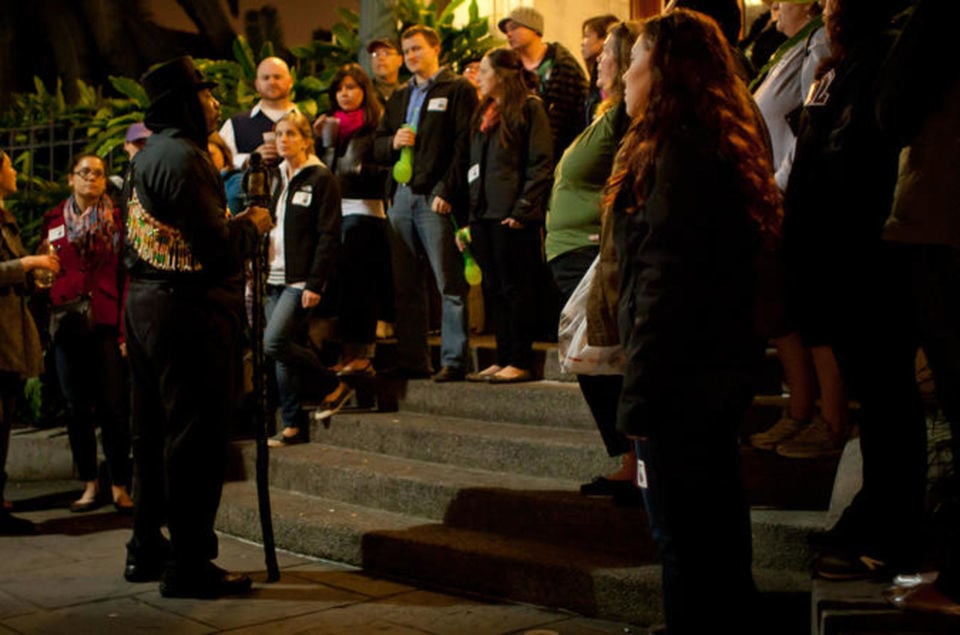 If you're interested in the macabre, New Orleans' is the city for you! NOLA has a ghastly and gruesome past that will make the hair on the back of your neck stand up.
Visit the New Orleans Pharmacy Museum, known for its questionable medical practices in the 19th century. See the St. Germain House, the former residence of rumoured vampire Jacques Saint Germain. Wander past the LaLaurie House, the home of the wicked mistress Madame LaLaurie.
Visit these creepy sites and discover the darker side of the city.
12. Visit a Vampire Shop
New Orleans is an unusual city full of strange and spectacular sites. Among these sites is the Boutique du Vampyre, a store selling gothic curiosities ranging from jewellery and apparel to voodoo dolls and incense.
It's a wonderful little gem of a store with truly unique products you won't find anywhere else. Stop in to pick up some spooky souvenirs, or window shop and admire the unique vampire oddities. The store also offers tarot, tea, and palm readings!
13. Have a Drink at One of the Oldest Bars in the US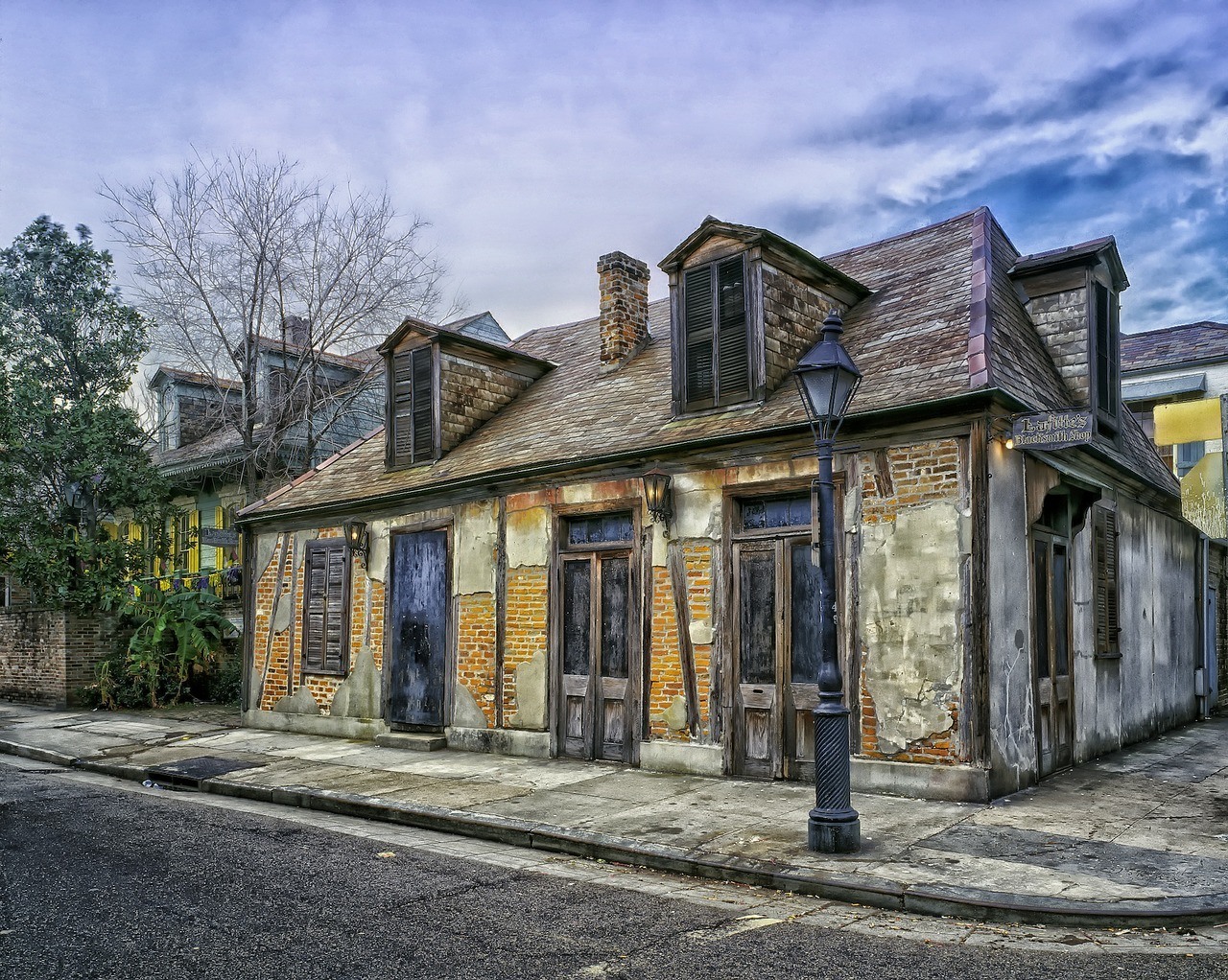 Lafitte's Blacksmith Shop is one of the oldest bars in the United States. It was established as a bar in 1772. However, it's housed inside a building dating to 1720.
The bar sits at the far end of Bourbon Street in the French Quarter. The brick masonry is exposed, the floorboards creak, the windows shutters lay askew, and candles light up the building after dark – oh yeah, and the building is supposedly haunted by residents of the French Quarter. This quaint and historic bar perfectly personifies NOLA's unique quality.
New Orleans is a lively city with so much to offer tourists, but is it safe to visit? The short answer is, it depends on where you go and how you carry yourself.
The risk of violent crime and property crime is slightly higher than the national average in the US. However, if you follow the rules of common sense, you should have nothing to worry about.
Stick to the touristy areas of the city. Don't walk back to your accommodation late at night, especially if you're alone. Instead, order an Uber. Keep vigilant in crowded areas, as pickpockets tend to target areas where large crowds like to congregate.
Keep your wits about you, don't drink too much, and always trust your instincts! Read our tips for travelling safely before you fly and always get travel insurance. Check out our roundup of the best travel insurance.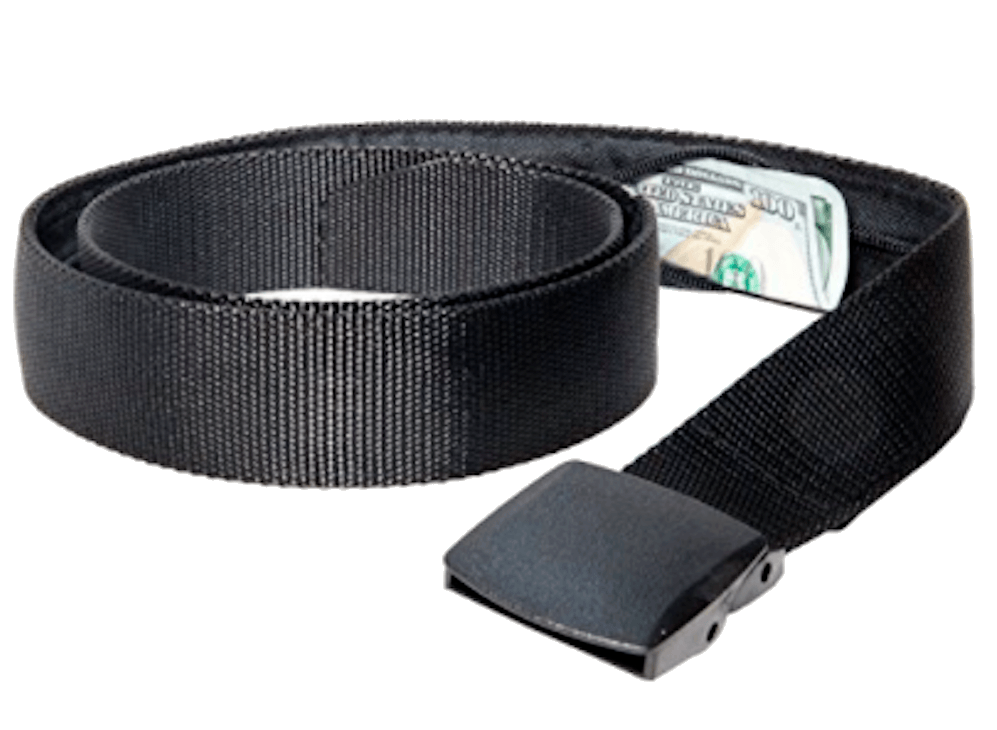 You should always have emergency cash hidden on you - pick up this awesome security belt with its hidden pocket before you travel, it's perfect for hiding money, a passport photocopy.
Things to Do in New Orleans at Night
New Orleans is a city that specializes in night time excitement. After dusk, the "Big Easy" comes alive with newfound excitement. Here are the best places to visit in New Orleans after the sun sets!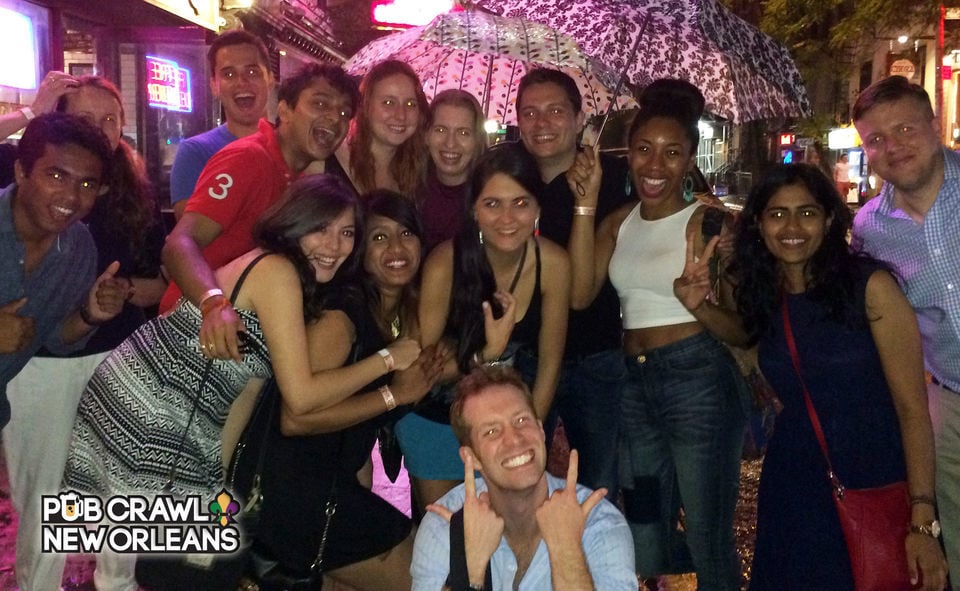 Bourbon Street anchors the party scene in New Orleans. If you're looking for a fun night out in the city, this is the place you want to be! Book yourself into a Bourbon Street hotel for easy access to the clubs, bars, and restaurants on offer.
Travel from bar to bar sampling New Orleans' specialty cocktails. From loud venues with mechanical bulls to haunted pubs to bars with live music, you'll find it all on Bourbon Street.
This famous street is located inside the French Quarter and is the perfect place to experience New Orleans nightlife.
15. Listen to Live Jazz Music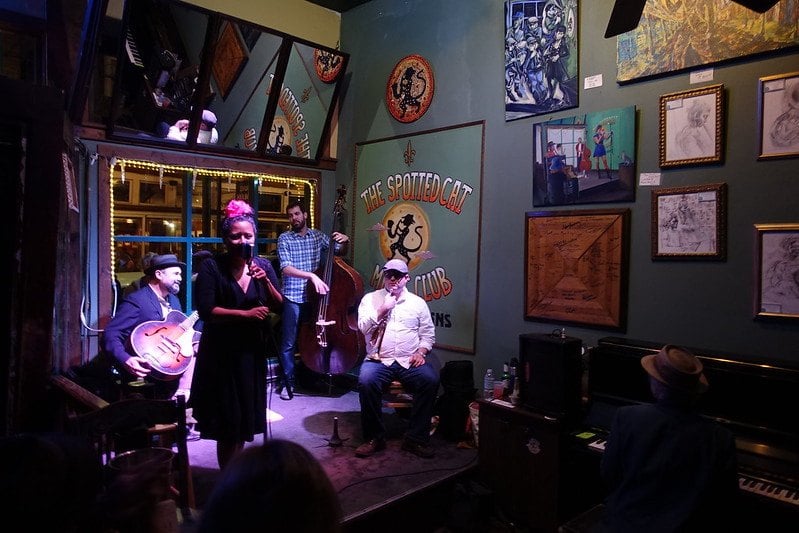 Listening to jazz music should be high up on your list of things to do when you visit the city. From swing to blues to fusion to bebop to funk, here are the best places to scope out NOLA's jazz scene.
Preservation Hall in the French Quarter is a New Orleans Jazz club with an old-timey atmosphere and high-quality jazz music. For old-time jazz music in a historic setting, this is the place you want to be.
The Spotted Cat Music Club is another one of New Orleans' quintessential jazz clubs. This intimate venue offers a variety of different music styles – everything from traditional jazz to funk. It's located in the Faubourg Marigny District on Frenchmen Street, just steps from the hustle and bustle of the French Quarter.
16. See a Midnight Movie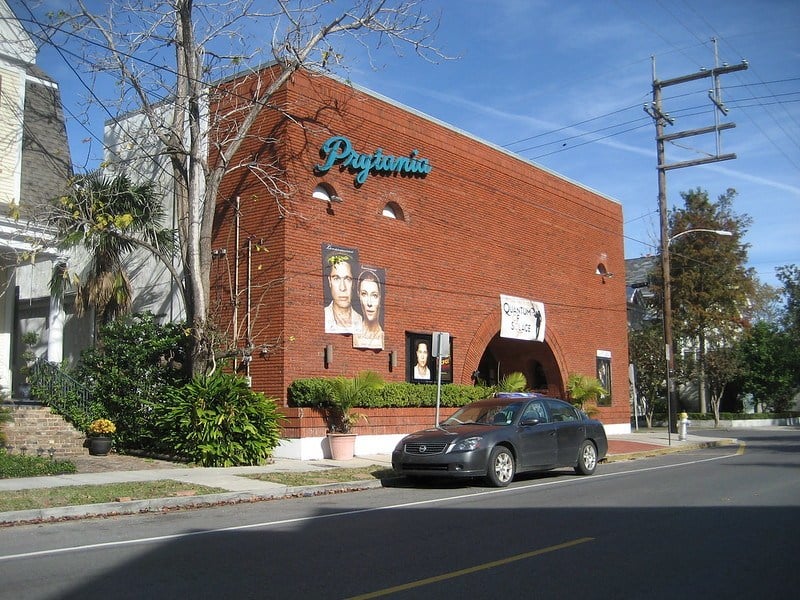 Built in 1914, The Prytania Theater is the oldest movie theatre in New Orleans. This single-screen movie theatre shows everything, from Hollywood hits and great classics to kids' films and indie flicks. Movies are shown throughout the day, but for the night owls, the theatre also hosts regular late-night movie screening with popular cult classics.
This quaint movie theatre is decorated with old classic decor. On the stage, you can still see the organ that was used in silent films.
Where to Stay in New Orleans
Looking for a specific place to stay? These are our highest recommendations for places to stay in New Orleans.
The Auberge NOLA Hostel is centrally located in New Orleans. It is close to cafes, shops, eateries and more. It has private and dorm-style accommodations, large common rooms, and a shared kitchen and bar.
All of this combines to make this our recommendation for the best hostel in New Orleans.
View on HostelWorld
Our pick for the best hotel in New Orleans, the Melrose Mansion is bursting with charm, elegance and class. This great three-star hotel is centrally located and is a short walk to lively Bourbon Street.
It has a fitness centre, outdoor pool, and great art deco décor.
View on Booking.com
There's a host of great Airbnb's available in the area. Need some more ideas? Check out our guide to the COOLEST areas to stay in the city as well as our list of the best bed and breakfasts, cottages and lodges in New Orleans.
Romantic Things to Do in New Orleans
If you're looking for the best things to do in New Orleans for couples, these activities are sure to rouse up some romance! Savor the beauty and romance of the "Big Easy" with these fun couple activities.
Experience the romance of New Orleans like never before on a leisurely moonlit cruise down the mighty Mississippi.
Sail the Mississippi aboard an old-fashioned sternwheeler paddleboat. Enjoy a cocktail on the top deck and marvel at New Orleans' beautiful skyline. Watch the famous French Quarter light up in a twinkling nighttime dazzle. Dance the night away to lively jazz music and sit down to a traditional Creole-style dinner.
If you're looking for romantic couples attractions in New Orleans, a moonlit cruise is sure to set the mood!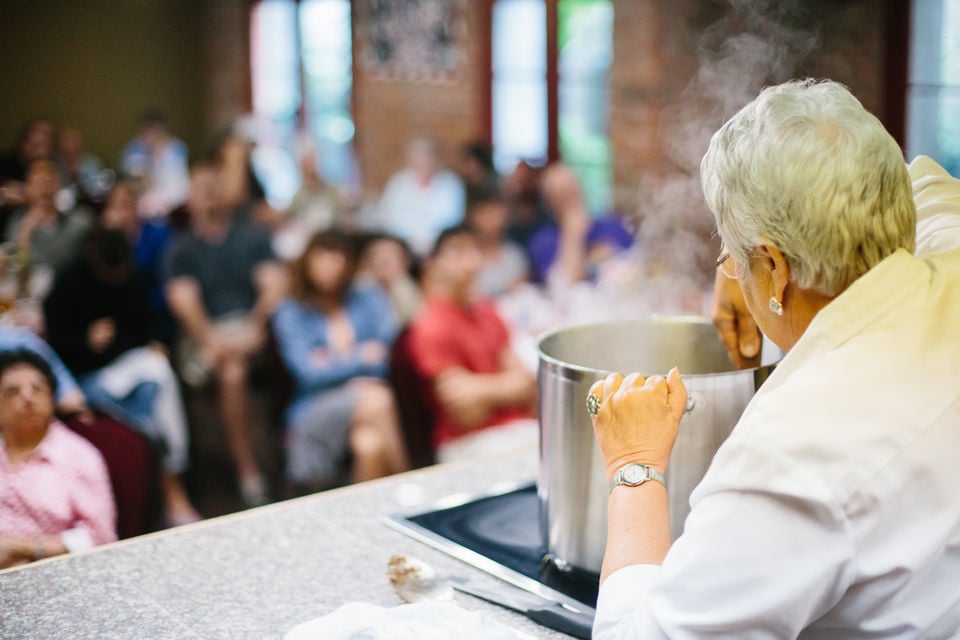 Discover the true essence of southern cuisine as you sit back, relax and learn the basics of cajun and creole cooking. Watch as a chef prepares NOLA food staples right in front of you while sharing the fascinating history of how the culture and cuisine of New Orleans reflect each other.
Learn the secret techniques behind cooking creole specialties like gumbo, jambalaya and pralines. The best part of the whole experience is that at the end of the class, you get to enjoy everything the chef has prepared!
Do You Need Travel Insurance
Don't forget to sort your travel insurance! We've put together a roundup of Travel Insurance for backpackers – check it out here, or if you're low on time, get a quote from World Nomads, our favorite travel insurance provider.
Getting an estimate from World Nomads is simple – just click the button or image below, fill out the necessary info, and you're on your way!

Best Free Things to Do in New Orleans
If you're traveling to the city on a budget, here are some popular New Orleans points of interest that are completely free!
19. Explore New Orleans' Most Enchanting Park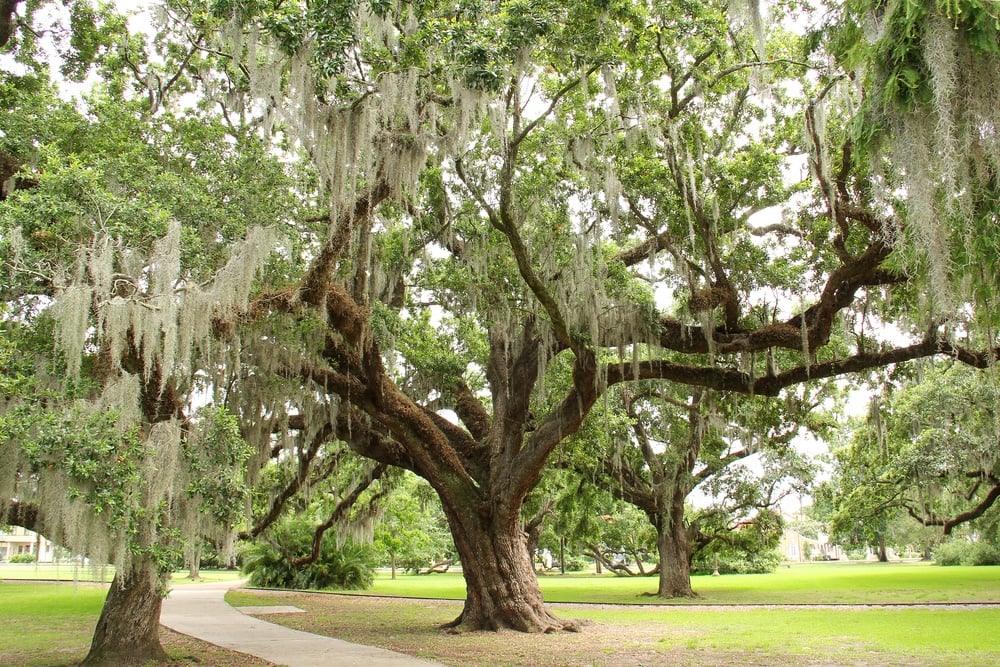 City Park is a 1,300-acre urban area in the midst of the city. There are plenty of activities that can be enjoyed in the park year-round. Miles of walking and bike paths, picturesque lagoons and lakes where you can rent a paddleboat, and a sculpture garden that's free to explore.
Moreover, if you're looking for New Orleans activities to enjoy with children, the park has a playground and plenty of green space to run around in.
Another popular feature of the park is that it includes the largest collection of live oak trees in the world, with some of the trees dating back 600 years! This is a great place to enjoy a break from the hustle and bustle of the city. The park is open every day year-round and entrance to the park is free.
20. Rub Shoulders With the Locals at the French Market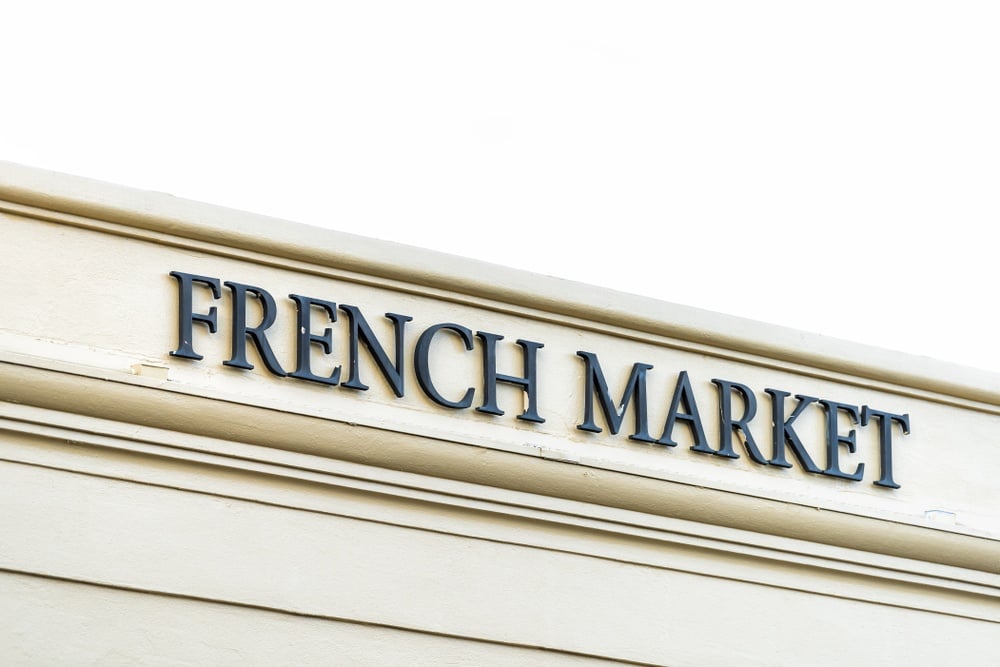 The French Market spans six blocks in the French Quarter of New Orleans. This open-air and charismatic market is free to visit and full of New Orleans souvenirs and food vendors.
If you're hungry, sit counter-side at a restaurant and enjoy the lively atmosphere buzzing from the market. Or, pick up something to go from a food stall and wander the market. You'll find everything from alligator on a stick to vegan food.
There's plenty of stalls offering local handicrafts,  women's clothing, jewelry to souvenir tee-shirts and more.
21. Relax in a Peaceful Sanctuary Among the Chaos of NOLA
St Louis Cathedral is the oldest catholic cathedral in continual use in the United States.
The church dates back to the 1700s and is nestled within the chaotic Jackson Square. You don't have to be religious to appreciate the history and beauty housed within the walls of this cathedral!
The church represents an impressive blend of Old World architecture, including Renaissance, Gothic Revival, and Spanish Colonial. Travel inside and view the elaborate woodwork, stained glass windows, and imposing sculptures. Stop in for a peaceful reprieve on your trip to New Orleans. Entrance to the church is always free!
New Orleans Packing List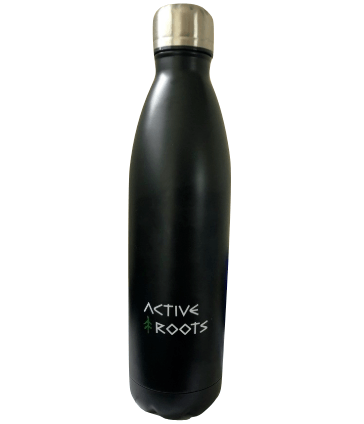 1. Travel Water Bottle: Always travel with a water bottle – it'll save you money and reduce your plastic footprint on our planet. AR bottle are tough, lightweight and maintain the temperature of your beverage – so you can enjoy a cold red bull, or a hot coffee, no matter where you are. For every AR bottle sold, we donate 10% to PlasticOceans.org – an initiative to reduce plastic in our oceans!
2. Microfibre Towel: It's always worth packing a proper towel. Hostel towels are scummy and take forever to dry. Microfibre towels dry quickly, are compact, lightweight and can be used as a blanket or yoga mat if need be.
3. Security Belt with Hidden Pocket: I never hit the road without my security belt. This is a regular looking belt with a concealed pocket on the inside – you can hide up to twenty notes inside and wear it through airport scanners without it setting them off. This is hands down the best way to hide your cash.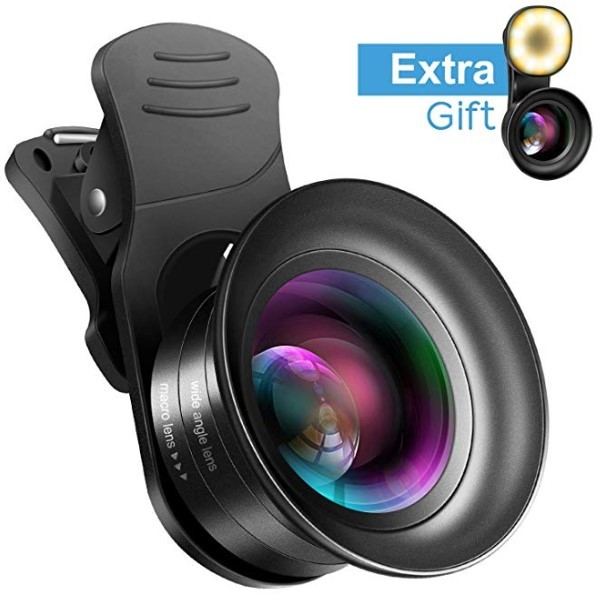 4. Camera or Cell Phone Camera Accessories: One thing's for sure – New Orleans is a picturesque destination! Get perfect shots from your phone using clip-on-lenses with wide-angle, close-up and optical zoom. With the ability to turn travel pictures from basic to professional, this universal lens sits neatly over any phone camera and comes with a durable, travel-friendly case!
5. International Adapter: New Orleans outlets accommodate typical US two-pronged plugs, but for electronics that have three prongs or if your plugs are of a different variety, you'll need an adapter. Save yourself the hassle of trying to track down an adapter at your destination and paying twice as much than planning ahead by buying one online.
Books to Read in New Orleans
The Backpacker Bible – Get it for free! Learn how to ditch your desk and travel the world on just $10 a day whilst building a life of long-term travel with an online income. To inspire and help the next generation of Broke Backpackers, you can now grab 'How to Travel the World on $10 a Day' for free! Get your copy here.
A Streetcar Named Desire – One of Tennessee Williams' tour-de-forces – a play that helped launch the careers of iconic actors like Marlon Brando. Concerns a vain diva and her even more vain brother-in-law.
A Confederacy of Dunces – One of the greatest American comedic novels of all time. A bumbling, oblivious, fat man stumbles through the French Quarter. Described as a modern Don Quixote.
New Orleans, Mon Amour – A collection of short stories by acclaimed columnist Andrei Codrescu. Covers all aspects of NOLA from the weird too dark to bittersweet.
Things to Do with Kids in New Orleans
If you're planning a family vacation, here a few fun things to do in New Orleans with kids!
One of the best places to go in New Orleans with kids is the Audubon Aquarium of the Americas! Conveniently located adjacent to the French Quarter on the Mississippi River, this is an attraction full of family fun.
The aquarium contains a unique range of exhibits that showcase the diverse marine and freshwater populations of the world. From the Amazon to the Gulf of Mexico to the Caribbean Reef to the Mississippi River!
You can touch a stingray, feed a parakeet, and marvel at the massive sharks and rays in the Gulf of Mexico Exhibit! The penguins and sea otters are also crowd favorites!
23. Enter the Magical World of Storyland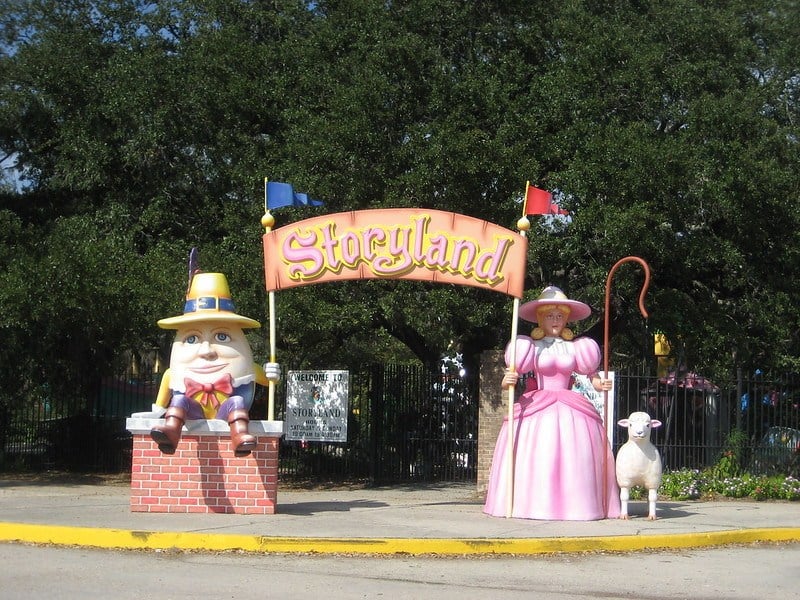 Storyland is an imaginative outdoor area with colorful sculptures and fun playscapes featuring classic fairytale characters. This park is geared towards young children who can climb and adventure through all their favorite nursery rhymes of childhood.
The playground contains 26 larger-than-life storybook sculptures that kids are free to climb and run around. It's sure to provide epic fun for your little ones. Youngsters can hop aboard Captain Hook's pirate ship, run-up up Jack & Jill's Hill and enter inside the mouth of a whale.
Other Things to Do in New Orleans
With a city as epic as New Orleans, you know the list of attractions is going to be long. Here are a few more things to add to your New Orleans to-do list!
24. Travel Around the City the Old Fashioned Way
New Orleans streetcars have been around since 1835. Although the city's bus system has replaced this formerly common mode of transportation, you can still hop aboard and enjoy a historic NOLA experience. Even better, the streetcars pass many popular New Orleans tourist attractions!
There are 5 operating streetcar lines that run through the city. A one-way ticket only costs USD $1.25, it's a total bargain. Make sure to have exact change when purchasing a ticket from the streetcar driver, as they do not issue change for tickets.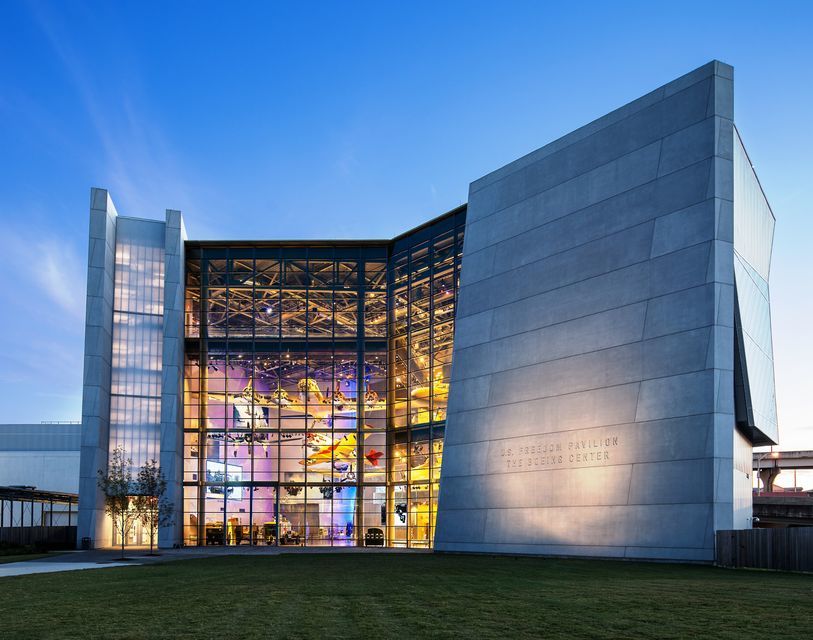 Learn about WWII from the American point of view at the National WWII Museum. View the large collection of WWII artifacts, including boats, documents, uniforms, weapons, and fully restored period aircraft.
Don't miss the climactic 4D theater experience, narrated by Tom Hanks and complete with simulated gunfire, moving seats, and artillery explosions. It will make you feel like you're experiencing WWII first hand.
The museum is massive and housed in 4 buildings. Each room is thoughtfully organized around a different central theme. You could spend the whole day here!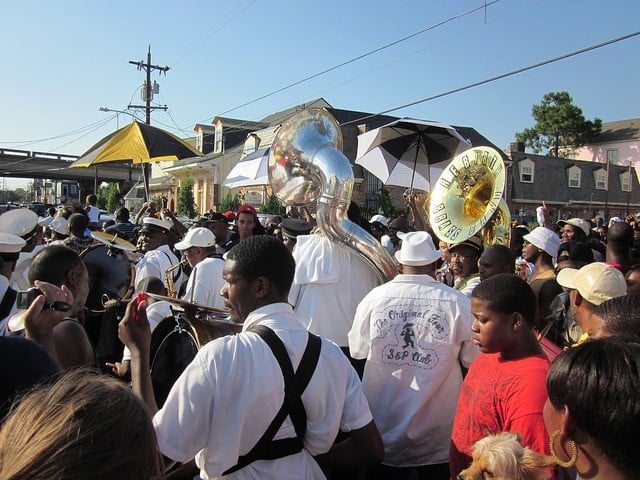 The Tremé neighborhood of New Orleans is the birthplace of New Orleans jazz and the center of the city's Creole culture.
Storyville was the red-light district of New Orleans, from 1897 to 1917. This is where jazz music flourished and where all the jazz greats came to play. Although this area was bulldozed, it will forever carry a tie to the city's jazz culture, and several sites are still visible in the Tremé neighborhood.
Today, the neighborhood houses several NOLA attractions including the St. Augustine Church, The Tomb of the Unknown Slave, and the only laundromat that made its way into the Rock and Roll Hall of Fame! Explore this fascinating neighborhood and discover the center of New Orleans jazz and Creole culture.
27. Take it Easy in the "Big Easy"
The Louis Armstrong Park pays tribute to native New Orleans trumpeter, vocalist and jazz legend, Louis Armstrong. The park is clean and well landscaped, complete with statues and water features. It's conveniently located within easy walking distance from the French Quarter.
Within the park's confines is the historic Congo Square. This is the area where slaves would gather on Sundays to sing, beat drums, and socialize with one another. The park is free to enter and open every day.
28. Try Out a Southern Style Escape Room
Escape My Room is an escape room themed and inspired by the Delaporte Manson, which was torn down in the early 1900s to make room for a hospital.
During this fully immersive experience, you'll have to solve a series of puzzles before time runs out! Choose from four different rooms: the smuggler's den, inventors attic, jazz parlor, or the mardi gras study. All rooms have a fun old-south vibe and are filled with clues and hints that guests must solve within the one-hour time limit.
29. Visit an Old Time Attraction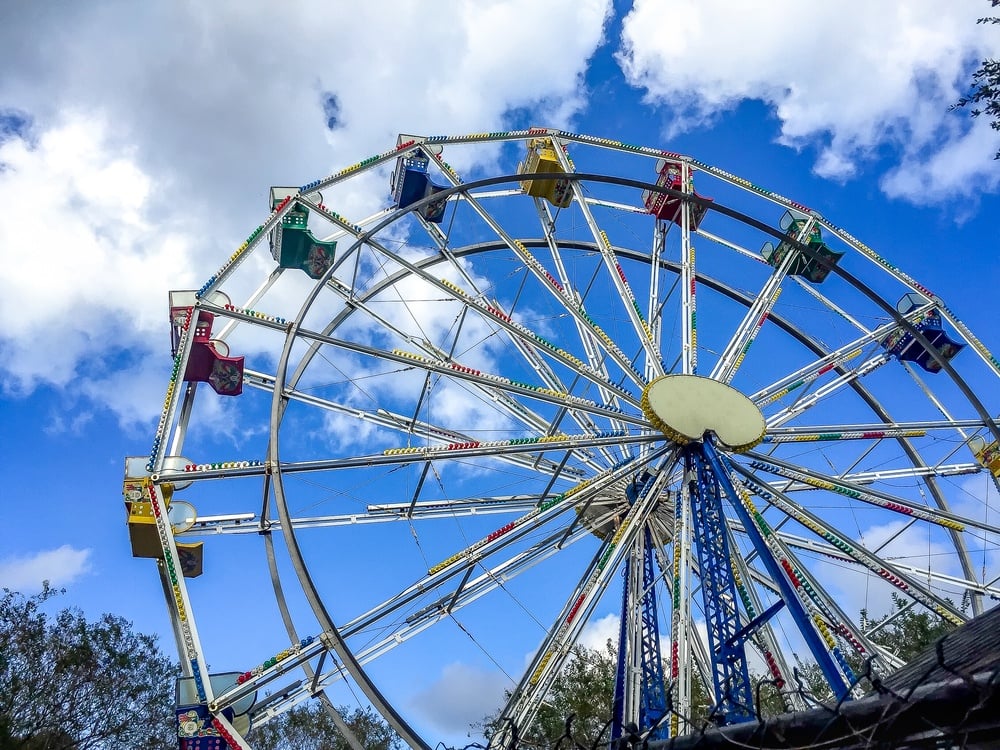 The Carousel Gardens Amusement Park is a seasonal amusement park open from June to November. It's located inside New Orleans' City Park and features old fashioned rides including a Ferris wheel and carousel.
Since 1906 this historic park has been charming visitors with its fun attractions. Ride the bumper cars, the scrambler, tilt-a-whirl, a 40-foot fun slide, and more! Admission into the park is USD $5.00, each individual ride is USD $4.00, or you can buy an unlimited wristband ride ticket for USD $18.00.
30. People Watch in Jackson Square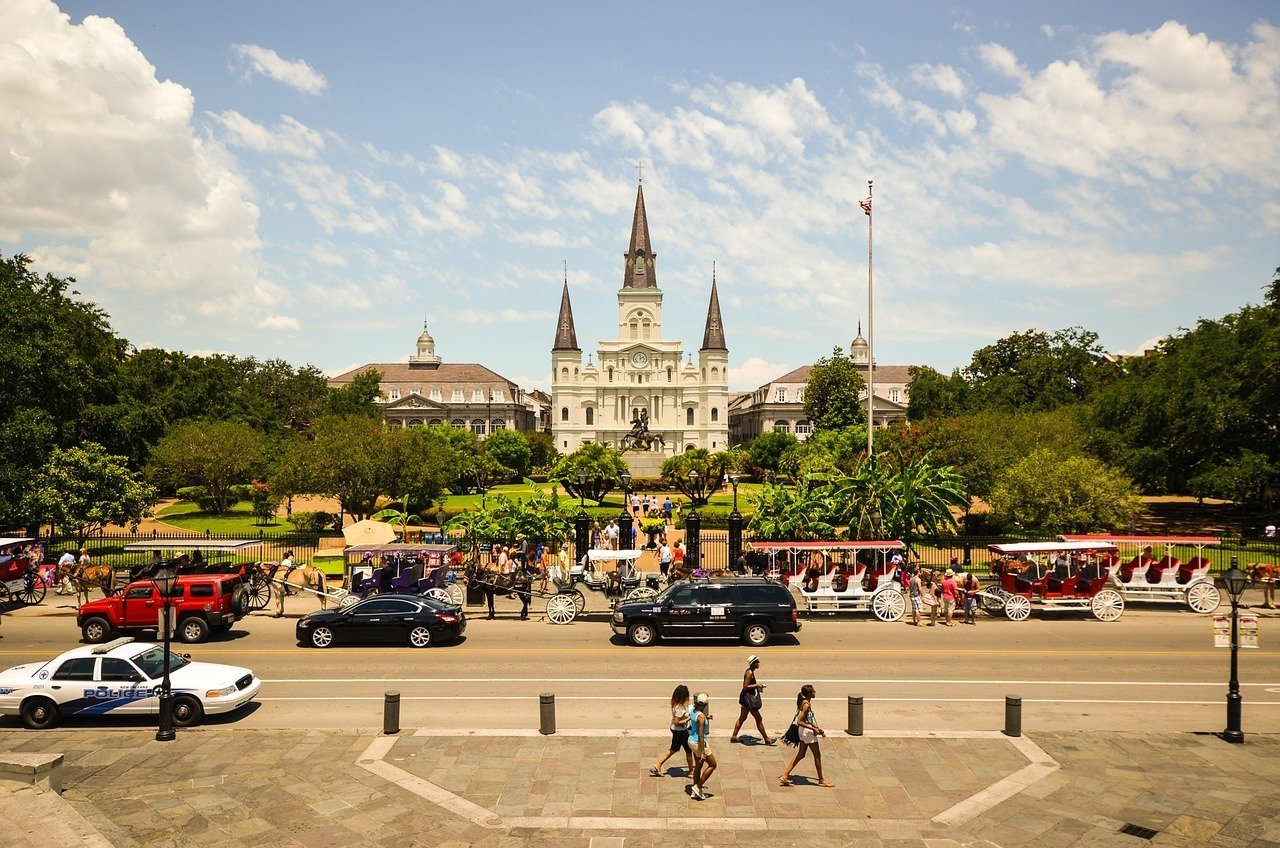 Jackson Square is one of New Orleans' most recognizable landmarks. Located right in the center of the French Quarter this lively hub has a lot going on.
An open-air artist community thrives in the square, who utilize it as their studio. Wander the square and see the artists at work for yourself, sit down and have your portrait drawn, or simply admire the work they have on display.
Street performers love to entertain in the square. From dancing to jazz music and magic shows, this square is prime for people watching!
31. Go Crazy at the Casino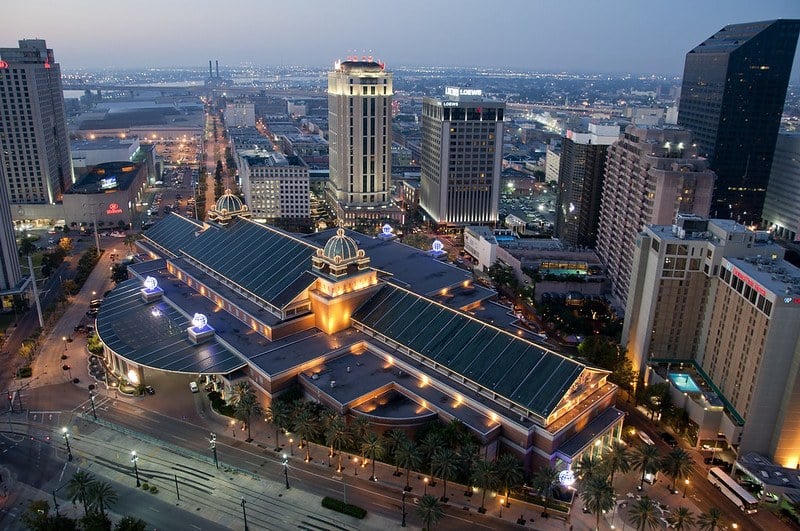 Harrah's New Orleans is a casino near the foot of Canal Street. It's known for being large and lavish and will provide you with hours of entertainment!
With approximately 2,100 slot machines, over 90 table games, a poker room, and several buffet-style restaurants, if you're looking for things to do in New Orleans on a rainy day, this is a great activity to enjoy. What's more the casino is open 24-hours a day, 7 days a week!
Day Trips From New Orleans
If you're looking for things to do near New Orleans, consider taking a day trip and exploring other areas of Louisiana. Here are two trips we highly recommend!
Built in 1803, The Whitney Plantation has over 260 years of difficult and fascinating history. It's one of the finest surviving examples of Spanish Creole architecture in Louisiana. Visit the plantation and look into the lives of owners and slaves in antebellum Louisiana.
See museum exhibits, artwork, restored buildings and hundreds of first-person slave narratives. Gain a unique perspective on the enslaved people who lived and worked here. This is the only plantation museum in Louisiana with a focus on slavery.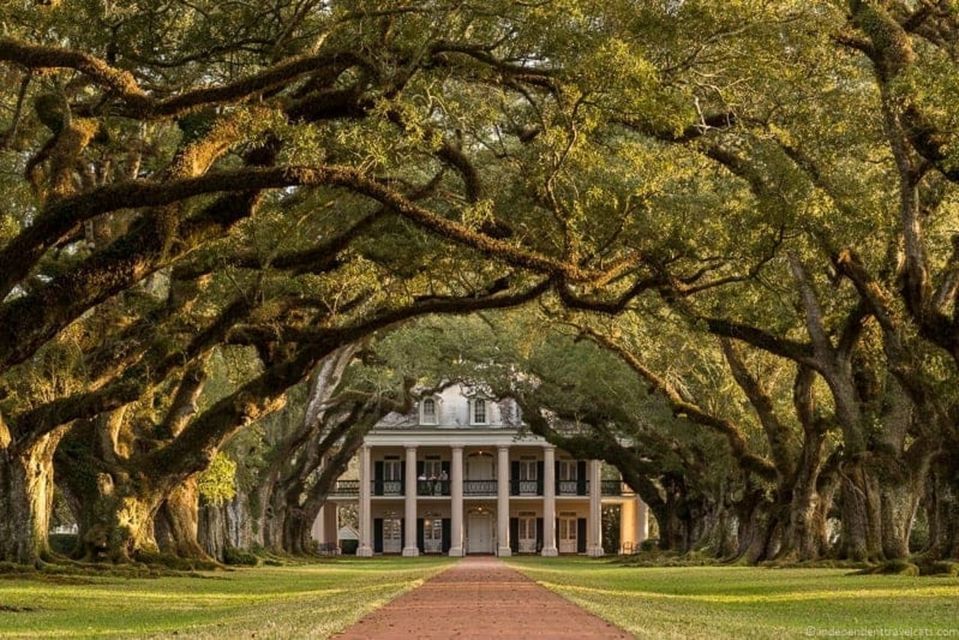 The Oak Alley Plantation dates back to 1837. Leading up to the plantation are 28 evenly spaced, towering oak trees that go from the river road to the plantation house. Located on the grounds of the plantation are also a restaurant, blacksmith shop, souvenir shop, and antique farm equipment.
The plantation is located on the banks of the Mississippi River. While you're here, hop aboard an airboat and tour Louisiana's swampland. You'll see gators, raccoons, wild pigs and more!
3 Day Itinerary in New Orleans
The following is a sample 3-day itinerary for a weekend in New Orleans. Most of the top destinations mentioned in this New Orleans travel guide are covered in this section.
Day 1 – French Quarter and the Bywater
On the first day of our New Orleans travel guide, we're going to get the touristy stuff out of the way. Today, we're going to knock out the French Quarter and then hit up Marigny/Bywater.
Let's start in the French Quarter. This is the oldest part of the city and, as the name suggests, was originally built by the French. Interestingly enough, most of the architecture here isn't even French – the Spanish are responsible for the majority of the Quarter's contemporary architecture.
A lot of New Orleans' must see sights are located in the French Quarter. Here you'll find the infamous Bourbon Street, Jackson Square, and St Louis Cathedral. You may spend a fair amount of time in Jackson just people watching.
There are a number of interesting sites around Jackson Square. The Cabildo is a museum dedicated to New Orleans' origins. Preservation Hall is one of the most significant Jazz landmarks in the city.
The New Orleans Pharmacy Museum offers some cool insight into the birth of the cocktail. Finally, you may enjoy dropping by M.S. Rau Antiques to do a little browsing (be sure to ask about the "secret room").
The French Quarter hosts many of the most famous restaurants in New Orleans as well. Brennan's, Muriel's, and Arnaud's are some of the most prolific in the city and are, consequently, pricey. Definitely pop into the Old Absinthe House for a Sazerac.
When you're ready to escape the masses, head toward Marigny and Bywater. These are two local neighborhoods in New Orleans and are more laid back.
If you walk up Royal Street, you'll get to pass the Lalaurie Mansion, Palace French Market, and Studio Be. Royal Street itself is pretty boutique so you'll get to window shop a lot.
If you can manage it, try making a detour to The Art Garage or Backstreet Cultural Museum.
End your day with a drink at Bacchanal Spirits or by watching a show at Music Box Village.
Day 2 – City Park and Lakeview
On the second day of this New Orleans travel guide, we head toward the lake for a day of relative peace and quiet. We'll be spending a lot of time in the park and exploring New Orleans' many grandiose cemeteries.
From the French Quarter, grab the Canal Street Streetcar and ride it until the end of the line. First, we'll shoot through the bustling city center. As we pass under the I-10 though, you'll see the first of the day's mausoleums on the right: St Louis Cemetery. Hop off if you like or push on.
After about 20 mins, you should reach the terminus of the streetcar. Directly in front of you should be two more of the city's most opulent cemeteries: Metairie and Greenwood. Wander around these necropolises if you like and admire the many lavish headstones and bronze ornaments. Just please be respectful of offerings and Holy Ground, if there are any.
Just up from the cemeteries is the enormous City Park, which is where we're heading next. This park is a great place to relax and watch the clouds go by.
You'll be walking under giant oaks and cypresses that are covered in one of New Orleans' most famous features: Spanish Moss or "Old Man Beard."
When the trees creak and the moss moves from the wind, it's one of the most serene moments you'll have in the city. If you visit the Singing Oak near the Art Museum, you'll have the chance to hear its own song made from a handful of custom wind chimes.
As mentioned before, City Park is enormous and you could easily spend the entire day here. The Art Museum and Besthoff Sculpture Garden certainly give you more to do but if you miss them, it's ok.
When you're ready, head back to the city center via Esplanade Avenue or head up towards Harrison. Harrison is the main street of the residential Lakeview neighborhood and has a number of good bars and restaurants.
Day 3 – St Charles to Audubon
We're going to end our New Orleans travel guide by visiting the southwestern portion of the city. Today, you can go as far as Audubon Park if you like. If you're not in the mood for another park, you can spend the day wandering around Magazine or Freret Streets and go shopping/eating to your heart's content.
Let's start at Lee Circle, which hosts two museums that we haven't seen yet: the National WWII Museum and the Ogden. In particular, the Ogden is worthwhile for its collection of historical Southern art, which often deals with complex issues like slavery and colonialism.
At this point, we're going to be using the St Charles Streetcar as our primary means of transport. We'll be passing through and near a lot of the best neighborhoods in New Orleans, so get ready to hop and hop off.
Freret Street and Magazine Street are located a couple of blocks on either side of St Charles Avenue and both are really nice to walk around. You could conceivably walk down one and return back via the other, though that would be a quite a bit of walking.
Very close by Lee Circle is Oretha Castle Haley Blvd (OCH), which is on the cusp of becoming the next big pedestrian street. If you wanted to see a bit of New Orleans before it's absorbed into the mass consumer matrix, drop by this little slice.
Further along, you'll eventually arrive in the Garden District. Here you'll find rows of grand oaks and even grander mansions from the old days. Lafayette Cemetery is also in this area and it is arguably the coolest in the city.
Audubon Park is the end of the line for us. As you leave the tram, you'll see Tulane to your right. The Newcomb Art Museum is on campus and it's open to the public as well.
Conclusion
We hope you enjoyed our guide to the 33 absolute best things to do in New Orleans. We've included all of the city's most famous attractions, as well as hidden gems.
Each individual NOLA attraction will allow you to admire the city from a unique perspective and take in the exuberant atmosphere of this charming southern city.
New Orleans has so much to offer tourists. From lively jazz music to haunted attractions, and everything in between, this fun-loving city has something for everyone!
Yay for transparency! Some of the links in this post are affiliate links. This means that if you book your accommodation, buy a book or sort your insurance, I'll earn a small commission at no extra cost to you. I only link to stuff I've actually used and never endorse crap. Your support helps me keep the site going.
---
Need More Inspiration?
Like this post? PIN ME!!!