Think New Orleans, and you are instantly transported to a city with incredible food, drink, and nightlife!
Having said that, New Orleans has so much more to offer. Famous for its prominent role in American History, from French colonialism to the American Civil War, history buffs will never be tired of learning about the city's rich past.
Walking through New Orleans is like stepping back in time. From the vibrant French Quarter to the Tremé neighborhood, for those looking for an authentic place to stay in New Orleans, you won't be short of options.
In fact, you've got too many options, as New Orleans boasts over 7,400 vacation rentals as of November 2021. So how on Earth do you choose? Well, we've narrowed down this whopping list to just 20 incredible vacation rentals in New Orleans that will suit any type of traveler.
Whether you're in the mood for something super luxurious or something basic with all the necessities, we've got you covered. So what are you waiting for, go take a look!
Quick Answer: These are the Top 4 Vacation Rentals in New Orleans
Overall Best Value Vacation Rentals in New Orleans
Overall Best Value Vacation Rentals in New Orleans
2 BR House on Lake Pontchartrain
> $$
> 8 Guests
> Beautiful lakefront home for a family getaway
> 20-minute drive to NOLA airport
Best Budget Vacation Rentals in New Orleans
Best Budget Vacation Rentals in New Orleans
Basic 1 BR Boho-Chic
> $
> 2 Guests
> Boho guest suite with private entrance
> Located in the Treme neighbourhood, great for jazz fans
Best Vacation Rentals for Couples in New Orleans
Best Vacation Rentals for Couples in New Orleans
Charming & Affordable 2-Bedroom Cottage
> $
> 4 Guests
> Charming basic cottage
> In the historic St Roch area
Best Vacation Rentals for Families in New Orleans
Best Vacation Rentals for Families in New Orleans
2 BR House on Lake Pontchartrain
> $$
> 8 Guests
> Beautiful lakefront home for a family getaway
> 20-minute drive to NOLA airport
Over-the-Top Luxury Vacation Rentals in New Orleans
Over-the-Top Luxury Vacation Rentals in New Orleans
Fancy a Private Victorian Ballroom
> $$$$
> 10 Guests
> Designed by renowned architect, Henry Howard
> Luxurious 5000 sq. feet property, including a private ballroom and huge spaces to entertain
Types of Accommodation in New Orleans
Before we get into our picks, let's quickly break down the general types of accommodation you'd find in New Orleans, so that it is easier for you to set your budget and get a better idea of what suits your vacay plans.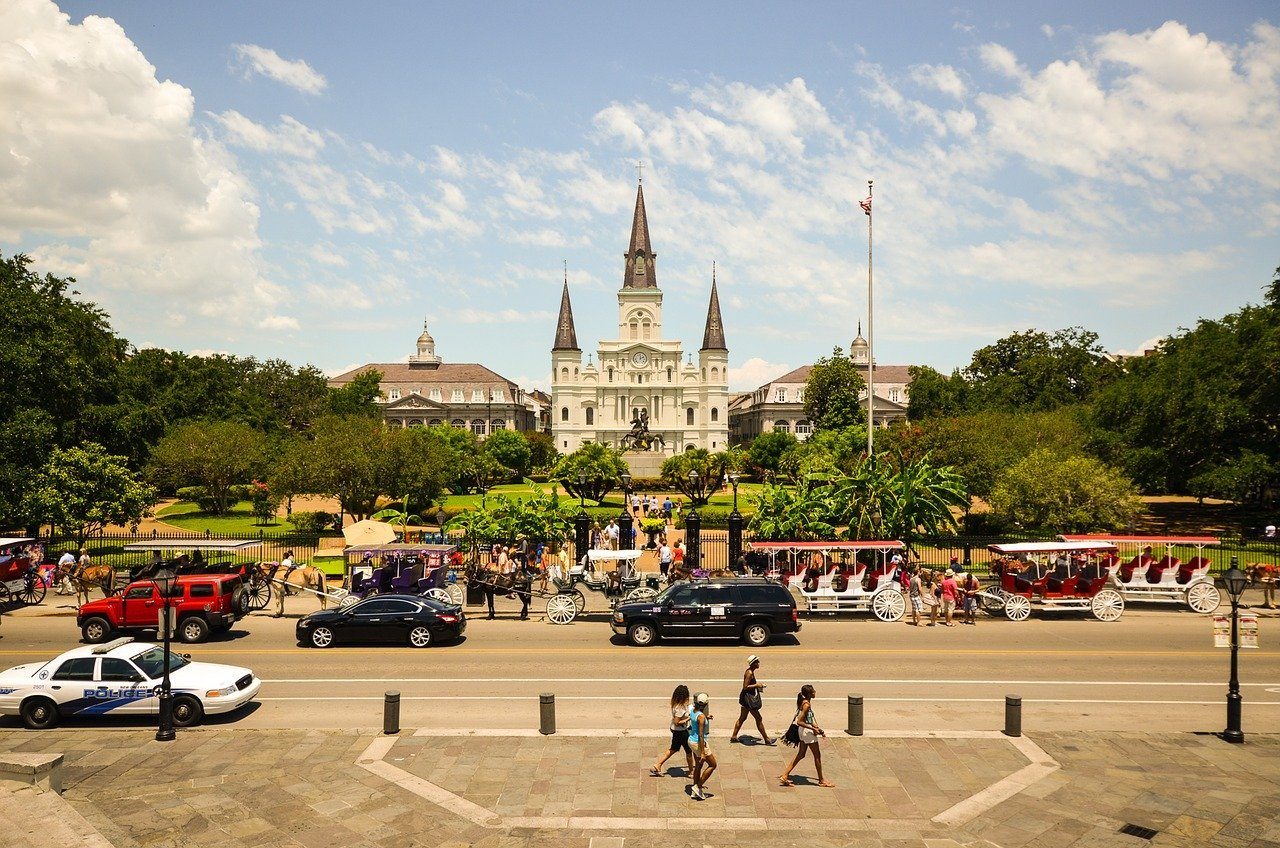 Units and Apartments
With tourism being a huge contributor to New Orleans' economy, you'll find more people turning their second properties into temporary rentals. This is a huge plus since it significantly increases the variety of vacation rentals available.
While sizes and prices vary according to the proximity to tourist hot spots, New Orleans has no shortage of holiday homes that ooze charm without compromising on amenities.
The Mid-city district is a particularly great area if you're looking to rent a self-catering holiday home in New Orleans that is close to multiple tourist attractions.
Whether your style is a more modern, industrial-ish apartment, or boho with a balcony, you'll definitely find that in a New Orleans apartment rental.
Cottages and Villas
If the New Orleans party scene isn't your cup of tea and you're the quiet type of traveler who loves old-school cottages that radiate warmth and a certain 'je ne sais quoi', you'll feel at home in one of the stunning cottages in New Orleans. The Lower Garden District and the Marigny/Bywater area have a ton of cosy cottages and villa rentals to choose from.
Many villas also feature pools and have been kitted out with high-end appliances and gadgets so that they aren't lacking in modern comforts. These villas are especially great for larger groups and families.
For couples looking for smaller and more romantic cottages, there are several beautiful luxury vacation rentals across New Orleans that are sure to become the center of some lifelong memories to cherish.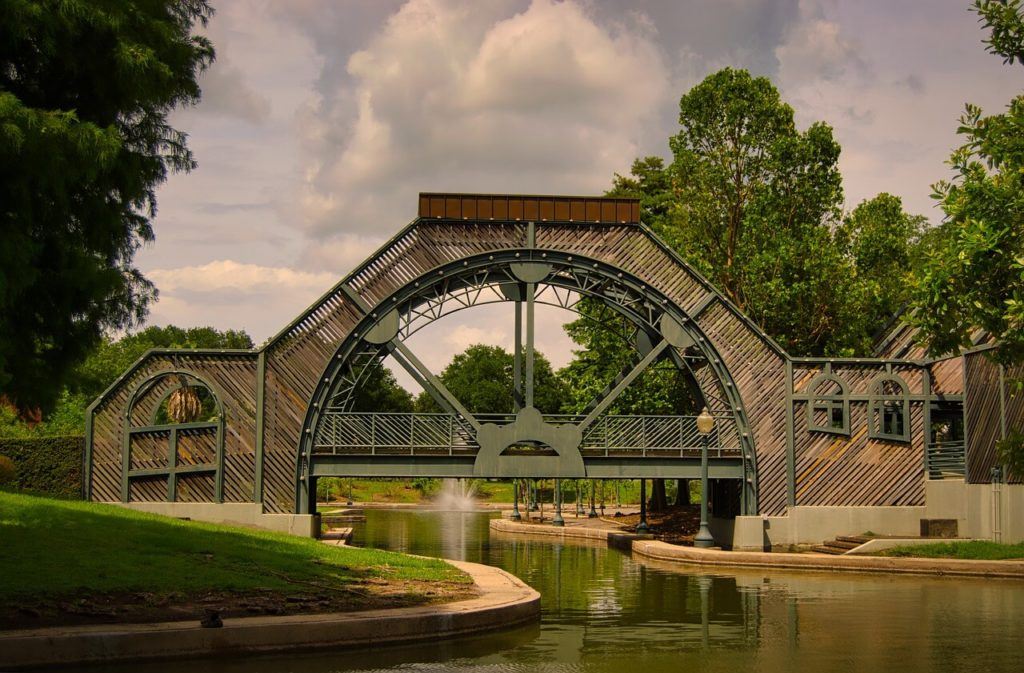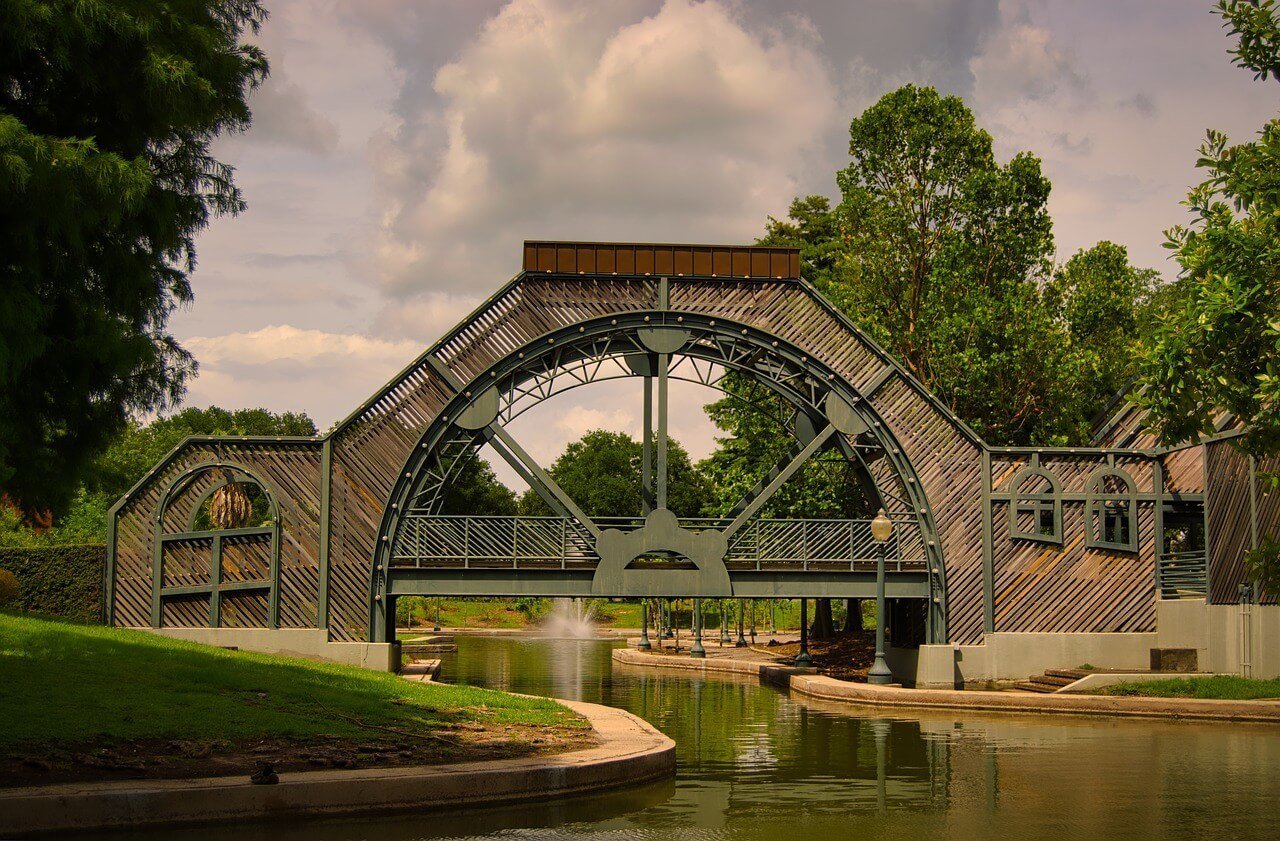 Over the Top Luxury Vacation Rentals
If self-catering isn't your thing and your idea of a holiday definitely includes being pampered with personalised service and a private chef, New Orleans has a plethora of over-the-top luxury vacation rentals to whet your appetite. While these rentals obviously cost significantly more than other options on the list, they are so worth the big bucks you'll pay.
The per-night rate for a group in these properties varies across the city, but the general rule of thumb is to expect to pay around 800 USD (per night) as a decent budget (at the time of writing).
We've mentioned a few that caught our eye in the list below.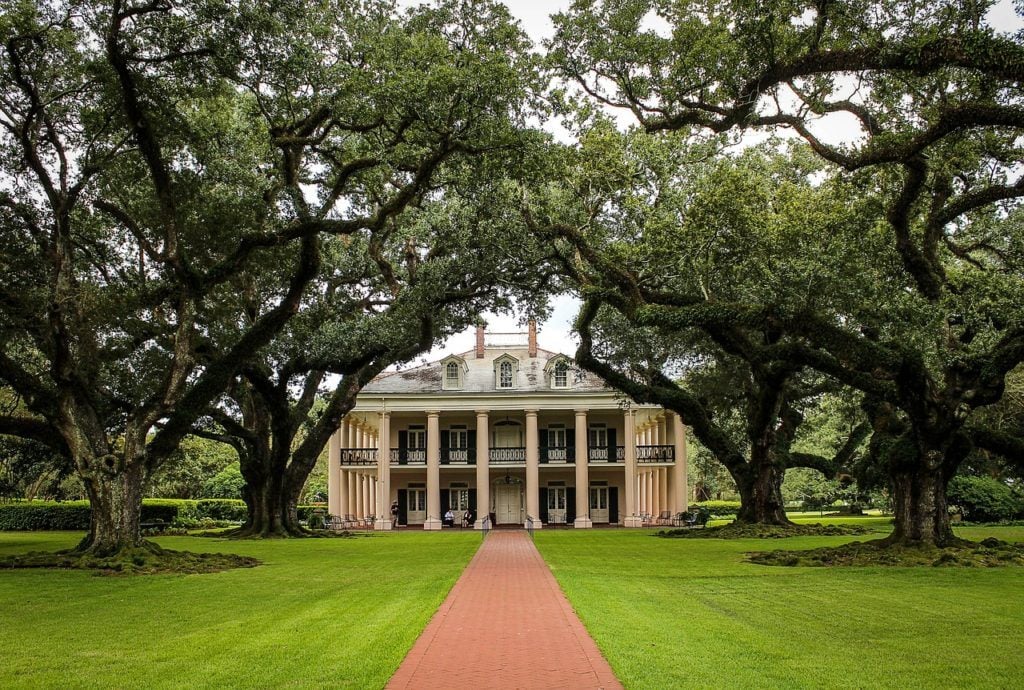 Travel with peace of mind. Travel WITH a security belt.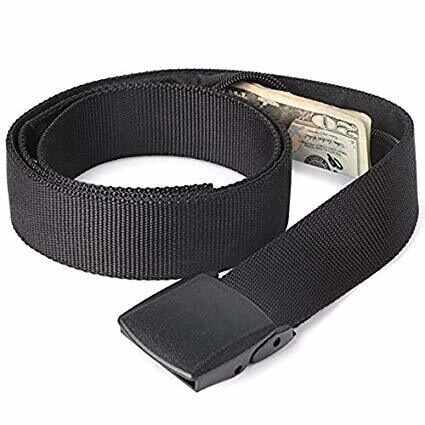 Custom-designed BY the Broke Backpacker FOR broke backpacking, the Active Roots Security Belt will keep your valuables safe no matter where you go.
It looks exactly like a normal belt except for a SECRET interior pocket perfectly designed to hide a wad of cash or a passport copy. Never get caught with your pants down again! (Unless you want to.)
Check on Amazon
The Top 20 Vacation Rentals in New Orleans
Okay, time to introduce you to our top 20 vacation rentals in New Orleans. Remember, there are over 7,400 rentals in the city, so these are the very best of the best. Drumroll, please…let's go!
Most Luxurious Rental in New Orleans for Groups | 6-Bed Home W/ Pool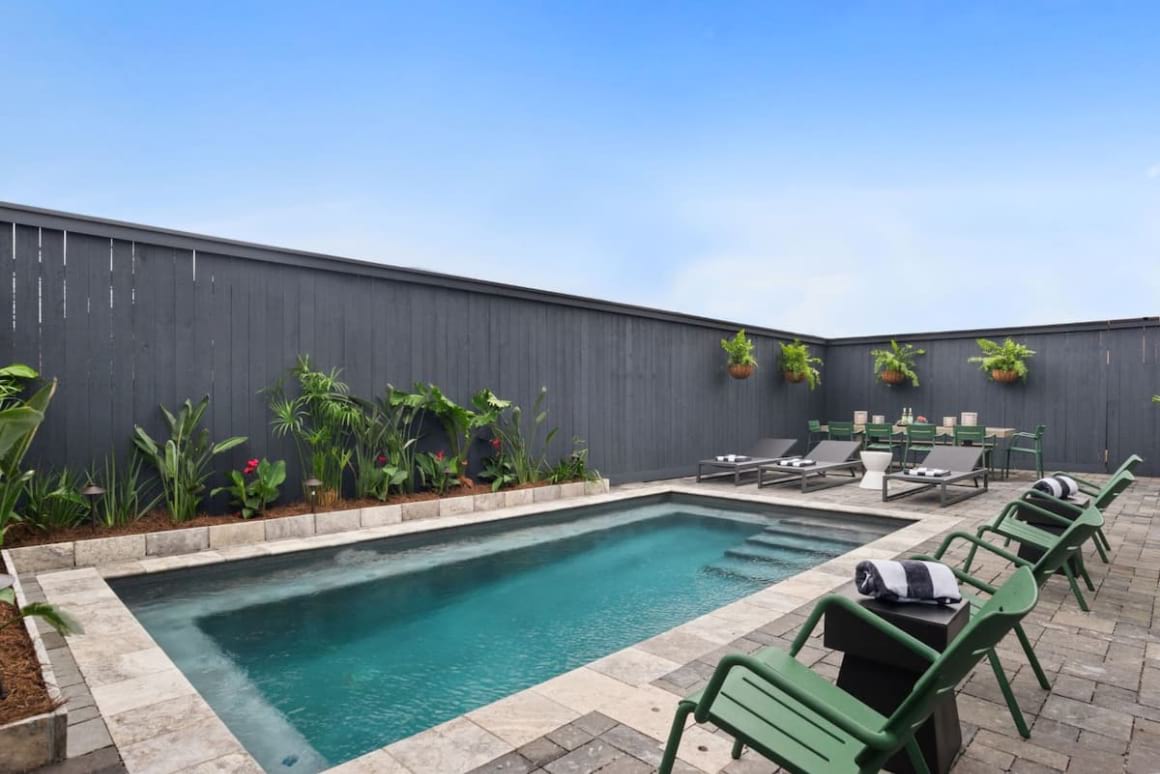 $$$
Exquisite designer Heirloom home
16 Guests
Located in the centre of the city
For those traveling to New Orleans looking for the most epic party pad, this aesthetically designed heirloom home is your number one option! Kitted out with a pool, a fully-equipped and spacious kitchen, and plenty of outdoor seating, this is the ideal self-catering holiday rental for a group.
This property can sleep up to 16 guests in its six bedrooms and comes with 9 bathrooms, so you won't be knocking on the bathroom door in the morning asking your bestie to hurry up in the shower.
This home is close to numerous art galleries, museums, boutiques, and brilliant restaurants, but not only that, but it IS an art gallery. The walls have been decorated with custom murals painted by local artists. Talk about a unique experience!
Instagrammable Vacation Rental in New Orleans | 4-Bed Villa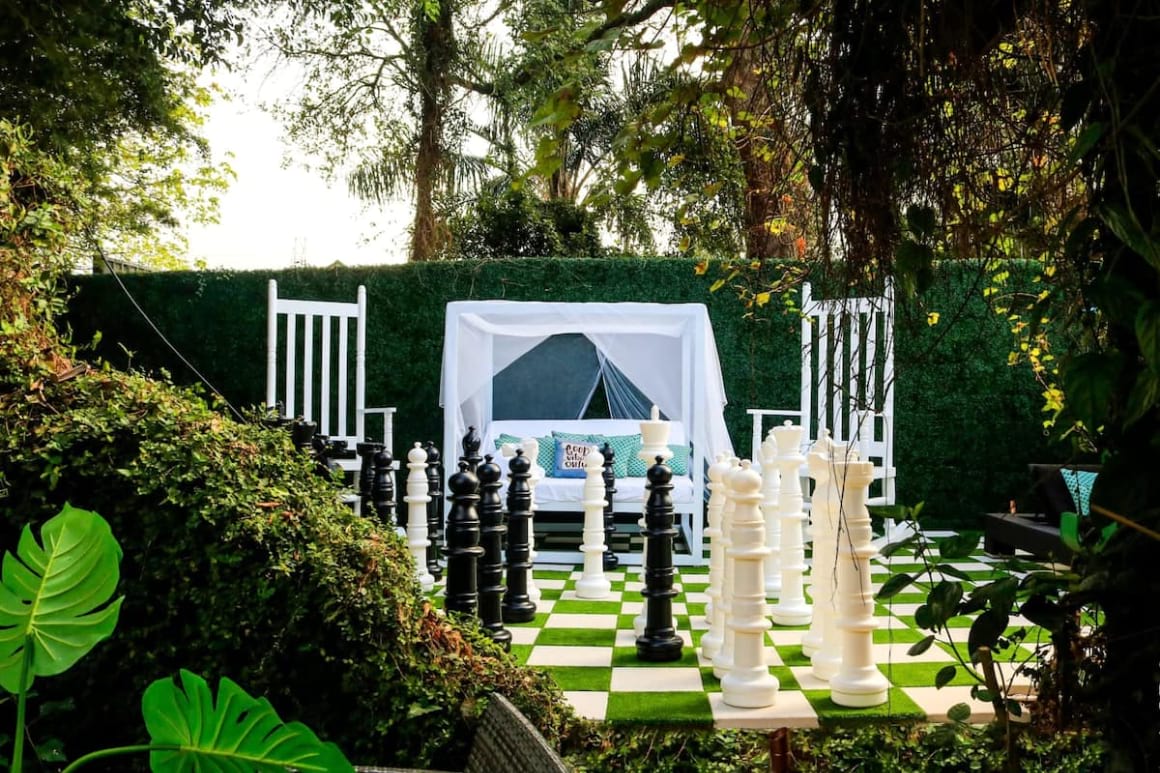 $$
Instagrammable interiors and exteriors
8 Guests
In the vicinity of the popular French Quarter
This four-bedroom villa features seriously stunning interiors and exteriors that will make for some drool-worthy backgrounds for your social media posts!
This awesome villa has a heated pool, Jacuzzi, spa, gym, and even a private butler…seriously! No one will blame you if you never leave the property.
Located in the French Quarter, you'll be close to all the hot attractions in the area for a long day of exploring, but still have a cute and cozy double bed to come back to.
We particularly love the "Stop and Smell the Roses" neon sign and the pool cabanas. The grounds of this property, including the giant chessboard, are sure to make for some striking Instagram-able moments.
Romantic Vacation Rental in New Orleans for Couples | 2-Bed Cottage
4 Guests
In the historic St Roch area
Situated in a quiet, oak tree-lined street, this quiet home is an old-school cottage that feels super cozy and warm. With a retro claw foot tub and the original pine wood floors, doors, and windows, this dreamy holiday rental in New Orleans is sure to bring out the romantic in you.
Not only that but it is equipped with everything you need. There are two good-sized bedrooms, a fully stocked kitchen, and a spacious living area.
Being pet friendly is an added plus if you have a fur baby you want to bring along!
Best Holiday Rental in New Orleans for Nightlife | 5-Bed Apartment
$$
1st floor apartment, perfect for entertaining
10 Guests
Located in the Esplanade Ridge area
If you're in New Orleans to party the night away, this apartment is for you!
Affordably luxurious (well, split between ten it is!), this holiday rental is close to hotspots like Bourbon Street, City Park, Frenchman Street, and the French Quarter.
It comes with five spacious bedrooms, two of which are master suites, and four bathrooms with top-of-the-range amenities like an oversized shower spa and claw-foot tub. There are also two kitchens and giant living space for entertaining.
The apartment is on the second level of the house, and it features a hassle-free, independent entrance. This is suitable for a larger group and is a great base for exploring NOLA's vibrant nightlife.
Is This the Best Travel Backpack EVER???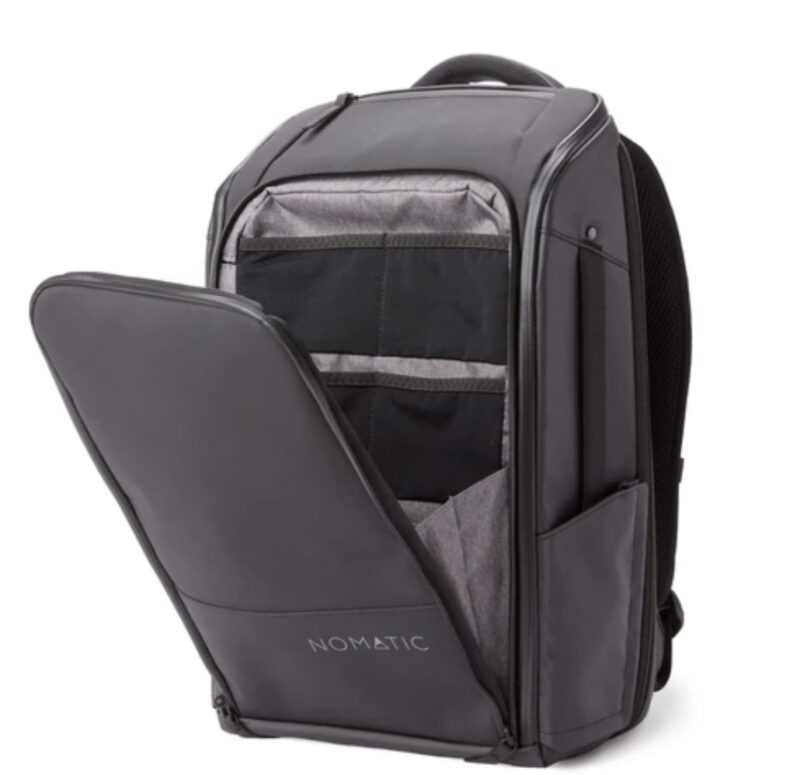 $$
Spacious, great for families and small groups
6 Guests
Prime location, walking distance to tourist hotspots
Looking for a spacious vacation rental in New Orleans that hits the sweet spot between a self-catering rental and a hotel? Look no further than this quaint aparthotel.
There are several apartments to rent in this gorgeously renovated historic building, each of which comes with basic amenities such as a fully-equipped kitchen, private bathroom, and comfortable bed with bed linen provided.
There are also shared amenities such as an outdoor hot tub, a fitness centre, and if you feel like socializing, there is complimentary wine and appetizers served every Tuesday along with live music.
The location of this rental is ideal, with many New Orleans attractions only a short walk away.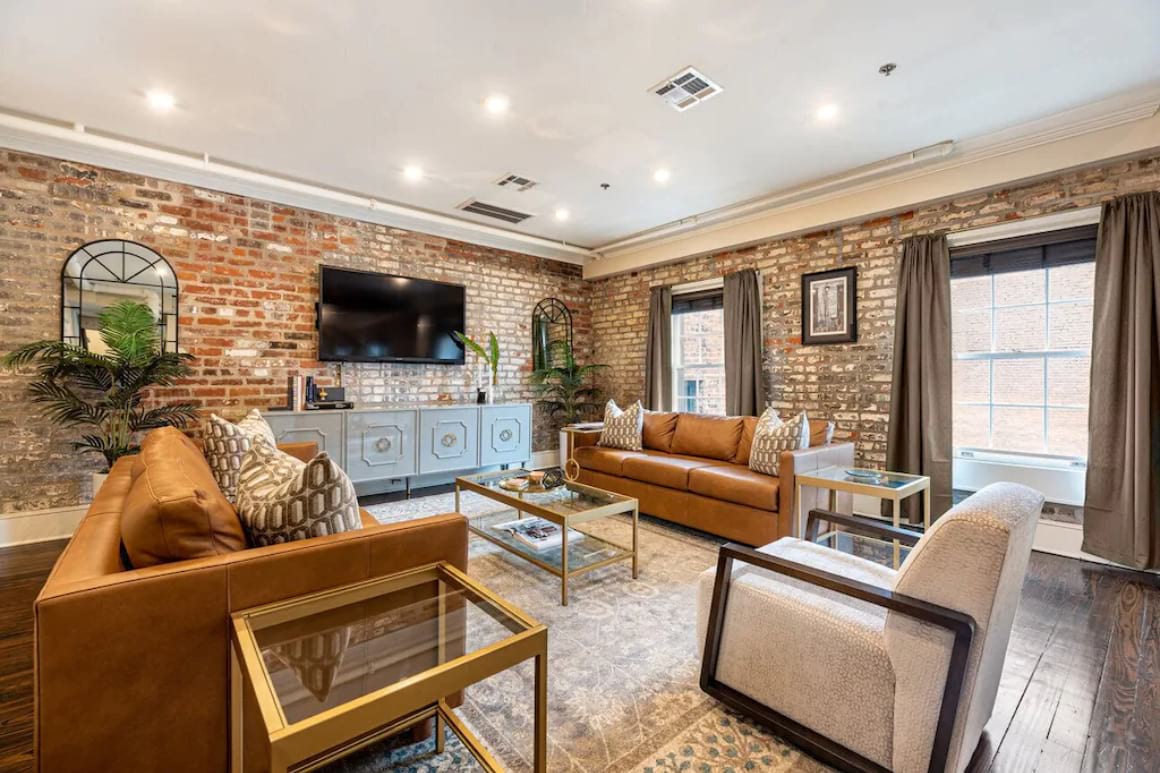 $$
Charming condo with all modern comforts
4 Guests
Walking distance to iconic landmarks
While this charming two-bedroom apartment has a certain old-world luxury feel to it, it is by no means lacking in all the creature comforts one expects on a vacation!
With king beds in both bedrooms and a fully-stocked kitchen, luxury linen, and tastefully chosen décor elements, this is the perfect base for your New Orleans vacation.
Enjoy the apartment's amazing location by walking to famous monuments in the area such as Jackson Square, or dine at one of the best restaurants nearby. Tableau, Brennan's, Doris Metropolitan, and the Creole Cookery come highly recommended.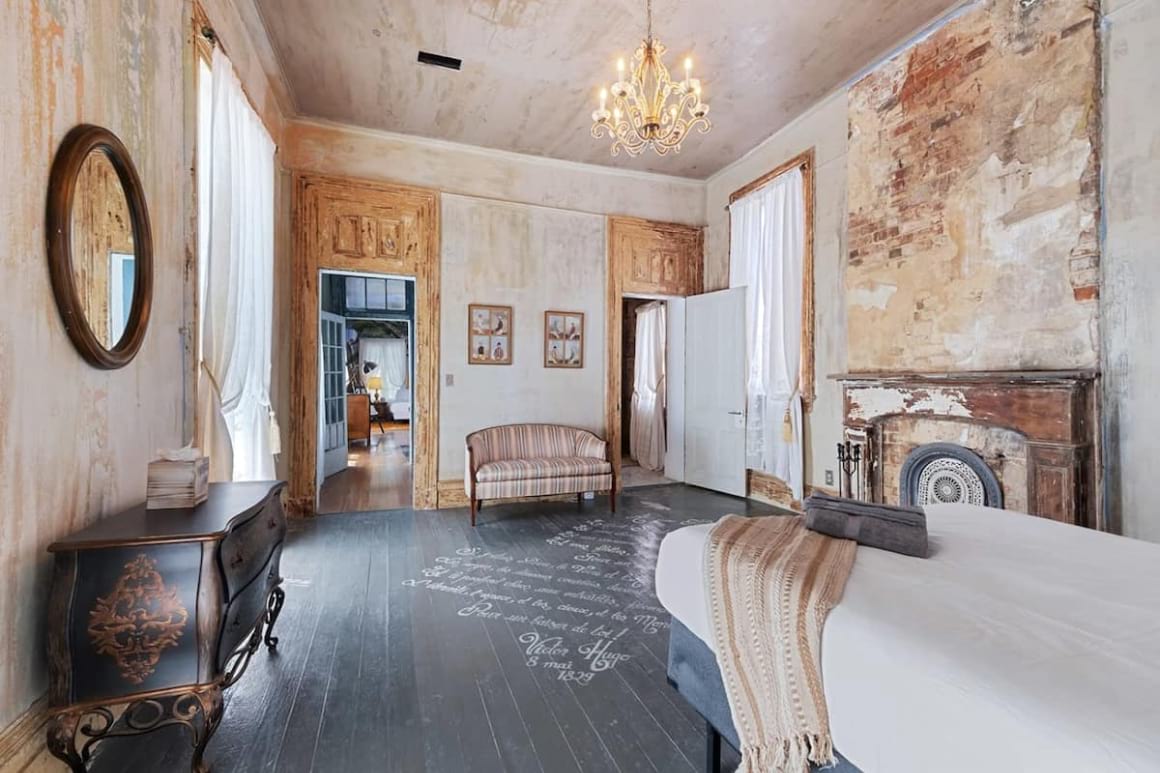 $$$$
Designed by renowned architect, Henry Howard
10 Guests
Luxurious 5000 sq. feet property, including a private ballroom
If you're pulling out all the stops for your New Orleans vacation, and if over-the-top luxury is what your soul wants, this luxurious holiday home is calling your name.
Lovingly restored to its splendour, this French-inspired vacation rental in New Orleans is in a league of its own. Think high ceilings, gleaming wooden floors, vintage clawfoot tubs, a personal Victorian ballroom, and a big outdoor pool! This holiday rental is perfect for the history buff and for the inner king/queen in you.
This remarkable historic mansion comes with 5 bedrooms and 6 bathrooms, and can comfortably sleep up to 10 guests. There are even his and her roll-top bathtubs, so you and your partner can have your own tubs and still enjoy a conversation with one another.
Budget Vacation Rental in New Orleans for Couples | 1-Bed Boho-Chic
$
Boho guest suite with private entrance
2 Guests
Located in the Treme neighbourhood, great for jazz fans
If you're travelling on a strict budget but want the most bang for your buck, it doesn't get better than this cosy and relaxed vacation rental in Treme, New Orleans.
With all the history right on your doorstep, this holiday home is a 15-minute walk away from the French Quarter. If you are a fan of jazz and want to experience the culture of New Orleans first-hand, this vacation rental is in the area where most jazz musicians started their careers!
Though it's a small vacation rental in New Orleans with one bedroom and one bathroom, it still comes compact with all the amenities you will need such as a fully-stocked kitchen and the most spacious shower we've ever seen.
Best Vacation Rental in New Orleans for Groups | Historic 5 BR House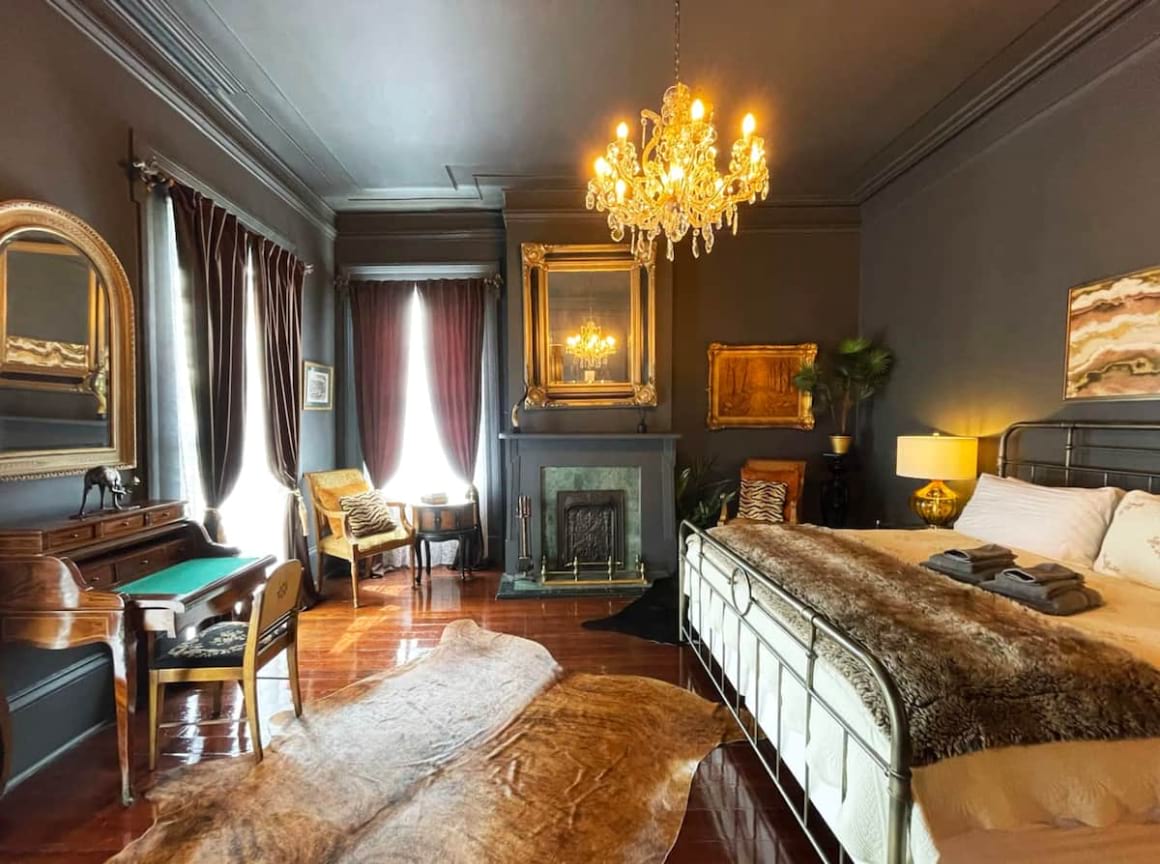 $$$
170-year-old mansion with artistic details
10 Guests
Close to French Quarter
This 170-year-old mansion is a stone's throw to the French Quarter, tucked away on a quiet street that makes a good night's sleep possible after all the partying.
With striking, 12-feet high ceilings, glamorous chandeliers, hardwood floors, and stunning murals, to say that this vacation rental is beautiful would be such an understatement. The backyard of this holiday home in New Orleans features a new heated pool, a Jacuzzi, and a grill if you're feeling inspired to throw a barbeque party.
Capable of sleeping up to 10 guests in its 5 bedrooms and 6 bathrooms, there is more than enough space for you and your party to spread out and enjoy some homely comforts, while still having a huge communal area to entertain in.
Best Mid-City Vacation Rental in New Orleans | 4-Bed House
$
Clean, affordable mid-city rental
8 Guests
Located 3 blocks away from the Canal St. Streetcar line
This vacation rental is the perfect base for your New Orleans Mardi Gras holiday since it is only eight blocks away from the Mardi Gras Endymion parade route. This means that you get to be close to the centre of all the adventure without losing out on your good night's sleep.
This property comfortably sleeps eight with queen beds in three bedrooms and a double bed in the fourth bedroom. Located close to several restaurants and bars, you'll also be close to Biscuits & Buns on Banks, a popular spot for brunch.
Waterfront Vacation Rental in New Orleans for Families | 2-BR House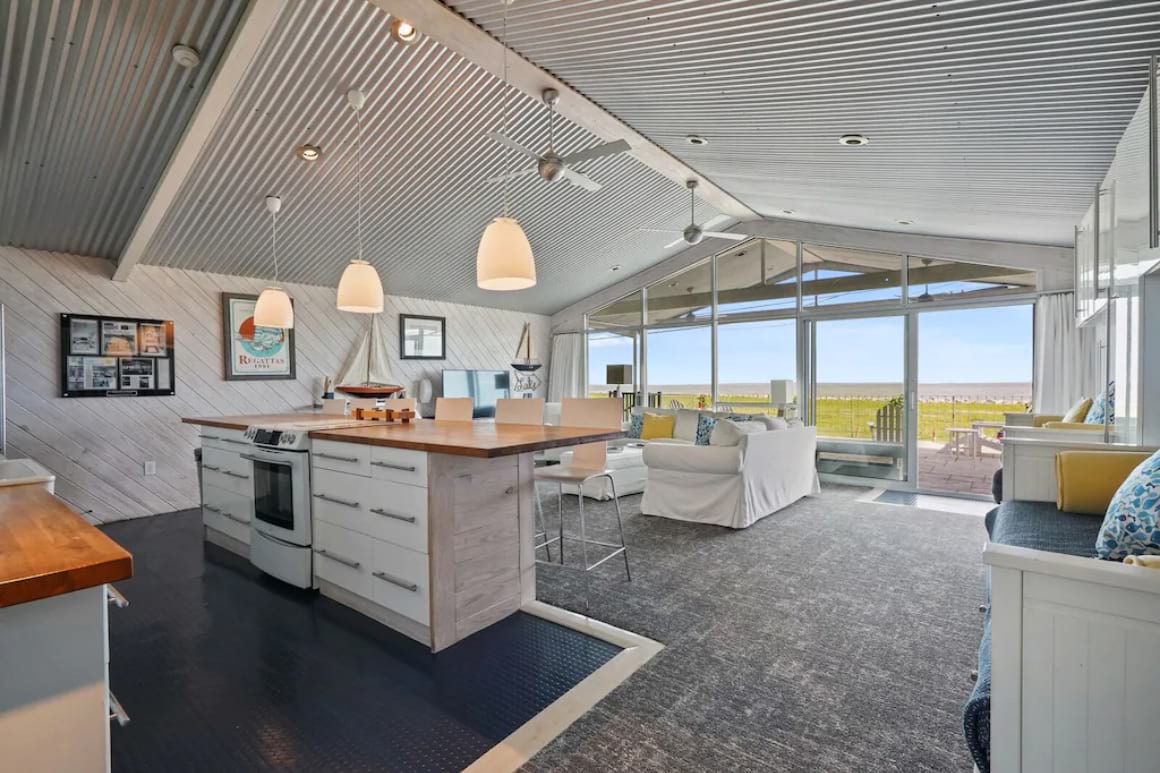 $$
Beautiful lakefront home for a family getaway
8 Guests
20-minute drive to NOLA airport
With its open-plan living arrangement, this vacation rental is perfect for families. Located on the banks of Lake Pontchartrain, you will be witness to some breath-taking sunrises and sunsets.
If you want to be away from the hustle and bustle of New Orleans and yet want the option to be able to easily drive to the city if needed, this holiday home is a great choice.
It has plenty of space for everyone with its 2 bedrooms and 2 bathrooms, as well as the large, open-plan kitchen. You can also go fishing from the pier below or watch the sailboat races every Wednesday evening. This is a boathouse that will charm everyone in the family for sure.
Best Vacation Rental in New Orleans w/ Hot Tub | Modern Central Apt
$$
Private hot tub on terrace overlooking the city
6 Guests
Located in Downtown New Orleans
This vacation rental scores brownie points on several points: First, it is located in Downtown NOLA, which places it in close proximity to several attractions, with Bourbon Street being less than a kilometre away.
Secondly, the apartment itself is spacious, with enough room for everyone to spread out in. The best feature, though, is your own hot tub on your private terrace with city views! What better way to destress after an entire day of exploring than to sip some wine and take in the view?
There are many more reasons to love this place, including the outdoor pool, stylish and contemporary interiors and 24-hour front desk to help you with all your needs.
Vacation Rental in New Orleans for Large Groups | Bayou Oaks Plantation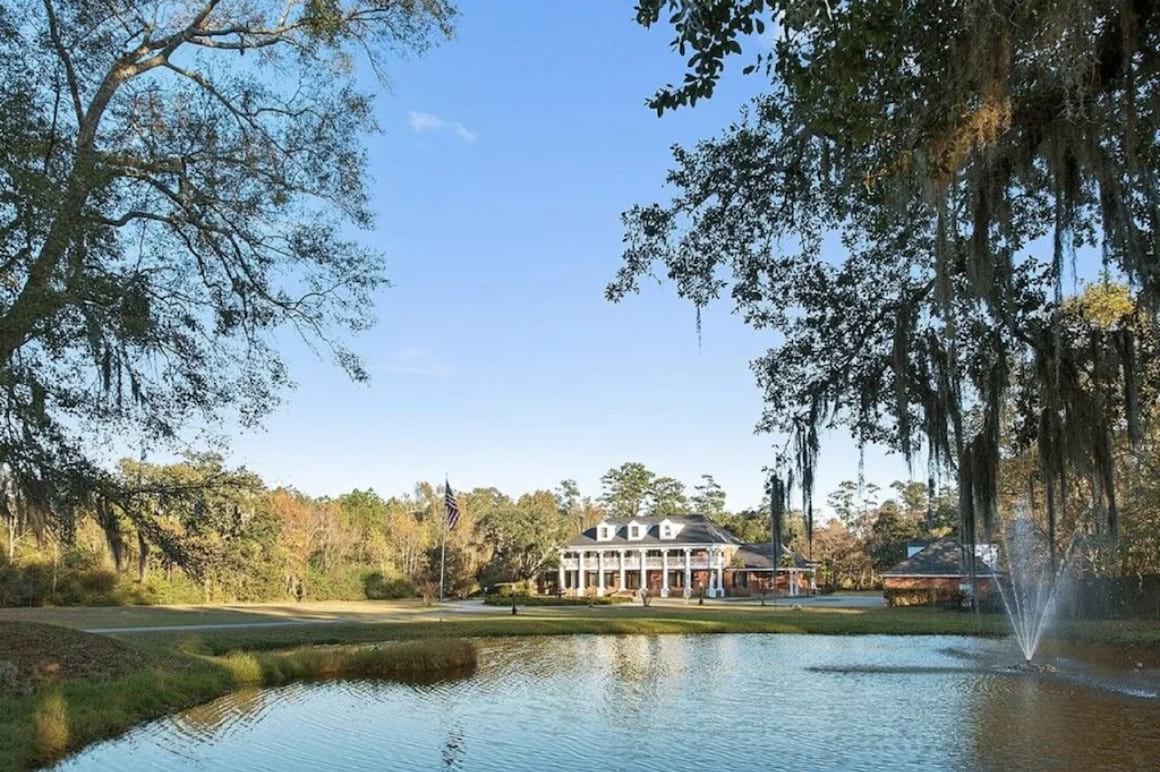 $$$
Impressive private plantation mansion
22 Guests
Located on the famous Bayou Liberty
If you are travelling in a large group, especially to attend an event or a family get-together, the Bayou Oaks Plantation is a beautiful choice.
The owners also allow pre-approved small events and can host up to a maximum of 24 guests. There are five bedrooms and seven bathrooms, so there is no need for arguments over who gets to use the bathroom first.
The estate itself is massive and has approximately 11-acre grounds to explore, including a boat dock that can be used for fishing.
The French Quarter is a half an hour drive away, which makes this vacation rental the perfect place for some quiet family time.
Vacation Rental in New Orleans for Nightlife | Historic Townhouse
$$
Modern townhouse with luxury amenities
8 Guests
Located very close to the French Quarter
A modern townhouse, that comfortably sleeps eight in its four bedrooms, this vacation rental in New Orleans is great for friends traveling to NOLA for a getaway.
Located close to Bourbon Street, this vacation house is the perfect base for you to explore all the nightlife options that NOLA has to offer.
With a shared pool, you can also choose to kick back and relax after a crazy night on the town and nurse those hangovers. The backyard also offers a charcoal BBQ if you are in the mood to grill up some food.
Best Penthouse Vacation Rental in New Orleans | 2-Bed, Downtown NOLA
$$
Tastefully decorated penthouse for 2 couples
4 Guests
Located in Downtown New Orleans
With multiple tourist attractions close to this penthouse apartment, it is easy to walk to your destination. Bourbon Street is 800 metres away, as is the World War II Museum.
The kitchen comes equipped with all modern features like a dishwasher and a coffee machine. The penthouse comes with access to a beautiful sun terrace and fitness centre.
For those on a road trip, you'll be pleased to know there are free laundry facilities including a dryer, and there are public parking facilities nearby.
Vacation Rental in New Orleans' Arts District | Converted Car Shop
$$$
Live in a slice of NOLA history
4 Guests
Located in the famous Arts'-Warehouse District
Are you the kind of traveler who loves to experience the history of a place? This unique vacation rental used to be a used car shop but is now a luxury home.
Tastefully renovated into several apartments, all the vacation rentals in this building boast huge windows, reclaimed wooden floors, and exposed brick walls. All apartments come with a fully-equipped kitchen, spacious living and dining area, and a private bathroom with a shower.
The city views from the shared terrace are gorgeous, and if you're lucky, you might just get to witness a stunning NOLA sunset.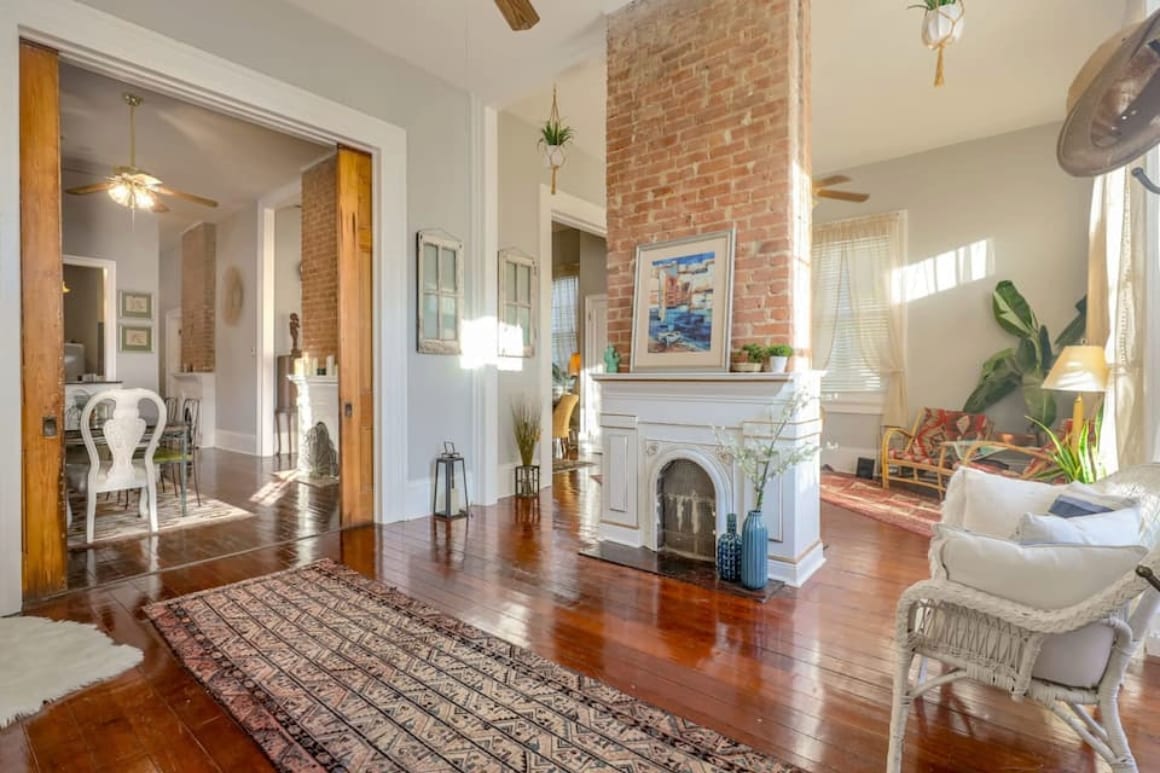 $
5 BR stunning Bohemian home
10 Guests
Located in the heart of NOLA's Central City
If you are travelling in a group, this vacation rental is super economical for the facilities it offers. Relax in the private backyard pool with some wine, or grill some food, while enjoying a beer – the choice is yours.
With the French Quarter only a 12-minute drive away, this holiday home is perfect for a large family who wants to take in the sights and also has a spacious enough place to relax after a long day.
The apartment gets a lot of natural light and has been kitted out with plush contemporary furnishings. While it has aesthetically pleasing décor, it also has a heated outdoor pool, five bedrooms and five bathrooms, perfect for 10 guests to enjoy a relaxing vacation together.
Best Historic Vacation Rental in New Orleans | NOLA's Big Blue House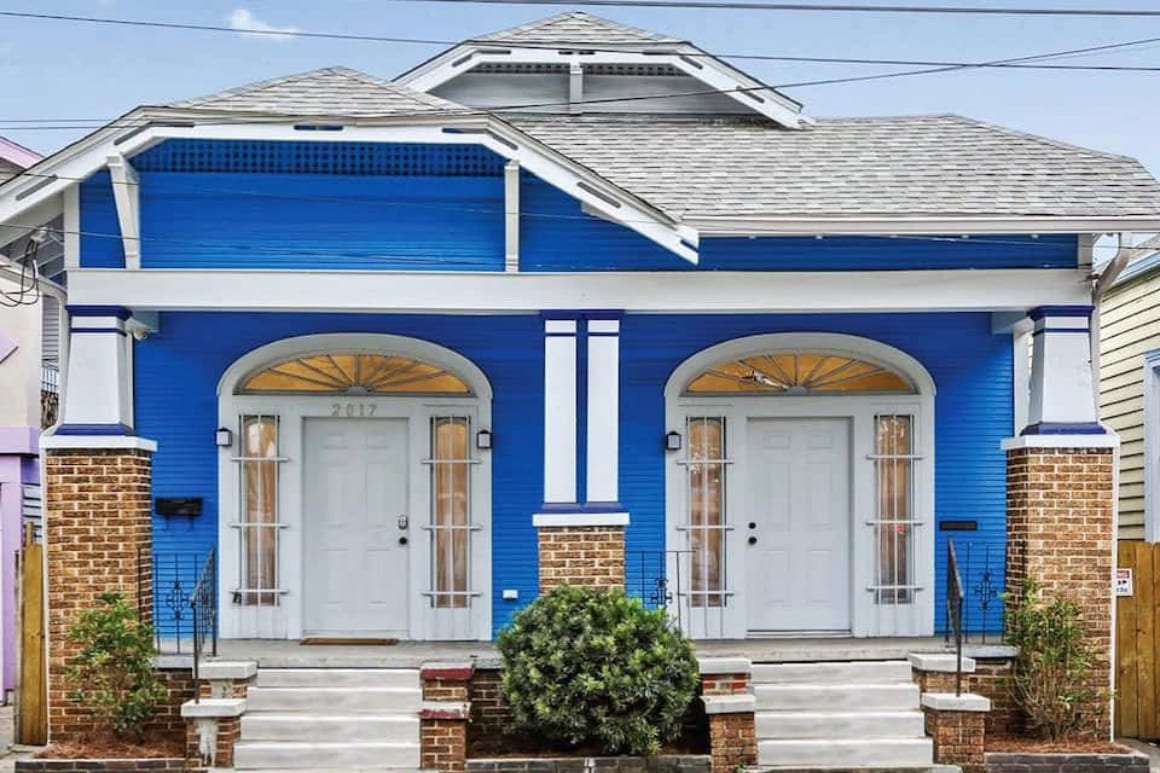 $$
Lovingly restored vacation home
10 Guests
Located in the historic New Marigny neighbourhood
This vacation rental, built in the late 1800s and once home to a jazz club in the 1920s, has now been lovingly restored and converted into a cheerful-looking home.
Spacious and beautifully decorated by the owner, this holiday home is conveniently located close to Marigny and the French Quarter.
With five bedrooms and four full bathrooms, there's enough room for everyone. There is also a large, fenced backyard that is great if you are traveling with children. This holiday rental features most of the modern amenities you need with state-of-the-art kitchen appliances including a coffee machine.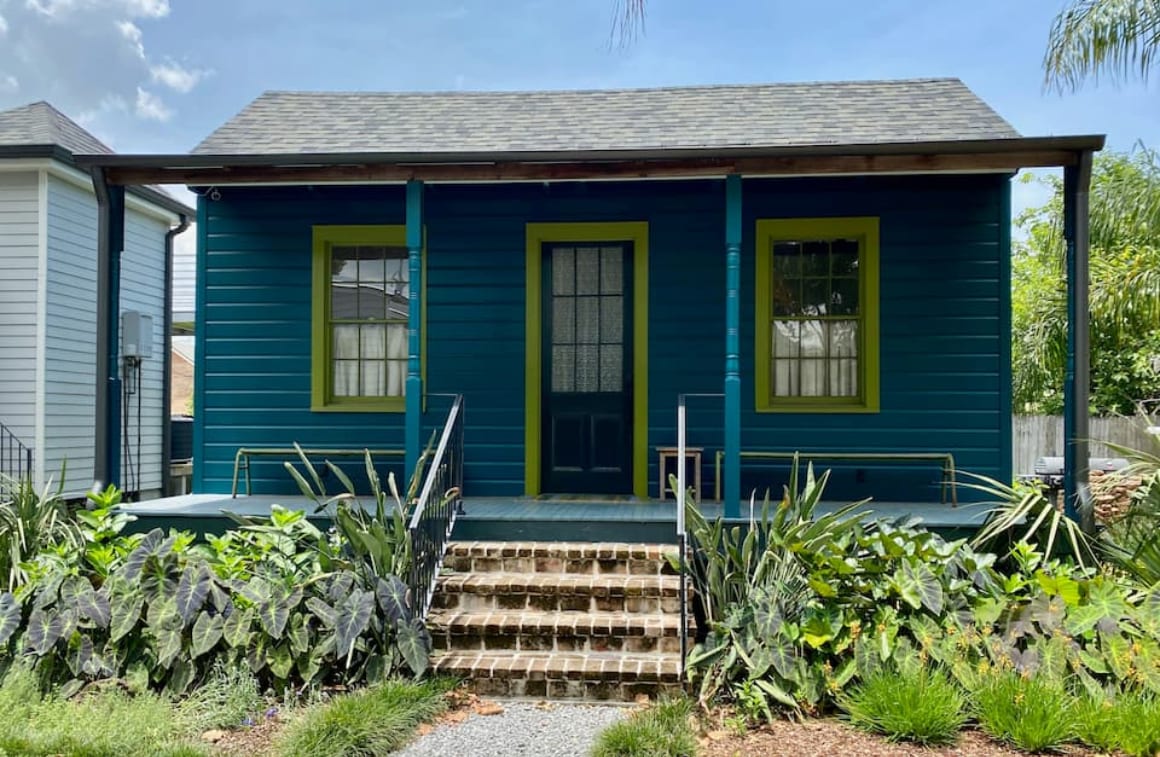 $
Romantic escape for a couple
2 Guests
Short walk to Fair Grounds and the popular Jazz Fest
The owners of this charming home that was built in 1854 have made sure that the historic cottage still retains its old-world charm.
This vacation home is a standalone structure but shares the garden with the main house. However, there is still more than enough privacy with the garden being fully fenced.
Guests are also able to use the BBQ grill with both propane and charcoal sections in the backyard. The house itself is located a short distance away from the French Quarter and Marigny.
Small Group Vacation Rental in New Orleans | Cottage, Tremé Area
$
Renovated historical home with modern amenities
4 Guests
Located in the historic Tremé precinct
This vacation rental is bang in the middle of the classic Creole neighborhood, Tremé – boasting glowing white interiors, hardwood floors, a full kitchen, modern appliances, and a private backyard.
There are splashes of color throughout the house that makes for tasteful interiors. If you're feeling adventurous, there is a double mattress in a cute loft above the living space that is only accessible by a library ladder. If this isn't your thing, relax in the spacious double bedroom downstairs instead.
Close to most tourist hotspots, this is the perfect base to explore all that NOLA has to offer.
Final Thoughts
The best part about planning a holiday to New Orleans is the sheer range of things to do in the city. Whether it is jazz you are interested in or a foodie trip exploring one of the best New Orlean food tours, you'll find something to suit you.
Because planning is such a bore, we hope this list of the best vacation rentals in New Orleans makes planning your vacay slightly easier.
Whether you choose to stay in a sprawling, super-expensive rental or a smaller, basic apartment, New Orleans will still charm you with its innumerable historical charm. And if you need help putting an itinerary together, here's a helpful guide to help you plan your trip.
Of course, as with every place you travel to, don't forget to be alert and aware of your surroundings. Don't keep all your money in one place – be smart about the places you choose to visit, and most importantly, don't forget to have fun!
And don't forget to take out Travel Insurance for your trip! I have been using World Nomads for some time now and made a few claims over the years. They're easy to use, professional and relatively affordable. They may also let you buy or extend a policy once you've started your trip and are already abroad which is super handy.
If there's one insurance company I trust, it's World Nomads. To find out why I use World Nomads, check out my World Nomads Insurance review.
Getting an estimate from World Nomads is simple—just click the button or image below, fill out the necessary info, and you're on your way!

---
Find out how YOU can support the site.
We're a big site with a big team and this job isn't always easy. But we do it because we love it – we love providing epic and free content. We love the knowledge that our content keeps you adventuring. We don't ask for money, but if you'd like to find out how you can help the site in more organic ways, click the button below.
Thank you for your support 🙂
And for transparency's sake, please know that some of the links in our content are affiliate links. That means that if you book your accommodation, buy your gear, or sort your insurance through our link, we earn a small commission (at no extra cost to you). That said, we only link to the gear we trust and never recommend services we don't believe are up to scratch. Again, thank you!