Who hasn't dreamed of taking a trip to New Orleans, Louisiana? This epic city is filled with all that is jazzy and snazzy. From costume parades to the crooning jazz music, to arguably the biggest Mardi Gras celebration in the entire USA, New Orleans is absolutely epic!
What certainly doesn't feel epic is figuring out where to stay in New Orleans. Don't be too cool for school and hide under your desk and hope your accommodation problems will just solve themselves. Lucky for you, we've unmasked all the best Airbnbs in New Orleans!
It's not a charade! No illusions needed! The biggest, brightest, and best New Orleans Airbnb rentals are right here at your fingertips. Let's dive into all the details and find out which vacation rentals in New Orleans are right for you!
Quick Answer: These are the Top 5 Airbnbs in New Orleans
OVERALL BEST VALUE AIRBNB IN NEW ORLEANS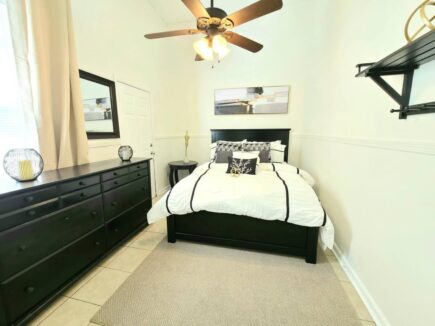 OVERALL BEST VALUE AIRBNB IN NEW ORLEANS
Cute Historic Apartment
> $$
> 3 Guests
> Washing machine and dryer
> Filled with natural light
BEST HOMESTAY IN NEW ORLEANS
BEST HOMESTAY IN NEW ORLEANS
Balcony Guest House
> 2 Guests
> Bright and spacious
> Beautiful courtyard
BEST AIRBNB FOR COUPLES IN NEW ORLEANS
BEST AIRBNB FOR COUPLES IN NEW ORLEANS
Private Suite with Free Bicycles
> $$
> 2 Guests
> Indoor Toasty Warm Fireplace
> 2 Free Bicycles To Use
BEST AIRBNB FOR FAMILIES IN NEW ORLEANS
BEST AIRBNB FOR FAMILIES IN NEW ORLEANS
Hidden Oasis Near French Quarter
> $$$
> 10 Guests
> Enormous Home w/ Open Layout
> Private Garden
BEST LUXURY AIRBNB IN NEW ORLEANS
BEST LUXURY AIRBNB IN NEW ORLEANS
Historic Mansion Right Off Bourbon Street
> $$$$
> 8 Guests
> Antique & Modern Amenities
> Free Champagne

Unlock Our GREATEST Travel Secrets!
Sign up for our newsletter and get the best travel tips delivered right to your inbox.
What to Expect from Airbnbs in New Orleans?
There are many different Airbnbs in New Orleans. From cheap to super expensive, simple and comfy to spacious and fancy, you'll be able to find whatever you are looking for. No matter your budget, the Airbnb filter option makes it possible to find affordable homes too, so you don't have to dig too deep into your pockets. Since there are so many amazing homes in the city, we've listed the three most commonly found vacation rentals, which should make it a bit easier to decide which ones fit you best.
An Airbnb is a great choice for accommodation whether you're backpacking around the USA or you're on a luxury trip so consider these vacation rentals as well as other budget accommodation.
Private Rooms
These types of vacation rentals are probably the most affordable one. There are many private rooms in New Orleans, with all sorts of different styles, sizes, and amenities. Generally speaking, when booking a private room, you'll have this space completely to yourself. If you're lucky, there's also a private bathroom included. If you need more amenities, you can check the filter options to find the right home for you. Private rooms are a great option to get an insight into a local's lifestyle and open up new opportunities and views. They are a great alternative to New Orleans hostels if you're on a budget.
Entire Apartments
Entire apartments, or sometimes even entire condominiums, are a great home for travellers that want to be completely alone and have a lot of privacy. Apartments can be found in simple houses, while condominiums are usually located in big buildings with lots of housing space in Downtown New Orleans and Mid-City. They offer pretty much the same though: a whole place to yourself. This type of Airbnb is a great option for solo travellers or couples. They can be found throughout the whole city and they range quite a bit above the private room price.
Entire houses
Entire houses, or sometimes townhouses or cottages, are the perfect choice for big groups that travel together or families with kids. Keep in mind that you'll be living in a local's home, so be respectful of the amenities. However, this home also comes with a lot of benefits. Amenities like a kitchen and bathroom are usually fully stocked and in perfect condition since they're actually being used whenever the home is not up for rent on the platform. In the filter options, you can choose how many bedrooms you want, how many bathrooms and whatever else you need during your stay. They are a great option if you're looking at where to stay in New Orleans with kids, especially if you want to be outside of Downtown New Orleans.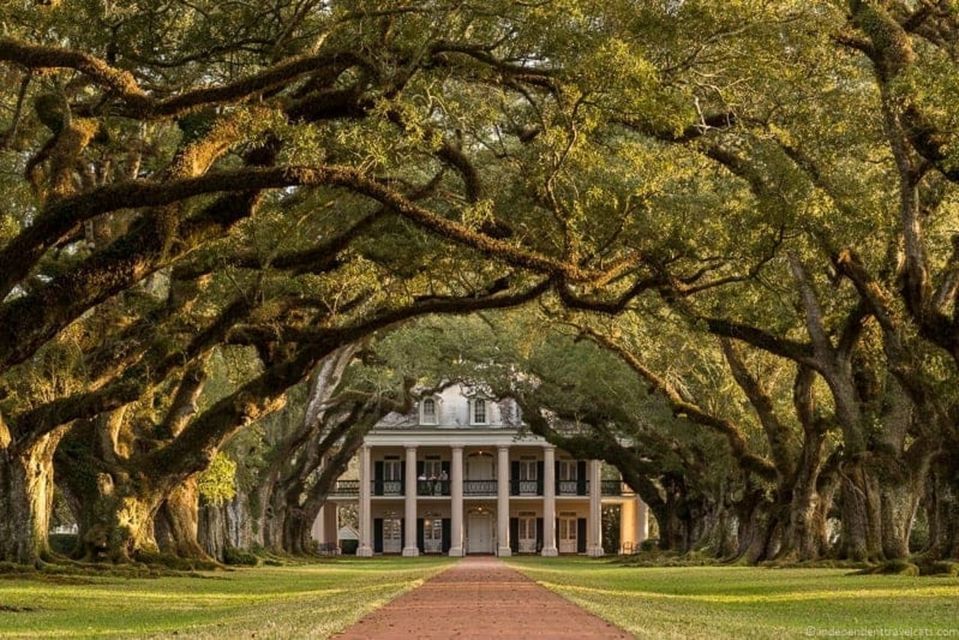 Why Stay in an Airbnb?
Local Experience: While many New Orleans Airbnbs are managed by companies, they're still locally based. Get the best recommendations for your New Orleans itinerary that you won't find in the guidebooks to make your trip truly special!
Unique properties: Airbnb has every kind of property you could think of. There's even a 'unique stays' search function, where you can find your dream property on the site.
Privacy: Whether you're travelling with the whole family or your other half, it's nice to have your very own space where you won't be disturbed.
Affordability: You can spend less than $100 a night on an Airbnb and get all the facilities you'd expect in a five-star hotel and more. Airbnb makes it easier to spend your holiday money wisely!
Safety: It might seem a little weird staying in someone's house; however, both hosts and guests are vetted by Airbnb reviews to ensure the safety of both. New Orleans is overall safe, and the Airbnb booking security just adds a little extra to it.
The 19 Top Airbnbs in New Orleans
$$
Washing machine and dryer
3 Guests
Filled with natural light
It's clean, it's chill and it's spacious – what else could you possibly want? This charming Airbnb offers some great value for a very affordable price. On top of that, the location in Downtown New Orleans near the Garden District is ideal too. You'll be within walking distance to all the main things to do in New Orleans, nightlife options and some culture as well as Audubon Park. The apartment is cosy but fully equipped, so you can prepare tasty meals, wash your clothes and have a place to relax and recharge before heading out to explore the city again.
$
Very charming neighbourhood
2 Guests
Super attentive host
This is an incredible find for travellers who travel to New Orleans on a budget. You don't have to cram yourself into a dorm room, simply check out this stunning Airbnb within walking distance of the Mississippi River. For near basement prices, you get a private room that has a comfortable queen bed and hardwood floors. Privacy doesn't have to come at a premium anymore!
The home is shared with the hosts and other guests but it's super spacious and a great opportunity for travellers to see the real side of New Orleans. The neighbourhood is known to be very artistic and creative, so you'll definitely have a blast staying here and maybe get to listen to some soulful music as well. It's also super easy to get into the Central Business District from here too.
This short-term rental in New Orleans is a one-bedroom with a shared bath rental in a townhouse. It's a comfortable room that comes with a desk, a darling antique dresser and hardwood floors. There is plenty of closet space for those who are looking to stay longer in this rental.
It's just a short trip to the French Quarter, but there is a shopping centre right down the street to stock up on snacks or necessities. It's also within walking distance of the Mississippi River and easy to reach the Central Business District from here too.
This is perfect for digital nomads as you can get some work done in the comfort of your room and then hop on a bus to the French Quarter when you do want some action.
Is This the Best Backpack EVER???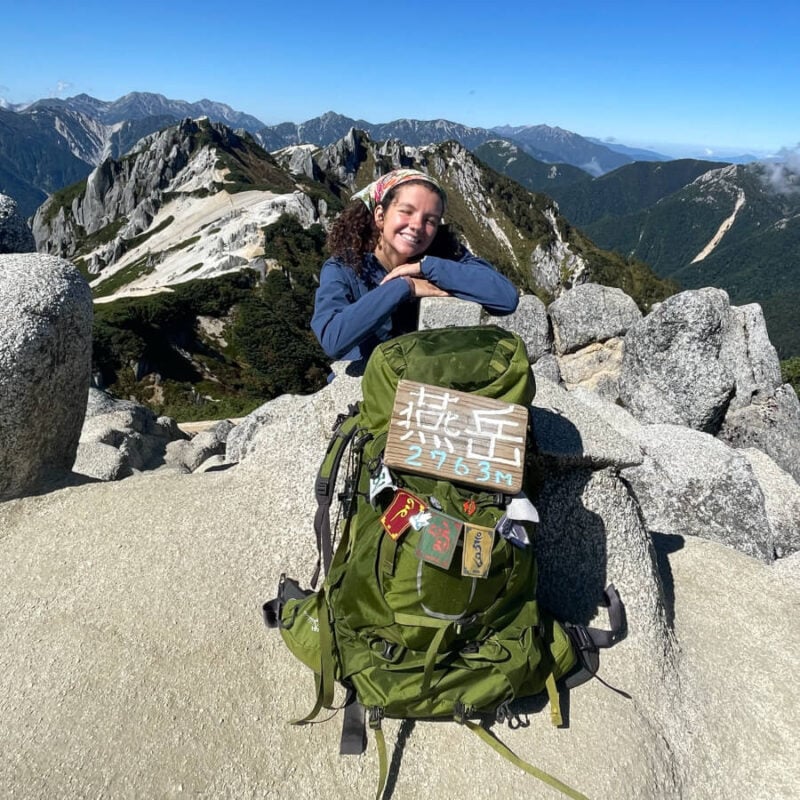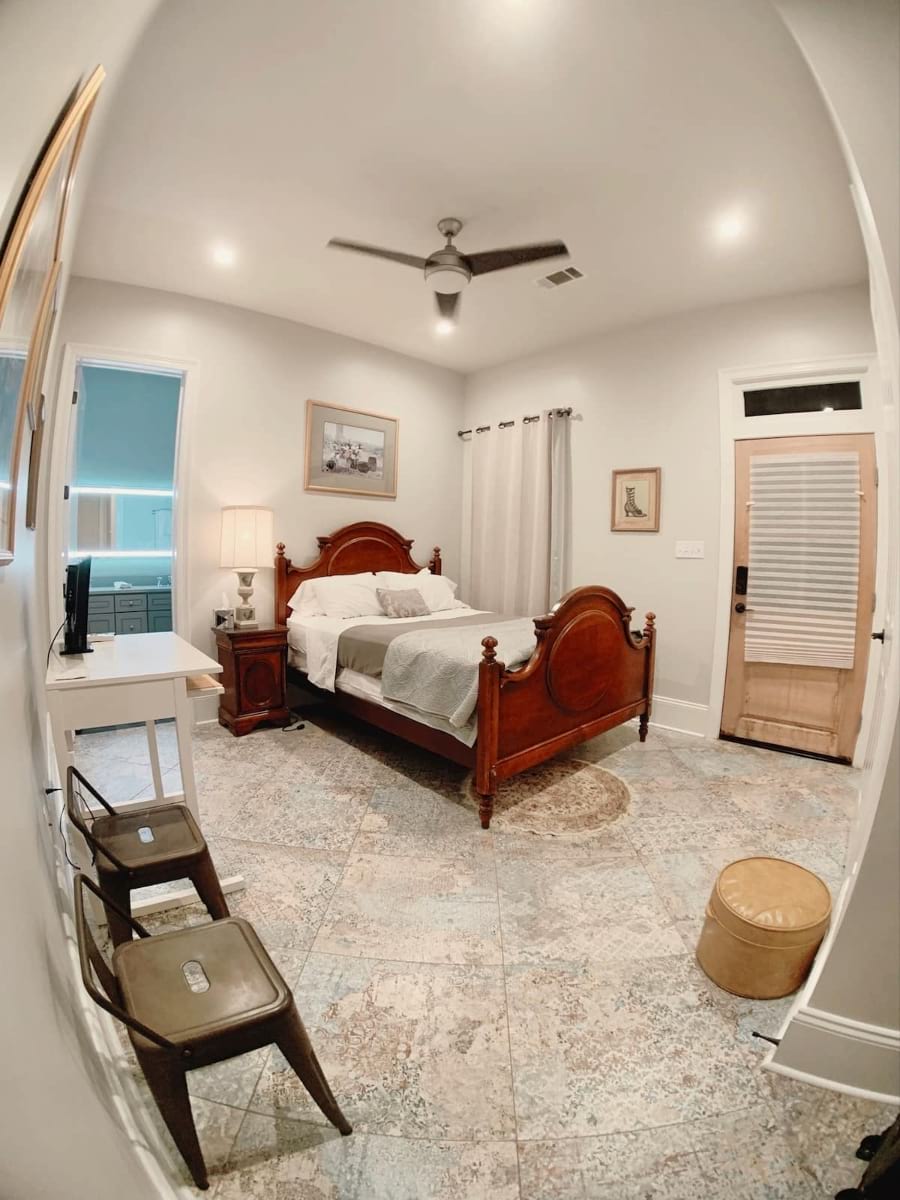 2 Guests
Very spacious room
This wonderful New Orleans homestay offers a one-bedroom and private bathroom located in the vibrant Treme neighbourhood. It is close to all the action of the French Quarter and fun places like Jean Lafitte's Old Absinthe House – 4 blocks to be exact – but far enough away to be in a residential neighbourhood filled with mostly families. You will absolutely feel safe in New Orleans and especially sound at this cosy New Orleans short-term rental. There are loads of music and culture around, which is ideal if you want to experience the city from the eyes of a local. Your bedroom also has a private entrance, in case you really don't feel like socializing that day.
My oh my, this New Orleans apartment is a dream come true! It appears to come straight out of the pages of Vanity Fair with an opulent design, complete with chandeliers and ornately gilded gold mirrors.
This is a short-term rental to die for located in Treme/ Mid-City on Bayou Road, right near the renowned French Quarter. It is the upstairs apartment in a beautiful old house and has a spacious balcony that is perfect to enjoy a cup of coffee in the morning and breathe in the fresh air. This could all be yours!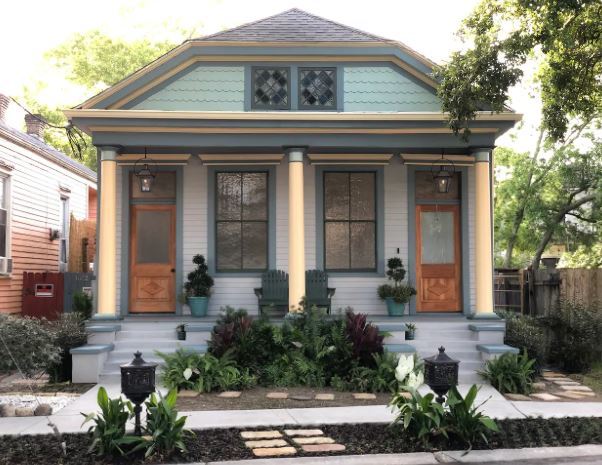 $$
Indoor Toasty Warm Fireplace
2 Guests
2 Free Bicycles To Use
This New Orleans vacation rental is in the Fairgrounds quarter, close to the Bayou, Mid-City and the Treme. Guests will rent the entire one bedroom and one bathroom private suite, just across from the New Orleans Fair Grounds Race Course, home to the famed New Orleans Jazz Fest!
Your suite has its own private side door and its own galley kitchen. Although the home is over 100 years old, it has been lovingly restored with thoughtful touches including hardwood floors and a toasty-warm coal-burning fireplace. We absolutely love that the hosts provide guests with two complimentary bicycles to get around and explore all New Orleans has to offer!
2 Guests
Beautiful courtyard
You sure won't question if you're in New Orleans or not in this homestay. It simply screams all that is good about New Orleans – location, style, space, it's a true paradise for travellers! It's one of the best Airbnbs in New Orleans if you're looking to stay in a true home and get to know the locals. The location couldn't be better either, as it's within a very brief walk to the French Quarter. You'll have your own private bathroom and access to a beautiful courtyard.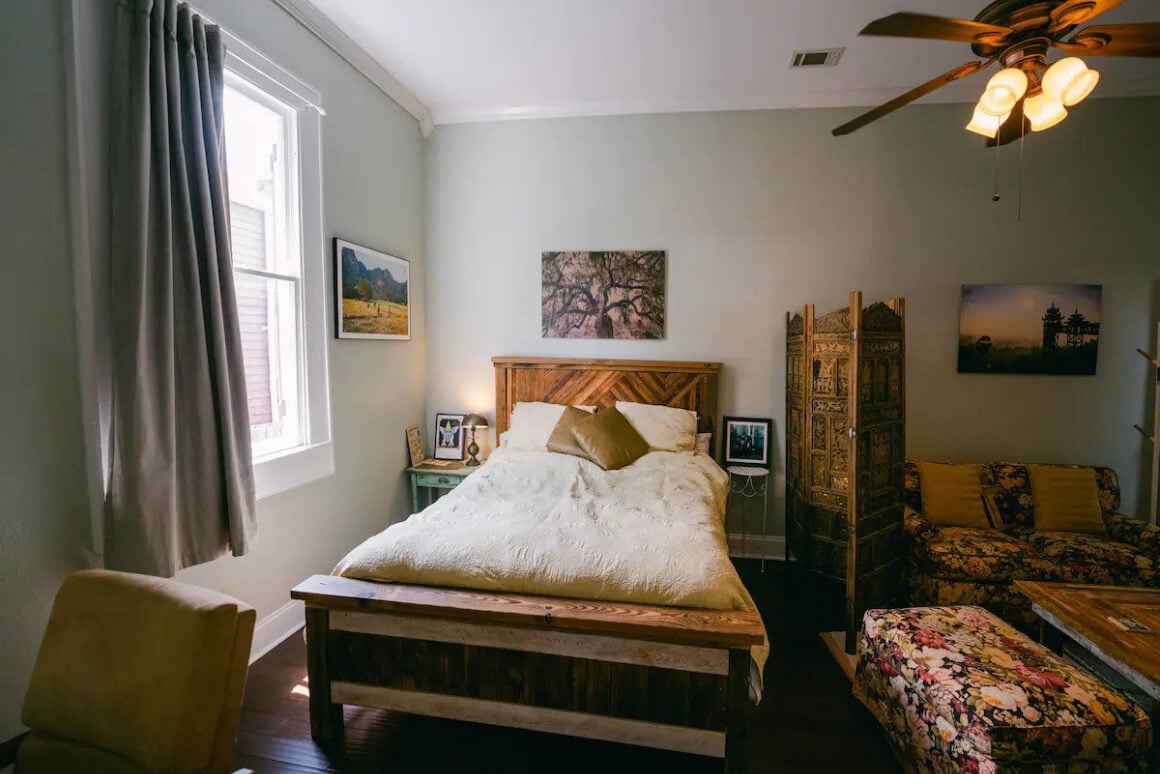 $$
Incredible Common Spaces
2 Guests
Jaw-Dropping Design
This is an absolutely incredible homestay in New Orleans that will make your jaw drop upon opening the front door! The abundance of indoor plants, sensual wall art, and uniquely hand-painted sky ceiling will make you feel as if you're in a blend of a whacky museum and a bizarre mansion! You might even feel like you're walking onto a strange movie set!
With this rental, you will receive a private bedroom and a private bathroom. There are also enough house plants to make you feel like you're in a jungle and provide you with lots of delicious, fresh oxygen. You also have your own entrance too so the place will feel more private if you like.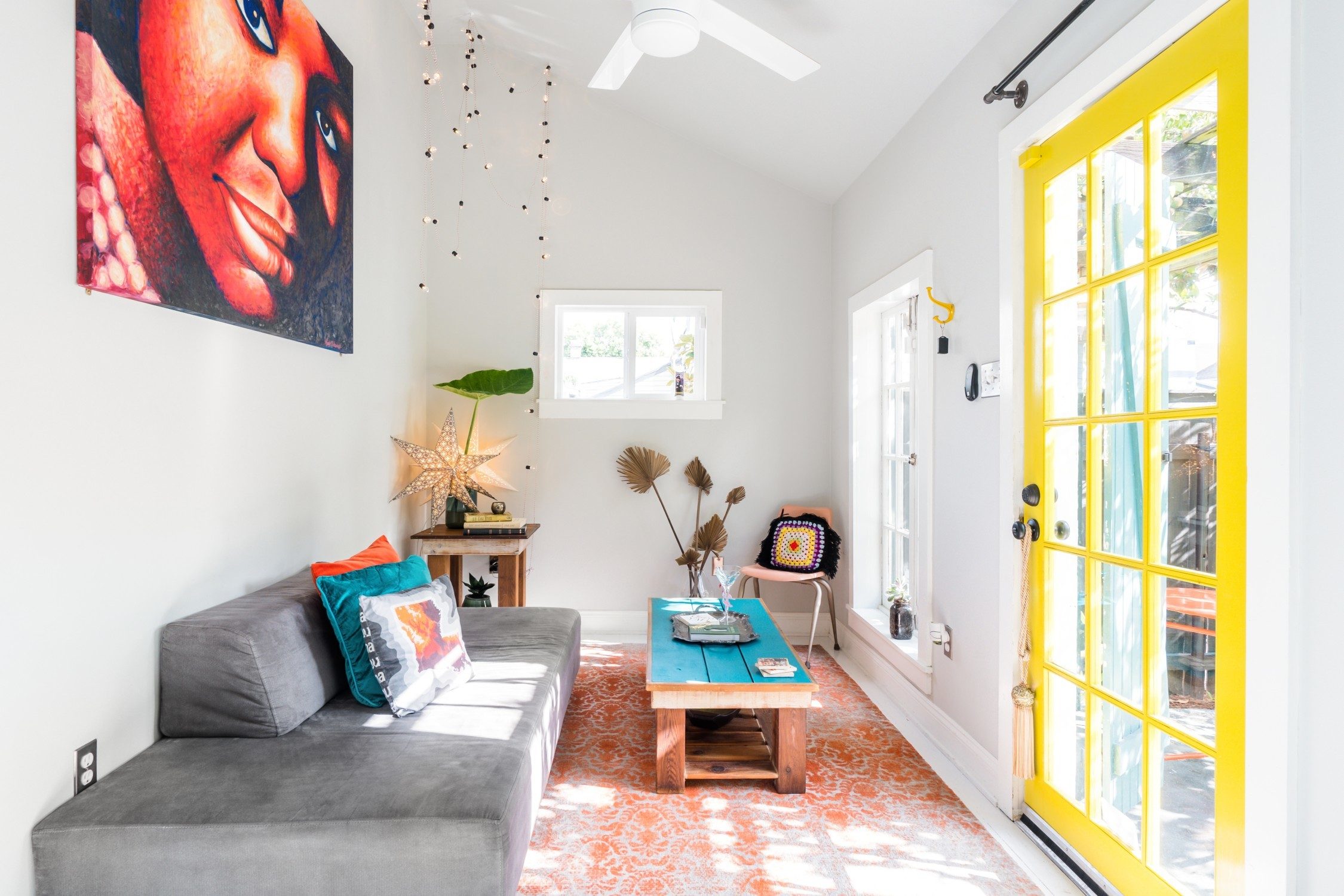 $$$
funky and lively design
This Airbnb is a true gem of a New Orleans vacation rental. With the funky and colourful interior design, you'll wake up enthusiastic and ready to start the day. It's one of the pricier homes, however, it comes with great amenities, a fully equipped kitchen and reviews from previous guests that don't give anything but praise for this charming guesthouse. Bonus point: you can enjoy your morning coffee on your private patio!
Amazing Luxury Airbnb in New Orleans | Luxury Villa
$$$
Blend of Modern & Historic
2 Guests
Lively Neighbourhood
This one bedroom and one bathroom New Orleans Airbnb sits right on the edge of the French Quarter. It's located very close to Frenchmen Street, home to some of the best bars and cafes, from Cafe Du Monde to Port of Call! The house is tastefully designed perfectly blending the historic and the modern. The bathroom accommodates those who want to enjoy good water pressure or a long soak in the tub after a hard day exploring. The traditional fireplace and four-poster bed add just the perfect amount of charm to the place.
This Airbnb in New Orleans has the energy and personality of quintessential New Orleans! The neighbourhood is also lively and very friendly, for those who love chatting and socialising with the neighbours.
$$$$
Antique & Modern Amenities
This two-bedroom New Orleans Airbnb has four beds and one and a half bathrooms (That's right. Half a bathroom!). It's super close to places like Bourbon St, Charles Avenue and Magazine Street, so you're just a half block from the party!
The property is an elegant, historic New Orleans mansion that will make you swoon! From sparkling chandeliers to exposed brick walls, to candelabras, you'll fall in love with this glamorous short-term rental that can house up to eight guests. Seriously why stay in an apartment, when you can stay in a historic mansion and feel like a Southern Gentlemen from a bygone era?! Oh, and it might be old but it's still got air conditioning for those hot NOLA nights!
This isn't just another luxury Airbnb. This home has an amazing charm to it, with an interior design that will make you feel incredibly welcome and comfortable. It's not massive, but it can accommodate up to two guests, perfect for solo travellers or couples. Within walking distance to the French Quarter and Charles Avenue, this home is also located in one of the best neighbourhoods in New Orleans. If you don't want to explore the city on foot, you can use the free bicycles that are free to be used.
$$$
Enormous Home w/ Open Layout
This entire 3200-square-foot house has five bedrooms and five bathrooms located in the lively Treme neighbourhood. Throw your worries away, and live large in this spacious short-term rental in New Orleans made for families. The layout is fantastic, complete with a backyard patio that is perfect for relaxing after a long day exploring the big easy.
This house is warm and inviting, and brimming with bohemian charm and many modern upgrades. It is just a quick six-minute walk to the French Quarter or a fifteen-minute walk to the famed Bourbon Street. You'll love this historic yet modern house built on stilts with a massive backyard pool to boot. It's just perfect for families with kids or a big group of mates wanting to explore the city but chill at the accommodation too.
The whole family will feel right at home in this New Orleans Airbnb!
$$$
Backyard with Skyline Views
9 Guests
Next to Bars and Cafes
This three-bedroom and three-bathroom Airbnb in New Orleans actually has a total of six beds in the house. It's right on the edge of the French Quarter, in between the Treme and the French Quarter itself. That means that you'll surely be close to all the crazy action that N'Orleans offers! The neighbourhood itself is known for being vibrant and friendly.
If you can't be bothered with the 5-minute walk to Bourbon street, then there is actually a bar just 200 feet from the house, and the Treme Cafe is just one block away. That's right, you and your friends won't have to walk far for your cocktails or your coffee! This house is the best Airbnb in New Orleans to stay with friends as it's a newly renovated house just four blocks from the French Quarter. It has huge ceilings and is actually 2180 square feet. You'll also love relaxing on the backyard deck that offers New Orleans skyline views.
Up to four guests
Breakfast Included
This one-bedroom and one-bathroom studio apartment in New Orleans is totally Instagram-worthy and jam-packed with chic vibes. Located in the stylish Lower Garden District, this New Orleans apartment is just a stone's throw away from trendy Magazine Street and the St. Charles Avenue parade route!
The rooms are filled with tasteful local touches and are bright and comfortable. This short-term rental is located on the second story of an old 1895 building. It comes with a full-sized kitchen and a modern bathroom. Snacks, coffee, tea, and breakfast is also provided to help you get started in the morning. Also, make sure to take advantage of the outdoor patio area that is perfect for enjoying your breakfast or for reading a book after a long day!
2 Guests
Hotel Quality Linens and towels
This one bedroom and one bathroom charming guest suite is located in a historic home and is yours for the taking! It is a private suite with its own private entrance. In fact, this home dwells mere steps away from Magazine Street and is therefore located in the charming Lower Garden District.
There is an en-suite bathroom with a luxurious Jacuzzi tub, as well as a stocked kitchenette with a Keurig, fridge, freezer, and microwave. Complimentary coffee and snacks are thoughtfully provided by the hosts. The home was built in 1860 and was renovated in 2008, so the space is historic yet modern too. The hosts are proud to provide hotel-quality bedding and towels.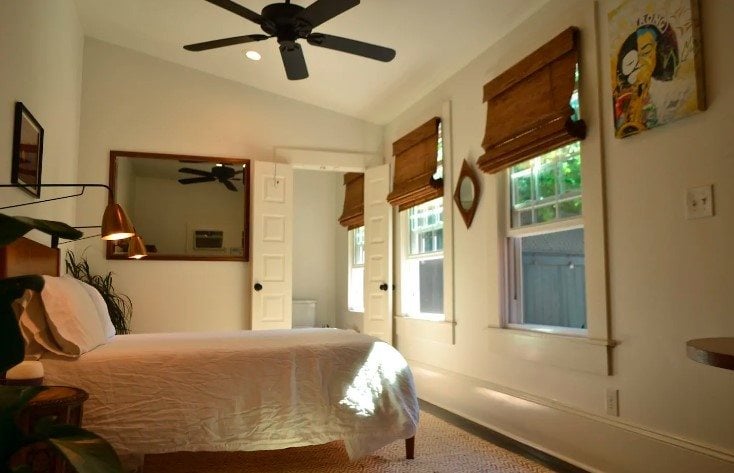 $$
Minutes from French Quarter
Within walking distance to the French Quarter and other hotspots in New Orleans, this guesthouse made it to one of our top spots in the city. The guesthouse offers you complete privacy and quiet – exactly what you need after a busy day of exploring. Keep in mind that there is no kitchen attached, but you'll find a kettle, a mini-fridge and other handy amenities in this home. You can do your laundry in the main house, where the hosts live if you message them beforehand.
This three-bedroom three bathroom condominium is quite the steal. The location is beyond ideal! Just a few steps away from Bourbon Street and near countless restaurants. As part of this rental, you'll have access to the incredible rooftop pool and to the gym as well. You'll get a lot of bang for your buck in this rental, as well as being close to all the best New Orleans has to offer!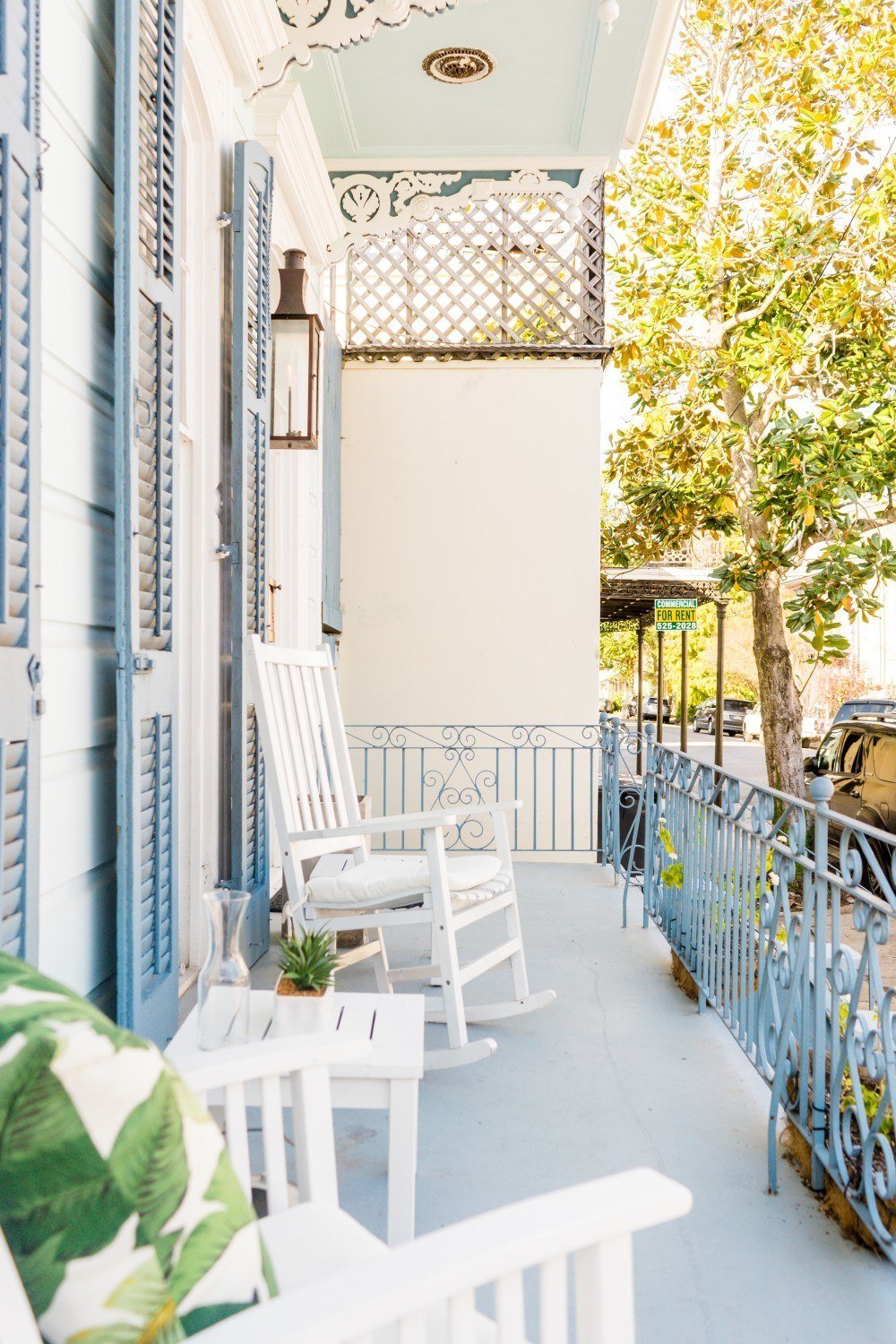 When guest reviews say that they were speechless by how gorgeous this Airbnb was, you know that you've found a true gem. The freshly renovated house, with its victorian historic charm, is one of our top choices in New Orleans. With every amenity, you could possibly need, this place is a true home away from home. The best part is the massive front porch, where you can enjoy your morning coffee and breakfast while absorbing the sights and sounds of this unique city. It's one of the loveliest vacation homes in New Orleans and it even has a dedicated dining room which is surprisingly rare here!
Top 4 Airbnb Experiences in New Orleans
Want to experience New Orleans without the hassle of booking overfilled guided tours or exploring on your own? Check out the new Airbnb Experiences! Lots of travellers still aren't taking advantage of all the high-quality, easy-to-book and fun local tours, classes and activities available on the very same platform where they book accommodations.
Even better, lots of Airbnb experiences aren't run by huge tour companies, but by locals – that means smaller and more intimate groups, passionate guides, and out-of-the-box experiences that are rooted in local knowledge. Get to know the city from a different angle.
All communication will take place on the App itself. No tickets, screenshots or printing are necessary. Just turn up where your guide tells you to and you're good to go.
Sound too good to be true? Not even! Keep scrolling for 4 can't-miss Airbnb Experiences in New Orleans.
$22
2 hours
up to 12 people
New Orleans is known for creativity, music, and art. Street art, especially, has been drawing in underground artists from all over the world. This Airbnb experience takes you to amazing art workpieces, that can't be found in any tour guides or commercials. From graffiti to detailed brushwork, you'll be amazed by each individual mural.
Your host Carlos, a full-time photographer, knows all of the hidden gems in the city and will take you on a walking tour where you can experience beautiful artwork, galleries, and music venues. Whether you're a fan of provoking and unique art or just want to cool pics for your Instagram, this tour is one of the top ones on the platform!
$45
3 hours
up to 12 people
Ah yes, Frenchman Street! The one place you definitely have to explore when visiting New Orleans. Filled with amazing cocktail bars, great artwork, and music in every corner, the live-music capital of the city will put a smile on your face and leave you speechless at the same time.
In this Airbnb Experience, your host Quay will take you on a bar crawl where you can experience Frenchman's hidden gems, hot spots and so much more. Whatever genre of music you prefer, Quay will take you to the right place – get ready to party! You'll also get to know about the fascinating and colourful history of New Orleans.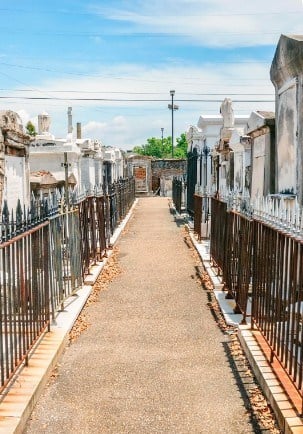 $35
2 hours
up to 15 people
History doesn't have to be boring. This Airbnb experience will take you to the cemetery. Yup, you heard right. New Orleans, also known to some as the "city of deads" has more to offer than just music, art, and party.
Brian, your tour guide, is a true local and knows the city and its history by heart. His passion is making tours fun and enjoyable. Although you'll be walking through the cemetery, Brian will make this a unique experience by adding his own humour and sarcasm. With pretty much only 5-star reviews, all previous guests absolutely loved his tours and the way of getting to know history a little bit differently.
Make sure you wear comfortable shoes as you'll be walking around a lot. We'd also recommend wearing a hat in the hotter months.
$140
3 hours
up to 10 people
From the water to your plate – this Airbnb experience is for all crab-eating lovers. Catch your own Blue Crabs, learn about different traps, the crabs themselves and everything there is to know about the New Orlean water and enjoy a nice meal at the end of the tour.
Andre, your host, will invite you on his boat, which you're going to head out on to find some Blue Crabs. He'll teach you how to pull them up and you can give it a shot yourself. After seeing a few highlights of the New Orleans harbour, the group gets a special invitation to the captain's house, where he'll teach you how to prepare the freshly caught crabs for a tasty dinner. You'll leave with lots of new knowledge, a cool experience, and a filled stomach.
FAQs about Airbnbs in New Orleans
Don't Forget Your New Orleans Travel Insurance
ALWAYS sort out your backpacker insurance before your trip. There's plenty to choose from in that department, but a good place to start is Safety Wing.
They offer month-to-month payments, no lock-in contracts, and require absolutely no itineraries: that's the exact kind of insurance long-term travellers and digital nomads need.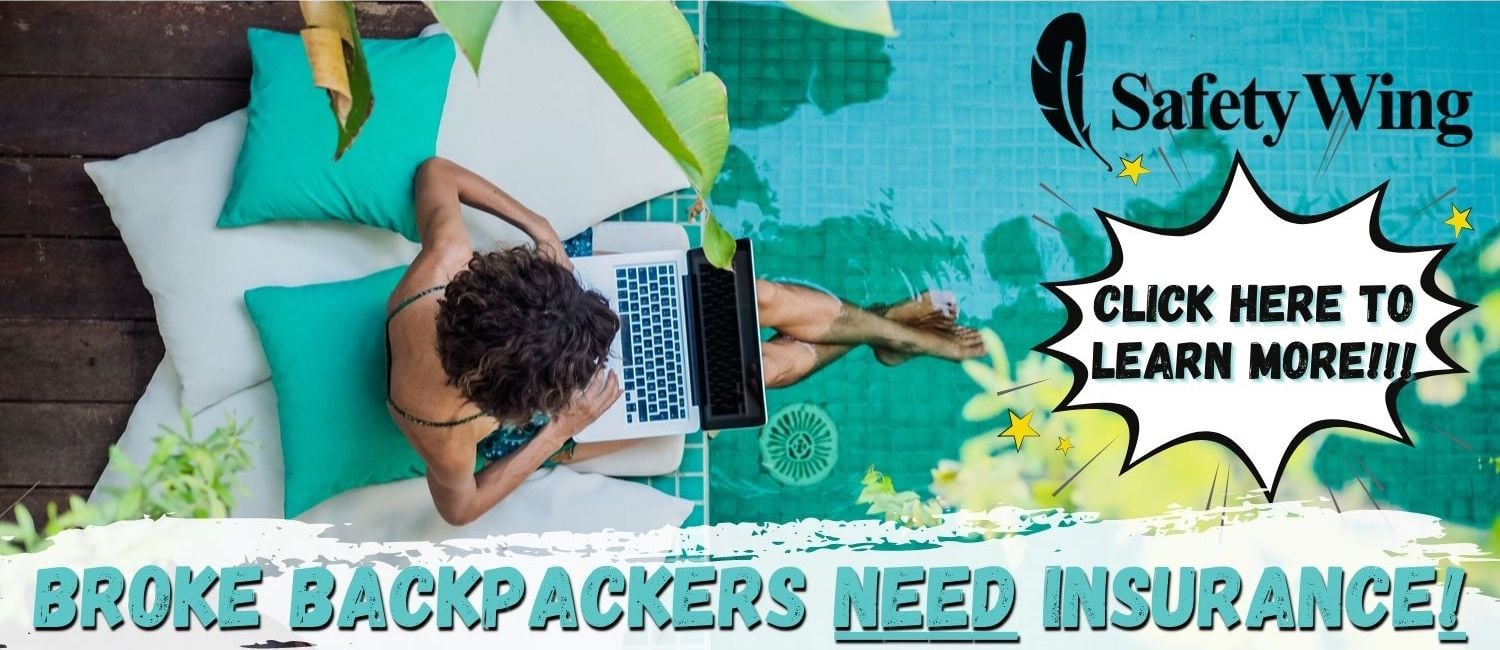 SafetyWing is cheap, easy, and admin-free: just sign up lickety-split so you can get back to it!
Click the button below to learn more about SafetyWing's setup or read our insider review for the full tasty scoop.
Final Thoughts on New Orleans Airbnbs
New Orleans feels like it was made out of magic! From voodoo shops to costume parades, it is impossible to feel bored in this city of lights, costumes, colors, gumbo and jazz! With growing popularity in visitors from all over the world, the city's size and diversity are literally blooming.
While we sure had our work cut out for us in choosing the Best Airbnbs New Orleans guide, we loved finding such unique rental gems that appear to be right out of the pages of magazines or part of a movie set! We hope that you were able to find the short term rental in New Orleans that made you swoon.
If you're heading to New Orleans, you might want to get a quote from our favorite travel insurance provider, World Nomads. It's never a bad idea to get your back covered by people who are renowned for being the best-back-coverers in the business.
---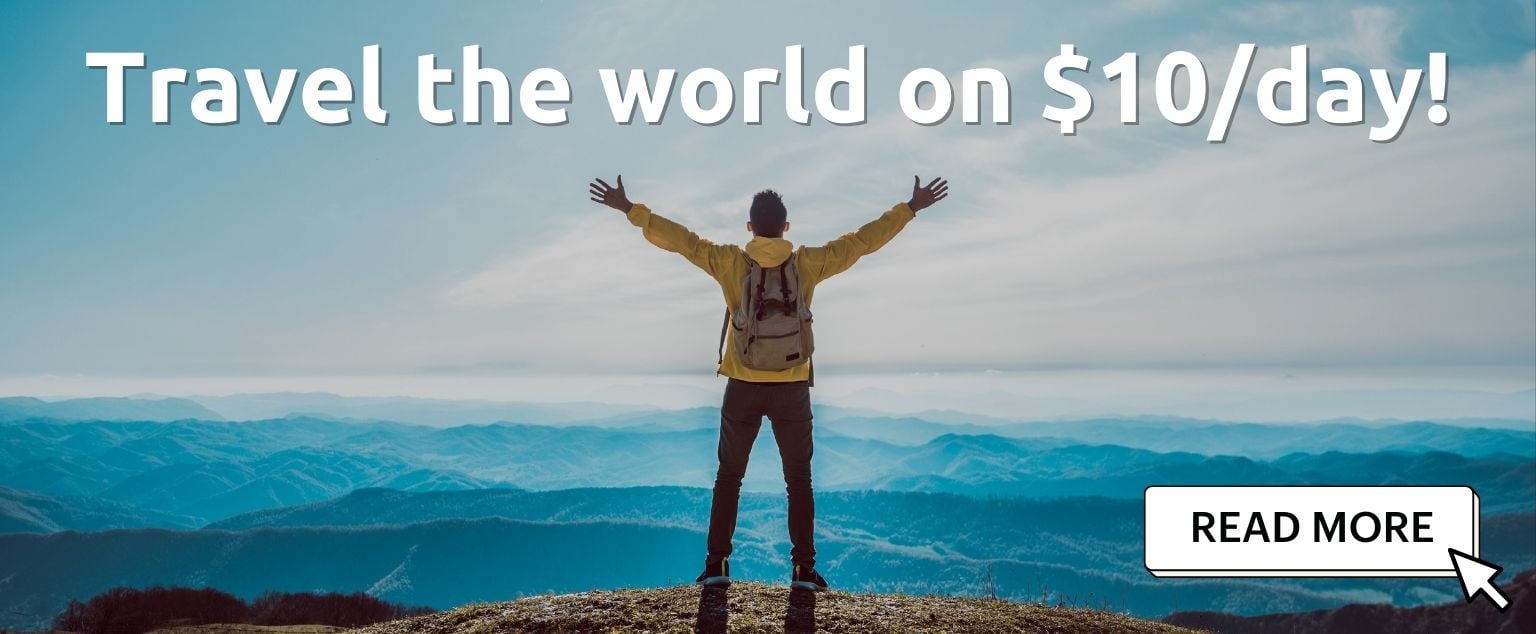 And for transparency's sake, please know that some of the links in our content are affiliate links. That means that if you book your accommodation, buy your gear, or sort your insurance through our link, we earn a small commission (at no extra cost to you). That said, we only link to the gear we trust and never recommend services we don't believe are up to scratch. Again, thank you!