Sin City AKA Las Vegas – it's one of the most infamous places in the USA that's often portrayed as a den for gangsters, gamblers, and runaways.
If I can guarantee just one thing, it's that visiting Vegas will be an experience – to say the least.
In this Las Vegas Travel Guide, I'm not going to walk you through how to experience nightlife. Because to participate, all you have to do is show up.
I'm going to be talking about some of Sin City's less conventional travel attractions: the amazing hikes, the interesting museums, the local restaurants- all the things that make a city worth visiting.
Granted, we will be spending some time on The Strip and you'll still have plenty of opportunities to shoot craps. At the end of the day, this is a guide to visiting Las Vegas for first timers and these things are, admittedly, a right of passage.
By the end of this article, you'll know when, where, and how to travel in Vegas on a budget, along with a few offbeat location ideas, too.
So grab your tacky Hawaiian shirts, your one-piece suits, your Elvis costumes, whatever it is you want to wear. We're heading to bat country!
Because where else can you find a literal City of Sin in the middle of a massive desert?
Las Vegas is unique in just about every way, from its hundreds of underground tunnels to its bonafide status as an "Adult Disneyland." If you're going to be backpacking the USA, it's one of those places that you just can't miss.
From themed casinos to some of the best shows in the world, Las Vegas is synonymous with entertainment. While many call NYC the city that never sleeps, it's Vegas where you can truly find EVERYTHING at each and every hour of the day. 24/7/365 casinos outfitted with "natural" lighting can really make this damned city feel like another world.
Not trying to spend every day attepting to win money?
You can also rock out at one of Las Vegas' iconic pool parties, or check out the very vibe-y Fremont Street, which is where the city's old heart beats. Sin City can also hold its own in the food scene, and I'm not just talking about the bougie restaurants you can find in all the famous casinos.
While Las Vegas isn't quite as "real" as even Miami, part of what makes it so fun is the debauchery. We're always down for a good party, and the reality is that with cash to blow, a trip to Las Vegas might just be the most lit part of your American adventure. It's also centrally located to several famous natural landmarks, like the Grand Canyon and the Hoover Dam.
What Are the Major Attractions in Las Vegas?
Las Vegas is teeming with iconic attractions, after all, it does attract tourists from all over the world! As much as you should try to get off the beaten path while experiencing Sin City, this wouldn't be a legitimate Las Vegas travel guide without mentioning these awesome things to do in Las Vegas.
Here's what you just can't skip:
The Strip
Fremont Street
Bellagio
The Venetian
Caesar's Palace
How Long to Spend in Las Vegas?
Las Vegas is a pretty small city, and most of its attractions can be seen pretty quickly. This means you can pack a LOT into just a few days.
I'd recommend spending 3 days in Las Vegas to start. This will give you enough time to see the main sights, do a bit of gambling, and even take a solid day trip from Vegas.
If you're looking to properly check out all the casinos and really get into traditional Las Vegas activities, you may want to extend that to 5 days. You're definitely gonna want to leave one for recovery.
The following is a sample 3-day itinerary for a weekend in Las Vegas. Most of the top destinations mentioned in this Las Vegas travel guide are covered in this section, but be sure to leave some room for spontaneity in your Vegas itinerary!
Day 1 in Las Vegas: It's All About The Strip
The first day of our Las Vegas travel guide is all about the touristy stuff. We're talking about all the essentials of Las Vegas. While I don't think that any of the casinos are really impressive, you have to roll the dice once at a craps table and see the Bellagio Fountains while in Vegas.
Las Vegas Boulevard AKA The Strip officially begins on the edge at the famous "Welcome to Las Vegas" sign (cue touristy photo op). The first casinos you'll see are Mandalay Bay, the Luxor and then the line goes on for about 4 miles until Circus Circus.
Each casino on The Strip has a specific theme and usually offers attractions based upon that theme. Mandalay Bay is all about water – it has an aquarium, as well as a pretty cool ice bar.
Excalibur is medieval-themed, so obviously it hosts jousting tournaments. A lot of these are actually being demolished to make room for newer hotels, so you might want to visit them before they're gone.
CityCenter is one of the newest developments on The Strip and attracts attention for its futuristic architecture. Inside this complex are a couple of really cool installations, like the Art Gallery of Richard Macdonald and the Akhob – the latter is highly recommended.
The Bellagio is one of the most famous casinos in Las Vegas and is recognized by its iconic fountains. Less known are the free Botanical Gardens inside the hotel and the Gallery of Fine Art. The gallery sometimes hosts an infinity room by the famous Yayoi Kusama.
End your day out with a sunset gondola ride at the Venetian, because when in Vegas, am I right? Then end your night in Caesar's Palace or the Flamingo gambling and eating till it's time to call it a night.
Day 2 in Las Vegas: Downtown + Museums
We're going to be dedicating the second day of our Las Vegas travel guide to the Downtown Las Vegas area. Here lies the city's most traditional nightlife as well as a number of museums and art installations. It is a more authentic area that offers a chance to see another side of Vegas.
There are a number of cool museums to start off your day with. The Mob Museum is everyone's favorite exposition of the people who essentially ran this town in the 60s. You'll get to see and learn a whole lot about organized crime.
Next, check out the Neon Museum – this graveyard of old electric signs perfectly captures Las Vegas' essence.
Some notable casinos on Fremont are the Golden Nugget and The D. The Golden Nugget gets its name from the giant lump of gold it has on display, which is referred to as the Hand of Faith (it's actually really big). Nearby is The D and it is one of the last great vintage casinos in the city.
There's a lot more to see in the Downtown area beside the Fremont Arcade though. There's a shit ton of street art between 6th and 7th Streets on Ogden and plenty more further south in the Arts District. If you're around on First Friday, there's a big street party in the Arts District.
If not, be sure to stop by Container Park for a drink and some photos before ending your day on Fremont Street – a vortex of neon lights and old-school casinos. Wandering around this area is definitely one of the most popular things to do in Las Vegas at night.
Day 3 in Las Vegas: Pick Your Day-Trip
A lot of the must-dos in Vegas are not even in the city itself – several are located on the outskirts and further into the desert. On the final day of your Las Vegas trip, you're going to see a few of them
Lake Mead is one of the best day trips from Las Vegas as it's directly east of the city and is the perfect place to cool off on hot days. The lake is open to recreational use, which means you can go boating on it. There are even a couple of "beaches." Before heading back to the city, stop by the Hoover Dam at the mouth of the lake for some iconic views.
Finish off the outdoorsy day with a stop at the Red Rock Canyon Viewpoint– It's practically a part of town and offers all of the amenities of a world-class national park. At Red Rock Canyon, you can go hiking, climbing, and on one of many scenic drives. The viewpoint offers great sunset and star views on clear days.
Spending More Time in Las Vegas?
Got more time to work with? Aside from all its "main" attractions, there's a whole lot to see, do, and eat in Vegas that most short-stay tourists miss out on. Here are some of the lesser-known adventures to be found in Las Vegas:
Visit the other museums: Vegas is chalk full of unique museums. Aside from the famous Neon and Mob displays, you can check out the various pop-up exhibits, including the Erotic Heritage Museum, where you can see and learn about human sexuality. The immersive Van Gogh exhibit is another can't-miss if it's happening on your travel dates.
Check out the Arts District: To see Vegas before it became another version of Disneyworld, look no further than the Arts District, where you can check out the underground Art Factory too.
See a show: Las Vegas is known for its legendary entertainment scenes, and there's always a new artist or performance to be enjoyed. Check out which artists are "in residency" as those will be your best show options.
Go on an Area 51 tour: Nearly everyone has heard of the conspiracy-riddled region of Nevada known as Area 51. While the exact site is strictly off-limits to the public, tours from Las Vegas to what's known as the "Extraterrestial Highway" is one of the most unique places to visit in the USA.
1. Give Chinatown a chance
Often neglected, Las Vegas' own Chinatown is actually really good. Some of the best places to eat in Vegas are in this plaza because the restaurants can be very authentic. You can thank all of those Chinese businessmen who just made a quick million at the slots and want a hot pot to celebrate.
2. Be knighted
Ironically, the most popular pro sport in Las Vegas is hockey. The Las Vegas Golden Knights have only existed for a couple of years and yet they have already made it to the Stanley Cup finals! Obviously, the locals love their team but the Knights are gaining fans from all over the country now.
3. Go faster!
If you're a fan of speed or anything turbo-charged, there are two activities that you must do in Las Vegas: one is driving a souped-up race car and the other is going for a ride in an acrobatic plane. Both are huge thrills and will leave you breathless (quite literally).
4. Get outdoors
Vegas may be most well known for its casinos and gambling, but one thing that is often overlooked about the city is its location.
Las Vegas is very close to some amazing national parks, including Zion, the Grand Canyon, and Death Valley. For outdoorsy people, Las Vegas is the perfect base for an epic Southwest road trip.
5. Double down at a blackjack table
It may not be one of the cheapest things to do in Las Vegas, but you simply have to sit at a blackjack table on a casino floor – if only for the experience. Feel free to set whatever budget you'd like; just try not to get sucked into the game. Funnily enough, these casinos (AKA massive, glitzy businesses) know how to profit off saps with bad luck.
If you hit a big win, my advice is to take it and run. If you get lucky once, chances are you won't get lucky again.
6. Walk on The Strip
It may be cliche, but walking The Strip at night is still one of the best things to do in Las Vegas. Here, you'll find all Las Vegas' top attractions, like the Luxor, the Bellagio, Caesars Palace, and more. All are monuments to the city's glory and can be best described by one word: extra.
7. Be a different person
Vegas has always attracted people who are trying to escape something, be it for a weekend or a lifetime. These runaways are afforded new lives in Sin City and some thrive on their newfound anonymity. Regardless of where you come from, you can be whoever you want here, because "what happens in Vegas, stays in Vegas".
8. Go to a music festival
More and more, Las Vegas is turning to EDM. While the casinos are already throwing dance parties every night, the absolute best way to experience electronic is at a festival in Vegas.
EDC is legendary by now for its outrageous production and stacked lineup, but the Life is Beautiful and iHeartRadio festivals are good too.
9. Visit a different sort of museum
Las Vegas may not be a paragon of high culture or offer the most spectacular collections of art. What it does have though is a series of very odd and interesting museums.
Be sure to drop by the likes of the Pinball Hall of Fame, the Atomic Testing Museum, the Neon Museum, or the Mob Museum for a unique experience.
10. Check out the street art
One of the best things to do in Las Vegas during the day is to go on a hunt for street murals. The Downtown area, specifically between 5th and 7th Streets on Ogden, is jam-packed with street art leftover over from the Life is Beautiful Fest. The Cosmopolitan Hotel also has a cool Wallworks gallery in one of their garages.
Hostels in Las Vegas are kinda cheap but their quality is not what I'd call extraordinary. They're usually built from former motels, which may or may not irk you. Prices spike if you visit Vegas on the weekend.
Las Vegas Hotels often appear expensive but don't feel discouraged. There are plenty of affordable lodging options in Las Vegas. Be aware that many hotels deals may neglect to provide certain amenities, much in the same way budget airlines do. Keep this in mind when planning a trip to Las Vegas.
Vacation rentals in Vegas give you more freedom and flexibility to come and go as you please as well as spread out like you would at home.
The Best Places to Stay in Las Vegas
Wondering where to stay in Las Vegas? Here are some of the best budget options in the city. With a higher bank balance, the sky is literally the limit when it comes to accommodation in Sin City.
For something a bit different, I highly recommend checking out the numerous VRBOs in Vegas.
Las Vegas Budget Accommodation Hacks
Sometimes you need your own roof above your head – I know the feeling. Other times, you're doing everything you can to save a nickel and dime.
If you're trying to cut the costs of travel to Las Vegas, then maybe it's time to stay somewhere besides a hostel or apartment. Airbnbs in Las Vegas are plentiful and generally of high quality. You can also save some cash as you can use the kitchen to cook your own food.
If you need to save money, try one of these:
Visiting the USA on a budget is tough, and in Vegas, it can seem downright impossible. Las Vegas is marketed as one of the most luxurious, most lavish places to visit in the US. It's a city where people with too much money visit to throw away their hard-earned dollars, simply because they don't know what else to do with them.
That being said, Las Vegas can still be cheap! This city offers a number of affordable options, and you don't necessarily have to be a high roller to visit.
Las Vegas will take your money, no matter how little it is. In order to travel to Las Vegas on the cheap, you just have to have very strict spending habits.
Take note of what I say in this Las Vegas travel guide and y'all will be fine. A lower daily budget for Las Vegas will be around $60-$80. This will get you a dorm bed, groceries, tickets to some local sites, and beer money.
The average daily cost of food in Las Vegas can vary widely. Las Vegas has some crazy restaurants, run by some of the most famous chefs in the world, and eating at these will assuredly cost a lot. If you stick to cooking for yourself and dining at local places to eat in Las Vegas, then your dollar will go much further.
For that matter, eating or drinking anywhere near The Strip will cost way more than the Downtown Vegas area or the burbs. If you want to truly do Las Vegas on a budget, limit your spending near the casinos and popular areas.
A Daily Budget in Las Vegas
A Few Free Things to Do in Las Vegas
Even though it's one of the most opulent places in the USA, there are actually quite a few free things to do in Las Vegas. Take advantage of one of these gratis offerings to really visit Las Vegas on a budget.
First Friday Art Walks – On the first Friday of every month, the Vegas Arts District sets up a big block party for exhibiting local studios. There's plenty of art to see and lots of food vendors to keep you going.
Free concerts – Fremont Street hosts a lot of free shows in Las Vegas. Hang out here long enough and you're bound to catch one.
Free shows – Las Vegas almost always charges a premium (or discounted one) for a performance. Luckily, there are a couple of staples in the city that you can catch for free. Circus Circus offers complimentary acrobatics on a daily basis and the Dueling Pianos at Harrah's is practically a right of passage for first timers to Las Vegas. There's also the iconic Volcano at the Mirage, but it may be a little underwhelming compared to the ones in Iceland.
Silent Savasana – If you're burned out from a couple of days of binge drinking or maybe just want to get away from the madness, it's time for some yoga. Silent Savasana hosts free yoga courses at various locations around Vegas and provides headphones to cancel out the noise of the city.
Tasters – There a number of local factories and restaurants in Las Vegas that organize free tastings of wine and sometimes food. Hearthstone Cellar, Rock n' Roll Wine, and Ethel M Chocolates are all well-known practitioners of the free sample. Just don't expect these to be a real source of sustenance.
Las Vegas Travel Guide – Budget Tips
Las Vegas can be one of the most expensive cities in the USA, but as a local told me once, "only idiots pay full price." Las Vegas is just one of those places where you need to pull out all the budget travel tricks!
Find cheap drinks during happy hour – Las Vegas has some crazy drink/food specials that could seriously sustain you for a while. Scope out the best happy hour deals in Las Vegas. Or…you could make your own cocktails to be enjoyed from your hotel balcony. Seeing as you are in Las Vegas, the Vegas Bomb Shot is a good one to sip at sunset.
Take advantage of Vegas "freebies" and visitors coupons – There a ton of offers floating around that can get you everything from 2-for-1s to free buffets in Las Vegas. Women can usually get into all the pool parties and clubs for free too. Check with your hotel or casino to see if you've earned any, sign up for local memberships, and use Las Vegas Visitors coupons.
Look for discounted or free shows in Vegas – A big thing to avoid in Las Vegas is a full-priced ticket. For whatever reason, there are a ton of leftover tickets or cancelations, which means that there are always discounted offers. Drop by a hotel concierge or ticket office and see if you can get cheap Vegas show tickets.
Hustle – At the end of the day, Las Vegas is all about taking advantage of a situation. One of the best ways to get free stuff in Las Vegas is just by being smooth – pretending to be a high roller, tipping waitresses well to get free drinks, convincing show-goers to give you their extra pair of tickets; it's all a part of the game.
Get free lifts – If you're going to a club, particularly a strip club, don't take a taxi. The club will provide free transport, just because they want to stick it to local taxi companies.
Why You Should Travel to Las Vegas with a Water Bottle
No corner of Earth is free from our plastic problem… so do your part to say no to single-use plastic.
You aren't going to save the world overnight, but you might as well be part of the solution and not the problem. When you travel it really puts the full extent of the plastic problem into perspective. So I hope you become more inspired to continue being a responsible traveler.
Plus, you can save money from all those overpriced bottles of water from the supermarkets too! Travel with a filtered water bottle instead and never waste a cent nor some poor fishy's life again.
Las Vegas is a desert, in case y'all haven't heard yet – a place that is full of cacti, Gila monsters, and the buried remains of those that opposed mobsters. It is hot in Las Vegas, in more than the literal sense, and will be for most of the year.
What to Pack for Las Vegas
What you're going to pack for Las Vegas will vary depending upon when you visit, but here are a few essentials I wouldn't head to Sin City without!
While it might not be the safest part of the USA, Las Vegas is far from the most dangerous. Especially after the 2017 Las Vegas Shooting, security has been amped up making it more secure than ever.
Las Vegas attracts all kinds of shady characters, both rich and poor, who are looking to score quickly. You shouldn't be surprised to hear that a city that lures so much money and frivolousness also brings about a few thieves in the process.
Luckily, Las Vegas takes security very seriously. The city maintains its reputation as being one of the biggest gambling destinations in the world because it ensures that people walk out with what they win. If people were being robbed in droves here, Las Vegas would not be as popular as it is.
The police and private security firms are very active on The Strip and near popular casinos. Casinos themselves will often aid guests by escorting them to wherever they need to go. They will usually provide additional means of guarding your winnings too, be it in the form of a personal check or safe.
That being said, thieves never really give up. Pickpockets do roam the streets and will take advantage of you if given the opportunity. If you're in a smaller casino or in a less-busy part of town, there will be fewer eyes around to stop thieves.
No matter where you are or how drunk you intend on getting, you must always practice travelling safely.
On that note, be aware of hustlers, con artists, and prostitutes. These kinds of people will try to coerce you out of your money or put you in a situation where it can be taken forcibly. If someone presents an offer that seems to be good to be true, it probably is.
Sex, Drugs, and Rock 'n' Roll in Las Vegas
Las Vegas is synonymous with sex, drugs, and rock 'n' roll. Internationally known for its insane parties, and copious amounts of illicit substances, Vegas is THE place to drink and party.
Now let's start with the legal stuff: alcohol and weed! Yup–Las Vegas is one of the places in the US that has embraced drug tourism and sells the good ol' devils lettuce to anyone age 21 and over. Don't expect the dispensaries to be cheap, but they're there, and they're state-of-the-art.
Alcohol is as easy to find as water, and ladies can likely find plenty of opportunities to get lit for free. From pool parties to EDM club scenes, Las Vegas is a fabulous place to be a woman. Guys on the other hand can still attend, but paying up is a pre-requisite.
As the saying goes, "What happens in Vegas stays in Vegas" and that's not a joke: some real crazy shit can and does happen here. The casinos can easily make you feel like you're in another dimension, and that's when things can get weird. Above all, make sure you stay hydrated when trying any of the many illegal substances of Sin City.
Now to talk about one last thing: sex. It's well known that Las Vegas and sex work go hand and hand. Though brothels and prostitution are legal in some parts of Nevada, that doesn't include Clark County–where Vegas is located. Escorts and strip clubs are legal, however, and you certainly won't be lacking in options.
If you do make your way into this scene, make sure you respect anyone you're interacting with, as they're a real person just like you. Love and sex on the road are almost inevitable in Sin City, but that doesn't mean you shouldn't try your best to partake responsibly.
Getting Insured BEFORE Visiting Las Vegas
Traveling without insurance in Las Vegas would be risky. Especially with the infamous (and ridiculous) for-profit health system in the USA. So do consider getting good travel insurance sorted before you head off on an adventure.
I have used World Nomads for some time now and made a few claims over the years. They're easy to use, professional, and relatively affordable. They may also let you buy or extend a policy once you've started your trip and are already abroad which is super handy.
ALWAYS sort out your backpacker insurance before your trip. There's plenty to choose from in that department, but a good place to start is Safety Wing.
They offer month-to-month payments, no lock-in contracts, and require absolutely no itineraries: that's the exact kind of insurance long-term travellers and digital nomads need.
SafetyWing is cheap, easy, and admin-free: just sign up lickety-split so you can get back to it!
Click the button below to learn more about SafetyWing's setup or read our insider review for the full tasty scoop.
Its existence may be a slap in the face to Mother Nature (no city of this size should be in situated in what feels like the Mojave Desert) but its location is pretty hard to beat.
Las Vegas is at the confluence of some of the best states in the USA, including California, Northern Arizona, and Utah. If you're on a West Coast road trip, you can get to Las Vegas very easily and have immediate access to all of its unearthly delights.
If you're coming from Los Angeles for a weekend road trip, be aware that Highway 15 can be very congested with people doing the exact same thing. While driving in the US is pretty straightforward for the most part, with this region, not so much. There have been so many deaths from reckless driving on I-15 that the route was actually named one of the deadliest in America. So be on guard.
If you do not have your own car rental or otherwise, you can still travel to Las Vegas via bus or plane (obviously).
McCarran International is Las Vegas' primary airport. The airport itself is located very close to The Strip and there are multiple public buses connecting the two. A bus from McCarran takes around 30 minutes to reach The Strip and 40 minutes to reach Downtown Vegas.
I'd avoid taking a taxi from the airport as the rates in this town are robbery. Choose Uber or Lyft if you really need a private car.
Long-distance buses service Las Vegas frequently. Greyhound is the most popular national company though MegaBus is a good alternative.
For the ultimate experience, you can rent an RV in Vegas. That's how make a trip that rocks!
Getting Around Las Vegas
Compared to many other American cities, Las Vegas is small. On a map, getting around Las Vegas seems like a very simple affair as it's grid-like and most of the big Vegas attractions are fairly close to one another. Many people choose to experience Vegas by foot and most have a great time doing it.
Walking in Las Vegas can be grueling though. The heat can be relentless and, oftentimes, the only way to escape it is to duck into a casino for a moment. The strip itself is about 4-miles long and, while that may not seem like a lot, it can become a death march.
Of course, you can go walking in Las Vegas. Just remember to bring a good water bottle and take frequent breaks. If you've been drinking, dehydration will kick in MUCH quicker as well so try not to supplement water with cocktails.
Las Vegas actually has a very effective and varied public transportation network. Between the monorail, trams, and public buses, you could conceivably see the best of Vegas without being outside too much.
The public buses (managed by RTC) are your standard urban affair – utilitarian and efficient. Rides cost $2 one way and $5 for day passes. The Strip has its own set of buses – a double-decker called The Duece and the SDX – and these cost $6 for a 2-hour pass.
The Las Vegas monorail is a cool way to get around the city but isn't really practical to use. It has limited routes, capacity, and is pretty expensive to use. I'd ride it a couple of times and move on.
Finally, there are a couple of trams that provide transport on the strip. They're also limited but are at least free to use.
Traveling in Vegas long-term? Keen to make some cash when you are not exploring the city?
Teaching English online is a great way to earn a consistent income—from anywhere in the world with a good internet connection.
Depending on your qualifications you can teach English online from your laptop, save some cash for your next adventure, and make a positive impact on the world by improving another person's language skills. It's a win-win!
In addition to giving you the qualifications to teach English online, TEFL courses open up a huge range of opportunities and you can find teaching work all over the world.
Overall, Las Vegas isn't what I would call a top place to work online or volunteer, but you can still find some decent opportunities with a reputable company. I'd recommend steering clear of shady companies and instead, book your volunteering experience with a good one.
The Broke Backpacker recommends Worldpackers as it's easy to use and offers up some cool community features. It's review-based so you'll be able to know exactly what to expect before you arrive.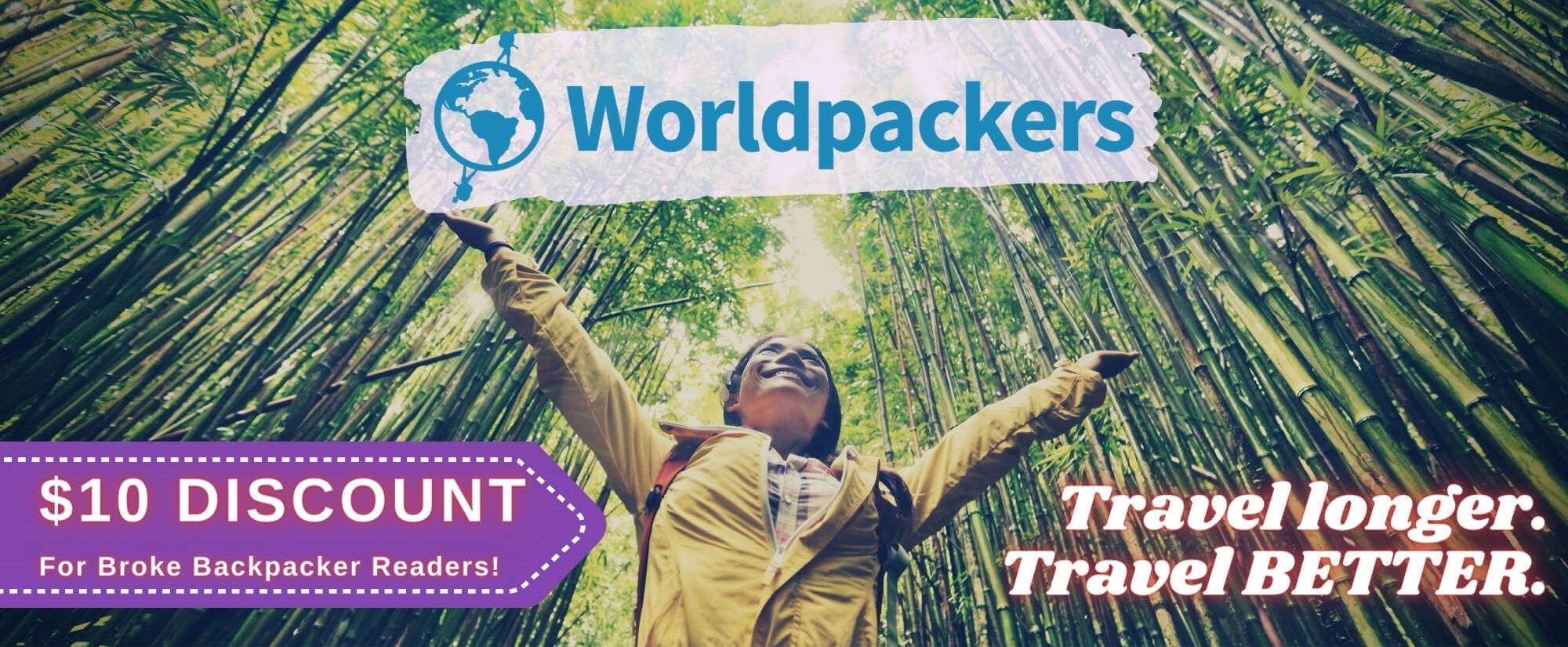 Worldpackers: connecting travellers with meaningful travel experiences.
It's no secret that everyone goes to Las Vegas to party – a lot of my friends go there several times a year just to let loose. Arguably, Las Vegas is the ultimate party destination in the USA as you can do just about anything here and will have to worry very little about being judged.
The Strip is probably the most revelrous part of the city. By day, the casinos host wild pool parties. At night, the Las Vegas Strip is mostly inhabited by stumbling drunks, wandering from casino to casino with too much money and too little sense.
Most of the bars and clubs in this area are ridiculously expensive and, honestly, a bit over the top. At this time and place is when most of the weird shit happens in Vegas.
Since most casinos have their own stages, the grand majority of music shows happen on The Strip. The initial price for these shows may seem steep but you can always find cheap Vegas show tickets. Just ask around and you'll dig something up.
Downtown is where you'll find more casual forms of bars, like pubs, lounges, and the occasional speakeasy. In my opinion, it offers the greatest variety of things to do in Vegas at night. You'll also find much better deals in this part of town.
Some noteworthy spots in Downtown are Commonwealth, Backstage Bar, Downtown Cocktail Room, and Atomic Liquors.
If you want a real taste of Vegas, hang out in the local joints. These are often frequented by the permanent denizens of Vegas and feel much more authentic. Some local bars in Las Vegas include Frankie's Tiki Room, Huntridge Tavern, and Dino's Lounge.
Dining in Las Vegas
It wouldn't be one of the most famous vacation destinations in the world if the food was shit, would it?
Las Vegas offers a ton of culinary options in a million different ways. Whether you're looking for a Michelin-star meal or something easier, I doubt you'll go hungry here. Join a curated Las Vegas food tour so you don't miss any of the eats the city has to offer.
Buffets are one of the most popular ways of eating in Las Vegas because they're large and cheap. Lots of hotels offer these as freebies to Las Vegas guests and these can make all of the difference. Free buffets in Las Vegas are one of the best ways to save cash.
There are also a number of venues in Vegas that offer discounted full-course meals. These can still be quite pricey ($50+) but, considering the quality, it's still well worth the money.
While you can find just about any type of food in Las Vegas, there are two varieties that you should pay special attention to – Italian and Asian.
Italian immigrants played a huge part in the development of the city and obviously brought their cuisine with them. You can still find a lot of authentic Italian food in Las Vegas, particularly at the local lounges.
Asian food is very well represented in Las Vegas due in part to the plethora of visiting businessmen. Las Vegas' Chinatown actually has a number of great restaurants and shouldn't be ignored.
On another note, the Thai in Vegas is extremely good and I've heard from several people that the Lotus of Siam is a must-visit restaurant here.
Slick Restaurants and Cheap Eats in Las Vegas
There's no denying it: eating in Las Vegas is expensive AF. The world-famous city is teeming with 5-star restaurants and celebrity chefs, and eating just one meal on The Strip could cost more than your hostel's nightly rate.
But while you should splurge on Vegas' iconic gastronomy at least once, here are some of my favorite cheap eats to help you stay on budget:
How to Get Off The Beaten Path in Las Vegas
While I've touched on some of the less touristy things to do in Vegas, to actually get off the beaten path will involve getting out of the city. Here are some of the superlative places to visit near Las Vegas if you want to see more than casinos:
Before you head to Sin City, it's likely you have some questions you want to be answered, and I've absolutely got you covered. Here are some top FAQs for traveling to Las Vegas:
Sin City is going to be a lot of things at once, and hopefully, that will include some killer memories in some of the gaudiest locales in the entire United States. As much as this city has been filmed and discussed, there's a massive difference between watching a movie set in Vegas, and having your own Las Vegas experience.
The latter is sure to be unlike any other trip you've taken. There's simply no other city in the world quite like this. Even backpacking Los Angeles won't hold up.
But as extra and over the top as Vegas is, it's a whole lot more than that if you give it a chance. It's the quirky downtown scenes, the legendary natural sites that surround it, and more importantly, it's a place where people live full lives beyond the casino floors.
If I can give you one final piece of advice in this Las Vegas Guide let it be this: see the real Vegas. You know, the one beyond the multi-million dollar casinos and $100 dinners. Those deserve to be experienced too, but give your Las Vegas trip a bit of variety why don't you?
Try to meet locals, head to those offbeat spots, and sample the many cheap restaurants that can be found outside of The Strip.
Regardless of how you spend your time, make sure you buckle up: a trip to Las Vegas is one helluva ride!
Last Updated: February 2022 by Samantha Shea at Intentional Detours
---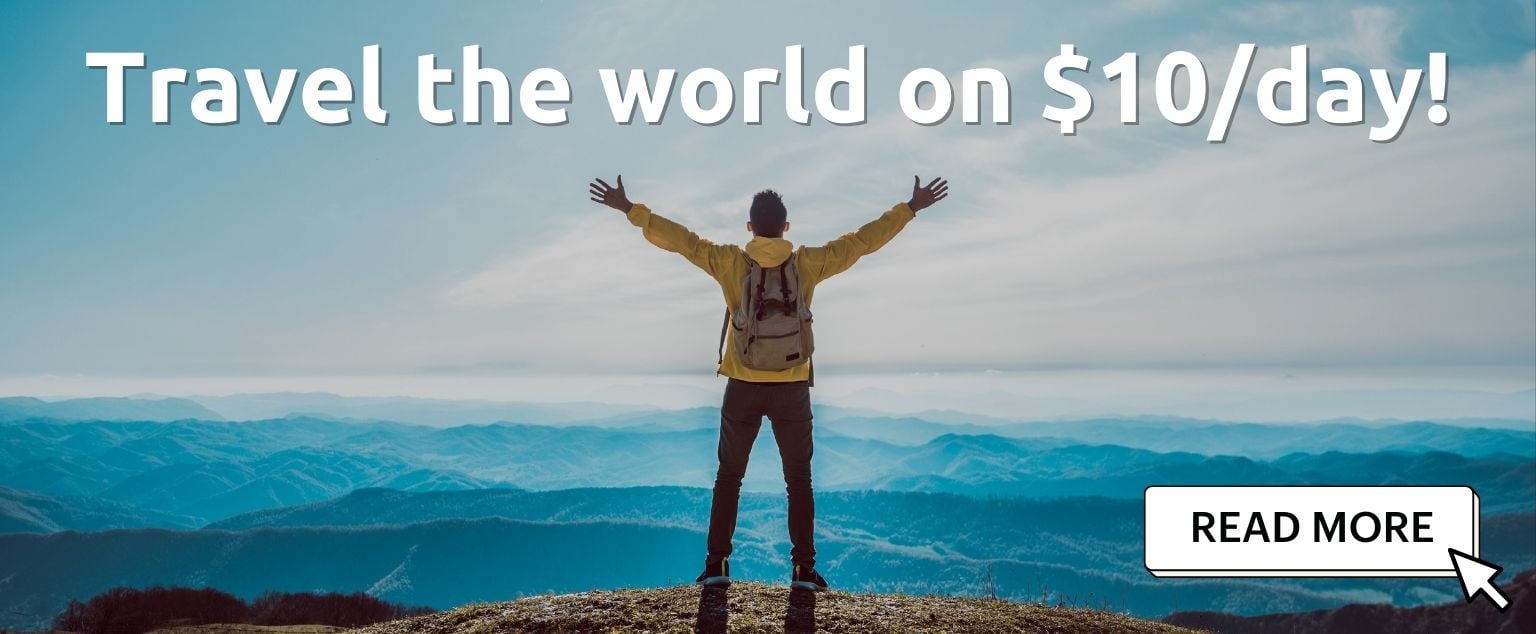 And for transparency's sake, please know that some of the links in our content are affiliate links. That means that if you book your accommodation, buy your gear, or sort your insurance through our link, we earn a small commission (at no extra cost to you). That said, we only link to the gear we trust and never recommend services we don't believe are up to scratch. Again, thank you!