Las Vegas—the oasis of shimmer, sheen, and shady dealings in America's Great Southwest. While the glittering diamante of the Mojave Desert has been attracting hedonistic souls for an age, these days, a new breed of holidayer swarms to Las Vegas seasonally: the RVers.
RV rentals in Las Vegas are both plentiful and powerful! Supremely located amongst a number of the Southwest's top highlights, as well as bringing its own signature high-establishment entertainment, Las Vegas has shot up as a sought-after destination fit for RV travel.
BUT… RVs can be overwhelming, particularly for a first-time renter. Planning an RV trip out west takes guts and know-how. There are a lot of intricacies to renting an RV in Las Vegas.
From knowing how to hire an RV in Las Vegas to where to go and stay once you've got it, it's an exciting new venture! One filled with twists, turns, packing lists, and devilish insurance: all the things we'll be covering in our newbie renter's guide.
So buckle up because it's time to hit the road! The RV parks of the Las Vegas area are calling, and so is the adventure of the arid American landscape. This is exactly how to score a rental RV in Las Vegas and what to do once you've got it.

Unlock Our GREATEST Travel Secrets!
Sign up for our newsletter and get the best travel tips delivered right to your inbox.
Where to Rent an RV in Las Vegas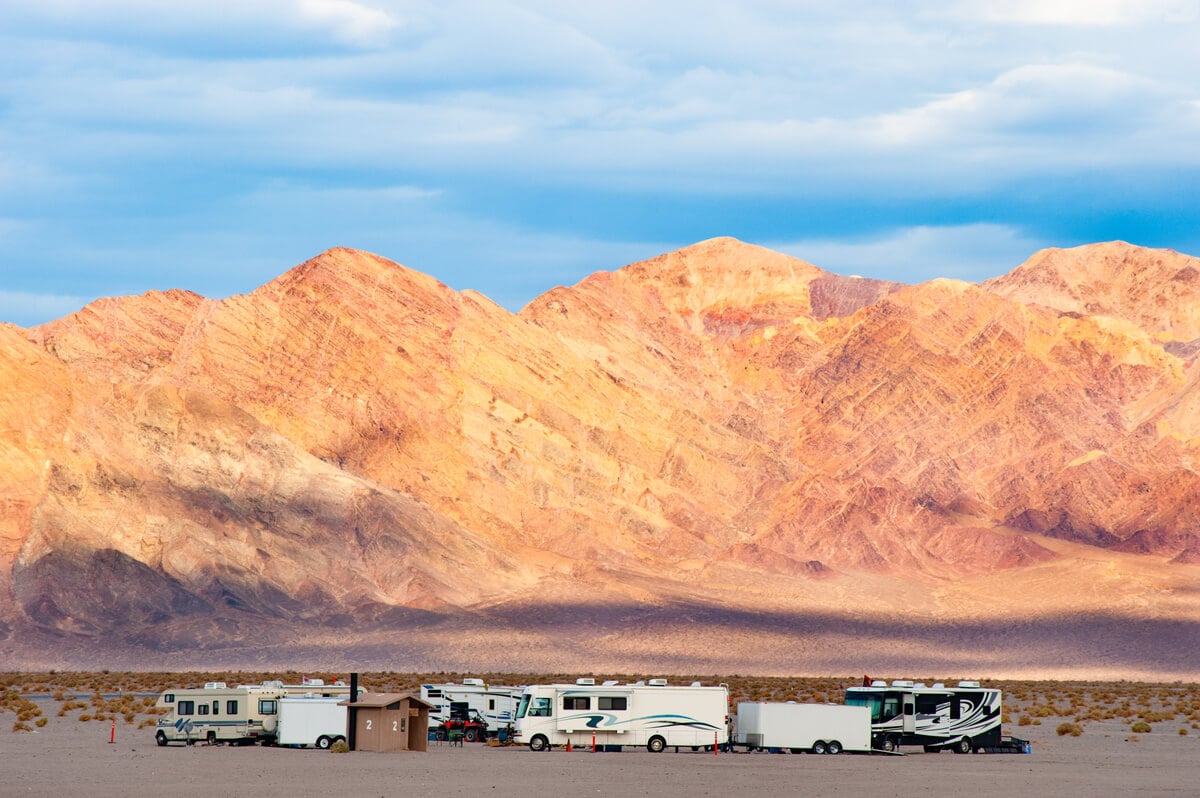 You could roll into town, absent of plans, and see what kind of RV rentals Las Vegas offers. There are plenty of rental RV dealers in Las Vegas to get you kitted out.
The problem is that then you have no guarantee that you'll be rolling back out of town in something luxurious and suited for the harsh winds of the Mojave. Or at all.
So instead of missing out, find yourself a portable home before you rock up dazed and confused in the glittering City of Sin! That way your RV hire will already be waiting for you when you visit Las Vegas. Just grab the keys and it's on your way, Cowboy!
Outdoorsy – Airbnb for Vanlifers
Outdoorsy is seductive in concept and a straight fox in the execution. It's Airbnb except you're renting the vanlife… All of the 21st-century nomadic bliss without any of that dastardly commitment!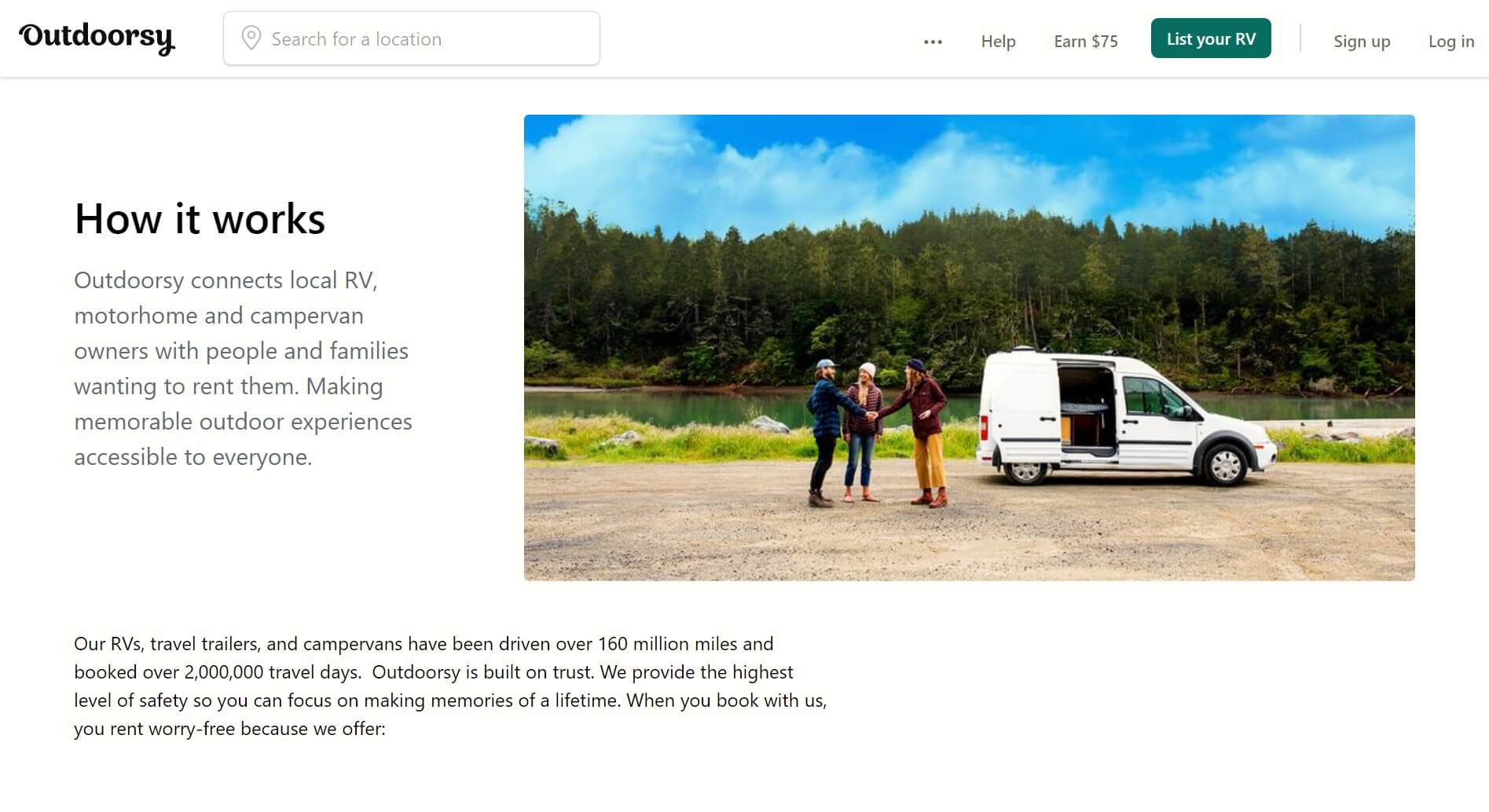 Honestly, I know we're talking Las Vegas's RV rental scene and you're probably looking for something grandiose for the whole family, but the scope of other choices on Outdoorsy is really quite scrumptious. They're stacked with big beauties of course, however, it doesn't end there!
Vans galore.
Many, many flavours of camping trailers.
4x4s with rooftop tents (for the adventures).
Motorboats, buggies, and other eclectic oddities.
Pretty much any kind of vehicle you'll need for sleeping under the stars of the Southwest, they got you covered! The best part is that it is an alternative site to Airbnb.
You're booking straight from hosts themselves: there's no slimy dealer flashing you a two-bit grin as he convinces you that this RV is the "BEST RV RENTAL IN LAS VEGAS". (Camping setup, linen, and seatbelts sold separately, naturally.)
Nay, what you see is what you get with Outdoorsy. Much like Airbnb, listers on Outdoorsy tend to be pretty straight-up because if they're not, they'll get the boot!
And as a final cherry on top of the delectable rental pie, they also do delivery. Like a pizza! So not only are you renting the vanlife, but you can have it delivered straight to your pitch, set up and ready to tango, piping hot, in 69-minutes-or-less.
So whether it's a luxury RV rental in Las Vegas you're after, some Boho's kitted-out vagrant-mobile, or a slingshot dune buggy (because why not), then Outdoorsy is without a doubt the way to go.
Best RV Rental in Las Vegas – Quick Pick!
The Desert Leprechaun
A charming little road warrior, high on both spaciousness and manoeuvrability! Linens and kitchen gear are already stocked meaning all you gotta do is hit the grocery store and get out to the campsite. The interior has a lot more character than most of the Las Vegas's rental RVs on Outdoorsy too.
Pet-friendly!
Delivery/setup/pickup available
A thoughtfully designed motorhome
RVshare – More of the Excellent Same
I'd like to tell you that RVshare is making waves, breaking wheels, and redefining the industry, however, it's not. It's basically Outdoorsy. Is that bad though?
Hell naw! Outdoorsy is dope and so is RVshare!
It's all the same perks as Outdoorsy meaning you're renting a getaway RV lifestyle for a week (or month) straight from a smiling and lovely local. You can get it delivered (usually), the interface is just as slick, and there are heaps of choices to check out! Maybe a touch fewer than Outdoorsy but still way more than you'll ever need to start living the vanlife.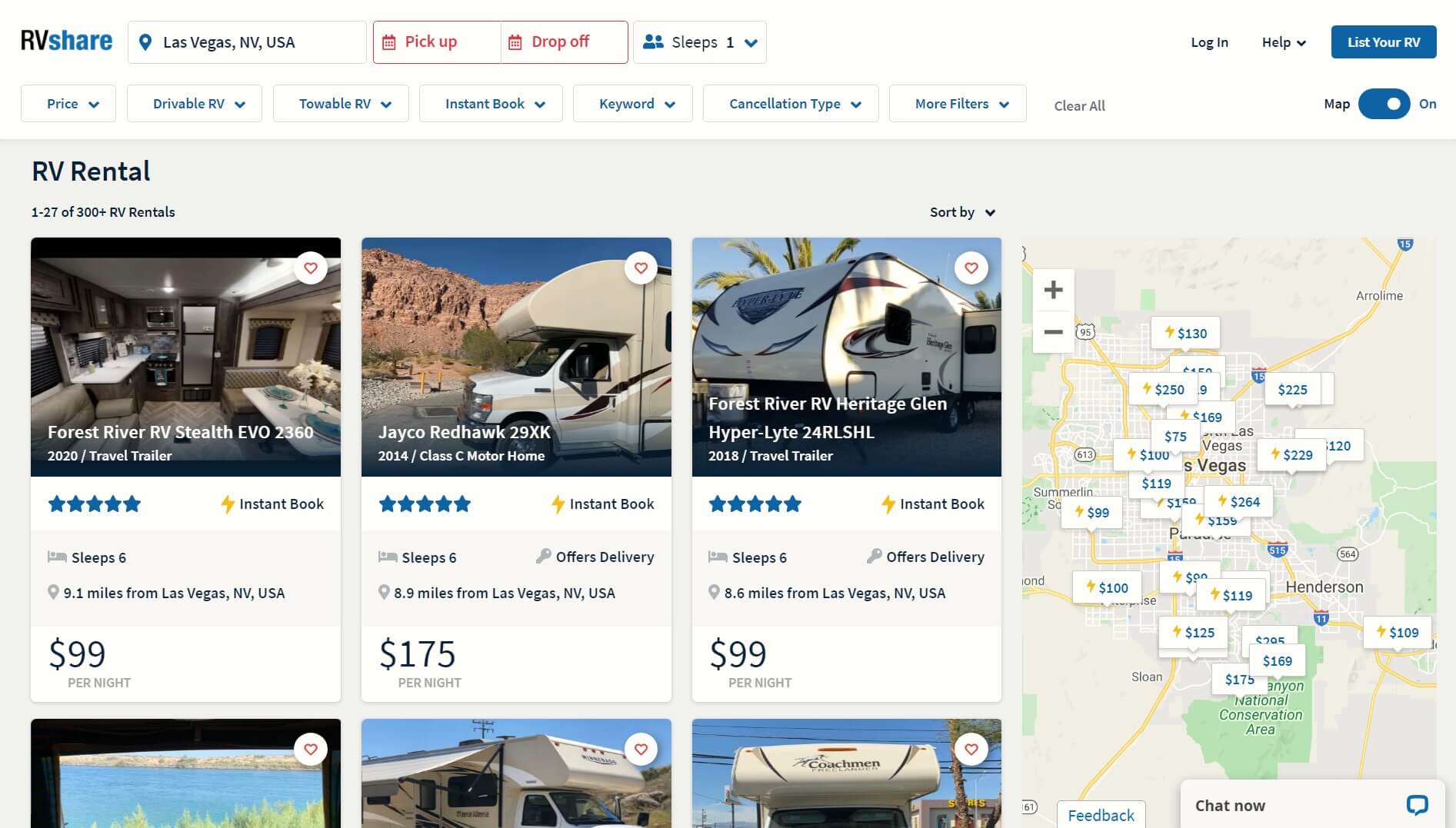 The real perk here is RVshare's offer of one-way rentals meaning that you won't have to make the round-trip back to Nevada's debauched capital. If you were looking for a one-way RV rental in Las Vegas, RVshare might be your best bet. While Outdoorsy does offer one-way rentals, it's left up to the discretion of the owner whereas RVshare is going to do the laps for them instead.
The other major difference is that RVshare is keeping it simple: RVs, camper trailers, and campervans of the Type-B ('B' for bombastic) variety. You won't find any of Outdoorsy's more offbeat choices meaning no slingin' across the Mojave plains like a wasteland raider.
Other than that, they're truthfully pretty same-same. A few minor interface differences, however, nothing to set them apart. You could hire an RV in Las Vegas with either platform and you'd be a happy camper!
Top Places to Go With an RV Near Las Vegas
Righto, now that you're decked out with your new warhorse and given it a name that adequately reflects your adventurous soul (mine's called Tiffany), it's time to talk about the coolest places to visit around Las Vegas with it!
This part's easy though. You're planning an RV trip out west. Pretty much any direction you head is going to be suitably mindblowing.
Best National Parks Near Las Vegas
I really can't reiterate this enough: no matter where you go near Las Vegas, you can't go wrong! A Southwest RV road trip is one of the most beautiful drives in the USA that there is. Stuff the whole fam-bam into the motorhome like some ritzed-up clown car, and enjoy the crimson-stained delights of Southwest America's extraterrestrial landscape.
All the same, here are my personal top picks of the many national parks near Las Vegas. Some mean crossing state lines, however, wasn't that the whole point of renting an RV in Las Vegas in the first place?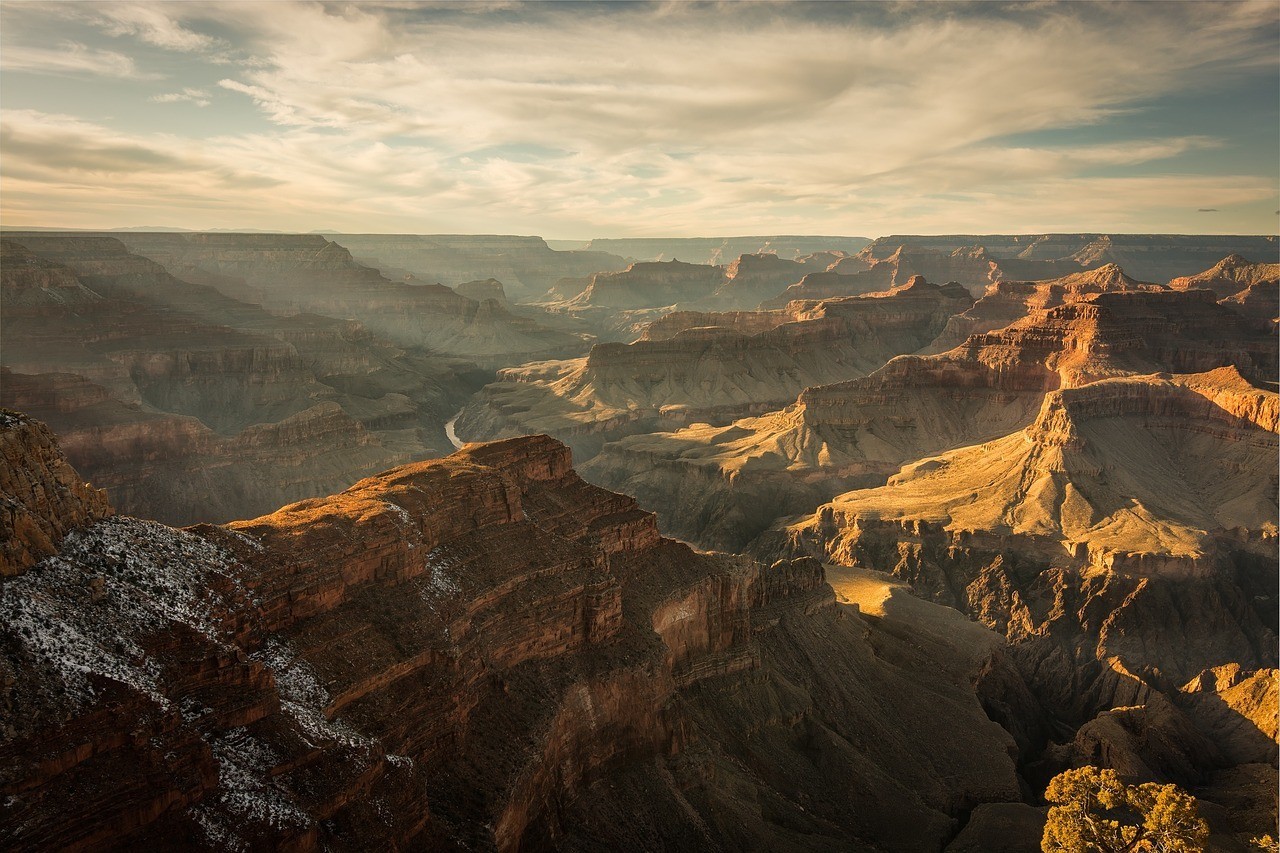 Well, if you were 3-4 hours drive away from one of the seven natural wonders of the world and didn't go, then you most certainly did dun goofed it! You can expect a lot of comparisons to Mars coming up for the next few sections, but what else can be said of the Grand Canyon?
The cavernous space of the Grand
Canyon's Martian terrain stretches for 277 miles. If you're spending some nights staying in the Grand Canyon camped out in a mobile home, that's plenty of exploration material! Whether you're hiking in it, helicoptering over it, or just kicking back in your glistening new RV rental watching the sunset with a cold one, it's an absolute trip from Las Vegas in every sense of the word.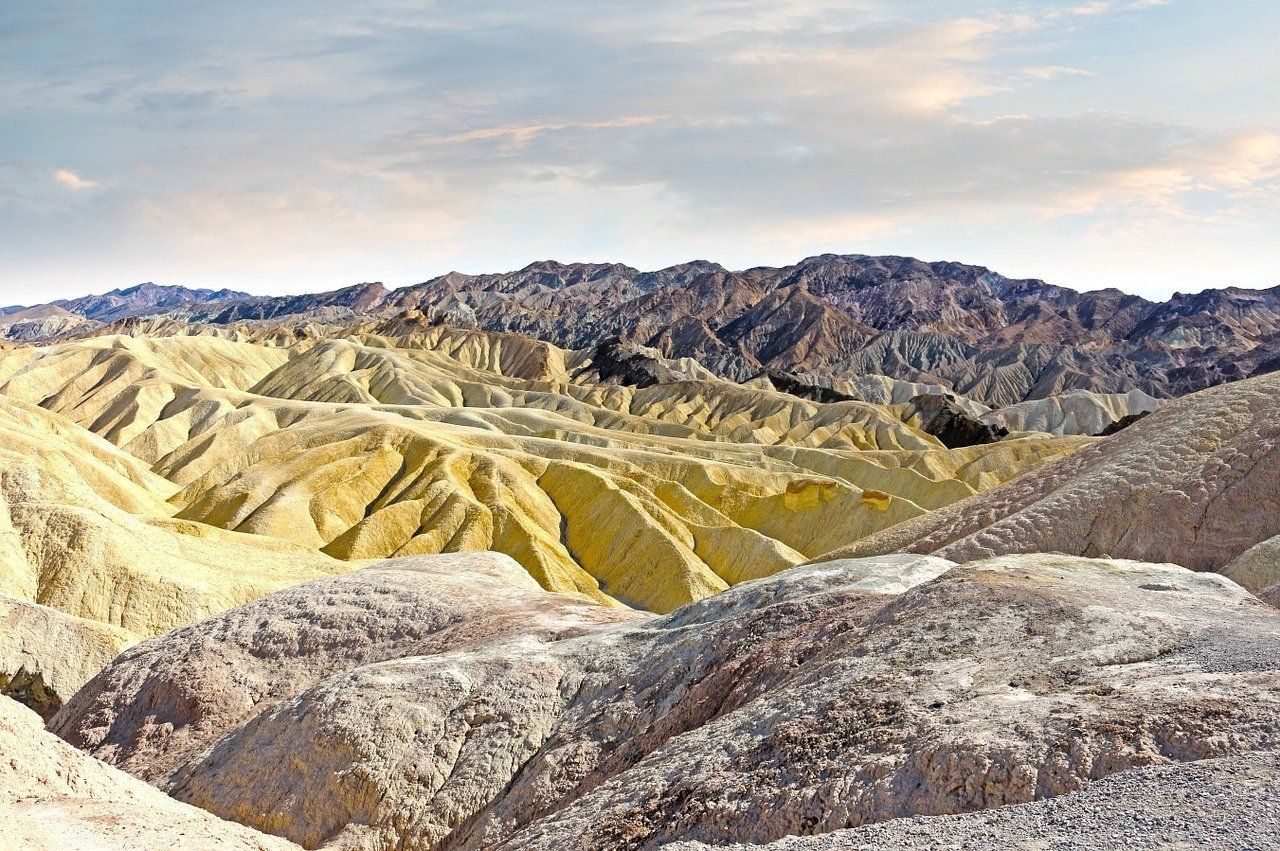 Another 2.5-hour drive (west this time), another state line, and you're at Death Valley National Park. No less breathtaking and no less Mars-like, it is just a smidgen more 'hot as balls', however.
Death Valley is a very hot place to stay. While perhaps not a camper's ideal destination for those that like to beat the heat, it is perfect for an RV trip from Las Vegas. Most of its top sights are easily accessible from the road meaning you can coast through, A/C billowing and tunes blaring, all the while sipping on frosty choccie milk straight from the fridge. And if you get snacky, just pull over, crack an egg, and let the bitumen do the work!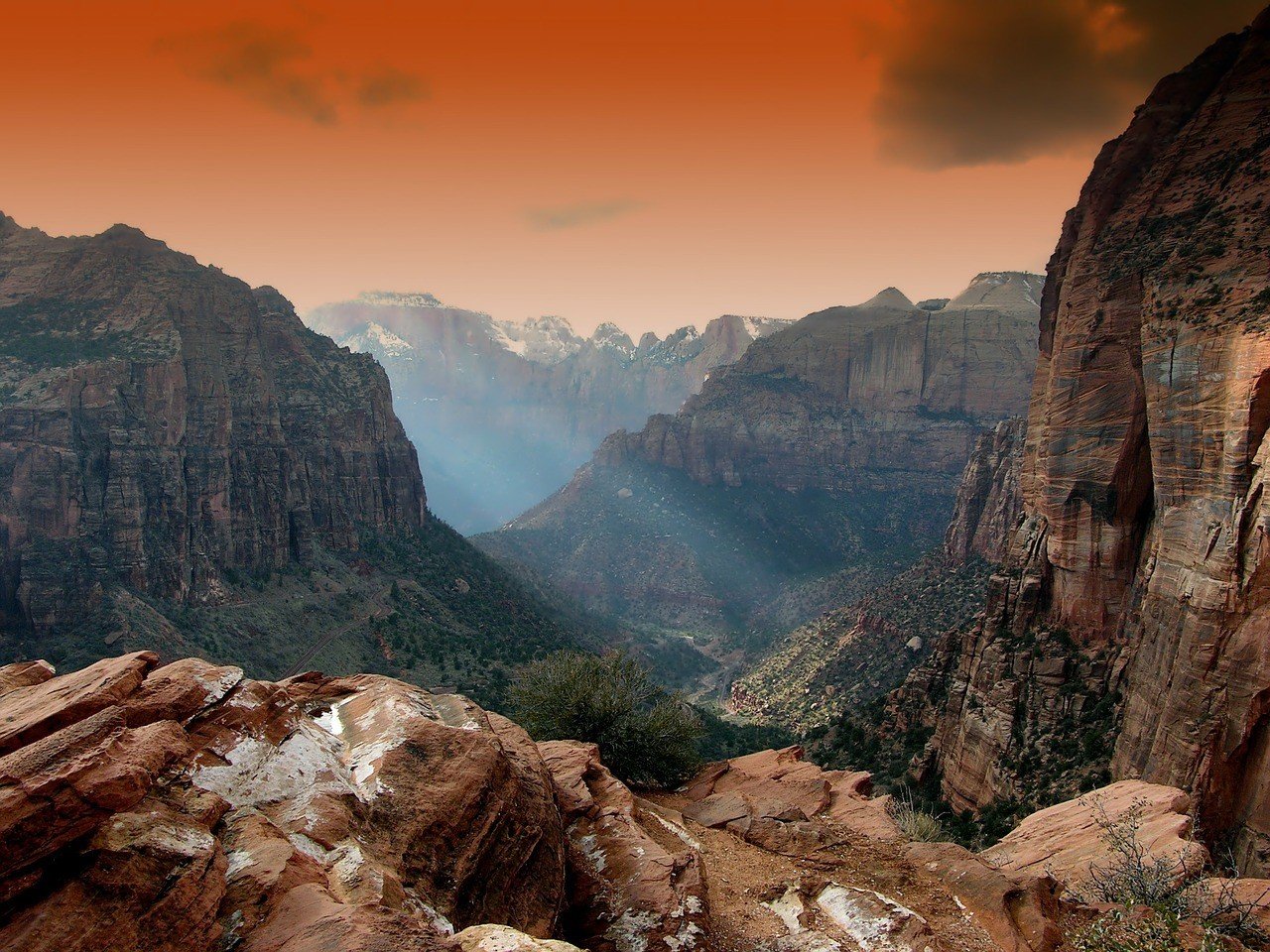 Arizona, Cally, and now Utah. One of Utah's Mighty 5, Staying in Zion National Park offers a welcome change to the near-endless stretches of ochre that colour the arid American Southwest. A versatile landscape offering abundant greenery peppered with diverse wildlife, it's another highlight not to be missed for anyone planning Southwest RV trip.
The drive from Las Vegas to Zion is roughly 3 hours and swings right past the Valley of Fire—another must-visit place for anyone renting an RV in Las Vegas. Hell, sync it up with a couple more of Utah's Mighty 5 or circle round south to Flagstaff and the Grand Canyon and you'll have yourself a little itinerary for 5 to 7-week Southwest road trip!
Boulder City, Lake Mead, and the Hoover Dam
I mean, if you're getting an RV rental in Las Vegas, Nevada, you probably wanna stay in Nevada, right? Well, you hardly have to leave town for some incredible sights! Thirty minutes outta town and you're at Boulder City.
If you're not someone who digs a city that never sleeps, then Boulder City is the perfect place to go from Las Vegas! Mixing historical goodness with a dash of small-town vibes, it's a much more low-key alternative to staying in Las Vegas itself. Given it's proximity to Las Vegas, it's perfect for a day trip into the glitzy mouth of the beast too.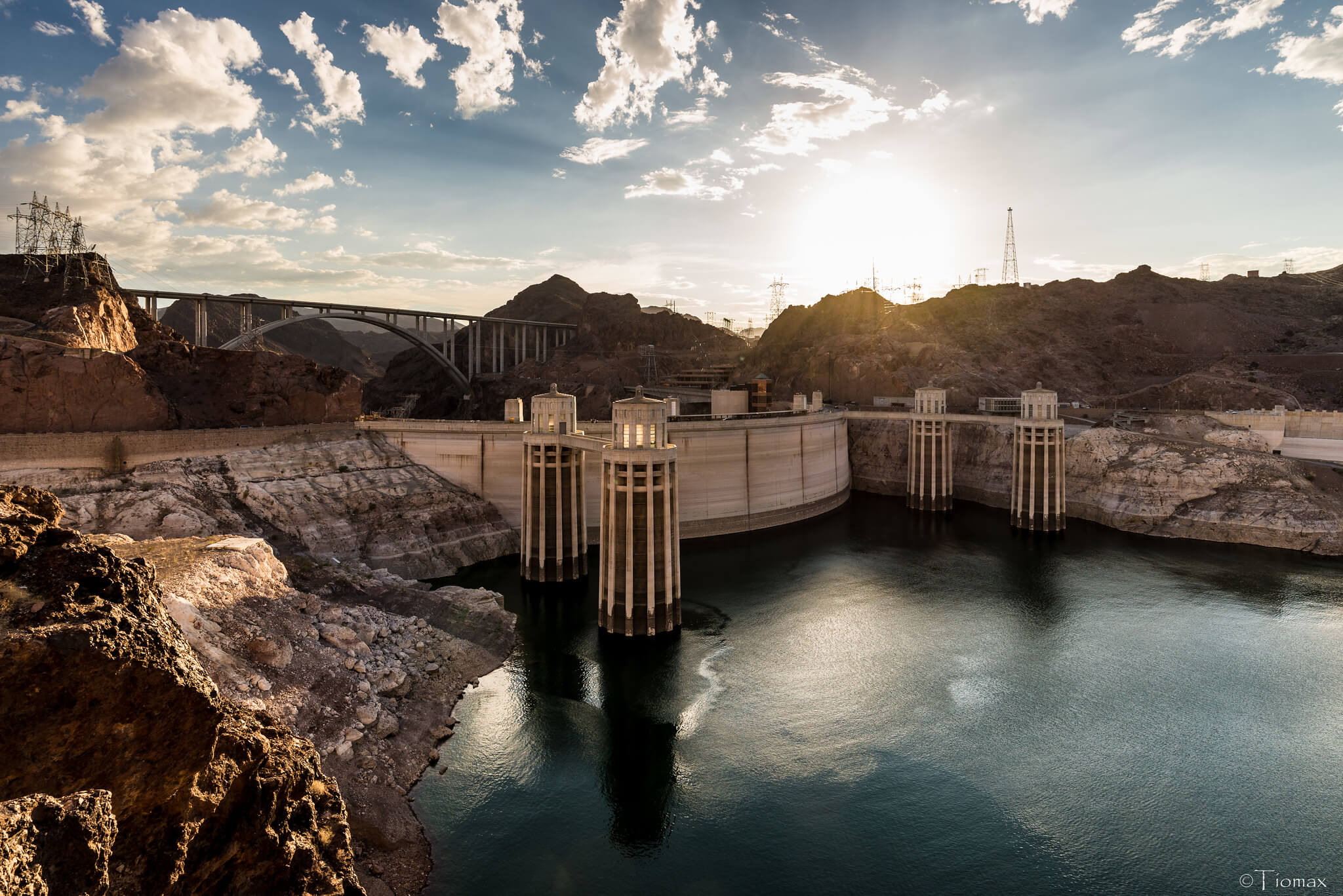 However, Boulder City is also a stone's throw from both the Hoover Dam and Lake Mead. The Hoover Dam is a modern marvel of engineering and a true sight to behold—an act of man in a land carved by God.
And Lake Mead is just chill. Forget seedy casinos and insufferably hot landscapes. It's just a relaxed lake, a perfect trip for the family, and one of the most accessible trips outta town for anyone looking for RV campsites near Las Vegas.
Reno and Lake Tahoe
For a much longer drive through Nevada state, take the Route 95 north to Reno. 'The Biggest Little City in the World', it's a chance to do the Las Vegas thing at a more subdued scale.
Honestly, Reno isn't strictly that impressive, however, the drive there is certainly worth it! The road runs through not only some more haunting examples of the Nevada desert scene but also through a number of historical old towns. For something offbeat, stop in for a dirt-cheap night at Tonopah's notorious Clown Motel in Vegas and promptly regret your life decisions.
Meanwhile, the trek back can be a whole new route! A cut south from Reno and a small diversion and you're at the stunning Lake Tahoe. Plenty of hiking opportunities abound on the eastern skirts of California and just one more diversion further south is gonna land you in the exquisite Yosemite area! With so many mindblowing goodies around, hiring an RV in Las Vegas and just getting the stank out is a no-brainer.
Area 51
C'monnn—you know you want to. Sure, this is super dorky, but that's the whole point!
Route 95 running through Rachel has become lovingly referred to as the 'Extraterrestrial Highway'. Stops include:
The Little A'Le'Inn – With trinkets, doodads, and diner grub all in theme.
The Alien Research Centre – A good place to stock up on the mythos of the area from some lovable local crazies before inevitably going down the rabbit hole.
ET Fresh Jerky – A good place to get stocked up on snacks for said rabbit hole.
Area 51 – Yeah, ok, so you can' go in obviously… But you can go to the perimeter fence! It's eerie, it's surreal, and it's an outing ripe for spicy X-Files quotes.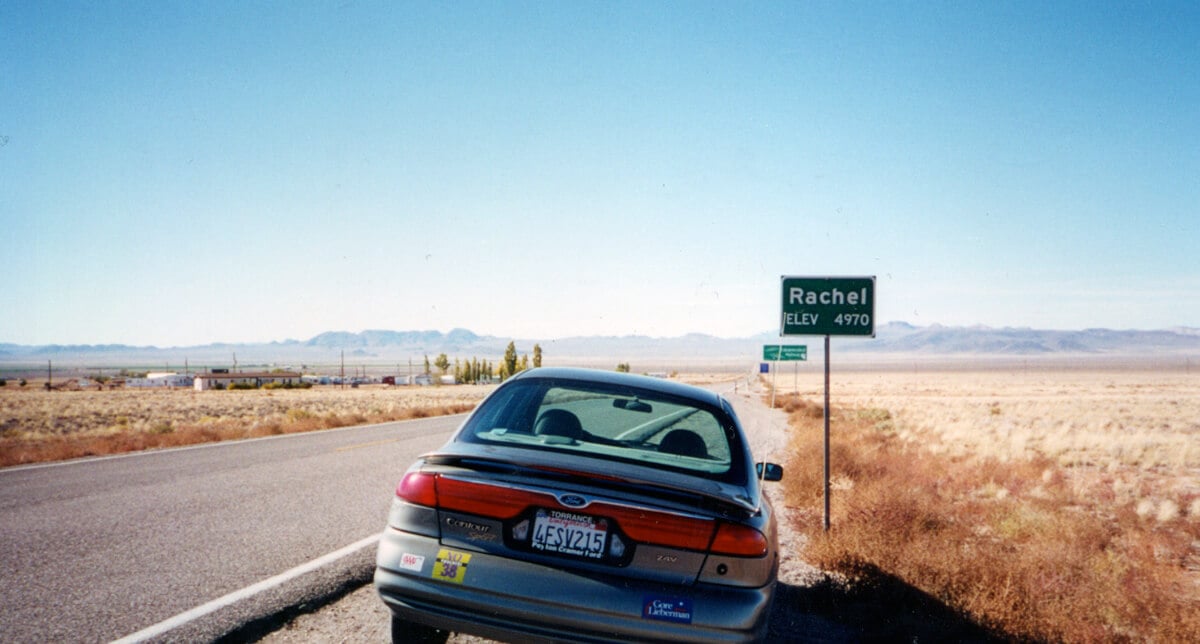 And when all is said and done, wrap up your rental RV holiday in Las Vegas with a trip to Alien Cathouse—America's only themed brothel! And just because you were definitely wondering, yes: there's a gift shop.
2000+ Sites, Unlimited Access, 1 Year of Use – All. Absolutely. FREE!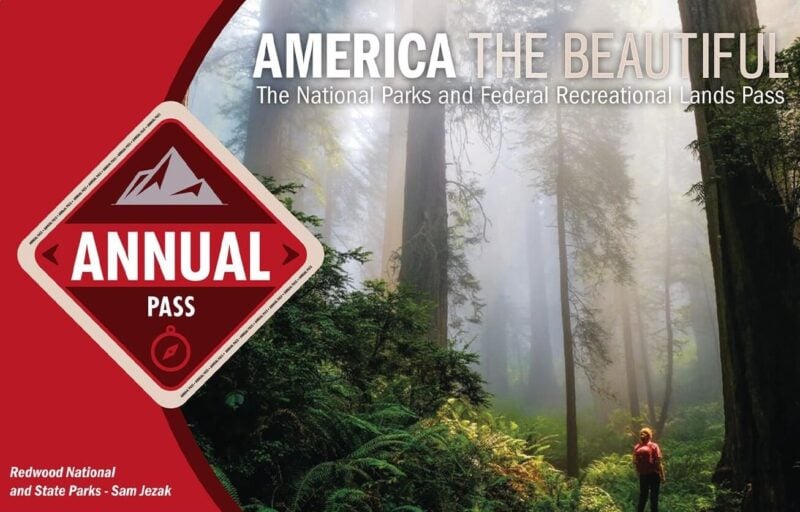 The USA is blisteringly beautiful. It's also blisteringly expensive! Visiting two national parks in day can run you $70+ in entry fees.
Orrrr… you kick those entry fees to the curb, buy an annual 'America the Beautiful Pass' for $79.99, and get unlimited access to ALL 2000+ federally managed sites in the States totally FREE!
You do the math. 😉
Buy the Pass!
Best Places to Visit in the Las Vegas Area Mega-Map
Here are all the kickass attractions around Las Vegas in summary. You can click the map to be transported to some lovely Google Maps wizardry—you're welcome!
Planning Your Las Vegas RV Road Trip – Tips and Advice
Now, while I'm sure you're absolutely titilated by the prospect soliciting nights of debased pleasantries from women dressed as little green men, we do need to get our minds back on the hard stats.
You may only be renting an RV in Las Vegas, but that's still a commitment—your choices matter! Rental prices, Las Vegas's RV parking laws, and making sure you're taking care of your trusty vessel are all equally important parts of the journey as where you're going.
Small Pack Problems? 😉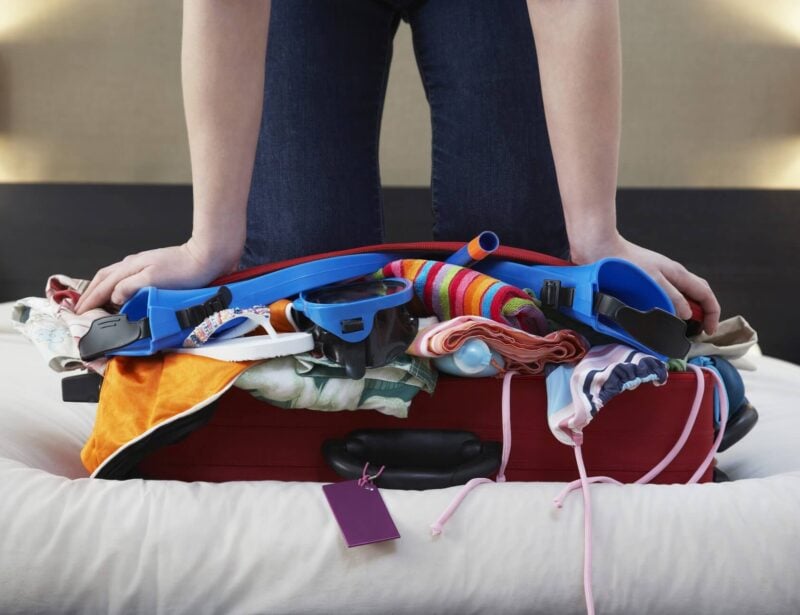 My missus travels with all her clothes in ziplock bags: don't be like my missus. UP YOUR PACKING GAME!
Packing cubes for the globetrotters and compression sacks for the real adventurers – these babies are a traveller's best kept secret. They organise yo' packing and minimise its volume too so you can pack MORE.
Or, y'know… you can stick to ziplock bags.
View Our Fave Cubes
Or Check Out the Sacks!
Planning a Trip Budget: Prices for Las Vegas's RV Rentals, Parks, and Campsites
Look, the prices you can expect to pay are going to vary wildly. As always, it's up to your personal tastes, however, it's also largely dependent on the season, your RV's age, and several other factors.
If you're really travelling on a tight budget, then there are plenty of choices for free camping near Las Vegas to keep your spendings low. You don't have to stay in Las Vegas's RV parks with so much empty space around! That said, the free campgrounds around the Las Vegas area aren't exactly the most enchanting pieces of scenery that you'll find.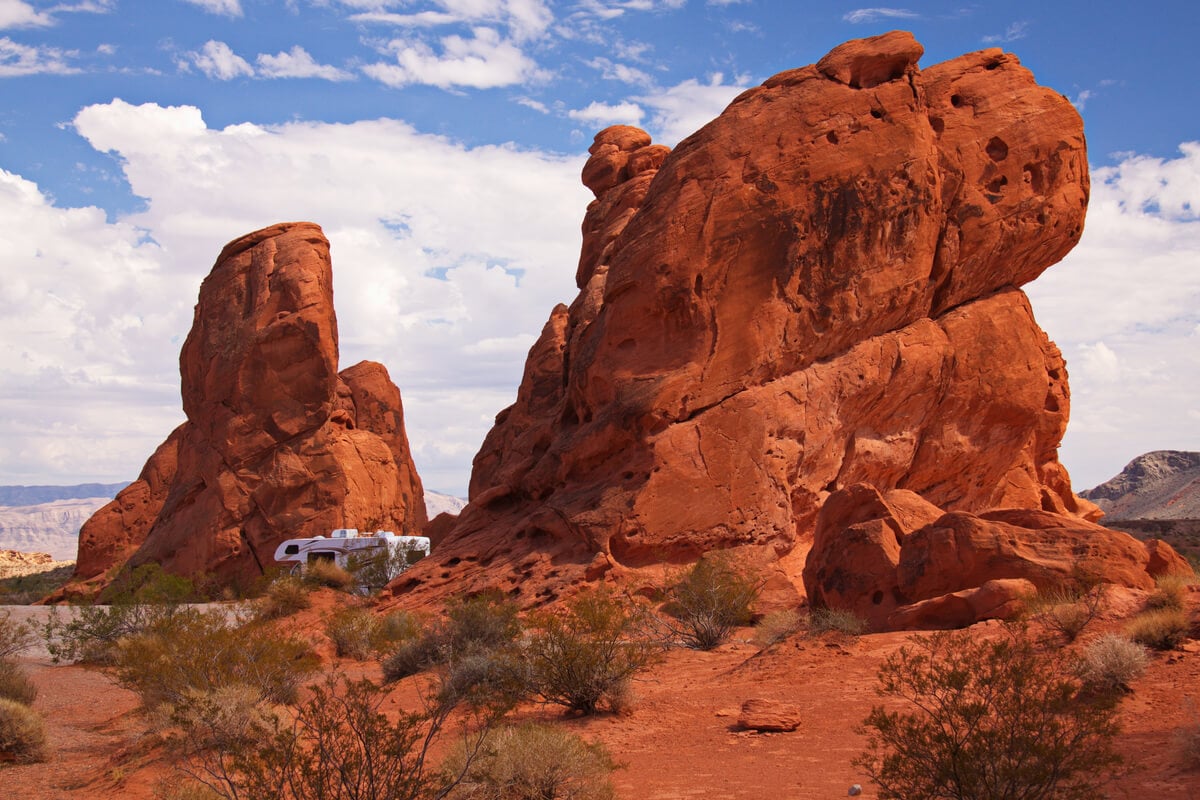 To give you a gist of the kind of prices an RV rental in Las Vegas costs, plus what kind of budget you can expect for accommodation and your trip overall, I've left some averages below:
| Range | RV Rental (per day) | Campsite/Park (per night) | Food and Drink for One (per day) |
| --- | --- | --- | --- |
| Budget Holidayer | $80-$150 (Trailers to smaller Class Cs/Bs) | $0-$20 | $10-$25 |
| Treat Yo'Self | $150-$220 (Class Cs/Bs to smaller Class As) | $20-$45 | $25-$40 |
| Luxury Living | $225+ (Class As and luxury RVs) | $50 | $45 |
And don't forget to factor rental insurance into your budget either! It may be expensive, however, not all insurance companies are created equal.
RentalCover.com has got your back. Their policies include all the common damages and come out cheaper than what you'll get at the rental desk
Get Your Cover Now
RV Packing List
Getting your packing for a road trip on-point is always going to make the journey smoother. That just goes double for packing for an RV. It's such a sizable beast with so many moving parts and so many things that can go wrong that you really don't want to stuff this up.
An RV rental is obviously going to come already fitted with a lot of the bits and boodles you need for a killer trip. But while your kitchen and pooping setup will already be ready to rock and roll, there are a few RV essentials—rental or not—that you shouldn't be trekking out into the Mojave wastes without:
Surge protector
Electrical adapters
Extension cords
Electrical and duct tape
Battery jumper cables
Tire pressure gauge
Levelling blocks
Wheel chocks
Extra cotter pins
Extra motor oil and transmission fluid
Water pressure regulator
Drinking water hose
Toilet chemicals
Sewer kit
RV-friendly toilet paper
Shovel
Flashlight
Fire extinguisher
Emergency road assistance kit
Large zip-close bag for documentation
And as an added bonus, here's some excellent backpacking gear that our Broke Backpacker team adore suited for any trip… with or without wheels!
RV Packing List
Packing for a road trip is something you should take very seriously. Especially when an RV is added into the mix!
Yours is probably going to come equipped with a lot of goodies that are helpful on the road, but there are a few other items we think are essential for any RV trip you plan to take.
Surge protector
Electrical adapters
Extension cords
Electrical and duct tape
Battery jumper cables
Tire pressure gauge
Levelling blocks
Wheel chocks
Extra cotter pins
Extra motor oil and transmission fluid
Water pressure regulator
Drinking water hose
Toilet chemicals
Sewer kit
RV-friendly toilet paper
Shovel
Flashlight
Fire extinguisher
Emergency road assistance kit
Large zip-close bag for documentation
And as an added bonus, here's some excellent backpacking gear that our Broke Backpacker team adore. Suited for any trip… with or without wheels!
Never Leave Home Without It!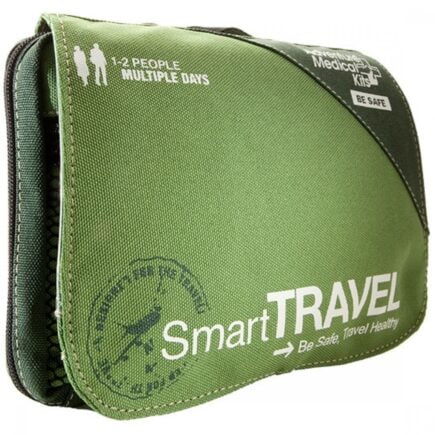 Never Leave Home Without It!
First Aid Kit
Even if you don't plan on doing anything too extreme on your trip, you never know what could happen. Cuts, bruises, scrapes, third-degree sunburn: a first aid kit will be able to handle most of these minor situations.
Keeps Your Brews Hot and Bevvies Cold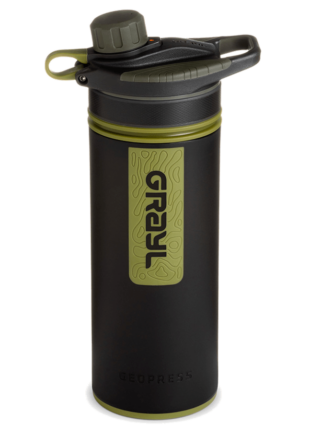 Keeps Your Brews Hot and Bevvies Cold
Grayl Geopress Water Bottle
Always travel with a water bottle! They save you money and reduce your plastic footprint on our planet. The Grayl Geopress acts as a purifier AND temperature regulator – so you can enjoy a cold red bull, or a hot coffee, no matter where you are.
So You Can See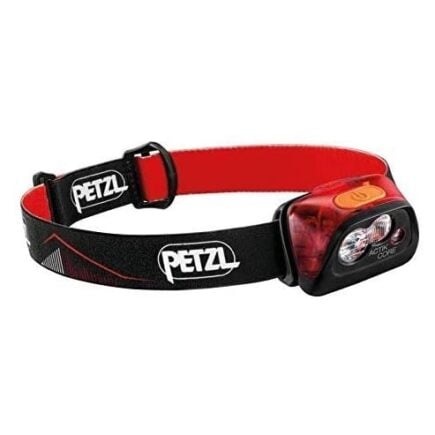 So You Can See
Petzl Actik Core Headlamp
Every traveller should have a head torch! A decent head torch could save your life. When you're camping, RVing, or just heading into the woods, a top-quality headlamp is a MUST. The Petzl Actik Core is an awesome piece of kit because it's USB chargeable—batteries begone!
The Most Massively Useful Thing an Interstellar Hitchhiker Can Have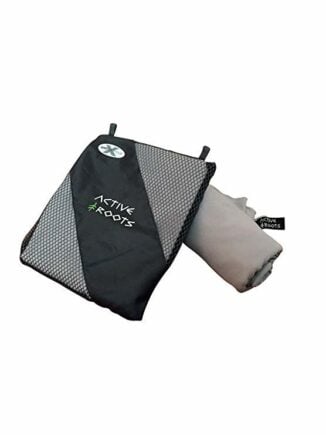 The Most Massively Useful Thing an Interstellar Hitchhiker Can Have
Active Roots Microfibre Towel
I dunno what to tell you—microfibre towels are the tits! They're so compact, they dry lighting fast, and they're just a real multi-purpose tool. Never go adventuring—on or off-world—without one!
Everyone Needs a Hammock
Everyone Needs a Hammock
Active Roots Camping Hammock
Hammocks are always practical: they're lightweight, cheap, strong, sexy (chicks dig hammocks), and allow you to pitch up for the night pretty much anywhere. The Active Roots Camping Hammock is one of the best on the market and most importantly… it's cheap!
In an RV, This is a Game-Changer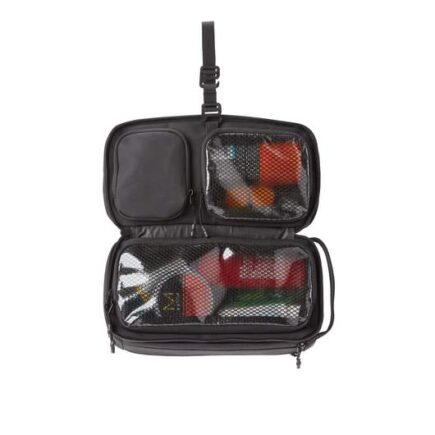 In an RV, This is a Game-Changer
Hanging Toiletry Bag
Oh man, hanging toiletry bags are a ridiculously efficient bit of gear for any travels. They keep all your unmentionables organised and they can be used anywhere—just hang it up and you're good to go! When you start living the RV-life, you'll never look back on the hanging toiletries game.
Tips for Renting an RV in Las Vegas
Because let's be honest—driving a 33 feet bus through the dense streets of any metropolitan area is about as enjoyable as parking it on your foot. Be smart and get keyed in on RV-livin'!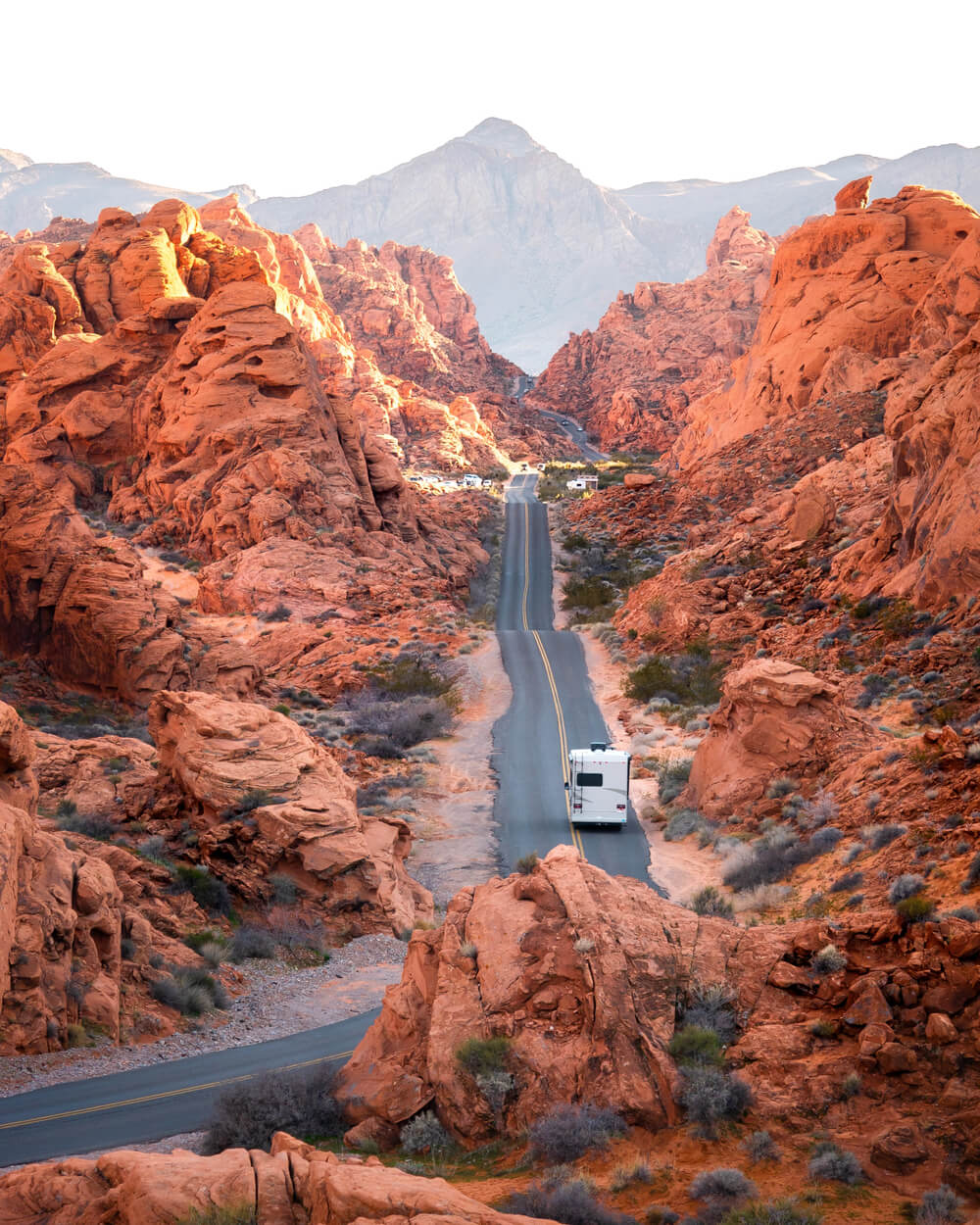 Always Know Your RV Parking Laws – In Las Vegas or anywhere else. Regardless, the RV parking laws for Las Vegas are pretty cut-and-dry: you can't park it in one spot for more than 72-hours and you can't live in an RV parked on the street full stop.
It Gets Cheaper Outta the City – A bit of a "No shirt, Sherlock,", however, it's always good to reiterate: things just aren't that cheap in Las Vegas. Get out to the rural areas for cheaper everything.
Book in Advance! – Las Vegas's RV parks and campsites fill up quick (especially in peak season). Stay ahead of the curve, don't miss out on a spot, and try and nab some better prices while you're at it by planning ahead.
And Then Give Them a Call – Just in case there's any trickery to know about. Some RV parks won't allow RVs of a certain age or size fr example.
Choose the Right RV for You – It's a big, beautiful world of RVing that you're entering! From oversized bus monstrosities to charming toy trailers, make sure that you're getting something that's both right for your crew, the type of trip you're taking, and what you actually like to drive. Remember that driving an RV is a totally new playing field.
Budget Appropriately – The cost of an RV adventure can quickly get away from you. I covered a few of the costs above, but there are heaps more you're going to need to consider. National park entry fees, gas, activities, spontaneous sidequests, spontaneous mishaps… The golden rule of RVing is to plan it out!
And Watch Out For Fees – From optional extras that should be included (like linen or kitchenware) to deposits and insurance, there are always going to be hidden costs to watch out for.
Download Some Good Apps – There are heaps of awesome apps to download before picking up your rental RV in Las Vegas. RV Trip Wizard is the one-size-fits-all method—an absolute beast of a platform to find anything! Campgrounds, points of interest, refuelling and dumping spots: it's all there.
Save $$$ • Save the Planet • Save Your Stomach!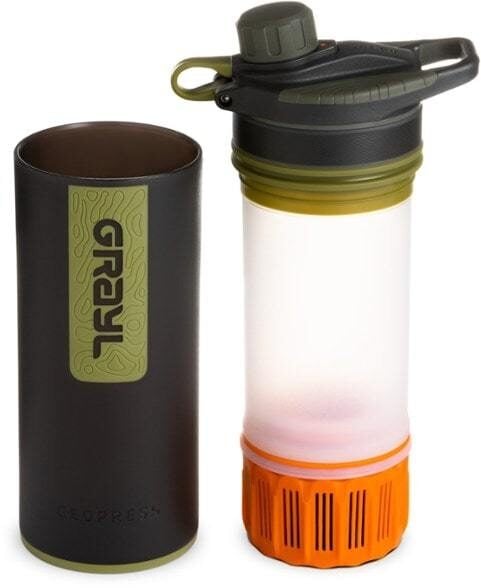 Drink water from ANYWHERE. The Grayl Geopress is the market's leading filtered water bottle protecting your tum from all the waterborne nasties. PLUS, you save money and the environment!
Single-use plastic bottles are a MASSIVE threat to marine life. Be a part of the solution and travel with a filter water bottle.
We've tested the Geopress rigorously from the icy heights of Pakistan to the tropical jungles of Cuba, and the results are in: it WORKS. Buy a Geopress: it's the last water bottle you'll ever buy.
Buy a Geopress!
Read the Review
Staying Safe in Your Rental RV
As I mentioned, driving an RV around is a whole new world of stress and exasperation. Imagine you'd been riding mules your whole life, caravanning across the desert wastes by way of ass. One day, suddenly, a mate asks you to park his woolly mammoth…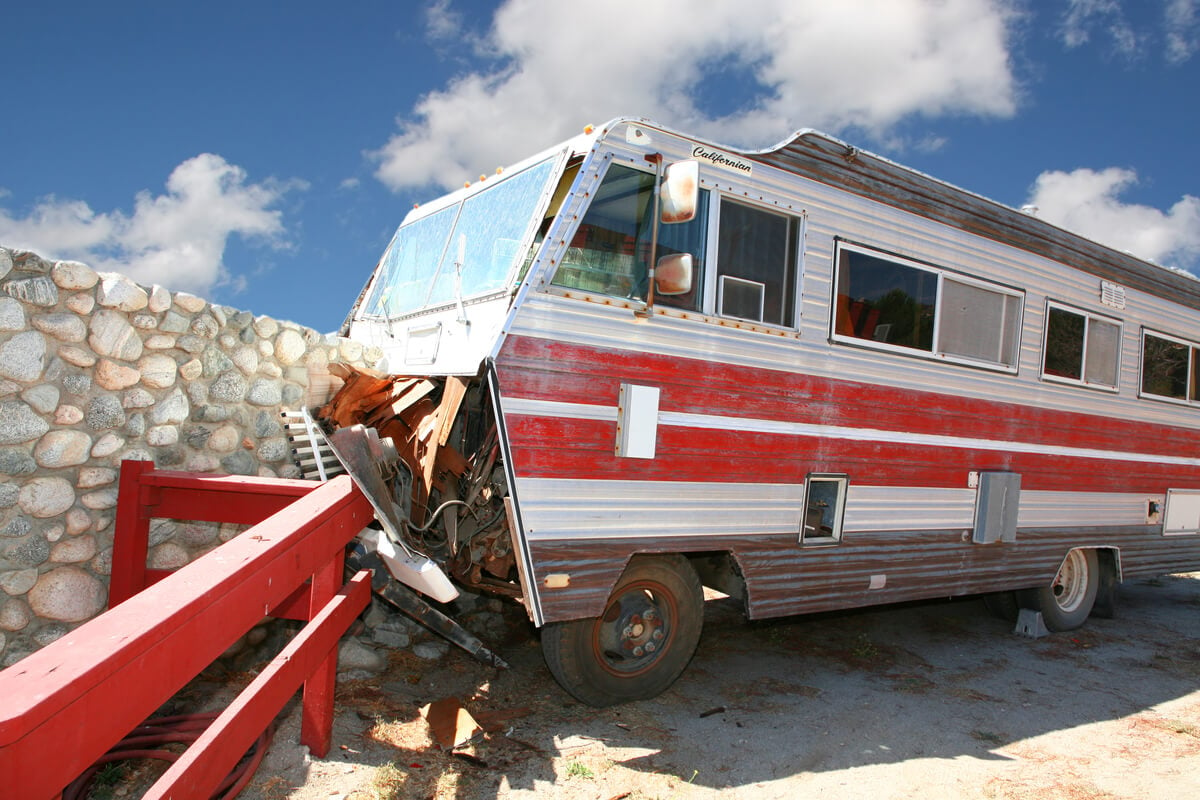 There are a couple of things you can do to make your RV trip to Las Vegas smoother. One is to key yourself in on how to drive an RV safely. Two is to make sure that it (and you) are insured!
Always consider travel insurance before ANY trip.
Obviously, your RV is going to need insurance, but please consider making sure your person is insured too! Travelling without insurance could be risky. Presenting The Broke Backpacker's go-to insurer – World Nomads Travel Insurance!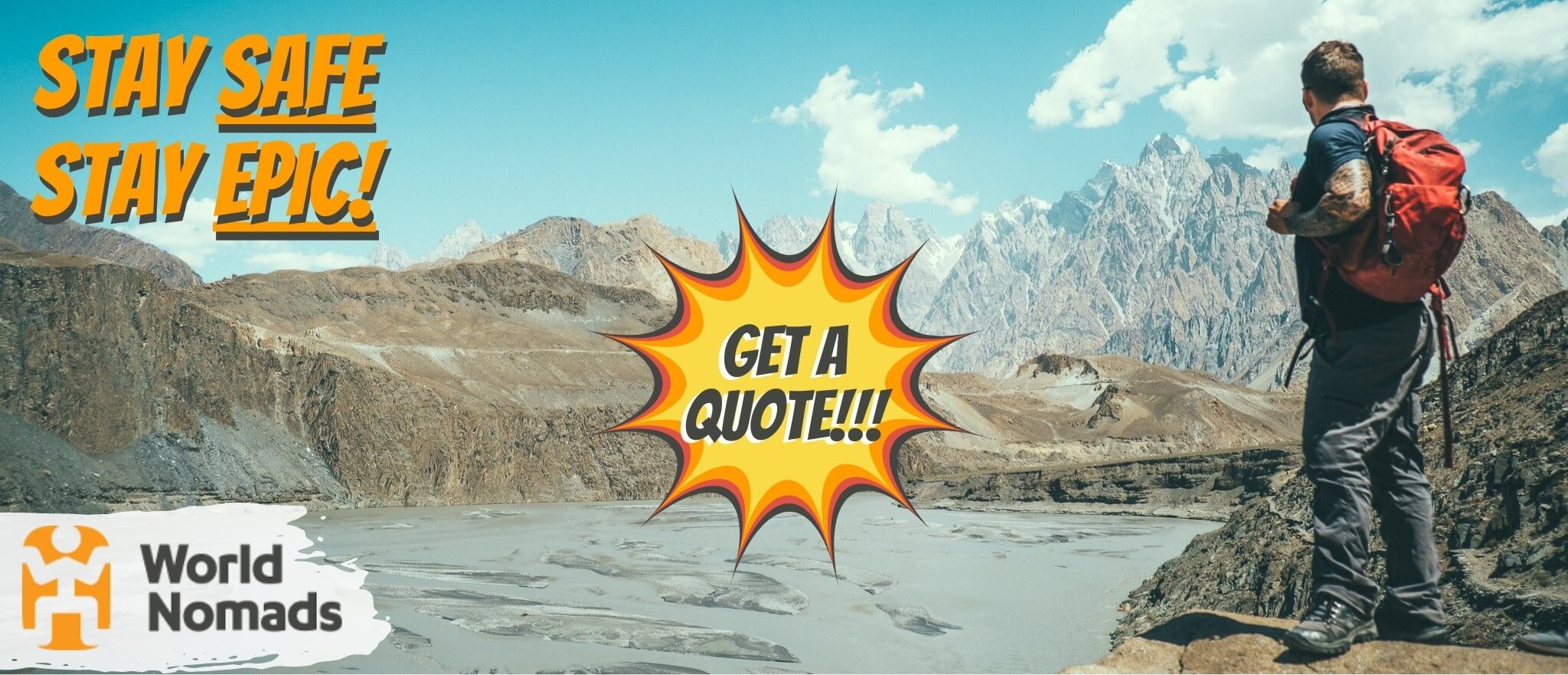 World Nomads' mission is to support and encourage travellers to explore their boundaries. They offer simple & flexible travel insurance, and safety advice to help you travel confidently.
They've been doing it since 2002 – protecting, connecting, and inspiring independent travellers just like you.
Get a quote below or read our in-depth review!
World Nomads provides travel insurance for travelers in over 100 countries. As an affiliate, we receive a fee when you get a quote from World Nomads using this link. We do not represent World Nomads. This is information only and not a recommendation to buy travel insurance.
Your Las Vegas RV Rental is Waiting!
Now you're good to go! You've done the hard work, the prep, sussed out all the dastardly deetz… All that's left is to pick up your RV rental from Las Vegas!
No matter what your poison is, Las Vegas has it. Vans, trailers, and beastly motorhomes fit for a castle-less king! And once you're perched behind the steering wheel, there's limitless exploration material.
Planning a trip to Las Vegas is guaranteed to bring unearthly delights. And planning a road trip through the Southwest just takes that so, so much further.
Oh, and one final thing. Generally on most longterm RV rentals in Las Vegas—particularly, Outdoorsy and RVShare—you can get some pretty sweet discounts. Now, I'm not saying you should just sell your house and never look back…
---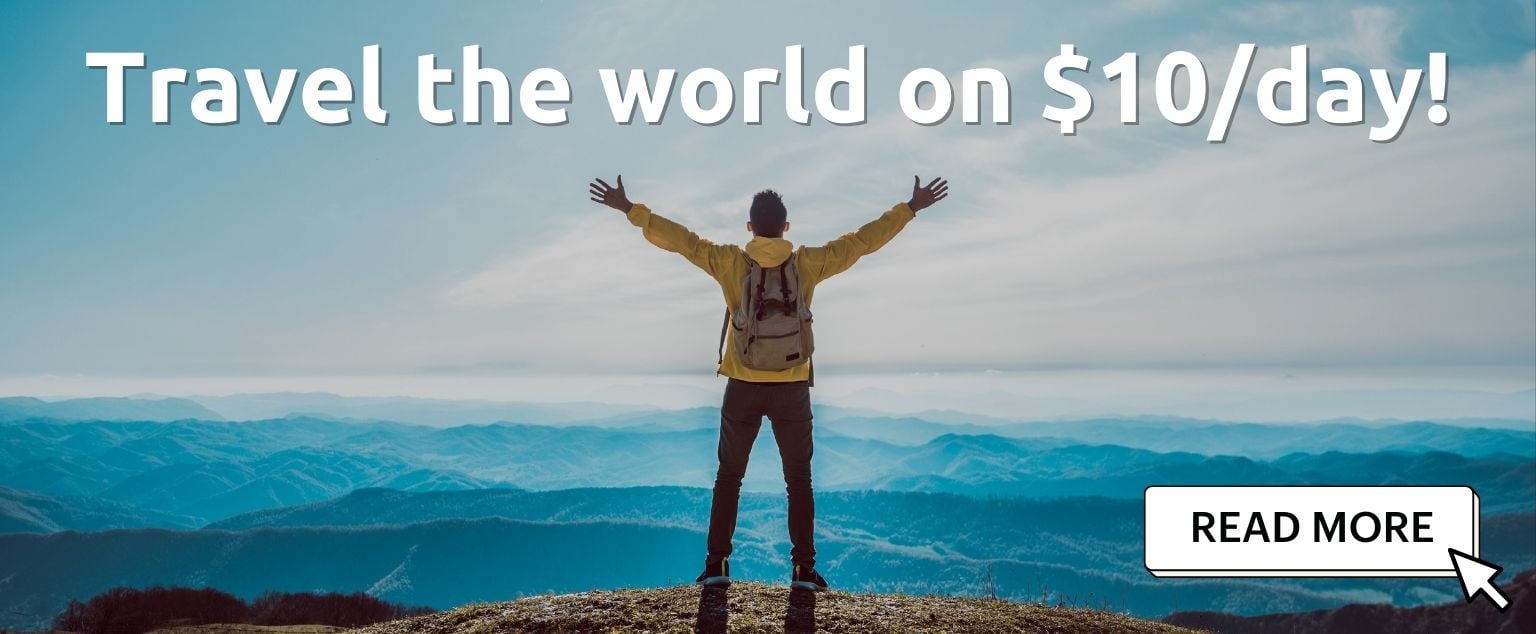 And for transparency's sake, please know that some of the links in our content are affiliate links. That means that if you book your accommodation, buy your gear, or sort your insurance through our link, we earn a small commission (at no extra cost to you). That said, we only link to the gear we trust and never recommend services we don't believe are up to scratch. Again, thank you!