Las Vegas is a vibrant and energetic city. It is best known for its gambling, nightlife, fine dining, and entertainment. However, there are many other aspects of this happening city that draw in visitors from around the world each year!
Nicknamed 'Sin City' due to its risque appeal, this extravagant city has many other unique layers and caters to a diversity of preferences, people, and budgets.
Las Vegas has a living large mentality that goes perfect with any vacation vibe! No matter how many days you're spending in Sin City, our Las Vegas itinerary will guarantee you make the most out of your exciting time here!

Unlock Our GREATEST Travel Secrets!
Sign up for our newsletter and get the best travel tips delivered right to your inbox.
Best Time To Visit Las Vegas
Las Vegas is alive with tourism all year. Summers do reach higher temperatures, but lots of Las Vegas attractions take place inside air-conditioned buildings or outside next to a pool! No matter the season, there's always something to do in Vegas!
The summer months (June-August) produce hot temperatures. It's not uncommon for the weather to stay around 100 degrees Fahrenheit. Luckily, the weather drops down at night and becomes much more enjoyable.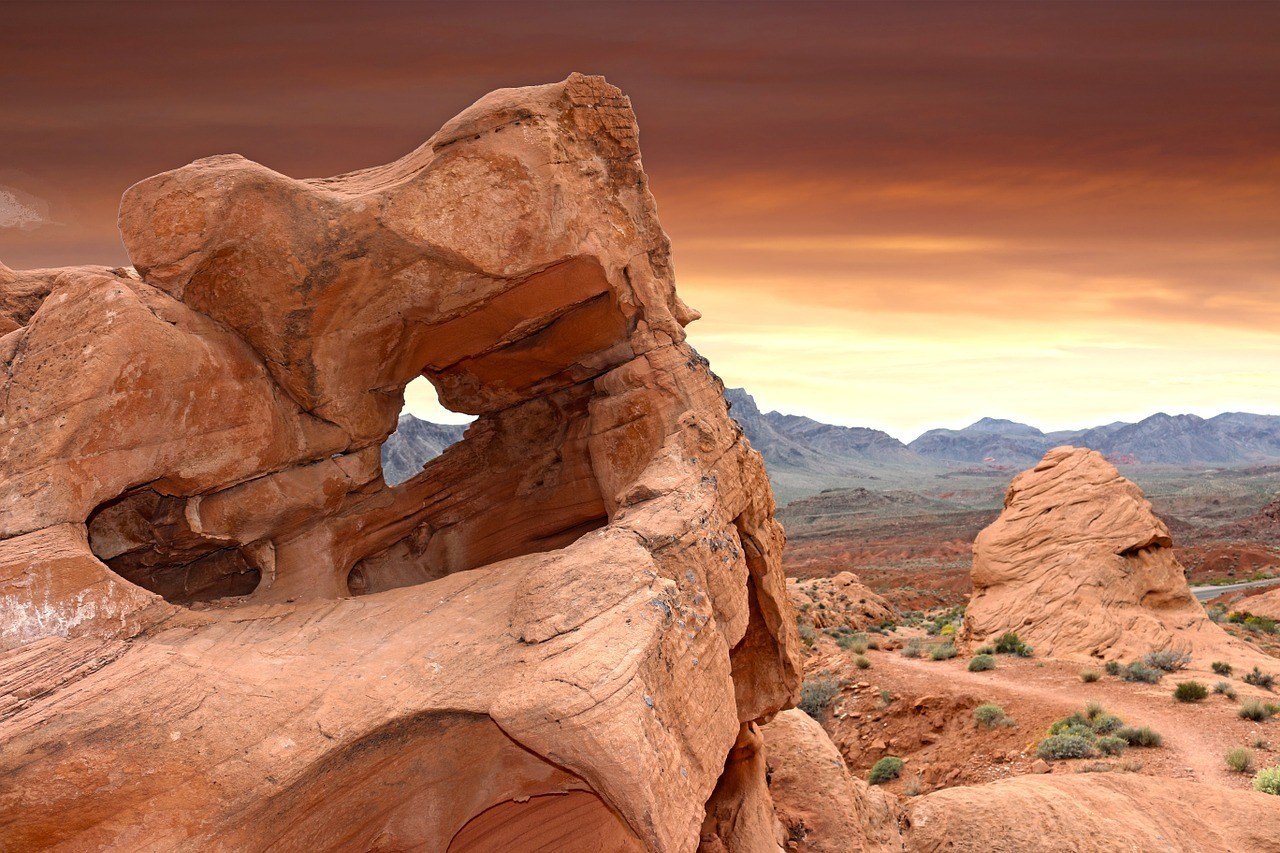 Fall (September-November) is a great time to plan a trip to Las Vegas. The weather is mild and enjoyable.
You'll want a light jacket during the winter months (December – February). Although temperatures never get too cold, the air does get a bit chilly, especially at night.
Spring (March-May) produces warm days and blue skies. If you're trying to decide when to visit Las Vegas, this is another great time!
|   | Average Temperature | Chance of Rain | Crowds | Overall Grade |
| --- | --- | --- | --- | --- |
| January | 9°C / 48 °F | High | Busy | 😐 |
| February | 12°C / 54°F | Average | Medium | 🙂 |
| March | 14°C / 57°F | Average | Busy | 😀 |
| April | 19°C / 66°F | Low | Busy | 😀 |
| May | 25°C / 77°F | Low | Busy | 😀 |
| June | 30°C / 86°F | Low | Busy | 🙂 |
| July | 34°C / 93°F | Average | Busy | 😐 |
| August | 33 °C / 91°F | High | Busy | 😐 |
| September | 27°C / 81°F | Low | Medium | 😀 |
| October | 21 °C / 70°F | Low | Medium | 😀 |
| November | 13 °C / 55°F | Average | Medium | 🙂 |
| December | 8°C / 46°F | Low | Busy | 🙂 |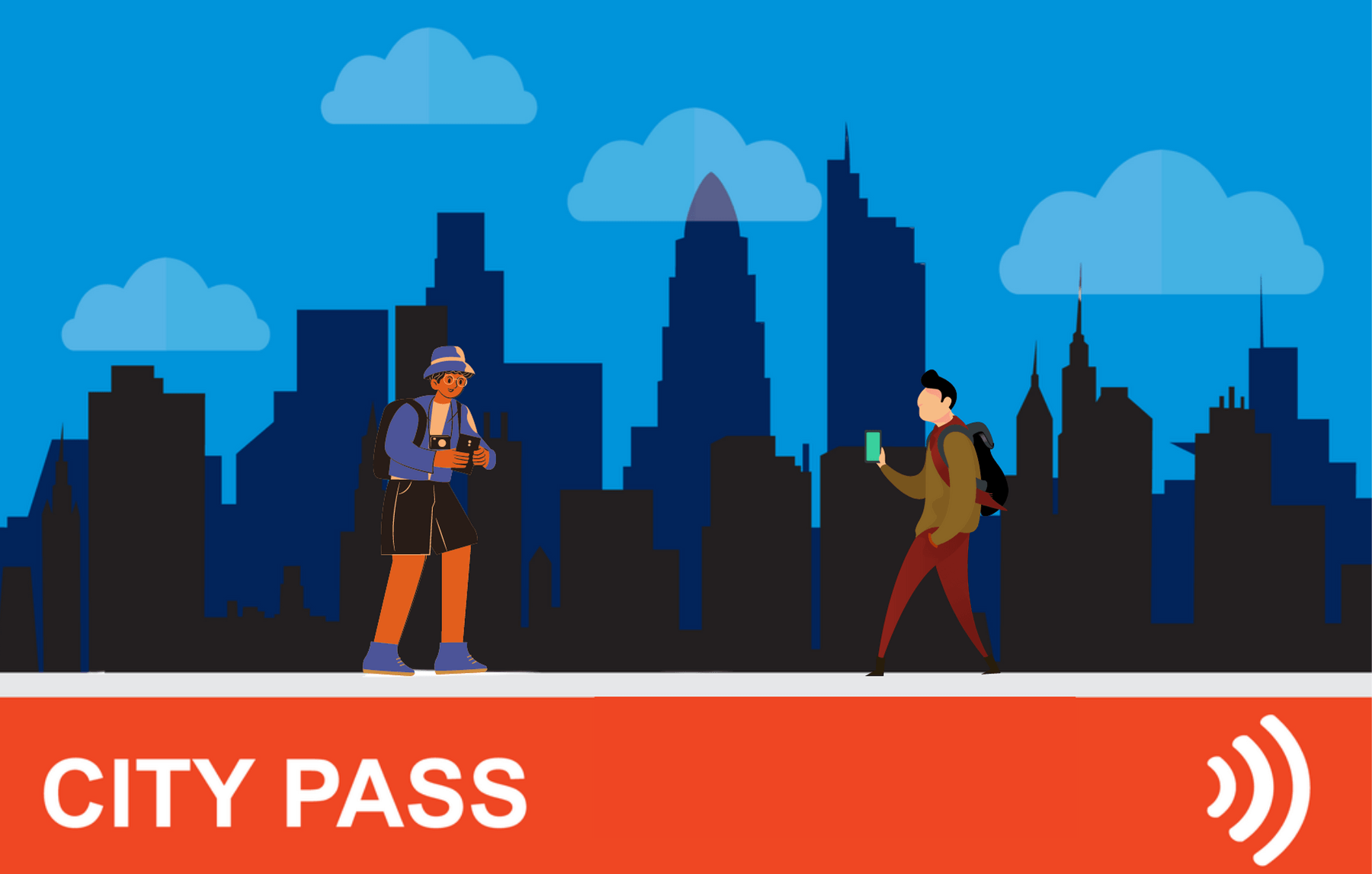 Travelling to Las Vegas? Then plan yo' trip the smart way!
With a Las Vegas City Pass, you can experience the best of Las Vegas at the CHEAPEST prices. Discounts, attractions, tickets, and even public transport are all standards in any good city pass – be sure invest now and save them $$$ when you arrive!
Buy Your Pass NOW!
Where To Stay In Las Vegas
If you're planning a trip to Las Vegas, you're going to want to stay in a location that will make your Las Vegas itinerary as accessible as possible. This vibrant city is full of accommodation options that cater to all budgets, and there are plenty of great places to stay in Las Vegas!
If you want to be close to all the action, the Las Vegas Strip is the place to be. The symbol of Vegas, this strip is lined with many of the city's iconic landmarks. From the Fountains of Bellagio to the grandiose Caesars Palace and the Egyptian-themed Luxor Hotel, this is the postcard of Las Vegas!
The middle and southern end of the Strip is where most of Vegas attractions and energy are. This is the best place to stay in Las Vegas for first-time travelers. You'll find plenty of accommodation options and prices to suit all budgets!
For a more old-timey Vegas feel, we recommend staying in Downtown Vegas. You'll still find plenty of bars, restaurants, and shops, but with a more low-key feel. There are quite a lot of good Vegas Airbnbs based around here.
Fremont Street in Downtown Vegas is especially popular, and one of the oldest Las Vegas points of interest. Accommodation in this part of the city is more affordable and just a short drive from the Las Vegas Strip!
Sin City Hostel is located on Las Vegas Boulevard, just a ten-minute walk to the north end of the Las Vegas Strip. There is a bus stop in close proximity that runs 24/7 and will take you to and from the Strip and downtown area. This hostel offers free walking tours and free breakfast! It gets busy, so book well in advance if you are headed to Las Vegas for the weekend.
Just 2 minutes from the strip is this swanky apartment on the 9th floor. Features the view of the world-famous Bellagio Fountain: must-see for the first time in Vegas. With 24-hr check-in, your on your own time here. Or should we say time doesn't exactly exist on this vacation? This is one of our favourite vacation rentals in Las Vegas for its location.
The Carriage House is a great value for your money! Located just a quick four-minute drive from the Las Vegas Strip, you'll be close to all the action. This hotel offers spacious rooms and each is equipped with a kitchen or a kitchenette! There is also an outdoor pool, fitness center, and tennis court!
Best Luxury Hotel in Las Vegas – Bellagio
The Bellagio is located in the heart of Las Vegas! This luxurious hotel and casino offer upscale rooms equipped with a flat-screen satellite TV, electronic drapes, bathrobes, a minibar, and more! There is a full-service spa on site as well as numerous bars and restaurants. This hotel will make your vacation in Las Vegas as lavish as possible!
The hotel itself is just as beautiful as the rooms. You won't be disappointed.  Book your stay, and then check out our Vegas packing list!
There is also a huge selection of VRBOs in Las Vegas that offer an extra touch of privacy and luxury.
Las Vegas Itinerary
During your first day in Las Vegas, you're going to need to figure out how to get around! Luckily, this city is extremely tourist friendly, and all forms of transportation are easy to use and very convenient.
The Las Vegas Deuce is a bus that runs throughout the city. There are two buses that run specifically through the areas of the Las Vegas Strip and Downtown. Take the 'Deuce on the Strip' bus for convenient transportation to many of the properties located on the Strip.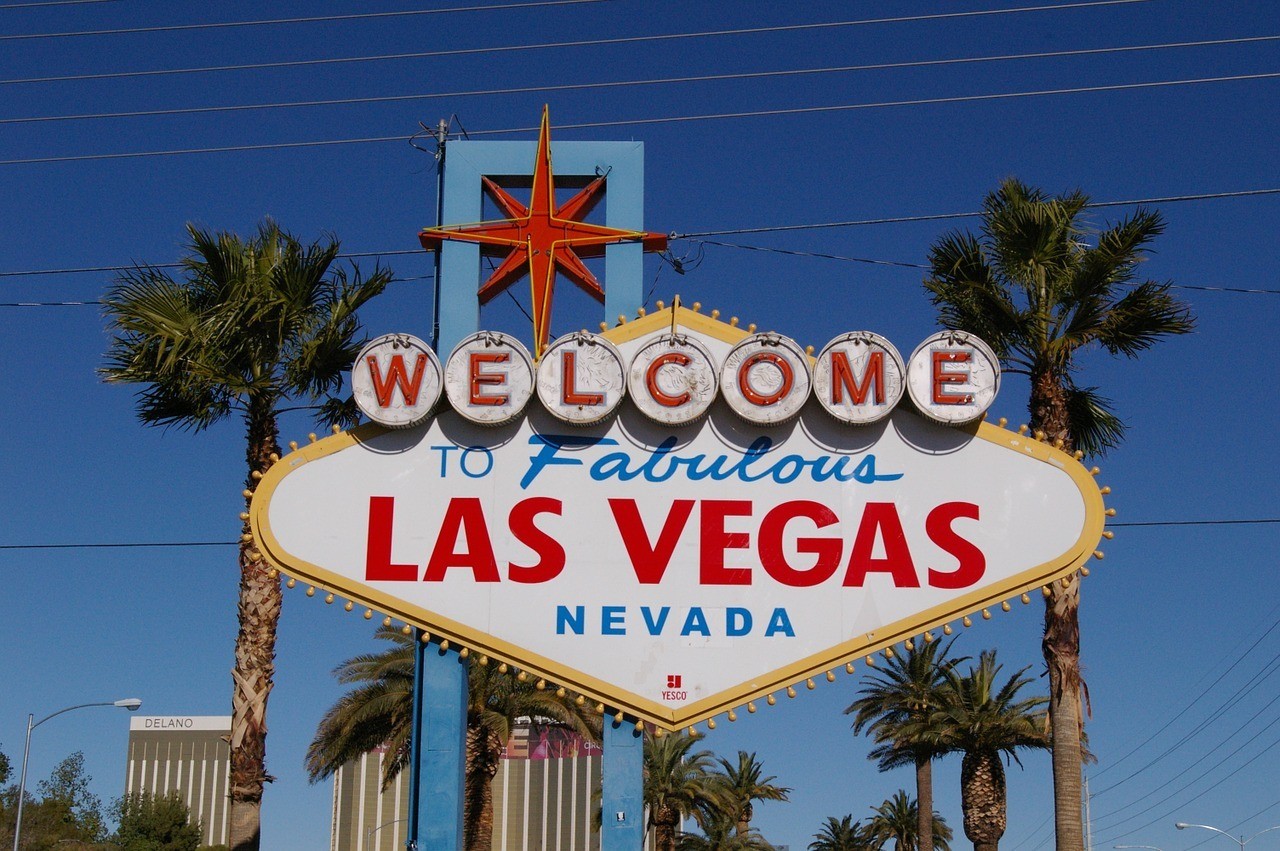 Uber and Lyft are popular ride-sharing services and offer travelers an easy and convenient form of transportation. Most Las Vegas resorts, hotels, and casinos will have designated pick-up and drop-off areas that you will need to find to catch a ride. These areas are usually marked with signs near the hotel's entrances/exits.
Be sure to find these areas before hailing your ride. Drivers will not wait on you to arrive, and if they leave without you, you're charged a non-refundable fine. This app will make getting to every point on your Las Vegas itinerary as convenient as possible once you've found the pick-up point!
Las Vegas is a very pedestrian friendly city. The main attraction in Las Vegas is the Strip, which is literally a single street. You can walk up and down the Strip to see the main highlights of Vegas, and it's extremely easy to navigate!
If you're a huge foodie and want to find all the best places to eat in Vegas, check out one of the top rated food tours in Las Vegas for insider tips.
Day 1 Itinerary in Las Vegas
The Las Vegas Strip | Bellagio Conservatory and Botanical Gardens | Cirque du Soleil | Fountains at Bellagio | Grand Canal Shoppes at The Venetian | High Roller Observation Wheel
Spend the first day of your Las Vegas trip itinerary checking out some of the city's most popular attractions!
Day 1 / Stop 1 – Explore the Las Vegas Strip
Why it's awesome: The Las Vegas Strip is one of the most iconic streets in American, explore this street by foot and see Vegas at your own pace!
Cost: Free
Food recommendations: Tacos El Gordo is a little restaurant with big ratings. They have a simple no-frills menu that features authentic Mexican style tacos.
Las Vegas is known for its lavish resorts, buzzing casinos, and world-class restaurants, but to discover the true essence of Vegas we recommend exploring the areas outside these busy buildings!
The entire Strip is less than five miles, but don't worry, you don't have to walk its entirety to experience the uniqueness of this extravagant street. Although, if you choose to, the whole street is pedestrian-friendly. There are footbridges at all main intersections for pedestrians to safely cross!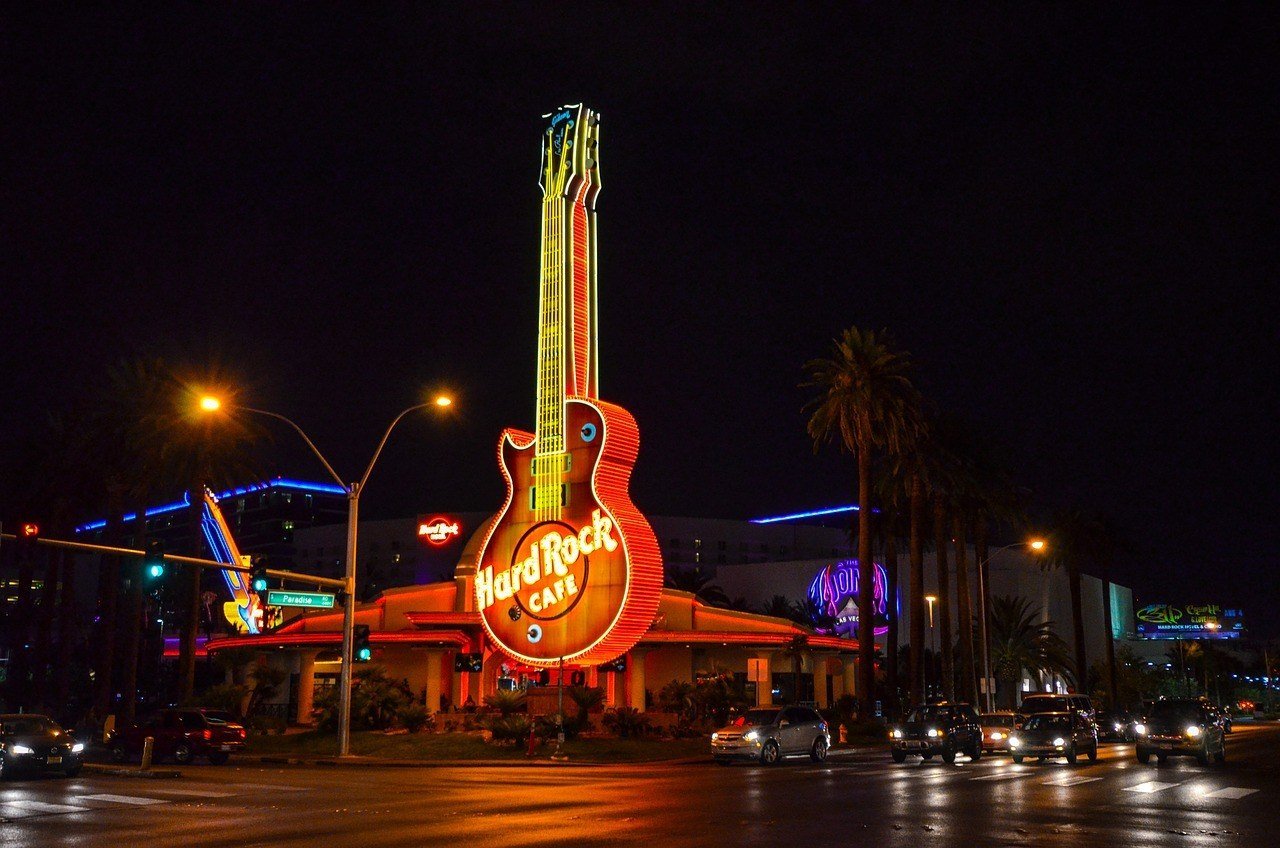 Both sides of the Strip are lined with hotels, casinos, shops, restaurants, and just about anything you can imagine! You'll see a wide range of street performers and be able to take pictures of all the iconic Vegas attractions!
The whole Strip runs in a straight line, making it easy to give yourself your own Las Vegas walking tour! Of course, if you're not keen on walking, there are other options. Joining an open-top bus tour will give you the ultimate strip experience without tiring your feet!
Insider Tip: Police allow people to walk down the Strip and the Fremont Street Experience with alcoholic beverages, as long as they're in plastic containers (no bottles or cans). Also, there are many dispensaries around the Strip, but smoking in public isn't legal. 
Day 1 / Stop 2 – Bellagio Conservatory and Botanical Gardens
Why it's awesome: Admire the spirit of every season recreated with exceptionally enchanting plants, thoughtfully arranged to inspire full splendor!
Cost: Free!
Food recommendations: The Bellagio Buffet is a high-end buffet known for its vast selection of food options. It's a real treat, and one of the highest rated buffets in Vegas!
The Bellagio Conservatory and Botanical Garden is a truly enchanting and magical attraction in Vegas. The exhibits are beautifully and intricately put together from talented horticulturalists and designers who transform a floral playground to the sights and colors of the different seasons. The aroma is gently fragrant with the sweet smell of flowers in bloom.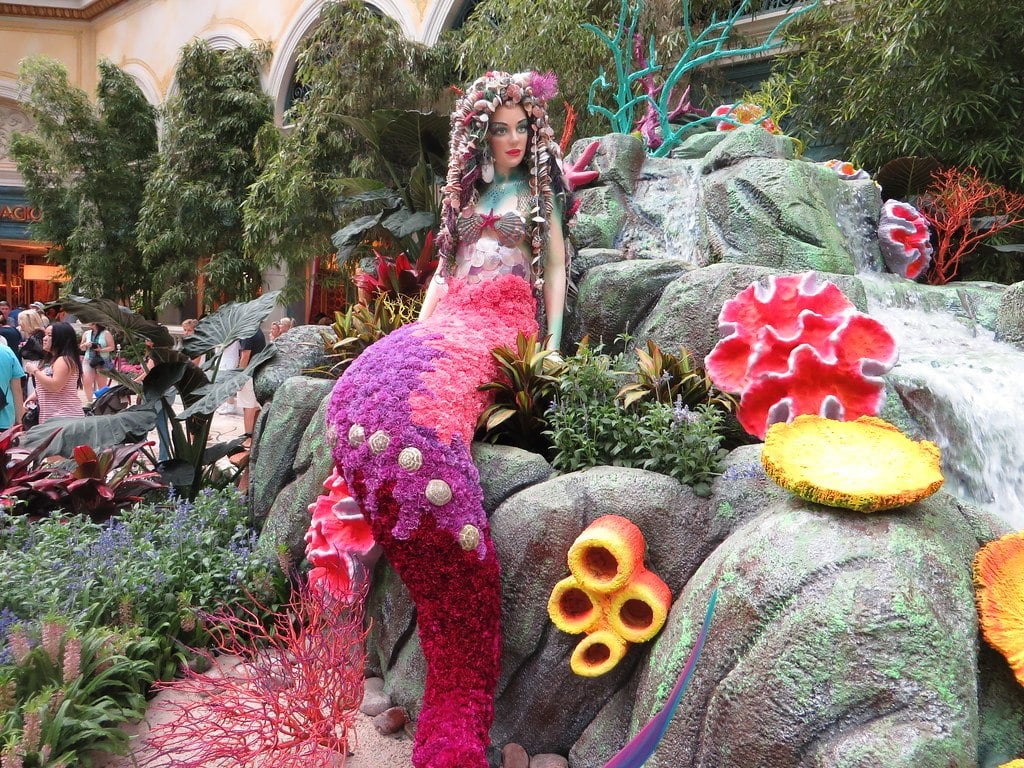 The attention to detail is astounding and the passionate display of nature lets your imagination wander! Enjoy a leisurely stroll through one of the most picturesque areas in Las Vegas.
This attraction is best enjoyed during the day when you can witness the rays of sunshine streaming in through the glass roof and large windows. However, it is usually less crowded during the later hours of the evening. Pick the time that works best with your Las Vegas itinerary!
Day 1 / Stop 3 – Cirque du Soleil
Why it's awesome: This Vegas show is one of the city's longest-running shows and one of the most unique!
Cost: Tickets start at USD $126.00
Food recommendations: Lago is an elegant eatery inside the Bellagio Hotel. It offers high-end Italian fare and views of the Bellagio fountain!
What makes this show to a whole new level is the incorporation of water. The cast is made up of eighty-five acrobats, synchronized swimmers, and divers who perform in and above a one and a half million-gallon pool! You'll be enchanted by underwater magic for ninety-minutes!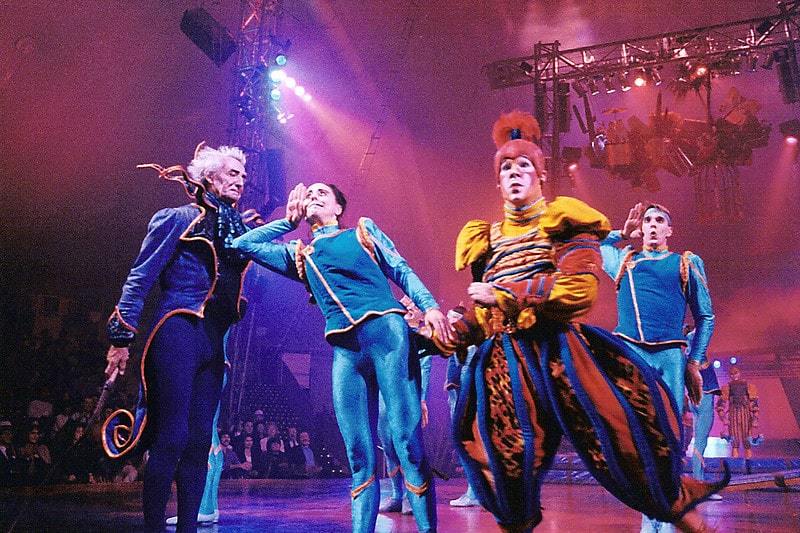 The performance is accompanied by a mix of classical western and world instrumental music. During the show, a live band plays to the side of the stage behind a glass wall. Cirque du Soleil is an entertainment company known for its epic productions and unique staging, and this show is no different!
Located in the Bellagio Hotel and Casino, this show has been in permanent residence since October of 1998. Performances are usually given twice a day. If you're spending a weekend in Las Vegas, we recommend booking your tickets in advance.
Insider Tip: Cirque du Soleil is insanely popular amongst visitors. That's why it's important to book your tickets well ahead of time. Luckily, there are multiple shows spread throughout the week and you've got plenty to choose from!
Day 1 / Stop 4 – Fountains at Bellagio
Why it's awesome: These iconic Las Vegas fountains provide a water show display timed to perfection and accommodated by great music!
Cost: Free!
Food recommendations: Mon Ami Gabi is located just outside of Paris Las Vegas. It has outdoor seating and offers stunning views of the Bellagio fountains. The menu is classic French cuisine.
>You might think that choreographed routes in Vegas are limited to showgirls, but even the water can put on a captivating performance! The Fountains at Bellagio provide a dynamic and lively waterworks show!
The fountain projects streams of water that dances with lights and music; the choreography and overall synchronization is highly entertaining! Famous and recognizable musical tunes are chosen to compliment this display. Once the sun sets the lights come on and the show becomes even more delightful!
The fountains are surprisingly large, so you can catch a show from many different places on the Strip. Of course, nothing beats being directly in front of the fountains! Make sure to show up a little early to guarantee a good viewing spot. A lot of hotels facing the Bellagio Hotel will have views of the fountains as well. This free and easily accessible attraction is a must on any Vegas itinerary!
There are shows at regular intervals throughout the day. Monday through Friday the show runs every thirty-minutes from 3:00 pm to 8:00, and every fifteen-minutes after dark. On Saturdays and Sundays the start time is earlier but the shows run every thirty-minutes during the day, and every fifteen-minutes after dark.
Day 1 / Stop 5 – Grand Canal Shoppes at The Venetian
Why it's awesome: This large shopping mall features a beautiful Italian themed backdrop and lots of restaurants!
Cost: Free to walk around, Gondola tickets start at USD $29.00 per person.
Food recommendations: Head to Buddy V's at The Venetian to complete your Italian themed experience. This restaurant is owned by Cake Boss Buddy Valastro and offers a relaxed and casual Italian restaurant experience.
This picturesque shopping mall features cobblestone walkways and an illuminated painted ceiling made to reflect the sky. The Grand Canal Shoppes at the Venetian feature a quarter-mile-long stretch of shops and restaurants with more than 160 signature stores, including many luxury brands.
There are a handful of restaurants, many led by award-winning chefs like Wolfgang Puck and Emeril Lagasse! You don't have to be a fan of shopping to enjoy the shops' Old World Italian design.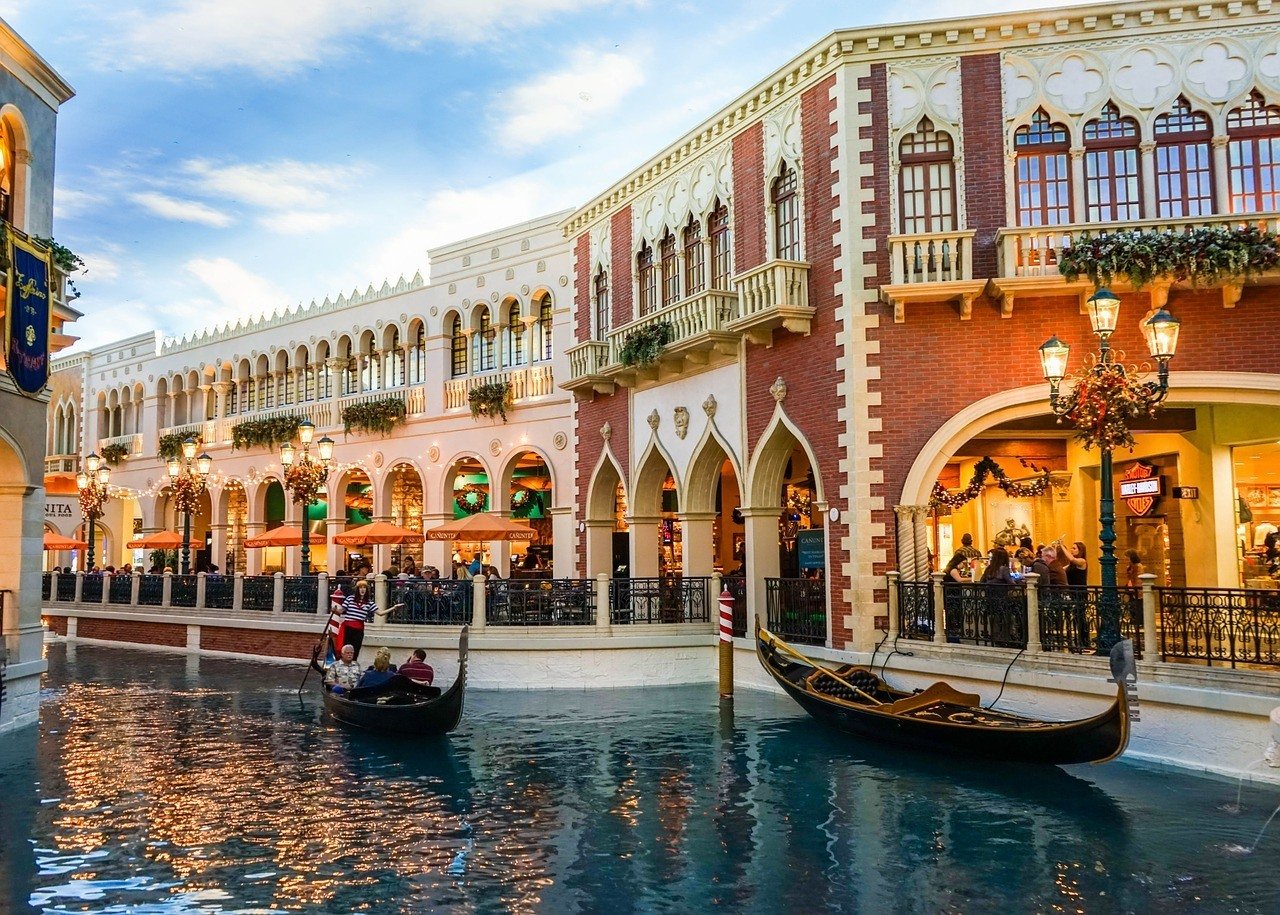 For a fun and romantic Vegas activity, take a Venetian gondola ride! Float beneath bridges, under balconies, and beside cafes as your singing gondolier glides through the Grand Canal in an authentic Venetian gondola!
Explore the vibrant Venetian streetscape inside the shopping center, or choose the outdoor gondola ride and experience the open-air right on the Las Vegas Strip! Couples especially will love this romantic addition to their itinerary for Las Vegas! This is definitely amongst the most kitsch things to do in Las Vegas but is still unmissable.
Day 1 / Stop 6 – High Roller Observation Wheel at The LINQ
Why it's awesome: This giant Ferris Wheel is located on the Strip and offers stunning panoramic views of Las Vegas! 
Cost: USD $25.00 during the day / USD $37.00 at night
Food recommendations: Hash House a Go Go at the LINQ serves up large portions of typical American-style comfort food. Their menu also caters to vegans and vegetarians.
This High Roller observation wheel at the LINQ Hotel and Casino is a 550-foot tall, 520-foot diameter giant Ferris wheel! Located on the Las Vegas Strip, it has been operating since 2014 and is currently the world's tallest Ferris Wheel!
It features glass-enclosed pod cabins with wonderful 360-degree views of the Strip and the Vegas Valley. The wheel takes 30-minutes to complete one rotation and features 28 spacious cabins. This is a must-do in Vegas for first-timers, there's really no other experience like it!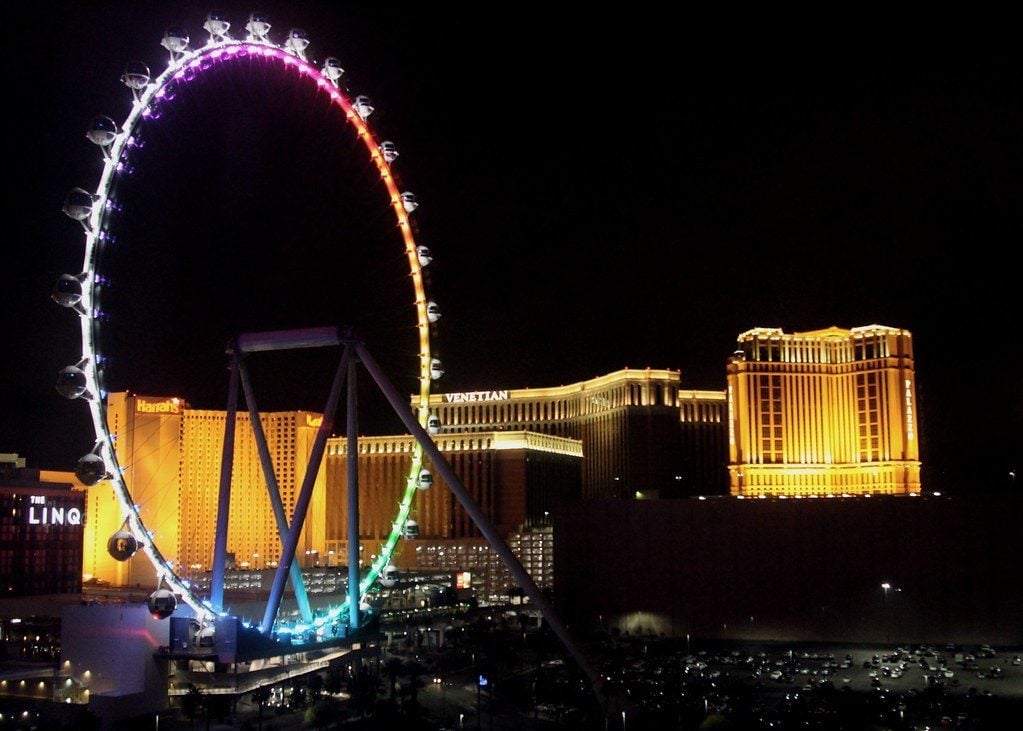 Of course, since this is Las Vegas, guests have the option of upgrading their high roller experience to a happy hour ticket! This option includes an in-cabin open bar and bartender to serve you unlimited drinks for the entire half hour! Guests must be 21 and older to ride in the happy hour cabin.
If you don't want to purchase an unlimited happy-hour ticket but still want to enjoy a drink, you can also purchase drinks at the wheel house bar, located at the base of the giant observation wheel. The best time to experience this attraction is at night so you can see all the lights of Vegas shimmering from above!
Small Pack Problems? 😉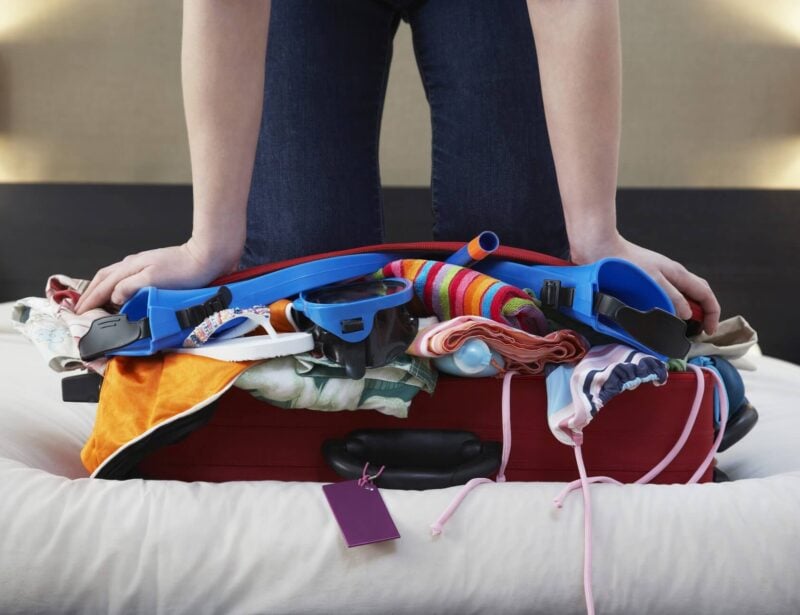 My missus travels with all her clothes in ziplock bags: don't be like my missus. UP YOUR PACKING GAME!
Packing cubes for the globetrotters and compression sacks for the real adventurers – these babies are a traveller's best kept secret. They organise yo' packing and minimise its volume too so you can pack MORE.
Or, y'know… you can stick to ziplock bags.
View Our Fave Cubes
Or Check Out the Sacks!
Day 2 Itinerary in Las Vegas
The Big Apple Coaster and Arcade | Mandalay Bay Casino, Aquarium and Beach | Caesars Palace and The Forum Shops | Eiffel Tower Experience | The Fremont Street Experience
If you're spending two days in Las Vegas, here is the perfect second-day itinerary. We've included more iconic landmarks and added in some fun activities as well!
Day 2 / Stop 1 – The Big Apple Coaster and Arcade at New York – New York
Why it's awesome: This massive roller coaster is located right on the Las Vegas Strip and has an arcade that is fun for all ages!
Cost: Single ride ticket is USD $19.00, or buy an all-day unlimited pass for USD $26.00.
Food recommendations: Check out Tom's Urban Restaurant, located inside New York, New York. This lively tavern is open from breakfast until late at night and has a wide range of menu options.
Experience heart-stopping action and excitement at the Big Apple Coaster and Arcade! This roller coaster is the world's first to feature a 180-degree twist and dive maneuver. You'll get great views of the Las Vegas Strip from all different angles!
A new virtual reality experience is also now available on this ride. With the aid of wireless virtual reality headsets, you'll chase aliens and monsters high above the streets of Las Vegas! This ride combines the high-speed of The Big Apple Coaster with an out-of-this-world 4D experience! Make sure to add this stop to your two day itinerary in Las Vegas if you're traveling with kids or teenagers!
The New York, New York also features a large arcade. Enjoy classic and new-age arcade games. Bring the family, or challenge your friends to a friendly competition of skee-ball or air-hockey!
Day 2 / Stop 2 – Mandalay Bay Casino, Aquarium and Beach
Why it's awesome: Enjoy a man-made beach, see sharks, or try and win it big at this lavish Las Vegas Resort and Casino!
Cost: The Casino is free to enter. The Aquarium is USD $25.00 for adults and USD $19.00 for children. For non-hotel guests beach admission is USD $20.00 and free for hotel guests.
Food recommendations: Rí Rá Irish Pub is located inside Mandalay Bay and offers a great selection of hearty pub fare, whiskey, beer, and live music every night!
The Mandalay Bay Casino offers all of your favorite table games, including blackjack, poker, craps, and roulette. You'll also find 1,200 slot and video poker machines! If you've come to Vegas to gamble, you'll love this casino!
Experience Mandalay Bay Beach, an eleven-acre aquatic playground! Swim, splash, and soak up the sun at this popular Vegas attractions. Relax on the lazy river, ride a tide in the wave pool, or lounge in the lagoon. Check out the Beach Bar & Grill and the Bikini Bar for all your favorite pool-side snacks and drinks! This attraction is open seasonally, so if you travel to Las Vegas during the warmer months make sure to check it out!
The Shark Reef Aquarium at Mandalay Bay features more than 2,000 animals, including sharks, giant rays, sea turtles,and the Komodo dragon. Feed the stingrays, sharks, and turtles in the Animal Encounters program. Walk through the underwater tunnels and see colorful fish swimming all around you! Just make sure to book your ticket ahead of time as it's a popular attraction.
New to the Mandalay Bay is the Polar Journey Exhibit. This experience is included in your Shark Reef Aquarium ticket and takes guests on an interactive adventure! Get a glimpse into the earth's polar regions and animals that call it home. You'll be immersed through eight interactive exhibits including touch walls, teaching robot penguins, stimulated ice flow, and more excited features! This Las Vegas itinerary stop is fun for all ages!
Day 2 / Stop 3 – Caesars Palace and The Forum Shops
Why it's awesome: This Roman-themed Casino sits along the bustling Las Vegas Strip, it's grand and imposing architecture make it a must-see when touring Las Vegas!
Cost: Free!
Food recommendations: The Bacchanal Buffet is located inside Caesars Palace and offers an impressive selection of 500 daily dishes!
This Las Vegas Strip Staple has appeared in countless movies including "The Hangover" and "Ironman". It's one of the top Las Vegas' landmarks and has a lot more to offer than just gambling.
Enjoy the architecture as you walk around the massive columns and frescoes paying tribute to the casino's namesake. The ancient Rome aesthetic of this casino is truly stunning, with gilded and ornate detail everywhere you look!
Caesars Palace houses the Forum Shops, which is a shopping mall comprised of approximately 160 specialty stores. The decor and furnishings follow the Roman theme of the Casino.
Most stores are high-end, but there are a few mid-range options as well. You will also find plenty of restaurants, bars, and cafes. Measured in terms of sales per square foot, this is the highest grossing mall in the United States!
The spiral escalators at the entrance to the mall are truly enchanting, as is the rest of this mall's  grand and gilded interior! At the end of the Forum Shops, there is a 50,000-gallon saltwater Atlantis aquarium that features more than 300 colorful tropical fish!
You'll also find one of Sin City's most famous nightclubs inside Caesars Palace, Omnia nightclub. This lavish club has frequent celebrity hosts and popular DJs that play throughout the year. It is one of Vegas' most upscale nightclubs; there are several dance floors and the venue's rooftop offers unparalleled views of the Strip! Put this stop on your Las Vegas itinerary if you want to experience the best of Vegas nightlife!
Insider Tip: Check out the Fall of Atlantis show, located next to the Atlantis aquarium. This free show recounts the myth of Atlantis and entertains audiences with special effects, including animatronic figures, fire, and water! The show plays every hour on the hour, starting at 11:00 am.
Day 2 / Stop 4 – Eiffel Tower Experience
Why it's awesome: Ride a speedy glass elevator to the top of the Paris Las Vegas for wonderful 360 views of the Las Vegas Strip!
Cost: USD $22.00
Food recommendations: Head to the Eiffel Tower Restaurant to enjoy French cuisine from the eleventh floor of the Paris Las Vegas' Eiffel Tower!
Get the best view of the Las Vegas Strip with these high-altitude attractions! The Paris Las Vegas is a half-scale replica of the actual Eiffel Tower in Paris. You'll ride a glass elevator forty-six stories up to the top, which allows you to get an unobscured view of your surroundings.
The Paris Las Vegas is located in the middle of the Strip, making this a great place to take stunning photos of Vegas main attractions close-up. Guests are allowed to stay at the top as long as they'd like!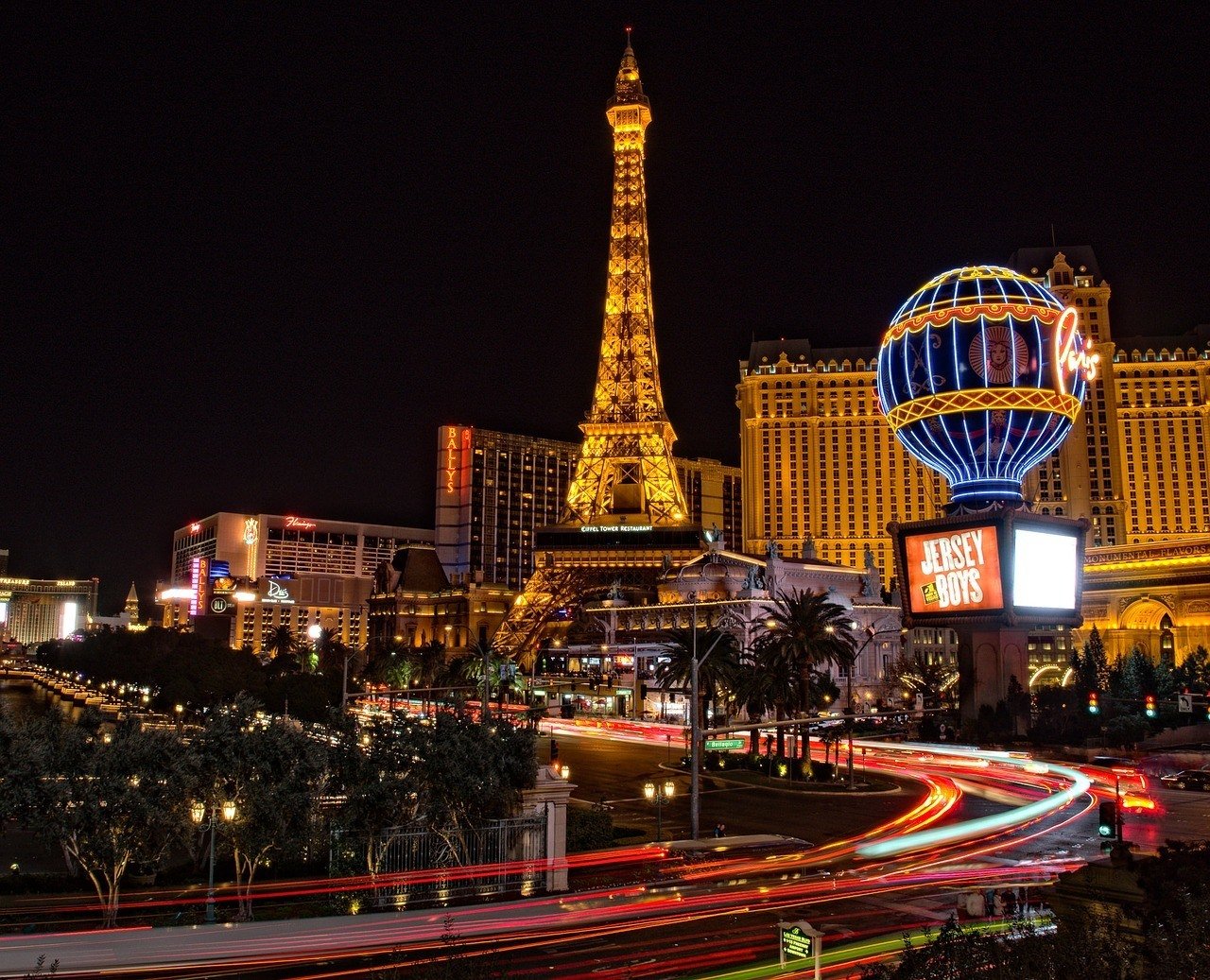 This enchanting tower puts on a show of lights every thirty-minutes from sunset to midnight. Inspired by the real Eiffel Tower's lights in France, it features choreographed twinkling light displays for visitors to enjoy each night!
Insider Tip: This attraction is best enjoyed at night, you'll see incredible views of the Las Vegas Strip lite up with a shimmering of lights and get the best views of the Bellagio fountains!
Day 2 / Stop 5 – The Fremont Street Experience
Why it's awesome: Fremont Street is a sprawling twenty-four hour outdoor mall featuring a huge LED canopy, casinos,  restaurants, street performers, and exciting attractions!
Cost: Free!
Food recommendations: Nacho Daddy is a lively restaurant serving large cocktails and all your Mexican favorites. This restaurant also has a separate menu for vegans and vegetarians.
Discover old school Vegas at the Fremont Street Experience. Located in historic Downtown, this is one of the city's original streets; it dates back to 1905 when Las Vegas was founded! 
Today, Fremont Street offers a vibrant and lively atmosphere. This seven-block district possesses theworld's largest LED video screen, called Viva Vision. This 1,500-feet long and 90-feet wide screen canopies over the street and shimmers with bright, changing lights!
The Slotzilla zip-line lets you fly over Fremont street like a superhero (or a seated position if you prefer). Get a unique view of one of Vegas' most popular streets as you glide over the crowd!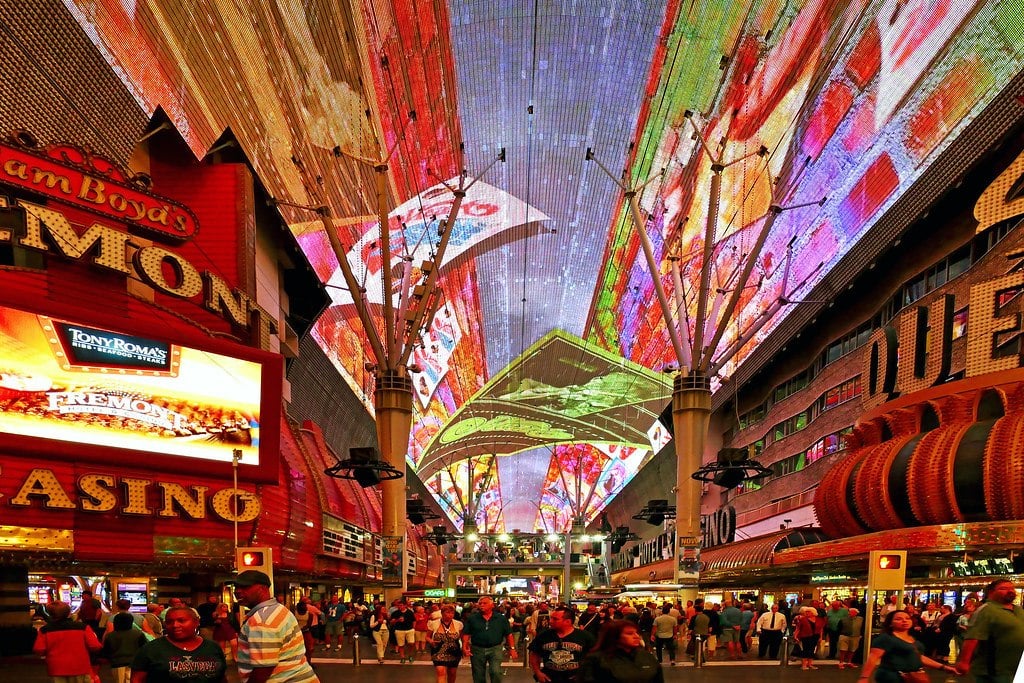 You'll see all sorts of street performers on this energetic street. From rappers and Vegas showgirls, to cartoon characters; Fremont Street really has it all! This is one of the best places to people watch, you'll see people dressed in all sorts of costumes. Some are hilarious, some amusingly unconventional, and some…not for kids.
Most of the bars, restaurants, and casinos found on Fremont Street are slightly less expensive than those found on The Strip. This is also a great place to pick up your Vegas souvenirs at an affordable price!
Live music shows play regularly in designated areas of the street. Grab a drink at any number of bars found nearby and enjoy some free entertainment! The ambiance is truly entertaining, making Fremont street the perfect place to end day two of your Vegas itinerary!
IN A RUSH? THIS IS OUR FAVORITE HOSTEL IN LAS VEGAS!
Las Vegas Itinerary: Day 3 and Beyond
The Blue Man Group | The Mob Museum | Adventuredome Theme Park | Stratosphere Casino, Hotel and Tower | Zak Bagans' The Haunted Museum
Now that we've finished your two day itinerary in Las Vegas, we thought we'd include a few more fun attractions that would be great additions to your Las Vegas itinerary!
The Blue Man Group
Family-friendly show.
This show takes place at the Luxor Hotel and Casino.
Shows are given every night at 7:00 pm and 9:30 pm.
If you want to add another show to your Las Vegas itinerary, we recommend the entertainment sensation known as the Blue Man Group. For more than thirty years the innovative minds behind this group have been wowing audiences.
Enjoy a fun-filled performance by this world-famous group! These three bald and blue men will take you on a spectacular journey combining comedy, music, stunning visuals, and surprises! This Las Vegas show is perfect for all ages, and is sure to delight. It's a one-of-a-kind stage show that is the perfect addition to a Las Vegas trip!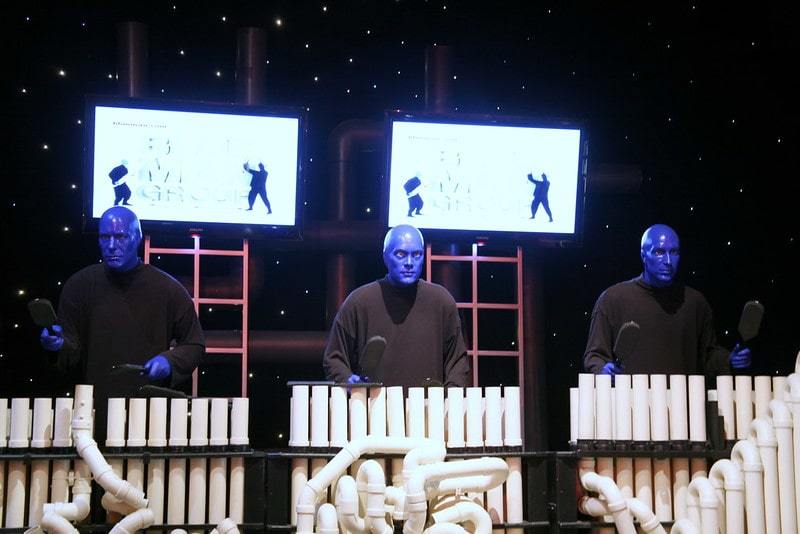 Enjoy a comical, musical,  and artistic show featuring lots of audience interaction with this blue-painted cast. This group is constantly switching up their material and coming up with new ways to entertain audiences, it's an ever-evolving show that you'll want to see every time you visit Vegas! 
The Mob Museum
Located in Downtown Las Vegas.
Learn the history of organized crime in the United States.
Open every day of the week!
The Mob Museum seeks to advance the understanding of organized crime, and the impact it has had on American society. Explore the mob mentality, learn real-life stories, and hear about actual events from the Mob's history. Take a self-guided tour where you'll see interactive exhibits, informative displays, and videos – all you need is an entry-ticket!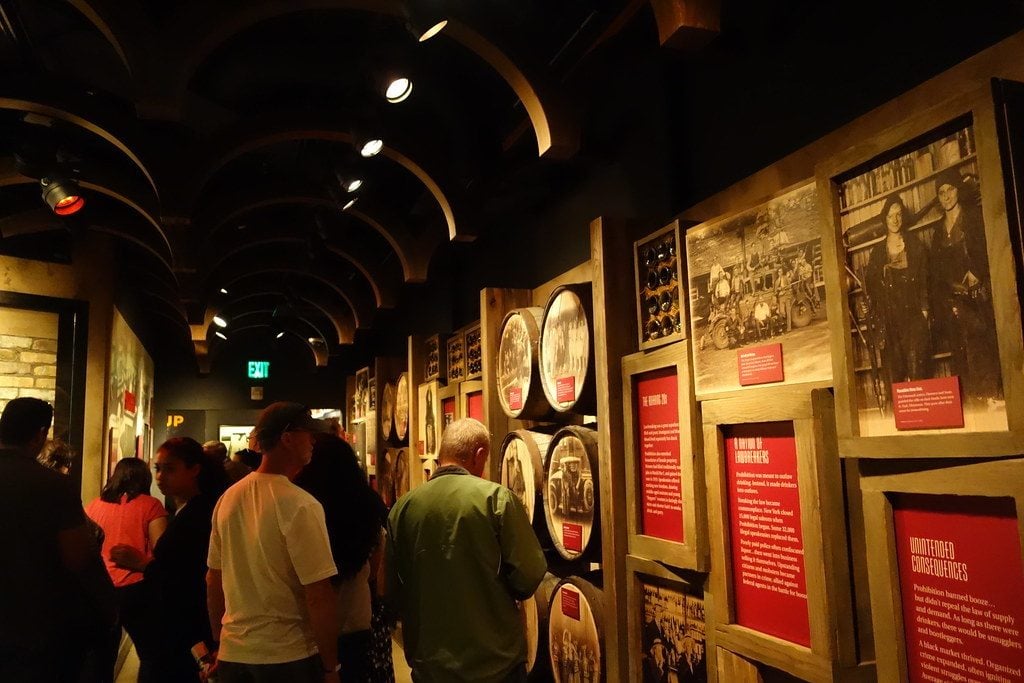 The museum spans three-floors; as of 2018 a fully operational speakeasy and distillery exhibit is now open for visitors in the basement. Learn about the history of American prohibition while sipping on hand-crafted prohibition-era cocktails!
Warning: This museum displays graphic photos of murder victims, therefore this attraction is not recommended for children.
Adventuredome Theme Park
Located inside the Circus Circus Resort and Casino
Fun for the whole family
Open every day till late
This indoor theme park is located in the Circus Circus Resort and Casino. The theme park sits inside a large pink-tinted glass dome. There are twenty-five rides and attractions at the park, including roller coasters, a miniature golf course, climbing walls, a roller skating rink, and laser tag!
Check out the latest arcade video games located throughout the park, including virtual reality games! Find your favorite classic arcade games in their unlimited classic arcade area, where you can play all day!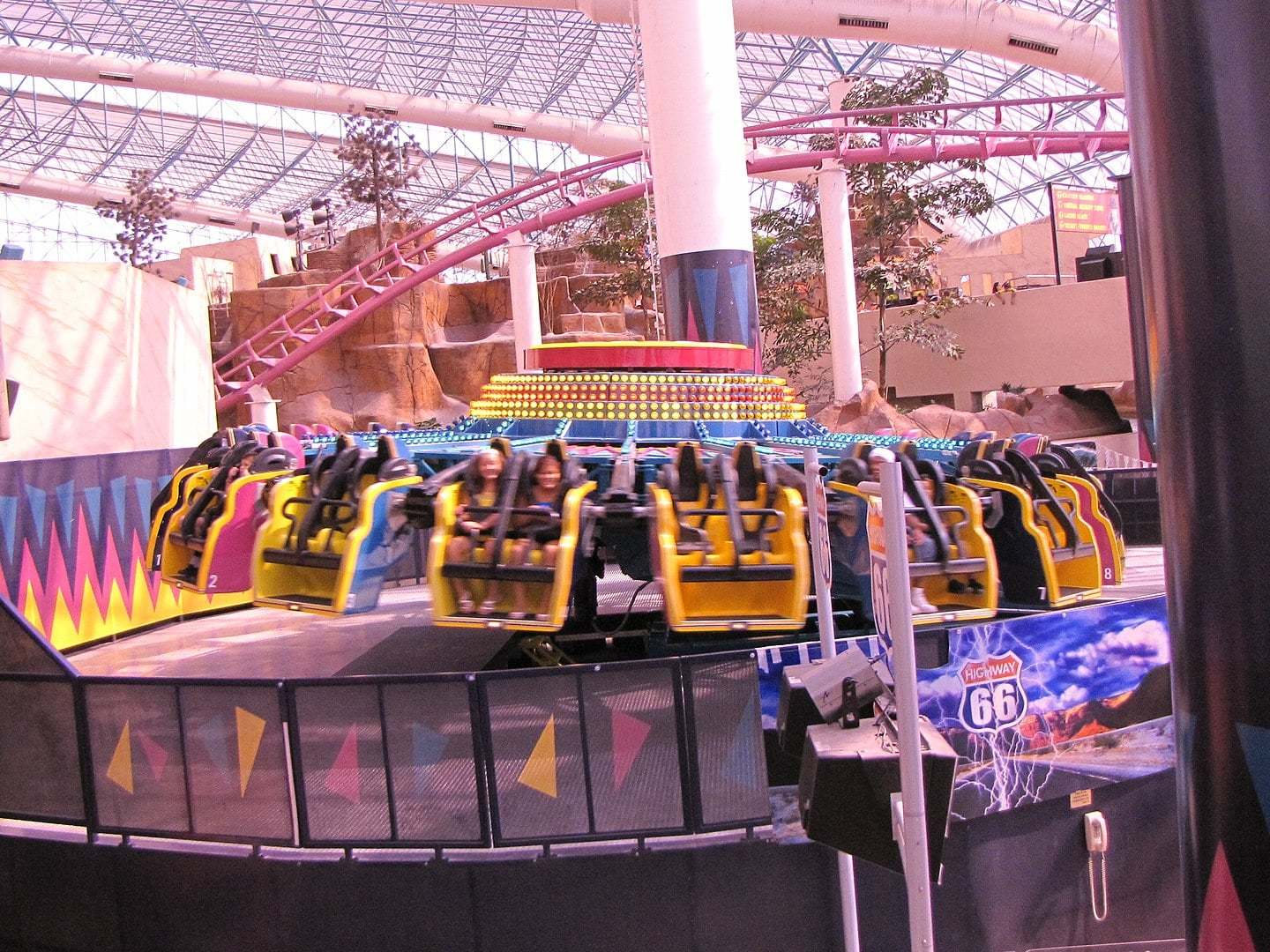 Enjoy free clown shows daily at noon, 1pm, 3pm, and 4pm, with additional showtimes on Friday and Saturday nights.
If you're looking for a break from the casinos and bars, this is the perfect place to bring the family for an afternoon of fun and excitement! You could easily spend hours here, so we'd recommend this stop if your planning an itinerary to spend more than three days in Las Vegas.
Stratosphere Casino, Hotel and Tower
Located at the north end of the Las Vegas Strip.
Have a drink while taking in one of the best views in Las Vegas.
Great attractions perfect for thrill-seekers!
There are some pretty cool things to do at the Stratosphere Resort and Casino. For one, check out the observation deck that sits at the top of the tallest freestanding tower in the U.S. It offers stunning 360-degree views of the Strip!
Dine at the Top of The World Restaurant, the only rotating fine-dining restaurant in Las Vegas.  Enjoy amazing views of the city as the restaurant revolves 350-degrees every 80-minutes!
Get your scream on at the Stratosphere's Skypod Thrill Rides. Located on top of the Stratosphere, there are three attractions that guests can ride for an enthralling experience. You'll dangle over the building, blast 160-feet straight up, and catapult twenty-seven feet over the Tower's edge! 
For even more of an adrenaline rush, check out Skyjump. At this Vegas attraction, you'll take an open-air leap off the Stratosphere, from 829-feet above the Strip. Enjoy the heart-pounding excitement as you rush forty mph to the landing pad down below. Make sure to schedule this into your Vegas itinerary for at least three days if you're into adventurous activities!
Zak Bagans' The Haunted Museum
Perfect for fans of the paranormal.
Located in Downtown Las Vegas.
Open every day but Tuesday.
For a unique Vegas experience, check out Zak Bagans Haunted Museum! This attraction is located in Downtown Las Vegas. This haunted and historical artifact museum is owned and run by Zak Bagans of Travel Channel's "Ghost Adventures," a show dedicated to the paranormal!
The chair Michael Jackson died in is housed in the museum, as well as the world's most haunted object, the Dybbuk Box! You'll find a room dedicated to creepy dolls, clown statues, and more! This is one of the coolest places to visit in Las Vegas for a unique fear-inducing experience!
Tours start every fifteen-minutes and last approximately an hour and a half. Expert guides take visitors through thirty rooms, detailing the history of exhibits in every room!
Is This the Best Daypack EVER???
Staying Safe in Las Vegas
Whether you're planning a three day trip to Vegas or a month long sabatical, safety is an important thing to keep in mind. Generally speaking, Las Vegas is considered a safe city to visit.
The Strip is frequently patrolled by police, and casinos are known for their tight security. As long as you stick to the main tourist areas of Vegas, you should be just fine. If you leave the Strip and walk around the outside streets, you need to be more aware; side streets after dark can be unsafe!
Vegas is a cash-heavy city, which means pickpockets are active. Keep your valuables close to your body and stay extra vigilant in crowded areas.
It is common for party promoters to frequent the Strip and attempts to sell VIP passes or discounted tickets to shows or clubs. Although some are legit, it is important to note that some are not.
Scammers are very active in Las Vegas and it is important to stay vigilant and trust your instincts. There are a number of secure and trusted ticket locations in the city that sell tickets to Vegas attractions; purchasing from these types of vendors is a much safer option.
Of course, it is Vegas, so if you plan to drink more than you normally would, try and keep your wits about you, and never leave your drink unattended.
Recreational marijuana is legal in Vegas. Be sure to purchase from a dispensary, and say no to anyone on the street that tries to sell to you as it may be laced. It's only legal to smoke in private residences. If you walk down the street with a lit marijuana, you can be fined by one of the many cops.
Don't Forget Your Travel Insurance for Las Vegas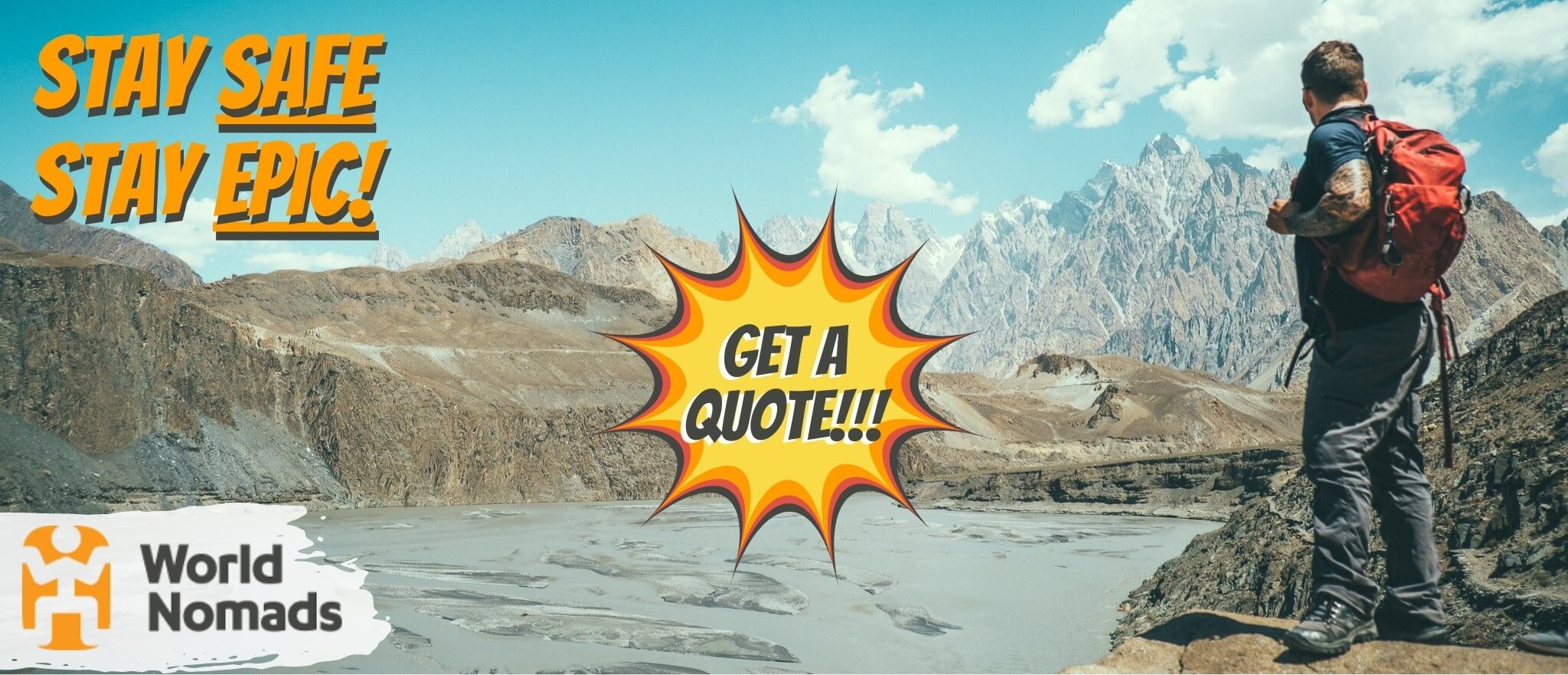 World Nomads' mission is to support and encourage travellers to explore their boundaries. They offer simple & flexible travel insurance, and safety advice to help you travel confidently.
They've been doing it since 2002 – protecting, connecting, and inspiring independent travellers just like you.
Get a quote below or read our in-depth review!
Day Trips From Las Vegas
If you're spending more than three days in Las Vegas, a day trip can be a fun way to experience areas outside of the crowded casinos and busy streets. These Vegas day trips are a great addition to your itinerary, and there are lots of fun options to choose from!
Grand Canyon National Park – South Rim with Snacks & Lunch
On this fifteen-hour tour, you'll travel to the south rim of the Grand Canyon National Park! En route to the canyon, you'll stop at the historic Hoover Dam for a quick photo opportunity. Enjoy scenic views of the spectacular southwest desert as you travel by comfortable coach.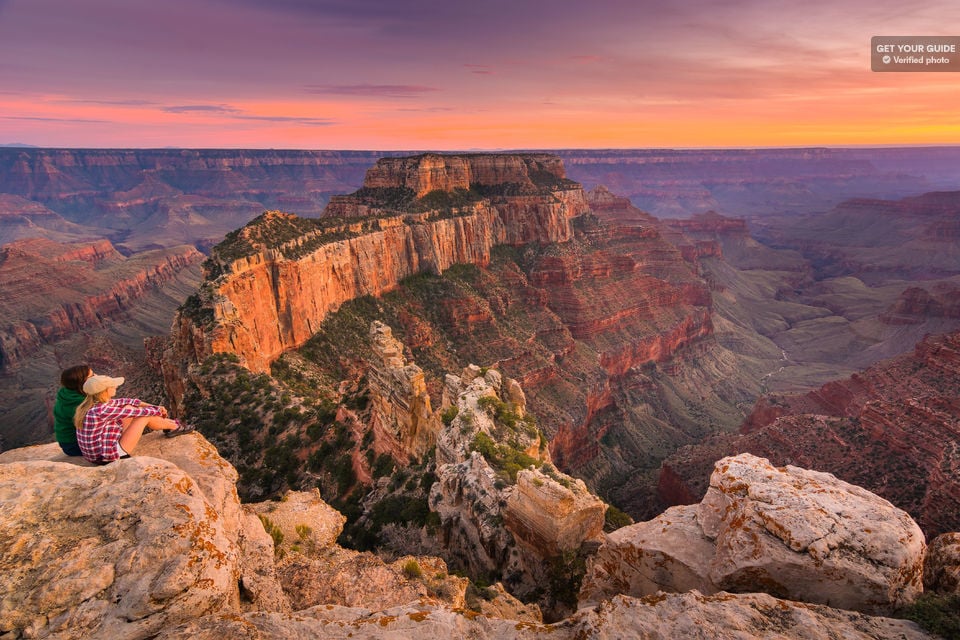 You'll pass through Seligman, the town mimicked in the movie "Cars". After lunch, you'll enter into the Grand Canyon where you'll spend approximately three-hours. If you're spending four days in Las Vegas, this trip is a wonderful addition to your itinerary!
Grand Canyon Helicopter Landing Tour
This four and a half hour tour takes you all the way to the bottom floor of the Grand Canyon! Enjoy a thrilling helicopter ride that descends 3,500 feet below the canyon's rim. Admire the breath-taking views of Nevada and Arizona's vast landscape as you travel from Las Vegas to the Grand Canyon.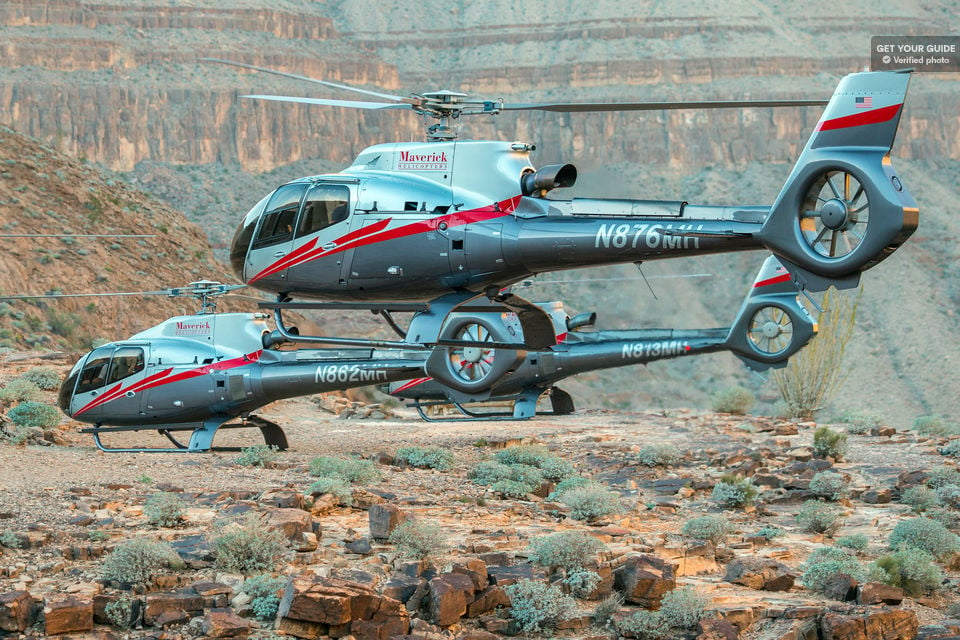 Once you land at the bottom of the canyon, you'll be served champagne and refreshments while overlooking the Colorado River. You'll spend thirtyminutes on the floor of the canyon before returning back to Las Vegas. For thrill seekers, this is one of the most exciting day trips from Las Vegas you can take!
Antelope Canyon and Horseshoe Bend Tour
On this fourteen-hour tour, you'll visit Antelope Canyon, the most famous slot canyon in the world! The small group setting of this tour will provide you with a more personalized experience. You'll be led by an experienced driver as well as a Navajo guide!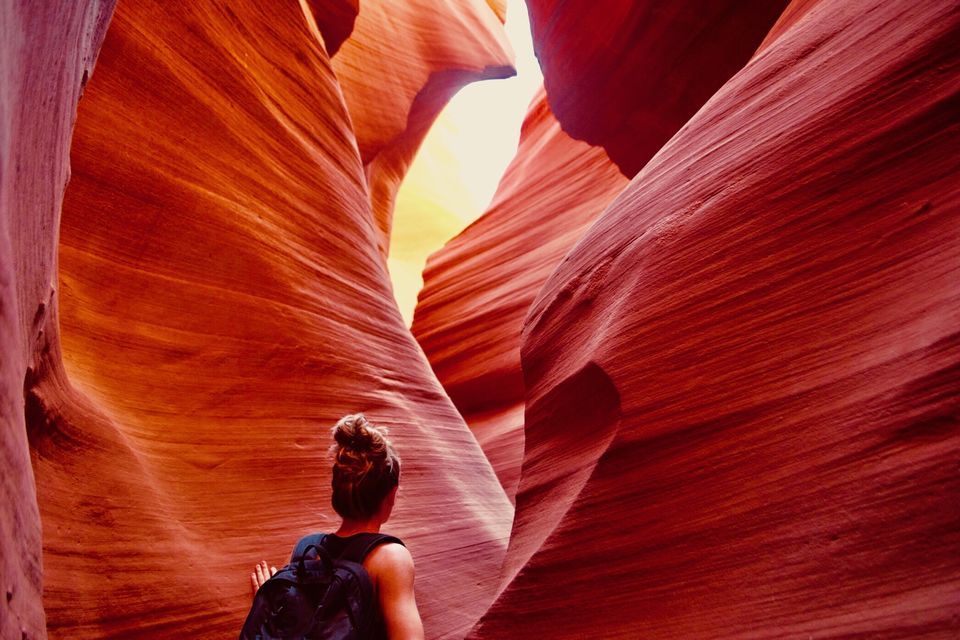 Take in the stunning views of Horseshoe Bend, a unique incisor-shaped bend in the Colorado River. See Glen Canyon Dam, an arch-gravity dam, as you travel off the beaten path. Learn the history and geology of this iconic sight. For nature lovers, this tour perfectly compliments a multi-day itinerary in Las Vegas!
Valley of Fire Guided Hiking Tour
On this tour, you'll enjoy a hike in the Valley of Fire State Park just outside of Las Vegas. Choose the difficulty level you're most comfortable with. An easy hike will take four hours and is perfect for families and all fitness levels. A four and a half hour hike is great for moderate levels of fitness and a five to six hour hike is perfect for avid hikers!
If your new to hiking, make sure you pack adequately for hiking to avoid a life-threatening situation.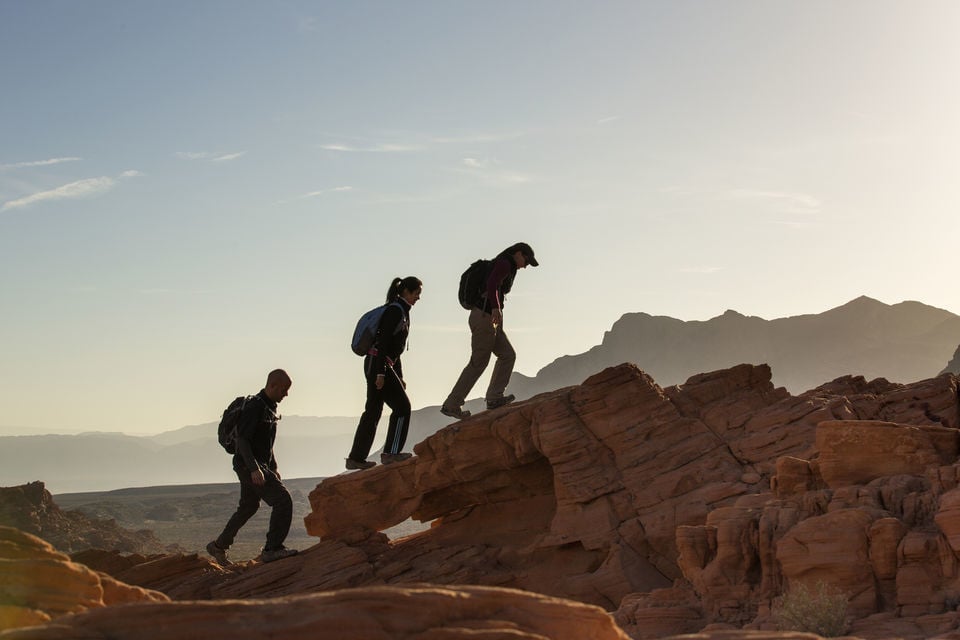 Pass petroglyphs and hike to peaks and plateaus on this exciting day trip! If you're trying to decide what to do in Las Vegas outside of the busy city, this trip is a great option!
Red Rock Canyon Small Group Tour
On this six-hour tour, you'll travel to the nearby Red Rock Canyon; this tour is another great addition to any nature-lovers Las Vegas itinerary! Enjoy a guided tour of Red Rock Canyon, including the visitor center.
Visit Spring Mountain Ranch State Park and take a thirteen-mile scenic loop around the Mojave Desert. Enjoy brief stops along the way to walk around as your knowledgeable tour guide fills you in on a bit of the desert's history. Small group day trips from Las Vegas are perfect for a more personalized tour experience!
Travel with peace of mind. Travel WITH a security belt.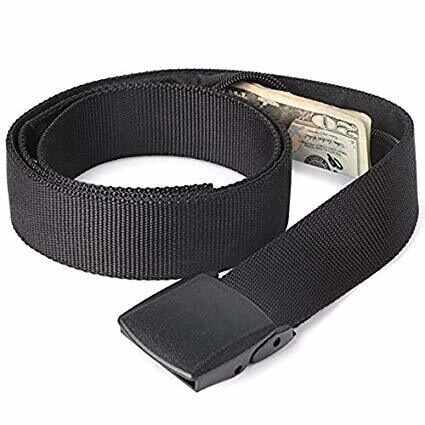 Get your cash stashed with this awesome Pacsafe money belt. It will keep your valuables safe no matter where you go.
It looks exactly like a normal belt except for a SECRET interior pocket perfectly designed to hide a wad of cash or a passport copy. Never get caught with your pants down again! (Unless you want to.)
Hide Yo' Money!
FAQ on Las Vegas Itinerary
Find out what people want to know when planning their Las Vegas itinerary.
Conclusion
Las Vegas is a popular vacation destination offering the best mix of entertainment, good weather, and fun attractions. Pulsing with energy and buzzing with excitement, a Vegas vacation makes for the perfect holiday getaway!
Although this city has a reputation for wild parties, buzzing casinos, and crazy nightlife, there is so much more to this unique and diverse city. From world-class restaurants and trendy shopping malls, to unreal shows, there's something for all ages to enjoy!
We hope you three days in Vegas helps you tick off all the boxes of your Sin City bucket list. This larger-than-life city is the perfect place to take an exciting and memorable vacation. There's really no place quite like Vegas!
You can read more on our complete travel guide for Las Vegas!
---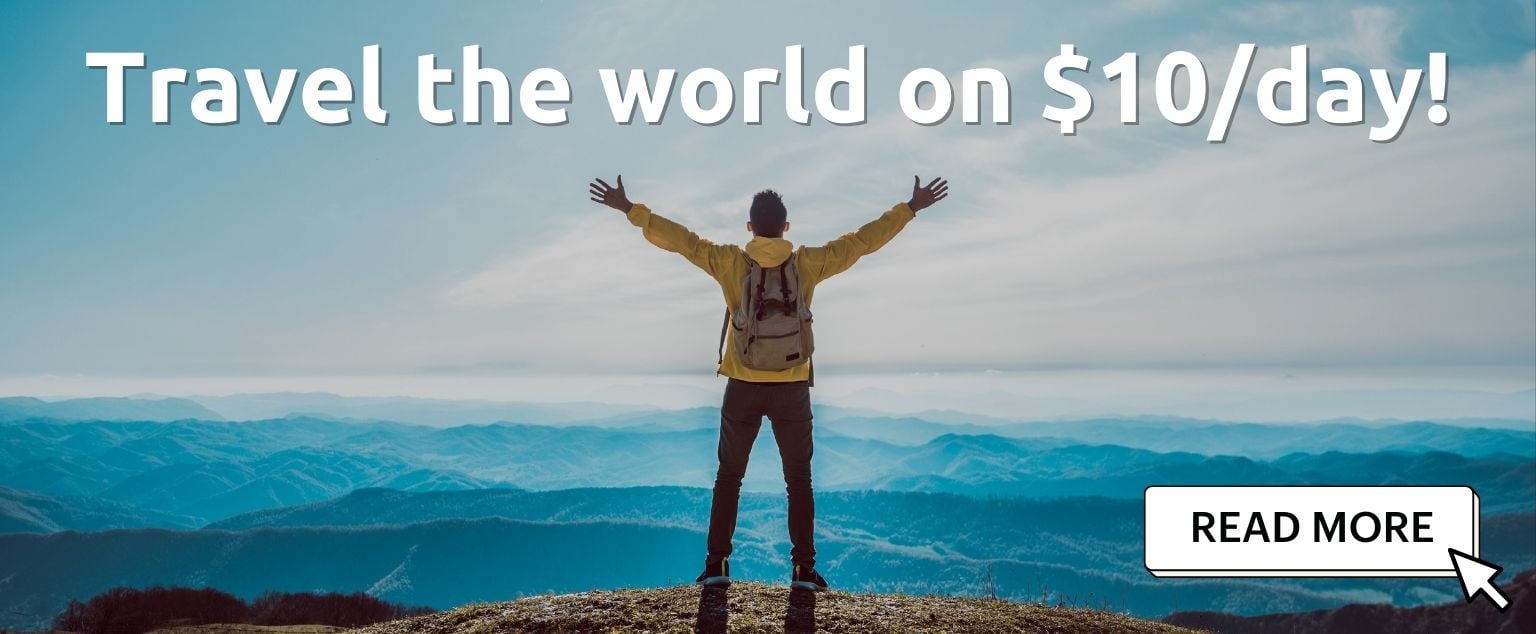 And for transparency's sake, please know that some of the links in our content are affiliate links. That means that if you book your accommodation, buy your gear, or sort your insurance through our link, we earn a small commission (at no extra cost to you). That said, we only link to the gear we trust and never recommend services we don't believe are up to scratch. Again, thank you!